New Age Islam News Bureau
19 Jun 2019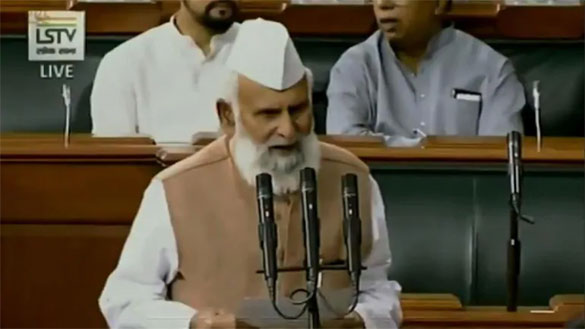 Samajwadi Party MP Shafiqur Rahman Barq (Courtesy: Lok Sabha TV)
---------
• 'Jai Shri Ram', 'Allahu Akbar' Chants Fill Lok Sabha
• MP Barq: Vande Mataram against Islam, Concluded His Oath Saying "Constitution of India Zindabad"
• MPs Chant 'Jai Shri Ram' in Lok Sabha, Owaisi Replies with 'Allahu Akbar'
• Sadiq Khan Steps Up War of Words with Trump, Calls Him 'Poster Boy' For Racists
• British Isis 'Beatle' Ringo Says Jihadi John Beheading Videos Were 'Entertainment'
• Trump Adds Troops After Iran Says It Will Breach Nuclear Deal
• Pakistan PM Imran Khan Formally Makes Army Chief Part of Civilian Matters
• Sudan's Military Rulers To Form Technocrat Gov't
• China's Muslim Minority Seek Sanctuary in Kazakhstan
India
• 'Jai Shri Ram', 'Allahu Akbar' Chants Fill Lok Sabha
• MP Barq: Vande Mataram against Islam, Concluded His Oath Saying "Constitution of India Zindabad"
• MPs Chant 'Jai Shri Ram' in Lok Sabha, Owaisi Replies with 'Allahu Akbar'
• MuslimsAren't Being Permitted to Bury at the Corporation of the City of Panaji's Kabrastan At St Inez, Muslim Trust Moves Rights Panel over Burial Ground
• Terrorist who provided van for Pulwama strike killed
• Akola Court acquits 3 of terror charges: Mere use of word jehad can't be ground to brand a person terrorist
• Jaish militant whose van was used in Pulwama CRPF convoy attack killed in Valley gunbattle
• Another attack in Pulwama; grenade hurled near police station, several civilians injured
--------
Europe
• Sadiq Khan Steps Up War of Words with Trump, Calls Him 'Poster Boy' For Racists
• British Isis 'Beatle' Ringo Says Jihadi John Beheading Videos Were 'Entertainment'
• UN chief urges Russia, Turkey to stabilize Syria's Idlib 'without delay'
• Spain busts gang that helped finance al-Qaeda in Syria
• British weapons and personnel doing much of the killing in Yemen: Report
• British MP calls for investigation into Morsi death
• UK pledges to build consensus for peace in Afghanistan
• UK leadership candidates commit to anti-Islam inquiry into Conservatives
--------
North America
• Trump Adds Troops After Iran Says It Will Breach Nuclear Deal
• US Congress Expands Pentagon Aid in Syria To Cover Islamic State Prisoners
• Trump would consider military force vs Iran to prevent nuclear weapon
• Pompeo keeps Saudi Arabia off US child soldiers list
• UN chief urges Russia, Turkey to stabilize Idlib
• Canada: Quebec Bill 21 disappoints faith groups
--------
Pakistan
• Pakistan PM Imran Khan Formally Makes Army Chief Part of Civilian Matters
• Pakistan Plans to Shift Students of JuD Schools To Govtrun Institutions
• Pakistan signs MoU with Britain for extradition of Ishaq Dar, confirms Shehzad Akbar
• Pakistan, Japan sign MoU on defence cooperation
• Military committed to defending motherland with nation's support: army chief
--------
Africa
• Sudan's Military Rulers To Form Technocrat Gov't
• UN Slams Use Of Children As 'Human Bombs' In Nigeria
• Boko Haram: UN sends message to Nigeria over multiple bombings in Borno
• Turkey, Qatar smuggle weapons to terrorists in Libya: ex-Libyan minister
• Airstrike hits warehouse co-owned by Italy's ENI in Libya
• 38 killed, dozens wounded in attacks on two Mali villages
--------
Southeast Asia
• China's Muslim Minority Seek Sanctuary in Kazakhstan
• Islam attacked, ridiculed under Pakatan govt, PAS Youth chief tells wing members
• PAS MP slams Teo for getting non-Muslims' feedback on Islamic studies
• Indonesia should seek more economic cooperation with Gulf States
--------
Arab World
• Saudi De-Fangs Religious Police But Plans To Enforce 'Decency'
• Egypt, Togo continue Sahel-Saharan joint exercise to combat terrorism
• Syria: Civilians injured in car bomb blast near Qamishli Asayish HQ
• U.S. airstrike kills 16 Islamic State jihadists in Iraq
• National Security forces foil terrorist attack south of Baghdad
• Lebanon arrests Syrian plotting Daesh bomb attacks on churches
• Yemen Warns to Target UAE Ports, Airports if Emirati Attacks Go on
• Russia warns US over extra troop deployment to Middle East
• Syria clashes kill 45 fighters: monitor
• Syria says it does not want fighting between Syrian and Turkish militaries
--------
South Asia
• U.S. Seeks Comprehensive Peace Agreement with Taliban, Not A Withdrawal Agreement: Khalilzad
• Over 100 Militants Killed In Afghan Fighting In 3 Days
• Easy Riders Spread Message of Peace In Myanmar
• 4 Taliban militants killed in Balkh and Ghazni operations
• Airstrikes kill 14 Taliban militants in Uruzgan province
• Taliban militants suffer heavy casualties in Ghor operations
• Afghan Special Forces kill 11 Taliban fighters in Faryab province
--------
Mideast
• Trump Careens toward a Confrontation with Iran
• Iran says will not extend 60-day deadline to scale back nuclear deal commitments
• Iran will not wage war against any nation, says Iranian president
• Turkey orders arrest of 128 military personnel over suspected Gulen links
• Saudi air defenses intercept two Houthi drones
• UN inspection mechanism to operate in Hudaydah ports, Yemeni transport minister
• Bahrain confab on Palestinians doomed to failure: Chief Palestinian negotiator
Compiled by New Age Islam News Bureau
URL: https://www.newageislam.com/islamic-world-news/jai-shri-ram--allahu/d/118929
--------
'Jai Shri Ram', 'Allahu Akbar' chants fill Lok Sabha
Jun 19, 2019
NEW DELHI: For the second consecutive day, Lok Sabha reverberated with religious chants raised by newly-elected members as they took oath.
While slogans were also raised on Monday, with BJP members shouting "Jai Shri Ram" after Congress benches objected to Sadhvi Pragya invoking the name of her guru while taking oath, matters reached a new pitch on Tuesday.
Taking off from where they had left on Monday, BJP MPs shouted "Jai Shri Ram" every time an opposition member prepared to take oath. MPs of TMC countered with slogans of "Jai Hind", "Jai Bengal" and "Jai Ma Durga".
All India Majlis Ittehadul Muslimeen's Asaduddin Owaisi chanted "Jai Bheem, Jai Meem, Takbeer Allahu Akbar, Jai Hind" as BJP members greeted him with "Jai Sri Ram, Bharat Mata Ki Jai and Vande Mataram".
SP member from Sambhal, Shafiqur Rahman Barq, chose to register his opposition to the singing of 'Vande Matram'. "So far as Vande Matram is concerned, we cannot follow it as it is against Islam," said Barq who had in 2013, as a member of BSP, walked out of LS when the national song was played.
BJP members protested against Barq's statement by loudly chanting "Jai Shri Ram". Congress chief Rahul Gandhi joined the action by taking a dig at BJP's Arun Kumar Sagar when he chanted 'Bharat Mata Ki Jai' twice. Rahul asked him to raise the slogan "one more time". Gandhi again repeated, "one more time", after the next BJP MP Ajay Kumar raised the same slogan.
The cheering by BJP members was at its loudest when TMC MPs came up to the Speaker's chair, reflecting the intense political fight between the two in Bengal. As Lok Sabha turned into a field for sloganeering match, members refused to heed to the Chair's direction to desist from such slogan-shouting. The presiding officer directed that no slogans will go on record.
https://timesofindia.indiatimes.com/india/jai-shri-ram-allahu-akbar-chants-fill-lok-sabha/articleshow/69849607.cms
--------
MP Barq: Vande Mataram against Islam, Concluded His Oath Saying "Constitution of India Zindabad"
June 18, 2019
Samajwadi Party MP Shafiqur Rahman Barq on Tuesday stirred the hornet's nest by refusing to say "Vande Mataram" in Parliament as "it was against Islam".
After taking the oath as Lok Sabha MP, Shafiqur Rahman Barq said, "Jahan tak Vande Mataram ka taaluq hai, it is against Islam we cannot follow it [As far as Vande Mataram is concerned, it is against Islam we cannot follow it]."
His statement met with chants of "Vande Mataram" and "Jai Shree Ram" by several leaders in the Parliament.
Earlier in the day, All India Majlis-e-Ittehadul Muslimeen (AIMIM) President Asaduddin Owaisi was also greeted with the slogans of 'Bharat Mata Ki Jai' and 'Vande Mataram' when he was called to take oath as a Lok Sabha MP.
Asaduddin Owaisi immediately gave it back and said, "Jai Bheem, Jai Meem, Takbeer Allahu Akbar, Jai Hind."
Shafiqur Rahman Barq had earlier courted a controversy in 2013 as he walked out of Parliament at the time of "Vande Mataram". He had faced criticism from all quarters.
Shafiqur Rahman Barq was elected to Lok Sabha from Sambhal constituency in Uttar Pradesh after defeating Bharatiya Janata Party candidate Parmeshwar Lal Saini with a margin of about 2 lakh votes in the recently concluded general elections.
https://www.indiatoday.in/india/story/vande-mataram-sp-mp-shafiqur-rahman-barq-controversy-1551245-2019-06-18
--------
MPs chant 'Jai Shri Ram' in Lok Sabha, Owaisi replies with 'Allahu Akbar'
Jun 18, 2019
Hyderabad: When AIMIM chief Asaduddin Owaisi walked through the benches to the podium to take the 'oath', opposition party MP leaders raised slogans of 'Vande Mataram' in Lok Sabha.
The Hyderabad MP dressed in a traditional sherwani, was hurled with slogans of 'Jai Shree Ram', 'Vande Mataram', as he walked past them through the benches and the MP raised his hands in response as if asking the fellow MPs to continue sloganeering against him, TT reports.
He calmly took the oath in 'Urdu' and then turned to answer those slogans and concluded with his "Jai Bheem, Jai Meem, Takbeer Allahu Akbar, Jai Hind".
State Home Minister G. Kishan Reddy, seated on the first row can be seen gesturing his party MPs to cut down on slogans.
While the whole sloganeering was going on targetting Hyderabad MP Asaduddin's religion, none of the Ministers cared to respect the 'Parliament' rather heckled an elected MP with insults.
However, the sloganeering was described as 'heckling' by some Twitter users who resented the action saying it was insulting a democratically elected Member of Parliament.
https://www.siasat.com/news/lok-sabha-bjp-mps-greet-hyderabad-mp-asaduddin-owaisi-jai-shree-ram-heres-how-he-responded-1517264/
--------
Sadiq Khan steps up war of words with Trump, calls him 'poster boy' for racists
Jun 18, 2019
London Mayor Sadiq Khan has called Donald Trump a "poster boy for racists," after the US president renewed his attacks on the Muslim mayor, blaming him for a spate of attacks in the British capital.
Trump called Khan a "disaster" who should be thrown out of office, while re-posting a Twitter message written by right-wing British columnist Katie Hopkins on a series of shootings and stabbings that killed four people in London over three days.
"LONDON needs a new mayor ASAP," Trump wrote. "Khan is a disaster - will only get worse!"
The mayor responded to Trump on Monday, saying it was "remarkable that you've got the president of the USA amplifying the tweets of a far-right activist, amplifying a racist tweet."
"He's now a poster boy for the far-right movement and that should cause us huge concern," he added.
"It's for Donald Trump to answer the question why he's obsessed with me; it's for Donald Trump to answer the question why he amplifies the tweets of far-right activists, why he amplifies racist tweets," he said.
Responding to Trump, UK home secretary, Sajid Javid, said the US president should "stick to domestic politics."
Khan, London's first Muslim mayor, has been attacked by Trump since some three years ago, when Khan criticized then-candidate Trump for his proposed plan to ban foreign Muslims from entering the US.
Earlier this month, Trump reignited feud with Khan immediately after landing in London for an official visit. He called Khan in a Twitter message, "a stone cold loser" who has "done a terrible job."
https://www.presstv.com/Detail/2019/06/18/598806/London-Sadiq-Khan-Trump-racist-Muslim
--------
British Isis 'Beatle' Ringo says Jihadi John beheading videos were 'entertainment'
Jun 18, 2019
A member of the infamous Isis "Beatles" has said that the group's beheading videos were "entertainment".
Alexanda Kotey, 35, nicknamed "Ringo", who is being held in a prison in northern Syria, says he wants to return to the UK with his wife and three daughters, aged one, three and five.
The most senior British Isis terrorist still alive told the Daily Mirror he was sorry for his crimes but was "grateful" for his time in Isis because he was able to take a jihadi bride.
The notorious "Beatles" cell is believed to have participated in the killing of at least seven hostages.
Their leader, Mohammed Emwazi, known as "Jihadi John", was seen in a number of beheading videos. He was later killed in a drone strike in Syria in November 2015. The other members were El Shafee Elsheikh and Aine Davis.
Kotey said he wept when he learned the news of his fellow Londoner Emwazi's death.
He said he too would have beheaded people if a gun had been put to his head.
In an interview from prison, he said of the beheading videos: "I didn't condemn it. That was the environment."
He said he disapproved of Jihadi John beheading westerners, but added: "Is there no other way to deal with these people?"
Asked if he would have beheaded people, he said: "I can't say to be honest. I can't say I agree with it and I don't know what I would do in that situation.
"Obviously, if there was a gun put to my head, I definitely… I wouldn't know… I would do."
Kotey said he and other Isis members laughed at the videos.
"Nobody thought they were beneficial in any way," he said. "We used to mock them, we would ridicule them.
"We would laugh at the state, obviously not laughing at the beheadings, but this was all staged.
"I guess this is entertainment, unfortunately. There's a large portion of people who see it as entertainment."
Kotey said he wants his wife to move to the UK, even though he has been stripped of his British citizenship.
"As far as I'm concerned I am British and I'll remain British," he said.
https://sports.yahoo.com/british-isis-beatle-ringo-says-jihadi-john-beheading-videos-were-entertainment-091902462.html
--------
Trump Adds Troops After Iran Says It Will Breach Nuclear Deal
By Edward Wong
June 17, 2019
WASHINGTON — Tensions between the United States and Iran flared on Monday as Tehran said it would soon breach a key element of the 2015 international pact limiting its nuclear program, while President Trump ordered another 1,000 troops to the Middle East and vowed again that Iran would not be allowed to develop a nuclear weapon.
The Pentagon's announcement of the troop deployment came three days after attacks on two oil tankers in the Gulf of Oman that the administration has blamed Iran for. And it came hours after Iran said it was within days of violating a central element of the landmark 2015 agreement — intended to curb its ability to develop a nuclear weapon — unless European nations agreed to help it blunt crippling American economic sanctions.
Iran's Atomic Energy Organization said that within 10 days the country will have produced and kept in its stockpiles more low-enriched uranium — the sort used to fuel power plants — than allowed by the 2015 containment deal. The agency also left open the possibility that it might soon begin enriching the uranium to higher levels of purity, edging it closer to what would be necessary to build a nuclear weapon.
Mr. Trump pulled out of the 2015 pact last year, saying that it was not tough enough on Iran. In doing so, he put intense strain on the international coalition that had backed the agreement and wanted to keep it alive. And he left Iran trapped between continuing to abide by the deal's provisions without getting any of its benefits or abandoning it and provoking a more intense conflict with the United States.
With Iran now on the verge of breaching the deal, the White House called for greater international pressure on the country, even as European officials urged restraint between the two longtime adversaries.
"President Trump has made it clear he will never allow Iran to develop nuclear weapons," the National Security Council said in a statement.
The additional 1,000 troops being sent to the region comes on top of 1,500 dispatched in May. They will be used mainly for surveillance of Iranian activities and protecting American forces already in the Middle East. The Pentagon had considered plans for deployment of up to 6,000 additional troops.
"The recent Iranian attacks validate the reliable, credible intelligence we have received on hostile behavior by Iranian forces and their proxy groups that threaten United States personnel and interests across the region," the acting defense secretary, Patrick Shanahan, said in a statement.
The announcement from Tehran was Iran's latest signal that it would abandon the 2015 pact unless other signatories help it offset economic sanctions imposed by Mr. Trump. The threat seemed aimed primarily at European countries to persuade them to break with Washington and restore to Tehran some of the economic benefits of the deal.
Iran had been abiding by the terms of the nuclear deal, negotiated under President Barack Obama, before Mr. Trump pulled out, and has continued to do so since the withdrawal by the United States. But as American sanctions have squeezed the Iranian economy, Tehran has warned that it could not remain in the deal without getting European help to find workarounds to the sanctions.
"This was an entirely predictable consequence of the Trump administration's withdrawal from the nuclear deal and maximum pressure strategy," said Ali Vaez, the director of the Iran project at the International Crisis Group, a conflict-resolution organization. "In practice, maximum pressure has produced maximum peril and minimum strategic results."
The mechanism of American sanctions may actually have sped Iran to the point where its stockpile of uranium is on the verge of violating the 2015 agreement's terms. In May, the State Department announced that it might penalize countries that transfer enriched uranium out of Iran.
Until now, Iran has shipped most of the low-enriched uranium it produces out of the country, swapping it for natural uranium. That allows it to continue producing small amounts of nuclear fuel for civilian power plants without building up a stockpile for potential use in weapons.
During a news conference announcing Tehran's decision, Behrouz Kamalvandi, a spokesman for Iran's Atomic Energy Organization, said Iran might also enrich its uranium up to 20 percent purity for use in reactors, the Iranian state-run news organization Press TV reported.
He said that uranium would be used as fuel for the Tehran Research Reactor, which the United States supplied to Iran in 1967 and that Iranian officials say is used to create medical isotopes for use in cancer treatment.
The nuclear agreement limits the level of enrichment to 3.67 percent, but if Iran began producing 20 percent enriched uranium, it would put the country much closer to weapons-grade levels.
Members of Congress braced themselves for a potential fight with Mr. Trump over authorization for military action.
"Now we are stumbling to the brink of war without the support of our allies," said Senator Tom Udall, Democrat of New Mexico and a member of the Foreign Relations Committee. "Congress must step up and prevent an unconstitutional war with Iran and avert one of the biggest foreign policy blunders in decades."
Over the past year, the Trump administration imposed severe economic sanctions that have discouraged most outside companies from doing business with Iran, and followed that up with measures to cut off Iran's oil revenues, the lifeblood of its economy. The sanctions have had a great effect on Iran, including leading to a shortage of critical medicine, despite Secretary of State Mike Pompeo's assertions that humanitarian aid would not be affected.
In April, Mr. Trump designated the Islamic Revolutionary Guards Corps, an arm of the Iranian military, a foreign terrorist organization, despite warnings from Pentagon and C.I.A. officials that the move could lead to reprisals against Americans. As tensions rose, Mr. Trump said he was adding 1,500 troops to the Middle East.
Recent attacks on oil tankers in the Strait of Hormuz, which the Trump administration has blamed on Iran, have further inflamed matters. Mr. Pompeo plans to travel on Tuesday to Central Command in Florida to discuss Middle East security with commanders.
The Pentagon released additional pictures on Monday that it said bolstered its case that Iran was responsible for the attack on the tankers last week. Tehran has denied responsibility.
Defense Department officials said one of the images shows sailors with the Revolutionary Guards removing an unexploded limpet mine from one of the tankers, the Kokuka Courageous, in the hours after an initial explosion. Another photograph, the Pentagon said, shows the "remnants of the magnetic attachment device of unexploded limpet mine" placed on one of the tankers.
The officials said the limpet mines were placed above the water line of the ships, where they would be visible but would do relatively limited damage, and not below the water line, where they could actually cause the ships to take on water. One official, speaking on the condition of anonymity to discuss intelligence issues, said that the Pentagon interpreted this as Iran trying to send a message of what its abilities are in the gulf, without doing real damage to shipping.
Two oil tankers, the Kokuka Courageous and the Front Altair, were attacked in the Gulf of Oman on Thursday.
The official described it as a "nuisance attack."
A National Security Council spokesman, Garrett Marquis, said Monday that Iran's announcement on its uranium was "nuclear blackmail" that "must be met with increased international pressure."
The White House national security adviser, John R. Bolton, has been a longtime advocate for regime change in Iran.
China and Russia were both signatories to the 2015 nuclear agreement and have opposed Mr. Trump's Iran policies. Beijing has said it intends to continue buying oil from Iran despite American sanctions.
Germany, Britain and France have worked to set up a system to allow European companies to take part in a kind of barter trade with Iran.
On Sunday, Helga Schmid, a senior European Union diplomat, visited Tehran for meetings on the nuclear deal.
The Netherlands' foreign minister, Stef Blok, said Monday that European support for the nuclear deal depended on Iran adhering to the pact's terms.
"As long as Iran is fulfilling these criteria," he said, "we should stick to this deal."
Iranian officials on Monday also taunted Washington over the exposure of a C.I.A. informant network in Iran years ago. Ali Shamkhani, the secretary of Iran's Supreme National Security Council, said that "one of the most complicated C.I.A. cyberespionage networks that had an important role in the C.I.A.'s operations in different countries was exposed by the Iranian intelligence agencies" and was "dismantled," according to state-run broadcast network IRIB. He added that the Iranians shared their information with "allies," which led to arrests of C.I.A. "agents."
Mr. Shamkhani appeared to be referring to an operation that broke into the C.I.A.'s covert communications system, or "covcom," and uncovered informants in Iran around 2012 and 2013. That operation may also have contributed to the extraordinary crippling of the C.I.A. informant network in China. Iranian officials made a similar claim in April, and a former C.I.A. official said they may be reviving the taunt now to try to portray the United States as an aggressor.
Edward Wong and Helene Cooper reported from Washington, and Megan Specia from London. Reporting was contributed by Julian E. Barnes and Eric Schmitt from Washington, Richard Pérez-Peña from London, and Steven Erlanger from Brussels.
https://www.nytimes.com/2019/06/17/world/middleeast/iran-nuclear-deal-compliance.html
--------
Pakistan PM Imran Khan formally makes army chief part of civilian matters
Jun 19, 2019
ISLAMABAD: Pakistan Prime Minister Imran Khan has formed a National Development Council (NDC) to formulate polices and strategies for development and, in an unprecedented move, made Chief of Army Staff General Qamar Javed Bajwa a part of it.
The Constitution of Pakistan says the military would be under civilian control but the army has enjoyed an outsize role in politics even when not in direct control. Many critics and observers believe that the powerful military had cleared a path for Khan and his Pakistan Tehreek-i-Insaf (PTI) party in last year's polls to form the government by harassing and threatening his opponents. The inclusion of the army chief in the NDC indicates that the military will have a strong say in matters in the civilian domain.
A notification issued on Tuesday by the Cabinet Division stated the NDC would be headed by PM Khan and, besides Gen Bajwa, its members would include foreign minister Shah Mehmood Qureshi, minister for planning and development Khusro Bakhtiar, and the adviser to the PM on finance Dr Hafeez Sheikh.
The council will set policies and strategies for development and provide guidelines for regional cooperation. The council will be tasked with formulating policies to achieve economic growth and approving long-term planning for national and regional connectivity (a reference to projects like the China-Pakistan Economic Corridor).
Following the notification, former planning and development minister Ahsan Iqbal tweeted: "Will NDC be replacing National Economic Council, a constitutional forum with similar mandate? Should army be directly sharing the credit/discredit for economic management?"
https://timesofindia.indiatimes.com/world/pakistan/pakistan-pm-imran-khan-formally-makes-army-chief-part-of-civilian-matters/articleshow/69848975.cms
--------
Sudan's military rulers to form technocrat gov't
18.06.2019
Sudan's ruling military council said Tuesday it will draw up a transitional technocrat government.
"We will form a transitional government of technocrats as soon as possible until elections are held," Lieutenant General Mohamed Hamdan Daglo, the deputy chairman of the Transitional Military Council (TMC), told a rally in the capital Khartoum.
He appealed to the country's political parties to "shoulder their responsibility and ignore personal interests in light of the current circumstances in the country".
He said the TMC has delegated tribal councils in Sudan to form a technocrat government.
Sudan has remained in turmoil since April 11, when the military establishment deposed long-serving President Omar al-Bashir after months of popular protests against his 30-year rule.
The TMC is now overseeing a two-year "transitional period" during which it has pledged to hold free presidential elections.
Sudanese popular protests, however, have continued to demand that the military council hand over power -- at the earliest possible date -- to a civilian authority.
https://www.aa.com.tr/en/africa/sudans-military-rulers-to-form-technocrat-govt/1507907
--------
China's Muslim minority seek sanctuary in Kazakhstan
by Robin Forestier-Walker
Jun 19, 2019
China has been accused of holding more than a million Muslims, including ethnic Kyrgyz and Kazakhs, in its so-called re-education camps in Xinjiang Province.
Rights groups in Kazakhstan have been trying to help locate and reunite individuals with family members.
https://www.aljazeera.com/news/2019/06/chinas-muslim-minority-seek-sanctuary-kazakhstan-190618121941651.html
--------
India
MuslimsAren't Being Permitted to Bury at the Corporation of the City of Panaji's Kabrastan At St Inez, Muslim Trust Moves Rights Panel over Burial Ground
Jun 19, 2019
Panaji: The Azad Jamatul Muslimeen Welfare Trust on Tuesday complained to the Goa State Human Rights Commission that Muslims residing in the vicinity of Panaji, including Merces and Bambolim, aren't being permitted to bury at the Corporation of the City of Panaji's kabrastan at St Inez.
The complaint stated that Muslims from these areas have been burying their dead at the St Inez kabrastan since 1961, until September 2017 when the CCP stopped the burial of those outside its jurisdiction stating that there was limited space.
Pointing out that there is no kabrastan for the people of Merces and Bambolim to bury their dead, the trust has requested the government to permit burial of people from Merces, Bambolim and Curca at the St Inez kabrastan till the government or local authority provides a piece of land.
In February, the CCP had passed an order directing its staff not to issue NOCs for burial of bodies of citizens who live outside its jurisdiction. The trust subsequently sent the corporation a legal notice.
During a meeting last week, CCP commissioner Shashank Tripathi stated that Muslims only from Panaji, Taleigao and St Cruz would be permitted to bury their dead at the St Inez kabrastan due to lack of space.
The Goa State Human Rights Commission, in its inquiry report in April, passed recommendations to the CCP to acquire land for the burial of bodies from the Muslim community in coordination with the state government.
"It is the paramount duty of the CCP to provide burial grounds to all the communities within the jurisdiction of the corporation.
The corporation cannot run away from the responsibility on a plea that there is a shortage of space to provide the burial facility to the Muslim community. All communities, including the Muslim community, are entitled to have appropriate burial grounds," the commission had stated.
It had further added that non-availability of space for the burial ground of a community cannot be an excuse to deny the facility as it is violation of basic human rights.
https://timesofindia.indiatimes.com/city/goa/muslim-trust-moves-rights-panel-over-burial-ground/articleshow/69849452.cms
--------
Terrorist who provided van for Pulwama strike killed
Jun 19, 2019
SRINAGAR/NEW DELHI: The Jaish-e-Muhammed overground worker who provided the vehicle for the February 14 Pulwama bombing, was killed along with another terrorist in a gunfight with forces on Tuesday in south Kashmir's Anantnag. An Army jawan was wounded. Also, two soldiers who were injured in the IED blast on Monday in Pulwama succumbed to their injuries on Tuesday.
The two killed in Anantnag's Bijbehara on Tuesday were identified as Sajad Maqbool Bhat, one of the members of the Pulwama suicide squad, and his recruiter Tauseef Bhat, categorised as a 'serious threat'.
Sajad, a resident of Bhagpora Marhama Bijbehara in Anantnag, had bought on February 4 the Maruti Eeco van that was used for the deadly ambush that killed 44 CRPF personnel. Documents accessed exclusively by TOI reveal Sajad fled his home eight days after the attack, just when the sleuths had discovered his role as the 'logistics man' in the bombing.
As an overground worker, Sajad had been conducting reconnaissance of the area and providing information to Jaish on the movement of security forces. He had been missing since February 22, according to a police report.
The van that suicide attacker Aadil Ahmad Dar rammed into the CRPF bus at Lethpora had been sold to Mohammed Jaleel Ahmed Haqani, a resident of Heaven Colony in Anantnag, in 2011, and subsequently changed hands seven times before it reached Sajad. It is, however, not clear how Sajad managed to raise funds to buy the vehicle since he was only a student.
Sajad studied at madrassa Taleem ul Islam Marhama for three years after his 7th standard. He was enrolled at Government Higher Secondary School Marhama for 11th standard, when he fled home to join as an armed terrorist with Jaish. His picture, where he was seen holding weapons, appeared on social media soon after he absconded while the police had launched a manhunt for nabbing members of the Pulwama module.
The other terrorist, 23-year-old Tauseef Bhat, killed in the gunfight at Bijbehara, was a BA third-year student of distance learning and had joined Jaish during Ramzan on June 12 last year. Like Sajad, Tauseef was also from Bijbehara and used to run a 'darasgah', a religious outfit, in evening hours. Documents reveal police categorised him as a "great threat" for Anantnag town, National Highway and adjacent areas. "It is now clear Tauseef had recruited Sajad for Jaish. From here on, Tauseef will be part of the NIA probe," an official in Srinagar said.
Meanwhile, two of the nine Army soldiers who were injured in Monday's blast in Pulwama succumbed to their injuries on Tuesday.
Full report at:
https://timesofindia.indiatimes.com/india/terrorist-who-provided-van-for-pulwama-strike-killed/articleshow/69849375.cms
--------
Akola Court acquits 3 of terror charges: Mere use of word jehad can't be ground to brand a person terrorist
by Sadaf Modak
June 19, 2019
Acquitting three men of terror charges, a special court in Akola has said that mere use of the word "jehad" by a person cannot be ground to brand him a terrorist.
The acquitted youths, Salim Malik (29), Shoeb Khan (29) and Abdul Malik (24), were slapped with terror charges following an attack on policemen outside a mosque in Pusad on September 25, 2015 on Bakr Eid over the beef ban in the state. The Anti Terrorism Squad (ATS) claimed that they were part of a conspiracy to influence Muslim youths to join terrorist organisations.
Acquitting all three of terror charges, Special Judge A S Jadhav, in his May 21 order, said, "As per the dictionary, the word 'jehad' literally means 'struggle'. Jehad is an Arabic word, which literally means striving or struggling. According to the BBC, the third meaning of jehad is struggling to build a good society. Related word of jehad is expedition, administration, movement, strive, crusade. Therefore, merely accused used word 'jehad', it would not be proper to brand him a terrorist."
Abdul was sentenced to three years in jail for "voluntarily causing hurt to policemen". As he was in jail since September 25, 2015, having spent more than the three-year term, he too was released. "It appears that accused No. 1 (Abdul) exhibited his anger by violence against the government and some Hindu organisations for ban on cow-slaughtering. No doubt he used the word 'jehad'. But, it was adventurous to jump to the conclusion that only for using the word 'jehad', he should be branded a terrorist," the court said.
According to the prosecution, Abdul arrived at the mosque, took out a knife and stabbed two policemen on duty and said before the attack that because of the beef ban, he would kill the policemen. Abdul denied the claim.
The court relied on the testimonies of the injured policemen and other policemen on duty. The court held that merely because they are policemen, their testimonies cannot be discarded. Abdul's lawyers claimed that there were discrepancies in the deposition of the policemen. The court, however, held that the presence of the accused at the spot was proven. It, however, ruled that Abdul cannot be held guilty of attempt to murder, as invoked by police, as the injuries caused to policemen were not on "vital" parts of their bodies.
The ATS claimed that Abdul had given a confessional statement naming Shoeb and Salim. The ATS claimed that the two influenced Abdul and other youths for "jehad", held secret meetings and delivered hate speeches. The court held that the confessional statement was "not voluntary". It held that it was claimed that Abdul wanted to give a confessional statement after he spent 25 days in police custody and was not provided any legal aid. The court said that there was "no doubt" that the accused was "under the nose of police personnel" and, therefore, his statement was recorded.
Full report at:
https://indianexpress.com/article/india/akola-court-acquits-three-of-terror-charges-use-of-word-jehad-terrorist-5787488/
--------
Jaish militant whose van was used in Pulwama CRPF convoy attack killed in Valley gunbattle
by Adil Akhzer
June 19, 2019
Security forces in the Valley notched a big success Tuesday when Jaish-e-Mohammad militant Sajad Maqbool Bhat, who owned the Maruti Eeco van that was used in the February 14 Pulwama attack which left 40 CRPF personnel dead, was killed along with another militant in an Anantnag village in South Kashmir.
An Army soldier also lost his life in the gunbattle which took place less than 24 hours after a Major and a militant were killed in a firefight in Anantnag district Monday.
Colonel Rajesh Kalia, Defence spokesman based in Srinagar, said: "Two terrorists eliminated today. One soldier martyred in the operation."
In an official release, J&K Police said a cordon and search operation (CASO) was launched by security forces at Marhama village in Bijbehara area of Anantnag district. The search turned into a gunbattle after militants fired on the search party.
"In the ensuing encounter, two terrorists were killed and the bodies were retrieved from the site of the encounter," police said. The militants, sources said, were hiding in a residential house.
A soldier, Anil Jaswal, also succumbed to injuries. "He was evacuated to a hospital where he attained martyrdom. We pay our rich tributes to the Army jawan for the supreme sacrifice made in the line of duty," police said.
The slain militants were identified as Sajjad Maqbool Bhat and Tawseef Ahmad Bhat, both residents of the village where the gunbattle took place.
According to police records, Sajjad joined the militant ranks on February 22 this year, eight days after the attack on the CRPF convoy in Pulwama, and Tawseef in May 2018.
"During the course of investigation, it was learnt that the Maruti Eeco vehicle used for carrying out the blast in Lethpora was owned by one Sajad… as news of Sajad's involvement spread, he escaped and joined proscribed terror outfit JeM. A picture of Sajad carrying an AK-47 rifle was also circulated on social media, announcing his joining the terror outfit," J&K Police said in its release.
Colonel Kalia too said: "Sajad was the one who managed the vehicle for the February 14 Pulwama attack on the CRPF."
A senior police officer in South Kashmir said Sajad's killing was a "big achievement" for security forces. The J&K Police said Tawseef played a key role in recruiting Sajjad into militant ranks and they were both wanted for several cases in the area.
Also Tuesday, two soldiers, among the injured in Pulwama Monday after a car with an IED hit an Army vehicle, died in hospital.
In a separate incident, suspected militants lobbed a grenade at a police station in Pulwama district, leaving civilians injured. Pulwama health officials said nine persons were injured in the attack. Dr Abdul Rashid Parra, Medical Superintendent of district hospital, said: "Five of them were referred to Srinagar for specialised treatment."
Full report at:
https://indianexpress.com/article/india/jaish-militant-whose-van-was-used-in-pulwama-crpf-convoy-attack-killed-in-valley-gunbattle-anantnag-5787478/
--------
Another attack in Pulwama; grenade hurled near police station, several civilians injured
June 18, 2019
A grenade was hurled near a police station in South Kashmir's Pulwama district on Tuesday, injuring about seven civilians, the Jammu and Kashmir police said. The attack came hours after another attack in the district. The injured have been rushed to a hospital for treatment. The security forces have cordoned off the area to look for the attackers.
Earlier today, two militants, linked to the Pulwama terror attack in February, were killed in an encounter with security forces in Anantnag. Sajjad Khan and Tauseef, affiliated with the Jaish-e-Mohammad, were accused of carrying out a terrorist attack on CRPF personnel on February 14 this year in Pulwama. Sajjad had managed the vehicle which rammed into a CRPF convoy, while Tauseef was his handler, the Army said.
On Monday, at least six soldiers, and two civilians, were injured in a car bomb explosion that targeted a military vehicle in Pulwama. The attack took place when a patrol unit of the 44 Rashtriya Rifles was moving towards Arihal village in the district.
The failed attack comes days after Pakistan informed India of a possible attack in the district near Awantipora. A top security official in Srinagar had confirmed to The Sunday Express about the possible attack by militants using an IED mounted on a vehicle. "The Pakistanis shared this information regarding the possibility of such an attack with our High Commission in Islamabad. They had also shared this information with the Americans, who too, informed us. So this information has come directly as well as via the Americans to us," an official had said.
The site of the blast is 27 kms from the area where a convoy of vehicles carrying security personnel on the Jammu Srinagar National Highway was attacked by a suicide bomber on 14 February in which 40 CRPF personnel were killed
In another incident, an Army Major was killed in a gunbattle in Anantnag district on Monday. The officer killed in the gunbattle was identified as Major Ketan Sharma (31) of 19 Rashtriya Rifles — his family is in Meerut. A militant, who is suspected to be a foreign national, was also killed in the exchange of fire during a joint security operation in Badoora village of Achabal early morning. Two other Army officers were injured, J&K Police said.
Full report at:
https://indianexpress.com/article/india/kashmir-pulwama-grenade-hurled-near-police-station-5787043/
--------
Europe
UN chief urges Russia, Turkey to stabilize Syria's Idlib 'without delay'
18 June 2019
UN Secretary-General Antonio Guterres appealed to Russia and Turkey on Tuesday "to stabilize the situation without delay" in northwest Syria.
"I am deeply concerned about the escalation of the fighting in Idlib, and the situation is especially dangerous given the involvement of an increased number of actors," he told reporters.
"Even in the fight against terrorism, there needs to be full compliance with international human rights and humanitarian law."
The UN Security Council is due to be briefed behind closed doors later on Tuesday on the situation in northwest Syria.
Meanwhile, clashes between pro-government forces and militant-led groups that control Syria's northwest killed at least 55 combatants on Tuesday, a war monitor said.
The fighting flared on the edge of Hama province when militant group Hayat Tahrir al-Sham launched a dawn attack on regime positions, the Syrian Observatory for Human Rights said.
At least 14 pro-government forces died and 41 militants were killed in clashes, the Britain-based monitor said.
"Regime forces foiled the attack" before the fighting came to an end, Observatory head Rami Abdul Rahman told AFP. State news agency SANA also said the offensive had been thwarted.
Regime air strikes on northern Hama and neighboring Idlib had also paused for more than 24 hours, before resuming Tuesday following the latest bout of fighting, according to the monitor.
The bombardment killed one civilian in southern Idlib, it said.
https://english.alarabiya.net/en/News/middle-east/2019/06/18/UN-chief-urges-Russia-Turkey-to-stabilize-Syria-s-Idlib-without-delay-.html
--------
Spain busts gang that helped finance al-Qaeda in Syria
19 June 2019
Spanish police on Tuesday detained 10 nationals of Syrian origin accused of financing "al-Qaeda terrorist militia" in Syria, the interior ministry and a source close to the probe said.
With Europol's collaboration, more than 350 agents took part in an operation in Madrid, further south in Toledo and the eastern province of Valencia. Fourteen homes and other premises were searched by officers.
The source, who refused to be named, said the detainees were Spanish of Syrian origin.
"The organization was led by a family clan that for years allegedly used a legal business structure to hide illicit operations with which they evaded tax authorities and laundered large amounts of money," the ministry said in a statement.
"The detainees allegedly took away money from each legal operation, substituting the real amount of the operation in the receipt with another lower value amount," it said.
A large part of the stash of cash amassed went to the opposition-held province of Idlib in Syria to "give support and financial backing to terrorist militia there." Relatives of the suspects are allegedly al-Qaeda members.
The money was sent via various methods including human couriers and the "hawala" system, an informal method of payment based on trust that is far more difficult to trace than bank transfers.
One of those detained had already been arrested in Syria in 2008 and sentenced for his participation in an attack and for belonging to the group Fatah al-Islam.
Full report at:
https://english.alarabiya.net/en/News/world/2019/06/19/Spain-busts-gang-that-helped-finance-al-Qaeda-in-Syria.html
--------
British weapons and personnel doing much of the killing in Yemen: Report
Jun 18, 2019
A detailed reports published by the Guardian newspaper has shown how Britain is massively contributing to Saudi Arabia's devastating war on Yemen as it suggests that London is not only supplying the bombs that fall on Yemenis, but it provides the personnel and expertise that keep the war going.
The comprehensive report by Arron Merat published on Tuesday showed that Britain was doing much of the killing in Yemen as the country continues to provide Saudi Arabia with everything it needs to turn its southern impoverished neighbor into a graveyard.
"Every day Yemen is hit by British bombs – dropped by British planes that are flown by British-trained pilots and maintained and prepared inside Saudi Arabia by thousands of British contractors," said Merat in the report.
Tens of thousands of people have been killed since Saudi Arabia and a number of Arab allies launched their illegal war on Yemen in March 2015 in an attempt to restore power to a resigned and fugitive president.
Rights campaigners have repeatedly criticized Britain for its role in helping the killing of civilians in Yemen, the poorest country in the Arab world which has suffered from a major humanitarian crisis as a result of the Saudi-led war.
The report by the Guardian showed that it is effectively the United States and Britain who are leading the massive onslaught in Yemen as Saudi Arabia contracted out the vital parts of the war to the two military powers from the very beginning of the conflict.
"Britain does not merely supply weapons for this war: it provides the personnel and expertise required to keep the war going," said the report, adding that the Royal Air Force personnel have been deployed to Saudi Arabia to work as engineers and trainers over the past four years.
It said the Britain's biggest arms company BAE Systems has played an even larger role in the Saudi-led war on Yemen as it has been subcontracted by London to provide weapons, maintenance and engineers inside Saudi Arabia.
"The Saudi bosses absolutely depend on BAE Systems ...They couldn't do it without us," said John Deverell, a former British defense attaché to Saudi Arabia and Yemen.
A BAE employee also said recently that if it was not for the British support, the Saudis would have not been able to continue the war on Yemen for a single week.
"If we weren't there, in seven to 14 days there wouldn't be a jet in the sky," said the employee in an interview with the Channel 4 in early April.
Reports last year also suggested that Britain had even sent its troops to Yemen to help Saudis in their fight against fighters from the ruling Houthi Ansarullah movement.
Full report at:
https://www.presstv.com/Detail/2019/06/18/598821/UK-support-Saudi-war-Yemen-report
--------
British MP calls for investigation into Morsi death
Muhammad Mussa
18.06.2019
LONDON
A British parliamentarian has called for an international and independent investigation into the death of former Egyptian President Mohamed Morsi.
Conservative MP Crispin Blunt, who headed the Detention Review Panel for Mohamed Morsi in 2018, said that Morsi was "not an ordinary prisoner" and his death is representative of the Egyptian government's "inability to uphold prisoners' rights."
The senior parliamentarian made clear that the government of Abdel Fatah el-Sisi has a duty to explain the death of the former president and should be held accountable for the treatment given to him while in custody. Blunt also called for an investigation into the cause of Morsi's death.
"Dr Morsi was no ordinary prisoner," Blunt said.
He said "He [Mohamed Morsi] was elected President of Egypt in 2012. He has died whilst in the custody of the Egyptian state, the same state apparatus that was forcibly taken control of by the Egyptian military in June 2013."
"Dr Morsi's death in custody is representative of Egypt's inability to treat prisoners in accordance with both Egyptian and international law" he added.
Blunt also explained how, under Egyptian and international law, the detention of Morsi "could meet the threshold of torture" and as the conditions of Morsi's detention was well known throughout all departments of the government, el-Sisi himself could be held responsible for the crime of torture and ultimately his death.
According to Blunt, the Egyptian government did not allow an independent review of Morsi's detention and to assess the treatment being given to him by the authorities. Moreover, the MP's initiative to lead an independent review was condemned by the Egyptian parliament.
Inadequate medical care
In 2018, the Conservative MP chaired the review panel of MPs and lawyers and after extensive research concluded that Morsi received "inadequate medical care, particularly inadequate management of his diabetes and inadequate management of his liver disease" and that his detention was below what is expected from international standards and would constitute cruel, inhuman and degrading treatment.
The panel also concluded that due to Morsi's long term medical conditions and the inadequate level of care and treatment given to him, the rapid deterioration of his health was widely expected and one that would lead to a premature death.
"The Egyptian government has a duty to explain his unfortunate death and there must be proper accountability for his treatment in custody" Blunt said.
"We found culpability for torture rests not only with direct perpetrators but those who are responsible for or acquiesce in it", he added.
President Morsi became Egypt's first democratically-elected leader when he was elected in 2012 and was ousted in a bloody military coup by then chief of staff general Abdel Fatah el-Sisi in 2013.
Along with thousands of others, Morsi was put into solitary confinement and was denied much needed medical assistance as his health rapidly deteriorated over the years.
Since the 2013 military coup, the regime has cracked down on all channels of legal dissent and opposition, arresting many supporters of Morsi, the Muslim Brotherhood and those who are are simply against the coup with many more being killed.
Full report at:
https://www.aa.com.tr/en/europe/british-mp-calls-for-investigation-into-morsi-death/1507768
--------
UK pledges to build consensus for peace in Afghanistan
Shadi Khan Saif
18.06.2019
British Prime Minister Theresa May assured U.K.'s full support to build regional consensus for peace in Afghanistan during a meeting with the visiting Afghan President Ashraf Ghani, an Afghan official statement said on Monday.
According to the the Afghan Presidency in Kabul, Ghani called upon May at the 10 Downing Street in London in the afternoon for a formal summit following an official invitation. It added the two leaders discussed the fragile peace process as well as a range of other issues of bilateral interest.
''President Ghani thanked for Britain's lasting cooperation with Afghanistan, and said the British government's role for building regional consensus for the Afghan peace process is important and valuable,'' it added.
Pemier May's office said in a series of tweets that the two leaders also discussed the upcoming presidential elections in Afghanistan and agreed that those must be credible and transparent.
''On regional stability, the Prime Minister welcomed the steps toward peace in Afghanistan that President Ghani has taken, as well as his talks with Prime Minister (Imran) Khan of Pakistan. The Prime Minister reiterated the UK's support for these efforts,'' it said.
On this occasion, a new aid package totaling £170 million was announced by U.K. International Development Secretary Rory Stewart for Afghanistan. The package will provide urgent food, water and medical help, including polio vaccinations for children.
Full report at:
https://www.aa.com.tr/en/asia-pacific/uk-pledges-to-build-consensus-for-peace-in-afghanistan/1507231
--------
UK leadership candidates commit to anti-Islam inquiry into Conservatives
Jamie Prentis
June 19, 2019
The five candidates to become UK prime minster have committed to an external inquiry into Islamophobia in the ruling Conservative Party.
They were asked to do so during a live debate on TV by Muslim-born home secretary Sajid Javid.
"Do you all agree, guys? Shall we have an external investigation into the Conservative Party on Islamophobia? Excellent, they agree," he said.
There have been extensive accusations of anti-Islam abuse in the party with Boris Johnson, favourite to become the new prime minister, comparing niqab wearing women to letterboxes and bank robbers.
The pledge by the candidates came following a question from a Bristol-based Imam who asked if "words have consequences?"
"Insofar as my words have given offence over the last 20 or 30 years and people have taken those words out of my articles and escalated them, then of course I'm sorry for the offence that they have caused," said Mr Johnson, previously foreign secretary and mayor of London.
He was keen to emphasise that his great-grandfather, Ali Kemal, was a Muslim.
Joey D'Urso
✔
@josephmdurso
Just spoke to Michael Gove outside his house about Islamophobia, he said "there are people in the Conservative Party who we need to make sure appreciate the consequences of their actions - there are people who need to be rooted out of the party." @BBCNews 63
1:42 PM - Jun 19, 2019
Twitter Ads info and privacy
71 people are talking about this
"When my Muslim great-grandfather came to this country in fear of his life in 1912, he did so because he knew it was a place that was a beacon of hope and of generosity and openness, and a willingness to welcome people from around the world," he said.
In a newspaper column last year he wrote "it is absolutely ridiculous that people should choose to go around looking like letter boxes."
TellMAMA, an organisation working to counter anti-Islam sentiment, thanked Mr Javid "for mentioning growing anti-Muslim hatred and for getting ALL candidates to agree to an external inquiry about anti-Muslim prejudice or Islamophobia in the" party.
Mr Javid said there was concern over growing "anti-Muslim hatred in our country, certainly over the last few years, in all parts of society. And, wherever that is, including in political parties, it must be absolutely rooted out."
Full report at:
https://www.thenational.ae/world/europe/uk-leadership-candidates-commit-to-anti-islam-inquiry-into-conservatives-1.876271
--------
North America
US Congress Expands Pentagon Aid In Syria To Cover Islamic State Prisoners
Jack Detsch
June 17, 2019
Congress wants to give the Pentagon more freedom to help US-backed forces in Syria detain Islamic State fighters in the war-torn country.
The Senate version of the National Defense Authorization Act released last week expands an authority the Pentagon can use to build small-scale temporary facilities such as ammunition and resupply points in Syria to also support the detention of Islamic State (IS, also known as ISIS) fighters. The new bill calls for expanding previous assistance to the Syrian Democratic Forces (SDF) to also cover the "temporary detention and repatriation" of foreign fighters "in accordance with" international law.
For months, the Donald Trump administration has called on European allies to play a bigger role in dealing with captured foreign fighters in Syria and Iraq. But some experts worry that the move could create false hope among the SDF, which faces a threat from Turkey and protests from Arabs in northeast Syria, as the Pentagon's support has remained flat over the past two years.
"They have kind of fed off of whatever scraps of promises and resources that we've thrown them," said Elizabeth Dent, a former adviser for the Global Coalition to Defeat ISIS and now a nonresident fellow with the Middle East Institute. "When we basically satisfy a small portion of what they've asked for, it gives them hope that we're a reliable partner even though we haven't delivered on 10,000 other things they've asked for."
The construction authority first came about after the Barack Obama administration demanded the ability to build temporary supply points and assembly areas, for a maximum of $4 million per project and $12 million per year. The Trump administration extended the authority to deepen the fight against IS in its onetime capital of Raqqa during the height of the fighting in 2017, Al-Monitor reported at the time.
With mounting evidence that the SDF is buckling under the weight of the detainee challenge, Congress has decided to get involved again, extending the powers through the end of next year. Since the SDF liberated the last pocket of IS-held ground in March, the population at al-Hol, a Kurdish-run camp in northeastern Syria holding thousands of family members of militants, has swelled to over 70,000 people — more than seven times the number held there last year — according to the Pentagon's inspector general.
The SDF has asked for an international tribunal to try the thousands of fighters in their custody, but the United States is still trying to encourage allies such as France to repatriate and prosecute foreign IS combatants.
"The SDF has put significant pressure on the United States to create a mechanism that will allow the repatriation of ISIS fighters," said Nick Heras, a Middle East fellow at the Center for a New American Security, a Washington-based think tank. "The reason for that is that the SDF now and likely well into the future does not have the capacity to support a prison population of thousands of foreign ISIS fighters."
The Defense Department is set to host another counter-IS meeting in Brussels this week, which will examine the prisoner issue, as well as the militant group's ongoing use of digital tools to facilitate recruitment and propaganda.
Meanwhile, the transit to the camp has also become increasingly deadly, with many refugees and detainees arriving in poor health. But the United States is having to balance the challenge of holding prisoners for intelligence purposes to winnow out IS' thinning leadership ranks while dealing with subpar detention conditions. The State Department has expressed concern that without a viable plan for improvements, the imprisonment of foreign fighters could result in violations of human rights and humanitarian law.
The Senate is also trying to address that side of the problem in the new defense bill, calling on the Pentagon to appoint an interagency coordinator to deal with the detention issue. The defense authorization legislation also calls for the Defense Department to provide clarity on the number of IS fighters detained by the SDF and foreign militants that have been repatriated every 90 days, beginning early next year.
The Senate is set to begin debating the full bill later this week. The House version of the defense bill does not include the new language on IS fighters.
https://www.al-monitor.com/pulse/originals/2019/06/congress-expands-pentagon-aid-syria-isis-prisoners.html
--------
Trump would consider military force vs Iran to prevent nuclear weapon
18 June 2019
US President Donald Trump would consider using military force to prevent Iran from gaining a nuclear weapon but left open the question if it involved protecting oil supplies, he told Time magazine in an interview published on Tuesday.
Striking a different tone than some Republican lawmakers who have urged a military response, Trump told Time the impact of the recent attacks on Norwegian and Japanese oil tankers in the Gulf of Oman had been "very minor" so far.
Asked whether he would consider military action against Iran to prevent it from obtaining nuclear weapons or ensure the free flow of oil through the gulf, the president said, "I would certainly go over nuclear weapons, and I would keep the other a question mark."
The United States has blamed Iran for the tanker attacks, citing as evidence a series of images showing an Iran Revolutionary Guard Corps boat removing an unexploded limpet mine from the hull of the Japanese oil tanker attacked on June 13.
Acting US Defense Secretary Patrick Shanahan said on Monday the United States was deploying about 1,000 more troops to the Middle East for defensive purposes, citing concerns about the threat from Iran.
Tensions have been stoking between Washington and Tehran since the Trump administration decided last year to pull out of the Iran nuclear deal and re-impose sanctions on the Islamic republic.
Concerns about a possible confrontation between the two countries have been growing since last week's tanker attacks. Iran said on Monday it would soon breach internationally agreed curbs on its stock of low-enriched uranium in 10 days, despite calls for it to abide by the limits.
Trump said he agreed with US intelligence assessments that Iran was behind the tanker attacks, but he said Tehran had been less hostile toward the United States since he became president.
Full report at:
https://english.alarabiya.net/en/News/middle-east/2019/06/18/Trump-would-consider-military-force-vs-Iran-to-prevent-nuclear-weapon.html
--------
Pompeo keeps Saudi Arabia off US child soldiers list
Jun 19, 2019
Secretary of State Mike Pompeo has blocked the inclusion of Saudi Arabia on a list of countries that recruit child soldiers, rejecting the findings of the State Department's anti-human trafficking office that the Saudi-led military coalition engaged in a military campaign on Yemen has been using under-age fighters there.
State Department experts recommended adding Saudi Arabia, a major US ally and arms customer, to the soon-to-be released list on the basis of news reports and human rights groups' assessments that the ultra-conservative kingdom has hired child fighters from Sudan to fight in Yemen, according to four sources familiar with the matter.
The sources added that the experts' recommendation faced resistance from some other State Department officials, who argued that it was not clear whether Sudanese forces in Yemen were under the control of Sudanese officers or directed by the Saudi-led coalition.
The New York Times daily newspaper, citing Sudanese fighters, reported on December 28 last year that Saudi and United Arab Emirates commanders directed the North African mercenaries at a safe distance from the fighting against Houthi Ansarullah fighters.
The Arabic-language Sout al-Hamish daily newspaper, citing an unnamed informed source, reported on May 18 that 600 Sudanese fighters had been flown a month earlier from Nyala Airport in southwestern Sudan to Yemen.
The source added that the Sudanese fighters had received training for only four months at the Dumaya camp in Nyala, the paratrooper training camp in the capital Khartoum as well as the al-Jili camp north of Khartoum before being sent to battle fronts in Yemen.
Even though Sudan's long-time President Omar al-Bashir was toppled in April after months of public protests, the military council that runs the country follows suit and continues to dispatch soldiers to fight at the front line of war in Yemen.
Almost all the Sudanese fighters appear to come from the battle-scarred and impoverished region of Darfur, where some 300,000 people were apparently killed and 1.2 million displaced during a dozen years of conflict over diminishing arable land and other scarce resources.
Most of the militia belong to paramilitary Rapid Support Forces, a tribal militia previously known as the Janjaweed.
There are reports that Sudanese fighters are sent to battles in the Midi Desert of the northwestern Yemeni province of Hajjah, the Khalid bin Walid camp in Ta'izz, or around Aden and Hudaydah.
All of those interviewed by foreign media outlets confirm that they have fought in Yemen only for money, as they were paid in Saudi riyals. Payments to the mercenaries are said to be deposited directly into the Faisal Islamic Bank of Sudan, which is partly owned by Saudis.
Saudi Arabia and a number of its regional allies launched a devastating campaign against Yemen in March 2015, with the goal of bringing the government of former president Abd Rabbuh Mansur Hadi back to power and crushing the Houthi Ansarullah movement.
The US-based Armed Conflict Location and Event Data Project (ACLED), a nonprofit conflict-research organization, estimates that the Saudi-led war has claimed the lives of over 60,000 Yemenis since January 2016.
Full report at:
https://www.presstv.com/Detail/2019/06/18/598849/Pompeo-keeps-Saudi-Arabia-off-US-child-soldiers-list
--------
UN chief urges Russia, Turkey to stabilize Idlib
Umar Farooq
19.06.2019
WASHINGTON
UN Secretary General Antonio Guterres on Tuesday called on Russia and Turkey to stabilize Syria's Idlib province as the Bashar al-Assad regime launched another offensive.
Turkey and Russia agreed last September to turn Idlib into a de-escalation zone in which acts of aggression would be expressly prohibited.
But the Syrian regime and its allies have consistently broken the terms of the ceasefire, launching frequent attacks inside the zone.
"I appeal in particular to the Astana guarantors -- and to the Russian Federation and Turkey, especially, as the signatories of the September 2018 Memorandum of Understanding on Idlib -- to stabilize the situation without delay," Guterres told reporters at the UN.
He stressed that "there is no military solution to the Syrian crisis".
"It was clear at the start and remains clear more than eight years later that the solution must be political."
The Turkish Armed Forces set up 12 observation posts in Idlib's de-escalation zone in May 2018 following the ninth round of peace talks in Astana, Kazakhstan with Russia and Iran. Moscow has 10 observation posts.
The Assad regime has ignored the agreements and constantly launches strikes in the zone.
Guterres expressed deep concern over the situation in Idlib, saying "civilians are paying a horrific price".
He said that even in the fight against terrorism, there needs to be full compliance with international human rights and humanitarian law.
Syria has been locked in a vicious civil war since early 2011, when the Assad regime cracked down on pro-democracy protests with unexpected ferocity.
Since then, hundreds of thousands of people have been killed and more than 10 million others displaced, according to UN officials.
Last month, Ursula Mueller, Guterres' top humanitarian affairs official, lambasted the Security Council for a history of inaction in Syria, questioning what it will do to prevent another catastrophe, this time in Idlib.
"Can't this council take any concrete action when attacks on schools and hospitals have become a war tactic that no longer sparks outrage?" Mueller said.
"Is there nothing to be said or done when indiscriminate barrel bombs are dropped in civilian areas?
Full report at:
https://www.aa.com.tr/en/americas/un-chief-urges-russia-turkey-to-stabilize-idlib/1508348
--------
Canada: Quebec Bill 21 disappoints faith groups
Vakkas Doğantekin
18.06.2019
A new Quebec's law that asks most public employees to leave religious values at home has drawn criticism from faith groups across the Canadian province.
The majority government passed Bill 21 by a 75-35 vote that was introduced March 28 by Minister of Immigration, Diversity and Inclusion Simon Jolin-Barrette.
Quebec Premier Francois Legault lauded the bill that prohibits religious symbols and clothing, and said it is in line with the expectations of Quebecers.
Opposition leader Pierre Arcand said the "botched" law "removes" rights for people, according to the Catholic Herald website.
In order to minimize legal and technical challenges, the prohibitive law will only apply to new employees.
The National Council of Canadian Muslims said it will take the "deeply troubling" new bill to court.
"Late last night the Quebec government legalized discrimination on the basis of religion," it wrote Monday.
Rabbi Lisa Grushcow also criticized the bill she called "worse than expected."
"Waking up with fewer rights for people that I love in a place that I love," said the rabbi from Montreal.
Christian groups also slammed the bill, warning it will "nourish fear and intolerance, rather than contribute to social peace."
Full report at:
https://www.aa.com.tr/en/americas/canada-quebec-bill-21-disappoints-faith-groups/1508036
--------
Pakistan
Pakistan plans to shift students of JuD schools to govtrun institutions
Jun 18, 2019
LAHORE: Pakistan plans to shift the students of Mumbai attack mastermind Hafiz Saeed's Jamaat-ud-Dawa (JuD) and Falah-i-Insaniat Foundation (FIF) to the government-run schools after an international terror financing watchdog raised objection over allocation of Rs 180 crore for these institutions.
A senior government official told PTI on Tuesday that the Financial Action Task Force (FATF) had objected the Pakistani government's allocation of Rs 180 crore for running the JuD and FIF schools across the country.
"The government could not satisfy the FATF about running a good number of seminaries and schools of JuD and FIF after taking over their control in March. Therefore, the Imran Khan administration is seriously considering shifting the students of these seminaries and schools to the government-run institutions," he said.
The official said the FATF was apprehensive of the Pakistani government's move to allocate such a huge sum of money for the JuD and the FIF institutions.
"It (FATF) suspected that the government might not be able to dissociate the JuD and the FIF activists associated with these institutions," he said.
A source in the Punjab government told PTI that the JuD and the FIF activists are somehow associated with their educational institutions the government has taken over.
He said these activists are waiting for "appropriate time" to take back their positions. The government has also taken over the JuD headquarters in Lahore and Muridke and stopped Saeed from entering there.
In first week of March apparently on the international pressure after the deadly Pulwama attack in Jammu and Kashmir, the Pakistani government sealed or took over administrative control of several establishments run by the proscribed Jaish-eMohammad (JeM), the JuD and the FIF.
The government initiated action against these organisations after notifying a 2019 order of the United Nations Security Council that provides a legal basis for freezing or seizure of properties owned by individuals and organisations designated by the council as terrorists.
The order was issued to meet the requirements of the FATF regarding the implementation of designation of persons and entities under the UNSC resolutions.
Pakistan, despite making some progress in overcoming the shortcomings in its counter-terrorism financing and anti-money laundering regimes, continues to remain under the cloud at the global illicit financing watchdog.
After failing to adequately convince the FATF, Pakistan is required to complete actions before its next deadline.
https://timesofindia.indiatimes.com/world/pakistan/pakistan-plans-to-shift-students-of-jud-schools-to-govt-run-institutions/articleshow/69842334.cms
--------
Pakistan signs MoU with Britain for extradition of Ishaq Dar, confirms Shehzad Akbar
June 18, 2019
ISLAMABAD: Pakistan and British authorities have signed MoU to bring back Pakistan Muslim League-Nawaz (PML-N) leader and former finance minister Ishaq Dar to Pakistan.
This was confirmed by PM Imran Khan's Special Assistant on Accountability Shehzad Akbar here on Tuesday.
Shehzad Akbar said "Pakistan has signed MoU with British authorities to bring back Ishaq Dar. They have to sign the extradition note of Dar now. Then he will be presented before the magistrate there."
Full report at:
https://www.thenews.com.pk/latest/486512-pakistan-signs-mou-with-britain-for-extradition-of-ishaq-dar-confirms-shehzad-akbar
--------
Pakistan, Japan sign MoU on defence cooperation
June 19, 2019
ISLAMABAD: Pakistan and Japan on Tuesday signed a memorandum of understanding (MoU) on defence cooperation and exchanges.
The MoU was signed after the 10th round of military-to-military talks at the Ministry of Defence in Rawalpindi.
Additional Defence Secretary Rear Admiral Owais Ahmed Bilgrami led the Pakistani delegation, while the director general for International Affairs at Japan's Bureau of Defence Policy led the Japanese side.
The two sides exchanged views on enhancing and diversifying bilateral cooperation and agreed on stronger collaboration for promotion of international peace and security, the officials said.
Rear Admiral Bilgrami recalled the goodwill existing between the armed forces of the two countries and briefed the Japanese delegation on Pakistan's role and efforts in pursuing enduring peace in the region.
Security dialogue
The seventh round of Pakistan-Japan security dialogue was, meanwhile, held at the Foreign Office.
The Pakistani side was led by Imtiaz Ahmad, Special Secretary (Asia Pacific), while Shigeki Takizaki, Director General, Southeast and Southwest Asian Affairs Department, Ministry of Foreign Affairs of Japan, led the Japanese side.
"The two sides exchanged views on security policies and regional as well as global issues. The security situation around Pakistan and Japan was also discussed," the Foreign Office said, adding that the special secretary also briefed the Japanese side on Pakistan's relations with neighbouring countries and highlighted efforts in the fight against terrorism.
Full report at:
https://www.dawn.com/news/1489064/pakistan-japan-sign-mou-on-defence-cooperation
--------
Military committed to defending motherland with nation's support: army chief
Jun 19, 2019
RAWALPINDI: Chief of Army Staff (COAS) General Qamar Javed Bajwa has said that the armed forces of the country are committed to defending the motherland with the nation's support.
He expressed this while addressing participants of the National Security and War Course at the National Defence University (NDU) on Tuesday, the Inter-Services Public Relations (ISPR) said in a statement.
On this occasion, he also detailed the internal and external challenges to national security.
He further said that the serious threats aimed at country demand a well-prepared military and by the grace of God, Pakistan's Army is prepared to thwart any kind of challenge with ease and efficiency in collaboration with the other institutes of the state.
Earlier on arrival, General Qamar was received by President National Defence University Lieutenant General Aamer Riaz.
Army Chief also held an important meeting with General Han Weighou, commander of China's ground forces at the General Headquarters.
Full report at:
https://www.pakistantoday.com.pk/2019/06/18/military-committed-to-defend-motherland-with-nations-support-coas/
--------
Africa
UN slams use of children as 'human bombs' in Nigeria
Abu 'Adnan
18.06.2019
The United Nations Children's Fund (UNICEF) on Monday condemned the use of children as suicide bombers by Boko Haram terrorists in Nigeria's northeast.
The agency's statement came hours after two underage girls and a boy blew themselves up at a community football viewing center in the Konduga area of Borno State -- the heart of the 10-year-old insurgency.
The incident left at least 30 dead and 40 others injured.
"UNICEF condemns the use of children as human bombs and in any combat or non-combat roles in the conflict in northeast Nigeria," the agency said in a statement.
"It is unacceptable that children should be used in this way. UNICEF appeals to all those involved in this terrible conflict to protect children at all times and to keep them out of harm's way."
UNICEF said the incident brought to five the number of children used as human bombs this year. In 2018, 48 children died as suicide bombers, while more than 83 children suffered a similar fate in 2017.
"We again call on all parties to the conflict in northeast Nigeria to immediately cease all attacks against civilians, to stop using children in this conflict, and to abide by their obligations under international humanitarian law," it added.
https://www.aa.com.tr/en/africa/un-slams-use-of-children-as-human-bombs-in-nigeria/1507188
--------
Boko Haram: UN sends message to Nigeria over multiple bombings in Borno
June 17, 2019
By Wale Odunsi
UN Secretary-General, António Guterres has commiserated with Nigeria over the triple suicide attacks in Konduga village, Borno State.
Borno State Emergency Management Agency (SEMA) on Monday said 30 persons lost their lives while 42 others were injured when three suspected Boko Haram suicide bombers detonated Improvised Explosive Device (IED) in Mandarari community.
Usman Kachala, SEMA Director of Search, Rescue and Operations, who disclosed this to newsmen when he visited the scene of the attack on Monday, said the incident occurred around 8 pm on Sunday.
Reacting, the UN Secretary-General, in a statement by his spokesman, Stéphane Dujarric, expressed his sincere condolences to the families of the victims and to the Government and people of Nigeria.
"He wishes a speedy recovery to the injured. He hopes those responsible for these attacks will be swiftly brought to justice", it added.
"The Secretary-General reiterates the solidarity of the United Nations with the Government of Nigeria in its fight against terrorism and violent extremism.
Full report at:
https://dailypost.ng/2019/06/17/boko-haram-un-sends-message-nigeria-multiple-bombings-borno/
--------
Turkey, Qatar smuggle weapons to terrorists in Libya: ex-Libyan minister
Jun. 17, 2019
CAIRO - 17 June 2019: Former Libyan Interior Minister Saleh Ragab accused Turkey and Qatar of smuggling weapons to terrorist groups and militia in Libya to keep fighting against the Libyan National Army in Tripoli.
In his speech during a Monday meeting with Libyan figures and politicians in Cairo, Ragab said that Libyans support LNA efforts to restore the country's stability and security.
Ragab also criticized The North Atlantic Treaty Organization (NATO) interference in the Libyan affairs, which led to the country's deterioration in the past.
The former official also noted that the United Nations failed to reach a political solution to the Libyan conflict over the past years.
Cairo hosted on Monday a meeting attended by Libyan national figures, politicians and tribal leaders who discussed the latest efforts by the Libyan National Army (LNA) to fight terrorism, to restore stability in the country and preserve its unity.
The meeting aims at asserting the role of Libya's national powers in preserving the state, putting an end to the control of terrorists and extremists of Tripoli, restoring the state's stability and maintaining its sovereignty.
"We came to Cairo to stress that all Libyans are standing behind LNA efforts in Tripoli," said Secretary-General of the Libyan National People's Movement Mustafa al-Zaeidy, ensuring that all participants in the conference stand with LNA efforts to preserve the country's stability. He explained that Libya is facing 'conspiracy,' adding that there were several attempts to dis-empower the army.
He explained that civilians in Libya are suffering more than anyone as a result of the ongoing war.
For his part, LNA's Colonel Belaid el-Sheikhi stated that Muslim Brotherhood's role is 'gone forever' in Libya, adding that parties and countries known for their support of terrorist movements will be hindered from playing any role in the country, namely: Qatar and Turkey.
Egypt has been playing a key role to preserve Libya's stability and security. Cairo hosted several meeting for unifying the Libyan army and to reach political solution.
Full report at:
https://www.egypttoday.com/Article/2/71699/Turkey-Qatar-smuggle-weapons-to-terrorists-in-Libya-ex-Libyan
--------
Airstrike hits warehouse co-owned by Italy's ENI in Libya
19 June 2019
A storehouse belonging to Libya's Mellitah Oil & Gas, a joint venture between the National Oil Corporation (NOC) and Italy's ENI, was damaged in an air strike on Tuesday, wounding three workers, the state oil firm said in a statement.
It was the first confirmed attack on a foreign oil asset since forces led by Khalifa Haftar started a campaign with ground and air forces to take the capital Tripoli.
"We are witnessing the destruction of the corporation's facilities before our eyes," NOC chairman Mustafa Sanalla said after the incident.
NOC said "material losses" were significant but did not say what had been inside the warehouse in Tajoura, an eastern suburb of Tripoli home to several military barracks.
Full report at:
https://english.alarabiya.net/en/News/north-africa/2019/06/19/Air-strike-hits-warehouse-co-owned-by-Italy-s-ENI-in-Libya.html
--------
38 killed, dozens wounded in attacks on two Mali villages
Jun 19, 2019
Thirty-eight people have been killed and many others wounded in attacks on two ethnic Dogon villages in central Mali, the government said Tuesday, in the latest in a cycle of violence in the volatile Sahel country.
No group immediately claimed responsibility for Monday's attacks but Mali has seen a spate of massacres this year between ethnic Dogon and Fulani communities.
"The terrorist attacks on Monday evening targeted the villages of Gangafani and Yoro... not far from the border with Burkina Faso. The official provisional toll is 38 dead and numerous people wounded," the Malian government said in a statement.
"Defense and security forces have been dispatched to the location to protect the population and their property and to track down the assailants of these attacks," the statement added, revising upwards an earlier toll of 14 dead..
Goundjou Poudiougou, a local community official, said around a dozen bodies had been counted in both villages.
"They are terrorists because they killed and then disemboweled some bodies and burned crops," Poudiougou said.
Earlier this month, a massacre on another Dogon village, Sobane Da, killed 35 people, stirring fears of tit-for-tat attacks in a region with an ethnic patchwork.
"This time is the same as Sobane Da: People and animals targeted," said Adama Dionko, a spokesman for Mali's Dogon association.
"We demand the state give us more security."
Mali's armed forces also reported, on Twitter, that an army patrol Tuesday was ambushed at Gossi in the north of the country and suffered both "human and material losses".
President Ibrahim Boubacar Keita has appealed for an end to the revenge attacks after he visited the site of the Sobane Da massacre.
But despite military help from France and the United Nations, Mali's government is struggling to calm violence that began in the north of the country in 2012, sparked by radical Tuareg militias.
Earlier this year, in the bloodiest raid, 160 Fulani were killed in an attack on a village by suspected militiamen from a rival ethnic group.
Ethnic violence in central Mali surged after a predominantly Fulani extremist group led by preacher Amadou Koufa emerged in 2015.
The UN peacekeeping mission in Mali, MINUSMA, said in May it had recorded nearly 500 deaths in attacks on Fulanis in the central regions of Mopti and Segou since January 2018.
Armed Fulanis caused 63 deaths among civilians in the Mopti region over the same period, it said.
The Fulani are primarily cattle breeders and traders, while the Bambara and Dogon ethic groups are traditionally sedentary farmers.
Full report at:
https://www.presstv.com/Detail/2019/06/19/598863/terrorist-attack-mali-villages-ethnic-africa
--------
Southeast Asia
Islam attacked, ridiculed under Pakatan govt, PAS Youth chief tells wing members
19 June 2019
BY DANIAL DZULKIFLY AND JERRY CHOONG
KUANTAN, June 19 — The Pakatan Harapan (PH) administration has allegedly continued to threaten and ridicule Islam, PAS Youth chief Muhammad Khalil Abdul Hadi alleged to his fellow wing members today.
In his address to the wing's Muktamar or annual congress in Bukit Gambang Resort City here, Khalil also claimed there were attempts by PH's own elected representatives to undermine Islam.
"Not only did they not fulfil their manifesto, but sadly, there have been attempts to breach the sanctity of Islam here openly," he claimed.
"Every day we see more and more insults on social media towards Islam, Islamic laws, Prophet Muhammad and Islamic institutions. They are trying to embed a negative perception of Islam while trying to break apart fellow Muslims so they can benefit from it. "During Ramadan, we saw among them vehemently fighting against Islam in Parliament but they were given the opportunity to breach Islamic institutions by providing zakat to Muslims," he added.
He was ostensibly commenting on several non-Muslim lawmakers distributing tithe to recipients in Penang, which Penang Mufti Datuk Seri Wan Salim Wan Mohd Noor has since clarified as permissible under Islam.
Khalil also claimed the supposed attempts to undermine Islam in the country are a part of a concerted attempt that involves international organisations.
"This can be seen through the attempts to ratify the International Convention on the Elimination of All Forms of Racial Discrimination (ICERD) and the Rome Statute [of the International Criminal Court] that eventually provide space for international intervention in our nation's affairs," he claimed.
Both international treaties are ratified by most United Nations member countries.
Opposition parties Umno and PAS have repeatedly attempted to paint the PH government as undermining Islam as part of their political pressure, an allegation that has been denied and rebutted many times by Putrajaya.
Khalil also spoke about PAS's cooperation with Umno, but stressed that the partnership goes beyond racial barriers and instead holds true to the Federal Constitution, which was formulated by those who fought hard for Malaysia's independence.
He said the partnership and unity are not bound to ideas of race alone.
"We must prove to Malaysian society that this partnership utilises the Constitution as the basis of the social contract which was agreed upon by those who achieved independence, from all races," he said.
Reflecting on PAS' history, he said it can be argued the party has been the most dynamic and courageous when it comes to making decisions based on principles since it has worked with several parties that it opposed.
"PAS once worked together with Umno, and stood against it as well. It befriended DAP, and parted ways with it as well.
"Likewise, PAS also worked alongside PKR, yet did not hesitate to sever ties with it when deemed necessary," Khalil said.
In all these instances, he noted some members accepted the fact, others disagreed but held their peace, and some even opposed it openly and deviated from PAS' struggle.
"Yet, what matters the most is that PAS has never strayed from the history of its political struggle when it comes to the ultimate goal of defending the faith," Khalil said.
https://www.malaymail.com/news/malaysia/2019/06/19/islam-attacked-ridiculed-under-pakatan-govt-pas-youth-chief-tells-wing-memb/1763538
--------
PAS MP slams Teo for getting non-Muslims' feedback on Islamic studies
18 June 2019
BY TERENCE TANG
KUALA LUMPUR, June 18 — PAS' Datuk Khairuddin Aman Razali has criticised the deputy education minister for allegedly inviting all Malaysians to provide feedback on how to improve the Islamic studies subject in primary schools.
According to Khairuddin, Teo Nie Ching reportedly made the invitation via a post on her Facebook page yesterday, which she later removed. The PAS lawmaker also noted that a similar announcement is still available on the Education Ministry's website.
"Although Teo Nie Ching has removed her post on Facebook yesterday, the invitation is still displayed on the Education Ministry's official site. It is saddening that she wishes to involve non-Muslims in this matter.
"By involving non-Muslims in a matter like this, it only shows that the deputy education minister is providing a wide space for non-Muslims to interfere in the affairs of Muslims," Khairuddin said on Facebook today.
The Kuala Nerus MP also questioned whether the survey is part of the DAP lawmaker's personal initiative or an official Education Ministry initiative.
"If this is an official Education Ministry initiative, why doesn't the minister himself, who is a Muslim, make an announcement as it is common knowledge that matters concerning the interests of Islam and Muslims are really sensitive especially in the New Malaysia era," he said.
Full report at:
https://www.malaymail.com/news/malaysia/2019/06/18/pas-mp-slams-teo-for-getting-non-muslims-feedback-on-islamic-studies/1763311
--------
Indonesia should seek more economic cooperation with Gulf States
M. Abdul Shihab
June 18, 2019
The Arab world has long-rooted ties in Indonesia, as historic indications reveal that the first traders initially reaching the archipelago in the fifth century. Since then the Arab world has provided maritime trade and financial services.
When Islam finally made its way to Indonesia, the two cultures already exhibited a strong financial and cultural bond thanks to Arab trade and migration. The routes that were initially used for trade have helped the ties between Indonesia and the Arab world flourish as Islam's influence expanded throughout the world.
Indonesia is home to the world's largest Muslim population; over 225 million people, or nearly 13 percent of the world's Muslims, live in the country.
In the past decade Indonesia's economy has grown, with few exceptions, between 5 percent and 6 percent annually for nearly 14 years. This impressive consistency is the result of a strong macroeconomic policy, modernization efforts, and a focus on stability following the collapse of Soeharto's military regime.
While Indonesia's successive governments deserve the lion's share of the credit for this turnaround, this new status quo as an economic force and a beacon of Islam in Southeast Asia is also due to the Persian Gulf's influence and efforts.
Today, the Kingdom of Saudi Arabia is responsible for most of the funding that flows from the Gulf, though most of it is earmarked for religious purposes. Despite President Joko "Jokowi" Widodo demonstrating some disappointment in 2017 regarding the declining amount of funding the country was expected to receive, the Saudi government remains an important partner.
For instance, Saudi Arabia still supports enormous investments in Islamic education throughout the country. This has been the primary strategy undertaken by the Saudis to extend its soft power over the past 40 years, and includes establishing Islamic schools, providing educational materials, and financing scholarships based in the Kingdom. This support is still largely employed to expand Saudi influence instead of spurring economic activity.
The rest of the Gulf states, however, view Indonesia as a valuable partner and investment that stretches beyond religious motives. While Saudi interest lies in reinforcing influence through religious funding, the real focus for the Gulf States should be attuned towards economic cooperation and investment. Indeed, while Indonesia's economy has been stable, its infrastructure is quickly growing obsolete as its economic engine slows.
This is not news to the Gulf. In 2017, the Indonesian government sought a total investment of US$10 billion from the United Arab Emirates, even as the country's private sector was already providing $2 billion in total capital for Indonesian energy and retail sectors. Similarly, Oman recently signed a major agreement with Indonesia worth $14 billion to build a refinery capable of handling 300,000 barrels of oil per day.
However, foreign direct investment in Indonesia from the Gulf States pales in comparison to other foreign benefactors (the top five sources of foreign funds are Singapore, Japan, South Korea, China, and Hong Kong). This reality should concern the Gulf states. While it simply represents a slight loss of trade influence, it also signals that the Gulf is losing a critical ally in one of the world's fastest-growing economies. This is unacceptable both in financial and political terms.
Indeed, the Gulf states should view this loss of influence seriously. As the world's largest Muslim state by population, Indonesia is a vital cultural and political ally for the Arab world in Southeast Asia. Additionally, the economic landscape poses a national security threat to Indonesia, which should concern the Arab world. China has been known to invest heavily in nations to exert both soft and hard power, and it seems to be following a similar pattern with Indonesia. Waning influence of Saudi's kingdom and others of the Gulf, in the biggest bastion of Muslim and Arab interests in Southeast Asia, represents a loss of leverage that affects the Gulf's financial stakes around the world.
Full report at:
https://www.thejakartapost.com/academia/2019/06/18/indonesia-should-seek-more-economic-cooperation-with-gulf-states.html
--------
Arab World
Saudi de-fangs religious police but plans to enforce 'decency'
Jun 19, 2019
RIYADH: Saudi Arabia has rendered toothless the once-feared religious police amid a liberalisation drive, but a planned "public decency" law is stoking controversy with some fearing a revival of morality policing.
Crown Prince Mohammed bin Salman has sought to shake off his country's ultra-conservative image with the reopening of cinemas, mixedgender concerts and party-fuelled sporting extravaganzas, while vowing to take the kingdom towards moderate Islam.
The relaxed social norms in a kingdom seldom associated with fun in the past have been welcomed by many Saudis, two-thirds of whom are under 30, in the midst of painful economic reforms geared towards a post-oil future.
But Saudi Arabia now aims to police its citizens' behaviour with a new public decency law approved by cabinet in April, though it remains unclear when it will be enforced.
The law seeks to uphold Saudi "values and principles", banning in public clothing deemed to "offend public tastes" — including men's shorts — and graffiti that could be interpreted as "harmful", according to local media.
Violators reportedly risk facing a fine of up to 5,000 riyals ($1,333).
"The haia (religious police) is back without the beards," academic Sultan al-Amer said on Twitter.
The bearded enforcers of the religious police were long notorious for patrolling streets and malls to chastise women wearing bright nail polish and for rigidly imposing sex segregation, but their powers have been clipped in recent years.
The law, widely perceived to be vague, has sparked public concern that it would be open to interpretation, leading to arbitrary penalties and, more light-heartedly, prompted humorous banter on social media.
The Arabic hashtag "shorts don't offend public morals" has gained traction alongside memes of men sweating it out on treadmills in loose-fitting traditional robes.
"It's Saudi Arabia meets Singapore," Kristin Diwan, of the Arab Gulf States Institute in Washington, told AFP.
"The Saudi leadership wants to undermine the Islamist basis of social power while still maintaining absolute political control and public order."
Pro-government Saudi media reported the law was meant to be implemented from May 25, with the interior ministry and tourism authority enforcing the rules.
But on May 27, state media said the law was yet to be enforced. It did not specify a new date.
"This (law) is an effort to balance the pressure from conservative elements of society that accuse the (government) of allowing things to go 'out of control'," said Ali Shihabi, founder of the pro-Saudi think-tank Arabia Foundation.
"Effecting social change is an art form — you want to push as fast as possible without provoking a counter reaction. Not easy!"
Prince Mohammed, who has amassed powers unseen by previous rulers, has cut back the political role of the ultraconservative religious establishment while promoting hyper-nationalism in a historic reordering of the Saudi state.
The kingdom's de facto ruler has projected himself as a modern-day reformer, while arresting several clerics -- including some perceived to be moderate — and tightly controlling religious discourse as part of what observers call a broad centralisation of power.
Many other clerics appear to be toeing the official line, bestowing religious sanction on the prince's modernisation drive.
Prominent Salafi scholar Ayedh al-Qarni recently issued a televised apology for his previously well-known hardline interpretations of Islam, while throwing his weight behind the young prince.
While Saudi cleric Adil al-Kalbani, former imam of Mecca's Grand Mosque, has challenged the long-taboo subject of mixing the sexes by denouncing gender segregation in mosques as a "kind of phobia".
Still, the social transformation appears to meet resentment in conservative quarters, with many calling on the state to police public behaviour.
Last year, a viral video of a veiled Saudi woman and a man dancing and twirling on a busy street provoked fury, with many asking "Where are the religious police?".
Such calls could only grow louder, observers say, amid a previously unthinkable push to create a Dubai-style leisure and entertainment sector.
Testing the waters, self-styled religious scholars are openly advocating against shutting down businesses during prayer times and backing the opening of a temporary alcohol-free nightclub during a cultural festival in western Jeddah city.
"They (Saudis) are creating a broader realm for personal expression but only at the pleasure of the state," said Diwan.
"Graffiti must be authorised."
https://timesofindia.indiatimes.com/world/middle-east/saudi-de-fangs-religious-police-but-plans-to-enforce-decency/articleshow/69852045.cms
--------
Egypt, Togo continue Sahel-Saharan joint exercise to combat terrorism
Jun. 17, 2019
CAIRO - 17 June 2019: Groups of army personnel from Egypt and Togo continued the second round of the joint military exercise of Sahel-Saharan States to combat terrorism at Mohamed Naguib base, with the participation of special forces from both countries. Theoretical lectures were given to unify concepts, learn about the combat experiences of both sides, and implement many planned practical activities, according to the Egyptian army spokesman Tamer al-Rifae.
The training comes within the framework of the efforts made by Egypt and the Armed Forces to enhance the fighting capabilities of the Sahel-Saharan States to confront any dangers that may face the region and threaten the security and stability of Africa. Ibrahim Sani Abani, secretary general of the Community of Sahel-Saharan States (CEN-SAD), said in 2018 that Egypt has always offered help to other African states. Abani said that Egypt has supported CEN-SAD states by providing their defense and security forces with 1,000 training grants, following a meeting between CEN-SAD defense ministers in 2016.
Concerning counterterrorism efforts, Abani said that Egypt has actually backed the Sahel-Saharan Anti-Terrorism Center, adding that safety and security are keys to progress, as investment and two-way trade cannot be carried out amid the spread of terrorism and state of instability.
President Abdel Fatah al-Sisi held a joint press conference on May 25, 2017 with President Alpha Conde of Guinea, which is one of the subsequent members of the CEN-SAD. Sisi agreed on enhancing security and military coordination to combat terrorism and organized crime in the Sahel region.
Full report at:
https://www.egypttoday.com/Article/1/71690/Egypt-Togo-continue-Sahel-Saharan-joint-exercise-to-combat-terrorism
--------
Syria: Civilians injured in car bomb blast near Qamishli Asayish HQ
JUNE 17, 2019
A vehicle bomb exploded in the city of Qamishli in Al-Hasakah governorate of northeastern Syria on Monday, June 17, with civilian casualties reported.
Local media reported the vehicle exploded by Sony roundabout near the Asayish internal security forces headquarters in the city. The bomb reportedly caused casualties among civilians and damage to nearby buildings.
Joan Garcia from the Rojava Information Center told The Defense Post that the bombing occurred outside the Asayish headquarters in the Qidurbek neighborhood, and that "injuries and shrapnel damage to surrounding homes and businesses have been reported." Garcia added that an 8-year old child had been taken to the hospital but there had been no deaths reported.
A local source told The Defense Post that civilians had been "hit" in the explosion.
Qamishli is the capital of the self-declared autonomous region of North and East Syria. Most of the city is under control of the Syrian Democratic Forces, a mixed Kurdish-Arab militia that is supported by the U.S.-led Coalition in the fight against ISIS, although parts of the city are also under the control of the Syrian government.
Islamic State's propaganda outlet Amaq said later on Monday that ISIS fighters "blew up a car bomb" in front of the "intelligence headquarters" of the Kurdistan Workers' Party, or PKK.
In 2007, the PKK restructured, forming Koma Civakên Kurdistan (Kurdistan Communities Union, KCK), an umbrella group for parties that subscribe to the democratic confederalism ideology of jailed PKK founder and leader Abdullah Ocalan.
The People's Protection Units (YPG), the largest and key component of the Syrian Democratic Forces alliance, is aligned with the KCK. ISIS generally refers to the SDF, its components, and other Kurdish groups in Northeast Syria as the PKK.
The city has been targeted several times in recent years, including by ISIS, but has seen less violence than other parts of Syria. A July 2016 truck bombing claimed by ISIS killed 45 people and injured over 100, the deadliest ever attack in the city. In January, the Asayish dismantled a car bomb that had been discovered in the city.
Data gathered by the Rojava Information Center indicated two explosions in Qamishli last month, one in April, and none in March.
Full report at:
https://thedefensepost.com/2019/06/17/syria-qamishli-bomb-asayish-headquarters/
--------
U.S. airstrike kills 16 Islamic State jihadists in Iraq
by Mohammed Ebraheem
Jun 17, 2019
Baghdad (IraqiNews.com) – Sixteen Islamic State militants were killed Monday in an airstrike by the U.S.-led international coalition on a terrorist hotbed in Nineveh province, federal police said.
In a press release carried by Alsumaria News TV channel, the Security Media Cell said that 16 Islamic State terrorists were killed inside a tunnel that was targeted by warplanes of the U.S.-led international coalition in al Kosb valley in Nineveh.
"The military operation was carried out based on intelligence information," the statement read, without giving further details.
The Islamic State group appeared on the international scene in 2014 when it seized large swathes of territory in Iraq and Syria, declaring the establishment of an Islamic "caliphate" from Mosul city.
Full report at:
https://www.iraqinews.com/iraq-war/u-s-airstrike-kills-16-islamic-state-jihadists-in-iraq/
--------
National Security forces foil terrorist attack south of Baghdad
by Loaa Adel
Jun 17, 2019
Baghdad (IraqiNews) Iraqi Security Media Cell announced, on Monday, foiling a terrorist attack south of Baghdad, Alsumaria News reported on Monday.
Spokesperson for the cell, Yahia Rasul, said that forces from the National Security Services foiled the so-called "Ramadan Invasion", after dismantling a terrorist network, south of Baghdad.
Rasul added, in a statement obtained by Sumaria News that the National Security Service succeeded in foiling a terrorist attack. The so-called "Ramadan Invasion" was carried out by the Islamic State group.
"During the military operation, security forces dismantled a terrorist network, which was deployed in the north, west and Sahara of southern Baghdad," Rasul explained.
Full report at:
https://www.iraqinews.com/iraq-war/national-security-forces-foil-terrorist-attack-south-of-baghdad/
--------
Lebanon arrests Syrian plotting Daesh bomb attacks on churches
NAJIA HOUSSARI
June 17, 2019
BEIRUT: A Syrian national has been arrested in southern Lebanon on suspicion of involvement with the Daesh terrorist group. It is alleged he discussed with other people potential locations, including churches, for attacks in Lebanon where the largest numbers of people could be targeted and killed.
It is thought that they were aiming to emulate similar Easter attacks in Sri Lanka. Daesh leader Abu Bakr Al-Baghdadi released a video message in April in which he praised the Sri Lankan terrorists.
A security source confirmed that a Syrian man has been detained and investigations are continuing. He added that the arrest "came on the basis of a professional intelligence operation" and that the security forces are working with external parties.
The General Directorate of Internal Security Forces (ISF) said that as a result of "preventive and proactive security operations conducted by the Information Division of the ISF concerning the monitoring of activities of serious terrorist cells, especially those affiliated with Daesh, the division was able to monitor and identify a resident of southern Lebanon who was active on social media spreading the ideology of the organization and recruiting people for it."
It continued: "A special force from the Information Division arrested a person named Z.M. who was born in 1999 and is a Syrian residing in the town of Yater. The investigation found that he was promoting the ideology of Daesh through social media by creating a large number of channels and groups on a number of applications that follow and publicize publications of the Daesh organization."
Yater is a village near Tyre in Southern Lebanon. Locals said that Z.M. was arrested six days ago. He worked in construction and agriculture and lived alone in a house without a family, they added.
The ISF said that the man "was associated with people outside Lebanon and cooperated with them to establish online groups to spread and promote Daesh ideology. After publishing the video in which Abu Bakr Al-Baghdadi blessed the operations in Sri Lanka...the detainee bought spray paint and...sprayed on one of the walls at the entrance to Yater slogans containing the words 'Grandson of Abu Bakr Al-Baghdadi' and 'The Islamic state.'"
Preliminary ISF investigations found that the detainee "discussed with a number of those he communicated with the idea of carrying out actions for the organization in Lebanon, including entering a church and killing the largest number of people there.
"He also discussed with them the idea of targeting husseiniyas (congregation halls for Shiite ceremonies) in Shiite villages and towns. He also logged on to jihadist websites of the organization on the internet, including encyclopedias giving details of how to make explosives, and downloaded them to his phone."
The ISF also said that the detainee "communicated with the Syrian S.B. (born in 1990), who has also been arrested, and tried to recruit him to embrace the ideology of Daesh. He said that at the time of his arrest he was still in the process of planning and had not taken any practical steps."
The security source did not specify whether Z.M. is a Syrian refugee, a laborer working under the sponsorship of a Lebanese citizen, or in the country illegally. However, he stressed: "What this person did has nothing to do with Syrian refugees in Lebanon."
Lebanese army commander Gen. Joseph Aoun said on Monday: "The army is dealing today with an unconventional terrorist enemy hiding among people, where the complexities are many and unclear."
He added: "The rapid response of the (security) units to the terrorist attack in Tripoli recently confirms the importance of the principles that we learn in the College of Command and Staff.
Full report at:
http://www.arabnews.com/node/1512221/middle-east
--------
Yemen Warns to Target UAE Ports, Airports if Emirati Attacks Go on
Jun 19, 2019
"The Saudi-led coalition's war has entered its 5th year," said the Yemeni minister in an interview with FNA on Tuesday, adding, "The war is still going on with massacre of the innocent, civilians, children and women in Yemen, and it is growing bigger, and the aggressors have laid an all-out blockade on the people of Yemen."
"The operations of the Yemeni Army are in the framework of the natural right of self-defense against these aggressions to pose pressure on the invading states to stop strikes against civilians and remove the blockade. These operations will go on to materialize these objectives [of us], and surely these goals will soon be met," he highlighted.
Asked about the next step of the Yemeni Army against the assailants, Amer said, "Undoubtedly, air strikes by drone and missile units of the Yemeni Amy will increase. Also on the battlefield, the Army has been conducting operations and unique attacks were staged along borders. Inside, also we are completely countering the mercenaries and armed people affiliated to the Saudi-led coalition."
"All options are on the table in fighting against the invading states, as so far the Yemeni Army and popular forces have disrupted all calculations and equations of the aggressors," he highlighted.
"All airports of the aggressing states of Saudi Arabia and the UAE can be stricken by drone and missile units of the Yemeni Army. These airports had already been hit. Striking vital targets, like ports and airports, in the invader states is among the options of the Yemeni Army," he underscored.
"The UAE is playing an active role in the aggression against Yemen, and it is now occupying a number of Yemeni islands and ports, and is currently stoking further clashes inside the country with supporting terrorist groups in Yemen. Hence, the UAE will not remain safe, escaping from the Yemeni Army's reaction, and if it does stop its aggressions, they will sooner or later witness our reaction," he underlined.
On Monday, UN Undersecretary-General for Humanitarian Affairs Mark Lowcock painted a horrifying picture of the war in Yemen, saying about half a million people will die by 2022 if the war continues.
If fighting lasts until 2022, close to half a million people will lose their lives, including more than 300,000 who will die from hunger, lack of health care and related causes, Lowcock cited a University of Denver study commissioned by the UN Development Program as saying.
"That is twice as many people dying as the model predicts if the war were to stop this year," he told the Security Council.
Apart from the heavy toll, there would also be a profound decline in the status of survivors throughout the country, he warned. A quarter of children would be malnourished, and nearly 40 percent of children would be out of school.
"You can imagine better than me what the implications of this might be for security and stability in the wider region," said Lowcock, who is also the UN emergency relief coordinator.
If the war continues, the world will need an even larger and an even more expensive relief operation, he said.
At 4.2 billion U.S. dollars, this year's Yemen response plan is already the world's biggest. "If the fighting doesn't stop, today's requirements will be a fraction of what we'll need to keep people alive a few years from now," he said.
Lowcock observed that the Yemeni conflict is trapped in a loop of time. "Yemen is getting more violent, not less. The conflict is getting worse, not better."
"So the war is not only brutal, it is unwinnable. Everyone agrees on this last point, at least in their public statements. And yet the war continues," he added.
Also on Monday, Spokesman of the Yemeni Armed Forces Brigadier General Yahya Saree warned that the country's attacks on the three airports of Abha, Jazzan and Najran will continue, vowing that they would remain insecure.
"Abha, Jazzan and Najran airports have turned into insecure airports and they will be targeted on a regular basis because these airports are used for military attacks, including continued attacks and cruel siege on the Yemeni nation," Saree was quoted by the Arabic-language al-Masirah news website as saying.
He called on the Saudi civilians to stay a long distance away from these airports.
Saree also warned that Yemen's response to the Saudi-led coalition attacks will not be confined to these airports and will include other sensitive sites in an unpredictable fashion of targeting for the Saudis.
In relevant remarks on Sunday, a senior member of Yemen's Ansarallah movement's political office said the clock was ticking for war on Saudi soil.
Mohammad Nasser al-Bakhiti wrote on his twitter page that time was arriving for a "major battle" between Yemen and Saudi Arabia.
"It is the right of the Yemeni people to attack the enemy on its land and reciprocate the financial damage" inflicted by the Saudi-led coalition," he added.
Al-Bakhiti called on the Yemeni tribes to differentiate between state and private-owned assets and properties if the attacks start, noting that the tribal forces will surely coordinate their moves with freedom-seekers in Saudi Arabia.
"We are liberation forces, and not occupiers," he said.
Also, on Saturday, Yemeni Air Force Spokesman Brigadier General Abdullah Al-Jefri underlined that the equations of war had changed by his country's missiles and drones, adding that the Saudi-UAE coalition would be forced to stop the war soon.
General Jefri told the Arabic-language Mer'at al-Jazeera news website that after the recent attacks against Najran, Jizzan and Abha, Yemen will launch offensives against the airbases, specially Khamis Mashit region in Assir which is considered as one of the most important Saudi military bases which hosts Israeli military experts too.
"The Yemeni missiles and planes will reach Riyadh and regions farther than Riyadh as long as the coalition countries continue siege and aggression against Yemen," he added.
General Jefri said that Yemen also is in possession of new advanced missiles and drones which can reach Bab al-Mandab and the Suez canal, adding that the Saudi-UAE coalition will be forced to end the war in the near future.
He warned that his nation's expanded missile and drone power would change political, military and economic equations in the battleground, saying that the 300 marked targets that include energy pipelines and exports would bring the Saudi-led coalition to its knees.
Yemen's armed forces on Friday carried out retaliatory drone attacks on an airport in Southwestern Saudi Arabia for the second time in a week.
Yemeni Qasif-2K drones targeted the airport in the Saudi province of Asir in the early hours of Friday morning, two days after a cruise missile attack by army troopers and allied fighters from Popular Committees at the strategic Saudi facility, al-Masirah television network reported.
There have been no immediate reports of possible casualties or the extent of damage caused as a result of the attack.
On Wednesday, General Saree stated that US-built surface-to-air missile systems stationed at Abha airport could not intercept the cruise missile, which he said had hit the designated target with great precision.
He noted that the missile hit the observation tower in the airport, which is about 200 kilometers North of the border with Yemen and serves domestic and regional routes, causing significant disruption to air travel.
Saree pointed out that the missile attack on Abha airport was part of retaliatory measures by Yemeni soldiers and their allies in the face of the Saudi-led coalition's crimes against Yemeni people.
Saudi Arabia has been striking Yemen since March 2015 to restore power to fugitive president Mansour Hadi, a close ally of Riyadh. The Saudi-led aggression has so far killed more than 20,000 Yemenis, including hundreds of women and children. Despite Riyadh's claims that it is bombing the positions of the Ansarullah fighters, Saudi bombers are flattening residential areas and civilian infrastructures.
Yemen is the world's largest humanitarian crisis with more than 22 million people in need and is seeing a spike in needs, fueled by ongoing conflict, a collapsing economy and diminished social services and livelihoods. The blockade on Yemen has smothered humanitarian deliveries of food and medicine to the import-dependent state.
The UN has repeatedly criticized the Saudi-UAE-led military coalition's bombing campaign and placed it on a blacklist of child rights violators last year.
Full report at:
http://en.farsnews.com/newstext.aspx?nn=13980329000252
--------
Russia warns US over extra troop deployment to Middle East
18 June 2019
Russia on Tuesday called for restraint to avoid escalation in the Middle East after the US said it was deploying additional troops due to heightened tensions with Iran.
"We are urging all the sides to show restraint," President Vladimir Putin's spokesman Dmitry Peskov told journalists in response to a question on the deployment.
"We would prefer not to see any steps that could introduce additional tensions in the already unstable region."
The United States said Monday it has approved the deployment of 1,000 additional troops to the Middle East.
Acting Defense Secretary Patrick Shanahan said the troops were being sent "for defensive purposes" as the US has blamed Iran for last week's attacks on two tankers in the Gulf of Oman.
Russian Deputy Foreign Minister Sergei Ryabkov said on Tuesday that US plans to increase its troop presence in the Middle East were aimed at provoking armed conflict.
Such actions "cannot be seen otherwise than as a deliberate course to provoke war," Ryabkov told journalists, quoted by RIA Novosti news agency.
He said that US Secretary of State Mike Pompeo while visiting Russia last month had stated that US troops were in the region not to start war but to prevent it.
Pompeo said at a news conference with Russian foreign minister Sergei Lavrov in the Black Sea resort of Sochi on May 14 that "we fundamentally do not seek a war with Iran."
"If that's the case, the US should refrain from further reinforcement of its presence and from other steps, including dragging and pushing its allies in various parts of the world into stepping up pressure on Iran," Ryabkov said.
Tensions between Tehran and Washington have escalated since the US last year quit a multi-nation nuclear deal with Iran, a close ally of Russia.
Full report at:
https://english.alarabiya.net/en/News/middle-east/2019/06/18/-Russia-warns-US-over-extra-troop-deployment-to-Middle-East.html
--------
Syria clashes kill 45 fighters: monitor
18 June 2019
Clashes between pro-government forces and extremist-led groups that control Syria's northwest killed at least 45 combatants on Tuesday, a war monitor said.
The fighting flared on the edge of Hama province when the extremist group Hayat Tahrir al-Sham launched a dawn attack on regime positions, leaving 14 pro-government forces dead, the Syrian Observatory for Human Rights said.
"Regime forces foiled the attack," Observatory head Rami Abdul Rahman told AFP.
State news agency SANA also said the offensive had been thwarted.
Hama's northern countryside lies on the edge of a extremist-controlled region including most of Idlib province.
The frontline had been relatively calm since clashes on Saturday killed more than 35 combatants, including extremists and regime forces, Abdul Rahman said.
Regime airstrikes on northern Hama and neighboring Idlib had also paused for more than 24 hours, before resuming on Tuesday following the latest bout of fighting, according to the monitor.
The bombardment killed one civilian in southern Idlib, it said.
The latest battles come after rocket fire by HTS - led by a former al-Qaeda affiliate - and allied militants killed more than 12 civilians in a regime-held village in Aleppo province late Sunday.
Parts of Aleppo, Hama and Idlib are supposed to be protected from a massive regime offensive by a buffer zone deal that Russia and Turkey signed in September.
But it was never fully implemented as extremists refused to withdraw from a planned demilitarized zone.
In January, HTS extended its administrative control over the region, which includes most of Idlib province as well as adjacent slivers of Latakia, Hama and Aleppo provinces.
The Syrian government and Russia have upped their bombardment of the region since late April, killing more than 400 civilians, according to the Observatory.
Syria's war has killed more than 370,000 people and displaced millions since it started in 2011 with the repression of anti-government protests.
Full report at:
https://english.alarabiya.net/en/News/middle-east/2019/06/18/Syria-clashes-kill-45-fighters-monitor-.html
--------
Syria says it does not want fighting between Syrian and Turkish militaries
18 June 2019
Syrian Foreign Minister Walid al-Moualem said on Tuesday that he does not want to see fighting between the Syrian and Turkish militaries.
Al-Moualem made the comment in Beijing during a joint briefing with China's Foreign Minister Wang Yi.
The Syrian foreign minister remarks come amid escalation between Turkish forces and regime forces in Syria's Idlib region where a Turkish observation post was attacked on Sunday with mortar fire and shelling from an area controlled by the Syrian government forces, causing damage but no casualties, the Turkish Defense Ministry said.
Full report at:
https://english.alarabiya.net/en/News/middle-east/2019/06/18/Syria-says-it-does-not-want-fighting-between-Syrian-and-Turkish-militaries.html
--------
South Asia
U.S. seeks comprehensive peace agreement with Taliban, not a withdrawal agreement: Khalilzad
19 Jun 2019
The U.S. envoy for Afghan peace Zalmay Khalilzad has said the United States seeks a comprehensive peace agreement with Taliban.
Ambassador Khalilzad further added that the United States does not seek a withdrawal agreement.
"As we prepare for the next round of talks with the Taliban, important to remember we seek a comprehensive peace agreement, NOT a withdrawal agreement," he said.
According to Ambassador Khalilzad, the Taliban has accepted the framework for peace which includes counter-terrorism assurances, troop withdrawal, intra-Afghan negotiations that lead to a political settlement and a comprehensive & permanent ceasefire.
Meanwhile, he said "As I've said on numerous occasions, nothing is agreed until everything is agreed."
This comes as efforts are underway to find a negotiated political settlement to end the conflict in Afghanistan.
The U.S. and Taliban representatives have participated in six rounds of talks in the Qatar capital of Doha so far.
The sixth round talks between U.S. and Taliban representatives concluded earlier last month.
Ambassador Khalilzad said the sixth round talks made steady but slow progress on the aspects of the framework for end the war in Afghanistan.
However, he said "the current pace of talks isn't sufficient when so much conflict rages and innocent people die. We need more and faster progress. Our proposal for all sides to reduce violence also remains on the table."
https://www.khaama.com/u-s-seeks-comprehensive-peace-agreement-with-taliban-not-a-withdrawal-agreement-khalilzad-03666/
--------
Over 100 militants killed in Afghan fighting in 3 days
2019-06-17
KABUL, June 17 (Xinhua) -- More than 100 militants have been killed in conflict-battered Afghanistan over the past three days as government forces have stepped up crackdown on Taliban group, officials said Monday.
In the latest operations on the anti-government armed militants, the security forces pounded Taliban hideouts in Chardara district of the northern Kunduz province Monday morning, killing four armed fighters and injuring three others, provincial police spokesman Inamudin Rahmani said.
According to Rahmani, no security personnel have been hurt in the ongoing operations.
Similarly, the government forces initiated operations against Taliban fighters in Pashtrod district of the western Farah province on Sunday and so far have killed eight insurgents and injured nine others, police spokesman in the province Mohibullah Mohib reported.
The government forces have also killed 19 militants in the northern Faryab and 15 others in the eastern Ghazni provinces over the past 24 hours, officials have confirmed.
Similarly, at least 55 armed insurgents have been killed and several others injured during operations in the southern Kandahar and adjoining provinces over the past three days, provincial police chief of Kandahar Tawdin Khan said Monday.
However, Zabihullah Majahid who claims to speak for the Taliban outfit, in contact with media has disputed the claims, insisting that the armed group's fighters have killed scores of the security personnel over the period.
Full report at:
http://www.xinhuanet.com/english/2019-06/17/c_138150599.htm
--------
Easy riders spread message of peace in Myanmar
June 19, 2019
Thet Swe Win bought his first motorbike this year. Yet rather than go on joyrides like many of his peers, the 32-year-old Myanmar rights activist decided to put his new scrambler to better use.
He recruited a dozen like-minded young riders in Yangon and together they embarked on an improvised Peace Bike Tour. Their cross-country trip took them across conflict-strewn areas, including Shan State where ethnic separatism has erupted in renewed violence.
The aim of these easy riders from Yangon, Myanmar's former capital, was to spread a message of religious and ethnic tolerance in a country where such tolerance is often wanting.
A sprawling patchwork of indigenous groups, Myanmar is home to 135 officially recognized ethnic minorities, and divisions along ethnic and religious lines remain deep. Decades-long separatist insurgencies have claimed countless lives across much of the country and made countless others permanently homeless.
Yet Thet Swe Win and his bikers' gang of peaceniks encountered no overt hostility on their sojourns. Quite the opposite, he says. "We were warmly welcomed everywhere we went," recalls the director of the interfaith Centre for Youth and Social Harmony. "Our motto was 'Stop the fight. Let's ride.'"
The activists' route passed through a war zone in Shan State but they were left untroubled by militants and the Myanmar army. "The trip helped us understand the situation of ethnic minorities," Thet Swe Win says.
He became a political activist in his late teens and at one point had to flee Myanmar for a while in fear of his life after participating in an anti-government mass rally that prompted a violent response from the authorities. "In Myanmar lots of people are facing repression and discrimination," he adds. "I feel I need to speak up for them."
Doing so, however, has earned him plenty of enemies. "I've received death threats for speaking up, especially for the Rohingya," he notes.
Thet Swe Win has been helping spearhead a campaign challenging a dominant nationalist narrative that portrays ethnic Rohingya Muslims in Rakhine State as foreign interlopers who are plotting a violent takeover of the state.
In 2017, the Myanmar army responded to attacks on civilians and security officers by the Arakan Rohingya Salvation Army by driving hundreds of thousands of Rohingya villagers from their homes in Rakhine into neighboring Bangladesh.
Appalled by what rights groups have described as ethnic cleansing, Thet Swe Win launched a petition on social media against violence perpetrated by the military against Rohingya civilians.
"Myanmar is turning into a kind of fascist state, which is very dangerous for the country," the activist says.
Rising nationalism and religious intolerance
Bespectacled and bookish-looking, Thet Swe Win wears worn jeans and a plain T-shirt. His long hair is pulled into a ponytail by a rubber band. He speaks softly and comes across less as a firebrand than an aspiring artist.
To counter rising nationalism and religious intolerance among ethnic Burmese Buddhists, Thet Swe Win has joined other young activists in staging events aimed at fostering interfaith harmony. They record them on camera and upload them to social media for greater exposure.
In late May, he and another prominent young rights activist, Thinzar Shunlei Yi, 27, headlined a grassroots initiative called the White Rose Campaign, which saw young men and women handing out white roses as symbols of peaceful coexistence to Muslims in Yangon and elsewhere.
That same month Buddhist nationalists temporarily shut down some Muslim prayer sites during Ramadan in an effort to deny Muslims a chance to practice their religion openly.
"They discriminate against some minorities in the name of religion," Thinzar Shunlei Yi says. "There are a lot of anti-Muslim sentiments on social media."
Indicative of the level of institutionalized discrimination against Muslims in Myanmar is that there are no Muslim members in the country's parliament, she says.
Thinzar Shunlei Yi is a telegenic 27-year-old who hosts a popular talk show for young people in Myanmar. Even in her teen years, Thinzar Shunlei Yi began advocating radical change in the country.
"In my country, young people have always been on the frontlines of struggling for more rights and freedoms," she says. "Young people have to prepare for the future of our country — 10 to 20 years from now. It's too late to change the mindsets of people who are in power right now because they are too set in their ways and too old to change."
Yet her youthful activism has put Thinzar Shunlei Yi at odds with her own family. Her father is a senior officer in the military, which has afforded her a privileged upbringing in a country where the military has long dominated both political and economic affairs.
"I'm a Burmese Buddhist who belongs to the majority and I'm privileged compared to [many] religious and ethnic minorities," she concedes. "So I feel obligated to raise my voice on their behalf."
She adds: "It's important for someone from a military family to say something."
Critics have accused Thinzar Shunlei Yi and her fellow activists of selective outrage because they tend to focus largely on the plight of Muslims in a country where a myriad of other ethnic and religious groups likewise face endless hardships and daily humiliations.
She bristles at such charges. "We are not speaking up for them because they are Muslim," she stresses. "We would do it for other [disenfranchised] minorities too. If a church was closed down [the way prayer sites at Ramadan were closed down in May], we would stand up for Christians too."
These young activists' calls for more rights and freedom to the disenfranchised may end up coming at a cost to their own freedom.
Thinzar Shunlei Yi and Thet Swe Win are both facing legal charges on grounds that they protested illegally against Myanmar's government. They say they are finding it hard to have proper legal representation as few lawyers are willing to risk their careers by representing anti-government activists.
As many as 380 people classified by rights groups as political prisoners remain incarcerated on a variety of charges in Myanmar, where any form of dissent is frequently suppressed and penalized.
"Almost all activists are facing charges, which is part of a strategy to keep us out of politics," Thet Swe Win says.
Full report at:
https://www.ucanews.com/news/easy-riders-spread-message-of-peace-in-myanmar/85428
--------
4 Taliban militants killed in Balkh and Ghazni operations
18 Jun 2019
The security forces killed four Taliban militants during separate operations in Balkh and Ghazni provinces.
The informed military sources said Tuesday that the soldiers of 209th Shaheen Corps killed 3 Taliban fighters in Balkh province.
The sources further added that the operation was conducted in Dowlatabad district of Balkh.
Meanwhile, the security forces killed one Taliban fighter by conducting an airstrike in Andar district of Ghazni.
The Taliban militants have not commented regarding the operations so far.
This comes as the security situation in some districts of Balkh and Ghazni provinces has deteriorated during the recent months.
Taliban militants are active in some restive districts of the two provinces and often conduct terrorist related activities.
In the meantime, the Afghan forces frequently conduct counter-terrorism operations against the anti-government armed groups in the two province.
Full report at:
https://www.khaama.com/4-taliban-militants-killed-in-balkh-and-ghazni-operations-03663/
--------
Airstrikes kill 14 Taliban militants in Uruzgan province
18 Jun 2019
A series of airstrikes killed 14 Taliban militants in southern Uruzgan province.
The informed military sources said Tuesday that the security forces killed 14 Taliban militants during the airstrikes in Tarin Kot district of Uruzgan.
The Taliban militants have not commented regarding the airstrikes so far.
This comes as the security situation in some districts of Uruzgan has deteriorated during the recent months.
Taliban militants are active in some restive districts of Uruzgan and often conduct terrorist related activities.
Meanwhile, the Afghan forces are busy conducting counter-terrorism operations against the anti-government armed groups in this province.
Full report at:
https://www.khaama.com/airstrikes-kill-14-taliban-militants-in-uruzgan-province-03659/
--------
Taliban militants suffer heavy casualties in Ghor operations
18 Jun 2019
The security forces killed 15 Taliban militants during the joint military operations in Ghor province.
the 207th Zafar Corps in a statement said the security forces conducted the operation in Aahangara, Shotor Khan and Amrutak villages of Dolina district.
The statement further added that the Air Forces and Artillery Units also provided support to the security forces during the operation.
The 207th Zafar Corps also added that two commanders of Taliban Mullah Dad and Mustafa Amrutak were among those killed.
Meanwhile, the security forces wounded 13 Taliban militants during the operation and arrested six others.
Full report at:
https://www.khaama.com/taliban-militants-suffer-heavy-casualties-in-ghor-operations-03660/
--------
Afghan Special Forces kill 11 Taliban fighters in Faryab province
19 Jun 2019
The Afghan Special Forces killed 11 Taliban militants during an operation in Faryab province.
The informed military sources said Wednesday that the Special Forces conducted the operation in Ghormach district of Faryab.
The sources further added that the Special Forces also confiscated 2 mortars, uniforms and grenades during the operation.
The Taliban militants have not commented regarding the operations so far.
The security situation in some districts of Faryab province has deteriorated during the recent months.
Taliban militants are active in some districts of the province and often conduct terrorist related activities.
Meanwhile, the Afghan forces are busy conducting counter-terrorism operations against the anti-government armed groups in this province.
Full report at:
https://www.khaama.com/afghan-special-forces-kill-11-taliban-fighters-in-faryab-province-03666/
--------
Mideast
Trump Careens Toward a Confrontation With Iran
By David E. Sanger
June 17, 2019
WASHINGTON — After coming to office vowing to solve two very different nuclear crises, President Trump finds himself in a bind familiar to his predecessors: careening toward a confrontation with Iran and stalemated with North Korea.
Iran's announcement on Monday that it expects within 10 days to blow past the limits on how much nuclear fuel it can stockpile opens a new and perilous phase of its confrontation with the West.
After a year of restraint, during which Iran complied with the terms of an agreement that Mr. Trump very publicly abandoned, there is a greater sense than at any time in recent years that what began as an effort to drive Iran to the negotiating table may instead push the two countries into a conflict leaders on both sides insist they do not want.
Iran is still well more than a year away from being able to build a weapon — perhaps much longer. North Korea, by contrast, already has dozens, and appears to be adding to its arsenal at a rapid clip, according to American intelligence experts, despite Mr. Trump's insistent wooing of the North Korean leader, Kim Jong-un.
It is not clear yet what Mr. Trump is getting in return. On Monday, President Xi Jinping of China, whose government has kept the North alive with fuel and aid, announced that he would make his first state visit to Pyongyang, a huge propaganda victory for Mr. Kim. Mr. Kim also met recently with President Vladimir V. Putin of Russia.
The message seems clear: Even if he cannot reach an agreement with Washington, Mr. Kim has other cards to play, keeping trade and relationships alive with the two powers that helped his grandfather fight the Americans nearly seven decades ago.
But while Mr. Trump sees Iran's threats to resume nuclear production as an urgent crisis, one leading to the decision on Monday to send another 1,000 troops to the region, he is so invested in his newfound relationship with Mr. Kim that he actively dismisses evidence that North Korea's collection of weapons and missiles is expanding.
"I don't know," Mr. Trump told George Stephanopoulos of ABC News over the weekend, appearing not to know about those assessments, or not to believe them. "I hope not. He promised me he wouldn't."
President Trump's gamble that Iran would crack once he abandoned the Obama-era nuclear deal and reimposed sanctions has failed to pay off, at least for now.
President Trump's gamble that Iran would crack once he abandoned the Obama-era nuclear deal and reimposed sanctions has failed to pay off, at least for now.CreditDoug Mills/The New York Times
Broken promises — real, imagined and misunderstood — are at the core of both standoffs. The Iranians believe they agreed in 2015 to a 15-year moratorium on producing new nuclear fuel — and that in return they would be able to integrate themselves into the global economy.
But Mr. Trump declared the accord a "disaster" and abandoned it over the objections of many of his top advisers, his European allies, and Russia and China.
If the Iranians make good on their threat to break through the restrictions on how much nuclear fuel they will produce, by next month Tehran may have enough fuel for a single bomb in less than a year, for the first time since the 2015 agreement went into effect. (It would take it significantly longer, experts estimate, to build a deliverable weapon.)
The one-year buffer is the safety threshold that the Obama administration set years ago and that the Trump administration has adopted to impede Iran from gaining the capability to build a nuclear weapon. But leaders appear to be testing whether the rest of the coalition that negotiated the nuclear deal — especially the big European powers — will stick with Washington.
Should the Europeans break with the Trump administration and agree to help Iran weather harsh economic sanctions imposed by the United States, Tehran said, it could avoid breaking out of the 2015 agreement. That seems unlikely.
Nonetheless, the Europeans blame Mr. Trump for pushing Iran into violating an accord they all thought was working. And despite calls from some hawks in Washington for military action — most recently Senator Tom Cotton, Republican of Arkansas, who said on Sunday that attacks on tankers in the Gulf of Oman "warrant a retaliatory military strike" — Iran is betting that this time Washington will find few allies willing to escalate the confrontation, either in the Persian Gulf or through attacks on the country's nuclear facilities.
It is a huge game of chicken, and a miscalculation on either side could easily provoke a conflict.
Now Mr. Trump faces two immediate challenges when it comes to Iran: making the Persian Gulf safe for oil shipments and keeping Iran from edging toward the bomb-making capability that incited the crisis of a decade ago. Neither will be easy.
"Unfortunately, we are heading toward a confrontation," Iran's ambassador to Britain, Hamid Baeidinejad, warned CNN's Christiane Amanpour on Monday.
That view may be a calculated one, intended to peel the Europeans away from Mr. Trump. But the past few weeks have cast doubt on Mr. Trump's campaign promise that his occupancy of the Oval Office would so restore respect for American power that adversaries would give up their nuclear weapons programs.
The aircraft carrier Abraham Lincoln was sent to the Middle East over a perceived threat from Iran.
On Iran, the theory was that once he abandoned the Iran deal and reimposed sanctions, Iran would crack. By some measures the sanctions worked: Iran's economy has shrunk 4 percent, its currency has cratered and its inflation rate soared.
But rather than crack, the Iranians escalated, leaving Mr. Trump without any easy options.
"The U.S. seems to have embarked on its 'maximum pressure' campaign with few allies and little forethought as to unintended consequences or how to respond if key assumptions — e.g., that Iran will implode or succumb and enter talks on U.S. terms — prove false," Brett McGurk, Mr. Trump's former special envoy for the global coalition against the Islamic State, wrote recently.
He added: "Those assumptions are now highly questionable at best, which means the entire policy foundation as articulated by Trump has eroded. Iran appears to have made the strategic decision (not surprising) to resist economic pressure and respond asymmetrically, not directly against us."
Compounding the problem is the emerging confrontation in the gulf. Even the Democratic chairman of the House Intelligence Committee, Representative Adam B. Schiff, no friend of Mr. Trump's, says the evidence is overwhelming that Iran was responsible for the attacks on the tankers.
Securing the gulf for oil tankers would require enough naval vessels and reconnaissance capability to monitor just about every ship passing close to Iran's shores.
"That requires a coalition," said John F. Kirby, a retired rear admiral who participated in the tanker wars of the 1980s and served as the State Department spokesman during the negotiation of the Iran deal. "We don't have enough ships to do it ourselves." Whether the United States can convince allies to supply additional ships may be a test of how big a price Mr. Trump has paid for alienating the other nations that were part of the 2015 agreement and that also fear Iran's move to a bomb.
Secretary of State Mike Pompeo suggested on Sunday that China, among others, should help with that task, since it is so dependent on oil from the Middle East. But it is far from clear that China, Russia or the three European powers that negotiated the nuclear accord alongside the United States — Britain, France and Germany — are willing to join in that effort.
As these dramas play out, no one is watching the Iran confrontation more carefully than Mr. Kim in North Korea. He has played Mr. Trump much more skillfully than the Iranians have, engaging him first in a feel-good summit meeting and then, for a year, rejecting the administration's definitions of "denuclearization."
Mr. Trump, for his part, turned down a request from Mr. Kim to end sanctions in return for dismantling only a part of the North's nuclear infrastructure. But he has backed away from threatening what he once called fire and fury, and Mr. Kim may well be betting that as long as Iran dominates the headlines and the White House's attention, he can keep producing missiles, fuel and weapons.
https://www.nytimes.com/2019/06/17/us/politics/trump-iran-nuclear-deal.html
--------
Iran says will not extend 60-day deadline to scale back nuclear deal commitments
19 June 2019
Iran will not extend a 60-day deadline for it to start pulling out of more commitments agreed under its nuclear deal, the spokesman for Iran's Atomic Energy Organization, Behrouz Kamalvandi, said on Wednesday.
Iran stopped complying in May with some commitments in the 2015 nuclear deal that was agreed with global powers, after the United States unilaterally withdrew from the accord in 2018 and re-introduced sanctions on Tehran.
Iran said in May it would start enriching uranium at a higher level, unless world powers protected its economy from US sanctions within 60 days.
"Iran's two-month deadline to remaining signatories of the JCPOA (nuclear deal) cannot be extended, and the second phase will be implemented exactly as planned," Kamalvandi was quoted as saying by Tasnim news agency.
"The countdown to pass the 300 kilogrammes reserve of enriched uranium has started and in 10 days time we will pass this limit," Iran's atomic energy organisation spokesman Behrouz Kamalvandi had said on Monday at a press conference broadcast live.
Full report at:
https://english.alarabiya.net/en/News/middle-east/2019/06/19/Iran-says-will-not-extend-60-day-deadline-to-scale-back-nuclear-deal-commitments.html
--------
Iran will not wage war against any nation, says Iranian president
18 June 2019
Iran will not wage war against any nation, Iran's President Hassan Rouhani said on Tuesday in a speech broadcast live on state TV.
Fears of a confrontation between Iran and the United States have mounted since attacks on two oil tankers at the entrance to the Gulf on Thursday, which Washington has blamed on Tehran.
"Iran will not wage war against any nation," Rouhani said.
He said: "Those facing us are a group of politicians with little experience."
"Despite all of the Americans' efforts in the region and their desire to cut off our ties with all of the world and their desire to keep Iran secluded, they have been unsuccessful," Rouhani added.
On Monday, a spokesman for Iran's atomic agency said the country will break the uranium stockpile limit set by Tehran's nuclear deal with world powers in the next 10 days.
Behrouz Kamalvandi made the comment in a news conference carried live on Iranian state television.
Full report at:
https://english.alarabiya.net/en/News/middle-east/2019/06/18/Iran-will-not-wage-war-against-any-nation-says-Iranian-president.html
--------
Turkey orders arrest of 128 military personnel over suspected Gulen links
18 June 2019
Turkey has ordered the arrest of 128 military personnel over suspected links to the network accused by Ankara of orchestrating an attempted coup in 2016, state-run Anadolu news agency said on Tuesday.
Police were looking for just over half of the suspects in the western coastal province of Izmir and the rest across 30 other provinces, Anadolu said.
They were suspected of being supporters of US-based Muslim cleric Fethullah Gulen, who is accused by Turkish authorities of masterminding the failed putsch three years ago. Gulen has denied any role.
More than 77,000 people have been jailed pending trial, while about 150,000 people from the civil service, military, and elsewhere have been sacked or suspended from their jobs under crackdowns since the attempted coup.
Rights groups and Turkey's Western allies have criticised the scope of the crackdown, saying Erdogan has used the abortive coup as a pretext to quash dissent.
Full report at:
https://english.alarabiya.net/en/News/middle-east/2019/06/18/Turkey-orders-arrest-of-128-military-personnel-over-suspected-Gulen-links.html
--------
Saudi air defenses intercept two Houthi drones
18 June 2019
Saudi air defenses intercepted and destroyed two bomb-laden drones launched by Yemen's Iranian-backed Houthi militia.
Col. Turki al-Maliki, spokesperson of the Arab coalition made the remarks early Tuesday in a statement carried by the state-run Saudi Press Agency (SPA.)
Al-Maliki says one drone targeted a residential area in the southern city of Abha.
He added that the other drone was shot down over Yemen.
The Houthis have launched several strikes at Abha since last week, when a missile attack on the city's airport wounded 26 people.
The drone attacks come amid heightened tensions between Iran and the US.
The West and the UN say Iran arms the Houthis. Tehran denies that.
On Monday, the UN Security Council condemned the attack by Yemen's Houthi militia on the Abha airport "in the strongest terms."
Full report at:
https://english.alarabiya.net/en/News/gulf/2019/06/18/Saudi-Arabia-urges-world-powers-to-secure-waterways-after-twin-attacks.html
--------
UN inspection mechanism to operate in Hudaydah ports, Yemeni transport minister
Jun 18, 2019
Yemeni Minister of Transport Zakaria al-Shami says the Houthi Ansarullah movement and the United Nations have agreed on a mechanism to inspect ships docking at ports in the country's strategic western province of Hudaydah following Houthis' withdrawal from three of Yemen's Red Sea ports last month as part of a peace agreement.
"We agreed with the UN on a mechanism to inspect ships docking in the ports of Hudaydah and its implementation will start in the coming days," Yemen's Arabic-language al-Masirah television network quoted Shami as saying at a meeting of the Red Sea Ports Corporation on Tuesday.
He then called on the Saudi-led military coalition, which is engaged in a military campaign on Yemen and monitors ships on the high seas heading to the Arab country, to fulfill its obligations under the Stockholm deal struck last December in Sweden.
Under the deal, representatives from the Houthis and Yemen's ex-president Abd Rabbuh Mansur Hadi agreed to withdraw their troops from Hudaydah's main port and two other nearby ports, as well as Hudaydah city and allow deployment of UN monitors.
Meanwhile, an unnamed United Nations source confirmed that an agreement had been reached with UN inspection body – the Verification and Inspection Mechanism for Yemen (UNVIM).
UNVIM still needs to sign a separate agreement with the Saudi-led alliance.
Last month, Ansarullah fighters unilaterally pulled out of the ports of Saleef, used for grain, Ras Isa oil terminal and Hudaydah, under the first phase of the Stockholm peace deal.
Under the first phase, the Houthis were expected to pull back five kilometers from the three ports, while Saudi-backed pro-Hadi forces were required to be stationed four kilometers from Hudaydah.
A second phase of withdrawal is scheduled to follow in which both sides pull their troops 18 kilometers outside of Hudaydah and heavy weapons 30 kilometers away.
Saudi Arabia and a number of its regional allies launched a devastating campaign against Yemen in March 2015, with the goal of bringing the government of Hadi back to power and crushing the Houthi Ansarullah movement.
The US-based Armed Conflict Location and Event Data Project (ACLED), a nonprofit conflict-research organization, estimates that the Saudi-led war has claimed the lives of over 60,000 Yemenis since January 2016.
Full report at:
https://www.presstv.com/Detail/2019/06/18/598817/UN-inspection-mechanism-to-operate-in-Hudaydah-port-Yemeni-transport-minister
--------
Bahrain confab on Palestinians doomed to failure: Chief Palestinian negotiator
Jun 18, 2019
Chief Palestinian negotiator Saeb Erekat says the forthcoming US-led conference in Bahrain in support of President Donald Trump's controversial proposal for "peace" between the Israeli regime and Palestinians is doomed to failure in the face of the Palestinian nation's resistance and steadfastness.
"The Manama economic workshop, which the United States plans to hold this month, is an attempt to replace the principle of land for peace with the principle of money for peace," the London-based al-Quds al-Arabi daily newspaper quoted Erekat, who is also the Secretary General of the Palestine Liberation Organization, as saying on Tuesday.
He condemned the US policy toward the Palestinian issue, predicting the failure of the upcoming confab, which is scheduled for June 25-26. During the event, the US is set to present its proposals for Palestine's economy as part of what it calls "the deal of the century."
"The United States has already implemented the political part of the deal of the century by recognizing al-Quds (Jerusalem) as the capital of Israel, transferring its embassy to the city, legitimization of settlements, trying to destroy UNRWA [the United Nations Relief and Works Agency for Palestine Refugees in the Near East] and recognizing Israel's sovereignty over the occupied Syrian Golan Heights.
"Only the economic aspect remains. They (Americans) want to replace the principle of land for peace with money for peace," Erekat pointed out.
The high-ranking Palestinian official went on to say that Washington is seeking to link the economic projects it intends to implement with Israeli settlements, emphasizing that the so-called deal of the century is meant to ensure the prosperity of structures built on occupied Palestinian territories.
"Under President Trump's plan, the Occupation (Israel) will determine our rights. We will have the right to education, but within the curriculum they decide. They may prevent us from developing the map of Palestine. They may even allow us to drive cars, but under special terms and conditions," Erekat said.
He went on to say that the Bahrain confab will end in failure in the face of the Palestinian nations' steadfastness and rejection of all schemes aimed at undermining the Palestinian cause.
Erekat reiterated the Palestinian leadership's rejection of the Manama workshop and refusal to participate in it, calling on Arab and non-Arab countries to boycott the event.
"While the international community calls for the establishment of an independent Palestinian state based on the 1967 borders with Jerusalem al-Quds as its capital, the United States rejects them all. Why should we go and participate in the (Bahrain) summit then?" the senior Palestinian official highlighted.
The Palestine Liberation Organization (PLO) and the Hamas resistance movement have called for an Arab boycott of the Bahrain confab.
Hamas, in a statement issued on May 20, also called on Arab countries to provide the Palestinian people with every support to confront and frustrate the "deal of the century."
"We are following with great concern the American announcement about holding an economic workshop next June in the Bahraini capital of Manama," Hamas said, describing it as the first American confab in support of the so-called deal of the century.
The movement also denounced any Arab participation in adopting and executing the deal, saying any attendance in the American-led Bahrain conference would be considered a deviation from Arab and Islamic values.
Trump's "peace plan" has already been dismissed by Palestinian authorities ahead of its unveiling at the end of the holy fasting month of Ramadan and the formation of the new Israeli cabinet, most likely in June.
Speaking in the occupied West Bank city of Ramallah on April 16, Palestinian Prime Minister Mohammad Shtayyeh lashed out at the initiative, asserting it was "born dead."
Full report at:
https://www.presstv.com/Detail/2019/06/18/598831/Bahrain-confab-on-Palestinians-doomed-to-failure-Chief-Palestinian-negotiator
--------
URL: https://www.newageislam.com/islamic-world-news/jai-shri-ram--allahu/d/118929
New Age Islam, Islam Online, Islamic Website, African Muslim News, Arab World News, South Asia News, Indian Muslim News, World Muslim News, Women in Islam, Islamic Feminism, Arab Women, Women In Arab, Islamophobia in America, Muslim Women in West, Islam Women and Feminism