New Age Islam News Bureau
7 May 2014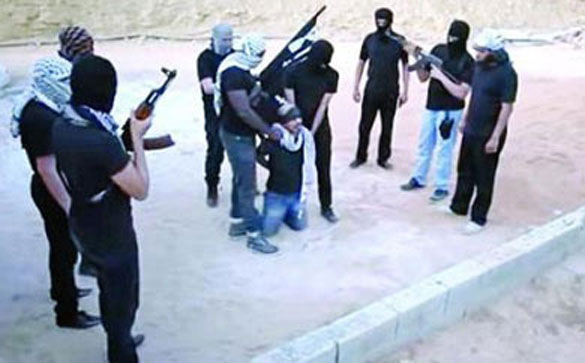 Misguided and Unreasonable: A Still from the Movie Shows a "Spy" Being Executed By "Jihadis" In Syria
------------
Africa
• 'I Abducted Your Girls ... By Allah, I Will Sell Them': Nigerian Islamist Leader
• Nine terrorists killed near Algeria-Mali border
• Most abducted Schoolchildren are Christians: Nigeria
• Tunisia to offer amnesty to jihadists not convicted of murder
• US sanctions two South Sudanese for 'unthinkable violence'
Arab World
• Disillusioned 'Jihadi' Gets Death Threats for Exposing Saudi Recruiters
• ISIL Jordanian jihadists call for holy war against regime
• Saudi Arabia claims uncovering al Qaeda cell planning attacks
• ISIL Terrorists Execute FSA Militants in Eastern Syria
• Army Inflicts Heavy Losses on Militants across Syria
• Egypt bans Mubarak party officials from elections
• Qur'anic calligraphy brings cultures together: Ibne Kaleem
• Sisi urges Israel to make concessions to Palestinians
• Syrian rebels begin evacuation of Homs
Europe
• UN: Sale of Girls by Boko Haram Would Be Crime against Humanity
• Ethnic minorities to make up third of UK by 2050
• New PoR cards delivered to half of Afghan refugees: UNHCR
• UK could send SAS to Nigeria
Mideast
• 74 Turkish citizens killed in Syria-linked incidents: FM Davutoğlu
• No one can treat Turks as second-class Europeans, FM Davutoğlu says
• Iran's new foreign policy isolates Zionist regime: Iranian FM
• Hamas eases ban on Palestinian newspapers in unity gesture
• Palestinian forces bust terror cell looking to attack Jewish-Israelis
• Iran's Zarif says new diplomacy has isolated Israel
Pakistan
• 14 killed as Taliban infighting erupts again in Waziristan
• Security forces kill seven Taliban in Swat gunfight
• Dr AQ Khan suggests Interior Ministry for MQM
• Pakistan for resolving Kashmir issue through dialogue: Sharif
• Imran has a hidden agenda: Fazl ur Rehman
• To press for a break, JUI-F lawmaker gives Azaan during assembly proceedings
• US national detained at Karachi airport for carrying bullets was an FBI agent
• Children entering Punjab must be vaccinated: Pak Punjab CM
• Pakistan: Govt School running in a graveyard
India
• The Organization of Islamic Cooperation flays carnage against Indian Muslims
• Sever Pak ties: Ajmer shrine head
• Pak mission seeks cover after 'threats'
North America
• US Muslims Slam 'Un-Islamic' Boko Haram
• Obama expresses commitment to two-state solution on Israel's Independence Day
• Muslim college wrestler gets waiver to keep beard
• Obama: Kidnapping of nearly 300 girls may mobilize world against Islamic militant group
• Urge Congress to Vote Yes on Resolution to End Persecution of Rohingya Muslims in Burma
• Canada offers to help Nigeria secure release of Chibok schoolgirls
Southeast Asia
• Malaysia's present environment too corrupt for Hudud, say Islamic experts
• Are you with the extremists or the moderates, Mr Prime Minister, asks DAP
• No ruling will stop churches in Sabah, Sarawak from using 'Allah', says former minister
• Keep Indonesia Secular, Yudhoyono Urges
• Academic freedom should not be used to promote hate speech, says Christian group
• Shoura Council approves Philippines labour agreement
South Asia
• In China's Xinjiang, Economic Divide Seen Fuelling Ethnic Unrest
• Clashes, mistrust overshadow Myanmar peace process
• Maldives a target of regional terrorists, says Sri Lanka analyst
• Explosion kills 8 members of a single family in Herat, No group claims responsibility
Compiled by New Age Islam News Bureau
URL: https://newageislam.com/islamic-world-news/i-abducted-girls-...-allah,/d/76913
------------
Africa
'I Abducted Your Girls ... By Allah, I Will Sell Them': Nigerian Islamist Leader
AP, The Washington Post
May 7, 2014
Lagos: Nigeria's Islamic extremist leader threatened in a videotaped statement seen on Monday to sell the more than 200 teenage schoolgirls abducted from a school in the remote northeast of the country three weeks ago.
Abubakar Shekau for the first time also claimed responsibility for the April 15 mass abduction, in a video reviewed by The Associated Press.
"I abducted your girls," said the leader of Boko Haram, which means "Western education is sinful.
"By Allah, I will sell them in the marketplace," he said in the hour-long video that starts with fighters lofting automatic rifles and shooting in the air as they chant "Allahu akbar!" or "God is great."
It was unclear if the video was made before or after reports emerged last week that some of the girls have been forced to marry their abductors - who paid a nominal bride price of $US12 ($12.95) - and that others have been carried into neighbouring Cameroon and Chad. Those reports could not be verified.
An intermediary who has said Boko Haram is ready to negotiate ransoms for the girls also said two of the girls have died of snakebite and about 20 are ill.
He said Christians among the girls have been forced to convert to Islam. The man, an Islamic scholar, spoke on condition of anonymity because his position is sensitive.
Nigeria's police have said more than 300 girls were abducted. Of that number, 276 remain in captivity and 53 escaped.
The mass abduction and the military's failure to rescue the girls and young women has roused national outrage with protests in major cities. Protesters accused President Goodluck Jonathan of being insensitive to the girl's plight.
First lady Patience Jonathan fuelled anger on Monday when a leader of a protest march said she ordered the arrests of two protest leaders, expressed doubts there was any kidnapping and accused the protest leaders of belonging to Boko Haram.
It was unclear what authority Mrs Jonathan would have to give such orders, since there is no office of first lady in the Nigerian constitution.
The first lady's office denied there were any arrests.
But Saratu Angus Ndirpaya of Chibok town said State Security Service agents drove her and protest leader Naomi Mutah Nyadar to a police station on Monday after an all-night meeting at the presidential villa in Abuja, the capital.
She said police immediately released her but that Nyadar remains in detention. Deputy Superintendent Daniel Altine, police spokeswoman for Abuja, said she had no information but would investigate.
On Sunday night, Jonathan said his administration is doing everything possible. On Friday, he created a presidential committee to go to the affected Borno state to work with the community on a strategy for the release.
Some girls who have escaped from the mass kidnapping said their captors identified themselves as Boko Haram.
Protesters arrested
A leader of a protest march for the missing schoolgirls says Nigeria's first lady abused them, expressed doubts there was any kidnapping and accused them of belonging to the network blamed for the abductions. Then she ordered two of them arrested, the AP reported.
Saratu Angus Ndirpaya of Chibok town said State Security Service agents drove her and protest leader Naomi Mutah Nyadar to a police station on Monday after an all-night meeting at the presidential villa in Abuja, the capital.
She said Nyadar remains in detention. Police could not be reached for comment.
Ndirpaya says Patience Jonathan accused them of fabricating the abductions to give Nigeria's government and her husband "a bad name."
Three weeks have now passed since dozens of heavily armed men descended upon a darkened dormitory where hundreds of Nigerian girls slept, abducted them and disappeared into the night.
Three weeks since authorities erroneously stated that only 100 Chibok girls were missing — when in fact it was 276.
And three weeks since hundreds of parents last saw their children, since they've launched protests that have swept a nation, since some of the girls were reportedly sold and vanished.
Government has no idea of where abducted girls are
Nigerian President Jonathan, who has taken sweeping criticism for what some have perceived as disregard for the crisis, addressed concerns on Sunday. "Wherever these girls are, we'll get them out," Jonathan said, adding that officials had no idea where they were.
Then he proceeded to criticise parents for not being forthright with police. "What we request is maximum cooperation from the guardians and the parents of these girls. Because up to this time, they have not been able to come clearly, to give the police clear identity of the girls that have yet to return," he said.
The events illustrated an escalating clash between a protest movement and a government many say has been feckless in its pursuit of the children.
Adding to that tension is dismay that the government seems to have no idea where the girls are — because Village elder Pogo Bitrus said it's clear to locals.
"Some of them have been taken to the northern part of the state, and these are the ones with the bad experiences in the mass marriages," Bitrus explained on Monday morning while waiting for a protester at an Abuja police station, who he claims was "detained for no reason."
"But the bulk of them are kept in the Sambisa Forest," Bitrus said. "It's not too far from where the girls were abducted and where the majority of the escapees are from."
While many in the West have expressed outrage at the abductions — there were weekend protests in London and Los Angeles — Bitrus conveyed resignation.
"The government is slow and it is unfortunate, but this is the Nigerian attitude. This is not the West. If it was, someone would have resigned or been thrown out, but the whole thing is different here. And we must accommodate whatever."
Abduction 'a tradition of Boko Haram'
On April 14, the girls were believed to have been captured by murderously violent militants belonging to Boko Haram.
Since 2010, the group has carried out a vicious campaign against education, which it blames for many of the problems in Nigeria, the continent's most populous nation.
According to some estimates, the group has killed as many as 2300 people. This year, more than 1500 have died in regular bouts of ethnic violence, and the government has at times appeared powerless to stop the bloodletting.
Today, it's unclear which side has control over Nigeria's northern states — the government, or Boko Haram. Some of the girls, though Bitrus says it's unclear how many, have been taken into Cameroon and Chad and have since disappeared.
This reality has made some in Nigeria lose faith in the military, and question whether it can monitor the girls' movements, let alone rescue them. "The free movement of the kidnappers in huge convoys with their captives for two weeks without being traced by the military, which claims to be working diligently to free the girls, is unbelievable," Bitrus said.
Still, there was reason for optimism, he said. This isn't the first time Boko Haram has kidnapped girls. But it is one of the first times, if not the first, that it's attracted such global attention.
"This has been a tradition of Boko Haram," he said. "This is not starting now. It has just ever been heard of before. … But with this pressure, they'll be released very soon."
And if not? "The Boko Haram is known to be so vicious, so ruthless," he said. "They don't value life. They are people who blow themselves up. They are capable of doing anything."
AP, The Washington Post
http://www.smh.com.au/world/i-abducted-your-girls--by-allah-i-will-sell-them-nigerian-islamist-leader-claims-responsibility-for-mass-abduction-20140506-zr557.html#ixzz3140AtCkP
----------
Nine terrorists killed near Algeria-Mali border
May 07, 2014
ALGIERS - Algerian armed forces killed nine armed Islamists near the Malian border, the defence ministry said.
The 'terrorist group of nine criminals' died after clashes with the army in the Taoundert border area, 80 kilometres (50 miles) west of Tin Zaoutine in Tamanrasset province, the APS news agency quoted a ministry statement as saying. It said eight automatic Kalashnikov-type rifles, an RPG-7 rocket launcher technical equipment and a 'large amount' of ammunition were seized.
The clampdown came after 'effective use of information on suspicious movements of a terrorist group,' said the statement.
On Thursday, Al-Qaeda in the Islamic Maghreb (AQIM) had claimed responsibility for an April ambush in Algeria's restive Kabylie region that killed 11 soldiers. The attack was the deadliest on the military in years and came two days after ailing President Abdelaziz Bouteflika was re-elected for a fourth term. The 77-year-old, who had cast his vote from a wheelchair, has long been seen as the leader who helped restore stability to Algeria after the devastating civil war of the 1990s.
Islamist-linked violence rocked Algeria in the 1990s but has declined considerably in recent years, although jihadists still operate in the mountainous Kabylie region. The previously biggest attack there by Islamist groups was in April 2011, when 10 soldiers were killed at a military post in Azazga, east of the regional capital Tizi Ouzou.
http://www.nation.com.pk/international/07-May-2014/nine-terrorists-killed-near-algeria-mali-border
----------
Most abducted Schoolchildren are Christians: Nigeria
May 7, 2014
LAGOS – Nigerian President Goodluck Jonathan announced Sunday that the overwhelming majority of the schoolgirls abducted three weeks ago by suspected Boko Haram militants were Christians.
"It is understandable that Islamic culture does not allow you to expose women (girls) but in this case 90 percent of the girls kidnapped in Chibok are Christians," he said during a two-hour TV program with Nigerian media executives.
Jonathan made the comment when analyzing what possible reasons could make parents not want to release the pictures of the schoolgirls.
His assertion about the religious background of the girls appears to contradict his earlier argument that the government was struggling with "contradictory" information supplied by the local authorities.
On April 14, militants stormed the Government Girls Secondary School in Borno State's Chibok, located on the fringes of the Sambisa Forest, a known Boko Haram hideout.
They loaded scores of schoolgirls onto trucks before driving away unhindered.
A full two weeks later, the exact number of the missing schoolgirls remains dogged by controversy.
While local authorities say 129 girls went missing that night, some parents put the total as high as 234.
Going by official figures, 73 are still missing.
Thousands of protesters marched through major Nigerian cities last week to demand "prompt and strong" government action to free the schoolgirls.
They criticized perceived government apathy amid the deep distress and sadness of the missing girls' families.
President Jonathan's remarks came hours after the Christian Association of Nigeria (CAN) in northwest Kaduna released a list of the names and religious affiliations of the abducted girls.
In a statement, CAN said that 180 girls were abducted, of whom 165 are Christians.
"Chibok is 90 percent Christians. Majority of the girls abducted are Christian," said the statement signed by Mathew Owojaiye, an influential Christian cleric who once headed the Northern States Christian Elders Forum (NOSCEF).
"Every Christian home must raise a lamentation to heaven daily. Let God arise and defend his name, honor and majesty," he said.
The body also called on the government "whose duty it was to protect the innocent girls" to pay N50m ($312,500) to each of the girls when released as "trauma compensation" and to send each of the girls to overseas university on government scholarship.
The local Borno government has yet to speak on the CAN's comment.
Copyright © 2014 Anadolu Agency
http://www.turkishpress.com/news/404052/
----------
Tunisia to offer amnesty to jihadists not convicted of murder
May 7, 2014
Tunisia's president promised an amnesty Tuesday for jihadists who disarm and who have not been convicted of murder, as he toured a border area where troops are hunting Al-Qaeda-linked militants.
"We decided at the last security council meeting that there will be an amnesty and reconciliation law for those without blood on their hands -- they still have a place among our people," President Moncef Marzouki told soldiers taking part in the operation on Mount Chaambi, near the Algerian border.
"We want to open the door of reconciliation to those who surrender their arms and return to the fold of their country," Marzouki said in the speech released by his office.
Addressing himself to the jihadists, the president said: "Lay down your weapons, come down (from the mountain) and return to your people."
Marzouki gave no further details of the proposed amnesty or when the draft law would be submitted to parliament.
Under the current anti-terrorism law, adopted in 2003 under now toppled strongman Zine El Abidine Ben Ali, heavy prison sentences can be handed to anyone linked to a banned group, whether or not the suspect is convicted of acts of violence.
Since late 2012, security forces have been battling dozens of militants hiding out in the remote Mount Chaambi region, where eight soldiers were killed in an ambush last July.
The authorities say the militants are linked to Al-Qaeda.
Last year, more than 20 security personnel were killed in what the government says were "terrorism-related incidents." Two opposition politicians were also assassinated in separate attacks that plunged the country into crisis.
Last month, the authorities designated Mount Chaambi and neighbouring mountain districts a closed military zone, and warned of the growing threat posed by "terrorist organisations" based in them.
http://english.ahram.org.eg/NewsContent/2/8/100651/World/Region/Tunisia-to-offer-amnesty-to-jihadists-not-convicte.aspx
----------
US sanctions two South Sudanese for 'unthinkable violence'
AFP | May 7, 2014
WASHINGTON: The United States unveiled its first sanctions against the world's newest nation, South Sudan, targeting military leaders from both sides of the four-month civil conflict.
The two men, one from government forces and one from the rebels, were "responsible for perpetrating unthinkable violence against civilians," US secretary of state John Kerry told reporters.
The move against Marial Chanuong, also known as Marial Chinoum, a commander of the South Sudanese presidential forces, and Peter Gadet, a leader of the anti-government forces, comes only days after Kerry visited Juba and called for both sides to lay down their arms.
"We will do our utmost to prevent South Sudan from plunging back towards violence and despair," Kerry said after meeting EU foreign policy chief Catherine Ashton in Washington.
"We will hold accountable those who have stood in the way of a peace plan."
The sanctions move will be a tough one for Kerry since Washington was the prime mover in enabling South Sudan to split from Sudan and win independence in 2011.
"We expect them to serve as a warning to those engaged in the cycle of violence," a senior administration official told reporters on a conference call.
The sanctions will freeze any assets the two men may have in the United States and prevent US companies from having any dealings with them, while they will also be slapped with a visa ban.
UN chief Ban Ki-moon visited Juba on Tuesday as rebels and government forces battled for control of a key oil town, in the latest major drive for a ceasefire in a war that has seen the nation collapse amid a brutal cycle of war crimes.
Chanuong was accused of leading violent attacks against civilians in Juba in December 2013 when the violence first erupted as President Salva Kiir accused his former vice president Riek Machar of leading a coup attempt.
Gadet was said to be behind an attack in which 200 people died in Bentiu on April 17.
"We will continue to stand with the people of South Sudan who called for peace and who recognized that the only way to resolve this conflict is through a political dialogue," Kerry said.
The UN chief said South Sudan rebel chief Machar had promised to attend fresh peace talks with Kiir tentatively scheduled to take place on Friday in Ethiopia.
The two men are from the two main tribes in South Sudan, the Nuer and the Dinka, and what was seen initially as a power struggle has erupted into a wider, bloody ethnic conflict.
Ashton warned the EU was also considering imposing sanctions, adding she feared that Sudan was "on the brink of what could be a civil war, ethnically motivated."
"The prospects for famine and a humanitarian disaster, they're really looming large now. So we need to work together" to ensure the country's leaders come to the negotiating table, she added.
http://timesofindia.indiatimes.com/world/us/US-sanctions-two-South-Sudanese-for-unthinkable-violence/articleshow/34749759.cms
------------
Arab World
Disillusioned 'Jihadi' Gets Death Threats for Exposing Saudi Recruiters
May 7, 2014
Blurring the line between reality and fiction, a former member of a terrorist group has made a movie slamming those in the Kingdom who recruit young Saudis to fight abroad.
The fictional account of a Saudi deceived by one of these men to fight in Syria has lit up the Internet, and resulted in Abdulrahman Ayel, the filmmaker, getting death threats.
The 15-minute film tells the shocking story of a terrorist organization whose pursuit of twisted ideological goals results in nothing but brutality, misery and heartbreak.
Ayel, who once fought in Iraq for a terrorist organization, directed the movie that focuses on supposedly peace-loving men who are involved in recruiting youngsters to fight in Syria and Iraq. The movie raises many questions about the religious credibility of the recruiters. The movie opens up at the headquarters of the Islamic State in Iraq and Syria (ISIS) in Deir Al-Zour, Syria, showing several guards in black clothes and covering faces holding military weapons. In the background, a person can be heard reciting poetry encouraging adherents to disrupt public peace and join anti-government uprisings.
Full report at:
http://www.arabnews.com/news/566246
------------
ISIL Jordanian jihadists call for holy war against regime
May 7, 2014
Islamic State of Iraq and the Levant releases video calling on Jordanians to wage war against the government in Amman.
The Islamic State of Iraq and the Levant (ISIL) released a video calling on the residents of the southern Jordanian city of Ma'an to wage jihad against the government.
Clashes between security forces and residents have gone on for the past couple of weeks in Ma'an after a youth was killed in a search for wanted persons.
"[Take up] arms! Blood for blood, destruction for destruction! The only solution for this criminal regime is to fight it and wage jihad against it… what the criminal regime is doing in Ma'an is neither novel nor extraordinary for this regime. It is a regime of treachery, a regime of unbelief and apostasy," said ISIL fighter Gharib al-Urduni in the video released Saturday, according to an exclusive report by the Jihad and Terrorism Threat Monitor of MEMRI (the Middle East Media Research Institute).
Full report at:
http://www.jpost.com/Middle-East/Jordanian-jihadists-call-for-jihad-against-regime-351468
------------
Saudi Arabia claims uncovering al Qaeda cell planning attacks
May 7, 2014
DUBAI: Saudi Arabia said on Tuesday it had uncovered an al Qaeda militant group with links to "extremist elements" in Syria and Yemen that had been plotting to assassinate officials and attack government and foreign targets.
The cell comprised 62 members, including 59 Saudi militants, a Yemeni, a Pakistani and a Palestinian, Interior Ministry spokesman Major General Mansour al-Turki said in a televised briefing.
Speaking in a live televised briefing, Turki said the cell had links to the ultra-hardline Islamic State of Iraq and the Levant (ISIL), which is both a powerful militant force in Syria's war and an anti-government combatant across the border in turbulent Iraq.
He said some members of the cell were still at large.
"They ... started constructing components of the organisation, means of support and planning for terrorist operations targeting government installations, foreign interests and assassinating security personalities," he said.
Full report at:
http://www.dawn.com/news/1104565/saudi-arabia-claims-uncovering-al-qaeda-cell-planning-attacks
------------
ISIL Terrorists Execute FSA Militants in Eastern Syria
May 7, 2014
The Islamic State of Iraq and the Levant (ISIL) terrorist group executed at least four members of rival militant group, the so-called Free Syria Army (FSA) in Eastern Syria.
Al-Alam correspondent in Syria said the executions were carried out in the city of Deir ez-Zor on Tuesday.
Nearly 200 militants have been killed in the recent infighting between rival terrorist groups in the region.
The deadly clashes have forced 60,000 people to escape their towns in the Eastern province.
The new clashes between the rival militant groups continue to rage despite a recent call by Al-Qaeda leader Ayman al-Zawahiri to stop the infighting and focus on battling the Syrian government.
Syria has been gripped by deadly violence since March 2011.
http://english.farsnews.com/newstext.aspx?nn=13930217000462
------------
Army Inflicts Heavy Losses on Militants across Syria
May 7, 2014
Army units launched Wednesday successful operations against the militants' concentration camps and hideouts in all Syrian provinces, leaving many dead and injured.
Militants' attempt to attack Aleppo central prison thwarted
Army units killed a big number of militants in al-Ramouseh, Alleramon and the Industrial city in Sheikh Najjar in Aleppo and destroyed their weapons and ammunition.
A military source told SANA that the army units killed and injured a number of militants in Kafr Hamraa, Haritan, Anadan, Daret Ezza, Khan al-Assal, Handarat and al-Jandoul roundabout. Militants' gatherings were also destroyed during the operation with all their weapons and tools inside them.
Army units confronted armed groups' attempt to attack Aleppo central prison, inflicting heavy losses upon the militants.
http://english.farsnews.com/newstext.aspx?nn=13930217000981
------------
Egypt bans Mubarak party officials from elections
May 7, 2014
CAIRO – An Egyptian court Tuesday banned senior members of the now-dissolved National Democratic Party of ousted president Hosni Mubarak from running in upcoming parliamentary elections, a judicial source said.
A court disbanded the NDP shortly after Mubarak was forced out in 2011 but former members were expected to try a political comeback in elections to be held before year end.
The Muslim Brotherhood, which dominated all elections after Mubarak's ouster, has been blacklisted and crushed by police following the military's overthrow of Islamist president Mohamed Morsi in July.
Full report at:
http://www.saudigazette.com.sa/index.cfm?method=home.regcon&contentid=20140507204311
------------
Qur'anic calligraphy brings cultures together: Ibne Kaleem
May 7, 2014
JEDDAH – "After the advent of Islam, Arabic language didn't remain confined to the field of the poetry and entertainment.
It operated as international lingua franca and the great majority of communication in Arabic was between people who came from non-Arabic backgrounds," said Ibne Kaleem famous Pakistani calligrapher and inventor of Khatte Ra'ana in an interview to Saudi Gazette.
"Arabic became a language of science, art and culture. The Qur'anic script and Islamic calligraphy, also known as Arabic calligraphy (the artistic practice of handwriting, calligraphy, and by extension, of bookmaking) became an apple of the eye of different nations. Humanity accepted the Kufic, Nasta'leeq, Naskh, Thuluth, Ruqqa'a and Deewani scripts as its lost treasures and it saved and developed it," he said.
Full report at:
http://www.saudigazette.com.sa/index.cfm?method=home.regcon&contentid=20140507204336
------------
Sisi urges Israel to make concessions to Palestinians
May 7, 2014
Former Egyptian army chief Abdel Fattah al-Sisi said on Tuesday evening during a televised interview that he respects all previous agreements with Israel and plans to do so if he becomes president, AFP reported.
"I respect all international accords, including the treaty with Israel," he said.
Sisi continued and urged Israel to make concessions in order to reach a peace agreement with the Palestinians.
"They have to help us with something of value for the Palestinians. Let us see a Palestinian nation with Jerusalem as the capital. That would make us all happy," he said.
Full report at:
http://www.jpost.com/Middle-East/Sisi-urges-Israel-to-make-concessions-to-Palestinians-351499
------------
Syrian rebels begin evacuation of Homs
May 7, 2014
The evacuation of opposition-held areas of Syria's central Homs city began on May 7 under an unprecedented deal that allows both sides to claim a measure of victory.
After nearly two years of government siege, civilians and rebel forces began to leave the Old City and surrounding areas on buses taking them to opposition territory in northern Homs province.
Their departure saves both sides the prospect of a drawn-out, potentially devastating battle, and allows rebels to leave with some weapons.
But the deal also effectively turns over the city once dubbed the "capital of the revolution" to government control.
Full report at:
http://www.hurriyetdailynews.com/syrian-rebels-begin-evacuation-of-homs.aspx?pageID=238&nID=66110&NewsCatID=352
------------
Europe
UN: Sale of Girls by Boko Haram Would Be Crime against Humanity
May 7, 2014
GENEVA — The Office of the U.N. High Commissioner for Human Rights says the reported intention by Boko Haram to sell abducted girls as slaves could constitute a crime against humanity. The militant group reportedly has kidnapped eight more girls in northeastern Nigeria. This follows last month's abduction of more than 300 schoolgirls.
The U.N. Human Rights office is condemning the outrageous claims made in a video by the alleged leader of Boko Haram in Nigeria Monday. In that video, he referred to the abducted girls as slaves and said he would sell them in the market and marry them off.
U.N. Human Rights Commission spokesman Rupert Colville said Tuesday the members of this militant Islamic group will pay a price for their crimes. He said there is an absolute prohibition against slavery and sexual slavery in international law. And under certain circumstances, he said, these can constitute crimes against humanity.
Full report at:
http://www.voanews.com/content/sale-of-girls-by-boko-haram-could-be-crime-against-humanity/1908963.html
---------
Ethnic minorities to make up third of UK by 2050
May 07, 2014
LONDON - Almost one third of Britons will be from ethnic minorities by 2050 if current trends continue, according to a new study published by a think tank on Tuesday.
Black and minority ethnic (BME) communities are growing at a much faster rate than the white population and are radically changing the face of Britain, the Policy Exchange found. Currently the five largest BME groups - Indians, Pakistanis, Bangladeshis, Black Africans and Black Caribbeans - make up eight million people or 14 percent of the population, it said.
This number has doubled in the past decade, while the white population has remained roughly the same, and so is predicted to increase to between 20 and 30 percent of the population by the middle of the century.
Full report at:
http://www.nation.com.pk/international/07-May-2014/ethnic-minorities-to-make-up-third-of-uk-by-2050
---------
New PoR cards delivered to half of Afghan refugees: UNHCR
May 7, 2014
ISLAMABAD: The National Database and Registration Authority (Nadra) has successfully delivered new Proof of Registration (PoR) cards with validity date of December 31, 2015 to about half of total 1.6 million registered Afghan refugees in Pakistan, the UN refugee agency said on Tuesday.
Launched in February this year in collaboration with United Nations High Commissioner for Refugees (UNHCR), following the government's decision to extend the validity of PoR cards, the first phase of renewal project is scheduled to conclude on June 30.
According to UNHCR, to date, more than 668,000 Afghan refugees have received their new PoR cards through a total of 34 distribution centres and Mobile Registration Vans (MRVs) operating across Pakistan.
Full report at:
http://www.dawn.com/news/1104572/new-por-cards-delivered-to-half-of-afghan-refugees-unhcr
---------
UK could send SAS to Nigeria
May 7, 2014
London: Britain is prepared to send special forces and intelligence-gathering aircraft to Nigeria to help in the hunt for the schoolgirls abducted by Boko Haram militants, Whitehall officials have said.
Options for British support for the Nigerian forces struggling to find nearly 300 young girls were discussed by officials at a meeting of the government's emergency committee, Cobra.
The Foreign Office and the Ministry of Defence declined to say what help Britain might provide until the Nigerian authorities made an official request.
Details of the assistance that Nigeria requires are expected to be handed to Britain on Wednesday, though it is understood that unofficial talks between the two countries have already taken place.
The Nigerian president, Goodluck Jonathan, on Tuesday welcomed a US offer to send an American team to Nigeria to support its response to the kidnappings.
Full report at:
http://gulfnews.com/news/world/usa/uk-could-send-sas-to-nigeria-1.1329211
--------
Mideast
74 Turkish citizens killed in Syria-linked incidents: FM Davutoğlu
May 7, 2014
A total of 74 Turkish citizens have been killed due to the Syria-linked incidents, according to the data provided by the Turkey's General Staff, Foreign Minister Ahmet Davutoğlu has said.
In a response to a parliamentary question submitted by the main opposition Republican Peoples' Party (CHP) deputy head Sezgin Tanrıkulu, Davutoğlu stressed that people living near the border have been suffering from the clashes on the Syrian side.
"74 citizens have been killed and 337 citizens have been wounded as a result of stray bullets fired in the clashes on the Syrian side, Syria-linked terror incidents and illegal border crossings, according to data from the Turkish General Staff," Davutoğlu said.
Davutoğlu said the necessary measures have been taken to ensure the citizens' security of life and property and steps were taken to strengthen physical security at the Syrian border.
A portable concrete wall, which is composed of concrete 3-meter-long blocks, is being built in the southern province of Hatay in an effort to prevent illegal crossings and smuggling. The wall will reportedly be 1,200 meters and weigh nine tons when finished. The concrete blocks will able to be transferred when necessary.
http://www.hurriyetdailynews.com/74-turkish-citizens-killed-in-syria-linked-incidents-fm-davutoglu.aspx?pageID=238&nID=66111&NewsCatID=359
------------
No one can treat Turks as second-class Europeans, FM Davutoğlu says
May 7, 2014
No one should treat Turks as "second-class Europeans" and those demanding respect should first respect Turkey, Foreign Minister Ahmet Davutoğlu said May 6, responding to recent comments from the German president.
"If a German president comes to Turkey and says, 'I'm concerned about Turkey's future' due to false information, then we will go to each German city and say, 'We are concerned about Germany's future' because of neo-Nazi murders," Davutoğlu said at the "Strategic Depth and Rising Turkey" conference in Vienna.
"If someone wants to be respected, he should respect us. No one can treat us like second-class Europeans," he added.
German President Joachim Gauck visited Turkey last week and warned against the consequences of curbs to freedom of expression, while also criticizing Prime Minister Recep Tayyip Erdoğan's leadership style. He said he was shocked by the government's harsh attempts to stamp out street protests and clamp down on the media.
Full report at:
http://www.hurriyetdailynews.com/no-one-can-treat-turks-as-second-class-europeans-fm-davutoglu-says.aspx?pageID=238&nID=66108&NewsCatID=510
------------
Iran's new foreign policy isolates Zionist regime: Iranian FM
May 7, 2014
TEHRAN – Iranian Foreign Minister Mohammad Javad Zarif says the foreign policy adopted by the government of President Hassan Rouhani has unsettled Israeli Prime Minister Benjamin Netanyahu and has isolated him in the international arena.
In an address to an open session of the Iranian parliament on Tuesday, Zarif said this development is a "great victory" for all revolutionary forces in the region.
"Iran is a stable and mighty country, but widespread propaganda and political activities are underway to depict Iran as a threat to the region and a danger for international peace and stability," he stated.
He added that as the foreign minister of Iran, he has made efforts to firmly deal with the international commotion about the country and will not allow Israel's fabricated propaganda to give the world the impression that the Islamic Republic is a threat to regional or international security.
Full report at:
http://www.tehrantimes.com/component/content/article/94-headline/115566-irans-new-foreign-policy-isolates-zionist-regime-fm
------------
Hamas eases ban on Palestinian newspapers in unity gesture
World Bulletin/News Desk
May 7, 2014
The Hamas-run government in the Gaza Strip said on Wednesday it had relaxed a ban on Palestinian newspapers published outside the enclave as a gesture of reconciliation to rival group Fatah after their unity deal last month.
The announcement came two days after Palestinian President and Fatah leader Mahmoud Abbas met Hamas's leader in exile, Khaled Meshaal, in Qatar for their first talks since the unity pact was signed.
The groups have banned newspapers from each other's territories since Hamas won a 2006 poll and the two parties fought a bloody civil war the following year in which Hamas won in the Gaza Strip and Fatah remained in power in the Israeli-occupied West Bank.
The return to Gaza of Al-Quds, the biggest-selling Palestinian daily in the West Bank, was greeted enthusiastically by Gaza residents who snapped up copies from newspaper sellers shouting out its name.
Full report at:
http://www.worldbulletin.net/todays-news/135720/hamas-eases-ban-on-palestinian-newspapers-in-unity-gesture
-----------
Palestinian forces bust terror cell looking to attack Jewish-Israelis
May 7, 2014
Four-man Kalkilya terror cell discovered by PA forces; Israeli Arab indicted in Israel, 3 others to be handled by IDF legal division.
A bust by Palestinian security forces of a four-man Kalkilya terror cell led to the arrest and indictments of the cell by Israel, the Justice Ministry announced on Wednesday.
On Wednesday the Central District Attorney's Office filed an indictment with the Lod District Court against Khaled Daoud, 21, for his involvement in the cell, including charges of manufacturing and attempting to manufacture weapons as well as conspiracy to commit a felony.
Full report at:
http://www.jpost.com/National-News/Palestinian-security-forces-turn-over-terror-cell-to-Israeli-courts-351509
------------
Iran's Zarif says new diplomacy has isolated Israel
May 7, 2014
TEHRAN: Iran's Foreign Minister Mohammad Javad Zarif fought back Tuesday against increasingly scathing criticism from hardliners, saying his pragmatic approach to diplomacy had stolen Israel's thunder.
After years of bellicose rhetoric from ex-president Mahmoud Ahmadinejad, Zarif said the new government had managed to put an end to Israel's portrayal of Iran as "a danger" over its nuclear ambitions.
Ultra-conservatives have upped the ante in recent weeks by chastising an interim nuclear deal Iran struck with world powers in November, under Zarif's brief as the top negotiator.
Comprised of religious figures, former lawmakers and officials as well as some current MPs, the critics are also unhappy about Zarif's more moderate foreign policy, including what they call his "reactionary stance towards the bastard (Israeli) Zionist regime and the Holocaust."
Full report at:
http://www.dailytimes.com.pk/region/07-May-2014/iran-s-zarif-says-new-diplomacy-has-isolated-israel
----------
Pakistan
14 killed as Taliban infighting erupts again in Waziristan
May 7, 2014
MIRANSHAH: At least 12 militants died during a shootout between rival factions in a restive tribal region near the Afghan border Tuesday, officials said, while two died in a separate attack.
Supporters of Tehreek-e-Taliban commander Khan Said Sajna and followers of the late TTP leader Hakimullah Mehsud clashed in the Shawal area of the troubled North Waziristan district, a security official told AFP. Four other militants were wounded during the gunfight which was still continuing, the official said late Tuesday. Local intelligence officials and militant sources confirmed the clash and casualties. Earlier in the day two militants were killed in a bomb blast at a bazaar in Miranshah, the main town in North Waziristan, known as a stronghold of Taliban and al Qaeda linked militants.
Full report at:
http://www.dailytimes.com.pk/national/07-May-2014/14-killed-as-taliban-infighting-erupts-again-in-waziristan
------------
Security forces kill seven Taliban in Swat gunfight
May 7, 2014
PESHAWAR: Security forces said on Tuesday that they have killed seven militants in Swat District after an attack left two soldiers injured on Sunday.
"Seven terrorists were killed in a fierce gunfight in Banjot area," sources said on telephone from Mingora, district headquarter of Swat where the military flushed out the militants in 2009. It was a search operation using sniffer dogs to reach the people who carried out the improvised explosive device attack on Sunday, wounding two soldiers. "Heavy weapons were used after the terrorists challenged the soldiers," the sources added, saying that a house-to-house search was launched after the IED attack, using sniffer dogs.
http://www.dailytimes.com.pk/national/07-May-2014/security-forces-kill-seven-taliban-in-swat-gunfight
------------
Dr AQ Khan suggests Interior Ministry for MQM
May 7, 2014
KARACHI – Nuclear scientist Dr Abdul Qadeer Khan on Wednesday said that the government of Prime Minister Nawaz Sharif has disappointed the nation as all promises they made during their election campaign have turned out to be mere tall claims.
Talking to journalists, he said that security situation of Karachi was becoming more severe instead of improving. He said he had repeatedly said that if someone interested to see peace and improvement in law and order situation in Karachi then MQM should be given the Interior Ministry and Rauf Siddiqi was an appropriate choice as Interior minister.
He said that Pakistan People's Party and the Pakistan Muslim League-N were playing their turns when PPP was batting at that time PML-N was fielding. Now, PML-N was batting and PPP was on fielding, he said, adding public must understand this game otherwise Pakistan will advance to more destruction.
http://www.dailytimes.com.pk/national/07-May-2014/dr-aq-khan-suggests-interior-ministry-for-mqm
------------
Pakistan for resolving Kashmir issue through dialogue: Sharif
May 7, 2014
Prime Minister Muhammad Nawaz Sharif on Tuesday said that Pakistan was committed to reaching out to India and seeking a peaceful resolution of all outstanding disputes, including Kashmir, through a sustained dialogue.
"Pakistan desires peace and tranquillity in the Middle East and it would maintain its policy of non- interference in the internal affairs of States," Mr. Sharif said at a meeting of Pakistan envoys to West Asian countries. He said the central emphasis had been on building a "peaceful neighbourhood," and he had pursued a policy of constructive engagement with all neighbours.
Full report at:
http://www.thehindu.com/news/international/south-asia/pakistan-for-resolving-kashmir-issue-through-dialogue-sharif/article5983382.ece
------------
Imran has a hidden agenda: Fazl ur Rehman
May 07, 2014
Islamabad- Terming Imran Khan as inconsistent, Head of Jamiat-e-Ulema-e-Islam Maulana Fazl ur Rehman said that Imran Khan's May 11 sit-in was not against rigging but something else.
Talking to journalists outside the Parliament House today he said, why Imran does not talk about the rigging in the whole country instead of four constituencies adding that our media was giving unnecessary importance to Imran Khan. He said, condition of the country looks better economically but it is not benefiting the common man. He said, along with FATA and Balochistan lawlessness is increasing everywhere in the country, government must clear its strategy towards public relief. He said travel restrictions due to Polio are not right, lawlessness is on its peak in the country and is increasing day by day and life of a common man is disturbed. Maulana said Imran's behavior is not persistent he has taken U turns several times.
http://www.nation.com.pk/national/07-May-2014/imran-has-a-hidden-agenda-fazl-ur-rehman
-----------
To press for a break, JUI-F lawmaker gives Azaan during assembly proceedings
May 7, 2014
ISLAMABAD: In an odd method of protest, a parliamentarian on Wednesday gave the call to prayer inside the National Assembly after the deputy speaker declined his request to announce a delayed prayer break. The routine break had been cancelled because a speech was underway.
Jamiat-e-Ulema-Islami Fazl (JUI-F) lawmaker Maulana Ameer Zaman then proceeded to begin praying on the floor in front of the speaker's rostrum while the session was still under way.
Zaman had asked the deputy speaker to announce the prayer break after Pakistan Tehreek-e-Insaf (PTI) leader Javed Hashmi finished his speech but the request was turned down.
Hashmi started his address before the Zuhr prayer timing (1pm) and stopped briefly to listen to the Azaan that comes from the National Assembly mosque – as is custom on the floor of the house – and resumed after it was over. No break was given (or even requested). Hashmi finished his speech 20 minutes later after which Zaman asked the deputy speaker to announce a prayer break.
Full report at:
http://tribune.com.pk/story/705299/jui-f-lawmaker-gives-azaan-in-national-assembly/]
------------
US national detained at Karachi airport for carrying bullets was an FBI agent
May 7, 2014
KARACHI: A US citizen, who was detained at the Jinnah International Airport in Karachi on Monday evening for carrying bullets in his baggage, was found to be an agent for the US investigating agency, the Federal Bureau of Investigations (FBI), CNN reported on Wednesday.
Joel Cox was attempting to board a domestic flight to Islamabad on Monday evening, when the Airport Security Force (ASF) discovered 15 bullets of 9mm caliber and a pistol clip in his baggage.
He was detained by the ASF before being handed over to the Airport police station where a case was lodged against him under section 23 1 (a) of the Sindh Arms Act, 2013.
The US national was sent on physical custody remand by a judicial magistrate in district Malir on May 6. Adam H Ishaque, the judicial magistrate in district Malir, had remanded the suspect to police till May 10.
Full report at:
http://tribune.com.pk/story/705255/us-national-stopped-at-karachi-airport-for-carrying-bullets-turns-out-to-be-fbi-agent/
------------
Children entering Punjab must be vaccinated: Pak Punjab CM
May 7, 2014
LAHORE: Punjab Chief Minister Shahbaz Sharif on Tuesday ordered arrangements for vaccination against polio at entry and exit points of the province and said that district coordination officers should work for the success of the anti-polio drive.
He said this while presiding over a meeting to review the anti-polio campaign in light of the World Health Organisation (WHO) travel restrictions and added that no negligence will be tolerated.
"The parents at the entry points don't normally refuse administering of polio drops to children but if someone does so, security personnel there will ensure they are administered. However, no instructions have been given to refuse entry to people from other provinces into Punjab for not showing polio certification," Expanded Program on Immunisation (EPI) Director Dr Munir Ahmad said.
Full report at:
http://tribune.com.pk/story/705133/children-entering-punjab-must-be-vaccinated-shahbaz/
------------
Pakistan: Govt school running in a graveyard
May 7, 2014
GUJRANWALA: In this age of information technology, the Government Primary School Mesian, Emanabad is functioning without a building on the land of a graveyard, Dawn learnt here on Tuesday.
Mesian village is situated 3km east of Emanabad on GT Road. The primary school was established there at least 31 years ago.
Residents Muhammad Aslam, Kamran Sheikh, Asadullah and others told this correspondent most of the population of the village comprised small peasants who earned their living through livestock.
They said as many as 150 students were enrolled in the school with just one teacher catering to them, while a very small number of students attended the school due to the harsh weather.
Full report at:
http://www.dawn.com/news/1104716/govt-school-running-in-a-graveyard
---------
India
The Organization of Islamic Cooperation flays carnage against Indian Muslims
May 7, 2014
JEDDAH: The Organization of Islamic Cooperation (OIC) has condemned the attacks on Muslims in which 32 were killed, including women and children, in the Indian state of Assam.
OIC Secretary-General Iyad Ameen Madani has expressed concern at local media reports of hundreds of Muslim villagers fleeing their homes with belongings on pushcarts as a result of the violence.
He said that these attacks are criminal acts of brutality against innocent civilians.
Madani urged authorities to bring the perpetrators to justice and supported their efforts to bring rule of law to the areas affected by violence.
Police arrested 22 people after authorities called in the army and imposed an indefinite curfew.
A state minister for border areas, Siddique Ahmed, said after visiting the affected areas that his government and the ruling Congress party had failed to protect the victims, who included at least eight women and as many children.
Full report at:
http://www.arabnews.com/news/567021
------------
Sever Pak ties: Ajmer shrine head
TNN | May 6, 2014
JAIPUR/AJMER: The dewan of Ajmer dargah on Monday asked the Union government to snap ties with Pakistan over its army chief Raheel Sharif's statement describing Kashmir as 'jugular vein' of his country.
Syed Zainul Abedin Ali Khan while addressing heads of various shrines in Mehfil Khana expressed disappointment at Indian government's poor response to the remark.
"Such nonsense statements issued on a routine by Pakistan's politicians, diplomats and sometimes by their non-state actors should be reciprocated in similar manner. Kashmir is an integral part of India. It is highly uncalled for them to peek into our internal affairs at a time when they are struggling to control sectarian violence in their own land," Khan said. He demands a paradigm shift in Indian foreign policy especially towards Pakistan.
Islam preaches cordial relations with neighbours and Pakistan being an Islamic republic has never put this tenet in practice, he said adding that Pakistan's interference in our affairs gives them an opportunity to build a popular stereotype for Muslims here.
Full report at:
http://timesofindia.indiatimes.com/India/Sever-Pak-ties-Ajmer-shrine-head/articleshow/34700144.cms
-----------
Pak mission seeks cover after 'threats'
Sachin Parashar, TNN | May 7, 2014
NEW DELHI: Fearing threats to its establishments and diplomats in India, Pakistan has sought more security from the Indian government. Official sources confirmed that the Pakistan high commission had received letters in the past few days threatening to harm its officials. Pakistan high commission officials on Tuesday took up the issue with the ministry of external affairs (MEA).
Pakistan has demanded that the letters be thoroughly probed and the identity of senders ascertained. It conveyed to India that it is New Delhi's responsibility to ensure the security of Pakistan high commission and all its diplomats and other staff.
An Indian government source said security agencies had been sensitized about the threat mails, one of which was forwarded by the Pakistan high commission. "We provide maximum possible security to all missions and same is the case with Pakistan,'' he said. There was no confirmation about who sent the threat mails.
Full report at:
http://timesofindia.indiatimes.com/india/Pak-mission-seeks-cover-after-threats/articleshow/34747691.cms
------------
North America
US Muslims Slam 'Un-Islamic' Boko Haram
May 7, 2014
CAIRO – America's largest civil rights group has vehemently condemned Boko Haram's kidnapping of more than 200 schoolgirls as "un-Islamic and obscene", following a threat by the militant group's leader to "sell" those girls.
"It is almost impossible to express the level of disgust felt by American Muslims at the un-Islamic and obscene actions of the terrorist group Boko Haram for the kidnapping and threat to 'sell' hundreds of Nigerian schoolgirls," the Council on American-Islamic Relations (CAIR) said in a statement obtained by OnIslam.net.
Nearly 234 schoolgirls were kidnapped by the extremist militants while being at school in the Chibok area of Borno State on Monday, April 14.
The kidnapping occurred the same day as a bomb blast, also blamed on Boko Haram, that killed 75 people on the edge of Abuja and marked the first attack on the capital in two years.
The militants repeated that attack a week later in almost exactly the same spot, killing 19 people and wounding 34 in the suburb of Nyanya.
Full report at:
http://www.onislam.net/english/news/americas/472177-us-muslims-slam-un-islamic-boko-haram.html
------------
Obama expresses commitment to two-state solution on Israel's Independence Day
May 7, 2014
WASHINGTON -- US President Barack Obama is sent his "warmest wishes" to the Israeli people as Israel celebrate 66 years of independence, pledging to work with Israel "to support a two-state solution to the decades-old conflict" with the Palestinian people.
Such a solution, Obama said, must ensure "that the Israelis will live alongside their neighbors in peace and with security."
The American president's Yom Ha'atzmaut message referred to Israel as a "diverse and vibrant democracy," and as a "start-up nation."
"Generations of Jews dreamed of the day when the Jewish people would have their own state in their historic homeland," Obama said, "and 66 years ago today that dream came true."
Full report at:
http://www.jpost.com/National-News/Obama-expresses-commitment-to-two-state-solution-on-Israels-Independence-Day-351443
------------
Muslim college wrestler gets waiver to keep beard
May 7, 2014
BUFFALO, N.Y. — A Muslim college wrestler in New York who chose to sit on the sidelines rather than shave his beard has been granted a waiver that will allow him to compete with the facial hair.
The Council on American-Islamic Relations on Monday praised the NCAA's decision in the case of University at Buffalo wrestler Muhamed McBryde.
NCAA rules say that wrestlers must be clean shaven. But McBryde says shaving his beard would compromise his faith. He missed nearly a whole season of competition because of the conflict.
In April, the NCAA Wrestling Rules Committee said McBryde could compete with a beard during the 2014-15 season, as long as he wears a face mask and chin strap to cover it.
Copyright 2014 Associated Press
http://online.wsj.com/article/APbea087e944d74a9cb11ebf86d9e5c2dd.html
------------
Obama: Kidnapping of nearly 300 girls may mobilize world against Islamic militant group
May 7, 2014
President Obama said that the abduction of nearly 300 girls from a school in Nigeria is "heartbreaking," and he believes the incident may mobilize the world to act against the Islamic militant group that has taken credit for the mass kidnapping.
Speaking with ABC News, Obama said the organization, Boko Haram, has been "killing people ruthlessly for years" and is among the world's worst local terrorist organizations.
"This may be the event that helps to mobilize the entire international community to finally do something against this horrendous organization that's perpetrated such a terrible crime."
Obama said the U.S. has sent a team of military, law enforcement and other agencies' personnel to help the Nigerian government identify where the girls may be. Nigerian President Goodluck Jonathan spoke with Secretary of State John Kerry Tuesday morning, the White House said, underscoring that the offer of aid does not include troops. Obama said that the United States has long wanted to work with Nigeria on eradicating Boko Haram.
Full report at:
http://www.washingtonpost.com/blogs/post-politics/wp/2014/05/06/obama-kidnapping-of-nearly-300-girls-may-mobilize-world-against-islamic-militant-group/
------------
Urge Congress to Vote Yes on Resolution to End Persecution of Rohingya Muslims in Burma
May 7, 2014
In a final push, the Council on American-Islamic Relations (CAIR) is calling on American Muslims and other people of conscience to contact their member of Congress to urge support for House Resolution 418 to help Rohingya Muslims facing persecution in Burma.
On Wednesday, May 7, the U.S. House of Representatives will hold a final floor vote on the outcome of H.R. 418.
Unanimously adopted by the U.S. House Foreign Affairs Committee, the resolution calls on the government of Burma (Myanmar) to end the persecution of its Rohingya minority and to respect internationally-recognized human rights for all ethnic and religious groups within Burma.
Full report at:
http://www.cair.com/action-alerts/12477-urge-congress-to-vote-yes-to-end-persecution-of-rohingya-muslims.html
------------
Canada offers to help Nigeria secure release of Chibok schoolgirls
By Nick Logan Global News
May 7, 2014
Canada joined the United States and the United Kingdom on Tuesday in pledging assistance to the Nigerian government and its efforts to find the hundreds of girls held captive by Boko Haram since April 14.
Echoing statements he made last week, Foreign Affairs Minister John Baird again called Boko Haram's actions "repugnant" and said "our hearts go out to these young girls and their families.
During question period in the House of Commons, Baird said Minister of International Development Christian Paradis "recently offered Canada's full assistance to Nigerian authorities, as they work to secure the release of these young girls."
Full report at:
http://globalnews.ca/news/1313390/more-girls-kidnapped-in-northeastern-nigeria-report-boko-haram/
------------
Southeast Asia
Malaysia's present environment too corrupt for Hudud, say Islamic experts
May 7, 2014
Malaysia is not yet ready for hudud as its implementation now would only reinforce injustice and create disharmony in society, Islamic experts said today.
Former Perlis mufti Professor Datuk Dr Mohd Asri Zainul Abidin said Malaysia's corrupt environment would allow society's elite to escape hudud if it were enforced and this defeated the entire purpose of the law.
"I am worried that if we enforced hudud now, it would be like placing a beautiful palace door onto an old, dilapidated house.
"In a country where there are certain classes which are 'untouchable', cannot be brought to court, hudud cannot be implemented because it would not be fair," said Asri at a forum titled "Hudud: Are we ready?" organised by Sinar Harian today.
Full report at:
http://www.themalaysianinsider.com/malaysia/article/malaysias-environment-too-corrupt-for-hudud-say-islamic-experts
----------
Are you with the extremists or the moderates, Mr Prime Minister, asks DAP
May 7, 2014
Following reports of a controversial forum against Christians at a public university yesterday, the DAP today challenged Prime Minister Datuk Seri Najib Razak to make a clear stand: whether he is with the moderates or the extremists.
" Is he for 1Malaysia or for the very antithesis of 1Malaysia?
"Why has Najib given free play to the merchants of hate, lies and falsehood… to tear the Malaysian nation asunder?" DAP adviser Lim Kit Siang (pic) said in a statement today.
He was referring to a forum on the use of the word Allah and Christology at Universiti Teknologi Mara (UiTM) yesterday which warned Muslims against the threat of Christianisation. The forum also belittled the Holy Bible as containing "tales".
Lim said that the sedition charge against Seputeh MP Teresa Kok yesterday also heralded Malaysia's move into a dark age, coinciding with Najib's second year as prime minister.
He said that just as Kok was charged with sedition for her "Onederful Chinese New Year" parody video, where her satire had included questioning the security in East Sabah.
"Kok was telling the truth, but that has become sedition in Najib's Malaysia as the prime minister has forgotten his promises to repeal the draconian and colonial Sedition Act," he said.
Full report at:
http://www.themalaysianinsider.com/malaysia/article/are-you-with-the-extremists-or-the-moderates-mr-prime-minister-asks-dap
----------
No ruling will stop churches in Sabah, Sarawak from using 'Allah', says former minister
May 7, 2014
A former Cabinet minister today took a defiant stance on the Allah issue, saying that the Kuala Lumpur High Court can rule as it likes but churches in Sabah and Sarawak will continue to use the word in their worship and publication.
Tan Sri Bernard Dompok told Sabah's The Daily Express: "This is a matter of language. If we are not allowed to use Malay, then maybe we need a new national language."
His response came after the High Court on Monday rejected the bid by Christian denomination Sidang Injil Borneo (SIB) to get leave application for a judicial review to challenge the seizure of its religious books in 2007, saying the word Allah was not integral to Christianity.
Judge Datuk Zaleha Yusof said she was bound by the Court of Appeal ruling in the case of Catholic weekly, Herald, that the word Allah cannot be used in the Christian publication.
Dompok told The Daily Express that Putrajaya should consider it "an honour for the Malay language to be used in churches".
Full report at:
http://www.themalaysianinsider.com/malaysia/article/no-court-ruling-will-stop-churches-in-sabah-sarawak-from-using-allah-says-f
----------
Keep Indonesia Secular, Yudhoyono Urges
May 7, 2014
Jakarta. Indonesia is not a Muslim country and any efforts to turn it into one must be resisted, President Susilo Bambang Yudhoyono said on Wednesday as he accepted an award for statesmanship.
Yudhoyono said that Sukarno, Indonesia's founding president, had explicitly declared that Indonesia was a secular country and not an Islamic one, and that this basic tenet of the republic must be upheld.
"We have to protect this. My fear is that there are changes, pushes and thinking that tend toward turning this country into a non-secular one. Secularity is final, and this is an important legacy that we have inherited from Sukarno and the other founders of this republic," Yudhoyono said at the Sukarno Center in Gianyar, Bali, where he was awarded the Sukarno Prize for championing humanity and democracy.
Full report at:
http://www.thejakartaglobe.com/news/keep-indonesia-secular-yudhoyono-urges/
----------
Academic freedom should not be used to promote hate speech, says Christian group
May 7, 2014
While a public university has the right to organise seminars on any topic, academic freedom should not be used to promote skewered statements with no opportunity for facts to be rebutted, the Christian Federation of Malaysia (CFM) said today.
CFM chairman Rev Dr Eu Hong Seng said if this happened, it would amount to abuse of trust and stewardship.
CFM's concern comes on the heels of a seminar in University Teknologi Mara (UiTM) yesterday on the use of the word "Allah" and Christology, where speakers warned Muslims against the threat of Christianisation and belittled the Bible as containing "tales".
Full report at:
http://www.themalaysianinsider.com/malaysia/article/academic-freedom-should-not-be-used-to-promote-hate-speech-says-christian-g
----------
Shoura Council approves Philippines labor agreement
May 07, 2014
RIYADH – The Shoura Council approved on Tuesday the draft agreement on domestic workers that was signed between the Ministry of Labor and the Philippines' Ministry of Labor and Employment. The agreement, consisting of 10 articles, aims at regulating the contractual relationship between Filipino household service workers (HSWs) and their Saudi employers in addition to protecting the rights and interests of both the parties.
Muhammad Al-Naji, chairman of the Shoura committee for administration and human resources, read out the draft agreement at the session, which was chaired by its President Sheikh Abdullah Al-Asheikh, the Saudi Press Agency reported.
Full report at:
http://www.saudigazette.com.sa/index.cfm?method=home.regcon&contentid=20140507204337
----------
South Asia
In China's Xinjiang, Economic Divide Seen Fueling Ethnic Unrest
May 07, 2014
Urumqi, China. Hundreds of migrant workers from distant corners of China pour daily into the Urumqi South railway station, their first waypoint on a journey carrying them to lucrative work in other parts of the far western Xinjiang region.
Like the columns of police toting rifles and metal riot spears that weave between migrants resting on their luggage, the workers are a fixture at the station, which last week was targeted by a bomb and knife attack the government has blamed on religious extremists.
"We come this far because the wages are good," Shi Hongjiang, 26, from the southwestern metropolis of Chongqing, told Reuters outside the station. "Also, the Uighur population is small. There aren't enough of them to do the work."
Shi's is a common refrain from migrant workers, whose experience finding low-skilled work is very different to that of the Muslim Uighur minority.
Employment discrimination, experts say, along with a demographic shift that many Uighurs feel is diluting their culture, is fueling resentment that spills over into violent attacks directed at Han Chinese, China's majority ethnic group.
Full report at:
http://www.thejakartaglobe.com/business/chinas-xinjiang-economic-divide-seen-fueling-ethnic-unrest/
----------
Clashes, mistrust overshadow Myanmar peace process
May 7, 2014
YANGON, Myanmar — Fresh clashes in Myanmar's Kachin state and signs that the army is hardening its negotiating stance with ethnic armed groups are casting a shadow over efforts to put an end to decades of civil war, observers say.
Conflict in remote, mountainous Kachin near the border with China has displaced 100,000 people since a 17-year cease-fire collapsed in 2011. A week of heavy fighting near several displacement camps in southern Kachin caused 2,700 people to flee in mid-April, according to the UN's Office for the Coordination of Humanitarian Affairs (OCHA), many for the second or third time. Those clashes have fed mistrust of the military, casting a pall over talks aimed at securing a nationwide end to hostilities, which are entering a crucial phase, observers said.
UN Secretary General Ban Ki-moon in April warned the violence had "ominous implications."
"Unless they (both sides) step back from the brink and stop tit-for-tat actions, the prospects of progress toward a comprehensive nationwide ceasefire and political dialogue could be seriously jeopardized," he said.
Full report at:
http://www.saudigazette.com.sa/index.cfm?method=home.regcon&contentid=20140507204271
----------
Maldives a target of regional terrorists, says Sri Lanka analyst
By Ahmed Rilwan | May 5th, 2014
A Sri Lankan national arrested in Chennai on April 29 on terrorism charges was also targeting locations in the Maldives, terrorism expert Dr Rohan Gunaratna has told the New Indian Express (NIE).
The Tamil Nadu Police arrested Zakir Hussein, 37 years, in Chennai on suspicion of acting as an operative for Pakistan's Inter-Services Intelligence (ISI) and planning attacks on diplomatic missions including the US consulate in Chennai. The police are now investigating if Hussein was involved in bomb blasts at the Chennai Central Railway Station on May 2. The twin blasts killed one woman and injured 14 people.
Gunaratna, who heads the International Center for Political Violence and Terrorism Researcg (ICPVTR) at Singapore's Nanyang Technological University, said Zakir Hussein was planning to launch attacks on locations in the Maldives, Sri Lanka and India.
Full report at:
http://minivannews.com/crime-2/attacks-planned-against-local-targets-terror-cells-active-in-maldives-%E2%80%93-terrorism-expert-84079
----------
Explosion kills 8 members of a single family in Herat, No group claims responsibility
May 07 2014
At least eight civilians belonging to a single family were killed following an improvised explosive device (IED) explosion in western Herat province of Afghanistan.
According to local government officials, the incident took place in Shindand district where heavy clashes have been reported between Afghan security forces and anti-government armed militant groups.
A local security official said the vehicle of the civilians struck with an improvised explosive (IED) on Shindand highway.
No group including the Taliban militants has so far claimed responsibility behind the incident.
Local officials blame the Taliban group for the incident as Taliban fighters frequently use improvised explosive device (IED) as the weapon of their choice to target Afghan and coalition security forces which normally leads to civilian casualties.
http://www.khaama.com/explosion-kills-8-members-of-a-single-family-in-herat-8033
----------
URL: https://newageislam.com/islamic-world-news/i-abducted-girls-...-allah,/d/76913