New Age Islam News Bureau
4 Nov 2018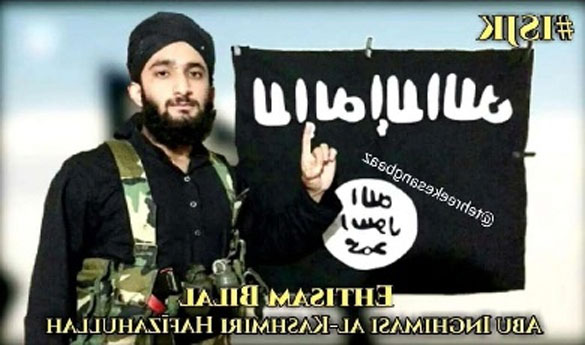 Photo: Sofi said that his son has joined the militant ranks against the will of his parents tantamount to their disobedience which is strictly forbidden by Islam. (Photo: Facebook/@kmrlife)
---------
• Info minister calls govt-TLP agreement 'firefighting, not cure'
• Muslims Surround Toronto Synagogues With Protective 'Rings Of Peace'
• 'Muslims should work together to build a better future'
India
• 'Have mercy on us; send him home': Sharda University student's parents appeal to ISIS
• Terrorism one of the worst forms of human rights violation, but global response inadequate: India
• J&K: Curfew relaxed in Kishtwar, lifted in Doda; locals fear bid to revive terror
• Kashmiri dad pleads with son to leave the path of Islamic State
• Police to confirm if missing Kashmir student has turned rogue
--------
Pakistan
• Info minister calls govt-TLP agreement 'firefighting, not cure'
• Maulana Sami-ul Haq Was Always Targeted by Enemies of Islam And Pakistan, Claims Hafiz Saeed
• TLP, govt express dissatisfaction over agreement to end protests
• Pakistan's prominent Sikh right activist fled to Lahore after security threats in Peshawar
• Hindu community of Lahore chalks out three day Diwali celebrations and Diwali milan party
• Khadim Rizvi, 500 others booked for rioting, disrupting peace
• Asia Bibi's husband calls for her protection, criticises govt deal with protesters
• Punjab to fortify security of political, religious leaders
• Uprooting corruption, poverty alleviation top priorities, PM Khan says in China
• Crackdown ordered on 'miscreants' who damaged properties
• Plea in LHC seeks compensation for damage during TLP protest
• Maulana Samiul Haq laid to rest in Akora Khattak, no clue of murderers yet
• Police issue threat alert to Fazlur Rehman
--------
North America
• Muslims Surround Toronto Synagogues With Protective 'Rings Of Peace'
• Muslims add new edge to American politics
• 'We share that pain': Muslims form rings of peace at GTA synagogues in wake of U.S. shooting
• Pompeo: US sanctions will target Iran's regime, not people
• Utah mayor identified as service member killed in Afghan 'insider attack'
• Iranian commander blasts Trump's anti-Iran sanctions meme with one of his own
• Trump satisfying his own ego, not after Iran deal: Scholar
• Saudi Arabia denies link to death of two sisters in US
--------
Mideast
• 'Muslims should work together to build a better future'
• Iranian FM Dismisses Allegations, Reminds Denmark of Responsibility to Fight Terrorism
• Erdogan says he discussed US measures against Turkish bank with Trump
• Israel renews threats to Lebanon by striking Hezbollah rocket factories
• Yemen's army backed by coalition fighter jets controls Maran triangle in Saada
• US demand for Yemen ceasefire, launch of political talks 'total farce': Ansarullah
• Gazan teenage boy dies of injuries sustained in 2014 Israeli airstrike
--------
South Asia
• Russia to host talks with Afghan leaders, Taliban delegation
• Militants suffer heavy casualties in Jawzjan explosion
• President Ghani calls on Taliban to participate in intra-Afghan talks
• One U.S. soldier killed, another wounded in Kabul insider attack
• NATO SCR praises Afghan journalists for their brave work
• Afghan Shiite militia battles Taliban, raising sectarian fears
• NATO: US soldier killed in 'apparent insider attack' in Kabul
--------
Southeast Asia
• Islamic State Finding a Safe Haven in the Southern Philippines
• Bangladeshis earn more, says Najib on new minimum salary for PTPTN repayment
--------
Arab World
• Fresh US-led airstrikes kill 15 Syrian civilians in Dayr al-Zawr
• White Helmets are branch of Jabhat al-Nusra: Russia
• Ankara Forces Continue Attacking Kurds Irrespective of US Forces' Deployment at Syria-Turkey Border
• Terrorists Continue Reinvigoration of Positions in Demilitarized Zone in Northwestern Syria
• Northwestern Syria: Terrorists in Panic after Details of Transferring Chemical Cargos Disclosed
• Syrian Army Tightens Noose on ISIL in Sweida Desert
• US-led coalition strikes in east Syria kill 14 civilians: monitor
• Russian-made fighter plane crashes in Egypt
• ISIS kills three Iraq village chiefs in a week in restive north
• Saudi Arabia hails UN's efforts, calls for strengthening Peacekeeping Forces
• Iraq lambasts US for statement on relations with Iran
--------
Europe
• Yemen's Houthis 'greatest threat on planet now,' says UK arms sales board chief
• Iran envoy grills UK daily over Saudi-linked TV station
• Russia says Afghan pres. agrees to sent officials for Taliban talks
• German public schools are teaching Islam to students not sure if they belong
--------
Africa
• UN to lift sanctions on Eritrea after US shift
• In Nigeria 'being Shiite is being persecuted'
Compiled by New Age Islam News Bureau
URL: https://www.newageislam.com/islamic-world-news/mercy-us-send-him-home/d/116788
--------
'Have mercy on us; send him home': Sharda University student's parents appeal to ISIS
Nov 3, 2018
Srinagar: The family of Ehtesham Bilal Sofi, the 17-year-old student of Sharda University in Greater Noida who has reportedly joined the ranks of Islamic State Jammu Kashmir (ISJK), an outfit influenced by the ISIS ideology, on Saturday appealed him to shun the gun and return home.
His father Bilal Ahmad Sofi with folded hands made a fervent appeal to the outfit to allow his son to return home. "He is young and naive and should be allowed to return to his parents. The entire family has been devastated after learning about him having turned to the gun," he told reporters at his residence in Srinagar's Khanyar area.
Sofi said that his son has joined the militant ranks against the will of his parents tantamount to their disobedience which is strictly forbidden by Islam. "According to Islam, the heaven lies under the feet of mother and the father is the door to it (heaven)," he sought to remind his son in a bid to persuade him to return home. He added, "Also your mother has fallen ill as she is in a state of shock and disbelief and has not eaten anything since you went missing."
Ehtesham, a first-year student at Sharda University, went missing on October 28 after he left the campus with official permission to go to Delhi.
Earlier on October 4, he was mistakenly roughed up during a scuffle between Indian and Afghan students in the campus. A missing complaint was registered in the case at the Knowledge Park police station in Greater Noida as well as at Khanyar police station in Srinagar.
On Friday, social media posts carrying purported pictures of Ehtesham claimed that he has joined the ISJK. The pictures on social media showed him dressed in a black outfit and standing close to the ISIS flag and announced he had joined the ISJK.
Former chief minister and vice president of National Conference, Omar Abdullah, termed Ehtesham's joining the radical militant outfit as "hugely worrying". He tweeted, "If this is genuine it's hugely worrying. Sometimes seemingly small actions have huge consequences."
He added that it was more tragic if the assault at Sharda University led him to choose the path of militants. "If what happened to him at #ShardaUniversity has lead him to choose such a destructive path it's even more tragic. One more life on the path to ruin and one more family in turmoil," Abdullah wrote on micro-blogging site Twitter.com.
The police officials here said that they have taken cognizance of Ehtesham's joining the JKIS and begun investigations into the case. Earlier the UP Anti-Terrorist Squad (ATS) had said it has been tracking the case since October 28 and has taken cognisance of the photos.
"We are in touch with Jammu and Kashmir police. We are tracking the footprints of the boy from Greater Noida to Kashmir," Inspector General, ATS, Asim Arun told PTI.
Ehtesham's family said in an appeal to the militants said. "For Allah's sake send him home. Have mercy on us".
http://www.asianage.com/india/all-india/031118/have-mercy-on-us-send-him-home-sharda-university-students-parents-appeal-to-isis.html
--------
Info minister calls govt-TLP agreement 'firefighting, not cure'
Nov 04, 2018
ISLAMABAD: Federal Information Minister Fawad Chaudhry on Saturday called the agreement between the federal government and Tehreek-e-Labbaik Pakistan (TLP) "firefighting", admitting that it is "not a cure to malady of extremism".
In an interview with the BBC, Chaudhry said, "Right now this is not a cure. This is firefighting, what we are doing. The cure is the real thing and our government is committed to the cure."
"We had two options: either to use force, and when you use force, people can be killed. That is not something a state should do… We tried negotiations and (in) negotiations you take something and you leave something," he added.
The government's spokesperson argued that use of force against protesters was not the preferred method for the government to deal with the demonstrations.
When asked whether the PM Imran Khan-led government had bowed down to the far-right political groups, the info minister defended the agreement. "Our government was committed to coming up with a permanent solution to tackle violent protests in the country," he said.
Chaudhry admitted that the government would be working on a long-term strategy to deal with such incidents in the future.
"We need to take steps against extremism, we need to take steps against such kind of violent protesters and we need to come up with a permanent solution," he added.
The minister's remarks came a day after the government reached a written agreement with leaders of the nationwide sit-ins.
Widespread protests had erupted in the major cities after the Supreme Court on Wednesday acquitted Aasiya Bibi, a Christian woman on death row since 2010 when she was convicted on blasphemy charges. The protests paralysed routine life in parts of the country and caused severe road blockages in major cities, resulting in severe mobility issues for citizens.
Despite PM Khan's stern warning to agitators against challenging the state earlier in the week, the Pakistan Tehreek-e-Insaf (PTI) government reached a five-point agreement with the TLP late Friday night to end the protests.
According to the five-point agreement, the government would not object to the review petition filed against Aasiya Bibi's acquittal by the top court and the legal process to place her name on the Exit Control List (ECL) would be initiated immediately. Also, the deaths (if any) which took place during the course of protests, would be investigated as per law and the government would release all protestors arrested since October 30. Moreover, TLP also apologised for the inconveniences caused because of the protests.
https://www.pakistantoday.com.pk/2018/11/03/info-minister-calls-govt-tlp-agreement-firefighting-not-cure/
--------
Muslims Surround Toronto Synagogues With Protective 'Rings Of Peace'
11/03/2018
People from various faiths came together in a moving act of solidarity for the victims of the Tree of Life synagogue shooting in Pittsburgh on Oct. 27, as well as a show of strength and protection for Jewish people across Canada.
Numerous "Rings of Peace" were formed around Toronto synagogues on Friday night and Saturday morning, made up of multi-faith worshippers standing shoulder-to-shoulder and joining hands. The events were organized by the National Council of Canadian Muslims in partnership with mosques across the city.
Farhad Khadim, one of the founding directors of the Islamic Institute of Toronto (IIT) and its current director of education, said that the gesture of solidarity extends beyond the protection of faith.
"It's about the sanctity of life," Khadim told HuffPost Canada by phone. "For everyone on earth, whether you are part of a certain religion or do not practice religion at all, a right to safety is paramount.
"It could be a mosque or a synagogue or a nightclub. It doesn't matter. Life is sacred."
Khadim joined members of his mosque at Beth Sholom in York, Ont. early this morning. He recalled how he was hesitant to attend prayers at his mosque in the direct aftermath of the 2017 Quebec City mosque shooting, which claimed the lives of six worshippers and sent shockwaves throughout Canada's Muslim community.
Then, members of synagogues and churches from across the country showed up to form protective circles around Khadim's mosque and many others — a gesture that gave him the peace and confidence to go on worshipping as usual. He said that this demonstration is just one way to return the favour.
Khadim is especially sympathetic to survivors of terrorist attacks: his brother-in-law was killed in the Twin Towers on Sept. 11, 2001 in New York City. The trauma from such a horrific event will no doubt endure, he said, but it helps survivors to feel supported by the community.
"We want them to know that we will always be there for them," Khadim said. "We stand with them, shoulder to shoulder. None of us is as strong as all of us."
Fehmi Kala of Embrace Islamic Society said he showed up at North York's Temple Emanuel because it's important for religious leaders to set a positive example.
"Statements by religious leaders easily encourage radical people to act negatively," he told HuffPost Canada in an email. "People from all level of life should .. act against hate speech and any kind of violence. Keeping silent is not an option."
"Killing people, specifically while they are praying, not only kills innocent people," he said. "It also kills our hope of future to live in peace and harmony in multi-faith & multicultural society."
Members of Imdadul Islamic Jama'at, International Muslim Organization (IMO) and TARIC Islamic Centre also joined hands at Holy Blossom Temple on Saturday morning. One of the victims of the Pittsburgh shooting, Joyce Fienberg, was a member there.
Fienberg was married at the temple, which has over 6,500 members and is one of Canada's oldest Jewish congregations, and her confirmation photo is on its wall of honour.
The mosques arranged for buses to transport members to Holy Blossom. Over 300 people showed up, according to member Osman Khan. They were joined by members of several Christian houses of worship.
Demonstrators were equipped with umbrellas in case of inclement weather, Khan said, but were pleasantly surprised when the overcast skies cleared unexpectedly.
"The sun came out as soon as we stepped off the buses," he said. "We felt it was a blessing."
Rabbi Yael Splansky, the senior rabbi of Holy Blossom Temple, invited Khan to speak inside the synagogue. He considered it one of the great honours of his life.
"It was a very emotional moment for me," Khan said. "This temple was formed in 1856. Being asked to address the crowd in such a place, at such a moment, was incredibly powerful."
Khan was especially moved by the number of children and teenagers in the crowd. He said his 15-year-old daughter, who is not usually an early riser, insisted that her father wake her up so she could join him at the synagogue. She also addressed Holy Blossom Temple worshippers.
"We are Muslim by faith but [my daughter] attends a Catholic school and now has been welcomed into a synagogue," Khan said. "We told the youth there today: 'We have started the process, but it's up to you to continue the work for generations to come.'"
https://www.huffingtonpost.ca/2018/11/03/rings-of-peace-toronto-synagogue-muslims_a_23579698/
--------
'Muslims should work together to build a better future'
04.11.2018
By Mucahit Turetken
ISTANBUL
Muslims must work together to build a better future through "a realistic, constructive and holistic approach and a persuasive way", head of Turkey's Religious Affairs Directorate said on Saturday.
Speaking at the General Assembly of Qatar-based International Union of Muslim Scholars (IUMS) in Istanbul, Ali Erbas said Muslims across the globe are going through a difficult and uneasy process due to the wars, poverty, and terrorism.
"We should work together to build a better future through a realistic, constructive and holistic approach and a persuasive way by addressing the problems in our geography," Erbas said.
In his remarks, Erbas also touched upon the importance of bringing the Muslim scholars together to support each other and cooperate in areas such as religious education, dissemination of religious knowledge, religious services for women, family and youth. He also said the terrorist organizations such as Fetullah Terrorist Organization (FETO), PKK, Daesh, Al-Shabaab and Boko Haram are "damaging Muslims, our unity and future."
Meanwhile, the chairman of the IUMS, Yousef al-Qaradawi, said: "We pray for Turkey to be the administrative center of the Islamic world again."
The General Assembly will end on Thursday.
https://www.aa.com.tr/en/turkey/muslims-should-work-together-to-build-a-better-future/1302227
--------
India
Terrorism one of the worst forms of human rights violation, but global response inadequate: India
Nov 04, 2018
Calling terrorism "the worst form of violation of human rights", India has decried attempts by some countries to prevent a unified international response to the threat.
"Terrorism has emerged as one of the worst forms of violation of human rights... My country has had to face repeated terrorist attacks on innocent people, emanating from beyond our borders," India's Deputy Permanent Representative Tanmaya Lal said in United Nations on Friday.
"Despite terrorism being acknowledged as one of the foremost global challenges, any meaningful collective response to address this menace continues to be thwarted by some."
Lal's remarks during a General Assembly session on the Human Rights Council report were aimed at the failure of the world body to adopt the Comprehensive Convention on International Terrorism (CCIT) proposed by India in 1996.
The draft of the convention has failed to make headway in the 22 years because of the failure of countries to agree even on who is a terrorist, with some claiming exemptions for whom they would label "freedom-fighters".
Lal did not directly mention the CCIT or the report of the Office of the High Commissioner for Human Rights on Kashmir, which also came in for implied criticism.
He said that human rights "mechanisms operating on their own without any mandate and producing clearly biased documents only further harm the credibility of UN".
One of the grounds for India's criticism of the Kashmir report is that it was prepared without any mandate from the Human Rights Council or any UN body.
India also said that it was biased and "based on unverified sources of information".
"Country-specific procedures have largely been counter-productive," he added.
Domestically, Lal said, "India's approach to human rights continues to evolve as more rights become justiciable and through the process of progressive interpretation of laws by the judiciary".
The Supreme Court's recent landmark decision to decriminalise gay sex is an example of the judiciary extending civil rights through its interpretation of the constitution.
https://www.hindustantimes.com/india-news/terrorism-one-of-the-worst-forms-of-human-rights-violation-but-global-response-inadequate-india/story-WLCDneodxv7vsGDZq5660H.html
--------
J&K: Curfew relaxed in Kishtwar, lifted in Doda; locals fear bid to revive terror
by Arun Sharma
November 4, 2018
Two days after BJP state secretary Anil Parihar and his brother Ajit were shot dead by suspected militants in Kishtwar town, the district in Jammu and Kashmir appeared to be limping back to normalcy, with the administration on Saturday relaxing curfew for an hour in different areas of the town.
Curfew was relaxed for an hour from 2.30 pm in some areas, and from 3.30 pm in others, Kishtwar Deputy Commissioner Angrez Singh Rana said. No untoward incident was reported from anywhere.
With the district administration having arranged vehicles to pick up and drop students, examinations also went off smoothly in Kishtwar town, officials said.
Curfew that was clamped on Friday in Doda and Bhaderwah towns, anticipating trouble, was lifted on Saturday morning.
Amid the eerie calm, some local residents and police officials said the Parihar brothers' killing could be a sign of terror outfits trying to spread militancy in Kishtwar and Doda districts, near the Valley. An officer said efforts have been on for some time to revive terror in the two districts in view of their proximity to Kashmir Valley and similarities in several other aspects, including a sizeable Kashmiri-speaking population.
The officer pointed out that there have been multiple incidents of terror modules being busted, alleged overground workers (OGWs) of militant outfits being held, and arms and ammunition seizure from time to time – especially in the past few months. All this, the officer added, may point to attempts by terror outfits to revive militancy in the area.
While Kishtwar SSP Rajinder Gupta did not comment on the development in the investigations, police sources said the gunmen who killed the Parihar brothers in Tapal mohalla of Kishtwar town on Thursday evening when they were returning home appear to be serving a twin-purpose. First, to kill a liberal voice in BJP in the district, where militancy was wiped out in 2011, and to engineer communal clashes in the volatile area.
Even Anil Parihar had, warned the administration against the deteriorating situation in the hilly district of Jammu region. In August, addressing protestors outside District Courts Complex, located just opposite Tapal mohalla, where they were shot, over alleged harassment of Machail mata pilgrims by some anti-social elements, Parihar had said that "some unidentified people" were surfacing in the town. "We have repeatedly urged the administration not to allow situation deteriorate but our requests are ignored,'' he had said.
Many local residents alleged that there have been no police patrolling in Tapal mohalla, which is near the District Courts Complex and has many government offices, for long.
Meanwhile, recovery of an empty shell of an AK-47 rifle from the crime site has puzzled the special investigation team (SIT) formed to track the killers of Anil and Ajit Parihar. The entry and exit points of bullet in the bodies are too small, and the police are still working on the theory that a pistol was used to shoot them, sources said. that they are even getting drains passing through the area cleaned in search of its empties.
Full report at:
https://indianexpress.com/article/india/jk-curfew-relaxed-in-kishtwar-lifted-in-doda-locals-fear-bid-to-revive-terror-5433173/
--------
Kashmiri dad pleads with son to leave the path of Islamic State
By Muzaffar Raina
4.11.18
A Kashmiri boy who was beaten up in a Noida university and his father have been locked in a social media debate over the essence of Islam after the student disappeared and claimed to have joined the Islamic State.
For son Ehtisham, violent jihad is the gateway to heaven. For father Bilal Ahmed, Islam preaches that "paradise lies at the feet of your mother" and none who disobeys his parents shall enter it.
The worst fears of Bilal, a shopkeeper from Srinagar's Khanyar locality, had come true on Friday when the missing Ehtisham purportedly released a picture accompanied by audio, announcing he had joined the Islamic State.
Ehtisham, a BSc student of medical imaging technology at Noida's Sharda University, had disappeared last week, days after being thrashed by fellow students on the campus. He had apparently been mistaken for an Afghan during a clash between Afghan and Indian students on October 4.
The audio refers to the October 4 incident, alleging the attackers had pounced on Ehtisham for defending the Afghan students. It says he decided to join jihad that day, while claiming he had been ideologically influenced by jihad before that.
Former chief minister Omar Abdullah tweeted: "Sometimes seemingly small actions have huge consequences. If what happened to him at #ShardaUniversity has led him to choose such a destructive path, it's even more tragic."
On Saturday, Ethisham's father Bilal uploaded a video where he is seen suggesting his son has not understood Islam properly. Ehtisham's mother and sisters too are seen crying in the video.
Several parents had earlier made a similar plea on social media, but their sons largely ignored them and only their bodies returned.
In the video, Bilal is heard saying: "I heard your audio and was surprised and saddened that you were talking about Islam and faith, forgetting that Islam preaches that paradise lies at the feet of your mother while the father is described as the door to heaven. Islam has linked paradise to submission to parents, and it is strictly insisted not to disobey one's parents."
Bilal then makes a fervent appeal to his son. "I order you — no, I appeal to you — to return. I appeal to those with whom my son is staying, for God's sake let him return. Have mercy on us; God will have mercy on you," he says as he breaks down.
Friday's audio was accompanied by a picture of Ehtisham in a black outfit, weapons strapped to his body and an Islamic State flag in the background.
Additional director-general of police Munir Khan said the authenticity of the audio and the picture were being verified.
Full report at:
https://www.telegraphindia.com/india/kashmiri-dad-pleads-with-son-to-leave-islamic-state/cid/1673780
--------
Police to confirm if missing Kashmir student has turned rogue
Nov 3, 2018
SRINAGAR: J&K police on Saturday said they are yet to verify the veracity of an audio clip that plays to a photograph of reportedly a 19-year-old student of a private university in Greater Noida who has been untraceable since October 28 but the photo of allegedly Ehtisham Bilal Sofi wearing black, flouting an AK 47, with grenades strapped to his body, and posing in front of a typically Islamic State flag, has taken by surprise and rattled family and friends. They on Saturday appealed for him to return to the family fold, taking the clip at face value.
ADG law and order and security Munir Khan said "we are investigating the issue and the veracity of the clip", adding it was possible Ehtisham may have joined the Jammu & Kashmir unit of terror group Islamic State (JKIS). UP DGP O P Singh said the ATS had contacted J&K Police. "It is not yet clear whether he has joined any terror group. Our probe has just begun. His stay at the university and people he was friendly with will be questioned by UP ATS sleuths," he said.
The five-minute audio has a soft male voice pledging allegiance to the cause of jihad, promising death and terror from Kashmir to Kanyakumari and looking to give up his life in the effort.
On Saturday, his mother Irfana Begum appealed to Zakir Musa, JKIS head to return their only son. She prayed to separatists Syed Ali Geelani, Mirwaiz Umar Farooq and Yasin Malik to help her bring back her son. "Please send back my Ehtisham…
Please for the sake of Allah return him to us," Irfana Begum said.
Ehtisham went missing on October 28 after he left the varsity with official permission to go to Delhi, days after he was mistakenly roughed up during a scuffle between Indian and Afghan students in the campus. In the audio, the voice allegedly Ehtisham's says: "I was looking into the kaffir's (non-Muslims) eyes when they attacked me in groups like dogs; I felt I had delayed becoming a part of jihad for long. Not anymore."
Ehtisham left the university's campus last Sunday morning. He had told his father he was going to Delhi with friends. However, on October 26, Ehtisham had booked a GoAir flight to Srinagar. He boarded the 1.30 pm flight on October 28 that landed in Srinagar around 3 pm. In his last call to father Bilal Ahmed, made at 4.29 pm, Ehtisham told him he was taking a metro to return to Greater Noida. His mobile locations that night showed him in Pulwama and then Shopian.
A 'missing' complaint was later registered at Knowledge Park police station in Greater Noida and at Khanyar police station in Srinagar, officials said.
Ehtisham was one of two Kashmiri students attacked on the Sharda campus on October 4, in the middle of clashes in the university between Indian and Afghan students. Some outsiders and students subsequently targeted Kashmiri students, believing they were Afghans. On October 4, during an agitation against Afghan students led by right-wing activists Deepak Sharma and Ved Nagar, a mob turned on Ehtisham and a fellow student in the presence of police. Videos of the violence were later widely circulated. Ehtisham suffered injuries on his right elbow and head. He had then told TOI that at least he could identify at least three of his attackers. "I can identify them. They were using abuses and anti-Muslim language," he had said.
Ehtisham's friends in Sharda described him as an introvert who largely kept to himself. A fellow student from J&K said Bilal had refused to give a statement to the police after the October 4 attack on him and another student on the Sharda campus, saying he did not want help from "Indians". "Maybe he had decided he will go," added the friend.
Sharda University, in its first official statement on Saturday since Ehtisham went missing from campus a week ago, said it was "deeply concerned that a first-year student, who had joined the university and commenced his academics only mid-September 2018, has allegedly joined hands with anti-national elements." The university said he enrolled, his attendance had been around 75% and that he would mostly hang around with students from his state of J&K.
Asim Arun, IG of UP-ATS, said on Saturday, "We've been tracking him the past week. We've been in touch with his family and friends but no one seems to have expected he would join a radical group."
Full report at:
https://timesofindia.indiatimes.com/india/police-to-confirm-if-missing-kashmir-student-has-turned-rogue/articleshow/66492732.cms
--------
Pakistan
Maulana Sami-ul Haq Was Always Targeted by Enemies of Islam And Pakistan, Claims Hafiz Saeed
November 3, 2018
New Delhi: Lashkar-e-Taiba founder and Mumbai terror attack mastermind Hafiz Saeed on Saturday strongly condemned the assassination of Maulana Samiul Haq, a former Pakistani Senator widely known as the 'Father of Taliban'. Saeed claimed that Haq was always targeted by enemies of Islam and Pakistan and there were always conspiracies being hatched against him.
In a video message, Saeed can be heard saying,"Maulana Sami ul Haq served Islam and he served Pakistan. His role in the country has been significant and always raised his voice for the right. There were always conspiracies being hatched against him because he was always targeted by enemies of Islam and Pakistan. His death raises a lot of questions."
"Muslims across Pakistan, Afghanistan and even India are people of Sami ul Haq. Whenever he heard of any atrocities being committed against Muslims anywhere, he was always hurt. May God deal with the killers and grant peace to Sami ul Haq," he added.
On Friday evening, Haq was stabbed to death while he was taking rest at his home. Earlier in the day, on the complaint of Maulana Hamidul Haq, son of the deceased, a First Information Report (FIR) was registered at the Airport Police Station in Rawalpindi, ARY News reported. As per the details shared in the FIR, Maulana Samiul Haq was stabbed 12 times and succumbed to his injuries at his Rawalpindi residence. He was killed at around 6.30 pm on November 2.
Sharing details of the murder, his son told ARY News that JUI-S chief was unwell and taking rest at home when he was attacked.
"Maulana Samiul Haq's driver and the gunman were away when he was stabbed and when one of his servants returned he saw him (Samiul Haq) lying in a pool of blood. He was shifted to the Safari Hospital in Rawalpindi for medico-legal formalities," Maulana Hamidul Haq said.
https://www.india.com/news/world/hafiz-saeed-condemns-assassination-of-maulana-sami-ul-haq-claims-godfather-of-taliban-was-always-targeted-by-enemies-of-islam-and-pakistan-3413674/
--------
TLP, govt express dissatisfaction over agreement to end protests
Nov 04, 2018
Federal Minister for Religious Affairs Noorul Haq Qadri said that only the higher court can order an individual's name to be placed on the Exit Control List (ECL), a local media outlet reported on Saturday.
He explained that only those who are currently involved in cases or review petitions could have their names placed on the ECL, adding that Aasia Bibi's name could only be placed on the list upon court directives.
Tehreek-e-Labbaik Pakistan (TLP) leader Farooqul Hassan Qadri expressed dissatisfaction with the matter, saying that the government had promised to put Aasia Bibi's name on the ECL when the agreement was reached.
Full report at:
https://www.pakistantoday.com.pk/2018/11/04/tlp-govt-express-dissatisfaction-over-agreement-to-end-protests/
--------
Pakistan's prominent Sikh right activist fled to Lahore after security threats in Peshawar
Nov 3, 2018
AMRITSAR: Following threats to his and his family's life from fundamentalists, Pakistan's prominent Sikh human right defender, Radesh Singh Tony has fled from Peshawar city of restive Khyber Pakhtunkhwa province of Pakistan leaving behind his business and property.
Singh has now taken shelter in Lahore along with his wife and three children and has applied for a peon's job to keep the hearth burning.
While talking to TOI on Saturday, Tony who is also chairman Khalsa peace and justice foundation claimed that he had survived three attacks on his life in Peshawar after the death of Peshawar's prominent religious leader Charanjit Singh in May 2018.
"I had raised the voice protesting killing of Charanjit Singh through the platform of foundation and had staged demonstrations demanding arrest of assassins of Charanjit Singh but after that I started receiving threats from unknown persons" he said.
He said in one of the attacks he barely survived after the bullet had hit his turban. "This was the closest one which left me completely shaken and I decided to immediately shift to Lahore along with my wife and three children" he said.
He said due to constant threats he had almost lost his electronic business in Peshawar and went to Lahore with whatever money he had.
"Here I have taken a house on rent and have asked my three sons to find jobs for themselves and I have also applied for a peon's post and salesman job in a shop since I require money for day to day expenses."
He informed that he had won the municipal councilor seat and had also contested the last general elections from PK 75 constituency.
When asked why didn't he approached Pakistan Sikh gurdwara prabandhak committee for support, he replied "They have refused to extend any help and I am also of view that they wouldn't help since they had their personal interests" he said.
Full report at:
https://timesofindia.indiatimes.com/world/pakistan/pakistans-prominent-sikh-right-activist-fled-to-lahore-after-security-threats-in-peshawar/articleshow/66491743.cms
--------
Hindu community of Lahore chalks out three day Diwali celebrations and Diwali milan party
Nov 3, 2018
AMRITSAR:Hindu community of Lahore has chalked out a three day Diwali celebration functions which will be followed by 'Diwali Milan Party' and an interfaith prayer.
While talking to TOI over phone from Lahore on Saturday Manwar Chand, chairman, Pakistan Hindu welfare council informed that three day function would begin from November 7 at Krishna temple situated at Batti Chowk area of Lahore. "There are around 500 Hindu families living in Lahore, members of every family participates in the three day puja's of lord Rama, goddess Laxshmi and lord Krishna", he said.
He informed that Krishna temple was being decorated and new clothes and ornaments had been purchased to adorn the deities. "Even our Muslims friends and neighbourer joins us in the celebrations" he said.
Chand informed that interior city of Lahore had 12 gates and there were 12 Hindu temples in the interior city but they were not maintained by evacuee trust property board (ETPB).
"These temples are managed by local Hindu's who have formed small committees to take care of the temple and ensure that daily prayers are held and other rituals are performed" said Ramesh Kumar another Hindu resident of Lahore. The main function would be held at Krishan temple but other temples have also made their own celebration programmes.
Contrary to the media reports that Hindu's and Sikh's were persecuted in various parts of Pakistan, Ramesh claimed that Hindu's faced no discrimination. He said ETPB was carrying out several development woks at the crematorium of Hindus, Aggarwal Ashram, Ganga Ram Samadhi etc.
Chand informed that on November 11, the Council would organize a Diwali Milan Party on the lines of Eid Milan Party at a star category hotel in Lahore which would be attended by representatives of all faith and discussions would be held on interfaith harmony and prayers would be held.
Full report at:
https://timesofindia.indiatimes.com/world/pakistan/hindu-community-of-lahore-chalks-out-three-day-diwali-celebrations-and-diwali-milan-party/articleshow/66491644.cms
--------
Khadim Rizvi, 500 others booked for rioting, disrupting peace
Nov 04, 2018
LAHORE: A day after normalcy returned to the country as Tehreek-e-Labbaik Pakistan (TLP) "suspended" its nationwide protests against Aasia Bibi's acquittal following an agreement with the government, TLP chief Khadim Rizvi, senior leader Pir Afzal Qadri were among 500 others who have been booked on Saturday on charges of rioting and disrupting peace.
As per the details, at least 500 TLP leaders and supporters, including firebrand cleric Khadim Rizvi and Afzal Qadri, have been booked in 11 different cases under charges of causing agitation among the masses, blocking roads and vandalism in Lahore.
Two cases have also been lodged in the federal capital on charges of damaging public and private properties as well as violating section 144.
The development came after the Interior Ministry announced taking action against all those "miscreants, who under the guise of peaceful protests, caused destruction to public and private properties and harmed helpless citizens" during the three-day protests.
"Steps are being taken to identify these miscreants," a statement issued by the ministry of interior said.
CYBERCRIME PROBE:
Meanwhile, the Interior Ministry also said the Federal Investigation Agency's (FIA) cybercrime wing and Pakistan Telecommunication Authority (PTA) have been directed to investigate "propaganda" circulated on social media to incite hate.
"Additionally, the chairpersons of the cybercrime wing and PTA have been instructed to obtain the forensic data of the miscreants," it said in a separate statement.
The Interior Ministry will also initiate criminal proceedings against all those who spread extremist and hateful propaganda on social media, the statement added.
NORMALCY RETURNS:
Earlier, the country welcomed a tentative return to normalcy following the agreement between TLP and the government after three days of violent protests that choked various cities and throttled economic activities.
In Islamabad and Karachi, traffic returned to normal after protesters ended sit-ins and road blockages were removed over the night.
Life returned to normalcy in Lahore as well, after the largest group of TLP supporters wrapped up their protests late Friday night. Road blockages that had crippled the city have been removed and traffic has now begun to flow unimpeded. Public schools also re-opened, though attendance remained thin on the first day.
According to reports, Tehreek-e-Labbaik Ya Rasool Allah (TLYRA), a faction of the TLP, is still holding out and has continued its sit-in at Data Darbar.
Protests in Peshawar had ended soon after the deal between the TLP and the government was finalised on Friday night. Road blockages around the city have also been removed.
Jamiat Ulema-e-Islam Fazl (JUI-F) chief Maulana Fazlur Rehman had headed a rally in Peshawar on Friday, but ended it after his address. He was scheduled to join the TLP camp later but was advised by police not to follow through due to security risks.
In Quetta, though religio-political parties had held rallies, no sit-ins had been reported.
The countrywide demonstrations by TLP and other religiopolitical parties, which erupted on Wednesday after the Supreme Court announced acquitting Aasiya Bibi, had left major highways — including the motorway connecting Lahore and Islamabad — blocked and routine life paralysed in major cities.
Mobile services in major cities had also been suspended.
The protests had come after Prime Minister Imran Khan issued a forceful rebuke to the TLP in a nationally-televised address in the ruling's wake, saying the government would not tolerate violent protests.
On Friday, the government and the TLP had signed a deal to conclude the latter's nationwide protest. One of the major concessions the government agreed to was to "initiate the legal process" to place Aasiya Bibi's name on the ECL [Exit Control List].
The state had also assured the party that it would not oppose a review petition filed against the Supreme Court's judgement in the Aasiya Bibi blasphemy case.
The government further promised to take appropriate legal action to redress any deaths that may have occurred during the protests against the Aasiya Bibi verdict and to release all people picked up in connection with the protests starting October 30.
Full report at:
https://www.pakistantoday.com.pk/2018/11/03/khadim-rizvi-supporters-booked-for-booked-for-rioting-disrupting-peace/
--------
Asia Bibi's husband calls for her protection, criticises govt deal with protesters
November 03, 2018
The husband of Asia Bibi, a Christian woman acquitted after eight years on death row for blasphemy, on Saturday criticised the government deal with protesters of religious groups that left her in legal limbo, and called on authorities to protect her.
Bibi's conviction was overturned by the Supreme Court on Wednesday and she was ordered to be set free, triggering protests by the Tehreek-i-Labbaik Pakistan (TLP) and other religiopolitical groups that lasted three days.
The government and TLP reached a deal on Friday to conclude the latter's protests. One of the major concessions the government agreed to was to "initiate the legal process" to place Bibi's name on the exit control list (ECL).
The government had also assured the party it would not oppose a review petition filed against the Supreme Court's judgement in the Asia Bibi blasphemy case. A review petition has been filed with the top court.
"It is wrong to set a precedent in which you pile pressure onto the judiciary," Bibi's husband Ashiq Masih told German Deutsche Welle radio.
He said the government should never have yielded to pressure from protesters.
Masih said the court had been "very courageous" to acquit his wife, an illiterate mother in her 50s whose case started in 2009 when she was accused of having uttered blasphemous remarks after an argument with two Muslim women.
"The current situation is very dangerous for us. We have no security and are hiding here and there, frequently changing our location," Masih said.
Bibi's lawyer fled Pakistan on Saturday, fearing for his life.
Masih demanded the government reinforce Bibi's protection in prison, worrying that she may be attacked. He cited the case of two Christian men who were shot dead after a court acquitted them in another blasphemy case.
Full report at:
https://www.dawn.com/news/1443333/asia-bibis-husband-calls-for-her-protection-criticises-govt-deal-with-protesters
--------
Punjab to fortify security of political, religious leaders
Sher Ali Khalti
November 4, 2018
LAHORE: The Punjab Home Department has decided to enhance security arrangements for important political figures and religious leaders across province, The News has learnt.
Sources in the Home Department said the department had advised the Inspector General of Police (IGP) Punjab to enhance security arrangements for politicians and religious scholars and warned that there were reports of possible attacks on them.
The advice was given after the assassination of chief of Jamiat Ulema-e-Islam Sami group (JUI-S), Maulana Samiul Haq. Sources said the interior ministry was considering to increase security of Pakistan Muslim League-N (PML-N) supremo, Mian Nawaz Sharif and other members of the Sharif family, former prime minister Yusuf Raza Gilani, Jamaat-e-Islami (JI) ameer Senator Sirajul Haq, president of Jamiat Ulema-e-Islam (F) Maulana Fazlur Rehman and others. A spokesperson for the IGP Punjab said that if the police would receive any letter from the authorities concerned regarding security of people, police were bound to provide them with security. The Punjab police had raised a new force to protect persons on high risk (PHR).
https://www.thenews.com.pk/print/389573-punjab-to-fortify-security-of-political-religious-leaders
--------
Uprooting corruption, poverty alleviation top priorities, PM Khan says in China
November 04, 2018
Prime Minister Imran Khan on Sunday said that uprooting corruption and bringing people out of poverty are the top priorities of his government.
PM Khan while delivering a speech at the Central Party School in Beijing hailed the bilateral cooperation between the countries.
Talking about his political journey, the premier said that he began his career as a cricketer before he entered politics.
"Pakistan at one point was an example for the developing world. In the 1960s we had quality universities. We had the highest growth rate. Our first five-year plan was emulated by South Korea and Malaysia," he said, adding that unfortunately the nation lost its way due to corruption of the ruling elite.
He said that countries are poor not because of a lack of resources but due to the corruption of the elite, because it destroys state institutions.
PM Khan came down hard on money laundering and termed it the worst kind of corruption. "In my opinion, one of the biggest problem the world faces today is money laundering," he added.
"Pakistan, unfortunately, after the mid-80s started suffering from corruption," he said, adding that at that time, he was playing cricket.
He said that after he retired from cricket, he decided to join politics and the main agenda of his party was to combat corruption.
The prime minister maintained that initially his party was ignored by masses and it was after his 2011 visit to China when the party started gaining popularity.
Currently, he said, his main concern was strengthening institutions. "The stronger the state institutions, the lesser the corruption," PM Khan said.
Full report at:
https://www.dawn.com/news/1443523/uprooting-corruption-poverty-alleviation-top-priorities-pm-khan-says-in-china
--------
Crackdown ordered on 'miscreants' who damaged properties
Amir Wasim
November 04, 2018
ISLAMABAD: A day after reaching an agreement with the Tehreek-i-Labbaik Pakistan (TLP) leadership for ending their sit-ins, the federal government on Saturday ordered a "crackdown" against "miscreants" involved in damaging public and private properties and vehicles during the protests.
The directives for action against the miscreants were issued by Minister of State for Interior Shehryar Afridi after he received a briefing from different agencies about the damage suffered by the government and people during the three-day protests by religio-political groups over the Oct 31 Supreme Court verdict acquitting Aasia Bibi of a blasphemy charge, says an official announcement.
It says that cases will be registered against "all those miscreants who under the guise of peaceful protests caused destruction to property and harmed unarmed citizens".
Through the statement, the ministry has welcomed the stance taken by the Ulema that they were not involved in any violence and some "miscreants" were involved in the destruction caused to properties. It says that efforts are being made to identify the miscreants with the help of video footage.
"Cases will be registered and legal action will be taken against all the miscreant elements to be identified," says the statement.
It further says that the Cybercrime Wing of the Federal Investigation Agency (FIA) and the Pakistan Telecommunication Authority (PTA) have been directed to monitor and investigate provocative material being circulated on social media to incite hate. The head of the Cybercrime Wing and the PTA chairman have been instructed to obtain "forensic data of the miscreants."
"The interior ministry will initiate criminal proceedings against all those spreading extremist and hateful propaganda on social media," it says.
The government took the decision to take action against the troublemakers amid criticism against it for striking a deal with the protesters in which there has been no mention of the damage caused to the properties of innocent people.
Similarly, the government is facing criticism for not taking any action against those leaders of the protest who had threatened the judges and used seditious language against state institutions.
Talking to Dawn, Federal Information Minister Fawad Chaudhry said it would be wrong to say that the government had surrendered before the protesters through the agreement.
Refusing to speak further on the matter, he said presently they were only doing firefighting and a prolonged strategy would be prepared to meet any such situation in the future and to establish the writ of the state in a more effective manner.
Earlier in the day, Minister of State for Communications Murad Saeed had said that the government had decided to take action against those miscreants who destroyed state property along motorways and highways during the protests.
He said that it was the "time to establish that calls for protest shouldn't be taken as a licence to destruction".
The minister said that videos and images of the protests over the apex court's decision would be scrutinised to identify the perpetrators who caused damage to public property.
"The Constitution permits peaceful protests, but under no circumstances damaging public and private property under the garb of protests," the minister remarked.
He said the property along national highways was damaged all over the country and now billions would have to be spent on repair works.
He said it was commendable that the protest leadership had distanced itself from those who created havoc in the garb of protests.
In Lahore, police have registered 11 FIRs in different police stations against 1,500 people under various charges, including terrorism. Similarly, Islamabad police have booked nearly 250 protesters for injuring policemen and damaging state property.
Sindh police have also reportedly decided to register cases against the organisers of sit-ins over charges of riots and damaging property on behalf of the state or on the complaint of aggrieved persons whose properties were damaged.
A police officer pointed out that Korangi police station has already registered a case on the complaint of the watchman of a factory in the area, as around 15 to 16 protesters tried to 'forcibly' shut the industrial unit and resorted to riots on Friday.
Full report at:
https://www.dawn.com/news/1443450/crackdown-ordered-on-miscreants-who-damaged-properties
--------
Plea in LHC seeks compensation for damage during TLP protest
November 04, 2018
LAHORE: A writ petition has been filed in the Lahore High Court seeking compensation for the damage caused to public and private properties during the countrywide protest by the Tehreek-i-Labbaik Pakistan (TLP) against release of Aasia Bibi in a blasphemy case.
Abdullah Malik of the Civil Society Network arrayed federal and provincial governments as party in his petition. He pleads that protection of people's life and property is a responsibility of the government and a great damage has been done to the public and private property during the TLP protests.
He says the government is duty-bound to compensate the losses of the citizens.
The petitioner asks the court to order both the federal and provincial governments to determine the losses and pay compensation to the citizens.
SMOG: A petition has been filed in the Lahore High Court seeking a direction for the government authorities to take immediate steps to control smog in Punjab.
A citizen, Munir Ahmad, contends through his counsel that Lahore is among the 10 most polluted cities in the world in terms of air quality. He states that air pollution causes serious health problems, including respiratory issues, lung and heart diseases. He pleads that the smog has become a perennial problem for the residents of Lahore.
The petitioner claims that data released by the Pakistan Air Quality Initiative shows the provincial capital recorded only two days of good air quality in 2017.
He asks the court to direct the government to implement the statutory laws as well as mandatory rules in letter and spirit for the purpose of protecting environment.
Full report at:
https://www.dawn.com/news/1443433/plea-in-lhc-seeks-compensation-for-damage-during-tlp-protest
--------
Maulana Samiul Haq laid to rest in Akora Khattak, no clue of murderers yet
Nov 04, 2018
PESHAWAR: Jamiat Ulema-e-Islam (JUI-S) chief and 'Father of Taliban' Maulana Samiul Haq was laid to rest in Akora Khattak inside Darul Uloom Haqqania on Saturday, a day after he was brutally killed in a knife attack at his residence in Rawalpindi.
Funeral prayers of Haq, a two-time senator and an ally of Prime Minister Imran Khan, were held at Khushal Khan College Ground and attended by several prominent political leaders, including CM Mehmood Khattak and Governor Shah Farman.
Meanwhile, police have registered an FIR against unknown assailants and reportedly interrogated slain cleric's personal secretary Ahmed Shah and guard for three hours in connection with the murder.
The detainees in their initial statement said, "The two men [suspected of murder] had visited Maulana Haq on several occasions before as well and wanted to meet him alone."
"The JUI-S chief sent us to the market to bring food and drinks," they further said. "When we returned after 15 minutes, we found Haq lying in a pool of blood," the staff workers added. However, the police agreed to release them on Haq's son request so that they could attend the funeral. But they can be taken into custody again for further questioning, police added.
According to the FIR registered at Airport Police Station, Ahmed Shah had informed Hamidul Haq over the phone that someone had stabbed his father. It stated that Sami, who had received a total of 12 wounds on his stomach, heart, forehead and ears, was shifted to the Safari Hospital but could not be resuscitated.
The son commented on the post-mortem, saying said he did not want to have a post-mortem examination conducted on the body of his father as it was "against Islamic law".
Separately, forensic experts and investigation officers gathered evidence from his residence in Rawalpindi. The investigation officers also carried out fingerprint scans on the phone, glasses and other personal items of the JUI-S chief. A CCTV footage of the housing society where the JUI-S chief resided is also being obtained to identify the suspects.
DEATH:
On Friday, Haq was assassinated at his Bahria Town residence when his staff were out. Haq's servant said he had gone outside to buy groceries, only to return to his employer lying in pool of blood. Sami shortly died after that. The Counter Terrorism Department (CTD) immediately reached the spot and initiated a probe into the murder.
His death was condemned by many, including the prime minister and the army chief. PM had expressed grief and sorrow at his ally's death and ordered a swift investigation besides seeking an inquiry report at the earliest.
General Bajwa had condemned assassination through ISPR twitter handle, while President Dr Arif Alvi, AJK PM Raja Farooq Haider Khan, Chief of Army Staff (COAS) Gen Qamar Javed Bajwa, Chief Justice Mian Saqib Nisar, JUI-F chief Maulana Fazlur Rehman, PML-N supremo Nawaz Sharif, Opposition Leader in the National Assembly Shehbaz Sharif, JI chief Sirajul Haq, Punjab Chief Minister Sardar Usman Buzdar, Federal Minister for Religious Affairs and Interfaith Harmony Noorul Haq Qadri, State Minister for Interior Shehryar Afridi and others condemned the incident and expressed grief over the assassination of Haq.
https://www.pakistantoday.com.pk/2018/11/03/maulana-samiul-haq-laid-to-rest-in-akora-khattak/
--------
Police issue threat alert to Fazlur Rehman
NOVEMBER 4, 2018
Peshawar police issued a threat alert to Jamiat Ulema-e Islam (F) leader Maulana Fazlur Rehman on Saturday.
According to the letter penned by the Peshawar senior superintendent of police (SSP), "Maulana Fazlur Rehman is facing security threats."
The letter further advised the JUI-F chief to not visit Peshawar owing to the security threats.
JUI-F leader Rashid Soomro demanded that Fazl be granted foolproof security following the assassination of Jamiat Ulema-e-Islam-Sami (JUI-S) chief Maulana Samiul Haq on Friday.
https://dailytimes.com.pk/318328/police-issue-threat-alert-to-fazlur-rehman/
--------
North America
Muslims add new edge to American politics
November 3, 2018
The Muslims are coming!
For some Americans — those who support a travel ban, a wall along the Mexican border and increased restrictions on refugees, all while holding on to the ridiculous belief that the world's 1.8 billion Muslims hate America, despite the fact that it's home to nearly 3.5 million of us — that statement probably inspires fear.
But it's true: Nearly 100 Muslim political hopefuls have filed to run for elected office this year in America. Only a dozen or so had run in 2016.
In July, the Associated Press had interviewed Muslim candidates about this record number. The reporting revealed that it's precisely the bigotry and hate that has been directed toward Islam — including in remarks and tweets by United States President Donald Trump — that has motivated so many Muslims to enter the political arena, where they now stand poised to advance policies that directly reflect their faith and also benefit all of their constituents.
Rashida Tlaib of Detroit, a former state representative and a daughter of Palestinian immigrants, would be the nation's first Muslim woman in Congress. Ilhan Omar, a Somali-American and refugee from Kenya, is predicted to win in November, replacing Rep. Keith Ellison in Minnesota.
A majority of Muslim candidates are not running with their religion on their sleeves, but instead as Democrats promoting unabashedly progressive platforms.
"It is important that people recognise I am someone who is a public servant working to create a better society, who just happens to be a Muslim refugee," Omar told me in a phone interview. While she represents a district that is mostly Christian and white, she believes her constituents don't care about her religion or identity as much as they do about whether she'll champion their causes in Washington.
These Muslim political veterans and upstarts certainly aren't the first to demonstrate that deeply held religious beliefs can inspire a commitment to social justice. But at a time when the hypocrisy of many who claim to represent the Christian religious right is especially glaring, they provide the latest reminder that being devout doesn't have to — and shouldn't — go hand in hand with attacks on women, minorities and poor people.
"It's not about just being out there and flaunting your faith," Tlaib told CNN in an August interview. "I always tell people that I'm exposing Islam in such a pivotal way, an impactful way, through public service." Omar beat her closest Democratic rival by more than 20,000 votes while calling for the cancelling of student debt, raising the minimum wage and increasing the number of refugees admitted to this country.
"It is part of my Islamic teaching to make sure we are charitable," Omar told me. "A huge part of the Islamic faith is that you can't sleep with a full belly if your neighbours and those around you aren't sleeping with a full belly."
Abdul Al Sayed — who recently lost his race for the Michigan governor's nomination, but started a Political Action Committee to support liberal candidates — echoed the sentiment. Al Sayed calls himself "openly, honestly and unapologetically Muslim" and told me he believes "privilege begets responsibility". That Islamic value inform his progressive politics.
Nonetheless, both Omar and Al Sayed said critics have tried to use their religion against them. "Islamophobia comes with the territory," Al Sayed said. They've each been hounded by the far-right activist Laura Loomer, who has been travelling the country "investigating" Muslim candidates running for office. This includes disrupting their talks and asking whether they support Hamas.
Omar refuses to be intimidated. "We say what we want to say," she said. "They cannot continue to instil fear in us and stop us from achieving critical conversations."
Unfortunately, many Christian Republican voters are still encouraged to fear Muslims. "Running on Hate 2018," a report by the non-profit organisation Muslim Advocates, examined 80 campaigns using anti-Muslim messages leading up to the midterm elections and found that almost all of the candidates engaged in these tactics are Republican. The evangelical leader Franklin Graham has said Islam is an "evil" religion.
After Al Sayed lost his race, a message appeared on the Twitter page of Corey Stewart, a Republican Senate candidate from Virginia, that read: "Michigan almost elected a far left ISIS [Daesh] commie." It was quickly deleted and Stewart said that it was sent by someone with access to his account.
Duncan Hunter, a California Republican who has been indicted on a charge of campaign finance violations, said his opponent, Ammar Campa-Najjar, was a national security risk because of his Palestinian Muslim roots and because his grandfather was involved in the 1972 Munich Olympics terrorist attack. (Campa-Najjar is a Christian and his grandfather died 16 years before he was born, but who needs facts? Certainly not Trump, who warned last week, without any proof, that "unknown Middle Easterns" were among the "caravan" of Central American migrants walking toward the United States to seek asylum.)
These are reminiscent of the attitudes behind the anti-Catholic hazing of the 1950s that forced John Kennedy to assuage fears that he was "not the Catholic candidate for president" but instead the "Democratic Party's candidate for president who happens also to be a Catholic". But Kennedy won the presidency, and now a quarter of US senators and six Supreme Court justices are Catholic.
Hana Ali, seeking a seat in the Tennessee legislature, is taking a cue from Kennedy. She told me she's running as a Democratic, a proud Tennessean and an American who also happens to be Muslim.
In Tennessee, she has seen firsthand the damage of the opioid crisis and the dire consequences of her state's failure to expand Medicaid. She doesn't have the built-in progressive network of a liberal Detroit or New York or the luxury to ignore Trump supporters. Instead, Ali, a physician, health care executive and proud immigrant, is knocking on doors trying to win voters over with a Democratic platform, one smile and hug at a time.
Win or lose, she told me, she wants her campaign to inspire her children and the next generation. "If this woman who lives in the middle of Tennessee can run for office as a Democratic candidate, then it opens up a lot of doors for a lot of Muslim women, future generations and communities who are watching from a distance," she said.
Muslims are here, they're running for office, and a few are going to Washington, where they'll do something many members of Congress have failed to do for a long time: serve God by serving people.
— New York Times News Service
Wajahat Ali is a playwright, lawyer and contributing opinion writer.
https://gulfnews.com/opinion/thinkers/muslims-add-new-edge-to-american-politics-1.2297286
--------
'We share that pain': Muslims form rings of peace at GTA synagogues in wake of U.S. shooting
Nov 03, 2018
In the wake of a deadly attack on a U.S. synagogue last week, people of faith from across the Greater Toronto Area gathered at Jewish places of worship throughout the city Saturday in an act of defiant solidarity.
More than 200 attendees from various religious backgrounds formed "rings of peace" around 10 synagogues throughout the region on the Sabbath, a weekly day of observance in the Jewish faith.
The events were organized by several Muslim community groups and included prayers, hymns, statements of support and an opportunity to meet neighbours.
"It is our faith that keeps us together. When one person is hurt in our community, through our moral and religious obligation, we are supposed to help," said Osman Khan, spokesperson for the Imdadul Islamic Centre, one of the groups behind the show of solidarity.
Last Saturday, a gunman opened fire in the Tree of Life synagogue in Pittsburgh, killing 11 Jewish people, many of them elderly.
Six people were also injured in the attack, including four police officers.
The accused shooter, Robert Bowers, allegedly made anti-Semitic remarks during the attack, according to police.
It was just the latest of a series of a high-profile shootings at places of worship on both sides of the border.
Khan said it only made sense for his community to express its condolences and support for Toronto's Jewry. In February 2017, some 300 Jewish people from across the GTA, along with many from other faiths, formed rings of peace around local mosques in the wake of a deadly attack inside a Quebec City mosque.
"It gave consolation to us in that difficult time, and now are doing the same," Khan said.
"Not because we feel we have to reciprocate, but because we feel a need to be with our brothers and sisters to ease the pain that they feel, because we share that pain."
Joanna Sadowski, a member of the Holy Blossom Temple on Bathurst Street in York, said the public display of compassion was deeply emotional for her.
"It was very moving and very, very beautiful. I think I felt a little bit overwhelmed by the support of all the people who came out to show their solidarity," she said.
"I think the message is that people want to feel safe in prayer and in community, no matter your religion, no matter your background. That's a value that we share as Canadians, as Torontonians — that we care and respect each other's differences."
Phyllis Denaburg, also a congregate at Holy Blossom, took part in the circles of peace around GTA mosques last year. She said that beyond offering support, the events help connect people who might otherwise not have a chance to meet.
"It's definitely a message of solidarity and that we aren't alone. It's a shame that these things still continue to happen, because it's not something new. But it does warm our hearts," she said.
Holy Blossom Temple's rabbi, Yael Splansky, has said that Toronto native Joyce Fienberg, who was killed in the Pittsburgh shooting, was a member of Holy Blossom Temple.
Fienberg spent most of her career as a researcher at the University of Pittsburgh, retiring in 2008 from her job studying learning in the classroom and in museums. Before that she was a member of the Holy Blossom Temple community, which is one of Toronto's oldest Jewish congregations.
Splansky said Fienberg was a "very special person" who was married at the temple and whose confirmation photo is on its wall of honour.
Full report at:
https://www.cbc.ca/news/canada/toronto/gta-muslim-pittsburgh-synagogue-peace-ring-1.4890743
--------
Pompeo: US sanctions will target Iran's regime, not people
4 November 2018
United States Secretary of State Mike Pompeo has said that upcoming economic sanctions against Tehran is focused on targeting the Iranian regime, not its people.
"On November 5, we will place tough sanctions on #Iran's ruling regime. Our aim is to compel Iran to abandon its destructive activities. The sanctions will target the regime—not the people, who have suffered the pain of their government's mismanagement, theft, and brutality," he tweeted.
Washington will on Monday reintroduce far-reaching sanctions on Iran's vital oil sales and banking sectors to try to force the Islamic Republic into negotiations to scrap its nuclear energy and ballistic missile programs and end its support for proxies in conflicts across the Middle East.
Pompeo's statement on Saturday echoed that of UAE's minister of state for foreign affairs, Anwar Gargash, who said on Saturday that Iran's "aggressive policies" were "largely responsible" for the reimposition of US sanctions on Tehran.
https://english.alarabiya.net/en/News/middle-east/2018/11/04/Pompeo-US-sanctions-will-target-Iran-s-regime-not-people.html
--------
Utah mayor identified as service member killed in Afghan 'insider attack'
Nov 4, 2018
The mayor of a small city in the US state of Utah has been identified as the US service member killed Saturday in an "insider attack" in Afghanistan, according to reports.
Brent Taylor, a married father of seven children who was deployed to Afghanistan in January, was a mayor of North Ogden. He was elected to the city council in 2009 and became mayor in 2013, according to the city council website.
Taylor's death was confirmed by North Ogden City Councilman Phil Swanson.
"We are devastated by the loss of our Mayor and friend, Brent Taylor," the city said on its Facebook page.
"Brent had a profound influence on this community. He was the best of men with the ability to see potential and possibility in everything around him."
Taylor had temporarily stepped down as mayor to deploy to Afghanistan with the Utah Army National Guard, according to his biography on North Ogden's website.
He served as an officer in the US Army National Guard for 12 years, including seven years on active duty. Taylor had been deployed to Iraq twice and was on his second tour to Afghanistan when he was killed.
Reports indicated the attacker was a member of the Afghan National Defense and Security Forces, who was immediately killed by Afghan soldiers.
The deadly incident was the latest in a series of "green-on-blue" attacks in which members of the Afghan army have killed American or coalition advisers since January.
Last month, a NATO-led Czech soldier was killed in the western province of Herat.
The US, along with a number of fellow-NATO members, invaded Afghanistan in 2001, toppling a Taliban regime in control of most of the country at the time, but it has failed to restore security in the country plagued by militancy and terrorism.
Full report at:
https://www.presstv.com/Detail/2018/11/04/579000/Utah-mayor-killed-Afghanistan
--------
Iranian commander blasts Trump's anti-Iran sanctions meme with one of his own
Nov 4, 2018
Iran's Major General Qassem Soleimani has fired back at US President Donald Trump's use of a meme imitated from popular American drama series "Game of Thrones" with one of his own, vowing to "stand against" American sanctions.
The commander of the Quds Force of Iran's Islamic Revolution Guards Corps (IRGC) posted on Friday an Instagram photo inspired by the book series-turned-HBO hit show, which reads, "I will stand against you" in the show's signature font, as used in Trump's tweet earlier in the day threatening Tehran with more sanctions.
The photo was widely viewed as a direct response to the US president's own Westeros-inspired tweet that read, "Sanctions are coming November 5."
The post came shortly after the Trump administration announced plans to reinstate the last set of sanctions lifted on Iran under the 2015 Iran nuclear deal early next week. Trump announced in May that he was withdrawing the US from the International agreement.
The US-based cable network HBO also slammed Trump for his use of the show's slogan – 'Winter is coming' – to promote his administration's foreign policy agenda, saying it would prefer the American president not "misappropriate" their trademark.
"We were not aware of this messaging and would prefer our trademark not be misappropriated for political purposes," said an HBO spokeswoman.
The network further took to Twitter – Trump's favorite communication channel -- and asked how to say "trademark misuse" in Dothraki, one of the show's fictional languages.
On Saturday, Leader of the Islamic Revolution Ayatollah Seyyed Ali Khamenei responded to persisting US political and economic hostilities against Iran for the past 40 years, insisting that the United States has always been defeated in its face-off with the Islamic Republic.
Speaking in a public address a day after the Trump administration decided to re-impose all US sanctions against Iran lifted under the 2015 agreement, the Leader said, "For 40 years, the challenge between America and Iran has continued and a variety of movements have taken place from the enemy's side - from the military and economic warfare to the media war launched by America.
"The goal of the United States in all this was to regain the domination it had in the era of the tyranny, but it could not," the Leader added, referring to the period prior to the Islamic Revolution when the Shah of Iran was the top US ally in the region. Iran's foreign ministry has accused Washington of seeking to wage an extensive "psychological war" against Tehran by imposing a new round of sanctions, insisting that such US measures are not worthy of much concern.
"There is no room for any concern. We should wait and see that the US will not be able to carry out any measure against the great and brave Iranian nation," Iran's Foreign Ministry Spokesman Bahram Qassemi said on Friday. "It seems that the US has no more capability to put countries and global economic enterprises under pressure."
The US plans to impose a second round of sanctions against Iran on Sunday, months after Washington scrapped the 2015 multilateral deal, officially known as the Joint Comprehensive Plan of Action (JCPOA), reached between Iran and the P5+1 group of countries.
The first round of the bans – which had been lifted under the nuclear deal -- was re-imposed in August.
The Iranian general has previously reacted to other anti-Iran threats by the American president, warning Trump back in June against insulting the Iranian nation and president.
"Trump! You must not threaten our nation and must not insult our president… You must know what you are talking about; ask your predecessors and try to benefit from their experiences," said General Soleimani on July 26.
Full report at:
https://www.presstv.com/Detail/2018/11/04/578989/US-President-Donald-Trump-Iran-Major-General-Qassem-Soleimani-sanctions-threat-Iran-nuclear-deal-game-of-thrones
--------
Trump satisfying his own ego, not after Iran deal: Scholar
Nov 3, 2018
US President Donald Trump's only interest is feeding his ego, while pro-Israeli neoconservatives in his administration reject the Iran nuclear deal, according to American scholar Kevin Barrett.
Trump reiterated on Friday an offer to renegotiate the landmark Iran nuclear deal known as the Joint Comprehensive Plan of Action (JCPOA).
The JCPOA, which Trump pulled the US out of in May, had been signed after lengthy negotiations between Iran and the five permanent members of the United Nations Security Council, plus Germany (P5+1).
Trump claimed he had left the "horrible, one-sided Iran nuclear deal" in order to pressure the Iranian government to end its "malign actions" in the Middle East.
Barrett, an American author, journalist and radio host with a PhD in Islamic and Arabic Studies, told Press TV in a phone interview on Friday that Trump's repeated offers just served to feed his own ego.
"Donald Trump is apparently reiterating his ego as well as his supposed willingness to negotiate a new deal with Iran to replace the JCPOA. It is kind of amusing because Trump doesn't seem to know anything about the JCPOA," he said.
"The only thing he knows is that [former US President Barack] Obama negotiated it. And therefore, Trump hates it and wants to replace it with a deal with his name on it … perhaps Trump would be satisfied with it," Barrett said.
Barrett, however, noted that Trump would never act in defiance to the Neocons in his administration, including US Secretary of State Mike Pompeo and US National Security Adviser John Bolton.
"John Bolton, Mike Pompeo and their paymaster [Benjamin] "Bibi" Netanyahu and his gangster friends -- like Sheldon Adelson -- would not be happy with this; therefore, it is unlikely, that Trump would have enough initiative of his own to actually do this," he said.
Earlier, Barrett suggested that the Trump's exit form JCPOA had been under the influence of Israel.
Barret added he believed Trump lacked "the faintest desire or knowledge to try to push through any particular Iran deal.Trump is just a creature of narcissism and ego," the American scholar said.
Full report at:
https://www.presstv.com/Detail/2018/11/03/578981/US-Trump-Iran-Israel-P51-Nuclear-JCPOA
--------
Saudi Arabia denies link to death of two sisters in US
03.11.2018
Saudi Arabia has denied any link to the death of two Saudi sisters studying the United States.
Talal Farea, 16, and her sister Rotana, 22, were found dead duct-taped together in the Hudson River. U.S. media said the two sisters had applied for political asylum in the U.S.
Media reports claimed that relatives of the dead girls told police that a Saudi embassy official had telephoned them on Aug. 23 ordering them to return to Saudi Arabia.
But an embassy spokeswoman vehemently denied the claim.
"Reports we ordered anyone related to the Saudi sisters to leave the U.S. for seeking asylum are absolutely false," Fatimah Baeshen said on Twitter on Saturday.
"Details are still under investigation and will be shared in due course," she added.
Last week, the Saudi Consulate in New York said it has appointed a lawyer to follow up the legal process of the case, pointing out that the girls were studying in the U.S.
Saudi Arabia has been facing world outcry since the murder of Saudi journalist Jamal Khashoggi in the Saudi Consulate in Istanbul.
Khashoggi, a columnist for The Washington Post, disappeared on Oct. 2 after entering the Saudi Consulate in Istanbul to receive paperwork he needed to get married.
Full report at:
https://www.aa.com.tr/en/americas/saudi-arabia-denies-link-to-death-of-two-sisters-in-us/1301852
--------
Mideast
Iranian FM Dismisses Allegations, Reminds Denmark of Responsibility to Fight Terrorism
Nov 03, 2018
During the phone conversation on Friday night, Zarif referred to the clear attempts by Israel to distort relations between Iran and the European states, and underlined Tehran's preparedness to cooperate with the Danish security officials to clarify different aspects of the plot and the reality.
He also reminded the Danish government of its responsibility to prosecute and arrest members of Ahwaziyeh terrorist group which has admitted the responsibility for a terrorist attack in Southwestern Iran in September, describing Copenhagen's support for the group as "unacceptable".
Samuelsen, for his part, reiterated his country's support for the 2015 nuclear deal and companionship with Europe in using financial mechanisms to continue economic cooperation with Iran.
Without providing any evidence, the Danish police on Tuesday linked so-called Iranian intelligence officers to attacking a person in the country. Denmark's foreign ministry then announced in a statement that it had summoned Iran's Ambassador to Copenhagen Morteza Moradian to Denmark's foreign ministry in that connection.
In relevant remarks on Wednesday Zarif blamed the Israeli spy agency, Mossad, for masterminding false-flag operations against Tehran.
"Mossad's perverse and stubborn planting of false flags (more on this later) only strengthens our resolve to engage constructively with the world," Zarif wrote on his Twitter page.
Also, on Wednesday, the Iranian foreign ministry summoned the Danish ambassador to Tehran over his country's allegations.
26 people were killed and 69 others were wounded in an attack by al-Ahwaziya terrorist group during the nationwide military parades in Ahwaz on September 22.
The terrorists attacked the bystanders watching the annual Armed Forces' parades, marking the start of the Sacred Defense Week, commemorating Iranians' sacrifices during the 8 years of the Iraqi imposed war on Iran in 1980s, in disguise of the Islamic Revolution Guards Corps (IRGC) and Basij (volunteer) forces, killing and wounding several people, including innocent women and children.
None of the officials participating in the military parades in Ahwaz city in Khuzestan province was injured in the attack.
http://en.farsnews.com/newstext.aspx?nn=13970812000309
--------
Erdogan says he discussed US measures against Turkish bank with Trump
3 November 2018
Turkish President Recep Tayyip Erdogan on Saturday said US President Donald Trump had promised to look into possible US measures against a Turkish bank for evading sanctions on Iran.
Speaking during a news conference with visiting Ukraine President Petro Poroshenko, Erdogan gave details about a phone conversation he had with Trump on Thursday.
The call came as strained relations between the two countries ease following Turkey's release of an American pastor.
Erdogan said he raised the issue of the state-owned Halkbank, which had an executive charged in New York for taking part in a scheme to evade US sanctions on Iran.
Turkey maintains Halkbank did not violate the sanctions.
Erdogan said Trump "said he would immediately instruct his ministers about this".
It was not clear what the US president could do, however.
Erdogan also said he expected to meet Trump in France next weekend, on the sidelines of a ceremony marking the anniversary of the end of the First World War.
https://english.alarabiya.net/en/News/middle-east/2018/11/03/Erdogan-says-he-discussed-US-measures-against-Turkish-bank-with-Trump.html
--------
Israel renews threats to Lebanon by striking Hezbollah rocket factories
3 November 2018
Israel renewed on Friday its threat and warning to Lebanon during a meeting with a French envoy touring the region.
Al Arabiya news channel correspondent in Palestine said on Friday that Israeli Prime Minister Benjamin Netanyahu had passed a threat message through Oman meant for Iran, to spare Lebanon a new war and to stop trying to build precision rockets on its territory.
Netanyahu also sent another threat a few days ago, which was delivered by the French National Security Adviser Orléan la-Chevalier, who is said to be one of Macron's closest confidants, who met with Israeli deputy national security adviser Eitan Ben-David, on Monday to convey to Lebanon's Prime Minister Saad Hariri that the Lebanese government must put an end to Hezbollah's missile factories, otherwise, "Israel will solve it" , in reference to a possible military action.
Ben-David said that Israel has a time limit to end this file, and is ready to wait diligently to develop diplomatic solutions to this matter, stressing at the same time that "Israel is not ready to accept this reality."
Full report at:
https://english.alarabiya.net/en/News/middle-east/2018/11/03/Israel-renews-threats-to-Lebanon-by-striking-Hezbollah-rockets-factories.html
--------
Yemen's army backed by coalition fighter jets controls Maran triangle in Saada
3 November 2018
The Yemeni national army, backed by Arab fighter jets, gained control over the Maran region and other villages that were under the control of the Houthi militias in Saada.
The Orouba Brigade's Commander Major General Abdulkarim al-Sadi told Al Arabiya correspondent that his forces advanced successfully toward positions in Maran and neighboring villages, where they gained control over the region.
He added that his forces advanced deeply into the region after they liberated more than 40 kilometers of mountainous areas and terrains.
The coalitions backed the Yemeni army during its military advances following the targeting of Houthi reinforcements coming from Maran to support its military fronts.
https://english.alarabiya.net/en/News/gulf/2018/11/03/Yemeni-army-air-support-from-coalition-controls-Triangle-Maran-in-Saada.html
--------
US demand for Yemen ceasefire, launch of political talks 'total farce': Ansarullah
Nov 3, 2018
The spokesman for Yemen's Houthi Ansarullah movement has described a demand by US President Donald Trump's administration for a ceasefire and the launch of UN-led political talks to end the ongoing war in Yemen as "nothing but travesty."
"The United States continues to support the Saudi-led military aggression against Yemen at all levels. Washington, prior to the recent call for cessation of hostilities in Yemen, had completed an elaborate military preparation for an onslaught on Hudaydah. The US call for a new round of negotiations is, in fact, an attempt to get away from global pressure in the face of the sufferings of the Yemeni people," Yemen's Arabic-language al-Masirah television network quoted Mohammed Abdul-Salam as saying on Saturday.
He added that no national Yemeni delegation had so far received a call or invitation from the United Nations or international parties for a new round of negotiations, stressing that the UN was not effective and its decisions were in the hands of other parties.
"The rising military escalation in Hudaydah points to the fact that the Saudi-led coalition has failed to achieve anything and that Yemeni people should put their trust in the Yemeni army and Popular Committees. Today, the Yemeni nation is reaping the fruit of its steadfastness against aggressors," Abdul-Salam pointed out.
He stressed that the Ansarullah movement welcomed any initiative for inclusive peace in Yemen, which would safeguard the country's freedom and independence.
On Tuesday, US Secretary of Defense James Mattis called for a ceasefire in Yemen and for all parties to come to the negotiating table within the next 30 days.
"We have got to move toward a peace effort here, and we can't say we are going to do it sometime in the future," he said during a discussion at the United States Institute of Peace (USIP) in Washington.
"We need to be doing this in the next 30 days," Mattis added.
Saudi Arabia and a number of its regional allies launched a devastating military campaign against Yemen in March 2015, with the aim of bringing the government of former president Abd Rabbuh Mansur Hadi back to power and crushing the country's popular Houthi Ansarullah movement.
According to a new report by the Armed Conflict Location and Event Data Project (ACLED), a nonprofit conflict-research organization, the Saudi-led war has so far claimed the lives of around 56,000 Yemenis.
The Saudi-led war has also taken a heavy toll on the country's infrastructure, destroying hospitals, schools, and factories. The UN has already said that a record 22.2 million Yemenis are in dire need of food, including 8.4 million threatened by severe hunger. According to the world body, Yemen is suffering from the most severe famine in more than 100 years.
Full report at:
https://www.presstv.com/Detail/2018/11/03/578948/US-demand-for-Yemen-ceasefire--launch-of-political-talks-total-farce-Ansarullah
--------
Gazan teenage boy dies of injuries sustained in 2014 Israeli airstrike
Nov 3, 2018
A Gazan teenage boy has died more than four years after being injured in an Israeli aerial attack that targeted his family home in the besieged Gaza Strip.
Al-Wafaa Hospital for Rehabilitation and Specialized Surgery announced that 14-year-old Muhammad al-Rifi died on Saturday morning at the hospital, where he had been taken for medical treatment.
The hospital pointed out that Rifi was suffering from a critical injury in his cervical vertebrae, which had left him quadriplegic and on ventilators for over four years.
The Gazan teenager was critically injured in an Israeli airstrike on his family home in the eastern al-Tuffah neighborhood of the Gaza City during the Israeli onslaught against the Gaza Strip in 2014.
His father, brother and four of his cousins were killed in that aerial assault.
In early July 2014, Israel waged a war on the Gaza Strip. The 50-day military aggression, which ended on August 26, 2014, killed nearly 2,200 Palestinians, including 577 children. Over 11,100 others – including 3,374 children, 2,088 women and 410 elderly people – were also wounded in the war.
The Gaza Strip has been under an Israeli siege since June 2007. The blockade has caused a decline in the standards of living as well as unprecedented levels of unemployment and unrelenting poverty.
Tensions have been running high near the fence separating the Gaza Strip from the occupied territories ever since anti-occupation protest rallies began in the coastal enclave on March 30. At least 214 Palestinians have been killed by Israeli forces. Over 22,000 Palestinians have also sustained injuries.
The Gaza clashes reached their peak on May 14, on the eve of the 70th anniversary of Nakba Day (Day of Catastrophe), which coincided this year with the US embassy relocation from Tel Aviv to occupied East Jerusalem al-Quds.
On June 13, the United Nations General Assembly adopted a resolution, sponsored by Turkey and Algeria, condemning Israel for Palestinian civilian deaths in the Gaza Strip.
The resolution, which had been put forward on behalf of Arab and Muslim countries, garnered a strong majority of 120 votes in the 193-member assembly, with eight votes against and 45 abstentions.
The resolution called on UN Secretary General Antonio Guterres to make proposals within 60 days "on ways and means for ensuring the safety, protection, and well-being of the Palestinian civilian population under Israeli occupation," including "recommendations regarding an international protection mechanism."
Full report at:
https://www.presstv.com/Detail/2018/11/03/578938/Gazan-teenage-boy-dies-of-injuries-sustained-in-2014-Israeli-airstrike
--------
South Asia
Russia to host talks with Afghan leaders, Taliban delegation
NOVEMBER 4, 2018
Russia said on Saturday that Afghan President Ashraf Ghani had agreed to send a group of senior politicians to peace talks in Moscow, at which a delegation representing the Taliban would be present.
Russia in August proposed holding multilateral peace talks in Moscow, and invited 12 countries and the Taliban to attend a summit the following month. But the meeting was postponed after Ghani rejected the invitation on the grounds that talks with the Taliban should be led by the Afghan government.
In a statement on Saturday, Russia's foreign ministry said the talks were now confirmed to be held on Nov. 9.
"It will be the first time that a delegation from the Taliban's political office in Doha will attend such a high-level international meeting," the foreign ministry said.
The ministry has invited several other countries to send representatives, including India, Iran, Pakistan, China and the United States.
https://dailytimes.com.pk/318306/russia-to-host-talks-with-afghan-leaders-taliban-delegation/
--------
Militants suffer heavy casualties in Jawzjan explosion
Nov 03 2018
At least sixteen militants were killed or wounded in an explosion in northern Jawzjan province of Afghanistan, the Afghan Military said Saturday.
According to a statement released by 209th Shaheen Corps of the Afghan Military in the North, the anti-government armed militants launched a coordinated attack on Qosh Tapa district late on Friday night.
The statement further added that the attack was launched in Jardoq village but the militants faced a quick reaction from the national defense and security forces.
According to 209th Shaheen Corps, at least six militants were killed and ten others were wounded during the exchange fire and an explosion which was triggered by own explosives of the militants.
The anti-government armed militant groups including Taliban have not commented regarding the incident so far.
Jawzjan was among the relatively calm provinces in North of Afghanistan but the security situation of the province has deteriorated during the recent years.
Full report at:
https://www.khaama.com/militants-suffer-heavy-casualties-in-jawzjan-explosion-02674/
--------
President Ghani calls on Taliban to participate in intra-Afghan talks
Nov 04 2018
President Mohammad Ashraf Ghani has once again called on Taliban group to participate in intra-Afghan peace talks, emphasizing that a consensus exists for peace and the Islamic world and region is prepared for reconciliation.
He made the remarks during a meeting with religious scholars, influential figures, and tribal elders of Paktika province on Saturday.
President Ghani further added that Afghanistan also wants peace with Pakistan, insisting that the country must understand that a peaceful Afghanistan is in their interest.
Calling on the Taliban group to get ready for intra-Afghan talks, President Ghani said Afghanistan will not hand over the authority of reconciliation efforts to outsiders.
In his speech during another gathering in Paktika province, President Ghani said the Taliban should bid farewell with the weapons, halt ties with the foreigners, and return back to their country.
https://www.khaama.com/president-ghani-calls-on-taliban-to-participate-in-intra-afghan-talks-02676/
--------
One U.S. soldier killed, another wounded in Kabul insider attack
Nov 03 2018
A U.S. soldier was killed and another soldier was wounded in an apparent insider attack in capital Kabul.
"One U.S. service member was killed and another was wounded in an apparent insider attack in Kabul, Nov. 3," the Resolute Support Mission said in a statement.
The statement further added that "Initial reports indicate the attacker was a member of the Afghan National Defense and Security Forces. Initial reports also indicate the attacker was immediately killed by other Afghan Forces."
"The two U.S. service members were medically evacuated to Bagram Airfield. The wounded service member is undergoing medical treatment and is in stable condition," the statement added.
Full report at:
https://www.khaama.com/one-u-s-soldier-killed-another-wounded-in-kabul-insider-attack-02675/
--------
NATO SCR praises Afghan journalists for their brave work
Nov 03 2018
The NATO Senior Civilian Representative in Afghanistan Ambassador Cornelius Zimmermann has hailed the Afghan journalists for their brave work.
Ambassador Zimmermann issued a short statement online to commend the Afghan journalists on the eve of International Day to End Impunity for Crimes against Journalists.
"Very glad to mark the International Day to End Impunity for Crimes Against Journalists. I commend the brave work carried out every day by Afghan journalists. Independent & vibrant media is indispensable for lasting security and peace in #Afghanistan," Ambassador Zimmermann said in a statement posted in Twitter.
The International Day to End Impunity for Crimes against Journalists is observed annually on 2nd of November and is a UN-recognized day.
The day is also observed in Afghanistan every year amid growing violence against journalists.
The Second Vice President Mohammad Sarwar Danish admitted that Afghanistan remains a dangerous country for the journalists.
Full report at:
https://www.khaama.com/nato-scr-praises-afghan-journalists-for-their-brave-work-02673/
--------
Afghan Shiite militia battles Taliban, raising sectarian fears
3 November 2018
A week of fighting between Taliban militants and fighters loyal to a commander from the mainly Shiite Hazara minority has heightened fears of a dangerous new phase of sectarian violence in Afghanistan.
The clashes in the central province of Uruzgan, which have killed at least 21 people, have highlighted concerns that Hazaras, members of a mainly Shiite Persian-speaking minority targeted by ISIS terrorist group attacks over recent years, may take up arms in frustration at a lack of action by the government.
While the Taliban, made up mainly of ethnic Pashtun Sunni Muslims, has not explicitly targeted Hazaras in the past, officials fear the violence could escalate into an ethnic battle.
"The fighting is very intense and is now becoming an issue of ethnic violence between Hazara and Pashtun," said Amir Mohammad Barekzai, the provincial council chief. "The government must arrange a truce between them or there will be a massacre."
Sectarian violence had until recent years been relatively uncommon in Afghanistan but suicide bombings at Shiite mosques and cultural centers by ISIS terrorist group as well as attacks on Hazaras travelling on provincial highways have fuelled growing anger. Many Hazaras blame Sunni Pashtuns for the attacks.
Afghan and Western security officials, fearing the kind of sectarian violence that has devastated Iraq, have been deeply concerned that Hazaras who fought in Iranian-backed militias in Syria could hit Sunni targets.
Tax row sparks violence
The recent violence started when Taliban fighters attacked a remote cluster of Hazara villages in Uruzgan province after they refused to pay tax to the insurgents, provincial officials said.
The Hazara commander, Abdul Hakim Shujaee, a former leader in the US-funded Afghan Local Police, has been accused of serious human rights abuses and faces an arrest order from the central government, which has struggled to impose its authority on remote parts of the country.
He commands hundreds of Hazara fighters and remains free because of his connections with powerful political figures in Kabul, local officials say.
Uruzgan, squeezed between the Taliban heartlands of Kandahar and Helmand and the Hazara-dominated province of Daikondi, is home to both Pashtuns and Hazara families and the two groups have long had an uneasy co-existence.
Asadullah Sayed, the governor of Uruzgan, said fighting broke out between two armed groups in three villages of Khas Uruzgan district last week and government forces have been deployed to end the conflict.
He put the number of dead at 21 but a government security official said 43 people had been killed so far on both sides, many more wounded and some 300 families have fled the area.
The Taliban normally collect taxes from local residents in areas under their control to fund their insurgency but Hazara families defied them, setting off a fierce gun battle, he said.
Full report at:
https://english.alarabiya.net/en/News/world/2018/11/03/Afghan-Shiite-militia-battles-Taliban-raising-sectarian-fears.html
--------
NATO: US soldier killed in 'apparent insider attack' in Kabul
3 November 2018
One US soldier was killed and another wounded in an "apparent insider attack" in Kabul on Saturday, NATO said, in the latest such assault on international forces in Afghanistan.
"Initial reports indicate the attacker was a member of the Afghan National Defense and Security Forces," NATO's Resolute Support mission said in a statement.
The attacker was killed by "other Afghan forces," it added.
The wounded soldier was flown to Bagram Airfield north of the Afghan capital where he was receiving medical treatment. He was in a "stable condition."
An investigation into the incident was under way, the statement said. The identity of the dead soldier was not immediately released.
https://english.alarabiya.net/en/News/world/2018/11/03/NATO-US-soldier-killed-in-apparent-insider-attack-in-Kabul-.html
--------
Southeast Asia
Islamic State Finding a Safe Haven in the Southern Philippines
November 4, 2018
MINDANAO – Despite Islamic State's failure last year to establish a caliphate in the southern Philippine city of Marawi, foreign militants continue to flock to the island of Mindanao, waiting in the wings to strike anew.
Security analysts and military officials say at least 100 foreign terrorist fighters are now holed up with a range of local armed groups that have pledged their allegiance to Islamic State.
Filipino troops needed five months to flush out Islamic State-allied Maute and Abu Sayyaf fighters from their positions in Marawi, which one year later has yet to rise from the ashes of the urban war that left its core in ruins.
Rommel Banlaoi, chair of the Philippine Institute for Peace, Violence and Terrorism Research, claims in an interview with Asia Times that Islamic State foreign fighters are now streaming into Mindanao and that the situation is "getting worse."
His claim is based on information he collected over several months from state security agencies. "The entry of FTFs (foreign terrorist fighters) to the Philippines continues despite the liberation of Marawi," Banlaoi told the Asia Times on October 30.
He also says that at least 60 have been identified by state agents through their aliases, while nearly 30 others are unidentified.
The figure is significantly higher than the 48 foreign fighters that the Armed Forces of the Philippines' intelligence unit said were operating in Mindanao as of January 2018.
A repeat of last year's months-long siege would be disastrous for the Philippines and the wider region. The urban war left some 1,100 individuals dead, mostly Islamist gunmen, including 32 foreign fighters, according to the Philippine military.
Over 350,000 civilians were displaced by the war that began on May 23 last year, prompting President Rodrigo Duterte to place all of Mindanao under rights-curbing martial law. The order will remain in effect until the end of this year.
Duterte, the country's first president from Mindanao who claims to have meranaw (Marawi residents refer to themselves as such) roots, declared the liberation of Marawi on October 17, 2017.
More than one year on, though, some 70,000 civilians have yet to return to Marawi's 250-hectare ground zero, a restriction that has fed local anger and resentment in evacuation centers that have emerged as militant recruitment grounds.
Foreign Islamic State fighters often pose as tourists, students overstaying their visas, foreign workers or economic migrants, and at least 10 of them have been arrested since the start of this year, Banlaoi said.
Foreign Islamic State fighters have recently arrived in Mindanao from Saudi Arabia, Turkey, Morocco, Spain, France, Tunisia, Iraq, Somali, Egypt, Yemen, Libya, Pakistan, Bangladesh and China, he says, based on government monitoring of the movements.
Most are coming from neighboring Indonesia and Malaysia, using Mindanao's maritime backdoor through the seas of Sulu and Celebes, known as the Sulawesi Sea in Indonesia.
The Malaysian terror suspects usually enter the southern Philippines through the province of Tawi-Tawi from the Malaysian state of Sabah on Borneo Island, while the Indonesians tend to come through the provinces of Davao Occidental and Sarangani from North Sulawesi.
The three neighboring nations share broad maritime borders in what is considered the second busiest shipping trade route in the 10-member Association of Southeast Asian Nations.
"The FTFs regard Mindanao as the new land of jihad, safe haven and alternative home base," Banlaoi said. "They join local groups to wage jihad in the Philippines on behalf of the Islamic State."
The foreign Islamic State fighters are luring local militants with the promise of an East Asian Wilaya, or Islamic province, after the failure to establish one in Mindanao after their defeat in Marawi, Banlaoi said.
The Abu Sayyaf Group based in Basilan and Sulu, the Bangsamoro Islamic Freedom Fighters based in Maguindanao, the Ansar Al-Khilafa Philippines based in Sarangani, and the Abu Dar Group in Lanao del Sur, a remnant of the Maute Group, are all coddling the foreign fighters, he said.
Lieutenant Colonel Gerry Besana, spokesperson of the Armed Forces of the Philippines' Western Mindanao Command, said Islamic State continues to inspire local Muslim armed groups despite their military defeat last year at Marawi.
He also said that foreigners who pledge allegiance to the Islamic State continue to join local Islamic militant groups, confirming Banlaoi's assessment.
"Some of these foreign terrorists are coming in through our porous borders," Besana said, referring to the Sulu and Sulawesi seas that the Philippines shares with Malaysia and Indonesia.
The military official said the Philippines, Malaysia and Indonesia have intensified joint navy patrols in border waters in a multilateral cooperation to fight terror threats.
While acknowledging that security forces alone can not detect foreign terrorist fighters because of the nation's long coastlines and rugged jungles in Mindanao, the official called on the public to report suspicious foreigners to authorities for verification of their identities.
Local militant groups have instead provided sanctuary to foreign terrorists in the past. That includes well-known Malaysian terrorist Zulkifli bin Hir, alias "Marwan," a bomb-making expert who was killed in Maguindanao province's Mamasapano town in January 2015.
Marwan was given safe haven by the Bangsamoro Islamic Freedom Fighters, a Islamic militant group which has recently declared its allegiance to Islamic State and is accused of orchestrating recent bombings in the region.
Besana said foreign terrorist fighters are arriving in Mindanao because of Islamic State's "waning influence in the Middle East and in other parts of the world."
Preventing foreign terrorist fighters from entering the country is difficult for the military and other law enforcement agencies because they often disguise their identities. And while Islamic State aligned groups were defeated at Marawi, it's not clear where or how they intend to strike next, Besana says.
https://www.chiangraitimes.com/islamic-state-finding-a-safe-haven-in-the-southern-philippines.html
--------
Bangladeshis earn more, says Najib on new minimum salary for PTPTN repayment
November 3, 2018
KUALA LUMPUR: Former prime minister Najib Razak continued to pour scorn on the 2019 Budget tabled by Finance Minister Lim Guan Eng yesterday, zeroing in on the move to force the government's study loan borrowers who earn at least RM1,000 to pay back their loans.
Najib today questioned if there were graduates who borrowed from the National Higher Education Fund Corporation (PTPTPN) earning below RM1,000.
He said he had eagerly waited for an announcement in the budget on the PTPTN, saying Pakatan Harapan (PH) had promised young voters to ease repayment rules on the study loan.
"But what came out was that those who earned at least RM1,000 need to pay back their higher studies loan.
"Even the Bangladeshi workers get more than RM1,000. The 'mat bangla' who mows the grass at the golf course also earns more than RM1,000. Which graduate earns below RM1,000?" he asked during a dialogue session at the Putra World Trade Centre (PWTC) today, where some 1,000 attended.
It was announced yesterday that borrowers with a monthly income of at least RM1,000 must repay their loans at a rate of between 2% and 15% of their salaries.
Companies who employ fresh graduates and settle their PTPTN debts through salary deduction would also be given tax exemptions.
PH in its election manifesto had said that it would allow borrowers who earn less than RM4,000 a month to defer repayment of the study loan.
This was in contrast to the previous government's policy to allow a grace period of 12 months after completing their tertiary education to pay back their loans.
Najib today said that if BN were still in power, the situation for PTPTN borrowers would be different.
"In Islam, if you borrow you must pay back. But in the past, BN did not force the borrowers. If they had RM100, they can pay. If they had RM50, they can also pay – as long as you paid, even if it was just a little bit," he said.
Participants at the dialogue today fielded some 30 questions, mostly on the promises that PH had failed to fulfil.
Najib also touched on the issue of fuel subsidies, criticising PH for not keeping its promise of bringing down petrol price to RM1.50.
PH has instead said it would bring back the Automatic Price Mechanism (APM), where fuel prices are fixed for a specified period despite global crude oil price fluctuations.
Najib said many Malaysians regretted voting for PH.
"I read the comments on my Facebook. Some were sorry for voting PH and, now that they know the truth, they regret having voted for them.
"There are many here who are not happy with PH. Even my social media postings have received extraordinary reception. The voters have been fooled – the young, the taxi drivers, even the government servants," he said.
Najib said Umno and BN lost in the May general election due to slander and false promises.
"If it had been an open field, we would have won," he said.
The former Umno president said he had no plans to start a new party, adding that he would remain loyal to Umno and BN.
"Umno and BN are my flesh and blood.".
Najib also criticised Umno MPs who left the party.
Full report at:
https://www.freemalaysiatoday.com/category/nation/2018/11/03/bangladeshis-earn-more-says-najib-on-new-minimum-salary-for-ptptn-repayment/
--------
Arab World
Fresh US-led airstrikes kill 15 Syrian civilians in Dayr al-Zawr
Nov 3, 2018
At least 15 civilians have lost their lives after the US-led warplanes lunched airstrikes against a town in Syria's troubled eastern province of Dayr al-Zawr, media reports say.
Syria's official news agency SANA, citing local and media sources, reported on Saturday that the so-called military coalition's fighter jets had pounded a residential neighborhood in Hajin earlier in day, killing 15 people, mostly women and children, and wounding an unspecified number of others.
Late last month, Syrian Ambassador to the United Nations Bashar al-Ja'afari confirmed at a UN Security Council meeting that the US-led coalition had once again used white phosphorus bombs against Hajin, some 110 kilometers east of Dayr al-Zawr city.
On October 13, SANA also reported that the US-led coalition, purportedly fighting the Takfiri Daesh terrorist group, dropped internationally-banned white phosphorus bombs on Hajin.
On September 8, two F-15 warplanes of the US Air Force targeted the same Syrian city with white phosphorous bombs.
In June last year, Human Rights Watch (HRW) warned that the US-led coalition was deploying white phosphorous bombs in both Iraq and Syria.
The US-led coalition has been carrying out airstrikes against what are said to be Daesh targets inside Syria since September 2014 without any authorization from the Damascus government or a UN mandate.
Furthermore, the military alliance has repeatedly been accused of targeting and killing civilians. It has also been largely incapable of achieving its declared goal of destroying Daesh.
The so-called Syrian Observatory for Human Rights reported on October 23 that as many as 3,222 Syrian civilians had been killed ever since onset of aerial aggression by the US-led coalition.
There were 768 people under the age of 18 among the fatalities in addition to 562 female victims.
Syria has been gripped by foreign-backed militancy since March 2011. The Syrian government says the Israeli regime and its Western and regional allies are aiding Takfiri terrorist groups wreaking havoc in the country.
https://www.presstv.com/Detail/2018/11/03/578978/Syria-airstrikes-Dayr-Zawr-
--------
White Helmets are branch of Jabhat al-Nusra: Russia
Nov 3, 2018
Evidence has shown the Western-backed White Helmets "aid" group is a branch of the Takfiri Jabhat Fateh al-Sham militant group, also known as the al-Nusra Front, according to the Russian Foreign Ministry.
The statement released on Friday pointed out the group's insistence on fleeing areas that have fallen under government control as a sign of its overt militant allegiance.
"It is no secret that this agency was active only in areas not controlled by the [Syrian] government and did not avoid contacts with terrorists and extremists. Moreover, there are numerous witness reports saying that the White Helmets actually are a branch of the Jabhat al-Nusra organization blacklisted by the United Nations Security Council," read the statement.
The ministry reiterated previous warnings of an upcoming chemical "provocation" being prepared by the White Helmets, describing the group as desperately seeking "to make a statement in Syria" in the Idlib de-escalation zone.
"Just like before, they are preparing a sensational show aimed at giving a free hand to those opposing the legitimate Syrian government, who are reluctant to abandon their aggressive plans - these include, first and foremost, some Western states led by Washington."
The recent statement comes after earlier reports released by the Russian Defense Ministry and Syrian media revealed specific details of chemical agents being transferred in militant-held territory and warned of upcoming attacks being staged in Aleppo and Idlib.
"Local residents reported to the Russian Reconciliation Center that this group of White Helmets searched for residents who would like to take part in staged video footage in exchange for food," said Russian Defense Ministry Spokesman Major General Igor Konashenkov in a media briefing last week.
Moreover, reports surfaced last month detailing an incident where chemicals under Jabhat al-Nusra's control had fallen into the hands of the Daesh Takfiri terrorist group.
The so-called White Helmets group, projected by the West as "civil defense workers," was founded by former British Army officer James Le Mesurier in 2014.
Full report at:
https://www.presstv.com/Detail/2018/11/03/578959/White-Helmets-Jabhat-alNusra
--------
Ankara Forces Continue Attacking Kurds Irrespective of US Forces' Deployment at Syria-Turkey Border
Nov 03, 2018
The Turkish army targeted the positions of al-Sanadid fighters, affiliated to the Syrian Democratic Forces (SDF), in Northern Hasaka including the village of Tal Jahan, injuring a gunmen.
In the meantime, the Kurdish-language Hawar news reported that the Ankara forces targeted Tal Abyadh's countryside in Raqqa province, injuring several people including two media activists.
Meanwhile, the London-based Syrian Observatory for Human Rights (SOHR) reported that the US army has deployed along the borderline between Syria and Turkey in a large region between the Tigris and the Euphrates Rivers and also in the town of Ein al-Arab (Kobani) in Northeastern Aleppo to prevent any military movement by the Turkish troops.
In the meantime, the Kurdish militias claimed that they carried out monitoring patrol across a region between Ein al-Arab in Northeastern Aleppo and the town of Tal Abyadh in Northern Raqqa after continued attacks of the Turkish forces at the Syrian towns and villages on the Eastern banks of the Euphrates River.
The Arabic-language al-Watan newspaper quoted sources close to the National Liberation Front (NFL) terrorist group as saying on Monday that while implementation of the Sochi agreement to create a demilitarized zone in Northern Syria has come to a halt, Ankara ordered its allied militants in Idlib and Northern and Western Aleppo to get ready for a major assault on the Kurds in Northern Syria.
It added that Turkish President Recep Tayyip Erdogan grew disappointed at Washington's promises on the Manbij agreement, and Ankara decided to engage in clashes with the Kurds in Eastern Euphrates.
Meantime, local and Kurdish sources in Ein al-Arab (Kobani) in Eastern Euphrates reported that Turkey intends to gain full control over the region to later advance to other regions controlled by the Kurds in Eastern Euphrates.
Full report at:
http://en.farsnews.com/newstext.aspx?nn=13970812000445
--------
Terrorists Continue Reinvigoration of Positions in Demilitarized Zone in Northwestern Syria
Nov 03, 2018
Terrorist groups dispatched more arms and ammunition to Skeik, al-Taah and Jarjanaz in Southeastern Idlib to boost their defense-combat capabilities.
The terrorists' move came after their attack on the Syrian Army near Abu al-Dhohour that caused the army's artillery units to shell terrorists' positions in the region.
In the meantime, a filed commander said that the terrorists' attacks on the army prove that Turkey has failed to expel terrorists from the demilitarized zone.
The commander warned that the Sochi Agreement will not survive if the terrorists continue such attacks.
A senior Syrian military source revealed on Tuesday that the country's army was likely to start military operations against the terrorists in the weapons-free zone as the latter continued deployment in the region.
The Arabic-language website of Sputnik news agency quoted the source as saying that given Turkey's failure to implement its undertakings based on the Sochi agreement with Russia, the Syrian army will kick off military operations against the terrorists in the demilitarized zone if they continue attacks against the army positions.
He added that Northern Hama has in recent days witnessed attacks by the terrorist groups, specially Horras al-Din, against the Syrian army near the region under the supervision of Turkey near the town of Morek, noting that Jeish al-Izzah militants have also sent military equipment from Southern Idlib to al-Latamina front in Northern Hama.
The source said that the Syrian army has responded to the terrorists' offensives in demilitarized zone so far, adding that the army will launch massive military operations in the region if they continue.
Full report at:
http://en.farsnews.com/newstext.aspx?nn=13970812000867
--------
Northwestern Syria: Terrorists in Panic after Details of Transferring Chemical Cargos Disclosed
Nov 03, 2018
The Arabic-language website of Sputnik quoted the source as disclosing that Tahrir al-Sham and Jeish al-Izzah terrorists have launched vast investigations to fine sources behind leaking information about the transfer of the chemical material cargos to different regions in Idlib province.
It further said that Tahrir al-Sham's move came after terrorist groups held a meeting in Khan Sheikhoun in Southwestern Idlib to set up an investigation committee.
The Arabic Sputnik went on to say that the committee is responsible for questioning the terrorists and members of the pro-militant White Helmets Organization over the leaked information.
Different Arab media outlets have released reports about chemical activities of the terrorist groups in Idlib in recent months.
In the meantime, informed sources reported in late October that Jeish al-Izzah transferred 2 cylinders of Sarin and Chlorine gases from al-Latamina to Qala Maziq in Northwestern Hama to hand over them to allied militants of Ansar al-Tohid.
The Russian Foreign Ministry said in a statement earlier today that Moscow has evidence proving that the White Helmets are directly linked to Al-Nusra terror group (outlawed in Russia).
"It is no secret that this agency was active only in areas not controlled by the [Syrian] government and did not avoid contacts with terrorists and extremists. Moreover, there are numerous witness reports saying that the White Helmet actually are a branch of Al-Nusra organization blacklisted by the United Nations Security Council," the statement reads, TASS reported.
In this regard, the ministry pointed out that White Helmets members had chosen to flee abroad after the government forces had liberated southwestern Syria from terrorists. The Russian Foreign Ministry once again warned that the White Helmets were getting ready to stage a new provocation in the Idlib province. "According to available information, the notorious White Helmet organization, established with the support of western intelligence agencies, desperately seeks to make a statement in Syria, particularly in the Idlib de-escalation zone. Just like before, they are preparing a sensational show aimed at giving a free hand to those opposing the legitimate Syrian government, who are reluctant to abandon their aggressive plans - these include, first and foremost, some Western states led by Washington," the statement said.
"We are confident that everyone will sooner or later see the true face of the White Helmets. We call on their western sponsors to try to understand the true situation and stop protecting extremists," the ministry concluded.
Full report at:
http://en.farsnews.com/newstext.aspx?nn=13970812000826
--------
Syrian Army Tightens Noose on ISIL in Sweida Desert
Nov 03, 2018
The army soldiers, backed up by artillery and missile units, resumed offensive operation in Toloul al-Safa and Qabr Sheikh Hossein in the Eastern desert of Sweida, and advanced almost one kilometer against ISIL in the depth of Toloul al-Safa.
The army further started fortifying the newly-captured positions, field sources said, adding that as Tolou al-Safa includes the rugged terrains, the government forces' advance in the region has slowed down.
The army's fresh operation came after the ISIL refused to surrender to the army and free the kidnapped people.
Last month, the army, led by their elite 4th Armored Division and 5th Corps, began their push up the steep cliffs of Toloul al-Safa region, striking several sites controlled by the ISIL terrorists.
Not long after launching their large-scale assault, the Syrian Army found themselves involved in a tough battle with the ISIL terrorists at one of several rocky cliffs in Toloul al-Safa region.
According to a military source in the provincial capital of Sweida, the Syrian army managed to advance up one of the highest peak in Toloul al-Safa region, leaving them only a short distance from imposing fire control over much of the area.
The military source said that the Syrian army did suffer over ten casualties trying to make this advance; they would also inflict heavy losses in the ISIL ranks.
Full report at:
http://en.farsnews.com/newstext.aspx?nn=13970812000888
--------
US-led coalition strikes in east Syria kill 14 civilians: monitor
3 November 2018
At least 14 civilians were killed Saturday in US-led coalition air strikes on ISIS' last holdout in eastern Syria, a monitor said.
"Fourteen civilians, including five children under the age of 18" were killed in the coalition air raids on the villages of Hajin, Sousa and Al-Shaafa in eastern Deir Ezzor province, Syrian Observatory for Human Rights head Rami Abdel Rahman told AFP.
https://english.alarabiya.net/en/News/middle-east/2018/11/03/US-led-coalition-strikes-in-east-Syria-kill-14-civilians-monitor.html
--------
Russian-made fighter plane crashes in Egypt
3 November 2018
A Russian-made MiG-29 fighter plane crashed during a training flight in Egypt on Saturday, Russia's state-controlled United Aircraft Corporation was quoted by RIA news agency as saying.
The plane was supplied by Russia to Egypt as part of a commercial contract in 2018, Russia's Kommersant newspaper said, adding that the Egyptian pilot managed to eject safely.
"We are in possession of the latest information about the crash of a MiG-29M belonging to the Egyptian army. Our technical experts will travel to Egypt very soon to help in the investigation," the Russian aircraft corporation said.
The corporation, which unites state-owned military and civilian aircraft construction companies, did not provide possible reasons for the crash. It could not immediately be reached for comment.
Full report at:
https://english.alarabiya.net/en/News/middle-east/2018/11/03/Russian-made-fighter-plane-crashes-in-Egypt-RIA.html
--------
ISIS kills three Iraq village chiefs in a week in restive north
3 November 2018
ISIS militants have killed three village chiefs in less than a week in Iraq's restive north, local officials said Saturday, as the targeting of state representatives escalates.
Iraq declared victory against ISIS last year, but small jihadist cells still wage attacks, especially in mountainous areas like the northern province of Kirkuk.
There, ISIS has attacked state infrastructure and government officials, especially targeting local administrative heads known as "mukhtars."
The latest victim, on Friday night, was mukhtar of the village of Mahmudiya near the town of Hawija.
The town has long been a bastion of radical Sunni Muslim groups and was one of the last IS holdouts retaken by government troops last year.
Mahmudiya mukhtar "Abdallah al-Wasmi was executed by Daesh members who attacked his home," a local security official told AFP, using the Arabic acronym for ISIS.
His death followed the similar killing of the mukhtar of a nearby village, Hanutiya, late Wednesday.
And on Monday, a provincial official told AFP that "IS fighters attacked the home of Mohammad Jumaa, the mukhtar of the village of Jassemiya", also near Hawija.
"They took him out of his house and executed him in front of it before fleeing," the official said.
Full report at:
https://english.alarabiya.net/en/News/middle-east/2018/11/03/ISIS-kills-three-Iraq-village-chiefs-in-a-week-in-restive-north.html
--------
Saudi Arabia hails UN's efforts, calls for strengthening Peacekeeping Forces
3 November 2018
The Kingdom of Saudi Arabia extended on Friday its appreciation to the efforts being exerted by the United Nations, represented by the operations of peacekeeping (PK) forces, in maintaining international peace and security.
The kingdom stressed that the serious challenges and dangers being faced by all the countries of the world due to international armed conflicts and civil wars, in addition to the large proliferation of terrorist groups to gain a foothold in those areas, calls for the need for concerted international efforts to strengthen the role of PK forces and develop their mandates.
This came in the Kingdom of Saudi Arabia's speech delivered on Friday by the First Secretary of the Ministry of Foreign Affairs, Majid Ali Al-Zawimal, in front of the Special Policy and Decolonization Committee on the item on the comprehensive review of peacekeeping operations.
Zawimal also explained in the Kingdom's speech that within its efforts to support the UN peacekeeping (PK) operations, the Kingdom welcomed the proposals of United Nations Secretary-General Antonio Guterres, on reforms related to PK operations to make them more efficient and effective for achieving sustainable peace, and supported the Secretary-General's (Action for Peace A4P) and signed the Secretary-General's Declaration on Common Commitments to Improve the Functioning and Safety of Peacekeepers.
He added that the Kingdom has worked to rally support for United Nations resolutions within regional and international organizations such as the Organization of Islamic Cooperation and the League of Arab States and have made successful efforts on some of the regional issues from which the Middle East suffers.
Full report at:
https://english.alarabiya.net/en/News/middle-east/2018/11/03/Saudi-Arabia-Hails-UN-s-Efforts-Calls-for-Strengthening-Peacekeeping-Forces.html
--------
Iraq lambasts US for statement on relations with Iran
Nov 3, 2018
The Iraqi Foreign Ministry has issued a statement criticizing the United States for dictating how the country should deal with neighboring Iran, saying the move was a form of interference in Iraq's internal affairs.
In a tweet late on Saturday, the Ministry said a US statement earlier in the week in which it had called on Iran to allow the demobilization of militia forces in Iraq was an act of interference in Iraq's internal issues.
"Iraq refuses to interfere in the internal issues, especially the issues of internal security reform and the status of Iraqi security forces under the authority of the PM and general commander of the armed forces," read a post on Ministry's Twitter page.
The US embassy in Baghdad said on Tuesday that one of the requirements for Iran to avoid unilateral US sanctions was to "respect the sovereignty of the Iraqi government and permit the disarming, demobilization, and reintegration" of popular militia forces that have been battling terrorists across Iraq over the past years. The statement was in line with previous US allegations that Iran was controlling some of the militia forces in Iraq. Both Iran and Iraq have denied the accusations, saying the forces enjoy huge public support as they have been formed based on decrees by religious leaders.
The Iraqi foreign ministry reiterated the US embassy statement went well beyond diplomatic norms, adding that Baghdad expected the embassy to remove the post from its Twitter page.
"Iraq looks forward to erase the statement by the US Embassy and to avoid issuing such statements in the future and to observe the rules of international law governing the embassy work in Iraq," said the ministry.
Full report at:
https://www.presstv.com/Detail/2018/11/03/578983/Iraq-US-statement-Iran-militia-forces
--------
Europe
Yemen's Houthis 'greatest threat on planet now,' says UK arms sales board chief
4 November 2018
The chairman of a committee scrutinizing British arms sales has pointed the finger at the Iranian-backed Houthi militia for the humanitarian crisis in Yemen.
In an interview with BBC Radio 4's Today program, Labour's Graham Jones said that aside from environmental issues, the well-armed Houthi group "represent the greatest threat on the planet now."
Jones, who chairs the Commons Committees on Arms Exports Controls, likened Houthi missile attacks on Saudi targets to Nazi attacks on Britain during WWII.
In remarks cited by the Independent, Jones said: "You talk about the humanitarian disaster of course. This is caused by Ansar Allah," he said, using another name for the Houthi militia.
He added: "If you read the ambassadors at the UN and the unanimous decision to back the [Yemeni President Abdrabbo Mansour] Hadi government, it's not hard to come to the conclusion that the way we find peace and security is to stop the Ansar Allah advance into other tribal areas and the oppression that goes with it."
He said the Saudis were themselves under attack by rebels with "hi-tech missiles."
"The Iran-backed rebels, with hi-tech missiles. Ansar Allah, in my view, represent the greatest threat on the planet now in the way that they are trying to take over the Yemeni government … apart from environmental issues.
"We had, what, 1,300 V2 rockets fired into the UK during World War Two? The Saudis have now faced over 200 long-range ballistic missiles, Iranian-made missiles. That is a very serious issue."
He added: "It just happens to be that every other nation has decided not to send a military element to Yemen and the Arab coalition have.
"It doesn't mean we support the Arab coalition but what we do support though is international law and that was a unanimous decision at the UN and that's the position that we hold."
https://english.alarabiya.net/en/News/gulf/2018/11/04/Iran-backed-Houthis-greatest-threat-on-planet-now-says-UK-arms-sales-board-chief-.html
--------
Iran envoy grills UK daily over Saudi-linked TV station
Nov 4, 2018
Iran's ambassador to the United Kingdom has called on a leading newspaper to be more informative in its investigation into the funding of a newly-established anti-Iran TV station.
Hamid Baeidinejad said in a tweet early on Sunday that the Guardian was expected to shed more light on Saudi Crown Prince Mohammed bin Salman's financial support for Iran International, a TV station that began operation in London last year with a clear agenda of creating propaganda against Iran.
Baeidinejad hinted that the informed source who revealed Saudi links to the anti-Iran TV could be Jamal Khashoggi, the prominent dissident journalist whose assassination in Saudi consulate in the Turkish city of Istanbul last month sparked massive international outrage.
"Given its (Guardian's) recent further revelations, it raises question of whether source was Khashoggi. With controversy surrounding it, ethics & professionalism dictate that Guardian should confirm if so," said the ambassador, making reference to a Guardian report which came exactly on the day that Khashoggi disappeared after entering the Saudi consulate in Istanbul.
The British newspaper, however, ran a second article on Saudi support for Iran International on October 31 which gave more details about how the Saudi royal court provided finances up to $250m to the TV station for a five-year period.
The author of both articles were the same person who said he himself received a guest fee after appearing in one of the shows on Iran International, implicitly suggesting that he decided not to continue cooperation with the TV channel after knowing its real agenda and sources of financing.
However, some media experts say the Guardian might have had ulterior motives in pursuing the case of Iran International and its Saudi links, arguing that the reports could be an attempt by the newspaper to receive hush money from the Saudi-backed TV to keep quiet about its suspicious and unhealthy agenda, especially at a time of heightened international concerns about Saudi Arabia's malicious activities.
Full report at:
https://www.presstv.com/Detail/2018/11/04/578990/Iran-envoy-UK-TV-Guardian-investigation
--------
Russia says Afghan pres. agrees to sent officials for Taliban talks
Nov 3, 2018
Russia says Afghan President Ashraf Ghani has agreed to send a group of senior officials to a long-awaited summit in Moscow, where they will sit down with a delegation of the Taliban.
Russia's foreign ministry said in a statement on Saturday that Kabul agreed to hold talks on November 9.
"It will be the first time that a delegation from the Taliban's political office in Doha will attend such a high-level international meeting," said the ministry.
Foreign ministry spokeswoman Maria Zakha­rova told reporters at a briefing on Thursday that the date and list of participants were being finalized, but that Moscow wanted to be absolutely sure before any public announcement.
Zakha­rova also said she hoped to be able to announce details of the conference "in the coming days."
Russian foreign ministry also invited representatives from 12 countries, including India, Pakistan, China and the United States to attend the summit in Moscow.
The meeting was once postponed in September after President Ghani rejected the invitation. He argued that any talks with the militant group should be led by his government. The United States had also declined to attend.
"We requested Russia to cancel the summit because talking to the Taliban at multiple forums will further complicate the peace process backed by the US, but they rejected the request," a senior Afghan official who had been holding discussions with Russia said formerly.
Among the Afghan diplomats invited to the summit were former Afghan President Hamid Karzai, their aides, and other leading politicians with ties to the Afghan government.
"Karzai will travel to Moscow because any opportunity for peace talks with the Taliban must not be ignored," said Mohammad Yusuf Saha, a spokesman for the former president, who ran the country for 13 years following the overthrow of the Taliban in 2001.
Senior Taliban members in Afghanistan also confirmed that they would send a delegation to the Russian capital, because, they said, the meeting would give them an opportunity to engage with neighboring countries who are also invited to the summit.
The Taliban have so far been insisting on negotiating only with the United States, saying they will not enter talks if US troops leave the country; otherwise, they will make Afghanistan "another graveyard" for foreign forces.
The peace process gained a momentum last month when the US sent Zalmay Khalilzad, Washington's special envoy for peace in Afghanistan, to Qatar where he held talks with Taliban leaders.
Before the Qatar meeting, Khalilzad met with Ghani in Kabul. He also held talks with Chief Executive Abdullah Abdullah, as well as representatives of a variety of political groups, key civil society organizations including the High Peace Council, and Afghan media, the US embassy in Kabul said back then.
Atta Mohammad Noor, former governor of the strategic Balkh province, who is a powerful figure among Afghanistan's ethnic Tajiks said he would also attend the Moscow summit.
He said many Afghans have now realized that "a single fixed formula prescribed by one foreign power will not help Afghans attain peace."
Full report at:
https://www.presstv.com/Detail/2018/11/03/578916/Russia-Afghanistan-peace-talks-Taliban
--------
German public schools are teaching Islam to students not sure if they belong
November 3, 2018
DORTMUND, Germany — It was the second week of Islam class, and the teacher, Mansur Seddiqzai, stood in front of a roomful of Muslim teens and pointed to the sentence on the chalkboard behind him: "Islam does not belong to Germany."
He scanned the room and asked, "Who said this?"
Hands shot up. "The AfD?" one student with a navy blue headscarf said, referring to Germany's far-right anti-refugee party. "No," Seddiqzai shook his head. "Seehofer," tried another. "Yes, and who is that?" "A minister," said a third.
Finally, someone put it all together, identifying Horst Seehofer, the head of Bavaria's conservative Christian Social Union and Chancellor Angela Merkel's interior minister and coalition partner, who has on multiple occasions threatened to torpedo her government over the issue of immigration.
"Yes, that's right," Seddiqzai said, turning to the others. "And what do you think? Is he correct?"
In a country where the debate over "who belongs?" has deeply divided Merkel's government, fueled massive demonstrations and propelled the rise of anti-immigrant populism, these 16- and 17-year-olds confront versions of that question every day, in the headlines and in their personal lives: Do I belong, too? Can I be German and a Muslim?
Public schools in some of Germany's most populous cities are helping such students come up with answers in a counterintuitive setting: Islam class.
The classes, taught by Muslims and intended for Muslim students, were first launched in the early 2000s and now are offered as electives in nine of Germany's 16 states, by more than 800 public primary and secondary schools, according to the research network Mediendienst Integration. They include lessons on the Koran, the history of Islam, comparative religion and ethics. Often, discussions shift to the students' identity struggles or feelings of alienation.
"When a German asks me which country I'm from, I tell them Turkey," said Gulendam Velibasoglu, 17, who is taking Seddiqzai's 10th-grade Islam class this year. She was born and raised in this western German city. Still, she says, "If I said 'German,' they wouldn't accept the answer. They will see me as a foreigner, even though I'm a German citizen."
Germany has the European Union's second-largest Muslim population after France, according to estimates by Pew Research. In 2016, 4.95 million people, or 6.1 percent of the German population, were Muslim. But less than half of those pray regularly, and even fewer regularly attend a mosque, according to the latest government surveys.
The country's leaders have expressed an ambivalent view of Islam, at best. Seehofer's statement that "Islam does not belong to Germany" came just months after the Islam-bashing AfD, or Alternative for Germany, entered parliament. Merkel denounced the statement and ruled out sharing power with the AfD. Nevertheless, the AfD has steadily gained support over the past two years: On Oct. 14, it scored the biggest electoral gains of any party in Bavaria, Germany's most populous state.
Last year, the AfD hung campaign posters in Dortmund featuring women in burqas and the slogan "Stop Islamization." This year's poster bore the words "Islam-free schools!" under an image of five beaming, light-skinned children.
Seddiqzai, who was born to Afghan parents in the German city of Bochum and who wears a full beard and Nikes to school, said he worries about the effect on his students. "These posters tell them, 'We don't want you here,' " he said.
"They are not accepted in Germany, they are not accepted in the countries of their parents, and that produces this craving for a group to belong to," he continued. "And then an Islamist comes to you and says, 'Yeah, you don't belong to anyone. Therefore just be Muslim.' They offer them a third way."
Seddiqzai sees it as part of his job to make his students more informed in their consumption of such appeals.
Earlier this year, when local politicians were discussing a ban on headscarves, a group calling itself Reality Islam launched a social media campaign to protest the proposal and recruit students. Seddiqzai showed his students how to trace Reality's Islam's links to Hizb ut-Tahrir, an extremist group banned in Germany since 2003. He also encouraged them to question the group's stance on the headscarf, which it claimed the Koran mandates for women.
"I show them the Koranic verses about the headscarf, and we discuss it and we see there is no clear rule that a woman or girl has to wear a headscarf," he said. "Most of them think the Koran itself has no contradictions, and even that is wrong. There are many contradictions in the Koran."
Some German politicians are pushing for an expansion of Islam classes in public schools as a way to encourage the cultural integration of Muslim students and to promote an interpretation of Islam that highlights German values.
"We need more religious education," Kerstin Griese, a lawmaker from the governing center-left Social Democratic Party, wrote in an op-ed, "because it's the only way to start a dialogue about our own traditions and values and to understand those of others."
Such advocates generally don't envision non-Muslim students taking these classes to gain a better appreciation of Islam. While a few German school systems offer religion classes that include multiple faiths or ethics classes that touch on religion, religion as taught in public high schools and supported by Germany's Basic Law is generally targeted at specific denominations.
A further rationale for Islam classes is to "immunize" Muslim students from fundamentalism, as Protestant leader Heinrich Bedford-Strohm put it.
Of particular concern is radicalization that might lead to violence. Since 2013, more than 1,000 people have left Germany to fight with or support the Islamic State and other terrorist organizations, most of them under 30.
But some educators and politicians resist the notion that Islam has a place in German public schools.
"Besides the fact that we have much more important problems in schools, it can't be true that a German bishop is promoting Islam," Alexander Gauland, a leader of the far-right Alternative for Germany party, said after Bedford-Strohm voiced his proposal.
No studies have examined the effectiveness of Islam classes in preventing radicalization, according to Harry Harun Behr, a professor of Islam studies and pedagogy at Frankfurt's Goethe University.
Still, he said, the classes are valuable because they show students their faith is as important as others taught in their schools and because they show Islam as a religion that is open to reflection and self-criticism.
At Seddiqzai's school, where almost 95 percent of students are first- or second-generation immigrants, Islam class is highly popular. When he crosses the schoolyard, he can barely walk five steps without being stopped by a student wanting to tell him about grades, romances or plans for the future.
"What Mr. Seddiqzai is teaching me is not really something you learn at mosque," said 17-year-old Yusuf Akar. "How to interact with non-Muslims who may not be sure how to interact with us. Or who are scared of us."
Full report at:
https://www.stripes.com/news/europe/german-public-schools-are-teaching-islam-to-students-not-sure-if-they-belong-1.555092
--------
Africa
UN to lift sanctions on Eritrea after US shift
2018-11-03
The UN Security Council is preparing to lift sanctions on Eritrea after the United States dropped its insistence on prolonging the measures despite a peace deal with Ethiopia, diplomats said on Friday.
Britain circulated a draft resolution to the council on Thursday that calls for lifting the arms embargo and all travel bans, asset freezes and targeted sanctions on Eritrea, according to the text seen by AFP.
The council is to vote on the proposed resolution on November 14. Diplomats said they expected the measure to be adopted after the US change in position.
Eritrea and Ethiopia signed a peace deal in July, but the United States, backed by France and Britain, insisted that Eritrea would first have to show progress on respect for human rights before sanctions could be lifted.
That position however recently changed - a shift some diplomats said was decided by US national security adviser John Bolton, who dealt with the Eritrea-Ethiopia conflict when he served as UN ambassador.
The council slapped sanctions on Eritrea in 2009 for its alleged support to Al-Shabaab jihadists in Somalia but the draft resolution acknowledged that UN monitors had "not found conclusive evidence that Eritrea supports Al-Shabaab."
The Eritrean government had long denied backing the group and Foreign Minister Osman Mohammed Saleh slammed the sanctions as "unwarranted" in his address to the General Assembly in September.
The sanctions and arms embargo will end on the day of the adoption of the resolution, according to the text.
Stabler Horn of Africa
The peace declaration signed in July by the prime ministers of Eritrea and Ethiopia ended two decades of hostility and triggered a thaw in relations with Djibouti and Somalia that shored up stability in the Horn of Africa.
In his UN address, Eritrea's foreign minister said it was "astounding" that some countries at the Security Council wanted to prolong sanctions "in light of the widely acclaimed peace."
The sanctions caused "considerable economic damage" to Eritrea and "unnecessary hardships," said the foreign minister, who called for their immediate end.
Ethiopia and Somalia had backed Eritrea's call to end sanctions.
The draft resolution calls on Eritrea and Djibouti to continue to improve relations after the leaders met in Saudi Arabia in September to resolve a border dispute.
It urges Eritrea to make available information on the whereabouts of Djiboutian soldiers missing since clashes in 2008, which has been a sore point in ties.
The draft resolution would maintain the arms embargo on Somalia, imposed in 1992.
Eritrea gained its independence from Ethiopia in the early 1990s, and war broke out later that decade over a border dispute.
A 2002 UN-backed boundary demarcation was meant to settle the dispute for good, but Ethiopia refused to abide by it.
A turnaround began in June when Ethiopia announced it would hand back to Eritrea disputed areas including the flashpoint town of Badme where the first shots of the border war were fired.
https://www.news24.com/Africa/News/un-to-lift-sanctions-on-eritrea-after-us-shift-20181103
--------
In Nigeria 'being Shiite is being persecuted'
2018-11-03
The bloody crackdown on Shiite protesters this week in Nigeria has highlighted the oppression of a religious minority that experts say is driven by a Sunni Muslim elite backed by Saudi Arabia.
"Being a Shiite under this current Buhari administration is... being persecuted," said Islamic Movement of Nigeria (IMN) spokesperson Ibrahim Musa to AFP.
"We have suffered more discrimination under this administration than with any other in the past," said Musa. "We are not allowed to worship our god according to our convictions."
On three separate occasions in less than a week, the Nigerian military and police shot live bullets on Shiites marching near and in the capital city of Abuja to celebrate a religious holiday and demand the release of their imprisoned leader.
The death toll depends on the source: while the military says that six people died, the IMN says 49, a figure backed up by Amnesty International, which said on Wednesday that at least 45 people were killed in an "unconscionable use of deadly force by soldiers and police."
The US embassy in Nigeria said it was "concerned" about the deaths and called for a "thorough investigation of the events".
But to justify opening fire on the Shiite group, the Nigerian army on Friday posted a video of US President Donald Trump saying soldiers would shoot Central American migrants throwing stones.
"Not only did they use stones but they were carrying petrol bombs, machetes and knives, so yes, we consider them as being armed," said Nigeria's defence spokesperson John Agim.
Riyadh and Tehran
This violence has happened before. It reignited the tumult of December 2015 when an army crackdown in Zaria, IMN's stronghold in Nigeria's north, killed 300 supporters, according to rights groups.
Leader Ibrahim Zakzaky, who was arrested and imprisoned after the clashes, lost an eye and several family members in the violence.
Zakzaky has been challenging Abuja's authorities for years with his goal of establishing a Shiite Islamic regime in Nigeria, Africa's largest economy.
In late 2016, a court ruled that his continued detention without charge was illegal and ordered his release yet the decision was never executed.
Since then, Zakzaky has been charged with culpable homicide in connection with the Zaria clashes.
The IMN, which emerged as a student movement in the late 70's, is still close to Tehran today.
Inspired by the Islamic revolution in Iran, the sect is met with hostility in Nigeria, where the Sunni elite are allied with Saudi Arabia.
President Muhammadu Buhari and Atiku Abubakar, the leader of the opposition contesting the 2019 presidential polls, are Sunni and have both said nothing about the violence this week.
"There is this belief that Shiites are not proper Muslims," said Nigerian political analyst Chris Ngwodo.
"This fundamental disagreement over ideology could explain the ferocity used by the security forces against the protestors."
Radicalisation threat
In Nigeria's predominantly Muslim north, the IMN is vastly outnumbered by the Salafist movement Izala, which was founded around the same time as the IMN.
Izala is close to both Riyadh and Abuja and its satellite television channel Manara often broadcasts anti-Shiite rhetoric.
Its members have also clashed with IMN supporters several times during Shiite processions.
Izala is funded by Saudi Arabia, which has enabled the construction of mosques and schools across the country.
"A number of people in the (federal) government are Izala members and have close ties to Saudi Arabia," said a source speaking to AFP on condition of anonymity.
"Some within the establishment are using the government resources for a religious battle, against what they consider as apostasy."
The worst case scenario would see the Shiites become radicalised in the face of oppression, an outcome that would replicate the trajectory of Boko Haram jihadists in the northeast who took up arms against the government in 2009.
"Zakzaky is a very charismatic leader, the movement was kept alive despite his detention and his supporters are ready to die for him," said Cheta Nwanze, research head at SBM Intelligence in Lagos.
"The repression can only contribute to radicalise them."
Full report at:
https://www.news24.com/Africa/News/in-nigeria-being-shiite-is-being-persecuted-20181102
--------
URL: https://www.newageislam.com/islamic-world-news/mercy-us-send-him-home/d/116788
New Age Islam, Islam Online, Islamic Website, African Muslim News, Arab World News, South Asia News, Indian Muslim News, World Muslim News, Women in Islam, Islamic Feminism, Arab Women, Women In Arab, Islamophobia in America, Muslim Women in West, Islam Women and Feminism