New Age Islam News Bureau
22 Jun 2019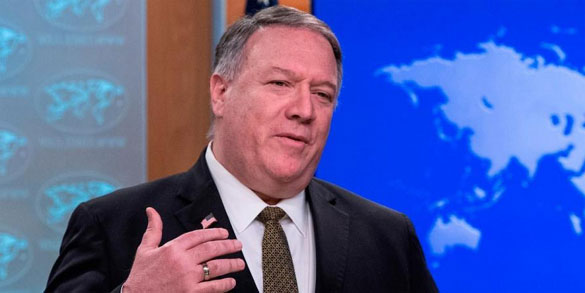 Mike Pompeo | Photo Credit: AFP
---------
• 'Harkat-ul-Harb-e-Islam' Owed Its Allegiance to ISIS and Wanted to Establish an ISIS Caliphate in India
• U.S. Report On Religious Freedom Notes Mob Attacks in India
• Abu Dhabi Officially Recognizes Non-Muslim Places Of Worship
• 'Dangerous' Muslim Brotherhood Fatwa App in Apple Store's Top 100 Downloads
• Report: Kelantan Religious Council Aims To Convert Orang Asli To Islam Within 30 Years
• Indonesian Islamic Leader: China's Muslim Concentration Camps 'Are Great'
• 'I Am In No Hurry': Trump Aborts Iran Strike, Slaps More Sanctions
• West's Silence on Morsi's Death Bares Its 'Lies'
• Even As It Talks Peace, Taliban Provides Safe Haven to LeT, Al Qaeda in Afghanistan, Says New UN Report
India
• 'Harkat-ul-Harb-e-Islam' Owed Its Allegiance to ISIS and Wanted to Establish an ISIS Caliphate in India
• U.S. Report On Religious Freedom Notes Mob Attacks in India
• RSS Leader Indresh Kumar Visits Darul Uloom Deoband; Welcomed With an Open Heart
• IS-inspired module planned big terror attack in NCR: NIA
• My Party Supports What Quran Says: SP's Azam Khan On Triple Talaq Bill
• Speaker turns to Hindi while ordering vote on triple talaq
• Opposition protests as government moves triple talaq Bill
• Govt Introduces Triple Talaq Bill In Lok Sabha, Congress' Shashi Tharoor Calls It 'Class Legislation'
• Pakistan airspace to open only if India promises to not repeat Balakot
--------
Arab World
• Abu Dhabi Officially Recognizes Non-Muslim Places Of Worship
• 'Dangerous' Muslim Brotherhood Fatwa App in Apple Store's Top 100 Downloads
• Drive To Promote Heritage and Cultural Monuments in Islamic Countries
• Nearly Dozen Killed, 30 Injured In Bomb Blast Targeting Baghdad Mosque
• 7 killed in Baghdad explosion at Shiite mosque
• Transitional justice could help stabilize former Daesh territory
• Dozens killed in heavy fighting in northwest Syria
• Children and rescuers among 20 civilians reported killed by Syria regime fire despite truce
• Iraq officially invites Pope Francis to visit
• Middle East schools struggle to stamp out physical punishment
--------
Southeast Asia
• Report: Kelantan Religious Council Aims To Convert Orang Asli To Islam Within 30 Years
• Indonesian Islamic Leader: China's Muslim Concentration Camps 'Are Great'
• Indonesia 'to vet civil servants in bid to weed out radical Islamists'
• Security tight in Marawi for Muslim religious leaders meeting
• Face of Indonesian Islam: NU, Muhammadiyah nominated for Nobel Peace Prize
• MACC's list of RM270m 1MDB fund recipients: Who's who
• Mosque committee, groups hand over memorandum against Penang LRT alignment
--------
North America
• 'I Am In No Hurry': Trump Aborts Iran Strike, Slaps More Sanctions
• UN partially suspends food assistance for Yemen
• Trump, Saudi prince discuss Iran 'escalatory behavior'
• Federal Indictment: Suspect Sent Bomb Threats To Judges 'For Cause Of Islamic State'
• Two suburban men guilty of providing support to Islamic State
• Police: Terrorism suspect swore allegiance to ISIS before attacking MCSO deputy
• Pompeo: 2018 faced 'chilling array' of religious abuses
• Iran decries US 'drone airspace intrusion'
--------
Europe
• West's Silence on Morsi's Death Bares Its 'Lies'
• Months after the fall of ISIS, Europe has done little to take back its fighters
• US deliberately pushing Iran situation to brink of war: Russia
• Turkey slams Greece for violating Lausanne Peace Treaty
--------
South Asia
• Even As It Talks Peace, Taliban Provides Safe Haven to LeT, Al Qaeda in Afghanistan, Says New UN Report
• Sri Lanka Extends State Of Emergency In Surprise Move
• Taliban delegation holds talks in China as part of peace push
• Over 2 dozen militants including 16 commanders killed in N. Afghanistan
• Lankan Cops To Face Charges For Easter Blasts
• Rights Groups Slam ASEAN's Positive Take on Rohingya Repatriation Plan
• Karzai not participating in Pakistan conference on Afghan peace
• Rohingyas obtaining Bangladeshi passports via traffickers to go abroad
• Airstrikes target Taliban commander's compound in Farah leaving 11 dead, wounded
• Afghan Special Forces kill 14 Taliban militants in Ghazni province
• 10 militants killed in Special Forces raid, airstrikes in Faryab, Farah and Zabul
--------
Pakistan
• Nuclear Powers Upgrading Arsenals as Number Of Weapons Falls: SIPRI
• Islamabad hopeful Taliban will agree to intra-Afghan dialogue
• Afghan Peace Conference 'Lahore Process' starts in Bhurban
• Pompeo asks Pakistan to do more on religious freedom
• ECP orders troops' deployment inside polling stations in tribal districts
• Body formed to probe public debt use by PPP, PML-N govts
• Pakistan reiterates commitment to completion of FATF action plan
• MQM-P lashes out at PPP over 'ignoring' urban areas in Sindh budget
--------
Africa
• Rival Groups and Strategies Overshadow Jihadist Conflict In Nigeria
• Niger works with France, U.S. and Mali in attack on Islamic State fighters
• Sahel jihadists undeterred by Western-led fightback
• UN slams Sudan protesters for attacks on Darfur premises
• 18 IS fighters killed in joint operation with US in Niger
--------
Mideast
• Arab Deputies Urge UN to List Yemen's Huthi Movement As 'Terrorist Organization'
• Jailed leader Ocalan tells Kurdish party to be neutral in Istanbul vote
• Coalition jets destroy two Houthi drones in Yemeni air space
• Israeli troops attack Palestinian protesters at Gaza border, 70 injured
• Yemeni forces shoot down Saudi-led reconnaissance drone in Hudaydah
• Arab coalition air force units intercept, destroy two Houthi unmanned aircraft launched from Sanaa
• Pro-Kurd party clashes with Erdogan ahead of Istanbul vote
• Saudi land mines project clears 105 Houthi devices
Compiled by New Age Islam News Bureau
URL: https://www.newageislam.com/islamic-world-news/harkat-ul-harb-e-islam/d/118960
--------
'Harkat-ul-Harb-e-Islam' Owed Its Allegiance to ISIS and Wanted to Establish an ISIS Caliphate in India
June 22, 2019
New Delhi, June 22: Investigations conducted by the National Investigation Agency have established that several persons had entered into a criminal conspiracy to wage violent jihad against India and also establish the caliphate of the Islamic State. The module was being guided by three ISIS handlers based abroad. The module made extensive use of encrypted social media applications/chat platforms. These have been recovered from their mobile phones, the NIA said in its chargesheet.
NIA had registered the case on December 20.2018 against Mufti Suhail and others on the allegation that Mufti Suhail has formed an ISIS module with others to commit terror activities and the module is amassing weapons and explosives.
They had named this module as 'Harkat-ul-Harb-E-Islam' (Movement for War of Islam). This group owed its allegiance to ISIS and wanted to establish an ISIS Caliphate in India by resorting to large scale terrorist attacks in and around National Capital Region. The group carried out reconnaissance of some such locations in and around NCR. Forensic reports in respect of the seized chemicals and IED making material has affirmed that these were sufficient to manufacture sophisticated IEDs. The group wanted to manufacture IED, to be detonated by remote controlled devices, of more than 100 meters range. A large quantity of e-books, messages in encrypted chats and detailed manuals issued by ISIS and affiliated terror entities for training in bomb making, IED making and methods to inflict mass casualties have been recovered from the seized mobile phones. Mufti Suhail was also giving radicalisation sermons to the other members of the module wherein he exhorted them to offer themselves for the violent Jihad against infidels in India. Two of the accused persons also recorded rehearsal video of their resolve to fight violent Jihad that was to be published after their suicide attacks.
The mobile phones of accused persons contain high amount of ISIS propaganda material. These include execution videos, violent Jihadi anthems, videos/audio proclaiming solidarity with Kashmiri terrorists, audio messages by an ISIS handler, and radicalisation sermons of Maulana Masood Azhar (Chief of Jaish-E-Muhammad), Abdus Sami Qasmi (another accused in an NIA ISIS related case), and Asim Umar ( alleged Chief of Al-Qaida in Indian Subcontinent).
https://www.oneindia.com/india/movement-for-war-of-islam-nia-says-isis-module-inspired-by-masood-azhars-message-2908188.html
--------
U.S. report on religious freedom notes mob attacks in India
Sriram Lakshman
JUNE 22, 2019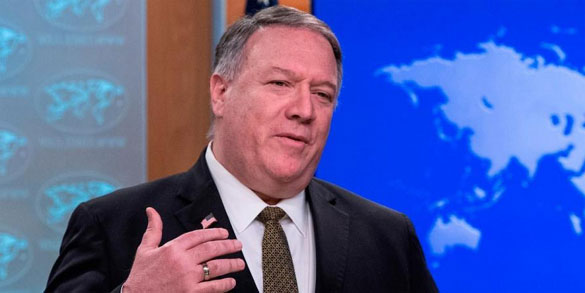 Mike Pompeo | Photo Credit: AFP
-------
The Report on International Freedom consists of country-wise chapters, with the chapter on India detailing and discussing mob-related violence, religious conversion, the legal status of minorities and government policies.
The U.S. Secretary of State Michael Pompeo released the State Department's 2019 Report on International Freedom, an annual submission it makes to the Congress each year, as mandated by law.
"This mission is not just a Trump administration priority – it's a deeply personal one. For many years, I was a Sunday school teacher and a deacon at my church," Mr. Pompeo said. "And that might sound unusual to a lot of folks inside the Beltway [ i.e., Washington DC] . But I am one of millions of Americans, and billions of people across the world, who live in the knowledge of a higher power," he added.
Mr. Pompeo gave examples of religious persecution during his speech – Asia Bibi in Pakistan, Jehovah's Witnesses in Russia, Rohingya Muslims in Myanmar, and others.
"I had a chance to meet with some Uighurs here, but unfortunately, most Chinese Uighurs don't get a chance to tell their stories. That's why, in an effort to document the staggering scope of religious freedom abuses in Xinjiang, we've added a special section to this year's China report," Mr. Pompeo said.
The report consists of country-wise chapters, with the chapter on India detailing and discussing mob-related violence, religious conversions, the legal status of minorities and government policies.
The report says that India's Central and State governments as well as parties took steps to affect Muslim practices and institutions. "The government continued its challenge in the Supreme Court to the minority status of Muslim educational institutions, which affords them independence in hiring and curriculum decisions. Proposals to rename Indian cities with Muslim provenance continued, most notably the renaming of Allahabad to Prayagraj. Activists said these proposals were designed to erase Muslim contributions to Indian history and had led to increased communal tensions," the report says.
"There were reports of religiously motivated killings, assaults, riots, discrimination, vandalism, and actions restricting the right of individuals to practice their religious beliefs and proselytize," the report says.
"Authorities often failed to prosecute perpetrators of 'cow vigilante' attacks, which included killings, mob violence, and intimidation," it added.
The report goes on to say, "There were reports by non-governmental organizations (NGOs) that the government sometimes failed to act on mob attacks on religious minorities, marginalized communities, and critics of the government. Some senior officials of the Hindu-majority Bharatiya Janata Party (BJP) made inflammatory speeches against minority communities… According to some NGOs, authorities often protected perpetrators from prosecution. As of November, there were 18 such attacks, and eight people [were] killed during the year."
The report notes that the Supreme Court said cow vigilantism is unacceptable and asked States to take steps to prevent it.
The country chapter in the report are prepared by U.S. embassies based on information gathered from government officials, academics, media, journalists, NGOs, human rights monitors, etc. The State Department website says the views "of any particular source are not necessarily those of the United States government."
https://www.thehindu.com/news/international/us-report-on-religious-freedom-notes-mob-attacks-in-india/article28106370.ece
--------
Abu Dhabi officially recognizes non-Muslim places of worship
2019-06-21
By Mariam Nabbout
In a move that echoes the aims of the country's Year of Tolerance, Abu Dhabi has announced its plans to legally recognize 19 non-Muslim places of worship across the emirate.
The decision was made in a bid to assist the day-to-day running of the religious institutions which will now be regulated by the Department of Community Development.
Speaking at a news conference on Wednesday, the executive director of community participation and sport at the department, Sultan Al Dhaheri, said:
"Previously, such bodies were not officially recognized by the law. Now, these places of worship will have a point of contact in government to address any issues over their day-to-day operations."
"We have met with their leaders and explained to them the guidelines and we will be holding workshops for them. We have a partnership relationship with them and are working side by side," he added.
Al Daheri also explained that the UAE's welcoming of other faiths is nothing new.
"[Non-Muslim] houses of worship have long existed in the country; the first church existed even before the union [of the UAE in 1971], so for more than 40 years," he said.
"Anyone who has been living here for many years should have the right to practice his religion in a proper way," he stressed.
At the time being, there are 17 Christian churches of varying denominations across Abu Dhabi, in addition to one gurudwara - a religious temple for Sikhs.
In 2015, an anti-discrimination law was passed in the Emirates in an effort to prevent any behavior that could potentially spread discrimination within the community.
Under the law, any act that triggers religious hatred "through any form of expression, which covers speech and the written word, books, pamphlets or online media" is prohibited.
The UAE is also considered the first country to have a minister of tolerance, a day (Nov. 16) dubbed "International Day for Tolerance," and a year dedicated to it. In December 2018, Sheikh Khalifa bin Zayed declared 2019 as the Year of Tolerance.
Earlier this month, the first Christian site to ever be discovered in the UAE was opened to the public. While in February, Pope Francis visited the UAE for a 48-hour trip, marking a historic moment for interfaith relations in the Gulf state.
The UAE is home to expats from around the world and includes many houses of worship where people can freely practice their religions.
There are 40 churches in the country (including those in Abu Dhabi) - up from 25 in 2005. There are two Hindu temples in Dubai - to accommodate the roughly 3.3 million Indians in the country - and one Sikh temple.
https://stepfeed.com/abu-dhabi-officially-recognizes-non-muslim-places-of-worship-3273?fbclid=IwAR0SfSlJ7l9OTq89swIZMTF-rQ7odkU3gqs2HJds-k3wQw75tmRBJjMlwAc
--------
'Dangerous' Muslim Brotherhood fatwa app in Apple Store's top 100 downloads
Nicky Harley
June 20, 2019
A "dangerous hate" app linked to the Muslim Brotherhood has been in the top 100 downloads in the Apple store in a third of European countries since its launch, despite international calls for it to be banned.
The Euro Fatwa app, which was launched in April, was created by the European Council for Fatwa and Research, a Dublin private foundation set up by Yusuf Al Qaradawi, spiritual leader of the Muslim Brotherhood.
Touted as a guide to help Muslims adhere to Islam, critics including Germany's security service, say the app is a radicalisation tool.
It contains an introduction by Al Qaradawi, now 93, in which he makes derogatory references to Jews while speaking about historic fatwas.
It also claims European laws do not have to be obeyed if they contradict Islamic rules.
Al Qaradawi, who lives in Qatar, is banned from the US, UK and France for his extremist views.
On learning of the app's content, Google banned it within hours.
"While we can't comment on individual apps, we'll take swift action against any that break our policies once we've been made aware of them, including those that contain hate speech," the company said.
But a month after The National informed Apple that the app contains hate speech, it is still accessible from the App Store.
"We are reviewing Euro Fatwa again for possible violations of our guidelines and, if we find content that violates our guidelines and is harmful to users, we will notify the developer and may remove it from the store," an Apple spokesman said.
Apple was also contacted by Northern Irish politician Ian Paisley and German authorities.
The UK government has previously criticised those making the app available for download, saying it will take tough action on social media companies that help to promote hate.
So far no country has banned the app because they are only able to put sanctions in place against social media companies.
At one point this month, the Euro Fatwa App was ranked 55th in the German App Store.
"The app is a building block in the process of radicalisation," said Germany's federal office for the protection of the constitution.
The app was launched last month at the annual La Foire Musulmane, or Muslim Fair, in Paris, which was attended by tens of thousands of people.
It was introduced by Khaled Hanafy, a Cairo-born theologian and chairman of the Imams and Scholars' Council in Germany.
French senator and member of the Gulf-French Friendship Committee Nathalie Goulet called the app "poisonous" on Twitter and called for it to be banned.
A former French anti-corruption magistrate said it was to blame for last month's Lyon nail bomb terror attack, in which 13 people were wounded.
Retail outlets such as Google Play and Apple's App Store can take it off the market but Apple continues to promote it.
The UK's Home Office has advised technology companies that promote hate material that they will face action.
"No social media platform should allow themselves to be used to spread extremist propaganda," a spokesman said in response to complaints about the app.
"We continue to work with our international partners and tech companies to tackle online terrorist and extremist propaganda, but we are clear they must go further and faster.
"That is why we are introducing a statutory duty of care to make companies take responsibility for the safety of their users, and an independent regulator to take enforcement action where they fail to do so."
The UK government has published its Online Harms White Paper as a precursor to legislation that sets out expectations for tech companies to keep users safe online.
In 2015, an investigation into the Muslim Brotherhood by the British government concluded that membership "may be an indicator of extremism", and that aspects of its ideology and tactics were contrary to the UK's fundamental values.
Campaigners have repeatedly highlighted the dangers of Al Qaradawi's web and social media presence for creating extremists.
"What makes Qaradawi unique from other extremists are the ways in which his presence is condoned by social media, specifically through Facebook and Twitter's verified user checkmark," Counter-Extremism Project researcher Joshua Fisher-Birch said this year.
Mr Paisley described the app as dangerous, calling on UK Home Secretary Sajid Javid to ban it and launch an urgent inquiry into the Muslim Brotherhood.
"It's essential that the UK continues to lead the fight against extremist ideology and we co-operate with our neighbours to maximise this," he wrote in a letter.
"A number of MPs have previously raised issues to do with the spread of extremist ideology and activity by the Muslim Brotherhood."
The UAE, Saudi Arabia, Bahrain and Egypt referred to Al Qaradawi's role as a terrorist, supported by Qatar, when the four countries announced a boycott of Doha in 2017.
They said the boycott was in response to the country's support for terrorism and harbouring supporters of extremism, such as Al Qaradawi.
The Egyptian-born imam has defended violence against US troops in Iraq and regularly delivered vehement lectures against the West on Qatari television.
He has also suggested that the Holocaust was "divine punishment" against Jews and called for Israel's destruction.
https://www.thenational.ae/world/dangerous-muslim-brotherhood-fatwa-app-in-apple-store-s-top-100-downloads-1.877092
--------
Report: Kelantan Religious Council Aims To Convert Orang Asli To Islam Within 30 Years
21 June 2019
BY YISWAREE PALANSAMY
KUALA LUMPUR, June 21 — The Kelantan Islamic Religious and Malay Customs Council (Maik) has an ambitious plan to convert all the Orang Asli within its state borders to Islam by 2049, Utusan Malaysia reported.
In a report on its website today, the Malay daily cited Maik deputy chairman Nik Mohd Azlan Abd Hadi saying the council has over 100 preachers, including personnel from the federal Islamic Development Department of Malaysia (Jakim), and is working with Universiti Kebangsaan Malaysia (UKM) on the proselytisation mission.
"We plan that if we can preach to 500 people about Islam, then God willing, in 30 years more, we can convert all the Orang Asli in this state to Islam.
"We have a comprehensive preaching network for the Orang Asli, including a collaboration with Universiti Kebangsaan Malaysia," he was quoted saying after Maik's Raya celebration yesterday at the Lundang Islamic Complex in Kelantan.
According to Nik Mohd Azlan, the Orang Asli living in Kelantan number roughly 16,000; of that figure, 5,000 — nearly a third — have embraced Islam.
The aborigines in the Malay peninsula have customarily practised animism though some have converted to Islam and Christianity over the years through various aid programmes offered by missionaries.
Nik Mohd Azlan also reportedly said that through the collaboration with UKM, Maik has developed a preaching plan based on three main modules — the first which involves preparing a database with profiles of Orang Asli members who have converted to Islam and those who have not.
"Secondly is a uniformed curriculum, because preaching cannot be done on whim. We enter and teach how to recite, pray, fast and all that.
"The third module is training to preachers so they know every best step to be taken to preach to the Orang Asli members," he was quoted saying.
However, the disclosure has drawn the ire of vocal human rights lawyer Siti Kasim, who also made a startling claim connecting the Islamic conversion to the recent deaths of several Orang Asli of the Batek (also spelt Bateq) tribe living in Kampung Kuala Koh in the Gua Musang district.
"I was told the Bateqs in Kuala Koh do not want to inform the authorities on the deaths that were plaguing them precisely because they do not want to be buried under the Muslim rites. A religion where they were forced or coerced to convert into and never practised as one," she wrote on her Facebook.
Siti, who is known as a staunch campaigner for Orang Asli rights and their welfare, claimed she was approached by an entire village of Batek tribe members who wanted to renounce Islam and go back to practising animism.
"Why does the idea of simply trying to follow your faith, loving others, and NOT trying to convert people cannot be understood by these people? These religious bodies' agenda to 'get' people is so weird to me. Inserting your religious ideals or straight up arguing why people need religion so they don't go to hell is laughable to me.
"What if instead of focusing so much on how we can convert, we focused all that energy on how we can love? Seriously, sit and have meetings to try to figure out how to love our neighbors better. There are people out there doing this and they are changing the world and people actually like hanging out with them," she wrote.
https://www.malaymail.com/news/malaysia/2019/06/21/report-kelantan-religious-council-aims-to-convert-orang-asli-to-islam-withi/1764332
--------
Indonesian Islamic Leader: China's Muslim Concentration Camps 'Are Great'
EDWIN MORA
21 Jun 2019
Government and independent officials in Indonesia, the world's most populous Islamic country, have dismissed assertions by the United States and human rights group that China is abusing millions of predominantly Uighur Muslims in internment camps as "American propaganda," a report by an Indonesian think-tank revealed this week.
Echoing the Indonesian government's position, Agung Danarto, a top official from one of largest Islamic organizations in Indonesia — Muhammadiyah — praised the Muslim detention facilities, which China claims to be vocational centers aimed at combating separatism, religious extremism, and terrorism.
"The camps are great, there [the students] are given life-skills training, and so forth. They get lessons in agriculture, restaurant operation, cooking, and automotive repair," Danarto declared after visiting Xinjiang, according to the report issued Thursday by the Institute for Policy Analysis of Conflict (IPAC).
In the report, titled "Explaining Indonesia's Silence on the Uyghur Issue," IPAC revealed that Indonesian officials refuse to interfere on behalf of their fellow Muslims in China.
The U.S. State Department has repeatedly said that China is subjecting Muslim detainees to extrajudicial incarceration, torture, communist indoctrination, forced labor, and the renunciation of their faith and native language, among other human rights abuses at the so-called re-education or mind-transformation camps, primarily located in China's Xinjiang province.
Xinjiang is home to the largest concentration of the country's majority-Muslim Uighur ethnic minority and other Islam adherents.
An independent international tribunal recently indicated that China appears to be preparing Muslim prisoners for organ harvesting.
Nevertheless, the IPAC report noted on Thursday:
The Indonesia government response [to China's mistreatment of Muslims] remained muted as the Foreign Ministry and Office of the President struggled to decide whether China's policies in Xinjiang should be considered persecution against Muslims as a whole or as a legitimate, if heavy-handed response to insurgency and violent extremism – or a policy with elements of both.
The think-tank conceded that "Indonesian officials have made it clear that they would welcome constructive policy suggestions that might help the Uyghurs without provoking China."
In May, Randall Schriver, the assistant U.S. secretary of defense for Indo-Pacific Security Affairs, told reporters that China is interning up to 3 million Uighurs and other Muslim minorities in "concentration camps."
Except a few Muslim-majority countries, the Islamic world has been mostly silent about China's Uighur crackdown.
In a June 20 press release announcing the release of its report, IPAC noted:
The Indonesian government is under little pressure to address the systematic repression of China's Uyghur Muslims because many Indonesians see the crackdown as a legitimate response to separatism; do not trust reports of human rights organizations, or believe the issue has been politicized in the context of Indonesia's April 2019 presidential election.
The IPAC report added:
The country's largest Muslim organizations treat reports of widespread human rights violations with skepticism, choosing to dismiss them as American propaganda in the Sino-US power struggle. Their leaders have also accepted invitations to visit Xinjiang and most seem to take China's assurances of protecting religious freedom there at face value. The hundreds of Indonesian Muslims studying in China, by and large, have a positive experience, contributing to an unwillingness to acknowledge serious restrictions on religious practice.
China has reportedly wooed Indonesian Muslims through "highly controlled tours of Xinjiang, the report points, out, adding that "largesse distributed to Muslim institutions has also been important."
Beijing's Belt and Road Initiative (BRI), considered a threat by the United States, is expected to run through Indonesia. Moreover, China is Indonesia's largest trading partner and second largest investor.
Uighur jihadis from the Islamic State (ISIS/ISIL) and al-Qaeda have threatened to attack China. Xinjiang borders the Afghanistan-Pakistan region, which the Pentagon believes to be home to the highest concentration of terrorist groups, including Uighur jihadi organizations.
Beijing claims Xinjiang is now safer as a result of its oppression campaign against Uighurs and other Muslim minorities.
https://www.breitbart.com/national-security/2019/06/21/indonesian-islamic-leader-chinas-muslim-concentration-camps-are-great/
--------
'I am in no hurry': Trump aborts Iran strike, slaps more sanctions
RASHID HASSAN
June 21, 2019
President Donald Trump said on Friday the US was "cocked and loaded" to retaliate against Iran for downing an unmanned American surveillance drone but he canceled the strikes minutes before they were to be launched after being told 150 people could die.
Trump did not rule out a future strike but said in a TV interview that the likelihood of casualties from the Thursday night plan to attack three sites in Iran did not seem like the correct response to shooting down an unmanned drone earlier in the day in the Strait of Hormuz.
"I didn't think it was proportionate," he said in an interview with NBC News' Meet the Press.
Trump told NBC News that he never gave a final order to launch the strikes — planes were not yet in the air but would have been "pretty soon."
He said military officials came to him about 30 minutes before the strikes were to be launched and asked him for his final approval. Before signing off, he said he asked how many Iranians would be killed and was told approximately 150.
"I thought about it for a second and I said, 'You know what? They shot down an unmanned drone, plane — whatever you want to call it — and here we are sitting with 150 dead people.' That would have taken place probably within a half an hour after I said go ahead. And I didn't like it. I didn't think it was proportionate."
In his lengthy, morning tweet, Trump defended his stance on Iran amid criticism from Democrats who accuse him of having no strategy. He said his exit from the 2015 Iran nuclear deal and the reimposition of sanctions on Iran has crippled its economy.
"Now they are Bust!"
"I am in no hurry," he said. "Sanctions are biting & more added last night. Iran can NEVER have Nuclear Weapons, not against the USA, and not against the WORLD!"
Trump spoke to Saudi Crown Prince Mohammed bin Salman about Middle East stability and the oil market, the White House said, after tensions with Iran prompted a rise in oil prices.
"The two leaders discussed Saudi Arabia's critical role in ensuring stability in the Middle East and in the global oil market. They also discussed the threat posed by the Iranian regime's escalatory behavior," White House spokesman Hogan Gidley said in a statement.
Saudi Deputy Defense Minister Prince Khalid bin Salman in his meeting with US Special Representative for Iran Brian Hook in Riyadh on Friday discussed efforts to counter hostile Iranian activities that threaten the security and stability of the region.
"…(Iran) neglects the humanitarian needs of the Yemeni people in favor of using the country as the main launchpad for its regional terrorism," Prince Khalid said.
Later, speaking to reporters in Al-Kharj, Hook said that the Iranian regime practiced an aggressive foreign policy and it was important to do everything to de-escalate tensions.
Hook said: "The Iranian regime runs an expansionist and violent foreign policy through surrogacy such as the Houthis, Shiite militias in Iraq and Syria, Hezbollah in Lebanon, Hamas and Palestinian Islamic Jihad."
He said: "On the latest efforts to counter Iranian attacks through their surrogates in Saudi Arabia, our maximum pressure campaign against Iran is working, Iran is feeling the pressure of the campaign."
http://www.arabnews.com/node/1514091/middle-east
--------
West's silence on Morsi's death bares its 'lies'
Muhammed Sheikh Yusuf
21.06.2019
The silence of the West in the face of the death of Egypt's first democratically elected President Mohamed Morsi shows how they are "insincere" in its so-called democracy and pro-human rights attitudes, analysts said.
"The silence of the West in the face of Morsi's inhumane detention in prison and death exposed its lies of democracy and humanity that first emerged during the Arab Spring," said a Yemen-based analyst Nabil al-Bakiri.
"The West's attitude towards Morsi's death is a clear indicative of the 'human rights lie' that it [the West] proposes to meet its illegal interests," Bakiri said.
During the last eight years after the Arab Spring, Bakiri said, there have been crimes against humanity in many Arab countries, none of which have drawn the attention of the West.
"This reveals the West has nothing to do with the discourse of democracy and human rights," he added.
'Democracy a tool for West'
Cahit Tuz, an expert on the Middle East affairs, described the international community's attitude towards Morsi's death as "shameful".
"This attitude of the West is not a surprise [...] If the incoming manager acts in their best interests, they support him even if he is not humane," he said.
Morsi was a patriot who wanted to contribute to the development of Egypt, which makes him an "inappropriate ruler" for the West's interests, Tuz said, adding: "That's why the West was silent to the coup against Morsi."
"Massacres were committed against the Egyptian people in the 21st century. They [the West] wanted to have someone in line with their policies. The West is the partner in the crimes that Sisi has committed," he added.
'Embarrassing Stain'
The death of the Egypt's first democratically elected president in prison and the West's "unresponsive attitude to this situation is an embarrassing stain on humanity," said Hussein Bakir, a Lebanese writer.
"Morsi's being pushed to death is a dangerous indicator of the nature of the Egyptian regime and where things can go in the future," Bakir said.
"The Sisi administration understands this silent attitude of the West a green light to continue its persecution," he added.
A leading member of Egypt's Muslim Brotherhood, Morsi had won the country's first free presidential election in 2012.
After only one year in office, he was ousted and imprisoned in a bloody military coup led by Abdel Fattah al-Sisi -- Egypt's then defense minister and commander of the armed forces, and current president.
At the time of his death, Morsi faced a host of legal charges, which he along with numerous human rights groups and independent observers said were politically motivated.
https://www.aa.com.tr/en/europe/wests-silence-on-morsis-death-bares-its-lies-/1512128
--------
Even as it talks peace, Taliban provides safe haven to LeT, Al Qaeda in Afghanistan, says new UN report
Praveen Swami
Jun 21, 2019
New Delhi: The Taliban's leadership is providing safe havens and resources to the Lashkar-e-Taiba, Al Qaeda and other terrorist groups targeting India, a report produced by a United Nations expert group has revealed. "Foreign fighters continue to operate under the authority of the Taliban in multiple Afghan provinces at undiminished levels," the United Nations' Analytical Support and Sanctions Monitoring Team's report states.
Intelligence and foreign-policy officials have long been warning that ongoing United States-led power-sharing negotiations with the Taliban could end up again turning Afghanistan into a hub for global Islamist terror groups.
Last week's report, produced by the United Nations' Analytical Support and Sanctions Monitoring Team's report, says the Taliban "cooperate and retain strong links with al Qaeda, al Qaeda in the Indian Subcontinent, the Haqqani Network, the Lashkar-e-Taiba, the Islamic Movement of Uzbekistan, the East Turkistan Islamic Movement, as well as nearly 20 other regionally and globally-focussed groups."
In addition to the Pakistan-based Lashkar-e-Taiba, which is responsible for 26/11 and multiple other attacks in India, counter-terrorism officials in New Delhi see al-Qaida in the Indian Subcontinent, led by Indian-born jihadist Sami-ul-Haq, as a significant threat.
Facing intense international pressure, possible economic sanctions and Indian threats of cross-border military strikes, Pakistan has claimed to have cracked down on jihadist training facilities and infrastructure-but Indian intelligence officials fear at least some of that could now being relocated across the border in Afghanistan.
In recent weeks, the Research and Analysis Wing has also pointed to escalating threats Afghanistan to Indian targets, including diplomatic missions.
"From our perspective," an Indian intelligence officer said, "it seems probable Pakistan's Inter-Services Intelligence is facilitating this transition since it has excellent relations with, both, the Taliban and groups like the Lashkar."
The United Nation's grim findings come even as United States negotiators, led by Special Representative for Afghanistan Reconciliation Zalmay Khalilzad, have arrived at an understanding with Taliban leaders that Western forces in Afghanistan will be withdrawn in return for counter-terrorism guarantees.
Faced with a relentless Taliban campaign that has seen it take control of some 25 of the country's 421 districts, and contest government authority in over 200, Afghan government officials have, however, been warning a withdrawal of Western troops will allow the Taliban to resile on whatever promises it makes.
"Al-Qaida," the report warns, "has grown stronger operating under the Taliban umbrella across Afghanistan and is more active than in recent years." In addition to strengthening its presence in Badakshan and Paktika, the report states, al-Qaida is also " intensifying its concentration in the Afghan-Pakistan border area in close cooperation with Lashkar-e-Taiba and the Haqqani Network."
Estimated to earn over $400 million each year from opium trafficking, the UN report says the Taliban have significantly expanded their weapons stockpiles, and raised their manpower levels to around 65,000 combatants, as well as half that number again of non-combat personnel. The Taliban's spring offensive of 2019, which began in April, has been the most intense in two years, Afghan officials say.
In particular, the Taliban have expanded their night-fighting capabilities by purchasing black-market supplies of BAE's OASYS thermal monoculars, as well as PULSAR and ATN ThOR-HD night thermal scopes.
The UN report makes clear international sanctions directed at the Taliban have not worked, noting members of the organisation "have undertaken visits to Gulf States to collect cash donations amounting to millions of United States dollars."
"Individuals who maintain legitimate business interests in the Gulf States and in Balochistan also launder money for the Taliban and share profits with the Taliban," the report adds.
The report cites, in particular, the case of Faizullah Khan Noorzai and Malik Noorzai, who it says "conduct money laundering and provide funding to the Taliban through the import and export of spare automobile parts from Japan." Even though the Noorzai brothers have featured multiple United Nations reports, it says, they continue to conduct businesses in Japan, the United Arab Emirates and Pakistan."
https://www.firstpost.com/india/even-as-it-talks-peace-taliban-provides-safe-haven-to-lashkar-e-taiba-al-qaeda-in-afghanistan-says-new-un-report-6858611.html
--------
India
RSS leader Indresh Kumar visits Darul Uloom Deoband; welcomed with an open heart
Jun 22, 2019
Lucknow: As part of saffron party's campaign to reach out to Muslims, Rashtriya Swayamsevak Sangh senior functionary Indresh Kumar visited Islamic seminary Darul Uloom at Deoband in Saharanpur on Thursday. Kumar is the president of Muslim Rashtriya Manch (MRM), an RSS affiliate.
As reported by the Pioneer, it was a courtesy visit and he had gone to the seminary with the message of brotherhood and mutual love.
Maintaining that its doors were open for everyone, the Darul Uloom gave him warm welcome. After attending a function organised by MRM in Deoband, Kumar went to Darul Uloom where he was welcomed by Chancellor of seminary, Maulana Abul Qasim Nomani. He was apprised of the history of ulema's role in freedom struggle.
Maulana Abul Qasim Nomani said, "Our doors are always open for visitors. We welcomed Indreshji with an open heart."
Indresh Kumar said that he went there with the message of mutual love and brotherhood which is only way the country can move forward to prosperity. He suggested that the government should devise methods to upgrade education and increase job opportunities for everyone.
Kumar lamented that there were a few opportunistic leaders who try to create a rift between two communities and create a sense of fear among minorities. 'But we are of the view that all must follow their respective religions and respect others' faiths' he said.
https://www.siasat.com/news/rss-leader-indresh-kumar-visits-darul-uloom-deoband-welcomed-open-heart-1521896/
--------
IS-inspired module planned big terror attack in NCR: NIA
by Pritam Pal Singh
June 22, 2019
The National Investigation Agency (NIA) Friday filed a chargesheet before a Delhi court against 10 people for forming an Islamic State-inspired module in Uttar Pradesh's Amroha and Delhi, and said that the accused have "planned (a) bigger terror attack in national capital region".
The agency claimed that the accused had intended to carry out "fidayeen" attacks at several places in and around Delhi, in which regard they have intimated the Ministry of Home Affairs.
The NIA chargesheet was filed under various provisions of the Unlawful Activities (Prevention) Act, Explosive Substances Act, and under various sections of IPC, including criminal conspiracy and for possessing arm or ammunition to wage war against the Government of India against all the 10 accused.
The NIA, in its chargesheet, claimed before Special Judge Ajay Kumar Jain that Mohammed Suhail, a mufti in a seminary in Amroha and the alleged mastermind of the Islamic State module, was "involved in radicalisation and brainwashing of other like-minded youth with a view to commit terrorist acts and acts of waging war against the government of India".
The agency said that Suhail initially formed a group with people having "jihadi" ideology with Mufti Shaqib Iftekhar, Mufti Mohammed Absar and Mufti Gufran. The agency claimed that during the initial months of 2018, Suhail formed a module affiliated to the Islamic State and named it 'Harkat-ul-Harb-e-Islam', which roughly translates as 'movement for war of Islam'.
In its chargesheet, the NIA has also explained role of each accused, who planned the manufacturing of IEDs which were supposed to be detonated by remote-controlled devices.
Taking the chargesheet on record, the special judge listed the matter for further consideration by the judge concerned on July 4.
The agency had registered a case on December 20, 2018 against Suhail and others on the allegation that he has formed an ISIS module with others to commit terror activities and the module is amassing weapons and explosives.
On December 26, the NIA had arrested 10 people from Jaffrabad and UP's Amroha for allegedly being part of Harkat-ul-Harb-e-Islam. The NIA also claimed to have seized a huge cache of arms and explosives that were to be used to target "vital installations and important personalities, which included politicians".
The agency claimed that they have seized from the accused a recorded "rehearsal video" of their resolve to fight violent jihad, that was to be published after their suicide attacks.
Full report at:
https://indianexpress.com/article/india/is-inspired-module-planned-big-terror-attack-in-ncr-nia-5794208/
--------
My party supports what Quran says: SP's Azam Khan on Triple Talaq Bill
Jun 21, 2019
New Delhi: On being asked about his party's stand on the Triple Talaq Bill, Samajwadi Party leader Azam Khan on Friday said that they support what is written in the Quran.
On the day when the government tabled the Bill in Lok Sabha to ban the practice of instant triple talaq, the Samajwadi Party MP said, "Our stand is similar to what is written in the Quran."
"No religion has given more rights to women than Islam. 1500 years ago, Islam was the first religion to have given the right of equality to women. Today, we witness the lowest divorce rate and the lowest cases of violence on women in Islam. Women are not burnt or killed", said Azam Khan, MP from Uttar Pradesh's Rampur Constituency.
"Triple Talaq is a religious issue, not a political issue and nothing is more supreme for a Muslim than Quran. On marriage, on divorce, for everything, the Quran has clear instructions and we follow it", he further added.
The Muslim Women (Protection of Rights on Marriage) Bill, 2019 was included in the list of business for Lok Sabha for Friday, as it seeks to replace an ordinance issued by the previous cabinet in February.
Full report at:
https://www.siasat.com/news/my-party-supports-what-quran-says-sps-azam-khan-triple-talaq-bill-1520924/
--------
Speaker turns to Hindi while ordering vote on triple talaq
Jun 22, 2019
NEW DELHI: Breaking with tradition, Lok Sabha Speaker Om Birla on Friday preferred to use Hindi when he said "haan paksh jeeta, haan paksha jeeta" instead of "the ayes have it, the ayes have it" while pronouncing his decision on the introduction of the fresh triple talaq bill.
His pronouncement in Hindi came as a surprise to those who have been following the proceedings for long as they were used to hearing "the ayes or the noes (as the case may be) have it". In recent memory, no other Speaker has used Hindi while pronouncing his or her decision in Lok Sabha.
Full report at:
https://timesofindia.indiatimes.com/india/speaker-turns-to-hindi-while-ordering-vote-on-triple-talaq/articleshow/69898800.cms
--------
Opposition protests as government moves triple talaq Bill
by Krishn Kaushik
June 22, 2019
The Muslim Women (Protection of Rights on Marriage) Bill, 2019, which proposes to criminalise instant triple talaq was introduced in Lok Sabha on Friday amid commotion and confusion.
The government introduced the new Bill to replace an ordinance, but even before Union Minister of Law and Justice Ravi Shankar Prasad could introduce it, there was confusion on whether the Opposition members should get an opportunity to object to the introduction before he introduced it or after his opening statement.
As Speaker Om Birla asked the minister to introduce the Bill, AIMIM's Asaddudin Owaisi, NCP's Supriya Sule, DMK's A Raja and Kanimozhi, Samajwadi Party's Kunwar Danish Ali and leader of Congress in the House Adhir Ranjan Chowdhury objected, claiming that they be given a chance to present their objections.
Prasad said once he moves the Bill, the Opposition will get a chance to speak before the introduction of the Bill and he will respond to them before the vote.
The minister "is only asking the permission to move the Bill", Birla clarified. Finally the Opposition relented, and Prasad moved the Bill.
Leaders of the Opposition then countered it, mostly on two points — that it criminalises "a civil wrong" and that it targets just one community in the garb of helping women of the country.
Shashi Tharoor of the Congress said he is not "defending Triple talaq" but was opposing the Bill because of the "text, draft and thrust of this Bill". "This Bill conflates civil law and criminal law by criminalising the act of triple talaq, which is an irregular form of divorce already null and void in our country post the decision of the Supreme Court in Shayara Bano Vs Union of India," he said.
"Is the action of abandoning or deserting a wife and family without responsibility a criminal act or is the form of desertion, namely, doing it by uttering talaq… since abandoning or deserting wives and dependents is not unique to the Muslim community, then why not make a law that universally criminalises the abandonment of family and dependents without taking responsibility instead of just focusing on one community."
The bill, he said, was an example of "class legislation, which is pointed at one community or class and that violates Articles 14 and 15 of the Constitution". Further, he said the Bill lacks "procedural safeguards and can be easily misused," Tharoor added.
RSP's N K Premachandran said the Bill "exceeds the legislative power of Parliament". Also, he said, "criminalising a civil wrong done by a particular community, that is, the Muslim community, alone is discriminatory".
Speaking last from the Opposition, Owaisi said the Bill failed on parameters of "intelligible differentia" and "rational nexus". "You are not in favour of women, you are putting the burden of proof on women. For three years (the husband) will remain in jail, who will give the maintenance, will you give maintenance?" Owaisi said. He said if the BJP was for women, why was it against the entry of women in Sabarimala.
Responding to the objections, Prasad said the Bill was not aimed at a religion, but was a question of "naari nyay, naari garima, naari insaaf". He said that even after the Supreme Court's order, the practice of instant triple talaq continues and stated that 229 cases have happened since. He said lawmakers are elected "to make laws" and the court is responsible for "interpretation" of those laws. "Do not make the Lok Sabha a court," Prasad said.
As Prasad was speaking, Birla asked the members to not speak among them. When Chowdhury got up to speak to his party members, Birla asked him to sit down or go to the gallery outside to talk. This prompted a furore from the Opposition, with Chowdhury saying it was like "Emergency inside the House".
After Prasad had spoken, Birla put up the introduction for a voice vote. Owaisi insisted that a division vote be allowed. Birla finally agreed for a division vote, but then, since seats have not yet been allotted to the members of the new Lok Sabha, machine voting was ruled out.
Full report at:
https://indianexpress.com/article/india/parliament-monsoon-session-2019-triple-talaq-bill-tabled-in-lok-sabha-opposition-protests-5793974/
--------
Govt introduces triple talaq Bill in Lok Sabha, Congress' Shashi Tharoor calls it 'class legislation'
June 21, 2019
Union Law Minister Ravi Shankar Prasad Friday introduced a fresh bill to ban instant triple talaq in the Lok Sabha, saying that this will help protect the rights of Muslim women.
Introducing the Bill amid protest by the Congress and AIMIM's Asaduddin Owaisi, Prasad said, "This is not a matter of religion, caste or community. It is a matter of a woman's dignity and integrity. The rights of Muslim women will be protected (through this law)." Quoting Article 15 of the Constitution, he said the law is to give justice to women who were victims of instant talaq. Read in Bangla
The introduction of the bill, however, saw huge uproar in the Lok Sabha with the Opposition demanding that it should not be tabled before thorough consultation with the parties from the other side of the treasury bench.
The move was opposed by Congress MP Shashi Tharoor who said even as he is against instant talaq, he is opposed to considering a civil offence as a criminal offence. He suggested the scope of the Bill should be extended to women of all communities.
Terming the bill a "class legislation", Tharoor said abandoning of women by their husbands is not unique to Muslim community and is equally prevalent among other communities. So, why not make a universal law to provide protection to all women, he argued.
AMIM's Asaduddin Owaisi also took a dig at the BJP, saying the party has so much affection for Muslim women but is opposed to rights of Hindu women to enter Kerala's Sabarimala Temple in Kerala. He went on to say that the bill violates constitutional rights as it stipulates three-year jail term for Muslim men while non-Muslim men get only one year of jail term for a similar offence, he said.
The Bill, which proposes to make the practice of instant triple talaq (talaq-e-biddat) a penal offence, had faced objections from the opposition parties during the last Parliament session in February too. They had claimed that jail term for a man for divorcing his wife was legally untenable.
Full report at:
https://indianexpress.com/article/india/triple-talaq-bill-introduced-in-lok-sabha-shashi-tharoor-calls-it-class-legislation-5792684/
--------
Pakistan airspace to open only if India promises to not repeat Balakot
Jun 21, 2019
ISLAMABAD: The Imran Khan government will continue the closure of its eastern airspace for flights from and to India until there is a commitment from New Delhi that it will not repeat Balakot-like air strikes inside the Pakistani territory.
Islamabad had shut the airspace on February 26 this year following the Indian airstrikes inside Pakistan, on a Jaish-e-Mohammad terror camp in Balakot, in retaliation to a suicide bombing that killed 44 Indian police personnel in Pulwama Kashmir on February 14.
Well-placed sources told TOI that though the ban has been extended till June 28, Pakistan is likely to keep the airspace shut for India until there is some assurance from New Delhi that there would be no repetition of Balakot like a strike.
On March 27, Pakistan opened its airspace for all flights except for New Delhi. Since May 15 the ban on eastern airspace has been extended three times. Earlier this week, Pakistan's Civil Aviation Authority (CAA) had said the government will again review the matter on June 28 but avoided giving further details on the issue.
Sources said Islamabad was looking for an assurance from New Delhi that Balakot-like incident will not be repeated in future.
The ban will remain in place until the issue is raised and resolved at the top level between Islamabad and New Delhi, sources said.
Stating that the closure was due to security and diplomatic reasons, a top CAA official said on the condition of anonymity that it was very surprising that no back-channel diplomacy has been used in the last four months to lift the ban, given the huge losses to flag carriers of both the countries.
Last month, Pakistan's foreign office spokesperson, Dr Muhammad Faisal, had said: "We want de-escalation. If de-escalation takes place we would not like to have a ban on our airspace for India for a single day but for the purpose India will have to talkto us. India should show rational behaviour and must understand that issues will not be resolved through confrontation."
Since the closure of Pakistani airspace, the Indian aviation industry, according to media reports, is incurring more losses than Pakistan. Several foreign airlines are also being forced to take longer routes to reach other destinations. The closure of Pakistani airspace has affected flights from Europe to Southeast Asia while the flights from Europe and the US flying in and out of New Delhi have been the worst hit.
The Delhi-Astana flight now takes three extra hours while Delhi-Moscow flight takes more than two additional hours. The duration of Delhi-Kabul and Delhi-Tehran flights have also doubled.
Full report at:
https://timesofindia.indiatimes.com/world/pakistan/pakistan-airspace-to-open-only-if-india-promises-to-not-repeat-balakot/articleshow/69893683.cms
--------
Arab World
Drive to promote heritage and cultural monuments in Islamic countries
June 21, 2019
JEDDAH: The Islamic Educational, Scientific and Cultural Organization (ISESCO) has launched an initiative to register 100 tangible and intangible heritage cultural monuments of OIC member states on the Islamic World Heritage List.
According to the Union of News Agencies in OIC member states (UNA), ISESCO called on member states to nominate sites to be registered to pave the way for their preservation and refer them to decision-making centers such as the World Heritage Committee.
The initiative was launched as many historical buildings and landmarks in Islamic countries have been damaged due to wars and conflicts, in addition to the theft, smuggling or illicit trade of masterpieces.
ISESCO has clarified that cultural heritage covers all antiquities, including architectural works, sculpture and photography as well as landmarks with an exceptional value to civilization and sites that are the result of the work of humans or joint work of humans and nature, including archaeological sites distinguished by an exceptional value to civilization.
ISESCO urged member states to write down the names of cultural monuments, the name of the country and region where monuments are and their location, along with official topographic maps recently published and updated to determine the current state of the monument.
ISESCO has called on member states to include in the candidacy file a list of the most adequate legislative and regulatory procedures for the protection of the monument and provide suggestions on the main indicators to measure and assess the state of the cultural or natural moment, along with the factors that affect it and the measures taken to maintain it.
ISESCO is currently working on activating the Islamic Heritage Committee that was established following the resolution of the fifth Islamic Conference of Culture Ministers in the Libyan capital of Tripoli in November 2007, to enlarge its powers and provide it with new working methods to carry out its functions more effectively.
The directives of ISESCO Director General Dr. Salem Al-Malek included promoting the institutional nature of the committee, activating its roles, especially those related to registering more archaeological sites in member states and intangible elements on the Islamic heritage list, increasing efficiency of its related frameworks and suggesting the best means to activate the content and directions of ISESCO's reference documents in the field.
The committee recently held its eighth meeting at ISESCO's headquarters in Rabat, with the participation of member states: Kuwait, Mauritania, Indonesia, Pakistan, Uzbekistan, Cameroon, Cote d'Ivoire, Nigeria, in addition to a representative from the Scientific Commission from Morocco.
Participating experts adopted the report of the ISESCO Archaeology Experts Committee, in charge of preparing technical reports on Israeli aggression against Al-Aqsa Mosque and the inscription files of member states' heritage sites on the Islamic Heritage List.
http://www.arabnews.com/node/1514321/saudi-arabia
--------
Nearly Dozen Killed, 30 Injured In Bomb Blast Targeting Baghdad Mosque
Jun 21, 2019
Nearly a dozen people have lost their lives and several others sustained injuries when a bomb explosion ripped through a mosque in the eastern flank of the Iraqi capital Baghdad.
A security source, speaking on condition of anonymity, told Arabic-language Baghdad Today news agency that a bomber detonated his explosive belt among a group of worshippers attending the weekly Friday prayers at al-Muntadar Mosque in al-Baladiyat neighborhood.
The source added that the blast left ten people dead and 30 others injured.
No group has claimed responsibility for the attack yet, but it bears the hallmark of such attacks carried out by the Daesh Takfiri terror group.
Former Iraqi prime minister Haider al-Abadi declared the end of military operations against Daesh in the country on December 9, 2017.
On July 10 that year, he had formally declared victory over Daesh in Mosul, which served as the terrorists' main urban stronghold in Iraq.
In the run-up to Mosul's liberation, Iraqi army soldiers and volunteer Hashd al-Sha'abi fighters had made sweeping gains against Daesh.
Full report at:
https://www.presstv.com/Detail/2019/06/21/599055/bomb-blast-Baghdad-mosque
--------
7 killed in Baghdad explosion at Shiite mosque
June 22, 2019
BAGHDAD:A bomb blast killed seven people at a Shiite mosque in eastern Baghdad on Friday and wounded more than 20, police sources said.
The blast hit the Imam Mahdi Al-Muntadhar Mosque in Baladiyat, near the massive and densely populated district of Sadr City.
"At least one attacker wearing a belt of explosives tried to enter the building but was stopped by the guards, and detonated himself outside," one officer said.
"Two civilians were killed and nine people were wounded," the source said. The second officer confirmed the details and toll for the attack. At the scene, security forces quickly deployed to cordon off the site, a photographer at the mosque said.
It was a rare attack on a Shiite place of worship in the Iraqi capital.
Extremists carried out high-profile bombings of Iraqi Shiite sites during the worst of the country's sectarian violence after the US invasion that toppled dictator Saddam Hussein in 2003.
Baghdad's security improved significantly with the defeat of Daesh in 2017 and bomb attacks of any kind in the city have been rare since then.
Full report at:
http://www.arabnews.com/node/1514336/middle-east
--------
Transitional justice could help stabilize former Daesh territory
HAID HAID
June 20, 2019
Following the territorial defeat of Daesh in northeastern Syria, Kurdish-led local authorities are now grappling with bringing the group's members to justice. The scale of the crimes and the sheer number of victims — combined with massive shortages in resources and personnel — make the task extremely difficult to address through the traditional legal system. An alternative approach would be transitional justice mechanisms, which are often used after political conflicts to redress human rights abuses. So far, however, relevant authorities do not seem inclined to implement such solutions.
What is at stake is the long-term stability of northeastern Syria. There are hundreds of thousands of families with ties to Daesh and, in the absence of a credible justice process, an enormous risk of extrajudicial revenge killings targeting not only former militants but also their entire extended families. The current judicial approach simply cannot cope with the volume of cases and the atrocities involved.
The current efforts by the Kurdish-led self-administration entity to bring justice to victims are largely focused on detaining Daesh members and, where possible, charging them with terrorism offences. Authorities have set up local counterterrorism courts to prosecute thousands of locally recruited Daesh members who are in custody.
But not all detained Daesh followers end up in jail. Members of the group who are from the region but did not hold senior roles and are not accused of major crimes are being released under limited reconciliation deals. Fighters qualifying under those criteria are being discharged after discussions with prominent tribal leaders in their communities, who are responsible for preventing them from rejoining Daesh.
On top of concerns regarding due process, particularly that suspects are not allowed representation by defense lawyers, local courts are seriously understaffed and limited in number. At the current rate of prosecutions, it would probably take more than a decade to process the cases of all of the Daesh suspects in detention. Many victims are also upset at seeing Daesh members walk free without even admitting their guilt publicly, especially in cases where the court proceedings have lacked transparency.
Another concern is that the local administration is holding tens of thousands of civilians with ties to Daesh or its members in camps scattered across the northeast. Most of them are women and children who are not officially under arrest, but in reality, they are being detained in the camps without any clear strategy to deal with them.
More broadly, the current counterterrorism approach has largely failed to address the full range of crimes committed by Daesh. In addition, there are no formal mechanisms to determine the fate of people detained or forcibly disappeared by Daesh. Human rights groups have documented more than 8,000 people detained by Daesh whose fates remain unknown, but the actual number of victims is assuredly much higher.
Nonetheless, there are still no official mechanisms or entities to obtain and process information from families of victims and Daesh members or to properly excavate mass graves to determine the status of the missing. Local courts are mainly focusing on establishing whether Daesh members were fighters to establish their guilt or innocence, but there is not a clear process to highlight the personal responsibility of individuals for war crimes or crimes against humanity. The counterterrorism courts also do not allow victims to file charges for crimes such as rape, theft and kidnapping, or to provide evidence against Daesh members.
To overcome the limitations of the counterterrorism framework, transitional justice provides mechanisms to establish accountability for Daesh crimes and give victims a sense of justice. The formation of community-led fact-finding commissions could help to document and gather evidence about the full range of Daesh crimes, including individual responsibility. The commissions could also complement counterterrorism trials by sharing findings with relevant local authorities and encouraging victims to participate in proceedings.
The commissions should also consult with residents of the region on alternative paths to justice, such as monetary compensation and public apologies, to realize a sense of closure. Clearly, some compensatory measures should be limited to former Daesh members who did not commit violent crimes or were released for lack of evidence.
Those who committed serious crimes should be tried, while ensuring the participation of victims in court proceedings, with transparency about the verdicts. All this is currently lacking. The commissions could also cooperate with existing local reconciliation committees comprising local tribal leaders and other community figures to lead reconciliation and mediation efforts between former Daesh members, their victims and the families involved.
Northeastern Syria is a clear example of the limitations of counterterrorism laws to provide victims with a sense of justice. A transitional justice model could provide alternative avenues to resolve grievances and help communities heal and reconcile with hundreds of thousands of families previously linked to Daesh.
There is little local expertise in such a model and few precedents applying transitional justice to the crimes of violent extremist groups. While a lot of time has been lost, it is not too late for the international community, the local self-administration entity and Syrian civil society groups to develop more coherent transitional justice mechanisms to ensure victim participation and bring Daesh members fully to account for their crimes. In the absence of such an effort, the long-term stability in that region will remain in doubt regardless of Daesh's territorial defeat.
Full report at:
http://www.arabnews.com/node/1513646
--------
Dozens killed in heavy fighting in northwest Syria
20 Jun 2019
More than 100 combatants have been killed over the past 48 hours in fighting between Syrian forces and rebels in the country's besieged northwest, a war monitor has said.
Ongoing clashes and aerial bombardment centred on the village of Tal Meleh in the north of Hama province, the UK-based Syrian Observatory for Human Rights said on Thursday.
According to the Observatory, which has a network of sources on the ground in Syria, 89 opposition fighters were dead with 41 fatalities among government forces.
Al Jazeera was not able to independently verify the figures in the war zone.
On Wednesday, Syria's state news agency SANA reported "army operations" had been launched against the former wing of al-Qaeda - Hay'et Tahrir al-Sham (HTS) - in Tal Meleh and the surrounding countryside that it dominates.
"Bodies of the terrorists and their vehicles scattered in the surroundings of al-Jalmah village due to the strikes of the army," SANA reported, without specifying a death toll.
Tal Meleh sits near the southwestern edge of Hama's neighbouring Idlib province, which has come under increasing bombardment by Syrian government forces and warplanes from Russia, an ally of President Bashar al-Assad.
Northwest Syria, home to some three million people, is the last remaining bastion of anti-government rebels after eight years of war that has killed hundreds of thousands of people.
Russia and Turkey, long-time backers of rebel groups operating in the country, brokered an agreement intended to stave off an all-out government-led assault on Idlib in September, but that deal was never fully implemented as opposition fighters refused to withdraw from the planned buffer zone.
'Terrorising civilians'
Earlier this week, United Nations officials alleged Syrian and Russian forces might be deliberately targeting hospitals and schools in the area in a bid to "terrorise" civilians.
UN aid chief Mark Lowcock told the Security Council that since Syrian troops began pushing into Idlib on April 30, an estimated 330,000 people have been forced to flee their homes and more than 230 civilians have died.
Lowcock also said the World Health Organization had confirmed 26 incidents affecting healthcare facilities in the province.
Millions of Syrians have been displaced since the war started in 2011 with the repression of anti-government protests.
Full report at:
https://www.aljazeera.com/news/2019/06/dozens-killed-heavy-fighting-northwest-syria-190620090211878.html
--------
Children and rescuers among 20 civilians reported killed by Syria regime fire despite truce
JUN 21, 2019
MAARET AL-NUMAN, SYRIA - Regime bombardment killed 20 civilians including eight children and three rescue workers in jihadist-run northwest Syria Thursday, as fighting killed dozens on the edges of the anti-government bastion.
The Idlib region, home to some 3 million people, is supposed to be protected by a months-old international truce deal, but it has come under increased bombardment by the regime and its Russian ally since late April.
The United Nations has warned that the spike in violence could spark one of the worst humanitarian disasters in Syria's grinding eight-year conflict.
A regime airstrike targeted an ambulance in the town of Maaret al-Numan, killing three rescue workers inside, the Syrian Observatory for Human Rights said.
An AFP photographer saw a destroyed ambulance and rescuers carrying a survivor from the vehicle with his arm in shreds.
Syrian charity Benefsej, which owned the ambulance, said three of its workers had been killed.
"It was a direct targeting of the ambulance," said charity member Fouad Issa.
A woman also died in the ambulance while she was being transported for treatment, he added.
In a statement posted on social media networks, the charity described the attack as a "violation of international humanitarian law.
"Ensuring the protection of humanitarian and health facilities via the international community is a necessity for us to continue our work."
Russia and rebel backer Turkey brokered an agreement in September seeking to stave off an all-out regime assault on Idlib, but the deal was never fully implemented as jihadis refused to withdraw from the planned buffer zone.
The Hayat Tahrir al-Sham group, led by ex-members of al-Qaida's former Syria affiliate, extended its control over the region, which spans most of Idlib province as well as slivers of the adjacent provinces of Latakia, Hama and Aleppo.
The Syrian government and Russia have upped their bombardment of the region since late April, killing more than 440 civilians, the Britain-based Observatory said.
The United Nations says more than 23 hospitals and one ambulance have been hit in the Idlib region since late April.
Some 330,000 people have been forced to flee their homes, it says.
U.N. humanitarian chief Mark Lowcock on Tuesday warned the world is facing "a humanitarian disaster unfolding before our eyes.
The same day U.N. chief Antonio Guterres called on Russia and Turkey to "stabilize the situation," warning "civilians are paying a horrific price."
Fighting raged Thursday in the north of Hama province, leaving at least 27 anti-regime fighters and 31 loyalists dead in the clashes around Tal Meleh village, the Observatory said.
More than 90 fighters were killed in the same area over the two previous days, said the war monitor.
Syrian Foreign Minister Walid Muallem on Wednesday pledged a full return of regime control to Idlib in the latest such warning from the Damascus government.
"Idlib is a Syrian province and the operations the Syrian army is conducting are on Syrian soil and a legitimate right towards liberating the land," he told the Beirut-based Al-Mayadeen television channel.
Analysts have, however, said they did not expect a full-out offensive to retake the region on Turkey's doorstep for now.
Syria expert Sam Heller said the regime and Russia were seeking to secure neighboring loyalist areas and a key Russian military airbase to the west of Idlib, as well as exert pressure on Turkey to implement the September buffer zone deal.
"Damascus is still evidently intent on taking the whole of Idlib, and all Syrian territory nationwide," the International Crisis Group analyst said.
"But it's Russia that's enabled this latest military push, seemingly with more limited aims."
On Thursday, President Bashar Assad met the Kremlin's Syria envoy, Alexander Lavrentiev, and Deputy Foreign Minister Sergei Vershinin in Damascus, state news agency SANA reported.
They discussed developments in Syria, including efforts to eradicate "terrorism," SANA said, using the regime's term for rebels and jihadists.
Full report at:
https://www.japantimes.co.jp/news/2019/06/21/world/children-rescuers-among-20-civilians-reported-killed-syria-regime-fire-despite-truce/#.XQ3D2z8zZ1t
--------
Iraq officially invites Pope Francis to visit
21 June 2019
President Barham Saleh has sent an official invitation to Pope Francis to visit Iraq after the pontiff said he would like to travel to the Muslim country despite security conditions.
Earlier this month Francis said "I want to go next year" to Iraq, which has been a battleground for competing forces, including ISIS extremist group since the US-led ouster of dictator Saddam Hussein in 2003.
"I am honored to officially extend an invitation to Your Holiness to visit Iraq - the cradle of civilization and the birthplace of Abraham, the father of the faithful and messenger of the divine religions," Saleh said in the letter, a copy of which was seen Thursday by AFP.
"Your holiness' visit will be an opportunity to remind and enlighten Iraq and the world that this land gave humanity its first laws, irrigated agriculture and a legacy of cooperation among people" of different religions, it said.
Saleh said he hoped the visit would be "a milestone in the healing process and Iraq can once more be a peaceful land where the mosaic of religions and faiths can live together in harmony again as they did for millennia."
Francis has made boosting ties between Christianity and Islam a cornerstone of his papacy.
He has this year visited Abu Dhabi in the United Arab Emirates and Morocco.
The pope had already visited several Muslim countries in previous years, including Turkey in 2014, Azerbaijan in 2016 and Egypt in 2017.
Full report at:
https://english.alarabiya.net/en/views/news/middle-east/2019/06/21/Iraq-officially-invites-Pope-Francis-to-visit-.html
--------
Middle East schools struggle to stamp out physical punishment
June 22, 2019
DUBAI: Beatings and violent physical punishments persist in many Middle East schools despite international laws banning abuse of children and widespread concern about the effects of corporal punishment.
Physical abuse is a grim reality in schools in the region, according to recent studies by Human Rights Watch (HRW) and UNICEF, which highlight Lebanon as a country of key concern.
The use of corporal punishment is one of the leading factors behind Lebanon's rising school dropout rate, the HRW report said.
Bill Van Esveld, senior researcher for children's rights at HRW, told Arab News that reports suggest that up to 76 percent of schoolchildren in Lebanon have been physically abused by teachers.
Beatings involved being whipped with an electric cable, or struck with rulers or classroom objects, and often resulted in broken bones.
Other punishments included "slapping the face or back of the neck or head, twisting ears, pulling hair, hitting the hands with a ruler, being shoved into walls or desks, or being beaten with objects to hand such as a book, electrical cable and a propane-tank hose."
Van Esveld said: "The injuries can be severe. We met one child who had suffered a deep cut on his hand that bled for days. Another boy's nose was broken. One boy, aged just six, said his 'Miss' hit the children in his class regularly and painfully, and that he did not like going to school and felt afraid in his classroom."
Corporal punishment and verbal abuse at school "mean that adults are inflicting pain and fear on children," he said.
"No scientific study has ever demonstrated a long-term benefit of corporal punishment. But myriad studies find that corporal punishment causes both short and long-term harm, from heightened dropout rates and lower educational achievement to increased incidences of emotional disorders such as depression, aggression and even suicidal ideation."
Dadu Shin, author of the watchdog's report — "I Don't Want My Child to Be Beaten: Corporal Punishment in Lebanon's Schools" — said: "In documented cases, children avoided or dropped out of school, or their parents pulled them out of school due to the pain, fear, humiliation and risk of further harm from corporal punishment.
"Surveys show that corporal punishment is one of the leading factors behind school dropouts in Lebanon," he said.
Lebanon's Education Ministry has prohibited all forms of corporal punishment in public schools since 1974. In 2001, the ministry issued a detailed circular to both public and private school staff banning corporal punishment as well as verbal abuse.
Yet due to a lack of enforcement, surveys have found that widespread abuse persists.
Van Esveld said teachers hit and humiliate children for a host of reasons, including the knock-on effects of the Syrian war and consequent overcrowding in Lebanon's classrooms. Since the conflict in Syria began in 2011, enrolment in Lebanon's public schools has doubled, with roughly 210,000 Lebanese and 210,000 Syrian students in primary and secondary schools in 2018.
"The ministry warned in 2014 that overstretched, undertrained teachers were also increasingly likely to resort to corporal punishment in light of the influx of Syrian refugee children into the public school system," Shin said.
Elsewhere across the region, governments are working to crack down on corporal punishment.
In the UAE, physical punishment in state schools was banned in 1998, while in Saudi Arabia the Ministry of Education has told schools to ban hitting and beating students.
In 2017, the Kingdom also announced it was launching a campaign called No Hit Zone, which aimed to show parents alternative methods of disciplining a child, and called for similar projects in the region.
However, in many schools, the old adage "spare the rod, spoil the child" continues to play a part in the classroom.
Van Esveld said there is a lack of data about the prevalence of corporal punishment in other Middle East and North African (MENA) countries, but HRW is beginning research into the problem.
"News reports from different MENA countries indicate it is a serious problem; children have reportedly died due to corporal punishment at school in Egypt, for example," he told Arab News.
"A forthcoming World Bank report indicates that the prevalence in Lebanon is worse than the global average."
UNICEF has also highlighted widespread corporal punishment, both in the classroom and in the home, in its latest report, "Violent Discipline in the MENA Region." Of 85 million children (aged between two and 14) in the region, 71 million are estimated to have experienced some form of violent discipline.
Nisrine Tawile, a child protection program specialist at UNICEF, told Arab News that the organization is launching a study on the causes of violence in schools, with the results expected by mid-2020. The study will be carried out in partnership with Lebanon's Ministry of Education and Higher Education, and Save the Children.
"Violence against children can have an important long-term impact. When children feel safe, without worry and threat, they are calm and focused, they learn better, they grow up as stronger and active contributing members of society," said Tawile.
"Violence can cause harm to the physical health and emotional well-being of a child. Harm can include physical injuries, but can also negatively affect the self-esteem of children, depression, school dropouts ... sexual violence can lead to unwanted pregnancies, STIs and HIV."
HRW and UNICEF hope to see the tide turning in Lebanon.
In May 2018, the country's Education Ministry launched a comprehensive child protection policy, which Tawile described as "a very important step."
Van Esveld said that more accountability and transparency around complaints of corporal punishment are needed. He hoped the ministry's new policy banning all corporal punishment will have a positive influence on a new generation of schoolchildren.
Full report at:
http://www.arabnews.com/node/1514396/middle-east
--------
Southeast Asia
Indonesia 'to vet civil servants in bid to weed out radical Islamists'
June 22, 2019
JAKARTA • Indonesia plans to tighten the vetting of senior public servants amid fears that hardline Islamist ideology has permeated high levels of government, according to documents seen by Reuters and a senior official involved in the plan.
Indonesia is officially secular, but there has been a rise in politicians demanding a larger role for Islam in the world's biggest Muslim-majority country, with some groups calling for an Islamic state.
The rise in conservatism was a major test for President Joko Widodo in the April election, with some Islamist groups accusing him of being anti-Islam and supporting his political rivals, including challenger Prabowo Subianto.
Mr Joko was re-elected for a second term but voting patterns revealed deepening divisions between areas known for a moderate following of Islam and conservative Muslim regions that backed Mr Prabowo.
The senior government official, who is part of a team formulating the new vetting policy, said Mr Joko intends it to be a part of his legacy of ensuring Indonesia remains a model for moderate Islam.
The official said the President strongly believes that radical Islam threatens the state apparatus as well as the future of democracy. The vetting plan was a big priority for him, said the official, who declined to be identified.
Mr Joko, popularly known as Jokowi, wants hardline and radical elements to be weeded out before the next election, in 2024, said the official. Mr Joko's office did not respond to requests for comment.
According to the documents seen by Reuters, the government wants to introduce stricter background checks and a new psychological test to gauge candidates' political leanings - especially for those seeking promotions to the top two rungs of the bureaucracy.
The official said the plan will be rolled out by the end of the year at 10 of the country's biggest ministries by budget and several state-owned enterprises.
Ministries to be targeted as priorities include finance, defence, health, education, religious affairs, and public works.
Priority enterprises include state energy company Pertamina, flag carrier Garuda Indonesia, the biggest state bank BRI, state miners Antam and Timah, and two state media companies.
Civil servants would not be sacked but the new policy could be used to keep those with hardline leanings from rising through the ranks, the official said.
"What we're seeing is not sudden but the result of seeds that were planted years ago through small movements that at the time were not considered a threat to the state. For over 10 years, these ideas have been tolerated, accepted, and perhaps even used by elements of the state," a government paper said.
The government official who spoke to Reuters is part of a team of 12 officials and experts that will work with the National Agency to Promote Pancasila and with civil society organisations to formulate new metrics to strengthen existing recruitment tests. Pancasila, the country's official, foundational philosophical theory, includes upholding national unity, social justice and democracy alongside belief in God, and enshrines religious diversity in an officially secular system of government.
The official said the government is expecting a backlash both from within the state bureaucracy and from rights activists who could liken the moves to the authoritarian era of former president Suharto, when loyalty to the state ideology was mandatory and equated with loyalty to the regime.
A representative for the Islamic Defenders Front (FPI), an Islamist group that calls for syariah law in Indonesia, said the planned vetting procedures would "amount to discrimination against Islam".
"This government is affected by the disease of secularism and is trying to separate politics and religion, which is very dangerous," said Mr Novel Bamukmin of the FPI's Jakarta chapter.
"They should be focusing on targeting the communists and Shi'ite (minority Muslims) in the bureaucracy instead," he added.
https://www.straitstimes.com/asia/se-asia/indonesia-to-vet-civil-servants-in-bid-to-weed-out-radical-islamists
--------
Security tight in Marawi for Muslim religious leaders meeting
June 21, 2019
Philippine authorities have tightened security in the southern Philippine city of Marawi for a study and prayer gathering called a "Joohur" attended by Muslims from across the country and from overseas.
Up to a 1,000 members of the non-political global missionary movement, Tableegi Jamaat Ijtima, or Tabligh, are gathered in Marawi for the three-day event that started on June 21.
Local civic leader Zia Alonto Adiong said the "Joohur" is a religious event staged by the Tabligh that aims to bring into Muslim consciousness the early days of Islam.
This year's activities are being held at the Abubakar Masjid in the Basak Malutlut area of the ravaged city where the 2017 conflict started.
In May 2017, a large gathering of Muslim missionaries provided cover for dozens of foreign militants who later joined local extremist groups who seized the city.
Most of the foreign fighters reportedly answered a call from Malaysian militant leader Mahmud Ahmad to rescue Filipino fighter Isnilon Hapilon who was injured in Mindanao.
Hapilon was later reported killing during the liberation of Marawi from the terrorist gunmen in October 2017.
Police Lt. Col. Ebra Moxsir, who is also a Muslim religious leader, stressed the significance of this year's event.
"This is an Islamic assembly to enhance our faith to our Creator and emphasize the significance of our preaching and revisiting our principles," Moxsir said.
"This will also allow us to see how we, as Muslims, are going to share our traits and principles that are very important during the time of the prophet," he added.
He said those attending the gathering will have to return to their communities and relay the message of the event.
Some people, however, have expressed apprehension about the event.
"There are posts on social media that there are [Islamic State fighters] inside Marawi attending the Joohur," said Brig. Gen. Romeo Brawner, commander of the army's 103rd Infantry Brigade.
"It is fake news," he said, but added he understood the fear and trauma of the residents.
The general assured that the organizer of the event had been coordinating with the military prior to it taking place.
He said "security measures" have been put in place to ensure the safety of participants and residents.
"We agreed that they should also police their own ranks and make sure no [foreign terrorists] can take advantage of the event," Brawner said.
He said organizers have also agreed to report any "suspicious-looking persons."
The provincial government of Lanao del Sur has also issued a statement dismissing rumors of an impending attack on Marawi.
"Security measures are already in place," it said in a statement.
Full report at:
https://www.ucanews.com/news/security-tight-in-marawi-for-muslim-religious-leaders-meeting/85473
--------
Face of Indonesian Islam: NU, Muhammadiyah nominated for Nobel Peace Prize
June 21, 2019
Top Indonesian scholars have supported the nomination of Nahdlatul Ulama (NU) and Muhammadiyah, Indonesia's two largest Islamic organizations, for the Nobel Peace Prize, saying the two groups have played a key role in promoting religious tolerance in the country and the region.
Catholic priest and renowned philosopher Franz Magnis-Suseno credited the two organizations for helping shape the face of Indonesian Islam.
NU and Muhammadiyah present the face of Islam that is completely different from what extremists are trying to portray, he said.
"Their role is very important. I and my other Indonesian friends nominate NU and Muhammadiyah for the Nobel Prize," Franz told a seminar titled Challenging Islamic Extremism in Indonesia, hosted by the Embassy of Republic of Indonesia in Oslo and the Peace Research Institute Oslo (PRIO) on Thursday.
He added that both groups, which were established before Indonesia's independence, played a part in nation-building.
"It is because of their attitude that Indonesian Islam stays moderate, that Indonesians enjoy internal peace and Indonesia is an important stabilizing factor in Southeast Asia and globally," Magnis said.
The participants of the seminar included dozens of academics, ambassadors, government officials, representatives of Norwegian civil organizations, as well as NU executive board chairman Marsudi Syuhud and Muhammadiyah secretary-general Abdul Mu'ti. The event was supported by Jakarta-based think tank Centre for Strategic and International Studies (CSIS) and the Wahid Institute.
Indonesian Ambassador to Norway Todung Mulya Lubis said the country was currently witnessing the emergence of religious extremism. Such extremism, he said, came from beyond its state borders and spread as an effect to globalization.
Once their ideas took root among the Indonesian people, religious conflicts would erupt and the country would practically vanish from the globe, said Lubis.
"Indonesia will be destroyed, just like Syria," he added.
Lubis argued that NU and Muhammadiyah, as the "backbone" of moderate Islam in Indonesia, were crucial to stemming the tide of religious extremism.
Noted Islamic scholar Azyumardi Azra acknowledged the two organizations' contribution in the making of Islam à la Indonesia.
"Indonesian Islam, no doubt, is a wasatiyyah Islam [justly balanced or middle-path Islam], which is by and large, an inclusive and accommodative Islam and the least Arabicized Islam," said Azra.
The noted historian, who is known for his seminal work The Origin of Islamic Reformism in Southeast Asia: Networks of Malay-Indonesian and Middle Eastern 'Ulama' in the Seventeenth and Eighteenth Centuries, outlined three points explaining why NU and Muhammadiyah were important for Indonesia.
First, the two strengthened social cohesion after the democratic transition in 1998.
"When Indonesia was swept by a democratic wave, these two organizations played a crucial role to maintain the unity of the nation," Azra said.
Second, Pancasila as the state ideology is adaptive to the concept of middle-path Islam promoted by NU and Muhammadiyah.
Azra said, "For mainstream Muslims, Pancasila is already Islamic enough. All the pillars of Pancasila are basically in conformity with the fundamental teaching of Islam."
Third, Indonesian Muslims have largely always chosen the middle path. Despite the fact that 87 percent of the Indonesian population is Muslim, Islamic parties have never won major elections.
"[Indonesian Muslims] prefer secular political parties. They believe that the middle path is the best one for Indonesia," Azra said.
He argued that as long as NU and Muhammadiyah uphold the middle path and Pancasila, the extremist groups would never win.
"NU and Muhammadiyah are too big to fail," he concluded.
Wahid Institute director Yenny Wahid said that proponents of moderate Islam had fought hard to curb religious extremism and radicalism.
"There is an increase of intolerance, but that does not mean that extremism and radicalism also increase," she said.
Yenny further argued that the involvement of some Indonesians in the global terrorism network did not necessarily reflect the general trend in the country.
The Wahid Institute was founded in 2004 to honor the ideas and intellectual vision of the late Abdurrahman "Gus Dur" Wahid, Indonesia's fourth president who was also a towering figure in NU.
According to Yenny, both NU and Muhammadiyah had provided counter-narrative against the highly divisive identity politics.
Two researchers from PRIO, Marte Nilsen and Trond Bakkevig, said the role of moderate Islamic organizations in Indonesia was vital to the emergence of a new Islamic power outside the Middle East.
"Indonesia can be an example of moderate Islam to the global society," said Nilsen.
Separately, Lubis noted a growing public support for the nomination of NU and Muhammadiyah for the Nobel Peace Prize from both national and international agencies. Former Timor Leste president Jose Ramos-Horta, who won the Nobel Peace Prize in 1996, is among those supporters.
Full report at:
https://www.thejakartapost.com/news/2019/06/21/face-of-indonesian-islam-nu-muhammadiyah-nominated-for-nobel-peace-prize.html
--------
MACC's list of RM270m 1MDB fund recipients: Who's who
22 June 2019
BY IDA LIM AND DANIAL DZULKIFLY
KUALA LUMPUR, June 22 ― The Malaysian Anti-Corruption Commission (MACC) yesterday announced it had started a civil lawsuit to recover RM270 million allegedly from 1Malaysia Development Berhad (1MDB) funds and which were said to have flowed from Datuk Seri Najib Razak's AmBank account.
Here is Malay Mail's compilation of who some of these 41 recipients are believed to be, based on news reports and other publicly-available information.
As the MACC did not provide any other identifying details on the individuals listed, we opted not to speculate on the people listed, to avoid incidents of mistaken identities.
But just before we go into the list below, it will be helpful to remember these facts:
Najib, 66, was prime minister of Malaysia from April 2009 to May 2018, and finance minister from September 2008 to May 2018. The 1MDB investment firm is under the Finance Ministry's Minister of Finance (MoF) Incorporated.
Najib is still the Pekan MP after serving the Pahang seat as federal lawmaker for decades, and was Umno president from March 2009 until May 2018. He won the Pekan Umno chief seat uncontested last year.
Three NGOs
1. Pertubuhan Kebajikan Dakwah Islamiah Malaysia (Pekida)
Pekida has in the past been in the news eg in relation to a controversy over then Home Minister Datuk Seri Ahmad Zahid Hamidi's alleged remarks in October 2013, and when one of its leaders in January 2015 urged police to investigate then Umno leader Datuk Khairuddin Abu Hassan for lodging a police report regarding 1MDB.
In June 2018, a man identified as a Pekida member was arrested over alleged online death threats against Prime Minister Tun Dr Mahathir Mohamad, but Pekida's president the next day denied that the man was a member.
Having been seen as a Malay right-wing group, a Pekida leader was in 2014 reported by local daily The Star as saying the group is a Muslim charity body.
2. Akademi Pemuda
An online search for Akademi Pemuda, which sounds like a generic name when translated to English (youth academy), suggests it is linked to Umno's youth wing. (Not to be confused with others such as the similarly-sounding Akademi Kepimpinan Pemuda by PAS.) A blog under Akademi Pemuda's name with the tagline Gagasan Generasi Gemilang has only four posts, all made in September 2009, including one that states that it was formed as a non-profit entity on May 17, 2002 with the aim of offering strategic planning and to carry out programmes in line with Umno Youth's vision.
It had then listed its chairman as Khairul Azwan Harun (who later became Umno deputy youth chief), and also featured Khairy Jamaluddin's photo as the then Umno Youth chief.
3. Gerakan Belia Gagasan 1Malaysia (GBG1M)
This group that sports the ubiquitous tag of the 1Malaysia concept pushed by Najib when he was prime minister also appears to have links to Umno, with its president Datuk Shahrul Nasrun Kamarudin currently an Umno Youth exco member for the term 2018-2021. According to Gerakan Belia Gagasan 1Malaysia's Facebook page, it was officially registered on December 13, 2011, with the aim of mobilising Malaysian youths to support the Gagasan 1Malaysia concept.
This group was in May 2012 reported to have protested outside then Bersih 2.0 co-chair Datuk Ambiga Sreenevasan's house against the polls watchdog Bersih 2.0's April 2012 rally for electoral reforms.
Five foundations
4. Yayasan Permata Malaysia
This foundation was reportedly launched on March 10, 2011 with an initial capital of RM4.4 million; it was formed to carry out all programmes under Permata which had Najib's wife Datin Seri Rosmah Mansor as its patron.
Rosmah had at the foundation's launch said the initial funds were contributed by organisations such as 1MDB, Yayasan AlBukhary, Khazanah Nasional and Perbadanan Nasional Berhad.
At the time of writing, Permata's website was down, but internet archives showed that Permata was a division parked under the Prime Minister's Department during the Najib administration.
In April 2019, Education Minister Maszlee Malik said the Permata Negara programme has been rebranded as Genius.
5. Yayasan Tun Hussein Onn
This is registered with the Companies Commission of Malaysia as having been formed in May 2002, with the stated nature of business including the purchase or maintenance of any office, workshop, mill, plant or machinery necessary for the foundation's purpose and is required to have the prior approval of the Inland Revenue's director-general.
It sounds really similar to Yayasan Guru Tun Hussein Onn, which had in December 2015 replaced the Teachers' Provident Fund (KWSG). It is currently unclear if these two entities are related or the same.
6. Yayasan PBAKM
Believed to be linked to the Community Development Department (KEMAS) under the Rural Development Ministry, Yayasan Persatuan Bekas Anggota KEMAS Malaysia (PBAKM) is registered with the Companies Commission of Malaysia as a company formed in August 2012.
This foundation carries out activities relating to the welfare of those who were formerly KEMAS members, and has been reported to provide financial aid for those who were formerly KEMAS contractual staff.
7. Yayasan Penyelidikan Transformasi (FORT)
Also registered with the Companies Commission of Malaysia as a company formed on October 10, 2013, its nature of business is stated as including the establishing, maintenance and administration of scholarships and educational grants, as well as the organisation of studies, research, seminars, conference and camp programmes.
This foundation is alternatively known as Foundation of Research on Transformation (FORT) where Najib was the patron, and has published lengthy books regarding Najib.
8. Yayasan Rahah
This foundation established by Najib's mother Tun Rahah Mohd Noah is also registered with the Companies Commission of Malaysia with the company number 530565-M and is listed as having been incorporated in 2000.
Yayasan Rahah was mentioned as the founder of Rumah Penyayang Tun Abdul Razak, a welfare home in Pekan, Pahang for orphans. The welfare home's trustees received a RM400,000 cheque from Najib issued from one of his AmBank accounts.
12 companies
9. Binsabi Sdn Bhd
According to Binsabi's website, the company was founded by former national shooter and the country's first Olympic shooting participant Datuk Sabiamad Abdul Ahad on March 26, 2010 as an event specialist currently serving more than 50 clients from both the private and government sector. It is registered with the Companies Commission of Malaysia with the stated business of constructing and supplying tents to government agencies.
Binsabi listed among its clients (although it was not specified if these are current or former clients) Umno, the Prime Minister's Office, various ministries, Kuala Lumpur City Hall and Petronas.
10. Rayhar Travels Sdn Bhd
In a press statement yesterday, Rayhar Travels explained that it was named in this case due to its receiving of a payment via cheque from an individual who had sponsored Pekan residents in 2013 for umrah or Muslim pilgrimage.
Rayhar Travels said it was notified in 2018 by authorities that the cheque was believed to have originated from Najib's Ambank account.
The travel agency, which was founded in 1990 and conducts Muslim pilgrimage trips, told customers that it was operating as usual.
11 and 12. Jakel Trading; Jakel Trading Sdn Bhd
A textile giant which can trace its roots back to Johor, it imports textiles which it sells wholesale, besides serving retail customers. It was named twice as respondents in MACC's forfeiture action.
In his own defence, Najib posted on Facebook yesterday that the funds paid to Jakel were for the supply of sarong, robes and other supplies via Umno and non-governmental organisations to over 7,000 mosques nationwide in conjunction with Ramadan for several consecutive years.
13. Perano Sdn Bhd
Incorporated on May 18, 2007, Perano Sdn Bhd is registered as an investment holding company that does business as a textiles trader.
One of the 26 subsidiaries under Jakel Trading, Perano Sdn Bhd owns the Muslim headscarf brand Galeri Hajra Tudung & Selendang and operates 10 branches nationwide.
14. Hattatex Trading
Based on a Google listing with crowd-sourced photos, this appears to be a textile store located along Lorong Tuanku Abdul Rahman in Kuala Lumpur. (It's that part of the city that is populated by textile stores and just four minutes' walk away from Jakel Trading's textile mall Jakel Mall).
15. K&Z Enterprise Sdn Bhd
Founded since April 1998, this long-standing company touts itself to be a leading garment manufacturer and exporter that has been dealing with clients in the US and Europe for over a decade.
The Johor Baru-based apparel company boasts a long list of certifications, including being a Walt Disney certified factory and Walmart certified factory.
16. Habib Jewels Sdn Bhd
Formed in 1958 in Penang, this little-known family business grew to be one of the nation's most renowned jewellers with some 30 branches nationwide.
Habib Jewels yesterday said that it had not formally received the court papers but confirmed that it has and will fully co-operate with the authorities in this case.
The company confirmed that all of its transactions were done "in good faith" and are supported by legitimate documentation, including any that may be under MACC investigations.
17. Naza Quest Auto Sdn Bhd
Naza Group yesterday said its subsidiary Naza Quest was named in the MACC forfeiture action due to two transactions of RM105,000 (in 2012) and RM164,662 (in 2013) for the purchase of four Chevrolet cars.
The Naza Group said in a statement yesterday that it would provide co-operation and the necessary assistance to the authorities regarding this matter.
18. AGA Touch (M) Sdn Bhd
Formed in June 2008, its nature of business is registered as being a website designer, software developer and information technology service provider.
On the website of the Shah-Alam based AGA Group of which it is part of, AGA Touch is named as having the Multimedia Super Corridor (MSC) Malaysia status as well as providing "tactical communications" and a "data-driven approach".
19. IPG Mediabrands Sdn Bhd
This company which provides media buying services has been incorporated since 1979.
20. Media Edge CIA (M) Sdn Bhd
This company in the communication, media & entertainment industry was listed as a finalist in two categories in the Malaysian Media Awards in 2010 for its work for advertising clients.
Full report at:
https://www.malaymail.com/news/malaysia/2019/06/22/maccs-list-of-rm270m-1mdb-fund-recipients-whos-who/1764527
--------
Mosque committee, groups hand over memorandum against Penang LRT alignment
21 June 2019
BY OPALYN MOK
GEORGE TOWN, June 21 — Members of the Masjid Jamek Sungai Nibong Besar Committee and several non-governmental organisations (NGOs) held a peaceful demonstration against the proposed alignment of the Light Rail Transit (LRT) that may pass over the mosque and Muslim burial grounds.
The group of about 100 held up banners demanding that the LRT alignment be shifted to another location so as not to affect the mosque and the cemetery.
They shouted for the mosque to be saved and for the state government to respect the Muslims in between of shouting Allahuakbar and Takbir.
Mohd Noor Kamarudin, the mosque committee's treasurer, said the group wants the state to realign the LRT so that it doesn't cross in front of the mosque.
"We don't want it to cross right in front of the mosque, we want the state to review the alignment," he said.
He also asked for the government to continue the construction of the mosque which was demolished last month.
The mosque was demolished to make way for a new mosque to be built on the same site.
He said construction works by the Public Works Department (PWD) on the new mosque have yet to start.
He later submitted a memorandum listing their demands with regards to the LRT alignment and construction of the mosque to a special officer of Penang Deputy Chief Minister I Datuk Ahmad Zakiyuddin Abdul Rahman's office.
The mosque was built back in the 1880s and is believed to be one of the oldest mosques in the state.
In 2010, the mosque's committee decided to demolish and build a new mosque as the old mosque could no longer accommodate its growing congregation.
Earlier today, Penang Chief Minister Chow Kon Yeow told a press conference that the alignment of the LRT has not been confirmed as it was not approved yet.
Full report at:
https://www.malaymail.com/news/malaysia/2019/06/21/mosque-committee-groups-hand-over-memorandum-against-penang-lrt-alignment/1764334
--------
North America
UN partially suspends food assistance for Yemen
Umar Farooq
21.06.2019
WASHINGTON
The United Nations World Food Programme (WFP) began to partially suspend food assistance program to areas in Yemen, a UN spokesman said Friday.
The suspension falls within areas of the country that is under the control of authorities based out of the capital Sanaa, which will affect 850,000 people.
UN spokesman for the Secretary-General Stephen Dujarric said the decision was "taken as a last resort" after negotiations between both parties to introduce controls stopping the diversion of food had stalled.
However, the organization will continue their nutritional programs for children suffering from malnutrition, and pregnant and nursing mothers.
Yemen has been beset by violence and chaos since 2014, when Houthi rebels overran much of the country, including the capital Sanaa.
The crisis escalated in 2015 when a Saudi-led military coalition launched a devastating air campaign aimed at rolling back Houthi territorial gains.
Since then, tens of thousands of Yemenis, including civilians, are believed to have been killed in the conflict, while another 14 million are at risk of starvation, according to the UN.
According to UN figures, Yemen is facing one of the world's worst humanitarian crises, with more than 10 million people driven to the brink of famine. More than 22 million people in Yemen are desperate for humanitarian aid and protection.
The spokesperson said that some people were trying to profit by praying on the most vulnerable and diverting food away from where it is most needed.
The organization suggested a biometric system that could identify individuals in order to ensure food reaches families in need of supplies the most.
Dujarric said the WFP "remains optimistic that a way forward can be found and is ready to immediately resume food distribution" once an agreement on the biometrics is reached.
https://www.aa.com.tr/en/americas/un-partially-suspends-food-assistance-for-yemen/1512359
--------
Trump, Saudi prince discuss Iran 'escalatory behavior'
Michael Hernandez
21.06.2019
WASHINGTON
U.S. President Donald Trump spoke Friday with Saudi Crown Prince Mohamed bin Salman to discuss Iran's "escalatory behavior."
In addition, the leaders "discussed Saudi Arabia's critical role in ensuring stability in the Middle East and in the global oil market," the White House said in a brief statement.
Oil prices have surged as much as 10% over the past week amid regional tensions that have been rising between the U.S. and Iran since Washington unilaterally withdrew last year from a landmark 2015 nuclear deal between Tehran and the five permanent members of the UN Security Council plus Germany and the EU.
The U.S. has since embarked upon a diplomatic and economic campaign to ramp up pressure on Iran to force it to renegotiate the agreement.
Part of its campaign has included the re-imposition of U.S. sanctions on exports of Iranian crude oil, which has sent the Iranian economy into a nosedive. The U.S. has largely relied on Saudi Arabia to make up the declined global oil outputs following the economic penalties on Iran.
The U.S. has also increased its military presence in the Middle East, deploying a carrier strike force, bomber task force and Patriot missile battery and using threats from Iran as justification for the actions.
Full report at:
https://www.aa.com.tr/en/americas/trump-saudi-prince-discuss-iran-escalatory-behavior/1512296
--------
Federal indictment: Suspect sent bomb threats to judges 'for cause of Islamic State'
June 20, 2019
A former inmate at Blackwater River Correctional Institution in Milton claimed he threatened to blow up the secretary of state and several judges around Florida "for the cause of the Islamic State," a federal indictment issued this week said.
Noah D. Stirn, 24, was indicted on 12 counts Tuesday relating to letters to state and federal agencies he allegedly sent out while a state inmate between April and May. The letters threatened to use "C4" and "car bombs" to do harm to public officials, Lawrence Keefe, U.S. Attorney for the Northern District of Florida, announced today.
He was originally charged by a criminal complaint sworn out by the Federal Bureau of Investigation. The FBI affidavit said Stirn admitted to writing threatening letters to the Florida Secretary of State, the Social Security Administration, and several U.S. courts in Pensacola, Miami, Gainesville, Panama City and Tallahassee.
The indictment describes six separate letters Stirn sent to federal judges in both the Southern and Northern Districts of Florida. In another letter he claims, "This is a direct attack on the U.S. Government."
Stirn first sent a threatening letter around April 23 to the U.S. Southern District Court in Miami saying, "There is an improvised explosive device inside of your building ... This is an orchestrated attack in the name and for the cause of the Islamic State."
The so-called Islamic State — also known by the Arabic acronym Daesh — is a militant group and former proto-state that Stirn mentions in other threatening letters, the indictment said.
A letter addressed to the same court dated May 6 said there were bombs in the building and, "Some of this federal Courthouse will explode when our I.S. cell detonates ... Death to America, truly."
A day later, a similar letter was sent to the U.S. Northern District stating there was a bomb in the courthouse made of "TEXTER UNIBOX C4" and other "combustible liquids are hidden as well, with something similar to a pipe bomb, in cooper encasing."
A similar threat was sent to the Florida Secretary of State that cleared out the R.A. Gray Building for about 40 minutes the morning of May 17.
The letter addressed to the Secretary of State was postmarked "Mr. Noah Devon Stirn," gave his inmate number and the street address in Milton for the Blackwater prison. "THIS LETTER IS NOT A JOKE OR A HOAX," the letter said and was "of 100 % unquestionable fact."
It described that explosives, pipe bombs and "TEXTER UNIBOX C4" was placed in their offices and "a car bomb for the Secretary of State which should be in place as you read this. Your terror, as I imagine, is well deserved."
The grand jury indictment filed Tuesday merely alleges that a defendant has violated federal law and is not evidence of guilt. His arraignment is scheduled for 2 p.m. Tuesday before U.S. Magistrate Judge Hope T. Cannon in Pensacola.
Stirn was serving a 10-year, four-month sentence for grand theft auto, witness tampering and witness intimidation with force when the federal charges were initially filed in May. The Collier County Sheriff's Office also has lodged a detainer against Stirn for pending charges relating to a false bomb threat.
Keefe said the investigation included the FBI, U.S. Marshals Services, the Florida Department of Law Enforcement, the Pensacola Police Department, and the Tallahassee Police Department.
The FBI was initially notified May 8 by the U.S. Marshal Service about a letter sent to the U.S. District Court in Pensacola that said judges were being followed home, and if they didn't resign gang members would kick in the doors of their homes and "viciously murder the judges" and their families, the FBI affidavit said.
Two days later, the FBI received a report from the U.S. District Court in Miami that judges received a threatening letter from Stirn, saying, "I have assisted in planning and strategy to place Texter Unibox C4 into your judicial chambers, explosives, in order to assassinate Magistrate Judge P. White for his political wrongdoing." The letter also said there were bombs in the building, and "Im not crazy. This is no damn joke."
Instructions were included demanding a wire transfer of $50,000 to a specified account, and once confirmed, he would call off the murders.
A letter delivered to the Social Security Administration in Pensacola May 14 forced the building's evacuation while police dogs swept for explosives that were said to be planted. Among the usual threats was the statement that "this is a direct attack on the U.S. Government."
A day later, Pensacola police reported a similar letter delivered to the U.S. Attorney's Office, again addressed by Noah Stirn.
On May 16, Blackwater correctional officers told the FBI that Stirn had placed four other letters in the outgoing mail the previous day that hadn't left the building yet. They were addressed to the clerks of U.S. District Court in Panama City, Gainesville, Tallahassee, and Pensacola.
After reading Stirn his rights, FBI agents said, he admitted that he wrote the letters and placed them in the outgoing mail, stating he disagreed with various policies of the U.S. government and this was his attempt to change those policies.
Full report at:
https://www.tallahassee.com/story/news/local/state/2019/06/20/bomb-threats-federal-indictment-suspect-sent-bomb-threats-judges-for-cause-islamic-state/1509866001/
--------
Two suburban men guilty of providing support to Islamic State
By Jon Seidel
Jun 20, 2019
The FBI descended on their north suburban home in a raid two years ago that began with a "boom," neighbors said.
Then, the feds unveiled a 77-page criminal complaint in April 2017 that accused Joseph D. Jones and Edward Schimenti of sharing gruesome Islamic State videos online, fantasizing about the ISIS flag "on top of the White House" and, crucially, collecting cellphones they thought could be used as detonators by terrorists overseas.
Now, the 37-year-old Zion men have been found guilty of a conspiracy to provide material support to the Islamic State. A jury convicted them Thursday after more than a day and a half of deliberations, ending their roughly three-week trial.
The jury also found Schimenti guilty of lying to the FBI about a matter involving international terrorism. Both men face significant prison time at sentencing hearings that have not been scheduled.
Schimenti and Jones looked sullen after U.S. District Judge Andrea Wood read the verdict Thursday afternoon. Jones' lawyer, Patrick Boyle, later told reporters he was disappointed. It's rare for a terrorism case to go to trial at the Dirksen Federal Courthouse. And in the lead-up to this one, defense attorneys convinced the judge they should be allowed to present an entrapment defense to the jury.
The investigation of Schimenti and Jones lasted a year and a half, and it involved several law enforcement agents working undercover, records show. Their attorneys said they never "took any affirmative steps" to help the terrorist group until a federal confidential informant got involved.
"They never researched on their computers how to make explosives, or how cell phones can work as detonators," the lawyers argued.
Prosecutors said Jones shared Islamic State videos that depicted the deaths of people who were beheaded by a child soldier, drowned in a cage, and blown up by a rocket-propelled grenade while locked inside a vehicle. Another video demonstrated various ways to stab someone. It was titled, "Some of the Deadly Stabbing Ways: Do not Forget to Poison the Knife."
Still, their lawyers argued, "this is all protected speech, [no] matter how morally objectionable it may seem. Supporting distasteful, objectionably horrible groups is in and of itself not a crime. In fact, it is protected by the Constitution."
Schimenti crossed paths with one of the FBI's confidential informants in November 2016, records show. He was led to believe the man was from Iraq and had a brother in ISIS. Schimenti told him he supported ISIS and, when the man said he wanted to return to the Middle East to fight for the group, Schimenti introduced him to Jones.
Schimenti also met the man at a gym for physical training exercises, records show. There, Schimenti told the man about ISIS videos and how their fighters trained hard, even "jumping through fire." He told the man, "inshallah [God willing] the brothers will just have me be the one to cut the neck."
Ultimately, Schimenti and Jones helped that man collect cellphones they thought would be used as detonators, introduced him to an undercover fed they believed would get him overseas, and then drove the man to O'Hare Airport to begin his journey on April 7, 2017.
Schimenti allegedly told the man to "drench that land with they, they blood."
During the investigation, an undercover fed asked Jones if he ever thought about joining ISIS. Jones replied, "every night and day," court records show. Schimenti also fantasized about how, under Islamic law, they could put gay people "on top of Sears Tower and we drop you," according to the feds.
"I want to see blood flowing, whatever way," Schimenti said.
Full report at:
https://chicago.suntimes.com/crime/2019/6/20/18693529/islamic-state-isis-edward-schimenti-joseph-jones
--------
Police: Terrorism suspect swore allegiance to ISIS before attacking MCSO deputy
June 20, 2019
A man facing terrorism charges called a 911 dispatcher and swore allegiance to ISIS before attacking a Maricopa County Sheriff's deputy, according to a recently unsealed Sheriff's Office report.
The report claims 18-year-old Ismail Hamed repeatedly called 911 on the evening of Jan. 7 and demanded that a Maricopa County Sheriff's Office deputy meet him at an MCSO substation in Fountain Hills. He also swore allegiance to ISIS, the report says.
Police say Hamed threw rocks and approached the responding deputy, Sgt. Brandon Wells, with a three-inch knife before Wells shot him. Hamed was treated at a Scottsdale hospital before being booked into jail on one count of aggravated assault involving a deadly weapon.
But prosecutors eventually filed a complaint charging him with aiding a terrorist organization and engaging in an act of terrorism. A grand jury agreed to indict Hamed on the terrorism charges on Jan. 17.
Maricopa County Sheriff Paul Penzone held a press conference shortly after the confrontation where he claimed Hamed wanted to harm or kill Wells as part of a terrorist ideology but refused to elaborate.
'Spirit of Columbine is within me'
A previously sealed police record claims Hamed shared multiple YouTube videos linked to terrorist organizations — including Osama Bin Laden's declaration of jihad — to a group chat between himself and several friends.
Police highlighted Hamed's text messages that reference various mass shootings, including the ones that occurred on the Las Vegas Strip and a nightclub in Orlando.
In one instance, Hamed texted "the spirit of columbine is within me" — referencing the infamous high school massacre — to a friend in September 2018.
Another highlighted text says "Life without jihad is meaningless."
But police interviews with Hamed's family and coworkers painted a different persona.
Hamed's parents described their son to investigators as a mild-mannered person who shied away from conflict and were stunned to learn of the charges against him.
Full report at:
https://www.azcentral.com/story/news/local/scottsdale-breaking/2019/06/20/police-terrorism-suspect-swore-allegiance-isis-before-attacking-mcso-deputy/1483219001/
--------
Pompeo: 2018 faced 'chilling array' of religious abuses
Umar Farooq
21.06.2019
WASHINGTON
U.S. Secretary of State Mike Pompeo rolled out the State Department's report on religious freedom Friday, saying it found a "chilling array of abuses" on religion last year.
Pompeo called out China, Iran, and Russia for religious freedom violations, as well as Myanmar for its oppression of Rohingya Muslims in the Rakhine state.
According to Amnesty International, more than 750,000 Rohingya refugees, mostly women and children, fled Myanmar and crossed into Bangladesh after Myanmar forces launched a crackdown on the minority Muslim community beginning in August 2017.
The UN has documented mass gang rapes, killings -- including of infants and young children -- brutal beatings and disappearances committed by Myanmar state forces.
The report, which documented the countries in 2018, also added a separate section on China's persecution of Uyghur Muslims, saying that "history will not be silent about these abuses."
The State Department moved up Uzbekistan in their report this year, moving from being a Country of Particular Concern (CPC) to being placed on a special watch list after making significant progress in religious freedom.
The CPC list is comprised of countries that have the lowest records of religious freedom and are subject to U.S. sanctions.
It was created from the International Religious Freedom Act of 1998, enacted by Congress as a foreign policy tool to raise awareness about religious freedom violations around the globe.
Pompeo, however, made no mention of Saudi Arabia, which is also on the CPC list.
When asked about Saudi Arabia, Sam Brownback, the U.S. ambassador on religious freedom, told reporters that the country "continues to be one of the worst actors in the world on religious persecution."
Full report at:
https://www.aa.com.tr/en/americas/pompeo-2018-faced-chilling-array-of-religious-abuses/1512424
--------
Iran decries US 'drone airspace intrusion'
Muhammet Kursun
21.06.2019
Iran has protested the "violation" of its airspace by a U.S. "spy drone" which it downed on Thursday.
In an emergency phone call, Deputy Foreign Minister Seyyed Abbas Araqchi expressed his country's protest to Swiss Ambassador in Tehran Markus Leitner, whose country represents U.S. interests in Tehran, Iran's Foreign Ministry said in a statement Friday.
On Thursday, Iran's military released a video of the downing a U.S. surveillance drone over the Strait of Hormuz.
Iran and the U.S. dispute the drone's location when it was downed. Tehran maintains the drone violated its airspace, while Washington says it was in international airspace.
Araqchi asserted there was "indisputable evidence that the drone had breached Iran's airspace."
"This was not the first time Americans have committed such an act, as this has happened a number of times before," he stressed.
Tehran "will not hesitate for a moment to decisively defend its territory against any aggression," Araqchi added.
Following the incident, U.S. President Donald Trump said on Twitter that "Iran made a very big mistake."
Full report at:
https://www.aa.com.tr/en/americas/iran-decries-us-drone-airspace-intrusion/1511789
--------
Europe
Months after the fall of ISIS, Europe has done little to take back its fighters
By Michael Birnbaum
June 20, 2019
BRUSSELS — European leaders have hammered the United States for nearly two decades about the injustice of Guantanamo Bay, where prisoners are held indefinitely at a detention camp outside the normal U.S. justice system.
But faced with what to do about European nationals who went to fight for the Islamic State and ended up in Syrian detention camps, the continent's leaders are proving reluctant to bring their citizens to trial at home.
Three months after the collapse of the Islamic State, about 2,000 foreign fighters are imprisoned in Syria and Iraq, and about 800 of them are believed to be European, according to U.S. officials. Those figures don't include the thousands of wives and children with foreign citizenship.
European leaders have made little movement to repatriate their citizens, even as U.S. and Kurdish authorities beg them to take back their people. Some security officials warn that inaction could enable future attacks, and human rights advocates deplore the conditions in overcapacity camps.
"It's obvious that there is a humanitarian crisis unfolding in the camps in northeast Syria and the prisons in Iraq that are holding thousands of foreigners," said Letta Tayler, a global terrorism researcher at Human Rights Watch. "Western Europe's response has been to look the other way. It just goes against everything that Western Europe says it stands for."
European leaders have taken a hard look at what their domestic populations want — and blinked. Popular opinion is overwhelmingly against bringing back the European fighters. The anger sharpened after terrorist attacks in Paris in 2015 and Brussels in 2016, in which some of the perpetrators had visited the caliphate.
"Ordinary Belgians want them to be taken care of over there," said Koen Metsu, a Belgian lawmaker who has worked on security issues. The Europeans who joined the Islamic State "knew up front what they were about to do," he said.
Even bringing back the children of the fighters is unpopular. France and the Netherlands have taken back orphans in recent days, because those children are free from the leaden political baggage of having parents who might also want to return alongside them. Belgium last week announced plans to do the same. Britain, meanwhile, has sought to strip suspected Islamic State sympathizers of their citizenship.
Some fighters and sympathizers have been convicted in absentia — unable to appear at their European trials because they were in Syria. But authorities have little appetite to bring people home to serve their sentences.
European countries have also begun to outsource prosecutions to Iraqi courts. Justice is swift, the burden of proof light, access to lawyers minimal and the punishment consistent: death by hanging, according to human rights groups who have witnessed the proceedings. In recent weeks, 11 French citizens, among others, have been sentenced to death. France, which opposes the death penalty, signaled it will not stand in the way of the trials, saying it respects Iraqi sovereignty.
Eight of 11 French nationals sentenced to death by a Baghdad court for joining the Islamic State. From left, top: Vianney Ouraghi, Salim Machou, Mustapha Merzoughi, Brahim Nejara. Bottom: Fodil Tahar Aouidate, Kevin Gonot, Yassine Sakkam and Leonard Lopez. (AFP/Getty Images)
Advocates of shifting prosecutions to Iraqi courts, including Metsu, acknowledge that some fighters may have fought in Syria only, not Iraq, raising questions whether Iraqis truly have jurisdiction. But they say justice is better served close to where crimes were committed and where witnesses and evidence are nearby.
The question of whether to reclaim fighters and their families is less pressing for the United States, because only a few dozen U.S. citizens are known to have traveled to join the Islamic State, according to counterterrorism analysts. But America has started to bring its people home. This month, six children and two women were flown back from the al-Hol camp to be resettled in the United States, according to Syrian Kurdish authorities. Three men and a woman are awaiting U.S. trial. Three others agreed to plea deals. And one Virginia man is appealing a sentence of 20 years for providing material support to a designated terrorist organization.
U.S. officials, having made greater progress than their European counterparts, have sought to claim the moral high ground and to impress that the current situation is not sustainable.
"It is not a solution to leave these people in camps in northeast Syria. This is a burden on the people of northeast Syria," James Jeffrey, the U.S. special representative for Syria engagement, told reporters last week. "It is absolutely imperative that countries take action as necessary to deal with their own citizens."
The challenge bloomed as a U.S.-led coalition took over the final pockets of Islamic State territory in Syria and Iraq. That sent a wave of refugees and ex-fighters into the already fragile camps in Kurdish-controlled northeast Syria. Many of the men are in improvised prisons. Women and children are not under the same tight control, but those suspected of Islamic State sympathies are not allowed to move freely.
At al-Hol, more than 73,000 people are packed into facilities built to house about half that. The camp population includes 3,200 foreign women and 7,900 foreign children, alongside more than 60,000 Syrians and Iraqis, according to Kurdish authorities. There are just three mobile clinics at the camp, and shortages of medicine are acute.
The Kurdish forces who operate the jammed camps have few resources. Some of them complain they are being forced to lavish more money on their defeated enemies than on their own war-frayed population.
Meanwhile, President Trump has said he wants to withdraw U.S. forces from the region. A pullout could threaten the viability of the camps, because the U.S. military has been a crucial source of support for the Kurds.
Trump tweeted his frustration at the end of April: "European countries are not helping at all, even though this was very much done for their benefit. They are refusing to take back prisoners from their specific countries. Not good!"
The inaction by European politicians also comes over the objections of some of their own security officials. Many who work to keep Europeans safe — but who don't have to win their votes — would prefer to keep terrorism suspects and convicts close by, where they can be watched, instead of running the risk they could vanish abroad and plot future violence.
"There is a disconnect between the political world that is very concerned about the political risks that are associated with the repatriation of terrorists, and the various services that are dealing with counterterrorism daily," said Thomas Renard, a terrorism expert at the Brussels-based Egmont Institute. "Having these individuals here, prosecuting them here, is not only feasible but also probably less problematic."
"Purely from a security point of view, we should not make the mistakes of the past. We should not create a new Guantanamo Bay," said one senior European security official, who spoke on the condition of anonymity to discuss sensitive assessments that do not line up with those of national leaders.
Many of Europe's objections to Guantanamo, the U.S. detention facility in Cuba, had to do with torture. But other factors that led the United States to detain people there — a lack of confidence in civilian courts to handle terrorism trials and a fear of the political backlash of bringing terror detainees onto U.S. soil — echo in the European decisions, the official said.
European sentences for terrorism-related charges tend to be lighter than in the United States — the lightest offenses are punishable with two- to five-year sentences. Prisons can be hotbeds of radicalization. And European politicians warn that mustering the battlefield evidence necessary for convictions on serious charges can be difficult. Some countries, such as Sweden, never criminalized travel to Syria, making it difficult for law enforcement to charge people for basic association with the Islamic State.
"It's political suicide to try to bring them back, because the public doesn't want them back," said Magnus Ranstorp, a counterterrorism expert at the Swedish Defense University. "They've committed atrocities, but you cannot convict them. And if you can convict them, it won't be for that long unless you can prove murder. It's a ripe mess."
Swedish leaders are advocating a different approach.
"We said we will not repatriate terrorists to Sweden," said Swedish Home Affairs Minister Mikael Damberg in an interview. Damberg has pushed for an international tribunal near Syria to prosecute Islamic State crimes. He said that would provide a way to process the detainees without bringing them to Europe.
"Not doing anything in the region, close to evidence and witnesses, is also complicated, and risks not actually prosecuting and condemning them," he said.
Skeptics of the effort, including the U.S. government, say setting up a tribunal could take years, by which time evidence would be lost and memories faded. They also say it would force an even bigger burden on Iraq, which is already struggling to rebuild after Islamic State occupation. The Iraqi government is in talks to take back about 30,000 of its own citizens who traveled to Syria to live under Islamic State rule.
Some families of terrorism victims say they would prefer that justice be served closer to home.
"We want those trials to happen in France," said Georges Salines, whose daughter, Lola, died in the 2015 Paris terrorist attacks. "We really want for those people to be heard by judges. We want to know how they got radicalized."
Quentin Ariès contributed to this report.
https://www.washingtonpost.com/world/europe/after-caliphate-collapsed-europe-has-done-little-to-take-back-those-who-joined-isis/2019/06/20/4bab9cc2-8bc4-11e9-b6f4-033356502dce_story.html?noredirect=on&utm_term=.647c239d8d99
--------
US deliberately pushing Iran situation to brink of war: Russia
Jun 21, 2019
Russia says the United States is deliberately stoking dangerous tensions around Iran and pushing the situation to the brink of war.
Deputy Foreign Minister Sergei Ryabkov on Friday called on Washington to weigh the possible consequences of a conflict with Iran, the RIA news agency reported.
The Russian diplomat touched on a report in the New York Times, saying it showed the situation was extremely dangerous.
The US paper reported on Friday that President Donald Trump had approved military strikes against Iran for downing an intruding American spy aircraft, but pulled back from launching them on Thursday night.
Trump initially issued a series of cataclysmic threats, insisting that the RQ-4 Global Hawk was flying over international waters when it was taken down by an Iranian missile.
However, the GPS coordinates released by Iran put the drone eight miles off the country's coast, inside the 12 nautical miles from the shore, which is Iran's territorial waters.
US envoy, Saudi defense official discuss Iran
Following the downing of the RQ-4 Global Hawk drone, US Special Representative for Iran Brian Hook met Saudi Arabia's Deputy Defense Minister Prince Khalid bin Salman in Riyadh on Friday.
"Pleased to meet with United States Special Representative for Iran Mr. Brian Hook to explore the latest efforts to counter hostile Iranian acts and continuous escalation that threaten the region's security and stability," the Saudi minister tweeted.
He said he had affirmed Riyadh's support for the US' "maximum pressure campaign" on Iran, and discussed what he called "Iranian attacks" on Saudi Arabia.
Full report at:
https://www.presstv.com/Detail/2019/06/21/599049/Iran-US-War-Russia-warn-ryabkov-Saudi-Arabia-Hook
--------
Turkey slams Greece for violating Lausanne Peace Treaty
Ali Murat Alhas
22.06.2019
Turkey on Friday decried a decision by Greece that local religious leaders, known as muftis, among the Turkish minority living in the Western Thrace would henceforth be appointed by the state instead of being elected by the local people.
"Greece violates the Lausanne Peace Treaty by not recognizing the muftis selected by the Turkish minority," Foreign Ministry Spokesman Hami Aksoy said.
Aksoy, said the move violated the minority's religious rights.
Underlining that this decree would eliminate the autonomy of the Mufti establishment in the country, he urged Greece to have intimate and comprehensive communication with the Turkish minority to resolve this problem in line with the Lausanne Treaty.
He said Greece must recognize the muftis elected by the minority and reverse its policy of imposing illegally appointed ones.
Aksoy also underlined that it was "worrying" that such intrusive and negative acts took place in an EU member state.
In Greece, the muftis of the Turkish minority in Western Trace are appointed by the government; however, the Turkish minority rejects this policy and demands the muftis be locally-elected by them.
Today, about 150,000 ethnic Turkish people reside in Western Thrace with their status set by the Lausanne Peace Treaty of 1923 and their rights guaranteed by several bilateral and multilateral agreements.
Full report at:
https://www.aa.com.tr/en/europe/turkey-slams-greece-for-violating-lausanne-peace-treaty/1512458
--------
South Asia
Sri Lanka extends state of emergency in surprise move
22 June 2019
A state of emergency was extended by Sri Lanka's president Saturday, going back on pledges to relax the tough laws introduced after the Easter Sunday attacks that killed 258 people.
Maithripala Sirisena said in a decree he believed there was a "public emergency" in the country, and was invoking provisions of the public security act extending the state of emergency.
The tough laws, granting sweeping powers to police and security forces to arrest and detain suspects, were due to expire on Saturday.
Just over 100 people, including 10 women, are in custody in connection with April's Easter Sunday suicide attacks against three churches and three luxury hotels in Colombo.
In late May, Sirisena told diplomats -- from Australia, Canada, Japan, the US and European states -- the security situation was "99 percent back to normal" and he would allow the emergency laws to lapse by June 22.
He assured diplomats security forces had either detained or killed all those directly involved in the attacks, blamed on a local jihadi group and claimed by the Islamic State group.
There was no immediate word from the government why Sirisena changed his mind, but security remains tight in the capital.
The emergency can be declared for a month at a time, and parliament must ratify it within 10 days.
The continuation of the emergency came as police announced criminal investigations against several top officers, including the Inspector-General, for negligence and lapses ahead of the bombings.
Sirisena himself has been criticised for failing to act on precise Indian intelligence that jihadists were about to hit Christian churches and other targets in Sri Lanka.
A parliamentary public inquiry has been told Sirisena -- who is also the minister of defense and law and order -- failed to follow proper national security protocols.
The mainly Buddhist nation of 21 million people was about to mark a decade since ending a 37-year-long Tamil separatist war when the Islamic extremists struck.
https://english.alarabiya.net/en/News/world/2019/06/22/Sri-Lanka-extends-emergency-in-surprise-move.html
--------
Taliban delegation holds talks in China as part of peace push
JUNE 20, 2019
BEIJING (Reuters) - China recently played host to a Taliban delegation as part of efforts to promote peace and reconciliation in Afghanistan, China's foreign ministry said on Thursday.
Representatives of the Taliban, who have been fighting for years to expel foreign forces and defeat the U.S.-backed government in Kabul, have been holding talks with U.S. diplomats for months.
The focus has been the Taliban demand for the withdrawal of U.S. and other foreign forces, in exchange for guarantees that Afghanistan will not be used as a base for militant attacks.
Taliban negotiators have also met senior Afghan politicians and civil society representatives, including in Moscow recently, as part of so-called intra-Afghan dialogue to discuss their country's future.
Chinese foreign ministry spokesman Lu Kang told a daily news briefing that Abdul Ghani Baradar, the Taliban representative in Qatar, and some of his colleagues had recently visited China, though he did not say exactly when.
Chinese officials met them to discuss the Afghan peace process and counter-terror issues, Lu told the briefing, without saying who met the delegation.
"China pays great attention to the evolving situation in Afghanistan in recent years. We have always played a positive role in the Afghan peace and reconciliation process," Lu said.
China supports Afghans resolving their problems themselves through talks, and this visit was an important part of China promoting such peace talks, he said.
"Both sides believe that this exchange was beneficial and agreed to keep in touch about and cooperate on continuing to seek a political resolution for Afghanistan and fighting terrorism."
China's far western Chinese region of Xinjiang shares a short border with Afghanistan.
China has long worried about links between militant groups and what it says are Islamist extremists operating in Xinjiang, home to the mostly Muslim Uighur people, who speak a Turkic language.
China, a close ally of Pakistan, has been deepening its economic and political ties with Kabul and is also using its influence to try to bring the two uneasy neighbors closer.
Full report at:
https://www.reuters.com/article/us-china-afghanistan/taliban-delegation-holds-talks-in-china-as-part-of-peace-push-idUSKCN1TL0V9
--------
Over 2 dozen militants including 16 commanders killed in N. Afghanistan
2019-06-20
MAIMANA, Afghanistan, June 20 (Xinhua) -- A total of 26 militants including 16 senior and junior Taliban commanders have been killed in the beleaguered Ghormach district of the western Badghis and parts of the neighboring northern Faryab province in target attacks over the past 24 hours, an army spokesman in the northern region Mohammad Hanif Rezai said Thursday.
According to the officials, the senior commanders killed in the air raids backed by the NATO-led Resolute Support mission include Hajji Mullah the Taliban military chief for Ghormach, Mullah Abdul Rauf, Mullah Abdul Sattar, Mullah Torjan and Qari Surgul and 11 junior group commanders.
Full report at:
http://www.xinhuanet.com/english/2019-06/20/c_138159391.htm
--------
Lankan cops to face charges for Easter blasts
Jun 22, 2019
COLOMBO: Nine senior Sri Lankan police officials will face criminal investigations for their failure to act on the intelligence warnings, including from India, to prevent the Easter Sunday attacks that killed 258 people.
Attorney general Dappula de Livera directed acting inspector general of police Chandana Wickramaratne to conduct the probe against the officers found liable for criminal negligence during an inquiry commission appointed by President Maithripala Sirisena.
A series of coordinated blasts targeted churches and hotels, killing 258 people. India had issued a warning to the neighbouring country in early April about the possibility of attacks at various locations.
https://timesofindia.indiatimes.com/world/south-asia/lankan-cops-to-face-charges-for-easter-blasts/articleshow/69898953.cms
--------
Rights Groups Slam ASEAN's Positive Take on Rohingya Repatriation Plan
By Zsombor Peter
June 21, 2019
BANGKOK - A report by the Association of Southeast Asian Nations (ASEAN) on Myanmar's readiness to repatriate Muslim Rohingya who fled to neighboring Bangladesh paints a mostly positive picture of the country's efforts.
But rights groups say the report glosses over still-dangerous realities in western Myanmar's Rakhine State, where the U.N. accuses the country's security forces of orchestrating a violent campaign of ethnic cleansing in late 2017 that drove some 700,000 Rohingya across the border.
The rights advocates are urging the regional bloc to rethink its approach and focus on the root causes of the crisis at its leader summit in Bangkok this weekend.
At its last leader summit in November, ASEAN called on its disaster management unit, the AHA Center, to assess Myanmar's readiness to resettle the refugees and how the center could help.
Bangladesh and Myanmar agreed in November 2017 to start repatriating volunteer refugees within two months. But hardly any of them have taken up the offer, insisting that Myanmar first ensure their safety and rights to land, freedom of movement and citizenship.
The U.N. has repeatedly said that conditions are "not conducive" for the Rohingya's return.
The yet-to-be-released report, or "preliminary needs assessment," obtained by VOA, concludes that the Myanmar government "has made substantial effort in terms of developing procedures, processes and systems, as well as in building facilities to ensure a smooth and orderly repatriation process."
It says communal relations between the Buddhist Rakhine and those Rohingya who stayed behind "while stable, is fragile," kept in check only by an "invisible line that separates them."
With the right technical help, it adds, Myanmar could repatriate 500,000 Rohingya in two years.
But in a statement, Human Rights Watch rebuked the bloc over the report for all but ignoring the alleged spree of state-sponsored rape, murder and arson that drove the Rohingya out, not consulting with the refugees themselves, and avoiding the very term "Rohingya," which the Myanmar government rejects.
Amnesty International told the French news agency, which first reported on the assessment, it was "astonished" that it downplayed the military's alleged crimes, the continued segregation of Rohingya in western Myanmar displaced by earlier bouts of communal violence, and ongoing fighting there between the military and Rakhine rebels.
"From the grassroots level, a lot of the Rohingya feel ...that the situation on the ground is not safe and that the conditions for repatriation will not be met. So there is a disconnect there between the sort of overoptimistic representation in the report versus what the Rohingya on the ground actually feel," Saqib Sheikh, a program director with the Rohingya Project, which aids displaced Rohingya, told VOA.
Calls to the AHA Center's head office in Jakarta, and an emailed request for comment, went unanswered Friday.
But the center's executive director, Adelina Kamal, defended the report in an interview with Channel NewsAsia earlier this month.
Kamal said the Emergency Response and Assessment Team (ERAT) the center sent to western Myanmar had a very specific mission to look for ways the bloc could help Myanmar improve its repatriation plan.
"ASEAN's ERAT has specific areas of expertise — disaster management," she said.
"And so we have been requested by Myanmar to provide assessment for them — it's very focused and we cannot go beyond our mandate."
The "preliminary needs assessment" says it was beyond that mandate to judge whether broader conditions were conducive for repatriation. It adds that a "comprehensive needs assessment" that could answer that would follow once the first few thousand refugees start to return, or after.
"The main concern there is, that may be too late," said Sheikh
"Unless you can guarantee that not just security, but also ... the more fundamental issues of citizenship and due human rights to the Rohingya, whether they're going to be met — if that's still in a cloud, then it wouldn't really make sense to begin a repatriation process," he said.
The report says Rohingya technically have a path to citizenship via Myanmar's 1982 Citizenship Act.
But it's not that simple, said Phil Robertson, Human Rights Watch's deputy Asia director.
"Every reading I've seen of the 1982 Citizenship Act indicates very clearly that the vast, vast majority of Rohingya would be excluded, that they would not be found to be citizens and that they would be officially rendered stateless persons since they would be neither of Bangladesh nor Burma," he told VOA, using another term for Myanmar.
Full report at:
https://www.voanews.com/east-asia/rights-groups-slam-aseans-positive-take-rohingya-repatriation-plan
--------
Karzai not participating in Pakistan conference on Afghan peace
22 Jun 2019
The former Afghan President Hamid Karzai will not participate in Afghan peace conference which will kick off in Pakistan today.
Karzai said he would be unable to attend the conference due to the lack of time for consultations and preparations for the trip.
He thanked the organizers of the conference for the invitation and added that he is hopeful to visit Pakistan on another occasion.
Karzai also added that he wishes success for the conference and urges the Pakistan to maintain efforts for peace in Afghanistan.
Meanwhile, a delegation of prominent political leaders have arrived in Pakistan to attend the conference.
The delegation includes Gulbuddin Hekmatyar, Ata Mohammad Noor and Karim Khalili and some other prominent leaders.
Full report at:
https://www.khaama.com/karzai-not-participating-in-pakistan-conference-on-afghan-peace-03688/
--------
Rohingyas obtaining Bangladeshi passports via traffickers to go abroad
June 22nd, 2019
Police say it is difficult to prevent this as the traffickers are helping the Rohingya leave Bangladesh
Seeing no hope for their repatriation to their homeland in Myanmar'sRakhine state with dignity, a large number of desperate Rohingyas are now either opting to go abroad illegally or spread to different parts of Bangladesh, creating a fresh problem for the country.
According to local police and NGO officials, a human trafficking racket is encouraging the Rohingyas, mainly women, to take the risk of going to Malaysia and Indonesia by sea, or flee the camps in Cox's Bazar to collect Bangladeshi passports with fake documents.
This racket is providing them with the false documentsand helping them trick the authorities to get their hands on the passports. The traffickers are also helping the Rohingyas escape therefugee camps and contact their relatives living in different Muslim countries.
Contacted, Brig Gen Saidur Rahman Khan, the project directorof Introduction of e-Passport and Automated Border Control Management in Bangladesh, told UNB that almost all the Rohingyas who have taken shelter in Bangladesh have registered their biometric data.
"We are taking steps to incorporate the fingerprints of the Rohingyas in our system,to make sure they cannot get Bangladeshi passports by any means. I hope, the process will be completed by July," he said.
Saidursaid that some Rohingyas also show Bangladeshis as their parents, as locals help them, while collecting necessary documents for passports.
More than 1.1 Rohingyas, who have fled brutal persecution in Myanmar over the past few years,are currently sheltered in a number of camps at Teknaf and Ukhiya of Cox's Bazar.
Abu NayeemNasim, an official at the Cox's Bazar regional passport office, said they have already identified some 300 applications submitted by Rohingyas.
He said they are now very careful in issuing passports so that Rohingyas cannot get them with false documents.
Steps taken
Refugee Relief and Repatriation CommissionerAbul Kalam said it is a very tough job to control nearly 1.2 million Rohingyas. "They are making various efforts to either go abroad or spread to different parts of the country. Many of them have already left their camps."
He said they are taking various steps to stop it by intensifying monitoring on the Rohingyas. "We are strongly dealing with the issue and law enforcement officials are also playing an active role to preventthe Rohingyas from fleeing the camps."
Local police, Border Guard Bangladesh (BGB) and coastguards have intensified their monitoring and launched special drives to prevent the Rohingyas from escaping the camps.
Law enforcement officials set up eight check posts at Ukhiya and Teknaf, while coastguards took position at different points of the Naf River and the Bay of Bengal.
In their separate drives, BGB, coastguardsand Police detained around 600 Rohingyas over the last one-and-a-half-month, foiling their bid to flee to Malaysia through the sea.
Cox's Bazar Superintendent of Police (SP) ABM Masud Hossain said Rohingyas are mainly fleeing their camps through different secret ways in the hills and jungles.
Besides, he said, the displaced Myanmar nationals are now taking help from the locals to learn their language, dress-up style, and way of communication. "So, they now make efforts to escape their camps pretending to be local people."
Masud also said most of the Rohingyas detained during their escape attempts were women.
Detentions galore
On June 6, police arrested 18 Rohingyas from Cox's Bazar Link Road and produced them before a court.
On May 30, coastguards arrested 56 Rohingyas — 26 women, 20 men and 10 children — and two human traffickers from the deep sea while heading towards Malaysia.
Earlier, law enforcement officials detained 517 Rohingyas and 32 human traffickers in their different drives.The detained Rohingyas were taken back to their camps, and the traffickers were produced before the court.
Some of the Rohingyas who got scattered to different parts of the country were also detained by police.
On May 10, police arrested 23 Rohingyas from Dhaka'sKhilkhet area as they were preparing to leave Bangladesh for Malaysia with Bangladeshi passports.
Two Rohingya women were detained at HazratShahjalal International Airport while attempting to go to Saudi Arabia by a Kuwait Airlines flight on May 25.
A day before, police detained 50 other Rohingyas during a drive in Chittagong's KazirDewri area and sent them back to their camps.
On Wednesday, Armed Police Battalion also arrested two Rohingya men with 9,000 yaba pills at the HazratShahjalal International Airport in Dhaka.
Besides, around 50 Rohingyas were detained from different parts of the country during their attempt to collect passports with fake documents.
Desperate for a better life
Saikat Biswas, an official of Inter Sector Coordination Group, said many Rohingyas are desperate to go abroad seeking a better life as there is no progress in their repatriation process.
Besides, he said, some Rohingyas are contacting their relatives who stay abroad and taking their help to flee Bangladesh through various ways.
Saikat feared Bangladesh may face a fresh problem if Rohingyas continue to flee their camps.
Sheuly Sharma, executive director of JagoNariUnnoyonSangstha — whichworks for the welfare of the women in the camps,said many Rohingya girls now dream of getting married and going to Malaysia.
"Most Rohingya girls have a perception that they will have good husbands and a better life if they can go to Malaysia by any means.Human traffickers give them these ideas," she said.
Cox's Bazar Additional SPIqbal Hossain said it is difficult to check the trafficking of Rohingya as they are willing to leave Bangladesh. "The situation has turned critical with the local human traffickers assisting them."
Full report at:
https://www.dhakatribune.com/bangladesh/crime/2019/06/22/rohingyas-obtaining-bangladeshi-passports-via-traffickers-to-go-abroad
--------
Airstrikes target Taliban commander's compound in Farah leaving 11 dead, wounded
22 Jun 2019
The security forces conducted airstrikes against the compound of a Taliban commander in Farah province killing at least 6 militants.
The Police Headquarters of Farah in a statement said the security forces carried out the airstrikes in Rokan Village of Posht-e-Rod district.
The statement further added that the airstrikes targeted the compound of Taliban commander Syed Shafiq alias Fahim Agha.
The airstrikes also wounded five other militants, the Police Headquarters of Farah added.
Meanwhile, the security forces conducted similar airstrikes in Gowhar area of Charsada district in Ghor province.
The Police Headquarters of Farah said the airstrikes destroyed a 75mm artillery, a 82mm mortar, 2 motorcycles and a fighting position of Taliban.
The Taliban militants have not commented regarding the airstrikes so far.
The security situation in some districts of Farah and Ghor provinces has deteriorated during the recent years .
Taliban militants are active in the restive districts of the two provinces and often conduct terrorist related activities.
Meanwhile, the Afghan forces routinely conduct counter-terrorism operations against the anti-government armed groups in the two province.
Full report at:
https://www.khaama.com/airstrikes-target-taliban-commanders-compound-in-farah-leaving-11-dead-wounded-03689/
--------
Afghan Special Forces kill 14 Taliban militants in Ghazni province
22 Jun 2019
The Afghan Special Forces killed 14 Taliban militants during an operation in Ghazni province.
The informed military sources said Friday that Special Forces conducted the operation in the restive Deh Yak district of Ghazni.
The sources said "Afghan Special Forces conducted a raid in Deh Yak district killing 14 Taliban fighters."
The Taliban militants have not commented regarding the operation so far.
The security situation in some districts of Ghazni province has deteriorated during the recent months.
Taliban militants are active in some restive districts of the province and often conduct terrorist related activities.
Meanwhile, the Afghan forces routinely conduct counter-terrorism operations against the anti-government armed groups in this province.
Full report at:
https://www.khaama.com/afghan-special-forces-kill-14-taliban-militants-in-ghazni-province-03687/
--------
10 militants killed in Special Forces raid, airstrikes in Faryab, Farah and Zabul
22 Jun 2019
The security forces killed 10 Taliban militants during the operations in three provinces of the country.
The informed military sources said Friday that the Afghan Special Forces killed 4 Taliban militants during an operation in Gurziwan district of Faryab.
Meanwhile, the security forces conducted an airstrike in Bala Boluk district of Farah and killed 3 Taliban fighters.
The security forces killed also conducted a similar airstrike in Shinkai district of Zabul and killed 2 Taliban fighters.
Furthermore, an airstrike killed 1 Taliban fighter in Shah Joy district of Zabul province.
This comes as the security situation in some districts of Faryab, Farah and Zabul provinces has deteriorated during the recent years.
Taliban militants are active in remote and restive areas of the three provinces and often conduct terrorist related activities.
Meanwhile, the Afghan forces routinely conduct counter-terrorism operations against the anti-government armed groups in these provinces.
Full report at:
https://www.khaama.com/10-militants-killed-in-special-forces-raid-airstrikes-in-faryab-farah-and-zabul-03686/
--------
Pakistan
Nuclear powers upgrading arsenals as number of weapons falls: SIPRI
June 22, 2019
KARACHI: Nuclear-armed countries, including India and Pakistan, are increasing the size of their arsenals despite an overall decrease in the number of nuclear warheads, a Stockholm International Peace Rese­a­rch Institute (SIPRI) report has said.
The Sweden-based SIPRI launched its latest report on Monday, which assesses the current state of armaments, disarmament and international security.
The SIPRI governing board's chairman, Ambassador Jan Eliasson, who is a former deputy secretary-general of the United Nations, said: "A key finding is that despite an overall decrease in the number of nuclear warheads in 2018, all nuclear weapon-possessing states continue to modernise their nuclear arsenals."
At the beginning of this year, nine states — the United States, Russia, the United Kingdom, France, China, India, Pakistan, Israel and the Dem­ocratic People's Republic of Korea (North Korea) — possessed approximately 13,865 nuclear weapons.
This marked a decrease from the approximately 14,465 nuclear weapons that SIPRI estimated these states possessed at the beginning of 2018.
Of these 13,865 nuclear weapons, 3,750 were deployed with operational forces and nearly 2,000 were kept in a state of high operational alert.
The nuclear arsenals of the other nuclear-armed states are considerably smaller, but all are either developing or deploying new weapon systems or have announced their intention to do so. China, India and Pakistan are increasing the size of their nuclear arsenals.
India and Pakistan, which have 130 to 140 and 150 to 160 nuclear warheads respectively, were also developing new systems, it said.
"India and Pakistan are expanding their military fissile material production capabilities on a scale that may lead to significant increases in the size of their nuclear weapon inventories over the next decade," said Shannon Kile, director of the SIPRI Nuclear Arms Control Programme.
The decrease in the overall number of nuclear weapons in the world, it said, was due mainly to Russia and the US, which together still account for over 90 per cent of all nuclear weapons, further reducing their strategic nuclear forces pursuant to the implementation of the 2010 Treaty on Measures for the Further Reduction and Limitation of Strategic Offensive Arms (New START) while also making unilateral reductions.
In 2018, Russia and the US announced that they had achieved the final New START force reduction limits by the specified deadline.
Both Russia and the US have extensive and expensive programmes under way to replace and modernise their nuclear warheads, missile and aircraft delivery systems, and nuclear weapon production facilities.
In 2018, the US Department of Defence set out plans to develop new nuclear weapons and modify others to give them expanded military roles and missions.
North Korea continued to prioritise its military nuclear programme as a central element of its national security strategy, although in 2018 it announced a moratorium on the testing of nuclear weapons as well as medium- and long-range ballistic missile delivery systems. The availability of reliable information on the status of the nuclear arsenals and capabilities of the nuclear-armed states varies considerably.
https://www.dawn.com/news/1489680/nuclear-powers-upgrading-arsenals-as-number-of-weapons-falls-sipri
--------
Islamabad hopeful Taliban will agree to intra-Afghan dialogue
Baqir Sajjad Syed
June 22, 2019
ISLAMABAD: Pakistan is cautiously optimistic that the Taliban will soon agree to initiation of an intra-Afghan dialogue, which could pave the way for an eventual political settlement of the Afghan conflict that is in its 18th year.
"The Afghan peace process has reached a promising but delicate stage. Pakistan will continue to play a role in helping the peace efforts with the expectation that this can soon transition to the next critical stage: an intra-Afghan dialogue. The international consensus is firmly in favour of this," Pakistan's permanent representative at the United Nations Dr Maleeha Lodhi told Dawn by phone.
A breakthrough is expected at the seventh round of talks between the United States and the Taliban expected to take place in Doha early next month. The six rounds held so far have rema­ined stalemated because of Taliban's refusal to talk to the Afghan government until the US gives a clear commitment and timeframe for withdrawal of foreign troops from Afghanistan.
According to the Voice of America, a two-day intra-Afghan meeting, which would include government representatives, is being scheduled for July 7. The meeting will follow the Taliban-US talks. It should be recalled that a similar meeting planned for April had to be cancelled at the eleventh hour because of the Taliban's reservations over the composition of the dialogue.
US Special Envoy for Afghan Peace and Reconciliation Zalmay Khalilzad has, meanwhile, said: "As we prepare for the next round of talks with the Taliban, (it's) important to remember (that) we seek a comprehensive peace agreement, NOT a withdrawal agreement." He has emphasised that any deal would comprise "four inter-connected parts: counterterrorism assurances, troop withdrawal, intra-Afghan negotiations that lead to a political settlement; and a comprehensive & permanent ceasefire".
Full report at:
https://www.dawn.com/news/1489664/islamabad-hopeful-taliban-will-agree-to-intra-afghan-dialogue
--------
Afghan Peace Conference 'Lahore Process' starts in Bhurban
June 22, 2019
BHURBAN: The inaugural edition of the Afghan Peace Conference titled "Lahore Process" is being held in Bhurban today.
The inaugural session of the conference will be addressed by Foreign Minister Shah Mehmood Qureshi, while heads of political parties and political stalwarts from Afghanistan will be in attendance.
Gulbadin Hikmatyar, Ustad Atta Noor, Chairman Afghan High Peace Council and former vice-president Karim Khalili, Second Deputy Chief Executive Officer Mohammad Mohaqiq as well as Uzbek leader and current vice-president Rashid Dostum will also attend the peace conference.
Different areas of interest will come under discussion during the conference, including trade, economy, health and bilateral relations. The case of Afghan refugees who are here in Pakistan for the last four decades will also be discussed in detail.
The delegates in their address will present suggestions on the future course of action for Afghanistan.
This conference will also provide an opportunity to strengthen the relationship between two neighbours and also allow to connect people from both sides.
Full report at:
https://www.pakistantoday.com.pk/2019/06/22/afghan-peace-conference-lahore-process-starts-in-bhurban/
--------
Pompeo asks Pakistan to do more on religious freedom
June 22, 2019
US Secretary of State Mike Pompeo on Friday urged Pakistan to do more to stop the abuse of blasphemy laws after the release of Asia Bibi, who escaped a death sentence in a case that drew international scrutiny.
Releasing an annual report on international religious freedom, Pompeo estimated that more than 40 others were serving life sentences or facing execution for blasphemy in Pakistan.
"We continue to call for their release and encourage the government to appoint an envoy to address religious freedom concerns," Pompeo said. Blasphemy is an incendiary issue in Muslim-majority Pakistan, where mere allegations of insulting Islam have sparked lynchings, although activists say many cases stem from personal disagreements.
Bibi, a Catholic, was convicted of blasphemy in 2010 and sent to death row. Despite public protests against her, Bibi was acquitted on appeal last year and in May was able to leave for Canada.
Pompeo also strongly criticized US adversaries Iran and China, pointing to Beijing's detention of some one million Muslims, mostly from the Uighur ethnic minority group, and its "intense persecution" of Tibetan Buddhists, Christians and the Falungong spiritual movement.
While President Donald Trump's administration has often hesitated to criticize ally Saudi Arabia, the report spoke of widespread abuses in the kingdom which promotes the puritanical Wahabi school of Sunni Islam.
Quoting non-governmental groups, the report said Saudi Arabia has detained more than 1,000 minority Shiites since 2011, mostly for non-violence offenses such as participating in or promoting protests on social media.
Sam Brownback, the ambassador-at-large for international religious freedom, acknowledged disappointment since the rise of Crown Prince Mohammed bin Salman.
"I think there was a lot of hope at first in the change of leadership that things would open up substantially. We need to see actions take place in a positive direction," he told reporters.
"They continue to be one of the worst actors in the world on religious persecution," Brownback said.
In April, which was after the timeframe of the 2018 report, Saudi Arabia conducted a mass execution of 37 people, most of them Shiites.
Full report at:
https://www.business-standard.com/article/pti-stories/pompeo-asks-pakistan-to-do-more-on-religious-freedom-119062200046_1.html
--------
ECP orders troops' deployment inside polling stations in tribal districts
Zulfiqar Ali
June 22, 2019
PESHAWAR: The Election Commission of Pakistan has ordered the deployment of armed forces and civil armed forces inside and outside polling stations during the upcoming elections for the Khyber Pakhtunkhwa Assembly in the newly-merged tribal districts.
An ECP notification said, "Pakistan Armed Forces/Civil Armed Forces shall be deployed inside and outside all the polling stations from July 18 to July 21 for provision of secure environment to assist ECP in conduct of election in free, fair and transparent manner."
Polling in seven newly-merged tribal districts and six subdivisions of the erstwhile Fata is scheduled to take place on July 20.
The ECP had earlier fixed July 2 for polling. However, the electoral process was delayed at the request of the provincial government due to security reasons.
The Awami National Party expressed reservation about the troops' deployment in polling stations and requested the ECP to withdraw its decision about it.
However, the request was turned down.
The Pakistan Peoples Party, Jamiat Ulema-i-Islam-Fazl and Jamaat-i-Islami have also opposed the troops' deployment inside polling stations.
"Free and fair election is not possible in the presence of army troops inside polling stations," said JUI-F MNA Mufti Abdul Shakoor, who belongs to former Fata.
The ECP had issued the final list of 297 candidates, including nominees of political parties and independents, for 16 general seats of provincial assembly for the region.
All major political parties, including the ruling Pakistan Tehreek-i-Insaf, JUI-F, PPP, ANP, Pakistan Muslim League-Nawaz and Jamaat-i-Islami have fielded candidates for elections.
The ECP notification said after the polling ended, the troops would be deployed at the offices of returning officers until the consolidation of election results.
It added that the troops would be deployed on the premises of the Printing Corporation of Pakistan, Islamabad, from July 5 to July 20 to make foolproof security arrangements during printing/staking and storage of ballot papers.
The ECP said the troops deployed (inside and outside) a polling station while performing their security duties were supposed to report to the presiding officer any irregularity or malpractice they observed inside or outside a polling station and act according to instructions given by him in that regard.
It added in case the presiding officer didn't act to prevent the commission of any reported irregularity or malpractice, security staff would immediately bring the matter to the notice of the designated officer-in-charge of the Pakistan Army and civil armed forces of an area of said constituency, who would immediately take action in light of powers delegated to him.
In a related development, the ECP issued a notice to Khyber Pakhtunkhwa Chief Minister Mahmood Khan for violating the code of conduct and instructions notified by it for the upcoming elections in tribal districts.
Provincial Election Commissioner Pir Maqbool Ahmad issued the notice over the holding of a ceremony at the CM's Secretariat on July 20 for awarding interest-free loan documents to the youths of tribal districts by the provincial government.
Mr Mahmood had given away the documents of the Insaf Rozgar Scheme to those youths.
The notice said, "this office vide letter of even number dated June 20 interdict you (CM) not to conduct the said activity keeping in view the election in merged districts.
It has come to the notice of the undersigned through print media that the said activity had been conducted contrary to the standing instructions and code of conduct issued by the ECP."
The provincial election commissioner asked the CM to stop the programme forthwith and explain position on it by today (Friday) and warned that if that didn't happen, disciplinary proceedings under the relevant provisions of the law would be recommended to the commission for further necessary action in the matter.
Meanwhile, the district returning officers of Kurram and Khyber tribal districts issued notices to senior minister Mohammad Atif Khan, MNA Iqbal Afridi and PTI candidate for PK-107, Khyber-III, Zubair Afridi, respectively, for violating the code of conduct and asked them to clarify their positions on the matter.
The ECP also directed the provincial government to stop the implementation of Insaf Rozgar Scheme immediately and not to release funds for the purpose.
Under the programme, the government has planned the provision of interest-free loans to youths of merged districts.
A separate notification said if funds had already been released before the issuance of the order, the same would stand frozen until further orders.
The chief secretary was told to submit report of compliance with the order along with other details of the scheme to the commission by July 25.
Awami National Party provincial president Aimal Wali Khan flayed the ECP's decision to deploy soldiers inside polling stations for July 20 elections in tribal districts and said the move was tantamount to the army's interference in the electoral process.
In a statement issued here on Friday, he said international observers should be provided with an access to tribal districts to monitor elections.
The ANP leader asked ECP to review its decision regarding the deployment of troops.
Full report at:
https://www.dawn.com/news/1489703
--------
Body formed to probe public debt use by PPP, PML-N govts
Khaleeq Kiani
June 22, 2019
ISLAMABAD: The government on Friday notified an 11-member Commission of Inquiry to determine if increase in public debt between 2008 and 2018 was justified by infrastructure development programme or misused by public office-holders of the last two governments of the Pakistan Peoples Party and the Pakistan Muslim League-N.
The notification has been issued by the cabinet division under Section-3 of the Pakistan Commission of Inquiry Act, 2017. The commission will have the powers to co-opt or engage any person from public or private sector, local or from abroad, as a member, consultant or adviser to assist it.
Headed by Deputy Chairman of the National Accountability Bureau (NAB) Hussain Asghar, a former grade-22 police officer, the commission comprises unnamed representatives of the Military intelligence, Inter-Services Intelligence, Intelligence Bureau, Federal Investigation Agency, NAB, State Bank of Pakistan, Federal Board of Revenue, Securities and Exchange Commission of Pakistan, Accountant General Pakistan Revenue and special secretary of finance division.
The commission shall furnish its final report within six months of its formation, with periodical interim reports on a monthly basis. The time limit may, however, be extended with prior approval of Prime Minister Imran Khan.
Under its terms of reference (ToR), the commission will determine significance of major infrastructure or public sector development works carried out from 2008 to 2018, and commensurate them with the increase in public debt from Rs6,690 billion in 2008 to Rs30,846bn till Sept 2018.
The commission will also investigate about the award or implementation of any contract, agreement or project and whether any debt was taken for a particular project or undertaking and the same was then spent on that project or not.
It will also conclude if the terms and conditions of any public contract were tainted, benevolent or artificially inflated to facilitate any kick-backs and, if so, in whose favour.
It will also ascertain whether any holders of public office or their spouses, children and any person connected to them expended any public funds to meet personal or private expenditures, beyond what is permitted under the law and rules.
Interestingly, the commission will also investigate if "the cap prescribed under the Fiscal Responsibility and Debt Limitation Act, 2005 has been busted" and if so, reasons and justifications thereof. It may be noted that all successive governments since fiscal year 2007-08 have been in breach of this law and reporting its reasons to the parliament every year.
The commission will also examine if the amendments to the 2005 act were made with the spirit of Article 166 of the Constitution or not.
It will be required to get forensic and special audits conducted through any reputed international or local auditor or set of auditors to determine real nature, scope, volume, cost and trail of the investments or expenditures of the federal government (or any part of it) from Feb 2008 to Sept 2018.
The commission will fix responsibility in respect of any of the given TOR and refer any irregularity or illegality found for investigation and prosecution to a relevant agency or department.
An appropriate budget will be sanctioned for the commission and it will be entitled to utilise and spend the funds in its discretion, the notification said.
Full report at:
https://www.dawn.com/news/1489667/body-formed-to-probe-public-debt-use-by-ppp-pml-n-govts
--------
Pakistan reiterates commitment to completion of FATF action plan
June 21, 2019
Pakistan reiterated its commitment to taking all necessary measures to ensure completion of the Financial Action Task Force (FATF) action plan in a timely manner, a press release issued by the Ministry of Finance said on Friday.
The statement, issued after a plenary meeting of the FATF took place in Orlando, Florida, said that the meeting reviewed the compliance of a number of countries, including Pakistan, with the international standards on Anti-Money Laundering and Counter Financing of Terrorism (AML-CFT).
"Pakistan was placed by FATF in its compliance document in view of an action plan agreed with Pakistan in June 2018 to strengthen its AML/CFT Regime," the statement recalled.
In today's meeting, the FATF reviewed progress made by Pakistan towards implementation of the action plan, the statement said.
"It acknowledged the steps taken by Pakistan to improve its AML/CFT regime and highlighted the need for further actions for implementing the action plan. FATF will undertake the next review of Pakistan's Progress in October 2019," the ministry said.
"The Government of Pakistan reiterates its commitment to take all necessary measures to ensure completion of the Action Plan in a timely manner," it added.
The FATF also issued a statement following its meeting today, in which it expressed concern that Pakistan had failed to complete the action plan first by a January deadline and then again by a May deadline.
It urged Pakistan to "swiftly complete its action plan by October 2019 when the last set of action plan items are set to expire".
"Otherwise, the FATF will decide the next step at that time for insufficient progress," it warned.
Islamabad has been on the global money laundering watchdog's radar since June 2018, when it was placed on a grey list for terror financing and money laundering risks after an assessment of the country's financial system and security mechanism.
Turkey was the only country that had opposed the move backed by the United States, the United Kingdom and India. However, Islamabad's longtime ally, Beijing, abstained.
Moving one step further, New Delhi — co-chair of the joint group of FATF and Asia Pacific Group — wants Islamabad to be placed on the Paris-based watchdog's blacklist of the countries, which fail to meet international standards in combating financial crimes.
Islamabad, at a meeting in Guangzhou, China last month, was reportedly asked to "do more" as its compliance on 18 of the 27 indicators — pointed out in the action plan — was deemed unsatisfactory.
Pakistan, in recent months, has taken some major steps in accordance with the action plan, which includes no foreign currency transactions without a national tax number, and a ban on currency change of up to $500 in the open currency market without submission of a national identity card copy.
In addition to that, Islamabad has also proscribed several militant groups and seized their assets, including Jamat-ud-Dawa'h, and Jaish-e-Mohammad (JeM) — the groups blamed for several terrorist attacks such as the 2009 deadly Mumbai attacks killing over 150 people.
Panama back on watchlist
Panama has been placed back on an international money laundering watchlist by the FATF, the Central American country's economy minister announced on Friday.
Full report at:
https://www.dawn.com/news/1489564/pakistan-reiterates-commitment-to-completion-of-fatf-action-plan
--------
MQM-P lashes out at PPP over 'ignoring' urban areas in Sindh budget
Azfar-ul-Ashfaque
June 22, 2019
KARACHI: The Muttahida Qaumi Movement-Pakistan has condemned the Pakistan Peoples Party government's Sindh budget for financial year 2019-20 and said that it had "completely ignored" the urban parts of the province.
"For the past two decades, Pakistan has been gripped by terrorism while the urban areas of Sindh have fallen prey to economic terrorism for the past decade," MQM-P convener Dr Khalid Maqbool Siddiqui told a press conference here on Friday.
Dr Siddiqui, who is the federal minister for IT and telecom, was referring to the PPP's rule over Sindh for the past 11 years.
While the MQM-P rejected the PPP's Sindh budget, it did not use similar words for the Pakistan Tehreek-i-Insaf government's tax-heavy federal budget.
The Karachi-based party is a junior coalition partner of the PTI government at the Centre with two ministers in the federal cabinet. Recently Prime Minister Imran Khan announced that the MQM would get another ministry — apparently in return for its support in the passage of the federal budget.
Taking exception to a recent speech of former president and PPP co-chairman Asif Ali Zardari in the National Assembly in which he alluded to Urdu-speaking community as a small minority in Sindh, Dr Siddiqui said: "The PPP co-chairman must keep in mind that by contributing 70 per cent of the total revenue of the country this small minority of Sindh has been running the [economy of] the province and Pakistan."
He said despite its limited seats in the lower house the MQM-P was still the biggest representative party of urban Sindh.
He said that Karachi provided 70pc revenue to Pakistan and 95pc revenue to Sindh but in return it got a mere 10pc share.
The MQM-P convener lashed out at the PPP and said that due to its "biased attitude" the party had practically divided Sindh.
He said that the Sindh government did nothing for the urban and rural parts of the province; it had especially destroyed the infrastructure of Karachi.
He said that instead of providing relief to the masses, the Sindh budget was aimed at snatching the hard-earned money of the people by imposing "unjust" taxes.
K-IV completion not in sight
Speaking on the occasion, senior leader Kanwar Naveed Jameel said that the most important project of Karachi was of K-IV water supply scheme.
He said that due to the "incompetence" of the PPP government the estimated cost of the project rose to over Rs100 billion.
Mr Jameel, who is the parliamentary party leader of the MQM-P in the Sindh Assembly, said that the current pace of work on the project suggested that this vital scheme for the people of Karachi would not be completed in the next 10 to 15 years.
He said that Karachi was facing a severe water crisis and it seemed that the government was only interested in making an increased allocation in the head of K-IV project in the budgets of coming financial years.
He said that the Sindh government had reduced Rs1.88bn in the next financial year's allocation for the Karachi Metropolitan Corporation.
Karachi Mayor Wasim Akhtar, who is also one of the many deputy conveners of the MQM-P, said that the budget the KMC got from the Sindh government was not even sufficient for the salaries of the municipal employees and because of the provincial government the KMC employees did not get salaries on Eid.
'Sindh most corrupt province'
The mayor accused the PPP government of allocating hefty sums for its desired development schemes only to mint money.
He said that the corruption during the PPP's rule could be gauged from the remarks of a senior Supreme Court justice who said Sindh was the "most corrupt" province of Pakistan.
Former leader of the opposition in the Sindh Assembly Khwaja Izharul Hasan said that the Sindh government was trying to engineer "water riots" in Karachi only to divert attention from its incompetence and corruption.
Full report at:
https://www.dawn.com/news/1489619/mqm-p-lashes-out-at-ppp-over-ignoring-urban-areas-in-sindh-budget
--------
Africa
Rival groups and strategies overshadow jihadist conflict in Nigeria
June 20, 2019
Kano (Nigeria) (AFP) - Two attacks less than 24 hours apart in northeastern Nigeria this week have laid bare the deadly but divergent strategies of Boko Haram and a rival jihadist group, the Islamic State West African Province (ISWAP).
How these insurgencies evolve will greatly shape the course of the country's decade-old crisis, say security experts.
The twin threats facing security forces came into focus with the attacks in Borno state.
On Sunday, a triple suicide bombing killed at least 30 football fans in Konduga -- an assault that bore the hallmarks of the original Boko Haram group, led by its long-time leader, Abubakar Shekau.
Shekau's faction typically use young women and children to target places of worship, markets and public places, seeking maximum civilian casualties.
Then, on Monday, more than 15 soldiers were killed, as heavily-armed militants overran Gajiram military base in a coordinated attack.
It followed the blueprint of attacks by ISWAP, whose stronghold is the Lake Chad region, where the porous borders of Chad, Nigeria, Niger and Cameroon come together.
The rival factions are rooted in Boko Haram, which in 2009 launched an insurgency with the goal of establishing an Islamic caliphate in northern Nigeria.
Since then, more than 27,000 people have died and 1.8 million have fled their homes. Burkina Faso, Chad and Niger have reeled as violence has spread there too.
ISWAP, a faction loyal to the so-called Islamic State (IS) group and led by Abu Musab Al Barnawi, a leader who has since fallen out of favour, emerged from Boko Haram in 2016.
ISWAP rejected Shekau, a tyranical figure who has appeared in several videos, deeming his strategy of indiscriminate attacks on Muslim civilians to be too brutal.
ISWAP is active in northeastern Nigeria, as well as the border area with Cameroon, the shores of Lake Chad and Niger.
A number of Boko Haram militants who have remained loyal to Shekau continue to operate in the Sambisa Forest and Mandara Mountains of the northeast, exploiting the region's rugged terrain.
- Terrorism as governance -
According to the International Crisis Group (ICG), ISWAP poses as an alternative government, fulfilling a role in one of the poorest regions in the world where many state services have been absent for years.
"By filling gaps in governance and services, (ISWAP) has managed to generate some support from local people," it said last month.
The group "digs wells, monitors livestock thefts, provides a minimum of health care. In the communities they control, taxes imposed are generally accepted by civilians," said the report.
And despite some attacks against civilians, ISWAP's targets are mostly military bases, where the group recovers weapons and vehicles.
In Gajiram, where at least 15 soldiers were killed on Monday night, the jihadists looted food stocks, but "did not hurt any civilians and made no attempt to attack the people who had taken refuge in the area, in the bush or at home", a local resident, Mele Butari told AFP.
As the conflict rages, with suicide attacks and killings on one front, and attacks on military bases on another, Nigeria's army have suffered.
Scores of soldiers have been killed this year across the region. Lacking equipment and training, troops have suffered a plunge in morale and desertions are on the rise.
The army have been unable to degrade ISWAP's activities, according to a member of a militia, fighting alongside the Nigerian army.
"ISWAP totally controls Lake Chad. None of its leaders have been arrested and none of its camps dismantled," he said, including in the districts of Duguri, Marte, Kukawa and Ngala where the main commanders live.
- 'Back in the game' -
After years of conflict, the Shekau-led Boko Haram have been left weakened by a lack of resources and men -- with a force between 1,500 to 2,000, compared to ISWAP's 3,500 to 5,000 force, according to ICG estimates.
Faced with ISWAP's rise and prominent media and propaganda campaigns, Boko Haram have countered, publishing a series of news releases and videos recently.
The suicide bombing last weekend in Konduga could serve as a statement, helping Shekau to "get back into the game," according to Jacob Zenn, a researcher at the Jamestown Foundation, an institute based in Washington.
"ISWAP has no operational problems on the ground, but faces an internal leadership crisis", he said.
He pointed to the eviction in March of Abu Musab Al Barnawi by supporters of a more radical faction within the group, and the assassination a few months ago of his deputy, Mamman Nur.
Amidst ISWAP's leadership turmoil, statement attacks by Boko Haram are a way of re-asserting their standing, he said.
A reunification of the two groups is "entirely possible," Zenn warned.
https://news.yahoo.com/rival-groups-strategies-overshadow-jihadist-conflict-nigeria-145900688.html
--------
Niger works with France, U.S. and Mali in attack on Islamic State fighters
21 June 2019
Eighteen members of the Islamic State affiliate active in Niger have been killed in a 10-day operation completed by the Nigerien military in partnership with France, Mali and the United States.
That's according to defense minister Moutari Kalla in Niamey, who announced the results of the ACONIT operation in a statement issued Thursday in which he praised the productive military cooperation between Niger and its strategic partners.
The action was taken between June 8 and 18 in the North Tongo Tongo region where the armed extremists have been active. It was coordinated in response to a May 14 attack near Tongo Tongo – not far from the border with Mali – that left more than two dozen Nigerien soldiers killed.
President Issoufou Mahamadou called the May attack barbaric, but it is one of many the Nigerien government has been forced to cope with in the ongoing battle with terrorists across Sahelian nations.
Most recently, it was U.S. personnel who were targeted by an improvised explosive device near Ouallam on June 8. There were no casualties in that incident, which occurred during a joint exercise with Nigerien and U.S. forces.
"Niger is a vital partner in the fight against violent extremist organizations. U.S. forces are in Niger to work by, with, and through Nigerien partners to promote stability and security while enabling them to address their security threats," the U.S. said in a statement on the IED incident.
Full report at:
https://africatimes.com/2019/06/21/niger-works-with-france-u-s-and-mali-in-attack-on-islamic-state-fighters/
--------
Sahel jihadists undeterred by Western-led fightback
June 21, 2019
Abidjan (AFP) - The Sahel region has become a haven for jihadist groups, who are now carrying out attacks almost daily in the vast, fragile region despite a fightback by international and local armies.
The latest strikes included Tuesday's raid in northern Burkina Faso, which killed 17, and another at the gates of the Niger capital Niamey that claimed the lives of two policemen.
Eighteen members of the Islamic State in the Greater Sahara were meanwhile killed in a joint operation by US, French and Niger troops near Niger's border with Mali, Niger's defence ministry announced on Tuesday.
The June 8-18 operation took place in the northern border region of Tongo Tongo and targeted a group "implicated in an ambush on May 14," in which 28 Nigerien soldiers were killed," it said.
The volatile western rim of the southern Sahara includes conflict-ravaged Mali as well as Mauritania and Chad, which have become hunting grounds for a range of armed militia including some linked to the Islamic State (IS) group.
"It's Sisyphean, it never stops!" said a French security source, referring to the figure in Greek mythology whose name signifies endless labour and frustration.
Sisyphus was punished for eternity by being forced to roll a boulder to the top of a hill, only to see the rock roll down again once it neared the peak.
Further complicating matters are the Boko Haram fighters from Nigeria who have now extended their attacks to neighbouring countries in a decade-long campaign of violence that has killed 27,000 people in Nigeria alone.
There are 13,000 soldiers in a UN peacekeeping force in Mali, while France -- the former colonial ruler of several western Sahel countries -- has deployed 4,500 troops to Mali, Burkina Faso, Niger and Chad in a mission codenamed Barkhane to help local forces flush out jihadists.
The so-called G5 Sahel group -- comprising Burkina Faso, Chad, Mali, Mauritania and Niger -- have sent 5,000 troops to help expand their anti-terror campaign.
However, their impact seems so far to be meagre.
Burkina President Roch Marc Christian Kabore on Thursday called for "more concerted action" against the jihadists and said the countries "must overcome our differences and individual interests."
- 'Insurrection growing' -
A security expert said that despite repeated operations (the jihadists) still have this ability to strike regularly.
"Every month there are fairly complex attacks, improvised explosive devices are planted... giving the impression that the insurrection is growing slowly but surely," the expert said.
"The number of incidents and victims are not reducing, rather it's the opposite."
One problem facing the international forces was that they were "reactive", said Jean-Marc Balencie, an Africa expert at French consultancy firm Risk&Co.
"One can assume that the Islamic State in the Greater Sahara (present in Mali, Niger and Burkina Faso) has suffered some serious blows, lost chiefs, been in a state of withdrawal and yet they have successfully pulled off several spectacular operations in recent weeks," he said.
"A real area of concern is the capacity of resilience and recovery from losses."
Mahamadou Savadogo, a researcher at Senegal's Gaston Berger University, said the jihadists' huge advantage was their invisibility.
"They just melt into the population," he said, and then stage "sporadic attacks."
"The foreign armies face a problem of intelligence. For the time being, the locals seem more inclined to provide information to armed groups than to local armies," he added.
Jihadists often play on inter-ethnic tensions, further complicating an explosive situation and breeding hostility towards local armies.
- 'Down with foreigners' -
Foreign soldiers often face suspicion and anger from people who view their presence as a loss of sovereignty.
At the end of May, around 1,000 people gathered in the Niger capital shouting "Down with foreign military bases!" and "Down with the French army!"
Jihadist violence was largely unknown in Burkina Faso before 2015 and some claim that the arrival of the French Barkhane troops fuelled Islamist attacks.
Politicians also fan the flames by blaming external forces for the mess, analysts say.
"I personally think if France had not intervened in Mali in 2013 (when a rapid response from French military prevented Islamist groups from storming Bamako), there wouldn't be a Malian state, so that was a good thing. But since then, the situation hasn't really improved," Burkinabe Defence Minister Cheriff Sy said in a recent interview.
Full report at:
https://news.yahoo.com/sahel-jihadists-undeterred-western-led-fightback-032619942.html
--------
UN slams Sudan protesters for attacks on Darfur premises
22 June 2019
UN peacekeepers said Friday that a group of protesters looted and destroyed several properties of the World Food Programme and aid agency World Vision in Sudan's war-torn region of Darfur this week.
The "dangerous attacks" were carried out on June 19 and 20 in the town of Graida in the state of South Darfur, the joint African Union and UN peacekeeping mission, also known as UNAMID, said in a statement.
It said the mission is "deeply concerned about the looting and destruction of premises and property belonging to the World Vision and World Food Programme".
Protesters ransacked the offices of the two agencies, stole money and damaged vehicles, the statement said without detailing what the group was demonstrating about.
"This behavior is totally unacceptable, especially the looting and destruction of humanitarian property causing serious disruption to the work of humanitarians providing lifesaving assistance to the most vulnerable people of Graida," Gwi-Yeop Son, UN chief for Sudan said in the statement.
UNAMID chief Jeremiah Mamabolo decried the limited support given to the UN "in the face of such dangerous attacks that inevitably place the lives of its staff and local citizenry at risk in Sudan."
This week's attacks in Graida come just weeks after a similar incident in El-Genina in the state of West Darfur, the statement said.
"Such wanton destruction of UN property and assets cannot continue with impunity," Mamabolo said, adding that it was the responsibility of Sudanese authorities to protect all UN staff and its properties inside the country.
The UN peacekeepers have been deployed in Darfur since 2007 after a brutal conflict erupted in the region four years earlier.
Darfur's ethnic African rebels took up arms against the then Arab-dominated government of now ousted leader Omar al-Bashir, accusing it of marginalizing the region economically and politically.
The United Nations says the conflict has left more than 300,000 people dead and 2.5 million displaced.
Bashir, who is now held in a prison in Kober, has been charged by the Hague-based International Criminal Court with genocide, war crimes and crimes against humanity for his alleged role in the conflict. He denies the charges.
Full report at:
https://english.alarabiya.net/en/News/middle-east/2019/06/22/UN-slams-Sudan-protesters-for-attacks-on-Darfur-premises.html
--------
18 IS fighters killed in joint operation with US in Niger
June 20, 2019
Niamey (AFP) - Eighteen members of the Islamic State in the Greater Sahara were killed in a joint operation by US, French and Niger troops near Niger's border with Mali, the defence ministry said Tuesday.
The June 8-18 operation took place in the northern border region of Tongo Tongo "targeting a gang of ISGS terrorists implicated in an ambush on May 14," in which 28 Nigerien soldiers were killed, it said.
"The toll on the enemy side is: 18 terrorists neutralised, five terrorists, of whom three are Nigerien, taken prisoner."
There were "no human or material losses" during the operation, which was codenamed ACONIT, it said.
"Important materiel was recovered including equipment belonging to the Niger armed forces which were taken by the attackers after the ambush," the statement said.
In October 2017, the ISGS claimed responsibility for a raid which killed four US soldiers and five Nigerien troops in the same region, a mere 20 kilometres (12 miles) from the Malian border.
That ambush claimed the largest number of American lives in combat anywhere in sub-Saharan Africa since the "Black Hawk Down" incident in Somalia in 1993
On June 8, a US army vehicle hit a landmine near the town of Ouallam, about 100 kilometres north of the capital Niamey, but there were no casualties.
The area is near a major training camp where Nigerien soldiers are trained to serve in a UN peacekeeping mission in Mali.
Late Tuesday, gunmen attacked a police station on the northern edge of the Niger capital Niamey, killing two policemen.
Niger is one of a number of poor, fragile countries in the Sahel region that have been hit by a jihadist revolt.
The United States has a big base for drones in the northern city of Agadez and Niger recently gave the Americans permission to arm their drones.
The French also have a military base near Niamey airport and another at Madama in the north.
Various insurgent groups operate in the country's west and north, and Nigeria's Boko Haram is present in its southeast.
Full report at:
https://news.yahoo.com/18-fighters-killed-joint-operation-us-niger-151942524.html
--------
Mideast
Arab Deputies Urge UN To List Yemen's Huthi Movement As 'Terrorist Organization'
June 20, 2019
A group of lawmakers from the Arab bloc have called on the United Nations to label the Iran-backed Huthi rebel movement in Yemen a "terrorist organization."
Parliamentarians meeting in Cairo on June 19 asked "the UN and the Security Council to take a firm and immediate position by classifying the putschist Huthi militia a terrorist organization," the group said.
The body is made up of representatives from the parliaments in the pan-Arab region.
The body accused the Huthis of "regularly targeting civilian and vital infrastructure in Saudi Arabia with ballistic missiles or drones."
It also asked the Arab League to put "the issue of Iran's threats and interference" before the UN Security Council.
Saudi Arabia and the United States, among other allies, accuse Iran of being behind a recent series of attacks in the region, either directly or through its support of the Huthi rebels.
Among the attacks have been several drone strikes on Saudi Arabia, including an attack that damaged two oil pipeline pumping stations on May 14.
A bloody civil war in Yemen has been called a "proxy war" between Sunni Muslim Saudi Arabia and Shi'ite-led Iran.
The Yemeni government, supported by Saudi Arabia and its military allies, has been battling the Iran-backed Huthi rebels since 2015.
Some 10,000 people have been killed and 14 million Yemenis have been pushed to the brink of famine.
https://www.rferl.org/a/arab-deputies-urge-un-to-list-yemen-s-huthi-movement-as-terrorist-organization-/30009922.html
--------
Jailed leader Ocalan tells Kurdish party to be neutral in Istanbul vote
21 June 2019
Lawyers for jailed Kurdish militant leader Abdullah Ocalan confirmed on Friday that he had called on the pro-Kurdish Peoples' Democratic Party (HDP) to remain neutral ahead of Sunday's Istanbul election re-run.
Ocalan's lawyers issued a statement from Ocalan after state-owned Anadolu agency reported late on Thursday that he had made such a call to the HDP, which has supported the opposition against the ruling AK Party of President Tayyip Erdogan.
Full report at:
https://english.alarabiya.net/en/News/middle-east/2019/06/21/Jailed-leader-Ocalan-tells-Kurdish-party-to-be-neutral-in-Istanbul-vote-.html
--------
Coalition jets destroy two Houthi drones in Yemeni air space
22 June 2019
The fighter jets of the Arab Coalition backing the legitimate government in Yemen on Saturday intercepted and destroyed two drones in the Yemeni air space.
The Coalition said the drones were launched by the Iranian-backed Houthi militia from the Sanaa Governorate.
The Arab Coalition spokesperson Colonel Turki al-Maliki said: "We affirm the right of the Coalition to take appropriate deterrent measures in accordance with international law."
https://english.alarabiya.net/en/News/gulf/2019/06/22/Coalition-air-force-destroys-in-Yemeni-airspace-two-Houthi-drones-.html
--------
Israeli troops attack Palestinian protesters at Gaza border, 70 injured
Jun 21, 2019
At least 70 Palestinians have been wounded by Israeli troops during protests near the border fence separating the besieged Gaza Strip from the Tel Aviv-occupied territories.
The Gazan Health Ministry said that Israeli forces inflicted different types of injuries on 70 people taking part in the rallies — called the "Great March of Return" — in eastern Gaza Strip on Friday.
Ashraf al-Qedra, the spokesman for the ministry, said that paramedics were also among the wounded.
The rallies have been held every week since March 30 last year. The Palestinians demand the right to return for those driven out of their homeland by Israeli aggression.
Israeli troops have killed at least 305 Palestinians since the beginning of the rallies and wounded more than 17,000 others, according to the Gazan Health Ministry.
In March, a United Nations (UN) fact-finding mission found that Israeli forces committed rights violations during their crackdown against the Palestinian protesters in Gaza that may amount to war crimes.
Gaza has been under Israeli siege since June 2007, which has caused a decline in living standards.
Full report at:
https://www.presstv.com/Detail/2019/06/21/599083/Palestinians-injured-Gaza-border
--------
Yemeni forces shoot down Saudi-led reconnaissance drone in Hudaydah
Jun 21, 2019
Yemeni army forces, supported by allied fighters from the Popular Committees, have intercepted and targeted an unmanned aerial vehicle belonging to the Saudi-led military coalition while flying in the skies over Yemen's strategic western coastal province of Hudaydah.
The media bureau of Yemen's Houthi Ansarullah movement announced in a statement that Yemeni air defense forces and their allies shot down the drone with a surface-to-air missile on Friday afternoon.
The statement added that the drone was struck as it was on a surveillance mission over al-Fazah area in the al-Tuhayta district of the province.
On Thursday evening, the spokesman for Yemeni Armed Forces, Brigadier General Yahya Saree said, said Yemeni army forces, backed by allied fighters from Popular Committees, had launched a string of airstrikes against unmanned aerial vehicles and military targets at Jizan Airport, using a squadron of domestically-manufactured Qasef-2K (Striker-2K) combat drones.
Saree further noted that the attacks led to the suspension of flights at the airport.
"We have sophisticated military hardware that US-built and other air defense systems deployed in Saudi Arabia cannot intercept. Our ballistic missiles, rockets and drone can hit any target all across Saudi Arabia. Our strikes will not be limited to Asir, Najran and Jizan. The Saudi enemy must know that we will d expand the scope of deterrence in case the military aggression continues," the top Yemeni military official pointed out.
On June 15, Houthis said in a statement that they had launched drone strikes against Jizan Airport as well as Abha International Airport in Saudi Arabia's southwestern province of Asir.
The statement added that the control rooms in Jizan Airport and the fueling station at Abha airport were the main target of the attacks.
Saudi Arabia and a number of its regional allies launched a devastating campaign against Yemen in March 2015, with the goal of bringing the government of former Yemeni president Abd Rabbuh Mansur Hadi back to power and crushing the Houthi Ansarullah movement.
The US-based Armed Conflict Location and Event Data Project (ACLED), a nonprofit conflict-research organization, estimates that the Saudi-led war has claimed the lives of over 60,000 Yemenis since January 2016.
Full report at:
https://www.presstv.com/Detail/2019/06/21/599072/Yemeni-forces-shoot-down-Saudiled-reconnaissance-drone-in-Hudaydah
--------
Arab coalition air force units intercept, destroy two Houthi unmanned aircraft launched from Sanaa
June 22, 2019
RIYADH: Coalition air force units managed to intercept and destroy two unmanned aircraft launched by Houthi forces, spokesman Col. Turki Al-Maliki said on Friday.
Al-Maliki said the first was destroyed at 9:28 p.m. local time, and said the aircraft were launched from the province of Sanaa and were intercepted and destroyed in Yemeni airspace.
Al-Maliki reiterated the coalition's desire to implement "appropriate deterrence measures to deal with hostile and terrorist acts" by the Houthis, which break international humanitarian law.
http://www.arabnews.com/node/1514301/saudi-arabia
--------
Pro-Kurd party clashes with Erdogan ahead of Istanbul vote
June 22, 2019
ISTANBUL: Pro-Kurdish political leaders accused Turkish President Tayyip Erdogan on Friday of trying to sow discord among Kurds ahead of a re-run of an Istanbul election on Sunday that is seen as a crucial test of support for Erdogan and his ruling AK Party.
The pro-Kurdish Peoples' Democratic Party (HDP) also reaffirmed its support for opposition mayoral candidate Ekrem Imamoglu who won the March municipal poll. Election authorities ordered a re-run after AKP allegations of poll irregularities, a ruling that has prompted concerns about Turkish democracy.
In an unexpected and ambiguously worded statement, Kurdish militant leader Abdullah Ocalan called for "neutrality" in the Istanbul vote, in comments that could be understood as suggesting Kurds not take part.
Kurdish support was key in helping Imamoglu narrowly defeat the AKP mayoral candidate Binali Yildirim in the March vote. Kurdish voters account for about 15 percent of Istanbul's 10.5 million eligible voters and many support the HDP.
Just after state-run Anadolu agency released details of Ocalan's hand-written letter late on Thursday, Erdogan speculated in a TV interview that the statement pointed to a "serious power struggle" among senior Kurdish leaders. The HDP's co-leaders Pervin Buldan and Sezai Temelli responded angrily to Erdogan's intervention.
Full report at:
http://www.arabnews.com/node/1514371/middle-east
--------
Saudi land mines project clears 105 Houthi devices
June 21, 2019
RIYADH: The Saudi Project for Landmine Clearance (MASAM) in Yemen extracted 2 anti-personnel mines, 47 anti-tank mines and 56 unexploded ordnance — totaling 105 mines — during the second week of June.
A total of 72,381 mines have been extracted since the beginning of the project. An estimated 1 million mines have been planted by the Iranian-backed Houthi militias in Yemen over the past three years claiming hundreds of civilian lives.
Full report at:
http://www.arabnews.com/node/1514281/saudi-arabia
--------
URL: https://www.newageislam.com/islamic-world-news/harkat-ul-harb-e-islam/d/118960
New Age Islam, Islam Online, Islamic Website, African Muslim News, Arab World News, South Asia News, Indian Muslim News, World Muslim News, Women in Islam, Islamic Feminism, Arab Women, Women In Arab, Islamophobia in America, Muslim Women in West, Islam Women and Feminism