New Age Islam News Bureau
28 Sept 2017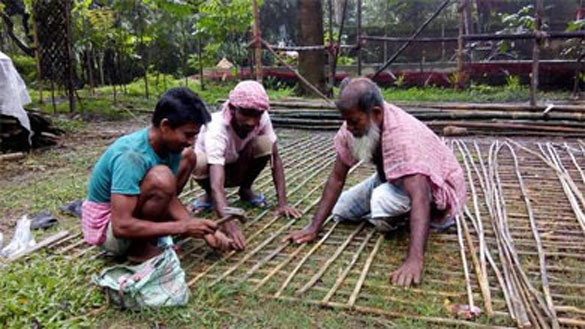 A Muslim artist designing the pandal of a Durga puja in Bhangar in South 24 Parganas.
-----
• 'Hafiz Saeed, Lashkar-e-Taiba Are A Liability for Us,' Admits Pakistan's Foreign Minister
• The Islamic State's Support Base in Pakistan Continues to Grow
• Indian Radical Cleric, Salman Nadwi, Wades Into Gulf Standoff, Expelled By Oman
• Islamic-American Advocacy Groups Come Together For Rohingya Muslims
• Hindus Recount Massacre in Myanmar as Mass Graves Unearthed
• State of Palestine Membership In Interpol Approved, In Move Opposed By Israel
Pakistan
• 'Hafiz Saeed, Lashkar-e-Taiba Are A Liability for Us,' Admits Pakistan's Foreign Minister
• The Islamic State's Support Base in Pakistan Continues to Grow
Hafiz Saeed and Haqqanis were your 'darlings': Pakistan to US
• Ulema Unite Against Sectarianism
• Muslim countries' parliaments should work for resolving issues: Rabbani
• Pakistan gives in to 'international pressure', opposes registration of Hafiz Saeed's JuD's political arm as political party
• Rohingyas face discrimination in Pakistan
• Pakistan Ulema council asks govt to implement National Action Plan
--------
India
• Indian Radical Cleric, Salman Nadwi, Wades Into Gulf Standoff, Expelled By Oman
• Durga Puja Brings Together Muslims, Hindus in Kolkata
• Jamia Seminar Discusses Islam, Azan and Loudspeaker, VC Says Islam a Religion Of Peace
• UP ATS Issues Lookout Notice for Bangla Terror Suspect
• Inspired by India Today sting operation, film on Halala faces opposition from Muslim outfit
• Terrorists barge into home, kill BSF jawan in Kashmir
• Kerala priest rescued from ISIS captivity in Yemen arrives to meet PM Modi
• Hizbul Mujahideen hideout busted in J-K's Doda district
--------
North America
• Islamic-American Advocacy Groups Come Together For Rohingya Muslims
• Negotiations Only Path to Political Legitimacy for Taliban: US
• US Anti-Terror Chief Warns IS Global Threat 'Intact'
• War on terror the manual for creating terrorists
• Mosque shooter changes stance on Islam after meeting Muslims
--------
South Asia
• Hindus Recount Massacre in Myanmar as Mass Graves Unearthed
• Taliban Can't Win On the Battlefield, Can Gain Much on Negotiation Table: Stoltenberg
• UN body alarmed by attack on Rohingya refugees in Sri Lanka
• US airstrike in Kabul causes 'several casualties': NATO
• ISIS claims attack on Hamid Karzai airport after Mattis arrives in Kabul
• Turkish deputy PM visits Rohingya camp in Bangladesh
• Hindus Displaced from Rakhine: No puja for them this time
--------
Mideast
• State of Palestine Membership In Interpol Approved, In Move Opposed By Israel
• Yemeni Army's Chief Of Staff Says 'Victory over Coup Militias Soon'
• Netanyahu vows not to 'uproot' Israeli settlements from West Bank
• Israel makes preparations to destroy Palestinian home over alleged attack
• Top military officials of Iran, Iraq hold talks amid Kurdish independence vote
• Referendum fallout: Airliners from Turkey and other states halt flights to Iraqi Kurdistan
--------
Arab World
• Over 50 Civilians Killed in US Air Raids in Northeastern, Eastern Syria
• Hundreds of Militants Side with Syrian Army in Idlib Province
• US-led warplanes drop white phosphorus bombs in northeast Syria: Report
• US-Led Coalition Hits Deir Ezzur with White Phosphorus Bombs
• Syrian Soldiers Drive Terrorists out of Important Positions in Eastern Damascus
• Syrian Army Accomplishing Final Anti-Terrorism Mission in Eastern Homs
• Syrian Gov't Grants Amnesty to More Militants in Hama Province
• ISIL Suffers Heavy Defeat in Clashes with Syrian Army in Deir Ezzur
• More Terrorist Commanders Hunted in Dara'a
• ISIS attacks Iraqi forces west of Baghdad, killing at least 7
--------
Africa
• Sierra Leone Arrests Pastor Who Blamed Islam for 'Every Terrorist Act in History'
• EU plans to take 50,000 refugees from Africa, Mideast
• In tit-for-tat move, Libya's Tobruk-based govt. bans US citizens entry
• Cameroon deports 100,000 Nigerian refugees
--------
Europe
• UN Concerned French Terror Law Could Affect Muslims
• EU, Turkey must meet challenges together says minister
• End of Israeli settlements was official UK policy for decades: Analyst
• 11 held as U.K. probes neo-Nazi group
• NSW radicalisation hotline got five calls in two months, estimates told
--------
Southeast Asia
• Kelantan Authorities under Fire after Muslim Man Penalised For Wearing Shorts
• Penang Appoints Kelantan Preacher to Aid Explaining Islamic Issues
• Singapore Defense Minister Visits Iraq Troops in Terror War
• Najib hails Johor laundrette's apology over 'Muslim-only' sign
• Zahid: China praised us for nabbing 29 Uighur Muslims
• Fearful Islamists Plan Anti-Communist Protest in Jakarta
Compiled by New Age Islam News Bureau
URL: https://www.newageislam.com/islamic-world-news/hafiz-saeed-lashkar-e-taiba/d/112694
--------
'Hafiz Saeed, Lashkar-e-Taiba are a liability for us,' admits Pakistan's foreign minister
Sep 27, 2017
NEW DELHI: Pakistan's foreign minister admitted late yesterday that terrorist Hafiz Saeed and terror group Lashkar-e-Taiba (LeT) are a "liability" for his country and for the South Asian region.
"You mentioned a name. It's a proscribed organisation. The gentleman's under house arrest. But I agree with you that on that score we have to do more. We have to do more. There are people in Pakistan who can be a liability in times of crisis for Pakistan and (for) the region. I don't disagree with that," said Pakistan's foreign minister Khawaja Asif at a Q&A session at the Asia Society in New York, referring to Saeed, who masterminded the 2008 terror attacks in Mumbai.
Asif also acknowledged that Pakistan has to continue its efforts in dismantling terrorism and elements of extremism but added that it needs time and "assets" to do the job.
"Saeed, LeT, they are a liability, I accept it, but give us time to get rid of them, we don't have the assets to deal with these liabilities," said Asif.
In an engaging Q&A session, Asif made an impassioned defence of his country, lamented its slide into extremism and eloquently laid much of the blame on the rise of terrorist elements in Pakistan in the last 20 years+ on the US.
He said, by "wrongly" supporting the US in a "proxy war" in Afghanistan against the Soviets in the 1980s, Pakistan paid a very high price. Jihadist elements were nurtured by both the US and Pakistan during this conflict, added Asif.
"Don't blame us for Saeed, these people were your darlings 20 years ago, they were being dined and wined in the White House. Now you say go to hell, Pakistan," said Asif.
Asif said his "heart bleeds" seeing what Pakistan has become today.
"We justified jihad because it suited our friends the US, because they wanted to kick Russia out. In the process our ethos was destroyed. It makes my heart bleed. Some things have become irreversible...people you are naming, people Trump is talking about, some of these things can't be reversed overnight cause we developed that culture and ethos deliberately...We are paying a very heavy price."
To a question on what his reaction was to US President Donald Trump's savage takedown of Pakistan in August+ , Asif said: "Not very pleasant". He said despite Pakistan standing with US over decades, it was being made a scapegoat for US failures in Afghanistan.
"Pakistan has stood firmly with the US during the war against the USSR in Afghanistan - which I personally believe was wrong, a proxy war - then we were used and discarded. In the 60s we were in your (US) camp, in the 70s and early 90s sanctions were imposed on us. Despite heartbreaks we still stood with the US," said Asif.
Pakistan's foreign minister then scoffed at Trump's comment that the US has given Pakistan "billions and billions of dollars" in financial aid+ .
"No billions of dollars were dished out to us, that was money for services rendered. No billions of dollars," he said.
Then he quickly added: "...But I'm here to mend fences."
http://timesofindia.indiatimes.com/india/hafiz-saeed-lashkar-e-taiba-are-a-liability-for-us-admits-pakistans-foreign-minister/articleshow/60853094.cms
--------
The Islamic State's Support Base in Pakistan Continues to Grow
By Umair Jamal
September 28, 2017
Last week, an Islamic State (IS) flag was seen hoisted above one of Islamabad's main highways. The flag, which sprung the capital's law enforcement agencies into action, bore the message "The caliphate is coming." While the capital police have not been able been able to find the people behind the incident, the hoisting of the flag in Pakistan's capital offers a chilling reminder that support for militant groups such as IS is growing in Pakistan.
The government in Pakistan has said that the hoisting of the militant group's flag doesn't mean that the IS threat is serious in Pakistan. While the group's presence in the country may not have emerged in the form of an active resistance, the militant group's "passive support" base has grown exponentially over the last few years.
Pakistan launched a major counterterrorism campaign more than two years ago to contain militancy in the country. One of the core aspects of Pakistan's recent counterterrorism campaign was to revise the country's public education curriculum, which has been filled with religiously inspired nationalistic rhetoric, and to regulate religious seminaries all across Pakistan, which continue to radicalize young minds. Unfortunately, beyond making tactical gains related to killing militants that are targeting the state, the country's counterterrorism campaign has not achieved anything.
Enjoying this article? Click here to subscribe for full access. Just $5 a month.
There were only 137 religious seminaries in Pakistan at the time of the partition. Now, the government claims that there are more than 13.000 registered religious seminaries in Pakistan. The number of unregistered religious seminaries, which are not accounted for, remains significant. A large number of unregulated religious seminaries continue to flourish in Pakistan, particularly in places and regions that are away from the government's scrutiny such as the slums of major cities and remote regions in the country's tribal belt.
The country's federal capital, Islamabad, houses more religious seminaries than schools. According to a recent research report, the number of religious schools in the capital now stands at 374 and a majority of these seminaries are not registered with the government or capital authorities. Moreover, more religious schools are being built on the outskirts of Islamabad while the federal government has not been able to open any new schools in the last four years.
The Lal Masjid (Red Mosque), a controversial religious seminary in Islamabad, continues to operate even after openly supporting the Islamic State and their version of Islam, which the mosque's leadership wants to implement in Pakistan. A recently released documentary, Among the Believers, offers an eye-opening insight into how young Pakistani minds are radicalized and brainwashed behind the walls of Lal Masjid. Lal Masjid and hundreds of other religious seminaries in Pakistan are actually operating to create a popular support base for militant groups such as the Islamic State among the masses.
Just over a week ago, representatives of two proscribed militant organizations were not only able to participate in a major by-election in Punjab, but they managed to secure more than 11 percent of the constituency's vote. One of the candidate's campaign posters had the pictures of Mumtaz Qadri, who assassinated the Governor of Punjab province Salman Taseer. The other candidate who was supported by the Jamaat-ul-Dawa(JuD), a proscribed organization that remains banned in Pakistan, openly campaigned on the agenda of transforming Pakistan into an conservative Islamic state with jihadism as a central theme of the candidate's imaginative ideas of democracy.
For 70 years, the ruling elite of Pakistan have accommodated religious fundamentalist demands in the country to either to safeguard their political interests or to keep the existing political power structure intact to sustain their rule. Now, in Pakistan, the credibility and legitimacy of politicians and bureaucrats is measured on the basis of their religious bona fides rather than the kinds of policies they hope to implement.
The rates of terrorist violence may have decreased in Pakistan in the last couple of years, but the country still continues to provide an environment that enables militancy. In such an environment, it's only a matter of time before the Islamic State develops a popular support base in the country. Last week's flag unfurling may ultimately be a warning worth taking seriously.
https://thediplomat.com/2017/09/the-islamic-states-support-base-in-pakistan-continues-to-grow/
--------
Indian Radical Cleric, Salman Nadwi, Wades Into Gulf Standoff, Expelled By Oman
Sachin Parashar
Sep 27, 2017
NEW DELHI: A renowned Indian Islamic scholar and pro-jihad radical cleric, Salman Nadwi, finds himself at the centre of the political crisis between Qatar and the Saudi Arabia led Arab quartet which has blamed Doha for supporting Iran and terrorist groups.
Nadwi, diplomatic sources in Muscat confirmed, has been expelled by Oman for a lecture he had given at the local College of Shariah Sciences last week in which he had called for attack on Saudi Arabia and some other Gulf countries for having turned against Qatar.
Saudi Arabia, Egypt, UAE and Bahrain cut all diplomatic and trade ties with Qatar in June this year plunging the region into an unprecedented political crisis. Significantly, after he was expelled by Oman, Nadwi was spotted with 91-year-old Egyptian theologian Yusuf al Qaradawi earlier this week in Qatar's capital. Qaradawi is on the terror sanctions list of the Arab quartet for his alleged support to terrorism, most notably for advocating suicide bombings as a "higher form of jihad".
Nadwi's meeting with Qaradawi will be of significance to Indian security agencies who have closely followed Nadwi's activities since 2014 when he became one of the first international Islamic scholars to write to IS chief Abu Bakr al-Baghdadi congratulating him for declaring a Caliphate from a Mosul mosque.
Later, in an interaction with author Tufail Ahmad, Nadwi had said he only asked al-Baghdadi to pursue good relations with other countries including India and to not encourage sectarianism.
Nadwi, a top scholar of Sunni Islam at Darul Uloom Nadwatul Ulama in Lucknow, was once an ardent admirer of Saudi Arabia and had at one point of time written to its government calling for Riyadh to establish a confederation of all international jihadist groups. In his letter to the Saudi government, he had also offered to raise an Islamic army of 500,000 men from India and neighbouring countries.
According to Oman, Nadwi's lecture was against the "principles, approaches and policies" of the country and that's why he had to be expelled. While Riyadh has officially thanked Oman for Nadwi's expulsion, it is probably already seething over the fact that he is currently the guest of Qaradawi, an influential leader of Muslim Brotherhood, in Doha.
While he is not directly accused of carrying out any terror attack, Qaradawi has officially been described as a terrorist by Riyadh and its allies who have repeatedly urged Qatar to act against him.
"Qaradawi is one of the most public figureheads of the radical wing of the Muslim Brotherhood," a former FBI? counter-terror official was quoted as saying in a report by The Washington Post in June this year.
Doha, however, hasn't acted against him believing that he is being targeted only for being a political opponent of riyadh and its allies.
Nadwi has in the past described? Qaradawi as the uncontested Imam of the Muslim world and said that all Islamic movements within the International Union of Muslim Scholars recognised his rule and leadership. "Those who accuse you of terrorism are but creatures of villainy and wickedness," he was quoted as having said.
http://timesofindia.indiatimes.com/india/indian-cleric-wades-into-gulf-standoff-expelled-by-oman/articleshow/60860837.cms
--------
Islamic-American advocacy groups come together for Rohingya Muslims
September 27, 2017
Protestors gathered in Kansas City last week to call on representatives from the area to address ongoing violence in Myanmar.
Since an attack against border police on Aug. 25, large-scale violence against ethnic Rohingya Muslims and majority Buddhist security forces has engulfed western Myanmar.
With conflict centering in the Rakhine state, located between the Bay of Bengal and greater Myanmar, more than 400,000 Rohingya have been forced from their homes, and scores have been killed.
A local insurgent group claimed responsibility for the attack that killed eight border police officers and one immigration officer.
The attack is now being used by the Tatmadaw, or Myanmar army, to justify what has been classified as clearance operations in the state.
Satellite imagery analyzed by Human Rights Watch shows that upwards of 210 Rohingya villages have been burned since the outbreak of violence.
A persecuted and unwanted minority in Myanmar, the displaced Rohingya face an uncertain fate due to an ongoing, state-sponsored crackdown and reports that the Tatmadaw has been placing mines along the border with Bangladesh, threatening their right of return when-and if-hostilities cease.
This most recent conflict, one of many that have occurred since the overthrow of Myanmar's military-controlled government, has received international attention due to the widespread reports of genocide and the large number of refugees.
A statement from the top human rights chief at the United Nations declared that the retaliatory violence undertaken by Myanmar's security services is a "textbook example of ethnic cleansing."
Since the violence began, reports of mass rape, arson, and pillaging of Rohingya villages have been reported by a number of news outlets.
The Center on American-Islamic Relations(CAIR), the largest Muslim civil liberties and advocacy organization in America, has coordinated with other Muslim NGOs to organize events across the country to protest the violence.
"We need to stand united against this most recent wave of atrocities, and steadfastly proclaim that 'never again' should humanity allow such acts to take place without doing something about it," said Moussa Elbayoumy, board chair of CAIR-Kansas.
CAIR's Kansas branch, along with CAIR's Missouri local office represent roughly 28,000 Muslims in the Kansas City metro area.
They have joined forces with the Islamic Circle of North America-Kansas City, and the Burma Task Force-KC in organizing a protest against the ongoing ethnic-cleansing of Muslims in Myanmar.
On Sunday Sept. 17, around 50 demonstrators gathered in Kansas City Missouri at the Plaza Fountain on West 47th St. to protest.
The rally in Kansas City, and others across the country, called on both Kansas and Missouri's elected senators to join Sen. John McCain in supporting a Senate resolution that would condemn the Burmese government's violence against the Rohingya.
Separately, there is an amendment that has been proposed in the Senate that would strip U.S. government funding for Myanmar's military from the National Defense Authorization Act for fiscal year 2018, that has received bipartisan support.
Missouri Sen. Claire McCaskill's says she is supportive of the recent protest in Kansas City and of Sen. McCain's efforts over the ongoing violence in Rakhine.
The viability of both measures remains unclear, with Senate Majority leader Mitch McConnell limiting debate on the defense authorization act, while stating condemnation of Aung Suu Kyi would not be helpful.
Myanmar's de-facto leader Aung San Suu Kyi, a Nobel laureate, spoke out about her government's tactics after a long period of silence, with pleas directed at an international community that is looking for answers and actions-to remain patient.
Exhibiting confusion, defiance, defense and excuses, her speech was met with fierce backlash, even from fellow Nobel Peace Prize winners.
Since her ascension to power in 2015, when she was elected State Counsellor, the political atmosphere in Myanmar has remained tumultuous at best. With around 135 ethnic groups, many of them armed, Myanmar has been faced with sustained resistance from an array of ethnic groups even before the Rohingya militant attacks.
Despite concerns over her handling of the Aug. 25 attacks, the amount of control Aung San Suu Kyi wields over Myanmar's security apparatus remains limited.
The national constitution, written by the ousted military junta, bars Ms. Suu Kyi from becoming president, and the military still retains considerable influence over the army and within parliament.
Many strategies about how to mitigate the destruction have been floated since the crisis began.
Bangladesh's Prime Minister, Sheikh Hasina, suggested the creation of UN enforced "safe zones" in Myanmar to protect the Rohingya.
The international community is weighing options on how best to respond to the crisis.
The distribution of humanitarian aid has been suspended since conflict began at the end of August, and it remains unclear when relief agencies will regain unfettered access to the area.
On the day of the protest in Kansas City, Bangladesh and the UN announced a plan to construct 14,000 new shelters by Sept. 27.
The United Nations Security Council unanimously condemned the government of Myanmar's actions, and many world leaders including United States President Donald Trump have used this past week's annual UN general assembly to condemn the violence in East Asia, as well.
http://info.umkc.edu/unews/islamic-american-advocacy-groups-come-together-for-rohingya-muslims/
--------
Hindus Recount Massacre in Myanmar as Mass Graves Unearthed
Sep 27, 2017
COX'S BAZAR: Rika Dhar watched as her husband, two brothers and countless neighbours were brutally hacked to death with machetes by masked men who stormed their Hindu village in western Myanmar and frogmarched the terrified inhabitants to the hills.
"After the killing, they dug three large pits and threw them inside. Their hands were still tied behind them and their eyes blindfolded," said 25-year-old Dhar in a Hindu camp inside Bangladesh where she fled with her two children.
Eyewitnesses told AFP the bloodshed occurred outside their small Hindu village in Kha Maung Seik in northern Rakhine state, where Myanmar authorities have exhumed 45 corpses from mass graves since Sunday.
The army says the grim discoveries are evidence of a massacre by Muslim Rohingya militants on August 25, the same day the insurgents launched coordinated raids on police posts that unleashed a surge of communal bloodshed.
The military's sweeping reprisal has left hundreds dead and sent nearly half a million Rohingya refugees fleeing to Bangladesh, where they have described a campaign of army-led violence the UN says amounts to ethnic cleansing.
Myanmar's army has rebuffed the accusation and defended its operation as a proportionate crackdown on the Rohingya "extremist terrorists", while highlighting the plight of other groups, such as Buddhists and Hindus, swept up in the unrest.
On Wednesday the army lifted its tight net over the conflict zone to fly reporters to the area in northern Rakhine where the mass graves of Hindus, including many women and children, were exhumed earlier this week.
It is the first time the military has organised a press trip to the area, where media restrictions have made it difficult to verify a whirlwind of accusations over who is driving the violence.
Displaced Hindus in Bangladesh and Myanmar, unable to contact their families, fear the worst as search efforts continued Wednesday for around 50 other villagers.
Witnesses from Kha Maung Seik, known locally as Fwaira Bazar, said black-clad attackers stormed their community on the morning of August 25, beating and binding the men before driving everyone into the forest.
"After they took us to the hills, they butchered everyone. I saw it with my own eyes," said Promila Sheel, 15, at a small Hindu village in Cox's Bazar near the sprawling Rohingya camps.
She said more than 100 people were killed - including her husband and three other family members. The corpses were unceremoniously dumped in freshly-dug pits, Sheel added.
The latest convulsion of violence has deepened already bitter hatreds between various ethnic groups in Rakhine, where tensions have simmered for years.
The women who survived the massacre did not identify the masked attackers as Muslim militants, but said they were targeted because they were Hindus.
Rohingya sympathetic to the militant cause reject allegations their fighters were responsible for massacring civilians.
In a tent near Kutupalong refugee camp, an alleged Rohingya militant flanked by supporters accused Buddhist mobs of carrying out the attacks and pinning the blame on the fledgling Muslim movement.
"They are just trying to tarnish our image," said the man, requesting anonymity to protect his identity from Bangladesh authorities.
"We never give the moghs (ethnic Rakhine Buddhists) or the non-Muslims a hard time without any valid reason. They are lying to make us look like the bad guys."
But that brings little solace to Modhuram Pal, a Hindu who has not heard from anyone in Kha Maung Seik since escaping with his family to Bangladesh weeks ago.
"I don't know the whereabouts of my relatives and friends in Fwaira Bazar," the 35-year-old said, using the Rohingya name for the village area.
"I heard about the bodies found in the village. God forbid, maybe some of my relatives are in there too."
http://timesofindia.indiatimes.com/world/south-asia/hindus-recount-massacre-in-myanmar-as-mass-graves-unearthed/articleshow/60854558.cms
--------
State of Palestine membership in Interpol approved, in move opposed by Israel
27 September 2017
Palestine joined Interpol as a member state on Wednesday, a move opposed by Israel, in a vote at the international police organization's general assembly in Beijing, Interpol said on Twitter.
"The State of Palestine and the Solomon Islands are now INTERPOL member countries," the tweet read.
The Israeli Foreign Ministry, which said earlier that Israel's efforts to delay a vote until next year had failed, had no immediate comment on the decision.
https://english.alarabiya.net/en/News/middle-east/2017/09/27/State-of-Palestine-membership-in-Interpol-approved-.html
--------
Pakistan
Hafiz Saeed and Haqqanis were your 'darlings': Pakistan to US
28-Sep-17
ISLAMABAD: Pakistan while refusing to take the blame for Haqqani Network and other alleged militant outfits, has reminded the United States that these 'terrorists' were considered the 'darlings' of the White House up until a few decades ago.
"Don't blame us for the Haqqanis [the Haqqani Network] and don't blame us for the Hafiz Saeed [the head of banned Jamaatud Dawa]. These were the people who were your darlings just 20 to 30 years back. They were being dined and wined in the White House and now you say 'go to hell Pakistanis because you are nurturing these people'," Foreign Minister Khawaja Asif, who is attending the 72nd session of the UN General Assembly, told the Asia Society forum.
"It is very easy to say that Pakistan is floating Haqqanis and Hafiz Saeed and Lashkar-e-Taiba. They are liabilities. I accept that they are liabilities, but give us time to get rid of them because we don't have the assets to match these liabilities and you are increasing them [our liabilities] further," he said, further clarifying Islamabad's position.
He said Pakistan was ready to work with the US for effective management of Afghan border to stop terrorist infiltration. Speaking at the forum, Asif stressed that there was no military solution to the festering conflict in Afghanistan. "Scapegoating Pakistan for all the Afghan ills is neither fair nor accurate," he said. "This will only help forces that we are trying to fight collectively," he remarked. Pakistan, he said, had in the past done all it could to facilitate a political settlement in Afghanistan, making sure that Pakistani soil was not used against any country.
Pakistan has a 'larger stake' in seeing the return of peace and stability in Afghanistan than any other country, having suffered grievously from the conflict and instability across the border, he said. "We are mindful of the strong desire in the US to bring the long war in Afghanistan to an end," he said. "We support this objective wholeheartedly and are ready to help in any way we can to achieve peace and stability in Afghanistan," he offered. He, however, made it clear that there were obviously clear limits to what Pakistan could do. "We cannot take responsibility for Afghanistan's peace and security and be asked to achieve what the combined strength of some of the most powerful and richest countries could not accomplish," he told the audience.
"Effective border management, frankly, is the key," the minister said, adding, "More needs to be done on the Afghan side of the border where terrorist elements are finding easy safe havens." "We are keen to work with the US in effectively managing the Afghan border and in facilitating a peace process to the extent we can," he said.
He added, "Emergence of new threats, including Da'esh, demands ever greater coordination and stronger partnerships between like-minded countries to put up a united front to counter these dark forces of exclusion and extremism."
http://dailytimes.com.pk/islamabad/28-Sep-17/hafiz-saeed-and-haqqanis-were-your-darlings-pakistan-to-us
--------
Ulema unite against sectarianism
September 28, 2017
LAHORE - Religious figures of various schools of thoughts have stressed the need of promotion peace, unity, harmony, and brotherhood for national progress and prosperity.
Speaking at an Ulema Conference at Khatam-e-Nawubat Islamic Research Center Jamia Masjid Gol Ghulam Muhammad Abad on Wednesday, they said that peace is imperative for rapid development. "Therefore, we should play our effective role for promotion of peace in the country to foil nefarious designs of the miscreants."
They also condemned the suicide attacks and terrorism activities on the name of Islam and demanded implementation on ban on spread of hatred and sectarian basis material.
Speaking on the occasion, Pakistan Ulema Council Chairman Sahibzada Zahid Mehmood Qasmi said that some forces want to create rifts on religion and lingual basis. For this purpose, he stated, these elements are dividing the nation into sects and sub-sects to weaken the country.
Qasmi said that some international forces are also hatching conspiracies on sectarian basis to shatter Muslim unity as they have done it in Iraq and Syria where earlier Al-Qaeda was dominating and now Daesh (ISIS) is prevailing and all these outfits are directly involved in terrorism.
He said that a missile was shot towards Makkah Mukarramah besides committing a suicide attack nearer Madinah Munawwarah, two most sacred places for Muslims.
"The enemy of Islam is trying his optimum to divide Ummah on sectarian basis. Islam is a religion of peace, tolerance, unity and brotherhood," he added.
Shah Nawaz Farooqi said that safe and secured atmosphere is a basic right which should be provided to every citizen of the state. He stressed that Pakistan's defense is not only our duty but our first and foremost responsibility to make it invincible on all borders.
"We should also play our dynamic role collectively to maintain law and order in the country," he urged.
Farooqi said that anti-Islam forces are using various tactics to sabotage peaceful atmosphere and for this purpose they are using young generation especially students for suicide attacks and armed clashes besides promoting unrest and sectarian differences but the divine religion does not allow such practices as it promotes peace and safety.
Abdur Rasheed Hajazi said that Islam is a religion of peace and tranquility. "It is need of the hour to promote its valuable teachings in the world," he added.
Yaseen Zafar said that peace is prerequisite of national progress. "Pakistan has experienced the toughest situation due to suicide attacks and bomb blasts during last few years. The notorious elements hit mosques and Imam Bargahs equally and all these were painted red with blood of innocent people.
"In these circumstances, the Pak Army took right step for launching Operation Zarb-e-Azb and Raddul Fasaad which have eliminated the terrorism network in the country to a large extent."
However, he added, we should do work collectively for eradication of sectarianism from our society once for all and in this connection Ulema Conference is an appreciable step.
Faisalabad District Bar Association Secretary Mian Tahir Mehran said that the lawyers' community will not allow anyone to defame Islam on name of 'Jihad'. "Pak Army is performing its duty honestly. Therefore, no one would be allowed to hint upon army character," he said.
Yousuf Anwar, Saeed Ahmad Asad, Sahibzada Pir Faiz Rasool, Yaseen Zafar, Mufti Muhammad Tayyab, Riaz Kharl, Abdus Saeed, Prof Shamsur Rehman, Allama Shabbir Ahmad Usmani, Azizur Rehman Raheemi, Haq Nawaz, Muhammad Nawas, Qari Shabbir Ahmad Usmani, Dr Iftikhar Naqvi, Mufti Shahid Jameel, Mufti Arif Jameel, Hafiz Muhammad Shaaban Siddiqui, Hafiz Muhammad Tayyab Qasmi, Abdul Mannan Usmani, Muhammad Mushtaq Lahore, Qari Ahmad Ali Nadeem, Umar Qasmi, Dr Mumtaz Hussain and others also spoke on the occasion.
Later, a unanimous proclamation was also presented in the conference, which condemned the unrest, lawlessness and terrorism in the name of Islam.
Full report at:
http://nation.com.pk/lahore/28-Sep-2017/ulema-unite-against-sectarianism
--------
Muslim countries' parliaments should work for resolving issues: Rabbani
28-Sep-17
ISLAMABAD: Senate Chairman Mian Raza Rabbani has said that parliaments of Muslim countries must come forward and interact to evolve a mechanism for making concrete efforts to resolve the issues being faced by the Muslim world.
He was talking to a parliamentary delegation of Bahrain led by Ali Bin Saleh Al Saleh, chairman of Shura Council, Kingdom of Bahrain, at the Parliament House on Wednesday.
Leader of the House in Senate Raja Muhammad Zafarul Haq, Senate Deputy Chairman Molana Abdul Ghafoor Haideri, Pak-Bahrain Friendship Group in Senate of Pakistan Chairman Senator Hafiz Hamdullah and senators Dr Jehanzeb Jamaldini, Azam Swati, Talha Mehmood, Mushahid Hussain Syed and Sitiara Ayaz were also presented during the meeting. The delegation is currently visiting Pakistan on the invitation of Senate Chairman Raza Rabbani.
The delegation laid a wreath on the monument of "Unsung Heroes of Democracy" and paid tribute to the sacrifices of the heroes of the democracy and their unwavering commitment. The delegation also visited the Gali-e-Dastoor, where a detailed briefing was given on the parliamentary and constitutional history of Pakistan. The delegation also visited the refurbished library of the Senate and appreciated the initiatives of the Senate Secretariat under the leadership of the Senate chairman and expressed desire to assist the Parliament of Bahrain in improving the library services. Leader of the delegation also recorded his impressions in the guest book.
Senate Chairman Raza Rabbani said that the region was facing turmoil and there was a dire need to put our heads together and overcome the challenges posing threats to stability and security. He said that this was an era of parliamentary diplomacy as it as the most appropriate and viable option for furthering the ties among the nations and resolving the issues. He said that Pakistan enjoys cordial relations with Bahrain and other Gulf countries and there was a need to further boost these brotherly relations into extended economic ties to benefit from the huge trade potential among these nations.
The chairman thanked the King of Bahrain on behalf of the Pakistani people for establishing a nursing university in Pakistan which would not only help improve healthcare facilities but the students of this institution would serve as ambassadors for enhancing the cooperation between Pakistan and Bahrain.
The Senate chairman said that cooperation among the parliaments of Muslim countries was direly needed keeping in view the fact that the entire Muslim world had been destabilised by the vested interests of different international powers. In this scenario, he said, it was important for the Muslim parliaments to interact and find solution to these problems and emerging challenges. He informed the visiting delegation that Pakistan was facing terrorism but due to resilience of the people and various efforts through security operations and political interventions, the country had been able to overcome the menace to a great extent.
Full report at:
http://dailytimes.com.pk/pakistan/28-Sep-17/muslim-countries-parliaments-should-work-for-resolving-issues-rabbani
--------
Pakistan gives in to 'international pressure', opposes registration of Hafiz Saeed's JuD's political arm as political party
Sep, 27 2017
Geneva: The nearly half a million Rohingya refugees who have entered Bangladesh since August will likely not be leaving soon, the UN said Wednesday, calling for longer-term plans to manage the influx.
The head of the United Nations refugee agency, Filippo Grandi, called the current camp set up "a recipe for disaster", with overcrowding and unhygenic conditions creating a breeding ground for "possible epidemics."
"The important thing is to get people in place where they can be assisted more easily," Grandi told reporters in Geneva, referring to the estimated 480,000 mostly Muslim Rohingyas who have fled Myanmar violence.
"It is most likely that return will take time, if it happens, if the violence stops. It will be important also to find in the medium term suitable solutions for the people that are in Bangladesh."
"The first challenge is to get people out of the mud and the despair which they are finding themselves in", he added.
Grandi said he was in talks with Dhaka about forming a "technical committee" with the UN to look at options for longer-term Rohingya settlements.
"There are in reality many different options many different options that the Bangladesh government is studying, and understandably they are not easy", he said, noting the strain placed on local communities in the Cox's Bazar area on the Myanmar border.
Aid agencies say that the largely makeshift camps in Cox's Bazar are bursting at the seams, amid struggles to bring in adequate food and shelter.
Impoverished Bangladesh has earned praise for its response so far.
Rohingya have been fleeing Rakhine state in northeast Myanmar for decades. The new exodus began on 25 August when deadly attacks by Rohingya militants on Myanmar police posts prompted a military crackdown.
The International Organization for Migration has estimated that there are more than 800,000 Rohingya currently in Bangladesh, including those who fled Myanmar before the latest crisis.
Full report at:
http://www.firstpost.com/world/rohingya-crisis-bangladesh-needs-longer-term-plan-for-refugees-says-united-nations-4089915.html
--------
Rohingyas face discrimination in Pakistan
September 28, 2017
Pakistan's double standards stands exposed once again as on one hand Pakistan's government and Islamic groups have been making hue and cry over the "persecution" of the Rohingya Muslims in Rakhine by the Myanmar government, but on the other hand Rohingyas have been living in abysmal conditions in Islamabad for decades.
Pakistan, home to 40,000 and 250,000 Rohingyas, has lodged an official protest with Myanmar's government over its treatment of the ethnic minority. But, the Rohingyas living in Pakistan find it hypocritical as they say they face discrimination in the Muslim-majority country and are forced to live in poor conditions, Deutsche Welle website reported.
"I am a Rohingya, but a Pakistani Rohingya. I speak Bengali and that is why most people call us Bengali in our area. They don't accept us as Pakistanis," DW quoted Mufiz Ur Rehman, a Rohingya based in Karachi's Arakan Abad area, as saying.
Arakan Abad is named after Myanmar's Arakan state, also known as Rakhine.
The Myanmar government launched military operations in Rakhine state against Rohingya rebels in late August when around 100 armed Muslim insurgents attacked security guards in the border region, causing massive exodus of minority Muslims into neighbouring Bangladesh.
Over 400,000 Rohingyas have fled to neighboring Bangladesh following the start of the latest conflict on August 25
The Rohingya are an ethnic minority in Myanmar and are not officially recognized by the government as citizens and for decades Myanmar's Buddhist majority has been accused of subjecting them to discrimination and violence.
Apart from Myanmar and Bangladesh, Rohingya are settled in India, Pakistan, Thailand, Malaysia, and also Saudi Arabia.
After returning from Bangladesh, CNN reported UN refugee chief Filippo Grandi as saying that "Rohingya refugees who have sought shelter in neighbouring Bangladesh are in desperate need of help. They have absolutely nothing, evidently they had to flee from a very urgent situation, from very sudden violence, so they need everything".
Myanmar State Councillor Aung San Suu Kyi has said the term 'Rohingya is 'highly charged' and hence she decided to call them Muslims. She added that she did not see any point to use terms which can inflame passions further.
Full report at:
http://www.business-standard.com/article/news-ani/rohingyas-face-discrimination-in-pakistan-117092800214_1.html
--------
Pakistan Ulema council asks govt to implement National Action Plan
Kalbe Ali
September 28, 2017
ISLAMABAD: The Pakistan Ulema Council (PUC) has asked the government to implement the National Action Plan in letter and spirit to root out sectarianism from the country.
The demand was made at the 'Unity of Ummah Conference' organised by the PUC here on Wednesday.
Speakers at the conference called for promoting coherence and unity among Muslims and denounced the activities of proscribed groups which were creating divisions in society.
The joint declaration of the conference supported the Operation Raddul Fasad, condemned the killing of Rohingya Muslims in Myanmar and decided to establish 'national reconciliatory council' committees all over the country.
The conference, attended by clerics belonging to various schools of thought, adopted a resolution which stressed the need for eradicating extremism and sectarian violence through promotion of interfaith and intra-faith dialogue.
The conference elected Hafiz Tahir Ashrafi as chairman of the 'National Reconciliatory Council' and Mohammad Musawar Abbasi as its general secretary
The conference released a 10-point 'code of conduct' for all sects to maintain peace during Muharram.
The code stated that there is no space for terrorism, extremism and sectarian violence in the name of Islam and called upon the leadership of all sects to disassociate themselves from elements involved in sectarian violence, terrorism and extremism.
The code stated that no Islamic sect can be declared 'infidel' and no Muslim or non-Muslim should be declared 'deserving death' and people of Pakistan and believers of all religious sects will live their lives as per the rights enshrined in the Constitution.
The code called upon scholars, orators and clerics not to use sacrilegious remarks for prophets, family and wives of the Holy Prophet (PBUH), caliphs, Imams and Imam Mehdi, and said no religious sect should support or endorse any blasphemer.
The conference said that it was the responsibility of the government to ensure protection of sacred places and places of worship belonging to all sects and religions.
Full report at:
https://www.dawn.com/news/1360510/pakistan-ulema-council-asks-govt-to-implement-national-action-plan
--------
India
Durga Puja brings together Muslims, Hindus in Kolkata
SEPTEMBER 27, 2017
In Kolkata's minority-dominated Khidirpur the Durga puja has been jointly organised by Hindus and Muslims for over 70 years now. Sitting on an unsteady plastic chair inside a cramped room, Seikh Jahangir speaks passionately about the event. As he wipes sweat off his forehead, Mr. Jahangir keeps fiddling with the subscription slips in his hands. They are still collecting funds.
"All the Muslim women in the neighbourhood take part in the rituals such as boron (welcoming the goddess) as well as immersion," says Mr. Jahangir, secretary of the puja committee. They also prepare the offerings to the goddess. Out of the 28 members in the puja committee 25 are from the minority community.
Mr. Jahangir is unemployed but determined to overcome his financial constraints and make the 2017 puja a success. He is the third person in his family to head the Durga puja committee, known as Five Star Club Sarbojonin (community) Durgatsav.
"My grandfather and father were also secretaries of the puja committee. We don't see Durga puja as a festival of another community, but as a festival of harmony and togetherness," says Mr. Jahangir, as his friend and another member of the Puja committee, Bikash Roy, looks on.
Meals for Muharram
During Muharram the participants in the religious procession which starts about a few yards away from the Puja pandal are offered meals by the organisers before they set off.
"There is a club just beside ours where all the members are Muslims and take out processions on Muharram every year. Like always, this year also we will take part in Durga puja and Muharram together," says Mr. Roy.
He points to the drums on top of a cupboard in the corner of the room. "We are also preparing for Muhurram," he says.
However, the organisers are unsure whether they will be able to continue the puja next year as they are facing acute fund constraints.
http://www.thehindu.com/news/cities/kolkata/durga-puja-brings-together-muslims-hindus-in-kolkata/article19764057.ece
--------
Jamia seminar discusses Islam, Azan and loudspeaker, VC says Islam a religion of peace
September 27, 2017
Jamia Millia Islamia's Vice Chancellor Prof. Talat Ahmad has said that Islam was a religion of peace and it condemned the killing of innocent.
Speaking at the seminar on 'The Idea of Peace, Humanism and Tolerance in Islam,' Ahmad said, "Islam and Muslims have not been at wars during the world wars and so-called Holocaust. As an institution, we have to defend Islam and respond to the malicious campaign against it. Islam is a religion of peace and strongly condemns the killing of an innocent."
Also attending the seminar was an Islamic scholar and Vice Chancellor of Maulana Azad University, Jodhpur, Prof. Akhtarul Wasey.
He said "the misconception against the Islam is because of the conduct of Muslims. We have to lead a life as per the guidance given by Quran and life of Prophet."
Dr. Hilal Ahmed, Senior Researcher, CSDS, talked about the much-debated issue of loudspeakers used for Azan. He gave recent example of Sonu Nigam's tweets on Azan and how it triggered a controversy all across the country. He gave survey findings of 17 states on how an overwhelming majority of the respondents including Hindus, Sikhs and Christians were not in favour of Azan ban and the reason for such ban.
He said, "according to the survey findings there were approximately 70 percent people not wanting the ban and remaining 20 percent want a ban to stop and control noise pollution and 10 percent people to stop the feeling of communalism to grow. Their survey included ban on Aartis too and the reasons were same which shows that there is no hatred among people of different religions."
Full report at:
http://www.jantakareporter.com/india/jamia-seminar-discusses-islam/151949/
--------
UP ATS issues lookout notice for Bangla terror suspect
Piyush Rai
Sep 27, 2017
Bareilly: Uttar Pradesh Anti-Terrorist Squad (ATS) has issued a lookout notice for Tauheed Ur Rehman alias Fazr Ali, a Bangladeshi national allegedly linked to terror outfit Ansarullah Bangla Team (ABT). His whereabouts were traced following the arrest of Abdullah Al-Mamon, a terrorist linked to ABT who was arrested by UP ATS from Kutesara village in Muzaffarnagar on August 6. "Two others, Faizan and Tauheed, were identified following information from Abdullah and examination of other items including terror literature which were seized during his arrest," a highly placed source in the police department said.
A resident of Chuadanga district in Bangladesh, Tauheed carries a bounty of Rs 25,000 on his head. He was seen in Deoband, Saharanpur on several occasions. "Tauheed is a master of disguise and is an expert in weapon operations. He is skilled in martial arts too," a statement by UP ATS said.
Meanwhile, police are yet to trace Faizan who had helped Abdullah in securing fake documents. "Certain sections of the local media had wrongly identified Faizan and published his pictures as well. We are yet to get hold of his complete identity and his credentials," Asim Arun, inspector general, ATS, said. Sleuths had then conducted several raids to trace Faizan, including a search party combing his Deoband residence, but he was nowhere to be found.
According to the information provided by TRAC (Terrorism, Research & Analysis Consortium), ABT is an al Qaida-inspired Islamic extremist group in Bangladesh. Its objectives include the radicalization of youth in Bangladesh, inciting active participation in a local jihad and seeking control of areas in Bangladesh. According to website of TRAC, the group uses cyberspace extensively in propagating jihadist ideology and training manuals to guide terror attacks.
The banned outfit also uses mosques in propagating its ideological objectives. On August 12, 2013, Bangladeshi authorities arrested the leader of the ABT, Mufti Jasimuddin Rahmani, with 30 members from Barguna (south-western district in Bangladesh) for inciting jihad at mosques.
Full report at:
http://timesofindia.indiatimes.com/city/bareilly/up-ats-issues-lookout-notice-for-bangla-terror-suspect/articleshow/60861136.cms
--------
Inspired by India Today sting operation, film on Halala faces opposition from Muslim outfit
September 27, 2017
A Marathi movie inspired by a sting operation into exploitation of women under the pretext of tradition of Halala carried by India Today TV a couple of months ago is likely to face stiff opposition from a religious group of the Muslim community, Awami Vikas Party.
The film titled 'Halal' depicts a Maulana who sexually exploits women who are divorced under the triple talaq tradition. In the movie, the character of a Maulana marries divorcee women for a night, has sex with them before freeing them from the clutches of triple talaq.
The character of Maulana is based on the same person caught on camera by India Today, offering sex for a night to divorced women as he is their custodian during Halala.
Halala, as per Sharia, is a tradition among the Muslims in which a divorcee woman has to marry another person and needs to stay with him for some period if she wants to nullify her divorce and return to her first husband. She can do it only if the second husband divorces her.
The film is based on the novel 'Halala' by renowned author Rajan Khan published in 2014. It is set to release on October 6, after the Censor Board clears the film twice before screening it.
The Awami Vikas Party has opposed the movie which narrates ill-effects on triple talaq and halala. The party president Shamsher Pathan, a retired police officer, claimed that the bad character of the Maulana in the film might lead to disturbance to law and order situation in Maharashtra.
"This maligns the image of all Maulanas, as what the film show is contrary to the truth," Pathan said. He claimed that Quran does not allow a Maulana marry a woman for Halaala.
"The film will anger the Muslims. The government should intervene in this issue in spite of the approval from the Censor Board."
Khan said the character of the Maulana is a case of cinematic liberty by the producer Amol Kagane. Such a character does not exist in the novel. "The producer or director might change the original story to make it dramatic. They have changed this one too. They have a right to do so as per the agreement between us," Khan said.
According to Kagane, the film has received grand response at Cannes and London Film Festival.
Full report at:
http://indiatoday.intoday.in/story/india-today-sting-operation-film-halala-opposition-muslim-outfit/1/1057510.html
--------
Terrorists barge into home, kill BSF jawan in Kashmir
M Saleem Pandit
Sep 28, 2017
SRINAGAR: Three months after terrorists killed Lt Ummer Fayaz after dragging him out of a wedding in J&K's Shopian, at least four terrorists barged into the Bandipora home of BSF jawan Mohammad Ramzan Parray, 23, and gunned him down on Wednesday night.
Four of his family members were also injured.
Parray, who had joined BSF a few years ago and was posted in Baramulla town with the 73 battalion, was on leave for the past 20 days.
According to eyewitnesses, the terrorists initially thrashed the jawan but when his two brothers, Javid and Sahib, father Ghulam and aunt Habba Begum protested, they opened indiscriminate fire with automatic rifles, killing Rameez on the spot.
The three men, admitted to a Srinagar hospital, are critical.
According to SP Bandipora Zulfikar Azad, the terrorists first tried to abduct the BSF jawan, but started shooting when they faced resistance from the jawan's family members.
Full report at:
http://timesofindia.indiatimes.com/india/terrorists-barge-into-home-kill-bsf-jawan-in-jk/articleshow/60862233.cms
--------
Kerala priest rescued from ISIS captivity in Yemen arrives to meet PM Modi
September 28, 2017
Catholic priest from Kerala Reverend Tom Uzhunnalil, who was rescued from the Islamic State captivity in Yemen, arrived in New Delhi earlier on Thursday where he is set to meet Prime Minister Narendra Modi. After his arrival at the Indira Gandhi International Airport in New Delhi, Father Uzhunnalil said, "Very happy, thank almighty for making this day possible. All people who have worked in their own ways, I am grateful."
Shortly after his arrival, he left for a meeting with PM Modi.
Father Uzhunnalil, who was released recently from the Islamic State captivity, had said earlier this month that he was 'never physically harmed during captivity.' Associated Press had quoted father Unzhunnalil as saying from Vatican City: "I thank God almighty, He has been extremely kind to me. No gun was pointed at me. He saved me healthy enough." Also Read: Catholic priest after release from ISIS captivity says 'not harmed physically'
The priest was abducted by Islamic State operatives in Yemen on March 2016, before releasing him on September 12 this year. An old-age home run by Mother Teresa's Missionaries of Charity in the city of Aden was attacked, and four nuns were killed before the Reverend was kidnapped. Recently, with the intervention of Oman, India was able to secure the release of the Reverend.
Full report at:
http://indianexpress.com/article/india/kerala-priest-father-tom-uzhunnalil-islamic-state-narendra-modi-4864970/
--------
Hizbul Mujahideen hideout busted in J-K's Doda district
September 28, 2017
A major hideout of Hizbul Mujahideen militant outfit was on Wednesday busted by security forces in Doda district of Jammu and Kashmir, police said, adding a huge cache of arms was seized from their possession. The hideout, concealed inside a natural cave, was unearthed during an operation in the forest area of Thana in Dessa area of the hilly district, Senior Superintendent of Police, Doda, Mohammad Shabir told PTI.
Ammunition including AK-47 assault rifles, Chinese pistols and grenades, Rocket Propelled Grenade (RPG) rounds, Under Barrel Grenade Launchers (UBGL), 323 rounds of AK-47 ammunition and a donation collection booklet of Hizbul Mujahideen were seized from the hideout, he said.
The police said it was a joint operation by the state police and the Army based on a specific information, to keep Doda district "safe and sanitised from terrorists as well as their support infrastructure".
Shabir said the joint parties cordoned off the area this morning and carried out a meticulous search during which they succeeded in locating the hideout.
Full report at:
http://indianexpress.com/article/india/hizbul-mujahideen-hideout-busted-in-j-ks-doda-district-4864826/
--------
North America
Negotiations only path to political legitimacy for Taliban: US
28-Sep-17
KABUL: US Defense Secretary Jim Mattis visited Kabul on Wednesday to pledge support for the government of President Ashraf Ghani, with the precarious security in the Afghan capital underlined by an attack on the airport hours after he touched down.
Arriving from India, where he sought support for the US administration's new South Asia security plan, Mattis said the United States was determined not to allow 'a merciless enemy to kill its way to power'.
Promising a more 'holistic' approach without fixed timetables and involving other countries in the region, including Pakistan, he said the Taliban would have to learn they could not defeat the government.
"I want to reinforce to the Taliban that the only path to peace and political legitimacy for them is through a negotiated settlement," Mattis told a joint news conference with Ghani and NATO Secretary General Jens Stoltenberg.
Standing alongside him, Ghani said his government "remains open to talks with the Taliban" as well as a peace strategy involving Pakistan.
"Whatever sacrifice it requires to bring enduring peace and security to this country, we'll be committed to it," he said.
The visit comes after US President Donald Trump announced a new strategy for Afghanistan, promising a stepped-up military campaign against the Taliban who have gained ground as they seek to re-establish Islamic law after their 2001 defeat.
But a rocket attack on Kabul airport that wounded several civilians and was claimed by both Islamic State and Taliban insurgents highlighted the insurgents' ability to strike the Western-backed government.
Fighters holed up in a nearby building continued to resist security forces, the interior ministry said, and sporadic gunfire and explosions could be heard from the vicinity of the airport for hours afterwards.
One security official, who spoke on condition of anonymity because he was not authorized to talk to the press, said three attackers were killed and 13 civilians wounded.
Mattis condemned the attack as a 'criminal act by terrorists', adding that it was a 'classic definition of what the Taliban are up to here now'.
As part of the new strategy, which will give US commanders greater freedom to use American firepower against the Taliban, Mattis has said the United States will send an additional 3,000 troops to help train Afghan security forces, which are focusing on building up the air force and special forces.
The strategy will also make greater use of US air power to support Afghan forces and strike the Taliban, a strategy that carries the risk of an increase in civilian casualties. Mattis declined to provide details of the plan.
"I don't want to tell the enemy exactly what we are doing but the whole point is to make certain we have a compelling battlefield advantage over anything the Taliban tries to mass against your forces," he said.
United Nations figures from July showed a 43 percent jump in civilian casualties caused by an increase in air strikes in the first half of the year.
Mattis said US forces would do 'everything humanly possible' to limit the civilian casualties that fueled bitter disputes between Washington and the government of former president Hamid Karzai.
The Taliban have made steady inroads since NATO ended its main combat operation in 2014 and are now estimated to control or contest at least 40 percent of the country, and Afghan commanders have regularly pleaded for more air support.
There are now about 8,400 US troops in Afghanistan as part of the 13,500-strong NATO-led Resolute Support mission advising and training Afghan forces as well as a separate counter-terrorism mission, targeting Islamic State and al Qaeda.
Trump has said he expects NATO allies to increase contributions of both troops and funding to the Afghanistan mission, and Stoltenberg said the credibility of the international alliance depended on maintaining support.
"We know the cost of staying in Afghanistan," he said. "But the cost of leaving would be higher. If NATO forces leave too soon, there is a risk Afghanistan may return to a state of chaos and once again become a safe haven for international terrorism."
http://dailytimes.com.pk/pakistan/28-Sep-17/negotiations-only-path-to-political-legitimacy-for-taliban-us
--------
US anti-terror chief warns IS global threat 'intact'
September 28, 2017
Washington, United States | AFP | The global threat posed by the Islamic State group has not been diminished by its battlefield defeats in Iraq and Syria, US counter terrorism chief Nick Rasmussen warned Wednesday.
Rasmussen told the Senate Homeland Security Committee that he expects the Islamic State group, after losing its physical territory, to become a covert operation that will still conduct and inspire attacks around the world.
"There is not, in fact, a direct link between ISIS' battlefield position in Iraq and Syria and the group's capacity to inspire external attacks," he said.
"The ISIS ability to reach globally is still largely intact," said Rasmussen, who has been director of the National Counterterrorism Center since 2014.
In recent months US-led coalition forces have expelled Islamic State fighters from its key Iraq strongholds of Mosul and Tal Afar and they are close to eliminating it in Raqa, Syria.
This has forced the remnants of the jihadist army down into the middle Euphrates River valley where a last-stand siege is expected.
But Rasmussen said the group is and will continue to be able to recruit followers around the world, ready to undertake attacks.
When its defeat on the battlefield is final, he said, US terror experts expect it to revert to the form ir took in an earlier incarnation as the Al-Qaeda in Iraq insurgency of 2004 to 2008.
"Winning on the battlefield in places like Mosul and Raqa is a necessary but an insufficient step in the process of eliminating the ISIS threat to our interests," he said.
"It's simply going to take longer than we would like to translate victory on the battlefield into a genuine threat reduction."
– Foreign fighters threat –
Rasmussen, director of the US National Counterterrorism Center, also said that the number of foreign Islamic State fighters returning back to their home countries is not as great as had been feared.
Instead, most of them have opted to remain with the jihadist army to fight and die, he said.
"It is not nearly as large in volume as perhaps we anticipated. That's a good thing, that we're not going to have to deal with thousands and thousands of foreign fighters departing the conflict zone."
However, he added, "I would say though that quality matters here, in some ways more than quantity."
"The wrong set of individuals who escape from the conflict zone in Iraq and Syria, if they have got a particularly specialized set of skills, or a particularly full Rolodex, or deep connections into an extremist community in of Europe or potentially here inside the United States, they could pose a significant threat to us."
He said that Al-Qaeda, which has found refuge in Syria's Idlib province under the name Hayat Tahrir al-Sham, remains a potent threat despite being overshadowed by the Islamic State group.
Sixteen years after stunning the United States with its September 11, 2001 attacks, Al-Qaeda is "a strikingly resilient organization" that is still able to recruit followers, maintain relationships between affiliated groups and raise money.
Both groups, Rasmussen said, maintain a focus on renewed attacks against western aviation, as evidenced by the recent foiled attempt to bomb an aircraft in Australia, he said.
That case "shows that terrorists are aware of security procedures. They watch what we do and they try to learn from it," he said.
Full report at:
https://www.independent.co.ug/us-anti-terror-chief-warns-global-threat-intact/
--------
War on terror the manual for creating terrorists
Mahmoud Zaki
27 September 2017
On the 11th of September 2001, al-Qaeda members simultaneously hijacked four large passenger aircraft and committed a series of four attacks on landmarks in the United States killing almost 3000 people. Since that date, the world has been united to face the hazardous radicalization. Days and months later, the US former president George Bush made an appearance, pledging that a new war would be established and that war would be fought against every terrorist. It would be waged until all of them had been found, stopped and defeated.
Almost 17 years have passed since that pledge. Terrorism has evolved to highly technical armed groups.
The world is facing a growing intensity and frequency of terrorist attacks. Numerous lone actor attacks are taking place in the UK and Europe. Field battles have been launched between terrorists and armies in the Philippines, Kenya, Nigeria, Afghanistan, Libya, Iraq, Egypt and Syria. Furthermore, radical attacks killed more than 449 people in Europe alone, more than all previous years combined since World War II.
Although religion, internet, illiteracy, and poverty have been accused of being the manufacturers of terrorism, the American #War On Terrorism is interconnected with the extreme rise of radical terrorist groups.
Besides the failure of the #War On Terror in defeating terrorism, experts accused the war on terror of being the source of more radicalization, racism, Islamophobia, and discrimination in the west.
Reasons for terrorists
Des Freedman and Daya Thussu, in their book "Media and Terrorism: Global Perspectives," deduced that the heated discussions and pointed legislation against European Muslims in the last two decades were used positively by terrorist groups. For instance, in the case of France, in 2009 a French motion to ban the niqab was introduced, provoking a heated public debate on the issue. Moreover, a heated public discussion in Switzerland ended with banning the construction of minarets, the towers from which the Muslims call to prayer. Finally, the European #Court Of Justice in Luxembourg decided in 2017, that the wearing of Islamic headscarves by women at work, should be part of a general policy barring all religious and political symbols.
Such decisions have been used to mobilize support for jihad, and ironically, not just resulted in the coordination of propaganda, but in furthering the notion of a "clash of civilizations." For example, Al Qaeda's group used the headscarf ban in France to their advantage, by using an argument that is emotionally appealing to Muslims around the world who feel oppressed by the West.
Moreover, ISIS media, Horns of Telegram, used the European Court of Justice in Luxembourg decision to radicalize Muslims living in the west and encouraged them to commit lone wolf attacks. One of the radical telegram channels said "Do you still support your country of residence and believe of citizenship and equality. This is the time of revenge. This the time of destroying and purifying the debauchery and blasphemy societies."
Marian Randall in his study, "9/11 and the Literature of Terror," accused the media war on terrorism of being the reason behind the spread of extreme speeches online. He identified that after the declaration of the war on terrorism, the jihadist websites increased from 14 to more than 4000 within five years.
Full report at:
http://uk.blastingnews.com/opinion/2017/09/war-on-terror-the-manual-for-creating-terrorists-002043285.html
--------
Mosque shooter changes stance on Islam after meeting Muslims
Sep 28, 2017
A Connecticut man has grown to appreciate Islam after shooting at an empty mosque in November 2015.
Former U.S. Marine Ted Hakey Jr. was arrested and charged for firing 30 shots from a high-powered rifle into the Ahmadiyya Baitul Aman Mosque located near his home in Meriden, Conn., according to NBC Connecticut.
Hakey was intoxicated and angry about the terror attacks in Paris when he fired the shots into the mosque in the middle of the night.
He was sentenced to six months in prison and also received three years of supervised release after members of the mosque he shot at pleaded with the judge to lighten his sentence, a Department of Justice press release said.
Muslim doc who treated Manchester Arena victims stabbed in neck
He now spends time learning and spreading the message of the local Muslim community.
Only four of the bullets he fired pierced the building, but Zahir Mannan, a leader at the Baitul Aman Mosque, said the bullets also pierced the heart of the Ahmadiyya community. That specific group of Muslims have faced backlash for one belief in particular.
"That belief in itself, believing that Mirza Ghulam Ahmad was the Messiah, has made us the subject of persecution all over the world, but not here in America," Mannan told NBC Connecticut.
Hakey said his previous understanding of Islam came only from what he read online.
Bronx mosque targeted three times by pellet gun shooter
"What you see on social media sites," Hakey said. "That was my education of Islam."
He requested to sit and meet with mosque leaders to apologize before his sentencing and that is when his life and attitude changed.
Hakey said not only their words, but more importantly the actions of mosque leaders led to him changing his thoughts on Islam.
During his six months in prison, Mannan reportedly visited Hakey every other week and even gifted him with keepsakes like his grandfather's Holy Koran.
Mannan said he became his "brother" after Hakey offered to pray with him.
Hakey has not converted to Islam, but spends time reading the word and wants to encourage others to embrace the community that he once hated and is now a part of.
Full report at:
http://www.nydailynews.com/news/national/mosque-shooter-stance-islam-meeting-muslims-article-1.3525453
--------
South Asia
Taliban can't win on the battlefield, can gain much on negotiation table: Stoltenberg
Sep 27 2017
The Secretary General of the North Atlantic Treaty Organization (NATO) Jens Stoltenberg said the Taliban group cannot win on the battlefield.
Speaking during a press conference with US Defense Secretary James Mattis and President Mohammad Ashraf Ghani, the Secretary General said there is much the group can gain around the negotiating table.
Stoltenberg further added that the alliance does not quit when the going gets tough as he insisted that NATO keep promises.
The NATO Secretary General in the meantime said continued efforts are needed towards a lasting and inclusive political solution.
In other parts of his speech, Stoltenberg said the Afghan security forces have come a very long way as he reaffirmed the alliance's continued support through advise, assist, and train mission.
He also welcomed the pledge by the NATO member countries for the contribution of more troops and said around 13,000 troops from 39 nations are currently serving with the NATO-led Resolute Support Mission.
The NATO Secretary General also welcomed the condition-based approach to the situation in Afghanistan as pledged by the US President and insisted that the alliance counts on the Afghan government to make good on its commitments on key reforms.
http://www.khaama.com/taliban-cant-win-on-the-battlefield-can-gain-much-on-negotiation-table-stoltenberg-03533
--------
UN body alarmed by attack on Rohingya refugees in Sri Lanka
September 28, 2017
The U.N. refugee agency said Wednesday it was alarmed by a mob attack on Rohingya Muslim refugees in Sri Lanka, where government leaders called for stern legal action against perpetrators that included Buddhist monks.
On Tuesday, a group led by Buddhist monks stormed a United Nations-run safe house for Rohingya Muslims, claiming the residents were terrorists and demanding they be sent back to Myanmar, prompting police to relocate them. Dozens of protesters from Sri Lanka's majority Buddhist community led a mob that entered a multi-storied house at Mount Lavinia on the outskirts of the Sri Lankan capital.
In a statement, the United Nations High Commissioner for Refugees said it is "alarmed and concerned" by Tuesday's incident and urged the "public and all those concerned with refugees to continue extending protection and to show empathy for civilians fleeing persecution and violence."
Police took 31 Rohingya refugees, including 17 children, into custody Tuesday and moved them to a safe location.
A video clip posted by a nationalist group, Sinhala National Movement, on its Facebook page shows protesters calling Rohingyas "terrorists who killed Buddhists in Myanmar" and saying that they can't live in Sri Lanka.
On Wednesday, finance and media minister Mangala Samaraweera condemned the attack, describing it as a "shameful act," and called for strong action against the perpetrators.
Health minister Rajitha Seneratne said he was depressed by the attack and urged law enforcement authorities to arrest the attackers.
Sri Lanka Buddhists make up 70 per cent of the island's 20 million people, while Muslims account for 10 per cent.
A half-million Rohingya Muslims have fled from Myanmar to Bangladesh in the past year, most of them since August 25, when Rohingya insurgent attacks on security forces prompted a military crackdown and reprisals by majority Buddhists.
Full report at:
http://indianexpress.com/article/world/un-body-alarmed-by-attack-on-rohingya-refugees-in-sri-lanka-4864815/
--------
US airstrike in Kabul causes 'several casualties': Nato
Sep 28, 2017
KABUL : An American airstrike on insurgents in Kabul Wednesday caused "several casualties" after a missile "malfunctioned", Nato said, as US Defense Secretary Jim Mattis visits war-torn Afghanistan.
The US strike was launched in support of Afghan security forces who had confronted militants after they fired a volley of rockets near the capital's international airport. One person died and 11 others were wounded in the attack, according to Afghanistan's interior ministry. "Tragically, one of the missiles malfunctioned, causing several casualties," Nato's Resolute Support mission said in a statement.
"Resolute Support deeply regrets the harm to non-combatants. "An investigation into the attack and the malfunctioning ammunition has begun."
Full report at:
http://nation.com.pk/international/28-Sep-2017/us-airstrike-in-kabul-causes-several-casualties-nato
--------
ISIS claims attack on Hamid Karzai airport after Mattis arrives in Kabul
Sep 28, 2017
According to Tolo News, sources have confirmed as many as 20 rockets have landed at Hamid Karzai International Airport and surrounds in the center of Kabul.
Islamic State claimed responsibility for several explosions that targeted the area in and around Kabul airport on Wednesday hours after U.S. Defense Secretary James Mattis arrived in the Afghan capital, the group's AMAQ news agency said, reported Reuters. The news agency said "infiltrators" used SPG-9 rockets and mortars for the attack.
This comes just hours after US Secretary of Defense James Mattis and NATO chief Jens Stoltenberg arrived unannounced in Kabul for talks with Afghan officials.
There were no reports of casualties or damage and Mattis was not near the airport when the rockets hit.
Officials say the airport and immediate area is being evacuated and all flights are cancelled for now.
Full report at:
http://nation.com.pk/international/27-Sep-2017/rockets-fired-at-hamid-karzai-airport-after-mattis-arrives-in-kabul
--------
Turkish deputy PM visits Rohingya camp in Bangladesh
27.09.2017
Turkish Deputy Prime Minister Recep Akdag distributed aid among Rohingya Muslims during his visit to a refugee camp in Bangladesh on Wednesday.
Akdag visited the camp along with his wife Seyma Akdag, Turkish Prime Ministry Disaster and Emergency Management Authority (AFAD) head Mehmet Gulluoglu, and Disaster Management and Relief Minister Mofazzal Hossain Chowdhury Maya after landing in capital Dhaka.
The Turkish deputy premier handed out aid packages among Rohingya Muslims and said Turkey would build a refugee camp in Bangladesh.
During his talks with Maya, he said, Turkey made three separate proposals for the "construction of a camp, building a field hospital and drilling of well".
The camp is planned to be a mid-phase accommodation camp for refugees that would operate alongside health services, including two field hospitals in the Rohingya Muslim-populated region, Akdag said.
He hoped the refugees would live only temporarily at the camp in Bangladesh and would eventually be able to return home, Akdag said: "We, Turkish and Bangladeshi governments, want Rohingya Muslims to return to their homes. In this respect, Turkey will carry on its work in the international platform."
Turkish President Recep Tayyip Erdogan has instructed the material needed for the construction of the camp should be provided by artisans in Bangladesh, he added.
He also said the construction of the camp would begin immediately after Bangladeshi officials finalize the venue.
Since Aug. 25, more than 436,000 Rohingya have crossed from Myanmar's western state of Rakhine into Bangladesh, according to the UN's migration agency's latest report on Monday.
The refugees are fleeing a military operation in which Myanmar's armed forces and Buddhist mobs have killed men, women and children, looted homes and torched Rohingya villages. According to Bangladeshi Foreign Minister Abul Hasan Mahmood Ali, around 3,000 Rohingya have been killed in the crackdown.
Turkey has been at the forefront of providing aid to Rohingya refugees; Erdogan highlighted the issue at this year's UN General Assembly.
Full report at:
http://aa.com.tr/en/todays-headlines/turkish-deputy-pm-visits-rohingya-camp-in-bangladesh/920702
--------
Hindus Displaced from Rakhine: No puja for them this time
September 28, 2017
Wasim Bin Habib
Rashmati Sharma had celebrated Durga Puja with her family and neighbours in Myanmar with due religious fervour last year. Her husband had bought her a new saree and clothes for the children ahead of their biggest festival.
But this year, Rashmati, a resident of Chikonchhari village of Maungdaw township in Myanmar, is in no position to celebrate the festival as she is going through the most difficult time of her life in another country.
"How can we celebrate Puja when we have no home and money and live off relief efforts and donations?" she asked.
Rashmati fled persecution in Myanmar with her three children and came to Bangladesh last month.
"My husband is still there and I don't know what happened to him," she told this correspondent.
While the Hindu community in Bangladesh yesterday celebrated Maha Shaptami, around 160 Hindu families at a temporary shelter in a Hindu dominated hamlet at Kutupalong in Ukhia passed the day collecting relief goods for basic needs.
"It is not possible for us to celebrate Puja when we are worrying about the next meal," said Niranjan Rudra, a priest from Rashmati's village in Myanmar.
He said he had been administering Pujas for the last 15 years in his village.
"We fled with only the clothes we had on. We could bring nothing more with us," he said.
A bulk of the Hindu refugees has taken shelter in an empty chicken farm in Kutupalong area, a couple of miles from the camp where most of the Muslim refugees are living. The Hindu refugees are being looked after by a few social workers, local organisations and well-meaning individuals. A few villagers have even let some of them stay at their homes.
"At night we sleep in a long row with very small gaps between us. Sometimes it is hard for one to even walk amid the people crammed inside," said Bina Bala, who along with his husband and five children came to Bangladesh on August 28, pointing at the poultry farm.
Jogodish Sharma, president of Kutupalong Paschim Hindupara Sharbojonin Hari Mandir, said the hardest challenge is to arrange food for all.
Full report at:
http://www.thedailystar.net/backpage/mayanmar-rohingya-refugee-crisis-hindus-displaced-rakhine-no-puja-them-time-1468813
--------
Mideast
Yemeni army's chief of staff says 'victory over coup militias soon'
28 September 2017
Yemeni army's chief of staff said on Wednesday that victory over Houthi and Saleh militias is "is closer than ever".
Maj. Gen. Taher Ali al-Auqaili, who was appointed by Yemeni President Abd Rabbu Mansour Hadi as the army's chief of staff earlier this month, made the declaration while addressing a major military parade held in Marib to celebrate the 55th anniversary of the 26th September Revolution.
Auqaili also extended a message of appreciation toward the leadership and people of Saudi Arabia and the Arab Alliance "who responded to the appeal of Yemenis in brotherly harmony as a great historic turning point in the march of Arab alignment".
The chief of staff pointed out that the Houthi militias and fighters loyal to former ousted president Ali Abdullah Saleh have established themselves as tools Iran's expansion project for region influence.
"The crimes of the coup plotters have gone beyond spreading ruin, chaos and killing to deny the human values and turn Yemen into a playground for Iran and its expansionist ambitions at the expense of the identity and interests of the Yemeni people," Auqaili said.
https://english.alarabiya.net/en/News/gulf/2017/09/28/Yemeni-army-chief-of-staff-says-victory-over-coup-militias-soon-.html
--------
Netanyahu vows not to 'uproot' Israeli settlements from West Bank
Sep 28, 2017
Israeli Prime Minister Benjamin Netanyahu says the Tel Aviv regime will never evacuate Israeli settlements built in the occupied West Bank.
"There will be no more uprooting of settlements in the land of Israel," Netanyahu said on Wednesday while addressing a ceremony marking 50 years since Israel built first settlements in the West Bank and Syria's Golan Heights.
Netanyahu's remarks sparked anger from Palestinians, with presidential spokesman Nabil Abu Rudeina stressing that the Israeli prime minister's remarks were unacceptable.
Abu Rudeina went on to call on the international community to pressure Israel into halting its settlement activities.
On Tuesday, the UN said Israel's settlement activities are making the so-called two-state solution increasingly unattainable.
A UN Security Council resolution passed last year condemned all Israeli settlement construction on the occupied Palestinian territories. The landmark Resolution 2334, passed on December 23, 2016, called the Israeli settlements in the West Bank and East Jerusalem al-Quds a "flagrant violation of international law." The resolution also called on Israel to stop all such construction.
About 600,000 Israelis live in over 230 illegal settlements built since the 1967 Israeli occupation of the Palestinian territories of the West Bank and East Jerusalem al-Quds.
Full report at:
http://www.presstv.ir/Detail/2017/09/28/536719/israel-bibi-settlements-uprooting
--------
Israel makes preparations to destroy Palestinian home over alleged attack
Sep 27, 2017
The Israeli military has taken preliminary measures before demolishing the home of a slain Palestinian who allegedly killed three Israelis outside a West Bank settlement.
The army said engineers mapped out the home of Nimr Mahmoud Ahmed Jamal in Beit Surik west of East Jerusalem al-Quds ahead of its demolition and canceled entry permits of several of his relatives.
Israel says Jamal killed three Israelis and injured another outside the West Bank settlement of Har Adar on Tuesday before he was shot dead.
The Israeli army has also set up checkpoints around the villages of Beit Surik and Bidu which neighbor Har Adar settlement.
Rights groups warn against an escalating wave of "collective punishment" and restrictive measures against Palestinians, including mid-night home raids, arbitrary arrests and installation of roadblocks.
Israeli authorities issue punitive demolition orders for the homes of Palestinian families over allegations that their relatives were involved in attacks on Israelis.
In many cases, the Palestinians are forced to demolish their own homes in an attempt to avoid paying hefty demolition costs to Israeli municipal authorities or paying heavy fines and legal costs which normally end in no useful result but destruction of the homes anyway.
This is while Israel continues construction of its illegal settlements across the West Bank, despite the latest UN Security Council resolution against the measure.
The occupied Palestinian territories have witnessed new tensions ever since Israeli forces introduced restrictions on the entry of Palestinian worshipers into the al-Aqsa Mosque compound in East Jerusalem al-Quds in August 2015.
More than 300 Palestinians have lost their lives at the hands of Israeli forces in the ongoing tensions since the beginning of October 2015.
Full report at:
http://www.presstv.ir/Detail/2017/09/27/536644/Israel-Palestine-demolition
--------
Top military officials of Iran, Iraq hold talks amid Kurdish independence vote
Sep 27, 2017
The military brass of Iran and Iraq have met and held talks amid a controversial referendum in Iraq's semi-autonomous Kurdish region.
Chief of Staff of the Iranian Armed Forces Major General Mohammad Baqeri on Wednesday received his Iraqi counterpart Major General Othman al-Ghanmi, who arrived in Tehran at the head of a military delegation earlier in the day.
The issue of terrorism, the Kurdish independence vote and matters of mutual interest were among the major topics discussed in the meeting between the top military officials.
During the meeting, Baqeri hailed the latest achievements gained by the Iraqi army in the fight against terrorists.
"We are so pleased that the Iraqi nation and army have made great gains in the battle against terrorists and have crushed the Takfiris," he said.
The Iraq official, for his part, said that Iraq was targeted by Takfiri terrorism, adding, however, that most of the territories held by Takfiri militants had been liberated.
He reiterated that Iraq would continue its fight against terrorism until the ultimate defeat of the terrorists.
Ghanmi also praised Iran's full support for Iraq, particularly in hard times.
Separately on Wednesday, Baqeri met with senior military and political officials from Turkey, during which the two sides discussed a variety of issues, including the Kurdish referendum in Iraq.
Baqeri told reporters after the meeting that both the Iranian and Turkish sides were concerned that the Kurdish vote in Iraq could lead to tensions in the Arab country, the repercussions of which could haunt regional countries.
A statement from the Iraqi military said earlier that the top ranking delegation from Iraq's armed forces would visit Iran on Wednesday "to coordinate military efforts" without giving further details.
Ghanmi also visited neighboring Turkey, where he met with his Turkish counterpart, General Hulusi Akar, on Saturday, two days before the Kurdish referendum, the Turkish military said.
It added that two sides discussed the Kurdish referendum and stressed the importance of maintaining Iraq's territorial integrity.
Regional powers, including Iran and Turkey, have opposed the Kurdish referendum in Iraq, warning that the controversial vote could lead to further instability in the entire Middle East, a region already ravaged with numerous conflicts and terror threats.
The European Union has also expressed concern about the vote, describing it as "counterproductive."
The central government in Baghdad has also rejected the vote.
Despite international criticism, the Kurdish plebiscite took place on September 25.
Full report at:
http://www.presstv.ir/Detail/2017/09/27/536711/Iran-Iraq-Kurdish-referendum-Turkey
--------
Referendum fallout: Airliners from Turkey and other states halt flights to Iraqi Kurdistan
27 September 2017
ISTANBUL/AMMAN/DUBAI: Airlines from Turkey as well as Lebanon, Egypt, Jordan and the UAE said Wednesday they will suspend operations to and from Iraq's Kurdistan region following Baghdad's threat to ban flights after the region's independence referendum.
Iraqi Prime Minister Haider Al-Abadi, whose government strongly opposed the referendum, had threatened on Tuesday to order a halt to all flights serving airports in Iraqi Kurdistan in response to the independence vote.
People in northern Iraq voted overwhelmingly in favor of independence in Monday's non-binding vote that was opposed by Baghdad, Turkey and Iran, who all fear it could encourage separatism among their own Kurdish populations.
The Iraqi Civil Aviation Authority sent a notice on Wednesday to foreign airlines telling them international flights to Irbil and Sulaimaniya in the Kurdish region would be suspended on Friday at 1500 GMT and only domestic flights allowed.
Turkish carriers Turkish Airlines, Atlas and Pegasus, which offer frequent connections for Iraqi Kurdistan, will halt their flights from Friday, the Turkish consulate in Irbil said.
Lebanon's Middle East Airlines said it would also stop flights to and from Irbil from Friday while EgyptAir announced its flights would also halt that day "until further notice."
Jordan's state carrier Royal Jordanian (RJ) said it will suspend its flights to Irbil and Sulaymaniyah from Friday following a request from Iraqi authorities.
Budget carrier flydubai said it was temporarily suspending its flights to Irbil from September 30.
"The work has started in order to increase the capacity of the flights" to and from Irbil until Friday, the Turkish consulate in Irbil said in a statement, urging citizens to consider the "circumstances" in their travel planning.
More than 92 percent of Iraq's Kurds voted "Yes" for independence in the referendum, according to the first official results announced on Wednesday, two days after the disputed plebiscite.
Abadi had said he would ban "international flights to and from Kurdistan" from Friday unless the airports in Irbil and the city of Sulaimaniyah were placed under the control of the federal government in Baghdad.
The transport minister of the Kurdistan Regional Government, Mawloud Bawah Murad, expressed bafflement at the move by Baghdad.
"Irbil and Sulaimaniyah airports were built from the budget of the Kurdistan government," he told a press conference in Irbil.
"We want more clarifications from the Iraqi government on its demand to hand them the two airports, because we don't understand how to give them the two airports, when they are already subject to the Iraqi Civil Aviation Authority."
Lebanon's Middle East Airlines chairman Mohammed Al-Hout said MEA would work to ensure Lebanese citizens could leave Iraqi Kurdistan through other Iraqi airports.
"We will not leave any Lebanese stranded. They will be able to go to Baghdad, Basra or Najaf as transit points," he said.
Full report at:
http://www.arabnews.com/node/1168471/middle-east
--------
Arab World
Over 50 Civilians Killed in US Air Raids in Northeastern, Eastern Syria
Sep 27, 2017
The US fighter jets bombed al-Badou neighborhood in ISIL-held Raqqa city, killing 40 civilians and wounding several more.
Also, the US fighter jets carried out several combat flights over Hasaka province Northeast of Syria, killing nine civilians.
In the meantime, the Lebanese Arabic-language al-Manar tv network reported that the US fighter jets used white phosphoric bombs in air raids on regions near the ISIL-held town of al-Thowar in Northeastern Deir Ezzur, killing and injuring several civilians.
Reports said on Tuesday that the US warplanes pounded a region in the town of al-Mayadeen in Southeastern Deir Ezzur, killing two civilians and wounding seven more.
Relevant reports said earlier this month that the US warplanes targeted several regions in Raqqa city, killing at least 11 civilians and wounding a number of others.
Meantime, the Syrian Observatory for Human Rights (SOHR) reported that the US fighter jets pounded one of the ISIL-controlled prisons in the town of Albu Kamal near the former political security building of Deir Ezzur city, killing at least 23 people, including 18 civilians who were under arrest in the jail, and wounding several others.
It added that at least 10 inmates jailed in the prison were Iraqi nationals.
http://en.farsnews.com/newstext.aspx?nn=13960705000718
--------
Hundreds of Militants Side with Syrian Army in Idlib Province
Sep 27, 2017
The Russian center said that more than 800 gunmen deployed in the Northwestern territories of Idlib province have joined ceasefire and sided with the army men in the war on terroris groups.
The Russian Defense Ministry announced in its latest statement last week that militants in more than 2,230 regions handed over their arms to relevant officials and joined peace agreement with the Syrian Army across the war-hit country.
The statement said that representatives of militants in more regions have endorsed reconciliation plan, adding that the number of regions, towns, settlements and villages that have thus far joined the peace agreement with Damascus government stands at 2,235.
http://en.farsnews.com/newstext.aspx?nn=13960705000455
--------
US-led warplanes drop white phosphorus bombs in northeast Syria: Report
Sep 27, 2017
The US-led coalition purportedly fighting the Daesh Takfiri terrorist group has reportedly dropped internationally-banned white phosphorus bombs in Syria's troubled eastern province of Dayr al-Zawr, leaving a number of civilians dead and injured.
Local sources told Syria's official news agency SANA that the airstrikes targeted the outskirts of al-Suwar town on Wednesday, killing three civilians and injuring five others.
The sources added that the aerial assaults also badly damaged residential buildings in the area.
The development came only a day after at least nine civilians lost their lives in US-led airstrikes against the town of Markadah, located nearly 100 kilometers south of the northeastern city of Hasakah.
Informed sources said two women and a six-member Iraqi family, who had escaped fighting in the northern Iraqi city of Mosul, were among the victims of the attacks.
The so-called Syrian Observatory for Human Rights reported on Saturday that more than 2,800 civilians had been killed in US-led airstrikes across Syria over the past three years.
The Britain-based monitoring group reported that 427 people, including 137 minors and 113 women, were killed in the aerial attacks between May 23 and June 23 this year.
The US-led air raids also resulted in the injury of hundreds of civilians, some of whom suffered permanent disabilities and had to have their limbs amputated.
The aerial raids caused massive destruction of residential buildings and civilian infrastructure as well.
The US-led coalition has been conducting airstrikes against what are said to be Daesh targets inside Syria since September 2014 without any authorization from the Damascus government or a UN mandate.
The military alliance has repeatedly been accused of targeting and killing civilians. It has also been largely incapable of achieving its declared goal of destroying Daesh.
The Syrian Ministry of Foreign Affairs and Expatriates, in two separate letters sent to UN Secretary General António Guterres and rotating President of the UN Security Council Amr Abdellatif Aboulatta on August 24, stated that the US-led coalition was perpetrating war crimes and crimes against humanity through aerial bombardment of residential neighborhoods.
Full report at:
http://www.presstv.ir/Detail/2017/09/27/536668/USled-coalition-warplanes-drop-white-phosphorus-bombs-Syria
--------
US-Led Coalition Hits Deir Ezzur with White Phosphorus Bombs
Sep 27, 2017
The Syrian state-run TV reported that at least three civilians were killed and five more injured in an airstrike in the Southeastern part of the town of al-Suwar.
The strike has also damaged public and private buildings in the area.
This is the just the latest case of civilian casualties of US air raids in Syria.
On Monday, coalition's airstrikes left nine civilians dead in the Northeastern province Hasaka.
Those killed included an Iraqi family of six that had escaped ISIL violence in Mosul, according to the Syrian state news agency.
Citing sources, the agency added that the coalition had also launched airstrikes on the villages Hadaj, Huneidis and Hassan Ali near the Iraqi border, which has resulted in "huge material damage."
Full report at:
http://en.farsnews.com/newstext.aspx?nn=13960705001490
--------
Syrian Soldiers Drive Terrorists out of Important Positions in Eastern Damascus
Sep 27, 2017
The army men engaged in fierce clashes with terrorists in Ein Terma and Jobar regions.
Also, the army's artillery and missile units opened heavy fire at terrorists' positions in the same regions.
A number of terrorist were killed or wounded and their military equipment were damaged in the clashes and under the heavy fire.
The army men ultimately managed to capture the largest building block in Ein Terma that was one of most important positions of the terrorists and used by them as a regional command center.
Relevant reports said on Tuesday that the army men stormed terrorists' defense lines in al-Reihan farms and Hawsh al-Zawahereh.
Also, the army's missile and artillery units pounded terrorists' gathering centers in the region.
Full report at:
http://en.farsnews.com/newstext.aspx?nn=13960705000981
--------
Syrian Army Accomplishing Final Anti-Terrorism Mission in Eastern Homs
Sep 27, 2017
The army men drove ISIL out of the villages of al-Qazileh, al-Rak, Um Huweish and Safiyeh Northeast of Jubb al-Jarah in Eastern Homs.
The army units tightened noose on the ISIL in the Central Syria after their recent advances in Eastern Homs.
Relevant reports said on Tuesday that the army troops repelled heavy attacks of the Al-Nusra Front (Tahrir al-Sham Hay'at or the Levant Liberation Board) on their positions in Northern Homs and Aleppo, inflicting heavy casualties on the terrorists.
The army men engaged in heavy fighting with Al-Nusra terrorists and repelled their attacks on government forces' positions in Akrad al-Daseniyeh and al-Qantou in Northern Homs, killing a number of terrorists.
The Al-Nusra attacks came in blatant violation of ceasefire in the de-escalation zone in Northern Homs.
Elsewhere, the Al-Nusra terrorists attacked the army positions near the village of Bashkoy in Northern Aleppo. Army reports said from the region that the government troops fended off their offensive, and inflicted large casualties on the militants.
Full report at:
http://en.farsnews.com/newstext.aspx?nn=13960705000812
--------
Syrian Gov't Grants Amnesty to More Militants in Hama Province
Sep 27, 2017
65 militants that had surrendered to the army men in the village of Deir al-Faradis received amnesty from the Damascus government and returned to normal life.
The Russian Defense Ministry announced in its latest statement last week that militants in more than 2,230 regions handed over their arms to relevant officials and joined peace agreement with the Syrian Army across the war-hit country.
The statement said that representatives of militants in more regions have endorsed reconciliation plan, adding that the number of regions, towns, settlements and villages that have thus far joined the peace agreement with Damascus government stands at 2,235.
http://en.farsnews.com/newstext.aspx?nn=13960705000438
--------
ISIL Suffers Heavy Defeat in Clashes with Syrian Army in Deir Ezzur
Sep 27, 2017
The army units engaged in fierce clashes with ISIL and warded off the terrorists' attack on their positions in Huweija Sakar region, killing or wounding a number of militants and destroying their equipment.
Also, the army men targeted and destroyed a bomb-laden vehicle of ISIL before hitting their positons in Huweija Sakar.
In the meantime, the army's missile units and aircraft targeted heavily ISIL's positions and movements in Hatlah and al-Hosseiniyeh region and in the neighborhoods of al-Huweiqa, Kanamat, Khasarat, al-Roshdiyeh, al-Arzi and al-Orfi, killing a number of terrorists and destroying their military hardware.
Military sources confirmed on Monday that the army deployed a large number of soldiers and military equipment around Mount al-Thardah 5km South of Deir Ezzur city, fortifying positions in the key region.
The sources said that the army stationed more forces and military equipment near Mount al-Thardah, fortifying positions against any possible ISIL attack.
Also, the army men carried out mop-up operations in areas surrounding Mount al-Thardah and reopened new roads and passageways towards the hills in the region, deploying artillery, missile units and monitoring positions in the hills near Mount al-Thardah to provide security for safe landing of planes in Deir Ezzur's airbase and monitor terrorists' movements, the sources added.
A field source said that the three high hills played a crucial role in supporting military operations in Deir Ezzur city as they overlook al-Mayadeen's road Southward.
Full report at:
http://en.farsnews.com/newstext.aspx?nn=13960705000534
--------
More Terrorist Commanders Hunted in Dara'a
Sep 27, 2017
The Arabic-language al-Manar tv network reported that Naser Khalil Mahasenah, commander of the FSA-affiliated Jeish Ababil, was killed along with several of his aids in a booby-trapped attack on his cars on a road connecting the towns of Zamrin and al-Hareh to each other in Northwestern Dara'a.
The news network added that Sharif al-Kayed, another military commander of the FSA, was kidnapped on al-Karak al-Sharqi's road to al-Harak region in the Eastern countryside of Dara'a by unknown attackers.
Al-Manar went on to say that the FSA and the ISIL are engaged in fierce clashes in the towns of Jalin, Hit and Odwan in the Western countryside of Dara'a.
Relevant reports said earlier this month that Ali Mohammad al-Abid, the commander of Qowat Shabab al-Sonah affiliated to the FSA, was gunned down by unknown assailants near the town of al-Sahwa in Eastern Dara'a.
In the meantime, Ahmad Zakariya al-Hariri, commander of al-Ramah al-Awani battalion affiliated to the FSA was killed in a bomb blast along the road between the two towns of Abta'a and al-Ja'eiliyeh.
Other media outlet in Dara'a province, meantime, reported that the ISIL-affiliated Jeish Khalid Bin Walid engaged in intense clashes with the FSA fighters.
Full report at:
http://en.farsnews.com/newstext.aspx?nn=13960705000617
--------
ISIS attacks Iraqi forces west of Baghdad, killing at least 7
27 September 2017
ISIS militants attacked on Wednesday several positions held by Iraqi forces in Anbar province, west of Baghdad, killing at least 7 soldiers and wounding 16, according to a preliminary toll from security sources.
Iraqi forces were bringing reinforcements to the area under attack, near the city of Ramadi, as clashes continued several hours after the militants attacked the troops with suicide car bombs, mortars and machine guns.
ISIS militants were driven out from Ramadi in late 2015 but a low-intensity guerrilla war has continued in the region.
Earlier reports
It was earlier reported that ISIS militants battled Iraqi forces near Ramadi west of Baghdad Wednesday after infiltrating government lines, a military source said.
"Terrorists infiltrated the Al-Tash and Majr areas south of Ramadi as well as the Kilometer Seven District west of the city," a general who asked not to be identified told AFP.
Ramadi is the capital of Anbar province, which has long been a bastion of insurgency and was retaken by the army from ISIS only in December 2015.
Full report at:
https://english.alarabiya.net/en/News/middle-east/2017/09/27/ISIS-militants-battle-against-Iraqi-forces-near-Ramadi.html
--------
Africa
Sierra Leone arrests pastor who blamed Islam for 'every terrorist act in history'
27 September 2017
A Nigerian pastor has been arrested in Sierra Leone after recordings of a sermon targeting Muslims went viral on social media, sparking widespread outrage.
In an address to his congregation on Saturday, Victor Ajisafe, founder and leader of one of the country's largest churches, called Islam a "violent religion of lies and deceit" and said Muslims have been responsible for "every terrorist act in the history of the world". Sierra Leone's population is roughly 78% Muslim, according to a 2015 Pew Research Center estimate.
Audio and video recordings of the sermon appeared online within three days, and were met with immediate and near-universal condemnation by both Muslim and Christian Sierra Leoneans. Ajisafe was arrested on Tuesday, but has not yet been charged.
"Everyone is very upset by his message," said MB Kamara, head of Sierra Leone's criminal investigations department. "We are a very religiously tolerant country and no one ever worries whether someone is Muslim or Christian. We all have lived peacefully for generations, and no one wants that disrupted."
An initial press release from the social welfare ministry said Ajisafe was being held for his own protection. Kamara said Ajisafe would be held until a charge against him could be determined.
Sierra Leone does not have legislation devoted specifically to hate speech, but incitement is prohibited under common law. The attorney general, Joseph Kamara, is expected to make a decision on Thursday.
All six branches of Ajisafe's Sanctuary Praise Church, one of Sierra Leone's largest Evangelical communities, have been indefinitely shut down by the social welfare ministry pending further investigations.
Police have been dispatched to each location to prevent anyone from entering after CID officials claimed that "credible information" indicated the existence of a plot to burn down the church's Freetown headquarters.
Ibrahim Tommy, director of the civil society group Center for Accountability and the Rule of Law, said he was worried that banning people from Ajisafe's church may constitute a violation of people's right to free assembly.
"It's completely wrong what he said, and in some ways even criminal," Tommy said. "He should be held fully accountable, but I don't think that the government should shut down a whole church and disband its congregation just because of one person. People have the right to worship where they please, and we're venturing into dangerous territory by limiting that right, even temporarily.
"Besides, who says just because some hateful comments were said that suddenly every Muslim in the country is going to jump for an opportunity to destroy the man? By assuming so, the government is just reinforcing that stupid narrative about Muslims the pastor put out in the first place."
Members of the Inter-Religious Council of Sierra Leone have condemned Ajisafe's statements. The council's secretary general, Reverend Dr Usman Jesse Fornah, said Sierra Leone's Christians have lived "a peaceful coexistence with Muslims and want it to continue". The organisation's president, Sheikh Abu Bakarr Conteh, emphasised Islam's peaceful nature and urged his followers to forgive Ajisafe and refrain from passing judgement on their Christian neighbours.
Ajisafe's comments have been decried by Sierra Leoneans at home and abroad on social media. Some have demanded an apology, while others have called for the pastor's deportation back to Nigeria.
"Statements like his can bring chaos to whole countries, so of course we're concerned," said Emmanuel Lansana, a lecturer in Freetown. "I come from a family of mixed religion. My father is a Muslim and my mother is a Christian. It's the same with me and my wife, and we have happy homes. It's as if [Ajisafe] wants to divide our country's unique union at a time when the world needs us to lead by example. But I think he will be disappointed. We know how to love each other."
https://www.theguardian.com/global-development/2017/sep/27/sierra-leone-arrests-pastor-who-blamed-islam-for-every-terrorist-act-in-history-victor-ajisafe
--------
EU plans to take 50,000 refugees from Africa, Mideast
27 September 2017
The EU unveiled plans on Wednesday (Sept 27) to take at least 50,000 refugees directly from Africa, the Middle East and Turkey to discourage migrant boats from making the risky Mediterranean crossing.
The proposal involves admitting refugees to European Union countries over the next two years under the bloc's resettlement programme, which was introduced during the migration crisis that hit the continent in 2015.
"We need to open real alternatives to taking perilous irregular journeys," European Union Migration Commissioner Dimitris Avramopoulos told a news conference in Brussels.
The European Commission said in a statement that it was "recommending a new EU resettlement scheme to bring at least 50,000 of the most vulnerable persons in need of international protection to Europe over the next two years".
The EU has already resettled 23,000 people from refugee camps in countries outside the EU under the scheme, particularly Turkey and Jordan, which were overwhelmed with people fleeing the war in Syria.
Resettlement would continue from those areas but there would be "increased focus" on North Africa and the Horn of Africa - particularly Libya, Egypt, Niger, Sudan, Chad and Ethiopia, the commission said.
"This will contribute to further stabilizing migration flows along the Central Mediterranean route," which mainly involves people making the dangerous crossing from Libya to Italy, it said.
The resettlement programme is different from the EU's controversial refugee quotas, which involved moving asylum-seekers who had already reached Italy and Greece to other EU countries, under compulsory quotas.
The latter scheme, which ended on Wednesday, saw just 29,000 people out of a planned 160,000 shared out around EU states to ease the pressure on the overstretched Greek and Italian authorities.
Schengen controls extended
Brussels separately released plans on Wednesday to allow countries in the passport-free Schengen area to reintroduce border controls for security reasons for up to three years.
Countries in the 26-country Schengen travel area can currently reintroduce frontier checks for six months for security reasons, and two years if that is combined with a threat to borders such as Europe's migration crisis.
"Under today's proposals, member states will also be able to exceptionally prolong controls if the same threat persists," the European Commission, the executive arm of the EU, said in a statement.
Avramopoulos however said this should be a "last resort", and that keeping the Schengen area open for travel should be a priority.
Several countries including France and Germany have called for the extension after a series of terror attacks. France reinstated the checks after the November 2015 Paris attacks.
Border checks introduced by Germany, Denmark, Austria, Sweden and Norway in May 2016 to deal with a huge influx of migrants into Europe from Syria and North Africa are set to expire in November.
Full report at:
https://english.alarabiya.net/en/News/world/2017/09/27/EU-plans-to-take-50-000-refugees-from-Africa-Mideast.html
--------
In tit-for-tat move, Libya's Tobruk-based govt. bans US citizens entry
Sep 27, 2017
The Libyan government based in the eastern city of Tobruk has announced that it would deny entry to American citizens in a tit-for-tat move after the administration of US President Donald Trump put Libya on a new list of countries targeted by Washington's travel ban.
Libya currently has two governments: one based in the capital Tripoli, and the other based in Tobruk.
The Tobruk-based government, headed by Abdullah al-Thinni, is aligned with military commander Khalifa Haftar and is opposed to the Tripoli-based, internationally recognized Government of National Accord (GNA).
The eastern-based government said on Wednesday that the ban was in response to "a dangerous escalation that targets Libyan citizens and puts them in the same basket as the terrorists against whom our... armed forces are fighting."
It was not clear when or how the Libyan ban would be enforced.
Based on the latest proclamation signed by Trump on Sunday, citizens of Chad, Iran, Libya, North Korea, Somalia, Syria, Venezuela and Yemen will face new restrictions in traveling to the United States.
President Trump has come under fire by rights groups over his controversial travel restrictions. Some argue that the new ban is the same old Muslim ban in disguise.
Full report at:
http://www.presstv.ir/Detail/2017/09/27/536702/Libya-travel-ban-US-citizens
--------
Cameroon deports 100,000 Nigerian refugees
28 September 2017
Cameroon has deported 100,000 refugees who had fled violence by Boko Haram to Nigeria, since early 2015, the Human Rights Watch said Wednesday.
"In carrying out these deportations the Cameroonian soldiers have used extreme physical violence," the New York-based rights group said in its latest report.
More than 4,000 refugees have been deported in the first seven and a half month of this year, the report said.
The group added that 70,000 refugees who had reached Cameroon's Minawao refugee camp have limited access to food and water, and are not allowed to move freely.
Minawao camp was opened in July 2013 in northern Cameroon close to Nigeria. It is Cameroon's only designated camp for Nigerian refugees.
The report added that refugees who have returned to Nigeria are at a risk of attack by Boko Haram militants.
''In April and May 2017, 13,000 returned from the camp to Nigeria, some of whom were killed in early September after Boko Haram attacked the Banki displacement camp where many had ended up,'' the report said.
''Cameroon's army has been aggressively screening newly arriving Nigerians at the border, subjecting some to torture and other forms of abuse, and containing them in far-flung and under-serviced border villages and informal refugee settlements,'' it said. In the last eight years Boko Haram's violence has left 10.7 million people across the Lake Chad region in need of emergency assistance, according to the UN.
Cameroon is part of a regional task force that aims to eradicate the militant group that has so far killed more than 2,000 people in the country, according to government officials.
Boko Haram seized some areas in Nigeria and declared a 'caliphate' in 2013 until the military recaptured the districts in early 2015.
Full report at:
http://www.worldbulletin.net/africa/194419/cameroon-deports-100000-nigerian-refugees
--------
Europe
UN concerned French terror law could affect Muslims
27 September 2017
UN experts on Wednesday warned France to comply with international human rights obligations while debating a new anti-terror law.
France's draft law "may perpetuate the emergency measures introduced in 2015, and establish a permanent state of emergency," analysts from the Office of the UN High Commissioner for Human Rights (OHCHR) said.
They also said France's Muslim population could be disproportionally targeted by counterterrorism powers.
A statement claimed UN human rights experts are concerned about certain provisions of the draft bill including definitions of terrorism and threats to national security.
One of the experts, Fionnuala D. Ni Aolain, said the proposed security measures would "incorporate into ordinary law several restrictions on civil liberties currently in place under France's state of emergency".
"The normalization of emergency powers has grave consequences for the integrity of rights protection in France, both within and beyond the context of counterterrorism," Aolain noted.
The experts also said powers given to the authorities may be used in an "arbitrary manner," adding there could be "intruding and discriminatory" results for the Muslim population.
The new anti-terror bill was approved by the Senate in July and is scheduled to be debated by the National Assembly this week.
France has been under a state of emergency since November 2015 terrorist attacks across Paris which left over 100 people dead.
President Emmanuel Macron has vowed to end the state of emergency by Nov. 1 this year.
http://www.worldbulletin.net/europe/194409/un-concerned-french-terror-law-could-affect-muslims
--------
EU, Turkey must meet challenges together says minister
27 September 2017
To overcome the problems destabilizing Europe, including terrorism, far-right populism, Brexit and the migrant crisis, the European Union must join forces with Turkey, the country's EU minister said on Wednesday.
Omer Celik was in Madrid taking part in a discussion on Europe's future.
He told an audience of diplomats, intellectuals and politicians that "threats to the EU are growing" and said its relationship with Turkey was particularly important. "And we have to remember that the values that the EU represents are universal, and we are worried about them being affected."
Yet, after being on the waiting list to join Europe since 1999, he said Turkey was a "patient candidate," adding that while he understands these things take time, Turkey's case has become political and tainted by xenophobia and Islamophobia from increasingly popular far-right parties in Europe.
"This is not just a Turkish problem; populists feed off of the negativity around Turkey," said Celik.
In the presentation, hosted by Spanish think-tank El Cano, Celik said Turkey would also be more capable of addressing its own challenges, which clearly affect Europe as well, if it were part of the EU.
When asked about freedom of speech and freedom of the press in Turkey, he explained the complex situation in Turkey but added that it was up for debate.
"We are open to criticism, we are candidates of the EU, so it's something we have to address and can't ignore… in terms of freedom of the press, if Europe opens chapters 23 and 24 then we'll talk," he said, referring to two key chapters that push candidate countries to further align its laws, freedoms, and justice systems with EU norms.
Celik also told the audience Spain has been an important partner in Turkey's EU candidacy and is the country most capable of understanding Turkey, due to similar histories, challenges and shared Mediterranean culture.
He will be in Spain for two days and will meet Foreign Minister Alfonso Dastis and representatives of the Spanish business world.
Full report at:
http://www.worldbulletin.net/europe/194408/eu-turkey-must-meet-challenges-together-says-minister
--------
End of Israeli settlements was official UK policy for decades: Analyst
Sep 27, 2017
The official policy of the UK government for decades was that Israeli settlements in occupied Palestinian territories were illegal, says an analyst in New York.
"That's actually official British government policy for many decades, even this government," said Ian Williams, a senior analyst with Foreign Policy in Focus.
"The end of the settlements and the end of the occupation have been international law and policy since 1967 almost, 1968 and onwards," Williams said in an interview with Press TV on Wednesday.
British Labour Party Leader Jeremy Corbyn slammed London's foreign policy on Wednesday, asserting that "terrorism is thriving in a world our governments have helped to shape."
Speaking at the party's annual conference in Brighton, Corbyn criticized Israel's 50-year oppression of Palestinians and called for an end to the "oppression of the Palestinian people, the 50-year occupation and illegal settlement expansion."
Corbyn also hinted at the double standards of British foreign policy in the Middle East region, criticizing arms sales to Saudi Arabia.
The Labour leader also addressed the brutal suppression of Rohingya Muslims in Myanmar and demanded that Aung San Suu Kyi end the violence against the Rohingya and allow the UN and international aid agencies into Rakhine state. "The Rohingya have suffered for too long," Corbyn emphasized.
As a veteran peace activist, Corbyn has long been critical of London's involvement in US-led wars across the world its support of Israel in its unending oppression against Palestinians.
Full report at:
http://www.presstv.ir/Detail/2017/09/27/536715/UK-Corbyn-Ian-Williams
--------
11 held as U.K. probes neo-Nazi group
SEPTEMBER 28, 2017
National Front was banned in December last year under Britain's anti-terror laws
The growing terror threat to the U.K. from far-right groups was highlighted on Wednesday as police arrested eleven people across the country on terrorism-related offences.
The arrests came as part of a police investigation into National Act, a neo-Nazi group banned last year, which lauded the murder of the Labour MP Jo Cox last year.
The eleven arrests took place across the country, including in northwest England, south Wales, West Yorkshire and Wiltshire, of men aged between 22 and 35 who were charged with an array of offences from suspicion of preparing an act of terrorism to funding terrorism.
Last week, three men, including two British soldiers, appeared in court charged over membership of the group, while two face charges relating to plans for a white-only Britain.
"Counterterrorism policing is committed to tackling all forms of extremism that threatens public safety and security," said Neil Basu, deputy assistant commissioner for the Metropolitan Police. "Investigations relating to alleged extreme right-wing activity are pursued with the same level or resource and vigour as other ideologies."
"Those who promote extreme right-wing views are looking to divide our communities and spread hatred. This will not be tolerated and those who do so must be brought to justice," said D.C.S. Martin Snowden, head of counterterrorism policing in the northeast of England, following the latest arrests.
Jo Cox's murder
The murder of Cox in June last year by Thomas Mair, a far-right extremist, brought the issue into spotlight. Further, in June, one person was killed when a man drove a van into a crowd outside a north London mosque, in one of the five terrorist attacks to have taken place in Britain this year, though the perpetrator is yet to be linked to any far-right organisation.
The Times reported in August that about 40 neo-Nazis were being investigated over "proactively plotting" against Britain's Muslim community.
In December, National Action, which has been operational since 2013, became the first far-right organisation to be banned by the U.K. under its anti-terror laws.
The government cited the group's online propaganda material, its use of "extremely violent imagery and language" and its promotion and encouragement of acts of terrorism after the murder of Ms. Cox.
Full report at:
http://www.thehindu.com/news/international/11-held-as-uk-probes-neo-nazi-group/article19764843.ece
--------
NSW radicalisation hotline got five calls in two months, estimates told
28 September 2017
The Islamic Council of Victoria says it's "not at all surprising" that a government hotline for parents who fear their children are being radicalised has not worked, saying the idea was "confused" and risks further alienating at-risk youth.
The multimillion dollar government hotline was announced by the NSW government in June as a resource for parents who fear their children are being "radicalised".
But the hotline only received "around five phone calls" in the two months after it launched, and has been labelled a failure by defence experts and Muslim community leaders.
Announced in June by the New South Wales minister for counter-terrorism, David Elliot, the Step Together program cost $3.9m over three years.
It was part of a suite of measures announced in the wake of the fatal shooting of police employee Curtis Cheng.
But in a NSW budget estimates hearing Paul Daniell, a director in the NSW Department of Premier and Cabinet, conceded that the program had been slow to make an impact.
"I think it is about five calls that have been received by the service provider," he admitted under questioning.
He said the program's website was "receiving 20 to 30 hits" each day,
Daniell blamed the slow uptake on a "cautious marketing approach" but the ABC quoted an anonymous source who said the hotline had been almost entirely misused: "one call was a wrong number, the other was a parent worried their kid was dating a Muslim."
Adel Salman from the Islamic Council of Victoria said the Step Together program had been doomed from the start because it was framed as a law enforcement issue.
"On the one hand they said it was a program staffed by professionals but on the other its completely linked with counter terrorism," he said.
"Who would call this hotline when they know its linked to Asio and the AFP? The intention might be OK but the branding and message is very confusing.
"It looks like it's all about dobbing someone in."
Partnered with the Australian National University, the Islamic council has its own proposal to establish a $3.5m Muslim Crisis Support Service which would provide a service for parents worried about their children.
But Salman said the two ideas were "completely different" and that the Victorian plan was for a "community led" service to deal with a number of issues faced by at-risk youth including delinquency and alcohol and drug abuse.
"Radicalisation would just be a very small part of that," he said.
"We know parents who are struggling to actually deal with youth exhibiting signs of radicalisation [but] parents would obviously be very reluctant to go to authorities because all of a sudden that becomes a law and order issue and they risk pushing their child further away."
Daniell's comments came after questions from Greens MP Mehreen Faruqi about what measures the NSW government had taken to combat rightwing extremism.
Elliott said in the hearing that it was "very clear that the vast majority of people who are victims of terrorism in the United States are victims from the extreme right".
"It is also forgotten quite regularly in this type of debate that the majority of victims of terrorism in the world are Muslims," he said.
Daniell insisted that the Step Together program had been "designed to include all forms of violent extremism".
However, he said the hotline had "not had any calls yet from anyone relating to rightwing violent extremism for that service".
The $3.9m hotline was part of a broader $47m program designed to fight radicalisation.
When it was launched Elliott stressed the hotline was "a support line, not a report line", but admitted counsellors at the service could pass information on to authorities if they became aware of a serious or imminent risk.
"If your loved one is showing signs of violent extremism ... it's better now you get advice and seek support than in the future when they could be facing a lifetime in prison," he said at the time.
But Muslim groups argued the hotline would only "exacerbate the paranoia and anxiety" in the community.
Greg Barton, a counter-terrorism expert from Deakin University, said the program had been "well intentioned" but that it had "suffered from association" because it was launched under the counter terrorism portfolio.
"Clearly the perception has been that because it's coming out of the minister of counter terrorism that it's part of an intelligence gathering exercise," he said.
"It's obviously not going to work if people see it as securitisation and intelligence gathering."
Barton said the program was "redeemable", but should be shifted into the social services portfolio.
"We certainly know anecdotally that there is a desire for a service like this," he said.
Full report at:
https://www.theguardian.com/australia-news/2017/sep/28/nsw-terrorism-hotline-got-five-calls-in-two-months-estimates-told
--------
Southeast Asia
Kelantan authorities under fire after Muslim man penalised for wearing shorts
September 27, 2017
KUALA LUMPUR, Sept 27 — A Malaysian man has been reprimanded by Islamic authorities for "indecent dressing" after he was caught wearing shorts in public on the way to a football match, officials and reports said today.
The case in Kelantan, a state ruled by an influential Islamist party, sparked widespread anger, and is the latest example of what critics describe as creeping conservatism in the mostly Muslim country.
Wan Khairul Hayyee Wali had stopped off to buy a burger from a street-side stall as he drove Monday to play futsal, five-a-side football typically played on an indoor pitch.
But religious enforcement officers spotted the 30-year-old and handed him a notice saying that he had breached Islamic regulations dictating that Muslims should not wear revealing attire.
"It came as a shock to me when a religious department enforcement officer gave me a notice saying I have flouted the Shariah Criminal Enactment for exposing my knees," he was quoted as saying by The Star newspaper.
"Seriously, they can't expect me to wear a sarong to play futsal," he added.
Mohamad Fadzuli Mohamad Zain, deputy director of the Kelantan state religious enforcement unit, confirmed Khairul had been pulled aside for wearing shorts in the city of Kota Baru.
"On (Monday) 11 people including Khairul were given summonses for indecent dressing," he told AFP. Among the others reprimanded were four women whose outfits were deemed to be too tight, he said.
Mohamad Fadzuli said Khairul had been ordered to attend a counselling session and would have to pay a fine of RM1,000 (US$240) if he failed to turn up.
Opposition lawmaker Mohammad Hatta Ramli criticised the sanction imposed in the state ruled by the Pan-Malaysian Islamic Party as "simply ludicrous".
"This is a misguided action," he told AFP, adding it would "open the floodgates to all sorts of enforcement".
Multi-ethnic Malaysia, which is home to substantial ethnic Chinese and Indian minorities, has seen a traditionally tolerant brand of Islam eroded due to the growing influence of Muslim politicians and hardliners. — AFP
http://www.themalaymailonline.com/malaysia/article/kelantan-authorities-under-fire-after-muslim-man-fined-for-wearing-shorts#X3kRAeLFktuFJiOj.97
--------
Penang appoints Kelantan preacher to aid explaining Islamic issues
BY OPALYN MOK
September 28, 2017
GEORGE TOWN, Sept 28 — The Office of Penang Chief Minister Lim Guan Eng has appointed a new information officer who is well-versed in Islam to counter negative Islamic issues raised in the state.
Wan Ji Wan Hussin, from Kelantan, took his oath at Lim's office in Komtar today. The 35-year-old's job is to assist Penang chief minister strategic adviser Datuk Saifuddin Nasution Ismail to explain the Pakatan Harapan state government's policies to the people.
"He will be in charge of disseminating information to Penangites, especially Muslims, on the state government's policies since 2008," Saifuddin said.
He said there are two important components to Wan Ji's job specifications, one, to explain to Penang Muslims about the state's Islamic policies and second, to respond to any negative Islam-related issues raised in the state.
Wan Ji said he will refer to the Quran in discharging his duties especially on good governance.
"According to the Quran, good governance means to do good for the people and politics is only to benefit the people," he said.
The popular preacher added that the state government has given a lot of funding and aid to the Muslim community in the state.
"So, I will counter all these propaganda against the state government by informing the Muslims that the state government had contributed a lot to the development of Islam in the state," he said.
Wan Ji has a Bachelor of Arts in Shariah Islamiyyah from Al-Azhar University, Damanhur in Egypt. He also has a Masters in Maqasid Shariah.
Full report at:
http://www.themalaymailonline.com/malaysia/article/penang-appoints-kelantan-preacher-to-aid-explaining-islamic-issues#B7m60tSLHeR4ye6j.97
--------
Singapore Defense Minister Visits Iraq Troops in Terror War
By Prashanth Parameswaran
September 28, 2017
This week, Singapore's defense minister Ng Eng Hen visited the Singapore Armed Forces (SAF) medical team deployed in Iraq which is supporting the U.S.-led Global Coalition to Counter ISIL. The move put the spotlight on the city-state's deepening role in combating the Islamic State amid growing regional fears about the threat.
As I have noted before, Singapore, a U.S. strategic partner, has long played an important role in terms of regional and global security operations, including in Iraq (See: "Strengthening US-Singapore Strategic Partnership: Opportunities and Challenges"). For instance, in October 2003, as the multinational reconstruction effort was taking shape in Iraq, Singapore began a string of short-term deployments, including transport aircraft and personnel, in what came to be known as Operation Blue Orchid up to its conclusion in 2008.
The city-state has also been a key regional contributor in the fight against the Islamic State (ISIS). Singapore was the first Southeast Asian state to join the U.S.-led Global Coalition to Counter ISIL (ahead of Muslim-majority Malaysia) and had already been involved in several important ways, including in air-to-air refueling, image interpretation, and intelligence gathering and coordination in the Middle East (See: "US To Host Counter-Islamic State Meet Amid ASEAN Terror Fears").
Enjoying this article? Click here to subscribe for full access. Just $5 a month.
In 2016, Singapore had said that as part of efforts to deepen its role, it would deploy a medical team to Iraq in 2017. The news was first publicly unveiled by Prime Minister Lee Hsien Loong during a joint press conference with former U.S. President Barack Obama during his visit last October (Lee is due in Washington later this year as well), and was subsequently detailed by Defense Minister Ng Eng Hen (See: "Singapore to Deploy Team to Iraq in 2017 for Islamic State Fight").
Since June 2017, medical teams from the SAF have been deployed to Iraq where they have been working closely with other countries to provide medical support to coalition forces contributing to counter ISIS. The medical teams had been protected by soldiers from Singapore's Army Deployment Force (ADF).
On Tuesday, Ng visited the SAF medical team deployed in Iraq. He was accompanied by Senior Minister of State for Defense Mohamad Maliki Bin Osman, Chief of Defense Force Lieutenant-General Perry Lim, Deputy Secretary for Policy Keith Tan, and senior SAF officers.
According to Singapore's defense ministry (MINDEF), the SAF medical team briefed Ng on their tasks and responsibilities and also demonstrated their in-theater medical capabilities and how they were working with coalition partners during a walkthrough of the medical center.
Full report at:
https://thediplomat.com/2017/09/singapore-defense-minister-visits-iraq-troops-in-terror-war/
--------
Najib hails Johor laundrette's apology over 'Muslim-only' sign
September 27, 2017
PUTRAJAYA, Sept 27 — The action of a laundrette entrepreneur in Muar, Johor, in apologising and withdrawing a decision to offer the laundry service only to Muslims should be well-received, said Datuk Seri Najib Tun Razak.
The Prime Minister said the action was in line with the view of the Sultan of Johor, Sultan Ibrahim Sultan Iskandar.
He said there was basis in the concern of the Sultan of Johor that the entrepreneur's action would lead to a narrow image of Islam, contrary to the country's desire to nurture a united, harmonious, moderate and tolerant society.
"The government will remain committed to upholding the true Islamic teachings while protecting the interests of the other communities as demanded of Islam," he said in a statement today.
Najib said that as a country that upheld 'Wasatiyyah' (moderation) and championed the Maqasid Syariah foundational goals, Malaysia would remain a moderate Islamic nation practising the moderate way of life as had been the case since independence.
"I am confident that Muslims will continue to uphold this struggle because we all want to see Malaysia progress into a successful, respected and exemplary country," he said.
A picture of the laundrette, which offered its service only to Muslims, had circulated on social media for over a week.
The action of the entrepreneur was criticised by Sultan Ibrahim who said the entrepreneur should change the concept of his business or face action.
Full report at:
http://www.themalaymailonline.com/malaysia/article/najib-approves-johor-laundrettes-apology-over-muslim-only-sign#EVD8XZlGK073PlbG.97
--------
Zahid: China praised us for nabbing 29 Uighur Muslims
September 28, 2017
BEIJING: Sharing biometric information with China since 2011 enabled Malaysia to arrest 29 Uighur militants involved with the Islamic State (IS) militant group and deport them to China for prosecution, says Ahmad Zahid Hamidi.
The deputy prime minister said China had praised Malaysia's action over their arrests and bilateral cooperation in the security aspect has strengthened since.
"They were arrested after having entered Malaysia through neighbouring countries by using false passports and personal information," he said to Malaysian journalists here yesterday.
Also present at the press conference were Inspector-General of Police Mohamad Fuzi Harun and Malaysian ambassador to China Zainuddin Yahya.
The Uighur people are the majority ethnic group in China's Xinjiang region which has a Muslim-majority population.
Zahid, who is also home minister, said Malaysia's success in handling the issue of Uighur Muslims had prompted Meng Jianzhu, Secretary of the the Central Political and Legal Affairs Commission of the Communist Party of China, to convey at a meeting with him that China agreed to provide several pieces of equipment for the use of the Counter Messaging Centre (CMC) supervised by the Malaysian police.
He said the centre was responsible for tracking and solving terrorism related messages, including obtaining information on terrorist activities and groups financing such activities to plan attacks in the country, southern Philippines and southern Thailand.
Zahid said China also commended the proactive measures taken by Malaysia to address online gambling and fraud such as the Macau scam in which the country managed to arrest 416 of the republic's nationals and had deported them from 2014 to 2016.
He said the fraud, involving Malaysian and Chinese victims, recorded a loss of 500,000 million Chinese yuan (RM317 million).
"This move was taken because such crimes destroyed the family institution and affected the family income of victims," he said.
Full report at:
http://www.freemalaysiatoday.com/category/nation/2017/09/28/zahid-china-praised-us-for-nabbing-29-uighur-muslims/
--------
Fearful Islamists Plan Anti-Communist Protest in Jakarta
Sep 28, 2017
Jakarta. Members of Islamist groups are planning to show up in the thousands in Jakarta on Friday (29/09) to demonstrate against what they believe to be the rise of communism in Indonesia.
Tensions over the unsettled anti-communist purge of 1965 resurfaced recently as activists pushed efforts to advocate for the rights of victims and their families.
But those doing so have increasingly been accused by nationalists and Islamists of supporting communism, which is banned in the world's largest Muslim-majority country.
Islamist groups, which have been gaining ground since late last year, claim that indications of the rise of the banned Indonesian Communist Party (PKI) have been "more and more obvious."
Among them are "pro-PKI" seminars and workshops that have increasingly been held by human rights activists, protest leader Slamet Maarif said.
"And the government appears to be slightly throwing a lifeline to them," he told reporters in Jakarta on Wednesday.
About 50,000 people from the capital and surrounding cities are expected to join the protest, which will coalesce in front of the national legislative complex in South Jakarta.
"If the PKI ban is eventually revoked, for sure they will face the Muslim community," said Slamet, who is also the spokesman for the hardline Islamic Defenders Front (FPI).
Authorities have said they will deploy nearly 20,000 police and military personnel to safeguard Friday's protest.
About 5,000 officers of the police's Mobile Brigade from several regions have also been sent to the capital to help with security, Jakarta Police chief Insp. Gen. Idham Azis told reporters on Tuesday.
Public debate over the anti-communist purge of 1965 and ways to provide reconciliation to victims and their families have been in the spotlight for years.
The government-sponsored and military-backed killings resulted in the death of hundreds of thousands of alleged PKI sympathizers and saw millions more jailed without trial.
Full report at:
http://jakartaglobe.id/news/fearful-islamists-plan-anti-communist-protest-jakarta/
--------
URL: https://www.newageislam.com/islamic-world-news/hafiz-saeed-lashkar-e-taiba/d/112694
New Age Islam, Islam Online, Islamic Website, African Muslim News, Arab World News, South Asia News, Indian Muslim News, World Muslim News, Women in Islam, Islamic Feminism, Arab Women, Women In Arab, Islamophobia in America, Muslim Women in West, Islam Women and Feminism