New Age Islam News Bureau
15 Apr 2020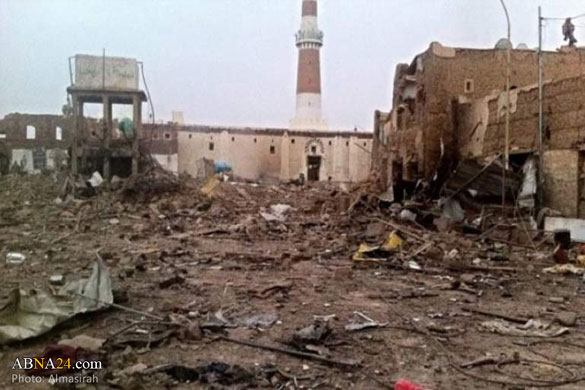 Yemen's Ministry of Endowments and Guidance announced on Tuesday, that 1052 mosques, historical and archaeological monuments and endowments facilities, including 283 mosques and a cemetery in Sana'a, were damaged by the US-Saudi aggression.
----------
• 'God Is with Us': Many Muslims In Pakistan Flout the Coronavirus Ban in Mosques
• Fatwa by British Muslim Scholars, Gives Medical Professionals Permission to Postpone Ramadan Fasts
• 1052 Historical, Archaeological Mosques, Landmarks Damaged by Saudi Aggression in Yemen
• In Qazi Nazrul Islam's Village In Bengal, People Violently Oppose Setting Up Of Quarantine Centre In College, Dozen Policemen Injured
• Linkaja Launches Indonesia's First Sharia E-Wallet, Backed By 1,000 Mosques
• Ramadan's Taraweeh Prayers Banned in Jordan Mosques This Year Amid Coronavirus Fears
• Coronavirus Latest: Donald Trump Suspends WHO Funding As Deaths Pass 125,000
• COVID-19: Islamic Group Makes Demands from Buhari, Governors After Lockdown Extension
• Taliban Militants Open Fire on Youths Who Were Playing Cricket
---------
Pakistan
• 'God Is with Us': Many Muslims In Pakistan Flout the Coronavirus Ban in Mosques
• Ulema, From Across the Country, Announce Resumption Of Congregational Prayers At Mosques
• SC seeks detailed report on govt steps against Covid-19
• Karachi airport being readied for limited flight operation
• More Tableeghi Jamaat members test positive in Punjab
• Capital administration extends lockdown for another two weeks
• 275 stranded Pakistani pilgrims to be repatriated from Iran: Minister
-------
Europe
• Fatwa by British Muslim Scholars, Gives Medical Professionals Permission to Postpone Ramadan Fasts
• Algeria Politician Calls For Suspending Fasting In Ramadan Due To Coronavirus
• Birmingham mosque holding online seminar to prepare worshippers for Ramadan 2020
• Swiss prosecutors charge Iraqi as Islamic State recruiter
• Police arrest suspected Islamic State terrorist cell plotting attacks on US forces in Germany
• Newport mosque organises free meals for NHS and emergency staff
• 'Sadness' in Northampton's Muslim communities as Ramadan approaches with mosques shut across the world
------
Mideast
• 1052 Historical, Archaeological Mosques, Landmarks Damaged by Saudi Aggression in Yemen
• Grand Ayatollah Sistani calls for release of man jailed for insulting him
• Official: Exports from Imam Khomeini International Airport Customs up 58%
• Jordan bans worship in mosques due to coronavirus outbreak
• Turkey calls for social distancing during Ramadan
• Kyoto Mayor offers concerns over US sanctions against Iran in time of COVID-19
• Iranian, Indian FMs discuss coronavirus on phone
• Top religious body calls for social distancing during Ramadan
• Pres. Rouhani: 1m-toman loan to be paid before holy month of Ramadan
-----
India
• In Qazi Nazrul Islam's Village In Bengal, People Violently Oppose Setting Up Of Quarantine Centre In College, Dozen Policemen Injured
• Muslim survivors of Delhi riots develop COVID-19 PPE kits
• Jaipur: Muslims Carry Bier of Hindu Man, Chant 'Ram Naam Satya Hai'
• Mob thrashes Muslim man, calls him corona carrier; he later jumps to death at quarantine facility in Noida
• Muslim organizations offer buildings for quarantines
• Image of Muslims offering Namaz on rooftops in groups is from Dubai
• Mosque in Mumbai feeds labourers during lockdown
------
Southeast Asia
• Linkaja Launches Indonesia's First Sharia E-Wallet, Backed By 1,000 Mosques
• Mosque's All Races Aid Effort Attracts More Donors, Including Non-Muslims
• Covid-19: 170 new cases take total to 4,987, death toll at 82 with 5 more fatalities
• Researchers face uphill battle in COVID-19 fight
-----
Arab world
• Ramadan's Taraweeh Prayers Banned in Jordan Mosques This Year Amid Coronavirus Fears
• Egyptian policeman, seven suspected militants killed in Cairo gunbattle
• Saudi Arabia tests more than 150,000 people for coronavirus
• 633 Saudi citizens arrive in Jeddah from Indonesia, US
• King Salman chairs online Cabinet session
------
North America
• Coronavirus Latest: Donald Trump Suspends WHO Funding As Deaths Pass 125,000
• 'Not the time to reduce the resources' of WHO: UN chief
• US Embassy releases details of the meeting between Khalilzad, Gen. Miller and Bajwa
• Coronavirus: NYC Muslims struggle to hold traditional burials
• Ahmadiyya Muslim Community donate essential food to Slough Outreach
------
Africa
• COVID-19: Islamic Group Makes Demands fromBuhari, Governors After Lockdown Extension
• Fintech news: Islamic finance charts high-tech future
• Coronavirus: FG sends message to Muslims ahead of Ramadan
--------
South Asia
• Taliban Militants Open Fire on Youths Who Were Playing Cricket
• Bid to detonate a large bomb in Helmand foiled; 1 Taliban militant killed; 2 others wounded
• Taliban understands that they will never win on the battlefield: Stoltenberg
• 29 Taliban militants killed, wounded in separate incidents in Badghis province
• Coronavirus outbreak: IMF projects 2pc GDP growth for Bangladesh this year
• China didn't warn public of likely pandemic for 6 key days
• SL Police detains social media activist for posting against vilification of Muslims
Compiled by New Age Islam News Bureau
URL; https://www.newageislam.com/islamic-world-news/god-with-many-muslims/d/121581
------
'God is with us': Many Muslims in Pakistan flout the coronavirus ban in mosques
Apr 14, 2020
ISLAMABAD: Sabir Durrani says he offers prayers almost every day at a mosque in the central Pakistani city of Multan. He says that often a dozen or more men are in attendance - none of them wearing protective face masks.
Durrani, 52, is among thousands of devout Muslims flouting Pakistan government orders issued late last month banning religious congregations of five or more people to stem the spread of the coronavirus. The disease has so far infected more than 5,300 people and killed 93 in the world's second-most populous Muslim country.
"Our prayer leader told us that the virus can't infect us the way it does Western people," Durrani told Reuters. "He said we wash our hands and we wash our face five times a day before we say our prayers, and the infidels don't, so we need not worry. God is with us."
The Islamic lobby holds immense clout in Pakistan, a country of over 200 million people. Religious parties have not been successful in electoral politics but they are able to whip up large, often violent, crowds on matters pertaining to religion, such as in support of the country's harsh blasphemy law.
"Religion and prayers are an emotional issue for many people in Pakistan, and the government has to be sensitive to that," Mirza Shahzad Akbar, a special assistant to Prime Minister Imran Khan, told Reuters.
More than 60% of the coronavirus cases in Pakistan have so far been linked to Muslims returning from pilgrimages in the Middle East and followers of the Tablighi Jamaat, an orthodox proselytizing group.
But the worry is of a big spike coming from the congregational prayers held in mosques, especially on Fridays, the Islamic sabbath. The numbers in attendance at prayers are likely to increase with the onset of the holy month of Ramadan within two weeks, and authorities are struggling to cope.
While the Council of Islamic Ideology, a body that advises the government on religious issues, has called on clerics and the public to cooperate with government measures, several priests and local leaders have opposed the ban.
A prominent leader of a religious party told a crowd of hundreds of people gathered for a funeral last week that government orders to limit congregations were unacceptable.
"If you do this, we will be forced to think that mosques are being deserted on America's instructions," Mufti Kafayatullah told the crowd. "We're ready to give our lives, but not ready to desert our mosques."
In Karachi, Pakistan's largest city, police were attacked for a second straight week as they attempted to halt prayers at a mosque last Friday. A policewoman was injured in the clashes, and in the previous week, police fired shots in the air to quell an angry mob.
In the capital, Islamabad, hundreds gathered on Friday without any hindrance at one of the city's largest mosques, located just two miles (three km) from the seat of Pakistan's government, including parliament and the prime minister's secretariat.
On March 27, authorities filed 88 cases against mosque administrations in Karachi and arrested 38 people for defying restrictions on Friday congregations, but charges were dropped a day later, and the people were released.
"I think it's partly appeasement and partly the fact that Pakistan's governments and politics are locked permanently in an electoral framework in which they don't want to lose support of the religious elite and religious proletariat," Pakistani author and defence analyst Ayesha Siddiqa told Reuters.
He added however: "This is a sensitive matter, we don't want to impose it using a stick. And even if we wanted to, there aren't enough sticks to implement it across Pakistan."
https://timesofindia.indiatimes.com/world/pakistan/god-is-with-us-many-muslims-in-pakistan-flout-the-coronavirus-ban-in-mosques/articleshowprint/75137576.cms
-------
Fatwa by British Muslim Scholars, Gives Medical Professionals Permission to Postpone Ramadan Fasts
14 April 2020
A fatwa by a group of prominent British Muslim scholars has given medical professionals permission to postpone their Ramadan fasts if fasting could potentially endanger treatment of coronavirus patients.
With Ramadan due to begin in just over a week, Muslim doctors, nurses and healthcare workers are at the forefront of fighting COVID-19, with a number having passed away due to becoming afflicted with the disease.
Muslim medical professionals say the challenge for those treating COVID-19 patients is that the Personal Protective Equipment they must wear includes a mask or powered air respirators which can result in dehydration and heat stress due to the tight fit around the face for extensive periods.
Moreover, in certain hotspot areas rotas have also been reconfigured to make shifts longer (in excess of 12 hours per day) which is more likely to lead to fatigue. Thus it would be extremely difficult to keep such long fasts particularly if the shift is busy. And if a doctor or nurse does fast, this could potentially lead to life-threatening mistakes.
The fatwa was signed by Deobandi scholars in Blackburn, Batley, Bury, Bradford, Leeds, London, Birmingham, Sheffield and Leicester. It asks medical professionals to try to seek alternatives so that they can continue to fast, but if they cannot they will be able to delay their fasts.
The fatwa states: "If it is possible for you to fast without risking the lives of patients, for example, if annual leave can be taken and the hospital has adequate staffing, this should be considered, if not for the whole month, then for as many days possible…
"Another option to consider is smaller shifts or night shifts where feasible. For the UK, the latter may not address the issue because the nights are short. Nevertheless, all alternative options should be considered.
"If, however, it is not possible for you to fast due to the strong likelihood of dehydration and severe thirst along with the risk of making clinical errors which could potentially affect lives, the fasts can be postponed to a later date. This is a judgement you need to make on a personal level based on your own health whilst keeping in mind your duty of care to patients.
"Any decision you make should be reviewed on a daily basis. If you are uncertain about your ability to fast or it becomes possible for you to fast on a particular day, for example, if the shift is not expected to be busy or a shorter shift becomes possible, then the fast should be attempted. If at any point, you struggle to continue the fast, the fast can be broken and repeated at a later date without any additional penalty.
"Likewise, if your rota includes rest days or zero days or lieu days when you are not expected to be at the hospital, it will be necessary to fast on those days."
https://5pillarsuk.com/2020/04/14/fatwa-gives-medical-professionals-permission-to-postpone-ramadan-fasts/
-----
1052 historical, archaeological mosques, landmarks damaged by Saudi Aggression in Yemen
April 14, 2020
Yemen's Ministry of Endowments and Guidance announced on Tuesday, that 1052 mosques, historical and archaeological monuments and endowments facilities, including 283 mosques and a cemetery in Sana'a, were damaged by the US-Saudi aggression.
During a press conference held in the capital, Sana'a, the Ministry stated that the aggression targeting of mosques and endowment facilities caused the death of more than 100 people from the Ministry of Endowments and Guidance
The Ministry of Endowments and Guidance pointed out that the aggression and the siege had caused the stopping of the Hajj and Umrah works in the Ministry for a period of 5 consecutive years.
It affirmed that the endowments in the occupied governorates were severely damaged, including the attacks on imams and preachers as they were assassinated, especially in the governorates of Aden and Hadramawt. The Takffiri groups destroyed old landmarks and mosques, it added.
https://en.abna24.com/news//1052-historical-archaeological-mosques-landmarks-damaged-by-saudi-aggression-in-yemen_1025601.html
----
Apr 14, 2020
Tanmay Chatterjee
Around 20 police personnel, including at least one senior officer, were injured in West Bengal's West Burdwan district on Tuesday when hundreds of villagers attacked them twice at Churulia, the native village of Kazi Nazrul Islam, the national poet of Bangladesh, demanding the removal of the coronavirus disease (Covid-19) quarantine centre set up at a youth hostel in the hamlet two days ago.
Tension started brewing in Churulia since Sunday after the police shifted some suspected Covid-19 patients to the youth hostel, the villagers said. The villagers demanded that the quarantine centre be shifted either to an abandoned school building in the adjoining Madantore village or to the primary health centre outside Churulia.
The villagers also claimed that relatives of an Unani medicine practitioner (71), who died of Covid-19 in Asansol on April 10, were the first to be housed at the quarantine centre before they were shifted to a local hospital on Monday (yesterday) night. However, HT has accessed the pathological reports from the hospital in Kolkata, where the swab samples were sent for the test. The report stated that he had tested Covid-19 positive on April 9, the day before he died. The state government also did not confirm on April 9 that he had tested Covid-19 positive.
District authorities have not confirmed the eyewitnesses' claims that shots were fired in the air by the police to disperse the mob, during the second of the two attacks by the villagers on the cops.
The angry villagers also ransacked the homes of some local Trinamool Congress (TMC) leaders, who had given consent to the district administration for using the youth hostel, located less than 100 metres away from the grave of Kazi Nazrul's wife.
"Our family members had to hide in a garden when the mob broke into the house. They smashed valuable items," said a relative of Ghalib Siddiqui, a local TMC leader, on condition of anonymity. The home of another local TMC leader, Sheikh Asraf, was also allegedly ransacked.
Subrata Ghosh, the officer in charge of the local Jamuria police station, has been admitted to a hospital in Ranigunj with a fractured leg, along with a few other injured policemen. Reinforcements were sent from five police stations in the district along with a huge contingent of Rapid Action Force (RSF) personnel, a senior district police officer said on condition of anonymity. "The police force is stationed at Churulia to prevent the tension from spreading to adjoining villages," the officer added.
"The situation is under control, according to the latest reports," Jitendra Tiwari, mayor of the TMC-controlled Asansol Municipal Corporation, said on Tuesday afternoon, adding that he would make enquiries about the damages caused to the local party leaders' homes.
This is not the first time that people in Bengal have objected to setting up of Covid-19 quarantine centres near their homes, although no violence of this scale has been reported to date.
https://www.hindustantimes.com/india-news/west-bengal-20-cops-injured-in-clash-over-covid-19-quarantine-centre/story-sqmXIQpc9DIkXIs4474x1I.html
------
LinkAja launches Indonesia's first sharia e-wallet, backed by 1,000 mosques
MardikaParama
April 15, 2020
Electronic payment platform LinkAja has officially launched Indonesia's first sharia-compliant e-wallet payment app, which provides Islamic financial services and manages customers' balances in accordance with Islamic law. LinkAja has forged cooperation with around 1,000 mosques and 242 zakat and waqf agencies to expand the use of the cashless app to a wide customer base, the platform's sharia service division head WidjajantoDjaenudin said. "Customers can use the sharia feature to pay for qurban [animal sacrifices], infaq [donations], Islamic boarding school tuition fees, waqf and to top up their balance through sharia banks," he said in a teleconferenced press briefing following the official launch of the new e-wallet payment feature. Through the sharia feature, customers' funds are deposited at state-owned sharia banks, which include Ban..
https://www.thejakartapost.com/news/2020/04/15/linkaja-launches-indonesias-first-sharia-e-wallet-backed-by-1000-mosques.html
------
Ramadan's Taraweeh prayers banned in Jordan mosques this year amid coronavirus fears
April 15, 2020
DUBAI: Jordan's awqaf ministry has announced that performing Taraweeh prayers in mosques will be banned during Ramadan this year, in a bid to help fight the spread of the coronavirus pandemic, state news agency Petra reported on Tuesday, citing the Minister of Awqaf and Islamic Affairs Mohammed Khalailah.
"We have been praying the obligatory prayers at homes and will pray the Taraweeh also at homes to exercise caution as we, along with the entire world, are facing a dangerous pandemic," Khalailah said.
He said the decision was "painful for us all, however, we need to keep ourselves and the homeland safe, for a higher purpose and a great goal and that is self-preservation which is one of the Sharia purposes."
Meanwhile, the state will impose a curfew in the Kingdom for 48 hours starting April 17, until after midnight on Saturday, Minister of State for Media Affairs Amjad Adaileh said.
The full curfew excludes all medical professionals in both public and private sectors, epidemiological inspection teams, and some officials, employees, and workers in vital sectors, Adaileh added.
"We will also allow, as of next week, some production and service facilities to operate, according to strict measures for prevention and health care, with a minimum number of workers," Adaileh said.
The minister said the government will also announce the measures taken to support day workers, through the National Aid Fund, adding that the decisions include offering a cash subsidy to day workers who were affected by the curfew decision. The cash subsidy covers about 200,000 families.
https://www.arabnews.com/node/1659111/middle-east
------
Coronavirus latest: Donald Trump suspends WHO funding as deaths pass 125,000
The National
April 15, 2020
US President Donald Trump will halt US funding towards the World Health Organisation after accusing the agency of taking China's claims about the coronavirus "at face value" and a lack of transparency about the pandemic as it spread.
On Wednesday global deaths passed 125,000 as total cases inched towards two million. Recoveries approach 500,000.
The UAE announced 412 new coronavirus cases on Tuesday, having carried out a further 32,000 tests. The Ministry of Health and Prevention also said another 81 patients had recovered, taking the total to 933 recoveries so far. Three more deaths took the total to 28, while the total number of cases stands at 4,933
https://www.thenational.ae/world/asia/coronavirus-latest-donald-trump-suspends-who-funding-as-deaths-pass-125-000-1.988993
-----
COVID-19: Islamic group makes demands from Buhari, Governors after lockdown extension
April 15, 2020
By John Owen Nwachukwu
The Muslim Rights Concern (MURIC) has advised the President Muhammadu Buhari government, State Governors and Local Government authorities to create feeding centres urgently in order to cushion the effect of the extension of COVID-19 lockdown.
It will be recalled that President Muhammadu Buhari extended the lockdown by two weeks in his broadcast on Monday.
MURIC's position was contained in a press statement issued by its Director, Professor Ishaq Akintola, and made available to DAILY POST on Wednesday.
He said, "Though the extension is our best option if we don't want to see Nigerians dropping dead on the streets, the federal, state and local governments must change their method of distributing palliatives.
"The idea of sharing raw foodstuff is not working. This method is being abused by corrupt officials. Much of the foodstuff is being diverted. It is not reaching the poor masses.
"Governments at all the three tiers must devise means of making diversion of palliatives unwise, cumbersome, unprofitable and therefore unnecessary. This can be achieved by organizing central feeding points in all communities at the local, state and federal levels.
"The same foodstuffs that are being distributed can be opened up, cooked and served in take-away packages for distribution among hungry Nigerians.
"It will be unthinkable for corrupt officials to divert up to a quarter of cooked food without making a mess of their own houses, stores and offices. They will have no option than to distribute the take-away packages as arranged.
"Neither should distribution be a problem. Why is it easy for the electricity companies to reach every nook and cranny in the communities to distribute bills and collect money from poor Nigerians but difficult to locate the same poor people when distributing palliatives?
"Why is it possible for politicians to knock on every door on the street when soliciting for votes but impossible for the same politicians to share food to hungry people on the same street?
"Politicians should stop deceiving poor Nigerians. Most senators and members of the House of Representatives are yet to visit their constituencies during this COVID-19 saga. They are yet to sympathise with their constituents and ask what they need and how they are coping.
"We are constrained to cry out to the three tiers of government. Nigerians are hungry. Whole families are starving. Most of the raw foodstuffs that are meant for poor Nigerians did not reach them.
"Whole areas have been neglected. Many streets did not see a single 'derica' of rice or gari. While we appreciate the efforts of the Federal Government in ameliorating the sufferings of Nigerians, we lay emphasis on the need to change the modus operandi.
"Hunger has produced its natural backlash in the form of the astronomical rise in criminal activities in Abuja and Lagos. Young gangsters are attacking neighbourhoods in daytime. Gunshots now rent the air at night in places that have been peaceful for years. Parents cannot control the youth because they cannot feed them.
"Hunger has neutralized loco parentis and the moral right to question the young ones has vanished into thin air. The new audacity of gangsters in Lagos is an indication that the palliatives are not being delivered to the targeted recipients. Lagosians are hungry.
"One way out of this is for employers of labour to pay their workers very early this April particularly in places like Lagos and Ogun States. This will enable millions of working parents to feed their family. The young ones will stop raiding their neighbours' houses once there is food at home.
"MURIC calls on all government officials involved in the distribution of palliatives to fear Allah. Each of you will be held accountable on the Day of Judgement. The federal, state and local government may not see you but Allah can see everything you are doing and the angels are recording every move of yours.
"You will be shocked when you are confronted with the video shot by angels showing how and where you hid foodstuffs meant for the poor, how you made hundreds of Nigerians suffer and how you sold foodstuff meant for the poor. If COVID-19 is real, al-Qiyamah is reality incarnate. You will certainly render accounts.
"In our closing remarks, we advise the authorities to stop distributing raw foodstuffs which are subject to diversion. Instead, they should create feeding centres and share out cooked foods in take-aways.
"We also call for early payment of workers' salaries to enable parents to effectively keep their children at home thereby reducing the incident of gangsterism."
https://dailypost.ng/2020/04/15/covid-19-islamic-group-makes-demands-from-buhari-governors-after-lockdown-extension/
-----
Taliban militants open fire on youths who were playing cricket
15 Apr 2020
The Taliban militants opened fire on a group of youth men who were playing cricket in eastern Laghman province of Afghanistan, the Afghan military said.
The 201st Silab Corps in a statement said a group of youths were playing cricket in Qarghai district when they were engaged by Taliban militants.
The statement further added that the attack by Taliban militants wounded 4 youths who were later rescued by the Afghan military personnel.
However, the 201st Silab Corp said one of the injured victims succumbed to his injuries as he was being treated in the regional hospital.
https://www.khaama.com/taliban-militants-open-fire-on-youths-who-were-playing-cricket-04664/
-----
Pakistan
Ulema, From Across The Country, Announce Resumption Of Congregational Prayers At Mosques
APRIL 15, 2020
A meeting of ulema and religious scholars from across the country on Tuesday said five-time daily congregational prayers as well on Fridays will be held in mosques from now, adding that precautionary measures advised by the government will, however, be implemented.
The statement from the religious leaders comes as the government announced on Tuesday that it will continue the lockdown imposed in light of the coronavirus outbreak for two more weeks, easing restrictions for some 'low-risk' industries.
Speaking at a press conference after a meeting of representatives from the Jamiat Ulema-e-Islam, Jamiat-e-Ulema Pakistan, Jamaat-e-Islami and Tanzeem-e-Islami among other religious parties at Karachi Press Club, Mufti TaqiUsmani, a renowned religious scholar and former judge of the Federal Shariat Court, said it was decided that prayers will be held while observing precautionary measures. Detailing the precautionary measures, he said there will be proper distance between rows and individuals during congregations. He urged the elderly to pray at their homes and other people to return to their homes as soon as prayers are over. "In the present conditions, five daily prayers along with precautionary measures are essential," he added.
Ruet-e-Hilal Committee Chairman Mufti Muneebur Rehman said the lockdown is not 'applicable to mosques', adding that arrangements will be made for Friday congregational prayers and Tarawih in Ramzan.
Calling the congregational prayers a 'necessity', a statement released after the meeting said that it is important to continue the prayers while observing precautionary measures. The meeting called for the resumption of all congregational prayers including the five daily prayers and the Friday prayers, terming the government's restrictions on three-five people only 'impractical'. The statement urged elderly people, people affected by the virus or those caring for virus patients to not come to the mosque.
Detailing the preventive measures, the statement said carpets will be removed and the floor washed with disinfectant liquid after the prayers, and sanitisers will be installed at the gates of the mosque. The statement further advised people to perform ablutions at their homes, wear masks and leave for their homes immediately after the prayers. It also advised that the Urdu part of the Friday sermon be removed and substituted with five minutes of information about preventive measures for Covid-19.
Commenting on the clerics' announcement, Federal Minister for Religious Affairs Noor ul HaqQadri said that the decision on allowing congregational prayers, Tarawih and Aitekaf countrywide will be made on April 18 after consultation with the clerics. "Unilateral and local decisions should be avoided to promote unity among the country," he said, adding that the government will take necessary measures for a coronavirus-free Ramazan.
The minister said that the government would take clerics from all schools of thoughts and political leadership into confidence over its decisions. "The government through its measures is prioritizing to save lives of the people," he said, adding that meeting of the clerics will be headed by President ArifAlvi and attended by provincial governors and president of Azad Kashmir.
https://dailytimes.com.pk/595964/ulema-announce-resumption-of-congregational-prayers-at-mosques/
-----
SC seeks detailed report on govt steps against Covid-19
Nasir Iqbal
April 15, 2020
ISLAMABAD: The Supreme Court has directed the federal government to furnish a comprehensive report on decisions taken at a meeting presided over by Prime Minister Imran recently to deal with the coronavirus outbreak in the country.
The directives were issued by the Supreme Court through a detailed order during suo motu proceedings held on Monday about measures taken to stop the spread of coronavirus.
Attorney General Khalid Jawed Khan had earlier informed a five-judge SC bench headed by Chief Justice Gulzar Ahmed that the meeting was expected to outline a uniform policy applicable to all territories of Pakistan and that no part of the country would be treated differently.
In its order, the apex court has expressed the confidence that the federal and provincial governments would ensure all necessary needs of doctors and paramedics in such an emergency situation as they are at the risk of contracting the deadly virus.
The court noted that doctors and paramedics were performing duties beyond their call of duty. It expressed concern over reports that at many places they were not even being provided with food. "This is a sensitive issue which should immediately be addressed by all the governments," the court order said.
Similarly, the order said, the condition of sanitary staff was not good and the court had been informed that they were exposed to all sorts of diseases in hospitals. But no effective care was being provided to them and a request had been made that they should be provided with the requisite protection, the order added.
The court directed the government to ensure that members of sanitary staff in hospitals had proper and secure uniforms so that they could perform their duty without any fear.
The court noted that though most of the items of PPE (personal protective equipment) — such as test kits and ventilators — were imported, efforts were being made to manufacture these items locally in a large quantity.
Referring to Sindh, the order said Advocate General for Sindh Salman Talibuddin had informed the court that steps were being taken to stop the spread of the virus. The court noted that the provincial government had issued an executive order sealing 11 union councils (UCs) in Karachi.
When asked to give justification for the sealing of UCs, the Sindh advocate general stated that the provincial government had found some cases of coronavirus in these UCs, but nothing concrete had so far been placed before the court about those cases.
According to the order, the court had asked for a programme to be implemented in these 11 UCs, like how people would be reached for medical testing and screening, and, if a case was found, what steps would be taken for the affected person and other people who were in close contact with him/her and how people in these areas would receive necessary items, such as food.
The Sindh advocate general, the order says, had stated that grocery shops in these 11 UCs were allowed to remain open. But, the order added, no other programme had been drawn by the provincial government.
The order said that the apex court had told the Sindh advocate general that there was no documentation available to this court of the purchase of ration worth Rs8 billion by the Sindh government for its distribution among poor people.
"This is a very sorry state of affairs in Sindh," the court said, asking the provincial government to submit a comprehensive report on its progress.
Meanwhile, the Supreme Court on Tuesday announced that CJP Gulzar Ahmed and members of his family tested negative for coronavirus. They underwent tests for the deadly virus after one of the employees of the court tested positive for Covid-19.
"Covid-19 tests of Hon'ble Chief Justice of Pakistan Mr Justice Gulzar Ahmed, his family members and Secretary to Chief Justice were conducted, which all are negative, Alhamdulillah," said an announcement issued by the Supreme Court.
The court announcement was made amidst speculations as the CJP did not preside over cases listed before the Bench No.1 at the Courtroom No. 1. All the cases were delisted and the CJP spent his time at his residence.
The announcement said that one of the employees of the Supreme Court, Naib Qasid Ahsan, had developed some symptoms of Covid-19 and he was quarantined. His Covid-19 test was conducted, but the result was doubtful, the announcement said, adding that his second test was conducted which was diagnosed as positive.
https://www.dawn.com/news/1549301/sc-seeks-detailed-report-on-govt-steps-against-covid-19
-----
Karachi airport being readied for limited flight operation
April 15, 2020
RAWALPINDI: The authorities are making preparations for resuming limited flight operation at Jinnah International Airport (JIAP), Karachi, as thermal scanners to detect flu and fever among passengers coming from abroad have been installed and other safety measures have been put in place there to prevent the spread of coronavirus.
The Civil Aviation Authority on Tuesday conducted a full scale mock emergency exercise to ensure safety of passengers arriving at the airport from different countries in the wake of the Covid-19 pandemic and that they go through proper scanning process.
As part of preparations to handle passengers arriving from abroad, eight thermal scanners to detect flu and fever have been installed at the airport — two each at international arrival and departure lounges and two each at domestic arrival and departure lounges.
"It would help the health authorities to detect affected passengers and prevent spread of coronavirus," said a senior official of the CAA.
A spokesman for Aviation Division, senior joint secretary Abdul Sattar Khokhar, said the purpose of conducting the mock exercise was to minimise the spread of coronavirus in Pakistan through air travellers coming from abroad. Similar safety measures will be put in place at other international airports across the country in near future.
Asked whether the CAA was starting international flights at JIAP as part of its plan to handle international special flights, he said: "We are planning limited flight operation at Karachi, may be one or two flights. There will be no full flight operation like Islamabad."
Representatives of the Sindh government, National Disaster Management Authority, the federal Ministry of Health Services and Airport Security Force witnessed the mock exercise, expressed satisfaction over the arrangements and found the exercise informative and helpful.
Since the outbreak of coronavirus in China, many airports across the world have been taking measures to ensure safety of passengers and prevent spread of Covid-19.
https://www.dawn.com/news/1549293/karachi-airport-being-readied-for-limited-flight-operation
-----
More Tableeghi Jamaat members test positive in Punjab
April 15, 2020
SAHIWAL: Nine people — seven Tableeghi Jamaat activists, a doctor and a private person — tested positive for coronavirus on Tuesday in Sahiwal and Pakpattan districts. Of them, six are from Sahiwal and two from Pakpattan.
Two weeks back, 198 Tableeghi Jamaat workers were quarantined in Pakpattan. Their test reports were received on Monday, and of them, one tested positive for the virus, Pakpattan Deputy Commissioner Ahmed Kamal Maan said, while other activists have been sent to Peshawar.
Another positive case is a doctor of the Arifwala Tehsil Headquarters Hospital. Doctor's private clinic has been sealed and his house declared as quarantine.
BAHAWALPUR: Two members of Tableeghi Jamaat tested positive for coronavirus and were admitted to the Government Civil Hospital for treatment on Tuesday.
According to police sources, the district police quarantined members of Tableeghi Jamaat in mosques in DhooreKote near Khairpur Daha. One of them developed symptoms of coronavirus and later became the first positive case of tehsil Ahmedpur East. The other Tableeghi Jamaat activist was also transported from a mosque to the hospital.
The officials of the treatment health facility told Dawn that after the treatment of the five confirmed coronavirus cases here, their first test proved negative and now their second test would be carried out before their discharge from the hospital. The five included three pilgrims and a woman and her granddaughter in the city. The first-ever positive coronavirus person of the district has already been discharged.
Also, all the employees and the animals of the local zoo have been declared negative of coronavirus, according to zoo curator Muhammad Hussain Gashkori.
SIALKOT: The district administration has shifted 28 confirmed coronavirus cases to other provinces for their medical healthcare in their own provinces.
DC Dr Nasir Mehmood Bashir said 99 coronavirus cases were admitted to Allama Iqbal Memorial Teaching Hospital, Sialkot, of them 28 were shifted to other provinces as they were Tableeghi Jamaat activists.
He said the district administration had also boosted the total capacity of the VTM kits, which means 300 coronavirus tests daily.
The patient is the caretaker of a shrine in Kamalia and was shifted to the Kamalia Tehsil Headquarters Hospital on April 5 when he himself had got tested his throat and nasal swabs from a Faisalabad's private laboratory and that report had declared him a Covid-19 positive.
Kamalia Assistant Commissioner Nosheen Israr told Dawn the condition of the fresh case was out of danger and his treatment would continue in the isolation ward of the hospital.
Deputy District Officer (health) Dr Kashif Bajwa said out of 27 Tableeghi Jamaat members who were quarantined a week ago in Makki Masjid, 18 tested negative while the reports of remaining cases had not been received.
LODHRAN: A lab technician at the Lodhran DHQ hospital and two Tableeghi Jamaat members tested positive for coronavirus in Khanewal. The DHQ lab has been sealed for 48 hours. Also, infected technician's family and other lab staff have been quarantined.
https://www.dawn.com/news/1549248/more-tableeghi-jamaat-members-test-positive-in-punjab
----
Capital administration extends lockdown for another two weeks
Munawer Azeem
April 15, 2020
ISLAMABAD: The capital administration has decided to continue the lockdown in Islamabad for another two weeks after the number of Covid-19 cases rose to 131.
Although no new cases were reported by evening on Tuesday, the lockdown has been extended because of the gradual rise in cases with no stability or decline so far.
Deputy Commissioner Mohammad Hamza Shafqaat confirmed that the lockdown in the capital has been extended for a fortnight. He said a notification in this regard will be issued by Tuesday night. He said the decision was made according to the government's guidance and decision to continue the lockdown.
Islamabad was locked down on March 24 through the imposition of CrPC section 144 on public gatherings in light of the spread of the coronavirus.
At the time, the administration decided to impose a lockdown for 15 days which was extended for another eight days on April 7; this extension ended on April 14.
A large number of people left their houses on Tuesday assuming the lockdown had ended and headed to Marghazar Zoo, Japanese Park, Daman-i-Koh and PirSohawa. Others tried to hike up the trails on the Margalla Hills.
Officials from the police and capital administration said that around 90 vehicles were seen parked around the zoo and the park, and dozens were heading up the hills. Dozens of vehicles were also parked on Ataturk Avenue.
Officials reached these areas after learning of the situation and asked people to leave immediately as section 144 was still imposed in the city.
Many people believed it had expired, and while a few left the majority stayed. As a result, the traffic police were called to fine vehicles whose drivers were present.
These vehicles were then lifted and taken to Kohsar police station and traffic police office near the zoo, they said. They estimated that more than 60 vehicles were lifted and dozens of drivers fined.
The total number of Covid-19 cases reported in the capital has reached 131, and officials said that of these 18 people had travelled from abroad. They said 102 people caught the disease through local transmission, while 11 were members of the Tableeghi Jamaat and locals who contracted the disease from them.
They said the capital has two hospitals with facilities to isolate and treat patients of Covid-19 which have an overall capacity of 40 beds. There are currently 19 people admitted to these hospitals, of which 16 are stable and three are critical and on ventilators.
The other 96 active cases are either being isolated in their homes or in quarantine centres, they said. So far, 15 people have recovered and one person has died.
The capital has 16 quarantine facilities with a total capacity of 700. So far, these centres have accommodated 1,950 people; there are currently 279 in these facilities, of which 28 people have tested positive.
Nine doctors and a nurse in Islamabad have tested positive for Covid-19, the officials said. Three cases have also been confirmed among paramedics and other healthcare staff. All these patients are in isolation in hospitals or at home, and are in stable condition.
The officials said that stationery shops may be allowed to open in the capital as a new academic session is about to begin. They said that while schools are providing online facilities for students and are sending assignments that can be completed at home, students and parents have complained that course materials are not available because markets and stationery stores are closed.
The administration is therefore considering allowing such shops to open, and the concerned authorities such as the Ministry of National Health Services are being approached for guidance and advice.
https://www.dawn.com/news/1549226/capital-administration-extends-lockdown-for-another-two-weeks
-----
275 stranded Pakistani pilgrims to be repatriated from Iran: Minister
April 14, 2020
Pakistan's minister for States and Frontier Regions (SAFRON) told a parliamentary panel that around 36,000 Pakistanis were currently stranded in Middle Eastern countries amid the COVID-19 pandemic adding the government will take all measures to repatriate 275 Pakistani pilgrims from Iran.
Pakistani media on Tuesday reported that the minister said this while briefing the parliamentary committee on coronavirus, which met here with National Assembly Speaker AsadQaiser in the chair.
Minister for Foreign Affairs Shah Mehmood Qureshi, Minister for Religious Affairs and Interfaith Harmony PirNoorulHaqQadri and senior officials from the interior ministry also attended the meeting.
Speaker AsadQaiser in his remarks said that due to the difficulties faced by Pakistanis abroad, including pilgrims, prisoners, Tablighi Jamaat members the government is making all efforts to bring back stranded Pakistanis.
Minister for Foreign Affairs Shah Mehmood Qureshi told the meeting that around 40,000 Pakistanis were currently stranded in different counties.
He said that as per data collected by the Foreign Office through its missions abroad, the total number of Pakistanis stranded was 39,748 and a majority of them were in the Middle East. He said the number of Pakistanis belonging to Tablighi Jamaat who were stranded abroad was 2,248.
Minister for SAFRON Shehryar Khan Afridi, who is also the convener of the subcommittee of the Special Committee, presented a report on its working.
He said representatives of Tablighi Jaamat and Zairean (pilgrims) were taken on board and their verified data was collected. He further said data of Pakistanis stranded abroad and registered with the Ministry of Foreign Affairs (MoFA) and prisoners released by Oman and the UAE was also acquired from the MoFA.
He said as per data received from Tablighi Jamaat, the total number of Jamaat members stranded abroad and in Pakistan were 2,054 and 16,900, respectively, whereas 275 pilgrims were stranded in Iran and 727 in Pakistan in different quarantine facilities.
Afridi said 1,326 pilgrims had returned to their destination, adding that 36,000 Pakistanis were stranded in Dubai, Qatar, and Oman. He said the subcommittee was in contact with relevant quarters and would oversee the safe return of everyone to their respective destinations.
Official sources say Pakistan International Airlines (PIA) will operate special flights from today to repatriate more than 1,800 Pakistanis stranded in Saudi Arabia, the UAE, Oman, Thailand, Indonesia, Japan, and South Korea due to the coronavirus pandemic.
Earlier Foreign Ministry Spokesperson Aisha Farooqui had said repatriation of stranded Pakistani pilgrims is the responsibility of the government and "we are in touch with the Iranian authorities in this regard".
https://en.abna24.com/news//275-stranded-pakistani-pilgrims-to-be-repatriated-from-iran-minister_1025596.html
-----
Europe
Algeria politician calls for suspending fasting in Ramadan due to coronavirus
April 15, 2020
Algerian politician, Noureddine Boukrouh, has called for fasting in Ramadan to be stopped this year because it "poses a health risk and contributes to the outbreak of the coronavirus".
The former head of the Algerian Renewal Party (PRA) published an article on Facebook under the title "Coronavirus and civilisations", in which he called for the suspension of fasting this year due to the spread of COVID-19.
Boukrouh stated: "Muslims have either to suspend fasting, because a hungry body may increase its vulnerability and stimulates the spread of the COVID-19 virus or to opt for fasting and be at the risk of a wider outbreak of the virus."
The article sparked a wave of controversy in Algeria, especially on social media, where some saw Boukrouh's suggestion as a rule that stimulates the launching of jurisprudence in dealing with the crisis, while others attacked him for interfering "in a purely religious issue only Islamic and medical scholars can tackle".
Last week, Al-Azhar International Centre for Electronic Fatwa stated on Facebook that "a Muslim is not permitted to break the fast in Ramadan unless physicians decide and scientifically prove that fasting will make him vulnerable to infection and death by the coronavirus; a fact which is not scientifically proven until this moment."
https://www.middleeastmonitor.com/20200415-algeria-politician-calls-for-suspending-fasting-in-ramadan-due-to-coronavirus/
------
Birmingham mosque holding online seminar to prepare worshippers for Ramadan 2020
ByDavid Bentley
05:30, 15 APR 2020
A Birmingham mosque is to hold its first ever online seminar to prepare people for "a very different" Ramadan in 2020.
Green Lane Masjid and Community Centre in Small Heath, which like all mosques is closed during the lockdown, will instead engage with its congregation via the internet.
A number of speakers from around the world will address those who watch the event online, while staying in their own homes.
In a message sent out to worshippers, GLMCC said: "Are you ready? Or has your mind naturally been distracted by Covid-19?
"Then you will be thrilled to know of our upcoming Online Ramadan Seminar streamed directly into your living rooms.
"Fantastic speakers from around the world, heart softening reminders to quell your worries and steady your heart, and truly uplifting lectures to prepare you and your family for a Ramadan like no other.
"This is our ease! What better time to pour our hearts out in dua, pray intensely in Qiyam and earn countless reward.
https://www.birminghammail.co.uk/news/midlands-news/birmingham-mosque-holding-online-seminar-18089556
------
Swiss prosecutors charge Iraqi as Islamic State recruiter
APRIL 14, 2020
Brenna Hughes Neghaiwi
ZURICH (Reuters) - Swiss federal prosecutors have filed charges against an Iraqi man accused of operating as a recruiter and trafficker for Islamic State, who has been held pending trial since May 2017, the Office of the Attorney General (OAG) said on Tuesday.
"The suspect held a position of authority in relation to other IS members, some also high-ranking, and functioned as a recruiter, trafficker, cash-provider and as the recipient of instructions from leading IS members," an OAG statement said.
Its investigation uncovered an extensive network involving the suspect and more than 20 other alleged IS members in Switzerland, Syria, Iraq, Turkey, Lebanon, Finland and another location as yet unidentified, it said.
The man, who was not identified, is alleged to have agreed to prepare attacks in Switzerland, the OAG said, adding it had no indication an actual attack had been imminent.
Switzerland has not experienced deadly militant attacks that have hit neighbouring countries such as Germany and France, but has identified hundreds of residents deemed a threat and cases of jihadi travellers who have left the country for war zones.
https://in.reuters.com/article/swiss-security/swiss-prosecutors-charge-iraqi-as-islamic-state-recruiter-idINKCN21W14Z?rpc=401&
------
Police arrest suspected Islamic State terrorist cell plotting attacks on US forces in Germany
15 Apr, 2020
German anti-terrorism police have arrested four Tajik nationals suspected of plotting terrorist attacks against American military bases in Germany.
The members of an alleged Islamic State cell were picked up in dawn raids at various locations in the western state of North Rhine-Westphalia. The men, all citizens of Tajikistan, were identified only by their first names: Azizjon B., Muhammadali G., Farhodshoh K. and Sunatullokh K.
The group's alleged leader, a 30-year-old Tajik man identified only as Ravsan B., has been in prison for the past 12 months on firearms charges.
Germans say far-right MORE DANGEROUS than Islamists, but is Merkel's shaky govt there to take on growing threat?
German federal prosecutors allege that the men swore allegiance to IS in early 2019 and reportedly had contact with several high-ranking figures within the shattered terrorist organization who were based in Syria.
The terrorist cell was planning to carry out attacks in Tajikistan before switching their focus to Germany. The group were also reportedly targeting critics of Islam.
"Targets for the attacks were supposed to be institutions of US forces in Germany or even individual people," prosecutors said in a statement.
In particular, they planned a murder attack on one person who had made public comments that they viewed as being critical of Islam.
Prosecutors claim members of the cell had purchased materials online with the intention of manufacturing an explosive device.
The group allegedly collected money in Germany and transferred it through wire networks in Turkey. It also allegedly carried out an attempted assassination in Albania as part of its fundraising activities, with Rvasan B. and Sunatullokh K. carrying out the failed attack.
https://www.rt.com/news/485842-germany-arrests-suspected-is-terrorists-tajiks/
-----
Newport mosque organises free meals for NHS and emergency staff
6 hrs ago
By Jonathon Hill
Worshippers at Shahporan Bangladeshi Jame Mosque, in Hereford Street in Maindee, have delivered hundreds of meals to the Royal Gwent Hospital, Gwent Police Station, and St Cadocs Hospital, among others, with the help of Shahinoor Indian Takeaway and Eco Foods Ltd.
Chefs at Shahinoor cooked the meals, while staff at Eco Foods provided the produce, with eight members of the mosque delivering the food.
"As a British Muslim who has lived in Newport most of my life, I wanted to make sure we mobilised our community into action to help others and show what Islam is all about," said Mr Miah.
"With mosques shut down, there is a large community there of good people with some time on our hands, and we have the facilities and people to be able to offer the service, so it was a no-brainer.
"It has been a really productive period of donating for us as a community, and we hope we have played some part in providing some comfort at this awful time."
Secretary at the mosque, Anhar Miah, and Harun ur Rashid, mosque chairman, said in a joint statement: "Shahporan Bangladeshi Jame Mosque cannot thank the frontline staff enough for all their efforts in the work they do day in and day out, they risk their lives in saving others.
"The police force are also playing a crucial role in this unprecedented time and so we want to say thank you by providing a comfort meat."
https://www.southwalesargus.co.uk/news/18379968.newport-mosque-organises-free-meals-nhs-emergency-staff/
------
'Sadness' in Northampton's Muslim communities as Ramadan approaches with mosques shut across the world
15th April 2020
By Alastair Ulke
Northampton's Muslim communities are heading into the holy month of Ramadan with a sense of "shared sadness" as the world battles the Covid-19 pandemic.
The holy month is marked with dozens of events to bring Muslim communities together - from communal prayers and meals after sundown to the Eid celebrations at the end.
But this year, Ramadan - which is set to begin on April 23 - has been tinged with sadness.
Mosques in Northampton and the world are likely to remain shut for the entire month. Evening prayers and communal meals at local mosques will not happen in line with efforts to prevent Covid-19 spreading.
"The mood in the community is not very happy," says treasurer of the Al JamaatulMuslimin mosque in Northampton Abdul Ali.
"It's one thing to close the mosques here in Northampton and the UK. But the Grand Mosque in Mecca and the Prophet's Mosque in Medina? These are two of the holiest places and have never missed Ramadan prayers in over 1,500 years. And this year they are shut.
"The feeling of this holy month has been lost. It's like Christmas time without seeing your family.
"Muslims all over the world are saddened by this. But we've got to accept it - people's health is the most important thing."
All of Northampton's mosques have closed and will not be able to hold prayers and gatherings during Ramadan.
It means many community events that mark the month will be lost. Every day, fasting is ended with a communal meal - Iftar - and along with evening prayers, during which the entire Qur'an is read over the course of Ramadan.
And in Northampton, a large gathering of the town's Muslim communities gather for prayer on the Racecourse for Eid to mark the end of the festival.
But this year, all of these have been restricted by the social distancing guidelines.
"In all the history of Islam something like this has never happened at all," says Ashraf Osmani, Imam of Northampton Central Mosque. "This is history in the making.
"We just have to bear it with patience and pray that this pandemic will come to an end and we can go back to a normal way of life."
https://www.northamptonchron.co.uk/news/people/sadness-northamptons-muslim-communities-ramadan-approaches-mosques-shut-across-world-2538574
------
Mideast
Grand Ayatollah Sistani calls for release of man jailed for insulting him
April 14, 2020
Iraqi top Shia cleric Ayatollah Seyed Ali al-Sistani urged the release of a social media user who has been jailed on the charge of insulting the cleric.
The office of Ayatollah Sistani wrote a letter on Monday to a judge in the Iraqi southern city of Hilla who has imprisoned the man.
In the letter, the office said the grand source of emulation is unhappy to see someone being put into jail for publishing insulting content about him.
It hoped that legal measures will be taken as soon as possible for the release of the man, named KadhimAbis Abd.
Abd was jailed for two years in December 2019 and the office has just learned about the court verdict, the letter read.
https://en.abna24.com/news//grand-ayatollah-sistani-calls-for-release-of-man-jailed-for-insulting-him_1025630.html
-----
Official: Exports from Imam Khomeini International Airport Customs up 58%
April 14, 2020
Goods worth about $863 million were exported from Iran's Imam Khomeini International Airport Customs in Tehran in the previous calendar year (which ended on March 19), indicating a 58-percent growth year-on-year.
GholamrezaSaffari-Taheri, the head of the airport's customs, added that last year, 36,307 tons of products valued at $4.89 billion were imported through the same customs, mainly including drugs, raw materials for production of pharmaceuticals and medical equipment, IRNA reported.
He noted that the value of imports indicated a 12-percent increase compared to the figure for the same period of the preceding year.
Saffari-Taheri said last year, seven million passengers used the customs' air border to enter or exit the country, saying the number of the exits and entries were almost the same.
On Monday, Iranian authorities set up mechanisms to speed up clearing customs in a major dry port located near Tehran, Press TV reported.
The heads of the Islamic Republic of Iran Customs Administration (IRICA) and the Railways of the Islamic Republic of Iran (RAI) signed an agreement on the same day to make it easier and faster for cargoes coming from seaports to get customs clearance at Aprin, a dry port located 20 kilometers to the southwest of the capital in Islamshahr County.
The deal is expected to lead to an increase in the amount of cargo transit at Aprin, a large inland facility at the juncture of Iran's cross-country rail routes where construction of customs offices and freight terminals began two years ago through government and foreign investment.
Signing the agreement, authorities vowed to cooperate on an extensive level to accommodate container freight transported through the rails from seaports south and north of the country.
Experts believe Aprin will be mostly frequented by cargoes coming from the Shahid Rajayi Port, Iran's main port for goods located in the Persian Gulf.
The government hopes Aprin could become a model for other dry ports near major metropolitan areas in Iran, including in Mashahd and Zahedan in the east and Tabriz in the northwest.
Building out port and customs facilities across Iran comes as the country has seen a surge in port activity despite a series of American sanctions that seek to choke off its trade with the rest of the world.
Recent figures provided by the customs authorities showed foreign trade over the past calendar year topped $85 billion as the overall weight of shipments exported from Iran and imported into the country exceeded 170 million metric tons.
http://www.iran-daily.com/News/267703.html
----------
Jordan bans worship in mosques due to coronavirus outbreak
15-04-2020
Jordan on Tuesday announced a ban on public worship in mosques during the holy month of Ramadan, which will be observed beginning next week, the Jordan Times reports.
Jordanian Religious Affairs Minister Mohammad Khalaileh announced in a press briefing that mosques will remain closed to the public during the fasting month ant that the Taraweeh, the evening public prayer performed in mosques during the fasting month, will be held at home for safety purposes.
He added that the Hashemite Scientific Councils will be held without audiences, while sunset activities will also be held in mosques without attendees and will instead be broadcast from King Hussein Bin Talal Mosque.
Jordan late last month imposed a curfew, which limits the mobility of its 10 million citizens indefinitely, in an effort to combat the spread of coronavirus.
Anyone violating the curfew, which severely restricts movement beyond emergency and essential services, can be jailed up to a year.
So far, there have been 391 confirmed cases of coronavirus in Jordan and seven deaths.
http://www.israelnationalnews.com/News/News.aspx/278712
-----
Turkey calls for social distancing during Ramadan
Ferdi Turkten
14.04.2020
Turkey's top religious body on Tuesday called for social distancing during the Muslim holy month of Ramadan to stem the spread of coronavirus.
In a statement, the Directorate of Religious Affairs said: "Iftar [fast-breaking] gatherings should be avoided with relatives, neighbors, and friends."
The religious body said fasting during the month of Ramadan is a religious duty which cannot be deferred due to the pandemic.
Turkey has reported 1,296 deaths from the virus, with more than 61,000 confirmed cases. The government has taken a number of measures to stem its spread, including a nationwide lockdown and distributing masks.
The virus, officially known as COVID-19, has spread to 185 countries and regions, according to the U.S.-based Johns Hopkins University.
The global death toll from the virus has crossed 120,400, with nearly 462,000 recoveries. Moreover, almost 1.93 million people have been infected worldwide, the data shows.
https://www.aa.com.tr/en/latest-on-coronavirus-outbreak/turkey-calls-for-social-distancing-during-ramadan/1804324#
-----
Kyoto Mayor offers concerns over US sanctions against Iran in time of COVID-19
April 14, 2020
Mayor of Kyoto DaisakuKadokawa, who is also chairman of the Union of Historical Towns, in a message to people and Mayor of Shiraz expressed concerns over the US sanctions imposed against Iran in time of coronavirus outbreak.
In his message to Heydar Eskandarpour, Kadokawa said he had received the letter regarding the removal of sanctions and is informed of the situation after the outbreak of coronavirus in Iran.
He offered his respect to all those who are trying to treat patients in medical centers.
Referring to Kyoto conditions after the outbreak of the pandemic, Kadokawa said they will do their best to protect people's lives and to prevent the collapse of the health system.
The Japanese official sympathized with Iranians, saying the Iranian officials are trying to take measures for passing this difficult situation.
Earlier on March 11, Shiraz Mayor has written to friendly and sisterhood cities and international organizations to make voices of the citizens heard by the world that oppressive sanctions are clear examples of war crimes that should be eliminated.
The official noted in his message that every year on such a day, his compatriots across Iran are ready to welcome Nowruz to celebrate the beginning of the New Year and the resurrection of nature. Here in Shiraz, the people managed to embrace this ancient ritual and the enduring legacy of ancient Iran.
This year, but unfortunately the warm-hearted people of Shiraz are deprived of tourist attraction. The spread of the coronavirus in recent days has presented us with difficult conditions and complex prospects.
https://en.abna24.com/news//kyoto-mayor-offers-concerns-over-us-sanctions-against-iran-in-time-of-covid-19_1025626.html
------
Iranian, Indian FMs discuss coronavirus on phone
April 14, 2020
Iranian Foreign Minister Mohammad Javad Zarif and Indian Minister of External Affairs Subrahmanyam Jaishankar held a phone conversation on Mon. regarding the outbreak of coronavirus, also known as COVID-19, in the region and world and collective ways to deal with the pandemic
The two sides also discussed about the latest political developments in Afghanistan especially peace process in this country and US illegal and unilateral sanctions imposed against Iranian nation.
Earlier, Zarif and his Russian counterpart Sergei Lavrov discussed recent developments concerning political crisis of Afghanistan, Yemen and the ceasefire in Yemen on a phone call on Monday.
Foreign Minister Zarif also held separate talks on Monday over the phone with his Qatari and Turkish counterparts on the latest critical situation and political developments in Afghanistan.
According to Iran's Health Ministry on Mon., total number of coronavirus cases in the country has reached 73,303, of whom 4,585 have lost their lives to the deadly virus.
Iran is one of the countries most affected by the pandemic and the US sanctions are hampering the country's efforts to contain the virus.
https://en.abna24.com/news//iranian-indian-fms-discuss-coronavirus-on-phone_1025654.html
-----
Top religious body calls for social distancing during Ramadan
April 14 2020
Turkey's top religious body on April 14 called for social distancing during the Muslim holy month of Ramadan to stem the spread of coronavirus.
In a statement, the Directorate of Religious Affairs said: "Iftar [fast-breaking] gatherings should be avoided with relatives, neighbors, and friends."
The religious body said fasting during the month of Ramadan is a religious duty that cannot be deferred due to the pandemic.
Citing experts, the statement added, fasting carried no risks for healthy people.
https://www.hurriyetdailynews.com/top-religious-body-calls-for-social-distancing-during-ramadan-153863
-----
Pres. Rouhani: 1m-toman loan to be paid before holy month of Ramadan
April 14, 2020
The Iran's President announced, "By taking over the 12 percent interest rate of the 1m-toman loan by the government, the loan will be paid in the form of Qarz al-Hasna and before the holy month of Ramadan."
Speaking on Tuesday at a meeting of the cabinet's economic board to review the effects of coronavirus outbreak, Dr Hassan Rouhani said that the process of paying loans from 52 billion tomans to all eligible businesses in 10 categories –provided that during the fight against coronavirus, they have not laid off their workers- will be starting from mid-April and continuing until mid-June.
The meetings of the government's economic board have been influenced by coronavirus, and our discussions are about issues that need more attention.
As the public is aware of the corona issue, there is a debate about the restrictions that need to be placed under the Smart Social Distancing, which will gradually and regularly inform the public about the actions that are allowed.
Actions that people need to stop, businesses that can operate, businesses that can't become active yet, educational sectors that can't be active yet, and transportation and other issues were discussed, for which people will be informed.
In total, we have considered a package of 100 trillion tomans, which is related to the health, medicine, treatment, and medical equipment sector, and part of it is related to the unemployment insurance fund.
The other part is 75 trillion tomans, which will be paid in the form of loans either to the public or to businesses that have already been announced in 10 job categories that have been under more severe pressure these days, which is about 52 trillion tomans.
There is also an amount of 23 trillion tomans that was previously supposed to be given to those who are receiving direct subsidies with a 12% interest rate. Today, part of the time of our meeting was spent discussing how to turn this 1-million-toman loan into a form of Qarz al-Hasna. It was decided that the government take over the interest rate.
April 25 is the first day of Ramadan, and all our efforts are to be able to deposit this one million tomans into people's accounts before April 23-24, before the first day of Ramadan.
Of course, there is a framework that is being implemented today and tomorrow, and that is to inform people that those who want to use this loan will send a text message.
The second issue, we had announced that 3 million people living in difficult economic conditions would be paid a special subsidy for 4 months, which we paid between 200,000 tomans and 600,000 tomans. In addition to these 4 payments, a special payment will be added to these 3 million people for the holy month of Ramadan.
The next issue was the 4 million families that we had previously announced that a loan of 1 million to 2 million tomans would be paid to them, we decided to grant an amount more than that to them.
The next issue is related to the 52 trillion tomans of loans that they want to receive. The sectors that were under the most pressure these days and their businesses faced problems were announced to be about 10 categories, and the ministries related to cultural heritage, tourism and handicrafts, industry, mining and trade and cooperation, labour and social welfare are working in this field.
These loans are different, and we have already announced that it will include those who did not laid off their labourers. If a small and medium-sized enterprise fires a worker, they will not be included.
We hope that all of this will be paid to the eligible people by the details by May 4, and in all these cases, our effort is to pay all these loans by June.
Another point I would like to say is that we announced that about 4 million tonnes of essentials are in customs and we were trying to find a way to get all these goods out of customs.
Fortunately, today out of that 4 million tonnes of goods that we said, to this day one million tonnes of goods have been cleared, and this will breathe a new spirit to our market.
People need to be confident about their basic goods by the end of the year. Our reserves and the same amount of basic goods that must be purchased for medical and pharmaceutical equipment, almost all the planning has been done and these will be made available to the people.
https://en.abna24.com/news//pres-rouhani-1m-toman-loan-to-be-paid-before-holy-month-of-ramadan_1025585.html
-----
India
Muslim survivors of Delhi riots develop COVID-19 PPE kits
APRIL 14, 2020
New Delhi: Muslim women who survived the communal riots of North East Delhi – which killed over 50 – are now the "khalasis" of Personal Protective Equipment kits for COVID-19.
Talking to Karvaan India, one of the women said, "We were left with nothing by our side until some people working as relief volunteers came to our rescue. They bought stitching machines for us and asked us to restart our work."
"Now that we have skills, and we wanted to give it back to society, what else could be better than contributing to fight against COVID? At the moment there is news everywhere that in the fight against a virus, there is a shortage of PPE kits, we wanted to fill in the gap with our small efforts," she added refusing to be identified as she fears Delhi police may cease their efforts.
"I want to remain anonymous and want to do the good work. See what they did to Kafil Khan for doing good work. We don't want to become a target like him," she said.
Post Delhi violence, an organisation led by IIT Delhi scholar Aasif Mujtaba was closely working with the survivors of pogrom and helped this group of women buy raw material and stitching to restarts their livelihood, The Karvaan reported.
Talking to Karvaan India, Aasif said, "I am myself surprised. These little acts will keep humanity alive. They were attacked for being Muslims, but now they have developed PPE kits for warriors against Corona across faith and religion, this shows their courage and resilience to restore humanity and at the same time fight for their rights."
"During the first week of our visit to Shiv Vihar somewhere around March 2, I was approached by few women who had lost their stitching work because of the pogrom. The rioters burnt their house and their source of livelihood, But they wanted to start the stitching work asap. To rehabilitate the business, we bought two automatic Stitching machines ( they call it ghuggi) and gave it to them along with some money to buy the raw materials. And today, for a surprise, they came with 2000, 3-Ply masks and 100 PPE (Personal Protective Equipment) ` kits. They requested me to give it all to the needy and the poor. Their gesture moved me. They might have lost every other thing in the pogrom but humanity. The 45th day of relief and rehabilitation work at Shiv Vihar, It seems, was extraordinarily different and full of hope."
Get the latest updates in Hyderabad City News, Technology, Entertainment, Sports, Politics and Top Stories on WhatsApp & Telegram by subscribing to our channels. You can also download our app for Android and iOS.
https://www.siasat.com/muslim-survivors-delhi-riots-develop-covid-19-ppe-kits-1874095/
-------
Jaipur: Muslims Carry Bier Of Hindu Man, Chant 'Ram Naam Satya Hai'
14 April 2020
Muslim neighbours carried the bier of 35-year-old Rajendra Bagri, who died of cancer in the locked down Jaipur, amid the chanting of 'Ram naam satyahai' on Monday.
Due to the lockdown imposed to check the coronavirus spread, no other relative, except his wife, children and a younger brother, was at home.
Two videos related to the procession have surfaced, in which Muslims can be seen carrying the bier amid the chanting of 'Ram naam satyahai' as per the Hindu tradition.
"He was a cancer patient for a long time. Since there were no other relatives, we all decided to make arrangements for his last rites," Pappu, a Muslim and area resident said.
"This gives a strong message that there are people for whom humanity is greater than caste or religion," he added.
Members of the Muslim community carried the bier on their shoulders from the deceased's house to some distance, from where the body was taken to the cremation ground in a van.
"In view of the curfew, only five people were allowed to attend the cremation. Muslims neighbours made all arrangements for the cremation and the pyre was lit by the younger brother of the deceased," SHO Shivnarayan told
https://www.outlookindia.com/website/story/india-news-jaipur-muslims-carry-bier-of-hindu-man-chant-ram-naam-satya-hai/350703
------
Mob thrashes Muslim man, calls him corona carrier; he later jumps to death at quarantine facility in Noida
Apr 14, 2020
Police Tuesday registered an FIR of abetment to suicide against unknown persons after a 32-year-old man jumped to his death from the seventh floor of a quarantine facility in Greater Noida on Sunday evening.
The man's family has alleged that a mob had intercepted him near Momnathal village a few days ago on mistaking him for a member of Tablighi Jamaat, the Islamic missionary group whose congregation in Delhi's Nizamuddin in mid-March had led to a spurt in Coid-19 cases across the country. The family alleged that the mob believed him to be a virus carrier and thrashed him. His attackers also made videos of him on their phones and then widely shared them on the social media captioned, "coronavirus positive Muslim man".
Mohammad Zakir, the man's uncle, said the 32-year-old man was on his way to meet his wife and son who were at his in-laws' place in Rabupura, Greater Noida.
"My nephew got married two years ago. He was walking to his in-laws' place and had reached Momnathal village around 8am. A group of youngsters stopped him on noticing his long beard. They thrashed him and made two videos on mobile phone and linked him with Tablighi Jamaat. The malicious videos were later uploaded on Tiktok by a person named Shravan Chaudhury," he said.
He said the police and health department officials later reached the spot after getting a call from area residents and took the man to the Greater Noida Institute of Medical Sciences (GIMS) for medical examination.
Rajesh Kumar Singh, deputy commissioner of police, Greater Noida, said the man was later shifted to a quarantine facility in Greater Noida.
"On Sunday evening, we received information that the man had jumped off the seventh floor and died. His test reports for Covid-19 were negative. Police have registered an FIR against unknown persons under Section 306 of the IPC (abetment to suicide) on the complaint of the quarantine facility manager. The police are investigating the matter," he said.
The man's family said he worked as a cab driver and was going through a financial crisis for some months. "He had five sisters and one older brother. He was facing some financial crisis and was depressed. He was also undergoing treatment at a mental hospital in Delhi. We reached the hospital when we received information that he had been quarantined. We informed the police and hospital management that he was not a coronavirus patient but they did not listen to us. They said that man will remain in quarantine till his test reports came," Zakir said.
"The mob that thrashed him is responsible for his death. The quarantine facility management was also negligent and police should probe their role too," Zakir said.
The body was later handed over to family and it was buried Monday night. The district administration has already ordered a magisterial probe into the matter.
https://www.hindustantimes.com/cities/mob-thrashes-muslim-man-calls-him-corona-carrier-he-later-jumps-to-death-at-quarantine-facility/story-6LvrlFO1O5lURVlSG3xVlO.html
------
Muslim organizations offer buildings for quarantines
Apr 15, 2020
Ahmedabad: Three Muslim organizations have offered their buildings in the city to the Ahmedabad Municipal Corporation (AMC) and the government authorities as quarantines.
The Iqra hospital in Juhapura, Jamia Faizan-ul-Quran madrasa in Sarasur and another madrasa in Sarkhej known as Jamia Darul Quran, and Gulliwala madrasa are on offer. The authorities told the organizations that these facilities will be used if needed.
"In all 1,200 beds will be available when these three buildings are used as quarantine centres," said Maulana Habib Ahmed of Issa Foundation.
"We have been managing community kitchens ever since the city was placed under lockdown. We have resources and therefore told the municipal commissioner that we will bear the expenses of all patients and doctors and paramedical staff at our buildings. Our Issa Foundation will manage their food."
https://timesofindia.indiatimes.com/city/ahmedabad/muslim-organizations-offer-buildings-for-quarantines/articleshowprint/75149009.cms
------
Image of Muslims offering namaz on rooftops in groups is from Dubai
Jignesh Patel
14th April 2020
An image of a group of people offering namaz together on the terrace of buildings is going viral on social media. Film director Vivek Agnihotri tweeted the image and asked, "Any idea where is this? #Quarantine". It has been retweeted close to 5,000 times so far.
Facebook page Hukkaaur Khat posted the image with the message, "ये मजहब से वफ़ादारी हो सकती है परन्तु क्या यह वतन से गद्दारी नही.? (This might be loyalty towards the religion but isn't it being a traitor to the country -translated)". The post has been shared more than 400 times so far. While the text doesn't mention the location where the image was shot, it implicitly targets the Muslim community in India.
It is important to note that the image tweeted by Agnihotri has been cropped to remove certain structures in the background which are visible in other posts that have tweeted the full photograph.
The image was shared on Facebook with the Kannada text, "ಆರೋಗ್ಯ, ಸಮಾಜ ಹಾಗೂ ವೈಜ್ಞಾನಿಕತೆ ಬಗ್ಗೆ #ಕೆಲವರಿಗೆ ಮನವರಿಕೆ ಮಾಡೋದು.! #ಕತ್ತೆ_ಮುಂದೆ_ಕಿನ್ನರಿ_ಬಾರಿಸಿದಂತೆ..?". Posts by Facebook Pages – Namo and Modi Kingdom – have garnered over 4,300 shares.
With a Google reverse image search, Alt News found that this image was earlier shared in Saudi Arabia and Kuwait. We found multiple tweets by individuals from these countries. However, the location couldn't be ascertained.
We then closely analysed the image and found that there is a mosque, a water body (possibly a sea), and a water ferry visible in the background. A Google search with the keywords and an assumption that it could possibly be from Dubai led us to the location.
https://www.altnews.in/image-of-muslims-offering-namaz-on-rooftops-in-groups-in-from-dubai/
------
Mosque in Mumbai feeds labourers during lockdown
Apr 14, 2020
MUMBAI: A mosque in suburban Sakinaka area of Mumbai is offering meals to around 800 labourers who have lost their jobs because of lockdown. It is also providing ration of rice and pulses to people in nearby localities, said Maulana Atif Sanabali of the Jama Masjid Ahle Hadis, located on Khairani road.
"Like COVID-19, hunger is also a serious disorder and affects everyone irrespective of religion. Our motto is 'koi bhukhanasoye' (nobody should go to sleep hungry)," he said.
Meals are cooked in hygienic way and social distancing is followed while serving, he added.
https://timesofindia.indiatimes.com/city/mumbai/mosque-in-mumbai-feeds-labourers-during-lockdown/articleshowprint/75141073.cms
-----
Southeast Asia
Mosque's all races aid effort attracts more donors, including non-Muslims
FaizZainudin
April 15, 2020
PETALING JAYA: A mosque in Petaling Jaya that recently won plaudits for distributing aid to those affected by the movement control order (MCO), including non-Muslims, plans to continue the charitable deed.
And it is now getting more donations, including from non-Muslims, to carry on with its charitable work.
Last Sunday, the Al-Islamiah Mosque in Kampung Lindungan, extended aid to foreigners in the area, distributing goods such as rice, cooking oil, flour and eggs to more than a hundred households.
Mosque spokesman Muhammad HafisAsib said many of the foreigners, a majority of whom were Indonesians and Bangladeshis, who received the aid were contract workers who depended on daily wages.
Hafis said the mosque would like to help them in any way it could to lighten their burden. He had previously said that the majority in the area were those from the B40 category.
"We help people on grounds of humanity. We assist anyone in need of such help. That is the mosque's principal," he told FMT.
This attitude, Hafis revealed, had resulted in more people coming forward to donate to the mosque, including non-Muslims, after pictures of Indian women lining up to receive aid at the mosque went viral.
"We saw an increase in Malaysian donors, including non-Muslims who trusted us in distributing the aid," he said, adding that if the mosque received more donations, it would expand its charity work.
Hafis urged other mosques and places of worship to carry out similar initiatives and help the needy regardless of race and creed.
The caretaker of the mosque, Hakimi Hafiz Husain, said they were now planning to distribute aid during the fasting month, although that would depend on the Selangor Islamic Religious Department (Jais) giving them the nod to do so.
Meanwhile, one of those who received aid from the mosque, Nor HasniHamat from Madura, Indonesia, expressed gratitude for the food she received, saying they were treated like family and praised the mosque for its generosity.
"Even though we come from Indonesia, we do not feel like we're living in a foreign country. Whenever we are in hardship, or without a job, there is always someone who will lend a helping hand," Nor Hasni, who works as a cleaner, said.
Another Indonesian, who only wanted to be known as Rosriah, was also thankful for the aid she had received, saying that since the MCO started she had been struggling to pay rent and buy food, as she was only paid half her salary.
https://www.freemalaysiatoday.com/category/nation/2020/04/15/mosques-all-races-aid-effort-attracts-more-donors-including-non-muslims/
-----
Covid-19: 170 new cases take total to 4,987, death toll at 82 with 5 more fatalities
14 Apr 2020
PUTRAJAYA: Malaysia recorded 170 new Covid-19 cases Tuesday (April 14), taking the total number of confirmed infections in the country to 4,987.
The country also reported five new deaths, which brings the Covid-19 death toll in Malaysia to 82 cases.
This translates to a fatality rate of 1.6%, said Health director-general Datuk Dr Noor Hisham Abdullah said at the ministry's daily Covid-19 media briefing here.
In terms of recoveries, Malaysia discharged 202 more patients as of 12pm Tuesday.
So far, 2,478 patients have recovered from Covid-19 in Malaysia since the outbreak began.
The rate of Covid-19 recovery in Malaysia is 49.7% out of the total number of positive cases.
Currently, 60 patients are being treated at intensive care units (ICU), with 33 of them requiring the use of ventilators.
One of the five death cases is an unidentified man who was found dead in Kota Kinabalu, Sabah on April 6.
"The results of the samples taken from the man during post-mortem found that he was Covid-19 positive.
"The man was found without any identification and is believed to be a non-Malaysian.
"This case is under the investigation of the police, " said Dr Hisham.
Malaysia has entered its 28th day of the Movement Control Order (MCO), where people are instructed to stay at home and movement is heavily restricted
https://www.thestar.com.my/news/nation/2020/04/14/covid-19-170-new-cases-take-total-to-49875-deaths
------
Researchers face uphill battle in COVID-19 fight
April 15 2020
Researchers say they see themselves walking a long, winding road in helping the government battle the COVID-19 outbreak, as broader research is needed to improve countermeasures nationwide.
According to Indonesian Young Academy of Science (ALMI) secretary-general Berry Juliandi, the government has either been slow to adopt or ignored some of the association's science-based recommendations.
For instance, the government's decision to release inmates was contrary to the researchers' suggestion to close prison doors for outside visitors to slow the virus' spread. Their recommendation to ban this year's IdulFitri exodus and to use polymerase chain reaction (PCR) tests instead of serum-based rapid tests are examples of slow adoptions of their advice
https://www.thejakartapost.com/news/2020/04/15/researchers-face-uphill-battle-covid-19-fight.html
-----
Arab world
Egyptian policeman, seven suspected militants killed in Cairo gunbattle
April 14, 2020
CAIRO: An Egyptian policeman and seven suspected militants were killed on Tuesday in an exchange of gunfire, the ministry of interior said in a statement late on Tuesday.
It said three other policemen had also been wounded.
The exchange took place in the Al-Amiyira district, the public prosecutor said in a statement.
The ministry received information "that there is a terrorist cell, whose elements embrace Takfiri ideology, using several areas as a shelter in eastern and southern Cairo as a starting point to carry out terrorist operations," the statement said.
Egypt uses the term takfiri to refer to Islamist militants who often accuse their victims of being infidels.
Two private television stations broadcast what they called footage of the shooting, which Reuters was not immediately able to verify, and asked residents to stay indoors.
Weapons and ammunition were found with the suspects, the ministry said.
The public prosecutor said a team of investigators has been despatched to the scene of the attack.
Egypt has been fighting an Islamist insurgency in the northern part of the Sinai Peninsula since the ouster of Mohamed Mursi of the Muslim Brotherhood in 2013 following mass protests against his rule.
The military and police launched a major campaign against militant groups in 2018, focusing on the Sinai Peninsula as well as southern areas and the border with Libya.
The last major attack was in November 2017 when militants killed more than 300 people in an attack on a mosque in north Sinai, the deadliest such incident in the Arab world's most populous country.
https://www.arabnews.com/node/1658896/middle-east
-----
Saudi Arabia tests more than 150,000 people for coronavirus
DEEMA A-KHUDAIR
April 14, 2020
JEDDAH: More than 150,000 people have been tested for coronavirus in Saudi Arabia, as a Ministry of Health spokesman Tuesday stressed the importance of getting information about the disease from reliable sources.
The tests were being carried out by experts who were working "day and night" to treat those suspected of infection as early as possible and to take all necessary measures to care for them, the ministry's spokesman Dr. Mohammed Al-Abd Al-Aly said.
"These levels of advanced and accurate laboratory tests are what makes the Kingdom one of the countries that actively and intensely undertakes measures to detect cases early, and thus monitor and treat them at the earliest (opportunity) and prevent society from spreading it."
A total of 435 new cases of COVID-19 were recorded in the Kingdom on Tuesday, bringing the total number to 5,369 cases, including 4,407 active cases. Of these, 62 are in critical condition or ICU.
He denied that the disease only affected the elderly. "Children, the young and the elderly are all susceptible to the disease, all age groups can be affected by the virus."
"Globally, there are cases recorded in the very first few hours or two days of an infant's life. All age groups must take all the precautionary measures as it affects all."
"There is no confirmed reliable scientific evidence that proves this or if that the virus is seasonal," he said. "It is still a new virus and it has not experienced different seasons and climates for us to confirm this piece of information."
He said there were no findings that proved domestic animals and mosquitoes could transmit the disease but that they were known to spread other diseases, especially parasites.
The latest fatalities were expats - four in Madinah, three in Makkah and one in Jeddah. Most had underlying chronic health conditions, and they were aged between 41 and 71.
A committee led by the Minister of Municipal and Rural Affairs has been set up to look after the housing conditions of expat workers. It has acted to curb the spread of the virus, including launching an online portal to build a database of housing alternatives for such workers.
The committee said there were nearly 1,000 properties that could accommodate 250,000 residents with 60,000 rooms.
https://www.arabnews.com/node/1658886/saudi-arabia
------
633 Saudi citizens arrive in Jeddah from Indonesia, US
April 14, 2020
JEDDAH: More than 600 Saudi citizens on Tuesday arrived in Jeddah from Jakarta (258) and Washington (220), and 155 arrived in Riyadh from New York on special flights arranged by the Kingdom to ensure the safe return of all its citizens stranded abroad in the wake of the coronavirus disease (COVID-19) outbreak.
They were received by officials of the ministries of foreign affairs, tourism, health and the General Authority of Civil Aviation at the airports in Jeddah and Riyadh.
Passengers have to undergo 12 preventive checkups in three stages — before boarding the plane, inside the cabin and then finally upon arrival.
The Ministry of Health has allocated a checkpoint through which passengers pass thermal cameras upon arrival. Suspicious cases are transferred safely to a designated area further away.
Passengers are also required to sanitize their hands before starting procedures at the passport and customs control area, where a distance of 1.5 meters must be maintained between the passenger and passport officer.
They are then escorted to their designated guesthouses. The Ministry of Tourism has allocated over 11,000 rooms so far across the Kingdom to accommodate the number of repatriations for the 14-day isolation period, which is supervised by the Ministry of Health.
Buses transporting the arriving passengers have been provided by the Ministry of Education and are equipped with safety measures and services.
Requests to return home can be filed through a dedicated platform on the Saudi Foreign Ministry's website http://www.mofa.gov.sa/es.
Three Saudi airports, King Khalid International Airport in Riyadh, King Abdul Aziz International Airport in Jeddah and King Fahd International Airport in Dammam, have been prepared to receive citizens stranded in different parts of the world.
https://www.arabnews.com/node/1658941/saudi-arabia
-----
King Salman chairs online Cabinet session
April 15, 2020
RIYADH: The Cabinet on Tuesday lauded Saudi Arabia's efforts to help stabilize the global energy markets and support the growth of the global economy in the wake of the coronavirus disease (COVID-19) outbreak.
The ministers reiterated the Kingdom's resolve to work with the international community to fight the viral outbreak and take measures to ensure the stability of the world economy. They also reviewed the final statement of the extraordinary meeting of the G20 energy ministers.
The Cabinet reviewed the precautionary measures taken in the Kingdom to check the spread of COVID-19.
It lauded the efforts made for the safety and repatriation of citizens stranded abroad. The ministers urged citizens and residents to abide by regulations introduced in the wake of the pandemic.
The Cabinet reviewed the latest developments in Yemen and the recently announced cease-fire for two weeks, which can be extended to confront the COVID-19 in the war-torn country.
The Cabinet approved the transformation of the historical Jeddah project into a full-fledged program to rehabilitate historical Jeddah. The ministers also decided that the suspension of international flights will not affect the validity of unused tourist visas.
https://www.arabnews.com/node/1658961/saudi-arabia
------
North America
'Not the time to reduce the resources' of WHO: UN chief
April 15, 2020
It is "not the time to reduce the resources for the operations of the World Health Organization or any other humanitarian organization in the fight against the virus," United Nations Secretary General Antonio Guterres said Tuesday.
"It is my belief that the World Health Organization must be supported, as it is absolutely critical to the world's efforts to win the war against COVID-19," he said, after US President Donald Trump announced earlier that his country would cut off funding to the UN health body for mishandling the coronavirus pandemic.
https://www.thedailystar.net/world/news/not-the-time-reduce-the-resources-who-un-chief-1893040
-----
US Embassy releases details of the meeting between Khalilzad, Gen. Miller and Bajwa
15 Apr 2020
The U.S. Embasy in Islamabad released the details of the meeting between the U.S. envoy for Afghan peace, the top U.S. commander in Afghanistan and the Chief of Staff of the Pakistani military.
According to a statement released by U.S. Embassy in Islamabad "U.S. Special Representative for Afghanistan Reconciliation Zalmay Khalilzad and Resolute Support Mission Commander General Austin Scott Miller visited Islamabad on April 14."
The statement further added "In a meeting with Chief of Army Staff General Qamar JavedBajwa, Ambassador Khalilzad and General Miller discussed the United States' ongoing efforts for a sustainable peace in Afghanistan."
"Pakistan's military leaders reaffirmed their support for U.S. efforts and renewed their commitment to act to advance a political settlement to the conflict," the statement added.
This comes as efforts are underway to implement the peace agreement which was signed by the United States and Taliban late in February.
The State Department had earlier announced that Ambassador Khalilzad has visited the Qatari capital of Doha to discuss challenges in implementing the agreement.
https://www.khaama.com/us-embassy-releases-details-of-the-meeting-between-khalilzad-gen-miller-and-bajwa-04661/
-----
Coronavirus: NYC Muslims struggle to hold traditional burials
by Jillian Kestler-D'Amours
15 hours ago
With bodies piling up at hospitals and morgues, and funeral homes turning families away due to a lack of capacity, New York City has been stretched to its limits by the COVID-19 pandemic.
The crisis has touched thousands of grieving families, virtually all of which have been forced to navigate chaos after their loved one's death from the deadly respiratory virus.
The funeral process can be even more complicated for Muslim New Yorkers, who make up about three percent of the population across the city's five boroughs, because a series of religious practices guides the burials.
"It's overwhelming - just the amount of illness, the amount of deaths," said Imam Khalid Latif, executive director of the Islamic Center at New York University (NYU), about the general feeling in the city.
He said that early on, it became clear that "funerals and things happening at end of life were likely really difficult for a lot of people" in the Muslim community.
"A lot of people [were] reaching out saying, 'We just can't connect to anybody, and the places we are connecting to, they're telling us it's going to be days before anything can actually happen'."
An Islamic funeral service in New York City would typically cost around $2,000, including a plot of land for burial, Latif said, but these days, some members of the Muslim community said they were being charged around $10,000.
"In Islam, the funeral rites are considered a communal obligation," he told Al Jazeera. "Here, we have a responsibility to ensure that people who can't afford it are still able to have it done."
Packages of bread sit on a table with a crate of apples for passersby to take, outside the closed Masjid at-Taqwa mosque in the Brooklyn borough of New York after the mosque closed due to COVID-19. [Kathy Willens/AP Photo]
Latif helped set up an online fundraiser that collected nearly $195,000 this month to support Muslim Funeral Services of New York, a Brooklyn-based group also known as the Janazah Project.
The money will be dispensed to funeral homes to bolster their services - including the purchase of vehicles and refrigerated trucks to transport and store bodies when hospitals are over-capacity, and personal protective equipment for workers.
Latif said financial strain should not be a reason people do not get a chance to properly remember their loved ones, so needy families will also directly receive some of the money to cover funeral costs.
"To me, that's a really unfortunate reason as to why someone who is already in a lot of emotional strife will have added anxiety that doesn't allow for them to grieve," he said.
Financial concerns are especially prevalent among people employed in public-facing industries - such as taxi or Uber drivers, restaurant staff, or construction workers - who have taken a hit during the pandemic.
Muslim New Yorkers make up a high percentage of those workers in the city, said Ahmed Mohamed, litigation director at the Council on American-Islamic Relations New York chapter (CAIR-NY).
"Especially for immigrant communities, telework, work from home, is not a possibility. Having to be confined to your home means you don't have a job and you don't have a paycheque," Mohamed said.
He said many traditional Muslim practices have been upended during the COVID-19 crisis: families cannot be with a sick loved-one because the illness is so contagious and most hospitals have strict visitation rules in place, and public gatherings have been restricted, too. The challenges also come as Muslims worldwide prepare for the start of the holy month of Ramadan.
A Muslim health worker prays outside a special coronavirus intake area at Maimonides Medical Center on April 06, 2020 in the Borough Park neighbourhood of the Brooklyn borough of New York City [Spencer Platt/Getty Images/AFP]
In New York state, funeral homes and cemeteries have been designated as essential services, but the government urged them to avoid in-person gatherings. "If in-person services must be held, the gathering should be limited to only immediate family, with as few persons physically present as possible," the state said in a letter to funeral directors on April 10.
As a result, the Muslim community - like other religious groups across the United States - has had to adapt to meet public health recommendations designed to reduce the potential spread of the coronavirus.
Mosques have shuttered their doors, and Friday afternoon prayers - as well as other practices, such as halaqa (communal religious gatherings) and khotba (the sermon before Friday prayer) - are taking place online instead. Some families are live-streaming funerals, as well.
"Obviously, it's not what the Muslim community would do during a normal basis, where we come together to better relieve some pain and ease people's sorrows during those times," Mohamed told Al Jazeera.
A rumour that Muslims were being buried in mass graves recently ripped through the community, said Raja Abdulhaq, executive director of Majlis Ash-Shura Islamic Leadership Council of New York, an umbrella group for over 90 mosques and organisations.
"We had imams calling us where their community members are calling them crying, worrying about their loved ones being buried in mass graves without seeing them. This was really scary for the whole community," Abdulhaq said.
The group reached out to city officials and investigated the claim, and found the rumour to be untrue, he told Al Jazeera.
"What's happening is that hospitals are creating temporary morgues remotely, away from the hospitals, so they can continue to have enough capacity for the new bodies that are coming in," he said. "But this is very specific only to unclaimed bodies."
In a news conference on April 9, New York City Mayor Bill de Blasio said each body "will be treated individually and specifically" and burial plans will be coordinated with the families of the deceased.
"We clearly have painful but real contingency plans to deal with anything that might come up ahead, but with a very clear standard: dignity for the families. Every family is treated individually," he said.
Another rumour that Muslim bodies were being cremated - a practice that is forbidden in Islam - was also false, Abdulhaq said. "So far we have no cases and we have no reason to believe that this is happening."
"While the exact number of Muslims who have died from COVID-19 is unavailable, Abdulhaq said the city's Bengali community was hit particularly hard.
In Islam, the body of a deceased person is washed and shrouded, a prayer is performed, and then the body is buried directly into the ground without any embalming, explained Latif, the NYU imam.
But he said that in exceptional circumstances, such as during today's COVID-19 pandemic, when some of those religious practices cannot take place for whatever reason, alternatives are possible.
"An individual will essentially tap their hands on clean dirt or earth, and positions their hands then on different parts of the deceased's body as a purification process in lieu of the washing," Latif said, by way of example. That process is known as tayammum.
Latif acknowledged that many community members are still struggling with what to do when a loved one passes away, or when people get sick with COVID-19.
"It's really hard for people right now who are losing loved ones because there's so much happening that prevents them from being there with them."
He encouraged people to reach out to one another to stave off isolation - especially in New York City, a place that he said can be particularly lonely. "It's an unprecedented time," Latif said. "And where government has failed and has not done its part, we just need to step up and do what we can and come together."
https://www.aljazeera.com/news/2020/04/coronavirus-nyc-muslims-struggle-hold-traditional-burials-200414163419702.html
-------
Ahmadiyya Muslim Community donate essential food to Slough Outreach
14 April 2020
Members of the Ahmadiyya Muslim Community Slough have been donating dozens of shopping bags packed with essential food to Slough Outreach.
President Atiq Ahmad Bhatti dropped off the latest donations of non-perishable items including cereal, rice and flour on Saturday.
The goods will now be distributed to vulnerable people across the borough who are in need during the COVID-19 outbreak.
Mr Bhatti said: "With what we are all going through with the coronavirus pandemic, the Government lockdown and trying to stay safe, we must never forget the elderly and vulnerable who are open to the elements and truly need 100% help and support."
The group also recently made a donation to Runnymede Council following a request it made for essential items.
https://www.sloughexpress.co.uk/gallery/slough/157954/ahmadiyya-muslim-community-donate-essential-food-to-slough-outreach.html
------
Fintech news: Islamic finance charts high-tech future
2020-04-14
"Is it halal to buy shares in Tesla?" a young Muslim would-be investor asks on Twitter, in a tweet that has since been deleted.
Islamic finance – an amalgamation of Sharia law and modern banking – has become a $2 trillion (R36.6 trillion) business over the past two decades, covering everything from bonds to buying cars.
But with complex standards set out by a number of Islamic bodies, it's not easy for observant Muslims to decide whether or not an investment is halal (religiously permissible).
Tesla, the American electric car pioneer, for example, is considered 96% Sharia-compliant, according to the Zoya mobile application.
The app screens US-listed stocks based on criteria issued by the Accounting and Auditing Organization for Islamic Financial Institutions, one of several bodies that set Islamic finance standards.
Islamic funds are banned from investing in companies associated with tobacco, alcohol, pork or gambling. Earning interest is also banned as "usury".
US-based Wahed Invest, an online halal platform, uses those criteria to help tens of thousands of people invest "ethically".
Islamic bankers are hoping that modern platforms will open the industry up to young investors, and that its innately ethical credentials will prove to be another draw.
Mehdi Benslimane, Global Expansion Strategist at Wahed Invest, said the guidelines in religious texts boil down to two conditions.
"A business must have a real economic impact, not just a speculative one. And it must have a positive contribution to the world," he told AFP.
According to the rating agency Standard & Poor's, the Islamic finance industry has in its relatively short existence grown to be worth $2.1 trillion. (R38 trillion)
Financial technology, or fintech, could help the industry grow by "facilitating easier and faster transactions", it said in its Islamic Finance Outlook 2020 Edition.
The meltdown the coronavirus pandemic has caused in other parts of the economy has prompted fears of a collapse in the sector. Dubai Islamic Bank has already delayed a planned issue of Shariah-compatible bonds, according to Emirati media reports.
Yet Islamic finance – based on the concept of shared profit and loss, thus minimising risk for banks – has fans well beyond the Muslim world.
For example, the Jeddah-based Islamic Development Bank in November signed an agreement with Japan's mammoth pension fund to support the development of sustainable Sharia-compliant products.
And the Responsible Finance & Investment (RFI) Foundation, a think tank, has talked up their ability to respond to the latest crash, due to the fact they are anchored in the real economy.
It also suggests that profits on investments in industries such as protective medical equipment could be donated to charities, helping tackle the coronavirus crisis without breaking the Islamic ban on interest payments.
The emphasis has been on growing the market rather than making it more efficient, said Mohammed al-Sehli, CEO of Wethaq Capital, a Dubai-based fintech firm.
The sector must focus more on innovation after "suffering from lack of innovation, standardisation and automation of processes", he told AFP.
Before the novel coronavirus pandemic forced them to work from home, young men and women – in traditional abaya robes or jeans and T-shirts – sat on bean bags or hunched over their laptops in an open working space at Dubai's FinTech Hive.
The company's executive vice president Raja al-Mazrouei says it connects start-ups with the Dubai Islamic Economic Development Centre, Sharia scholars, Islamic banks and financial regulators.
"If you're targeting countries like Malaysia, Indonesia and Saudi Arabia […] you have to be able to offer a (sharia-compliant) solution," Mazrouei told AFP.
However, Islamic fintech firms face a string of obstacles that don't bother their traditional counterparts. Mazrouei, a former computer scientist and a Harvard graduate, said:
"The main challenge… is to make sure that the whole supply chain, the regulations, are actually tested and verified by the Sharia scholars."
Talal Tabbaa, founder of Jibrel.com which connects investors with start-ups, and itself uses blockchain technology, describes an industry where cultures can collide.
The approach of some Muslim scholars who approve financial products "is not technological, it is very manual and, in my opinion, subjective," he said.
https://www.thesouthafrican.com/news/finance/fintech-islamic-finance-charts-high-tech-future/
-----
Coronavirus: FG sends message to Muslims ahead of Ramadan
April 14, 2020
By Ifreke Inyang
The Presidential Task Force (PTF) on COVID-19, has appealed to Muslims to continue to observe all the preventive measures, as Ramadan fasting commences.
The National Coordinator of the PTF, Dr. Sani Aliyu, made the appeal during the daily media briefing by the task force on Tuesday in Abuja.
"We all know that we are approaching the holy month of Ramadan, which can be important to communities; I'll like to emphasise the need for continued physical distancing and other prevention measures during this period, including frequent hand-washing with soap and water as we observe our religious obligations.
"I'll also like to seek the support of our religious leaders to engage the public and emphasise the importance of remaining safe during this challenging period," he said.
https://dailypost.ng/2020/04/14/coronavirus-fg-sends-message-to-muslims-ahead-of-ramadan/
------
South Asia
Bid to detonate a large bomb in Helmand foiled; 1 Taliban militant killed, 2 others wounded
15 Apr 2020
The Afghan forces thwarted militants bid to detonate a large bomb in southern Helmand province and killed a Taliban militant during the operation, the Afghan military said.
The Special Operations Corps in a statement said the Taliban militants were looking to detonate a large bomb in in Greshk district of Helmand.
The statement further added that the security forces carried out an operation while being in full defensive posture, defusing the bomb together with 14 other improvised explosive devices.
The security forces also killed a Taliban militant and wounded 2 others during the same operation, the Special Operations Corps added in its statement.
https://www.khaama.com/bid-to-detonate-a-large-bomb-in-helmand-foiled-1-taliban-militant-killed-2-others-wounded-04663/
----
Taliban understands that they will never win on the battlefield: Stoltenberg
15 Apr 2020
Online press conference by NATO Secretary General Jens Stoltenberg ahead of the Meeting of NATO Defence Ministers to be held via secure teleconference
The NATO Secretary General Jens Stoltenberg reaffirmed the alliance's full support to Afghanistan as he emphasized that Taliban cannot win on the battlefield and a reduction is violence the only way to allow the peace process move forward successfully.
Responding to a question raised by Tolo TV regarding increased Taliban attacks amid ongoing peace efforts, Stolenberg said "The Taliban attacks are harmful and therefore we call on Taliban to cease the attacks, to fully implement the agreement between the United States and the Taliban and to reduce violence, because that's the only way towards a peaceful negotiated solution."
Stoltenberg further added that the alliance welcomes all efforts to initiate intra-Afghan negotiations. "We welcome the fact that the Afghan government has appointed an inclusive negotiating team and we support the agreement between the US and Taliban, which also then includes provisions about exchange of prisoners."
Reiterating the alliance's support to Afghanistan, Stoltenberg said "NATO will continue to stay committed to Afghanistan with financial support, with our Resolute Support mission, with training, because we believe that the best way for us to support the peace process is to continue to support the Afghans, so Taliban understands that they will never win on the battlefield, they have to sit down at the negotiating table and make real compromises."
https://www.khaama.com/taliban-understands-that-they-will-never-win-on-the-battlefield-stoltenberg-04660/
-----
29 Taliban militants killed, wounded in separate incidents in Badghis province
14 Apr 2020
At least 29 Taliban militants were killed or wounded in separate incidents in the North-western Badghis province of Afghanistan, the Ministry of Defense (MoD) said.
According to a statement released by MoD, the security forces conducted an operation against the Taliban militants who had blocked the Qads-Qala-e Naw highway.
The statement further added that the security forces killed 7 Taliban militants and wounded 11 others during the operation.
In a separate incident, at least 5 Taliban militants were killed and 6 others were wounded after an improvised explosive device went off prematurely in this province, the defense ministry added.
https://www.khaama.com/29-taliban-militants-killed-wounded-in-separate-incidents-in-badghis-province-04659/
----
Coronavirus outbreak: IMF projects 2pc GDP growth for Bangladesh this year
April 15, 2020
After World Bank, the International Monetary Fund (IMF) has also projected Bangladesh's low economic growth for this year as a result of the virus outbreak.
IMF has projected the country's economic growth to be only 2 percent for 2020 in the World Economic Outlook published on its website early today.
But the newly published report also predicts that Bangladesh's economic growth for the next year would jump to 9.5 percent, much higher than what it predicted for this year.
The World Bank a few days ago projected that the economic growth of Bangladesh might turn out to be only 2-3 percent this fiscal year due to the outbreak of coronavirus.
https://www.thedailystar.net/coronavirus-deadly-new-threat/news/coronavirus-outbreak-imf-projects-2pc-gdp-growth-bangladesh-fiscal-year-1893037
-------
China didn't warn public of likely pandemic for 6 key days
April 15, 2020
In the six days after top Chinese officials secretly determined they likely were facing a pandemic from a new coronavirus, the city of Wuhan at the epicenter of the disease hosted a mass banquet for tens of thousands of people; millions began traveling through for Lunar New Year celebrations.
President Xi Jinping warned the public on the seventh day, Jan. 20. But by that time, more than 3,000 people had been infected during almost a week of public silence, according to internal documents obtained by The Associated Press and expert estimates based on retrospective infection data.
That delay from January 14 to January 20 was neither the first mistake made by Chinese officials at all levels in confronting the outbreak, nor the longest lag, as governments around the world have dragged their feet for weeks and even months in addressing the virus.
But the delay by the first country to face the new coronavirus came at a critical time — the beginning of the outbreak. China's attempt to walk a line between alerting the public and avoiding panic set the stage for a pandemic that has infected almost 2 million people and taken more than 126,000 lives.
"This is tremendous," said Zuo-Feng Zhang, an epidemiologist at the University of California, Los Angeles. "If they took action six days earlier, there would have been much fewer patients and medical facilities would have been sufficient. We might have avoided the collapse of Wuhan's medical system."
Other experts noted that the Chinese government may have waited on warning the public to stave off hysteria, and that it did act quickly in private during that time.
But the six-day delay by China's leaders in Beijing came on top of almost two weeks during which the national Center for Disease Control did not register any cases from local officials, internal bulletins obtained by the AP confirm. Yet during that time, from January 5 to January 17, hundreds of patients were appearing in hospitals not just in Wuhan but across the country.
It's uncertain whether it was local officials who failed to report cases or national officials who failed to record them. It's also not clear exactly what officials knew at the time in Wuhan, which only opened back up last week with restrictions after its quarantine.
But what is clear, experts say, is that China's rigid controls on information, bureaucratic hurdles and a reluctance to send bad news up the chain of command muffled early warnings. The punishment of eight doctors for "rumor-mongering," broadcast on national television on January 2, sent a chill through the city's hospitals.
"Doctors in Wuhan were afraid," said Dali Yang, a professor of Chinese politics at the University of Chicago. "It was truly intimidation of an entire profession."
Without these internal reports, it took the first case outside China, in Thailand on January 13, to galvanize leaders in Beijing into recognizing the possible pandemic before them. It was only then that they launched a nationwide plan to find cases — distributing CDC-sanctioned test kits, easing the criteria for confirming cases and ordering health officials to screen patients, all without telling the public.
The Chinese government has repeatedly denied suppressing information in the early days, saying it immediately reported the outbreak to the World Health Organization.
"Allegations of a cover-up or lack of transparency in China are groundless," said foreign ministry spokesman Zhao Lijian at a Thursday press conference.
The documents show that the head of China's National Health Commission, Ma Xiaowei, laid out a grim assessment of the situation on January 14 in a confidential teleconference with provincial health officials. A memo states that the teleconference was held to convey instructions on the coronavirus from President Xi Jinping, Premier Li Keqiang and Vice Premier Sun Chunlan, but does not specify what those instructions were.
"The epidemic situation is still severe and complex, the most severe challenge since SARS in 2003, and is likely to develop into a major public health event," the memo cites Ma as saying.
The National Health Commission is the top medical agency in the country. In a faxed statement, the Commission said it had organized the teleconference because of the case reported in Thailand and the possibility of the virus spreading during New Year travel. It added that China had published information on the outbreak in an "open, transparent, responsible and timely manner," in accordance with "important instructions" repeatedly issued by President Xi.
The documents come from an anonymous source in the medical field who did not want to be named for fear of retribution. The AP confirmed the contents with two other sources in public health familiar with the teleconference. Some of the memo's contents also appeared in a public notice about the teleconference, stripped of key details and published in February.
Under a section titled "sober understanding of the situation," the memo said that "clustered cases suggest that human-to-human transmission is possible." It singled out the case in Thailand, saying that the situation had "changed significantly" because of the possible spread of the virus abroad.
"With the coming of the Spring Festival, many people will be traveling, and the risk of transmission and spread is high," the memo continued. "All localities must prepare for and respond to a pandemic."
In the memo, Ma demanded officials unite around Xi and made clear that political considerations and social stability were key priorities during the long lead-up to China's two biggest political meetings of the year in March. While the documents do not spell out why Chinese leaders waited six days to make their concerns public, the meetings may be one reason.
"The imperatives for social stability, for not rocking the boat before these important Party congresses is pretty strong," says Daniel Mattingly, a scholar of Chinese politics at Yale. "My guess is, they wanted to let it play out a little more and see what happened."
In response to the teleconference, the Center for Disease Control and Prevention in Beijing initiated the highest-level emergency response internally, level one, on January 15. It assigned top CDC leaders to 14 working groups tasked with getting funds, training health workers, collecting data, doing field investigations and supervising laboratories, an internal CDC notice shows. The memo directed Hubei province, where Wuhan is located, to begin temperature checks at airports, bus and train stations, and cut down on large public gatherings.
The National Health Commission also distributed a 63-page set of instructions to provincial health officials, obtained by the AP. The instructions ordered health officials nationwide to identify suspected cases, hospitals to open fever clinics, and doctors and nurses to don protective gear. They were marked "internal" — "not to be spread on the internet," "not to be publicly disclosed."
In public, however, officials continued to downplay the threat, pointing to the 41 cases public at the time.
"We have reached the latest understanding that the risk of sustained human-to-human transmission is low," Li Qun, the head of the China CDC's emergency center, told Chinese state television on Jan. 15. That was the same day Li was appointed leader of a group preparing emergency plans for the level one response, a CDC notice shows.
On January 20, President Xi issued his first public comments on the virus, saying the outbreak "must be taken seriously" and every possible measure pursued. A leading Chinese epidemiologist, Zhong Nanshan, announced for the first time that the virus was transmissible from person to person on national television.
If the public had been warned a week earlier to take actions such as social distancing, mask wearing and travel restrictions, cases could have been cut by up to two-thirds, one paper later found. An earlier warning could have saved lives, said Zhang, the doctor in Los Angeles.
However, other health experts said the government took decisive action in private given the information available to them.
"They may not have said the right thing, but they were doing the right thing," said Ray Yip, the retired founding head of the U.S. Centers for Disease Control's office in China. "On the 20th, they sounded the alarm for the whole country, which is not an unreasonable delay."
If health officials raise the alarm prematurely, it can damage their credibility — "like crying wolf" — and cripple their ability to mobilize the public, said Benjamin Cowley, an epidemiologist at the University of Hong Kong.
The delay may support accusations by President Donald Trump that the Chinese government's secrecy held back the world's response to the virus. However, even the public announcement on Jan. 20 left the U.S. nearly two months to prepare for the pandemic.
During those months, Trump ignored the warnings of his own staff and dismissed the disease as nothing to worry about, while the government failed to bolster medical supplies and deployed flawed testing kits. Leaders across the world turned a blind eye to the outbreak, with British prime minister Boris Johnson calling for a strategy of "herd immunity" — before falling ill himself. Brazilian president Jair Bolsonaro sneered at what he called "a little cold."
The early story of the pandemic in China shows missed opportunities at every step, the documents and AP interviews reveal. Under Xi, China's most authoritarian leader in decades, increasing political repression has made officials more hesitant to report cases without a clear green light from the top.
"It really increased the stakes for officials, which made them reluctant to step out of line," said Mattingly, the Yale professor. "It made it harder for people at the local level to report bad information."
Doctors and nurses in Wuhan told Chinese media there were plenty of signs that the coronavirus could be transmitted between people as early as late December. Patients who had never been to the suspected source of the virus, the Huanan Seafood Market, were infected. Medical workers started falling ill.
But officials obstructed medical staff who tried to report such cases. They set tight criteria for confirming cases, where patients not only had to test positive, but samples had to be sent to Beijing and sequenced. They required staff to report to supervisors before sending information higher, Chinese media reports show. And they punished doctors for warning about the disease.
As a result, no new cases were reported for almost two weeks from Jan. 5, even as officials gathered in Wuhan for Hubei province's two biggest political meetings of the year, internal China CDC bulletins confirm.
During this period, teams of experts dispatched to Wuhan by Beijing said they failed to find clear signs of danger and human-to-human transmission.
"China has many years of disease control, there's absolutely no chance that this will spread widely because of Spring Festival travel," the head of the first expert team, Xu Jianguo, told Takungpao, a Hong Kong paper, on January 6. He added there was "no evidence of human-to-human transmission" and that the threat from the virus was low.
The second expert team, dispatched on Jan. 8, similarly failed to unearth any clear signs of human-to-human transmission. Yet during their stay, more than half a dozen doctors and nurses had already fallen ill with the virus, a retrospective China CDC study published in the New England Journal of Medicine would later show.
The teams looked for patients with severe pneumonia, missing those with milder symptoms. They also narrowed the search to those who had visited the seafood market — which was in retrospect a mistake, said Cowling, the Hong Kong epidemiologist, who flew to Beijing to review the cases in late January.
In the weeks after the severity of the epidemic became clear, some experts accused Wuhan officials of intentionally hiding cases.
"I always suspected it was human-to-human transmissible," said Wang Guangfa, the leader of the second expert team, in a March 15 post on Weibo, the Chinese social media platform. He fell ill with the virus soon after returning to Beijing on Jan. 16.
"As a local government official, I could disclose information only after being authorized," Zhou told state media in late January. "A lot of people didn't understand this."
"The CDC acted sluggishly, assuming all was fine," said a state health expert, who declined to be named out of fear of retribution. "If we started to do something a week or two earlier, things could have been so much different."
It wasn't just Wuhan. In Shenzhen in southern China, hundreds of miles away, a team led by microbiologist Yuen Kwok-yung used their own test kits to confirm that six members of a family of seven had the virus on January 12. In an interview with Caixin, a respected Chinese finance magazine, Yuen said he informed CDC branches "of all levels," including Beijing. But internal CDC numbers did not reflect Yuen's report, the bulletins show.
When the Thai case was reported, health authorities finally drew up an internal plan to systematically identify, isolate, test, and treat all cases of the new coronavirus nationwide.
Wuhan's case count began to climb immediately — four on January 17, then 17 the next day and 136 the day after. Across the country, dozens of cases began to surface, in some cases among patients who were infected earlier but had not yet been tested. In Zhejiang, for example, a man hospitalized on Jan. 4 was only isolated on Jan. 17 and confirmed positive on January 21. In Shenzhen, the patients Yuen discovered on January 12 were finally recorded as confirmed cases on January 19.
The elite Peking Union Medical College Hospital held an emergency meeting on Jan. 18, instructing staff to adopt stringent isolation — still before Xi's public warning. A health expert told AP that on Jan. 19, she toured a hospital built after the SARS outbreak, where medical workers had furiously prepared an entire building with hundreds of beds for pneumonia patients.
"Everybody in the country in the infectious disease field knew something was going on," she said, declining to be named to avoid disrupting sensitive government consultations. "They were anticipating it."
https://www.thedailystar.net/coronavirus-deadly-new-threat/news/china-didnt-warn-public-likely-pandemic-6-key-days-1893046
-----
SL Police detains social media activist for posting against vilification of Muslims
13 April 2020
The Muslims in the island have no other option than utilising pens and keyboards to confront their adversaries, who have unleashed an ideological war upon them, wrote RamzyRazeek, a social media activist from Central Province on 02 April. He was reacting to the conduct of a section of Sinhala journalists and politicians, who were exploiting the fear of the Covid-19 pandemic to incite anti-Muslim sentiments among the Sinhala people. Only a strategically conceived information struggle could defeat the anti-Muslim tendency in the island, he wrote. Ramzy was referring to the non-violent information struggle as "ideological Jihad". Seven days later, he was detained by the SL Police, which is now attempting to charge him under the ICCPR Act of 2007 alleging him of inciting religious hatred.
Ramzy is the son of a late journalist, who was popularly known as Star Razeek. He was posting in the Sinhala language on his Facebook page, Tamil journalists in Colombo said.
On the following day, he posted a follow-up stating that he was concerned of security of himself and his daughters and that he would no longer be posting political opinion in Sinhala.
In the meantime, the SL Police has not taken any action against the Sinhala journalists, cartoonists and social media posters who have vilified Muslims publicly in the Television and social media.
Sinhala language Social media landscape was full of anti-Muslim postings in the recent weeks, Tamil journalists in Colombo said.
https://www.tamilnet.com/art.html?catid=13&artid=39788
------
URL: https://www.newageislam.com/islamic-world-news/god-with-many-muslims/d/121581
New Age Islam, Islam Online, Islamic Website, African Muslim News, Arab World News, South Asia News, Indian Muslim News, World Muslim News, Women in Islam, Islamic Feminism, Arab Women, Women In Arab, Islamophobia in America, Muslim Women in West, Islam Women and Feminism