New Age Islam News Bureau
19 Dec 2019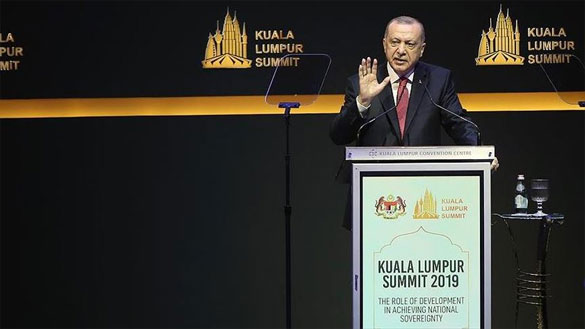 • 'Fate of World's Muslims Not In Hands of Five Permanent Members Of The UNSC: Kuala Lumpur Summit
• Mahathir Blames Muslim Countries for Rising Islamophobia
• Hindus of Pakistan Reject CAA, Do Not Want Indian Prime Minister Modi's Offer of Citizenship
• 'Export Love' - Imam at Centre Of Christchurch Terrorist Attack Continues To Spread Message Of Peace
• With India on the Brink, Protesters Opposing Anti-Muslim Law Display Inspiring Courage
• 'Approaching an Important Stage In Afghan Peace Process': Khalilzad
• Tory Islamophobia Inquiry Runs into Trouble As Conservative Peer Criticises Academic Appointed To Head It
• We Asked Arab And Muslim Americans About Impeachment. Here's What They Said
• President Rouhani: Muslims Should Find Ways to Counter Dollar Dominance
• Saudis, Pakistan Skip Turkish President Erdogan's Muslim Summit in Malaysia
Compiled By New Age Islam News Bureau
URL: https://www.newageislam.com/islamic-world-news/fate-world-muslims-hands-five/d/120572
------
Southeast Asia
• Malaysia defends Muslim summit shunned by Saudi, slammed by OIC
• Summit to discuss state of affairs in Muslim world, not religion, Dr M says
• Not a single Muslim country is considered developed, Dr M says
• Hadi lauds KL Summit to unite Muslims, claims helped promote it internationally
• With Dr Rouhani taking part; KL Summit 2019 kicks off in Malaysia
• The Muslim world can no longer ignore China's persecution of Uighurs
------
Pakistan
• Sindh Assembly unanimously condemns India's atrocities against Muslims
• Pak PM summons emergency meeting to discuss Musharraf verdict
• Indian army chief's statement an attempt to divert attention from protests against citizenship law: ISPR
• Don't mistake our wish to remain peaceful as sign of weakness, FM warns India
• SC objects to misperception being created against CJP
• Govt urged to brief parliament on decision to skip Malaysia summit
------
Australia and New Zealand
• White Supremacists Are 'Empowered By The State To Use Violence' - Muslim Group Questions 'Safety' In New Zealand
• Blair Cottrell loses appeal against conviction for inciting contempt, ridicule of Muslims
------
India
• Indian socialists call for solidarity with Muslim minority
• Hindu-Muslim, India-Pak no answer to students' concerns
• CAA protests: CM Uddhav Thackeray urges Muslim community to maintain law and order
• India's Anti-Muslim Citizenship Law 'Patently Discriminatory': New York Times
• Anti-CAA protest: Prohibitory orders imposed near Red Fort
------
South Asia
• Airstrikes, Special Forces' raids kill 9 Taliban militants in 3 provinces
• BREAKING: U.S House impeaches Donald Trump for power abuse
------
Europe
• Record Number of Muslims Enter British Parliament
• Tories apologise after Imran Ahmad Khan was 'incorrectly' named as first openly gay Muslim MP
• The Muslim Council of Britain has reponded to the general election result
• Far-right extremist Blair Cottrell loses appeal against conviction for inciting contempt of Muslims
• San Martin Islamic Community Finally Gets Approval To Build Mosque
• Eight men charged with recruiting for so-called Islamic State may have links with missing British journalist in Syria
• The Tories may have scooped up most of the Leave vote, but they struggled with British Muslim Brexiteers
------
North America
• Muslims to Contest Religious Law at Canada's Top Court
• Muslim group urges debate moderators to ask candidates about Trump's anti-Semitism decree
• Split-screen America: Alternate realities on display as House votes to impeach Trump
• US Relocates Over 200 ISIL Families to Iraq
------
Mideast
• Iran: City Of Behbahan Vanguard of Uprising against the Mullahs
• President Rouhani: US Left with No Choice, but Removing Sanctions
• Group to repair earthquake-struck home of Muslim whose father saved Jews
• Gaza militants fire rocket toward Israel, drawing airstrikes
• UN hosts renewed talks on contested Yemeni port city
• Iraqi parties debate PM candidates, already rejected by the street
• Egypt's sovereign fund to revamp historic area under citadel
• Saad Hariri rules out returning as Lebanon's PM
• Iranian FM Blasts US for Threatening to Use Snapback Mechanism
• Official: Iran Ranks 1st in Region in Neurosciences
• Iran Warns of Attempts to Deploy ISIL Terrorists in Afghanistan
• Top Security Official: US, Israel Continue Nurturing ISIL in Region
------
Arab World
• Jewish Chronicle condemned by Muslims and Jews for Islamophobic article
• Organization of Islamic Cooperation: Malaysia meeting runs against Muslim community interests
• US envoy lauds Saudi regional development work during meeting with Tabuk governor
• Saudi Arabia's KSRelief refugee aid reaches $17bn
------
Africa
• Jigawa State Government to Build 95 Mosques
• Floods compound Somalia's year of climate misery
------
'Fate of World's Muslims Not In Hands of Five Permanent Members Of The UNSC: Kuala Lumpur Summit
Gozde Bayar
19.12.2019
The fate of the world's 1.7 billion Muslims is no longer in the hands of the five permanent members of the UN Security Council, Turkish President Recep Tayyip Erdogan said Thursday.
Speaking at the opening ceremony of the Kuala Lumpur Summit in the Malaysian capital, Erdogan reiterated that the world is bigger than five, referring to the five permanent UN Security Council members, whose veto power could prove catastrophic for smaller nations.
"The world is bigger than five" is a famous slogan repeatedly used by Erdogan to criticize the permanent council members -- China, France, Russia, the U.K. and the U.S.
Erdogan also said that Turkey did not bow to pressure to silence it, including a coup attempt, economic terror and slander.
"As they try to silence Turkey, we insist on calling attention to Palestine, Gaza, the Rohingya, Libya, Somalia and Syria," he stressed.
At the opening ceremony, Qatari Emir Tamim bin Hamad Al Thani, Iranian President Hassan Rouhani as well as the host, Malaysian Prime Minister Mahathir Mohamad, delivered speeches.
Hundreds of government officials, businessmen, representatives of civil societies and experts from different sectors across the Muslim world are taking part in the summit.
https://www.aa.com.tr/en/asia-pacific/fate-of-worlds-muslims-not-in-hands-of-5-countries/1677866
------
Mahathir Blames Muslim Countries for Rising Islamophobia
(Bloomberg) -- Malaysia's Prime Minister Mahathir Mohamad has called the leaders of Muslim countries to task over negative views of Islam, asking them to come up with a concerted plan to address Islamophobia.
Speaking to state leaders including Iranian President Hassan Rouhani, Turkish President Recep Tayyip Erdogan and Emir of Qatar Sheikh Tamim bin Hamad Al Thani, Mahathir said "disreputable acts of terror" had caused fear of the religion to the point of creating phobia.
"Yes, we are angry and frustrated," he said at the KL Summit in the capital Kuala Lumpur Thursday. "We cannot wage a conventional war. No country would help us. But even so, what do we gain by such indiscriminate violent acts? Nothing."
Refugees' Plight
Mahathir bemoaned the plight of those who had to flee their homes to seek refuge elsewhere, while many Muslim countries remain "beholden" to powerful non-Muslim nations. The comments come amid silence from the Islamic world on China's widespread detention of mostly Uighur Muslims and India's controversial citizenship law that discriminates against Muslims.
The Organisation of Islamic Cooperation, another gathering of Muslim countries, had commended China for "providing care" to its Muslim citizens. Saudi Arabia's King Salman Abdulaziz Al Saud and Pakistan's Prime Minister Imran Khan won't attend the KL Summit over concern the meeting would rival the OIC.
Mahathir has downplayed that worry, saying Malaysia is too small to pose a challenge and that he only seeks to "spark a sense of purpose."
"If our efforts yield fruits, we would like to take them up with other Muslim nations that share our concerns and desire to do something to improve the plight of our brethren," Mahathir said in the speech.
To contact the reporter on this story: Yudith Ho in Kuala Lumpur at yho35@bloomberg.net
To contact the editor responsible for this story: Ruth Pollard at rpollard2@bloomberg.net
https://www.bnnbloomberg.ca/mahathir-blames-muslim-countries-for-rising-islamophobia-1.1364793
------
Hindus of Pakistan reject CAA, do not want Indian Prime Minister Modi's offer of citizenship
December 18, 2019
Dubai: Pakistani minorities have strongly condemned the new Citizenship Amendment Act (CAA), which discriminates against Muslims.
They have also rejected India's offer to grant them citizenship under the new law. They said they are not interested in taking refuge in India and rejected Indian Prime Minister Narendra Modi's 'humanitarian' gesture.
Speaking to Gulf News, Dileep Kumar, a Dubai-based Pakistani Hindu, said: "The law from India is totally against [the] spiritual norms of humanity and Sanatana dharma." Sanatana dharma is term used in Hinduism to denote the set of duties or religiously ordained practices incumbent upon all Hindus, regardless of class, caste or sect.
"As humans, we cannot discriminate, irrespective of any religious followings. We do not want [the] Muslims of India to face terror. We condemn the law as religious persecution is unacceptable to [the] Hindus of Pakistan," Kumar added.
Reverend Johan Qadir, a Sharjah-based Pakistani Christian community leader, said that the Pakistani Christian community also rejected the new Citizenship Amendment Bill. "We, the Christians of Pakistan, are not at all interested [in taking] refuge in India. I must say that the Modi's citizenship bill does not favour the minorities at all as it is discriminatory and against basic human rights."
What is the issue?
Citing the harassment of minorities in Pakistan, Bangladesh and Afghanistan, the Indian parliament recently amended its citizenship law, offering citizenship rights to Hindu, Buddhist, Christian, Parsi and Jain communities migrating from these countries.
Citizenship Amendment Act is a newly-passed law that applies to Hindus, Christians and other religious minorities who are in India illegally from Muslim-majority Bangladesh, Pakistan and Afghanistan. They can apply for citizenship under a religious persecution clause.
The law, however, does not include Muslim refugees or migrants — it's a move that critics are calling a clear indication of the changing politics in secular India. India has a Hindu population but is also home to 200 million Muslims and other minorities.
This amendment of the Citizenship Act 1955, which requires the applicant (regardless of religion or country of origin) to have resided in India for 11 of the past 14 years, relaxes this requirement from 11 years to six years, but only for Hindus, Sikhs, Buddhists, Jains, Parsis and Christians from the three nations.
"Pakistan's Hindu community unanimously rejects this bill, which is tantamount to dividing India on communal lines," Raja Asar Manglani, patron of the Pakistan Hindu Council, earlier told Anadolu Agency.
"This is a unanimous message from Pakistan's entire Hindu community to Indian Prime Minister [Narendra] Modi. A true Hindu will never support this legislation," he said. He added that the law has violated India's own constitution.
Senator Anwar Lal Dean, a Christian member of the Pakistani parliament's upper house, also said the law is meant to pitch religious communities against each other, reported the Express Tribune.
"This is a clear violation of fundamental human rights. We categorically reject it," said Dean, a leader of the opposition Pakistan People's Party.
"Through such unjust and uncalled steps, the Modi government wants to pitch religious communities against each other," he said.
Pakistan's tiny Sikh community has also denounced the controversial law. "Not only Pakistani Sikhs but the entire Sikh community in the world, including those in India, also condemn this move," said Gopal Singh, leader of the Baba Guru Nanak in Pakistan.
"The Sikh community is a minority both in India and Pakistan. Being a member of a minority, I can feel the pain and the fears of the Muslim minority [in India]. This is simply persecution," he said. Singh urged Modi not to push minorities' "backs to the wall."
Hindu population in Pakistan
Though there are no exact official numbers available, the Pakistan Hindu Council says that there are more than 8 million Hindus currently living Pakistan.
They constitute about 4 per cent of the population of 220 million. They live primarily in the urban areas of the province of Sindh in the lower Indus valley and more than half are concentrated in the south-east district of Tharparkar which borders India.
For the most part, Hindus in Pakistan are well educated and active in commerce, trade and the civil service.
According to the Council, approximately 94 per cent of Hindus are living in Sindh Province, and more than 4 per cent are living in Punjab Province of Pakistan, where as a small portion of this population is settled in Balochistan and Khyber-Pakhtunkhwa Provinces.
https://gulfnews.com/world/asia/pakistan/hindus-of-pakistan-reject-caa-do-not-want-indian-prime-minister-modis-offer-of-citizenship-1.68552370?utm_source=newsletter&utm_medium=email&utm_campaign=GulfNews_NewsLetter_20191218_Evening_PM
------
'Export love' - Imam at centre of Christchurch terrorist attack continues to spread message of peace
The imam whose mosque was at the centre of the Christchurch terrorist attack is again spreading his message of love, understanding and tolerance, saying New Zealand needs to lead by example for the rest of the world.
On March 15, 51 people were shot dead by a lone gunman at two mosques in Christchurch.
A week later Imam Gamal Fouda of Al Noor Mosque - one of the mosques attacked as well as Linwood Mosque - gave a speech to thousands gathered at Hagley Park.
His words "we are heartbroken not broken" and "we will not let anyone divide us", encapsulated the response from the Muslim community in New Zealand.
More than nine months on, Mr Fouda is still sharing his words of love and peace.
"New Zealand now, they set a role model for the whole world and we are sitting on the international stage to export love, tolerance and understanding - and we should continue this message from the top person in this country to the normal person like me," he told TVNZ1's Breakfast today.
"We should continue the message of love and tolerance and understanding and to tell the whole world New Zealand is still one of the safest places in the world and we are working together so that this, something like this won't happen again in our country."
Mr Fouda said when he moved to New Zealand 16 years ago from where he grew up in Egypt he didn't know a lot about his new home - he just thought it was "the safest place on earth" - but going out for the first time was still a nervous experience.
The first time he went for a walk a man passed him on the street and said, "Hello, bro."
Mr Fouda said the words were "very unfamiliar" at the time, but upon learning New Zealand's slang, he realised it was the same words of those spoken to the gunman who entered the Al Noor Mosque on March 15.
"We felt very safe as we know about New Zealand and this also brother in front of the Christchurch mosque, he said to the gunman, 'Hello brother.' He did not expect him to shoot him," he said.
Breakfast host John Campbell said he wanted to interview Mr Fouda about the Rohingya people, the Uyghurs people in China and the treatment of Muslim people in India, but Mr Fouda only wanted to talk about love.
He said learning about love, understanding and tolerance of different cultures and beliefs should start from primary school age.
"As I've talked before in many events, that I need to see a book called Peace Education, and peace education - the children are going to learn about other cultures, other religions, other faith and even language, and the teachers, educationalists - they need to talk about tolerance and understanding and make the inclusive society in the school culture.
"The school culture should be a culture of tolerance and understanding," Mr Fouda said.
https://www.tvnz.co.nz/one-news/new-zealand/export-love-imam-centre-christchurch-terrorist-attack-continues-spread-message-peace
------
With India on the brink, protesters opposing anti-Muslim law display inspiring courage
By Shree Paradkar
Wed., Dec. 18, 2019
Twenty-two-year-old Ladeeda Farzana is asthmatic. And so, when the police in New Delhi fired tear gas on a crowd of protesting students at the Jamia Milia Islamia University on Sunday, she was particularly affected.
"I couldn't breathe," she said over the phone, on a line crackling with static. Another young man she identified only as Shaheen, tried to help her, she said, but the police began beating him with batons.
Farzana said he tried to reason with them, saying 'I'm trying to help these girls. I'm a media person. I'm not here to protest.'" He and Farzana's friends managed to get off the streets into a stranger's gated compound.
"She needed first aid, so that was top of mind," said her friend and fellow protester Aysha Renna.
But police dragged Shaheen out of those gates. In a video that has since gone viral, police are seen throwing him to the ground hitting him on his legs as he curled them up to protect his face and chest from the blows.
Then the women rushed out and formed a protective circle around him. "At that moment, I never thought I have asthma and I can't breathe now. I just wanted to save my brother," Farzana said. It's common practice to affectionately call a friend a sibling. They are heard shouting at the police asking them to step back.
Renna said she thought they wouldn't attack women.
Video footage shows the police eventually back off. "I got beaten on my back," Farzana said. Renna was hit on her legs. "There were a few cameras there and that's why police stopped," Farzana said.
The harsh crackdown at Jamia Milia — students say police entered libraries and reading halls — sparked an escalation of student-led protests across India, roiling the world's largest democracy as it teeters on the precipice of totalitarianism under five years of far-right governance by Prime Minister Narendra Modi and his Bharatiya Janata Party or the BJP.
At the Aligarh Muslim University south of Delhi, several students are missing after police crackdown on protests on Sunday, according to a report published on Wednesday. (A protest is planned for Toronto on Friday in front of the Indian consulate.)
What students — Muslims, but also Hindus and secular-minded people of other backgrounds — are protesting is a new citizenship law that discriminates against Muslims. About 14 per cent, or 200 million Indians, are Muslim.
The citizenship amendment bill that passed into law last week offers access to Indian citizenship to refugees of all religious backgrounds except Muslims from neighbouring Bangladesh, Pakistan and Afghanistan.
That means Hindus, Sikhs, Christians, Buddhists, Jains and Parsis can enter and live or work in India for six years to be eligible for citizenship. Muslims such as the Hazara and Ahmadi communities who are persecuted in Pakistan and Rohingya refugees in Bangladesh cannot.
These divisive border politics are even more sinister than they appear at first blush.
In 1951 — a few years after India was founded as a secular republic — the country created a census, the National Registry of Citizens, that determined who was born in India and who elsewhere. This census was implemented only in the northeastern state of Assam. This registry became a priority only recently.
Anyone who was a resident of India before 24 March, 1971, a day before Bangladesh declared itself independent of Pakistan after a war, was deemed a citizen.
Proof required documentation — either birth certificates or land ownership deeds. Illiteracy, poverty and poor record-keeping meant many people were unable to prove their lineage, leaving two million people off the register in August this year, potentially turning them into illegal immigrants.
Unfortunately for the BJP, this number also included Hindus, who are part of their voter base.
Enter the new citizenship law. The new amendment allows non-Muslims who are without papers to have access to Indian citizenship. For the rest, namely Muslims, India is already building massive detention centres in Assam.
The BJP plans to extend that registry across India, where Muslims who are disproportionately poor will likely fail to meet those criteria for proof and be criminalized.
In this way, all Muslims in India could potentially become stateless. This is the tinder box that India has unnecessarily been turned into.
Already Muslims are openly referred to in dehumanizing terms. Home Minister Amit Shah, who is considered Modi's closest confidante, called Bangladeshi migrants infiltrators and termites. Social media, of course, reaches for the lowest-hanging fruit of insults: terrorists.
Just take the case of Farzana and Renna. If the video of the women's defiance and courage gave protesters images to coalesce around, their hijabs turned them into targets.
Modi's party is often able to flex its troll army muscle that has the power to instantly reach millions. Very soon after Farzana and Renna were feted, WhatsApp, Facebook and Twitter were awash with their "controversial" social media posts, "proof" that the young women were terrorists. For instance, they latched on to a Facebook post where Farzana said in part, "You should learn about our 'jihad.'"
Both women are unfazed by the massive trolling that has ensued in English, Hindi and Malayalam.
"Jihad means fight against injustice," Farzana said. "When we use an Arabic word these people want to put fear in society and act like it's dangerous.
"The propaganda is trying to demoralize the spirit of the protest. That's why they're giving another meaning of that word."
Farzana, who was married at 18, has a degree in economics and is studying for a bachelor's degree in Arabic "so I can read books in Arabic that have not been translated to other languages." She's hoping to go on to do a PhD in philosophy or theology and travel the world. "I want to go to several universities. I want to see the libraries of the universities, read lots of books," she said.
On Wednesday India's Supreme Court agreed to examine the legality of the new act after activists, lawyers, politicians and student groups from around the country filed more than 50 petitions.
"India has a great history. It is secular," said Farzana. "We have a history of religious fraternity. Everyone is together. This ideology to make India into a Hindu rashtra (state), it's not going to work."
https://www.thestar.com/opinion/star-columnists/2019/12/18/with-india-on-the-brink-protesters-opposing-anti-muslim-law-display-inspiring-courage.html
------
'Approaching an important stage in Afghan peace process': Khalilzad
Thursday, 19 Dec 2019
The U.S. Special Representative for Afghanistan Reconciliation Ambassador Zalmay Khalilzad said the United States was approaching an important stage in Afghan peace process.
Ambassador Khalilzad informed in this regard after wrapping up a two-day visit to Afghanistan where he met government leaders, U.S. officials and other political leaders.
Calling the trip as 'productive', Khalilzad said in a Twitter post that he met with the U.S. Ambassador John Bass, Resolute Support Mission Commander Gen. Scott Miller, President Mohammad Ashraf Ghani, Chief Executive Abdullah Abdullah, former President Hamid Karzai and other political leaders.
He also added that he discussed efforts to achieve reduced violence and pave the way to intra-Afghan negotiations.
Ambassador Khalilzad announced last week that the United States has briefly paused talks wit the Taliban political leaders, a day after a coordinated Taliban attack killed 2 people and wounded 70 others near Bagram airfield.
Meanwhile, the U.S. officials announced last week that President Donald Trump is intending to announce the withdrawal of more than 4,000 troops from Afghanistan in coming weeks.
https://www.khaama.com/approaching-an-important-stage-in-afghan-peace-process-khalilzad-04431/
------
Tory Islamophobia inquiry runs into trouble as Conservative peer criticises academic appointed to head it
December 19, 2019
The launch of an independent inquiry into the handling of Islamophobia and other discrimination in the Conservative Party ran into immediate trouble as prominent Muslim peer Sayeeda Warsi questioned the suitability of the academic chosen to lead the probe.
Baroness Warsi highlighted an article by Professor Sarwan Singh in which he accused Muslims of driving other communities out of Indian Kashmir.
And the Muslim Council of Britain warned that the inquiry risked being a "whitewash" under Prof Singh's leadership.
The UK's first female Muslim cabinet minister, Lady Warsi has been the loudest voice in the Conservative party calling for an investigation into Islamophobia and was critical of Boris Johnson's decision to water it down into a probe into discrimination of all kinds.
Within minutes of Prof Singh being named as head of the inquiry, she posted quotes from an article he wrote for online magazine Spiked in August, in which he suggested that attention was paid only to the suffering of Muslims in Kashmir because "Kashmiri Sikhs and Pandits don't meet the criteria of victimhood" and said that "one community has driven the other two out of the land", leaving the area "ethnically cleansed" of its non-Muslim population.
Discussing international media coverage of Kashmir, he wrote: "Since India is supposedly in the grip of Hindu nationalists, any suffering Hindu group can be ignored, akin to the idea that Jews can only be oppressors because of the plight of Palestinians. The victimhood of Palestinians automatically places Jews in the oppressor box."
Lady Warsi said: "Ladies and Gentlemen I give you some views of the newly appointed Chairman of the 'Independent review into all forms of discrimination and prejudice including Islamophobia'. I will let you make your own mind up."
The appointment of Prof Singh, a former commissioner of the Equality and Human Rights Commission, comes after a rash of complaints of prejudice against Muslims by party activists and elected representatives.
Mr Johnson agreed to launch an inquiry into Islamophobia when he and other leadership candidates were put on the spot in June by Sajid Javid, a cabinet minister of Muslim background, during a televised debate in the battle to succeed Theresa May.
But he later made a point of expanding the remit of the inquiry to include not only prejudice against Muslims, but discrimination of all kinds, in what critics have said amounts to a watering down of the original proposal.
Harun Khan, secretary general of the Muslim Council of Britain, said: "This appointment is at risk of being seen in the same light as the Conservative Party's customary approach to Islamophobia, that of denial, dismissal and deceit.
"We were promised an independent inquiry into Islamophobia specifically. Now we have a review that aims to broaden the scope to examine discrimination more generally. A laudable aim if it were not for the fact that the Conservative Party is afflicted with a particular type of bigotry which it refuses to countenance. The appointment of Professor Singh does not instil huge confidence in the process."
Johnson himself has repeatedly come under fire for describing Muslim women who wear the veil as looking like "letterboxes" or "bank robbers".
A recent report by the Muslim Engagement and Development group (MEND) listed more than 120 examples of alleged Islamophobia within the Conservative party.
The list included Mr Johnson himself, for his comments about the burqa, as well as other members of the cabinet.
The report also complained of MP Bob Blackman hosting an anti-Islam extremist in parliament, and listed scores of instances of Tory representatives or activists posting, sharing or liking social media comments linking Muslims to crime or accusing them of being un-British or wishing to take over the UK and install Shariah law.
Prof Singh, who served on the EHRC from 2016-19 and is currently Professor of Social and Community Psychiatry at the University of Warwick, said: "I am privileged to have been appointed to chair the independent review into improving handling of complaints of prejudice and discrimination in the Conservative Party."
The timetable of the report is to be determined by Prof Singh.
https://www.independent.co.uk/news/uk/politics/tory-islamophobia-boris-johnson-sayeeda-warsi-conservative-party-sawran-singh-a9250841.html
------
We asked Arab and Muslim Americans about impeachment. Here's what they said
By Umar A Farooq, Ali Harb
19 December 2019
He has also implemented several policies that caused suffering and outrage across Arab and Muslim communities in the United States. Over the past three years, the US president has drastically reduced the number of refugees admitted into the country, recognised Jerusalem as the capital of Israel and signed an executive order that may threaten the right to Palestinian activism on American college campuses.
Still, Arab- and Muslim-American activists do not seem overly enthused about the impeachment proceedings in Congress against the 45th president of the United States.
With Trump's Republican Party standing firmly behind him, the chances of removing the president from office are close to zero.
The Democratic-controlled House of Representatives succeeded in impeaching Trump on Wednesday, making him the third president to ever be impeached. But impeachment, which the US Constitution grants solely to the House, is only half the process. Cutting a president's term short requires a conviction - by two-thirds of the votes - after a trial in the Senate.
As things stand, more than half of the senators in the Republican-controlled chamber vehemently reject the charges against Trump.
In fact, it's not even clear if Senate Republicans will allow witnesses to testify against the president.
House Democrats started the impeachment inquiry against Trump in September, following reports that he pressured Ukraine to investigate the son of his prospective 2020 rival, former Vice President Joe Biden. The administration had held up the aid to Ukraine, Democrats say, to get the Eastern European country's leaders to deliver a political favour to Trump.
The president was ultimately impeached on charges of abuse of power and obstructing Congress.
Supporters of the process say upholding the law is of vital importance even if it does not lead to ending Trump's presidency. Some critics argue that the impeachment has inflamed political tensions, and the best way to get Trump out of the White House is to defeat him in the 2020 elections.
MEE spoke to prominent Arab- and Muslim-Americans and gathered their thoughts on the situation. Here's what they said:
Abed Ayoub, civil rights lawyer: Impeachment could have 'devastating' outcome
Abed Ayoub, legal director of the American-Arab Anti-Discrimination Committee (ADC), said holding the president accountable is important, but in a hyper-partisan atmosphere, Trump may beable to use the process to rally his base and "gain momentum" ahead of next year's elections.
"This is the concern - what impact is this going to have? In practicality, it could have a devastating impact on our democracy," Ayoub told MEE.
While stressing that ADC is non-partisan and does not endorse candidates, Ayoub said Arab Americans should focus on the 2020 race.
"Arab Americans should put their eggs in the 2020 electoral basket - the 2020 elections. We need to pressure candidates to take positions on our issues. We need to ensure that they stand with us on important issues, and that they don't take our vote for granted. That's where we need to be pouring our energy. The impeachment process is just about over. We know how the Senate is going to respond. So we need to refocus and keep the pressure on the candidates going into the 2020 campaign."
Maya Berry, civic engagement advocate: Impeachment process painful but required
Maya Berry, executive director of the Arab American Institute (AAI), said the impeachment process is necessary to preserve American democracy. The erosion of the rule of law hinders Arab-American activists' efforts to promote the community's agenda - whether it's advocating human rights in Palestine or defending civil rights at home.
AAI pushes for Arab-American political engagement through its "Yalla Vote" campaign and other initiatives. Berry said as an advocate for participating in American democracy, she takes "no pleasure" in watching the impeachment proceedings.
"It's just painful to see this, but it's absolutely required," she told MEE.
Berry added that as activists prepare for 2020 to elevate Arab-American issues in the presidential race and ensure accurate counting by the census, they "don't have the privilege of overlooking" the president's abuses.
"It affects us when we live in a country with a broken democracy. It affects us like it affects every single other American who believes in separation of powers, who believes in our government institutions, who believes that an executive overreach of power should be checked by the legislative branch... If this abuse of power is allowed to go forward, it's not good for our country, and it's not good for our democracy."
George Bisharat, law professor: Trump should be impeached, but not for 'awful' policies
George Bisharat, a professor at the University of California Hastings College of the Law, said that the impeachment process is a good step to ensure that Washington does not normalise abuses of power. The result, however, will not have any real impact on Arab and Muslim Americans, as Trump will likely be acquitted by the Senate. While stressing that there is "more than sufficient" evidence to impeach Trump over the Ukraine scandal, the law professor said Trump's "awful" policies against Arabs and Muslims are not grounds for impeachment.
"Trump's policies have been awful for virtually all Muslims, for Arabs and particularly Palestinian Americans… As a Palestinian American, I will celebrate the end of the Trump administration however it comes about - whether through impeachment or through election defeat. But I, for one, would never advocate impeachment on policy grounds alone. It is simply not a tool meant for that purpose nor would having it succeed be a positive thing for the country because it would essentially say that impeachment is a tool which can be used to reverse elections."
Wardah Khalid, policy analyst: Impeachment will not solve our problems
Wardah Khalid, founder of Poligon National, an organisation working to amplify Muslim American voices in Congress, said the problems Muslims and Arabs are faced with in the US will not go away with Trump's impeachment.
Khalid said the president is a symptom of a larger problem. Policies negatively affecting Muslim communities predate his tenure in office. Still, she attributed the recent rise in hate crimes to the "political atmosphere Trump and other politicians" encourage.
"Politicians, pundits, and the media have long vilified Muslims and Arabs by conflating them with terrorism. Government policies preceding Trump violated civil liberties through the surveillance of our communities, airport profiling and "no-fly lists", and passage of anti-sharia legislation in dozens of states, threatening the fundamental right of Muslims to practice core tenets of their faith such as fasting, giving charity, and prayer…. In short, our community should view impeachment as a largely political process and not a means to seek justice for the particular problems we deal with in this country."
Amer Zahr, comedian: Arab Americans looking to 2020
Amer Zahr, a Palestinian-American comedian who teaches at the University of Detroit Mercy School of Law, said Trump's domestic and foreign policies that have proved harmful to Arab Americans are "far more important" than the current impeachment process, which is focused on Ukraine.
And that's why, he added, the community is more focused on the 2020 elections - which is a chance to actually remove Trump from office.
"Arab Americans, for the most part, are invested in the American political process and are becoming more active in electoral politics every day. I see that most Arab Americans recognise that Donald Trump has abused his office and his powers. But for us, his disastrous policy directives regarding immigration and foreign policy are far more important than the current impeachment process. As a result, we are getting very involved in the 2020 election cycle, making sure our voices are heard there."
Maysoon Zayid, comedian and writer: Trump needs to be held accountable
Maysoon Zayid, a comedian and writer who recently published an audiobook titled Find Another Dream, said she is "so incredibly proud" of Justin Amash and Rashida Tlaib - who are both of Palestinian descent.
Tlaib was amongst the first members of Congress to call for impeachment, and Amash, who quit the Republican Party in July, called for the president's impeachment in May over the Mueller report.
"I'm so proud to see these Arab Americans standing up against someone who really, truly reminds me of the worst tyrants and despots of the Middle East," Zayid told MEE.
Zayid said even though the articles of impeachment are about abuse of power and obstructing Congress, it would be "disgusting" if Trump's misogyny and racism go unpunished. She revelled in the prospect of impeachment, even if the Senate acquits the president.
"He absolutely has to be held accountable. Even though impeachment is just a 'scarlet I' stamp on him, even though it's just a stain on his presidency, it makes me so happy… He really has been dangerous for Palestinians; he's been dangerous for Arab Americans; and he's been dangerous, incredibly dangerous to the disabled community that I'm a part of."
https://www.middleeasteye.net/news/we-asked-arabs-muslims-about-impeachment-heres-what-they-said
------
Presdient Rouhani: Muslims should find ways to counter dollar dominance
Dec 19, 2019
Tehran, Dec 19, IRNA – Iranian President Hassan Rouhani called on the World of Islam on Thursday to find a solution to be emancipated from the US financial system and the dollar dominance.
President Rouhani made the remarks during his speech at the KL Summit 2019 in Kuala Lumpur, Malaysia.
The KL 2019 Summit started work on Thursday morning with the participation of heads of the states of the Islamic countries as well as a large number of Muslim elites and figures.
At the summit, the Iranian president called for interaction and cooperation among the Islamic countries to turn the World of Islam into a great powerful bloc in the international arena as the newly-emerged challenges have been presented internationally to the World of Islam.
To achieve this end, the president proposed three executive plans to the KL Summit.
To be updated
https://en.irna.ir/news/83600419/Presdient-Rouhani-Muslims-should-find-ways-to-counter-dollar
------
Saudis, Pakistan Skip Turkish President Erdogan's Muslim Summit in Malaysia
JOHN HAYWARD
18 Dec 2019
Saudi Arabia and Pakistan chose not to attend the Muslim summit convened in Malaysia on Wednesday. The summit was organized largely on the impulse of Turkish President Recep Tayyip Erdogan, who is presiding over the event with Malaysian Prime Minister Mahathir Mohamad.
Erdogan arrived in Malaysia with a sizable entourage, including First Lady Emine Erdogan and most of his top ministers, plus heavyweights from the ruling Islamist AKP Party. Unfortunately for Erdogan's ambitions, Saudi Arabia chose not to attend, triggering a string of demurrals that culminated in Pakistan bowing out.
Saudi Arabia's Al-Arabiya found the summit in rather poor shape on Wednesday morning:
Critics saw no good reason to create a much smaller group than the Organization of Islamic Cooperation (OIC) to tackle "divisive issues including the Kashmir region, which is disputed between India and Pakistan, the conflicts in Syria and Yemen, the plight of Myanmar's Rohingya Muslim minority and mounting outrage over China's camps for Uighur Muslims in Xinjiang," to quote Al-Arabiya's summary of the likely summit agenda. No official list of topics to be covered or final list of confirmed attendees had been released as of Wednesday morning.
On the other hand, obvious bad reasons for the summit would include the above-mentioned push to legitimize the Muslim Brotherhood and Erdogan's longtime ambition to position himself as the new champion and guiding political force of global Islam – a new "sultan" or "caliph," as his detractors often put it.
Malaysian Prime Minister Mahathir Mohamad did point out one significant area in which the summiteers have a major difference of opinion with the OIC: China's abuse of the Uyghur Muslims in Xinjiang province. He made it clear in comments before the summit that he believes the OIC should speak out more forcefully against China on the Uyghur matter.
Iran and Qatar are attending the summit, sending President Hassan Rouhani and Emir Tamim bin Hamid al-Thani respectively, which could be another reason Saudi Arabia and many of its allies stayed away. The official reason given by the Saudis, and conveyed to Mahathir by King Salman bin Abdulaziz in a phone call on Tuesday, is that Riyadh does not wish to undermine the OIC.
Mahathir's office responded by insisting the summit was not an effort to create "a new bloc as alluded to by some of its critics" and promised the meeting would not become "a platform to discuss religion or religious affairs," meaning the kind of inter-Islamic feuds likely to erupt between various Sunni blocs and the Iranian Shiite axis when they gather around the same meeting table to hammer out contentious secular issues.
Pakistani Prime Minister Imran Khan contacted both Mahathir and Erdogan to express his regrets for not attending, without going into much detail about why he would not pay a visit to Kuala Lumpur. Khan's absence was seen as particularly irksome because he discussed the possibility of holding the summit with Erdogan at the U.N. General Assembly in September and publicly accepted an invitation to attend in November.
Pakistani Foreign Minister Shah Mehmood Qureshi conceded on Wednesday that Pakistan responded to concerns from Saudi Arabia and the United Arab Emirates about the summit, specifically that the meeting could cause "division in the ummah" (i.e. Muslims worldwide) and dilute the authority of the OIC.
According to Qureshi, Pakistan worked to address Saudi Arabia's concerns and even suggested Mahathir fly to Riyadh to personally invite King Salman to the summit, but Mahathir could not work out a schedule for making the trip. Pakistani PM Khan did travel to Saudi Arabia, but his visit was ostensibly intended to resolve some policy differences between the Saudis and Malaysians, rather than persuading the Saudis to attend the summit.
https://www.breitbart.com/national-security/2019/12/18/saudis-pakistan-skip-turkish-president-erdogans-muslim-summit-malaysia/
------
Southeast Asia
Malaysia defends Muslim summit shunned by Saudi, slammed by OIC
DECEMBER 19, 2019
KUALA LUMPUR (Reuters) - Hosting a summit of Muslim leaders, Malaysia's Prime Minister Mahathir Mohamad bemoaned the state of Islam and defended the meeting that has been shunned by Saudi Arabia and criticised for undermining the bigger Organisation of Islamic Cooperation.
Divisions in the Muslim world were self-evident as only about 20 countries sent leaders, or delegations to the Kuala Lumpur summit, though all 57 members of the OIC had been invited.
The Saudi king's refusal to attend, and the late withdrawal of Pakistan from the event had left the hosts scrambling to soothe sensitive relations.
In welcoming remarks, Mahathir said the Kuala Lumpur Summit was meant to understand why Islam, the Muslims and their countries were "in a state of crisis, helpless and unworthy of this great religion".
It was unclear to what extent the leaders would discuss major geo-political crises afflicting the Muslim world, ranging from the age-old disputes in the Middle East and Kashmir, to the conflicts in Syria and Yemen, through to the plight of Rohingya Muslims in Myanmar and the alleged persecution of Uighur Muslims in China's Xinjiang region.
Mahathir said the summit, which will end on Saturday, should address the world's perceptions of Islam, the rise of Islamophobia, the decline of the Islamic civilisation and reforms in governance needed by Muslim nations.
"We are not discriminating or isolating anyone," he said in his welcome speech, watched on by leaders including Turkish President Tayyip Erdogan, Iranian President Hassan Rouhani and Qatari Emir Sheikh Tamim bin Hamid Al-Thani.
"We are attempting to start small and if these ideas, proposals and solutions are acceptable and proved workable, then we hope to take it up to the larger platform for consideration."
Turkey's President Tayyip Erdogan struck a similar tone.
"We will have the opportunity to talk freely about our issues, from Islamophobia to terrorism, divisions, internal fights ravaging our region, and sectarian and ethnic conflicts," Erdogan told the summit.
The OIC had said it was against the interests of the Islamic community to convene meetings outside the Saudi-based organisation, which has for decades acted as the collective voice of the Muslim world.
Both Mahathir and Erdogan have been frustrated by the OIC's past record of hand-wringing and failure to take firm action in support of Muslim causes.
Without mentioning the OIC by name, Erdogan said the biggest problem that platforms bringing the Islamic world together faced was a lack of implementation.
"If we still haven't made any progress regarding the Palestinian cause, if we still can't stop the exploitation of our resources, if we still can't say "stop" to the fragmentation of the Muslim world over sectarianism, that's why."
Some analysts also suspected that Saudi Arabia's reluctance to attend stemmed from fear of being diplomatically isolated by regional rivals Iran, Qatar and Turkey, all of whom are attending the summit.
Worried about taking sides, Pakistan's Prime Minister Imran Khan opted to stay away from the Kuala Lumpur summit.
"Pakistan wants to become part of the solution and not part of the problem," Information Minister Firdous Ashiq Awan told reporters in Islamabad.
https://uk.reuters.com/article/uk-malaysia-muslimalliance/malaysia-defends-muslim-summit-shunned-by-saudi-slammed-by-oic-idUKKBN1YN0EW?rpc=401&
------
Summit to discuss state of affairs in Muslim world, not religion, Dr M says
Minderjeet Kaur
December 19, 2019
KUALA LUMPUR: Prime Minister Dr Mahathir Mohamad told Islamic countries today that the Kuala Lumpur Summit is not to discriminate against or isolate any particular party but to find ideas for solutions to issues that have been plaguing Muslims for many years.
In his speech before hundreds of foreign delegates here, he said some Muslim countries appeared incapable of being governed well, much less developed and able to prosper.
"Is it our religion that is in the way? Is it that Islam is against worldly success and becoming a developed country?
"Or is it the Muslims themselves who prevent their countries from being governed well and being developed?" he said.
He added that the summit is not to discuss religion but rather the state of affairs in the Muslim world.
"Everywhere, we see Muslim countries being destroyed; their citizens forced to flee and seek refuge in non-Muslim countries.
"Many thousands die during flight and many more are refused asylum."
On the other hand, he said, there were Muslims who committed acts of violence, killing the innocent, the sick and the incapacitated.
He said their own countries were unable to provide security or retake land that might have been seized by others.
"Frustrated and angry, they react violently without in any way achieving their objectives," he said, adding that they seek revenge but instead bring disrepute to their religion.
"And now Islamophobia, this unjustified fear of Islam, has denigrated our religion in the eyes of the world," he added.
Mahathir said it was important to understand how such fear was created, and whether it was justified or merely the propaganda of detractors.
"We have to deal with fratricidal wars, civil wars, failed governments and many other catastrophes that have plagued the Muslims and Islam, without any serious effort to end or reduce them or rehabilitate the religion."
He said understanding such problems and their causes might enlighten participants and help them overcome or mitigate the disasters that have befallen Muslims.
He added that any ideas at the summit that proved workable could be taken to a larger platform for consideration.
https://www.freemalaysiatoday.com/category/nation/2019/12/19/summit-to-discuss-state-of-affairs-in-muslim-world-not-religion-dr-m-says/
------
Not a single Muslim country is considered developed, Dr M says
Minderjeet Kaur
December 19, 2019
KUALA LUMPUR: Prime Minister Dr Mahathir Mohamad told the audience at the Kuala Lumpur Summit here today that not a single Muslim country is considered developed despite their immense wealth.
"They are all weak and incapable of protecting the Muslim ummah, even if it is their duty by their religion," he said in his keynote address.
"If we care to honestly assess our situation, we must admit that we and our religion have become the subject of much vilification and defamation."
The event which runs until Dec 21 is attended by delegates from about 20 countries including Turkish President Recep Tayyip Erdogan and Iranian President Hassan Rouhani.
In his speech, Mahathir said Muslims and Islam had been equated with terrorism and government failures, acts of irrationality and those unworthy of civilised behaviour.
Adding that Muslim countries are accused of authoritarianism and lacking concern for human rights, he said Muslims could accuse the non-Muslim world of being biased and unjust in their assessments.
"But we cannot deny the facts that there are fratricidal wars in several Muslim countries, that many are beholden to the powerful non-Muslim nations, that Muslims are running away from their own countries to seek refuge in non-Muslim countries," he said.
He added that Muslims are largely dependent on non-Muslims for many of their needs, to the point where they are unable to equip themselves with the means to ward off attacks by others.
"We depend on our detractors to supply us," he said, adding that this was a far cry from circumstances in the 15th century when Muslims made advancements in science and engineering, especially the manufacturing of goods.
On Islamophobia, Mahathir said Muslims were prepared to die to protect Islam and their fellow Muslims, and that some in fact were dying.
"But we have done more damage to our religion by our disreputable acts of terror," he added.
Under European colonisation, he said, Muslims had lost their countries.
"From this decline, they have not recovered, even after regaining their independence."
If nothing changed, he said, Muslims would continue to be oppressed and their decline would deepen.
He also said that Muslims could no longer isolate themselves as society has changed.
"No country may remain peopled by 100% Muslims now," he said. "Other religions, other values, other ways of life affect us even if they do not live among us."
https://www.freemalaysiatoday.com/category/nation/2019/12/19/not-a-single-muslim-country-is-considered-developed-dr-m-says/
------
Hadi lauds KL Summit to unite Muslims, claims helped promote it internationally
Thursday, 19 Dec 2019
BY RADZI RAZAK
KUALA LUMPUR, Dec 19 — Opposition lawmaker Datuk Seri Abdul Hadi Awang congratulated the Pakatan Harapan (PH) government for the Kuala Lumpur Summit's success in openly discussing the Muslim world's problems.
The PAS president also said he shares Prime Minister Tun Dr Mahathir Mohamad's view that Islamic governments have failed, adding that he had helped publicise the event abroad to make today's meeting of Muslim nations a success.
"Firstly, I want to say congratulations for the success of the event," he told reporters after the summit launch at the Kuala Lumpur Convention Centre here.
He noted that many attending leaders had also expressed their support for the event.
He then claimed that this showed their admission of weakness in dealing with problems plaguing the Muslim world, especially in the Middle East.
Hadi said he had been supportive of today's international platform to unite Muslims worldwide from the beginning.
"I support. I too campaigned it outside of the country through our NGOs to make this conference a success," he added.
Hadi, who a few months ago signed a pact with Umno to oust the PH government in the next elections, today praised Dr Mahathir for shifting Muslim dialogue from the turbulent Middle East to peaceful South-east Asia.
"By shifting the place for discussion to the South-east Asian region and for Malaysia to be its host is a good move and for that I have to give my congratulations," he said.
Over 400 Muslim leaders and delegates from about 50 countries gathered here this morning for the opening ceremony of the KL Summit 2019.
The leaders include Emir of Qatar Sheikh Tamim bin Hamad Al Thani, President Recep Tayyip Erdogan of Turkey and President Hassan Rouhani of Iran.
The summit, which aims at addressing issues concerning Muslim ummah and to find workable solutions, began yesterday with a welcoming dinner hosted by Dr Mahathir at a leading hotel located next to the iconic Petronas Twin Towers.
Controversial preacher Dr Zakir Naik was also seen at the opening ceremony this morning.
Hadi previously supported Dr Mahathir's decision to not deport the Mumbai-born preacher to India where he is wanted on laundering and terror-related charges.
https://www.malaymail.com/news/malaysia/2019/12/19/hadi-lauds-kl-summit-to-unite-muslims-claims-helped-promote-it-internationa/1820632
------
With Dr Rouhani taking part; KL Summit 2019 kicks off in Malaysia
December 19, 2019
AhlulBayt News Agency (ABNA): The summit of Muslims leaders, Kuala Lumpur 2019, was held on Thursday morning in the Malaysian capital with Dr Hassan Rouhani and heads of state of Malaysia, Turkey and Qatar, and a hundreds of figures and elites from Islamic countries taking part.
Upon arrival at the summit hall, President Rouhani was welcomed by Prime Minister Mahathir Mohamad of Malaysia.
Before the summit began, the leaders posed for photos and then the summit commenced with the Malaysian king, Sultan Abdullah's remarks.
President of the Islamic Republic of Iran is expected to address the summit in an hour.
https://en.abna24.com/news//with-dr-rouhani-taking-part-kl-summit-2019-kicks-off-in-malaysia_995012.html
------
The Muslim world can no longer ignore China's persecution of Uighurs
December 18, 2019
by Azeem Ibrahim
China is undoubtedly a colossus on the world stage — and its rise is far from over. The nation will continue to grow in influence and relative power in international affairs for at least the next two decades. This means that the choices smaller countries make now about how to engage with this developing reality will greatly influence their future for the rest of this century.
So then, the question is what are we to do when this emerging colossus persecutes the indigenous majority Muslim Uighurs in its western province of Xinjiang? This has also affected other Muslim minorities, including the Kazakhs and the Kyrgyz.\
This is a matter that is especially pressing for the Muslim world. The heartlands of the Islamic world are close neighbors of China, and therefore particularly affected by Beijing's geopolitical designs for the 21st century. Take the Belt and Road initiative, for example, which aims to build the trade infrastructure that will dominate economic and political relationships on the Eurasian mainland for the rest of the century and will mostly pass through lands in the Muslim world.
The economic fortunes of countries in the Middle East will be inextricably linked to Belt and Road for the foreseeable future. Yet at the same time, China is engaged in policies of cultural eradication that target Muslims inside its borders, to the ridiculous extent of laws banning Islamic religious names. With the mass incarcerations and "re-education" efforts being carried out by Beijing, what we are seeing in Xinjiang is no longer a "domestic matter." We are now in the realm of crimes against humanity as defined by international law.
This is to say nothing of the long-standing tradition in the Muslim world of leaders speechifying about the Ummah and "Muslim solidarity." After decades of anti-Western rage based on real or perceived slights to Islam and Muslims, the leaders of the Muslim world have been shockingly acquiescent to Beijing's narrative. Not only has Muslim leader after Muslim leader failed to speak up against what is happening to the Uighurs, many have gone as far as to actively and publicly defend the actions of China in Xinjiang.
But what else are they to do if they are to best serve their own citizens and the economic prospects of their own countries?
It is true that China has shown itself both willing and able to use checkbook diplomacy, and to pit countries against each other as they seek to curry favor with Beijing. So long as each of the nations in the Muslim world considers its relationship to China in isolation, they have no chance to resist Beijing's demands.
Yet considered together as a bloc, the Muslim world remains one of the most formidable constituencies on the planet. It is comparable in strength and leverage to the US and China, and certainly competitive with India or the EU.
This bloc is not typically relevant in global politics, however, because Muslim countries are too busy fighting each other. The political elite of many Muslim countries in the Middle East are driven by hard-line sectarianism.
But if the Muslim world should be able to agree on anything, it is that the genocide of Muslims is a bad thing — even if that genocide is still in its incipient phase, as in Xinjiang, and seems to be mostly cultural in nature.
We even have a very recent precedent for this. Gambia, as a member of the Organization of Islamic Cooperation (OIC), this month announced that it is referring Myanmar to the International Court of Justice (ICJ) on charges of genocide against Rohingya Muslims.
The Rohingya lived in Myanmar, not in China proper, but Myanmar is increasingly a Chinese client state, and native Rohingya lands are adjacent to major Belt and Road construction projects linking southern China to the port of Sittwe in the Bay of Bengal.
The OIC has been typically slow to organize a united response even to this bona fide genocide against Muslims in Myanmar, but after Gambia's action at the ICJ, they have started to rally around the issue. It turns out that, against all odds, something like Muslim solidarity is indeed still possible.
With this precedent in mind, the countries of the Muslim world cannot continue to skirt the Uighur issue. Yes, China will be displeased but Beijing has to build its Belt and Road somewhere. If the OIC countries stand together on this issue and do not allow China to divide and conquer, the Muslim world, within the framework of the OIC, can exert significant leverage.
The truth of Belt and Road is that China needs it as much as the countries of the Middle East need it. Even Beijing should be able to agree that the safety and security of the Uighurs as a distinct ethnic and religious group in their native lands in Xinjiang is a price worth paying for the success of its grand infrastructure project.
https://www.cgpolicy.org/articles/the-muslim-world-can-no-longer-ignore-chinas-persecution-of-uighurs/
------
Pakistan
Sindh Assembly unanimously condemns India's atrocities against Muslims
Azeem Samar
December 19, 2019
The Sindh Assembly on Wednesday unanimously passed a resolution to condemn the atrocities being committed against Muslims across India and especially in Indian-occupied Kashmir (IOK) at the hands of the government of the country's Prime Minister Narendra Modi.
The resolution was tabled in the House by the incumbent provincial chief minister probably for the first time and against parliamentary traditions. Syed Murad Ali Shah's resolution, which he drafted himself, was supported by all the parliamentary groups in the PA on both the treasury and opposition benches.
According to the resolution, the House recognised with deep dismay the continued atrocities being meted out by Prime Minister Narendra Modi's government to Muslims across India and in IOK.
The PA categorically condemned the unilateral lockdown of IOK, now for over 130 days, and the state-sanctioned brutalities against its innocent residents. The lawmakers lamented the violence by the Indian law enforcement agencies against Muslim students exercising their right to protest.
The House recognised the alarming rise in incidents of fascism and violent extremism towards Muslims in India during the Bharatiya Janata Party's (BJP) government. The PA rejected India's recently passed Citizenship Amendment Act that seeks to systemically marginalise and exclude Muslims.
The legislators expressed dismay over the silence of the international community on these continuing violations of fundamental human rights. They demanded that Pakistan's federal government approach the United Nations to censure the Indian government over its persistent and targeted persecution of Muslims.
Some of the opposition lawmakers, including Arif Mustafa Jatoi of the Grand Democratic Alliance, suggested replacing the word "demand" with "request" regarding the resolution's portion that asked the Centre to approach the UN over India's atrocities against its Muslim population.
Speaking on the resolution, Sindh Health Minister Dr Azra Pechuho said that the latest brutal actions against the Muslim community in India had proved that the present Indian government was a fascist one.
She said that international human rights organisations had been giving feeble response to the Indian state's atrocities being committed against the Muslim population of the country.
Muttahida Majlis-e-Amal MPA Syed Abdul Rasheed said that over 10 million Muslims had been taking part in the protest campaign in India against the new citizenship law. He said that by passing this resolution, the Sindh Assembly would live up to its name to safeguard the rights of the Muslims around the world.
Muttahida Qaumi Movement-Pakistan lawmaker Mangla Sharma said people of religious minorities in Pakistan had been leading their lives freely with no oppression or suppression by any quarter.
She said her presence in the House proved that people belonging to minority groups did get due representation in the affairs of the state with no bar on their activities.
She also said that the agenda being followed by the present Indian government of the BJP against the Muslim population of the country had nothing to do with Hindu ideologies. She added that she completely disowned the policies of the Indian government against Muslims.
Anti-Gutka bill passed
The House passed the bill to take action against the preparation and consumption of Gutka and Mainpuri in the province. The bill was passed in the light of the report of the PA's Standing Committee on Law, Parliamentary Affairs & Human Rights.
The committee had considered the draft of the bill in its four meetings. The committee's chairman, Pakistan Peoples Party MPA Pir Mujeebul Haq, presented the body's report in the House on the Government Bill No. 21 of 2019 titled 'Sindh Prohibition of Preparation, Manufacturing, Storage, Sale and Use of Gutka and Mainpuri Bill 2019'.
Haq said the bill was important to adopt a firm law for the first time in the history of the province to take punitive action against the manufacture and sale of Gutka and Mainpuri. He said the bill had been finalised after taking into account the opinion of all the relevant stakeholders, including the police.
After the bill's passage, PA Deputy Speaker Rehana Leghari congratulated the House for passing it, saying that the issue of Gukta and Mainpuri had become a serious menace in Thatta, Sujawal and Badin.
Student union bill introduced
The bill to restore student unions in the province, namely 'Sindh Students Union Bill 2019', was introduced in the House and referred to the Standing Committee on Law, Parliamentary Affairs & Human Rights for further consideration.
'Sindh Safe Cities Authority Bill 2019' was also introduced in the provincial assembly and then referred to the Standing Committee on Home of the PA. Speaking earlier during the question-hour on the home department, the CM said his government had approached the federal administration to get the authority to issue licences of weapons of prohibited bore devolved to the province.
He said that right now the authority is vested with the prime minister, adding that he (Sindh's chief executive) wants a uniform policy to be adopted across the country for issuing licences of such weapons.
https://www.thenews.com.pk/print/585260-sindh-assembly-unanimously-condemns-india-s-atrocities-against-muslims
------
Pak PM summons emergency meeting to discuss Musharraf verdict
Dec 18, 2019
ISLAMABAD: Pakistan Prime Minister Imran Khan on Wednesday summoned an emergency meeting of his party's core committee to discuss the conviction of former military dictator Pervez Musharraf, a day after the powerful army said the verdict caused "pain and anguish" in the armed forces.
The meeting will also discuss matters related to legislation regarding the extension of services of the army chief and the appointment of a chief election commissioner and other members of the electoral body.
Sources in the ruling Pakistan Tehreek-i-Insaf said that Khan would take senior party leader on board on the policy regarding the conviction of Musharraf.
Interestingly, Khan, while in opposition, supported prosecution of Musharraf in the treason case. Some of the video clips of his interviews were shown repeatedly by local TV channels.
Khan was in Geneva on Tuesday to attend the 'Global Refugee Forum' when a three-member bench of a special court, headed by Peshawar high court Chief Justice Waqar Ahmad Seth, on Tuesday found the ailing 76-year-old former Army chief, now living in Dubai on self-exile, guilty of high treason and handed him the death sentence.
Musharraf's sentencing angered the powerful Army which said that the verdict caused "pain and anguish" in the rank and file of armed forces.
"An ex-Army Chief, Chairman Joint Chief of Staff Committee and President of Pakistan, who has served the country for over 40 years, fought wars for the defense of the country can surely never be a traitor," Army spokesman Maj Gen Asif Ghafoor said.
"The due legal process seems to have been ignored including constitution of special court, denial of fundamental right of self defence, undertaking individual specific proceedings and concluding the case in haste," he said.
"Armed Forces of Pakistan expect that justice will be dispensed in line with Constitution of Islamic Republic of Pakistan," Ghafoor said.
Soon after the verdict on Tuesday, Special Assistant to the PM on Information Firdous Ashiq Awan said that the detailed response would be given after consultation but after the statement by the army, Awan and Attorney General Anwar Mansoor in a late night press conference termed the judgment as "unfair" and announced to defend Musharraf in the appeal.
"I will defend the law in the case but not any individual," Attorney General Anwar Mansoor said.
Musharraf can file appeal against the judgment within 30 days. But he would have to return to Pakistan for it unless allowed by the higher court.
The former Army chief left for Dubai for medical treatment in March 2016 and has not returned since, citing security and health reasons.
Almost following the points raised by the army in its statement, Mansoor said that the Musharraf was not given the right of fair trial and the judgment was issued in haste.
"There is no question that a person who had committed treason must be punished but in this case the right of fair trial guaranteed under the Constitution was not ensured. A trial should not just be fair but also seen to be fair," he said.
Musharraf also found sympathy with Karachi-based Muttahida Qaumi Movement-Pakistan party of Mohajirs who are Urdu-speaking migrants who came to Pakistan after partition in 1947.
"What kind of justice is this that those looted national wealth are considered patriots but the man who put his life at stake for the sake of country has been declared a traitor," MQM-P chief Khalid Maqbool Siddiqui said.
Musharraf seized power by ousting then-prime minister Nawaz Sharif in a 1999 bloodless coup. He has also served as Pakistan's president from 2001 to 2008.
He is the first military ruler convicted for subverting the Constitution. Though he was not the first General to do so. Three Pakistan Army chiefs including Gen Ayub Khan, Gen Yahya Khan and Gen Zia-ul-Haq also abrogated the Constitution but never faced any court.
https://timesofindia.indiatimes.com/world/pakistan/pak-pm-summons-emergency-meeting-to-discuss-musharraf-verdict/articleshow/72870218.cms
------
Indian army chief's statement an attempt to divert attention from protests against citizenship law: ISPR
December 19, 2019
Inter-Services Public Relations Director General Maj Gen Asif Ghafoor on Thursday termed a recent statement by Indian Army Chief Bipin Rawat an "effort, as usual, to divert world attention from widespread protests" over the controversial Citizenship (Amendment) Act (CAA).
In a recent statement, Rawat had said that the situation at the restive Line of Control (LoC) can "escalate any time".
"We (Indian army) have to be prepared for the spiralling of the escalatory matrix," Rawat was quoted as saying on Wednesday.
"Provocative statements and preparations for escalation along LoC by Indian COAS appear to be an effort, as usual, to divert world attention from widespread protests in India against CAB," Ghafoor tweeted. "Pakistan Armed Forces shall befittingly respond to any Indian misadventure or aggression."
Rawat's statement came two days after a teenage boy was martyred after Indian troops shelled two different sectors along the LoC in Azad Jammu and Kashmir. Two other civilians were injured from the indiscriminate shelling.
India is currently facing widespread protests after the Bharatiya Janata Party passed the controversial CAA. The Act makes it easier for non-Muslims from the neighbouring countries of Afghanistan, Bangladesh and Pakistan who settled in India prior to 2015 to gain Indian citizenship.
Thousands of people have protested, saying the law is anti-Muslim and the latest in a series of measures by Prime Minister Narendra Modi's Hindu nationalist government to marginalise the community. At least six people have died in clashes between protesters and security forces. The government, in order to quell the protests, imposed internet bans and curfews.
https://www.dawn.com/news/1523178/indian-army-chiefs-statement-an-attempt-to-divert-attention-from-protests-against-citizenship-law-ispr
------
Don't mistake our wish to remain peaceful as sign of weakness, FM warns India
December 19, 2019
Foreign Minister Shah Mehmood Qureshi, in a video message on Thursday, warned India against mistaking Pakistan's wish to remain peaceful as a sign of weakness.
Commenting on the UN Security Council meeting on Kashmir raised by China on Pakistan's request, he stated that the issue was raised at the right moment.
"It is deeply concerning that missiles are being deployed. Moreover, missile tests being conducted since August illustrate India's true intentions which can harm regional peace. There is a pattern emerging in their actions.
"Keeping these developments in mind, we request the United Nations Military Observer Group in India and Pakistan (UNMOGIP) to conduct independent verification so that the facts may be presented before the Security Council.
"Extreme measures are being taken to suppress the rights of the Kashmiris. There is a communication blackout, the media cannot travel to the valley and even diplomats are barred.
"Take also the Babri Masjid verdict. These things are making India's 200 million Muslims feel like second-class citizens."
Commenting on the passage of the contentious Citizenship Amendment Bill in India, he said that West Bengal state's Chief Minister Mamta Banarjee herself has denounced the legislation.
"Slowly, there are protests [against the Citizenship amendment Bill] emerging in every city and every state."
India's opposition has vehemently opposed the bill and considers it contrary to their constitution, he added.
"However, in order to take the eyes off these protests, we anticipate that India is planning something."
Further, signals picked up by our intelligence point towards an "extraordinary amount of movement and deployment at the Line of Control".
"All these things lead us to believe that India's intentions are not peaceful.
"On behalf of the people of Pakistan, I would like to make it clear to Indian Prime Minister Narendra Modi that we are a peaceful nation. But do not make the mistake of forgetting the events of February 27."
Our army is ready to give you a befitting reply if you use an excuse to attack, he underlined.
Briefing sought by China from UNMOGIP postponed
On Tuesday, a briefing sought by China from the UNMOGIP at the Security Council had to be postponed after UN officials said that they were not ready for it.
During a closed door meeting of the Security Council, China drew the attention of the members towards a letter written by the foreign minister expressing concern on the escalating situation at the Line of Control, and asked for a brief from the UN military observers.
The Security Council had held an informal consultative session on Kashmir in August. That meeting had also been called by China after India's Aug 5 action of abrogating Article 370, which gave the occupied region special status.
https://www.dawn.com/news/1523177/dont-mistake-our-wish-to-remain-peaceful-as-sign-of-weakness-fm-warns-india
------
SC objects to misperception being created against CJP
Nasir Iqbal
December 19, 2019
ISLAMABAD: The Supreme Court on Wednesday took strong exception to "stage managed" misperception that Chief Justice of Pakistan Asif Saeed Khosa had played any role in the conclusion of Pervez Musharraf's treason trial by a special court.
In a rather strong reaction, the apex court said the news item that was aired and published by a section of print and electronic media was "baseless, concocted, false, stage managed, out of context and contrary to the facts".
The news item concerned with an informal meeting of Chief Justice of Pakistan Asif Saeed Khosa with the Press Association of the Supreme Court on Tuesday, the statement said, adding some misleading and out of context news items were aired/published by different TV channels and newspapers without identifying any source.
This created an impression that the CJP was personally involved in the progress of the case before the special court, the statement said.
Apex court statement rejects misleading news item, says Justice Khosa issued no directions to special court that handed down death sentence to Musharraf
The Supreme Court explained that its different benches had been hearing different aspects of the case of former president Pervez Musharraf and had passed different orders for early disposition of the treason trial.
For instance, the petition against the Islamabad High Court judgement, passed on Feb 9, 2015, in the Abdul Hameed Dogar case, was heard and decided in 2016 by a three-judge SC bench comprising then Justice Asif Saeed Khosa, Justice Sardar Tariq Masood and Justice Tariq Pervez.
In that case, the SC passed the order that "the special court is therefore expected to proceed with the trial of respondent No. 2 (Pervez Musharraf) with all convenient dispatch and without any unnecessary delay".
Similarly, in another civil review petition in the Lahore High Court Bar Association versus Pervez Musharraf, a different three-judge bench comprising the chief justice, Justice Syed Mansoor Ali Shah and Justice Muneeb Akhtar had held that "the special court shall proceed with the trial on the next date of hearing. In case the accused surrenders and appears before the court, he would be entitled to record his statement under Section 342 of the CrPC and lead any other defence under the law. However, in case the accused fails to appear on the next date of hearing, being a proclaimed offender, the special court is empowered to proceed against the accused even in his absence under Section 9 of the Act".
The statement made it clear that the chief justice of Pakistan had not issued any direction of any sort to the special court other than the judicial directions issued by the relevant benches of the Supreme Court in these cases, which already stand published in the law reports of the country.
"To ensure accuracy in reporting it is expected that this clarification will be aired/published with the same prominence as the earlier incorrect news items were carried," a statement issued by the Supreme Court said, adding it was expected that accuracy of reporting would be ensured in future.
Meanwhile, at the launch of a research study on "Impact of militancy on administration of justice in former FATA and PATA" held at the Federal Judicial Academy on Wednesday, the Chief Justice of Pakistan highlighted the need for adopting a multi-pronged approach to defeat the scourge of militancy and terrorism.
Enlightening the audience with the history of militancy and terrorism in different countries, the CJP observed that militancy was a form of terrorism and since time immemorial it had existed in one form or another in various parts of the world and civilians had been victims of terror acts.
He said, "We must learn from those countries and nations which defeated terrorists. We need to rethink our strategies to deal with it in a more successful manner."
The chief justice also read out extracts from a Supreme Court judgement in order to tackle the scourge of militancy and terrorism in an effective manner and quoted a few inspiring lessons from a book titled, "21 Lessons for the 21st Century", written by Yuval Noah Harari.
About the importance and scope of research culture, CJP Khosa said: "Without research there is no progress, and with no progress there is no learning. It really augurs well that our judicial officers have undertaken research on a very important topic. This research will make them more analytical in their approach.
"Research should always be original. It should always be conducted on the area and also in close contact with the people who are subject matter of the research in question. It should not be academic and bookish."
Sounding his optimism, the chief justice expressed the hope that this research would enhance the competency and professionalism of the judges who conducted it and a mechanism would be developed to push forward suggestions and recommendations.
https://www.dawn.com/news/1523091/sc-objects-to-misperception-being-created-against-cjp
------
Govt urged to brief parliament on decision to skip Malaysia summit
Amir Wasim
December 19, 2019
ISLAMABAD: Criticising Prime Minister Imran Khan for cancelling his planned visit to Malaysia at the eleventh hour, the opposition has asked the government to brief parliament as to why Pakistan has decided to skip the Kuala Lumpur summit soon after the PM's visit to Saudi Arabia.
Terming it a sensitive issue", PPP information secretary Dr Nafisa Shah, who is an outspoken member of the National Assembly, said in a statement on Wednesday that any decision made while keeping parliament in the dark would not be acceptable to the opposition.
"The cancellation of the Malaysia visit of the 'selected prime minister' is a very serious issue," Dr Shah said and asked the government to bring the matter to parliament for a debate.
Foreign Minister Shah Mehmood Qureshi had announced on Tuesday that there would be no representation from Pakistan at the summit of some 20 Muslim countries which started in Kuala Lumpur on Wednesday.
Pakistan was one of the first countries with which Malaysian Prime Minister Dr Mahathir Mohammad shared his plans for holding the summit when he met PM Khan along with Turkish President Tayyip Erdogan on the sidelines of the United Nations General Assembly session in New York in September.
PPP terms PM's 'secret decisions' bad omen for Pakistan; PML-N believes the move shows Imran's dithering conduct of foreign policy
Later, PM Khan formally conveyed his acceptance of the invitation for attending the summit when Deputy Foreign Minister of Malaysia Marzuki Bin Haji Yahya called on him in Islamabad on Nov 29.
After Imran Khan's recent visit to Saudi Arabia, reportedly due to pressure exerted by the kingdom, which had extended a helping hand to the Pakistan Tehreek-i-Insaf government during its early days to stave off economic crisis, the PM decided to stay away from the Kuala Lumpur summit.
FM Qureshi confirmed that Saudi Arabia and the United Arab Emirates had concern about the summit, saying the two countries were worried that the event could cause "division in Ummah" and lead to setting up of an organisation parallel to the existing Saudi-dominated Organisation of Islamic Cooperation.
In view of the reservations about the summit, Mr Qureshi said, it was decided that Pakistan would seek to bridge the gap between Riyadh and Kuala Lumpur and if that did not work there would be no participation in the summit.
PM Khan's trip to Saudi Arabia, he said, was aimed at bringing Saudi Arabia and Malaysia closer and not for getting permission to attend the summit.
Dr Nafisa Shah, however, is of the view that as a nation, Pakistan should not be supporting any one side at the international level. She alleged that Prime Minister Khan was "taking every decision secretly" which did not bode well for the country.
Dr Shah said that the government should also tell parliament "what money is being taken by the government and on what conditions".
Pakistan Muslim League-Nawaz (PML-N) MNA and former foreign minister Khurram Dastagir Khan also criticised the government for its "wavering foreign policy."
"The cancellation of Prime Minister Imran Khan's visit to Kuala Lumpur is the most recent example of his dithering and craven conduct of foreign policy, which is comforting Pakistan's enemies and dismaying our friends," he said while talking to Dawn.
The PML-N leader said the "weak excuses" the prime minister had given "to justify" staying away from the Kuala Lumpur summit signified his "inability to balance Pakistan's long-term foreign policy interests with temporary benefits".
https://www.dawn.com/news/1523103/govt-urged-to-brief-parliament-on-decision-to-skip-malaysia-summit
------
Australia and New Zealand
White supremacists are 'empowered by the state to use violence' - Muslim group questions 'safety' in New Zealand
19 December 2019
A Muslim-led human rights group has questioned Muslims' safety in New Zealand following the arrest of a member of the New Zealand Army, believed to be involved in white supremacy and a far-right extremist group.
The Foundation Against Islamophobia and Racism (FAIR) said they are "deeply concerned" that the individual is serving in the army "with access to a range of firearms".
FAIR claimed the suspect - who was arrested on Friday following a "joint criminal investigation" by NZ Police and NZDF - was also questioned by police in the aftermath of the Christchurch mosque shootings.
Newshub is not able to confirm how FAIR obtained this information. An unidentified source has also informed Stuff that the individual was questioned following the March 15 terror attack.
"We don't know if there are others within the military, police and other agencies who hold similar views... this white supremacist ideology is deeply entrenched," FAIR spokesperson Azad Khan said.
"The Muslim Community cannot be assured any safety in New Zealand in an environment where such people are empowered by the state to use violence.
"We want to know what the NZ government is going to do about fascists and neo-nazis in the military and other public service roles... that people like this are serving [in the New Zealand Army] is frankly terrifying."
Khan called on the Government to treat the case with "the utmost gravity" and designate local white supremacist groups as terrorist organisations. In their submission to the Royal Commission of Inquiry into the Christchurch terror attack, FAIR raised the possibility of extremists enlisting in the military.
An NZDF spokesperson confirmed to Newshub that a member of the New Zealand Army was "taken into military custody" on Friday after police executed a search warrant at a New Zealand Army base.
"New Zealand Defence Force and New Zealand police have been conducting a joint criminal investigation. New Zealand Defence Force is currently the lead agency. As this is an ongoing investigation no further comment will be made," a police spokesperson told Newshub.
On Wednesday, Newsroom.co.nz reported that a far-right "Christian brotherhood", Wargus Christi, claimed one of its members had been put in "military prison" last week via its Telegram channel.
"One of our boys has been arrested for reasons still unknown. They have him in custody at the moment," Wargus Christi reportedly posted on December 14.
Wargus Christi's public Facebook page regularly promotes far-right ideologies and values, referencing homophobia, anti-Semitism and Islamophobia.
A post from October 15 declared, "like Islam, Judaism is a diametrical enemy of Christ".
On Thursday morning, NZDF issued a suppression order saying the accused has been charged under the Armed Forces Discipline Act 1971. The publication of the accused's identity has been forbidden.
https://www.newshub.co.nz/home/new-zealand/2019/12/white-supremacists-are-empowered-by-the-state-to-use-violence-muslim-group-questions-safety-in-new-zealand.html
------
Blair Cottrell loses appeal against conviction for inciting contempt, ridicule of Muslims
Hatemonger Blair Cottrell has failed to quash his conviction for beheading a dummy in protest over a mosque being built in Victoria.
The former United Patriots Front leader had his magistrates' court conviction reinstated including a $2000 fine by the County Court on Thursday.
He was convicted of inciting hatred, contempt and ridicule of Muslims after making a 2015 video beheading of a dummy in protest of a Bendigo mosque.
Blair Cottrell loses appeal against conviction for inciting contempt, ridicule of Muslims
"The only inference available is that the mock beheading scene was intended to whip up extreme negative feelings in the audience about Muslims, including fear, loathing, disgust and alarm," Chief Judge Peter Kidd said in his published reasons.
He said Cottrell intended the emotions he would incite through the video would be "visceral, impactful and lasting".
The judge described the filmed act as a "violent pantomime" and said Cottrell's claim the video was meant to be absurd and funny was inconsistent with the evidence.
"I reject, as lacking in all credibility, the appellant's claim that this video was about the mere absurd, or intended to be humorous. It is a patently disingenuous characterisation and is self-contradictory. I do not believe him," the judge wrote.
He also said it was Cottrell's aim to incite "extreme feelings" against Muslims because of their religious beliefs.
"This whole episode was calculated to promote rank and demeaning stereotyping of Muslims."
However, he accepted the goal of Cottrell was to protest a local government decision to the building of the Bendigo Mosque.
But Judge Kidd said though the former UPF leader may have wanted to incite extreme feelings for a political goal, it was not a legal defence.
"Even if the ends were political, the means remain vilifying. Having a political end is not a defence to the charge."
He said the religious vilification provision does not prevent freedom of expression but if it does, it is appropriate and adapted to "a legitimate purpose".
"I'm not surprised," Cottrell said outside court.
He said he was now broke.
"My bank account's been closed down, my PayPal account has been closed down. The fact that I'm at court now wearing a suit is a miracle."
Cottrell, Neil Erikson and Christopher Neil Shortis were convicted and fined in 2017 over the beheading video, involving a dummy made of pillows and red liquid squirting from its head.
https://www.sbs.com.au/news/blair-cottrell-loses-appeal-against-conviction-for-inciting-contempt-ridicule-of-muslims
------
India
Indian socialists call for solidarity with Muslim minority
WEDNESDAY, DECEMBER 18, 2019
INDIAN-BRITISH socialists demanded an end to Prime Minister Narendra Modi's "tide of anti-Muslim acts" today as hundreds of students rallied in central London.
The call came in response to a law passed last week which grants citizenship to non-Muslim refugees from three of India's neighbouring countries.
The Citizen Amendment Act (CAA) fast-tracks citizenship for almost every religious minority — except Muslims — from Afghanistan, Bangladesh and Pakistan.
British-Indian diaspora group the Indian Workers' Association (IWA) described the CAA as "undermining the basis of India's secular democratic constitution."
The law also parts with a historically tolerant India that had "never before introduced exceptions and exclusions based on faith," the group said.
The IWA called for the "widest-possible solidarity with the people of India to stop this tide of anti-Muslim acts by the government enforcing their Hindu ideology."
The CAA is widely regarded as being part of a campaign by the ruling nationalist Bharatiya Janata Party to push a Hindu-nationalist agenda at the expense of India's Muslim minority.
It follows attacks on majority-Muslim states Jammu and Kashmir in August, when the Indian government stripped them of their autonomous status.
The passing of the act appears to be the final straw for India's Muslim minority who have responded with widespread protests.
Students from SOAS London University, organised by South Asia Solidarity Group and SOAS India Society, rallied outside the Indian High Commission today in opposition to the CAA.
They say the act "effectively introduces a religion test for citizenship" and described it as "alienating Indian Muslims" and "dividing communities."
https://morningstaronline.co.uk/article/b/indian-socialists-call-for-solidarity-with-muslim-minority
------
Hindu-Muslim, India-Pak no answer to students' concerns
December 18, 2019
Amid raging protests against the new citizenship law, the Congress on Wednesday warned Narendra Modi government against attempting a "Hindu-Muslim" (divide) or raising a India-Pakistan rhetoric, which it said cannot be the solution to the concerns of jobless youth and to other issues.
Speaking to reporters, Congress chief spokesperson Randeep Singh Surjewala also said that the ongoing protests by the students community will "grow stronger" if the Centre government fails to hold talks with them.
Surjewala was in Ahmedabad to attend a court hearing in connection with a criminal defamation case. He was granted bail after he pleaded not guilty.
"While students and youth of the country are holding demonstrations, the Modi government is responding with batons, tear gas and bullets, instead of talking to them. Hindu-Muslim or India-Pakistan is no reply to the youth's questions on unemployment, rising cost of education, and trampling of Constitution," Surjewala said.
He was referring to the violent protests against the new citizenship law in Delhi and the resultant police action on students of the Jamia Millia Islamia University (JMI) and the Aligarh Muslim University (AMU).
Taunting the prime minister, Surjewala said such police crackdown was unprecedented in the last 72 years, because "Modi hai toh mumkin hai" (anything is possible under PM Narendra Modi)".
"I would like to ask PM Modi. What his government is trying to prove by baton-charging, firing bullets and teargas shells on youth and students inside a girls' hostel and libraries (of JMI varsity)," he said.
Surjewala said the student community and youth are agitated over the lack of employment and rising cost of education.
"Parents do not have money for education of their wards. They have no opportunity. They are agitated that the Constitution is being trampled upon...You (Modi) must understand, and also consider it as a warning, that if they stand against you, they can even change the government," he said.
Surjewala further said that if the Centre doesn't hold talks with the agitated students "the protests will only grow stronger, and you cannot suppress them".
(This story has not been edited by Business Standard staff and is auto-generated from a syndicated feed.)
https://www.business-standard.com/article/pti-stories/hindu-muslim-india-pak-no-answer-to-students-concerns-cong-119121800720_1.html
------
CAA protests: CM Uddhav Thackeray urges Muslim community to maintain law and order
Thursday, December 19, 2019
Mumbai: Amid raging protests against the Citizenship (Amendment) Act (CAA) across the country, Maharashtra Chief Minister Uddhav Thackeray on Thursday spoke to representatives of the Muslim community via video conferencing and requested them to maintain law and order during protests against CAA and NRC.
Leaders of several opposition parties met President Ram Nath Kovind on Tuesday urging him to advise the government to withdraw the law.
Home Minister Amit Shah has ruled out the withdrawal of the Citizenship Amendment Act with the government repeatedly saying that the law does not affect any Indian citizen.
The CAA grants citizenship to non-Muslims of Pakistan, Afghanistan, and Bangladesh who fled religious persecution and arrived in India on or before December 31, 2014.
https://www.freepressjournal.in/mumbai/caa-protests-cm-uddhav-thackeray-urges-muslim-community-to-maintain-law-and-order
------
India's anti-Muslim citizenship law 'patently discriminatory': New York Times
December 19, 2019
NEW YORK, Dec 19 (APP):A leading American newspaper Thursday denounced as "patently discriminatory" India's new citizenship law, and urged all democratic nations to speak out against it.
"The law, as India's 200 million Muslims have correctly surmised, has nothing to do with helping migrants and everything to do with the campaign by Mr. Modi and his home minister, Amit Shah, to marginalize Muslims and turn India into a homeland for Hindus, who comprise about 80 percent of the population of 1.3 billion," the Editorial Board of The New York Times said, referring to the eruption of protests across India after the law was passed by Modi's Hindu-nationalist Bharatiya Janata Party (BJP) last week.
The editorial, "Modi makes his bigotry even clearer", said: "The devil is in the missing details. Accelerated citizenship is offered to members of the Hindu, Christian, Buddhist, Sikh, Parsee and Jain religions — but not to Muslims. And the only neighboring countries named in the law are Pakistan, Bangladesh and Afghanistan, all majority Muslim. Other neighbors, from Sri Lanka to China, where Muslims do not predominate, are not mentioned.
"The not-so-hidden message is that the Muslim-majority countries abutting India persecute Hindus and other minorities, and that Muslims from such countries cannot be refugees — even people like the Rohingya, some of whom have reached India after fleeing to Bangladesh from brutal repression in Myanmar…."
"Last summer, Mr. Modi's government abruptly stripped statehood and autonomy from India's only Muslim-majority state, Kashmir, arresting many of its leaders and shutting down the internet. Also in August, Mr. Modi aggressively escalated a program of citizenship tests in the northeastern state of Assam, leaving nearly two million people, many of them Muslims, potentially stateless. Mr. Modi has vowed to extend the process, which requires Indians to prove they're Indian, to the entire country and is building large new detention centers for those who can't.
"In common with other governments around the world that have turned undocumented immigrants into a nationalist issue, including President Trump's, Mr. Shah has taken to demonizing the primary target of the dragnets, Muslim migrants from Bangladesh, whom he refers to as 'termites.'
"Those initial moves met little resistance. The citizenship bill, by contrast, has provoked furious protests across India, some of which have been viciously repressed by police and the army. The government has also shut down the internet in several regions, a tactic against dissent used by India more than any other authoritarian-leaning government in the world, claiming it is necessary to prevent violence and false rumors. Kashmir has been offline since August, and India is by far the world's leader in the number of internet shutdowns.
"Still, the reaction to the citizenship law has apparently surprised Mr. Modi, who was re-elected by a comfortable margin last May, but he has shown no signs of backing down. He rose to power by vilifying Muslims, a core tenet of Hindu nationalists. When Mr. Modi was chief minister of Gujarat state, thousands of people were killed and tens of thousands were driven from their home in sectarian violence; most victims were Muslims.
"This is not the way India was meant to be. The vision of Mohandas Gandhi (who was murdered by a Hindu nationalist) and Jawaharlal Nehru after the partition of British-ruled India into a Muslim-majority Pakistan and a Hindu-majority India was to build the latter into a secular and democratic republic, with civil liberties for citizens of all faiths.
"Since he took office in 2014, Mr. Modi has actively worked to change that, even rewriting history books to exclude Muslim rulers — who, among other things, built the Taj Mahal — and changing official place names to Hindu from Muslim. Hindu mobs that lynch Muslims are rarely punished.
"The citizenship bill was the first action that linked religion to citizenship, undermining a fundamental tenet of India's democracy. Some non-Muslim Indian liberals, including members of the once-dominant Congress Party, have joined in the protests. The law has also drawn sharp criticism from human rights groups and governments. The Office of the United Nations High Commissioner for Human Rights called the citizenship bill "fundamentally discriminatory," and the United States State Department issued a statement urging India to "protect the rights of its religious minorities in keeping with India's Constitution and democratic values." Alas, that would be far more credible if the Trump administration was treating undocumented immigrants in keeping with America's democratic values.
"Mr. Modi's hold on power remains firm, but the protests at home and abroad have demonstrated limits to how far Indians will allow him to go in pursuit of his Hindu-nationalist agenda. The citizenship bill might still be blocked in the Indian Supreme Court, which begins hearings on it in January. But if it is not, all democratic nations need to speak out against a law, and a national policy, that is patently discriminatory and a threat to India's democracy."
https://www.app.com.pk/indias-anti-muslim-citizenship-law-patently-discriminatory-new-york-times/
------
Anti-CAA protest: Prohibitory orders imposed near Red Fort
Dec 19, 2019
NEW DELHI: Delhi Police on Thursday imposed prohibitory orders under CrPC Section 144 near the Red Fort ahead of a protest against the amended Citizenship Act, officials said.
Lahori Gate, Kashmere Gate and Kotwali police stations will come under this order, they said.
Police has already denied the permission for the protest near the Red Fort citing law and order issues, but the protestors said they will go ahead with the march.
https://timesofindia.indiatimes.com/city/delhi/anti-caa-protest-prohibitory-orders-imposed-near-red-fort/articleshow/72880966.cms
------
South Asia
Airstrikes, Special Forces' raids kill 9 Taliban militants in 3 provinces
Thursday, 19 Dec 2019
A series of airstrikes and Special Forces' operations killed 9 Taliban militants in three provinces in the past 24 hours.
The military officials said Thursday the Afghan Special Forces killed 2 Taliban militants and destroyed a small cache of weapons in Nad Ali district of Helmand.
The officials further added that the Special Forces killed 3 Taliban militants and destroyed a small cache of weapons during a similar raid in Balkh district of northern Balkh province.
Meanwhile, an airstrike killed 3 Taliban militants in Bermal district of Paktiya province, the officials said.
The officials also added that a similar airstrike killed one Taliban militant in Nahri Shahi district of Balkh.
https://www.khaama.com/airstrikes-special-forces-raids-kill-9-taliban-militants-in-3-provinces-04430/
------
BREAKING: U.S House impeaches Donald Trump for power abuse
Thursday, 19 Dec 2019
President Donal Trump was impeached by the U.S House of Representatives for the abuse of power on Wednesday.
For the third time in America's history, a sitting president is impeached by the House of Representatives, after a day-long debate.
According to NBC News, Trump was impeached on two articles. The first vote, 230-197, was to impeach him for abuse of power and was almost entirely on party lines; it was followed quickly by a second 229-198 vote that the president obstructed Congress. One Democrat, Rep. Tulsi Gabbard of Hawaii, who is running for president, voted "present" on both articles.
Minutes before the vote on Wednesday night, Trump took the stage at a campaign rally in Battle Creek, Michigan.
"It doesn't really feel like we're being impeached," he told the cheering crowd. "The country is doing better than ever before. We did nothing wrong. And we have tremendous support in the Republican party like we have never had before. Nobody has ever had this kind of support."
House Speaker Nancy Pelosi said it was imperative to impeach a president for the first time in two decades because Trump is "an ongoing threat to our national security and the integrity of our elections."
"It is an established fact the president violated the Constitution," Pelosi said, standing next to a sign with an American flag that quoted a line from the Pledge of Allegiance, "To the Republic, for which it stands…"
Democrats accused their counterparts of turning a willful blind eye to the president's misdeeds. They said there was ample evidence Trump had abused his power by pressuring Ukraine to announce investigations into political rival Joe Biden and his son, while withholding almost $400 million in aid, and had obstructed Congress by refusing to release any documents related to his actions.
"The president withheld congressionally approved military aid to Ukraine, a country under siege, not to fight corruption, but to extract a personal political favor," said Rep. Jim McGovern, D-Mass. "The president of the United States endangered our national security. The president undermined our democracy…betrayed his oath to preserve protect and defend the Constitution of the United States."
"No one should be allowed to use the powers of the presidency to undermine our elections. Period," McGovern added.
A White House official told NBC News that Trump did not plan on watching the proceedings, but would keep tabs on the coverage. The official said the White House was preparing for "war."
"We are all mad," the official said, and Trump and his team are "angry this is happening."
https://www.khaama.com/breaking-u-s-house-impeach-donald-trump-for-power-abuse-987760/
------
Europe
Record number of Muslims enter British parliament
In spite of rising Islamophobia, a record number of Muslims were elected to the House of Commons in the UK's recent election.
Muslim candidates won 19 seats in the December 12 poll, four higher than in the last election in 2017.
However, Muslims in the UK are far from a monolithic voter block, their 3.4 million population is considered electorally significant.
Out of the 220 women elected to parliament, 10 were Muslims.
Of those elected, 15 are members of the Labour Party and the other four are Conservatives.
During the campaign, the Labour Party fielded 33 Muslim candidates, while the ruling Conservative Party put forward 22.
Despite making up the numbers in the House of Commons, many Muslims are pessimistic about their future in the country after Boris Johnson's Conservatives won a landslide.
In 2018, Johnson caused a media storm when he compared Muslim women wearing the face veil to postal boxes.
There is a "palpable sense of fear amongst Muslim communities" in the UK, the Muslim Council of Britain, the UK's largest Muslim organisation stressed in its statement.
"We entered the election campaign period with longstanding concerns about bigotry in our politics and our governing party. Now we worry that Islamophobia is 'oven-ready' for the government. Mr Johnson has been entrusted with huge power, and we pray it is exercised responsibly for all Britons," the Muslim body's Secretary-General Harun Khan said.
The concerns raised by the organisation were echoed by former chairwoman of Conservative Party Baroness Sayeeda Warsi. The first female Muslim cabinet minister said that the Conservative Party "must start healing its relationship with British Muslims".
The endorsement of the Conservative Party by leading hate figures, such as Tommy Robinson and Katie Hopkins, was "deeply disturbing", Warsi said.
"An independent inquiry into Islamophobia is a must first step and the battle to root out racism must now intensify," she added.
The election results came amid widespread distrust about Muslims across society.
A February 2019 survey found that one in three Britons saw Islam as a threat to British values, suggesting that stereotypical prejudices against Muslims are widespread.
Those sentiments have led to a sharp rise in anti-Muslim violence across the United Kingdom. For instance, after the Christchurch attack on a mosque in New Zealand, there was a 600 percent rise in violent attacks against Muslims.
https://www.trtworld.com/europe/record-number-of-muslims-enter-british-parliament-32276
------
Tories apologise after Imran Ahmad Khan was 'incorrectly' named as first openly gay Muslim MP
18 December 2019
Conservatives LGBT+ have apologised after a new MP was "incorrectly" named as the UK's first openly gay elected Muslim.
When Imran Ahmad Khan was elected as the Conservative MP for Wakefield he made news worldwide for allegedly becoming the first openly gay Muslim to be elected in the UK.
But on Tuesday the Conservative LGBT+ Group posted a correction to its website which said: "We are incorrect to describe him as an 'out' LGBT candidate."
The website explained that an "application was made in his name to the LGBT+ Conservatives Candidates' Fund", but Mr Khan informed the organisation that the application had been made in error.
The statement went on to explain how Mr Khan "fully endorses" the group's aims of protecting the LGBT community, "but is not an out LGBT MP".
It added: "We apologise unreservedly for the incorrect reference to him as such."
In a tweet, Mr Khan wrote: "I have seen recent inaccurate press reports saying I am openly gay. Here's a release from lgbt Conservatives correcting the record."
He said he would not comment further on the matter.
When Mr Khan ousted Mary Creagh he became the first Conservative in decades to take the seat of Wakefield away from Labour, a constituency it had held since 1932.
The general election was heralded as bringing in the UK's most diverse Parliament, with reports claiming there were at least 45 openly gay MPs in the Commons.
Following news that the description of Mr Khan was "inaccurate", several news outlets deleted their original articles.
https://www.itv.com/news/2019-12-18/tories-make-correction-after-naming-mp-imran-ahmad-khan-as-first-openly-gay-muslim-to-be-elected/
------
The Muslim Council of Britain has responded to the general election result
DECEMBER 19, 2019
Following the result of the UK General Election last week returning Boris Johnson as Prime Minister, the Muslim Council of Britain has issued this statement:
We understand some Muslims across the UK are growing increasingly concerned about their safety and their future in the UK.
The Muslim Council of Britain fully appreciates and shares the concerns of British Muslims about the negative impact the current Conservative Government may have on Muslims and Muslim communities. As is widely documented, the Conservative Party has an immense problem with Islamophobia which has been highlighted many times, yet it refuses to take meaningful action.
However as Britons and citizens, we fundamentally believe that now more than ever, the UK needs Muslim communities to continue to be an integral part of British society, to continue to participate in public life, and to fully contribute to the plurality of views and ideas that make the UK the diverse society it is.
This is not to say that Muslim communities do not have a huge challenge on their hands. It is the responsibility of each and every one of us to redouble our efforts to bring our communities together. We can only do this by first understanding the feeling amongst Muslim communities towards the new government, and the key priorities for our communities. In the new year, the MCB will seek to better understand the needs of its affiliates and wider British Muslim communities, to agree on how the MCB can best work for its members.
The Muslim Council of Britain was integral in amplifying the voices and concerns of Muslim communities throughout this election, and bringing the issue of Islamophobia in public life onto the agenda. The MCB will continue to work for its affiliates and British Muslim communities to help to create a safe and prosperous space for Muslims in the UK.
http://www.ekklesia.co.uk/node/29170
------
Far-right extremist Blair Cottrell loses appeal against conviction for inciting contempt of Muslims
Michael McGowan and AAP
Thu 19 Dec 2019
Far-right extremist Blair Cottrell has lost his appeal against a conviction for religious vilification, with a judge finding a 2017 stunt in which he beheaded a dummy to protest against a proposed mosque in Victoria was "calculated to promote rank and demeaning stereotyping of Muslims".
On Thursday the chief judge of the Victorian county court, Peter Kidd, dismissed the former United Patriots Front leader's appeal against the conviction, saying he did not believe that Cottrell had not intended to incite hatred, contempt and ridicule of Muslims with the stunt.
"I reject completely the many explanations advanced by the appellant that this was not directed to engendering extreme feelings about Muslims in general," Kidd said in his judgment.
"His explanations smack of a manufactured post facto rationalisation and are lacking in credibility. I do not believe the appellant."
Kidd said Cottrell's argument that the stunt was "intended to be humorous" was "lacking in all credibility" and was "patently disingenuous".
"I have concluded, beyond reasonable doubt, that it was the appellant's intention to incite these extreme feelings against Muslims because of their religious beliefs," Kidd found.
"That is, that the appellant intended that the strong feelings be stirred up in his target audience, towards Muslims, because of the religious beliefs of Muslims."
Outside the court on Thursday, Cottrell told reporters he was broke.
"My bank account's been closed down, my PayPal account has been closed down," he said. "The fact that I'm at court now wearing a suit is a miracle."
Cottrell was found guilty of inciting hatred, contempt and ridicule of Muslims after making a video beheading a dummy in protest of a Bendigo mosque in 2017.
Cottrell, Neil Erikson and Christopher Neil Shortis were convicted and fined over the beheading video, involving a dummy made of pillows and red liquid squirting from its head.
One of the group wore an imitation of a Muslim head covering while one or more shouted "Allahu Akbar".
The video also showed the group chanting "Aussie, Aussie, Aussie" while carrying and driving around with flags.
Cottrell had his previous magistrates court conviction reinstated and he was fined $2,000 by the county court on Thursday.
During the case Cottrell's lawyer, John Bolton, had argued his client had been protesting against local government and not Muslims. But Kidd said in his judgment that while the stunt was filmed outside the Bendigo council building it did not "cure the vilification intended".
"The fact that [Cottrell] may have wanted to incite extreme feelings against Muslims [because of their religion] for a political purpose to attend a political rally, does not cure the vilification intended," Kidd said in his judgment.
"That is, even if the ends were political, the means remain vilifying. Having a political end is not a defence to the charge. The prohibition does not provide such a justification or excuse. Finally, I do not accept the appellant's bare denial in his evidence that he did not intend to stir up strong feelings. It does sit with the weight of all of the other evidence."
https://www.theguardian.com/law/2019/dec/19/far-right-extremist-blair-cottrell-loses-appeal-against-conviction-for-inciting-contempt-of-muslims
------
San Martin Islamic Community Finally Gets Approval To Build Mosque
By Len Ramirez
December 18, 2019
SAN MARTIN (KPIX 5) — A 13-year wait for a mosque and cemetery is coming to an end for the San Martin Islamic community.
The Santa Clara County Board of Supervisors unanimously endorsed plans for the 14-acre Cordoba Center to be built on Monterey Road.
"Over to the right, we see the beautiful hill, that's where our cemetery will be," said Noshaba Afzal, as she looked over the barren land where the Islamic center will be built.
Afzal said even after the over dozen year battle with neighbors to get the center built, her jubilation has to be measured.
"It's difficult for us to celebrate openly and publicly about the unanimous approval because we don't want anybody to see that as us rubbing it in," she said.
The community bought the land in 2006 and drew up plans for what they called the Cordoba Center that included a mosque, a community center, a caretaker's home and cemetery.
But neighbors in rural San Martin rose up against the plans, citing increased traffic, noise, architecture and wate contamination concerns from the cemetery.
"There are issues in this plan that we see just don't protect us enough," said one neighbor who made comments to the Board of Supervisors about the potential for water well contamination. "I just want to be sure that nothing's happening to our water."
The Islamic community says it has spent $3 million revising the plans to meet state and local standards, and has also had to fight opposition based on racial and religious bigotry.
"I would say 50 percent is Islamaphobia, and 50 percent is concern over water, traffic and other issues which have all be addressed in the independently certified environmental impact report," Afzal said.
For the last few years, the community has had to worship out of a converted barn on the back lot of one of
its members.
"To us, that barn is our place of worship, but if you look at it relatively, it's not an appropriate place to worship," said Hina Moheyuddin, an Islamic Community Member.
The community is looking forward to a ground breaking and the end of a planning process that began even before one 12-year-old Islamic community member was born.
"I think it's very important to make sure that the next generation of Muslims in the South Bay feel accepted," said Devin Bush.
The issue will come back to the board for one more vote which is considered a formality.
The community hopes to break ground early next year, but members also say they are bracing for potential lawsuits from opponents.
https://sanfrancisco.cbslocal.com/2019/12/18/san-martin-islamic-community-finally-gets-approval-to-build-mosque/
------
Eight men charged with recruiting for so-called Islamic State may have links with missing British journalist in Syria
18 December 2019
An east London man is among eight men charged by Portuguese authorities for helping to recruit jihadis for so-called Islamic State.
The group are suspected of having links with the abduction of British journalist John Cantlie, who was kidnapped in 2012, Portuguese authorities have confirmed. His whereabouts remain unknown.
Nero Saraiva, a Portuguese national who became a permanent resident in the UK, was captured in Syria, is said to be the ringleader of the group.
One of the eight suspects who currently lives in London was tracked down by ITV News close to his home earlier this week, but refused to answer questions about the allegations outlined in a Portuguese police file which claim he was part of a network which used fraud to fund the recruitment of young British men to travel to Syria.
"I don't want to talk about Nero... I don't want to talk about things that happened ten years ago," he told ITV News.
Two of the defendants have been questioned in Portugal, with one still in custody. The location of the other suspects is unclear, although it is believed one of the suspects is being held in Syria.
Nero Saraiva is said to have travelled to Syria in 2012, where he continued to organise a recruitment operation using friends who stayed behind in Europe and money raised in London through fraud.
Saraiva and his team advised recruits on which flights to book to get to Syria, the appropriate clothes to wear when travelling and even arranged for intermediaries to meet them once they arrived in Syria.
The network targeted young men in Lisbon and London, including one "petty criminal" who was arrested during the riots in 2011, according to an investigation carried out by ITV News in conjunction with Portuguese magazine SÁBADO.
The network is thought to have helped "several" militants to reach Syria during 2013.
Saraiva's work in Syria was supported in Lisbon by friends including brothers Celso and Edgar Rodrigues da Costa, who later went to Syria to fight.
They are thought to have married London twins Reema and Zara Iqbal while living under so-called Islamic State.
CCTV images contained in a Portuguese police file and seen by ITV News appear to show members of the network at work during the summer of 2013.
Edgar Rodrigues da Costa and an associate are pictured welcoming two British men to Lisbon airport - the first leg of a journey that would eventually take the London recruits to Syria.
Saraiva, who used the alias Abu Yaqub al-Andalusi, was captured after escaping so-called Islamic State's "Caliphate" during the final battle for Baghouz last spring, and has since been questioned by American interrogators while in Kurdish custody.
Taroughi Haydari, from London, can be revealed as one of the men recruited by Saraiva's network.
Haydari, whose current whereabouts are unknown, is thought to have been brought to Syria with the help of Saraiva and his associates.
A relative of Haydari who asked not to be identified described his shock following his sudden departure in 2013.
"One day he didn't come home and didn't answer his mobile," he told ITV News.
"His sister searched and he was not there, and when she saw the passport was gone she thought he had definitely gone somewhere....
"She was crying all the time.
"After a few days when his mobile disconnected, the police came, about six or 10 vans surrounded our house and searched everything from four o'clock in the morning to noon."
A third "recruit' – a 29 year old businessman from east London - is believed to have changed his mind about going to Syria by time he reached Turkey, and returned to the UK. He has refused to respond to several requests for an interview made by ITV News.
Last year ITV News revealed that Nero Saraiva attended a so-called Islamic State commander's "call to arms" in Syria during the early days of the terror group.
Foreign fighters were ordered to play a lead role in the fight for territory.
The presence of a Scottish ambulance seen in the background of the footage of the speech helped us to establish links to the UK.
https://www.itv.com/news/2019-12-18/eight-men-charged-with-recruiting-for-so-called-islamic-state-may-have-links-with-missing-british-journalist-in-syria/
------
British Muslims thinking of leaving UK, claims local newspaper
Majid Khattak
DECEMBER 19, 2019
British Muslims have started the process of leaving the UK over fears for their 'personal safety' after Boris Johnson is Prime Minister (PM) for five years a UK-based local newspaper claimed.
According to the paper, among them is the head of a Muslim charity, which provides food parcels for poor people in Manchester, saying he was scared for the 'future of his children'.
Manzoor Ali said, 'I'm scared for my personal safety, I worry about my children's future.'
Similarly, a Labor Party parliamentary candidate from London area Faiza Shahen Tuesday in a twitter message says that she has had 'five different families discuss their UK exit plan with me in case racism gets worse'. She added that it was 'frightening that this is where we are'. She even claimed one of her own relatives is among people who are considering leaving the UK over fears at the 'normalisation of racism'.
The paper says that Muslims are concerned about their future after the Johnson win the election and keeping in view his number of controversial comments he made in the past, including his remarks in a 2005 Spectator article in which he claimed it was only 'natural' for the public to be scared of Islam. Johnson also received a considerable degree of criticism for comparing Muslim women to 'letterboxes and bank robbers' in a column for the Telegraph last year. During the election campaign he also apologised for Islamophobia in the Conservative party, after several candidates shared posts by Tommy Robinson, referring to Muslims as scum.
Leading magazine foreign Policy in its online edition published a piece by H.A Heller argues that the hatred of Muslims is even more rampant in Britain and he thinks prime minister and his party have contributed to making it socially acceptable. Heller writing in the article said that 3,530 hate crime were committed against Muslims, accounting for almost half of all hate crimes against religious groups in the UK altogether yet attention to that issue has been paltry in comparison.
He further stated that when it comes to anti-Muslim sentiment, it isn't just that there is a problem with Islamophobia among Tories. After all, the current prime minister once wrote that "Islamophobia-fear of Islam-seems a natural reaction" and insisted that "Islam is the problem." More recently, a number of Conservative Party officials have been suspended over Islamophobic discourse, but the Tories seem unwilling to sufficiently address Islamophobia within the party.
Heller a senior associate fellow at the Royal United Services Institute and the Carnegie Endowment for International Peace believes it isn't just in the Conservative Party where anti-Muslim bigotry is found. But he says It's much more widespread throughout British society. According to his findings In-person hate crimes against Muslims from 2016 to 2017 increased by 30 percent and the following year, "Punish a Muslim Day" letters were sent to Muslim members of Parliament and families around London. He said mosques nationally have been attacked, including when a van plowed into a group of pedestrians who had been worshipping at a London mosque in June 2017. And now that the election is over, that problem isn't about to go away. On the contrary, Islamophobia has been mainstreamed in a way never seen before in modern Britain. And it could get worse. Heller added.
https://dailytimes.com.pk/522880/british-muslims-thinking-of-leaving-uk-claims-local-newspaper/
------
The Tories may have scooped up most of the Leave vote, but they struggled with British Muslim Brexiteers
December 18, 2019
Written by
Dr Rakib Ehsan
The UK has witnessed one of the most stunning general election results in post-war history. With the disintegration of Labour's traditional 'red wall', the Conservatives managed to breach Brexit-voting 'coal country' in spectacular fashion – winning seats such as Blyth Valley, Bishop Auckland, Sedgefield, North West Durham, Ashfield, Bassetlaw and Bolsover. A plethora of national surveys have shown that the Conservative Party successfully managed to 'unify' Leavers – 'cannibalising' the Brexit Party vote and winning over a notable number of habitual Labour voters. But there was a group of Leave voters where the Conservatives trailed the Labour Party by some distance: British Muslim Brexiteers. A Savanta/ComRes pre-election poll of 750 British Muslims made for interesting reading. Despite Labour's muddled position on Brexit and Jeremy Corbyn's bizarre position of 'neutrality', no fewer than 48 per cent of British Muslim voters who voted to leave the European Union in 2016 still intended to vote for the Labour Party. The corresponding the figure for the Conservatives was just 23 per cent – trailing Labour by 25 percentage points. The figures tell a story of a broader British Muslim population which votes very differently to the mainstream UK electorate – and suggests that Brexit was not as salient an issue among British Muslim Leavers. My hometown of Luton is split into two constituencies – Luton North and Luton South. The town, which has a high South Asian Muslim population and delivered a Leave vote of 56.5 per cent, stayed true to form by returning two Labour MPs to the Commons – something it has done uninterrupted since Tony Blair's landslide victory in 1997. In Leave-leaning Birmingham Hodge Hill, Labour incumbent Liam Byrne suffered only a modest drop in his vote share – winning 78.7 per cent of the votes cast on this occasion. In Bradford West – classic working-class British Muslim territory – Labour MP Naz Shah saw an 11.5 percentage-point increase in her voteshare. While the traditional white British working classes in 'coal country' have appeared to desert Labour in their droves, British Muslim Leavers living in inner-city areas and diverse post-industrial towns such as Luton were far more reluctant to do so. While the bonds of Labour Party identification have certainly frayed among white British voters in provincial former coalfield territory, they appear to remain strong among working-class British Muslim voters – including those who voted for Brexit. There are number of reasons why this is the case. Accusations of the Conservative Party being 'relaxed' over 'Islamophobia' by Tory Muslim politicians such as Baroness Warsi may well have played a part, while Boris Johnson's past comparisons between niqab-clad Muslim women and bank robbers are unlikely to have helped matters on this front. It is also worth noting that there are sensitive geopolitical matters where Corbyn-led Labour was far more likely to be in line with mainstream British Muslim opinion – such as long-standing Indo-Pakistani tensions over Kashmir and the ongoing Israeli-Palestinian conflict. While territorial disputes in the Middle East and Indian subcontinent may rank highly in importance in constituencies such as Luton South and Birmingham Hodge Hill, this is far less likely to be the case in seats such as Sedgefield and Bolsover.
https://brexitcentral.com/the-tories-may-have-scooped-up-most-of-the-leave-vote-but-they-struggled-with-british-muslim-brexiteers/
------
North America
Muslims to contest religious law at Canada's top court
Barry Ellsworth
19.12.2019
The National Council of Canadian Muslims (NCCM) announced Wednesday that it will seek to challenge Quebec's controversial ban on religious symbols at the Supreme Court of Canada.
This comes six days after the Quebec Court of Appeal refused to suspend part of the law that forbids religious symbols such as hijabs, kippahs, crosses and turbans to be worn by most public servants while they are on the job. That includes teachers, nurses, police officers and bus drivers.
"We told Quebecers and Canadians that we would not stop our work until this unjust law has been defeated, said Mustafa Farooq, executive director of the NCCM, in a news release.
"While teachers and other public sector workers are being forced out of their jobs, we will seek leave from the SCC (Supreme Court of Canada) to halt the serious and irreparable harm that Bill 21 causes."
Some Muslims have said they have been turned down for teaching positions because they refused to remove their hijabs.
The appeal court agreed that the new law caused harm to people, but the judges said they did not have the power to suspend the law, which was passed by publicly elected officials.
The Canadian Civil Liberties Association and an individual are also part of the court challenge.
Farooq said other groups and individuals are supporting the challenge.
"Jews, Muslims, Sikhs, Catholics and folks who aren't part of any faith tradition have been fighting with us, standing side by side," he said. "And it is working. Support for Bill 21 in Quebec has dropped from close to 70% to only 48% as per the most recent polls. That's massive."
Quebec Premier François Legault insists the new law, passed this past summer, separates religion and state, promoting secularism, and that it has the support of a majority of Quebecers.
When Prime Minister Justin Trudeau said the state had no business telling citizens how to dress, he left the door open to federal intervention in the case.
Legault warned the prime minister to stay out it.
Plaintiffs have to receive court permission to take an issue before the Supreme Court of Canada. But in this instance, that is considered a formality, and the case is expected to be heard in October 2020.
https://www.aa.com.tr/en/americas/muslims-to-contest-religious-law-at-canada-s-top-court/1677807
------
Muslim group urges debate moderators to ask candidates about Trump's antisemitism decree
18 December 2019
The Council on American-Islamic Relations (CAIR) has called on the moderators of the next Democratic presidential debate to question candidates about a recent executive order that effectively silences criticism on US campuses of Israeli human rights abuses.
The order, signed on 11 December, amended anti-discrimination laws at the Department of Education by cementing a controversial definition of antisemitism establised by the International Holocaust Remembrance Alliance (IHRA) in 2016.
On Wednesday, CAIR contacted the moderators who will host the next Democratic presidential debate, set to take place on Thursday, and asked them to bring up the order during the event so that presidential hopefuls can share their stances with the voters.
Robert McCaw, CAIR's government affairs director, told Middle East Eye that the moderators had not responded to the group's request, but said it would be "a disservice" to voters if moderators did not heed the call.
"The presidential executive order that seeks to silence campus criticism of Israeli human rights abuses is a trending story, and it would be a disservice to American voters if they did not bring it up," McCaw said.
Banning BDS on campus
CAIR, along with many other rights groups, has been a vocal opponent of IHRA's definition of antisemitism, which has already been adopted as law in several US states and European countries.
Under the IHRA's definition, saying the "State of Israel is a racist endeavor" would fall under antisemitic behaviour, as would criticising the actions of Israel without also highlighting abuses of other countries.
"This executive order conflates the vile bigotry of antisemitism with the First Amendment - protected speech of students and faculty across the country protesting the Israeli governement's human rights abuses against Christian and Muslim Palestinians," McCaw told MEE.
One major concern of activists is that under the adopted IHRA definition, any statement in support of the pro-Palestinian Boycott, Divestment and Sanctions (BDS) movement would be considered antisemitic.
The BDS movement seeks to pressure Israel economically and politically to end its abuses against Palestinians.
While the IHRA definition does not mention BDS, on the day of the signing, US President Donald Trump said that the executive order targets the movement.
"We forcefully condemn this antisemitic campaign against Israel," he said of BDS at the time.
"This is our message to universities: If you want to accept the tremendous amount of federal dollars that you get every year, you must reject antisemitism; it's very simple," Trump said.
In a statement released on Wednesday, CAIR said its chapters across the country plan to work with local allies, students and educators to protect free speech and academic freedom from the Trump administration's order.
https://www.middleeasteye.net/news/muslim-group-urges-democratic-debate-moderators-ask-candidates-about-trumps-antisemitism
------
Split-screen America: Alternate realities on display as House votes to impeach Trump
Dec 19, 2019
WASHINGTON: Americans got a striking split-screen view on Wednesday of just how divided their politics have become.
As the US House of Representatives voted to impeach President Donald Trump on a charge of abusing his power over his dealings with Ukraine, the president strode fist-pumping onto the stage of a campaign rally in Michigan and declared he had done nothing wrong. "It doesn't really feel like we're being impeached," he said.
Fifteen minutes later, he was.
It was a remarkable side-by-side illustration of a political split in the United States so wide and deep that it appears many Americans embrace not merely two competing views of a controversial president, but two alternate realities. On Wednesday, they played out in real time on television and social media.
In one, Trump's conduct toward Ukraine was an abuse of his office so grave he should be expelled from the White House. In the other, he was himself the innocent victim of political abuse.
Wednesday's vote made Trump the third U.S. president to be impeached by the House, a historic rebuke of his administration's efforts to pressure officials in Ukraine to announce investigations of Democratic presidential contender Joe Biden and his son Hunter Biden that would benefit Trump politically as he seeks re-election in 2020.
Members of the Democratic-controlled House, divided almost entirely along party lines, voted to impeach Trump on charges that he had abused the power of his office and obstructed Congress. The Senate, controlled by Trump's fellow Republicans, is likely to acquit him in a trial next month.
The tumultuous journey to Trump's impeachment has riven Americans for months. Slightly less than half of Americans supported impeaching Trump, the first step in removing him from office. A roughly equal number opposed it, according to polling by Reuters/Ipsos on Monday and Tuesday.
Behind that split is a deeper political schism. More than eight in 10 Democratic voters said they thought Trump deserved to be impeached, and about the same number of Republicans said he should not be. Few Americans have yet to make up their minds.
The depth of that disagreement was on display all day - first as lawmakers from both parties used the House floor to deliver alternating, and irreconcilable, views of the president and later as he delivered a defiant speech to his cheering supporters.
Trump took the stage at an arena in Battle Creek in western Michigan, waving and smiling, at the same moment Democratic leaders finished delivering their case against him. "The country is doing better than ever before," he said. "We did nothing wrong."
As the final votes came in on the first charge - abuse of power - Trump talked about new ships and planes for the U.S. military. As lawmakers voted to approve a second article of impeachment, Trump delivered an extended discussion about how hard it was to pronounce the last name of one of his potential Democratic challengers in the 2020 election, Pete Buttigieg.
Trump did not break stride. "They've been trying to impeach me from day one," he said. "They think the Washington swamp should be able to veto the results of an election."
LITTLE COMMON GROUND
News networks displayed the events side by side - the House chamber tallying its votes and the president's rally. Vice President Mike Pence told reporters that Trump timed his remarks to coincide with the votes.
Since House Speaker Nancy Pelosi announced an impeachment investigation into Trump on Sept. 24, warring U.S. political factions have seen little common ground on the president's actions regarding Ukraine.
Democrats have nearly unanimously blasted what they call an illegal effort to induce foreign interference in the next election. Republicans have said that Trump's demand for investigations in Ukraine amounted to little more than an effort to target foreign corruption and that Democrats had not come up with evidence showing any wrongdoing.
In rapid-fire speeches lasting no more than a minute or two in the House on Wednesday, Democratic lawmakers said Trump had obviously abused his office, while Republicans accused their counterparts of a "coup" and an effort to overturn the 2016 election that put Trump in office.
As lawmakers debated, Trump weighed in on Twitter, quoting Fox News commentators and saying: "THIS IS AN ASSAULT ON AMERICA, AND AN ASSAULT ON THE REPUBLICAN PARTY!!!!"
The latest Reuters/Ipsos poll found that fewer than a quarter of Republicans believed Trump "pressured Ukraine to investigate" the Bidens, and even fewer thought Congress should launch an impeachment inquiry against a president who uses the powers of his office for an unfair political advantage.
"I think it's the biggest farce that's happened in our lifetime, wasting taxpayer dollars, not getting nothing done," said Mark Gleason, who attended Trump's Battle Creek rally. "It's not going to get anywhere."
https://timesofindia.indiatimes.com/world/us/split-screen-america-alternate-realities-on-display-as-house-votes-to-impeach-trump/articleshow/72879667.cms
------
US Relocates Over 200 ISIL Families to Iraq
Wed Dec 18, 2019
TEHRAN (FNA)- The US has relocated tens of families of the ISIL terrorist group to Iraq as Washington still continues supportive measures for the terrorist groups in Syria and Iraq.
"The US troops transferred more than 200 ISIL families from Syria to neighboring Iraq on Tuesday," Syria's state news agency SANA reported.
The ISIL terrorists were relocated to Iraq from al-Hawl Camp in Syria's Hasaka Province.
The US troops have dispatched thousands of ISIL terrorists and their families from different regions in Eastern and Northeastern Syria to Iraq and their illegal military bases in Syria.
In a relevant development last week, the US troops relocated 300 ISIL family members from al-Hawl Camp to Iraq.
According to the latest UN report released in November, a sum of 69,000 people are residing in al-Hawl Camp, including 40 percent Syrians, 45 percent Iraqis and 15 percent from other nationalities.
Al-Hawl Camp is under control of the predominantly Kurdish Syrian Democratic Forces (SDF).
https://en.farsnews.com/newstext.aspx?nn=13980927000602
------
Mideast
Iran: City Of Behbahan Vanguard of Uprising against the Mullahs
December 19, 2019
By Hassan Mahmoudi
Behbahan is an oil-rich city in western Iran and in Khuzestan province. Most of the population is Bakhtiari Lor. The people of this city are renowned for their hospitality, generosity, and courage. Their resistance and the stories of the brave and zealous soldiers confronting Alexander and then Afghans are prominent in history.
The city's 10,000 years history with its 70 ancient hills, towers, walls and moats around the city portrays its unique glory and grandeur. The proximity of the Zagros Mountains alongside fields of narcissus has added to the beauty of the city, but what stands out in the world scene is vanguard, resilience, and bravery of its people confronting the religious tyranny ruling Iran is in the recent uprising.
Poverty, unemployment and poor economic conditions drove people to the streets after rising gas prices. The popular uprising began on Nov 15 in the National Bank Square. At first, the city's entrances were blocked by citizens, and people peacefully closed the main street by sitting in the street and were only chanting. But the violent response from security forces using baton and tear gas angered people and forced them to react. Security forces using high-pressure water cannons were pushing people away and shortly thereafter, security forces fired directly with live ammunition at the people. In the afternoon, direct firing and tear gas firing by security forces in Moalem, Javanmardy and Masjed Yazdy Streets continued.
In Shiraz square, two brothers, Mehrdad Dashti and Mahmoud Dashti were killed by security forces. One eye-witness said snipers fired at people from a multi-story building in front of Melli Bank Square and this same scenario was reported by dozens of eye-witnesses.
Most of those killed were shot in the head and neck. The security forces were ordered to massacre the demonstrators. People were stunned to see the security forces shooting at their citizens.
So in response to this massacre, people identified the regime's plain cloth agents and severely punished them.
People organized in the motorcycle team set fire to regime centers and gas stations. The mass movement of courageous and brave youth characterized Behbahan's uprising. On Saturday morning, November 16, with slogans such as death to Khamenei, death to dictator they set fire to Melli, export, Mellat, Sepah, and Refah Karegaran banks. A total of 14 banks were set on fire in Behbahan.
All the branches of the banks were burned at the Nahvi intersection. The clashes spread from Helal Ahmar and Bimarestan intersections and from Bimarestan to the Marahel and Pirourzy Squares. On the second day of the protests, November 16, the composition of the security forces changed and the IRGC entered the scene.
By the evening people stood in front of the armed IRGC forces, and the security forces came within three meters of people. People were chanting neither Gaza nor Lebanon my life for Iran.
Another eye-witness said that after clashes and killings by security forces affiliated by IRGC they did not hand over the bodies of the dead to families for control of any unrest. They transferred some of the bodies to Ahwaz. Government centers did not officially announce the deaths to their families, so it was not possible to identify the actual death toll.
On the second day of protests, the regime cut off electricity and the Internet to cut off people's communication with the outside world.
Leila, one of the eyewitnesses on the scene whose cousin was missing during the protests and who is believed to be killed, says the day after the attack on his demonstration her uncle went everywhere to get news of his son: "No one confirmed he was killed nor was he given his son's and no one confirmed he was in prison, but a forensic expert familiar to them said he was probably among the dead. My uncle was told we didn't know where your child was. We have not detained him, but one acquaintance said he saw himself his cousin was shot from the top of the government building, in the head, and in a few minutes his face was covered in blood and dropped to the ground and then people took him to the hospital but there is no news of him anymore. Even his name is not registered in the offices of two hospitals in the city."
Several other residents testified that people were shot at from the top of government building adjacent to old prison while they were moving towards the building toward the building.
Hassanzadeh, another eyewitness to the multiple bullet traces left on his father's car, said: "More than twenty bullets hit my father's car, which was parked near the National Library Square near the Melli Bank Square, my father took his car to authorities to show the damages to it and asked for compensation, but security forces told him; take your life and go because if you persist, you have to explain why your car was parked there at that time."
On Tuesday, due to the high number of Special Forces and the atmosphere of intimidation, there was virtually no possibility of further protests, and Special Forces and counterinsurgency forces were deployed all over the city, and the number of detainees over the course of several days was so high that it was virtually impossible to provide statistics.
https://www.eurasiareview.com/19122019-iran-city-of-behbahan-vanguard-of-uprising-against-the-mullahs-oped/
------
President Rouhani urges Muslims to stand against big powers
Dec 19, 2019
Tehran, Dec 19, IRNA - Iranian President Hassan Rouhani in a message urged Islamic states to resist against big powers of the world.
"Muslims are all from one family and they should feel responsible for each other," Rouhani wrote in his Twitter account.
"The cooperation of Islamic countries is essential in resisting the pressure of the great powers," he added.
Rouhani is now in Malaysia to attend the 2019 Kuala Lumpur Summit.
Rouhani's visit to Malaysia is taking place at an official invitation of Prime Minister of Malaysia Mahathir Mohammad.
The event is slated to be held in the presence of 400 international figures, including 250 world leaders and political personalities from 52 countries, on December 18-21.
Participants are supposed to discuss the most important challenges in the Islamic countries and major subjects of the Muslim World.
President Rouhani is also to visit Tokyo to hold talks with Japanese Prime Minister Abe Shinzo.
The meeting is aimed at developing Iranian trade ties with Japan.
https://en.irna.ir/news/83600425/President-Rouhani-urges-Muslims-to-stand-against-big-powers
------
Group to repair earthquake-struck home of Muslim whose father saved Jews
By CNAAN LIPHSHIZ/JTA
DECEMBER 19, 2019
The home of Muhamet Bicaku, 83, was devastated during the Nov. 26 calamity that claimed the lives of at least 55 people in the Balkan nation. During the Holocaust, Bicaku's father, Mefail, and older brother, Njazi, sheltered about 20 Jewish families from the Italian and German occupation forces in Qarrishte, a town located about 50 miles east of the capital Tirana.
From the Depths, a Poland-based organization that focuses on celebrating the actions of rescuers of Jews, has raised $10,000 to restore the house, the group's founder, Jonny Daniels, wrote in a statement Wednesday after visiting Albania as part of a humanitarian mission following the earthquake. The total cost will be $45,000 and fundraising is ongoing, he said.
Muhamet Bicaku, who was 5 when his father began harboring Jewish refugees, is now living in crowded conditions in a home of one his children in Durres, 20 miles west of Tirana.
In 2007, he received on behalf of his family the Anti-Defamation League's Courage to Care Award. His father and brother were recognized in 1996 by Israel as Righteous Among the Nations, the country's title for non-Jews who risked their lives to save Jews during the Holocaust.
"They offered our people the most basic of human needs, shelter, during their difficult times, saving their lives," Daniels wrote. "It should be obvious for us today to come together and return that favor."
https://www.jpost.com/International/Group-to-repair-earthquake-struck-home-of-Muslim-whose-father-saved-Jews-611379
------
Gaza militants fire rocket toward Israel, drawing airstrikes
December 19, 2019
GAZA CITY, Gaza Strip: Palestinian militants in the Gaza Strip fired a rocket toward southern Israel early Thursday and Israeli aircraft responded with airstrikes in the Hamas-ruled territory.
The Israeli military said air defenses intercepted the rocket that was fired toward Sderot town.
Two hours later, successive airstrikes targeted militant sites in Gaza City. The Israeli military issued a statement saying that the target was "a Hamas weapons manufacturing site."
The fierce bombings illuminated the sky in northwest Gaza City and the sound jolted residents out of sleep. There were no reports of injuries.
No Palestinian group claimed responsibility for the rocket fire. Israel usually blames the Hamas group for all attacks emanating from Gaza.
With help from Egypt, Qatar and the United Nations, Hamas and Israel are seeking to strengthen "understandings" meant to boost calm and prevent further cross-border violence.
Through the truce, Hamas hopes to mitigate the economic and health effects of a 12-year-old Israeli-Egyptian blockade on Gaza.
On Wednesday, a Qatari envoy said Doha will continue its aid projects in Gaza through 2020, which is crucial to support calm.
The airstrikes Thursday hit near the hotel in which the envoy, Mohammed Al-Emadi, was staying.
https://www.arabnews.com/node/1601151/middle-east
------
UN hosts renewed talks on contested Yemeni port city
December 18, 2019
SANAA: Yemen's warring parties have renewed talks on how to implement a year-old truce in the contested port city of Hodeidah.
The two days of meetings are taking place on a boat off the coast of the city, according to a statement by the United Nations mission tasked with supporting the agreement. Previous negotiations between the Iran-backed Houthi militia and the Arab coalition fighting in support of the internationally recognized government have repeatedly collapsed. The war is five years old.
The warring sides signed a UN-brokered agreement last December in Sweden that included a cease-fire for Hodeidah and an exchange of more than 15,000 prisoners. But the deal was never fully implemented.
This week's talks are centered on how both sides will redeploy forces from strategic areas in Hodeidah, which has seen some of the war's worst fighting, and on who will oversee administration of the country's most important shipping port. They come amid a renewed push for peace.
The UN envoy to Yemen, Martin Griffiths, was also in the Houthi-held capital of Sanaa for meetings with Houthi officials on Monday.
Last week, several international aid groups warned that Hodeidah remains the most dangerous place in the war-torn, impoverished Arab country. Since December of last year, the groups said in a statement that the port city and surrounding province has seen 799 civilians killed and wounded, the highest toll nationwide.
Yemen's conflict began in 2014, when the Iran-backed Shiite militia known as Houthis overran the capital, Sanaa, and much of the north. They pushed out Yemen's internationally recognized government and ushered in the civil war that has killed tens of thousands of people.
https://www.arabnews.com/node/1600966/middle-east
------
Iraqi parties debate PM candidates, already rejected by the street
December 18, 2019
BAGHDAD: The day before the deadline to designate a new Iraqi prime minister, political parties were wrangling Wednesday over three candidates: all insiders and all rejected by a months-old anti-government protest movement.
President Barham Saleh has until midnight Thursday to appoint a replacement for outgoing premier Adel Abdel Mahdi, who resigned after two months of unprecedented demonstrations that have rocked the capital Baghdad and Shiite-majority south.
The protests continue to push for the overhaul of the political system in place since the 2003 US-led invasion that toppled Saddam Hussein, defying violence that has left around 460 dead and 25,000 wounded.
As candidates' names were leaked in recent weeks, giant posters of them with their faces crossed out in red quickly appeared in Baghdad's Tahrir Square, epicenter of the protests since October 1.
On Wednesday, three names appeared to remain on the table after many meetings of party heads and other leaders of parliamentary groups.
Qusay Al-Suhail, outgoing higher education minister, has for several weeks been presented by officials as the candidate of Iran.
Iran wields growing clout in Iraq, with its emissary Major General Qasem Soleimani presiding over the negotiations.
A former key member of Shiite cleric Moqtada Sadr's movement, Suhail rejoined the Rule of Law Alliance of former prime minister Nouri Al-Maliki — close to Iran and enemy of Sadr — and seems to become the favorite for the premiership.
But the Iraqi political machine can been fickle.
Earlier Wednesday, the front-runner was Mohammed Al-Soudani, 49, former minister and ex-governor of a southern province now in the grip of protests and violence.
His demotion is due to his not having been received by Grand Ayatollah Ali Sistani — longtime kingmaker in Iraqi politics — when he presented himself to be endorsed in Najaf a few days ago, according to sources in the Shiite shrine city.
The 89-year-old cleric, the highest religious authority for the majority of Iraqi Shiites, had already said — for the first time — that he did not want to be involved in the formation of the new government.
A third candidate is intelligence chief Moustafa Al-Kazemi, a shadowy figure seen as backed by the US.
If parliament does not approve a candidate who has emerged from inter-party negotiations, then the president has the constitutional right to appoint the premier himself.
"He's betting on a last-minute intervention," one political official told AFP.
Another possible twist: no candidate is approved, the post of prime minister will be vacant from Thursday at midnight. Under the constitution, that would place Saleh in the post himself.
Formally, the "largest coalition" in parliament should present a candidate to the president, who then submits his name to a vote.
But so far, neither the president nor parliament has said which coalition is the largest.
Adding to the uncertainty, on Wednesday an outspoken liberal lawmaker critical of Iraq's endemic corruption threw his hat into the ring.
Fayeq Al-Sheikh Ali presented his "candidacy to... form a professional and non-partisan government," in a letter to Saleh which he also shared with his more than 285,000 Twitter followers.
Head of a secular alliance, Sheikh Ali won a parliamentary seat last year after promising to counter Islamists' efforts to ban alcohol in the country.
He was stripped of his immunity from prosecution in September following accusations he praised Saddam Hussein's Baath party, despite his long history of opposing the executed dictator.
But he has already generated enthusiasm in the street and on social media, with protesters saying he would be a sign of change.
"The government only exchanges positions between the same people, as if it was playing a game of chess," said 23-year-old protester Hussein Ali in Tahrir Square.
"Neither Soudani nor Suhail represnt us. I reject them and so does the whole of Tahrir Square."
Umm Mohammed, a protester in her 50s, said she was fed up with the political class.
"We have already tested them and we no longer want them," she said.
"We want a prime minister who comes from the people, someone who is protesting here with us."
https://www.arabnews.com/node/1600961/middle-east
------
Egypt's sovereign fund to revamp historic area under citadel
December 18, 2019
CAIRO: Egypt approved a plan on Wednesday to turn over an abandoned historic area under Cairo's towering 12th-century Islamic citadel to its new sovereign wealth fund to develop for tourism and culture, a cabinet statement said.
The 56,000-square-meter Bab Al-Azab area lies within the citadel's walls behind the ornate Azab gate, built in 1754. It contains early-19th-century warehouses, some with traditional wind scoops for cooling ventilation, built by the Ottoman ruler of Egypt at the time, Mohamed Ali.
"The aim of the project is to revive the area so that visitors find fun and entertainment by creating a mixed-use cultural center," the statement quoted Antiquities Minister Khaled Al-Anani as saying.
The area, controlled by the Antiquities Ministry, will be leased to the fund to develop and operate under a 49-year concession. Final approval depended on a more detailed plan, including finances, Anani said.
The preliminary proposal includes spaces for a museum, a spice market, a plaza for traditional foods, a crafts market, hotels, shops, a performances and events center and a hammam.
The citadel was built by Salah Al-Din, also known as Saladin, a Muslim warrior who wrested control of Jerusalem from the Crusaders in the late 12th century.
An ancient path through the concessionary area, from Bab Al-Azab to the citadel, was the site of a famous massacre in 1811 of Mamluk officers by Mohamed Ali that allowed him to consolidate his control of Egypt.
Ayman Soliman, CEO of the Sovereign Fund of Egypt, told Reuters last week that the fund was looking to Egyptian businessman Samih Sawiris, chairman of Orascom Development Holding, to help develop the area. Between them they plan to invest 2 billion Egyptian pounds ($125 million) in the project.
"It is a very old and neglected area. It has been used for storage, Islamic art storage, military museum storage," Soliman said. "They've erected ugly warehouse buildings there so it impacts lots of land. So now we're going to clean it up."
He said they would remove the modern construction and restore what remains of the historical buildings and walls.
The new sovereign fund says it plans to take control of some of the government's most promising assets in industries such as power and real estate, to bring in private investors to develop them.
https://www.arabnews.com/node/1600956/middle-east
------
Saad Hariri rules out returning as Lebanon's PM
NAJIA HOUSSARI
December 18, 2019
BEIRUT: Caretaker Prime Minister Saad Hariri announced that he will not be a candidate to be prime minister of a new government during the binding parliamentary consultations that are scheduled to take place on Thursday.
His statement brings the issue of government formation back to square one, 50 days after the Hariri government resigned over the street protests.
Hariri believes that he heads a technocrat government, while President Michel Aoun and his party, the Free Patriotic Movement — as well as his allies Hezbollah and the Amal Movement — insist on a techno-political government. Hezbollah and Amal have stuck to Hariri's nomination as prime minister, with Hezbollah's Secretary-General Hassan Nasrallah calling on Hariri to reconsider his terms.
Hariri's decision caused confusion among the political parties, even though some of them did not intend to name him in the consultations that the president is conducting.
Hariri asked last Monday to postpone the consultations for further political deliberation in light of the decision of the Lebanese Forces not to name him as a candidate to be a new prime minister.
The Free Patriotic Movement had previously announced that it would refrain from participating in the nomination of the prime minister and that it would not participate in the government through ministers. This meant the absence of the Christian voice in nominating Hariri.
Dar Al-Fatwa, the supreme religious authority of the Sunni community in Lebanon — to which the prime minister is supposed to belong in accordance with the constitution — announced that its candidate for prime minister is Hariri.
Hariri said that "since I submitted my resignation 50 days ago in response to the call of the Lebanese, I have strived to meet their demand of a technocrat government, and I saw that it is the only one capable of dealing with the serious social and economic crisis our country is facing.
"When it became clear to me that, despite my categorical commitment to forming a technocrat government, the positions that have emerged in the past few days regarding the issue of my nomination are positions that are unchangeable."
Director of the Information Office at the Presidential Palace Rafik Shalala told Arab News that the parliamentary consultations "are still on time and there are contacts during the night to try to agree on an alternative name for Hariri."
The Future Parliamentary Bloc held a meeting on Thursday morning an hour before the consultations "to determine its position on the issue of nominating the person who will be assigned to head the government."
The consultations stipulate that the president must be informed by the MPs of the name that they consider suitable to head the government. The appointment is decided based on the name that gets the most votes. The president, after consultation with the speaker of the Parliament, shall summon the person and assign him the task, so that the prime minister-designate shall, in turn, conduct non-binding consultations with MPs regarding the ministers who make up the government.
In the event that the overnight contacts do not result in an agreement on an alternative name, the consultations will be postponed for the third time.
Amid the constitutional chaos, the Lebanese Army have taken exceptional measures in all regions, but most especially in the streets leading to the parliamentary buildings in central Beirut.
https://www.arabnews.com/node/1600856/middle-east
------
Iranian Health Ministry Official: So-Called Human Rights Advocates Playing with Patients' Lives
Wed Dec 18, 2019
TEHRAN (FNA)- Head of the Iranian Health Ministry's Transplantation Management Center Mehdi Shadnoush said that the sanctions imposed by the US, which claims to support human rights, against Iran have imposed grave conditions for patients that are suffering from special diseases.
"Despite the US claims that drugs and medical equipment have not been placed under sanctions, these goods are sanctioned at present and the US officials' claims are nothing more than lies," Shadnoush told FNA on Wednesday.
He added that the drugs and medical equipment for Iranian patients with special and hard-to-cure diseases are supplied with much difficulty due to the US sanctions, and said Washington which claims to be an advocate of human rights is playing with the lives of these patients.
"Families of these special-case patients are always worried about the potential lack of the medication needed by their dear ones," Shadnoush said.
The US sanctions and restrictions on export of drugs and medical equipment to Iran have shortened the breath of patients suffering from cancer, hemophilia, epilepsy and thalassemia.
Despite the American officials' claims of not imposing sanctions on imports of drugs to Iran, it's reported that medications are hard to obtain in the country due to banking embargos that hamper money transactions which causes some Western companies to refuse to sell the necessary drugs and medical equipment to Tehran.
"The US has targeted the Iranian patients and they have planned to pressure those who are consumers of these drugs. Therefore, the vitamins and ordinary drugs are easily accessed in the market but the US is making its utmost attempts to prevent Iran from purchasing the vital medicine and those which are necessary for cancer patients," Head of the Iranian Society of Blood and Cancer of Children Hassan Abolqassemi told FNA on Tuesday.
He added that the crime committed by the US against the Iranian patients is worse than its crime in Hiroshima.
Meantime, Head of Iran Thalassemia Association Yunes Arab said that 90 thalassemia patients lost their life last year due to the lack of drugs and the US sanctions, adding that 60 other young patients also died in the current year.
"They would have been breathing a normal life if it hadn't been for the US sanctions on drugs," he told FNA.
The US embargos have also left impacts on the hemophilia patients.
"Basically, what the US is doing is a type of war crime; although the Americans declared that drugs and medical equipment are not sanctioned, what we witness is harsh sanctions in the field of drugs and medical equipment," former head of Iran's Hemophilia Association Ahmad Qavidel told FNA.
Also, Sara Nouri, the Managing-Director of Iran's MPS (Mucopolysaccharidosis) Patients Society, told FNA that the Association provides necessary medicine to the MPS patients but it has faced problems after the US sanctions.
"The most important medicine needed for the patients is a type of enzyme and they should receive them weekly," Nouri said, adding that 300 MPS patients have been identified in Iran so far but the number is expected to increase to 1,000.
"For instance, if a patient should receive 50 drugs in a period of time, he/she receives 5 to 10 drugs now due to the problems created by sanctions, and this will inflict serious harm to the patients' health," she warned.
Meantime, Dariush Nasabi Tehrani, the head of Iran's Epilepsy Association, cautioned of the shortage of medicine for the epileptic patients due to the US sanctions.
"Production of a number of medicine has been disrupted for the sanctions and the patients are forced to use the medicine produced by other companies which are highly expensive," Nasabi Tehrani told FNA.
"The embargos make these patients anxious and concerned about shortage of their drugs while they should be assured of easy accessibility to medicine due to the sensitiveness of their disease," he added.
In a Foreign Policy article earlier this year, Dr. Abbas Kebriaee Zadeh, professor of toxicology and pharmacology at Tehran University of Medical Sciences, wrote that US sanctions against Iran indirectly hamper the flow of vital medicines for cancer patients in the Islamic Republic.
The article revealed that while Washington claims its harsh sanctions against Iran would not target the flow of medicine and other humanitarian necessities into Iran, banking sanctions are in fact increasing import prices, blocking supply chains, and creating deadly drug shortages in the country.
Citing the US Census Bureau, Kebriaee Zadeh added that under the administration of US President Donald Trump during the last two years, the US' annul exports of pharmaceutical products to Iran declined to an average of $8.6 million a year compared to $26 million annually during the Barack Obama-era sanctions.
Washington under Trump has also made it more difficult for European countries to export medicine to the Islamic Republic, Kebriaee Zadeh wrote.
"Swiss pharmaceutical exports to Iran fell 30 percent from 235 million Swiss francs ($240 million) in 2017 to 163 million francs ($167 million) last year, according to Swiss customs data. Even though sanctions were only fully re-imposed in November 2018, Swiss exports that year fell below the 173 million francs ($178 million) annual average observed from 2008 to 2015," he said.
The report, citing figures from the Eurostat, added that in a similar manner, French pharmaceutical exports to Iran also fell 25 percent from 194 million euros ($218 million) in the Obama-era period to 146 million euros ($164 million) in 2018, slipping below the 2008 to 2015 average of 150 million euros ($168 million).
Iranian Health Minister Saeed Namaki said in August that Washington's unilateral sanctions against his country which prevent medicines from being sold to Iran was a crime against humanity.
"Measures taken by the US administration in banning [access to] medicines needed by Iranian patients and pressures mounted by Washington on Iran's health sector amount to crime against humanity," the Iranian minister said, in a joint press conference with his Lebanese counterpart, Jamil Jabak, in Tehran on August 5.
In relevant remarks on Monday, Iran's Judiciary Chief Ebrahim Rayeesi called on the international community to take action against the US sanctions which prevent imports of the Iranian patients' much needed medication.
The US which has failed in all its plots and seditions against Iran, "has adopted other measures, including prevention of imports of drugs to Iran", Rayeesi said, addressing the judiciary officials in Tehran.
He described the US sanctions as clear instance of "economic terrorism and crime against humanity", saying, "The international community should be vigilant and know that the US violates the nations' rights wherever it can and therefore, real action is needed against the US impudence."
Also, in November, Iranian Vice-President and Head of the Management and Planning Organization (MPO) Mohammad Baqer Nobakht lashed out at Washington's economic terrorism against his country, reminding that Tehran is facing hardships to import needed food and medication at the same time that it is banned from selling oil.
Nobakht said that the US had created obstacles for import of food and medicines, adding that they had attempted to prevent export of a single barrel of oil as well.
Meantime, early in December, Head of Iran's Food and Drug Administration (IFDA) and Deputy Health Minister Mohammadreza Shanehsaz said that Washington's sanctions and the recent warning issued by the US Treasury Department was meant to be a coup against the Iranian patients, particularly those with special needs.
"They have declared in the letter that they will provide a special line to supply drugs and medical equipment but they use policing methods to threaten the pharmaceutical companies that in case of providing Iran with medicine and medical equipment, they will not be allowed to export to the EU and the US," Shanehsaz told FNA.
He added that the US measures have created problems for Iran in supplying drugs to the special patients.
https://en.farsnews.com/newstext.aspx?nn=13980927000280
------
Official: Iran Ranks 1st in Region in Neurosciences
Wed Dec 18, 2019
TEHRAN (FNA)- A senior official at Iran's health ministry said that the country stands atop all the regional states in developing neurosciences.
"Iran ranks first in the field of neurosciences in the region," Deputy Health Minister for Research and Technology Shahin Akhoundzadeh said on Wednesday.
He added that Iran also ranks 21st in the world in neurosciences, and asked for more investment by the government to develop this vital area of medical science in the country.
Iran has made rapid progress in developing different branches of science in recent years.
Iranian Vice-President for Scientific and Technological Affairs Sorena Sattari underlined in August that his country had made huge progress in developing its scientific power.
"Perhaps, Iran is identified with its oil and gas resources but in recent years, three important scientific waves started in the country, including a scientific wave at universities, setting up knowledge-based companies and development of these companies," Sattari said.
He termed Iran's scientific growth as 'outstanding and significant', and added, "Iran has a fast-paced scientific development and growth both in regional and international levels in a way that the country is ranked 15th in the world in terms of production of science."
Emerging and newly-fledgling companies in Iran have been turned into competent and able companies, Sattari said, adding, "Innovation and accelerator centers are on the verge of considerable growth in socioeconomic terms."
The country is home to more than 4,000 knowledge-based companies, offering quality scientific services to industrial and production units, he reiterated.
Sattari urged government officials to take effective steps for protecting rights of consumers and training the most experienced and competent manpower within the framework of rules and regulations.
https://en.farsnews.com/newstext.aspx?nn=13980927000842
------
Iran Warns of Attempts to Deploy ISIL Terrorists in Afghanistan
Wed Dec 18, 2019
TEHRAN (FNA)- Secretary of Iran's Supreme National Security Council (SNSC) Ali Shamkhani warned of suspicious attempts to revive the ISIL terrorist group in Afghanistan.
Shamkhani made the remarks in Tehran in a meeting with Afghan National Security Advisor Hamdullah Muhib on Wednesday on the sidelines of the 2nd Session of the Regional Security Dialogue with a Focus on Afghanistan.
"Any efforts against Afghanistan's legal government are aimed at strengthening terrorist groups and serves the US illegitimate objectives," he added.
Shamkhani mentioned that breaking national unity in Afghanistan against terrorism and extremism is one of the enemies' evil strategies to harm the country's security, adding that Iran's priority is to develop good and friendly ties with the neighboring countries, specially Afghanistan.
Muhib, for his part, praised Iran's efforts to bring peace and security in Afghanistan, adding that the recent conference on regional security is one of the instances of Tehran's sincerity.
In relevant remarks on Tuesday, Shamkhani said the US and Israel's regional policy entails reinforcing the ISIL terrorist group in line with spreading Islamophobia as well as conflict, war, and crisis in the Muslim countries.
"Promoting the ISIL version of Islam is one of the goals of the US and the Zionist regime to spread hatred towards Islam and create conflict, war, and crisis in the Islamic World," Shamkhani said in a meeting with his Tajik counterpart Mohammadali Vatanzadeh on the sidelines of the 2nd Session of the Regional Security Dialogue with a Focus on Afghanistan.
The second session of Regional Security Dialogue with a focus on Afghanistan was held in Tehran with the participation of high-ranking security officials from Iran, Russia, China, India, Afghanistan, Tajikistan, and Uzbekistan.
The one-day session was held at the initiative of the host the Secretariat of the Supreme National Security Council of the Islamic Republic of Iran, with a focus on Afghanistan and a comprehensive fight against various forms of terrorism in that country.
https://en.farsnews.com/newstext.aspx?nn=13980927000922
------
Top Security Official: US, Israel Continue Nurturing ISIL in Region
Wed Dec 18, 2019
TEHRAN (FNA)- Secretary of Iran's Supreme National Security Council (SNSC) Ali Shamkhani said the US and Israel's regional policy entails reinforcing the ISIL terrorist group in line with spreading Islamophobia as well as conflict, war, and crisis in the Muslim countries.
"Promoting the ISIL version of Islam is one of the goals of the US and the Zionist regime to spread hatred towards Islam and create conflict, war, and crisis in the Islamic World," Shamkhani said in a meeting with his Tajik counterpart Mohammadali Vatanzadeh on the sidelines of the "2nd Session of the Regional Security Dialogue with a Focus on Afghanistan" in Tehran on Tuesday.
He pointed to the great cultural, ethnic, religious and linguistic commonality between Iran and Tajikistan, and said that there are no limits on the development of bilateral relations and mutual cooperation between the two countries.
Vatanzadeh, for his part, said that the second Regional Security Dialogue on Afghanistan is an important event of cooperation on one of the region's most significant security challenges.
Referring to Tajikistan's long shared border with Afghanistan, he said that insecurity in Afghanistan has an impact on Tajik national security.
"The extremist terrorist groups should not be allowed to destabilize Afghanistan's security and make the region insecure," Vatanzadeh added.
The second session of Regional Security Dialogue with a focus on Afghanistan is underway in Tehran ith the participation of high-ranking security officials from Iran, Russia, China, India, Afghanistan, Tajikistan, and Uzbekistan.
The one-day session this is held at the initiative of the host the Secretariat of the Supreme National Security Council of the Islamic Republic of Iran, with a focus on Afghanistan and a comprehensive fight against various forms of terrorism in that country.
https://en.farsnews.com/newstext.aspx?nn=13980927000469
------
Arab World
Jewish Chronicle condemned by Muslims and Jews for Islamophobic article
18 December, 2019
Public outrage broke out after UK-based newspaper The Jewish Chronicle published an article on Monday that described Islamophobia a "bogus label" that excuses antisemetic behaviour.
The author of the article, Melanie Phillips, wrote that the concept of Islamophobia is used justify anti-semetic behaviour, and that it is entirely "anti-jew".
"The Islamic world is given a free pass on the grounds that it is the historic victim of the west. The taunt of Islamophobia is used to silence any criticism of the Islamic world, including Islamic extremism," she wrote.
"The concept of 'Islamophobia' is thus profoundly anti-Jew. To equate it with the dehumanising, insane and essentially murderous outpourings of Jew-hatred is obscene."
JC editor, Stephen Pollard, published a statement on Tuesday defending his choice to publish the article.
"The Jewish Chronicle exists to publish a range of views which, as editor, I consider to be worthy of discussion," he wrote. Melanie Phillips' piece reflects an argument about the origins and utility of the notion of Islamophobia, as opposed to anti-Muslim bigotry, that is part of political debate today."
"The Jewish Chronicle does not seek to provoke but to inform and prompt sensible debate. So when there is such a reaction I take it very seriously and I apologise to any reader who is angered or upset by the piece," Pollard added.
But Phillips' article was roundly denounced as Islamophobic by Muslims and members of the Jewish community.
The main democratic body representing Jews in the UK, the Board of Deputies of British Jews, said in a tweet that "anti-Muslim prejudice is very real and it is on the rise. Our community must stand as allies to all facing racism".
Miqdaad Versi, media spokesperson for the Muslim Council of Britain (MCB), tweeted his disdain at Phillips' article.
"This latest article is not a one-off but part of a pattern of behaviour - an editorial line on Muslim-related issues as the thread shows. Shameful does not begin to cover how awful this is," he said.
He noted that when 51 Muslim worshippers were massacred at two mosques in Christchurch, New Zealand in March, The Jewish Chronicle published a "similar hate-filled piece" by Melanie Phillips.
"The very platforming of Phillips & making Islamophobia to be up for debate (again) is awful in & of itself."
https://www.alaraby.co.uk/english/news/2019/12/18/jewish-chronicle-condemned-by-muslims-for-islamophobic-article
------
Organization of Islamic Cooperation: Malaysia meeting runs against Muslim community interests
December 18, 2019
JEDDAH: A meeting in Malaysia of some Muslim nations runs against the interests of the Islamic community, the head of the Organization of Islamic Cooperation (OIC) said on Wednesday.
The four day summit got under way in Kuala Lumpur, but several countries, including Saudi Arabia, the UAE and Pakistan are not attending.
The event has faced criticism for being organized outside of the auspices of the OIC, the world's second largest inter-governmental organization after the United Nations that is regarded as the collective voice of the Muslim world.
OIC Secretary-General Yousef Al-Othaimeen said that convening meetings outside the aegis of the organization would splinter Islamic solidarity.
"Any weakening of the Organization of Islamic Cooperation is a weakening of Islam and Muslims," he told Sky News Arabia.
"It is not in the interest of an Islamic nation to hold summits and meetings outside the framework of the (OIC), especially at this time when the world is witnessing multiple conflicts," Othaimeen added.
On Tuesday, King Salman spoke with Malaysia's Prime Minister Mahathir Mohamad and stressed the importance of joint Islamic action through the OIC.
At a dinner to open the event on Wednesday, Mohamad claimed the summit would aim to "do something" to improve the lives of Muslims and overcome Islamophobia.
https://www.arabnews.com/node/1600941/saudi-arabia
------
US envoy lauds Saudi regional development work during meeting with Tabuk governor
December 19, 2019
The US envoy to Saudi Arabia has praised the economic and tourism development work taking place the Kingdom during a visit to the northwest of the country.
John Abizaid's comments came during a meeting on Monday with Tabuk Gov. Prince Fahd bin Sultan bin Abdul Aziz, during which they discussed matters of mutual interest.
As part of a tour of the region, the American ambassador and his accompanying delegation also visited Bin Assi Center for Equestrian and Heritage in Tabuk, where they were received by its director, Ibrahim bin Assi Al-Atawi.
The US party was briefed on the center's museum and its displays of vintage cars, photos of Tabuk, its governorates, heritage villages and old markets, and other items highlighting the region's rich cultural heritage.
At the end of the visit, Abizaid lauded the development and progress being witnessed in the Tabuk region, its tourist potential, and the museum's rare and "special" exhibits.
Al-Atawi presented the envoy with a book about the Tabuk region written in English.
During his meeting with Abizaid, Prince Fahd noted the strength of relations between America and the Kingdom, and the joint cooperation initiatives taking place across a range of fields.
Saudi Arabia has forged firm bonds with the US since the beginning of bilateral ties in 1933 when full diplomatic relations were established.
The relationship between the two countries has been based on the shared fundamental interests of economic prosperity, security and stability.
Abizaid said he had been pleased to meet with the prince and praised the development that he had witnessed in the region, covering many areas.
https://www.arabnews.com/node/1601031/saudi-arabia
------
Saudi Arabia's KSRelief refugee aid reaches $17bn
December 18, 2019
GENEVA: General Supervisor of the King Salman Humanitarian and Relief Center (KSRelief) Dr. Abdullah Al-Rabeeah said that the Kingdom has donated over $17 billion for refugees and displaced people in the last two decades.
He added that $925 million of the total was dedicated to the UN and other international organizations, including $287.9 million donated to the UN High Commissioner for Refugees (UNHCR).
This announcement came during Al-Rabeeah's participation in the First Global Refugee Forum held in Geneva, Switzerland, in the presence of Federal Councillor Ignazio Cassis and Filippo Grandi, head of states and governments at the UNHCR.
Al-Rabeeah started his speech by thanking the organizers of the forum, which aims to alleviate pressure on host countries and enhance refugees' self-reliance, allowing them to safely return to their homelands. He stressed the Kingdom's appreciation for the host communities' efforts, as well as its eagerness to find effective solutions.
He said: "The Kingdom is aware of its humanitarian role and has dedicated a lot of programs to support refugees and displaced people. It has also ensured the implementation of essential projects in food security, health, sheltering, water, environmental sanitation, nutrition and education.
"In participation with the UAE and Kuwait, the Kingdom has also sponsored the Rohingya Pledging Conference held at the UN headquarters in New York in September, where states committed to giving more than $283 million."
He added that Saudi Arabia has also hosted 1.9 million Syrian, Yemeni and Rohingya refugees, provided them with job opportunities and offered them health, education and other services for free.
He noted that the Kingdom has also contributed to providing developmental support for infrastructure in host countries, in order to alleviate their burden of hosting refugees.
The general supervisor said that KSRelief's plan for 2020 included the implementation of many programs and relief projects aimed to support the needy around the world in partnership with UN and international organizations.
The three-day forum will look into many topics such as the role of civil society in helping and employing refugees, dealing with forced displacement and alleviating poverty and refugees' suffering.
https://www.arabnews.com/node/1600996/saudi-arabia
------
Africa
Jigawa State Government To Build 95 Mosques
December 19, 2019
The Jigawa State Government has opened tender for the construction of 95 mosques across the 30 constituencies of the state.
The News Agency of Nigeria reported that Alhaji Isma'il Ibrahim, the spokesperson, office of the Secretary to the State Government, made this known in a statement in Dutse on Tuesday.
According to him, the Chairman, Tender Board Committee and Permanent Secretary, Administration and Finance in SSG's office, Alhaji Muhammad Dagaceri, said the bid opening was for the second quarter of 2019.
Ibrahim disclosed that 200 contractors were bidding for the contracts.
He added that the representative of the state's Due Process and Project Monitoring Bureau, Ghali Mu'azu, said the process of selecting the contractors would be transparent, fair and just.
Commenting on behalf of the bidders, the representative of Danfatu and Sons Nigeria Ltd., Mallam Yusif Saminu, expressed satisfaction with the bid opening process.
https://punchng.com/jigawa-to-build-95-mosques/
------
Floods compound Somalia's year of climate misery
December 19, 2019
BELEDWEYNE, Somalia: As Somalia withered from drought early this year, and her goats dropped dead from thirst, Maka Abdi Ali begged for rain. When the skies finally opened, nature was unmerciful.
Unrelenting downpours in October turned to flash floods, destroying her meager home and few remaining possessions, and washing away whatever harvest and bony animals farmers managed to save during the months without rain.
"I have nothing now," 67-year-old Ali told AFP in a squalid camp on the outskirts of Beledweyne in central Somalia. Here, 180,000 people fled the fast-rising waters in the country's worst floods in memory.
The arid Horn of Africa country has always been hostage to climate extremes. Rain is erratic, and drought a feature of life.
But catastrophic weather events are occurring in Somalia with ever-greater fury and frequency, trapping millions in a near-constant cycle of crisis. Little by little, the ability to recover is ground down, say experts.
There is no time to rebuild homes and replenish food stocks before another disaster strikes.
Impoverished and weakened by decades of war, battling an armed insurgency, Somalia is ill-equipped to cope with the destabilising impact of double-tap environmental crises. Aid budgets are stretched trying to respond to back-to-back emergencies.
In May, the UN launched a drought appeal, warning of looming starvation as Somalia faced its worst harvest on record. Six months later, it's again appealing for help — this time for $72.5 million for half-a-million victims of flood.
"There hasn't been a day this year where we haven't been talking about either drought or floods," Abigail Hartley, deputy head of office for the UN humanitarian agency OCHA in Somalia, told AFP.
Among those fleeing the inundation in Beledweyne, the epicenter of this disaster, were Somalis already on the run from other climate-stricken parts of the region.
"The drought forced us to flee... now we are displaced by floods," bemoaned Maryama Osman Abdi, who abandoned her bone-dry farmland for a new start in Beledweyne.
Now, her home in ruins, she contemplates her next move.
Many had migrated to the banks of the Shabelle River — a lifeline which runs through Beledweyne — seeking water to revive their livestock, and nurture their crops.
But the river burst its banks under the ceaseless barrage of rain.
The mighty flood that followed should in statistical terms occur only once in 50 years, according to the Food and Agriculture Organization (FAO).
But, the UN agency noted, the river overflowed in 2019, after 2018 and 2015.
"This was different from the others. I have never seen anything like it," Omar Dule, a 74-year-old who has spent his lifetime in Beledweyne, told AFP.
The FAO, bracing for the next overflow, is repairing embankments along the river long neglected by cash-strapped authorities.
Rainfall extremes in Somalia are forecast to intensify this century, even as the region overall dries considerably, said Linda Ogallo, from the Nairobi-based Intergovernmental Authority on Development Climate Prediction and Applications Center.
"Droughts and floods are increasing, in frequency and intensity," said Ogallo, a climate scientist who specializes in Somalia's weather patterns.
It is an omen already playing out for Mohamed Osman Hashi, whose watermelon and sesame fields in Beledweyne have been devastated again and again.
"In recent times, it seems to be on repeat, almost every year," he told AFP.
East Africa has endured unusually extreme rainfall since October, with torrential deluges killing hundreds across eight countries, and displacing millions more.
This month, even as water slowly receded in Beledweyne, a tropical cyclone transformed deserts in Somalia's north into seas.
Bosaso, in the semi-autonomous Puntland region, received close to a year's worth of rain in less than two days.
Adding to the suffering, the FAO said Wednesday that the country had been hit by its worst outbreak of desert locusts in 25 years.
The curse — exacerbated by the exceptional rain — could spread to Somalia's main crop-growing areas.
The just-concluded UN climate summit in Madrid failed to agree on compensation for poor countries, which have least to blame for causing global warming, for weather-related disasters.
This is grim news for Somalia, which lacks the resources to cope with, or plan for, an ever-more hostile climate.
Each blow sets back the monumental task of rebuilding a country reliant on foreign aid to support some 5.4 million people in desperate need.
To compound problems, an October study by international researchers found climate change amplifies conflict, emboldening the Al-Shabab militants waging a potent insurgency in Somalia.
"Developed countries are more resilient. Somalia has been in crisis for years," said Chris Print, a hydrologist with the FAO and expert on Somalia's land and rivers.
"Ironically, the poorest countries are the most likely to be impacted by climate crisis."
Two months after the floods began, about 220,000 people are yet to receive assistance, the UN said.
In the fetid camps for disaster evacuees fringing Beledweyne, 100,0000 people are still unable to return home, squatting beneath tattered stick-and-cloth shelters.
"If it happens again, you can bet that some people are just going to give up," Print told AFP.
Driven from place to place, pursued by a ferocious climate, some have already reached the end of the road.
"We don't know what else to do," said Abdi, squatting in the dirt, surrounded by nine grandchildren.
https://www.arabnews.com/node/1601051/middle-east
------
URL: https://www.newageislam.com/islamic-world-news/fate-world-muslims-hands-five/d/120572
New Age Islam, Islam Online, Islamic Website, African Muslim News, Arab World News, South Asia News, Indian Muslim News, World Muslim News, Women in Islam, Islamic Feminism, Arab Women, Women In Arab, Islamophobia in America, Muslim Women in West, Islam Women and Feminism