New Age Islam News Bureau
28 May 2022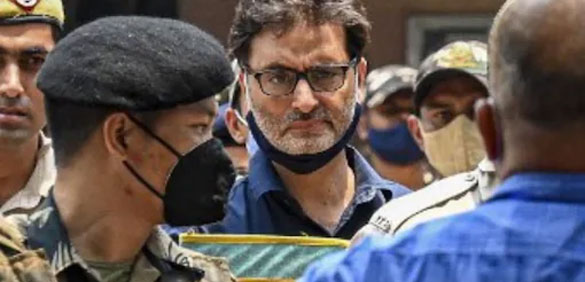 A special NIA court this week awarded life sentence to Malik in a terror-funding case.(Image: AFP)
-----
• Taliban Dismisses UNSC's Call to Reverse Restrictions on Afghan Women Human Rights
• Palestinian, Lebanese Resistance Hail Iraqi Parliament's 'Historic' Criminalization of Ties with Israel
• US Top Diplomat Urges Israel to Conclude Shireen Abu Akleh Investigation
• In Southeast Asia, Social Media Preachers under the Spotlight
India
• Bihar parties agree on extending caste census to Muslims: 'Why exclude anyone?'
• Gyanvapi Mosque Committee Urges Varanasi Court to Not Make Survey Visuals Public
• Mathura case: Application Filed for Status Quo on Mosque Premises in Krishna Janmabhoomi-Shahi Idgah Dispute Case
• Petition in Supreme Court Seeks 'Confidential' Survey of All Mosques With Wells, Ponds
• Kashmiri artiste Amreena's killers among 4 LeT terrorists shot dead
• Karnataka: Dalit man killed over interfaith relationship, 2 arrested
--------
South Asia
• WHO to Immunize Over 5 Million Covid-19 Vaccinations across Afghanistan
• Doval says India guided by interest of Afghans, urges Taliban to ensure education for girls
--------
Arab World
• YPG/PKK Terrorists Building Cells To Hold Civilian Detainees In Tunnels In N. Syria
• Kurdish asylum seekers on hunger strike in Poland
• Relatives of Albanian ISIS fighters to be repatriated from Syria
• Lebanon's exit from default still tough after inconclusive election, Fitch says
--------
North America
• Canada court reduces Quebec mosque killer's parole sentence
• US sanctions Iran's Quds Force, Hezbollah
--------
Southeast Asia
• Crazy to 'enforce' Malay in civil service, says Rafidah
• Putrajaya, Tokyo ink deal to send skilled Malaysians to work in Japan
• Bar To Hold Protest over 'Judicial Intimidation'
--------
Mideast
• Hamas Challenges Israel over Nationalist Flag March in Jerusalem
• Iran's Top Security Official: US Should Unfreeze Afghanistan's Assets, Compensate for Damages
• Iranian Official Raps Ottawa for Failure to Separate Sports from Politics
• Palestinian teen killed by Israel forces in occupied West Bank
• Turkey seeks 'concrete steps' from Finland, Sweden to accept their NATO membership
--------
Pakistan
• Religious Affairs Minister, Mufti Abdul Shakoor, Delivers Self-Aggrandising Speech On Foreign Trip
• Army kept Nawaz Sharif in the dark whether Sindh or Balochistan would be the final destination
• PM Shehbaz tells court he refused salary as CM during Rs16bn money laundering hearing
• Judges give Sindh IGP last chance to recover 'abducted' girls, Dua Zehra and Nimra Kazmi
• Maryam urges SC to stay away from ongoing political tussle
• On anniversary of nuclear tests, PM Shehbaz vows to make Pakistan economic power
• Overseas Pakistanis not deprived of voting rights, Tarar refutes reports
• Jamat-e-Islami recommends special seats for Pakistani expats
--------
Africa
• Insecurity Puts Mali's Historic Djenné Mosque at Risk
• African journalists closely follow Turkish media outlets
• Tunisia party leader banned from travel: court
--------
Europe
• Winners of Quran Memorization Competition in Italy Awarded
• Turkish president receives foreign ministers of UAE, Poland, Romania
• 'Closer US-Greece ties part of scramble to contain Turkiye's growing regional power'
• Turkiye cannot remain indifferent to developments in Syria: Russia
Compiled by New Age Islam News Bureau
URL: https://newageislam.com/islamic-world-news/terrorism-india-islamic-nations-yasin-malik/d/127117
--------
'Don't Justify Terrorism': India Slams Islamic Nations' Group for Comments made by Independent Permanent Human Rights Commission on Yasin Malik Court Ruling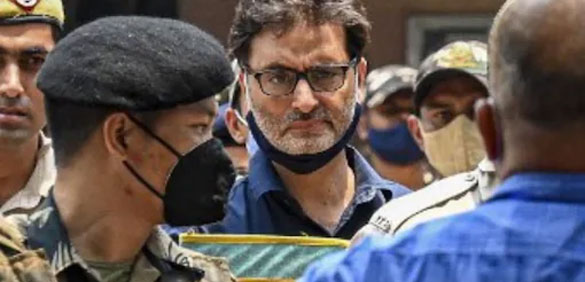 A special NIA court this week awarded life sentence to Malik in a terror-funding case. (Image: AFP)
-----
MAY 28, 2022
India on Friday described as "unacceptable" the comments made by OIC-IPHRC (Independent Permanent Human Rights Commission) criticising New Delhi for the court ruling against Kashmiri separatist leader Yasin Malik.
External Affairs Ministry Spokesperson Arindam Bagchi said the world seeks "zero tolerance" against terrorism and urged the Organisation of Islamic Cooperation (OIC) not to justify it in any manner.
"India finds unacceptable the comments made by OIC-IPHRC today criticising India for the judgement in the case of Yasin Malik," Bagchi said. "Through these comments, OIC-IPHRC has implicitly expressed support for the terrorist activities of Yasin Malik, which were documented and presented in the court," he said.
Bagchi was responding to media queries regarding the comments made by the OIC-IPHRC on the judgement of an NIA court against Malik. "The world seeks zero tolerance of terrorism and we urge OIC not to justify it any manner," the spokesperson said.
A special NIA court this week awarded life sentence to Malik in a terror-funding case.
The Kashmiri leader had earlier pleaded guilty to all the charges, including those under the stringent Unlawful Activities Prevention Act (UAPA) in the case. The NIA court awarded life imprisonment based on section 121 (waging war against India) of the IPC and section 17 (raising funds for terror act) of the UAPA.
The National Investigation Agency (NIA), which was probing the case, had sought death penalty for Malik.
Malik, 56, has also been fined more than Rs 10 lakh as the court imposed different amounts for different sections he has been booked under.
Special Judge Praveen Singh also awarded varying jail terms for various offences under the UAPA and IPC. All the sentences will run concurrently.
Special judge Praveen Singh had on May 19 convicted Malik and directed the NIA authorities to assess his financial situation to determine the amount of fine likely to be imposed. Malik was facing a maximum punishment of the death penalty, while the minimum sentence for the offences committed by him is life imprisonment.
Source: News18
Please click the following URL to read the text of the original story:
https://www.news18.com/news/india/dont-justify-terrorism-india-slams-islamic-nations-group-for-comments-on-yasin-malik-court-ruling-5261989.html
--------
Taliban Dismisses UNSC's Call to Reverse Restrictions on Afghan Women Human Rights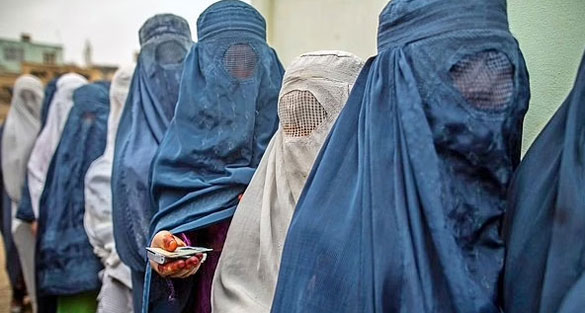 Representative image (file photo)
----
28 May, 2022
Kabul [Afghanistan], May 28 (ANI): The call of the United Nations Security Council (UNSC) to lift the Taliban's strict measures on Afghan women has been dismissed by the Taliban forces who have termed it as "unfounded."
Reaffirming the Taliban's commitment to Afghan women's rights, the Taliban's Ministry of Foreign Affairs rejected the concerns of the UNSC on Friday regarding the restriction of human and fundamental rights imposed upon Afghan women, reported Khaaama Press.
"Since the people of Afghanistan are predominantly Muslim, the Afghan government considers the observance of Islamic hijab to be in line with the religious and cultural practices of society," stated Abdul Qahar Balkhi, spokesperson of the Taliban Ministry of Foreign Affairs on behalf of the Ministry.
Earlier on Tuesday, the Security Council called on the Taliban to "swiftly reverse" the policies restricting the human rights and fundamental rights of women and girls in Afghanistan, Khaama Press reported.
UNSC, in a joint statement, expressed deep concerns over the situation of Afghan women and girls following the Taliban's restrictions on education, employment, freedom of movement, and the full, equal, and meaningful participation of women in public life.
The UN Security Council also called on the Taliban to reopen the schools for all female students without further delay, reported Khaama Press.
The Taliban's statement comes at a time when the United Nations(UN) Special Rapporteur on Afghanistan, Richard Bennet recently commented that the measures such as the suspension of girls' secondary education, enforcing a strict form of Hijab, and no opportunities to participate in political and public life, among others, fit the pattern of absolute gender segregation and are aimed at making women invisible in society.
Concluding his 11-day visit to Afghanistan to assess the condition of human rights in Afghanistan, Bennet said, "I expressed serious concern about the deterioration of human rights across the country, and the erasure of women from public life is especially concerning,"
Unrecognized by most of the international community, the Taliban-led government has committed to disrespecting the human rights of women. (ANI)
Source: The Print
Please click the following URL to read the text of the original story:
https://theprint.in/world/taliban-dismisses-unscs-call-to-reverse-restrictions-on-afghan-women/974364/
--------
Palestinian, Lebanese resistance hail Iraqi parliament's 'historic' criminalization of ties with Israel
Palestinian resistance groups, along with Lebanon's Hezbollah, have praised the Iraqi parliament's new law to make it illegal for the country to ever normalize its relations with the Israeli regime.
-----
27 May 2022
Palestinian resistance groups, along with Lebanon's Hezbollah, have praised the Iraqi parliament's new law to make it illegal for the country to ever normalize its relations with the Israeli regime.
In a statement on Friday, the Popular Front for the Liberation of Palestine depicted the passing of the new law as a "historic and decisive" move that expresses support for the Palestinian cause.
The Palestinian Islamic Jihad also hailed the move, stressing that the Iraqi parliament's decision blocked the infiltration corridors for the Zionist enemy.
The statement from the Palestinian Islamic Jihad said that yesterday's resolution would prevent the enemy from trying to infiltrate the Arab capitals further through the normalization project.
In a separate statement, Hezbollah noted that the "honorable and courageous stance" shows "Iraq's firm and permanent position alongside the Palestinian cause, which was affected by neither the American occupation nor the difficult economic and political conditions that Iraq has experienced in recent years."
The movement said that it considers the decision a major and a key step in confronting the shameful process of normalization undertaken by some Arab countries.
Hezbollah called on Arab nations to learn from the Iraqi example and work in various arenas to issue the necessary legislations and laws to confront normalization at all levels.
US 'disturbed' by anti-normalization law
Meanwhile, the US government expressed its anger over the new law, claiming that it was in violation of freedom of expression and promoted an "environment of anti-Semitism."
In a press statement on Friday, the US State Department spokesperson Ned Price said Washington is "deeply disturbed by the Iraqi Parliament's passage of legislation that criminalizes normalization of relations with Israel."
Meanwhile, Iraq's influential Shia cleric Muqtada al-Sadr hit back at the remarks, saying that the Iraqi nation is not anti-Semitic, but anti-oppression, anti-occupation, and anti-terror.
The cleric wrote in a statement on Friday that "We support the Christian and Jewish minorities while you expel the Arabs and the Muslims. We condemn the behavior of ISIS (Daesh), while you support Western extremism."
Referring to the double standards by the western governments, he sarcastically addressed their actions and wrote: "Anti-Semitism is forbidden, compromise [with the Zionist regime] is mandatory; The killing of worshipers in New Zealand mosques is not terrorism; Resistance to occupation means terrorism; Moving the Arabs from Al-Quds and preventing them from entering it, is a humane act! Is this your policy?!"
Back in September 2020, the United Arab Emirates and Bahrain signed normalization deals with Israel. Morocco and Sudan later signed similar agreements with the Israeli regime as well.
The so-called Abraham Accords were pushed by the US under former president Donald Trump.
Palestinians have denounced the normalization deals, describing them as a "stab in the back" and a "betrayal" to their cause.
Back in late November last year, the Iraqi Foreign Ministry reiterated Baghdad's support for the Palestinian cause, stressing that the Arab country categorically rejects any normalization scheme with the Israeli regime.
Source: Press TV
Please click the following URL to read the text of the original story:
https://www.presstv.ir/Detail/2022/05/27/682858/Palestinian-Lebanese-resistance-hail-Iraqi-parliament-new-law
--------
US Top Diplomat Urges Israel to Conclude Shireen Abu Akleh Investigation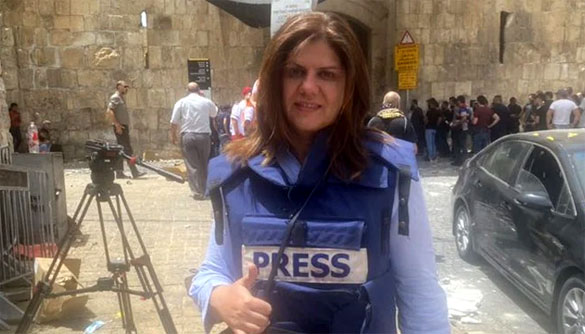 A file photo of Al Jazeera journalist Shireen Abu Aqleh. Courtesy Khuloud Assaf attari
-----
Michael Hernandez
27.05.2022
WASHINGTON
Secretary of State Antony Blinken urged Israel on Friday to conclude its inquiry into the murder of veteran journalist Shireen Abu Akleh.
Blinken "underscored the importance of concluding the investigations into the death of Palestinian-American Shireen Abu Akleh" during a call with Israeli Foreign Minister Yair Lapid, State Department spokesman Ned Price said in a statement.
Abu Akleh, a 51-year-old reporter for Al Jazeera, was killed May 11 while reporting on an Israeli raid in Jenin, a city in the occupied West Bank.
Eyewitnesses and her employer maintained she was killed by Israeli forces.
A Palestinian investigation concluded on Thursday that Abu Akleh was intentionally killed by an Israeli sniper.
"An Israeli sniper directly fired a bullet at AbuAkleh's head while she was trying to escape, although she was wearing a helmet and a vest that was clearly marked with the word 'PRESS,'" Palestinian attorney general Akram Al-Khatib said Thursday.
Al-Khatib noted that other journalists who were accompanying Abu Akleh were also "deliberately" targeted by gunfire.
He said the bullet that killed the Palestinian journalist had general and specific markings that match a Mini Ruger semi-automatic sniper weapon.
Meanwhile, Al Jazeera announced that it will send Abu Akleh's murder case to the International Criminal Court (ICC).
"The Network vows to follow every path to achieve justice for Shireen, and ensure those responsible for her killing are brought to justice and held accountable in all international justice and legal platforms and courts," it said on its website.
Blinken and Lapid also discussed "the importance of Israelis and Palestinians working to maintain calm," Price said.
"They also spoke of common efforts to confront global challenges, including those posed by Iran and its proxies. Secretary Blinken reiterated the Administration's steadfast commitment to Israel's security and emphasized U.S. support for a negotiated two-state solution," he added.
Source: Anadolu Agency
Please click the following URL to read the text of the original story:
https://www.aa.com.tr/en/americas/us-top-diplomat-urges-israel-to-conclude-abu-akleh-investigation/2599584
--------
In Southeast Asia, Social Media Preachers Under The Spotlight
Indonesian preacher Abdul Somad Batubara. Photo: The Straits Times
-----
May 28, 2022
Indonesian preacher Abdul Somad Batubara has been in the headlines for being denied entry into Singapore over his extremist teachings.
The Straits Times' Asian Insider looks at the rise of social media preachers like him and why some are concerned about these trends.
RISE OF SOCIAL MEDIA PREACHERS
Sitting before a Muslim congregation, controversial Indonesian preacher Abdul Somad Batubara made disparaging remarks about the Christian crucifix.
"There's an infidel djinn (spirit) in the crucifix," he said during a sermon at a mosque in Pekanbaru, the capital of Riau province, courting laughter. The footage went viral on social media in August 2019, sparking massive public outcry.
Both Christians and Muslims said the 45-year-old preacher, popularly known as Ustaz Abdul Somad or by his initials UAS, had defamed a religious symbol, stoked anti-Christian sentiments and threatened Indonesia's national unity.
Renowned Islamic scholar Quraish Shihab said the preacher's remarks were excessive and advised him to apologise. In defence, Somad insisted his teachings were confined to only Muslims and made in a private space.
The rise of religious extremism in the world's most populous Muslim country, coupled with a strong appetite for digital media, has led to the ascent of new Islamic authority figures and catapulted preachers like Mr Somad to fame.
EXTREME PREACHERS COULD TRIGGER TENSIONS, HARM IF LEFT UNCHECKED
It has been two weeks since controversial Indonesian preacher Abdul Somad Batubara was denied entry into Singapore for his segregationist and extremist teachings.
The issue has blown up in the media, partly owing to his legion of Internet fans - there are 6.5 million on Instagram, 2.72 million on YouTube and 709,000 on Facebook.
Then his supporters staged protests demanding an apology in Jakarta and in Medan, North Sumatra, and spammed the social media accounts of President Halimah Yacob, Prime Minister Lee Hsien Loong and other Singapore leaders.
Voices poured in, not only from the public, but also from political leaders, Islamic scholars, and terror experts in the region.
While some accused Singapore of Islamophobia, most were respectful of its stance to prevent radical views from entering its shores.
As far as the Indonesian government is concerned, any sovereign country, be it Singapore or Indonesia, reserves the right to deny anyone entry.
WHAT 'MESMERISING' FOREIGN PREACHERS SAY MAY AFFECT HARMONY IN SINGAPORE
Their speeches are fiery compared with their Singapore counterparts and sprinkled with stories that make viewers laugh, keeping them hooked for hours. Such social media preachers from Indonesia have gained a following in homes elsewhere in the region, including the Republic, in recent years.
Their audience, especially the older generation, might find them "mesmerising", said Muhammad Saiful Alam Shah Sudiman, an associate research fellow with the International Centre for Political Violence and Terrorism Research.
"The delivery is usually full of passion, coupled with humour or zikir that is soothing to the soul," he added, referring to religious chants. "The language and lingo are also pleasant to the ears."
However, observers like Saiful, who studied Islamic theology at Egypt's Al-Azhar University, noted that such preachers can have adverse implications for a multiracial, multi-religious society like Singapore, and threaten harmony.
ONLINE HATE SPEECH BY PREACHER DENIED ENTRY COULD CAUSE DIVISIONS IN SINGAPORE: EXPERT
The use of online hate speech by Indonesian preacher Abdul Somad Batubara who was barred from entering Singapore could cause serious polarisation between Muslims and non-Muslims here, an observer said on Friday (May 27).
Associate Professor Kumar Ramakrishna, who heads the International Centre for Political Violence and Terrorism Research at the S. Rajaratnam School of International Studies (RSIS), said that based on his observations, the authorities look at the current and past comments from preachers like Somad in deciding whether or not to bar their entry.
The rise of such radical social media preachers is a topic that Prof Kumar touches on in his new book Extremist Islam: Recognition and Response in Southeast Asia, launched on Friday.
Source: The Daily Star
Please click the following URL to read the text of the original story:
https://www.thedailystar.net/news/asia/news/southeast-asia-social-media-preachers-under-the-spotlight-3033686
--------
India
Bihar Parties Agree On Extending Caste Census To Muslims: 'Why Exclude Anyone?'
By Santosh Singh | Patna |
May 27, 2022
Ahead of a meeting of 10 parties in Bihar on June 1, all the leading outfits on Friday told The Indian Express that they supported the inclusion of castes in the Muslim community in the state's proposed caste census.
Janata Dal (United) national spokesperson K C Tyagi pointed out that the Mandal Commission had "duly identified OBCs among Muslims". He said, "Let the caste census or survey count all castes and clear claims and counter-claims regarding numbers of each caste group for once and all."
Tyagi added that though there could be questions on the Constitutional validity of such a survey, the state government could use the data in its list for job reservations.
The state BJP, which has seen some of its central leaders differ on the issue, also backed the idea. Bihar BJP president Dr Sanjay Jaiswal said, "Castes among Muslims should be counted as well. When you are giving OBC (Other Backward Classes) and EBC (Extremely Backward Class) reservations (to Muslims), then it should be justified by their numbers as well."
A senior BJP leader, who did not wish to be named, said the caste survey should be done along the lines of Telengana's Samagra Kutumb Survey in which questions were asked on families' socio-economic status rather than just their caste and numbers.
Jamui MP and Lok Janata Party (Ram Vilas) chief Chirag Paswan said, "We mooted the idea of counting castes among Muslims and other minority groups as we have a federal structure and there are state and central lists. Unless we know the exact number of beneficiaries in a caste group, the benefits of reservation and welfare schemes will not reach them. Now that we are meeting to have our own caste census, let us count them all — castes and sub-castes, irrespective of their religion."
Asked if the Rashtriya Janata Dal (RJD) wants Muslims to be counted en bloc or caste wise, the party's national spokesperson Subodh Kumar said, "There is no question of any objection to counting castes among Muslims. Caste has been the biggest socio-economic determinant. We are very much in favour of counting castes and sub-castes among Muslims as well. The Mandal Commission and the Sachar Committee already discussed it and several castes from Muslims have been in central and state lists."
Source: Indian Express
Please click the following URL to read the full text of the original story:
https://indianexpress.com/article/india/political-pulse/bihar-10-party-meeting-caste-census-muslims-7939965/
--------
Gyanvapi Mosque Committee Urges Varanasi Court To Not Make Survey Visuals Public
28 MAY 2022
The Gyanvapi Mosque committee has urged the Varanasi district court to not make videos, photographs and commission reports on the Mosque survey matter public. A letter was written on behalf of the Anjuman Intrageniya Committee to the court that referred to applications in the court for the certified copy of the commission's order.
Speaking to reporters, Merajuddin Siddiqui, a lawyer for the committee said that the committee pleaded that the survey matter is only shared with the concerned parties. The report will be released on May 30.
Earlier, on May 20, the Supreme Court transferred the civil suit filed by Hindu devotees on Gyanvapi mosque from civil judge (senior division) to district judge of Varanasi, citing complexities and sensitivity of the case and saying it is better for a senior judicial officer to handle it.
Senior Advocate Huzefa Ahmadi, appearing for the Committee of Management Anjuman Intezamia Masjid, said an undertaking should be given that Hindu devotees will not proceed with the civil court proceedings.
Source: Outlook India
Please click the following URL to read the full text of the original story:
https://www.outlookindia.com/national/gyanvapi-mosque-committee-urges-varanasi-court-to-not-survey-visuals-public-news-198962
--------
Mathura case: Application Filed For Status Quo On Mosque Premises In Krishna Janmabhoomi-Shahi Idgah Dispute Case
28 MAY 2022
Three applications were filed in the court of civil judge (senior division) in Mathura, Uttar Pradesh in the Krishna Janmabhoomi-Shahi Idgah dispute case, requesting among other things that the status quo be maintained on the mosque premises, officials said.
The applications were submitted in the court of Jyoti Singh as part of a suit filed in the name of deity Sri Krishna Virajman and Lucknow-resident Manish Yadav, who claims to be a descendant of Lord Krishna, in 2020 for shifting the mosque.
The petitioners have claimed that the mosque is constructed on a part of 13.37 acre land of Katra Keshav Dev temple.
Earlier, the petitioners had moved the court with a plea for a survey of the mosque. The court has fixed July 1 as the next date of hearing on the reopening of courts after summer vacation.
District Government Counsel (Civil) Sanjai Gaur Friday said the three new applications demanded: a) maintaining the status quo on the mosque premises, b) appointing two assistant advocate commissioners, and c) ordering the presence of district level officers at the time of an on-spot inspection of the mosque by advocate commissioner.
In the status quo application, the petitioners have claimed that some "vital signs" of Hindu temples have been buried inside the mosque.
The counsel for the petitioner has expressed apprehension that these signs may be defaced, disfigured or eliminated together during the long summer vacation of the court.
The only solution is to order the status quo on the mosque premises, the counsel requested.
In the second application, the counsel said, considering the large area of the mosque, the court has been requested to appoint two assistant advocate commissioners to assist senior advocate commissioner during a spot inspection and also present their own independent report to the court.
Source: Outlook India
Please click the following URL to read the full text of the original story:
https://www.outlookindia.com/national/mathura-case-application-filed-for-status-quo-on-mosque-premises-in-krishna-janmabhoomi-shahi-idgah-dispute-case-news-198947
--------
Petition in Supreme Court seeks 'confidential' survey of all mosques with wells, ponds
May 27, 2022
A Petition has been filed by two advocates before the Supreme Court seeking a confidential survey of ancient prominent mosques that have wells or ponds in India, amid a row involving Gyanvapi mosque and Qutub Minar.
The petitioners sought a confidential survey by Archaeological Survey of India (ASI) on all prominent mosques that have wells/ponds or allow 'wazu' to be performed inside the mosque.
The petition also sought directions for the shifting of wuzu or wudu ( the Islamic procedure followed by Muslims for cleansing parts of the body before offering prayers) from the ponds and wells in mosques over a hundred years old.
According to petitioners, a confidential survey could be completed so that if any relic is discovered, unnecessary communal hatred and hurting religious sentiments could be avoided.
The plea filed by Delhi-based advocates Shubham Awasthi and Saptarishi Mishra, represented by advocate Vivek Narayan Sharma, claimed: "A shivling was found at the pond/well in the Gyanvapi temple complex. It was found in the pond/well where Muslims perform Wuzu. Over the last many decades, the practice of Wuzu has continued there, which shows wilful malice towards the sacred shivling and an antipathy towards Hindu gods or relics considered sacred and worshipped by Hindus and this is tantamount to hurting the religious sentiments of Hindus."
It further said: It is widely known that a lot of Hindu/Jain/Sikhs/Buddhist temples and places of worship were desecrated during the medieval period. Thus, it is common sense that a lot of relics/deities in these ancient places of worship would belong to religions other than Islam. Mutual co-operation and harmony demand that the remnants of mosques be respected and steps be taken to take care of ancient religious relics and for their return too."
QUTUB MINAR CONTROVERSY
A controversy erupted after ASI's ex-regional director Dharamveer Sharma claimed that the Qutub Minar was constructed by Raja Vikramaditya and not by Qutb al-Din Aibak, to study the direction of the sun.
India Today has accessed an Archaeological Survey of India (ASI) report from 1871-72 that unearthed evidence of the mosque on the Qutub Minar complex having been built at the site of Hindu temples. Former ASI director Dr Amrendra Nath corroborated the findings of the ASI report and said the information presented in the report is "completely true".
GYANVAPI CASE
Following a court-monitored survey of Gyanvapi mosque in Varanasi, a structure was found inside the basement. While the Hindu side claimed it was a shivling, the Muslim side said it was a fountain.
Later on May 17, the Supreme Court ordered the Varanasi district magistrate to ensure the area where a shivling was purportedly found is protected without obstructing the Muslim community's right to worship. A Varanasi Court will hear the matter again on May 30.
Source: India Today
Please click the following URL to read the full text of the original story:
https://www.indiatoday.in/india/story/supreme-court-petition-confidential-survey-ancient-mosque-ponds-wells-1955131-2022-05-27
--------
Kashmiri artiste Amreena's killers among 4 LeT terrorists shot dead
May 28, 2022
SRINAGAR: Security forces gunned down four Lashkar-e-Taiba terrorists in separate shootouts on Friday, two of whom were said to be the killers of Kashmiri TV artiste and singer Amreena Bhat, 35, who was murdered in front of her house at Hushroo in the Chadoora area of central Kashmir's Budgam district on Wednesday night.
Kashmir range IGP Vijay Kumar said new LeT recruits Shahid Mushtaq Bhat of Chadoora and Farhan Habib of south Kashmir's Pulwama district were killed in a shootout with a combined team of J&K police, Army and CRPF in a village at Awantipora, Pulwama. An AK-56 rifle, four magazines and a pistol were found on them.
Kumar said the two terrorists were identified as the killers of Amreena. He congratulated the forces for "solving Amreena's murder" at the double. The fatal attack on the artiste, who was also popular on video streaming platforms like YouTube, drew widespread condemnation and outrage as she was reportedly targeted for acting and singing—considered "immoral" by terrorist outfits and ultraconservative organisations. The murder evoked restrictions imposed on Kashmiri women in the 1990s and thereafter.
Two more LeT terrorists were shot dead by a police search party in the Soura area of Srinagar early Friday. A senior police officer identified the slain men as Shakir Ahmad Waza and Afreen Aftab Malik—both from Shopian in south Kashmir, and newly enlisted in the Pakistan-backed banned outfit. "They were involved in several attacks on police and security forces."
Police also captured a Lashkar terrorist with arms and ammunition in Srinagar's Bemina locality. "Hybrid terrorist Nasir Ahmad Dar, a resident of Sopore, tried to flee when guards at a checkpoint asked him to stop. He was quickly taken into custody. A pistol and a magazine with five bullets were seized from him," an officer said. "He delivered weapons to members of the outfit in Srinagar city."
IGP Kumar said 10 terrorists—seven from LeT and three from Jaish-e-Mohammad—were killed over the past three days in Kashmir. He hailed it as a big success, especially the shooting of Amreena's killers.
Source: Times Of India
Please click the following URL to read the full text of the original story:
https://timesofindia.indiatimes.com/india/kashmiri-artiste-amreenas-killers-among-4-let-terrorists-shot-dead/articleshow/91842695.cms
--------
Karnataka: Dalit man killed over interfaith relationship, 2 arrested
27th May 2022
Kalaburagi: A 25-year-old Dalit man who was in a relationship with a Muslim woman was killed in a suspected case of honour killing here and two persons, including her brother, have been arrested in connection with the crime, police said on Friday.
Vijay Kumar Kamble was allegedly stabbed and attacked with a rod on Wednesday night at Wadi here, with the incident reminding of a similar chilling murder of a Dalit man by his Muslim wife's brother, who was opposed to their relationship, in broad public view in Hyderabad earlier this month.
Police said Kamble and the woman were in love and wanted to get married, and despite her family's opposition to the relationship and warnings, he continued to stay in touch with her.
The arrested persons have been identified as Mohammed Shahabuddin, the girl's elder brother and his friend Nawaz.
Shahabuddin is said to have assaulted the victim earlier too and had threatened him to stay away from his sister.
Based on the complaint filed by the victim's mother, a case was registered against the arrested under Sections of IPC including 302 (murder) and the SC/ST Atrocities (Prevention) Act.
Source: Siasat Daily
Please click the following URL to read the full text of the original story:
https://www.siasat.com/karnataka-dalit-man-killed-over-interfaith-relationship-2-arrested-2335864/
--------
South Asia
WHO to Immunize Over 5 Million Covid-19 Vaccinations Across Afghanistan
By Saqalain Eqbal
27 May 2022
The World Health Organization (WHO) has announced the start of the Covid-19 vaccination campaign across Afghanistan in the coming days.
The Corona virus vaccine implementation campaign, according to the WHO's plans, will begin in June of this year, the organization announced in a tweet yesterday, May 26.
The process will cover 34 provinces in Afghanistan, with more than five million people over the age of 18 receiving the corona vaccination, according to the World Health Organization.
Since the inception of the Corona virus vaccine program, over 8.5 million people have been vaccinated, according to the latest figures released to the media by the Taliban-led government's Ministry of Public Health.
According to the spokesperson for Ministry of Public Health, 4.6 million people have been vaccinated within last nine months alone.
Source: Khaama Press
Please click the following URL to read the full text of the original story:
https://www.khaama.com/who-to-immunize-over-5-million-covid-19-vaccinations-across-afghanistan46384/
--------
Doval says India guided by interest of Afghans, urges Taliban to ensure education for girls
Suhasini Haidar
MAY 27, 2022
At a regional security conference, NSA asserts India's special relationship with Afghanistan will continue
Afghanistan must ensure education for girls, National Security Advisor (NSA) Ajit Doval said at the 4th Regional Dialogue on Security being held in Tajikistan capital Dushanbe.
Emphasising India's decision to help Afghanistan with humanitarian aid despite no India-Afghanistan relations with the Taliban regime, he asserted that India remained an "important stakeholder"
"The special relationship with the people of Afghanistan over centuries will guide India's approach. Nothing can change this," he stated at the conference of NSAs and State Security Council Chiefs attended by China, Iran, Kazakhstan, Kyrgyzstan, Russia, Uzbekistan and Tajikistan.
"Women and youth are critical for the future of any society. Provision of education to girls and employment to women and youth will ensure productivity and spur growth. It will also have a positive social impact including discouraging radical ideologies among youth," he observed, according to official accounts of the closed-door two-day meeting released to the media.
Girl students issue
In the past few weeks, international calls for the Taliban to rescind an order that mandated girl students in secondary schools, from grade 6-12 were not allowed to attend school. India was part of a United Nations Security Council statement criticising the Taliban regime's actions, as well as other restrictions on women in education and employment.
"There is need for all present at the Dialogue to enhance the capability of Afghanistan to counter terrorism and terrorist groups which pose a threat to regional peace and security," Mr. Doval remarked, according to news agency PTI, indicating that the government is prepared to distinguish between the Afghan regime and trans-national terror groups.
His comments are significant as India has engaged with regional and global stakeholders over the past few weeks, with a focus on the security situation emanating from Afghanistan. Last week, the National Security Council hosted a five-day Shanghai Cooperation Organisation meeting of the Regional Anti-Terror Structure (SCO-RATS) in Delhi, which included delegates from Pakistan and China. On Wednesday and Thursday, United States Special envoy Thomas West met with government officials and also met Afghan leader Dr. Abdullah Abdullah, who is visiting Delhi.
"Special Representative for Afghanistan (SRA) West was in India to consult with the Indian government about how we can work together to support the Afghan people. India is an important partner for addressing these challenges," the U.S. Embassy spokesperson told The Hindu on Friday. Earlier, Mr. West had tweeted that the U.S. would continue to "partner" India and others in the region to support the Afghan people, citing India's provision of "critical humanitarian aid" and key interests to protect in the country.
Engaging Taliban officials
While India has refused to recognise the Taliban regime, it has engaged Taliban officials in Doha and other locations since their takeover of Kabul in August 2021. After Pakistan gave clearance for transit trade access, India has sent about 17000 metric tonnes (MT) of wheat out of a total commitment of 50000 MT, and has also sent vaccine doses for COVID-19 and Polio, urgently needed medicines and winter clothing on flights to Kabul.
Source: The Hindu
Please click the following URL to read the full text of the original story:
https://www.thehindu.com/news/national/doval-says-india-guided-by-interest-of-afghans-urges-taliban-to-ensure-education-for-girls/article65467405.ece
--------
Arab World
YPG/PKK Terrorists Building Cells To Hold Civilian Detainees In Tunnels In N. Syria
Ömer Koparan, Ethem Emre Özcan
27.05.2022
MANBIJ/AYN AL-ARAB, Syria
The YPG/PKK terror group is building cells to hold civilian detainees in tunnels it is digging in northern Syria's Manbij and Ayn al-Arab regions, according to local sources.
Despite promises by both the US and Russia on the YPG/PKK terrorist group withdrawing 30 kilometers (18.6 miles) from Turkiye's southern border, the terror group continues to dig tunnels in the cities of Manbij and Ayn al-Arab, which it continues to occupy in northern Syria.
Footage by Anadolu Agency teams on the ground showed that tunnels were dug 4 meters (13 feet) under the ground.
The tunnels, about 2 m (6.5 ft) high and 1 m (3.2 ft) wide, are connected to each other and have excavation tools, cells, crenelated doors, ventilation gaps, and power lines.
Terrorists are also using civilians they detain in illegal tunnel excavation works, according to local sources.
The tunnels, hundreds of kilometers long in different regions that the terror group occupied in northern Syria, are also being reinforced with concrete against air attacks.
YPG/PKK in Manbij, Tal Rifat, and Ayn Al-Arab, Syria
The YPG/PKK terrorists still threaten the secure atmosphere of the safe regions with their terrorist attacks in northern Syria.
The YPG/PKK mostly carries out terror attacks in Manbij, Ayn Al-Arab, and the Tal Rifat district of Aleppo. The terror group even uses these regions as bases for its attacks.
The terrorist organization, which occupied around one-third of Syria's territory with support from the US, often targets Azaz, Marea, al-Bab, Jarablus, Afrin, Tel Abyad, and Ras al-Ayn in northern Syria with heavy weapons.
Terrorists also often target Turkish security forces that provide security in the Euphrates Shield, Olive Branch, and Peace Spring operation areas, and try to infiltrate the positions of Syrian opposition fighters from regions that the terror group was supposed to withdraw from under the agreements with the US and Russia.
After chairing a Cabinet meeting in the capital Ankara on Monday, Turkish President Recep Tayyip Erdogan said: "We will soon take new steps on the incomplete portions of the project we launched on the 30-km (18.6-mi) safe zone we established along our southern border." Erdogan said the operation would be launched as soon as the military, intelligence, and security forces have completed their preparations.
Since 2016, Turkiye has launched a trio of successful anti-terror operations across its border in northern Syria to prevent the formation of a terror corridor and enable the peaceful settlement of residents: Euphrates Shield (2016), Olive Branch (2018), and Peace Spring (2019).
Source: Anadolu Agency
Please click the following URL to read the full text of the original story:
https://www.aa.com.tr/en/middle-east/ypg-pkk-terrorists-building-cells-to-hold-civilian-detainees-in-tunnels-in-nsyria/2599222
--------
Kurdish asylum seekers on hunger strike in Poland
27 May, 2022
Ten Kurdish asylum seekers in Poland on Friday entered their third week of a hunger strike to protest what they described as prison-like conditions and a slow immigration process.
"The strike began on May 4," said Dagmara Bielec, a spokeswoman for the Polish border guard.
She added that the six Iraqis and four Turks have requested asylum and are staying at a immigration holding center in Lesznowola, near the capital Warsaw.
A spokesman for the hunger strikers told AFP that nine of them had arrived via the border with Belarus and had now spent several months "confined" to the center.
Speaking on condition of anonymity, the man described the strikers as "very weak, with some of them having begun to refuse beverages too."
The asylum seekers are protesting the conditions of their confinement, including the food, limited telephone and Internet access and difficulties contacting lawyers.
Since last year, thousands of migrants and refugees – mostly from the Middle East – have come knocking at the EU member's door via its border with Belarus.
Poland has accused the Belarusian regime of orchestrating the influx and has responded with the construction of a barbed wire fence and alleged pushbacks.
Rights activists have condemned the strict approach, pointing to the fact that Poland has simultaneously been welcoming Ukrainian war refugees with open arms.
Source: Al Arabiya
Please click the following URL to read the full text of the original story:
https://english.alarabiya.net/News/middle-east/2022/05/27/Kurdish-asylum-seekers-on-hunger-strike-in-Poland
--------
Relatives of Albanian ISIS fighters to be repatriated from Syria
27 May ,2022
Four Albanian women and nine children, all related to Albanians who joined ISIS extremist groups fighting in Syria and Iraq, are being repatriated from a Syrian camp, a Kurdish official from northeast Syria said Friday.
Abdul-Karim Omar, an official who negotiates with countries on the return of their citizens, tweeted that, "13 Albanians (4 women and 9 children) of the families of ISIS organization were handed over to an official Albanian government delegation."
He also posted a photo with Albania's anti-terror department chief Alban Dautaj.
The Albanian government did not confirm the report, but an official, speaking anonymously due to the sensitivity of the issue, said the repatriated Albanians were expected to land late Friday night.
Twenty-five other Albanian women and children whose husbands and fathers joined ISIS and most often have been killed in the fighting have been brought back home in three previous missions, the last one in July 2021.
Authorities have not specified the number of Albanians still in detention camps in Syria, only saying they have been identified. Their relatives in Albania say 52 children are still in Syria, including the 13 being repatriated Friday.
Source: Al Arabiya
Please click the following URL to read the full text of the original story:
https://english.alarabiya.net/News/middle-east/2022/05/27/Relatives-of-Albanian-ISIS-fighters-to-be-repatriated-from-Syria
--------
Lebanon's exit from default still tough after inconclusive election, Fitch says
27 May, 2022
Lebanon still has a tough road to exit from default on its sovereign obligations given the inconclusive outcome of the country's parliamentary election on May 15, Fitch Ratings said on Friday.
The election results have left parliament split into several camps, with Hezbollah and its allies losing their 2018 majority, raising the prospect of political paralysis that could delay implementing financial and economic reforms, which are preconditions for support from the International Monetary Fund (IMF) and other international partners.
"The weakening of the pro-Hezbollah bloc will give greater voice to other parties," Fitch said in a report on its website, "but we believe that implementing the IMF's preconditions will still prove challenging government formation has historically been a lengthy process and the lack of a clear winning faction in this latest election suggests it will again take time."
Lebanon's outgoing Cabinet passed a financial recovery roadmap during its final session a week ago before going into caretaker status. The plan envisages cancelling "a large part" of the central bank's foreign currency obligations to commercial banks and dissolving non-viable banks by November.
The Lebanese banking association, however, rejected the roadmap earlier this week, saying that it places the full losses of the country's economic meltdown on depositors.
Lebanon's local currency has lost more than 95 percent of its value since its economic decline began in 2019, and banks have locked savers out of hard-currency deposits.
Source: Al Arabiya
Please click the following URL to read the full text of the original story:
https://english.alarabiya.net/business/economy/2022/05/27/Lebanon-s-exit-from-default-still-tough-after-inconclusive-election-Fitch-says
--------
North America
Canada court reduces Quebec mosque killer's parole sentence
Barry Ellsworth
27.05.2022
TRENTON, Canada
The man who gunned down six Muslims at a Quebec City mosque will be eligible for parole after 25 years rather than 40, the Supreme Court of Canada ruled Friday.
Andre Bissonnette was 27 when he went on a killing spree, shooting six worshippers at the Centre Culturel Islamique de Quebec and injuring 19 others Jan. 29, 2017.
He was sentenced in 2019 to 40 years in prison before becoming eligible for parole. Both the defense and the prosecution appealed the sentence. The former argued the time should be reduced to 25 years while the latter called for a stiffer parole ruling of 50 years.
While the court said in its ruling that the shootings "were of unspeakable horror and left deep and agonizing scars in the heart of the Muslim community and of Canadian society as a whole," it also said the original 40-year sentence was unconstitutional.
"The conclusion that imposing consecutive 25-year parole ineligibility periods is unconstitutional must not be seen as devaluing the life of each innocent victim," the Supreme Court wrote in its decision.
"Everyone would agree that multiple murders are inherently despicable acts and are the most serious of crimes, with consequences that last forever. This appeal is not about the value of each human life, but rather about the limits on the state's power to punish offenders, which, in a society founded on the rule of law, must be exercised in a manner consistent with the Constitution."
The reduction in parole time was criticized by the Justice For All Canada Muslim organization.
"The events in 2017 were Canada's worst act of terror and victims and their families deserve sympathy and justice," Taha Ghayyur, executive director of Justice For All Canada, said in an email to Anadolu Agency.
"The renewed leniency in Bissonnette's sentencing does not send a strong message to such culprits of hate. His parole reduction also doesn't help those bent on taking their hate to the next level. Considering how many mass shooters are inspired by Bissonnette, the world should look to Canada for deradicalizing mass shooters who continue to threaten minorities."
The Conservative government of then prime minister Stephen Harper amended the criminal code in 2011 to allow judges to hand down consecutive sentences in the case of mass murders. That could have meant 150 years with no parole until the sentence was served - 25 years for each killing.
The judge in the Bissonnette case gave a concurrent sentence - 25 years in total for five murders then added 15 years for the other killing.
The Supreme Court ruling strikes down the Harper criminal court provision.
"Sentences of imprisonment for life without a realistic possibility of parole may also have devastating effects on offenders, who are left with no incentive to rehabilitate themselves and whose incarceration will end only upon their death," the Supreme Court ruled.
Source: Anadolu Agency
Please click the following URL to read the full text of the original story:
https://www.aa.com.tr/en/americas/canada-court-reduces-quebec-mosque-killers-parole-sentence/2599424
--------
US sanctions Iran's Quds Force, Hezbollah
May 27, 2022
DUBAI: The US has designated a network run by the Islamic Revolutionary Guard Corps Quds Force an "international oil smuggling and money laundering network."
A US Treasury Department report on Wednesday said that officials had facilitated the sale of hundreds of millions of dollars worth of Iranian oil for both the IRGC-QF and Hezbollah.
It acted as a critical element of Iran's oil revenue generation, and supported proxy militant groups that continued to "perpetuate conflict and suffering throughout the region."
The department's undersecretary for terrorism and financial intelligence, Brian Nelson, said the US would continue to strictly enforce sanctions on Iran's illicit oil trade.
He added that similar sanctions could apply to anyone purchasing oil from Iran.
Ruwan Al-Rejoleh, a MENA expert and consultant based in Washington, called the sanctions an "important step."
"Assisted by Hezbollah, this oil network has been allowed to operate freely for too long. This is an important step, but the administration must keep pushing Hezbollah and its allies to the margins," she said. "Hezbollah, who control the Lebanese Energy Ministry, recently took advantage of Lebanon's energy problems to secure preferential access to the Lebanese market for their masters in Tehran."
She said Sonatrach, a state-owned Algerian company, had been responsible for sending fuel oil to Lebanon and that its exit had "exacerbated the country's already crippling" energy problems.
Source: Arab News
Please click the following URL to read the full text of the original story:
https://www.arabnews.com/node/2090971/middle-east
--------
Southeast Asia

Crazy to 'enforce' Malay in civil service, says Rafidah
May 28, 2022
PETALING JAYA: Rafidah Aziz has slammed Chief Secretary to the Government Zuki Ali for calling on the public service department (JPA) to consider punitive measures to "enforce" the use of Malay in the civil service.
The former international trade and industry minister said civil servants' competence in English used to be a key driver in attracting high-quality foreign investments.
Rafidah pointed out that when she was leading the international trade and industry ministry (Miti), she had asked for all of the ministry's communications to be conducted in English, to ensure efficiency in the delivery of its services.
"Every year, the private sector honoured Miti with the annual enterprise award. Communication was facilitated and effective.
"The vision and reference point was 'Malaysia in the regional and global infrastructure'. Not Malaysia in its own 'syok sendiri', tiny, self-wound cocoon.
"If this mindset of being inward-looking persists, with penalties imposed for communicating with the rest of the world in English, then we will be the bureaucratic pariahs in Asean," she said in a statement today.
Earlier this week, Zuki was reported to have said that JPA needs to consider punitive measures to enforce the use of Malay in the civil service and other government-related agencies, including government-linked companies.
He said this was in line with Prime Minister Ismail Sabri Yaakob's announcement that Malay would be used not only within the country but also internationally.
Rafidah described the move as regressive, saying civil servants should instead be raising their proficiency in English and other relevant languages.
She especially sympathised with Miti officers and others who still needed to deal with the foreign community, should they be forced to comply with the use of Malay on all official matters.
Rafidah said that not equipping young Malaysians with the language and communication skills to effectively address the rest of the world would be doing a disservice to the country.
"We should be progressing and moving forward, not regressing and sliding backwards and downwards. We must focus on substance, not on mere form."
Source: Free Malaysia Today
Please click the following URL to read the full text of the original story:
https://www.freemalaysiatoday.com/category/nation/2022/05/28/crazy-to-enforce-bm-in-civil-service-says-rafidah/
--------
Putrajaya, Tokyo ink deal to send skilled Malaysians to work in Japan
May 28, 2022
PUTRAJAYA: A joint committee will be set up to implement the memorandum of cooperation (MoC) to send skilled Malaysian workers to work in Japan, says human resources minister M Saravanan.
The MoC was finalised between Saravanan and Japanese justice minister Yoshihisa Furukawa on Thursday. The exchange of documents was witnessed by Prime Minister Ismail Sabri Yaakob and his Japanese counterpart, Fumio Kishida, yesterday.
Saravanan said in a statement today that his ministry would lead the joint committee for Malaysia.
"The MoC will act as the best platform for eligible skilled Malaysian workers to work in the advanced technology-based ecosystem in Japan," he said.
Through this exposure and experience acquired, he said Malaysian workers would have the opportunity to explore various fields of technology which were the pulse of the industrial sector in Japan.
"(Malaysian workers) will be able to bring back the skills they learn as well as the work culture of Japan to Malaysia after their employment contract ends over there," Saravanan said.
He said Japan was identified as a country that offered high wages to skilled workers.
"Therefore, Malaysian skilled workers who participate in the programme will be able to enjoy a higher income and improve their socio-economic standing.
"In fact, the work experience in Japan can also increase the marketability of the workers," he said.
Source: Free Malaysia Today
Please click the following URL to read the full text of the original story:
https://www.freemalaysiatoday.com/category/nation/2022/05/28/putrajaya-tokyo-ink-deal-to-send-skilled-malaysians-to-work-in-japan/
--------
Bar to hold protest over 'judicial intimidation'
Ho Kit Yen
May 27, 2022
KUALA LUMPUR: The Malaysian Bar says it will hold a "peaceful protest" to voice dissatisfaction about judicial intimidation.
Bar Council president Karen Cheah said lawyers voted in favour of a motion at an extraordinary general meeting today to condemn an investigation by the Malaysian Anti- Corruption Commission (MACC) into Court of Appeal judge Nazlan Mohd Ghazali.
The investigation was made following a report about an unexplained sum of more than RM1 million in his bank account. MACC has said the investigation papers have been submitted to the Attorney-General's Chambers for further advice and action.
The Bar said constitutional procedures should be followed in the probe, contending that the Federal Constitution provides for complaints about alleged judicial misconduct to be handled in a manner that ensures continued public confidence in the judiciary.
Earlier this month, six former Bar presidents (Mah Weng Kwai, Kuthubul Zaman Bukhari, Yeo Yang Poh, Ambiga Sreenevasan, Lim Chee Wee and Steven Thiru) urged the current office bearers to hold a "walk for justice" to protest against claims of "intimidation" of the judiciary.
During Ambiga's tenure, she had led 2,000 members to walk from the Palace of Justice to the Prime Minister's Office to urge the government of then prime minister, Abdullah Ahmad Badawi, to set up a Royal Commission of Inquiry into a judge-fixing scandal.
Cheah said a meeting would be held tomorrow to discuss the protest.
Source: Free Malaysia Today
Please click the following URL to read the full text of the original story:
https://www.freemalaysiatoday.com/category/nation/2022/05/27/bar-to-hold-protest-over-judicial-intimidation/
--------
Mideast

Hamas challenges Israel over nationalist flag march in Jerusalem
27 May, 2022
The Palestinian militant group Hamas that runs the Gaza Strip is looking to impose new red lines in Jerusalem, epicenter of the decades-long conflict between Israelis and Palestinians, even if that risks provoking another war.
For years, flag-waving Israeli nationalists have staged an annual march through Jerusalem to celebrate Israel's capture of the Old City in the 1967 Middle East war.
The procession through the narrow streets of the Muslim quarter was always controversial, but legal efforts to ban the event failed, with supporters arguing that it was a legitimate festival marking an extraordinary moment in Jewish history.
Hamas significantly raised the stakes last year, firing rockets into Israel minutes after the 2021 march kicked off, triggering an 11-day war.
Leaders of the group say they are ready for renewed violence on Sunday if the Israeli government does not keep this year's march out of Muslim neighborhoods.
"They can avoid a war and escalation if they stop this mad (march)," Bassem Naim, a senior Hamas official, told Reuters in Gaza this week.
For many Palestinians, the march is a blatant provocation and a gross violation of one of the few places in the city, increasingly hemmed in by Jewish development and settlement, which retains a strong Arab flavor.
For Hamas it is also a religious affront, given the Old City is home to the al-Aqsa mosque compound, the third holiest site in Islam, which Jews also revere as the Temple Mount - a vestige of their faith's two ancient temples.
Prime Minister Naftali Bennett has defended a decision by security officials to let Sunday's procession enter Damascus Gate and pass through the Muslim quarter.
Some members of his coalition have urged him to rethink the route and suggested there might be a last-minute change of heart. However, a senior Western diplomatic source doubted that Bennett would bow to Hamas's demand.
"He has only been in office for a year and it would make him look weak," said the diplomat, who declined to be named.
Funerals and riots
Israel sees all of Jerusalem as its eternal and indivisible capital, while Palestinians want the eastern section as a capital of their future state. Hamas sees all of modern-day Israel as occupied.
"For Israel, Jerusalem is off the table, for the Palestinians it is the table. It is their Alamo," said Daniel Seidemann, an Israeli lawyer and campaigner for Palestinian rights in East Jerusalem.
Tensions have been rising in the city for weeks.
There were repeated clashes between Palestinians and Israeli police in the al-Aqsa compound in April, during the holy month of Ramadan, with Muslims angered by rising numbers of Jewish visitors to the mosque esplanade.
On one night during Ramadan, youths managed to smuggle into the site a gigantic banner showing a Hamas fighter, which they hung up in front of the gilded seventh-century Dome of the Rock.
"A few years ago that would have been unthinkable. It shows that Hamas's defense of Jerusalem is resonating and that support for them is growing," the Western diplomat said.
Two weeks ago, the funeral of al-Jazeera journalist Shireen Abu Akleh, killed during an Israeli army West Bank raid, descended into chaos when police charged the mourners. Two days later, the funeral procession of a young man fatally injured in al-Aqsa clashes led to a full-blown riot in East Jerusalem.
A senior Israeli lawmaker from the ruling coalition said this week it was too risky to let Sunday's march continue in its present form given the tensions.
"We should not, with our own hands, cause a religious war here or all kinds of provocations that are liable to ignite the Middle East," Ram Ben-Barak told Kan radio.
Highlighting his concerns over likely violence, the US Embassy in Jerusalem has banned US government employees and their families from entering the Old City on Sunday and has said Damascus Gate is off-limits to them until further notice.
However, calls for a rethink of the route have been scorned by the organizers, who deny that the procession, which often features anti-Arab chanting, is a provocation.
"It's all about celebration, of the liberation of Jerusalem and the return of the Jewish people to the Jewish city, Jerusalem," said Arieh King, a Jerusalem deputy mayor.
For Hamas such sentiment is an anathema - highlighting the impossibility of reconciling two diametrically opposed visions of history.
Source: Al Arabiya
Please click the following URL to read the full text of the original story:
https://english.alarabiya.net/News/middle-east/2022/05/27/Hamas-challenges-Israel-over-nationalist-flag-march-in-Jerusalem
--------
Iran's Top Security Official: US Should Unfreeze Afghanistan's Assets, Compensate for Damages
2022-May-28
Shamkhani made the remarks on Friday, addressing the fourth meeting of the Regional Security Dialogue in Tajikistan's capital of Dushanbe.
He said terrorism and extremism are among the main causes of insecurity in Afghanistan.
"Unfortunately, we have alarming evidence of the presence and involvement of some regional and extra-regional countries in the transfer of terrorists to Afghanistan."
Shamkhani urged regional countries to focus on efforts that would boost security and put joint deterrent measures on the agenda to prevent insecurity and instability.
Iran's top security official emphasized that all countries and Afghanistan's acting Taliban government must fulfill their responsibilities in this regard.
Shamkhani pointed to the regional circumstances, not least in Afghanistan over the years and the disgraceful defeat of the United States there, and said Washington must not only release the frozen assets of the Afghan people, but also compensate for the damage it has caused in the war-ravaged country.
He pointed the finger at the US, saying Washington and its "wrong expansionist" policies are at fault for the "two catastrophes of the 20-year war in Afghanistan and the war in Ukraine."
Shamkhani referred to Iran's efforts to boost security in its neighboring country, and said, "The Islamic Republic of Iran has always called for the establishment of security, peace, and stability in Afghanistan and deems it necessary for the development and welfare of Afghans and other nations in the region."
He said Iran has been hosting about five million Afghans in recent years, and this issue has created a host of issues for the country due to the absence of effective international aid and the existence of cruel sanctions.
Shamkhani said discrimination and deprivation of rights in various fields are among the main factors that allow terrorist groups to abuse the situation in Afghanistan. The establishment of a broad-based government in Afghanistan, he said, would promote stability.
Shamkhani also underscored the importance of adopting proper ways to solve Afghanistan's problems, particularly in the economic sector.
In relevant remarks on Friday, Shamkhani in a meeting with his Russian counterpart Nikolai Patrushev voiced concern over the unfolding developments in Afghanistan and the emergence of various terrorist groups in the country.
Also, in a meeting with National Security Advisor to the Prime Minister of India Ajit Kumar Doval KC in Tajikistan capital of Dushanbe on Thursday, Shamkhani said that the formation of an inclusive government with the participation of all ethnic and religious groups is one of the requirements for stability in Afghanistan.
"Developments in Afghanistan, given its direct impact on regional security, is one of the main issues that should be constantly on the agenda of regional talks," Iran's top security official said.
Source: Fars News Agency
Please click the following URL to read the full text of the original story:
https://www.farsnews.ir/en/news/14010307000325/Iran's-Tp-Secriy-Official-US-Shld-Unfreeze-Afghanisan's-Asses-
--------
Iranian Official Raps Ottawa for Failure to Separate Sports from Politics
2022-May-28
"Canada's decision to call off a friendly with Iran is testimony to the fact that the so-called Land of the Free can't keep politics off the pitch," Qaribabadi wrote on his twitter page on Friday.
On Tuesday, Iranian Foreign Ministry spokesman Saeed Khatibzadeh accused Canada of politicizing the match and warned that Canada Soccer would be held responsible for any violations of its agreement with Iran's football federation if the match was cancelled.
It came after Canadian Prime Minister Justin Trudeau said the friendly game against Iran "wasn't a very good idea", criticizing his country's football boy for plans to host the match.
Canada Soccer, the governing body of football in Canada, on Thursday announced it had cancelled the FIFA World Cup Qatar 2022 friendly match with Iran that was scheduled to be held in Vancouver on June 5.
"Over the past week, the untenable geopolitical situation of hosting Iran became significantly divisive, and in response, the match was cancelled," Canada Soccer said in a statement on Thursday.
"While we considered the external factors in selecting the optimal opponent in our original decision-making process, we will strive to do better moving forward."
More than 40,000 tickets had been sold for the match at B.C. Place Stadium in Vancouver.'
Source: Fars News Agency
Please click the following URL to read the full text of the original story:
https://www.farsnews.ir/en/news/14010307000213/Iranian-Official-Raps-Oawa-fr-Failre-Separae-Sprs-frm-Pliics
--------
Palestinian teen killed by Israel forces in occupied West Bank
27 May, 2022
A Palestinian teenager was shot by Israeli troops Friday near the town of Bethlehem in the occupied West Bank and later died of his wounds, the Palestinian health ministry said.
Zayd Mohammed Ghouneim was shot in the back and neck and died in hospital of his wounds, a ministry statement said.
Contacted by AFP, the Israeli army said it was not immediately in a position to comment on the matter.
Earlier on Friday, Israeli forces injured almost 90 people in protests in the occupied West Bank, the Palestine Red Crescent Society said.
Source: Al Arabiya
Please click the following URL to read the full text of the original story:
https://english.alarabiya.net/News/middle-east/2022/05/27/Palestinian-teen-killed-by-Israel-forces-in-occupied-West-Bank
--------
Turkey seeks 'concrete steps' from Finland, Sweden to accept their NATO membership
27 May 2022
Turkish foreign minister says his country has called on Sweden and Finland to take concrete actions and stop supporting terrorist groups in order for Ankara to agree to their NATO membership bid.
Speaking at a news conference on Friday, Mevlut Cavusoglu told reporters that "a concrete step needs to be taken regarding Turkey's concern."
"They have to cut the support given to terrorism," Cavusoglu said, referring to the two Nordic states.
Ending decades of military neutrality, Finland and Sweden formally applied to join NATO last week, in a bid to boost security following Russia's offensive against Ukraine.
All 30 NATO members must unanimously agree on admitting new members, so that they can benefit from the pact's collective-security guarantee.
However, Turkey has opposed their bid, accusing the two Nordic countries of giving a safe haven to forces linked to the Kurdistan Workers Party (PKK) militant group and followers of Fethullah Gulen, who orchestrated a 2016 coup attempt.
The development came as Swedish and Finnish delegations met with Turkish officials in Ankara on Wednesday to address their objections to their NATO bids.
In a news conference after the talks that lasted about five hours, Turkish presidential spokesman Ibrahim Kalin said that Turkey will obstruct their process of joining the NATO if the two Nordic states fail to address Ankara's "security concerns" related to the pair's support for PKK in Turkey.
Source: Press TV
Please click the following URL to read the full text of the original story:
https://www.presstv.ir/Detail/2022/05/27/682839/Turkey-seeks-concrete-steps-Finland-Sweden-accept-NATO-membership
--------
Pakistan
Religious Affairs Minister, Mufti Abdul Shakoor, Delivers Self-Aggrandising Speech On Foreign Trip
Amir Wasim
May 28, 2022
ISLAMABAD: The National Assembly session was prorogued on Friday without taking up any agenda item on the last day, as Deputy Speaker Zahid Akram Durrani provided full opportunity to Federal Minister for Religious Affairs Mufti Abdul Shakoor to deliver a speech during the question hour to justify his recent visits to the United Arab Emirates (UAE) and Saudi Arabia in the wake of criticism in some circles.
During a self-praising speech in the name of a policy statement on Haj, the minister told the house he had been invited by some Arab "organisers" to Abu Dhabi to attend a conference on the issue of interfaith harmony and how he managed to get from them a ticket to Saudi Arabia to examine Haj arrangements.
Previously, he said, the former religious affairs ministers used to visit Saudi Arabia for Haj arrangements by using "Pakistan's national exchequer", but he had saved money for the country by putting a condition before the UAE organisers that he would attend the event only if they provided him with the ticket for the Saudi capital of Riyadh.
"I told [the organisers] they will have to arrange his air ticket to Saudi Arabia and that not a single rupee of Pakistan will be spent on it," he boasted, adding that his condition was accepted.
Explains how he managed to get a ticket to Saudi Arabia from UAE to examine Haj arrangements
"I reached Riyadh at their (organisers') expense without spending a single rupee of Pakistan," he said, adding that he also attended a Motamar-i-Alam-i-Islami (World Muslim Congress) there.
"Then, at the expense of Arabs, I performed Umrah [and then] started my work and visited houses (where Pakistani pilgrims stay during the Haj)," he added.
Without naming anyone, he said some people were criticising him and saying that he had gone on an excursion trip. Stating that he had never been fond of visiting places for recreation, he declared that no one could prove that he had ever visited a foreign country before becoming MNA. "Yes, I had gone for Haj and Umrah."
Mufti Shakoor, an MNA of the Jamiat Ulema-i-Islam-Fazl (JUI-F) from the erstwhile tribal areas, said his speeches in Abu Dhabi and Riyadh were lauded by the religious affairs ministers of the Muslim world and other participants.
The minister said those who had arranged the UAE programme were so impressed with his speech that they came to the airport with him, where they informed him that they had decided to launch 14 scholarship programmes for the Pakistani students.
In his speech, he also lashed out at former prime minister Imran Khan and alleged that there was massive corruption in the Haj affairs during the time of the previous Pakistan Tehreek-i-Insaf (PTI) government and vowed to expose it. The deputy speaker, who also belongs to the JUI-F, expunged some of Mufti Shakoor's remarks he had passed for Imran Khan.
The minister said he was making efforts to bring down Haj expenses to Rs650,000. He said Saudi Arabia, which was also facing economic problems, had fixed an expense of 9,500 riyals for each intending pilgrim of D-category, adding that had there been the PTI government, the Haj expense would have been up to Rs1.1 million.
The minister said his ministry had hired residential buildings in Makkah at the rate of 2,100 riyals per head against the rate of 3,500 riyals paid in 2019. Similarly, he said, in Madina, pilgrims had to pay 2,100 riyals per bed for a week, whereas he had brought down the rate to 750 riyals. He said the government of Saudi Arabia had also reduced food and transport expenses at Pakistan's request.
He said he was shocked to know about the Haj expenses when he was briefed about it after taking charge as the minister.
"I made it clear that I would prefer to resign and leave the government rather than announcing the expensive Haj," he said amid desk-thumping by some members. He vowed that an affordable package for the minorities would also be introduced soon to facilitate them in visiting their sacred places.
The minister's claim of reducing the Haj expense to Rs650,000 was challenged by the lone Jamaat-i-Islami (JI) member in the house, Maulana Abdul Akbar Chitrali, who questioned that if the minister was right, why the banks were collecting Rs800,000 from the intending pilgrims.
Maulana Chitrali said: "If it is correct what the minister has said, I would like to congratulate him. But I want to put a question before the Maulana sahib. On the one hand, the pilgrims are being asked to deposit Rs800,000 and on the other hand, Maulana sahib is saying that they will bring it down to Rs650,000. Take notice of it."
Source: Dawn
Please click the following URL to read the full text of the original story:
https://www.dawn.com/news/1691863/religious-affairs-minister-delivers-self-aggrandising-speech-on-foreign-trip
--------
Army kept Nawaz Sharif in the dark whether Sindh or Balochistan would be the final destination
May 28 2022
By Rahul Kumar
New Delhi, May 28: The Washington-based Baloch American Congress (BAC) has unfurled the campaign for the independence of Balochistan from Pakistan. The BAC is lobbying with American Congressmen as well as collecting petitions from the common people to pressurise Pakistan to stop extra-judicial killings and enforced disappearances of the Baloch community.
India Narrative catches up with Dr Tara Chand, president of the BAC, who is raising awareness about the basic human rights of the Baloch nation amongst the people in the US. He says that because of the China Pakistan Economic Corridor (CPEC) both Pakistan and China are complicit in the ethnic cleansing of the Baloch people—which comprises less than 10 per cent of the Pakistani population with over 45 per cent of Pakistan's landmass endowed with minerals.
Dr Tara Chand is amplifying the voice of the Baloch people in the US against human rights violations by Pakistan (Photo: Dr Tara Chand)
Excerpts from the interview:
Q: At one time you were a minister in Balochistan, so why is it that you are in exile in the US now?
Tara Chand: I was always active in Baloch politics. I had joined the Baloch Students Organisation in school and after completing my education joined the Balochistan National Party (BNP) led by chief of the influential Mengal tribe, Sardar Akhtar Mengal. I won the general elections in 1997 and became a minister under Chief minister Sardar Akhtar Mengal's leadership.
One day while watching the news we came to know that the Pakistani army had conducted nuclear tests in Balochistan. The tests were conducted at a site near the Reqo Dik and Saindak gold and copper mines. Surprised, the chief minister rang up the then prime minister Nawaz Sharif. Sharif said even he was not aware of the nuclear tests as the army had kept it a tightly guarded secret. Sharif also told Sardar Mengal that he was unaware of the location of the tests because the army had kept two possible sites—Chagai in Balochistan and Tharparkar in Sindh.
Our party was against the nuclear test in Balochistan. And, we were not even informed despite running the government there. We protested against the test. So, the army asked us why we were protesting because the nuclear tests were done in the security interests of Pakistan. We told the army that we were not informed despite being in government and nuclear tests harm the environment.
The Pakistani intelligence started a conspiracy. Our party lost the majority in the assembly and became the opposition. This is a daily occurrence in Pakistan where the governments are formed and pulled down by orders of the army. Soon after, there was a coup and General Pervez Musharraf took over the government in Pakistan. Even the provincial assemblies were dissolved.
I was asked to join Musharraf's party which I refused. I was put on the Exit Control List (ECL). Then the intelligence agencies developed information that I was in touch with the Indian High Commission. When I came to know about this, I went underground for two months and came to the US. I was scared for my life as I was getting constant threats and would keep seeing my name in the newspapers.
Q: Do you still believe that the existence of the Baloch nation is in danger? Is the Pakistani military actually carrying out a genocide of the Baloch people?
Tara Chand: The Baloch people had to face four military operations before 2005. The fifth one, which is currently on, is the longest running operation against the Baloch nation. A racial, cultural and linguistic genocide of my people is actually taking place.
Pakistan takes away our resources. Sui and Dera Bugti provide natural gas to all of Punjab's factories. We ask for returns for these natural resources because this is our wealth. Gold, gypsum, zinc, copper, coal and iron are all mined by Pakistan. If the country does not share this wealth with us, how do we build schools, hospitals and other facilities?
Earlier we would be arrested for showing our displeasure. But now Pakistan has formed Death Squads. The military can pick up people and our students from anywhere—homes, markets, hostels. They have disappeared 80,000 in the last 15 or so years. At least 2,000 were tortured to death and their bodies dumped. The fate of more than 5,000 is still unknown. This is a genocide that we are facing.
Q: In the human development index, Balochistan stands right next to some of the poorest countries in Africa. Why is there such a big difference in development between Punjab and Balochistan?
Tara Chand: Balochistan has been kept poor right from the start. Funds released for the province from Islamabad are used for security of the mines and similar other projects.
Secondly, the puppet governments in Balochistan siphon off the funds. The funds are used for making and breaking the governments. The money never comes to the people. It is never used for the welfare of the people.
Q: We have seen that since the start of this year, Baloch armed groups have launched a number of attacks inflicting severe casualties on the Pakistani army. What has ignited the rebels suddenly?
Tara Chand: The Baloch groups are carrying out a guerrilla war, so I can't say much as I am not aware of their thinking. But I can vouch the more the Pakistani army retaliates, the more the Baloch rebels will resist.
Also, the Baloch nation is giving a message—that they support the rebels.
Q: How do you view Shari Baloch's suicide bombing? Does it not go against the secular beliefs of the Baloch movement? What impact will Shari's action have on the future of Baloch nationalism?
Tara Chand: Tens of thousands Baloch people have died over the decades in this war for Balochistan freedom. No Baloch fighter ever has said that they will go to heaven once they are martyred. It is the Pakistani army which says that its soldiers will go to heaven for conducting jihad. For us the fight is about our land, not heaven. Ours is a nationalist movement for our rights over homeland, seaports and natural resources.
Shari Baloch sacrificed her life. She came from a well-educated family. By her supreme sacrifice she has sent a message to the world — "we Baloch people can go to any length for our independence. Do not underestimate us."
Baloch logon ko pata hai ki yeh koi chhoti jung nahi hai'. (The Baloch people know that this is not going to be a short battle).
Shari Baloch's message is that we will not give up.
The Baloch are a secular progressive nation. The Baloch are running the movement not from a religious standpoint but for their national identity. Pakistan should accept that the Baloch people have lived in their homeland for centuries before Muslim invaders brought Islam came to Balochistan.
Q: China is shaken by the attacks on its people in Pakistan. There have been reports in the global media that Chinese nationals are leaving Pakistan out of fear. Do you actually think China will withdraw from the China Pakistan Economic Corridor (CPEC)?
Tara Chand: The CPEC cannot succeed without Baloch support.
Pakistan is making a fool of a greedy China by dangling the carrot of trade before it. It has told China that it will control Baloch nationalism. They do not want to realise that the Baloch movement is an indigenous movement. How much security can they put in CPEC?
I think China is showing its stupidity by investing in Pakistan. Its projects will never become successful. China is making a big blunder by investing in CPEC. It should stop the project and cut down its losses. Baloch people know that if the CPEC becomes a success, it will lead to their national instinction. It is a nation fighting for its survival.
The sacrifice of Shari Baloch has not gone in vain. After her martyrdom, thousands of Chinese have reportedly fled Pakistan.
Q: Besides the natural resources, does China also pose a threat to the Baloch people, its culture and its way of living?
Tara Chand: Because of the CPEC, lots of people from outside Balochistan will settle down in the province. People from Punjab will settle here. It will be a massive ethnic flooding. Most of our bureaucracy is already Punjabi and they hope to gain from the CPEC project at the expense of the local population.
The money coming to Pakistan from China for the CPEC will clean up the Baloch people from their own land. Pakistan will do it so that it can achieve its economic goals. But we Baloch will overcome China also.
Q: Why is it that the Baloch cause has not been able to garner international support? The Baloch people have been fighting Pakistani military rule since March 27, 1948 - after the Pakistani military forcibly took over Balochistan, yet it has no international support.
Tara Chand: It is our misfortune that Pakistan was always needed by the United States.
Initially, because of Russia in Afghanistan. Pakistan was also used by the West to put pressure on India. Pakistan has used the Taliban card to hoodwink the world and gain international support.
It succeeded in fooling the U.S. by telling Washington that Islamabad was an ally in the war against terrorism. Once the U.S. located Osama bin Laden's hideout just outside the Pakistan Military Academy in Kakul, they sniffed him out without informing Pakistan military or the devilish I.S.I. about their operation. Things are clear now as to who stands where.
Now Pakistan is finding it difficult to survive. Its internal situation is such that it has no money to manage its own security. How long can a state keep borrowing monies from other countries?
Without Balochistan, Pakistan is nothing. Without Pakistan, Balochistan is everything.
Q: Towards the end, would you like to add something from your side?
Tara Chand: I would like to make a distinction between the Baloch and the Bengali struggles as many comparisons are drawn between the two nations. The Bengali leaders in India had initially supported the idea of East Pakistan on the basis of religion. However, when they were discriminated against on the basis of their ethnicity and culture, they revolted against the Pakistani Punjabis.
Source: Daiji World
Please click the following URL to read the full text of the original story:
https://daijiworld.com/news/newsDisplay?newsID=962904
--------
PM Shehbaz tells court he refused salary as CM during Rs16bn money laundering hearing
Rana Bilal
May 28, 2022
Prime Minister Shehbaz Sharif on Saturday testified in a special court hearing the Rs16 billion money laundering case against him that he refused to receive any salary or benefits when he was chief minister of Punjab, terming himself a "majnoo".
His son, incumbent Punjab Chief Minister Hamza Shehbaz was also in court during the hearing of the case filed against them and their family by the Federal Investigation Agency (FIA).
Presiding judge of the Special Court (Central-I), Ijaz Hassan Awan, had extended their interim bails in the case till May 28 (today) during the hearing last week.
When the hearing resumed, the judge pointed out to FIA prosecutor Farooq Bajwa that the agency's report regarding the arrest of Shehbaz's son, Suleman Shehbaz, and other suspects had contradictory statements.
"On one hand, the report says that D-41, Model Town, is not an address. On the other, it also says the suspect Suleman Shehbaz is abroad," he observed. Bajwa responded that the address did exist but the suspect could not be found at that location.
"It is the fault of the person who wrote [the report]. He wanted to say the suspect was not present at that location."
The judge noted that the report also failed to mention other routine details on Suleman and another suspect Tahir Naqvi.
The FIA prosecutor said the agency would re-issue the arrest warrants and submit a fresh report to the court.
Judge Awan then noted that another suspect, Ghulam Shabbar, had passed away, to which Bajwa replied that the suspect's death certificate was a year old and the inquiry had started prior to his death.
He said he would submit a detailed response.
The judge asked the investigation officer to inform the court about the extent of the investigation conducted with regard to Shabbar. "Apparently, this challan will have to be re-submitted."
Meanwhile, Shehbaz and Hamza's counsel, Mohammad Amjad Pervaiz, argued that the facts in the challan were incorrect. "This case was mala fide because it was politically motivated. The law says if there are 10 cases against someone, he cannot be arrested separately for each."
Prime Minister Shehbaz then took the rostrum and said the case against him was "false".
"I have not taken anything from the government in 12.5 years," he said, adding that he used to get the government car in his use refuelled from his own pocket.
"God has made me the prime minister of this country. I am a majnoo. I did not take my legal right, I did not take salary and benefits."
He recalled that the secretary had sent a summary to him for sugar export during his tenure as Punjab chief minister, adding that he had set an export limit and rejected summaries.
"My family lost Rs2bn because of my decision. I am telling you the reality. When my son's ethanol production plant was being set up, I still decided to impose a duty on ethanol. My family lost Rs800 million annually because of that decision. The previous government withdrew that notification stating that it was injustice with the sugar mills."
Subsequently, the judge gave Shehbaz and Hamza permission to leave, saying the hearing could proceed without their presence.
Their counsel, Pervaiz, argued that the prime minister did not have any connection to the accounts mentioned in the FIA report.
"It is the prosecution's job to prove [his connection] to the benami accounts. The FIA has been unable to bring forth even one statement in 10 years that Shehbaz has any connection to these accounts."
The defence did not yet know whether the prosecution witness statements in the case were true, he said, adding that according to those statements, the accounts were opened for Suleman.
"The witnesses do not say these accounts were Shehbaz's. Mushtaq Cheeni also opened accounts but no FIR was registered against him."
Charges against Hamza, Shehbaz
The FIA had in December 2021 submitted the challan against Shehbaz and Hamza to a special court for their alleged involvement in laundering an amount of Rs16bn in the sugar scam case.
"The investigation team has detected 28 benami accounts of the Shehbaz family through which money laundering of Rs16.3bn was committed during 2008-18. The FIA examined the money trail of 17,000 credit transactions," according to an FIA report submitted to the court.
The amount was kept in "hidden accounts" and given to Shehbaz in a personal capacity, the report added.
This amount (Rs16bn) has nothing to do with the sugar business (of Shehbaz family), it claimed. The money received from the accounts of low-wage employees by Shehbaz was transferred outside Pakistan via hundi/hawala networks, ultimately destined for beneficial use of his family members, the FIA had alleged.
Source: Dawn
Please click the following URL to read the full text of the original story:
https://www.dawn.com/news/1691904/pm-shehbaz-tells-court-he-refused-salary-as-cm-during-rs16bn-money-laundering-hearing
--------
Judges give Sindh IGP last chance to recover 'abducted' girls, Dua Zehra and Nimra Kazmi
Ishaq Tanoli
May 28, 2022
KARACHI: The Sindh High Court on Friday came down hard on the inspector general of police for failing to trace out Dua Zehra and Nimra Kazmi, the two teenage girls who were allegedly kidnapped in Karachi and later surfaced in Punjab, directing him to recover and produce them in court on May 30.
A two-judge bench comprising by Justice Mohammad Iqbal Kalhoro and Justice Agha Faisal expressed dissatisfaction over a progress report and observed that the court was being told same stories on every hearing.
The bench warned the IGP-Sindh and other police officials of action if the girls were not produced on the next hearing.
The court directed the interior secretary to facilitate the Sindh police in the recovery of the two girls.
When the bench took up for hearing a petition filed by mother of Nimra Kazmi who went missing on April 20 from her house in Saudabad, it observed that on May 20, the investigating officer of the case had submitted that he was waiting for the permission from the Punjab home department to carry out a raid for the recovery of Nimra.
Unhappy with progress, SHC orders interior secretary to facilitate Sindh police to produce Dua, Nimra on 30th
The bench said that on May 25, the IO told the court that the abductee girl would appear before a judicial magistrate in Taunsa Sharif, Dera Ghazi Khan, on May 26 to record her statement under Section 164 of the criminal procedure code and thereafter, she would be taken into protective custody and police would produce her before the SHC on May 30.
However, on Friday the IO could not produce the girl and submitted that one of the nominated accused had been arrested and information gleaned from him would lead to the recovery of the missing girl.
"We are not satisfied with the progress and the stories IO is telling us on each date of hearing," the bench stated in its order.
The court adjourned the hearing to May 30 and observed that the petition seeking recovery of Dua Zehra was also fixed on the same day.
"A last chance is being given to IG Sindh to recover the girls and produce them before the SHC on next hearing," it added.
The IO in his report submitted that the police conducted raided in Taunsa Sharif and on May 26, they were at the court of a magistrate, but the girl did not appear to record her statement.
The petitioner submitted that she came to know through social media that Nimra had allegedly contracted marriage with Najeeb Shahrukh, a resident of Tunsa Sharif.
She stated that the age of the girl on the day of the alleged marriage was 14, as she was born on Jan 6, 2008 and the Sindh Child Marriage Restraint Act (SCMRA) 2013 did not permit marriage of any minor/underage person.
On May 24, the same bench had directed the IG-Sindh for the recovery of Dua Zehra and asked the interior secretary to issue directions to all relevant law enforcement agencies to extend cooperation with the Sindh police for the recovery of the girl.
The Sindh police chief had assured the bench that they would be able to trace out the girl and produce her before the SHC within a week.
Dua's father Mehdi Ali Kazmi had approached the SHC stating that his daughter went missing from their Malir home on April 16.
He submitted that the age of his daughter was 13 and under the SCMRA 2013 it was illegal to marry with a minor/underage.
Source: Dawn
Please click the following URL to read the full text of the original story:
https://www.dawn.com/news/1691819/judges-give-sindh-igp-last-chance-to-recover-abducted-girls
--------
Maryam urges SC to stay away from ongoing political tussle
May 28, 2022
LAHORE: PML-N vice-president Maryam Nawaz Sharif has urged the Supreme Court to stay away from the prevailing political tussle to prevent deepening of the impression that it is partial in the current situation.
In a series of tweets on her Twitter account on Friday, she said the 'Fitna' Khan (ex-premier Imran), who was abusing the Supreme Court a few days ago, wanted to accomplish his agenda of chaos by taking cover of the apex court.
The SC would have to be cautious and stay away from this political battle; otherwise, the impression of [its] partiality would strengthen, which would be harmful to the judiciary as an institution, Maryam warned.
She had earlier held the Supreme Court's decision to allow Imran Khan enter Islamabad as responsible for rioting in the federal capital two days ago.
Maryam Nawaz said the mental condition of the wretched [the PTI chairman] was pathetic since he could hardly assemble 20,000 workers against claims of two million people [for the march] as the masses rejected him.
About the former prime minister's claims that the people could not join the march because of police barricades, Ms Sharif said a [real] revolution would find its own way and could not be checked by police.
A revolution running away on seeing police should drown itself to death [in shame], she said, adding there were only 10,000 spectators against the claims of three million. Quoting the Urdu proverb khisiani billi khamba noche (meaning an embarrassed person tends to vent his feelings by quarrelling], she said 'the embarrassed cat has a pole to scratch' but this 'semi-insane person' lacked even this facility. "It is better to keep oneself away from the media in such a mental condition," she said, apparently in a reference to the abrupt ending of the presser by Imran Khan on some hard questions by the newsmen.
Commenting on a video clip in a tweet in which the PTI chairman along with Khyber Pakhtunkhwa Chief Minister Mahmood Khan had been shown visiting the family of a deceased party worker, Maryam Nawaz quipped that he should have visited the families of the law-enforcers who fell prey to the mischief of this 'mischief-monger' and died at the hands of his rioting workers and armed gangs, seeking forgiveness while confessing his 'sin'.
Source: Dawn
Please click the following URL to read the full text of the original story:
https://www.dawn.com/news/1691789/maryam-urges-sc-to-stay-away-from-ongoing-political-tussle
--------
On anniversary of nuclear tests, PM Shehbaz vows to make Pakistan economic power
Naveed Siddiqui
May 28, 2022
Prime Minister Shehbaz Sharif on Saturday congratulated the nation on the 24th anniversary of the country's successful nuclear tests and vowed to make Pakistan an economic power.
In his message on 'Youm-i-Takbir', the day Pakistan became an atomic power, he said, "Today in 1998, [then] PM Nawaz Sharif rejected pressures & inducements in a bold show of leadership & made Pakistan nuclear power of the world. Now we are resolved to turn it into an economic power."
The prime minister also expressed gratitude to everyone who had made the country's defence "invincible".
The Foreign Office, in its message on the occasion, said the nuclear tests conducted in 1998 had not only demonstrated the nation's resolve to safeguard the country's territorial integrity, independence and sovereignty but also its determination to preserve the strategic balance in South Asia.
"Pakistan is committed to the promotion of environment of peace and stability in South Asia, while preserving its capability to ward off aggression or adventurism in any form. It is a partner in international efforts to strengthen the global non-proliferation regime based on the principles of non-discrimination and equal security for all states.
"It adheres to the latest international standards on export controls and maintains highest standards of nuclear safety and security," FO spokesperson Asim Iftikhar said in a statement.
He said that threats to the region's strategic stability highlighted Pakistan's Strategic Restraint Regime (SRR), which includes measures for the resolution of outstanding issues including the Kashmir dispute, nuclear and missile restraints and conventional balance.
He paid tribute to scientists, engineers and technicians who had "ensured Pakistan's safety".
The FO spokesperson's statement also highlighted Pakistan's beneficial use of nuclear technology in the energy, water and food security, education, health, agriculture and industrial sectors.
It noted that Karachi Nuclear Power Plant Unit-3 had been successfully connected to the national grid earlier this year. In addition, the Pakistan Atomic Energy Commission (PAEC) was operating 20 cancer hospitals throughout the country.
Source: Dawn
Please click the following URL to read the full text of the original story:
https://www.dawn.com/news/1691910/on-anniversary-of-nuclear-tests-pm-shehbaz-vows-to-make-pakistan-economic-power
--------
Overseas Pakistanis not deprived of voting rights, Tarar refutes reports
May 27, 2022
Federal Minister for Law and Justice Azam Nazeer Tarar on Friday refuted the news item about depriving overseas Pakistanis from voting rights.
He claimed that overseas Pakistanis had not been deprived of voting rights under Elections (Amendment) Bill 2022.
The National Assembly on Thursday had approved the Elections Amendment Bill 2022 and the Senate has also passed the bill.
Addressing a press conference along with Pakistan People Party (PPP) leader Faisal Karim Kundi and Jamiat Ulame Islam-Fazal (JUI-F) Senator Kamran Murtaza, he said that the coalition government held the presser to clarify to the people about the legislation as some people were trying to distract the masses.
He said that the National Assembly with majority approved three amendments in Election Act and around 25 amendments were approved in the National Accountability Bureau Ordinance as the courts mentioned flaws in NAB laws and civil society also raised objections and the law was being used ruthlessly. "I should clarify that overseas Pakistanis are our asset for the country.
They have a major contribution to the country's progress and otherwise, they have a vital role in Pakistan's wellbeing," Law Minister Azam Nazeer Tarar said.
Tarar said that the government wanted to give overseas Pakistanis representation in Senate and National Assembly.
He said that the matter regarding Electronic Voting Machine (EVMs) had been left to the Election Commission of Pakistan (ECP), which had said in front of the Supreme Court that if elections were to be held, this should be done within six to eight months and this is not enough time to figure out the logistics of electronic voting.
The minister said the ECP had given its views after reviewing the internet connection, electricity problems in several parts of Pakistan, and the training that would need to be given to polling staff. He said recent legislation was only aimed at enabling the ECP to devise a strategy to ensure the right to vote for overseas Pakistanis in a transparent manner.
"I want to tell that overseas Pakistanis are not ended with the bill," he said and added that the bill was approved by the Senate on Friday by a majority vote amid the opposition's protest.
He said that overseas Pakistanis 'right to vote' would remain intact.
He said it was unfortunate that the Electronic Voting Machines (EVMs) were introduced without having any technical expertise, public awareness to use them and logistics as it was not practicable to implement them at once across the country.
Source: Pakistan Today
Please click the following URL to read the full text of the original story:
https://www.pakistantoday.com.pk/2022/05/27/overseas-pakistanis-not-deprived-of-voting-rights-tarar-refutes-fake-news/
--------
Jamat-e-Islami recommends special seats for Pakistani expats
May 27, 2022
Jamat-e-Islami (JI) Chief Siraj-ul-Haq has recommended special seats for overseas Pakistanis and advised Pakistan Tehreek-e-Insaf to return to assemblies.
The JI amir, Siraj-ul-Haq, talking to media persons in Lahore on Friday said that overseas Pakistanis send over Rs30 remittances, and they should not be deprived of their right to vote. There should be special seats for overseas Pakistanis in the National Assembly, he added.
Siraj also advised the PTI to come back to the assemblies and play the role of tough and effective opposition. The JI chief also urged for a proportional representation system in Paksitan.
Siraj-ul-Haq added that the Rs30 hike in petroleum prices is a suicide attack by that government. Prices of everyday use items would skyrocket following the increase in fuel prices, he added. The JI head rejected the fuel price hike and announced to protest against it on Sunday.
He said that it is pertinent to do electoral reforms ahead of the elections and that all parties should take part in the process.
Taking to the judicial system he said that only the powerful have access to justice in our system, while poor man's cases take years to reach conclusions.
Source: Pakistan Today
Please click the following URL to read the full text of the original story:
https://www.pakistantoday.com.pk/2022/05/27/jamat-e-islami-recommends-special-seats-for-pakistani-expats/
--------
Africa
Insecurity Puts Mali's Historic Djenné Mosque at Risk
May 27, 2022
BAMAKO, MALI —
Experts say Mali's struggle against Islamist militants is putting its World Heritage sites at risk. For the first time in modern history, officials say, the annual replastering of the mud mosque in the town of Djenné in central Mali will likely be canceled because of security concerns. The concerns cast doubt onto the government's claim it is winning the fight against terrorism.
The Great Mosque of Djenné is the largest mud brick building in the world and was a main attraction in Mali's formerly thriving tourism industry.
Each year the mosque is replastered in an event known as the "crépissage." This year, the event is on the verge of cancellation for the first time, as Mali's decadelong conflict has gradually moved south into the center of the country.
A Djenné resident who wished to remain anonymous, speaking via a messaging app from Djenné, said that in recent weeks he saw ambulances circulating in town and military helicopters flying overhead, signs of unrest in neighboring villages. The Malian army said on its Twitter account this month that four soldiers were killed in a roadside bomb attack near the town.
He said that due to insecurity, village residents have decided not to hold the crépissage this year, an event he has participated in since he was a child.
Abdramane Dembele, deputy mayor of Djenné, said that the crépissage has not yet been officially canceled, but has been delayed due to insecurity. If rescheduled, it would need to be held before the rainy season begins in June. One of the objectives of the crépissage is to protect the building from rain.
Abdoulaye Deyoko is an engineer and city planner and founder of Bamako's School of Engineering, Architecture, and Urbanism, and a tireless advocate for Mali's mud architecture.
Deyoko explained that the mosque is built from "banco," a mixture of mud and small pieces of rice bran.
When it rains, he said, these small pieces have a tendency to break away. Traditionally, villagers have a celebration, a type of ritual that allows them not only to repair the mosque but to celebrate.
Deyoko said that despite this, he thinks the Djenné mosque can hold up for a year or two without the crépissage, although he said the event is important for the social life of the town, not just for technical maintenance.
The Djenné mosque and surrounding mud brick town is on the UNESCO List of World Heritage in Danger.
Ali Daou, UNESCO's culture program director in Mali, said Djenné, like all of Mali's four World Heritage sites, is in danger because of the ongoing hostilities. It is not just the threat of direct conflict, he said, but the difficulty of conducting the annual crépissage that puts the site at risk.
In recent months, Mali's military government has launched a highly publicized offensive against Islamists. Many locals, though, say that these military operations target civilians rather than extremists.
Source: VOA News
Please click the following URL to read the full text of the original story:
https://www.voanews.com/a/insecurity-puts-mali-s-historic-djenn%C3%A9-mosque-at-risk/6593258.html
--------
African journalists closely follow Turkish media outlets
Gökhan Kavak
28.05.2022
African journalists who attended the recent Turkiye-Africa Media Summit in Istanbul said they closely follow Turkish news outlets, especially Anadolu Agency (AA) and TRT.
As many as 80 media persons, diplomats, public officials and civil society members from 45 African countries attended the summit organized by Turkiye's Communications Directorate on May 25-26, marking Africa Day.
The program aimed at strengthening Ankara's cooperation with African media outlets and professionals.
Speaking to Anadolu Agency, Ismael Mukhtar Omar, director of the Somali National News Agency (SONNA), said SONNA has an agreement with AA and TRT, from which it receives news not only about Somalia but the entire world.
Abdullah Adinani Myusa from Daily News Tanzania said AA and TRT provide an important news flow, and their stories make a significant contribution in improving Turkiye's relations with the African continent.
Meanwhile, a cooperation agreement was also signed between the News Agency of Nigeria (NAN) and AA.
Source: Anadolu Agency
Please click the following URL to read the full text of the original story:
https://www.aa.com.tr/en/africa/african-journalists-closely-follow-turkish-media-outlets/2599628
--------
Tunisia party leader banned from travel: court
May 28, 2022
TUNIS: A Tunisian court has imposed a travel ban on the speaker of the country's now-dissolved parliament, a court spokeswoman said.
The interdiction against Rached Ghannouchi is part of an inquiry into alleged obstruction of justice in connection with the assassination in 2013 of two left-wing figures, the court spokesman said on Friday.
The travel ban was imposed on "34 suspects in this case, including Rached Ghannouchi," Fatima Bouqtaya, spokeswoman for the court in the Tunis suburb of Ariana, told AFP.
Ghannouchi heads the Islamist-inspired Ennahdha party that has dominated Tunisia's post-revolution politics.
Ghannouchi, 81, is a fierce critic of President Kais Saied who in July 2021 suspended the Ennahdha-dominated parliament, sacked the prime minister and assumed executive powers.
Saied then dissolved parliament in March this year. His moves have stoked fears of a return to autocracy in a country where a revolution in 2011 triggered the pro-democracy Arab Spring movement in the wider region.
Tunisia's judiciary in January opened an investigation against the suspects for allegedly "concealing information" linked to the killing nine years ago of Chokri Belaid and Mohamed Brahmi.
Source: Arab News
Please click the following URL to read the full text of the original story:
https://www.arabnews.com/node/2091286/middle-east
--------
Europe
Winners of Quran memorization competition in Italy awarded
May 28, 2022
Those winning the top ranks in a competition on memorization of the Holy Quran in Italy were honored in a ceremony.
The contest was organized by Italy's Holy Quran Society in two sections for men and women.
The contenders competed in the categories of memorization of the entire Quran and memorization of one Juz (part), three Juzes, five Juzes, 10 Juzes, 15 Juzes, and 20 Juzes of the Quran, Akhbarak.net website reported.
Six prominent Quran experts made up the competition's panel of arbiters.
Fomer Sheikh-ul-Qurra of Egypt Sheikh Ahmed Isa al-Mi'sarawi, and representative of the World Association of Quran Memorization Sheikh Abdul Rahman al-Awsi as well as imams of mosques and Islamic centers of Italy attended the awarding ceremony.
After recitation of some verses for the Quran, the speakers underlined the need for reading and memorizing the Holy Bok and contemplating its concepts.
They also stressed the need for acting upon the Quranic teachings and culture.
Also at the ceremony, Italy's Holy Quran Society the graduation of 70 Quran learners who have learned the entire Quran by heart.
Source: ABNA24
Please click the following URL to read the full text of the original story:
https://en.abna24.com/news//winners-of-quran-memorization-competition-in-italy-awarded_1261558.html
--------
Turkish president receives foreign ministers of UAE, Poland, Romania
Berk Özkan
28.05.2022
Turkiye's President Recep Tayyip Erdogan received the foreign ministers of the United Arab Emirates (UAE), Poland and Romania in Istanbul on Friday.
UAE Foreign Minister Sheikh Abdullah bin Zayed Al Nahyan's visit to Turkiye comes as another step in the two countries' ongoing efforts to revitalize ties and to end a feud that has long defined geopolitics in the Middle East and North Africa.
Al Nahyan also held talks with Turkish Foreign Minister Mevlut Cavusoglu.
Erdogan held a joint meeting with Romanian Foreign Minister Bogdan Aurescu and Polish Foreign Minister Zbigniew Rau, who were in Istanbul for a trilateral meeting of the top diplomats of Turkiye, Poland and Romania.
Source: Anadolu Agency
Please click the following URL to read the full text of the original story:
https://www.aa.com.tr/en/europe/turkish-president-receives-foreign-ministers-of-uae-poland-romania/2599596
--------
'Closer US-Greece ties part of scramble to contain Turkiye's growing regional power'
Ahmet Gencturk
27.05.2022
Weapons, money and increasingly close military ties have all been prominent features of recent bilateral engagements between the US and Greece.
Washington has secured three more bases in Greece this month, in addition to the one it was already operating, and finalized deals to give Athens state-of-the-art weapons systems, all but shedding its purported neutral stance on the longstanding rivalry between Turkiye and Greece.
President Joe Biden hosted Kyriakos Mitsotakis in Washington last week, watching on as the Greek premier regurgitated timeworn claims against Ankara in his address to the US Congress.
Analysts view these steps as a reflection of a creeping fear that the Russia-Ukraine war has fundamentally changed the transatlantic security architecture and cemented Turkiye's place as legitimate regional power.
"Turkiye's rise as an autonomous regional power is the main factor in this intensifying Greek-US cooperation," said Hasan Koni, a scholar on strategic studies at Istanbul Kultur University.
"Turkiye's Mavi Vatan, or Blue Homeland, doctrine and consequently growing capabilities of the Turkish Navy, as well as the country's decisive role in the conflicts in Libya and Karabakh, has had a profound impact on Greek decision-makers," he explained.
The American security apparatus has also recognized that the balance of power in the region is shifting toward Turkiye and needs to be "checked by empowering Greece," he said, adding that Washington's push for more Greek bases is aimed at "containing Turkiye."
Messages and signals
Arda Mevlutoglu, an expert on defense affairs, said the renewal of the Mutual Defense Cooperation Agreement (MDCA) and increasing military cooperation could be viewed as an "American endorsement for Greece's ambitions in the region."
The US military buildup in Greece and joint drills with the Greeks in Eastern Thrace do not pose a direct military threat to Turkiye, but the "context and timing of this military activity sends a direct message" to Ankara, he added.
This view was echoed by Sine Ozkarasahin, an analyst at the EDAM think tank in Istanbul.
"While these exercises do not pose an imminent threat, they do send negative signals to Turkiye, which was left out in the cold during drills that happened right on its doorstep," she said.
She explained that the US efforts to control more bases in Greece were part of its new strategy for the wider Eastern Mediterranean region and the Balkans.
She warned that the MDCA renewal and consequent actions could "spoil the already fragile balance of power between Turkiye and Greece."
"Historically, the US played a buffer role between the two NATO members and de-escalated any tensions. This mediation was critical for the alliance's cohesion," said Ozkarasahin.
"Such a disruption would have implications for Turkish-Greek bilateral relations and also impact regional security in critical areas of contestation, such as the Eastern Mediterranean and NATO's eastern flank," she added.
Her advice to Washington was "to maintain the balance of power between Ankara and Athens" and take steps to "prove its impartiality."
Source: Anadolu Agency
Please click the following URL to read the full text of the original story:
https://www.aa.com.tr/en/europe/-closer-us-greece-ties-part-of-scramble-to-contain-turkiye-s-growing-regional-power-/2598875
--------
Turkiye cannot remain indifferent to developments in Syria: Russia
Zeynep Hilal Karyagdi
27.05.2022
Turkiye cannot remain indifferent to developments taking place in Syria, said Russia's foreign minister.
In an interview with RT Arabic news channel on Thursday, Sergey Lavrov asserted that the Russian presence in Syria is in line with UN Security Council Resolution 2544 and at the invitation of the Syrian regime.
We will continue to help Damascus reclaim all of its territory, he added.
Lavrov pointed out that there are also "uninvited" troops in Syria.
"American soldiers occupy a significant portion of Syrian territory on the eastern bank of the Euphrates River," he said, adding that their aim is to create "a so-called state."
He reaffirmed that Moscow has been in touch with Kurds in Syria, just like any other group in the country, and has urged them to maintain dialogue with Damascus.
Source: Anadolu Agency
Please click the following URL to read the full text of the original story:
https://www.aa.com.tr/en/world/turkiye-cannot-remain-indifferent-to-developments-in-syria-russia/2599585
--------
URL: https://newageislam.com/islamic-world-news/terrorism-india-islamic-nations-yasin-malik/d/127117
New Age Islam Islam Online, Islamic Website, African Muslim News, Arab World News, South Asia News, Indian Muslim News, World Muslim News, Women in Islam, Islamic Feminism, Arab Women, Women In Arab, Islamophobia in America, Muslim Women in West, Islam Women and Feminism