New Age Islam News Bureau
3 May 2020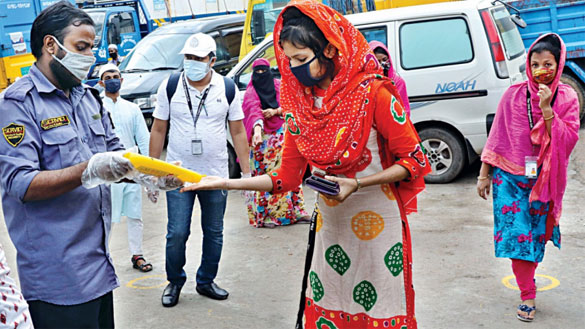 A garment worker takes hand sanitiser from the gatekeeper in front of a factory that reopened in the capital's Tejgaon industrial area with part of its workforce on April 26, 2020. Photo: Prabir Das
------
• 'Burial of Dead Bodies Essential in Islam, Poses No Danger of Spread of Covid-19 Infection'
• UK Muslim MPs For Urgent Rules Against Online Islamophobic And Racist Abuse
• Covid-19 Fallout: Bangladesh 9th Strongest Among 66 Emerging Economies, Says The Economist
• Mosques Truly Following Sops for Congregations in Islamabad
• COVID-19: Christian, Muslim Households Benefit from N100m Relief Donation in Ilorin
• Qur'anic Botanic Garden Marks Ramadan with Exciting Activities
• Iran's Warning: Nuclear Deal Will Die Forever If Arms Ban Extended
• Police to Probe Motive Behind Perpetrator Planting Bomb in Mosque, Central Kalimantan
• In US, Ramadan Amid Covid-19 Crisis Presents Both Obstacles, Opportunities
--------
India
• 'Burial of Dead Bodies Essential in Islam, Poses No Danger of Spread of Covid-19 Infection'
• Uttar Pradesh Chief Minister Blames Tablighi Jamaat For Spread of Coronavirus
• Three More Indians Face Action in The UAE For Alleged Anti-Muslim Hate Speech
• 2018 image of Muslims offering prayers in UP shared as recent from Tamil Nadu
• Delhi Minority Commission chairman Zafarul Islam Khan booked for sedition over social media post
------
Europe
• UK Muslim MPs For Urgent Rules Against Online Islamophobic And Racist Abuse
• Coventry Mosque to Help Hundreds of Families After Foodbank Set Up In Matter Of Weeks
• Cardinal Ayuso: Ramadan an opportunity to show interreligious solidarity
• Vatican urges Muslims and Christians to protect places of worship
• 'Go to Holland' is the bizarre new homophobic slur in Turkey after Muslim cleric curses LGBT+ people
• Free taxis have been an essential part of Spain's fight against coronavirus
• The doctor fasting for Ramadan while caring for Covid-19 patients in intensive care
• How Lincoln's Muslim community are spending Ramadan differently during lockdown
--------
South Asia
• Covid-19 Fallout: Bangladesh 9th Strongest Among 66 Emerging Economies, Says The Economist
• Afghanistan Cabinet Extends Lockdown Period till End of Ramadan
• Case filed against journo Kajol for 'trespassing into Bangladesh from India'
• 26 Taliban militants killed, wounded in Balkh province: Shaheen Corps
• 12 die of coronavirus in Afghanistan as 235 new positive cases surface in past 24 hours
• Afghan govt releases 98 Taliban prisoners to help peace process, counter coronavirus
-----
Pakistan
• Mosques Truly Following Sops for Congregations in Islamabad
• PM launches relief scheme for those who lost jobs
• Govt hints at allowing resumption of business activities
-------
Africa
• COVID-19: Christian, Muslim Households Benefit from N100m Relief Donation in Ilorin
• Al-Sunni echoes the rejection of the Security Council to recognize Haftar's coup
• Lawyer of Sheikh Zakzaky asks court to quash charges against him over Kaduna State's failure to prove case
• We Must Stand Together, Muslim Leader Urges J'cans - Unity Key To Surviving COVID-19 Pandemic, Says Tariq Azeem
• Kidnappers free popular Oyo Islamic clerics twins
• Zimbabwe deploys troops to fight Islamic insurgents in Mozambique – Report
• Islamic cleric, Gumi, knocks Nigerian govt, says easing lockdown is suicidal, irresponsible
------
Arab world
• Qur'anic Botanic Garden Marks Ramadan with Exciting Activities
• Qatar Charity Ramadan campaign covers over 30 countries
• QRCS Ramadan charity campaign to reach 22 nations
• Students from QF schools embark on Ramadan journey of good deeds
• The man with the last bullet recalls the night bin Laden was killed
• Residents of al-Bab city miss their mosques in Ramadan
• Youth Hobbies Centre launches Ramadan photography contest
• Syrian civilian shot dead by US military forces in Dayr al-Zawr: SANA
-----
Mideast
• Iran's Warning: Nuclear Deal Will Die Forever If Arms Ban Extended
• 30 Ships Carrying Basic Goods Take Berth at Bandar Imam Khomeini
• Palestine's Islamic Jihad Slams Germany for Blacklisting Hezbollah
• Saudi-led airstrikes hit trucks carrying food, medicine in central Yemen
• Iran allows issuance of $1.12bn worth of sukuk bonds under current budget
-----
Southeast Asia
• Police to Probe Motive Behind Perpetrator Planting Bomb in Mosque, Central Kalimantan
• Hit by MCO, hawkers go online to serve Ramadan customers but face logistical nightmare
• Life without internet: Bornean students learn by radio during pandemic
• COVID-19: Jakarta to restrict visitors after IdulFitri
• Costly, dirty and unfair: Indonesia at crossroads in embracing incinerators
------
North America
• In US, Ramadan Amid Covid-19 Crisis Presents Both Obstacles, Opportunities
• This Navy SEAL killed Usama bin Laden 9 years ago: 'We met for a second -- that's it
• Ex-Obama Photographer Lifts The Lid On That Iconic Osama Bin Laden Raid Picture
• US imposes new sanctions on Iran amid coronavirus crisis
Compiled by New Age Islam News Bureau
URL; https://www.newageislam.com/islamic-world-news/burial-dead-bodies-essential-islam/d/121743
------
'Burial of Dead Bodies Essential in Islam, Poses No Danger of Spread of Covid-19 Infection'
May 2, 2020
MUMBAI: Fear that burial of dead bodies of those persons who were infected with Covid -19 will risk spread of such infection in the vicinity is "completely unfounded and unsupported by advisories issued by the Centre as well as by the World Health Organisation (WHO)…and burial of dead bodies is essential for Islam..,'' said Jamiat Ulama-I-Hind, an organisation from Mumbai That has sought to be impleaded before the Supreme Court in a plea filed by Pradeep Gandhu and others against such burials in three Mumbai cemeteries in Bandra, West.
The organization, which says it is "not a registered organisation'' but has undertaken several social activities including relief work when floods hit Kolhapur, Sangli and Miraj as well as relief to those affected in the present coronavirus pandemic. "Right to bury the dead forms part of the right to practice one's religion under Article 25 of the Constitution of India,'' says the intervention plea filed on May 2.
The organization which aims to "protect Muslim culture, where burial is integral to the last rites of a follower'' points out precautions laid down by WHO, including use of gloves for any contact with the body and face shields and involvement of a minimum number of people in preparations of the body.
It said that even "the USA, United Kingdom, Italy, Canada and the Middle Eastern nations are burying those who have died due to Covid-19 and no such increased risk of spread of Covid-19 virus has been highlighted by these nations due to the act of burying the dead bodies.''
https://timesofindia.indiatimes.com/city/mumbai/burial-of-dead-bodies-essential-in-islam-poses-no-danger-of-spread-of-covid-19-infection/articleshowprint/75507720.cms
-----
UK Muslim Mps For Urgent Rules Against Online Islamophobic And Racist Abuse
Majid Khattak
MAY 3, 2020
Manchester Gorton MP Afzal Khan highlighted the issue and shared the abuse he has been receiving in recent days. One of the email messages sent to him says "I hope you die of Corona in the most excruciatingly painful way". Afzal Khan said that he had reported the email to the police and would encourage anyone to do the same. Abuse such as this is a hate crime and must not be tolerated by anyone, he said, and urged the government for immediate action to tackle the issue. A female Muslim MP on the condition of anonymity confirmed to Daily Times that she regularly gets racist abuse and sometime she feels concerned about her own safety. She said that she has received emails from people saying she should 'go back to her own country'. Similarly, she also said another email equates Muslims to terrorist and said, "No to Sharia law in the UK".
The MPs' concerns have been also shared in the report of the Anti-Muslim Hatred Working Group (AMHWG) which found that Islamophobic online 'Cyber Hubs' were being formed which linked Muslims to the spread of COVID-19, spread anti-Muslim memes and shared fake news stories. These groups continuously circulate fake news stories online blaming Muslims for spreading the coronavirus by violating the lockdown.
The study also found that fake news being circulated online included images of people attending mosques which were taken many weeks before the UK introduced lockdown measures and false claims of mosques refusing to close. Online abuse found to be targeted at Muslims through memes and online posts included 'There are two forms of policing in the UK, one for white middle classes, one for little Pakistan. I have been reported to my local police for buying a tomato plant. "Shut all the mosques. Demolition is the cure."
The research by Imran Awan, Professor of Criminology at Birmingham City University and Roxana Khan-Williams warned that these claims about Muslims could lead to a spike in attacks when the lockdown lifts. Co-author of the report Imran Awan, a professor of criminology at Birmingham City University, said: "The Covid-19 crisis has been used to create 'others' of Muslims, blaming them for the spread of the virus. The spread of fake news online is contributing to this extremely worrying trend.
Anti- racism campaign groups says the individuals or groups hide behind fake accounts feel free to post material believing that they can do so anonymously and without fear of the law. They agreed that no one would argue against the right to 'freedom of speech' however that has always been balanced in a fair and just society not to incite hate and spread malicious stories and falsehoods against a person or a particular group.
However, Birmingham Perry Bar MP Khalid Mahmood had a different view, that only a particular group in society cannot be blamed for sending these messages to one religious or ethnic group. He confirmed to the Daily Times that he has been experiencing abuse but believes that there may be many reasons for them, e.g. the person did not agree with your opinion or he may have a dislike of you. Mahmood said that the right strategy is to ignore these messages but if it is of a serious nature then it must be reported to the police.
MP Khalid Mahmood arrived in the UK at the age of 10 and was elected as the first Muslim MP in 2001. According to Khalid, he experienced difficulties in his life but he asserted that due to sheer hard work he has been elected MP for six consecutive terms to Parliament representing the Labour Party.
https://dailytimes.com.pk/606437/muslim-mps-for-urgent-rules-against-online-islamophobic-and-racist-abuse/
-------
Covid-19 fallout: Bangladesh 9th strongest among 66 emerging economies, says The Economist
May 03, 2020
The Economist, a leading source of analyses on international business and world affairs, has listed Bangladesh as the 9th strongest economy in its report on the financial strength of 66 emerging economies in the wake of the Covid-19 fallout.
The ranking examines the vulnerability of selected economies across four potential sources of peril: public debt as percentage of GDP, foreign debt (both public and private), cost of borrowing and reserve cover.
According to the ranking, the economy of Bangladesh has featured as strong or relatively strong in all said indicators. It is ahead of China, India and other South Asian countries in the ranking.
Argentina has missed a $500million payment on its foreign bonds. If it cannot persuade creditors to swap their securities for less generous ones by May 22, it will be in default for the ninth time in its history, according to the Economist.
https://www.thedailystar.net/business/coronavirus-fallout-bangladesh-9th-strongest-among-66-emerging-economies-1898995
-------
Mosques truly following SOPs for congregations in Islamabad
May 3, 2020
Islamabad : The management bodies of the mosques across the federal capital are strictly abiding by the Standard Operating Procedures (SOPs) during the prayer congregations as agreed between the government and Ulema to contain the spread of the coronavirus.
Talking to APP, Deputy Commissioner Islamabad Muhammad Hamza Shafqaat said majority of the mosques were following the government's directives based on the SOPs by ensuring advised distance among the worshipers, cleaning of mosques and wearing the masks.
Appreciating the clerics for cooperating with the city administration, the deputy commissioner particularly descried Jamia Muhammadia of sector F-6/4 as the best of Islamabad's all mosques in enforcing the guidelines.
He said the teams of the district administration were regularly checking the mosques and assistant commissioners concerned were supervising their respective teams.
Hamza Shafqat also contradicted a media report as concocted and baseless alleging that only the mosques in urban Islamabad were implementing the guidelines.
He said the police had not arrested Maulana Masood Alvi rather he was called to police station over violation of SOPs at his mosque.
To a question, Assistant Commissioner (Rural) said most part of rural sub division consisted of private housing societies and their management was cooperating with the city administration for enforcement of the SOPs.
https://www.thenews.com.pk/print/653374-mosques-truly-following-sops-for-congregations-in-islamabad
------
COVID-19: Christian, Muslim Households Benefit From N100m Relief Donation In Ilorin
By Biola Azeez
May 3, 2020
About 30,000 households, including members of the Cherubim and Seraphim Movement Church, Ilorin, Kwara State, Muslim community and market women have benefitted from relief materials donated by a foundation in the church to cushion the effect of COVID-19 on the people.
Speaking to newsmen during the presentation in Ilorin, the supervising pastor of the church who is also the executive secretary of Oluwole Foundation of the church, Pastor Demola Popoola, said the foundation had spent over N100 million on the relief materials.
"Because of the lockdown in the country, the foundation has gone ahead to give palliative materials to members of our church and the larger community of Ilorin.
"What we have given out are 10kg bag of rice and 5kg bag of semovita to each of the beneficiaries with additional N500 as transportation fare. That is the second phase of the palliative.
"At the commencement of the lockdown in the state, the foundation gave out a sum of N5,000 each to 3,000 people. The extension of the lockdown necessitated the second phase of the palliative measures.
"My advice to religious leaders and organizations is that this is the time to give back to the community. Therefore, I urge politicians, the well-to-do in the society and captains of industry to find a way of assisting the needy in our midst to complement what the government is doing", he said.
Popoola, who also cautioned governments at all levels against the slashing of salaries in the country as a result of COVID-19 disease, said it "will be inhuman to cut the salaries of civil servants in the aftermath of the pandemic".
"Governnents can cut the salaries of political appointees because they earn fat salaries that are 100 per cent higher than those of the civil servants. Many states have not even started paying the N30,000 minimum wage. What I am saying is that government should even look into adding of salaries of civil servants for two months after COVID-19.
"What we have on our hands is that after COVID-19 pandemic, corruption will be on the increase as many of the civil servants who live on loans and cooperative will be tempted to steal from government coffers.
"While thinking about the masses in town, government should find a way of making the civil servants happy", he said
https://tribuneonlineng.com/covid-19-christian-muslim-households-benefit-from-n100m-relief-donation-in-ilorin/
-----
Qur'anic Botanic Garden marks Ramadan with exciting activities
May 02 2020
Qur'anic Botanic Garden (QBG) has said it is offering the community the opportunity to participate in a wide range of exciting and educational activities during the holy month of Ramadan.
A member of Qatar Foundation, QBG houses a botanical garden that exhibits all the plant species mentioned in the Holy Qur'an, and in the Hadith and Sunnah (sayings and traditions of the Prophet Muhammad, peace be upon him).One of the highlights for keen botanists, agriculturalists and gardeners throughout the month will be the chance to join in daily competitions and win prizes by answering questions on verses in the Holy Qur'an that relate to environmental and botanical terminology — posed each day via QBG's social media pages.
In addition, those eager to learn more about QBG and botanical matters in general will be able to tune in to informative live Instagram sessions held throughout Ramadan that will highlight different topics of interest relating to the garden and showcase its extensive library of botanical books and publications, a press statement notes.
One will feature Mohamed al-Khater, a specialist in medicinal plants, alongside Ahmed ElGharib, assistant researcher at QBG, and explore medicinal plants and the important role they play in human health.
Another will focus on food security during Covid-19, a timely presentation outlining the response of the agricultural sector to the pandemic with Nasser al-Khalaf, owner of one of Qatar's biggest agricultural farms, alongside Mohamed Hassona, QBG's horticulturist, plus representatives from the Ministry of Municipality and Environment.
Fatima Khulaifi, project director at QBG, said: ""We are delighted to announce our programme of botanically themed activities for the holy month of Ramadan.
Thanks to modern technology and the enthusiasm of our team and guest speakers, we are able to share exciting daily competitions and a range of educational, thought-provoking seminars and online activities.
QBG's activities during Ramadan are available on its social media channels — Instagram: Quranic_Botanic_Garden; Facebook: Qur'anic Botanic Garden, and on Twitter at @QuranicGarden.
https://www.gulf-times.com/story/662216/Qur-anic-Botanic-Garden-marks-Ramadan-with-excitin
------
Iran's warning: Nuclear deal will die forever if arms ban extended
03 May 2020
Iran's top security official has warned that the 2015 nuclear deal will "die forever" if Security Council Resolution 2231 that endorsed the accord is circumvented and a UN arms ban on Tehran is renewed.
In a post on his Twitter account on Sunday, Secretary of Iran's Supreme National Security Council (SNSC) Ali Shamkhani reacted to recent US efforts to indefinitely prolong the UN-imposed arms embargo on Iran before it expires in a few months.
"#JCPOA will die forever by circumventing 2231 Resolution & continuing #Iran's illegal weapons sanctions. Sanctions' virus is the US tool for survival of its declining hegemony," he wrote, referring the nuclear agreement by its formal name, the Joint Comprehensive Plan of Action.
Shamkhani also reprimanded Europe which has failed to fulfill its obligations under the nuclear deal so far, casting gloom over how the bloc would react to the new American shenanigans.
The UN arms embargo on Iran — in place since 2006/2007— will be lifted in October 2020 — under UN Security Council Resolution 2231 that enshrined the JCPOA.
The United States says it has shared with Britain, France and Germany, the three European signatories to the JCPOA, a draft resolution that would indefinitely extend the embargo.
The motion needs nine votes in favor and no vetoes by the US, Britain, France, Russia or China to be adopted, but the latter two, which are both parties to the JCPOA, are widely believed to block it.
To circumvent the veto, the US says it will argue that it legally remains a "participant state" in the nuclear deal only to invoke a "snapback" that would restore the UN sanctions, which had been in place against Iran prior to the JCPOA's inking.
This is while the US unilaterally withdrew from the JCPOA in May 2018 and re-imposed the anti-Iran sanctions that had been lifted under the agreement.
On Friday, Iran's Ambassador to the UN Majid Takht-Ravanchi said US officials' calls for an extension of the Iran arms embargo lack legal standing, describing Washington's claim to be a JCPOA party "a joke."
Additionally, Russian Permanent Representative to International Organizations in Vienna Mikhail Ulyanov criticized the US for not saying a "single word" about its obligations under Resolution 2231.
"US officials claim that the US retains the rights under UNSC resolution 2231. No single word about US obligations which come together with rights," he wrote.
"In particular, what about refraining from 'actions that undermine implementation of commitments under #JCPOA' (paragraph 2 of res.2231)?"
https://www.presstv.com/Detail/2020/05/03/624477/Iran-Ali-Shamkhani-JCPOA-arms-ban
----
Police to Probe Motive Behind Perpetrator Planting Bomb in Mosque, Central Kalimantan
3 May 2020
TEMPO.CO, Jakarta - The Central Kalimantan Police will conduct an investigation to uncover the motive behind HG, alias Iwan, 22, planting a homemade bomb in the premises of Nurul Yaqin Mosque in Kuala Pembuang, Seruyan District, Central Kalimantan.
The perpetrator was currently being detained and probed by a joint team that succeeded in uncovering the bomb planted in the courtyard of the mosque, Commissioner Hendra Rochmawan, the Central Kalimantan Police's spokesman, stated here on Saturday.
"We will continue to investigate this case and expose the motives and intentions of the perpetrator in planting the bomb," he remarked.
He believes that this will reduce the occurrence of criminal acts and activities detrimental to the community, especially since Muslims are currently fasting in the holy month of Ramadhan.
In the meantime, a police witness, identified by his initials as TH and a high school colleague of Iwan, came clean about the perpetrator having a penchant for assembling electronic devices.
"Yes, TH, his school colleague and our witness, in this matter, confirmed that Iwan did have the expertise in assembling electronic devices as well as fixing electricity goods since he was in high school," Rochmawan stated.
Earlier, the Police of Seruyan arrested Iwan, a terror suspect, who had planted a homemade bomb in the premises of Nurul Yaqin Mosque. He was placed in detention on Saturday at 4:20 a.m. local time, Seruyan Police Chief Adjunct Senior Commissioner Agung Tri Widiantoro noted on Saturday.
"In the morning, we arrested the perpetrator at his residence without a fight. He was then immediately taken to the Seruyan Police Station to investigate his actions," he revealed.
According to the video capture of the CCTV installed at the mosque, the bomb was planted by a young man dressed in a T-shirt and dark shorts.
Another video capture showed Iwan riding a motorcycle and halting at a road intersection after which he walked toward the mosque.
https://en.tempo.co/read/1338106/police-to-probe-motive-behind-perpetrator-planting-bomb-in-mosque
------
In US, Ramadan amid Covid-19 crisis presents both obstacles, opportunities
May 02, 2020
For Muslims in the United States, there is no other time more centered around gathering in congregation than the holy month of Ramadan. In every corner of the country, believers attend community iftar meals to break the fast and then pack neatly into tight rows for nightly prayers at the mosque. On weekends, especially, some may linger longer as they catch up, share in the pre-dawn suhoor meal and line up again for the fajr, dawn, prayers.
But this year, Ramadan falls during a global pandemic. In the US, with the world's highest Covid-19 death toll, that means being forced to mark the month in different, more virtual and sometimes solitary ways.
As they re-imagine some of the spiritual and social rituals, many are relying on a mix of at-home worship and a myriad of online religious programming. Virtual iftar options have sprung up so the devout don't have to break their fast alone. But not all moments can be recreated on a screen. There will be dishes not shared, prayers not lifted together, hugs not given.
As soon as he uttered the shahada, the Islamic testimony of faith, the faithful broke into chants of "Allahu Akbar." He was told that day that "all of these brothers and sisters are your brothers and sisters."
Since then, he says, the community has been there for him. But Ramirez is experiencing a milestone in his faith journey — his first Ramadan as a Muslim — as the virus disrupts worship and mosques close.
"It's going to be really difficult," he said before Ramadan started. "I do have a lot of questions, and there's a lot I want to observe and ask about."
Born in Texas to parents of Mexican descent, Ramirez was baptized Catholic before converting. In the compulsory solitude, he's determined to find strength. "The more I think about it, I think this is the path that Allah has set for me as a challenge ... to know that this religion is for me."
On Ramadan's first day, respiratory therapist Jumana Azam slept through her alarm for suhoor. She had come home at 2 a.m. from an odd shift at the hospital. Still, when she woke up, she set her intention to fast, ignoring the doubts of whether she'd be able to keep it throughout the day.
Then she changed back into scrubs and left to start another shift in the ICU of Rush University Medical Center.
As Chicago experienced a surge of Covid-19 patients in early April, Azam's days quickly turned into 16-hour shifts, with barely a break to eat or make one of the five daily prayers.
Last year, Azam, like many other professional Muslims observing the month, decreased her working hours slightly to make the days more manageable. This year, she knows that won't be possible. Still, Azam is planning to wake up each morning to eat before dawn and try.
"I'm going to take it in stages and try to fast while I'm at work," she says. "But if I feel like I'm getting light-headed, I'm going to have to break it."
The An-Noor Cultural Center and masjid, or mosque, is located blocks from Elmhurst Hospital Center in Queens, where patients have been dying from Covid-19 at an alarming rate.
The immigrant-rich neighborhood has been deemed one of New York City's hardest-hit areas. Imam Mufti Mohammed Ismail is the principal of the religious school at An-Noor.
A prayer of "protection from diseases" is printed in Arabic and English on a paper posted to the mosque wall, and Ismail says the Bangladeshi community has lost "close to 150 people" to Covid-19 across New York City.
As deaths rise, Imam Ismail is trying to serve community members suffering in other ways. With mosques shuttered as the city reels, volunteers from An-Noor Cultural Center are preparing food boxes for those who would have relied on the center for iftar every evening.
On this day, volunteers load food into a car and head off to begin deliveries. Imam Ismail says this gives the center the opportunity to fulfill one of Ramadan's tenets — to serve those less fortunate, regardless of religion. "Once we receive a call asking for help, we never question about the caller's faith. It's just a family," he says. "A human being. We are ready to serve them."
For all the things Muslims are doing without this year, one community in Minneapolis has gained a new voice during the holy month: the call to prayer.
Throughout Ramadan, the azan, or adhan — which summons the faithful for prayers five times a day — will be broadcast over loudspeakers for the first time at the Dar Al-Hijrah Mosque.
Mayor Jacob Frey facilitated the noise permit after community leaders requested the service. For Muslims feeling isolated at home, the sound of the azan will offer connection, says Imam Sharif Mohamed.
Over the last six weeks, Shaheen Khan has gotten more comfortable sitting in front of the camera and conducting online Islamic lessons.
The 54-year-old mother of four teaches at the Hadi School, a Montessori Islamic school in Schaumburg, Illinois, that provides Islamic teachings according to the Shia tradition.
Khan arrived in the US from India in 1990 and has been teaching ever since. But in 30 years, she's never had to face the challenge of connecting with her students remotely day after day.
Of the time at home, she says this: "Maybe this is Allah's way of resetting a button for us."
https://www.hindustantimes.com/world-news/in-us-ramadan-amid-covid-19-crisis-presents-both-obstacles-opportunities/story-aGaoNkM5V1dnaprDvSxoRJ.html
-----
India
Uttar Pradesh Chief Minister Blames Tablighi Jamaat For Spread of Coronavirus
May 03, 2020
Lucknow: Holding Tablighi Jamaat members responsible for the spread of COVID-19, Uttar Pradesh Chief Minister Yogi Adityanath has said that being infected with a virus is not a crime but to hide it is definitely one.
The chief minister said action would be taken against them for the "crime".
Speaking at a programme of a news channel on Saturday, Adityanath said, "The role of Tablighi Jamaat was most condemnable. To get a disease is not a crime but to hide a disease which is infectious is definitely a crime. And this crime has been done by those associated with the Tablighi Jamaat."
"In Uttar Pradesh and other places where the spread of the coronavirus has been seen, Tablighi Jamaat is behind it. Had they not hidden the disease and went about like its carriers, then perhaps we would have controlled the coronavirus outbreak to a large extent," he had said.
A Tablighi Jamaat congregation held in March in Delhi''s Nizamuddin area significantly contributed to the doubling of coronavirus cases in India.
https://www.ndtv.com/india-news/yogi-adityanath-blames-islamic-sect-tablighi-jamaat-for-spread-of-coronavirus-2222426
------
Three More Indians Face Action in The UAE For Alleged Anti-Muslim Hate Speech
03 May 2020
The three Indians facing action in the UAE have been identified as chef Rohit Rawat, storekeeper Sachin Kinnigoli and a cashier whose name has been withheld.
Three more Indians face action in the United Arab Emirates over alleged anti-Muslim hate speech on social media, Gulf News reported on Saturday.
The three Indians facing action in the UAE have been identified as chef Rohit Rawat, storekeeper Sachin Kinnigoli and a cashier whose name has been withheld by the firm he works for. Gulf News said it had refrained from publishing the posts as they were "offensive".
On April 22, Indian embassies in the Gulf had urged citizens to remain vigilant against a spate of derogatory posts on social media linking the coronavirus pandemic to the Muslim community in India. On April 30, India's Ministry of External Affairs said that posts by certain Twitter handles from Arab countries alleging discrimination against Muslim citizens were "propaganda".
A spokesperson for Azadea Group, which operates Eataly, a chain of high-end Italian restaurants in Dubai, confirmed that the chain had suspended Rawat. He said the chef is facing an investigation.
Sharjah-based Pneumics Automation Fzc, on the other hand, have suspended Kinnigoli until further notice. "We have withheld his salary and told him not to come to work," one of the firm's owners said. "The matter is under investigation. We have a zero-tolerance policy. Anyone found guilty of insulting or showing contempt for someone's religion will have to bear the consequences."
Dubai-based Transguard Group said that they have taken action against an employee who posted several anti-Islamic messages on his Facebook account under the name of Vishal Thakur. However, the company did not reveal his real name.
"Following an internal investigation, the actual identify of this employee was verified and he was stripped of his security credentials, terminated from our employment and handed over to the relevant authorities as per company policy and UAE Cybercrime Law No. 5 of 2012," the company said. "As of this statement, he is in the custody of Dubai Police."
The company also clarified that an individual who posted allegedly hateful content under the name of Prakash Kumar does not work with it. The firm said Kumar has falsely claimed he works with Transguard Group, and the matter is being examined by the authorities in Dubai.
India is facing backlash from Arab countries over instances of discrimination against Muslims amid the coronavirus pandemic. Last week, the Organisation of Islamic Cooperation had urged the Indian government to take urgent steps to protect Muslims who are being "negatively profiled" and facing "discrimination and violence" in India.
Sharjah-based businessman and filmmaker Sohan Roy was forced to apologise on April 18 for posting a video that depicted Islamic clerics leading blindfolded men in skull caps. Between April 6 and April 15, technician Rakesh B Kitturmath, chief accountant Bala Krishna Nakka and finance analyst Mitesh Udeshi were fired from their jobs for allegedly derogatory social media posts.
Around the same time, a police complaint was filed against Sameer Bhandari, chief executive officer of Future Vision Events & Weddings, after he asked an Indian Muslim to "Go back to Pakistan" to search for a job, in a text message.
On Monday, India and Kuwait had rushed to do damage control after a Cabinet note from Kuwait criticising the targeting of Indian Muslims amid the coronavirus crisis was leaked over the weekend. The note, dated March 2, had called on global leaders and the Organisation of Islamic Cooperation to stop attacks on Muslims in India.
Muslims in India have been targeted ever since news broke that a convention held by the Tablighi Jamaat was a coronavirus hotspot. Videos circulating on social media platforms appeared to show Muslim men spitting on food, licking plates and sneezing in unison to spread the virus – all of these have been debunked as fake news. Even certain television channels and organisations like the Bharatiya Janata Party's IT Cell blamed Muslims for spreading Covid-19.
There have also been instances of attacks on Muslim vendors. On April 14, a group of people in Uttar Pradesh's Mahoba district had allegedly misbehaved with some Muslim vegetable vendors and stopped them from selling their goods. The mob claimed that the Muslims were members of the Tablighi Jamaat. A BJP MLA from Uttar Pradesh even told people to not purchase vegetables from Muslim vendors.
https://scroll.in/latest/960886/three-more-indians-face-action-in-the-uae-for-alleged-anti-muslim-hate-speech
-----
2018 image of Muslims offering prayers in UP shared as recent from Tamil Nadu
Jignesh Patel
2nd May 2020
An image of a group of men, wearing a skull cap, offering namaz is getting shared on social media. It is being shared with the claim that a group of 700 men offered namaz amid the lockdown in Tamil Nadu's Vellore district. Facebook user Vijay Ajay posted the image with the claim in Tamil on April 30. The image is credited to 'Alamy stock photo' and 'Jaya Murgan'.
https://www.altnews.in/2018-image-of-muslims-offering-prayers-in-up-shared-as-recent-from-tamil-nadu/
-----
Delhi Minority Commission chairman Zafarul Islam Khan booked for sedition over social media post
May 02, 2020
New Delhi: The Special Cell of Delhi Police has registered a case of sedition against Chairman of Delhi Minority Commission Zafarul Islam Khan for a controversial social media post, an officer said on Saturday.
The FIR was registered against Khan on 30 April under section 124 A (sedition) and 153 A (promoting enmity between different groups on grounds of religion, race, place of birth) after police received a complaint by a resident of Vasant Kunj.
In the FIR, the complainant alleged that Khan's post was "provocative", "deliberate" and seditious and intended to cause disharmony and create a rift in the society, police said, adding that the case is being investigated by the cyber cell.
The remarks were posted by Khan on Tuesday but deleted after sometime. Later, Khan also sought an apology while the BJP demanded his removal from the commission.
"I realise that my tweet was ill-timed and insensitive in view of our county facing a medical emergency and fighting an unseen enemy. I apologise to all whose sentiments were hurt," Khan said in a statement.
He said that his tweet on 28 April, thanking Kuwait for taking note of the "persecution" of Indian Muslims, in the context of the northeast Delhi violence, has "pained" some people which was never his intention.
firstpost.com/india/delhi-minority-commission-chairman-zafarul-islam-khan-booked-for-sedition-over-social-media-post-8324991.html
-----
Europe
Coventry mosque to help hundreds of families after foodbank set up in matter of weeks
ByNaomi de Souza
3 MAY 2020
A mosque in Coventry has sent out its first food and relief parcels to Coventry residents - after setting up a foodbank in a matter of weeks.
This month is the holy month of Ramadan for Muslims across the world and Coventry's own Muslim community have spent theirs setting up a community support network.
CoventryLive first reported on the mosque's community network earlier this month, as they geared up to celebrate a very different Ramadan.
Speaking to CoventryLive, the Mosque's Imam, Shaykh Nabeel, said: "We have delivered approximately 50 parcels to various families and individuals.
"Many have also visited us at the mosque and taken parcels. It has been an amazing experience being able to assist and help our community in this difficult time."
One parcel recipient wrote on the mosque's Facebook page: "They were quick to reply back to me and couldn't have been more helpful. The food parcel arrived really quickly as well, and the parcel had everything in it that a person would need in this crisis and more.
"They also did a food parcel for my neighbour who has kids and she is very grateful like me. I would definitely recommend this service - keep up the brilliant work that you are doing."
Shaykh Nabeel added: "What makes it more special is that it's the month of Ramadan, a month of love and care. We've been getting a great response and a lot of well wishing and prayers.
"The most thrilling part is seeing the smiles on children's faces in particular. Our Al Madinah Community support team have been working hard and are adamant to deliver at least 300 parcels in this month."
The Al-Madinah Institute have transformed what they do to meet the needs of the community in lockdown. As such, they now have a fully operational funeral service, a medicine delivery and collection service, a 'no contact' collection point for their foodbank, counselling and online prayer sessions.
CoventryLive spoke to them just as Ramadan started, to hear how they were adapting as a community to a Ramadan on lockdown. You can read the full story below.
It is a period of fasting observed by Muslim adults - that means abstaining from food and drink, including water, from sunrise to sunset.
As a month in the Islamic calendar, Ramadan comes around once a year, but each year the dates are different, because they are based on the lunar calendar.
For many, the mosque provides a sense of community, contact and reassurance. There are lessons for the children, daily prayer, advice sessions and even food banks which are open to everyone.
Shayk Nabeel said: "Activities are limited now, our usual activities of evening classes for young people have stopped for example. So now, the teachers have set up an online stream so we can interact with the children.
"We have our regular Facebook live streams, the average viewing of which is about 1,000 views. Our congregation is usually about 7-800 people, so we have this system set up and everyone has really enjoyed it. Even though we can't experience the atmosphere of the Mosque, we're not missing out on anything."
Families across Coventry a nd Warwickshire will still be fasting, and thanks to this online set up will be able to check in with each other as the holy month continues.
https://www.coventrytelegraph.net/news/coventry-news/coventry-mosque-help-hundreds-families-18186279
-----
Cardinal Ayuso: Ramadan an opportunity to show interreligious solidarity
02/05/2020
Q: As we approach the feast of the End of Ramadan, what can we say about this celebration in the current context?
As always, I see it as essential, important and significant for our Muslim friends. In a way, just as the celebration of Easter was for us, this year the feast takes on a special significance for them because of the Covid-19 pandemic. I think Ramadan has taken on a more interior dimension this year, since the communal aspect cannot be celebrated. That is why, as President of the PCID, I would like to add my wish that Christians and Muslims – united in a spirit of fraternity – will show solidarity with humanity which has been severely affected, and address their prayers to Almighty and Merciful God, that He may extend His protection to every human being so that these difficult times may be overcome.
Q: What is the content of this year's Message?
Each year the Dicastery offers the Islamic community a theme common to both religions.
In particular this year we have emphasized the theme of protecting places of worship. It was inspired by the Document on Human Fraternity, where Pope Francis, together with the Grand Imam of Al Azhar, said that "the protection of places of worship – synagogues, churches and mosques – is a duty guaranteed by religions, human values, laws and international agreements. Every attempt to attack places of worship or threaten them by violent assaults, bombings or destruction, is a deviation from the teachings of religions as well as a clear violation of international law." These acts are condemned by believers and non-believers alike. The need for freedom of religion is a right and a duty.
Q: What contribution can dialogue between people of different religions make in this situation, and with a view to the future?
I feel the need to refer to what Pope Francis has called us to in this difficult reality, that is, to spread the "contagion of hope" in order to face the current challenges and those of the immediate future. Religious leaders of different faiths will be called to promote unity, solidarity and fraternity, so that we can all emerge from this better than we were before and help our societies to be ready to change all that is necessary, not by following only the laws of economics and profit.
https://www.vaticannews.va/en/vatican-city/news/2020-05/cardinal-ayuso-interreligious-dialogue-ramadan-message.html
----
Vatican urges Muslims and Christians to protect places of worship
02/05/2020
By Devin Watkins
As Muslims celebrate the month of Ramadan, the Vatican is urging both Muslims and Christians to protect places of worship.
In a message released on Friday for Ramadan and the feast of Eid al-Fitr, the Pontifical Council for Interreligious Dialogue recalls the centrality of this month for Muslims.
"It is a time for spiritual healing and growth, of sharing with the poor, of strengthening bonds with relatives and friends," reads the message.
This year's message focuses on places of worship. "For both Christians and Muslims, churches and mosques are spaces reserved for prayer, personal and communitarian alike. They are constructed and furnished in a way that favours silence, reflection and meditation."
The Council calls places of worship "spaces for spiritual hospitality" for special events like weddings, funerals, and community feasts.
It quotes a portion of the Document which states: "Meeting one another in fraternal friendship in this place of prayer is a powerful sign, one that shows the harmony which religions can build together, based on personal relations and on the good will of those responsible."
The Pontifical Council for Interreligious Dialogue then condemns recent attacks on churches, mosques, and synagogues "by wicked persons who seem to perceive the places of worship as a privileged target for their blind and senseless violence".
It also expresses the hope that "our mutual esteem, respect and cooperation will help strengthen the bonds of sincere friendship, and enable our communities to safeguard the places of worship to assure for coming generations the fundamental freedom to profess one's own beliefs."
https://www.vaticannews.va/en/vatican-city/news/2020-05/pontifical-council-interreligious-dialogue-ramadan-message.html
-------
'Go to Holland' is the bizarre new homophobic slur in Turkey after Muslim cleric curses LGBT+ people
MAY 2, 2020
"What wisdom is behind this? That it brings diseases and leads to population decline," he said in a sermon to mark the beginning of Ramadan.
"Hundreds of thousands of people are exposed annually to the HIV virus, which is caused by this great haram, known as adultery in Islamic literature. Let's fight together to protect people from this kind of evil."
The popular sermon was broadcast online and spread through social media, sparking a homophobic hashtag that was trending until Monday.
According to Dutch media, "Go to Holland" has been used before, but never by so many. It was joined by the hashtag #AliErbasyanlizdegil (Ali Erbaş is not alone).
Although Erbaş didn't actually mention the Netherlands at any point in his broadcast, the country is commonly linked with homosexuality in Turkey, probably because it was the first to legalise same-sex marriage in 2001.
Turkish LGBT+ advocate Yildiz Tur told NRC said it was "frightening" that a senior minister was "openly attack[ing]" the LGBT+ community and linking homosexuality with HIV.
"Many death threats are made under the hashtag #YallahHollandaya," he said, noting that the sermon carried a lot of weight as it was given at the beginning of Ramadan.
"What he said was totally right," Erdogan said in a public address on Monday, declaring that "an attack against the Diyanet chief is an attack on the state."
Erdogan's government has overseen many human rights abuses against LGBT+ people, despite homosexuality being technically legal in Turkey.
The Turkish LGBT+ community have few legal rights and face extreme stigma – with Pride parades still often brutally repressed by police.
https://www.pinknews.co.uk/2020/05/02/turkey-homophobic-slur-go-to-holland-yallah-hollandaya-ali-erbas-president-erdogan/?utm_source=feedburner&utm_medium=feed&utm_campaign=Feed%3A+Pinknews+%28Pink+News%29
------
Free taxis have been an essential part of Spain's fight against coronavirus
16 MINUTES AGO
In Madrid, by far the worst-hit area, more than 500 taxi drivers signed up to volunteer through the PideTaxi app, and they have run more than 100,000 free trips.
With paying customers scarce, taxi drivers running doctors from house-to-house or taking the sick to hospital have become an essential service, their free rides helping frontline medics fight the virus.
Although epidemic peaked earlier this month, medics say the free taxis have made a huge difference.
https://www.dawn.com/live-blog/
----
The doctor fasting for Ramadan while caring for Covid-19 patients in intensive care
3 MAY 2020
Dr Yassar Mustafa is one of the many Muslim NHS frontline staff who are not only saving lives but fasting at the same time.
From sunrise to sunset- including the duration of his near 13 hour shift- Dr Mustafa will abstain from eating while he tends to seriously ill patients in the intensive care unit at Good Hope Hospital.
This year, Muslims have been adapting Ramadan practices amid the global pandemic. Mosques are closed and social distancing is in force.
But as the 32-year-old from Selly Oak, explains, families are worshipping at home, connecting online and even though working in ICU presents new challenges, he sees it a chance to give back to his faith and community.
Dr Mustafa, who has two boys aged six and four years and a three-month-old-girl, said: "In previous years, we were wearing scrubs, now we are wearing the PPE gear.
"It can get hot. Some scholars have advised that front line staff wearing PPE do not need to fast. But personally, I have tried it out and found it manageable.
"Working in intensive care can be emotional because despite your best efforts some patients can continue to deteriorate but having said that, in a sense Ramadan is an opportunity to get closer to God.
"It's a month of giving, it's a month of drawing closer to God by doing good works. So working on the front line intensive care while fasting, although tough, is a blessing.
He will work 12-and-a-half-hour shifts in the ICU at Good Hope Hospital until 8.30pm, arriving home at 9pm. He will then eat and then pray the 'Tarawih' or night prayer- which has now changed due to coronavirus.
Dr Mustafa said: "The Tarawih prayer takes a couple of hours is one of the defining features of Ramadan. It's a community prayer which is usually held in the mosque.
"During and after the night prayer, we will do Ramadan activities with the boys like reading stories, playing games and we will talk about the fast and why we fast.
"In previous times we would normally go to the mosque. I would go to one in Moseley and we pray the night prayers there. We would spend time there before coming back.
"The shops would open, a lot of these areas would come to life. There were decorations, selling food and lots of places to relax and socialise- it's all closed now.
"It's been replaced by a focus on the family in living rooms. We've created a mosque area in the living room, we've put out various prayer mats and ornaments.
"One of the other big changes is that we are listening to a lot of digital lectures and talks online. It helps substitute the communal aspect we would've had in the mosque. This Ramadan is more introspective and it's a more family focused one.
https://www.birminghammail.co.uk/news/midlands-news/doctor-fasting-ramadan-caring-covid-18174579
------
How Lincoln's Muslim community are spending Ramadan differently during lockdown
ByEmily White
3 MAY 2020
The coronavirus pandemic, and subsequent lockdown, means that millions of Muslims across the UK will be celebrating Ramadan a little differently this year.
Social distancing and the closure of mosques nationwide has changed the way Muslims in Lincolnshire will be spending the holiest month in the Islamic calendar.
Every evening when the sun has set, families and friends would usually get together for the Iftar meal to break the fast and many people go to the mosque to pray.
Dr Tanweer Ahmed, chairman of The Islamic Association of Lincoln, says the community has had to find new ways of ensuring their holy month goes ahead.
He said: "It's very unusual for the mosques to be closed as during Ramadan there tends to be lots of excitement within the community.
"We would usually have a night prayer together and usually around 250 people from the community come to prayer. We would also usually hold community Iftars (shared meals) which would see 150 to 200 members of the community attend.
"Sadly, these things will not be able to happen, which is a set back for our community. However, we have since started an online daily lectures delivered by the Imam, to try and keep the community together.
"I have been doing with my son and my family, and as far as I know, the majority of people are doing it. We're trying to bring excitement at home.
"It's about bringing the community together and encouraging prayer together with family members, as unfortunately we can't pray in the mosque."
The Islamic Association of Lincoln has been keeping community at the heart of everything they are doing during Ramadan, by offering a Covid-19 support service to elderly or vulnerable members of their community and by helping to establish a foodbank, with support from the council, the Acts Trust, and community members, open to all members of the local community, including non-Muslims.
Dr Ahmed said: "The community are trying to help people who are vulnerable and elderly, making sure they have food and supplies. We are also making sure to call on them and keep in touch.
"We have been working in cooperation with and raising funds from the community to support the food bank and it is open to everybody.
"We thank the NHS staff, the Police, and all key workers, who are putting their lives at risk to keep us going and keep society running. They are all heroes. "
If you need help, you can contact the mosque by using the contact form on their website, or by calling any of the contact numbers found here.
https://www.lincolnshirelive.co.uk/news/local-news/lincoln-ramadan-islam-coronavirus-4082825
----
South Asia
Afghanistan Cabinet Extends Lockdown Period Till End Of Ramadan
May 3, 2020
KABUL: President Mohammad Ashraf Ghani chaired the extraordinary meeting of the cabinet here yesterday, a statement said.
Speaking with ministers via videoconference, President Ghani, while praying for the souls of the martyrs of the country's defense and security forces, expressed his gratitude for the efforts of these forces in defending the country and ensuring the security of the citizens and instructed the first vice president and national security adviser to urgently asses the livelihood of the security and defense forces and take all necessary measures in this regard, the presidential palace statement added.
The President also thanked the leadership, staff and health personnel of the Ministry of Public Health, who, according to him, are at the forefront of the fight against the coronavirus, and called on the leadership of that ministry to treat those who are infected with the virus and give them special attention.
Referring to the increasing number of positive Coronavirus cases in the last two days, the president called on the relevant authorities, governors and municipalities to pay serious attention to the management of the distribution of essential materials, humanitarian aid and distribution of bread through bakeries.
The president also thanked the ministers of the Foreign Affairs, Industry and Commerce for agreeing with Pakistan to keep the ports of Torkham and Spin Boldak open for five days a week, and asked them to take necessary steps for opening of other ports, especially opening of the port of Gholam Khan.
He also thanked international donors and countries that have cooperated with the Afghan government in the fight against the coronavirus.
The cabinet meeting also issued the following resolutions: extending the lockdown until the end of the holy month of Ramadan, suspending passenger flights from Kabul to the provinces and vice versa; distributing aid simultaneously in the center and provinces of the country; amendment of the National Budget for fiscal year 1399 and approval of the plan and guidelines for hiring human resources of the Ministry of Public Health to fight the virus.
Similarly, the Cabinet welcomed the initiative of Kabul Medical University's community College, for developing Ventilator and asked relevant organs to award them with appreciation certificates.
Meanwhile, the cabinet approved the report of the emergency committee's actions to prevent the spread of the coronavirus and its recommendations.
The amendments to the national budget for the fiscal year 1399 were also approved. The Ministry of Finance, in cooperation with the Ministry of State for Parliamentary Affairs, was tasked with taking action according to the country's situation and need during the process.
The Cabinet meeting also approved the request of the Ministry of Public Health to receive Global Living Sharing assistance from South Korea, including medical supplies, and to exempt the aforementioned items from taxing.
At the end of the cabinet meeting, the request to approve the transfer of the right to use 21 government lands in the country's provinces to establish industrial and agricultural parks in Kandahar province, construction of airfields in Nimroz, Khost and Jawzjan provinces; creation of a sports stadium in Nangarhar province; Electric stations and construction of buildings for the courts and attorney offices were approved.
https://www.thekabultimes.gov.af/2020/05/03/cabinet-extends-lockdown-period-till-end-of-ramadan/
-------
Case filed against journo Kajol for 'trespassing into Bangladesh from India'
May 03, 2020
"Around 2:48 am in the morning, a duty officer of Benapole Police Station called my mother's phone and asked where my father is. I said that he is still missing, and the police officer handed the phone to my father," said Kajol's son MonoromPolok.
The Benapole Border Guard Bangladesh (BGB) claimed to our correspondent that they found Kajol in a field in Sadipur, a union adjacent to the border.
"Our night patrol team rescued Kajol," claimed HabildarAshek Ali, the BGB camp commander of Raghunathpur. "We handed him over to Benapole police."
While talking to reporters, Benapole Port Police Station Officer-in-charge (OC) Mamun Khan said BGB filed a case against Kajol for "entering Bangladesh illegally from India through Benapole border".
Several days after his disappearance, his phone number was found active in Benapole, Sub-inspector Munshi Abdul Lokman, the investigating officer, had told The Daily Star.
Kajol's disappearance came a day after SaifuzzamanShikhor -- a ruling party lawmaker from Magura-1 -- filed a case against him and 31 others on charge of publishing a report with "false information" and circulating it on social media.
Kajol's family had filed a general diary with the Chawkbazar Police Station the next day, reporting him as missing.
https://www.thedailystar.net/country/news/missing-journalist-kajol-found-jashore-1898968
-----
26 Taliban militants killed, wounded in Balkh province: Shaheen Corps
03 May 2020
The Afghan forces killed 16 Taliban militants during separate operations in northern Balkh province of Afghanistan, the Afghan military said.
The 209th Shaheen Corps in a statement said a group of Taliban militants ambushed a convoy of the Afghan forces between Zari district and Mazar-e Sharif city.
The statement further added the Afghan force carried out airstrikes in response to the attack, killing at least 14 militants and wounding 6 others.
The airstrikes also destroyed multiple weapons and vehicles of the militants, the statement added.
Meanwhile, the 209th Shaheen Corps said the Afghan forces responded to another Taliban attack in Chemtal district, killing at least 2 militants and wounding 4 others.
https://www.khaama.com/26-taliban-militants-killed-wounded-in-balkh-province-shaheen-corps-04767/
-----
12 die of coronavirus in Afghanistan as 235 new positive cases surface in past 24 hours
03 May 2020
At least 12 people died of the novel coronavirus (COVID-19) in Afghanistan as 235 new positive cases surfaced across the country in the past 24 hours.
WaheedullahMayar, a spokesperson for the Ministry of Public Health, confirmed the new deaths and positive cases during a press conference in Kabul.
He also added that the public health authorities recorded 235 new positive cases during the same period, increasing the total number of positive cases to 2,704.
According to Mayar, 63 of the positive cases were recorded in Kabul, 54 in Kandahar, 19 in Herat, 14 in Panjshir, 13 in Takhar, 12 in Nangarhar, 10 in Samangan, 10 in Ghor, 9 in Baghlan and 7 in Wardak province.
Meanwhile, Mayar said a total of 14 patients recovered from the disease across the country during the same period.
https://www.khaama.com/12-die-of-coronavirus-in-afghanistan-as-235-new-positive-cases-surface-in-past-24-hours-04766/
-----
Afghan govt releases 98 Taliban prisoners to help peace process, counter coronavirus
03 May 2020
The Afghan government released a group of 98 Taliban prisoners in a bid to help the process and the ongoing fight against the novel coronavirus (COVID-19).
Javid Faisal, a spokesperson for the Office of National Security Council said the government released the prisoners on Saturday.
"Pursuant to President @ashrafghan's decree, 98 Taliban prisoners were released yesterday (May 2nd) based on their age, health and length of remaining sentence as part of our efforts toward peace and battling COVID-19," he said in a Twitter post.
This comes as efforts are underway to expedite the release of prisoners in a bid to help the peace process and subsequent launch of intra-Afghan talks in a bid to find a negotiated political settlement for the ongoing conflict.
The Taliban group had earlier claimed that the group has released of a group of 52 prisoners of the Afghan government.
https://www.khaama.com/afghan-govt-releases-98-taliban-prisoners-to-help-peace-process-counter-coronavirus-04764/
------
Pakistan
PM launches relief scheme for those who lost jobs
May 03, 2020
Amir Wasim
ISLAMABAD: Prime Minister Imran Khan on Saturday formally launched a cash assistance programme for those who have become jobless due to the Covid-19 pandemic and prolonged lockdown in the country and vowed that the amount collected under the Corona Relief Fund would be spent in a transparent manner and its audit details would be presented before the nation.
Speaking at the live telecast of the ceremony held at the PM Office to launch a web portal for registration of jobless people for getting Rs12,000 under Ehsaas Cash Programme, the PM said the government had decided to completely open the construction and other small and medium industries to save people from losing their jobs.
"I thank all those who have deposited money in the PM Corona Relief Fund. I assure you that this amount will be spent in a transparent manner. You will be told where this amount has been spent. I am myself monitoring it and will provide complete audit details," the prime minister said.
Mr Khan said he would ensure transparency and merit like he had done in the case of Shaukat Khanum Memorial Hospital and Namal University projects where they provided every detail to the donors.
He said the government would provide cash assistance to those people who had been working as labourers or in restaurants and had now lost their jobs, but they would have to provide details and proof regarding their previous employment.
Moreover, he said, the government would contribute Rs4 on every donated one rupee in the relief fund so that maximum relief could be provided to those affected due to the lockdown.
The prime minister said the economy of even the developed countries had been affected due to lockdown and efforts were being made all over the world to restore businesses. Even in the cities like New York, where thousands of people were dying daily, they were thinking of reopening construction industry, he added.
Mr Khan said the government had made every effort to give major incentives to the construction industry because it provided jobs to a large number of people, including daily wagers.
At the same time, the prime minister urged the nation to observe discipline to face the challenge and stressed upon observance of social distancing and other precautionary measures. He said nobody could predict how long the coronavirus crisis would last, but it seemed they would have to live with it at least for next six months or a year.
He also requested the people who had been diagnosed with Covid-19 to go into quarantine in their houses as all infected patients did not require to be taken to hospitals. The prime minister said it looked odd to use police force to forcibly keep people in quarantines where they complained about lack of facilities.
Mr Khan said the government had provided huge relief to the people through reduction in oil prices as in a span of just one month, price of petrol had been reduced by Rs30 per litre, diesel by Rs42 and kerosene by Rs45 per litre.
He said he had directed the chief secretaries of all provinces to ensure reduction in the prices of all the commodities associated with oil prices to provide maximum relief to the masses.
Responding to criticism from the opposition that the government had not passed on maximum relief to the people in line with the drastic and historic reduction in international oil prices, the prime minister claimed that oil prices in Pakistan were lowest when compared to other countries of the region, particularly India and Bangladesh. He said petrol and diesel were being sold for Rs153 and Rs126 per litre, respectively, in India. In Bangladesh, he said, the price of petrol was Rs170 per litre.
Mr Khan said the government could have taken advantage of reduction in international oil prices as its tax revenue had been reduced by up to 35 per cent due to the lockdown, but it decided to pass on the benefit to the people.
Later, Special Assistant to the PM on Social Protection and Poverty Alleviation Dr Sania Nishtar explained the registration process for the jobless people.
For this purpose, a web portal has been set up and applications have been invited from those who fall in the categories mentioned on the website.
Dr Nishtar said applications would be accepted only through the web portal. She said under the Ehsaas Programme, the government had already disbursed Rs81 billion among 6.8 families in just 23 days.
Minister for Industries and Production Hammad Azhar provided details of the relief measures the government had taken to help small businesses affected by the coronavirus pandemic.
https://www.dawn.com/news/1554139/pm-launches-relief-scheme-for-those-who-lost-jobs
-----
Govt hints at allowing resumption of business activities
May 03, 2020
PESHAWAR: The authorities on Saturday hinted at allowing the business activities to resume in the next couple of days.
This was decided at a high-level meeting held here. Besides others, the meeting was also attended by provincial labour minister Shaukat Yousafzai, Peshawar division commissioner Amjid Ali Khan and traders' representative Malak Mirali Khan, according to a statement.
Talking to Dawn after the meeting, Malak Miralai said the traders were asked to prepare standard operating procedures (SOPs) for running the businesses in rotation. He said the clothing and footwear shops could be allowed to open for three days each. The traders' representative said that they would submit SOPs to the district administration on Monday.
It is worth mentioning here that barring some essential businesses rest of the markets have been closed for last over one month due to the lockdown.
Meanwhile, representatives of various trade bodies on Saturday apprised provincial police chief Dr Sanaullah Abbasi of their reservations regarding the lockdown and demanded an end to arrests and imposition of huge fines on shopkeepers in Peshawar.
The traders' delegation was led by MarkaziTanzeem-i-Tajiran president Sharafat Ali Mubarak. Senior businessman Mujeeb-ur-Rehman was also part of the delegation.
The IGP assured solution to the problems confronting the traders. He also appreciated the business community's cooperation with the law enforcement agencies during the lockdown, according to a statement.
The police chief said the business community had played a pivotal role in the country's economic development. He said police with the active support of the traders' community would perform their duty as per the SOPs.
Later talking to Dawn, businessman Mujeeb-ur-Rehman said: "We presented our demands to the provincial police chief, which included an end to the arrests and imposition of heavy fines on shopkeepers."
He said traders requested relaxation in the lockdown, promising to implement the SOPs to ensure protection from Covid-19.
"We are ready to continue cooperating with the authorities in the fight against coronavirus, but the latter should also keep in view our miseries due to prolonged restrictions," he added.
https://www.dawn.com/news/1554109/govt-hints-at-allowing-resumption-of-business-activities
-----
Africa
Al-Sunni echoes the rejection of the Security Council to recognize Haftar's coup
May 02, 2020
Libya's delegate to the United Nations (UN), Taher Al-Sunni, confirmed on Friday, that during a discussion with representatives of the United States of America, Germany and Russia, they all voiced their countries' rejection of Haftar's new coup.
The aforementioned countries, condemned Haftar's unilateral declaration of cancelling the political agreement and his attempt to impose himself as governor of the country.
Al-Sunni reiterated on his Twitter account, that the delegates of the countries he spoke with, continue to seek a peaceful solution in order to support a democratic political pathway, while abiding by the Security Council resolutions and the legitimate Libyan political process.
https://www.libyaobserver.ly/inbrief/al-sunni-echoes-rejection-security-council-recognize-haftar%E2%80%99s-coup
-----
Lawyer of Sheikh Zakzaky asks court to quash charges against him over Kaduna State's failure to prove case
May 2, 2020
The legal team of Sheikh Ibrahim Zakzaky, leader of the Islamic Movement in Nigeria, has filed a motion asking the High Court in Kaduna to quash all charges against him.
Sheikh Zakzaky and his wife, Zeenat, have been detained by the Nigerian Government since 2015 after hundreds of his followers were killed by the Nigerian Army in Zaria, Kaduna State.
In the motion filed by rights lawyer, Femi Falana (SAN), on behalf of Zakzaky, deposed to by Muhammad Ibrahim Zakzaky, son of the detained IMN leader, and served on the Director of Public Prosecutions, Ministry of Justice of Kaduna, he asked the court to dismiss the case after the state's failure to disclose the offences preferred against his client.
The motion reads, "An order of this honourable court quashing count one of the charge in its entirety for not disclosing an offence known to law contrary to Sections 36 (8) and (12) of the 1999 constitution as amended, or in the alternative, an order of this honourable court quashing count one of the charge in its entirety for being an abuse of court process and/ or devoid of proof of evidence, evincing a prima facie case or a disclosure of the offences and/ or for failure to link the defendants to the offences purportedly charged from the statements of the witnesses and/ or the statements of the defendants as well as the documents attached to the purported charge.
"An order of this honourable court quashing count two of the charge in its entirety for being an abuse of court process and devoid of proof of evidence or a disclosure of the offences and/ or for failure to link the defendants to the offences purportedly charged from the statements of the witnesses (and/ or the statements of the defendants) as well as the documents attached to the charge.
"An order of this honourable court quashing count three of the charge in its entirety for being an abuse of court process and devoid of proof of evidence or a disclosure of the offences and/or for failure to link the defendants to the offences purportedly charged from the statements of the witnesses and/ or the statements of the defendants as well as the documents attached to the purported charge.
"An order of this honourable court quashing count four of the charge in its entirety for being an abuse of court process and devoid of proof of evidence or a disclosure of the offence charged and/or for failure to link the defendants to the offences purportedly charged from the statements of the witnesses and/or the statements of the defendants as well as the documents attached to the purported charge.
"An order of this honourable court quashing count five of the charge in its entirety being an abuse of court process and devoid of proof of evidence or a disclosure of the offences charged and/or for failure to link the defendants to the offence(s) purportedly charged from the statements of the witnesses and the statements and/ or the statements of the defendants as well as the documents attached to the charge.
"An order of this honourable court quashing count six of the charge in its entirety for not disclosing an offence known to law contrary to sections 36 (8) and (12) of the 1999 constitution as amended, or in the alternative, an order of this honourable court quashing count six of the charge in its entirety for being an abuse of court process and/ or devoid of proof of evidence, evincing a prima facie case or a disclosure of the offences and/or for failure to link the defendants to the offences purportedly charged from the statements of the witnesses and/ or the statements of the defendants as well as the documents attached to the purported charge.
"An order of this honourable court quashing count seven of the charge in its entirety for being an abuse of court process and devoid of proof of evidence or a disclosure of the offences and/or for failure to link the defendants to the offences purportedly charged from the statements of the witnesses and/ or the statements of the defendants as well as the documents attached to the purported charge.
"An order of this honourable court quashing count eight of the charge in its entirety for being an abuse of court process and devoid of proof of evidence disclosing a prima facie case or a disclosure of the offences and/ or for failure to link the defendants to the offences purportedly charged from the statements of the witnesses and/or the statements of the defendants as well as the documents attached to the purported charge."
Falana also asked the court to free his client, who has suffered numerous health challenges as a result of his incarceration.
https://en.abna24.com/news//lawyer-of-sheikh-zakzaky-asks-court-to-quash-charges-against-him-over-kaduna-states-failure-to-prove-case_1032473.html
-----
We Must Stand Together, Muslim Leader Urges J'cans - Unity Key To Surviving COVID-19 Pandemic, Says Tariq Azeem
May 3, 2020
The coronavirus pandemic has claimed nearly 250,000 lives around the world and has heaped great suffering upon humanity, but if Jamaicans focus on becoming more charitable towards each other, the resilient island will stand strong in the face of the disease.
The only other missing ingredient needed to survive the virus and the dreaded COVID-19 respiratory disease would be unfaltering faith, which Tariq Azeem, head of the Ahmadiyya Muslim Jama'at community in St Catherine, says abounds in Jamaica, with all its varying religious groups.
"It (faith) is absolutely relevant in this time because around the globe, not just in Jamaica, we are seeing the best of people during COVID-19 and the worst of people," Azeem told The Sunday Gleaner last Tuesday.
"There are people who are hoarding food items and snatching things from stores and making the less fortunate suffer more, and then there are also good people who are trying to help, knowing that some people are suffering," he said.
"We should realise that we are a global family and instead of just feeling sorry for your own kind, we should feel sympathy for mankind. That is important. We have to be worried about everyone," continued Azeem, who is a citizen of Canada, which has recorded more than 55,000 cases of the coronavirus. His father and other relatives are still in the North American country.
"We are talking about small things," said Azeem, citing regular checks on the elderly as one example of how Jamaicans could help their fellowmen cope. "This is how we have to look out and care for one and another. This is how we will fight COVID-19."
He said that while most people are unable to assist large groups of individuals, Jamaicans should start with the neediest closest to them.
"It is hard to know who is in need across the country, but each of us knows who is in need or suffering in our own neighbourhood. We just have to take responsibility in our own spaces," Azeem charged.
Almost two billion Muslims across the globe and some 6,000 Muslims locally are currently acknowledging the month-long Ramadan festivities marked by introspection, communal prayer, and fasting each year.
However, the coronavirus pandemic and the Government's social-distance orders have rewritten the script for those activities, causing most worshippers to carry out their five daily prayers at home.
At the same time, the Ahmadiyya community in Old Harbour said it has been purchasing items in bulk and has been distributing care packages to less-fortunate residents in St Catherine, where a 17-day lockdown, imposed to curtail the spread of COVID-19 in the parish, expired on Friday.
Some religious groups have come under criticism for observing the Government's stay-at-home orders and not meeting for worship. Azeem, however, said that disobeying the protocols would be irresponsible of religious leaders.
"They should be following first what the Government is saying. If you don't do that, then what you are doing is saying that your religion and the Government cannot [coexist]. As Muslims, we believe that you practise religion, but you must not disobey the local laws," he said, emphasising the importance of unity in the face of the deadly pandemic caused by the highly contagious virus.
"In this time, it becomes even a greater necessity to stand together as one community and one family. The religious and faith communities, this is our most important time … . Whatever religion you belong to, we must stand together as Jamaicans and as a global community. We are humans and we must fight COVID-19 together. Share with one another, share love, and be ready at the forefront," he urged.
http://jamaica-gleaner.com/article/news/20200503/jamaicatogether-we-must-stand-together-muslim-leader-urges-jcans-unity-key
-----
Kidnappers free popular Oyo Islamic cleric's twins
May 3, 2020
The twins of an Ibadan-based popular Muslim cleric Alh. TaofeekAkewugbagold, have been released.
Akewugbagold disclosed this in a post on his Facebook page in the early hours of Sunday
The post reads: "ALHAMDULILLAH! AT 5.30 AM OF SUNDAY 3RD MAY, MY ABDUCTED TWIN KIDS ARE RELEASED TO ME BESIDE A BUSH AFTER 8DAYS IN AN UNKNOWN LAND. THANKS TO U ALL FOR FOR YOUR PRAYERS AND SUPPORT, JAZAKUMULLAHU KHAIRAN. ABERE MI BO SINU OKUN, OLOUN YO PADA FUN MI."
The Nation reports the twins were kidnapped at their parents' house at about 8:30 pm in Ojoo area of the capital city last Saturday.
Akewugbagold, who hails from Oyo West Local Government, was chairman of the Oyo State Pilgrims Welfare Board (Muslim Wing) during the two-term tenure of the immediate past Governor, Abiola Ajimobi.
https://thenationonlineng.net/breaking-kidnappers-free-popular-oyo-islamic-clerics-twins/
-----
Zimbabwe deploys troops to fight Islamic insurgents in Mozambique – Report
May 2, 2020
There are reports claiming that the Zimbabwean government has deployed soldiers to northern Mozambique to help fight an Islamic insurgency that erupted a few years ago.
A legal expert says such a deployment would be ill-advised as the country is broke and reeling on account of the COVID-19 pandemic and cannot even feed its citizens.
Academic and constitutional law expert, Alex Magaisa explains the law concerning the deployment of armed forces as provided for in the national Constitution. He writes:
I understand Zimbabwean troops have been deployed in Northern Mozambique to assist the host government in its defence against insurgents. This thread outlines the law concerning the deployment of armed forces as provided for in the Constitution.
The President, in his capacity as Commander in Chief, has the power to deploy armed forces outside the country "to defend the territorial integrity of a foreign country" or "in defence of Zimbabwe's national security or national interests" (section 213(3).
However, the President is required to inform Parliament "promptly and in appropriate detail the reasons for their deployment" and "the country they are deployed". The question therefore is whether Parliament has been informed. COVID-19 complicates issues but it can be done.
Parliament has the power to cause a rescission of the deployment (section 213(4) & (5). In lay terms, this means Parliament can stop/reverse the foreign deployment. But this requires special majority vote (two-thirds of the total membership of Parliament).
This legal power is however theoretical at best in the current political dynamics. With a two-thirds majority, ZANU PF is in full control of Parliament & its members are unlikely to question their boss.
The main question is practical & economic: the country is broke & it's reeling on account of the COVID-19 pandemic. It can't even provide for citizens. How is the war funded and by whom? These are the practical questions which must seize our political & civic representatives.
According to the Mail & Guardian On March 23 to 24, the centre of Mocimboa da Praia in Cabo Delgado province was occupied by up to 40 "jihadists", who targeted government facilities, including a barracks, and brandished banners of affiliation to the so-called Islamic State.
On March 25, suspected jihadists raided the town of Quissanga and destroyed the district police headquarters. They too carried an Islamic State flag. Twenty to 30 members of Mozambique's security forces were killed in both attacks.
Mocimboa da Praia is just south of the Afungi Peninsula, the location of gas projects worth $60- billion. Mocimboa was briefly occupied in late 2017, during attacks claimed by a group known as Ahlu Sunnah Wa-Jama (or al-Sunnah) that marked the start of a brutal low-intensity conflict, with widespread human rights abuses and attacks on civilians.
Up to 1,000 people have now been killed and 100,000 displaced. More recently, The Islamic State Central Africa Province (Iscap), affiliated with the Islamic State group, has claimed responsibility for the attacks. Video and photos of these most recent events, along with the testimony of frightened residents and overstretched government officials, suggest a shift of strategy by the insurgents.
There seems to have been an effort to avoid harming civilians, to win hearts and minds by redistributing stolen food, medicine and fuel to "loyal" residents, and to direct attacks on the state and its symbols, such as police stations and military barracks. It is difficult from a distance to assess if there was any genuine pleasure over these attacks among local people; while residents in both towns that did not flee seemed to welcome the attackers, this may well have been out of fear that the government is currently unable to guarantee their security.
These attacks also indicate that the jihadist-linked insurgents are growing in confidence. They are confronting government security forces with little appetite for fighting. The Mozambican government has been expecting setbacks like those of Mocimboa and Quissanga — its forces are demoralised and many commanders exhausted or corrupted by an emerging war economy. Jihadists are also taking tactical advantage before a reformed and more effective government counterinsurgency effort is introduced in response.
President Filipe Nyusi, inaugurated in January for his second term, has made this crisis his prime focus and has become the de-facto minister of defence.
But there is no quick fix. Most importantly, the Mozambican military and security forces need to be restructured. They were unable to win the Mozambican civil war (1977-1992), even with international support, and have not improved in capacity or conduct since. They now face a complex, multilayered and asymmetrical conflict, mostly drawing upon local and regional grievances and networks but increasingly also attracting some limited encouragement and advice from further afield.
Nyusi will need to build-up trusted relationships in the military in the way he has successfully done with parts of the intelligence community. The Mozambican government has already reached out to international expertise — though not necessarily the right kind. The founder of the Blackwater private military company, Erik Prince, supplied two helicopters and support crew for the Mozambican military in mid-2019, before being replaced by some 170 Russian privateers linked to the Wagner Group.
The Wagner contingent arrived in September 2019 at Nacala airport with trucks, drones and a Mi-17 helicopter gunship, then deployed into the combat zone of northern Cabo Delgado. Setbacks, including at least two dead Russians, forced a tactical fallback to Nacala, though a new effort is reported to have been underway since late February 2020.
The Mozambican government is also considering a number of proposals from other private military companies. Maputo needs to consider these carefully; Israeli or Gulf State involvement in any form might exasperate rather than alleviate this crisis.
But market-led security and military providers will not end this insurgency. Nor will the engagement of states such as the United States, France, the United Kingdom or Angola, all of which have made their own offers of support. What would significantly make a difference is much closer to home: serious Tanzanian engagement.
This insurgency is concentrated in districts bordering Tanzania and there is clear-cut intelligence of connections into Tanzania and beyond. Swahili is also a lingua franca for the jihadists, connecting them up the East African coast, and into eastern Congo and elsewhere.
It is puzzling, given the deep shared history between Tanzania and Mozambique, that the bilateral relationship is as patchy as it is today: during the liberation struggle (1965-1974) against the Portuguese, Mozambique's ruling party Frelimo maintained rear bases in Tanzania, and Nyusi was educated there.
Conspiracy theories circulate that Tanzania has encouraged the Cabo Delgado insurgency to weaken its neighbour, or at least displace radicalised individuals from Tanzanian soil into Mozambique.
President John Magafuli of Tanzania did not attend the January inauguration of Nyusi. It has become urgent that Magafuli (who is also the current chair of the regional body, the Southern African Development Community) and Nyusi meet face-to-face to map out improved intelligence sharing and a joint strategy to respond to an emerging regional threat.
Southern Africa is locking down because of Covid-19, which will distract the government's ability to focus fully on this crisis and create a perfect moment for the infant insurgency in Cabo Delgado to grow. More military setbacks should be expected in coming months.
But the Mozambican government can still contain and prevail if it seriously reforms its military, builds strong alliances with its regional neighbours (especially Tanzania), chooses its private security contractors and international partnerships wisely, and backs military efforts with better intelligence and developmental interventions that offer alternative pathways to potential recruits.
But despite Maputo's hope that significant progress will be made over the coming year, and the setting up of a presidential task force to evaluate progress and intelligence, it is likely that Mozambique and its partners will need to prepare themselves for a drawn-out struggle.
https://www.thezimbabwemail.com/world-news/zimbabwe-deploys-troops-to-fight-islamic-insurgents-in-mozambique-report/
------
Islamic cleric, Gumi, knocks Nigerian govt, says easing lockdown is suicidal, irresponsible
May 2, 2020
The Nigerian Government has been criticized by a popular Islamic cleric, Sheik Ahmad Gumi, over its decision to ease the lockdown imposed on parts of the country.
According to Gumi, it was suicidal and irresponsible for the Federal government to ease the lockdown at a time the nation was still grappling with rising cases of the COVID-19 pandemic.
It would be recalled that President Buhari had on April 27 announced a relaxing of the lockdown in Lagos, Ogun and the FCT beginning from Monday May 4th.
Gumi, in a chat with reporters, however said that the Federal government should not have bowed to pressure from Nigerians but be firm in its approach to tackle the ravaging viral disease.
He also noted that the decision to ease the lockdown was because government is running away from its responsibility, adding that people are locked down in hunger and that the government is not ready to spend on the palliatives.
He said: "The government is just running away from their responsibility. This is just the truth, people are locked down in hunger and the government is not ready to spend on the palliatives. So they are saying the best thing is let's release you people; but this is suicide, it is suicidal, it is suicidal and I'm very sorry to say it is irresponsible.
"Yes it is because of pressure and hunger, that is it. If not, it is not right to do that. Even in China where they have controlled opening, like the schools they made every child to come with mask, there was serious testing and taking of people's temperature before coming into the school.
"Can we afford to do that here? We cannot. And what we are afraid of is if there is community transmission, meaning that it is not only the man to man contact, but it comes into the community and it becomes endemic; then it is going to be seriously fatal and we pray it does not happen." he said
"Sincerely, I'm not comfortable and I don't really know the word to use in describing what is happening, either in regards to the government or the people. But let me talk about the government because the government has seen what it should do although it is trying to derail now.
"People are behaving like a child you took to the hospital for injection and he is struggling and doing everything possible not to receive the injection. This is how Nigerians are behaving. You are trying to do what is good for them, but then they're resisting. But also you cannot blame them, because they are hungry, left uneducated; they are not well informed, because even the clergy or the Mallams are not ready to explain to them the real situation of things. Even some of the rejections of the issues stemmed from what they heard from the clergymen, so I don't really blame them. But the government is not doing enough"
https://www.ripplesnigeria.com/islamic-cleric-gumi-knocks-nigerian-govt-says-easing-lockdown-is-suicidal-irresponsible/
-----
Arab world
Qatar Charity Ramadan campaign covers over 30 countries
03 May 2020
By Sidi Mohamed
Doha: AbdulazizJassim Haji, Director of Customer Service Management at Qatar Charity, said that Qatar Charity is running its Ramadan campaign in more than 30 countries around the world including Qatar.
"The drive's cost is more than QR120m and it includes Iftar meals, Eid aids and the distribution of Zakat Al Fitr. The number of those targeted people is about 2.4 million, depending on the donations of the people," said Haji.
The drive this year is under the slogan "Calm Your Heart by Giving", which is an invitation for compassion and giving that will enter happiness and joy to the affected people from coronavirus, and others who will benefit from these charitable programmes, he said.
Speaking to Qatar TV, he pointed out that "The campaign includes three important programmes, which are Iftar meals and distribution of food baskets, in addition to the Eid aids and the distribution of Zakat Al Fitr, in addition to aid for the people affected more by coronavirus crisis.
He also said that about 70 percent of Qatar's social and health programmes are provided by volunteers, and that is why the role of volunteers during this crisis is very important. Volunteers are the ones who prepared 100,000 health bags that Qatar Charity distributed as part of the programmes to limit the spread of coronavirus.
Haji further said that "Qatar Charity has launched an electronic link in partnership with Al Meera to deliver food aid to needy families through easy app. People can register through Qatar Charity website to get aid quickly.
Qatar Charity has taken into consideration public safety and precautionary measures in the implementation of its Ramadan projects to fight the coronavirus, as it prepares and packs meals in the municipal kitchens to ensure that they will remain safe and clean, he said.
Qatar Charity recently also provided a consignment of food items to the Embassy of the United Republic of Tanzania in Doha for about 200 households of Tanzanian community in Qatar.
Besides the donations through the embassies, Qatar Charity is providing a food basket to workers also. It has distributed many food baskets during this crisis to workers, and until now over 45,000 food baskets have been distributed.
https://thepeninsulaqatar.com/article/03/05/2020/Qatar-Charity-Ramadan-campaign-covers-over-30-countries
-----
QRCS Ramadan charity campaign to reach 22 nations
May 03 2020
Secretary-General of Qatar Red Crescent Society (QRCS) Ali bin Hassan al-Hammadi has stressed the preparations are in place for the Ramadan charity campaign.
He noted that QRCS had launched the campaign more than 18 years ago, and will continue to deliver despite the difficult circumstances related to Covid-19. He added that the organisation provided a wide range of services inside and outside Qatar worth QR60mn for more than a million people. Some of those projects included Iftar meals, clothes for Eid, Zakat as well as developmental projects that take place during and after the holy month.
Al-Hammadi in a press statement highlighted the efforts of QRCS amidst the coronavirus epidemic in serving the people. He stressed that the organisation is more determined than ever to complete their Ramadan projects. He said that they plan to carry out projects in 22 countries, where they will help the poor of all races and ethnicities. He added that this year's campaign will have more than 200 projects inside and outside Qatar that aim to support sustainable development efforts.
He noted that the projects will target needy families and migrant workers affected by the coronavirus crisis, as its Humanitarian Services Fund provides more than 6,000 food baskets to families registered with the social assistance programmes. It also has 1,500 food baskets that it will distribute to workers using modern technologies, and stressed that the top priority will be in implementing the precautionary measures. There is also a hotline dedicated to receiving requests regarding food support.
He said that the only change in charitable work this Ramadan was not organising tents to hold Iftar for people in need. Instead, Qatar Red Crescent Society distributed food meals to workers before the sunset prayer.
Al-Hammadi said the Regulatory Authority for Charitable Activities has also contributed to Qatar Red Crescent Society's support.
https://www.gulf-times.com/story/662247/QRCS-Ramadan-charity-campaign-to-reach-22-nations
------
Students from QF schools embark on Ramadan journey of good deeds
03 May 2020
Doha: Illustrating and celebrating the spirit of Ramadan amid the unprecedented circumstances of the COVID-19 pandemic, social distancing, and the recent transition to remote learning, students at Qatar Foundation schools are participating in a program that promotes the importance of doing good deeds in society.
Ramadan Journey is an initiative launched by the Academic Affairs Department within Qatar Foundation's Pre-University Education (PUE), designed to encourage school students from all grades to perform acts of kindness over the course of 30 days during Ramadan.
Students engage with innovative and community-minded Ramadan tasks divided into three themes – each spanning a 10-day period - that reflect the virtues and values of the Holy Month: Mercy, Forgiveness, and Emancipation from Fire, all of which they can perform from their homes.
Hissa Al Kubaisi, Academic Affairs' Co-Curriculum Program Manager, PUE, said: "In a time of social distancing, we thought of launching the Ramadan Journey program with a set of selected activities that aim to strengthen the curriculum and combine the educational material and social practices that reflect the values and virtues of Islam during the Holy Month.
"We designed these activities to stimulate Qatar Foundation students' thinking skills, including their sense of discovery, communication, and creativity. We believe that such activities bring both success and pleasure to the students, nurture compassion within their characters, and give them the desire to help others.
"We are very pleased with the high engagement we have seen via the schools' social media platforms, and this will motivate us to continue doing such programs next year in a new format."
Activities performed through Ramadan Journey include students calling their grandparents and family members to check on their wellbeing and send Ramadan greetings; designing and making their own savings funds or piggybanks to collect donations for charities that help people in need; creating Ramadan Suitcases that show their appreciation for workers; and developing artwork that shows their appreciation for those working in fields such as healthcare and the voluntary sector.
The students are asked to submit their contributions to their Islamic Studies teachers at the end of each 10-day period, with the names of all the participants and their accomplishments being posted on each school's social media platform. The initiation also ensures parents can be involved in the activities.
Maha Al Romaihi, Director of Tariq Bin Ziad School – one of the schools that comes under the umbrella of PUE - said: "In these unusual times, we aim to instill good values and good Muslim practices in our students through activities such as this, and prove that kindness and good deeds can be done under any circumstances – they may even be especially meaningful during such crises.
"We admire the idea behind the initiative by Qatar Foundation's PUE Academic Affairs Department and are proud as a school of our staff and students for the enthusiasm and willingness they are showing to spread goodness in the society. We believe part of our duty as educators is to plant seeds of kindness within our students".
The initiative is also designed to simplify the teachings of Islam for school students and motivate them to reflect these teachings in their lives, as well as fostering a sense of excitement through learning during Ramadan. With parents' support, ideas that have already emerged through Ramadan Journey include distributing goods for people in need through the online systems of charitable organizations, including food, toys and money; and students transferring the equivalent of the money they have saved in their piggybanks to charity.
https://thepeninsulaqatar.com/article/03/05/2020/Students-from-QF-schools-embark-on-Ramadan-journey-of-good-deeds
-----
The man with the last bullet recalls the night bin Laden was killed
2020/05/03
Shafaq News/ On May 1, 2011, an elite team of U.S. special operators, known as SEAL Team 6, killed the world's most wanted terrorist -- Usama bin Laden.
In Fox Nation's "The Man Who Killed Usama bin Laden," the former Navy SEAL who pulled the trigger, Rob O'Neill, told Fox News' Peter Doocy in an exclusive interview how his team trained and executed one of the most daring and profound missions in American history. According to Foxnews.
In the two-part special, O'Neill described the thoughts that were going through his head as he and his team flew through the night to a compound deep inside Pakistan.
"After weeks of training, 82 minutes into the flight, I'm like 'I'm on this mission and we're going to kill him,'" O'Neill told Doocy.
It was an assignment that O'Neill assumed that he may not return from, calling it a "one-way mission." But to him and his teammates, it was worth it if they had the opportunity to take out the man responsible for the 9/11 terror attacks.
"The doors open and it's not a training site in the mountains in the United States. And it's not a desert. It's lights. It's a city," O'Neill continued. "One minute out. And I'm thinking, 'Man, this is some serious Navy SEAL stuff we're about to do.'"
The documentary detailed how SEAL Team 6 would land inside of bin Laden's walled compound, assault the home and eventually move upstairs to bin Laden's bedroom.
"The two of us went up the stairs and into the room," O'Neill recalled, detailing the team's movements. "We hadn't seen the big guy yet, so he's left and if he's here, he's in there."
"There was a curtain," O'Neill said, describing how he and his team member moved in single file, encountering a group of women that they assumed were wearing explosives vests.
"He went through the curtain and most of the women were right there -- the daughters and one of the wives -- and grabbed them, sort of tackled them, walking them down the hallway and he laid on top of them assuming that they were going to blow up," O'Neill said.
https://www.shafaaq.com/en/world/the-man-with-the-last-bullet-recalls-the-night-bin-laden-was-killed/
-----
Residents of al-Bab city miss their mosques in Ramadan
02/05/2020
The decision to close mosques and suspend Friday prayers continues after the residents marked the holy month, Ramadan, in al-Bab city of eastern Aleppo countryside. This decision came as a precautionary measure to curb the spread of the novel coronavirus (COVID-19) pandemic.
These preventive measures have changed the way Muslims observe Ramadan in many Arab and Islamic countries, including Syria.
Muslims used to perform the "Taraweeh," an additional nightly prayer performed during the month of Ramadan in mosques, and then gather in large numbers, can no longer enjoy this religious tradition as "Taraweeh" prayers were banned, and mosques were closed.
The Islamic endowments and advisory directorate of al-Bab city's local council, in a statement issued on 15 April, suspended the performance of Friday and congregational prayers in areas of al-Bab, Baza'ah, and Qabasin till the end of the coronavirus pandemic.
Despite the validity of the closure decision, Enab Baladi monitored some people performing "Taraweeh" prayers on the first day of Ramadan in the Great Mosque yard in the city.
In an interview with Enab Baladi, the head of the endowments directorate, Mahmoud al-Naes, said that Friday prayers were held before in around 50 mosques, but today it is performed in three or four mosques only after the spread of the coronavirus pandemic.
He added that these few mosques were opened due to people's lack of awareness or failure to recognize the seriousness of this matter.
Al-Naes confirmed that the directorate's position on the decision to suspend prayers in mosques has not changed. He pointed out that according to the Islamic sharia law, "the judgment always adheres to the cause." This rule justifies the banning decision of Friday and mass prayers in the light of the coronavirus' outbreak.
Al-Naes also believes that the suspension of Friday and mass prayers has a significant effect on people's lives, as he said, "the holy month of Ramadan is characterized by visiting mosques, even for those not used to do so before Ramadan."
Al-Naes proceeded by saying that Ramadan is a time for spiritual reflection, and recitation of the Holy Quran, as people confine themselves at home or resort to Quran teaching circles in mosques.
Al-Naes concluded by saying the suspension of Friday Prayers and the closure of mosques had a great effect on people's lives, indicating that preventing them from performing "Taraweeh" prayers held only in this month affected their psychological state, behavior, lifestyle and what they used to do during this month.
Some of the city's residents support decisions such as this one, as Mohammed al-Karaz believes that the temporary closure of mosques is essential, taking into consideration the poor medical situation, services, and health facilities in Syria.
In an interview with Enab Baladi, al-Karaz said that the transmission of coronavirus within days from one person to 1,000 people "is frightening," hence preventive measures are necessary, including the temporary shutdown of mosques.
However, he criticized the closure of schools and mosques only, while other facilities were left open, such as crowded street markets like "Thursday's local market."
According to al-Karaz, this triggered a backlash among some residents and prompted them to pray in mosques without taking into account the directions of the endowment directorate.
Al-Karaz also criticized some people's habit in Ramadan of gathering fifteen minutes before the call for the sunset prayer to buy special Ramadan food and drinks, such as "maarouk" and "licorice and tamarind drinks," causing "extreme" overcrowding at this time.
As for Osama al-Saqqa, a displaced from Homs and a resident of al-Bab city, the decision to close mosques is "annoying and heart-wrenching," but also a "license from God" in the light of the pandemic.
He added residents of areas under the opposition control have no choice to stop the spread of the virus, but through suspending social gatherings and adhering to self-isolation measures in the absence of the needed means to fight the disease.
Al-Saqqa said to Enab Baladi that after nine years of revolution and the events that followed, such as displacement, violence, and destruction, Syrians regard this holy month differently.
He said that for Syrians, Ramadan is all about visiting mosques, performing Taraweeh prayers, and practicing the traditional spiritual rituals observed during Ramadan.
Such rituals include family gatherings at the same Iftar table, social meetings in the evenings with neighbors and relatives, as well as sharing and exchanging Ramadan dishes with each other.
https://english.enabbaladi.net/archives/2020/05/residents-of-al-bab-city-miss-their-mosques-in-ramadan/
-----
Youth Hobbies Center launches Ramadan photography contest
03 May 2020
By SanaullahAtaullah
Doha: The Youth Hobbies Center at the Ministry of Culture and Sports has launched a photography competition on Ramadan theme for all residents, including citizens and expatriates.
The competition 'Ramadania' will cover all activities; meals, clothes and customs related to the holy month of Ramadan. The announcement of the photography competition was made on its official website.
The winner of the first place will receive QR5,000 . The second place winner will get QR3,000 and the prize money of third place is QR2,000.
A contestant is allowed to participate with seven pictures. The photos are required to be sent to Wetransfer website through email y.h.c.qatar@gmial.com in JPEG format with high quality of 300 dpi.
The Youth Hobbies Center set the deadline for receiving the entry until May 30, 2020. Regarding the term and condition for participation, the entries should be related to the competition and the given theme.
The participants should own the photos, and they should pledge to obtain the approvals from the people in the submitted photographs and allow their publication in all social networking sites and all publications.
The participating photographs should not win in previous competitions, provided that each photographer has the right to participate in a number of no more than 7 photos.
The Youth Hobbies Center has right to use the participating photographs while preserving the intellectual property right of the owner of the photos.
It works to improve hobbies of youngsters, and to provide the appropriate conditions for their development by scientific, technical and educational methods and means.
https://www.thepeninsulaqatar.com/article/03/05/2020/Youth-Hobbies-Center-launches-Ramadan-photography-contest
-----
Syrian civilian shot dead by US military forces in Dayr al-Zawr: SANA
02 May 2020
US military forces have shot and killed a civilian in Syria's eastern province of Dayr al-Zawr, amid soaring resentment and protests against the deployment of the troops in the strategic region, which has forced the occupying soldiers to retreat on occasions.
Syria's official news agency, citing local civilian sources, reported on Saturday that the victim was driving along a highway when he veered off the road near the Koniko oil field in the eastern countryside of the province, prompting US forces to open fire.
Since late October 2019, the US has been redeploying troops to the oil fields controlled by Kurdish forces in eastern Syria, in a reversal of President Donald Trump's earlier order to withdraw all troops from the Arab country.
The Pentagon claims the move aims to "protect" the fields and facilities from possible attacks by the Daesh Takfiri terrorist group. That claim came although Trump had earlier suggested that Washington sought economic interests in controlling the oil fields.
Syria, which has not authorized American military presence in its territory, has condemned the US, saying it is "plundering" the country's oil.
Back in February, SANA reported that US troops had fatally shot a civilian in Syria's northeastern province of Hasakah after groups of angry local residents stopped an American convoy as it tried to make its way through the village of Hamo in the al-Qamishli countryside of the province.
Separately on Saturday, clashes broke out between two Turkish-backed militant groups in Jarabulus city in Syria's northern province of Aleppo.
SANA reported that extremists from the so-called Ahrar al-Sharqiya and al-ShortaAskariyah terror outfits turned on each other, and engaged in a fierce exchange of gunfire.
Ankara-backed militants were deployed to northern Syria last October after Turkish military forces launched a long-threatened cross-border invasion in a declared attempt to push militants of the Kurdish People's Protection Units (YPG) away from border areas.
Ankara views the US-backed YPG as a terrorist organization tied to the homegrown Kurdistan Workers' Party (PKK), which has been seeking an autonomous Kurdish region in Turkey since 1984.
On October 22 last year, Russian President Vladimir Putin and his Turkish counterpart Recep Tayyip Erdogan signed a memorandum of understanding that asserted YPG militants had to withdraw from the Turkish-controlled "safe zone" in northeastern Syria within 150 hours, after which Ankara and Moscow would run joint patrols around the area.
https://www.presstv.com/Detail/2020/05/02/624418/Syrian-civilian-shot-dead-by-US-military-forces-in-Dayr-al-Zawr-SANA
-----
Mideast
30 ships carrying basic goods take berth at Bandar Imam Khomeini
May 3, 2020
TEHRAN, May 03 (MNA) – A number of 30 ships, carrying basic goods and commodities, took berth at Bandar Imam Khomeini (RA) in the first month of the current year [from March 21 to April 19].
The Director General of Khuzestan province's Ports and Maritime Department General Adel Daris made the remarks on Sat. and added, "in order to accelerate the process of meeting demands of country to basic goods and regulate market for high-consumption products during the holy month of Ramadan, 1,423,405 tons of basic goods were loaded in goods storages and then were distributed to different parts of the country via rail and road fleets."
He further noted that 30 ships, carrying basic goods and commodities, took berth in Bandar Imam Khomeini (RA) from March 21 to April 19, adding, "over 1,749,000 tons of different types of goods including livestock raw materials have been unloaded in the port."
Over 1,791,000 tons of different types of non-oil goods were unloaded in Bandar Imam Khomeini Special Economic Zone in the first month of the current year [from March 21 to April 19], showing a 15 percent growth as compared to the same period of last year, the director general added.
https://en.mehrnews.com/news/158279/30-ships-carrying-basic-goods-take-berth-at-Bandar-Imam-Khomeini
-------
Palestine's Islamic Jihad Slams Germany for Blacklisting Hezbollah
TEHRAN (Tasnim) – The Palestinian resistance group Islamic Jihad condemned Germany's decision to designate Lebanon's Hezbollah resistance movement as a "terrorist" outfit.
May, 02, 2020
In a statement on Saturday, the resistance movement said the decision shows that Berlin is serving the Israeli regime's interests, a regime that commits terror acts and destabilizes the whole region, Al Manar reported.
The Islamic Jihad voiced solidarity with Hezbollah, describing it as one of the most effective forces in the fight against terrorism in the region.
On Thursday, Germany designated the Lebanese Hezbollah as a terror organization, banned all of its activities in the European country and ordered raids on sites linked to the Lebanese group.
The German police have raided several mosques and cultural associations linked with Hezbollah.
https://www.tasnimnews.com/en/news/2020/05/02/2255252/palestine-s-islamic-jihad-slams-germany-for-blacklisting-hezbollah
-----
Saudi-led airstrikes hit trucks carrying food, medicine in central Yemen
02 May 2020
A series of airstrikes by the Saudi-led military coalition have hit trucks carrying imported food and medicine in Yemen's central province of al-Bayda, as the Riyadh regime presses ahead with its devastating onslaught against the impoverished Arab country.
Three drivers were injured and a number of people, including foreign nationals, went missing as the shipments owned by local traders went up in flames, Arabic-language al-Masirah television network reported.
The report added that the bombing happened on Saturday morning, when the trucks were awaiting at a customs zone recently established in the Afar area of the province.
The chairman of the Supreme Revolutionary Committee of Yemen, Mohammed Ali al-Houthi, later denounced the Saudi-led air raid as a premeditated war crime.
"The Saudi-US aircraft are prolonging the crisis through several escalatory means, including a spate of dawn air raids on Afar customs center in al-Bayda province, which left several people dead and injured and set a number of trucks loaded with food and basic commodities ablaze," Houthi wrote in a post published on his Twitter page on Saturday.
He added that acts of aggression and massacre of civilians are the most heinous crimes that enemies have perpetrated during the past few years against Yemen.
Houthi then advised Saudi Arabia as well as its allies, the UK, the US, and the United Arab Emirates (UAE), to concentrate on the fight against COVID-19 rather than their airstrikes and ground offensives against Yemen.
Separately, Yemeni Foreign Minister Hisham Sharaf condemned the latest Saudi-led airstrikes, saying that Afar customs serves as a major entry port for food and medicine in light of the continued Saudi-led siege on the port of Hudaydah and Sana'a International Airport.
The Yemeni army says it has cleared 95 percent of the northern province of Jawf from the presence of Saudi-led forces in an operation that killed at least 1,200 mercenaries.
"As the world is united in its efforts to fulfill the call of the United Nations secretary general, the Security Council and the World Health Organization to confront the COVID-19 pandemic, the coalition of aggression continues to practice a policy of collective punishment against the Yemeni nation," he said in a statement carried by Yemen's official Saba news agency.
"This vicious attack confirmed that the alliance of aggression lacks seriousness to establish calm and peace, end its military aggression, lift the siege and embark on steps for a comprehensive peaceful solution [to Yemen conflict]. The coalition of aggression's declaration of a unilateral truce is simply an attempt by the alliance to burnish its image before the world public opinion," Abdullah further noted.
Saudi Arabia and a number of its regional allies launched the devastating war on Yemen in March 2015 in order to bring former president Abd Rabbuh Mansur Hadi back to power and crush the Houthi Ansarullah movement.
The US-based Armed Conflict Location and Event Data Project (ACLED), a nonprofit conflict-research organization, estimates that the war has claimed more than 100,000 lives over the past five years.
More than half of Yemen's hospitals and clinics have been destroyed or closed during the war by the Saudi-led coalition, which is supported militarily by the UK, US and other Western nations.
At least 80% of the 28 million-strong population is also reliant on aid to survive in what the United Nations has called the world's worst humanitarian crisis.
https://www.presstv.com/Detail/2020/05/02/624443/Saudi-led-airstrikes-hit-trucks-carrying-food-medicine-in-central-Yemen
------
Iran allows issuance of $1.12bn worth of sukuk bonds under current budget
02 May 2020
The Iranian government has authorized a decision to issue up to $1.12 billion worth of new sukuk securities to fund various projects in the current fiscal year.
The decision signed off by Vice President EshaqJahangiri on Saturday allowed government departments and municipalities across Iran to issue up to 180 trillion rials of sukuk, the Islamic sharia-compliant bonds, for the purpose of finishing infrastructure projects until the end of the current calendar year in late March 2021.
Iran's Interior Ministry would oversee issuance of around 80 trillion rials (nearly $500 million) worth of securities by municipalities and their subsidiary organizations, said the decree signed by Jahangiri.
It added ministries of oil, industries and energy would be allowed to issue 35 trillion rials (nearly $218 million) worth of sukuk for investment in major projects. Oil and gas projects would be prioritized in the plan and the Oil Ministry can issue the securities in foreign currencies, it said.
Government companies, which also include major oil and gas firms operating energy facilities, will be allowed to issue 65 trillion (over $400 million) rials of sukuk for projects that are justified from "technical, economic, financial and environmental" points of view, said the decree.
Issuing sukuk has become a popular tool for investment attraction in Iran especially at a time of a major boom in trade in the country's stock markets.
Investors prefer the government-backed bonds mainly because of their high yields and the fact that they are concentrated in established industries like energy and mining.
Experts believe sukuk issuance can be key to efforts by the Iranian government to offset economic losses suffered from a series American sanctions imposed on the country's direct sale of oil.
https://www.presstv.com/Detail/2020/05/02/624439/Iran-sukuk-bonds-issuance-government-projects
------
Southeast Asia
Hit by MCO, hawkers go online to serve Ramadan customers but face logistical nightmare
03 May 2020
BY DANIAL DZULKIFLY
KUALA LUMPUR, May 3 — In previous years, Wan used to trade in one of Klang Valley's most coveted Ramadan bazaar locations — Taman Tun Dr Ismail — where he sold sweet treats such as the tepungpelita and the yellow mesh pancakes roti jala served with curry.
The location usually hosts a large gathering of traders and hawkers, drawing crowds of customers spoilt for choice to break their fasts. The heavy foot traffic was more than enough to ensure profit.
All this changed with the Covid-19 pandemic and the subsequent movement control order (MCO) that prohibited mass gatherings including Ramadan bazaars.
"In a single day, I used to sell tens and tens of trays during the bazaar. I don't have to do much advertising as the tepungpelita sell themselves
Now, I'll be lucky to even sell five trays a day,'' she told Malay Mail in a recent interview, adding that a single tray usually held 70 pieces of the Malay kuih.
To make up for that loss of income, small traders and hawkers such as Wan have now resorted to selling directly to customers in Ramadan, usually in an informal way through social media such as Facebook, or chat groups on WhatsApp and Telegram.
Many have taken to various chat groups or Facebook groups formed around these informal online Ramadan bazaars, mostly catering to specific areas such as Kelana Jaya or Taman Tun Dr Ismail, to name a few.
Much like the normal Ramadan bazaars themselves, these online bazaars are peppered with dishes associated with the fasting month, from kambinggolek or lamb grilled on a spit, to the ubiquitous Roti John, a sandwich of omelette and spiced minced meat topped with sauces.
These traders have taken it on themselves to reach out to the customers, despite the availability of government-endorsed e-bazaar platforms.
Selangor, for example, introduced two platforms: Grab Selangor and the Selangor Platform with 77 collection centres consisting of 10 local authority halls and 67 restaurants that would provide food for Ramadan throughout the state.
For many, they prefer to deal directly with customers as their profits are too little to be shared with delivery services such as Grab, Bungkusit, Mr Speedy, Zepto Express and MatDespatch.
However many sellers have taken the responsibility to do their own deliveries at a limited capacity, usually no more than a certain range from where they would operate, charging fees between RM3 to RM 15 or more depending on the delivery location.
"I can't go on to platforms such as FoodPanda, perhaps there are too many applications at this time. Same goes for GrabFood, which limits the application to brick and mortar stores," she said.
"A small trader like myself operating from my house in Kota Damansara might not fit their criteria but I still need to fill orders. However, using such platforms would also cut into my profits as we need to balance the profit margin on top of the delivery charges to make it affordable to the customers.
"But I don't deny that access into the platforms could give me more orders and perhaps I could get by with selling in volume,'' said Wan.
But the lack of formality in these platforms poses its own challenges. For example, customers would have to enquire what each trader is selling, followed by the trader replying in a comment together with the price and charges.
"Dealing with customers directly can take up a lot of time, especially to convey information or to assure them that we do deliver to their homes,'' said Wan.
Among the most glaring challenges for traders is the time factor, as Muslim customers prefer to receive their food before breaking fast — at roughly 7.20pm in the Klang Valley.
"It is a tough challenge as we have to manage orders for days in advance. Even if there are orders for the day, we do not entertain requests after 1pm to ensure that orders arrived at the location as early or accurately as possible,'' said another trader, who sells buttermilk chicken rice to residents in Kelana Jaya and adjacent neighbourhoods.
"I also have to arrange for logistics, talk to customers at so many different platforms, then make a list, then arrange delivery which is a nightmare on its own.
Last week, Reuters reported that some 100,000 Malaysian hawkers have been badly hit by the MCO, with losses estimated at around RM50 million.
Malaysia is currently under the fourth phase of the MCO, which will run until May 12, and has been speculated to be renewed again until after Aidilfitri.
https://www.malaymail.com/news/malaysia/2020/05/03/hit-by-mco-hawkers-go-online-to-serve-ramadan-customers-but-face-logistical/1862501
-----
Life without internet: Bornean students learn by radio during pandemic
May 2, 2020
Elementary school teachers in Sanggau regency, West Kalimantan, an Indonesian province on the island of Borneo that borders Malaysia, are using state radio broadcasts by RRI to reach students in their homes during the COVID-19 pandemic.
"We have various geographic conditions here in Sanggau. Not all areas have internet," TitisKartikawati, a teacher, said in a video conference on National Education Day on May 2. She said many areas had "blank spots", a term used to describe places that don't have access to internet.
Schools nationwide have been closed since March 15, and students have been instructed to learn from home to contain the spread of the coronavirus. Students who live in areas where the internet is readily accessible learn from their teachers through virtual meetings or recorded videos. In addition, the Education and Culture Ministry has cooperated with state broadcasting company TVRI to offer television lessons. But those without internet, electricity or TV require an alternative.
Titis' school is using radio instead. The school is cooperating with national radio broadcaster RRI to provide an hour-long educational program for which the teachers provide the content.
"From Monday to Friday, we take turns. The teachers give all the material [through the broadcast]," she said, as quoted by Antara news agency. She said all the students were able to access the radio broadcasts and teachers were able to spend less money because they did not have to buy additional internet data to cover internet uploads.
She said the students' parents were from low-income families working in agriculture and would find it difficult to purchase internet data.
Hamid Muhammad, acting director general of early childhood, elementary and middle education, said teachers had to be creative when dealing with internet or electricity limitations.
"We have to think about children who do not have internet, electricity or television. Several areas use community radio. This is the moment when teachers have to innovate," he said in a press conference on Saturday.
https://www.thejakartapost.com/news/2020/05/02/life-without-internet-bornean-students-learn-by-radio-during-pandemic.html
-----
COVID-19: Jakarta to restrict visitors after IdulFitri
SausanAtika
Jakarta will continue restricting the number of people entering the capital after IdulFitri to prevent the spread of COVID-19 in the city following the government's mudik (exodus) ban.
Governor AniesBaswedan said the Jakarta administration was preparing a regulation to limit the number of people entering the capital city, the country's COVID-19 epicenter, after the Ramadan and IdulFitri holiday season.
"Jakarta residents are advised not to leave the city to return to their hometowns, as urged by President [Joko "Jokowi" Widodo]," Anies said during a press briefing on Friday. "If you leave the city, you may not be able to come back soon."
After initially advising residents against participating in mudik, the government officially banned the homecoming tradition for this year on April 21 in an effort to limit the spread of COVID-19.
Authorities reported that traffic on toll roads throughout Greater Jakarta, including those leading to and from the city, had reduced, although some travelers still managed to leave the urban area by hiding in trucks or bus luggage compartments to pass through checkpoints undetected.
Jakarta has prolonged large-scale social restrictions (PSBB) until May 22. The policy allows the administration to suspend the operation of schools, places of worship and workplaces, with exemptions for essential sectors.
While claiming that PSBB had effectively reduced the spread of the virus in the capital, Anies urged citizens to remain vigilant as Jakarta was still seeing new cases daily.
The governor added during the Friday press briefing that the administration would distribute 20 million masks to citizens – two masks per person – as it wanted to encourage people to wear them to limit the transmission of the virus.
The provincial administration will distribute social aid packages ahead of IdulFitri to "more than 1.2 million families". These will be in addition to the central government's food aid.
As of Friday, Indonesia had reported 10,551 confirmed cases of COVID-19 with 800 fatalities. Jakarta, with 4,317 cases, accounted for about 41 percent of the nation's total cases.
https://www.thejakartapost.com/news/2020/05/02/covid-19-jakarta-to-restrict-visitors-after-idul-fitri.html
----
Costly, dirty and unfair: Indonesia at crossroads in embracing incinerators
Arya Dipa
May 3, 2020
Fifteen years have passed since an avalanche of waste at Leuwigajah landfill in Cimahi, West Java, killed at least 147 people—a tragedy that was not unheard of in Indonesia, a country that produces 64 million tons of waste annually. The waste crisis has yet to see the light at the end of the tunnel. Garbage continues to pile up in landfills across the country, many of which will soon run out of capacity. The BantarGebang dumpsite in Bekasi, West Java, which accommodates some 7,500 tons of waste per day from capital Jakarta, is not an exception. It is predicted to reach its maximum capacity of 49 million tons by 2021. Rather than pushing people to reduce consumption and sort their own waste at home, the government is pinning its hopes on incinerators, also known as waste-to-energy power plants (PLTSa), to solve the problem. Sluggish progress
https://www.thejakartapost.com/news/2020/05/01/costly-dirty-and-unfair-indonesia-at-crossroads-in-embracing-incinerators.html
------
North America
This Navy SEAL killed Usama bin Laden 9 years ago: 'We met for a second -- that's it
03-05-2020
On May 1, 2011, an elite team of U.S. special operators, known as SEAL Team 6, killed the world's most wanted terrorist -- Usama bin Laden.
In Fox Nation's "The Man Who Killed Usama bin Laden," the former Navy SEAL who pulled the trigger, Rob O'Neill, told Fox News' Peter Doocy in an exclusive interview how his team trained and executed one of the most daring and profound missions in American history.
Fox Nation is an entertaining streaming service featuring your favorite Fox News personalities, with original shows and documentaries that celebrate America.
In the two-part special, O'Neill described the thoughts that were going through his head as he and his team flew through the night to a compound deep inside Pakistan.
"After weeks of training, 82 minutes into the flight, I'm like 'I'm on this mission and we're going to kill him,'" O'Neill told Doocy.
It was an assignment that O'Neill assumed that he may not return from, calling it a "one-way mission." But to him and his teammates, it was worth it if they had the opportunity to take out the man responsible for the 9/11 terror attacks.
"The doors open and it's not a training site in the mountains in the United States. And it's not a desert. It's lights. It's a city," O'Neill continued. "One minute out. And I'm thinking, 'Man, this is some serious Navy SEAL stuff we're about to do.'"
The documentary detailed how SEAL Team 6 would land inside of bin Laden's walled compound, assault the home and eventually move upstairs to bin Laden's bedroom.
"The two of us went up the stairs and into the room," O'Neill recalled, detailing the team's movements. "We hadn't seen the big guy yet, so he's left and if he's here, he's in there."
"There was a curtain," O'Neill said, describing how he and his team member moved in single file, encountering a group of women that they assumed were wearing explosives vests.
"He went through the curtain and most of the women were right there -- the daughters and one of the wives -- and grabbed them, sort of tackled them, walking them down the hallway and he laid on top of them assuming that they were going to blow up," O'Neill said.
"He gave his life, so the guy -- that he didn't know who it was -- could get a shot because he knew that bin Laden was in there."
"I had my hand on him, I kind of pushed him down the hallway and I turned to the right and standing on two feet in front of me, with his hands on his wife's shoulder's behind her, was the face that I had seen thousands of times -- it was UBL," O'Neill said, referring to Usama bin Laden.
https://www.foxnews.com/media/usama-bin-laden-seal-team-six-rob-oneill
-----
Ex-Obama Photographer Lifts The Lid On That Iconic Osama Bin Laden Raid Picture
02/05/2020
Former White House photographer Pete Souza has broken down how he came to take one of the most iconic images of Barack Obama's presidency.
Souza explained the backstory to his picture that's now known as "The Situation Room Photograph" — showing Obama, then-Secretary of State Hillary Clinton and others watching the 2011 raid that killed al Qaeda leader Osama bin Laden ― in a 21-minute video that he shared on Instagram on Friday, the ninth anniversary of the mission.
https://www.huffingtonpost.in/entry/obama-photographer-pete-souza-osama-bin-laden-raid-picture_n_5ead51b7c5b639d6e576eb8a?ri18n=true
-----
US imposes new sanctions on Iran amid coronavirus crisis
May 2, 2020
The United States has slapped new sanctions on Iran despite claims of its readiness to help the Islamic Republic in its fight against the novel coronavirus (COVID-19) pandemic.
In a statement released on Friday, the US Treasury Department blacklisted dual Iranian and Iraqi national Amir Dianat, also known as Ameer Abdulazeez Jaafar Almthaje, and his company Taif Mining Services LLC.
The Treasury's Office of Foreign Assets Control (OFAC) claimed that Dianat is involved in what it called efforts by the Quds Force of Iran's Islamic Revolution Guards Corps (IRGC) to "generate revenue and smuggle weapons abroad."
In addition to the blacklisting, the US Attorney's Office for the District of Columbia filed criminal charges against Dianat and one of his business associates, Iranian Kamran Lajmiri, for alleged violations of sanctions and money laundering laws.
It also filed a related action alleging that "approximately $12 million is subject to forfeiture as funds involved in these crimes and as assets of a foreign terrorist organization."
According to the complaint, Dianat and Lajmiri in 2019 conspired to purchase a petroleum tanker in a scheme involving the National Iranian Oil Company, the National Iranian Tanker Company and the IRGC's Quds Force.
"These defendants purchased a crude oil tanker valued at over $10 million by illegally using the US financial system, defiantly violating US sanctions," Assistant Attorney General for National Security John Demers said in the statement.
Meanwhile, US Treasury Secretary Steven Mnuchin claimed that the Iranian government continues to "prioritize the funding of international terrorist organizations over the health and well-being of the Iranian people," adding, "The United States remains committed to working with financial institutions, non-profit organizations, and international partners to facilitate humanitarian trade and assistance to the Iranian people."
Iran has been among the countries hardest hit by the coronavirus that first showed up in China in late December 2019 before spreading across the globe. It has recorded 95,646 COVID-19 infection cases and a death toll of 6,091 so far.
The country is battling the highly contagious virus under illegal sanctions which the US imposed after scrapping a UN-backed nuclear deal between Tehran and major world powers in 2018.
Calls have recently been growing on the international stage for the US to lift its inhumane anti-Iran bans, which have hampered the country's access to lifesaving medical supplies.
However, the administration of US President Donald Trump has turned a deaf ear to the calls demanding sanctions relief and instead imposed even more restrictive measures on the Islamic Republic.
The US president "is like someone who has blocked the path to a well and does not allow anybody to approach the clean water … and instead holds up a glass of muddy water and says, 'I have come to help and I know you are thirsty,'" Rouhani said.
"We don't need the United States' glass of muddy water," he added, stressing that all the Americans have to do is to remove their barriers.
https://en.abna24.com/news//us-imposes-new-sanctions-on-iran-amid-coronavirus-crisis_1032449.html
-------
URL: https://www.newageislam.com/islamic-world-news/burial-dead-bodies-essential-islam/d/121743
New Age Islam, Islam Online, Islamic Website, African Muslim News, Arab World News, South Asia News, Indian Muslim News, World Muslim News, Women in Islam, Islamic Feminism, Arab Women, Women In Arab, Islamophobia in America, Muslim Women in West, Islam Women and Feminism