New Age Islam News Bureau
19 Nov 2013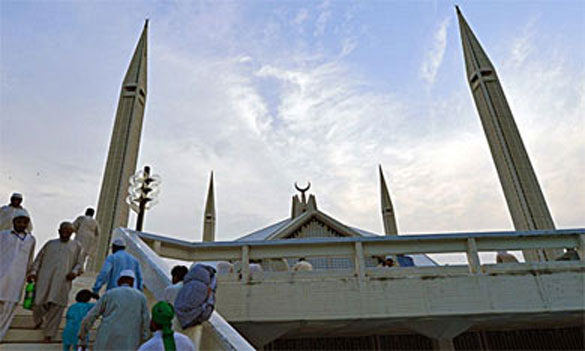 Grand Faisal Mosque in Islamabad — File photo
------------
South Asia
• 'Bangladesh's Thriving Economy of Fundamentalism a Cause of Concern'
• Roadside bombs in Afghanistan kill nine children
• Suspected French cannibal served in Afghanistan: Army
• Bangladesh PM: Govt to recognise Quaumi madrasa education
• Afghan elders to discuss key security deal with the US
• Maldives MP Hamid calls for Majlis intervention to overturn Criminal Court sentence
Arab World
• Israeli, Saudi Intelligence behind Explosions in Beirut - Reports
• Suicide Blasts near Iranian Embassy in Beirut Kill 23
• Iraq executes 12 'terror' convicts amid surging unrest
• KSA calls for end to oppression on Muslims in Myanmar
• Al-Qaeda affiliate claims Iranian embassy attack in Beirut
• Saudis getting creative on YouTube
• Syrian patriarch urges Christians to stay in Syria
• Foundation of proposed memorial for Egyptian protesters vandalised
Pakistan
• Islamabad's worship places, Ulema being watched
• Militants kill four, torch NATO tanker in Balochistan
• Gunmen kill Shia director of Pakistan University
• Sanaullah dismisses allegations that police abetted Rawalpindi riots
• Jamaat-e-Islami appeals citizens to raise voice against drone hits
• Collective wisdom to overcome terror: Shahbaz
• Ex-envoy says US was wrong to boost Pak military
• Pakistani court imposes restriction on screening of Indian movies
Africa
• 19 killed in Somalia militant attack
• New Al-Shabaab Magazine Spins Horrors of Westgate, Threatens With More Attacks
• 3 killed in Tripoli clashes between armed locals and Militiamen
• Tunisians Stress Support to Syria, Rejection of Conspiracy
• South Sudan 'deeply regrets' UN harassment
Mideast
• No tolerance for militants headed to Syria, Turkish FM Davutoğlu says
• Turkish PM responds to 'Kurdistan' criticisms
• Syrian opposition still not committed to peace talks: Iran
• Palestinians vote for first time at UN Assembly
Europe
• UNEFC Demands Israel End Occupation of Arab Lands, Including Syrian Golan, and Cease Violations International Law
• German Jihadists Heading to Syria for Jihad in Increasing Numbers
• Syrian opposition executes civilian prisoners – Human Rights Watch
• Kyrgyzstan: Islamic NGOs Strive to Find Civil Society Niche
• Central African Republic communal violence spiralling out control - UN chief
• Russia strikes missile deal with Egypt: Report
• UN chief targets Syria peace talks for 'mid-December'
• UNICEF: Stop using children for political gain
• Moscow calls on Damascus to unite with opposition for fighting terrorists in Syria - Lavrov
North America
• US logged 33 mln phone calls in NATO ally Norway: Report
• US to provide security assistance to Pakistan under 5-year plan
Southeast Asia
• Indonesia Tells Australia It Needs to Act to Save Relationship
• PDIP protests plan to lift ban on sending workers to Saudi Arabia
India
• Muzaffarnagar Riots: For Rs 5 Lakh, 900 Families Give Up Their Right to Return Home
• Indo-Saudi agreement to end role of middlemen
• Moderate Hurriyat sets CBMs as condition for talks
Compiled by New Age Islam News Bureau
URL: https://www.newageislam.com/islamic-world-news/new-age-islam-news-bureau/-bangladesh-s-thriving-economy-of-fundamentalism-a-cause-of-concern-/d/34486
--------------
South Asia
'Bangladesh's Thriving Economy of Fundamentalism a Cause of Concern'
November 19, 2013
In Bangladesh's uncertain politics, the deepening roots of fundamentalism is a worrying factor with Islamists increasingly controlling many money-spinning ventures like super speciality hospitals, banks and Pharma companies, with the ultimate aim of capturing state power, says a Bangladeshi expert who has extensively researched on the subject.
Professor Abul Barkat of University of Dhaka, who has coined the phrase "economics of fundamentalism" , says the estimated net profit earned by fundamentalist organisations in Bangladesh in 2012 stood at a whopping $280 million. While Bangladesh's economy is growing at 5-6 percent a year, the economy of fundamentalism has been growing at a higher rate - 7.5 to 9 percent, he says.
"The net profit earned by the institutions run by fundamentalist organisations has increased. They are into the financial sector like banking, leasing, insurance. They have set up pharmaceutical firms, healthcare, educational institutions, trade financing. From three-wheeler rickshaws to ocean liners - they have a stake in everything profitable," Barkat, professor in the economics department, told IANS in an interview here.
During the last 40 years (1975-2012) , the total net profit earned by such fundamentalist-backed or owned ventures would be about $6.5 billion, says Barkat in his paper "Economic Powerbase of Islamic Fundamentalists in Bangladesh: Formation, Evolution and Strength", which he read in New Delhi at a recent roundtable on Bangladesh.
This deep-rooted fundamentalism leads to creation of a "state within state" that is aimed ultimately at capturing state power, says the soft-spoken Barkat who is also the chief adviser to the Human Development Research Centre in Dhaka.
In the education sector, communalism has struck deep roots. "Every third student in Bangladesh is a madrassa student - taking the total number to eight million. Some 73 percent of all madrasas or 55,000 are Quaumi (Deobandi) Madrasas, with a large number of them breeding grounds of religious fundamentalism," says Barkat in his paper.
The students of these Deobandi madrasas are from the poorer sections of society. After passing out, they don't find employment and end up joining fundamentalist organisations.
The extent of money power with the fundamentalists can be gauged from the fact that the founder of the Islamic Bank of Bangladesh, Mir Qasem Ali, a top leader of the Jamaat-e-Islami (JEI), has signed a $25 million contract with a US lobbying firm to convince the world that he is not a war criminal but a philanthropist, says Barkat.
Ali is director of the NGO Rabita al-Alam al-Islami and chairman of Diganta Media Corporation that owns a TV channel and a newspaper. He is facing trial for alleged war crimes committed during the 1971 war of independence.
According to the expert there are 125 fundamentalist organisations in Bangladesh, "including village-level groups called 'Allahar dol' or Allah's team.
Islamist groups like the Jamaat and the Hefazat-e-Islam are targeting "man-made laws" and want the introduction of Sharia laws in Bangladesh.
What is the reason behind the spread of fundamentalist organisations in Bangladesh? "When people lose faith in the leadership, they get attracted to such religion-based fundamentalist organisations," said Barkat.
He feels political parties in Bangladesh, mainly the Awami League, lack the organisational base to counter the fundamentalist groups.
Speakers from the Jamaat and Hefazat give fiery speeches during hartals, which are covered by the TV channels. With both the Islamist groups taking to violence, including lobbing cocktail bombs and using knives, there is fear among the people in openly countering such extremist parties, he said.
Barkat says an external audit of all the economic ventures run by fundamentalist organisations would help uncover the real extent of the money trail, including its external linkages.
The shining ray of hope he sees in countering the threat of fundamentalism is the basic secular nature of the people of Bangladesh, says he.
http://www.business-standard.com/article/news-ians/bangladesh-s-thriving-economy-of-fundamentalism-a-cause-of-concern-113111800467_1.html
------------
Roadside bombs in Afghanistan kill nine children
AP | Nov 19, 2013
KANDAHAR, Afghanistan: Two separate roadside bombs killed nine children in Afghanistan on Monday, while six bodies found the day before in a restive southern province were identified as policemen and not contractors as was initially reported, officials said.
A roadside bomb killed seven children from the same family in eastern Afghanistan's Paktika province, said the governor's spokesman Mokhlis Afghan. Another three children in the family were wounded. The children were playing on a road near their home when the bomb exploded.
In a separate incident in southern Zabul province, two children were killed when their family's vehicle hit a roadside bomb, Zabul's deputy governor, Mohammed Jan Rasoolyar said. The family was travelling to the provincial capital of Qalat for shopping. The father was wounded along with a third child, Rasoolyar said.
Roadside bombs and other improvised explosive devices are among the deadliest weapons in the insurgents' arsenal but they often kill civilians.
Rasoolyar also said that authorities identified the six bodies, all decapitated, as policemen. Confusion arose over the bodies found on Sunday in neighbouring Kandahar province because they were in civilian clothes.
The policemen had disappeared several days earlier from Zabul, apparently abducted by the Taliban and taken to Kandahar. With limited means for forensic identification, it took the police nearly a full day to resolve the confusion, Rasoolyar said.
The Taliban have repeatedly warned Afghans against joining the government or the military and police forces. Hundreds of Afghan policemen have been killed this year in ambushes, targeted killings and bombings.
Also on Monday, the police in Kandahar — the birthplace of the Taliban — stopped a tractor hauling roadside bombs, said Javid Faisal, the provincial governor's spokesman.
A firefight erupted as the police tried to stop the vehicle near the border with Pakistan, he said. The shooting set off the bombs, killing the driver and a second person on the tractor.
http://timesofindia.indiatimes.com/world/south-asia/Roadside-bombs-in-Afghanistan-kill-nine-children/articleshow/26003225.cms
--------------
Suspected French cannibal served in Afghanistan: Army
November 19, 2013
BORDEAUX: A suspected cannibal who killed a 90-year-old man in southern France apparently to eat his heart and tongue was a former soldier who served in Afghanistan, an army source said on Monday.
The 26-year-old homeless man, who claimed to hear voices, had passed army medical tests without any problem, said a senior source at the Marine Infantry Tank Regiment, a light cavalry regiment of the French army.
The source at the regiment, one of the army's most decorated units, said the man had "posed no problems during his stint" in Afghanistan, where he obtained the grade of corporal.
When he returned, the man refused an army offer to extend his contract, saying he wanted a painting job, the source said, without specifying when the man had served.
The young homeless man on Thursday attacked the elderly man in a tiny hamlet, smashing his head with a metal object, and then extracted his heart and tongue to cook and eat.
Some remains of cooked meat were found on a plate with some beans. Postmortem tests have shown that a part of the heart and the tongue were ripped out, but it is not yet clear if the meat found was of human origin.
The suspect assaulted another man, breaking his shoulder, before being arrested.
Psychiatric tests after the arrest showed the man suffered from delusions.
http://timesofindia.indiatimes.com/world/europe/Suspected-French-cannibal-served-in-Afghanistan-Army/articleshow/26000471.cms
--------------
Bangladesh PM: Govt to recognise Quaumi madrasa education
Tribune Online Report
November 19, 2013
The government will form a board to recognise the Quaumi madrasa education, Prime Minister Sheikh Hasina said on Tuesday.
The differing opinions on the curriculum will be resolved by constituting the board with those both in favour and against Quaumi education, she said.
The premier was speaking at a rally in Sarwar Jahan Pilot School ground in Barguna, BSS reported.
http://www.dhakatribune.com/politics/2013/nov/19/pm-govt-qaumi-education#sthash.EtqQYqW9.dpuf
--------------
Afghan elders to discuss key security deal with the US
November 19, 2013
KABUL: Thousands of tribal chieftains and politicians will gather this week in the Afghan capital to discuss a security pact with the United States which will shape Washington's future military presence in the war-scarred nation.
The bilateral security agreement (BSA) will determine how many US soldiers stay in Afghanistan when most of NATO 's troops deployed in the country since 2001 – currently numbering 75,000 – leave at the end of 2014.
Key obstacles include the question of legal immunity for those US troops who remain – an issue that scuppered a similar pact in Iraq. And the Taliban have branded the meeting a US-designed plot, vowing to pursue and punish its delegates as traitors if they approve the BSA.
Highlighting the security challenges facing Afghanistan, a Taliban suicide bombing near the venue on Saturday killed a dozen people, most of them civilians.
Full report at:
http://tribune.com.pk/story/633751/afghan-elders-to-discuss-key-security-deal-with-the-us/
--------------
Maldives MP Hamid calls for Majlis intervention to overturn Criminal Court sentence
By Zaheena Rasheed | November 18th, 2013
Maldivian Democratic Party (MDP) MP Hamid Abdul Gafoor has called on Members of Parliament to intervene in a High Court appeal to overturn a Criminal Court six month jail term issued in absentia.
Criminal Court Chief Justice Abdulla Mohamed handed Hamid a six month sentence for disobedience to order after the MP refused to attend a separate trial over refusal to provide urine.
Full report at:
http://minivannews.com/politics/mp-hamid-calls-for-majlis-intervention-to-overturn-criminal-court-sentence-72071
--------------
Arab World
Israeli, Saudi intelligence behind explosions in Beirut - reports
November 19, 2013
It is not clear yet who was behind the Beirut attack which took live of at least 23 people. The Iranian ambassador to Lebanon blames Isarel for the attack, according to media reports.
"The Iranian ambassador in Lebanon, who escaped from the attack uninjured, is blaming Israel for the attack," Al Jazeera's Soraya Lennie reports.
As Al-Manar reports, Israeli and Saudi intelligence are behind the explosions outside the Iranian embassy in Beirut.
Meanwhile, Syria has strongly condemned a double bomb blast in Beirut on Tuesday that killed at least 23 people, media reported.
"The Syrian government firmly condemns the terrorist attack carried out near the Iranian embassy in Beirut," state television said.
Footage from security cameras showed a man rushing towards the outer wall of the Iranian embassy in Beirut before blowing himself up, causing the first of two explosions in the area, Lebanese officials said on Tuesday.
Full report at:
http://voiceofrussia.com/2013_11_19/Israeli-Saudi-intelligence-behind-explosions-in-Beirut-reports-1918/
------------
Suicide blasts near Iranian embassy in Beirut kill 23
AP | Nov 19, 2013
BEIRUT: Two suicide bombings struck Tuesday near the Iranian embassy in the Lebanese capital of Beirut, killing 23 people, including the Iranian cultural attache.
The mid-morning blasts hit Beirut's upscale neighborhood of Janah, a stronghold of the Iranian-backed Shia Muslim Hezbollah group. One explosion blew out the large black main gate of the Iranian mission, damaging the three-story facility.
It was not immediately clear if the attack was related to the conflict next door in Syria, but attacks have targeted Hezbollah strongholds in recent months in what many see as retaliation by Sunni extremists for the militant Shia group's role in the Syrian civil war.
Hezbollah fighters have been fighting alongside Syrian President Bashar Assad's forces against largely Sunni rebels seeking to topple his government.
Iranian ambassador Ghazanfar Roknabadi identified the dead diplomat as Sheikh Ibrahim Ansari. Speaking to Hezbollah's Al-Manar TV, he said Ansari took his post in Lebanon a month ago and was overseeing all regional cultural activities.
Full report at:
http://timesofindia.indiatimes.com/world/middle-east/Suicide-blasts-near-Iranian-embassy-in-Beirut-kill-23/articleshow/26043115.cms
--------------
Iraq executes 12 'terror' convicts amid surging unrest
AFP | November 19, 2013
BAGHDAD: Iraqi authorities announced the execution of a dozen "terrorism" convicts on Monday, defying widespread international condemnation of Baghdad's use of the death penalty as violence nationwide has surged.
The latest executions, carried out on Sunday, bring to at least 144 the total number of people put to death by Iraq so far this year, compared to 129 for all of 2012, according to an AFP tally based on reports from the justice ministry and officials.
"Yesterday (Sunday), we executed 12 convicts," a senior justice ministry official told AFP, speaking on condition of anonymity.
"All of them were Iraqi men accused of terrorism." The official gave no further details about the men or the crimes they had been convicted of.
Full report at:
http://timesofindia.indiatimes.com/world/middle-east/Iraq-executes-12-terror-convicts-amid-surging-unrest/articleshow/25996955.cms
--------------
KSA calls for end to oppression on Muslims in Myanmar
November 19, 2013
RIYADH – The Council of Ministers on Monday made a fervent appeal to the international community to take urgent steps to end injustice and protect human rights of the Rohingya Muslim minority in Myanmar.
The Cabinet, chaired by Crown Prince Salman Bin Abdul Aziz, Deputy Premier and Minister of Defense, called for ensuring free access of relief aid to these oppressed people and help them lead a decent life.
Minister of Culture and Information Dr. Abdulaziz Khoja said in a statement to the Saudi Press Agency (SPA) following the session that the Cabinet was briefed on a report about the situation of Rohingya Muslims in the restive Rakhine (Arakan) state of Myanmar. The report sheds light on the campaigns of ethnic cleansing as well as the criminal acts to displace the Rohingya Muslim minority from their homeland.
Full report at:
http://www.saudigazette.com.sa/index.cfm?method=home.regcon&contentid=20131119187136
--------------
Al-Qaeda affiliate claims Iranian embassy attack in Beirut
November 19, 2013
The Abdullah Azzam brigades, a Lebanon-based al Qaeda affiliate, said it was behind a double suicide attack on the Iranian embassy in Beirut on Tuesday, according to the Twitter page of a cleric linked to the group.
"The Abdullah Azzam brigades - the Hussein bin Ali cells - may they please God - are behind the attack on the Iranian embassy in Beirut," Sheikh Sirajeddine Zuraiqat, the group's religious guide, posted on Twitter.
The brigades threatened more attacks in Lebanon until Iran pulled its forces out of Syria and their prisoners were released from Lebanese jails, the post added.
http://english.ahram.org.eg/NewsContent/2/8/86911/World/Region/BREAKING-AlQaeda-affiliate-claims-Iranian-embassy-.aspx
--------------
Saudis getting creative on YouTube
Nov 19, 2013
RIYADH – With a population of 28.3 million, Saudi Arabia is now the biggest user of YouTube per capita in the world, and according to analysts it was the eighth most active country on Twitter as of April, accounting for 2.33 percent of all tweets.
The programs of Jeddah-based UTURN, from drama to reality shows, are typical. "3al6ayer," or "On the Fly," is a Saudi version of "The Daily Show with Jon Stewart." "Eysh Elly" is a lighthearted weekly review of Arab online videos.
As of mid-September, UTURN had 286 million views on YouTube and 8 million followers on social media such as Facebook and Twitter, most of them Saudis, said Abdullah Mando, 27, who set up the company in 2010 with two university friends.
The secret of UTURN's success is simple, but in a Saudi context, rather revolutionary: give the audience what it wants.
Full report at:
http://www.saudigazette.com.sa/index.cfm?method=home.regcon&contentid=20131119187133
---------
Syrian patriarch urges Christians to stay in Syria
November 19, 2013
Gregory Laham, the Syrian patriarch of the Melkite Greek Catholic church has called on his fellow Christians to stay in Syria, despite the brutal conflict raging in the country.
"I say to my children, stay in your country, the future will be difficult, but it will be better, God willing," he told AFP in an interview.The patriarch, who is headed to the Vatican for meetings with Pope Francis, also urged European countries to not "encourage Syrian Christians to emigrate."
Full report at:
http://voiceofrussia.com/news/2013_11_19/Syrian-patriarch-urges-Christians-to-stay-in-Syria-3389/
---------
Foundation of proposed memorial for Egyptian protesters vandalised
Nov 19, 2013
The pre-dawn attack in Cairo's famed Tahrir square came just hours after Interim Prime Minister Hazem el—Biblawi inaugurated the foundation.
Unknown assailants damaged early on Tuesday the foundation in Cairo's famed Tahrir square for a proposed memorial dedicated to protesters killed in Egypt's revolutionary turmoil of the past 2 1/2 years.
The pre-dawn attack came just hours after the military-backed Interim Prime Minister Hazem el—Biblawi inaugurated the foundation in a ceremony held amid tight security.
The attackers, mostly men in their early 20s, used rocks to chip away at the large foundation stone and sprayed it with red graffiti denouncing ousted President Mohamed Morsy and Gen. Abdel—Fattah el—Sissi, the military chief who removed him in July after days of mass protests demanding that the Islamist leader step down.
Full report at:
http://www.thehindu.com/news/international/world/foundation-of-proposed-memorial-for-egyptian-protesters-vandalised/article5367326.ece
------------
Pakistan
Islamabad's Around 63 Worship Places and 33 Ulema Being Watched
MUNAWER AZEEM
2013-11-19
ISLAMABAD: Around 63 worship places and 33 ulema in the federal capital are being monitored by the police and its special branch to maintain peace in the wake of the Ashura violence in Rawalpindi.
Sources in the police and the capital administration said 48 of the worship places operated seminaries on their premises. Personnel of the special branch and policemen in plain clothes have been deployed in and around the premises.
There are over 600 worship places and 305 religious seminaries in the city's urban and rural areas. The sources said 89 seminaries were operated by the Barelvi school of thought, 199 by the Deobandis, 10 by Ahle Hadith and seven by the Shia community. The sources said 843 teachers and 29,380 students of the seminaries hailed from Fata, AJK, KP and southern Punjab.
Full report at:
http://www.dawn.com/news/1057117/islamabads-worship-places-ulema-being-watched
--------------
Militants kill four, torch NATO tanker in Balochistan
SYED ALI SHAH
November 19, 2013
QUETTA: Armed militants torched a tanker carrying fuel for US and NATO troops and killed its driver in Balochistan's militancy-hit Naseerabad district on Monday, police said.
Police also found three bullet-riddled bodies in Turbat town.
Noor Muhammad Bareech, the Deputy Superintendent of Police told Dawn.com armed militants opened fire at a NATO tanker in Mangoli area of Naseerabad.
He said the militants killed the drive and torched the tanker.
"The flames could be seen from quite far away," Bareech said. The militants sped away on their motorcycles after the incident.
There has been no claim of responsibility for the attack. Militants have been targeting NATO supplies in the area for the past few years.
Full report at:
http://www.dawn.com/news/1056984/militants-kill-four-torch-NATO -tanker-in-balochistan
--------------
Gunmen kill Shia director of Pakistan University
AFP | Nov 19, 2013
LAHORE: Unidentified gunmen riding a motorcycle on Tuesday killed a senior Shia director of a university along with his driver in Pakistan's central Punjab province, officials said.
In an apparent targeted sectarian attack, Syed Shabir Hussain Shah, director of student affairs at a university in the eastern city of Gujrat city in Punjab province, was attacked while on his way to the campus.
"Gunmen riding a motorbike sprayed bullets on his vehicle when he was about to reach the university campus in (the) morning. His driver was also killed in the attack," Ali Nasir Rizvi, the district police chief, said.
"At the moment, we don't know about the numbers of the attackers, but the incident looks like a targeted killing," he said.
Full report at:
http://timesofindia.indiatimes.com/world/pakistan/Gunmen-kill-Shia-director-of-Pakistan-university/articleshow/26032662.cms
---------
Sanaullah dismisses allegations that police abetted Rawalpindi riots
November 19, 2013
RAWALPINDI: Punjab Law Minister Rana Sanaullah said that a fact finding committee has started its investigation into the Rawalpindi sectarian clashes.
While speaking at a press conference, he addressed allegations that the police were involved in the crime.
Although "it is possible that someone made a mistake," the allegation that police are involved is untrue and "it is propaganda," he asserted.
Sanaullah also said an initial report has been submitted and the team has started groundwork to try and determine whose mistake allowed the violence to ensue. He added that videos of the procession were recovered from victims' phones.
Full report at:
http://tribune.com.pk/story/633784/sanaullah-dismisses-allegations-that-police-abetted-rawalpindi-riots/
--------------
Jamaat-e-Islami appeals citizens to raise voice against drone hits
November 19, 2013
KARACHI - Jamaat-e-Islami Karachi chief Hafiz Naeem-ur-Rehman has appealed to the people of the City to participate in the JI public gathering on November 24 at Hassan Square.
The gathering would be staged against the continued drone strikes, NATO supply and rejection of pro-American policies which the government is following.
He made this appeal while talking to the office-bearers and workers of different districts at Idara-e-Noor Haq in connection with the arrangements being continued for public gathering.
Hafiz Naeem said the people were fully aware by the nefarious designs of America. He demanded detachment of the country from the so-called 'war on terror' and stoppage of NATO supply as thousands of people have been killed in the name of 'war on terror'.
Full report at:
http://www.nation.com.pk/pakistan-news-newspaper-daily-english-online/karachi/19-Nov-2013/ji-appeals-citizens-to-raise-voice-against-drone-hits
-----------
Collective wisdom to overcome terror: Shahbaz
November 19, 2013
LAHORE - Punjab Chief Minister Shahbaz Sharif has said that the country is facing enormous challenges but these could be overcome by joint efforts and collective wisdom.
He was talking to the participants of Security and War Course of the National Defence University in a meeting at his office.
Separately, the CM was reported as saying that yesterday's jihadis have become today's terrorists.
Chinese companies discuss co-op:
Delegations of two Chinese companies, China Civil Engineering Corporation and Shandong Ruyi Science & Technology Company, met Punjab Chief Minister Shahbaz Sharif here on Monday (today). The delegations were led by Overseas Director General Wang Hui and Chairman Qiu Yafu.
Full report at:
http://www.nation.com.pk/pakistan-news-newspaper-daily-english-online/lahore/19-Nov-2013/collective-wisdom-to-overcome-terror-shahbaz
--------------
Ex-envoy says US was wrong to boost Pak military
November 19, 2013
Pakistan's former ambassador to the United States called on Monday for his country to focus less on defense and said decades of misguided American aid have only enabled the powerful military. Husain Haqqani, an outspoken academic turned diplomat who was forced to resign in 2011 over charges that he sought US help to curb Pakistan's army, argues in a new book, "Magnificent Delusions," that the two nations have always failed to understand each other.
At a book launch in Washington, Haqqani said Pakistan's military was disproportionately large following the Indian subcontinent's partition in 1947 and that the army has since prioritized US assistance in its goal of reaching parity with New Delhi.
Full report at:
http://www.hindustantimes.com/world-news/ex-envoy-says-us-was-wrong-to-boost-pak-military/article1-1152963.aspx
--------------
Pakistani court imposes restriction on screening of Indian movies
PTI | Nov 19, 2013
LAHORE: A Pakistani court on Tuesday imposed restrictions on the screening of Indian films across the country and laid down certain conditions for their release.
Justice Khalid Mahmood of the Lahore high court issued the interim order in response to a petition filed by controversial TV talk show host Mubshir Lucman, a former film producer known for his anti-India stance.
Lucman claimed that under Pakistani rules, Indian movies that are shot completely in India and are sponsored by an Indian cannot be screened in the country.
He alleged "fake papers" were being used to change the identity of sponsors to screen Indian films in Pakistan. He also produced a court order to back up his arguments.
Full report at:
http://timesofindia.indiatimes.com/world/pakistan/Pakistani-court-imposes-restriction-on-screening-of-Indian-movies/articleshow/26043767.cms
--------------
Africa
19 Killed In Somalia Militant Attack
AP | Nov 19, 2013
MOGADISHU: Somalian officials say that 19 people were killed when about 10 militants with assault rifles and rocket-propelled grenades attacked a police station run by the African Union force in Somalia.
Col Osman Dubbad, the commander of Djiboutian troops in the city of Beledweyne, near the border with Ethiopia, said pro-government forces killed 10 attackers, including two suicide bombers. Col Ismael Ali, a police officer in Beledweyne, said five soldiers and four civilians were killed by a car bomb blast.
The officials said that gunmen forced their way inside the police station, where an hour-long gunbattle ensued.
According to a pro-militants website, the al-Qaida-linked group al-Shabaab claimed responsibility for the attack.
http://timesofindia.indiatimes.com/world/rest-of-world/19-killed-in-Somalia-militant-attack/articleshow/26048619.cms
----------
New Al-Shabaab Magazine Spins Horrors of Westgate, Threatens with More Attacks
BY SABAHI STAFF, 18 NOVEMBER 2013
In the new edition of its bilingual English-Swahili magazine, al-Shabaab in great detail attempts to justify its massacre at Nairobi's Westgate mall as part of an Islamic retribution, and warns Kenya of a host of terrorist attacks to come.
"Kenyans are in for the long haul; the Westgate attack is merely the beginning of a long, gruesome war," the magazine quoted al-Shabaab top commander Ahmed Abdi Godane as saying.
Released on a number of jihadist websites November 12th, the magazine, called Gaidi Mtaani, is a skilfully produced electronic document complete with pictures, essays and opinion pieces supporting al-Shabaab's activities and calls to jihad.
A large portion of the magazine is dedicated to al-Shabaab's reasons for carrying out the Westgate attack, most prominent among them Kenya's continued military presence in Somalia.
Full report at:
http://allafrica.com/stories/201311190082.html?viewall=1
--------------
3 killed in Tripoli clashes between armed locals and Militiamen
World Bulletin / News Desk
November 19, 2013
Three Libyans were killed on Monday in fresh clashes between armed locals from Tripoli and militiamen, eyewitnesses said.
Monday's clashes came hard on the heels of weekend violence that saw scores of anti-militia protesters killed in street fighting with militiamen from Misrata. The latter had taken up residence in the capital during the popular uprising that led to the downfall of the Muammar Gaddafi regime in 2012.
Tripoli residents have repeatedly protested the militias' presence in the capital. The militias have mainly controlled southern Tripoli's Gharghour neighborhood, where Gaddafi regime officials used to have their luxury residences and palaces.
Full report at:
http://www.worldbulletin.net/?aType=haber&ArticleID=123225
------------
Tunisians Stress Support to Syria, Rejection of Conspiracy
November 19, 2013
TEHRAN (FNA)- Tunisian Popular Coordination to Support Syria organized a political symposium in which the participants expressed support for Syria in its war against terrorism and Takfiri forces.
Head of the Coordination Dr al-Munsef Wannas said that those disregarding the 27th article of the Tunisian constitution, which bans any kind of formation with the Zionist entity, and announcing Jihad in Syria are acting at the orders of their funder, Qatar, adding that the Takfiri terrorist groups in Syria are connected to imperialism and Zionism, SANA reported.
Full report at:
http://english.farsnews.com/newstext.aspx?nn=13920827000412
--------------
South Sudan 'deeply regrets' UN harassment
November 19, 2013
South Sudan said Monday that it "deeply regrets" dozens of cases of harassment and threats against United Nations staff by its army and police.
The government of the world's youngest country has faced pressure from the UN Security Council and the United States over beatings of UN staff and other incidents in recent months.
UN leader Ban Ki-moon complained in a report last week of 67 cases of "harassment, threats, physical assault, arrest and detention of United Nations staff" and seizure of UN vehicles between May 7 and November 5.
Full report at:
http://english.ahram.org.eg/NewsContent/2/8/86846/World/Region/South-Sudan-deeply-regrets-UN-harassment.aspx
--------------
Mideast
No tolerance for militants headed to Syria, Turkish FM Davutoğlu says
November 19, 2013
Foreign Minister Ahmet Davutoğlu pushed back Nov. 18 against allegations that Turkey has not cracked down hard enough on extremists crossing its border to fight in Syria's civil war while calling for greater intelligence cooperation.
Turkey has been accused of harbouring rebels associated with al-Qaeda who operate across the border in Syria, but Foreign Minister Davutoğlu insisted his country had no tolerance for extremists and likened the situation to problems on the U.S. border with Mexico.
"In no way Turkey tolerates or will be tolerating any extremist groups crossing Turkish borders," Davutoğlu told reporters at a briefing at the Turkish Embassy in Washington. He said such reports were exaggerated and if Turkey closed its borders, it would be criticized for blocking humanitarian aid flowing into Syria and keeping refugees out.
'How can we check tourists?'
The top diplomat said Western countries that were asking Turkey to do more to prevent extremists from crossing from Turkey into Syria must stop them from arriving in Turkey in the first place. "There are 4 million tourists coming to Turkey. How can we check each of these tourists? We cannot act against human rights," he said. "If those countries know who they are, they should stop them or they should give us a list."
Full report at:
http://www.hurriyetdailynews.com/no-tolerance-for-militants-headed-to-syria-turkish-fm-davutoglu-says.aspx?pageID=238&nID=58149&NewsCatID=338
--------------
Turkish PM responds to 'Kurdistan' criticisms
November 19, 2013
Turkish Prime Minister Recep Tayyip Erdoğan has defended his weekend Diyarbakır speech in which he said the word "Kurdistan" publicly for the first time following reactions from opposition party deputies.
"[Opposition deputies] can go and read the first assembly of the Turkish Republic's parliamentary records. They will see the word 'Kurdistan' in those minutes, and if they go back in history, they will see Ottoman Empire's east and southeast parts called 'Kurdistan,'" Erdoğan said today in a weekly parliamentary meeting.
Full report at:
http://www.hurriyetdailynews.com/turkish-pm-responds-to-kurdistan-criticisms-.aspx?pageID=238&nID=58156&NewsCatID=338
--------------
Syrian opposition still not committed to peace talks: Iran
November 19, 2013
Iran believes an international peace conference on Syria can be held soon but that Syrian opposition groups have yet to commit fully to the meeting, Deputy Foreign Minister Hossein Amir-Abdollahian said on Tuesday.
The United Nations hopes the "Geneva 2" conference, which Moscow and Washington are trying to arrange, can convene in mid-December to try to end more than 2-1/2 years of civil war in Syria.
The proposed conference has been delayed for months by dissension within opposition ranks, disagreements over whether President Bashar al-Assad should play any future role in Syria and disputes over whether Iran should be invited.
Full report at:
http://english.ahram.org.eg/NewsContent/2/8/86902/World/Region/Syrian-opposition-still-not-committed-to-peace-tal.aspx
--------------
Palestinians vote for first time at UN Assembly
November 19, 2013
UNITED NATIONS : The Palestinians voted for the first time at the UN General Assembly Monday and claimed the moment as a new step in its quest for full recognition by the global body.
Most of the 193 members of the General Assembly stood in applause when Palestinian Ambassador Riyad Mansour cast a vote for a judge on the International Criminal Tribunal for the Former Yugoslavia. The Palestinians became observer members of the United Nations on November 29 last year. It cannot vote on UN resolutions, but under UN rules, it and other observers such as the Vatican can vote in elections for judges on international courts.
"This is an important step in our march for freedom and independence and full membership of the United Nations," Mansour told the assembly. Israel accused the Palestinians of trying to "hijack" the vote.
Full report at:
http://www.nation.com.pk/pakistan-news-newspaper-daily-english-online/international/19-Nov-2013/palestinians-vote-for-first-time-at-un-assembly
-----------
Europe
UNEFC Demands Israel End Occupation of Arab Lands, Including Syrian Golan, and Cease Violations International Law
By Global Research News
New York, 17 November 2013: The UN Economic and Finance Committee (ECOFIN) demanded that Israel end its occupation of Arab lands including the occupied Syrian Golan and cease its violations of human rights and international law including the Fourth Geneva Convention.
During a session on Saturday, ECOFIN voted with a greater majority in favor of the resolutions related to articles 51 and 52, including the one on the occupied Syrian Golan submitted by Cuba and Indonesia.
The aforementioned resolutions calls upon Israel to end its occupation of the Golan and occupied Palestinian territories, withdraw to the June 4th 1967 line, cease its exploitation and endangerment of natural resources, put an end to the infringements committed by settlers, applying relevant Security Council resolutions, and consider the apartheid wall and settlements a clear violation of international law.
In a speech before ECOFIN, Syria's Permanent Representative to the UN Dr. Bashar al-Jaafari said that by their wide support for these resolutions, the member countries sent a clear message to Israel to end its occupation of Arab lands and immediately cease all violations of human rights and international law including the Fourth Geneva Convention.
Al-Jaafari said that the greater majority vote on the occupied Syrian Golan reaffirms that the Israeli occupation's attempts to annex the Golan are null and void and have no legal effect in the eyes of the international community, noting that Israel's violation of international law isn't limited to the occupation of the Golan, as it also issued arbitrary laws like the decision to annex it.
http://www.globalresearch.ca/un-economic-and-finance-committee-demands-israel-end-occupation-of-arab-lands-including-syrian-golan-and-cease-violations-international-law/5358579
-------
German Jihadists Heading to Syria for Jihad in Increasing Numbers
November 19, 2013
TEHRAN (FNA)- As Muslim leaders and governments in Europe are calling on their citizens to leave the war in Syria and return to their homelands immediately, German jihadists are also heading for Syria in increasing numbers and are able to integrate quickly into foreign militant groups where Arabic is not needed, the head of Germany's domestic intelligence said.
Hans-Georg Maassen, head of the Bundesamt fuer Verfassungsschutz since 2012 (BfV), said they knew of 220 German citizens fighting in Syria, but the actual number could be much higher, and had risen sharply this year.
Full report at:
http://english.farsnews.com/newstext.aspx?nn=13920826000371
--------------
Syrian opposition executes civilian prisoners – Human Rights Watch
November 19, 2013
Syrian rebels executed civilian prisoners in their custody during a battle in the Christian village of Sadad from October 21 to 28, 2013, reports Human Rights Watch.
The organization also noted, that opposition forces used also sniper fire to eliminate people making no difference between military and peaceful population. Rebel forces also used shelling fire during that attack.
Militants didn't let citizens of the town leave the area during fighting's, residents told Human Rights Watch. In at least one case, fighters allegedly used a resident as a human shield. Residents also said that opposition fighters also stole personal items, and vandalized, stole, and damaged property in at least three churches of local and historical significance.
Full report at:
http://voiceofrussia.com/2013_11_19/Syrian-opposition-executes-civilian-prisoner-Human-Rights-Watch-8222/
------------
Kyrgyzstan: Islamic NGOs Strive to Find Civil Society Niche
November 19, 2013
On a warm autumn day in early November, pedestrians in downtown Bishkek met an unusual sight: a 500-strong crowd of hijab-sporting female Muslim activists riding bicycles, heading to a state hospital to donate blood. "Passersby were in shock," laughed Jamal Frontbek kyzy, whose organization Mutakallim helped organize the event. "We wanted to dispel stereotypes. We wanted to do something good for people."
Mutakallim leads discussions on the role of women in Islam, organizes confidence-building exercises for female Muslims, and advocates for girls' right to wear hijab in schools. Non-governmental organizations (NGOs) with such Islamic-themed missions sit at the crossroads of an often fraught discourse on the role of Islam in a country where many civil society groups fiercely defend secularism, a Soviet legacy in a country with a lengthy Islamic cultural tradition. Groups like Mutakallim and their more secular counterparts participate together in roundtables and conferences, but often find themselves on opposite sides of heated public debates, most recently about sex-ed.
Full report at:
http://www.eurasianet.org/node/67773
----------
Central African Republic communal violence spiralling out control - UN chief
Nov 19, 2013
Communal violence in the Central African Republic risks spiralling out of control, the UN Secretary General Ban Ki-moon has said.
He warned the Security Council that armed groups were inciting Christians and Muslims against each other.
Mr Ban also backed the establishment of a UN peacekeeping force before the crisis leads to widespread atrocities.
The impoverished country has been in a state of chaos since rebels seized power in March.
A rebel alliance known as Seleka ousted President Francois Bozize from office, replacing him with the alliance's commander, Michel Djotodia.
Full report at:
http://www.bbc.co.uk/news/world-africa-24996125
--------------
Russia strikes missile deal with Egypt: Report
November 19, 2013
MOSCOW: The head of Russia's state-controlled industrial holding company says Moscow has signed a deal to provide Egypt with air defense missile systems.
Monday's statement by Russian Technologies chief Sergei Chemezov followed last week's trip to Egypt by Russia's foreign and defense ministries.
Chemezov, whose comments were carried by state RIA Novosti news agency, wouldn't elaborate on the missile deal.
Full report at:
http://timesofindia.indiatimes.com/world/europe/Russia-strikes-missile-deal-with-Egypt-Report/articleshow/25997640.cms
--------------
UN chief targets Syria peace talks for 'mid-December'
November 19, 2013
VILNIUS: United Nations secretary-general Ban Ki-moon said on Monday he expected a long-delayed peace conference on Syria's bloody conflict will be held in "mid-December" with a specific date to be set next week.
"I am not able to announce at this time any date. Our target is mid-December," Ban told reporters during a visit to Lithuania.
He said UN-Arab League envoy Lakhdar Brahimi will try to set the date in a meeting with Russian and US representatives on November 25.
Full report at:
http://timesofindia.indiatimes.com/world/middle-east/UN-chief-targets-Syria-peace-talks-for-mid-December/articleshow/25988478.cms
--------------
UNICEF: Stop using children for political gain
November 19, 2013
UNICEF said it is worried about children who have been caught up in recent violent protests, and the continued use of children in demonstrations held by political parties, in Bangladesh.
It urgently called upon all parties to keep children safe from any kind of violence and to solve their political differences through peaceful dialogue.
"UNICEF voiced its concern earlier this year about the use of children for political gain. Worryingly children have increasingly become the victims of violent protests," UNICEF Representative Pascal Villeneuve said in a statement Tuesday.
Full report at:
http://www.dhakatribune.com/bangladesh/2013/nov/19/UNICEF -stop-using-children-political-gain#sthash.cqWRZJVX.dpuf
--------------
Moscow calls on Damascus to unite with opposition for fighing terrorists in Syria - Lavrov
November 19, 2013
Moscow calls on Damascus to team up with the opposition in fighting against terrorists in Syria, Russian Foreign Minister Sergei Lavrov has said earlier today.
"It would be even better if they started cooperating with the moderate secular opposition in fighting against terrorists, who try to oust authorities in both Syria and the entire region, without waiting for the Geneva-2 conference to take place," Lavrov stated.
"The very fact of holding a conference may play a positive part and make responsible people in the opposition, who are fighting against the regime at the moment, stop doing this and help eradicate terrorists," Lavrov added.
Full report at:
http://voiceofrussia.com/news/2013_11_19/Moscow-calls-on-Damascus-to-unite-with-opposition-against-terrorists-in-Syria-Lavrov-1415/
------------
North America
US logged 33 mln phone calls in NATO ally Norway: Report
November 19, 2013
The US National Security Agency (NSA) logged more than 33 million Norwegian phone conversations over a period of a month last winter, a newspaper said on Tuesday in the first such report involving Norway, a NATO ally.
The report in the Dagbladet daily was based on documents made public by fugitive former NSA contractor Edward Snowden. It was co-authored by Glenn Greenwald, the former Guardian journalist who brought Snowden's leaks to world attention.
Snowden's revelations about the scale of NSA snooping worldwide, on foreign governments and leaders such as German Chancellor Angela Merkel as well as on ordinary citizens, have strained US relations with some of its allies.
Full report at:
http://english.ahram.org.eg/NewsContent/2/9/86901/World/International/US-logged--mln-phone-calls-in-NATO -ally-Norway-Rep.aspx
--------------
US to provide security assistance to Pakistan under 5-year plan
PTI | Nov 19, 2013
WASHINGTON: The US will provide security assistance to Pakistan to help it build counter-insurgency and counter-terrorism capabilities under a joint five-year plan developed by the two countries.
Reflecting a new bonhomie in bilateral ties which got a big boost by Pakistan Prime Minister Nawaz Sharif's recent visit to Washington, a high-powered defense delegation is scheduled to visit the Pentagon later this week for the next round of crucial meeting of the Defense Consultative Group.
The US-Pakistan Defense Consultative Group meeting tentatively would give a final shape to the five-year security assistance plan, developed during a meeting of defense officials of the two countries in February and is believed to zero in on the military hardware that the US would be providing to Pakistan.
Full report at:
http://timesofindia.indiatimes.com/world/us/US-to-provide-security-assistance-to-Pakistan-under-5-year-plan/articleshow/26025909.cms
-----------
Southeast Asia
Indonesia Tells Australia It Needs to Act to Save Relationship
November 19, 2013
President Susilo Bambang Yudhoyono has characterized the Australian prime minister's latest statement over spying allegations as "regrettable" and demanded Canberra take further steps to "save" its relations with Jakarta, his spokesman said on Tuesday.
"This kind of espionage is unacceptable and cannot be justified," Julian Aldrin Pasha told the Jakarta Globe.
Prime Minister Tony Abbott earlier said he regretted if the reports that Australian spies tapped Yudhoyono's phone had caused any embarrassment, but Abbott has stopped short of offering a formal apology.
Julian said that the State Palace's position was that Abbott's comments on the matter were unsatisfactory, citing the "trust" that had formed the basis for the two neighbors' strategic partnership.
Full report at:
http://www.thejakartaglobe.com/news/indonesia-tells-australia-it-needs-to-act-to-save-relationship/
--------------
PDIP protests plan to lift ban on sending workers to Saudi Arabia
November 19, 2013
The Indonesian Democratic Party of Struggle (PDIP) has protested a plan by Manpower and Transmigration Minister Muhaimin Iskandar to lift a moratorium on sending workers to Saudi Arabia.
"There is no reason whatsoever to support the plan," Eva Kusuma Sundari, a lawmaker and member of the Team Supervising Indonesian Workers, from the PDIP faction at the House of Representatives, said in Semarang, Central Java, on Tuesday as quoted by Antara news agency.
The plan went against Law No. 39/2004 and a recommendation from the House's special team in 2011, Eva said.
The recommendation required a memorandum of understanding (MoU) with Saudi Arabia before resuming the sending of workers to that country, she said.
Full report at:
http://www.thejakartapost.com/news/2013/11/19/pdip-protests-plan-lift-ban-sending-workers-saudi-arabia.html
--------------
India
Muzaffarnagar riots: For Rs 5 lakh, 900 families give up their right to return home
Nov 19 2013
New Delhi: With winter setting in, and the conditions in relief camps fast deteriorating, over 900 displaced families in Muzaffarnagar and Shamli districts have signed affidavits stating that they will not return to their villages, in return for a compensation of Rs 5 lakh from the state government.
"Main Aur Mere Parivar Ke Sadasya Apne Gram Mein Hui Hinsatmak Ghatnaon Se Bhayakant Hokar Gaon Va Ghar Chhodkar Aaye Hain, Tatha In Kinhi Bhi Paristhitiyon Mein Ab Apne Mool Gaon Evam Ghar Nahin Lautenge ( I and my family left our village and our home due to the violent incidents there. We will not return to our village and home under any circumstances)," says the affidavit.
Full report at:
http://www.indianexpress.com/news/muzaffarnagar-riots-for-rs-5-lakh-900-families-give-up-their-right-to-return-home/1196714/?india_top
--------------
Indo-Saudi agreement to end role of middlemen
Nov 19, 2013
JEDDAH – The new agreement to recruit Indian domestic workers to Saudi Arabia will put an end to the role of middlemen, according to a senior Indian diplomat.
Speaking to Okaz/Saudi Gazette, Sibi George, Charge d'Affairs at the Embassy of India, said the agreement will be signed during the visit of Labour Minister Adel Fakieh to New Delhi soon. "The agreement is aimed at streamlining recruitment of domestic helpers from India in a way putting an end to any role for middlemen permanently," he said.
Full report at:
http://www.saudigazette.com.sa/index.cfm?method=home.regcon&contentid=20131119187138
------------
Moderate Hurriyat sets CBMs as condition for talks
Nov 19 2013
Srinagar : As hardline separatist Syed Ali Geelani launched a poll boycott campaign in J&K, moderate Hurriyat Conference expressed willingness to resume talks with New Delhi if Confidence Building Measures recommended in 2010 are rolled out.
This came after a meeting chaired by Mirwaiz Umar Farooq. Hurriyat. The meeting gains significance Hurriyat leaders recently met with Sartaz Aziz, the Foreign Affairs and National Security advisor to Pakistan PM in New Delhi.
The Hurriyat has put forth four proposals for resuming dialogue, including revocation of AFSPA, gradual demilitarisation and an independent commission to probe human rights violations in Kashmir.
http://www.indianexpress.com/news/moderate-hurriyat-sets-cbms-as-condition-for-talks/1196733/
--------------
URL: https://www.newageislam.com/islamic-world-news/new-age-islam-news-bureau/-bangladesh-s-thriving-economy-of-fundamentalism-a-cause-of-concern-/d/34486