New Age Islam News Bureau
2 Feb 2016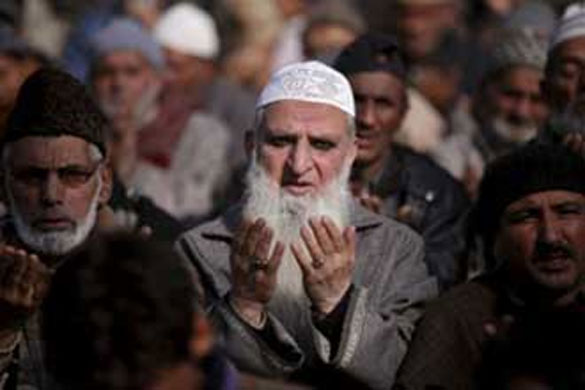 Picture used for representational purposes.
-----------
• Idolatory Eradication Conference at Tiruchi, India, Brings To Fore Divide among Muslims
• Ready to Forgive Musharraf Over Lal Masjid Operation: Abdul Aziz
• Obama to Visit US Mosque, Interact With Community Leaders
-------
India
• In a heart warming example of Kashmiriyat Muslims perform last rites of 84-year-old Kashmiri Pandit
• Home Minister Meets Muslim Clerics on ISIS Attempt to Lure Indians
• Agencies Verifying Reports of Indians Killed By IS
• Pakistan denies Anupam Kher visa to attend Karachi lit fest
• Dawood on UK Asset Freeze List with 4 Pakistan Addresses
-----------
Pakistan
• Ready to Forgive Musharraf Over Lal Masjid Operation: Abdul Aziz
• 'Blasphemy Law Can Be Reviewed, Not Amended': CII Chairman
• Seminaries under Construction on CPEC Route to Be Razed
• Disquiet over Karachi temple desecration
• Malala's school among 8 in UK get terror threat
• Govt schools spend funds for missing facilities on upgrading security
• Imran Khan says Pakistan's flawed policies cause of bad blood with Afghanistan
• Youth committed suicide over 'failure to learn Holy Quran by heart' in Pakistan
-----------
North America
• Obama to Visit US Mosque, Interact With Community Leaders
• Pentagon to Hike Spending Request to Fund Fight versus Islamic State
• Mystery Surrounds Muslim Cleric, Fethullah Gulen, Living in US Mountain Compound
-----------
Arab World
• Syrian Army Destroys Militants' Command HQs in Idlib, Kills 33 Terrorists
• 5 Notorious ISIL Commanders Killed in Kirkuk
• Yemeni Forces Storm Saudi Base, Destroy 11 Tanks, Armoured Vehicles
• Rocket fired from Yemen kills child in Saudi Arabia
• Syrian Troops, Popular Forces Hit Militants Positions North of Hama
• Syrian Army Repels ISIL Assault Southeast of Homs
• Syrian Army, Popular Allies Drive Militants Back From More Lands in Aleppo
• Syrian Army Takes Full Control of Two Strategic Villages in Aleppo, Key Mountain in Lattakia
-----------
Mideast
• 5 Soldiers Killed In 2 PKK Attacks in Southeast
• Israel Blocks Non-Residents from Ramallah after Attack
• Netanyahu Has Lost the Plot – Maybe Because Truth Hurts
• UN rights chief calls on Turkey to probe Cizre shooting by security forces
• Russia, Turkey dispute over airspace violation as row simmers
• 10 public figures seek prosecution on same charges as Cumhuriyet editors
-----------
South Asia
• Airstrikes in Eastern Afghanistan Destroy IS Radio Station
• TTP Might Face the Fate of Afghan Taliban Group
• Anti-Taliban child killed in Urozgan
• NATO condemns attack in Kabul as casualties toll rises to 20 dead, 29 wounded
• NDS detains seven terrorists in connection with recent attacks in Kabul
• 12 civilians wounded in magnetic bomb explosion in Laghman
• Fourth Afghan soldier earns the title of Ranger from US Ranger School
• President Ghani accepts diplomatic credentials of seven new ambassadors
-----------
Africa
• Libyan Muslim Brotherhood Shura Council Statement on Current Crises
• John Kerry Urges Coalition to Address Growing ISIS Threat in Libya
-----------
Europe
• Nations Gather In Rome to Discuss Anti-Islamic State Push, Libya
• Terror Threats Spell End Of Austerity Drive in Europe
• Kremlin is 'prolonging' war in Syria by bolstering Assad regime
Compiled by New Age Islam Edit Bureau
URL: https://www.newageislam.com/islamic-world-news/new-age-islam-edit-bureau/idolatory-eradication-conference-tiruchi-india-brings-fore-divide-among-muslims/d/106204
-----------
Idolatory Eradication Conference at Tiruchi, India, Brings To Fore Divide among Muslims
M P Saravanan: 2 February 2016
Chennai: The divide among the Muslim community, regarding its ideologies and practices, has reached southern India.
Amid protests from some Hindu organisations and opposition from its own community outfits, the Tamil Nadu Tawheed Jamaath's (TNTJ's) 'Shirk (idolatory) Eradication Conference', held at Tiruchi on Sunday (January 31), called upon Muslims to extricate themselves from superstitious and 'un-Islamic' beliefs and practices. It exhorted the community members to worship only 'Allah'.
The primary targets of this highly offensive campaign are the Tamil Muslims. Centuries of co-existence in India has led to many syncretic practices which bind Hindus and Muslims culturally and emotionally. The high voltage propaganda of TNTJ quotes Hadis to oppose Dargah worship. It opposes every form of cultural connection that may bind the Muslims with the rest of Indian communities. The new-found fundamentalist approach is already worrying many observers.
But even before the conference started, it stirred the controversy but placing its boards near several Hindu temples.
Hindu Munnani leader Rama Gopalan said, 'TNTJ has violated rules specified by the Supreme Court and the local police are not bothered about a board objecting to idol worship being kept near a Hindu temple.'
'I have no objection regarding any organisation holding spiritual or religious conference. But while organising such an event, one must keep in mind the religious sentiments of others. Will the authorities remain quiet if a board containing Hindu scriptures is placed near a Dargah or mosque? Will it not lead to an unpleasant situation?' he asked.
But TNTJ denies the charge and says that the board was mistakenly kept near a temple and later removed. The organisation's general secretary, Mohammed Yusuf, said, 'We have got permission from the authorities to keep plaques and boards. But in WhatsApp, we found some images were circulated that a plaque was kept near a Hindu temple in Thanjavur. But they were removed.'
About the 'Shirk' conference, Mohammed says, 'The event was aimed at creating awareness that God is one and his name is 'Allah'. Worshipping of statues, living personalities, including parents, and believing in forms other than 'Allah' is forbidden in Islam. Some Muslims indulge in worshipping at a dargah. We object to even this practice.'
Adding to the debate, Thanthai Periyar Dravidar Kazhagam general secretary K Ramakrishnan says, 'TNTJ conducted the conference to reform their religious practices. Some Hindu fundamentalists created an unnecessary fuss about the event, by pointing to a few banners kept near a temple'.
But overall the Shirk conference has set alarm bells ringing in many sections for its insistence on what is generally believed to be rabid adherence to religious practices.
newstodaynet.com/chennai/shirk-meet-brings-fore-divide-among-muslims
---------
Ready to forgive Musharraf over Lal Masjid operation: Abdul Aziz
2 February 2016
ISLAMABAD: Lal Masjid cleric Maulana Abdul Aziz has said that he is ready to forgive former military ruler Pervez Musharraf and all other figures for their involvement in the 2007 bloody siege of Lal Masjid.
Talking to journalists after an additional district and sessions judge granted him pre-arrest bail in two separate cases – extending threats to the civil society and inciting sectarian hatred — Aziz said he would make an announcement in this regard in a press conference soon.
"I think Musharraf made a mistake. He is our Muslim brother ... I say we take the first step and forgive him," he said.
Aziz said he is in talks with his family members and will convince those who disagree on pardoning Musharraf "as an act of goodwill, for peace in the country, for the end of terrorism and for peace in children's schools".
"Nations quarrel, forgive and then unite. Why can't we unite for the application of Quran and Sunnah?" he said, after speaking about the importance of forgiveness in Islam.
"We are soon going to announce that we forgive all persons involved."
"Aside from me, sisters from my family are also ready to forgive him," he said, asserting that the decision has been taken without any sort of pressure or deal.
Also read: Lal Masjid brigade back again
"If the teachings of Quran and Sunnah were implemented in the country, Musharraf would not have made the mistake [of Lal Masjid operation]."
Aziz claimed Musharraf had over 40 bogus cases registered against him and his family.
On request of a reporter, Aziz said he condemns the attack on Charsadda University "where our brothers were martyred", as he did the Army Public School attack.
Counsel for Aziz disagrees
Meanwhile, Aziz's lawyer advocate Tariq Asad said even if Aziz forgives those involved in the Lal Masjid siege, he will have new First Information Reports (FIRs) registered in the name of "martyrs of Lal Masjid".
He would even register an FIR against Aziz if he goes ahead with the decision to pardon Musharraf, Asad said.
Musharraf faces a string of court cases dating back to his 1999-2008 rule, including case over death of Abdul Aziz's brother Ghazi Abdul Rasheed, one of more than 100 people killed after army soldiers stormed Lal Masjid in Islamabad on July 10, 2007.
The mosque was the scene of a week-long military siege against radicals that unleashed a wave of militant attacks across Pakistan.
dawn.com/news/1236977/ready-to-forgive-musharraf-over-lal-masjid-operation-abdul-aziz
-----------
Obama to Visit US Mosque, Interact With Community Leaders
PTI | Feb 2, 2016
WASHINGTON: In a bid to highlight the importance of religious freedom and tolerance, President Barack Obama for the first time in his presidency will visit a mosque in the US tomorrow and interact with community leaders.
Obama's mosque visit in the vicinity of the national capital comes amid increasing backlash against the Muslim community in particular the anti-Islam rhetoric coming from the Republican presidential candidates.
This would be the first ever visit to a mosque by Obama inside the country, although he has visited mosques overseas.
"It will be an opportunity for the President to celebrate the contributions that Muslim-Americans have made to our nation, but also reaffirm the importance that religious freedom has to our way of life," White House Press Secretary Josh Earnest told reporters.
"There obviously has been some discussion about this in the context of the political debate in the country. The President's visit I think is an important moment to acknowledge those two things," he said.
Asked if Obama is also considering visiting a Hindu temple or Gurdwara, Earnest said, "I'm not aware of any additional travel plans that I can announce from here."
"I do think you can expect that the language and the message that the President will be delivering not just at the mosque on Wednesday but also at the prayer breakfast on Thursday is that the religious diversity of the United States contributes to our strength," Earnest said.
"And drawing on that diversity allows the United States to overcome challenges that other countries are unable to surmount, and that that diversity is something that we should treasure, and that freedom is something that we should work assiduously to protect. The President is certainly committed to that principle," he said.
Earnest said Obama's visit to a mosque will serve to elevate a debate the President believes is worth having.
"I think the President believes that this kind of visit is important for the country. It's an important way for us to lift up the value of religious tolerance and religious freedom that, again, was central to the founding of this country," he said.
"It also is an important way for us to discuss the valuable contributions that are made by Muslims of all walks of life to the success of our country," he added.
"Whether we're talking about Muslim Americans that are our friends and neighbours or people in our community, or even Muslims who are sports heroes, or served in the United States military, there are a variety of ways that Muslim Americans have made valuable contributions to America. And the President believes that that's worth celebrating," Earnest said.
timesofindia.indiatimes.com/world/us/Obama-to-visit-US-mosque-interact-with-community-leaders/articleshow/50816745.cms
-----------
India
In a heart warming example of Kashmiriyat Muslims perform last rites of 84-year-old Kashmiri Pandit
By: PTI Feb 2, 2016
In a heart warming example of Kashmiriyat, Muslims of a village in Kulgam district of south Kashmir performed the last rites of a Kashmiri Pandit, who clung to his roots and refused to leave the valley when all others in his family fled under threat from militants and had no regrets staying back.
Janki Nath (84), a resident of Malvan in Kulgam, died on Saturday.
In the absence of family member or Kashmiri Pandit, the local Muslims organised the last rites of the deceased and mourned his death as one of their own.
Nath, who was the only member of his community living among the 5000 Muslims in Malvan, had decided to stay back when Kashmiri Pandits fled the valley in 1990. He had retired from the government service in 1990, when militancy raised its head in the state.
He was not keeping well for the past five years and Muslim neighbours were taking care of him. As the news of his death broke, locals were inconsolable. "We feel we have lost one of our own. He was just like my elder brother and I used to take suggestions from him before taking any step", Gull Mohammad Alai, a local, said.
Another local Ghulam Hassan said, "To help our neighbors irrespective of their religion is our duty which we performed. We have lost a dear friend who stood with us in the best and the worst of the times."
His neighbours arranged wood for the funeral pyre and performed his last rites.
indianexpress.com/article/trending/this-is-serious/muslims-perform-last-rites-of-84-yr-old-kashmiri-pandit/#sthash.5h7jGusO.dpuf
---------
Home Minister meets Muslim clerics on ISIS attempt to lure Indians
2 Feb 2016
The Home Minister sought the cooperation of the clerics, who offered all help to the government in this regard, official sources said.
Amidst increasing attempts by ISIS to lure Indians into its fold, Home Minister Rajnath Singh on Tuesday held a meeting with top Muslim clerics and sought their cooperation to check the growing tentacles of the dreaded group among Muslim youth.
The hour-long meeting, also attended by NSA Ajit Doval and senior Home Ministry officials, apprised the Muslim clerics about activities of the Middle-East terrorist group and its efforts to attract Indian youth to its fold.
The Home Minister sought the cooperation of the clerics, who offered all help to the government in this regard, official sources said. The issues that were discussed included misuse of social media, sources of impetus that attract persons, specially youth, to ISIS, the growth of ISIS influence in India's neighbourhood and the best possible law enforcement response.
Those who attended the meeting include Jamiat Ulema-e-Hind's Maulana Arshad Madani, Maulana Abdul Wahid Hussain Chisti of Ajmer Sharif, Asghar Ali Imam Mehdi of Jamiat Ahle Hadees, Tauqeer Raza Khan, Rafiq Warshiq, Shia leader Maulana Syed Kalbe Jawad Qalbe Jawaid, Kamal Farooqi, Mushafa Faruqi besides others.
The need for appropriate welfare schemes for minorities, social media strategies to be followed, especially in the area of information technology were also discussed threadbare.
In his remarks, the Home Minister said India's traditions and family values will overcome such nefarious designs of terrorist groups and that while the traction that ISIS has got in India is extremely limited, and almost insignificant in comparison to other countries, there is a need to keep up vigil on all fronts, and not let down the guard in any manner. This was for the first time that the Home Minister had a meeting with Muslim clerics on the issue of ISIS.
Last fortnight, the Home Minister had a meeting with top officials of central intelligence and investigative agencies and police of 13 states and discussed steps to check the growing influence of ISIS among youngsters through social media and other sources.
Singh had reviewed the situation arising out of some Indian youths getting attracted towards ISIS on several occasions in the past and how to deal with the challenge. The Home Minister had also said a large number of people and most Muslim organisations in India had come out against both ISIS and other forms of terrorism.
According to Indian intelligence agencies, a total of 23 Indians have so far joined the ISIS of whom six were reportedly killed in different incidents in Iraq-Syria. Among the 23 are two absconding members of the banned Indian Mujahideen who had gone from their hideouts in Pakistan.
The dead were identified as Athif Vaseem Mohammad (Adilabad, Telangana), Mohammad Umar Subhan (Bengaluru), Maulana Abdul Kadir Sultan Armar (Bhatkal, Karnataka), Saheem Farooque Tanki (Thane), Faiz Masood (Bengaluru) and Mohammad Sajid alias Bada Sajid (Azamgarh, Uttar Pradesh).
Around 150 Indians are under surveillance for their alleged online links with ISIS. As many as 30 other Indians, who were radicalised by ISIS elements, were prevented from travelling to the conflict zone in the Middle-East.
Among those who are currently fighting for ISIS include two youths from Kalyan near Mumbai, an Australia-based Kashmiri, one youth from Telangana, one from Karnataka, one Oman-based Indian and another Singapore-based Indian.
Several Indians, who were trying to recruit youths into ISIS, were deported from friendly countries, including the UAE, recently.
dnaindia.com/india/report-rajnath-singh-meets-muslim-clerics-on-isis-attempt-to-lure-indians-2173102
-----------
Agencies verifying reports of Indians killed by IS
PTI | Feb 1, 2016
NEW DELHI: Security agencies are examining reports that four Indians could be among the 20 IS fighters who were reportedly beheaded in full public view for trying to flee a war zone in Iraq's Mosul city.
However, there is no confirmation yet about the killing of four Indians, official sources said here.
According to Indian intelligence agencies, a total of 23 Indians have so far joined the IS of whom six were killed in different incidents in Iraq-Syria. As many as 17 Indians are believed to be in different conflict zones of the IS-held areas.
Agencies were verifying the reports through different sources and trying to ascertain where there were Indians among those beheaded, the sources said.
Sending out a chilling warning to others in the terror group against desertion, the Islamic State in Iraq and Syria captured a group of its own militants who tried to escape the battlefront in Mosul city of Nineveh province, and executed them in public, Ara News reported quoting a local source citing an IS "official" as saying.
"The dissidents were arrested at a checkpoint in the vicinity of Mosul on Friday. After being identified as fighters who have left their positions at the fighting front in western Mosul, they were transferred to the Sharia Court for prosecution," the Ara News said.
"Subsequent to a brief interrogation, the Sharia Court decided to behead the dissidents on charges of treason," it said.
Observers said the beheadings were made in a bid to terrorize IS members who may leave their posts in the war-torn region.
The jihadis were beheaded in central Mosul in front of hundreds of people, mostly IS members and commanders, the report said.
"Witnessing the brutal punishment has caused a state of panic among the members of the group," the Ara News said.
IS considers jihadis who leave their posts without permission as traitors and enemies of its so-called Caliphate.
timesofindia.indiatimes.com/articleshow/50810215.cms
-----------
Pakistan denies Anupam Kher visa to attend Karachi lit fest
TNN | Feb 2, 2016
NEW DELHI: Pakistan on Tuesday denied a visa to actor and BJP sympathiser Anupam Kher, who has been invited by the organisers of a literary festival in Karachi as one of their guests.
Kher claims only he has been singled out of the 18 delegates who applied for the visa. "I am very sad and disappointed that out of 18 participants, 17 were given visa and I was denied," Kher told news agency ANI.
Reacting to reports, the Pakistan High Commission, however, has claimed Kher never submitted any application for the visa.
Kher is scheduled to attend a session at the Karachi literary festival on February 5. The 60-year-old actor, who was awarded the Padma Bhushan recently, has been a vocal supporter of the BJP-led government at the Centre.
Last weekend, Kher and Congress leader Shashi Tharoor were involved in a war of words on Twitter over the veteran actor's comment that he is scared to openly say he is a Hindu.
Posting a link of Kher's recent TV interview, Tharoor tweeted, "Come on Anupam. I say it all the time. I'm a proud Hindu. Just not the Sangh's kind of Hindu. @AnupamPkher."
This did not go down well with the 60-year-old actor, who called Tharoor a "Congi Chamcha" (Congress stooge). "Come on Shashi. Never thought you will misinterpret my statement like trolls do. And behave like a Congi Chamcha."
Tharoor quickly retorted saying, "Abuse, @AnupamPkher , is what you use when you run out of arguments. I'm a proud MP of @INCIndia &I don't resort to insults. #CongiChamcha."
At the Jaipur literary festival held last month, the Bollywood actor had also sparred with Delhi minister Kapil Mishra over the limits imposed on freedom of speech and were joined in by a politically divided audience at the Jaipur Literature Festival (JLF).
Speaking against the motion at a session entitled 'Should Freedom of Speech be Absolute?' Kher alleged that a perception of intolerance was being created at festivals like the JLF, adding that there should not be an impression that people in the country are living in fear.
timesofindia.indiatimes.com/entertainment/hindi/bollywood/news/Pakistan-denies-Anupam-Kher-visa-to-attend-Karachi-lit-fest/articleshow/50816718.cms
-----------
Dawood on UK asset freeze list with 4 Pakistan addresses
PTI | Feb 2, 2016
LONDON: Underworld don Dawood Ibrahim is the only "Indian national" on a newly updated list of financial sanctions by the UK that also includes Sikh terror groups.
Dawood, India's most wanted terrorist against whom an international arrest warrant has been issued, appears on the UK Treasury department's 'Consolidated List of Financial Sanctions Targets in the UK' updated on January 27 with four recorded addresses in Pakistan - all in Karachi.
"Dawood Ibrahim Kaskar" is recorded to have lived at: House No 37, 30th Street - defence, Housing Authority, Karachi, Pakistan; House no. 29, Margalla Road, F 6/2 Street no. 22, Karachi, Pakistan; Noorabad, Karachi, Pakistan (Palatial bungalow in the hilly area); and White House, Near Saudi Mosque, Clifton, Karachi, Pakistan.
The Mumbai-born gangster's nationality is listed as "Indian", with a recorded Indian passport, which was subsequently revoked by the government of India and then goes on to list a string of Indian and Pakistani passports acquired by him and misused.
"International arrest warrant issued by the Government of India. Also referred to as Hizrat," the listing, first made on November 7, 2003, concludes.
Dawood has time and again been reported to be based in Pakistan but Islamabad has denied his presence.
Financial sanctions in force in the UK could apply to individuals, entities and governments who may be resident in the UK or abroad.
The measures include prohibiting the transfer of funds to a sanctioned country and freezing the assets of a government, the corporate entities and residents of the target country to targeted asset freezes on individuals/entities.
Certain financial sanctions may also prohibit providing or performing other financial services, such as insurance, to designated individuals or governments.
It is a criminal offence to breach a financial sanction, without an appropriate licence or authorisation from the UK Treasury.
Organizations under the entities section on the updated January 2016 list include the likes of the Liberation Tigers of Tamil Eelam (LTTE), Khalistan Zindabad Force, International Sikh Youth Federation (ISYF), and Hizbul Mujahideen.
timesofindia.indiatimes.com/UK-freezes-Dawood-Ibrahims-assets/articleshow/50821188.cms
-----------
Pakistan
'Blasphemy Law Can Be Reviewed, Not Amended': CII Chairman
February 2nd, 2016
ISLAMABAD: Council of Islamic Ideology (CII) Chairman Maulana Mohammad Khan Sheerani has said that a 'review' of the blasphemy law does not mean that it could be changed or amended.
"It is the CII's responsibility to review and assess all laws formulated in the country," he told Dawn, adding, "if the government, through the relevant ministry, forwards any amendment(s) in the blasphemy law, then the Council will certainly look into it".
The CII is mandated to review all laws in the country and suggest amendments to bring them in accordance with the teachings of the Holy Quran.
Maulana Sheerani, who is also a JUI-F MNA, recently raised hopes among activists when he said in an interview that the CII would be willing to review the country's blasphemy laws.
CII has refused to consider changes to law at least thrice in the past
Speaking to Dawn, however, he said that reviewing a law did not mean that the CII would amend it to suit the wishes of a certain segment of society.
"Most of the issues are to do with implementation of laws, and as far as the misuse of the blasphemy law is concerned, well, we can see that almost all laws in the country are flouted in one way or the other."
The CII has, in the past, turned down almost all proposals suggesting any changes to the blasphemy laws.
In Dec 1993, the CII ruled that to stop the law's misuse, there was a need to strengthen laws related to false evidence and lodging a false report. The CII even referred to Section 193 of the Pakistan Penal Code (which deals with provision of false evidence) and called on the government to make the law more stringent to prevent misuse.
Similarly, on a suggestion by the Pakistan Law and Justice Commission to make blasphemy a non-cognisable offence, the CII in April 1998 noted that misuse of the blasphemy law was a serious issue, but any changes in the law would be counterproductive, and may even lead to a rise in the instances of the offence.
"There is a need to keep the blasphemy law as a cognisable offence, so police have the power to arrest the accused without a warrant. This will deter people from disrespecting the Holy Prophet (peace be upon him)," the CII report of 1997-98 stated.
The last such observation was made in 2013, based on a recommendation by the Ministry of Religious Affairs.
The ministry had stated that Christian citizens, in the aftermath of the riots in Lahore's Joseph Colony, had demanded that the law be amended to ensure respect for other religions too.
The ministry had suggested that changes be made to the law so that 'disrespecting the Holy Prophet Muhammad (peace be upon him)' would become 'disrespecting all the Prophets'; and an 'insult to Islam' be converted to 'insult to faith'.
However, the CII had ruled that there were already laws that protected the integrity and sanctity of all religious and religious personalities, therefore, there was no need to amend the blasphemy law or formulate a new one.
"There are fears that if there are any formal changes made to the blasphemy law, it will eventually lead to pressure to abolish the law altogether," the CII's research department had ruled.
The same has been stated annual report of the CII 2012-13.
The report highlights, "These changes in the blasphemy law look like they are a tit-for-tat move; since there are some Muslims who frame false cases against non-Muslims, so this change will allow non-Muslims to lodge false cases against Muslims as well."
Incidentally, a two-day CII meeting held in September last year witnessed divergent views over the question of awarding the death penalty to those who make false accusations. The matter was the subject of heated debate between two groups in the CII, and on 18 Sept 2013, the CII meeting suggested that the government made amendments in the blasphemy laws.
The CII meeting also agreed to the proposal of awarding the death penalty for individuals convicted of making false accusations.
"This was my suggestion and it is necessary to end the misuse of the blasphemy law," Maulana Tahir Ashrafi, a former member of the CII, told Dawn.
Incidentally, the following day, on Sept 19 2013, hardliners in the CII banded together to strike down this proposal.
Hafiz Ashrafi recently retired from the CII on January, 23, 2016.
"If Maulana Sheerani was serious about improving the blasphemy law, then [I ask] why did he strike down my suggestion," he asked, adding, "If he wants to take up the suggestion again and pass it under his own name, I have no objections."
dawn.com/news/1236926/blasphemy-law-can-be-reviewed-not-amended
-----------
Seminaries under construction on CPEC route to be razed
February 2nd, 2016
MANSEHRA: The Mansehra police have ordered the demolition of five seminaries under construction along the proposed China-Pakistan Economic Corridor in the district.
"We have issued notices to the relevant caretakers asking them to immediately demolish the five seminaries being built on the CPEC route in Mansehra as no new seminary can be put up on the route under the National Action Plan on security," Mansehra DPO Ahsan Saifullah told a news conference here on Monday.
The DPO said the caretakers were given three days to pull down their respective seminaries and that if the orders were not complied with, then the district administration would do the job.
Accompanied by ASP Sonia Shimorz Khan and DSP Ijaz Khan, the DPO said 70 seminaries were located on the CPEC route in the district but no action was being taken against them as they're built before the announcement of the CPEC plan.
Mansehra DPO says NAP bans new religious schools along corridor
He said in past, seminaries were constructed without the government's approval but in future, those wanting to build seminary would have to seek the police's approval.
Mr. Saifullah said the police were working actively and vigilantly to provide security to over 2,400 government and private schools in the district but at the same time, it was also the responsibility of the school administrations to adopt security measures on campus for the security of students and staff members.
"We will not tolerate any security lapse on part of the school administrations. Until now, we've registered FIRs against 30 headmasters over failure to ensure foolproof security of their respective schools," he said.
The DPO also said the police had arrested four members of an inter-provincial gang of robbers, who used to loot the people wearing uniforms of the police and security forces.
He said the arrests were made in Khattanda Galla forest on the Karakoram Highway in the city's environs.
Mr. Saifullah said the police also seized arms, uniforms of police and security forces, national identity cards, local and foreign currency notes, cellphones, and other documents.
He said the arrested men including Mohammad Azam, Niaz Mohammad, Nazir Khan and Abdul Salam had confessed to committing dozens of robberies in Hazara division and other parts of country.
The DPO said other members of the gang, which had been active in the region since 2006, would be arrested soon.
He said the police didn't rely on the people-police liaison committees for such arrests by and large as most of their members had a 'shady past'.
dawn.com/news/1236938/seminaries-under-construction-on-cpec-route-to-be-razed
-----------
Disquiet over Karachi temple desecration
February 2nd, 2016
KARACHI: The glow from a row of lit clay oil lamps reflected on the three beautifully decorated deities of Shitala Mata, Santoshi Mata and Bhavani Mata at the small temple located inside a small home in the quarters near Gate no 5 of Karachi Zoological Gardens. A few overripe bananas as prasad in a thaal lay on the floor in front of the deities but the place was missing its usual rush of devotees. Other than the Maharaj and his family, the caretakers of this temple, nobody else was there.
"The people are afraid of coming here for puja now after the attack," explained Maharaj Hira Lal.
He was referring to the incident on the evening of Jan 21 when during Durga puja there, three bearded men in shalwar and kameez stormed the place, waving TT pistols and ordering everyone to stop and get out. The panic and scuffle that followed resulted in desecration of the temple as a goddess deity, Bhavani Mata, lost one of its left arms. "We don't know who those men were. We have never seen them before," the Maharaj said.
About the significance of this little temple, he said it was built as a small place for puja by his paternal grandfather soon after he moved to Pakistan from India some 60 years ago. "He was childless but adopted a 14-year-old boy, Mohan, who he brought up as his son. The young boy was soon married to a suitable Hindu girl, Champa Bai, who lived nearby in Soldier Bazaar. And I am Mohan and Champa's son. By the grace of Shitala Mata, my parents had five daughters and two sons including myself," the Maharaj provided a bit of his background.
"The private temple soon became known when several women considered unable to give birth to children came to perform puja here following which they were able to conceive. Then some eight years ago, during regular puja here, devotees witnessed another miracle when Kali Mata's footprints made from red holy powder abir suddenly appeared beside the mantel," the Maharaj added. "I know I should have registered this temple long ago but I don't know how to go about it, quite frankly. Puja-paat is all that I know," he said.
"From the donations by devotees, we have been able to strengthen the walls of this room that houses the temple and raise its ceiling. My mother, Champa Bai, and sister, Lalitha, bathe the deities and dress and decorate them while keeping the place clean and pure. We are very saddened by the incident. It has really terrorised the neighbourhood.
"There are four Hindu households in the quarters near gate no 5 of the zoo and 15 more near gate no 1. More who have heard about the miracles of this temple travel here from all over the city. But all have stopped coming here now after being threatened. Word spreads around fast. We are handful of peace-loving members of a religious minority. We feel extremely insecure after what has happened," he concluded.
dawn.com/news/1236839/disquiet-over-karachi-temple-desecration
-----------
Malala's school among 8 in UK get terror threat
PTI | Feb 2, 2016
LONDON: Eight schools across the UK today received bomb attack threats, including one attended by Pakistani teenage activist and Nobel Laureate Malala Yousafzai, prompting authorities to launch a probe.
The schools in England and Scotland - six in Birmingham alone and two in Glasgow - received the threats this morning following which the buildings were evacuated.
Edgbaston High School for Girls in Birmingham, where 18-year-old Malala is enrolled, received a call just after 0800 GMT (1330 IST) making a bomb threat.
West Midlands Police is still investigating the call but pupils were allowed back into their classes after brief evacuation as the call is believed to be a hoax.
The other schools in the city to be hit by hoax calls include Shireland Collegiate Academy, Bristnall Hall Academy, Perryfields High School, Hall Green Secondary School and Oldbury Academy.
Today's calls follow similar calls last week which were also deemed as a hoax.
"This morning we have reports of a further six bomb threats, following similar threats made to several schools last week. At this stage there is nothing to suggest there is any credible threat to any of the schools," Detective Inspector Colin Mattison of West Midlands Police said in a statement.
"Our response officers have been sent to the locations to ensure there is no threat to anyone's safety and support the schools. A police investigation is ongoing to find the person responsible for these calls," he said.
Two schools in Glasgow also received bomb threats this morning and police officers investigating them also said "nothing untoward" was found following an investigation.
A spokesperson for Police Scotland said: "Two schools in Glasgow have received a threat via the telephone. Staff and police have searched both school buildings and nothing untoward was found.
"Schools are operating as normal and officers are continuing inquiries. At this stage, police are treating these incidents as malicious calls."
A number of schools and academies in and around Birmingham were also affected last Thursday.
A Russia-based Twitter group had claimed responsibility for threats last week, saying they intended to cause "mayhem".
It is unclear whether the same group is involved in the latest round of bomb threats.
timesofindia.indiatimes.com/world/Malalas-school-among-8-get-terror-threats/articleshow/50813360.cms?
-----------
Govt schools spend funds for missing facilities on upgrading security
February 2nd, 2016
RAWALPINDI: The Rs240 million released to government schools by the provincial government for the replacement of missing facilities has been spent in a week on upgrading security.
Punjab government had allocated the money to 1,946 government-run schools in the district two months ago for replacing missing facilities and released the amount 10 days ago.
The administrations of these schools decided to use this money when they were directed to construct higher boundary walls, install barbed wires, UPS devices, CCTV cameras and ensure other security measures, a senior official of the education department told Dawn, adding that the government did not have enough money to give them more.
Government-run schools will not be given more funds this fiscal year, he said, because the Rs240 million had been released in the middle of the fiscal year and every school was to be given between Rs0.8 and Rs1 million.
Former army and Rangers officials to be hired to man public schools
The official explained that for the next five months, government schools will not be able to replace missing facilities like chairs, benches, computer labs, water coolers and fans among other things.
"The government has asked the education department to deploy 176 retired army or Rangers officials on guard duty for schools. Interviews for these positions will start on February 2 and the guards will be paid from development funds," he added.
Executive District Officer Education Qazi Zahoorul Haq told Dawn the money allocated for missing facilities had been utilised for upgrading security because keeping children and staff safer was more important.
These measures will be inspected in a few days, he added.
When asked about hiring ex-military and former Rangers officials as guards, he said that the education department had already hired guards for 29 schools and that the remaining schools that are on the sensitive list will be hiring guards over the next week.
He added that the police were helping in keeping schools safe and that police units will be guiding and checking schools in this regard.
Guards will be equipped with the latest weapons by the Punjab government, he said, adding that "the local administration is purchasing 147 rifles from the Pakistan Ordnance Factories to give to school guards".
dawn.com/news/1236898/govt-schools-spend-funds-for-missing-facilities-on-upgrading-security
-----------
Imran Khan says Pakistan's flawed policies cause of bad blood with Afghanistan
By Khaama Press - Tue Feb 02 2016
Pakistan's cricketer-turned politician, Imran Khan, has said that Pakistan's flawed policies are the cause of bad blood with Afghanistan.
"I am very sad that the relationship is not good and I am also sad to say that Pakistan is to blame. We did not have consistent policies dealing with Afghanistan and then the interference in the past in affairs of Afghans has caused a lot of bad blood," Khan who leads Pakistan Tehreek-e-Insaaf (PTI) told VOA news during an interview published on Monday.
Khan emphasized the need for both Pakistan and Afghanistan to remove tensions in bilateral ties and build mutual trust to jointly tackle the security challenges facing them.
"I think in future I see very good relationship between the two countries. I think there is a realization in Pakistan that the mistakes were made. We feel that we have to correct this bad blood caused by flawed policies," Khan said.
PTI chief also urged Taliban to enter into peace negotiation with Afghan government as fighting is not the solution.
"They (the Taliban) must come to the table and they must resolve this dispute through talks and negotiations. War is never a solution. In fact, war leads to unintended consequences just like in Iraq and Syria," Khan said.
But if peace process succeeds with Taliban, the region is facing another security challenge from the terrorist group of the Islamic State of Iraq and Syria (ISIS) that has already started its operation in parts of Afghanistan and Pakistan.
Khan held U.S. responsible for the emergence of ISIS.
"Now you see the emergence of ISIS or Daesh (the Arabic acronym for Islamic State), and God knows where this is going to go. This is a direct result of that insane U.S. invasion of Iraq," he said, using an acronym for the Islamic State group.
khaama.com/imran-khan-says-pakistans-flawed-policies-cause-of-bad-blood-with-afghanistan-4539
-----------
Youth committed suicide over 'failure to learn Holy Quran by heart' in Pakistan
February 2nd, 2016
MULTAN: The family members of a youth who had committed suicide at Kabirwala, Khanewal district, some 10 days back, accidentally came to know that he took the extreme step in dejection over his failure to learn the Holy Quran by heart.
Raees, 17, of Mauza Fazil Shah had committed suicide by hanging himself with a rope tied to a wooden girder of a room in his farmhouse on Jan 22. The shocked family had no clue to what made him commit suicide.
The mystery, however, got resolved when his mother and brother checked his mobile phone data about a week after his death.
"A couple of days back, my mother asked me to bring the mobile phone of my deceased brother," Asif, brother of Raees, told Dawn.
Asif said while browsing through the phone data, he came across a voice message recorded by Raees. In the message, Raees said addressing his mother that he was leaving this world because he could not learn the Holy Quran by heart.
He claimed it was Raees' own choice to learn the holy book by heart and no body forced him to do so.
Raees was a school drop-out and worked as a mechanic before he got admission to a madressah to learn the holy book by heart.
Asif said during his stay at the seminary, his brother could memorise only one chapter of the Holy Quran out of 30.
dawn.com/news/1236918/mystery-surrounding-youths-suicide-resolved
-----------
North America
Pentagon to Hike Spending Request to Fund Fight versus Islamic State
Reuters | Feb 2, 2016
WASHINGTON: President Barack Obama's administration will seek a significant increase in funding for the fight against Islamic State as part of its 2017 defence budget request, US officials say, in another possible sign of US efforts to intensify the campaign.
The fiscal year 2017 Pentagon budget will call for more than $7 billion for the fight against Islamic State, a roughly 35% increase compared with the previous year's request to Congress, the officials said, speaking on condition of anonymity.
US defense secretary Ash Carter is due to disclose his spending priorities for the $583 billion 2017 defense budget on Tuesday in an address to the Economic Club of Washington. The White House plans to release Obama's full budget proposal for fiscal 2017, which begins October 1, on February 9.
Carter in his speech is expected to cite his intent to increase the administration's request for funds to battle Islamic State, officials say, although it was unclear how much detail he would offer.
He was also expected to touch on other budget priorities, including plans to increase spending to reassure European allies following Russia's intervention in Ukraine, and the need for the United States to maintain its military edge over China and Russia.
Carter's budget will underscore the need for Washington to fund a new Air Force bomber awarded last year to Northrop Grumman Corp, a replacement for the Ohio-class submarines that carry nuclear weapons, and to start replacing a fleet of nuclear-armed intercontinental ballistic missiles, according to a source briefed on the plans.
The proposed budget will also seek to boost spending for several key priorities, including increased cyber security, electronic warfare and increased security for crucial US satellites, the source said.
Lockheed Martin Corp, maker of the F-35 fighter jet, Boeing Co and other big weapons makers are anxiously awaiting details about the budget and how it will affect their programs.
Senior defence officials have said that $15 billion in cuts required under a two-year budget agreement with Congress last year would largely come from procurement accounts since personnel costs and operations costs were harder to cut.
One official noted that spending on the Islamic State fight was expected to be drawn from the roughly $59 billion Overseas Contingency Operations account, or OCO, a separate budget that supplements the larger, $524 billion base budget for fiscal year 2017.
Still, key details on the more than $7 billion request were unclear, including whether the funding applied to operations outside Iraq and Syria.
The disclosure about plans for an increased spending request to combat Islamic State came as the Obama administration seeks to intensify its campaign, looking to capitalize on recent battlefield gains against the militants in Iraq.
Carter has called a meeting later this month in Brussels with defense ministers from all 26 military members of the anti-Islamic State coalition, as well as Iraq. He is asking them to come prepared to discuss further contributions to the fight.
timesofindia.indiatimes.com/world/us/Pentagon-to-hike-spending-request-to-fund-fight-versus-Islamic-State/articleshow/50819664.cms
-----------
Mystery Surrounds Muslim Cleric, Fethullah Gulen, Living in US Mountain Compound
AP | Feb 2, 2016
SAYLORSBURG, PENNSYLVANIA: The influential Muslim cleric lives quietly on a gated 26-acre compound in the Pocono Mountains, where he prays, works, meets admirers and watches from afar as terrorism accusations that have landed him on Turkey's most-wanted list unfold in court.
Rarely seen in public, Fethullah Gulen has long been one of Turkey's most important scholars, with multitudes of followers in his native country and around the world. More recently, Turkey's increasingly autocratic president, Recip Erdogan, has accused Gulen of plotting to overthrow the officially secular government from his Pennsylvania idyll some 5,000 miles away.
Gulen's supporters call the charge baseless and, so far, the US has shown little inclination to send him back to Turkey to face a trial that began without him January 6 and is expected to last several months. A second trial, involving accusations that his movement took part in espionage, opened Monday.
If the reclusive leader worries about the possibility of deportation, he hasn't shared it with confidants, they say.
"He said that the United States has a long tradition of democracy and rule of law," said Y. Alp Aslandogan, who sees Gulen about once a week as president of the New York-based Alliance for Shared Values, a group that promotes Gulen's ideas. "They will see that these are politically oriented charges, and they will not allow Erdogan to spread his ambition into the United States."
Justice Department spokesman Peter Carr declined to comment on Gulen's case.
Gulen's followers run a loosely affiliated global network of charitable foundations, professional associations, businesses and other projects, including about 150 taxpayer-funded charter schools throughout the US But details about Gulen's personal life and his ties to those ventures have long been murky, giving rise to suspicions about his motives.
Some of the US schools have been investigated by the FBI amid allegations of financial mismanagement and visa fraud. One of the most explosive claims, leveled by a lawyer who is representing the Turkish government in a US lawsuit against Gulen, is that the schools are importing Turkish teachers to identify impressionable students and indoctrinate them into Gulen's movement, sometimes called Hizmet, Turkish for "service."
Nobody associated with the US schools has been charged, and there has been no public outcry from parents or students about teachers promoting Islam, Gulen's supporters say. In America, the schools are public and open to students of all faiths.
"Try proselytizing evangelical Christians in the center of Texas. See what happens," Aslandogan said. "Anybody who knows American society and climate today would know that's a ridiculous claim."
In any event, he said, Gulen has nothing to do with the schools' finances or operation.
Trained as an imam, or prayer leader, Gulen gained notice in Turkey some 50 years ago, promoting a philosophy that blended a mystical form of Islam with staunch advocacy of democracy, education, science and interfaith dialogue. Supporters started 1,000 schools in more than 100 countries. In Turkey, they have run universities, hospitals, charities, a bank and a large media empire with newspapers and radio and TV stations.
But the extent of Gulen's reach is shrouded in such mystery that Loyola University Maryland sociologist Joshua Hendrick, who has studied and written about him, estimates his following at anywhere from 500,000 to 4 million people.
"I think deep down in the hearts of these people, they want to create a better world, a world of peace, a world of respect," said University of Houston sociologist Helen Rose Ebaugh, who traveled the world studying the Gulen movement's finances and aims. "I saw no indication they are after power or creating any kind of (Islamic) state."
In 2000, a year after traveling to the United States to seek medical treatment, Gulen was charged by Turkish authorities with leading an Islamist plot to overthrow the regime. He was acquitted after a trial in absentia.
Now, after a public split with Erdogan, he is facing more trials. This time, the Turkish government contends Gulen has been running a parallel state by getting his followers into key police and court positions to instigate a 2013 corruption probe that targeted people close to Erdogan. Prosecutors also contend Gulen-affiliated police officers conspired against an Islamic group and used the group as justification to conduct illegal wiretaps.
Erdogan's government has branded the movement a "terror organization," though it is not known to have committed any acts of violence.
"The grain of truth, which we don't deny, is that yes, there are some sympathizers in every government institution. But to claim that there is a parallel entity, or there is a mastermind or puppeteer, is simply an empty claim," Aslandogan said.
A continent away, Gulen, who is in his mid-70s, lives like a monk on the grounds of the Golden Generation Worship & Retreat Center, an Islamic retreat founded by Turkish-Americans.
He spends hours a day in prayer and meditation and goes out rarely, mostly to see doctors for ailments that include heart disease and diabetes, according to Aslandogan. During a tour last week, an Associated Press reporter visited Gulen's book-lined living quarters, where shelves hold jars filled with soil from various regions of Turkey.
The reporter was unable to see the cleric. He was in another building on the compound and declined to be interviewed.
timesofindia.indiatimes.com/world/us/Mystery-surrounds-Muslim-cleric-living-in-US-mountain-compound/articleshow/50818634.cms
------------
Arab World
Syrian Army Destroys Militants' Command HQs in Idlib, Kills 33 Terrorists
Feb 2, 2016
TEHRAN (FNA)- The Syrian army and popular forces continued their advances in Idlib province, and destroyed the militants' command centers and military hardware.
The Syrian troops destroyed the command centers and heavy military equipment of the terrorists in Abu al-Dhohour, Saraqib and Tamanna towns in Idlib province.
At least 33 senior militants were killed in the army attacks on the terrorists' command centers.
The Syrian army also destroyed the TOW missile launching platforms of Farsan al-Haq terrorists near Kafr Nabl town in Idlib province.
In a relevant development on Sunday, the venue of a secret meeting of Jeish al-Fatah terrorist group commanders, including the group's senior Mufti (religious leader) who is a Saudi national, was targeted very heavily by the Russian fighter jets in the Northwestern province of Idlib.
"Abdullah al-Muhaysini, the Mufti of Jeish al-Fatah, and five other senior commanders of the group were in the meeting held in the village of Jedar Bikfaloun in the Southwestern part of Idlib province," the sources said.
"The Syrian Army's intelligence sources had informed the Russian air force about the hideout of the militants," the sources further added.
en.farsnews.com/newstext.aspx?nn=13941113000913
-----------
5 Notorious ISIL Commanders Killed in Kirkuk
Feb 2, 2016
TEHRAN (FNA)- Iraqi security sources disclosed that five senior ISIL commanders have been killed in airstrikes in Kirkuk province.
"Molla Shuwan Abu Haroun and four other ISIL leaders were killed in the airstrike which targeted the terrorist groups' military operations room in Huweija region in Kirkuk," the Arabic-language al-Sumeria News website quoted an unnamed security source as saying on Tuesday.
The source reiterated that Abu Haroun was a resident of the city of Erbil and the ISIL commander in the Southwestern part of Kirkuk.
Huweija city is located 45 kilometers to the Southwest of the province of Kirkuk and it has a population of over 400,000. The city has been under the ISIL control for over one year now. Huweija is one of the last areas that are still under ISIL's control in Kirkuk province.
On Tuesday, the Iraqi Peshmerga forces advanced towards ISIL's main strongholds in the Southern part of Kirkuk province.
The Peshmerga forces backed by the Iraqi volunteer forces (Hashd al-Shaabi) headed to retake the ISIL's headquarters in the Huweija region in Kirkuk province, the Iraqi media quoted Kirkuk Governor Nejah Hossein as saying today.
The Kurdish forces have taken control of the hilltops overlooking the Southwestern parts of Kirkuk and they are only 18 kilometers from Huweija city.
Iraq's political figures have warned against Ankara's plans to annex Iraq's Nineveh and Anbar provinces to Turkey with the help of the ISIL.
"The presence of Turkish troops in Northern Iraq takes place with the US support and it is a prelude to separate these regions from Iraq and pave the way for the creation of a Sunni emirate stretching from Saudi Arabia to Turkey," a senior Sunni cleric of Anbar province, Sheikh Ibrahim al-Issawi, told FNA in mid-December.
Meantime, Baghdad University Professor Sadeq al-Moussavi said that Turkey is eyeing the city of Mosul and other cities of the Nineveh province.
"Ankara is seeking to annex Iraqi and Syrian soils to Turkey as Turkish President Recep Tayyip Erdogan is still thinking of reviving the Ottoman Empire," Al-Moussavi told FNA.
en.farsnews.com/newstext.aspx?nn=13941113000559
-----------
Yemeni Forces Storm Saudi Base, Destroy 11 Tanks, Armored Vehicles
Feb 2, 2016
TEHRAN (FNA)- The Yemeni army and popular forces raided Saudi Arabia's military bases and military positions in the Southern part of the kingdom and destroyed their military equipment and hardware.
Informed military sources in the Northern parts of Yemen confirmed on Tuesday that the Yemeni Army alongside the popular forces raided Saudi Arabia's military bases and positions near the borders with Yemen, and destroyed 11 Saudi tanks and armored vehicles.
The Saudi bases were attacked in Najran, Asir and Jizan provinces over the past 24 hours.
The Yemeni forces annihilated five Abrams tanks and 6 Bradley armored vehicles during the raids on Saudi positions in the Southern part of the Kingdom.
In a relevant development on Monday, the Yemeni army missiles razed down a military base in Jizan province, a senior Ansarallah commander said, promising more imminent victories against the Saudi forces in coming days.
"The army and popular forces' missile units targeted al-Mosfaq military site in Jizan by several missiles," Abdullah Hoshami told FNA.
"The Saudi military base blew up in the Yemeni forces' attacks and burned in flames," he added.
Hoshami also confirmed reports of missile attacks against al-Anad military base in Lahij province which killed tens of Saudi-led mercenaries.
His remarks came after Yemeni Army Spokesman Sharaf Luqman said on Sunday that the army and popular forces inflicted heavy losses on the Saudi-led coalition forces in Southwestern Yemen.
"The Saudi forces sustained a great human loss in Yemen's Tochka missile attacks on Al-Anad military base in Lahij province today," he added.
He reiterated that hundreds of Saudi-led forces, including over 200 Sudanese Blackwater mercenaries, have been killed in the Saudi missile attack.
The Yemeni forces' attacks on the Saudi forces' positions in Lahij killed tens of Blackwater mercenaries, including their US commander, and destroyed several Apache and Typhoon helicopters.
The Tochka missiles hit a gathering of the Saudi forces at al-Anad military base, killing 200 Sudanese Blackwater mercenaries and their new commander US Colonel Nicolas Petras.
The Blackwater forces' military operations room and the houses of the Blackwater forces were also destroyed in Yemen's attack.
en.farsnews.com/newstext.aspx?nn=13941113000684
-----------
Rocket fired from Yemen kills child in Saudi Arabia
Feb 2, 2016
RIYADH: An 11-year-old child was killed and nine members of his family were wounded on Sunday when a rocket fired from Yemen hit their house in a border region of Saudi Arabia, civil defence authorities said.
The child died instantly while the rest of the family were taken to hospital, according to Lieutenant Colonel Ali bin Omair al-Shahrani, who was quoted by the official SPA news agency.
Houthi rebels in Yemen have intensified cross-border rocket attacks since late last year.
Around 90 civilians and soldiers have died from shelling and skirmishes in Saudi border regions since March when a Saudi-led military coalition began air and ground action in Yemen.
The coalition is backing the Yemen government in a bid to push back Iran-backed rebels who had taken over the capital Sanaa.
In Yemen, more than 5,800 people have been killed since March, about half of them civilians, and 27,000 wounded, according to the United Nations.
dawn.com/news/1236846/rocket-fired-from-yemen-kills-child-in-saudi-arabia
-----------
Syrian Troops, Popular Forces Hit Militants Positions North of Hama
Feb 2, 2016
TEHRAN (FNA)- The Syrian army troops, conducting a special operation on Tuesday, severely pounded a gathering of Takfiri terrorists in a village in the northern parts of Hama province, killing dozens of militants and destroying their military hardware.
The attack took place in Sirmaniyah village in the Northwestern province of Hama, where the army troops were engaged in fierce clashes with Jeish al-Fatah Takfiri terrorists.
In another development in Hama province, the Syrian army soldiers, backed by popular defense forces, keeping on their assaults on the Wahhabi-Takfiri terrorists, hit their positions and hideouts on the outskirts of al-Ghab plain.
During the operation scores of militants were annihilated by the Syrian soldiers and their weapons and ammunition were destroyed.
The Syrian army troops and their popular allied forces continued to advance against the militant groups in Hama province and retook several villages, during the latest round of the operations in the region.
The terrorist groups also sustained major losses in the Syrian army attacks in the Northern part of Hama province during recent days.
en.farsnews.com/newstext.aspx?nn=13941113000278
-----------
Syrian Army Repels ISIL Assault Southeast of Homs
Feb 2, 2016
TEHRAN (FNA)- The Syrian Army and the National Defense Forces fended off an ISIL offensive in the Western part of the ancient city of Palmyra (Tadmur), and forced the terrorists to pull back from the battlefield after leaving many dead or wounded members.
The Syrian army troops and the NDF thwarted the ISIL attempts to infiltrate into the government forces' defense lines in al-Makaleh region.
The ISIL terrorists suffered a heavy death toll and fled the battlefield.
In the meantime, the army engaged in heavy fighting with the ISIL near al-Sha'er oilfield in the Eastern territories of Homs province and destroyed their military grid, including a n number of their vehicles.
On Monday, the Syrian fighter jets, in over 30 combat sorties, bombed heavily the ISIL concentration centers in the Central province of Homs and inflicted heavy losses on the terrorists.
The Syrian army's aircrafts struck the ISIL strongholds near Palmyra, al-Maqaleh region and near the village of Um Sahrij, which left tens of the terrorists dead or wounded and destroyed their military grid.
The NDF, in their turn, raided the terrorist groups' sited and positions in al-Gharbiyeh region and near the village of Ein al-Hossein in the Northern farms of Homs province, which claimed the lives of several terrorists.
en.farsnews.com/newstext.aspx?nn=13941113000671
-----------
Syrian Army, Popular Allies Drive Militants Back From More Lands in Aleppo
Feb 2, 2016
TEHRAN (FNA)- The Syrian Army and popular fighters have significantly advanced against the militant groups in Aleppo province and have entered large farms in the Northern territories of the province following hours of heavy clashes on Tuesday.
The Syrian army, Harakat al-Nujaba (Iraqi paramilitary), Liwa al-Badr (Iraqi paramilitary), the National Defense Forces (NDF), and Kata'eb Hezbollah (Iraqi paramilitary) entered the important farm of al-Malaah near the village of Ard al-Malaah after a violent battle with al-Nusra Front, Jeish al-Mujahiddeen, al-Shamiyah Front, and the Free Syrian Army (FSA).
The Syrian Armed Forces and their allies advanced from the nearby village of Handarat, seizing several farms that make-up Mazra'a al-Malaah (al-Malaah Farms) after surprising the militants with a powerful assault an hour ago.
Mazra'a al-Malaah was captured by the terrorists of al-Nusra, Ahrar al-Sham, the Free Syrian Army, and al-Shamiyah Front last year.
If the Syrian Armed Forces are successful in seizing these farms from the militants, they will be in position to recapture the important village of Ard al-Malaah that was also captured by the militants in Northern Aleppo last year.
On Monday morning, the Syrian army and its popular allies launched a fresh round of joint offensives in the Northern part of Aleppo province to ultimately lift the 3-year-long siege imposed by the militants on the towns of Nubl and al-Zahra.
The Syrian soldiers and their allies struck the militant groups' defense line at the Afghan axis in Western Bashkoy, along with several farms surrounding the village of Doweir al-Zaytoun.
en.farsnews.com/newstext.aspx?nn=13941113000748
-----------
Syrian Army Takes Full Control of Two Strategic Villages in Aleppo, Key Mountain in Lattakia
Feb 2, 2016
TEHRAN (FNA)- The Syrian army and popular forces made new military gains in the key provinces Lattakia and Aleppo over the past 24 hours.
The Syrian troops captured two key villages near Bashkoy town in the Northern part of Aleppo while other army units seized back a strategic mountain in Lattakia province.
The army seized the Jabal al-Akrad (Kurds Mountain) near a region in Lattakia that borders Turkey to the North.
Meantime, the Syrian troops won back Doweir al-Zaytoun and Tal Jabin villages in Aleppo province.
The Syrian army also continued its advances in other key provinces across Syria on Monday.
Lattakia
The Syrian army continued its military gains against the terrorist groups in Northern Lattakia province, killing scores of Ahrar al-Sham militants, including their top senior commander, in heavy clashes.
Khaled Deddew, a notorious commander of Ahrar al-Sham movement, and scores of his militants were killed in heavy clashes with the Syrian troops in Jabal al-Akrad (Kurds Mountain) region that borders Turkey to the North.
The Syrian army and popular forces launched a powerful operation in several directions in Jabal al-Akrad and captured the mountain.
"The Syrian soldiers are currently pressing North from the village of Touma towards the militant stronghold of Kinsibba, which is considered the terrorists' last line of defense before the important city of Jisr al-Shughour in Idlib province," the sources said.
"Liwa Suqour al-Sahra (Desert Hawks Brigade), the National Defense Forces (NDF), the Syrian Social Nationalist Party (SSNP), and Muqawama Souri (Syrian Resistance) have joined the Syrian army in this phase of operations in the Northeastern part of the coastal province of Lattakia," they went on to say.
"The main objective of this phase is to seal the Northeastern corner of the Lattakia province and build a frontline at the strategic city of Jisr al-Shughour," the sources further added.
Aleppo
The Syrian army and popular forces seized back another strategic village near Bashkoy region in the Northern part of Aleppo province, inflicting heavy losses on the militants.
The Syrian troops won back Tal Jabin village about three kilometers from Bashkoy town in Aleppo province.
Scores of militants were killed and injured in heavy clashes with the Syrian troops.
The Syrian armed forces also killed Abu Saleh Al Dieri, a Jaish Al Sham military leader, in Tel Jibbin in the Northern parts of Aleppo province.
Also yesterday, the Syrian forces seized back strategic village of Doweir al-Zaytoun near Bashkoy, killing scores of militants.
The army units inflicted heavy losses on the militants in daylong fierce clashes.
The ISIL left behind tens of the dead and wounded members and fled the battlefront.
The army and its allies are now fortifying their newly captured positions in the battlefield.
Meantime, the Syrian Army announced that two main supply lines of the ISIL terrorist group in the Northern territories of Aleppo province were cut in Syrian air and artillery attacks.
"Masqan-Aleppo and Haras-Al-Bab roads used by the ISIL terrorists as two main supplying routs were cut in the attacks of the Syrian fighter jets and the army's artillery units," the army said.
Damascus
The Syrian army seized back several strategic buildings in Western Ghouta in Damascus countryside.
The Syrian forces regained control of an archaeological hall and a number of important buildings located alongside the railway between the towns of al-Moadhamiyah and Darayya in Western Ghouta.
Also on Monday, the Syrian forces took back a number of government buildings in Jobar town in the Eastern countryside of Damascus.
The army purged terrorists from four strategic building blocks in Jobar town in heavy clashes.
The Syrian troops had to explode a tunnel beneath one of the buildings as the terrorists were trying to flee through the tunnel.
Also on Monday, the Syrian army and the National Defense Forces (NDF) continued to strike the militant groups' defense lines in Eastern Ghouta.
The Syrian army troops and the NDF have gained more territories near the faculty of agriculture and SANA aerospace organization in Hawsh Kharabu in Eastern Ghouta following hours of tough battle with the militant groups.
At least 12 militants were killed and many more have been wounded in the pro-government forces' offensives.
Homs
The Syrian fighter jets, in over 30 combat sorties, bombed heavily the ISIL concentration centers in the Central province of Homs and inflicted heavy losses on the terrorists.
The Syrian army's aircrafts struck the ISIL strongholds near the ancient city of Palmyra (Tadmur), al-Maqaleh region and near the village of Um Sahrij, which left tens of the terrorists dead or wounded and destroyed their military grid.
Meantime, the Syrian Army and Air Force continued to target ISIL and Al-Nusra Front concentration centers in different parts of the Central province of Homs, inflicting heavy losses on the terrorists.
The Syrian fighter jets, in a fresh round of combat flights, targeted the ISIL gatherings and positions near Quaryatayn, Sha'er oilfield and al-Bayarat in the Eastern and Southeastern parts of Homs province, which left tens of the militants dead or wounded and destroyed their military hardware in large scale.
Several ISIL militants, meantime, were killed or wounded in the attacks of the Syrian army and the National Defense Forces near the village of Um Sahrij East of Homs.
A depot of the ISIL weapons and ammunition was also targeted and exploded in the Syrian pro-government forces' offensives in al-Rumeileh near the road of Maheen towards Quaryatayn, and near Tuloul al-Soud in the Southeastern part of the province.
The Syria government forces also raided gathering centers of al-Nusra terrorists near Um Sharshouh, Abu al-Snasil hill in the Northern territories of Homs province.
In the meantime, the Nusra positions in Kafr Laha and al-Taybeh al-Gharbiyeh in al-Houla region came under the assaults of the Syria army and the NDF, which claimed the lives of many terrorists.
Quneitra
The Syrian Army pushed back an ISIL offensive on its positions in a mountainous area in Quneitra province.
The terrorists attempted to capture a strategic hilltop in Korom Jaba region in Quneitra province, but the Syrian troops pushed them back after inflicting heavy casualties on them.
The Syrian army destroyed the terrorists' vehicles equipped with heavy and high-caliber machine guns.
Scores of terrorists were killed and injured in the Syrian army's pursuing counterattack.
The Syrian air force backed the army during its ground operations.
Deir Ezzur
The Syrian Army and the National Defense Forces (NDF) fended off ISIL's offensives on government forces' defense lines in the Northwestern part of the city of Deir Ezzur, killing scores of the terrorists, including one of their top commanders.
Abu Hadhefah al-Maghrabi, one of the notorious commanders of the ISIL in the Eastern battlefield of Deir Ezzur, was killed by the Syrian army near Deir Ezzur.
Al-Maghrabi possessed an identification card that was issued to him by the so called "Caliphate".
The ISIL's large-scale offensives on the pro-government forces' positions near the village of al-Baqaliyeh near the Western bank of the Euphrates River, targeting the al-Jazeera University campus, al-Rawad Hill and the Firat al-Sham Hotel for the 3rd time in the last 4 days were thwarted by the Syrian army and the NDF.
The ISIL began its assault by storming the important hilltop of Tal al-Rawad, where they were confronted by the Syrian soldiers at the Northern perimeter. The ISIL failed to breakthrough the Syrian Armed Forces' 1st line of defense.
Sweida
The Syrian Army announced on Monday that the county's fighter jets have bombed a column of ISIL oil tankers in the Southern province of Sweida.
"The Syrian Air Force strikers bombed a convoy of ISIL oil tankers in the Southeastern part of the village of Sha'ef," the army said.
"In addition to explosion of most of the oil tanker, the ISIL militants guarding the convoy were also killed in the attack," the army added.
en.farsnews.com/newstext.aspx?nn=13941113000453
-----------
Mideast
5 soldiers killed in 2 PKK attacks in Southeast
February 01, 2016
Three members of the security forces were killed and two others heavily wounded in an armed attack by Kurdistan Workers' Party (PKK) terrorists in Sur, a district of the southeastern province of Diyarbakır, on Monday, while two other soldiers died in a separate attack in Sur on the same day.
In a statement released on its website, the Turkish Armed Forces (TSK) said three soldiers and two police officers were injured in a PKK attack and were immediately taken to a military hospital, adding that two of the soldiers died of their wounds despite emergency treatment.
The General Staff released another written statement later on Monday announcing that the death toll of the Sur attack had increased to three after an injured soldier died in hospital at 10:40 a.m. on Monday.
Three soldiers were also seriously injured in a separate PKK attack that took place later on Monday. Two of the injured soldiers died in Diyarbakır Military Hospital; the other is still receiving treatment.
The historic Sur district, enclosed by Roman-era city walls, has suffered extensive damage in the fighting and much of it has been under a round-the-clock curfew since Dec. 2, 2015.
Furthermore, three police officers were injured when a group of PKK terrorists attacked an armored police vehicle on the İdil-Midyat highway on Monday. The terrorists detonated bombs planted on the roadside while the vehicle was passing by. The injured police officers were taken to Şırnak Military Hospital for treatment.
An official funeral ceremony was held for three other members of the security forces, who died after they were injured in an attack by the terrorist PKK in Cizre, a town in Şırnak province, on Sunday, at the 23rd Gendarmerie Border Division Command in Şırnak on Monday. The bodies of Sgt. Ahmet Semerci (29), special ops police officers Ömer Güney (24) and Taner Cinpolat (25) were sent to their hometowns following the ceremony to be buried.
Policeman kidnapped by PKK in Cizre rescued
A police officer who had been kidnapped by members of the PKK almost two months ago in Cizre was rescued by security forces on Sunday, the Doğan news agency reported.
According to Doğan, Ayhan Kaya, who was working as a bodyguard for Cizre District Governor Ahmet Adanur, was kidnapped by PKK terrorists on Dec. 10, 2015, on his way home from Cizre State Hospital.
Adanur was reportedly rescued during an operation in Cizre's Cudi neighborhood on Sunday evening and returned safely to his home.
Cudi has been under curfew since Dec. 14, 2015, along with the Nur and Yafes neighborhoods of Cizre.
Southeast Turkey has seen the worst violence in two decades since a two-and-a-half-year cease-fire between the government and the PKK collapsed in July of last year, reviving a conflict that has killed 40,000 people since 1984.
The authorities have been imposing curfews in towns and districts to flush out PKK militants from urban areas in the mostly Kurdish Southeast since the collapse of a peace process with the PKK in July. The Turkish Human Rights Foundation (TİHV) says at least 198 civilians, including 39 children, have died in combat areas under curfew since August 2015. According to media reports, more than 250 members of the security forces have been killed in clashes in the region.
The Cihan news agency reported on Saturday that 254 members of the security forces have been killed in the Southeast over the last seven months.
todayszaman.com/national_5-soldiers-killed-in-2-pkk-attacks-in-southeast_411128.html
-----------
Israel blocks non-residents from Ramallah after attack
February 2nd, 2016
RAMALLAH: Israel blocked non-residents from Ramallah on Monday after a checkpoint shooting wounded three soldiers, keeping commuters out of the West Bank city where the Palestinian Authority is based.
The unusual move also applied to foreigners, although United Nations officials, international NGOs and diplomatic staff were being allowed in, diplomatic and UN sources said.
Palestinians seeking to leave Ramallah were also undergoing security checks, leading to frustration in lengthy queues.
"In accordance with situation assessments following yesterday's shooting attack in Beit El, security measures have been taken in the area and only residents of Ramallah are allowed to enter the city," a military spokeswoman said.
Sunday's attack saw a Palestinian who had worked as a guard for the attorney general's office in Ramallah open fire at a checkpoint outside the city, wounding three Israeli soldiers before being shot dead.
It was the latest in four months of Palestinian knife, gun and car-ramming attacks targeting Israelis. Most of the attacks have been stabbings, though shootings have occasionally occurred.
The military spokeswoman said on Monday a decision on when to lift the measure would depend on security assessments, with Israel seeking to halt the wave of attacks.
It was not clear when the last time such a move had been taken by Israel, though heavy restrictions were put in place during the second Palestinian intifada, or uprising, between 2000 and 2005.
Sunday's shooting marked at least the second time a Palestinian security officer had been implicated in an attack in the current wave of violence.
The checkpoint where it occurred, regularly used by diplomats, journalists and humanitarian workers, was closed on Monday morning.
A number of other roads connecting Ramallah with the northern West Bank were also closed or restricted, although checkpoints near Jerusalem were open.
Later in the day, it appeared that enforcement of the measure varied between locations.A large number of Palestinians, aid workers and diplomats commute to Ramallah for work or other reasons on a daily basis.
While diplomats were not directly impacted, "the travel restriction on Palestinians is having an effect in terms of our ability to engage", one Western diplomat said. "A number of meetings have been called off because Palestinian interlocutors have not been able to get to the meeting site". Palestinians queueing to leave Ramallah said they considered the measure to be punishment for Sunday's attack.
dawn.com/news/1236838/israel-blocks-non-residents-from-ramallah-after-attack
-----------
Netanyahu has lost the plot – maybe because truth hurts
February 2nd, 2016
Has Benjamin Netanyahu gone bananas? I don't mean this as an aberration, like a politician who loses his marbles during a particular crisis. No, it was when I read the Israeli prime minister's response to Ban Ki-moon, the UN Secretary- General, that I realised he just might be a bit insane. Ban referred to "the profound sense of alienation and despair driving some Palestinians?… especially young people" since an increase in attacks on Israelis began in October.
What Ban was saying was the truth that "Palestinian frustration is growing under the weight of a half-century of occupation and paralysis of the peace process". And he spoke of how "oppressed peoples have demonstrated throughout the ages, it is human nature to react to occupation?…" Now I grant that Ban, like most UN secretaries general, has about as much political power in the world as the leadership of Fiji (and this is no disrespect to Fijians). But why, on earth, did the prime minister of Israel condemn Ban for encouraging "terror"?
You might think he was talking about the old Iranian president, Mahmoud Ahmadinejad. But no. Prime Minister Netanyahu – ever more out of tune with the rest of the world, with the massive shift towards Iran by America, Europe and Russia – had it in for the diminutive Ban.
But then, of course, we have to remember that it was Netanyahu at the UN in New York who produced his ridiculous cartoon of a bomb with a large black fuse to show the world what would happen if sanctions were lifted on Tehran: we were all going to die. A number of Israeli writers – thank heavens, the indefatigable Uri Avnery was among them – mocked this ludicrous performance. There was something cartoon-like about it all.
It wasn't going to stop the Americans and the Russians and the EU, not least because, if the Americans had maintained their sanctions, Europe would not have done so. But doesn't Netanyahu himself now realise how enraged Europeans have become at his government's treatment of the Palestinians? Did he not pay attention to French Foreign Minister Laurent Fabius last week when he said that France would "face our responsibilities by recognising the Palestinian state" if the peace process failed?
I don't think there ever was much of a peace process (and certainly not when Tony Blair got his claws on it) because it was always going to be the occupied versus the occupiers, where everyone had to pretend that Palestinians and Israelis were on an equal level. Which was not – and is not – ever going to work.
A few words of history here. Israel conquered the west bank of the Jordan in 1967.
It built colonies on the land, which the West calls Israeli "settlements" – like the Western "settlements" in the American Wild West, which gave them an almost European flavour – and then found itself condemned by Washington and its allies for illegally building homes for foreigners (Israelis) on other people's property.
This is exactly what the Israeli government did, and what many Israelis have debated since, because it made
COLONIAL WAR: Israel the "owner" of property outside its own UN-recognised borders – making Israel the only country still participating in a colonial war.
The Palestinians – the rightful owners of the land under Ottoman (and British) rule – have rightfully said that this is theft.
It is. Lands owned by Palestinians have thus been taken by Israel for its own territory and its products – vegetables, and so on, illegally sold as the products of Israel to the EU – and when the EU has complained about this, it has iniquitously been called anti-Semitic. Thus are hatreds made.
I suspect that it was Ban's comment about the Jewish colonisation of Arab land that the Israeli prime minister didn't like. What he said was that "continued settlement activities are an affront to the Palestinian people and to the international community", and I rather got his point. Because we know, just as Ban said, that people who are occupied do indeed resist occupation, which becomes "a potent incubator of hate and extremism".
Is that not how Iraqis reacted to us? And how Afghans react? And, indeed, how Palestinian Jews decided to act when they had had enough of Britain in Palestine?
But in "Palestine" now (alas, the inverted commas are ever more necessary these days), there is a people. And we know what happens under occupation. The people either resist, however murderously, or they leave.
Netanyahu would probably be happy if they left because then he could colonise their land at an ever faster pace. But what if they decided to make the trek to Europe from the West Bank? We've already seen how Arabs and Muslims walked all the way to Austria and Germany. What if little boats set out from the midden of Gaza to join the armadas arriving off Greece or Italy?
There are dangers out in the Middle East which Europeans should be more aware of.
Do they, in fact, realise the truth but just don't want to say so? And, for that matter, doesn't the Israeli Prime Minister know the truth? Or has he gone bonkers?
By arrangement with The Independent
dawn.com/news/1236840/netanyahu-has-lost-the-plot-maybe-because-truth-hurts
-----------
UN rights chief calls on Turkey to probe Cizre shooting by security forces
February 01, 2016
Top United Nations human rights officials called on Turkish authorities on Monday to investigate the shooting of unarmed citizens 10 days ago in the mostly Kurdish southeast of the country and to rein in its security forces.
UN High Commissioner for Human Rights Zeid Ra'ad Al Hussein was referring to an incident in which 10 people were wounded in the southeastern town of Cizre on Jan. 20 when their group, which included two deputies from the pro-Kurdish Peoples' Democratic Party (HDP), came under fire while rescuing people hurt in clashes earlier in the day.
"Today I am urging the Turkish authorities to respect the fundamental rights of civilians in its security operations and to promptly investigate the alleged shooting of a group of unarmed people in the southeastern town of Cizre after shocking video footage emerged last week," Zeid told a news briefing.
"The footage, apparently shot by [İMC TV cameraman] Refik Tekin in Cizre some 10 days ago, is extremely shocking," the UN human rights chief said.
He said the footage showed what appeared to be a man and woman holding white flags and pushing a cart -- possibly carrying bodies -- across a street, watched by an armored military vehicle.
"As they reach the other side, they are apparently cut down in a hail of gunfire, and Tekin keeps filming as blood flows past his lens," Zeid said in a statement, also expressing concern that the cameraman, who was wounded in the shooting, may face arrest under a "clampdown on media."
Journalist Tekin is reported to be in Mardin State Hospital with a police officer waiting outside his room. A variety of reports suggest custody orders, signed by a governor and a prosecutor, have been issued accusing cameraman Tekin of being a member of a "separatist terrorist organization."
Turkish media reported on Monday that Tekin was taken to a police station and was then released after he was questioned on Monday.
"Filming an atrocity is not a crime, but shooting unarmed civilians most certainly is," he said, in unusually strong criticism.
"It is essential there is a thorough, independent, impartial investigation into this and any other events that have led to the wounding or killing of civilians. The emergence of this video raises major question marks about what exactly has been going on in Cizre and other parts of southeastern Turkey, which the security forces have allegedly sealed off from the outside world."
The Peoples' Democratic Party (HDP) said in a written statement on Jan. 20 that a group of its politicians and members were caught in a hail of bullets while trying to move four injured and three dead civilians out of a neighborhood under curfew in Cizre, announcing that 10 people, including İMC TV cameraman Tekin, were injured in the gunfire.
A report on İMC TV's website claimed on Jan. 20 that police opened fire on the group.
HDP Co-chair Selahattin Demirtaş also confirmed later that deputies from the HDP were shot at while they were trying to take injured civilians out of the area so they could receive treatment and that they had taken shelter in the basement of a house to escape the gunfire.
He also said HDP Şırnak deputy Faysal Sarıyıldız and several HDP co-mayors were among the group marching to Cizre's Cudi neighborhood, where the injured were reportedly being kept.
The authorities have been imposing curfews in towns and districts to flush out terrorist Kurdistan Workers' Party (PKK) militants from urban areas in the mostly Kurdish Southeast since the collapse of a peace process with the PKK late in July last year. The Turkish Human Rights Foundation (TİHV) says at least 198 civilians, including 39 children, have died in combat areas under curfew since August 2015. According to media reports, more than 250 members of the security forces have been killed in clashes in the region.
The Turkish army says more than 600 militants have been killed since operations began in Cizre in December and denies killing large numbers of civilians.
Government officials say the PKK, which the United States and European Union class as a terrorist group, has caused civilian deaths by digging trenches and erecting barricades in urban centres.
Media freedom in Turkey
"The country has an alarming number of journalists and other media operatives either already convicted or awaiting trial," Zeid said.
"This raises questions about Turkey's compliance with the right to freedom of expression, enshrined in Article 19 of the International Covenant on Civil and Political Rights, which Turkey has ratified. Anti-terrorism legislation should not be used as a means to curtail freedom of opinion or expression."
Zeid also voiced concern at the prosecution of two well-known Turkish journalists, the editor-in-chief of the Cumhuriyet newspaper, Can Dündar, and its Ankara bureau chief, Erdem Gül.
The staunchly secularist Cumhuriyet daily has long been very critical of President Recep Tayyip Erdoğan and the ruling Islamist-rooted Justice and Development Party (AK Party) that he founded more than a decade ago.
"No one should be facing life sentences, as in the cases of Can Dündar and Erdem Gül, because of an article or articles they wrote. Journalists and other media workers should not be arrested, detained or prosecuted for the legitimate and peaceful exercise of their profession. It is the role of the media to stimulate critical debate on matters of public interest," Zeid said.
Dündar and Gül were arrested on Nov. 26 of last year, having been charged in May with espionage, revealing confidential documents and membership in a terrorist organization. The charges relate to a report published by Cumhuriyet which claimed that trucks loaded with weapons that were discovered in January 2014 en route to Syria actually belonged to the National Intelligence Organization (MİT) and had allegedly been sent to provide armed support to rebel groups.
todayszaman.com/national_un-rights-chief-calls-on-turkey-to-probe-cizre-shooting-by-security-forces_411135.html
-----------
Russia, Turkey dispute over airspace violation as row simmers
February 01, 2016
Moscow has denied the claim by Turkey and NATO that a Russian Su-34 jet violated Turkish airspace on Friday, as the second accusation that Russia has violated the NATO member's airspace threatens to worsen the two countries' already tense relations.
Both Turkish and NATO radars detected that a Russian jet violated Turkish airspace, Prime Minister Ahmet Davutoğlu said on Sunday, denying the Russian accusation that the claims of a violation were "pure propaganda."
The Russian Foreign Ministry said on Monday that when Ankara summoned the Russian ambassador to Turkey, Turkish officials failed to produce evidence or material to prove its claim. "Diplomatically speaking, Turkey's claims of an airspace violation do not reflect reality," a ministry statement said.
Speaking earlier in the day, Russian President Vladimir Putin's press adviser Dimitry Peskov spoke on behalf of the Russian government and said that the Kremlin views the Russian Defense Ministry's explanation for the event as plausible and grounded. "The Kremlin has taken our Defense Ministry's statement into account. The Russian Defense Ministry has ruled out that such a violation of [Turkish] airspace took place," Peskov said.
Turkey said on Saturday a Russian SU-34 jet had violated its airspace despite warnings, once more stoking tensions between two countries involved in Syria's war, but Russia had denied that there had been any incursion. "Russia cannot cover up its violation of our airspace. It's not possible to hide such an incident if it did happen, or to make up a violation if it didn't happen," Davutoğlu told a press conference in Riyadh.
Russian Defense Ministry spokesman Major-General Igor Konashenkov denied late on Saturday that any Russian plane had entered Turkish airspace, and called the Turkish allegation "pure propaganda."
In a similar incident in November, Turkey shot down a Russian warplane flying a sortie over Syria that it said had violated its airspace, triggering a diplomatic rupture in which Russia imposed economic sanctions. "Turkey has absolutely no intention of escalating tension with Russia, but we remain sensitive about protecting our airspace," Davutoğlu added.
Peskov also confirmed that Turkish President Recep Tayyip Erdoğan called the Kremlin to reach Putin. He said Putin had acknowledged the call but declined to answer whether the Russian president will respond to Erdoğan's request for a phone conversation.
todayszaman.com/diplomacy_russia-turkey-dispute-over-airspace-violation-as-row-simmers_411209.html
-----------
10 public figures seek prosecution on same charges as Cumhuriyet editors
February 01, 2016
Ten people have asked to be prosecuted for declaring their support for news reports critical of the government published by Cumhuriyet editors Can Dündar and Erdem Gül in order to show solidarity with the two imprisoned journalists.
The group, which includes artist and human rights activist Şanar Yurdatapan, murdered journalist Hrant Dink's wife Rakel Dink, singer Ferhat Tunç, journalist Celal Başlangıç and several others, went to the İstanbul Courthouse in Çağlayan and asked a prosecutor to file a criminal complaint against them on suspicion of showing support for the critical news reports written by Dündar and Gül for which a prosecutor sought an aggravated life sentence, a life sentence and 30 years in prison for the two journalists.
In their petition to the prosecutor on Monday, the group said they are ready to assume any criminal liability that might emerge similar to that of Dündar and Gül.
Speaking to the press, Yurdatapan said he along with a group of intellectuals had done the same thing 21 years ago in order to support deceased author Yaşar Kemal, an internationally acclaimed Turkish novelist who faced a number of investigations for holding opposing views to then-governments.
"I, along with this group of people, will submit a petition to the concerned prosecutor to launch a criminal complaint against us in relation to the same accusations leveled at [Gül and Dündar]. If the act [Dündar and Gül] were engaged in is considered an offense, then we also ask the same legal process to be launched against us. The prosecutor should do this because the Constitution prescribes the equality of all citizens. We are here at the courthouse in order to show that we were complicit in the crime allegedly committed by Dündar and Gül. All they only did was practice journalism, but they have been charged with 'revealing state secrets and espionage,'" Yurdatapan said.
In January 2014, several trucks belonging to the National Intelligence Organization (MİT) were intercepted by gendarmes on two occasions, after prosecutors received tip-offs that they were illegally carrying arms to Syria. There have been allegations that the arms were going to extremist groups fighting against the Syrian regime. Ankara, on the other hand, insisted that the trucks were carrying aid to Syrian Turkmens and branded their interception as an act of "treason" and "espionage."
Dündar, Cumhuriyet's editor-in-chief, and Gül, the paper's Ankara bureau chief, were arrested on Nov. 26, 2015 following an investigation led by İstanbul Deputy Chief Public Prosecutor İrfan Fidan and related to suspicion of them committing espionage, revealing confidential documents and being members in a terrorist organization by publishing photos and video footage of the trucks. They are being held in İstanbul's Silivri Prison.
todayszaman.com/national_10-public-figures-seek-prosecution-on-same-charges-as-cumhuriyet-editors_411195.html
-----------
South Asia
Airstrikes in eastern Afghanistan destroy IS radio station
Feb 02 2016
KABUL: American and Afghan officials say airstrikes on a remote eastern region of Afghanistan have destroyed a radio station operated by the militant Islamic State (IS) group.
An official with the United States military said on Tuesday the strike had destroyed "Voice of the Caliphate" radio operated by IS near the border with Pakistan.
He spoke on condition of anonymity because he was not authorised to speak to media on the subject.
In an official statement, US Army Col Mike Lawhorn, spokesman for the US-Nato mission in Afghanistan, said "two counter-terrorism airstrikes took place in Achin district" in Nangarhar province late Monday.
Lawhorn had no further details.
IS emerged in Afghanistan in the past year. The radio station was broadcasting illegally across Nangarhar, in an attempt to boost recruitment.
dawn.com/news/1236970/airstrikes-in-eastern-afghanistan-destroy-is-radio-station
-----------
TTP might face the fate of Afghan Taliban group
By Khaama Press - Mon Feb 02 2016
Afghan Taliban had been operating under one leadership for over 14 years after their regime was toppled in Afghanistan in 2001. But they broke away last year when a splinter group of the Taliban leaked the news of the death of Mullah Mohammad Omar.
The news caused severe rifts within the group which followed to split.
Now the Pakistani Taliban seems to be following the same path of split the Afghan Taliban went through.
Pakistan media reports that there is tense situation in Tehreek-i-Taliban Pakistan (TTP) which has already caused division within the group.
The split happened after Umar Mansoor, a commander of TTP, claimed responsibility for attack on Bacha Khan University but the group's central spokesperson rejected hand in it.
"Umar Mansoor faced a huge embarrassment when the TTP's central leadership disavowed any role in the Charsadda attack," a Taliban commander, told The Express Tribune news on condition of anonymity.
Umar is now acting as an independent commander and even introduced himself as the leader of the Taliban in the Darra Adam Khel region in a recent interview with a foreign radio that indicates his serious differences with the central leadership.
The commander has further told The Express Tribune that this is the first time he has introduced himself this way.
Umar, who also recently released a video along with the alleged BKU attackers, did not mention the TTP chief in the recording, although he had mentioned and praised Fazlullah in his previous video messages after the Peshawar school and Badhaber PAF base attacks.
If TTP splits further into more groups, it may create new challenges for Pakistan.
khaama.com/pakistani-taliban-might-face-the-fate-of-afghan-taliban-4536
-----------
Anti-Taliban child killed in Urozgan
By Khaama Press - Tue Feb 02 2016
A teenager who had taken weapon against Taliban militants has been killed in an armed attack in central Urozgan province.
The incident took place in Kharo Kariz area of the provincial capital Tereen kot on Monday afternoon.
A security source from the police headquarters of Urozgan has told Pajhwok news that Wasil Mohammad had gone to the capital city for shopping when he came under the armed attack.
Another source from the provincial hospital has told Pajhwok that 14-year-old Wasil Mohammad was brought to them to the hospital in wounded condition who later succumbed to his injuries in the hospital.
According to the security source cited by Pajhwok, Wasil Mohammad had participated in fighting against Taliban.
Wasil Mohammad was the nephew of the police chief of Khas Urozgan District of Urozgan province.
No group has claimed responsibility for the attack. In the past, Taliban have claimed responsibility for almost all of the attacks against people who were fighting against them.
khaama.com/anti-taliban-child-killed-in-urozgan-3438
-----------
NATO condemns attack in Kabul as casualties toll rises to 20 dead, 29 wounded
By Khaama Press - Mon Feb 02 2016
The NATO-led Resolute Support (RS) mission strongly condemned a suicide attack in capital Kabul this afternoon as the casualties toll rises to at least 20 dead and 29 others wounded.
Sediq Sediqi, spokesman for the Ministry of Interior (MoI), confirmed 20 people were killed and 29 others were wounded in a suicide attack near the headquarter of the Public Order Police Forces in Kabul city.
Meanwhile, Brig. Gen. Wilson Shoffner, Resolute Support deputy chief of staff for communications, said "Once again, terrorists have targeted a populated area with no regard for innocent lives."
"This attack on the Afghan police shows the contempt the Taliban have for the rule of law in Afghanistan and for those who commit themselves daily to defending the Afghan people. The Taliban have no plan for the development of Afghanistan. Targeting those who defend their fellow Afghans does not advance the cause of peace," Gen. Shoffner added.
Offering condolences to the families of those killed or injured in the attack, the Resolute Support (RS) mission, said " We will continue to train, advise and assist the Afghan National Defense and Security Forces to provide stability and counter Taliban groups and those who are against progress for the nation of Afghanistan."
The Taliban group claimed responsibility behind the attack which comes ten days after a suicide bomber targeted a vehicle carrying media workers in the city, leaving at least seven people dead and 25 others wounded.
khaama.com/nato-condemns-attack-in-kabul-as-casualties-toll-rises-to-20-dead-29-wounded-0066
-----------
NDS detains seven terrorists in connection with recent attacks in Kabul
By Khaama Press - Tue Feb 02 2016
The National Directorate of Security (NDS) has detained seven members of Haqqani terrorist network who had planned a number of terrorist attacks in Kabul city.
A statement released by NDS on Tuesday states that the attacks were carried out in Hawa Shinasi area, in front of Hamid Karzai International Airport and on the road leading from Shaheed Masoud square to the airport which left a number of people martyred and wounded.
According to the statement, the terrorists were arrested from Hudkhil area, located in the 9th sector of the city, last night.
They are identified as:
Khalid S/O Shah Mohammad, head of Haqqani terrorist network in Kabul city
Asmatullah S/O Shah Mohammad, head of propaganda campaign of Haqqani network
Noorullah S/O Baba Jan, he was keeping car bombs inside his residence in Hudkhil area
Farhad S/O Zubair, he was keeping suicide bombers
Walid S/O Mohammad Zubair, member of the group
Bahadur S/O Qadir Gul, member of the group
Khoshahal S/O Ahmad Gul, member of the group.
120 kilograms of explosives, four remote controls, a pistol and other terrorist materials were recovered from their hideout.
The terrorists intended to plan and execute more attacks in Kabul city but NDS foiled their plans, the statement adds.
khaama.com/breaking-new-nds-detains-seven-terrorists-in-connection-to-recent-attacks-in-kabul-4539
-----------
12 civilians wounded in magnetic bomb explosion in Laghman
By Khaama Press - Tue Feb 02 2016
12 civilians have sustained injuries in a magnetic bomb explosion in Mehtarlam, capital of eastern Laghman province.
Officials say the bomb was attached to a police vehicle which exploded close to Aziz Bank around 03:00 PM on Monday.
The vehicle slightly damaged but there was no harm to policemen.
All of the victims are civilians which include two children, a woman and nine men. Two of them are announced to be in critical condition.
Abdul Jabar Naemi, governor of Laghman province has strongly condemned the attack calling it work of the enemies of peace and stability.
No group has claimed responsibility for the explosion which came about an hour after a Taliban suicide bomber killed 20 people and wounded 29 others in capital Kabul.
khaama.com/12-civilians-wounded-in-magnetic-bomb-explosion-in-laghman-4539
-----------
Fourth Afghan soldier earns the title of Ranger from US Ranger school
By Khaama Press - Tue Feb 02 2016
Story by Lt. Charity Edgar
KABUL, Afghanistan – With help from the Security Assistance Office-Afghanistan, 1st Lt. Mohammad Yarghal became the fourth member of the Afghan National Defense and Security Forces to earn the title of Ranger.
The 27-year-old Afghan soldier recently returned to Afghanistan following a year of training in the United States. He first attended the four-month American Language Course at the Defense Language Institute in San Antonio. Then, he completed the 17-week Infantry Basic Officer Leadership Course followed by a two-week Ranger Training Assessment Course, two months at Ranger School and three weeks of Basic Airborne Course, all at Fort Benning, Georgia.
Yarghal, who is from Khost province, was inspired to join the Afghan National Army at a young age by a general who hailed from his village. In high school, he enacted his plan to serve his country and prepared to apply for the National Military Academy of Afghanistan.
"I read a lot of books, and did PT [physical training] all the time," explained Yarghal. "In my village, I have a place where I would run, usually one or two hours a day, and the locals call it by my name."
Yarghal was accepted into the prestigious four-year academy, which is structured similarly to the United States Military Academy at West Point. Upon graduation in 2012, he attended infantry school in Afghanistan for three months.
"My father was a doctor for the Mujahedeen," said Yarghal. "He told me if I wanted to be a good officer and leader, I needed to do infantry. Massoud [Afghan political and military leader] was an infantry commander; so I chose that."
A fellow soldier told Yarghal about a four-month infantry course in the United States that he could attend, along with a school where he could become a paratrooper, a skill he believes is important for all armies.
"My goal in the Afghan National Army was to become a leader who can keep my soldiers strong," said Yarghal. "I wanted to be the best I could be."
Combined Security Transition Command-Afghanistan's Security Assistance Office-Afghanistan stepped in to make the lieutenant's dream a reality.
"After a candidate for training in the U.S. is identified, they take the American Language Course Placement Test, which is administered by the Afghan Foreign Language Institute," said U.S. Air Force Maj. Umar M. Khan, Chief, Professional Military Education and Training Programs Branch, SAO-A, who is deployed out of Maxwell Air Force Base. "The Training Branch receives the results of the ALCPT; if the candidate scores above a certain level on that exam, then SAO-A Training Branch administers the English Comprehension Level test."
Yarghal passed the tests, his request was approved and after SAO-A coordinated travel, he was on his way to the United States.
Following the completion of the advanced English language course, Yarghal traveled from Texas to Georgia and enrolled in the Infantry Basic Officer Leadership Course. It was there that he heard his American peers discussing their desire to attend Ranger School, one of the toughest training courses for U.S. soldiers. He immediately volunteered and spent any extra time reading the Army Ranger Handbook, and pushing himself through extra physical training.
It paid off. He passed the Ranger Training Assessment Course, qualifying him to attend Ranger School.
"I was very tired after two weeks of RTAC, but it prepared me for Ranger School, and Ranger School is not easy," reflected Yarghal.
The intensive leadership course consists of eight weeks of intense physical and mental training. There are three distinct phases of Ranger School called Benning, Mountain and Florida.
Yarghal said that the support of his squad proved instrumental in his success throughout the difficult course.
"The other classmates supported me and I supported them. It is teamwork," said Yarghal. "They told me 'You will be great in your Army.'"
"Yarghal is a fantastic soldier, man and teammate," said 1st Lt. Patrick Diehl, who was in a squad with Yarghal at Ranger School. "We come from very different cultures and live completely different lives but that didn't stop us from bonding through the hardships of Ranger School and working together. We laughed, sweat, bled and worked together to earn our tabs and I wouldn't have wanted anyone else in my squad."
Less than 50 percent of students who enroll in Ranger School graduate. During the grueling course, Yarghal did not "recycle," a process where students must repeat a phase in order to continue with the training, and in Oct. 2015, Yarghal graduated from Ranger School.
"Maj. Gen. [Austin] Miller [Commander, U.S. Army Maneuver Center of Excellence] had inspired me, and told me he thought I could complete the course," said Yarghal. "I didn't want to let him down, or all the other people who helped me get here."
Miller had the honor of pinning on Yarghal's Ranger tab.
"We are very proud of Lt. Yarghal not only for his successes in our course, but his very sincere desire to be as well trained as possible so that he is able to contribute to the security and well-being of Afghanistan," said Miller.
Looking back, Yarghal says it was all worth it.
"I gained three important things from Ranger school: military leadership, time management and teamwork," said Yarghal. "If I am leading 40 to 60 soldiers, I know we can destroy the enemy. If your soldiers do not trust your abilities, you won't be able to do anything."
Khan has no doubt that Afghanistan's newest Ranger will be an effective leader.
"Leadership is the key to success for any military organization—that is its greatest asset, and it is what makes it strong. Make no mistake—the ANA is stronger because of Lt. Yarghal's drive, determination and skills as a combat leader," said Khan.
Following his graduation from Ranger School, Yarghal went on to successfully complete the Basic Airborne Course. Since his return to Afghanistan, Yarghal has been serving at the Ministry of Defense Headquarters Security Support Brigade.
"I was not completely confident about leading soldiers on a battlefield until Ranger School. Now I want to do Special Forces," said Yarghal. "I am not worried anymore; I know I am a good leader and soldier for Afghanistan."
khaama.com/fourth-afghan-soldier-earns-the-title-of-ranger-from-us-ranger-school-0068
-----------
President Ghani accepts diplomatic credentials of seven new ambassadors
By Khaama Press - Tue Feb 02 2016
President Mohammad Ashraf Ghani accepted the diplomatic credentials of seven new non-resident ambassadors on Monday.
The envoys of Qatar, Georgia, Austria, Greece, Palestine, the Philippines and Maldives presented their respective assignment documents to President Ghani during separate ceremonies at Presidential Palce 'ARG' in the presence of Foreign Minister Salahuddin Rabani.
The newly assigned ambassadors discussed various subjects with Afghan side and promised that they would work to improve relationship of their respective countries with Afghanistan.
khaama.com/president-ghani-accepts-diplomatic-credentials-of-seven-new-ambassadors-4537
-----------
Africa
Libyan Muslim Brotherhood Shura Council Statement on Current Crises
February 1, 2016
The Shura Council (SC) of Libya's Muslim Brotherhood, at the conclusion of its last meeting – of Friday and Saturday January 29 and 30, 2016 – reviewed the serious crises and conditions the country is currently going through. The SC exhorts all the Libyan people as follows:
First: The SC strongly condemns the continued fighting and indiscriminate shelling in the city of Benghazi and deeply regrets the suffering of residents, displaced inside and outside of the city. We call for the cessation of all hostilities, the launch of an objective national dialogue and a commitment to democratic transformation.
Second: The SC urges the Presidential Council in Tunis, the National Congress in Tripoli and the Parliament in Tobruk, to put national interests above all else. This requires agreement on the legislative and executive bodies that will govern the country.
Third: The SC regrets the current political fragmentation among the people of this homeland, which was reflected in the failure to agree on one government to manage the country's affairs so as to achieve, preserve and progress the homeland's and the people's interests. We call on all patriotic national forces – especially Dar Al-Fatwa and the homeland's scholars – to do their part in bringing people together and reconciling differences, in order to spare the country the horrors of war and foreign intervention.
Fourth: We solemnly salute the General National Congress in Tripoli for modifying existing laws in conformity with the provisions of Sharia.
Fifth: The SC expresses its thanks and gratitude for the efforts of the patriots who seek consensus and reconciliation among the people of this homeland, and praises and appreciates every effort to unite and save the country from attempts of interference in Libya's affairs and conspiracies to subvert or undermine our people's national identity, main principles and constants.
God save Libya
Long Live Libya – free, unified, proud
Libyan Muslim Brotherhood
Tripoli: Saturday – January 30, 2016
ikhwanweb.com/article.php?id=32430
-----------
John Kerry Urges Coalition to Address Growing ISIS Threat in Libya
By JULIE HIRSCHFELD DAVIS
FEB. 2, 2016
Secretary of State John Kerry, centre, on Tuesday at the anti-Islamic State coalition meeting in Rome. Credit Alberto Pizzoli/Agence France-Presse — Getty Images
ROME — Secretary of State John Kerry said on Tuesday at a meeting here of the American-led coalition fighting the Islamic State that the group must step up its efforts to prevent the militants from gaining a "stranglehold" in Libya, where it has become a growing threat.
"We're still not at the victory that we want to achieve, and will achieve, in either Syria or Iraq, and we have seen Daesh playing a game of metastasizing out to other countries, particularly Libya," Mr. Kerry said, using an Arabic acronym for the Islamic State.
Mr. Kerry, opening a day of meetings devoted to planning the next stages of the battle against the Sunni extremist group, said the formation of a national unity government in Libya would prevent the Islamic State, also known as ISIS or ISIL, from seizing control of the country.
Warning that the stakes were high, he said, "The last thing in the world you want is a false caliphate with access to billions of dollars of oil revenue."
President Obama and top officials in his administration have been meeting to determine how the United States will expand its offensive against the Islamic State, Mr. Kerry said, "and over time we will lay that out."
Mr. Kerry also used the session, jointly hosted by Italy and attended by 21 other nations in the coalition, to plead for more financial help to stabilize recently liberated areas of Iraq and for a strong international effort to address the humanitarian crisis in Syria.
"The situation on the ground for the Syrian people is unfathomable — we haven't seen a catastrophe like this since World War II, and it's unfolding before our eyes," Mr. Kerry said.
He said the government of President Bashar al-Assad of Syria was guilty of war crimes for failing to allow humanitarian access to towns where starvation is rampant, including Madaya, saying that Mr. Assad had granted only 13 of 113 United Nations requests for such access.
"Starvation as a tactic of war is against the laws of war, and it is being used every single day as a tactic by the Assad regime," Mr. Kerry said, adding that there was an "urgent" need for the talks in Geneva to deliver a cease-fire, immediate humanitarian assistance and protection for civilians at risk from daily airstrikes.
nytimes.com/2016/02/03/world/europe/john-kerry-isis-threat.html?ref=africa&_r=0
-----
Europe
Nations gather in Rome to discuss anti-Islamic State push, Libya
Tue, 2 Feb 2016
Despite the focus on Libya, Syria and Iraq remain the main theaters of action against Islamic State.
Nearly two dozen nations gather on Tuesday to plot their fight against the Islamic State militant group in Syria and Iraq and how to choke off its rise in Libya.
The meeting takes place as talks have begun in Geneva to try to end the five-year Syrian civil war, which has killed at least 250,000 people, driven more than 10 million from their homes and drawn in the United States and Russia on opposite sides. Twenty-three nations from the wider Global Coalition to Counter ISIL will review their efforts to regain Syrian and Iraqi territory from the jihadist group and to discuss ways to curb its wider influence, notably in Libya, officials said.
While Washington has long said Syrian President Bashar al-Assad has lost the legitimacy to lead, it has made clear that its first priority is to try to rein in militants from the Islamic State group, which is also known as ISIL.
US officials said the Pentagon's fiscal year 2017 budget will call for more than $7 billion to fight Islamic State, up roughly a third from the previous year's request to Congress.
Tuesday's meeting will cover stabilizing areas such as the Iraqi city of Tikrit, which has been wrested from the group, as well as broader efforts to undercut its finances, stem the flow of foreign fighters and counter its messaging, officials said. The potential spread of Islamic State to Libya, where rival factions are struggling to form a united government nearly five years after a Western coalition helped topple dictator Muammar Gaddafi, will feature prominently, a senior US official said. "Where they control territory is where ... it gets on our radar screen," he told reporters, saying the group was trying to seize parts of Libya, notably Sirte, and Washington would work with the Libyans and coalition partners to try to prevent that.
Despite the focus on Libya, Syria and Iraq remain the main theaters of action against Islamic State. Syrian government troops and allied fighters captured hilly countryside near Aleppo on Monday, putting a key supply route used by opposition forces into firing range, according to the Syrian Observatory for Human Rights monitoring group.
Rebels said the offensive was being conducted with massive Russian air support, despite a promise of goodwill steps by the Syrian government to spur the peace talks, which UN envoy Staffan de Mistura declared had begun on Monday.
Opposition official Monzer Makhous accused De Mistura of overstepping by declaring peace talks had begun and said the government must within days declare its willingness to stop attacking civilians and allow humanitarian access. "We are here for a few days. Just to be clear, only a few days," Monzer told Reuters Television "If there (is) no progress on the ground, we are leaving. ... We are not here for negotiations, we are here to test the regime's intentions."
dnaindia.com/world/report-nations-gather-in-rome-to-discuss-anti-islamic-state-push-libya-2172981
-----------
Terror threats spell end of austerity drive in Europe
NYT News Service | Feb 2, 2016
PARIS: A phalanx of soldiers wearing bulletproof vests and wielding machine guns fanned out beneath the Eiffel Tower on a recent afternoon, scanning the crowd for potential terrorist threats. Across the country, nearly 10,000 more armed troops patrolled streets around landmarks, stores and government buildings. France is spending nearly 1 million a day on the heightened security, part of a renewed surge in European military spending as governments declare terrorism a permanent risk.
Europe's current approach to fighting terrorism, after two deadly assaults carried out by Islamic militants in Paris last year, represents a shift from the austerity mantra that has dominated the region since the debt crisis in 2010. While countries are not abandoning their fiscal discipline, leaders are encouraging a more flexible approach, to give them financial firepower to counter the growing threat.
"We need to track the terrorists, dismantle their networks, cut off their financing and stop propaganda and radicalisation," President Francois Hollande said recently, after declaring France "at war" with terrorism. "The security pact takes precedence over the stability pact," he added, referring to the European Union's (EU) rules limiting member nations' deficits.
Although austerity has been losing favour as a cure-all for Europe's economic ills, a renewed financial crisis in Greece last year kept a focus on belt-tightening. European leaders threatened to let Greece exit the currency bloc if it did not stick with the budget cuts and economic overhauls required for a new bailout. EU officials admonished France and other countries for failing to meet deficit reduction pledges. Now, European leaders are acknowledging that security spending is a priority.
After the attacks by the IS terror group in November in Paris that left 130 dead, the president of the European Commission, Jean-Claude Juncker, authorised France to receive special treatment under budget deficit rules to strengthen security programmes. France, Germany, Britain and neighbouring countries sharply curbed military outlays while austerity was enforced. Since 2007, Western European military spending has slumped more than 13%, accelerating a decline that began earlier in the decade. As of last year, only four European member countries in the North Atlantic Treaty Organisation met the mandated military spending target of 2% of gross domestic product. As security concerns intensify, the trend is reversing.
Germany is hiring more police and intelligence officers, and in January the defence minister proposed increasing military spending by 130 billion over 15 years. The government may also divert part of its 12.1 billion budget surplus to managing the wave of refugees flooding into the country. France is expanding its military equipment arsenal, troops and police, as well as increasing surveillance and spending hundreds of millions of euros on new programmes to counter radicalisation among Muslim youth.
In Belgium, nearly half a billion euros will be spent on reinforcing borders, prisons and keeping hundreds of troops on the streets. Total Western European military spending is expected to jump by an extra 50 billion through 2019, to 215 billion, said Fenella McGerty, an analyst at IHS Jane's defence budgets in London. Europe's security spending, though, will still pale in comparison to that of the United States.
timesofindia.indiatimes.com/world/Terror-threats-spell-end-of-austerity-drive-in-Europe/articleshow/50813217.cms
-----------
Kremlin is 'prolonging' war in Syria by bolstering Assad regime
Kim Sengupta | The Independent | Feb 2, 2016
Russia's air strikes in Syria have prolonged the bloody war and played a key role in the West's refugee crisis, Britain's foreign secretary has said, in one of the most scathing indictments of the Kremlin's policy in Syria by a Western government minister.
"The Russians have given the regime another gasp of life and that is bad news for everyone, and they will hold responsibility for prolonging this conflict," Philip Hammond said on Monday. "It's a constant source of grief to me that everything we are doing is being undermined by the Russians."
Hammond was speaking after visiting the Zaatari camp in Jordan, where more than 80,000 Syrians have sought safety from the civil war. His visit precedes a donors' conference on Syria later this week, where Syria's neighbours who are coping with millions of refugees will be offered financial help, including the proposed opening up of European Union markets.
timesofindia.indiatimes.com/world/middle-east/Kremlin-is-prolonging-war-in-Syria-by-bolstering-Assad-regime/articleshow/50819014.cms
URL: https://www.newageislam.com/islamic-world-news/new-age-islam-edit-bureau/idolatory-eradication-conference-tiruchi-india-brings-fore-divide-among-muslims/d/106204
New Age Islam, Islam Online, Islamic Website, African Muslim News, Arab World News, South Asia News, Indian Muslim News, World Muslim News, Womens in Islam, Islamic Feminism, Arab Women, Womens In Arab, Islamphobia in America, Muslim Women in West, Islam Women and Feminism, Moderate Islam, Moderate Muslims, Progressive Islam, Progressive Muslims, Liberal Islam, Liberal Muslims, Islamic World News