New Age Islam News Bureau
03 September 2022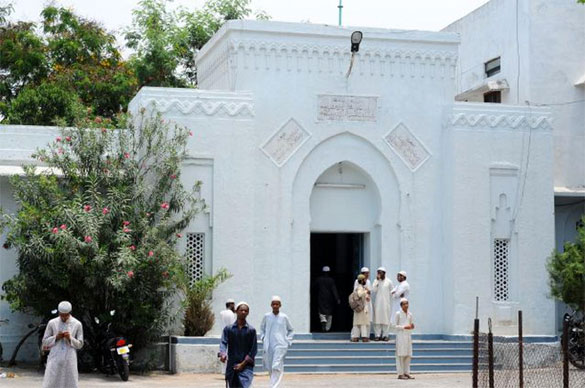 Jamia Nizamia is one of the oldest Islamic seminaries of higher learning of Sunnis in India. File photo | Photo Credit: Mohammed Yousuf
----
• Pakistani Court Sends 'Abducted' Sikh Girl to Muslim Husband; She Was A Major, Educated, and Could Better Understand Her Thread and Thrum, She Said
• Extremists Could Exploit Slavery Laws to Escape Justice: UK Terror Expert
• Self-Described Ugandan Prophet, Kintu Dennis, Imprisoned After Video Shows Him Caning Followers
• Pro-Taliban Cleric, Mujeeb-Ur-Rehman Ansari among 46 Killed In Suicide Bombing In Afghanistan
India
• Akhil Bhartiya Hindu Mahasabha Claims UP's Budaun Mosque Built On Razed Temple
• Ganesh Chaturthi at Hubli's Idgah Ground Over, Muslim Body to File Contempt of the Court Plea
• To Help Cadre Manage Finance, Muslim Youth League Conducts Classes
• U.P. Government to Hold Job Fairs for Muslim Youths to Give Employment Opportunities to Them
• Construction of SC-Mandated Mosque in Ayodhya Yet To Begin In Absence of No Objection Certificates
• Muslim continues to celebrate Ganesh Chaturthi at his house
• BJP's Giriraj Singh demands survey of mosques, madrasas in Bihar
--------
Pakistan
• Will begin March to Islamabad if victimisation of PTI workers not stopped: Imran Khan warns government
• American Pakistani community calls for $13bn US aid package to Pakistan amid flooding
• High food, petrol prices can trigger protests in Pakistan: IMF
• Jemima Goldsmith comes to Pakistan's aid again—to raise funds via pvt screening of her film
• Probe reveals 'dubious' funds used for PTI media drive
• Alvi seeks 'political pause' amid floods as Imran campaigns
• 50 trucks bring vegetables from Iran, Afghanistan
--------
Europe
• Anti-Terror Prosecutor Warns of Islamic State Attack on French Soil
• UK: Muslim students threaten to disaffiliate from NUS after Islamophobia claims
• Türkiye says Greece's negative statements cannot harm ties with NATO
• Türkiye will continue to respond to Greece's 'impertinence': Defence chief
• UK using 'delaying tactics' in releasing files on Saudi arms sales: Report
--------
Africa
• Tunisian Army Kills Three ISIS-Linked Extremists
• Gunmen kill at least 42 people in Ethiopia's Oromiya region: Report
• Presidents of Türkiye, Republic of Congo meet in Istanbul
• Tunisian security forces kill 3 terrorists in Kasserine
--------
South Asia
• Islamic Emirate Rejects USIP Report Claiming Terrorists in Afghanistan
• Khalilzad Urges US, Islamic Emirate to Pursue Doha Agreement
• Seven Rohingya dead after boat seized, Myanmar authorities say
--------
Arab World
• Iraq Anti-Government Protesters Demand Political Change after Unrest
• Israeli attacks squeeze Iranian aerial supplies to Syria, sources say
• Turkish Volunteers Put Smiles on Orphans' Faces in Syria
• Reforms in Saudi Arabia's education sector producing highly skilled youth: Minister
• Iraq destroys Daesh stronghold in Mosul
• Turkish military forces, allied militants shell strategic town in northern Syria
--------
Mideast
• Iran Sends 'Constructive' Response on Nuclear Deal but US Rejects It
• Hamas, Islamic Jihad Hail 'Heroic' Stabbing Operation in Occupied West Bank
• Israelis, Palestinians Scuffle At Holy Site in West Bank
• FM: Iran to Continue Helping Lebanon on Clarifying Fate of Imam Musa Sadr
• President Rayeesi: Iran Ready to Broaden Ties with Vietnam
• Palestinian killed in West Bank after stabbing Israeli soldier
• Western powers can strike better Iran deal, Israeli lawmaker says
--------
North America
• US Still Hoping for Iran Nuclear Deal, 'But We're Not Going to Stay at It Forever'
• UN Chief: Former Kyrgyzstan President to Head Afghan Mission
• Pentagon plans aid mission to Pakistan
• US Navy says vessels seized by Iran were unarmed, 'posed no risk to naval traffic'
• White House rejects linking Iran nuclear deal, IAEA probes
--------
Southeast Asia
• PAS Sets Eyes on Ignorant First-Time Muslim Voters to Win GE15
• How is DAP able to influence non-Muslims in PAS-led Kelantan? Guan Eng asks
• Agong: Don't turn mosques into political arena
• Hadi says PAS a forgiving party, but cannot compromise with sinners
Compiled by New Age Islam News Bureau
URL: https://newageislam.com/islamic-world-news/islamic-punishment-blasphemy-nizamia-fatwa/d/127871
--------
Islamic Punishment for Blasphemy Cannot Be Administered In a Democratic, Non-Islamic Country: Fatwa Islamic Seminary Jamia Nizamia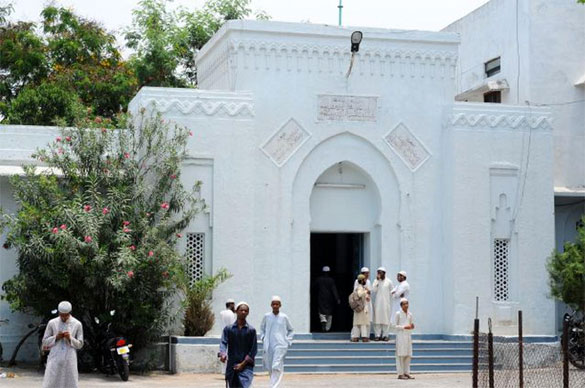 Jamia Nizamia is one of the oldest Islamic seminaries of higher learning of Sunnis in India. File photo | Photo Credit: Mohammed Yousuf
----
Syed Mohammed
SEPTEMBER 02, 2022
Legal avenues must be explored and strongest punishment demanded; no individual has right to enforce this punishment
The punishment for affronts to Prophet Muhammad cannot be administered in a democratic, non-Islamic country, a fatwa states.
The fatwa, which is a jurisprudential opinion, was issued by Hyderabad-based Islamic seminary Jamia Nizamia, in response to a set of questions.
While upholding the death penalty for blasphemy, the Jamia Nizamia clarified that this punishment cannot be awarded in a democratic, non-Islamic country. The fatwa also states that in such countries and in light of the Constitution, legal avenues must be explored and demands for the strongest punishment should be made. The fatwa underscores that no individual has the right to enforce this punishment.
The fatwa states that enforcing Sharia penalties is the exclusive domain of Islamic countries. Only the head of an Islamic country, or a person appointed by him can administer such penalties.
The fatwa comes days after parts of the city saw youngsters protesting against Legislator from Goshamahal, now-suspended by the Bharatiya Janata Party, T. Raja Singh's offensive comments about Prophet Muhammad. The Legislator was arrested under the Preventive Detention Act and is lodged in Cherlapally Central Prison.
Soon after the Legislator's objectionable remarks went viral, some individuals created and shared content that called for violence against Mr Singh. Police arrested Syed Abdahu Quadri alias Kashaf, who describes himself as a "social and civil rights activist", for allegedly raising a slogan, calling for the Legislator's beheading.
In the same vein, Hyderabad City Police Commissioner C. V. Anand on Thursday told the media that as many as 13 cases were booked against such persons.
Source: The Hindu
Please click the following URL to read the text of the original story:
https://www.thehindu.com/news/national/telangana/islamic-punishment-for-blasphemy-cannot-be-administered-in-a-democratic-non-islamic-country-fatwa/article65841753.ece
--------
Pakistani Court Sends 'Abducted' Sikh Girl to Muslim Husband; She Was A Major, Educated, and Could Better Understand Her Thread and Thrum, She Said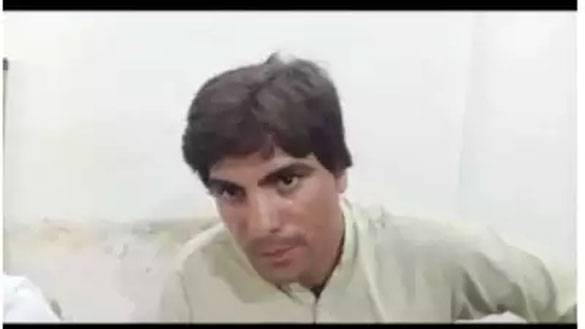 Hizbullah
----
Sep 3, 2022
AMRITSAR: A Pakistani court has directed that Sikh girl Deena Kaur alias Deena Bibi be sent to her Muslim husband, Hizbullah. Her father, Gurcharan Lal, has accused the administration of keeping them in the dark about the court hearing.
The Swat district court in Khyber Pakhtunkhwa province of Pakistan directed that Deena be allowed to go according to her own free will. It also directed Hizbullah to submit a surety bond of Rs 15 lakh, failing which, Deena would be sent back to Dar-ul Aman (a women's shelter).
The court also observed that Deena was willing to go with her husband while maintaining that it wouldn't be appropriate to detain her in Dar-ul Aman. Hizbullah also produced Nikahnama (marriage document) in the court. Deena stated in the court that she was willing to go with her husband since she was a major, educated, and could better understand her thread and thrum. Gurcharan said, "First, we were misled by the administration that the Buner court will hear the case, but the case's hearing was in the Swat court."
Source: Times Of India
Please click the following URL to read the text of the original story:
https://timesofindia.indiatimes.com/city/amritsar/pak-court-sends-abducted-sikh-girl-to-muslim-husband/articleshow/93961331.cms
--------
Extremists Could Exploit Slavery Laws To Escape Justice: UK Terror Expert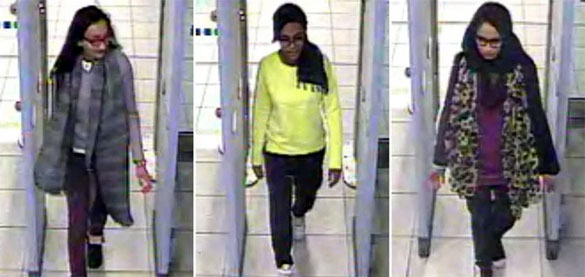 From left: British teenagers Kadiza Sultana, Amira Abase and Shamima Begum at Gatwick Airport on Feb. 17, 2015 on their way to Istanbul, and eventually Syria to join Daesh. (Metropolitan Police/AFP)
-----
September 02, 2022
LONDON: A British counterterrorism legal expert has warned that the UK's anti-slavery laws could pose a threat to national security.
Jonathan Hall QC, the UK's independent reviewer of terrorism legislation, said that what the law considered to be a victim of trafficking or slavery was now so broad that it could lead to terror suspects, especially those radicalized as minors, escaping justice, as they could argue they were victims.
He feared authorities in the UK could prioritize the idea of treating suspects as victims over the threat they posed to the UK, on the grounds that they made decisions because they were underage or were coerced.
Hall told The Times: "The definition and the way in which the law is applied is over-broad. It is at odds with the fact that children are not generally seen as victims when they commit other crimes, just because someone suggests they should do so."
His comments come in the wake of claims made in a new book that former Daesh member Shamima Begum, who left the UK aged 15 for Syria in 2015, was smuggled into the country by a people trafficker who also worked for Canadian intelligence.
"The Secret History of the Five Eyes," written by former Sunday Times reporter Richard Kerbaj, alleged that Ottawa asked London to help cover up the trafficker's role in Begum, along with two other girls from London, joining the group.
Begum was subsequently stripped of her UK citizenship by the Home Office and is currently detained in a Kurdish prison camp for Daesh members in northern Syria, where, she claims, she is a victim of human trafficking and online grooming.
Supporters of Begum suggest she is a victim, while the book's allegations imply parts of the UK government were aware of the role of Canadian intelligence in smuggling her to Syria, and Britain's own role in covering it up, when she was stripped of her citizenship. An appeal is due to be heard in November.
A spokesman for Mayor of London Sadiq Khan, said: "Whilst the full facts are not clear, what is clear is that Shamima Begum was a child when she traveled to Syria, and she may well have been trafficked there.
"If these reports are true, then the Home Office should answer for why this was not taken into account when the revocation of Shamima's citizenship was decided."
In January, a 16-year-old suspected of involvement in far-right terror activity in the UK was freed after her barristers successfully argued, using the Modern Slavery Act, that she was a victim of trafficking, setting a possible precedent for future underage extremist cases.
Hall noted that the case would have "wider ramifications." He said: "Our UK law goes beyond international obligations by allowing people the defense on the basis they are a victim of slavery or trafficking."
Begum's case, Hall added, should take into account the manner in which she ended up in Syria, but needed to rely more on the risk she posed to UK security than the question of whether or not she had been a victim, which he called a "distraction."
The UK Home Office told The Times that it did not comment on matters of state intelligence.
Source: Arab News
Please click the following URL to read the text of the original story:
https://www.arabnews.com/node/2155101/world
--------
Self-Described Ugandan Prophet, Kintu Dennis, Imprisoned After Video Shows Him Caning Followers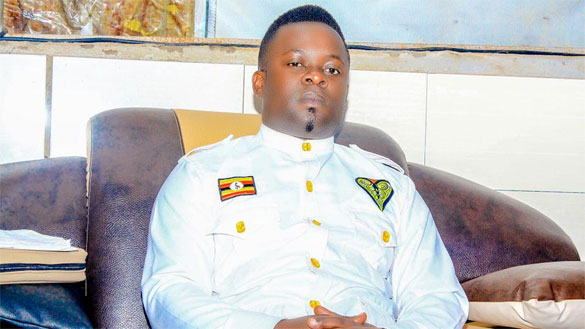 Kintu Dennis charged with 18 counts of trafficking in persons, assault, promoting sectarianism, say police. (Facebook/Prophetic Kintu)
-----
Hamza Kyeyune
03.09.2022
KAMPALA, Uganda
A self-described Ugandan prophet was remanded to prison Friday after a widely shared online video showed him administering lashes to members of his church.
Kintu Dennis, 42, of the Hoima Empowerment Church International, is shown ordering his followers to the front of the church to be whipped or they had to stop attending services and lose the privilege of handling his microphone.
The video started circulating Thursday and shows followers presenting themselves before they are beaten on their backs and buttocks. Their alleged crime was incompetence and late-coming, according to church members.
The congregation watched as followers received their beatings as soft piano music played in the background.
The victims have also attracted intense criticism on social media where users castigated them for blindly following the prophet and being too lazy to read the Bible for themselves.
The incident sparked outrage from Ugandans who urged authorities to intervene.
"Pastor Kintu Denis who recently appeared in a viral media clip beating believers with a magic blessed stick' in his church in Hoima, has been arrested and charged with 18 counts of trafficking in Persons, Assault, and Promoting Sectarianism," police wrote in a tweet.
Police searched his church and recovered three pieces of sticks suspected to have been used to beat the faithful.
The prophet told investigators that he was carrying out a demonstration of how Jesus treated those he found selling goods in church.
Uganda has several evangelical churches but they are unregulated and many are run by self-appointed men and women of God.
Source: Anadolu Agency
Please click the following URL to read the text of the original story:
https://www.aa.com.tr/en/africa/self-described-ugandan-prophet-imprisoned-after-video-shows-him-caning-followers/2675726
--------
Pro-Taliban Cleric, Mujeeb-Ur-Rehman Ansari among 46 Killed In Suicide Bombing In Afghanistan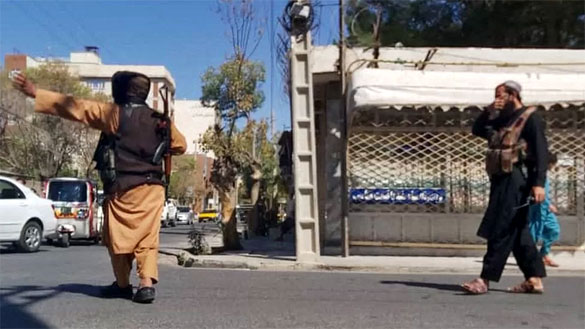 Taliban fighters block a road after the blast at Herat's Gazargah mosque
-----
Islamuddin Sajid
02.09.2022
At least 46 people were killed, including a prominent pro-Taliban religious cleric, and 84 others were injured in a suicide bombing during weekly Friday prayers in Afghanistan's northwestern Herat city.
According to local media, a suicide bomber blew himself up, killing at least 46 people and injuring 84 more. However, in a list published, the Wakht News Agency mentioned the identities of 18 people killed in the attack and 30 more injured.
In a statement issued in Kabul, Taliban spokesman Zabihullah Mujahid confirmed the killing of Mulawai Mujeeb-ur-Rehman Ansari, saying he was killed in the attack.
"The Islamic Emirate is deeply saddened by his martyrdom, and the perpetrators will be punished for their evil act," he declared, according to Bakhtar News.
According to Tolo News, Ansari was the target of the suicide bombing.
However, video recordings released on social media reveal significant casualties, with people seen transporting victims of the suicide bombing from the mosque to medical facilities.
However, Taliban officials have not released the number of those killed and injured in the attack.
So far, no group has claimed responsibility for the attack. However, ISIS/Daesh has been active in Afghanistan for a long time, and the terrorist organization has recently claimed responsibility for multiple attacks in Kabul and other parts of the country.
Source: Anadolu Agency
Please click the following URL to read the text of the original story:
https://www.aa.com.tr/en/middle-east/pro-taliban-cleric-among-46-killed-in-suicide-bombing-in-afghanistan-says-local-media/2675357
--------
India
Akhil Bhartiya Hindu Mahasabha Claims UP's Budaun Mosque Built On Razed Temple
Sep 3, 2022
BAREILLY: A civil court on Friday ordered the registration of a case while hearing a petition by Akhil Bhartiya Hindu Mahasabha (ABHB) which claimed that the Jama Masjid complex in UP's Budaun was actually a fort of an erstwhile Hindu king and the existing structure was built by demolishing an ancient temple of Neelkanth (Shiva).
The court has also sought reply from the Intzamiya committee of Jama Masjid, UP Sunni Waqf Board, UP archaeology department, Union of India, UP government via Budaun district magistrate and state chief secretary. It fixed September 15 as the next date of hearing. The petition was filed on August 8.
The Jama Masjid in Maulvi Tola area is one of the oldest and largest mosques of the country with a capacity to accommodate over 23,000 devotees at a time.
ABHB district president Mukesh Singh Patel claimed, "We are aware that articles related to the ancient temple are lying in a room locked for a long time now. We had requested the court to register a case and carry out a survey to bring out the truth."
Some in the petitioning group claimed that "the mosque was built by Shamsud-din Iltutmish in 1222 AD, and that it is mentioned in history books".
Petitioner's advocate Ved Prakash Gupta told TOI, "We have put across all details of the fort and the temple in our petition before civil judge (senior division) Vijay Kumar Gupta."
Road not wide enough, fire dept refuses NOC for Ayodhya mosque project
The fate of Ayodhya mosque on the five-acre land allotted to the Sunni waqf board by the apex court in its Ayodhya verdict on November 9, 2019, still hangs in balance. In the latest, the fire department has denied the trust a no-objection certificate in the absence of a 12-metre wide approach road, reports Arshad Afzaal Khan.
Source: Times Of India
Please click the following URL to read the full text of the original story:
https://timesofindia.indiatimes.com/city/bareilly/hindu-outfit-claims-budaun-mosque-built-on-razed-temple/articleshow/93959423.cms
--------
Ganesh Chaturthi at Hubli's Idgah Ground Over, Muslim Body to File Contempt of the Court Plea
By Sanath Prasad
Hubbali
September 3, 2022
Saffron flags, portraits of V D Savarkar and Chatrapati Shivaji, songs… The Ganesh Chaturthi procession in Karnataka's Hubli city on Friday was all about Hindutva posturing. The procession, organised by the Rani Chennamma Maidana Gajanana Utsav Mahamandali, took nearly five hours to cover just one kilometre from the Idgah Maidan in Deshpande Nagar to the immersion point at Sadashiv Nagar.
The third day of the festival saw extra police deployed along the procession route, which was marked by saffron flags, DJ music and chants of Savarkar and Shivaji. The traffic movement was also restricted to some extent.
At the forefront of the procession were Mahamandali chief and Vishva Hindu Parishad leader Sanjay Bhadaskar, BJP leader Mahesh Tenginkai, and members of the VHP, Sri Rama Sene, RSS, Somavamsha Sahasrarjun Kshatriya Sama, Hindu Jagarana Vedike and the Hindustan Janata Party.
Ahead of the procession, the organisers conducted a mahamangalarthi (puja) and auctioned the jewellery and garments used to decorate the Ganesha idol. The idol immersion took place at an artificial pond at Sadashiv Nagar.
The organisers violated the Hubli -Dharwad municipal corporation's ban on flex boards at the Idgah ground. However, a Savarkar portrait installed right near the Ganesha idol in the Pandal was removed after corporation officials intervened. But a hoarding featuring the Hindutva icon was put up at the Idgah ground's entry.
The organisers sought to justify the portraits saying Savarkar, along with freedom fighter Bal Gangadhar Tilak, was instrumental in introducing Ganesha celebrations in Maharashtra. A hoarding featured Tilak.
Gopalkrishna B, commissioner of the municipal corporation, told indianexpress.com that the corporation would consider allowing sellers of pottery, vegetables and fruits at the Idgah ground. "The decision to allow the Utsav was taken after consulting the stakeholders of the corporation and law and order authorities. The three-day event went smoothly, except for the violation on day one. Decisions on allowing any religious events will be taken after consulting the corporation members and considering the law and order situation," he said.
Along the procession route, songs praising Hindutva and Savarkar as well as some film numbers about Karnataka were played. The procession also featured a traditional dance performance with manjira, or cymbals. The organisers overshot the allotted time by an hour.
Sri Rama Sena chief Pramod Muthalik, who was present on the last day of the celebration, said, "This time we celebrated only for three days. From next year, the celebrations will last more days and be grander. There were attempts by a certain group of people to stop our celebration, but the Hindus emerged victorious at the end. This is an example of how no force can stop Hindus from celebrating their culture and traditions."
Altaf Nawaz, vice-president of Anjuman-e-Islam, said the Muslim organisation would file a contempt case in the Karnataka High Court against the Hubballi-Dharwad municipal corporation commissioner. "We will be moving the high court seeking directions to disallow religious activities of other communities at the Idgah ground. Our organisation has been given the Idgah ground for a lease period of 999 years by the Supreme Court. Any other community using the ground for religious purposes will be in contempt of the court. Although we are not against the celebrations of other religious communities, this three-day Ganesha utsav at the Idgah ground has really disturbed us," said Nawaz.
Source: Indian Express
Please click the following URL to read the full text of the original story:
https://indianexpress.com/article/cities/bangalore/ganesh-chaturthi-hubbali-idgah-ground-over-muslim-body-contempt-plea-8127732/
--------
To help cadre manage finance, Muslim Youth League conducts classes
03rd September 2022
KOZHIKODE: It is customary for political parties to organise classes on party ideology and strategies, but the Muslim Youth League (MYL) unit in Kottakkal thought that it is not enough for the cadre to be politically aware. The organisation found that majority of party workers who devote their time and energy for political activities have no financial discipline or plans for their family life in future. So, MYL thought it is necessary to have a series of sessions on the right kind of investment, first one of which was held at Kottakkal on Friday.
"Cadre, especially the young, are utilised for shouting slogans and pasting posters, but we don't know what their financial position is. Most of them jump into active politics without having any plan for their future life," said Sajid Thayil, Kottakkal municipal unit secretary of the MYL. "Only in the later stages they realise that it is too late to think of investment. So, we decided to have sessions on how to manage finances, various investment opportunities and the dangers posed by fraudsters in the field. The sessions are opened to cadre of all parties," said Sajid.
The session on how to invest money for future held under the aegis of CH Smaraka Kendram was led by Jaseel Abdul Wahid, an expert in the field. "Covid has been an eye-opener for us in many respects. We encourage the youth to save money from their earnings to meet any unexpected expense," he said.
Source: New Indian Express
Please click the following URL to read the full text of the original story:
https://www.newindianexpress.com/states/kerala/2022/sep/03/to-help-cadre-manage-finance-muslim-youth-league-conducts-classes-2494299.html
--------
U.P. Government to Hold Job Fairs for Muslim Youths to Give Employment Opportunities to Them
Sep 03, 2022
Lucknow: To give a thrust to the Bhartiya Janata Party (BJP) Muslim outreach programme, the Uttar Pradesh government has decided to give employment opportunities to Muslim youths by organizing employment fairs.
Minister of state for minority welfare, Danish Azad Ansari has shot off a letter to additional chief secretary, employment and labour department to organize special employment fairs in Muslim-dominated areas to ensure that unemployed youths belonging to the minority communities get jobs in various sectors.
A meeting will be held on September 6 with the officers to prepare a work plan for holding employment fairs in Muslim-dominated areas.
Ansari said the Yogi government was working sincerely for the development of the minority community. To ensure a better future for minority community youths, the Yogi government would now organize job fairs and big companies would be invited to connect directly with the youths for recruitment, he said.
Good education and better employment opportunities to youths of the minority community were the priorities of the Yogi government. The BJP government was continuously working for the progress of the minority community through various schemes, he said.
Source: Hindustan Times
Please click the following URL to read the full text of the original story:
https://www.hindustantimes.com/cities/lucknow-news/up-govt-to-hold-job-fairs-for-muslim-youths-101662147112745.html
--------
Construction of SC-mandated mosque in Ayodhya yet to begin in absence of no objection certificates
02nd September 2022
AYODHYA: It has been nearly three years since the Supreme Court mandated the construction of a mosque in Ayodhya, but the work is yet to begin in the absence of no objection certificates (NOCs) from fire services, pollution board and civic authorities.
On the directions of the Supreme Court, the Uttar Pradesh Sunni Central Waqf Board was allotted five acres of land in Dhannipur village for the construction of the mosque.
The board set up a trust -- Indo-Islamic Cultural Foundation (IICF) -- for the construction of the mosque, a hospital and a museum on the plot.
IICF secretary Athar Husain Siddiqui said the Ayodhya Development Authority had issued letters on July 15 to the authorities concerned, including fire services, civil aviation, Municipal Corporation of Ayodhya, irrigation, PWD, pollution control board and the district administration, to issue "no objection certificates" for the construction of the mosque.
Except fire services, no other department has carried out on-site inspection.
"And, none of the departments concerned has issued 'no objection certificate'," he told PTI on Friday.
According to him, the fire services department has refused to issue the 'no objection certificate' citing narrow approach roads.
"It is necessary that the approach road should be 12-metre wide whereas both the existing roads are of not more than six metres. The width of the main approach road is only about four metres," Husain said.
He requested the Uttar Pradesh government and the Ayodhya administration to build a wide road at the earliest so that the construction can be started.
When contacted, Chief Fire Officer of Ayodhya R K Rai said, "Due to the narrow width of the approach road, the fire department has withheld the no objection certificate to the Ayodhya mosque project. We have issued a letter to the Indo-Islamic Cultural Foundation informing them that the clearance can only be issued if there are approach roads of 12-metre width."
Source: New Indian Express
Please click the following URL to read the full text of the original story:
https://www.newindianexpress.com/nation/2022/sep/02/construction-of-sc-mandated-mosque-in-ayodhya-yet-to-begin-in-absence-of-no-objection-certificates-2494211.html
--------
Muslim continues to celebrate Ganesh Chaturthi at his house
SEPTEMBER 02, 2022
Abdul Nabi of Doranahalli in Yadgir sets an example of fostering communal harmony
At a time when attempts are being made to divide people on the lines of religion and caste, a 30-year-old Abdul Nabi, who runs a small hotel in Doranahalli village, Shahapur taluk of Yadgir district, has set an example of fostering communal harmony by installing a Ganesh idol at his house.
Mr. Nabi has been celebrating Ganesh Chaturthi at his house for the last three years.
He and his family members offer special pujas daily to the idol for five days as per Hindu rituals and finally immerse it in a well after the completion of religious formalities.
While doing pujas, he offers special sweet dishes, especially Modaka, and fruits believing that he is satisfying Lord Ganesh with dishes that He likes.
"The concept of Hindu, Islam and other religions are one and the same. We are like own brothers and should respect one's religious celebrations. I have been installing Ganesh idol at my house for the last three years. I just want to convey a message to those who are trying create differences between Hindus and Muslims," Mr. Nabi said and added that humanity is above all.
Mr. Nabi' s decision to install Ganesh idol has been well received by his friends who appreciate his efforts to strengthen unity and brotherhood with people of other religions.
Source: The Hindu
Please click the following URL to read the full text of the original story:
https://www.thehindu.com/news/national/karnataka/muslim-continues-to-celebrate-ganesh-chaturthi-at-his-house/article65841776.ece
--------
BJP's Giriraj Singh demands survey of mosques, madrasas in Bihar
3rd September 2022
Patna: Firebrand Bharatiya Janata Party (BJP) leader and Union Minister, Giriraj Singh has demanded a survey of madrasas and mosques in Bihar similar to that in Uttar Pradesh.
"We demanded from the Nitish Kumar government to conduct survey on the madrasas and mosques of Bihar, especially in Muslim-dominated Seemanchal region. We must have data about who are running madrasas and mosques in these regions and who are staying in them," Singh said.
"The Yogi Adityanath government has taken the right decision and is conducting the survey of madrasas and mosques in Uttar Pradesh. We need the approach in Bihar as well to check at least those who are taking shelters in madrasas and mosques," the Union MInister added.
Source: Siasat Daily
Please click the following URL to read the full text of the original story:
https://www.siasat.com/bjps-giriraj-singh-demands-survey-of-mosques-madrasas-in-bihar-2403981/
--------
Pakistan
Will begin march to Islamabad if victimisation of PTI workers not stopped: Imran Khan warns government
Sep 3, 2022
ISLAMABAD: Pakistan's former prime minister Imran Khan has warned the government that he would begin a massive agitation march to Islamabad if political victimisation against his party continues.
Addressing a public gathering in Gujrat in the country's most populous Punjab province, Khan said that workers of his Pakistan Tehreek-e-Insaf (PTI) party were unnecessarily being targeted ever since he was ousted as the prime minister through a no-confidence motion in April this year, The Express Tribune newspaper reported on Saturday.
"Freedom movement will march towards Islamabad if the incumbent government did not stop targeting PTI supporters," he was quoted as saying in the report.
"I am warning you [PML-N-led coalition government] today, our justice movement will come to Islamabad if you continue to do this [political victimisation] and you will have nowhere to hide," he added.
Khan has recently upped the ante after a few of his party workers, including his close aide Shahbaz Gill, were arrested on charges of sedition.
The 69-year-old PTI chairman lashed out at the government for its alleged use of force on Gill, saying that he was stripped naked and tortured.
"They also tortured [journalist] Jameel Farooqui. Stripped him naked and humiliated him as well. Haleem Adil also has many cases against him. He is also being tortured in prison," Khan said.
During Friday's address, Khan told the youth that together they need to work to make the judicial system of the country better.
"You all have to come with me for that. When I started my journey 26 years ago, we said the judiciary should be independent so it will protect the rights of the people. I was the only political leader who was put behind bars during the judicial movement. We boycotted 2008 elections for the judiciary," he said.
Meanwhile, President Arif Alvi on Friday urged political parties to pause their political activities owing to the devastating floods, saying any narrative that created divisions within national institutions was not in the national interest.
The Dawn newspaper reported that the president also urged all stakeholders to launch a nationwide drive to mobilise the nation.
Alvi said although as the president he did not have a constitutional obligation to play a role to defuse the current political polarisation, he would volunteer in his personal capacity to mediate between them over major issues like the next elections, a consensus-based economic charter, and the way forward on making key appointments.
"Businesses, civil society and humanitarian organisations should assist the civil and military administrations in their rescue and relief efforts to rehabilitate the flood victims and for the reconstruction of damaged infrastructure," the president said.
Pakistan is currently passing through a bitter political divide as Khan had refused to halt anti-government and break bread with the government despite devastating floods.
Khan has also recently been criticised for holding public rallies when the majority of the country is reeling under devastating floods that have destroyed farmlands and claimed the lives of over 1,200 people.
Source: Times Of India
Please click the following URL to read the full text of the original story:
https://timesofindia.indiatimes.com/world/pakistan/will-begin-march-to-islamabad-if-victimisation-of-pti-workers-not-stopped-imran-khan-warns-government/articleshow/93963769.cms
--------
American Pakistani community calls for $13bn US aid package to Pakistan amid flooding
Sep 2, 2022
BATHINDA: The American Pakistani Public Affairs Committee (APPAC) is calling on Congress and the Biden administration to pass $13 billion aid package to provide desperately needed humanitarian assistance to Pakistan amid historic flooding.
More than 33 million people have been displaced and at least 1,000 have died from what the United Nations has characterized as a "monsoon on steroids." The heavy rainfall since June has deluged the country.
The Atlantic Council estimates flooding so far has caused $5.2bn in damages to Pakistan and will require $7.9bn in reconstruction costs. As flood waters move south, the situation is expected to deteriorate even further, it said in a press release.
The Atlantic Council valued Pakistan's final damages from flooding in 2022 at around $17 billion, bringing the two-year total to a minimum of $30 billion. As climate change progresses, flooding crises in Pakistan are expected to grow. The country contributes less than 1% of the world's greenhouse gas emissions yet continues to bear the brunt of climate related disasters year after year.
"Pakistan faces one of its darkest hours today with a third of the country underwater. What is most tragic is that this year's floods are a harbinger of worse climate related disasters to come," said Ijaz Ahmad, Chairman APPAC. "The American Pakistani community urges the United States to come to the aid of the people of Pakistan as a signal of its continued leadership in providing humanitarian assistance in times of need."
Source: Times Of India
Please click the following URL to read the full text of the original story:
https://timesofindia.indiatimes.com/world/pakistan/american-pakistani-community-calls-for-13bn-us-aid-package-to-pakistan-amid-flooding/articleshow/93955985.cms
--------
High food, petrol prices can trigger protests in Pakistan: IMF
Sep 2, 2022
WASHINGTON/ ISLAMABAD: Rising inflation in Pakistan, accelerating to 27.3 per cent in August -- a 47-year high -- can trigger "social protest and instability" in the cash-strapped country, the International Monetary Fund (IMF) has warned.
Pakistan's inflation measured by the consumer price index (CPI) accelerated to 27.3 per cent in August this year -- the level last seen in May 1975 -- even as the full impact of unprecedented floods on the prices of food items and other commodities is yet to come.
The adverse impacts of the floods and consequent disruption in food supplies will be visible in the inflation reading for the month of September, which may push the rate far higher than that of August.
"High food and fuel prices could prompt social protest and instability," the IMF said in an executive summary of the seventh and eighth reviews.
The IMF Executive Board earlier this week approved the seventh and eighth review of the stalled USD 6 billion Pakistan programme, and the State Bank of Pakistan (SBP) two days later on Wednesday received the much-needed USD 1.16 billion deposit to steer the cash-strapped country's economy out of the crisis.
The IMF, which has also asked the country to ensure several measures after receiving the loan, released the funds after Pakistan caved to several demands of the global lender for fiscal tightening.
The deal required the government to increase the petroleum levy to Rs 30 per litre on petrol by September 1 and Rs 15 per litre on diesel in three phases.
The government on Wednesday increased the levy to Rs 37.50 per litre on petrol -- Rs 7.5 per litre more than needed under the IMF deal -- to lower taxes on diesel.
The report released under the Extended Fund Facility (EFF) said that risks to the outlook and programme implementation remained high and tilted to the downside given the very complex domestic and external environment.
The spillovers from the war in Ukraine through high food and fuel prices, and tighter global financial conditions will continue to weigh on Pakistan's economy, pressuring the exchange rate and external stability, the report added.
The report further said that the policy of providing subsidies remained a risk, amplified by weak capacity and powerful vested interests, with the timing of elections uncertain given the complex political setting.
According to the report, socio-political pressures, apart from the protest risk, are expected to remain high and could also weigh on policy and reform implementation, especially given the tenuous political coalition and their slim majority in Parliament.
The political situation in Pakistan has been fragile since mid-April when former Prime Minister Imran Khan was ousted in a dramatic no-confidence motion and Opposition leader Shehbaz Sharif took charge leading a coalition government.
The report said that political instability in the country could "affect policy decisions and undermine the programme's fiscal adjustment strategy, jeopardising macro-financial and external stability and debt sustainability".
According to the lender, substantial risks stem from higher interest rates, a larger-than-expected growth slowdown, pressures on the exchange rate, renewed policy reversals, weaker medium-term growth, and contingent liabilities related to state-owned enterprises (SOEs).
"Further delays on structural reforms, especially those related to the financial sector (resolving undercapitalised banks and winding down SBPs involvement in the refinancing schemes), could hamper financial sector stability and reduce the effectiveness of the monetary policy.
Finally, climate change risks are mounting, including a tendency for more frequent climate-related disasters," it added.
The report also mentioned that the former Pakistan Tehreek-e-Insaf (PTI) government granted a four-month "relief package" in late February that reversed commitments to fiscal discipline made earlier in the year.
The largely untargeted package reduced petrol and diesel prices (through a generous subsidy and setting fuel taxes at zero taxation); lowered electricity tariffs by Rs 5/kwh for almost all households and commercial consumers; and provided tax exemptions and amnesty.
The report said that steadfast implementation of "corrective policies" and "reforms" remained essential to regain macroeconomic stability, address imbalances and lay the foundation for inclusive and sustainable growth.
"Efforts to reduce poverty and protect the most vulnerable by enhancing targeted transfers are important, especially in the current high-inflation environment," it said.
Source: Times Of India
Please click the following URL to read the full text of the original story:
https://timesofindia.indiatimes.com/world/pakistan/high-food-petrol-prices-can-trigger-protests-in-pakistan-imf/articleshow/93955805.cms
--------
Jemima Goldsmith comes to Pakistan's aid again—to raise funds via pvt screening of her film
REWATI KARAN
2 September, 2022
Adivorce has not come in the way of Jemima Goldsmith's love for Pakistan. The ex-wife of former Pakistani Prime Minister Imran Khan, fondly called bhabi, will be auctioning a private screening of her upcoming film to raise funds for flood victims in Pakistan.
Taking to Twitter, Goldsmith said, "We are auctioning a private screening in London for up to 20 people of our film What's Love Got To Do With It? See you there."
The auction will end at 12:15 pm on 8 September. The winner and 20 of their friends will have a private screening of What's Love Got To Do With It, written by Goldsmith and directed by Shekar Kapur.
Her gesture has won her praise from Pakistanis, with many calling her "a queen" and "sister" on Twitter while appealing to people to participate in the auction.
The devastating deluge has inundated one-third of the country, affecting more than 33 million people, which is one in every seven Pakistanis, killing over 1,180 people and will cost more than $ 10 billion to rebuild. And Goldsmith has been actively prodding organisations and private citizens to come to Pakistan's aid.
Goldsmith also crowdsourced the list of organisations that are doing on-ground relief work to which she received an enthusiastic number of responses. She recommended one Al-Khidmat Foundation which has reportedly earned a lot of goodwill for helping flood victims in some of the most difficult terrain.
As UNICEF UK ambassador, Jemima had visited Pakistan to help raise emergency funds for the victims of the 2005 Kashmir earthquake.
Goldsmith's soft corner for Pakistan
Jemima Goldsmith may have been Pakistan's former Prime Minister's ex-wife but her love for Pakistan and its people hasn't subsided at all, reported Daily Pakistan. The report further said that Goldsmith has a soft corner for Pakistan and she has always been in support of the benefit of the country.
Goldsmith got married to Imran Khan in 1995 in a traditional Islamic ceremony in Paris, after which they also had a civil ceremony at the Richmond Register Office. Goldsmith had converted to Islam shortly before marrying Khan and retained 'Khan' surname up until Imran Khan married Reham Khan in December 2014, ten years after they were divorced.
Goldsmith had relocated to Lahore post her marriage with Khan, where she learned to speak Urdu and wore traditional Pakistani clothes. She established the Jemima Khan Afghan Refugee Appeal to provide tents, clothing, food and healthcare for refugees in Peshawar.
Source: The Print
Please click the following URL to read the full text of the original story:
https://theprint.in/go-to-pakistan/jemima-goldsmith-comes-to-pakistans-aid-again-to-raise-funds-via-pvt-screening-of-her-film/1113667/
--------
Probe reveals 'dubious' funds used for PTI media drive
Iftikhar A. Khan
September 3, 2022
ISLAMABAD: A probe into the 'dubious' money transferred to Pakistan by the former owner of Abraaj Group, Arif Naqvi, has revealed that a large amount in foreign funds was used for the media campaign of the former ruling Pakistan Tehreek-i-Insaf (PTI) during the 2013 general elections.
Documents obtained by the Fed­e­ral Investigation Agency (FIA), seen by Dawn, revealed that $625,000 were routed through Wootton Crick­­et Limited, a Cayman Islands registered offshore firm owned by Mr Na­qvi, who is currently facing trial in a US court for a $1 billion financial fraud.
This is in addition to the $2.12m received in the PTI's accounts directly from Wootton, as documented in the election commission's Aug 2 verdict in the party's prohibited funding case.
Documents show that the money was sent from Wootton Cricket's account to "The Insaf Trust" account opened by PTI Chairman Imran Khan's close friend, Tariq Shafi, in his capacity as the first chairman of the trust. Mr Shafi also received $575,000 in one of his personal accounts and transferred to a declared account of the PTI.
Interestingly, the declared objectives of the trust were to promote a sense of participative democracy and rule of law, democratic values and political awareness in the society, besides undertaking activities in various forms to promote health education and social order.
A clause of the trust deed included: "The trust, its funds or property or association of the trustees with the trust shall not be used for personal gain of any particular person or a group of persons."
Other signatories of the trust's bank account were the late Ashiq Hussain Qureshi and Hamid Zaman, both close friends of Imran Khan, and it was opened in May 2012 at the Habib Bank Ltd, Lahore Cantt branch.
On May 8, 2013, three days before the general elections, two media management firms — namely 'Communication Spot' and 'Group M' — were paid Rs36m and Rs25m, respectively, from the trust account for the PTI's election campaign, the documents revealed. The account was used for just one transaction and has been dormant ever since.
The funding for the media campaign through the account of a charitable organisation is said to be a serious violation of the Political Parties Order 2002, besides drawing charges of money laundering. This amount remained concealed from the Election Commission of Pakistan.
Sources in the FIA disclosed that Tariq Shafi and others who had opened the trust's account were iss­ued call-up notices thrice, but none of them turned up. They said the notices had also been issued to the two media management companies paid for the PTI's election campaign.
"Group M", in its response to the FIA's call-up notice, confirmed that it had received an advance payment of Rs412m to run the PTI's 2013 general elections campaign, out of which Rs375m were utilised and the balance was returned to the party via a cross cheque dated Sept 18, 2013. This amount was spent on media advertisements on different TV channels.
It further said the company had also provided similar services to other major political parties, including the PML-N.
The company, it said, was not aware of the sources of the funds they had invested in the media. "In short, the company had a professional relationship with PTI," its response stated.
The FIA probe revealed the refund was made via a cross cheque in favour of the PTI in its undeclared account, titled "PTI — National Ca­­m­paign Office", maintained in then-KASB Bank — now Bank Islami Pakistan. A major chunk of Rs383m — out of the Rs412m — had been paid to the company out of this ac­­c­ount in the now-defunct KASB bank. The PTI's central office account was used to contribute just Rs3.43m.
The other company, however, sought some more time to submit its reply.
Tariq Shafi has already approached the Lahore High Court that directed the FIA to continue its inquiry, but restrained it from taking any adverse action against him. Mr Shafi in his petition claimed the money was transferred through proper banking channels.
Source: Dawn
Please click the following URL to read the full text of the original story:
https://www.dawn.com/news/1708143/probe-reveals-dubious-funds-used-for-pti-media-drive
--------
Alvi seeks 'political pause' amid floods as Imran campaigns
Syed Irfan Raza
September 3, 2022
ISLAMABAD: President Arif Alvi on Friday urged political parties to pause their political activities owing to the devastating floods, saying any narrative that created divisions within national institutions was not in the national interest.
The president also urged all stakeholders to launch a nationwide drive to mobilise the nation of the country.
Dr Alvi's comments came on the same day his party chief and former prime minister Imran Khan addressed a public meeting in Gujrat. Mr Khan had also held a rally in Sargodha on Thursday.
President Alvi said although as the president he did not have a constitutional obligation to play a role to defuse the current political polarisation, he would volunteer in his personal capacity to mediate between them over major issues like the next elections, a consensus-based economic charter, and the way forward on making key appointments.
President approves bill suggesting death penalty for drug trafficking
"Businesses, civil society and humanitarian organizations should assist the civil and military administrations in their rescue and relief efforts to rehabilitate the flood victims and for the reconstruction of damaged infrastructure," the president said during a meeting with media persons.
In reply to a question, the president reiterated that no institution, including the judiciary and the army, should be used
for political point-scoring as such comments were not in the greater national interest.
"We need to understand that any comment, narrative or analysis, having the potential to create divisions within institutions or between institutions and people of Pakistan, could never be in our national interest."
Talking about the use of social media, Dr Alvi said certain users following a political party or a leader trolled and initiated derogatory trends against certain individuals and institutions without the knowledge or consent of the party or leader they supported. Such unverified attributions added to polarisation, he added.
President Alvi highlighted that the climate catastrophe had affected more than 33 million people, while 1,100 people, including over 350 children, had lost their lives. He emphasised the need for launching a nationwide drive for increasing forest cover in the country, shifting from fossil fuels to alternative means of energy and building delay-action and large dams to minimise the effects of climate change.
Moreover, he said, Pakistan had always pursued friendly and cordial relations with all countries. In reply to a question, he endorsed the Foreign Ministry's statement and expressed concern over the allegations by Afghanistan's acting defence minister regarding the use of Pakistan's air space by US drones for operations insdie Afghan­istan.
In the absence of any evidence, as acknowledged by the Afghan minister, such unfounded allegations were highly regrettable, the president said, and reaffirmed Pakistan's belief in the sovereignty and territorial integrity of all states.
Anti-Narcotics Bill: President Alvi approved the Control of Narcotic Substances (Amendment) Bill 2022, making it into law, which suggested death punishment as a maximum sentence for drug trafficking.
"The bill provides death or life imprisonment for offences related to the illicit trafficking of narcotics and psychotropic drugs of varying quantity, including heroin, morphine, cocaine and methamphetamine (ice)," said a press release issued by the Presidency.
The law provides imprisonment, which could extend to life imprisonment, but not less than 20 years with a fine not less than Rs1 million for offences involving heroin and morphine of four kilogrammes or more. It also provides a punishment of death or imprisonment, which shall not be less than life, along with a fine up to Rs2m but not less than Rs1.5m for offences involving heroin or morphine of 6kg or more.
The law provides for punishment of death or imprisonment for life not less than 20 years along with a fine of at least Rs2.5m for offences involving 5kg cocaine or more, and similar punishments for psychotropic substance methamphetamine (ice).
Source: Dawn
Please click the following URL to read the full text of the original story:
https://www.dawn.com/news/1708122/alvi-seeks-political-pause-amid-floods-as-imran-campaigns
--------
50 trucks bring vegetables from Iran, Afghanistan
Saleem Shahid
September 3, 2022
QUETTA: Following a decision of the federal government to allow the private sector to import tomatoes and onions from Iran and Afghanistan, 50 trucks carrying the vegetables have crossed into the country through the Taftan and Chaman borders.
"Over the last two days, 50 large-body trucks entered Pakistan through the Friendship Gates of Taftan and Chaman," a senior official of the Quetta Customs Collectorate told Dawn on Friday.
He said more consignments of onions and tomatoes would reach the country in the coming days.
"We received 27 trucks of fresh tomatoes and onions from Iran on Friday which were carrying 660 tonnes of onions and tomatoes while13 trucks reached yesterday," Arshad Hussain, a senior Customs officer told Dawn, adding these trucks were immediately dispatched to Quetta after completing legal formalities.
Deputy Collector of Customs, Chaman, Malik Muhammad Ahmed, said 10 trucks crossed into Pakistan through Chaman border from Afghanistan.
"The trucks loaded with the consignment of fresh tomatoes and onions were cleared after the routine checking," he said, adding that the federal government had already announced a zero Customs duty on import of tomatoes and onions from Iran and Afghanistan.
Meanwhile, the Chamber of Commerce and Industry of Balochistan welcomed the federal government decision to allow the private sector to import onions and tomatoes from the two brotherly countries at a time when unprecedented floods had destroyed the two crops in all flood-hit areas of the country.
The prices of these two commodities and other vegetables had massively gone up and the entire country was faci­ng the shortage of vegetables because of the flood devastation across the country.
Source: Dawn
Please click the following URL to read the full text of the original story:
https://www.dawn.com/news/1708138/50-trucks-bring-vegetables-from-iran-afghanistan
--------
Europe
Anti-Terror Prosecutor Warns of Islamic State Attack on French Soil
By Jay Clemons
02 September 2022
A prominent French official fears that his country will soon be the target of an Islamic extremist terror attack.
While speaking to French broadcaster BFM TV on Friday, Jean-Francois Ricard, France's anti-terrorism prosecutor, warned that imminent acts of terror could be carried out "by individuals coming from areas where terrorists are operating, especially the Iraqi-Syrian area."
Ricard's comments likely coincide with the impending trial of eight suspects in connection with the 2016 Bastille Day truck attack in Nice, France, which resulted in 86 deaths.
Ricard's suspicions might also be tied to a January attack in Syria, in which Islamic State militants raided a prison holding suspected extremists in the northeastern city of Hassakeh.
"For two years, we've been able to see how the Islamic State group was regaining some pieces of territory, was restructuring itself" in Iraq and Syria, says Ricard, while adding that extremist threats to France have greatly increased since 2020.
Ricard also acknowledged how some extremists — who were formerly convicted on terror-related charges in France — garnered lenient sentences before, but now pose a new threat to his country.
"Very often they have abandoned none of their convictions," said Ricard, while adding that France's judicial and intelligence services closely monitor released inmates.
Ricard says he feels that French authorities must do "everything we can" to preclude terrorists from attacking any city or province in France.
"It's a true problem that we must certainly not deny," says Ricard.
On July 14, 2016, an Islamic State group claimed responsibility for an attack in Nice. On that day, Mohamed Lahouaiej-Bouhlel reportedly plowed a 19-ton truck into an unsuspecting crowd waiting for a fireworks display.
Soon thereafter, Bouhlel was shot dead by French police.
According to The Associated Press, French authorities assert that Bouhlel, a Tunisian with French residency, was inspired by the extremist group's propaganda.
Three months ago, 20 men were convicted in connection with the 2015 Paris terror attacks on the Bataclan theater, Paris cafes and the national stadium.
This tragedy resulted in 130 deaths.
Source: News Max
Please click the following URL to read the full text of the original story:
https://www.newsmax.com/newsfront/france-terrorism-attack/2022/09/02/id/1085825/
--------
UK: Muslim students threaten to disaffiliate from NUS after Islamophobia claims
By Areeb Ullah
2 September 2022
The Federation of Student Islamic Societies (Fosis), the national body for Muslim students in Britain, has threatened to launch a disaffiliation campaign against the National Union of Students (NUS) after the NUS suspended its president-elect, Shaima Dallali.
Earlier this year, Jewish students accused Dallali of antisemitism and homophobia over old tweets she posted.
Dallali denied the claims and welcomed the QC-led investigation into her actions.
But following a leaked report that the NUS had suspended an elected president for the first time in its one-hundred-year history, Fosis said it would urge its members to launch disaffiliation campaigns across the UK against the national body.
In a statement published on Friday evening, Fosis said the NUS had a track record of failing to help Muslim students acting in elected positions within the organisation and student unions across the country.
"For many years, Fosis has dealt with troubling cases of Islamophobia experienced by Islamic Societies, Muslim sabbatical officers and the wider Muslim student community in both Higher and Further Education," Fosis said in a statement.
"This active targeting of Muslim students through a systematic pattern of over-scrutiny, bad faith allegations and subjugation to a disproportionate level of disciplinaries using Islamophobic tropes reflects prejudice and endemic bigotry that spans the entire educational journey of Muslim students.
"What Shaima is experiencing is a clear extension of institutional Islamophobia within the education sector, and it is apparent that NUS' attitude towards Shaima is a manifestation of this oppression."
Following her election, Dallali, a Black Muslim woman of Tunisian descent, told the Guardian that she feared for her safety after receiving a torrent of online abuse and threats.
Before she was elected NUS president, Dallali served as president at City University in London.
Dallali was then duly elected to serve as NUS president at the body's last national conference, which saw hundreds of delegates from across the UK vote for her.
She was due to start her new role in July, and serve in that position for a two-year term.
In May, following Dallali's election, the UK government's education minister said it would sever ties to the NUS over antisemitism claims and replace it with "alternative" student representation.
Founded in 1963, Fosis serves as an umbrella body serving Muslim students attending universities and further education institutions across the UK and Ireland.
Dallali did not respond to requests for comment at the time of writing.
An NUS spokesperson declined to comment on the claims that Dallali had been suspended from the organisation.
Source: Middle East Eye
Please click the following URL to read the full text of the original story:
https://www.middleeasteye.net/news/uk-muslim-students-threaten-disaffiliate-nus-after-islamophobia-claims
--------
Türkiye says Greece's negative statements cannot harm ties with NATO
Diyar Güldoğan
02.09.2022
Greece's negative statements to NATO about Türkiye cannot harm ties between Ankara and the alliance, the Turkish president said on Friday.
"Greece's negative approach to NATO does not weaken Türkiye-NATO relations," President Recep Tayyip Erdogan told the reporters after Friday prayers in Istanbul.
Source: Anadolu Agency
Please click the following URL to read the full text of the original story:
https://www.aa.com.tr/en/europe/turkiye-says-greeces-negative-statements-cannot-harm-ties-with-nato/2675286
--------
Türkiye will continue to respond to Greece's 'impertinence': Defence chief
Merve Gül Aydoğan Ağlarcı
02.09.2022
Ankara will continue to respond to Athens' "impertinence," the Turkish defense chief said on Friday, emphasizing Greece's continued provocations, offensive actions and illegal acts against Türkiye.
"We have always responded to this impertinence of Greece and we will continue to do so," National Defense Minister Hulusi Akar said at a military ceremony in the central Eskisehir province.
Citing Greece's recent harassment of Turkish jets over the Aegean and Eastern Mediterranean seas, Akar said the Turkish jets were engaged in a NATO mission.
"Since July 2, the mission notified about its activity to all NATO allies, everyone knew about it," Akar said, adding that it is "impossible" that Athens did not know about the mission.
"Yet, they intercepted our F-16s, which were carrying out their NATO duty. Greece made a false statement in a denialist way claiming 'We did not know that these were Turkish planes'," he added.
Stressing that Greece's actions are "extremely hostile and wrong," Akar said: "NATO and third countries should also see Greece's actions. We have warned all of our allies over Greece. We expect them to be objective. They should know that Greece's actions and rhetoric (on Türkiye) are not in line with friendship or alliance."
Noting that Ankara closely follows Athens' actions that disregard international law, good neighborly relations and friendship, the Turkish minister said: "As Türkiye, we continue our work not as a burden to NATO and our allies, but as a country that bears their burden."
Calling on Greece to stop seeing Türkiye as a threat, Akar said: "Türkiye is not a threat, it is an extremely powerful, effective, trustworthy ally for its friends and the alliance (NATO)."
He called on Athens to "take note from history" and said that Greece cannot achieve anything by arming the islands at the Aegean.
Akar urged Greece to "hold the hand of peace that we have extended. Let's continue our work in line with international law within the framework of good neighborly relations."
He said that Türkiye will not allow any fait accompli at the Aegean and Eastern Mediterranean seas, and affirmed that Ankara is "determined and adamant to protect our rights and interests in the Aegean, the Eastern Mediterranean and Cyprus."
Türkiye, a NATO member for over 70 years, has complained of repeated provocative actions and rhetoric by Greece in the region in recent months, saying such moves frustrate its good faith efforts for peace.
Source: Anadolu Agency
Please click the following URL to read the full text of the original story:
https://www.aa.com.tr/en/europe/turkiye-will-continue-to-respond-to-greeces-impertinence-defense-chief/2675034
--------
UK using 'delaying tactics' in releasing files on Saudi arms sales: Report
02 September 2022
The UK Department of International Trade (DIT) has been accused of using "delaying tactics" in releasing documents about the country's arms sales to Saudi Arabia on the pretext that it needs more time to see if releasing the information is in the public's interest.
Campaigners and activists argue that members of the public have the right to know about government decisions on selling lethal arms which are being used against civilians in Saudi Arabia's neighboring country, Yemen.
The department's Information Rights Unit has confirmed that it holds the due material but has rejected releasing them for the second time in a row, saying that it needs another 30 days to make a decision.
The development came in the wake of an inquiry by the Middle East Eye, which filed a freedom of information request in July, seeking information about arms exports to Saudi Arabia between 1 and 15 October 2016, when the Saudi-led coalition's conduct of the war was under scrutiny over a deadly airstrike in Yemen's Sana'a that killed more than 140 people.
Sam Perlo-Freeman, a research coordinator with the UK-based Campaign Against Arms Trade, which works towards the abolition of the international arms trade and has challenged UK arms sales to Saudi Arabia in the high court, said the department appears to be using "classic delaying tactics."
"The UK continued to approve arms export licenses to Saudi Arabia in the wake of some of the most horrific Saudi coalition attacks on Yemeni civilians," Perlo-Freeman said.
"It is important for the public to know – what concerns, if any, were raised by civil servants about these licenses? How did ministers, including [then-Foreign Secretary] Boris Johnson, respond to these concerns? Did these atrocities make any difference to their thinking?" he added.
The DIT's rejection for being responsive came after the UK-based Open Democracy media platform revealed that DIT was "the second most prolific" government department to use the "public interest loophole" in 2021.
Anna Stavrianakis, a professor in international relations at the University of Sussex, who was the requester of information from FOI and others, has said that obtaining the data is important in order to hold the UK accountable for its potential complicity in war crimes in Yemen.
Former Foreign Secretary Liz Truss faced a grilling by parliamentarians at a foreign affairs committee hearing in June, when she dodged a volley of questions from parliamentarians on the UK government's ambiguous stance on Saudi Arabia, saying that the Arab kingdom is an "important partner of the United Kingdom."
Asked about the Saudis' human rights record by Labour MP Chris Bryant, Truss stressed that "it is important to build a close trading relationship with the [Persian] Gulf states."
"Eighty-one executions in one day in Saudi Arabia and you don't think that's an authoritarian regime?" Bryant pressed at the time, referring to the execution of 81 people in Saudi Arabia on a single day in March.
"If a country is an authoritarian regime, it's fine to do business with it as long as the authoritarianism is only within its own borders, is that right?" Bryant continued, to which Truss dodged again and brought up unrelated issues about Russia and China.
According to the international charity organization Oxfam, the UK government licensed the export of air-to-air refueling equipment to Saudi Arabia last summer, when arms restrictions were lifted and London approved an additional £1.4 billion sale of other weapons.
"As the US has called for an end to the conflict in Yemen, the UK is heading in the opposite direction, ramping up its support for the brutal Saudi-led war by increasing arms sales and refueling equipment that facilitate airstrikes," Sam Nadel, head of policy and advocacy at Oxfam, said last year.
Source: Press TV
Please click the following URL to read the full text of the original story:
https://www.presstv.ir/Detail/2022/09/02/688501/UK-using-delaying-tactics-releasing-files-Saudi-arms-sales
--------
Africa
Tunisian army kills three ISIS-linked extremists
02 September, 2022
The Tunisian army said Friday it had killed three extremists linked to ISIS during an operation in the country's west.
The men, members of the "Soldiers of the Caliphate" group, were killed during a morning operation in the Mount Salloum area near Kasserine, a town close to the Algerian border, the defense ministry said.
The operation came three weeks after a gun battle with suspected terrorists in the same area wounded two Tunisian soldiers, according to authorities.
Tunisia saw a string of terrorist attacks that killed dozens of tourists and security forces in the years following its 2011 revolution, but authorities say they have made major progress against such groups.
Source: Al Arabiya
Please click the following URL to read the full text of the original story:
https://english.alarabiya.net/News/north-africa/2022/09/02/Tunisian-army-kills-three-ISIS-linked-extremists-
--------
Gunmen kill at least 42 people in Ethiopia's Oromiya region: Report
02 September, 2022
Gunmen killed at least 42 people in Ethiopia's Oromiya region, two residents who buried the bodies in mass graves said on Friday, the latest wave of killings in the country's most populous region where escalating violence has left hundreds dead.
The attack by an armed group against local residents occurred on Tuesday, the residents said, in the Amuru district, around 370 km (230 miles) west of the capital Addis Ababa.
Source: Al Arabiya
Please click the following URL to read the full text of the original story:
https://english.alarabiya.net/News/world/2022/09/02/Gunmen-kill-at-least-42-people-in-Ethiopia-s-Oromiya-region-Report
--------
Presidents of Türkiye, Republic of Congo meet in Istanbul
Diyar Guldogan
02.09.2022
Turkish President Recep Tayyip Erdogan and his counterpart from the Republic of Congo Denis Sassou N'Guesso met in Istanbul on Friday.
The leaders met at the Vahdettin Mansion, the Turkish presidency said in a statement, without giving further details about the closed-door meeting.
Source: Anadolu Agency
Please click the following URL to read the full text of the original story:
https://www.aa.com.tr/en/africa/presidents-of-turkiye-republic-of-congo-meet-in-istanbul/2675343
--------
Tunisian security forces kill 3 terrorists in Kasserine
Alaa Hammoudi
02.09.2022
TUNIS, Tunisia
Tunisian security forces have killed three gunmen from Jund al-Khilafa (Caliphate Soldiers) terrorist group in the Kasserine province, the country's Defense Ministry said on Friday.
"Joint units of the army, the (gendarmerie) and the national security were able to eliminate three terrorists affiliated with the Jund al-Khilafa organization," the ministry said.
The statement added that the terrorists were killed "in a field operation in the heights of Salloum, without recording injuries among the intervening units."
"Operations are still underway to track down the remaining terrorist elements of the aforementioned organization," the ministry said.
Since May 2011, Tunisia has witnessed several terrorist attacks that escalated in 2013, killing dozens of security and military personnel and foreign tourists.
Source: Anadolu Agency
Please click the following URL to read the full text of the original story:
https://www.aa.com.tr/en/middle-east/tunisian-security-forces-kill-3-terrorists-in-kasserine/2675399
--------
South Asia
Islamic Emirate Rejects USIP Report Claiming Terrorists in Afghanistan
September 3, 2022
The Islamic Emirate denied the assessment of the US Institute of Peace that says the "Taliban" has continued "to harbor a range of terrorist groups that endanger their neighbors."
According to USIP, the "Taliban" has given sanctuary to "the Tehreek-e-Taliban Pakistan (TTP), which threatens Pakistan; the East Turkestan Islamic Movement, which threatens China; the Islamic Movement of Uzbekistan, which threatens Uzbekistan; and ISIS-Khorasan Province, which threatens everyone (including the Taliban)."
But a spokesman for the Islamic Emirate stressed that the Afghan soil will not be used against any country.
"The Islamic Emirate does not allow anyone to threaten other countries from Afghan soil. Such allegations made in this regard are not true. Unfortunately, such allegations are published without evidence or proof. It is based on inaccurate information and propaganda," said Bilal Karimi, deputy spokesman for the Islamic Emirate.
According to USIP, one year after the Islamic Emirate came to power, Afghanistan's neighbors in the region are coming to grips "with the reality that they now own a greater share of Afghanistan's problems and the Taliban realize that neither recognition nor financial aid are going to come from the region easily."
The analysts give various opinions on the matter:
"The neighbors of Afghanistan are concerned and the neighbors of Afghanistan want the recognition of Afghanistan because Afghanistan then would be obliged to follow up with some international conventions. This could not be solved only via some verbal assurances by Kabul," said Torek Farhadi, a political analyst.
"If the neighbors really have concerns regarding Afghanistan, they should recognize Afghanistan,, so their concerns could be addressed," said Janat Fahim Chakari, an international relations analyst.
Source: Tolo News
Please click the following URL to read the full text of the original story:
https://tolonews.com/afghanistan-179679
--------
Khalilzad Urges US, Islamic Emirate to Pursue Doha Agreement
September 3, 2022
The former US special envoy for Afghanistan's reconciliation, Zalmay Khalilzad, urged Washington and the Islamic Emirate to pursue the agreement which they reached on February 29, 2019.
In an interview with TOLOnews, the US former envoy for Afghan peace called on the "Taliban" to mull over their policies regarding several issues including the closure of girls' schools beyond grade six in order to engage with the international community.
"(If) the Taliban want to have a legal government and be part of the international community and make a strong Afghanistan, they should revise their views," he said.
Khalilzad suggested the US and "Taliban" sit for talks and discuss the points of the agreements which have not been implemented.
"The US and Taliban should sit for (talks) on issues which were included in the Doha agreement but not implemented, like the guarantee on terrorism, like the formation of a government based on dialogue," Khalilzad said.
The Afghan-born US veteran diplomat accused the Islamic Emirate of breaching the Doha agreement, saying that he is sure about the killing of al-Qaeda leader Ayman-al-Zawahiri in Kabul, which to date the Islamic Emirate has still not confirmed. The Islamic Emirate's spokesman Zabiullah Mujahid earlier at a press conference called the killing of Zawahiri in Kabul an "allegation."
"I am sure this happened and the Taliban must also be aware of it and they know it. They have a problem with how to explain it because this is in contrast with the Doha agreement," Khalilzad said.
Source: Tolo News
Please click the following URL to read the full text of the original story:
https://tolonews.com/afghanistan-179676
--------
Seven Rohingya dead after boat seized, Myanmar authorities say
Sep 2, 2022
YANGON: Seven Rohingya people from a group of 65 seized by Myanmar authorities from a boat off the southern coast died of hunger, thirst and exposure, state media said Friday.
On Monday, authorities detained a vessel near Pyapon township, around 120 kilometres south of commercial hub Yangon, said the Global New Light of Myanmar newspaper.
"Four traffickers and 65 smuggled Bengalis were temporarily detained," it said, using the term by which Rohingya are pejoratively referred to by many in Myanmar.
Three men and four women later "died due to the bad weather and lack of food and water", it said.
Six others were still receiving medical treatment, while five men from the group "were detained so that they could be investigated and prosecuted under the law", the newspaper added.
Hundreds of thousands of Rohingya Muslims fled a military crackdown in Buddhist-majority Myanmar in 2017, arriving in neighbouring Bangladesh with harrowing stories of murder, rape and arson.
The Rohingya still in Myanmar are widely seen as interlopers from Bangladesh and are largely denied citizenship, many rights and access to healthcare and education.
Each year, hundreds make perilous, months-long boat journeys to other parts of Southeast Asia, often during the November-March period when the sea is safest for the small trawlers used by traffickers.
Source: Times Of India
Please click the following URL to read the full text of the original story:
https://timesofindia.indiatimes.com/world/south-asia/seven-rohingya-dead-after-boat-seized-myanmar-authorities-say/articleshow/93948811.cms
--------
Arab World
Iraq anti-government protesters demand political change after unrest
02 September, 2022
Hundreds of Iraqis angered by a months-long political crisis protested in the capital Baghdad on Friday, days after deadly clashes between rival Shia groups sparked fears of widespread unrest.
Brandishing banners and Iraqi flags, the non-partisan protesters streamed into west Baghdad's al-Nusoor square, demanding a complete political overhaul, according to footage carried by state media.
The mobilization followed nearly 11 months of paralysis that has left the country without a new government, prime minister or president, with Shia groups disagreeing on forming a coalition since elections last October.
Some demonstrators shouted the slogan: "The people want the fall of the regime."
Others carried banners and sang slogans deploring interference by neighboring Iran, according to videos and images circulating on social media networks.
"Iran will not rule anymore," they said.
The peaceful demonstrators were supporters of an anti-government protest movement that erupted in October 2019 but has since died down.
Their rallies in Baghdad are not rare but Friday's relatively large turnout came after Iraq's political crisis deepened.
Clashes between supporters of Shia cleric Muqtada al-Sadr and rival groups earlier this week turned the Green Zone -- home to government buildings and embassies -- into a battlefield.
Thirty Sadr supporters were killed in nearly 24 hours of clashes that erupted on Monday after his supporters stormed the government headquarters.
The violence moved to the country's south on Thursday where overnight clashes between Sadr-affiliated groups and the Iran-backed Asaib Ahl al-Haq force left four people dead.
Two members of Sadr's Saraya al-Salam force were among those killed.
The oil-rich country has been ravaged by decades of conflict and endemic corruption.
It is blighted by ailing infrastructure, power cuts and crumbling public services, and now faces water shortages as drought ravages swathes of the country.
Source: Al Arabiya
Please click the following URL to read the full text of the original story:
https://english.alarabiya.net/News/middle-east/2022/09/02/Iraq-anti-government-protesters-demand-political-change-after-unrest-
--------
Israeli attacks squeeze Iranian aerial supplies to Syria, sources say
02 September, 2022
Israel has intensified strikes on Syrian airports to disrupt Tehran's increasing use of aerial supply lines to deliver arms to allies in Syria and Lebanon including Hezbollah, regional diplomatic and intelligence sources told Reuters.
Tehran has adopted air transport as a more reliable means of ferrying military equipment to its forces and allied fighters in Syria, following disruptions to ground transfers.
Israel has long seen its foe Iran's deepening entrenchment in Syria as a national security threat and is widening the scope of its strikes to hit at this new transport method, the diplomatic and intelligence sources said.
The latest strikes on Wednesday night damaged Aleppo airport just before the arrival of a plane from Iran, a commander in an Iran-backed regional alliance who was familiar with the incident told Reuters.
Israel also carried out a strike on Damascus airport, damaging equipment, the government said, the second such attack airport since June when Israeli air strikes on the runway knocked it out of service for two weeks.
A Western intelligence source said that strike had also aimed to prevent the arrival of a cargo plane.
A spokesperson for the Israeli military declined to comment on the reports. Israel has been mounting attacks in Syria for years against what it has described as Iranian and Iran-backed forces that have deployed there during the 11-year war.
Ram Ben-Barak, head of the Knesset Foreign Affairs and Defence Committee, said that Israel's goal in Syria is to prevent Iran's plan "to establish another front against Israel in Syria and strengthen Hezbollah's capabilities in Lebanon."
In an interview with Tel Aviv 102 FM, he added that Israel has "managed to foil this plan in various ways."
'Playing with fire'
Syria's foreign minister responded to Wednesday's air strikes by saying Israel was "playing with fire" and threatening regional security.
A regional diplomatic source told Reuters the strikes marked a shift in Israeli targeting. "They started to hit infrastructure used by the Iranians for ammunition supplies to Lebanon," the source said.
"In the past it was only the supplies but not the airport. Now, they hit the runway," the source added.
That shift has been prompted by Iran's increasing use of commercial airliners instead of ground transfers to shuttle weaponry into Syria's two major airports, according to a Western intelligence source based in the region and a Syrian military defector familiar with the strikes' targets.
The intelligence source said Israel's intelligence-gathering had indicated "more flights were being used" to transport weapons and small military hardware that "can be smuggled in the regular civilian flights from Tehran."
In 2019, the United States sanctioned Mahan Air for transporting weapons and personnel to Iranian forces in Syria.
The Syrian military defector said such hardware typically included small UAV drone components, parts for precision-guided missiles and night vision equipment that are easy to "put in a carton in a civilian plane."
Ground transfers through Iraq, Syria and into Lebanon have been less appealing since local rivalries and turf wars along the Iraqi-Syrian border – where pro-Iran Iraqi militias are based – had been disrupting stock flows, the defector said.
When the Damascus airport was hit in June, Iran and allies began to increasingly use the Aleppo airport for transfers, he added – prompting the strikes there about two months later.
The strikes also provide clues as to where Iran is now deepening is entrenchment, said Nawar Shaaban, an analyst at the Omran Centre for Strategic Studies, which focuses on Syria.
While the strikes years ago concentrated on areas around Damascus and military zones in the northwest, their spread to Aleppo and even coastal zones highlight locations from which Israel perceives a strategic threat to emanate, he said.
"The dangerous thing is that when we look at these areas that are being hit, it tells us that Iran has spread out more," Shaban said.
Source: Al Arabiya
Please click the following URL to read the full text of the original story:
https://english.alarabiya.net/News/middle-east/2022/09/02/Israeli-attacks-squeeze-Iranian-aerial-supplies-to-Syria-sources-say
--------
Turkish volunteers put smiles on orphans' faces in Syria
Seda Sevencan
03.09.2022
IDLIB, Syria
Combing, cutting, and braiding, Turkish volunteers have been cheering up nearly 3,500 girls -- mostly orphans -- in war-torn Syria, doing their hair under a humanitarian project for several years.
The Human Movie Team, a social media movement in cooperation with humanitarian groups, has been carrying out the project named "Braids for hair and brotherhood for hearts" in different parts of Syria since 2018.
Thanks to the project, the children, many of whom have never had anyone to comb their hair, are reminded of what it is to be a child and cared for.
Almost 2,000 girls living in refugee camps in northern Azaz were first included of the project in 2018-2019, with cooperation from the Istanbul-based Humanitarian Relief Foundation (IHH) and the For Children group.
In cooperation with two humanitarian, volunteers brought smiles to the lips of nearly 300 more girls living in refugee camps in the northern Jarabulus district in 2020 by braiding their hair
A total of 22 Turkish volunteers cleaned and braided the hair of 1,000 orphan girls living in northern Idlib province this year, too.
Volunteers from different parts of Türkiye participated in a two-day event that ended on Friday with the support of the Orphan Foundation.
After their hair was braided and adorned with colorful pins, the girls were given gifts such as clothes, stationery, and toys.
'Love and care is humanitarian aid'
"By displaying their before and after photos, we're trying to tell the world how good these children feel, how beautiful they look, and how their hopes swell when they get cared for with this project," said project coordinator Tulay Gokcimen.
Speaking to Anadolu Agency after the project, Gokcimen said her organization got feedback that the self-confidence and academic success of the children in the project had increased, with people encouraging the group to continue their efforts.
"Since we've conducted this project mostly for orphan children, the love and care they receive is really uplifting for them," she said.
"People may ask why we go and do their hair instead of providing food and clothing in a war zone -- that is, instead of more basic needs. They may think that way, but love is the most basic need of a child, care is the most basic need of a child. Children of war need this love, care, and attention, too. We think love and care is humanitarian aid and humanitarian support for them," said Gokcimen.
"We want to continue this project, especially for refugee camps in different parts of the world," she said.
According to the Orphan Foundation's latest report, the number of orphans in Syria continues to rise as the civil war drags on for over a decade, with the latest data showing that of 9 million children in the country, more than 1 million are parentless.
Syria has been locked in a vicious civil war since early 2011 when the Bashar al-Assad regime cracked down on pro-democracy protests.
Source: Anadolu Agency
Please click the following URL to read the full text of the original story:
https://www.aa.com.tr/en/life/turkish-volunteers-put-smiles-on-orphans-faces-in-syria/2675763
--------
Reforms in Saudi Arabia's education sector producing highly skilled youth: Minister
September 03, 2022
Recent reforms in Saudi Arabia's educational system are helping the Kingdom produce highly skilled youth who are ready to meet the demands of the future labor market, Minister of Education Hamad Al-Sheikh said on Friday.
During a meeting of the G20 education ministers, Al-Sheikh praised Saudi Arabia's efforts to reform its education system to ensure that students are prepared for future jobs, the Saudi Press Agency (SPA) reported.
The reforms in the education system come as part of the Kingdom's Vision 2030 plan to build talented future generations that are prepared for the labor market.
Recent reforms in the Kingdom's education sector included expanding equitable access to high-quality early childhood education, the minister said.
The ministry has been constructing new classrooms, partnering with the private sector, engaging all education stakeholders, and hiring and training early childhood teachers to ensure students are provided with the best education, he added.
Source: Arab News
Please click the following URL to read the full text of the original story:
https://www.arabnews.com/node/2155436/saudi-arabia
--------
Iraq destroys Daesh stronghold in Mosul
September 03, 2022
DUBAI: Iraqi security forces destroyed a major stronghold that belonged to Daesh in the west of Mosul, state news agency (INA) reported.
In a statement, the Popular Mobilization Forces (PMF) said it had located the hideout in the Adaiya Mountains in the west of Mosul through a security operation.
Source: Arab News
Please click the following URL to read the full text of the original story:
https://www.arabnews.com/node/2155456/middle-east
--------
Turkish military forces, allied militants shell strategic town in northern Syria
03 September 2022
Turkish military forces and their allied militants have reportedly renewed shelling on a Kurdish-controlled town in Syria's northern province of Raqqah in a bid to advance in that strategic area, as Ankara is purportedly preparing for a new cross-border offensive in the Arab country.
Syria's official news agency SANA, citing local sources speaking on condition of anonymity, reported that the shelling targeted the town of Ayn Issa and the M4 international highway, which are situated near the border with Turkey.
The sources added that the strikes caused material damage to a number of houses and properties in the targeted areas, and left local people in a state of panic as a result of the attack.
The town of Ayn Issa has a strategic significance as it serves as a hub connecting Aleppo and Hasakah provinces through the M4 highway. It's also connected with the Tal Abyad city on the Syrian-Turkish border.
Last week, Turkish military forces and their allied militants shelled the villages of Abu Surra, al-Dibs and the M4 international highway in the same Syrian province.
Tal Tamr power substation out of service because of Turkish shelling
Also on Friday, the electrical substation in Tal Tamr town of Syria's northeastern province of Hasakah went out of service after Turkish forces and their mercenaries targeted the 66 kV line feeding the substation.
The attack led to a power outage in the center of Tal Tamr and its countryside.
SANA reported that Turkish forces also struck the villages of Tawila, Tal Tawil and al-Abush, causing material damage in those areas.
Turkey has deployed forces in Syria in violation of the Arab country's sovereignty and territorial integrity.
Ankara-backed militants were deployed to northeastern Syria in October 2019 after Turkish military forces launched a long-threatened cross-border invasion in a declared attempt to push members of the US-backed Kurdish People's Protection Units (YPG) militant group away from border areas.
Ankara views the YPG as a terrorist organization tied to the homegrown Kurdistan Workers' Party (PKK), which has been seeking an autonomous Kurdish region in Turkey since 1984.
Syrian President Bashar al-Assad and other senior officials have said Damascus will respond through all legitimate means available to Turkey's ongoing ground offensive.
On August 8, Turkish President Recep Tayyip Erdogan hinted at his country's plan for a new cross-border operation in Syria to purge the YPG fighters, who form the backbone of the so-called Syrian Democratic Forces (SDF).
"We will continue our fight against terrorism. Our decision to establish a 30-kilometer-deep (18.6-mile) secure line along our southern border is final," Erdogan said in an address to Turkish diplomats attending the 13th Ambassadors Conference in the capital Ankara.
Erdogan has already stated that a new Turkish operation against the YPG militants will remain on the agenda until security concerns are addressed.
Source: Press TV
Please click the following URL to read the full text of the original story:
https://www.presstv.ir/Detail/2022/09/03/688513/Turkish-military-forces,-allied-militants-shell-strategic-town-in-northern-Syria
--------
Mideast
Iran sends 'constructive' response on nuclear deal but US rejects it
Syed Zafar Mehdi
02.09.2022
TEHRAN, Iran
Iran has submitted its response to US comments on a European Union draft proposal aimed at salvaging the 2015 nuclear deal, calling it "constructive," but Washington has not reacted positively.
Iranian Foreign Ministry spokesman Nasser Kanaani in a statement early Friday said the response was sent to the EU coordinator, adding it has a "constructive approach" to finalize the negotiations
"After receiving the US response, the Islamic Republic's expert team examined it carefully, and the response was compiled and submitted to the coordinator tonight," Kanaani said.
He asserted that the response was put together "following evaluations at various levels."
The US State Department confirmed receiving the response but did not assess it positively.
"We are studying it and will respond through the EU, but unfortunately it is not constructive," said Deputy State Department spokesman Vedant Patel.
An unnamed Biden administration official was quoted as saying by Politico that based on Iran's response to the US comments, "we appear to be moving backwards."
Negotiations between Iran and the world powers to revive the 2015 nuclear accord have been underway in the Austrian capital Vienna since April last year, marked by multiple interruptions.
Josep Borrell, the EU foreign policy chief and coordinator of indirect talks between Iran and the US, proposed a new draft proposal after the latest round of talks in Vienna last month, which came after a five-month hiatus.
Iran filed its response to the EU draft proposal on Aug. 15, a week after the talks ended in Vienna. The Biden administration responded to Iran's comments through the EU coordinator on Aug. 24.
The two long-time adversaries have reportedly agreed to find a way around key sticking points, with Iran dropping its demand for the US to remove the Islamic Revolutionary Guard Corps (IRGC) from its Foreign Terrorist Organizations list.
French President Emmanuel Macron exuded confidence Thursday that a deal will be concluded "in the next few days." France is one of the signatories to the original 2015 accord.
Iran's Foreign Minister Hossein Amirabdollahian in a phone call Thursday with his Emirati counterpart Sheikh Abdullah bin Zayed Al Nahyan said Tehran has "shown goodwill and seriousness" about reaching a "robust and lasting deal."
On Wednesday during a joint press conference with his Russian counterpart Sergey Lavrov in Moscow, the top Iranian diplomat stressed the importance of "stronger guarantees" from the US.
Source: Anadolu Agency
Please click the following URL to read the full text of the original story:
https://www.aa.com.tr/en/middle-east/iran-sends-constructive-response-on-nuclear-deal-but-us-rejects-it/2674896
--------
Hamas, Islamic Jihad hail 'heroic' stabbing operation in occupied West Bank
03 September 2022
The Gaza-based Hamas and Islamic Jihad resistance movements have lauded as heroic a stabbing operation carried out by a young Palestinian, who was fatally shot by the Israeli forces in the occupied West bank city of al-Khalil.
Fadi Muhammad Ghattas was shot dead on Friday evening after the Israeli soldiers opened fire on the 19-year-old Palestinian over a stabbing attack at the entrance to the village of Beit Einun, five kilometers northeast of al-Khalil.
The attack, which took place near the Israeli settlement of Kiryat Arba, left one of the occupying regime's forces seriously injured.
In a press statement, Hamas spokesman Abdul-Latif Qanu offered condolences to the families of the Palestinian hero and his fans, stressing that, "The operation is a natural result of the escalation of the crimes of the occupation against our people, our cities, our prisoners and our holy sites."
The Hamas spokesman also called on Palestinian fighters to "target more settlers and occupation soldiers, engage them in all locations, and set the ground in flames under their feet."
In a separate statement, the Islamic Jihad resistance movement also expressed felicitations over the stabbing operation in al-Khalil.
"We in the Islamic Jihad Movement, as we mourn the heroic martyr who carried out his duty of resistance, affirm that the operation he carried out is a natural and legitimate response in light of the escalation of killings and arrests against our people in al-Quds and the occupied West Bank," the statement said.
The Islamic Jihad underlined that the operation represents a "blessed extension of the burning flame of resistance" in the cities and villages of the occupied West Bank in the face of the occupation.
"This operation confirms the vitality and continuity of our people's resistance against this occupation, and proves that armed resistance is the option that can deter the occupation and deter it from its terrorist practices," the resistance movement said.
"We salute our people and our resistance fighters in the cities and towns of the West Bank, and we congratulate their steadfastness despite all attempts at displacement and exclusion."
The fatal shooting on Friday came a day after Israeli forces killed two Palestinian men during two separate raids in the West Bank. The men were identified as Samer Khaled, 25, from al-Ain refugee camp in Nablus, and Yazan Affaneh, 26, from Umm al-Sharayet neighborhood south of Ramallah.
The Gaza-based Palestinian Center for Human Rights (PCHR ) said in a recent report that Israeli military forces have killed more than one hundred Palestinians, and wounded hundreds more during raids and various acts of aggression in the West Bank and the besieged Gaza Strip since the beginning of this year.
The PCHR said in the report that 112 Palestinians, including 81 civilians, have lost their lives as a result of repeated Israeli assaults.
The Gaza-based rights group also reported that 1,277 civilians, including 195 children, 39 women and 22 journalists, were injured in the West Bank and Gaza during the mentioned period.
In recent weeks, Israel has ramped up attacks on Palestinian towns and cities throughout the occupied territories. As a result of these attacks, dozens of Palestinians have lost their lives and many others have been arrested.
Source: Press TV
Please click the following URL to read the full text of the original story:
https://www.presstv.ir/Detail/2022/09/03/688517/Hamas-resistance-Islamic-Jihad-stabbing-operation-West-Bank
--------
Israelis, Palestinians scuffle at holy site in West Bank
02 September, 2022
Dozens of Palestinians gathered in the West Bank village of Nebi Samuel on Friday to protest the visit by an extremist Israeli lawmaker to a holy site that Jews consider to be the burial place of the Biblical prophet Samuel.
Itamar Ben-Gvir, 46, often stages provocative visits to Arab neighborhoods, rallying ultranationalist supporters to confront Palestinians and assert "Jewish Power" — the name of his party.
On Friday he visited the holy site in the outskirts of Jerusalem where a small synagogue serves Jewish faithful underneath a mosque built over the holy site.
Ben-Gvir who was once relegated to the margins of Israeli politics is surging in the polls ahead of the country's November elections.
The two sides traded insults and several participants, both Palestinian and Israelis, were seen being led away by police for questioning.
It was not immediately clear if any arrests were made.
Ben-Gvir has been a fixture of Israel's extreme right for more than two decades, gaining notoriety in his youth as a disciple of the late radical rabbi, Meir Kahane.
He transitioned into politics last year after a career as a lawyer defending radical Jewish West Bank settlers.
Ben-Gvir's supporters are largely religious and ultra-Orthodox Jews, who tend to have large families, and also come from the influential West Bank settler movement.
Source: Al Arabiya
Please click the following URL to read the full text of the original story:
https://english.alarabiya.net/News/middle-east/2022/09/02/Israelis-Palestinians-scuffle-at-holy-site-in-West-Bank
--------
FM: Iran to Continue Helping Lebanon on Clarifying Fate of Imam Musa Sadr
2022-September-2
The Iranian foreign minister made the remarks on his Instagram post on the occasion of the 41st anniversary of the kidnapping of Imam Musa Sadr and his two companions Sheikh Muhammad Yaqub and Abbas Badreddin in Libya in 1978.
Amir Abdollahian lauded Imam Musa Sadr's measures in unifying the Muslim and Christian communities of Lebanon.
"Imam Moussa Sadr has not been among us for 44 years, but his determination in the fight against the Zionist regime is still the great goal of the Islamic Ummah," the Iranian foreign minister added.
Amir Abdollahian poined out that the case of Imam Musa Sadr has always been one of the important issues on the agenda of the diplomatic apparatus of Iran and Lebanon.
Imam Musa al-Sadr was a highly revered Shia cleric of Iranian descent, who founded the Lebanese Amal (Hope) Movement in 1974. He came to Lebanon in 1959 to work for the rights of Shia Muslims in the port city of Tyre, located about 80 kilometers (50 miles) south of Beirut.
The prominent Shia cleric disappeared on August 31, 1978, during an official visit to the Libyan capital Tripoli.
Source: Fars News Agency
Please click the following URL to read the full text of the original story:
https://www.farsnews.ir/en/news/14010611000340/FM-Iran-Cnine-Helping-Lebann-n-Clarifying-Fae-f-Imam-Msa-Sadr
--------
President Rayeesi: Iran Ready to Broaden Ties with Vietnam
2022-September-2
In his congratulatory message to the Vietnamese president on Friday on the occassion of that country's national day, President Rayeesi said that Vietnam's success in the national and international arenas in the recent decades is indebted to the unity, amity and solidarity of the great nation of Vietnam and "leaders like you" to achieve the rapid development and growth.
"At the threshold of arrival of the 50th establishment anniversary of the diplomatic relations between the two countries of Iran and Vietnam, it is hoped that the two countries would witness further deepening of friendly relations between the two nations and cooperation in various economic, political and cultural fields," President Rayeesi added.
In a relevant development in July, President Rayeesi said that the Iranian and Vietnamese people are nations who have stood against colonialism and hegemony of the world powers, specially the US.
"We know Vietnamese as people who stood up to colonialism and hegemony and share close stances in this regard with Iran," President Rayeesi said in a meeting with the new ambassador of Vietnam to Tehran to receive his copy of credentials.
Source: Fars News Agency
Please click the following URL to read the full text of the original story:
https://www.farsnews.ir/en/news/14010611000447/Presiden-Rayeesi-Iran-Ready-Braden-Ties-wih-Vienam
--------
Palestinian killed in West Bank after stabbing Israeli soldier
02 September, 2022
A Palestinian was shot dead Friday after stabbing an Israeli soldier at an army post near Hebron in the occupied West Bank, the Israeli army and the Palestinian health ministry said.
"An assailant armed with a knife" approached a military post and stabbed a soldier, the army said in a statement, adding that another soldier opened fire and "neutralized" the assailant.
It said the "moderately" wounded soldier was "evacuated to a hospital for medical attention, while fully conscious, and his family has been informed."
The Palestinian health ministry said it had been informed of the death of a young man near Hebron, but did not immediately identify him.
Israel has occupied the West Bank since 1967, when it captured the territory from Jordan.
Source: Al Arabiya
Please click the following URL to read the full text of the original story:
https://english.alarabiya.net/News/middle-east/2022/09/02/Palestinian-killed-in-West-Bank-after-stabbing-Israeli-soldier
--------
Western powers can strike better Iran deal, Israeli lawmaker says
02 September, 2022
Israel believes Western powers can reach a better nuclear deal with Iran, a senior Israeli lawmaker said on Friday, as attempts to revive a 2015 pact seemed near finalizing.
"We must draft a much better deal with a much longer stick.
And this is what we're not seeing," Ram Ben-Barak, head of parliament's foreign affairs and defense committee, said in a radio interview on Israel's 102 FM.
The nuclear agreement had appeared near revival in March. But indirect talks between Tehran and Washington then broke down over several issues, including Tehran's insistence that the International Atomic Energy Agency (IAEA) close its probes into uranium traces found at three undeclared sites before the nuclear pact is revived.
After 16 months of indirect talks between Tehran and Washington, European Union foreign policy chief Josep Borrell said on Aug. 8 the bloc had laid down a final offer to overcome an impasse for the revival of the agreement.
The open probes and future inspection were Israel's main concerns with the current deal, Ben-Barak said.
"We must get honest and real answers about what they did there," he said.
Iran has said the probes were politically motivated.
Ben-Barak, who once served as deputy director of Israel's Mossad spy agency, said Iran is not as strong as some people may think and has been struggling under sanctions. This could lead Tehran to give up on its nuclear ambitions entirely, whether by diplomacy or military power, he added.
Israel, widely believed to be the Middle East's only nuclear power, has pledged never to allow Iran to obtain atomic weapons, saying Tehran advocates its destruction. Iran denies ever seeking nuclear arms and says its atomic program is peaceful.
Source: Al Arabiya
Please click the following URL to read the full text of the original story:
https://english.alarabiya.net/News/middle-east/2022/09/02/Western-powers-can-strike-better-Iran-deal-Israeli-lawmaker-says
--------
North America
US still hoping for Iran nuclear deal, 'but we're not going to stay at it forever'
02 September, 2022
The Biden administration is still hoping to reach an agreement with Iran to revive the 2015 nuclear deal but there is a deadline, according to National Security Council Spokesman John Kirby.
The president has said we want to get a deal, and we want to do this diplomatically. But we're not going to stay at it forever, so we hope that they'll act swiftly and we'll be able to move this thing forward," Kirby told Al Arabiya in an interview.
Washington and Tehran have been conducting indirect talks for well over 500 days. Iran has used stalling mechanisms throughout months of the negotiations and both sides have cast the blame on the other.
Asked about a specific timeframe, Kirby said it would not suit anybody "to be too specific right now."
The US believes they are closer today to a deal than they were two weeks ago, Kirby said, citing Iran's willingness to drop "some unrelated demands."
Iran relayed its response to Washington's comments on what the European Union previously said was the "final text" of an agreement. And US officials quickly sounded pessimistic, calling Tehran's "not constructive."
Shortly after, NSC Spokesperson Adrienne Watson released a statement saying, "This is a negotiation, with regular back and forth."
Watson added: "We will not negotiate in public. Some gaps have closed in recent weeks, but others remain."
Defending the deal
During his interview with Al Arabiya, Kirby defended the sanctions relief that Iran would get under a potential new deal.
Reports indicate that Iran would be on the receiving end of around $100 billion, which critics say will not be invested in the Iranian people or infrastructure.
Source: Al Arabiya
Please click the following URL to read the full text of the original story:
https://english.alarabiya.net/News/middle-east/2022/09/02/US-still-hoping-for-Iran-nuclear-deal-but-we-re-not-going-to-stay-at-it-forever-
--------
UN chief: former Kyrgyzstan president to head Afghan mission
Sep 3, 2022
UNITED NATIONS: Former Kyrgyzstan president Roza Otunbayeva has been appointed as the new UN special envoy for crisis-stricken Afghanistan, Secretary-General Antonio Guterres announced late Friday. Otunbayeva succeeds Deborah Lyons of Canada as head of the UN political mission in Afghanistan known as UNAMA. She will be in charge of the UN's humanitarian operations and dealings with the country's Taliban rulers.
Guterres said Otunbayeva brings to the position over 35 years of professional experience in leadership, diplomacy, civic engagement, and international cooperation.
She served as president in 2010-2011, as foreign minister on three occasions, in parliament and as deputy prime minister. She was also Kyrgyzstan's ambassador to the United States and Britain.
Presently, Otunbayeva is a member of Guterres' High-Level Advisory Board on Mediation and head of the Roza Otunbayeva Initiative Foundation in Kyrgyzstan.
UN humanitarian chief Martin Griffiths warned the Security Council Monday that Afghanistan faces deepening poverty, with 6 million people suffering severe food shortages stemming from humanitarian, economic, climate and financial crises.
Conflict, poverty, climate shocks and food insecurity "have long been a sad reality" in Afghanistan, Griffiths said. What makes the current situation "so critical" is the halt to large-scale development aid since the Taliban takeover a year ago, he said.
More than half the Afghan population, some 24 million people, need assistance and close to 19 million are facing acute levels of food insecurity, Griffiths said.
"We worry" those figures will soon worsen as winter weather sends already high fuel and food prices skyrocketing, he said.
Afghanistan's economy has cratered since the pullout of US and allied forces in August 2021 and the withdrawal of foreign aid agencies over the Taliban's refusal to allow girls to attend school and other human rights violations.
Source: Times Of India
Please click the following URL to read the full text of the original story:
https://timesofindia.indiatimes.com/world/us/un-chief-former-kyrgyzstan-president-to-head-afghan-mission/articleshow/93963714.cms
--------
Pentagon plans aid mission to Pakistan
September 3, 2022
WASHINGTON: The United States is conducting a military aid mission to flood-devastated Pakistan, the US armed forces' Central Command said Friday.
"CENTCOM is sending an assessment team to Islamabad to determine what potential support DoD (the US Department of Defense) can provide... as part of the United States' assistance to the flooding crisis in Pakistan," spokesman Colonel Joe Buccino said in a statement.
The decision followed a phone conversation on Thursday between CENTCOM commander General Erik Kurilla and Chief of the Army Staff Gen Qamar Javed Bajwa, the spokesman said.
Source: Dawn
Please click the following URL to read the full text of the original story:
https://www.dawn.com/news/1708173/pentagon-plans-aid-mission-to-pakistan
--------
US Navy says vessels seized by Iran were unarmed, 'posed no risk to naval traffic'
03 September, 2022
The US Navy publicly confirmed on Friday that an Iranian warship seized and detained two US unmanned surface vessels in the Red Sea earlier in the week.
This came two days after Iran tried and failed to seize a similar vessel in the Gulf. "Jamaran (FFLG 76), an Islamic Republic of Iran Navy ship, seized two Saildrone Explorer unmanned surface vessels operating near one another in international waters before returning the vessels to the US Navy the next day," the US Navy said.
On Friday, Iranian state-run media said that the country's navy seized and released two unmanned vessels, claiming they jeopardized maritime safety.
But the US Navy pushed back on the claim, suggesting that they were unarmed and taking unclassified photos of the surrounding areas while on an assigned patrol.
"The vessels posed no risk to naval traffic and had been operating in the general vicinity of the Southern Red Sea for more than 200 consecutive days without incident," according to the Navy.
After the US 5th Fleet detected an Iranian ship approaching the unmanned vessels, two US guided-missile destroyers and another two MH-60R Sea Hawk responded.
Source: Al Arabiya
Please click the following URL to read the full text of the original story:
https://english.alarabiya.net/News/gulf/2022/09/03/US-Navy-says-vessels-seized-by-Iran-were-unarmed-posed-no-risk-to-naval-traffic-
--------
White House rejects linking Iran nuclear deal, IAEA probes
02 September, 2022
There should be no conditionality between the re-implementation of the Iran nuclear deal and verifying whether Tehran has upheld its obligations under the Nuclear Non-proliferation Treaty, the White House said on Friday.
"There should not be any conditionality between re-implementation of the JCPOA and investigations related to Iran's legal obligations under the non-proliferation treaty," White House Press Secretary Karine Jean-Pierre told reporters, referring to International Atomic Energy Agency (IAEA) probes into uranium traces found at three undeclared Iranian sites.
Iran's foreign minister earlier this week said the UN atomic watchdog should drop its "politically motivated probes" of Tehran's nuclear work.
Those investigations, which Washington has consistently said are a separate matter, are a stumbling block to reviving the 2015 deal known as the Joint Comprehensive Plan of Action (JCPOA) under which Iran had curbed its atomic program in return for US, UN and European Union (EU) sanctions relief.
Iran on Thursday sent its latest response to an EU proposal on how to revive the agreement, which then-US President Donald Trump abandoned in 2018, arguing that it was too generous to Iran.
Source: Al Arabiya
Please click the following URL to read the full text of the original story:
https://english.alarabiya.net/News/middle-east/2022/09/02/White-House-rejects-linking-Iran-nuclear-deal-IAEA-probes
--------
Southeast Asia
PAS sets eyes on ignorant first-time Muslim voters to win GE15
By Radzi Razak
Saturday, 03 Sep 2022
ALOR SETAR, Sept 3 ― First-time voters ignorant of religion and politics will be the key to winning the 15th general election, according to PAS president Tan Sri Abdul Hadi Awang.
He said his Islamist party is laying the groundwork to win the vote of young Muslims voting voting for the first time, and is training its eyes on those deemed ignorant of religion and politics.
"The critical factor in PAS's victory in GE15 is the extent to which the election machinery is able to control the attitude of young voters who are mostly first-time voters who are said not to be interested in political issues.
"Decisive votes from among young men and women need to be the focus and target, especially among Muslims themselves who are ignorant of religion and even more ignorant in politics, which determines the future of the people," he said in his policy speech at the 68th PAS annual congress here.
The Marang MP attributed their ignorance to the onslaught of information from social media, and said the party must counter it through education.
He said that the party's election campaigners must be able to manage information and maximise new media platforms to appeal to their target voters.
"PAS Youth and Muslimat need to move creatively and inclusively to attract the support of young people and women who will be the deciding vote in GE15," he said, referring to the party's two wings.
Source: Malay Mail
Please click the following URL to read the full text of the original story:
https://www.malaymail.com/news/malaysia/2022/09/03/pas-sets-eyes-on-ignorant-first-time-muslim-voters-to-win-ge15/26273
--------
How is DAP able to influence non-Muslims in PAS-led Kelantan? Guan Eng asks
By Ben Tan
Saturday, 03 Sep 2022
KUALA LUMPUR, Sept 3 ― DAP chairman Lim Guan Eng today challenged political foe PAS to explain how his party is able to influence the non-Muslim minorities in Kelantan, which has been ruled by the Islamist party for decades.
He also expressed disbelief that there is 10 per cent of non-Muslims left in the north-eastern peninsular state that still backs PAS if the DAP were said to have such strong clout.
"How can DAP influence non-Muslim voters in Kelantan, unless they can see for themselves how racist and extremist PAS is?
"What is surprising is that there are still 10 per cent of non-Muslims in Kelantan who still support PAS," he said in a statement.
The Bagan MP noted that the figures were given by PAS vice-president Datuk Mohd Amar Nik Abdullah at the party's 68th annual congress underway in Kedah.
Mohd Amar is also deputy Kelantan mentri besar and was reported to have alleged that nearly 90 per cent of Chinese in Kelantan had rejected PAS candidates because they were swayed by the DAP.
Lim said the current PAS leadership has changed much from when Datuk Nik Abdul Aziz Nik Mat was its spiritual adviser and Kelantan MB, adding that the latter was able to gain the support of 90 per cent of the non-Muslims.
He also chided the current PAS leaders for defending their president Tan Sri Hadi Awang's assertion that non-Muslims and non-Bumiputera made up the most of the corrupt people in the country.
"Mohd Amar should therefore not be surprised that non-Muslims have such a negative view of PAS that they will not vote the Islamist party in Kelantan," Lim said.
He claimed that this was why Kelantan is the poorest state in peninsular Malaysia.
"After more than 30 years of PAS rule, many Kelantanese who were deprived of economic opportunities migrate to other states and even Singapore to seek job opportunities," he said.
Lim said PAS has become its own "worst enemy" by refusing to back down from its political narrative blaming the minorities for corruption in the country.
"Led by its president Tan Sri Abdul Hadi Awang, PAS is not ashamed to prove themselves to be extremists and racists, but also failed to offer solutions for the country's economic problems and corruption challenges," he said.
Lim also pointed out that PAS practices poor crisis management in floods, bad governance and cannot even provide clean piped water.
Source: Malay Mail
Please click the following URL to read the full text of the original story:
https://www.malaymail.com/news/malaysia/2022/09/03/how-is-dap-able-to-influence-non-muslims-in-pas-led-kelantan-guan-eng-asks/26270
--------
Agong: Don't turn mosques into political arena
02 Sep 2022
MARAN, Sept 2 — The Yang di-Pertuan Agong Al-Sultan Abdullah Ri'ayatuddin Al-Mustafa Billah Shah today decreed that mosques should never be used as a place to insult fellow Muslims, fight, or as a political arena.
His Majesty said that the mosque should be used as an institution that leads the way of goodness, a centre of Muslim activities, and even serves as a candle that illuminates the local community.
"I would like to send a message to the management of mosques throughout the beloved state of Pahang; the management of mosques is the trustee of Allah's house. Therefore, carry out the responsibility in managing this house of Allah with full sincerity, honesty, and trust.
"I do not allow any political party in the house of Allah; let this be a reminder to all of us and I hope no one disputes this order, it is for the well-being and common good of we Muslims and Malays.
"If you want to be political, do it outside the mosque, not inside the mosque; let this be a reminder to all of us and especially the mosque management, I hope the mosque management is responsible in this matter. Do not politicise what I said. It does not reflect the sanctity of Islam and the house of Allah. Don't say I don't issue a reminder...we all remind each other," said His Majesty.
His Majesty said this when officiating the new mosque of Bandar Tun Abdul Razak Jengka, Maran, in conjunction with the 63rd Birthday of the Sultan of Pahang, here.
The event was also attended by the Regent of Pahang Tengku Hassanal Ibrahim Alam Shah and Pahang royal family, as well as the state government leadership led by Pahang Menteri Besar, Datuk Seri Wan Rosdy Wan Ismail.
At the ceremony, His Majesty, who is also the Sultan of Pahang, officiated and proclaimed the mosque as Al-Sultan Abdullah Ri'ayatuddin Al-Mustafa Billah Shah Mosque.
Al-Sultan Abdullah also expressed his appreciation for the federal government's RM9.5 million allocation for the construction of the mosque.
"Here, I wish to thank former prime minister, Datuk Seri Najib Tun Razak, who approved the construction of this mosque. Thank you also to the Pahang government and all those involved from the initial planning until this magnificent mosque stands today as an iconic landmark," he said.
In addition, His Majesty is also of the view that the mosque is not only a centre for religious worship, but can be developed with various other functions including economic activities, sports, associations, learning and community.
"The mosque is a one-stop centre which can provide benefits to the local community. Based on that, the mosque management must be more far-sighted and proactive to step out of the mosque by visiting parishioners.
"The mosque should be strengthened according to the reality of the times because it is the last bastion for the unity of Muslims," said His Majesty.
Meanwhile, Al-Sultan Abdullah also ordered that the management of the mosque involves those from non-Muslim communities, so that they are closer to the Muslims and also understand the religion of Islam better, in addition to actively attracting youths and teenagers to be involved in improving the mosque.
His Majesty also called on young people to return to their villages and work the land with the Federal Land Development Authority (Felda).
Source: Malay Mail
Please click the following URL to read the full text of the original story:
https://www.malaymail.com/news/malaysia/2022/09/02/agong-dont-turn-mosques-into-political-arena/26146
--------
Hadi says PAS a forgiving party, but cannot compromise with sinners
By Radzi Razak
03 Sep 2022
ALOR SETAR, Sept 3 — PAS president Tan Sri Abdul Hadi Awang today proclaimed his party as highly tolerant and willing to forgive those who "admit their mistakes".
But he was quick to add that the Islamist party is unbending and will not compromise nor co-operate with those who abandon certain principles.
"PAS also does not turn a blind eye to evils such as corruption, money politics, office-seeking politics, misbehaviour and mismanagement.
"Because celebrating evils to merely maintain a relationship and wrongful interest until abandoning their principles is a wrong and sinful concept of ta'awun," he said in his policy speech before some 2,000 delegates at the 68th PAS annual congress here.
Ta'awun is an Arabic term meaning co-operation.
PAS has said that it is open to political co-operation with any party in the next general election, despite being a component member of the Perikatan Nasional (PN) coalition.
However, it has steadfastly rejected co-operation with the Pakatan Harapan (PH) coalition; having severed ties with two of its component parties PKR and DAP due to past disagreements when all three were members of the defunct Pakatan Rakyat.
The PAS wings have recently been upset that its PN partner, Bersatu, had declared an interest in teaming up with Opposition parties so they could take out the Umno-led Barisan Nasional (BN) coalition.
Despite their disparate views and ideologies, both PN and BN are governing Malaysia jointly at the moment.
At the same time, PAS leaders have shown they are keen to continue their political co-operation with Umno under their old Muafakat Nasional banner to avoid clashing in 27 parliamentary seats in GE15.
In his policy speech, Hadi in his speech said that PAS rejects any racial unity agenda that is narrow and has limited vision.
"At the same time, PAS is ready to discuss with all parties who show signs of sincerity to find a solution to return to Islam.
"This is very important to overcome the great problems of the people, not just a narrow political agenda, short term and not in harmony with Islam," he said.
He added that PAS' future direction and strategy for the upcoming 15th general election will be decided together by the Islamist party's central leadership committee as well as its top council of religious scholars.
"The mandate was handed over to the syura ulama council and the PAS central committee to research and make decisions in matters related to law, policy and strategy for facing the election, and all possibilities after the election, in order to ensure that Islam continues to lead, including matters of determining seats and candidates in the face of GE15," he said.
Source: Malay Mail
Please click the following URL to read the full text of the original story:
https://www.malaymail.com/news/malaysia/2022/09/03/hadi-says-pas-a-forgiving-party-but-cannot-compromise-with-sinners/26266
--------
URL: https://newageislam.com/islamic-world-news/islamic-punishment-blasphemy-nizamia-fatwa/d/127871
New Age Islam, Islam Online, Islamic Website, African Muslim News, Arab World News, South Asia News, Indian Muslim News, World Muslim News, Women in Islam, Islamic Feminism, Arab Women, Women In Arab, Islamophobia in America, Muslim Women in West, Islam Women and Feminism