New Age Islam News Bureau
13 April 2022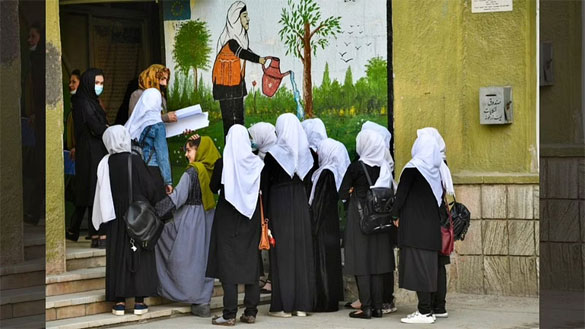 Girls arrive at their school in Kabul on 23 March 2022 | Photographer: Ahmad Sahel Arman/AFP/Getty Images via Bloomberg
-----
• Muslims Vulnerable To Communal Violence And Discrimination In India, Says US Human Rights Report
• Tunisia, France Seek To Protect Youth Against 'Violent Extremism'
• Pakistan PM Thanks Modi For His Congratulatory Message But Raises Kashmir Again
• Neither Army Nor Foreign Country Can Safeguard Democracy In Pakistan: Imran Khan
South Asia
• UNHCR Expresses Concern Over Taliban Decree Banning Girls From Schools
• Nearly 500 Ex-Afghan Officials Killed, Kidnapped By Taliban: New York Times Report
• Iran asks Taliban to ensure safety of diplomatic missions in Kabul
--------
North America
• India, US call on Pakistan to take 'immediate, irreversible' action against terrorism
• India, US urge Taliban to follow UNSC resolution, call for cessation of violence in Myanmar
• Hundreds of Iranian-Americans urge Biden to keep Iran's IRGC on US terror list
--------
Europe
• Just what the doctor ordered: Egyptian medics in the UK enjoy first Iftar together for two years
• Mali arrests three Europeans for 'terrorism:' Army
--------
India
• Tontadarya Mutt Fair: Hindu Outfits Warn Of Protest If Non-Muslim Traders Allowed Inside
• Raj Thackeray warns Maharashtra govt to act on loudspeakers on mosques by May 3
• Lucknow: Loudspeaker ban flouted in Mahanagar, action ordered
• Karnataka: Belur Temple Fair From Today, Non-Hindus Get Nod To Set Up Stalls
• Khargone: Muslims being harassed, Jamiat chief writes to Amit Shah
• Khargone: Cops beat up 70-yr-old Muslim woman after barging into her house
• Appeal for help: Muslim vendor's shop vandalised in Karauli
--------
Pakistan
• Neither Army Nor Foreign Country Can Safeguard Democracy In Pakistan: Imran Khan
• PTI not done with 'surprises', may reveal bigger one at Lahore rally
• Christians Display Same Fasting Spirit As Their Muslim Brethren; This Year They Happen To Observe Their Fasting Months Side By Side
• 8 social media activists of Imran's party held for campaign against Pak Army chief
• Big question mark hangs over Nawaz Sharif's return to Pakistan after 'medical treatment'
• New Pakistan PM Shehbaz Sharif likely to visit Saudi Arabia, China: Report
• Pakistan has emerged as transit hub for global narcotic smuggling
• Imran Khan's desperate bid to cling to power brought Pakistan closer to civilian coup
• ECP to hear PTI leaders' appeals against fines issued during local govt polls
• Shehbaz wants to take his sweet time to form 'consensus' cabinet
--------
Southeast Asia
• Pancasila Values Emblematic Of Islamic Teachings: Muslim Scholar
• COVID-19 Symptomatic People Must Avoid Tarawih At Mosques: Task Force
• Foundation's charity work ceased after I was charged, Zahid tells court
• Teens Lured By Myanmar Syndicate Now Safe In Thai Hands
--------
Arab World
• Lebanon Disburses Funds To Temporarily Avert Bread Crisis, Minister Says
• Renters across Lebanon face sky-high prices amid worsening economic crisis
• Lebanon PM welcomes return of Saudi Arabia ambassador, promises commitment to Riyadh
• Turkish charity distributes 3M bread loaves in Syria
• 8 million litres of Zamzam distributed to visitors at Grand Mosque during first third of Ramadan
• How worsening water crisis threatens lives and development in Iraq
--------
Mideast
• Despite Terror Wave, Israel Determined To Keep Al-Aqsa Open For Ramadan
• Hamas hails Libyan national team's refusal to play against Israel regime
• Palestinian resistance factions warn Israeli occupation against storming Al-Aqsa Mosque
• Erdogan highlights Importance of reading in Quran, Islamic culture
• Iran Reiterates Need for End of War, Siege on Yemen
• Minister: Iran to Turn into Exporter of Space-Related Services
• AEOI Chief: Iran Plans Production of 10kMW of Nuclear-Powered Electricity
• Iran sends top rights defender, journalist back to prison
• 'Iran open to public sector investments in nuclear energy'
--------
Africa
• Again, Gunmen Kill Monarch In Taraba Mosque, Injure Others
• MWL launches project for Ramadan baskets in Sudan
• Northern elders ask Buhari to resign, give reasons
• Erdogan plays to base with criticism of Tunisia
• Algeria accuses Morocco of killing three on edge of Western Sahara
Compiled by New Age Islam News Bureau
URL: https://www.newageislam.com/islamic-world-news/afghan-girls-taliban-leaders-medicine-football/d/126787
--------
School Ban For Afghan Girls, But Taliban Leaders' Daughters Play Football, Study Medicine Abroad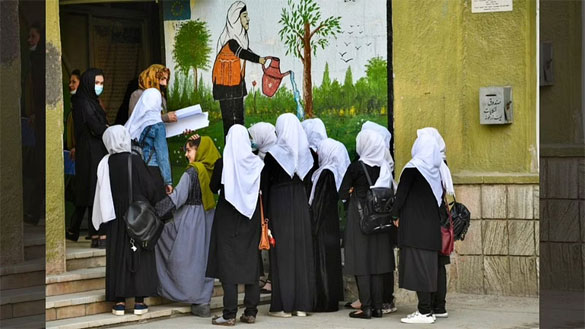 Girls arrive at their school in Kabul on 23 March 2022 | Photographer: Ahmad Sahel Arman/AFP/Getty Images via Bloomberg
-----
Praveen Swami
13 April, 2022
New Delhi: Even as Afghanistan's Islamic Emirate continues to deny education to girls beyond the sixth grade, more than two dozen top Taliban leaders are educating their daughters at schools in Doha, Peshawar and Karachi, sources familiar with the movement have told ThePrint.
The leaders include Health Minister Qalandar Ebad, Deputy Foreign Minister Sher Mohammad Abbas Stanikzai, and spokesperson Suhail Shaheen.
Two daughters of Suhail Shaheen study in state-regulated schools in Doha, home of the Islamic Emirate's political office, along with his three sons, a source familiar with the family said. The older daughter, the source said, even played football for her school's team.
Qalandar Ebad — a trained physician, with degrees from the Nangarhar University and Pakistan Institute of Medical Sciences, Islamabad — ensured a medical education for his daughter, who now works as a doctor in Islamabad, sources said.
Stanikzai's daughter, sources added, has completed her medical education in Doha, following her high school education at a well-known school.
ThePrint did not receive a response from spokesperson Shaheen's office, seeking comment on Islamic Emirate officials who were educating their daughters overseas.
When they took over Afghanistan last year, authorities in the Islamic Emirate — as the Taliban call the country — repeatedly promised to open education for girls, but rolled back their decision hours after schools reopened on 23 March.
"The leadership held its meeting recently and discussed in detail the girls schools," Taliban spokesperson Bilal Karimi said. "They, however, decided to keep the schools closed until a further meeting."
The Islamic Emirate has also removed women from employment, and restricted their ability to travel without a male relative. Last year, the Islamic Emirate's Ministry for the Promotion of Virtue and Prevention of Vice put up posters across Kabul, encouraging women to wear the all-enveloping burqa, though no official order has been issued.
Islamic Emirate leaders claimed last year that, in addition to problems related to curricula and uniforms, they lacked funding for schools.
In January, though, the US special representative for Afghanistan, Tom West, said it would pay all teacher salaries if schools were reopened for girls.
Taliban children studying abroad
The children of several senior Islamic Emirate ministers and civil servants, a diplomatic source said, are now studying at 'Iqra' schools — which offer a mixture of modern education with Islamic subjects — in Peshawar and Karachi.
The daughters of at least four members of the Taliban's powerful military commission are believed to have studied at Iqra schools, before the group seized Kabul last year.
Iqra schools — which combine religious-studies content traditionally offered in seminaries with subjects like English, the sciences and computers — aspire "to make Muslims and their children true Muslims", the trust administering them says.
The researcher Sabawoon Samim revealed in a report, released earlier this year, that one Taliban commander even ran his own Iqra-style school for girls in Quetta, complementing traditional madrassa subjects with classes in mathematics, science and English.
In addition, Samim reported, top Taliban leaders were taking educated second wives.
"The trend also goes along with some Taleban [sic] officials and commanders devaluing their existing wives for being rural, illiterate and 'backward' — not fit for the urban life some of them had experienced during exile and that was awaiting them after the takeover of Kabul," Samim wrote.
The Taliban functionaries who are educating their own daughters outside Afghanistan are thought to have spoken in favour of education for girls inside the Taliban's inner councils.
Shaheen and Stanekzai, one diplomatic source said, had argued against the Islamic Emirate's decision to shut down girls' schools. Last year, Shaheen said that Islamic Emirate policies had ensured that "girls are going to schools and they are going to universities".
The pro-education group is thought to have had the support of Islamists with a seminarian background, like the Islamic Emirate's de-facto deputy head of state, Sirajuddin Haqqani. Haqqani, diplomatic sources say, has the backing of Deputy Prime Minister Abdul Ghani Baradar and Minister of Defence Muhammad Yaqub.
Last week, a powerful coalition of Afghan clerics backed calls for girls' schools to be reopened, arguing that the education of women had the support of Islamic law and scripture.
Resistance to girls' education
The pro-education minority has, however, faced resistance from Pashtun traditionalists of Afghanistan's southern districts, who dominate the government.
Traditionalists argue that development aid is being used to blackmail the Taliban on girls' education. They also claim that the girls' education issue is being used to blackmail the Islamic Emirate on aid-related issues, and create divisions in its ranks.
Key opponents of girls' education, diplomatic sources say, include the Islamic Emirate's head, Hibatullah Akhundzada, Chief Justice Abdul Hakim, and Minister of Religious Affairs Nur Muhammad Saqeb.
Islamic Emirate conservatives have also expressed concern around morality, like men teaching female students, as well as girls' dress code and keeping students segregated in university.
Last year, Islamic Emirate Higher Education Minister Abdul Baqi Haqqani appeared to suggest secular education was of little value to the new regime, claiming modern studies were "less valuable" than clerical instruction, and promising to hire teachers with "values".
Education of girls has been a fraught issue in Afghanistan, with efforts to institute it by King Amanullah Khan in the 1920s and the pro-Soviet Union government that took power in 1978, leading to violent resistance against both regimes.
Even after a democratic government was instituted following 9/11, resistance against education for girls remained widespread in swathes of rural Afghanistan.
In a review of education in Afghanistan, the United Nations noted that the number of girls in higher education increased from around 5,000 in 2001 to around 90,000 in 2018.
Even though some 16 per cent of schools took only girls, in an effort to make education more acceptable to conservative parents, just 36 per cent of secondary school teachers were women, and remained concentrated in urban areas.
Source: The Print
Please click the following URL to read the text of the original story:
https://theprint.in/world/school-ban-for-afghan-girls-but-taliban-leaders-daughters-play-football-study-medicine-abroad/913150/
--------
Muslims Vulnerable To Communal Violence And Discrimination In India, Says US Human Rights Report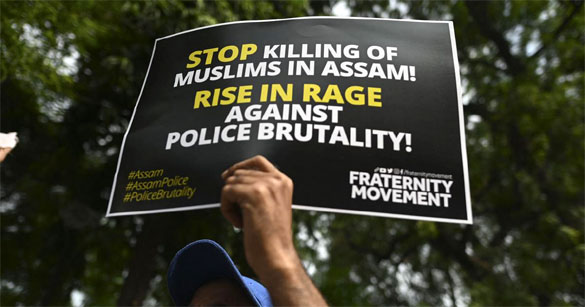 The report mentioned police shootings during eviction of Muslim villagers in Assam's Darrang district in September. | Sajjad Hussain/ AFP
-----
April 13, 2022
The US Department of State has noted that Muslims in India were vulnerable to communal violence and discrimination. The state department made the observation on the chapter on India in the "2021 Country Reports on Human Rights Practices", released on Tuesday.
The report made mention about discrimination against minorities in India, instances of extrajudicial killings, degrading treatment or punishment by police and prison officials and arbitrary arrest and detention by government authorities among other things.
"Despite government efforts to address abuses and corruption, a lack of accountability for official misconduct persisted at all levels of government, contributing to widespread impunity," it said.
The report also flagged violation of human rights in arrests of activists in connection to the Bhima Koregaon case, cases against Kashmiri journalists under the Public Safety Act and detentions under the stringent Unlawful Activities (Prevention Act).
Persecution of Muslims
The report noted incidents where Muslim men were paraded in public and forced to chant "Jai Shree Ram" in Uttar Pradesh's Kanpur and police shootings during eviction of villagers belonging to the community in Assam's Darrang district last year.
"Muslim communities continued during the year with cases of physical abuse, discrimination, forcible displacement, and lynching for suspected cow smuggling," it stated.
The reports also mentioned that the laws against religious conversions have targeted Muslims. Bharatiya Janata Party-led state governments in Uttar Pradesh, Gujarat and Madhya Pradesh have enacted anti-conversion laws since last year to penalise "love jihad".
The pejorative term has been used by Hindutva outfits to push the conspiracy theory that Muslim men lure Hindu women into marrying them with the sole purpose of converting their brides to Islam.
"These 'love jihad' laws seek to make forced religious conversion by marriage a criminal offense and have mainly targeted Muslim men attempting to marry Hindu women," the report stated. "Civil society groups criticized these laws as violating constitutional protections on freedom of religion, but some survey data suggested religious minority communities themselves sometimes expressed support for anti-conversion measures."
The Citizenship Amendment Act and exclusion of Muslims from its provisions was also observed in the report.
In 2019, Parliament passed the Citizenship Amendment Act, which provides an expedited path to Indian citizenship for Hindu, Sikh, Buddhist, Jain, Parsi, and Christian religious minorities from Afghanistan, Bangladesh, and Pakistan.
"Following passage of the Act, widespread protests against its passage and the exclusion of Muslims from the statute occurred throughout the country, leading to arrests, targeted communications shutdowns, bans on assembly, and deaths in a few instances," the report noted.
Arbitrary detentions
The report observed that detention laws like the Unlawful Activities (Prevention) Act and Public Safety Act were arbitrary.
The Unlawful Activities (Prevention Act) gives authorities the power to detain persons for up to 180 days without charge in cases related to insurgency or terrorism.
The report noted that in 2021, Manipur and Jammu and Kashmir saw an increase in the application of the Unlawful Activities (Prevention) Act. Since 2019, the Jammu and Kashmir administration has booked more than 2,300 persons in approximately 1,200 cases under the law.
"According to human rights NGOs [non-government organisations], police used torture, mistreatment, and arbitrary detention to obtain forced or false confessions," the report stated. "In some cases police reportedly held suspects without registering their arrests and denied detainees sufficient food and water."
The report specifically mentioned the treatment meted out to 84-year-old Stan Swamy, a Jesuit priest who was arrested in the Bhima Koregaon case. The case pertains to caste violence in a village near Pune in 2018. Sixteen people were arrested for allegedly plotting the violence.
Swamy died at a Mumbai hospital, while in police custody, on July 5, nearly nine months after he was arrested under the Unlawful Activities (Prevention) Act. He had suffered from multiple ailments including Parkinson's disease, and had contracted the coronavirus infection at the Taloja prison in Navi Mumbai.
The report noted that his bail petition submitted under medical grounds was rejected on multiple occasions by the National Investigation Agency court.
The report also mentioned that prosecutors had delayed starting the trial of activist Umar Khalid.
Khalid was arrested along with other activists, on September 14, 2020, after riots broke out between the supporters of the Citizenship Amendment Act and those opposing the law in North East Delhi between February 23 and February 26 of that year.
The report said that the Armed Forces Special Power Act violated the Article 21 of the Constitution which guarantees protection of life and personal liberty. The Act gives Army personnel sweeping powers to search, arrest, and to open fire if they deem it necessary for "the maintenance of public order".
The report also noted that the Public Safety Act, which is in force in Jammu and Kashmir, permitted the authorities to detain persons without charge or judicial review for up to two years without visitation from family members
"Authorities in Jammu and Kashmir allowed detainees access to a lawyer during interrogation, but human rights groups documented that police routinely employed arbitrary detention and denied detainees access to lawyers and medical attention," the report stated.
'Systemic racial violence' against Dalits
The report pointed out that 50,291 crimes were reported against Dalits in 2020 – a 9.4% increase from 2019.
"Crimes committed against Dalits reportedly often went unpunished, either because authorities failed to prosecute perpetrators or because victims did not report crimes due to fear of retaliation," the report stated.
The report noted that there were several reports of discrimination against Dalits when it came to access to services, such as health care, education, access to justice, freedom of movement, access to institutions, and marriage.
"Many Dalits were malnourished," it said. "Most bonded laborers were Dalits, and those who asserted their rights were often victims of attacks, especially in rural areas. As agricultural laborers for higher-caste landowners, Dalits reportedly often worked without pay."
Source: Scroll
Please click the following URL to read the text of the original story:
https://scroll.in/latest/1021739/muslims-vulnerable-to-communal-violence-and-discrimination-in-india-says-us-human-rights-report
--------
Tunisia, France Seek To Protect Youth Against 'Violent Extremism'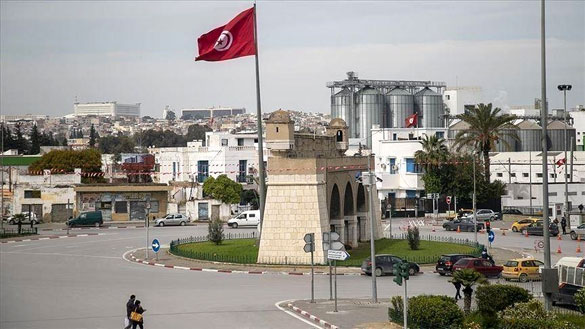 Photo: AA.com
----
Yousra Ounass
12.04.2022
TUNIS, Tunisia
Tunisia and France on Tuesday discussed cooperation in the field of protecting young people against "violent extremism."
This came in talks between Tunisian Prime Minister Najla Bouden and Gilles Kepel, the special envoy of French President Emmanuel Macron.
During the discussions, Bouden stressed the state's role in reducing social disparities by dedicating structural reforms to educational institutions, including at the university level, the Tunisian government said in a statement.
The Tunisian premier underlined the importance of training youth "to facilitate their integration into professional life, their involvement in society, and protect them against the dangers of extremism, violent extremism, as well as irregular migration."
According to the statement, Kepel stressed on the need for countries along the Mediterranean Sea, especially Tunisia, France and Italy, to exchange experiences "on finding out the causes of the phenomenon of violent extremism in our societies and ways to tackle them."
Source: Anadolu Agency
Please click the following URL to read the text of the original story:
https://www.aa.com.tr/en/africa/tunisia-france-seek-to-protect-youth-against-violent-extremism-/2561671
--------
Pakistan PM Thanks Modi For His Congratulatory Message But Raises Kashmir Again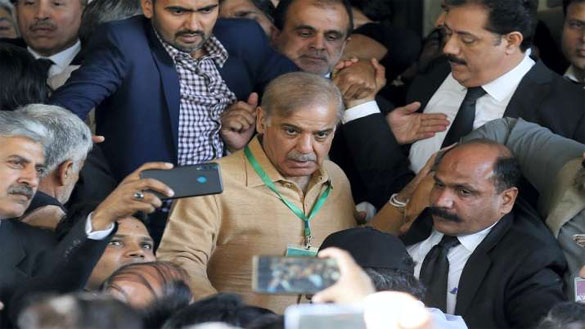 Pakistan PM / Image Source : PTI
-----
Apr 13, 2022
Pakistan PM Shehbaz Sharif on Tuesday again raised the Kashmir issue while thanking his Indian counterpart Narendra Modi for his congratulatory message.
Sharif tweeted Modi's message to say that Pakistan desires peaceful and cooperative ties with India and that peaceful settlement of outstanding disputes, including J&K, is "indispensable". While Modi had said that India desires peace and stability in a region free of terror, Sharif said Pakistan's "sacrifices" in fighting terrorism are well-known. "Let's secure peace and focus on socio-economic development of our people," added Sharif in his message.
This is the second time in two days, since he was elected PM on Monday, that Sharif raised the Kashmir issue.
While some in India believe Sharif - the brother of former PM Nawaz Sharif, who developed a good rapport with Modi - will be less hawkish than his predecessor Imran Khan in recent times on relations with India, Indian government sources warn against prejudging Pakistan's India policy under him. They said not much should be read into Modi's message as the PM had also lost no time in congratulating Khan in 2018.
Modi had on Monday congratulated Sharif on his election as the PM and said India desires peace and stability in a region free of terror so that "we can focus on our development challenges and ensure the well-being and prosperity of our people". In his inaugural speech, Sharif had raised the issue of nullification of Article 370 in Kashmir.
Source: Times Of India
Please click the following URL to read the text of the original story:
https://timesofindia.indiatimes.com/india/pakistan-pm-thanks-modi-but-raises-kashmir-again/articleshow/90810509.cms
--------
Neither Army Nor Foreign Country Can Safeguard Democracy In Pakistan: Imran Khan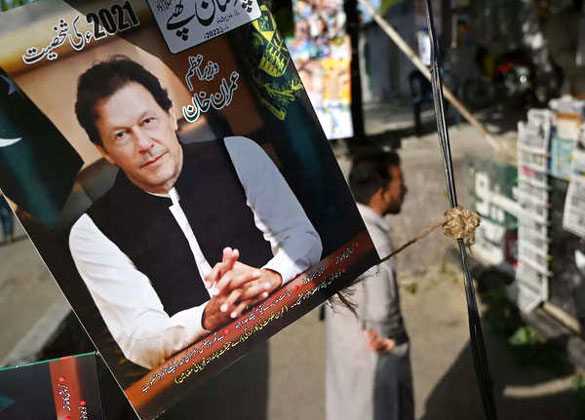 Imran Khan emphasised that no army or foreign country could safeguard democracy in Pakistan.
------
Apr 12, 2022
ISLAMABAD: Imran Khan on Tuesday called for early general elections in Pakistan and emphasised that no army or foreign country could safeguard democracy in the country. In a video message posted on his Pakistan Tehreek-e-Insaf party's official Twitter handle, days after he lost a no-trust vote in Parliament, the former prime minister said that only the people of Pakistan can safeguard their freedoms and the sanctity of democratic institutions.
He emphasised that no army or foreign country could safeguard democracy in Pakistan.
Pakistan has struggled with political instability since its formation in 1947 with multiple regime changes and military coups. No prime minister has ever completed a full five-year term.
The 69-year-old cricketer-turned-politician also announced that on Wednesday he will hold a meeting in Peshawar. "My first jalsa after being removed through a foreign- instigated regime change."
"I want all our people to come, as Pakistan was created as an independent, sovereign state not as a puppet state of foreign powers," he said in a tweet.
He again claimed that a "grand conspiracy" had been imposed on Pakistan, referring to the joint opposition's no-confidence motion which had resulted in his ousting.
Khan on Sunday had vowed to begin the "freedom struggle against a foreign conspiracy" of regime change in Pakistan.
"Pakistan became an independent state in 1947; but the freedom struggle begins again today against a foreign conspiracy of regime change," he wrote on his official Twitter handle on Sunday.
"It is always the people of the country who defend their sovereignty and democracy," he had said.
Khan has claimed that the Opposition's no-confidence motion against him was a "huge foreign conspiracy against Pakistan."
The former premier claimed he had evidence, stating a letter had been sent by former Pakistani ambassador to the United States, Asad Majeed after talks with the US assistant secretary of state for South Asia.
In response, the US categorically rejected Khan's allegations of a "foreign conspiracy" plotted in Washington, saying there was "absolutely no truth" to these claims.
Addressing the National Assembly on Monday after his election as Pakistan's 23rd Prime Minister, Shehbaz Sharif termed Khan's 'foreign conspiracy' claims as "drama".
Sharif said he will resign and go home if it is proved.
"Pakistan's National Security Committee would be briefed on a controversial letter related to the so-called foreign conspiracy," he said.
Khan had alleged that the US was involved in a conspiracy to topple his government.
"I will resign and go home if conspiracy is proved in letter controversy," Shehbaz said.
Source: Times Of India
Please click the following URL to read the text of the original story:
https://timesofindia.indiatimes.com/world/pakistan/neither-army-nor-foreign-country-can-safeguard-democracy-in-pakistan-imran-khan/articleshow/90803581.cms
--------
South Asia
UNHCR expresses concern over Taliban decree banning girls from schools
Apr 13, 2022
KABUL (AFGHANISTAN): United Nations High Commissioner of Refugees (UNHCR) has expressed concern over the closure of secondary schools for Afghan girls and their safety.
The UN agency said that Afghan women are not being allowed to work and get education while their safety concerns are mounting, Khaama Press reported.
"Afghan girls are facing restrictions on travel, work, education, besides their deteriorating safety situation in the country," said the UN agency, while calling for the protection of human values and rights of women and girls.
The envoys and representatives of the European Union, US, and the European countries in a joint statement have also said that the international aid to Kabul will depend on Afghanistan's ability to ensure access to education for girls at all levels, said a media report.
In the joint statement, the envoys and the representatives have said that the type and scope of "international donor assistance will depend, among other things, on the right and ability of girls to attend equal education at all levels," reported TOLOnews.
The joint statement further stressed that the progress towards normalized relations between the Taliban and the international community will depend mostly on Kabul's actions and delivery on commitments and obligations to the Afghan people and to the international community.
Moreover, during a briefing of the Diplomatic Corps on April 6, deputy special representative of the UN Secretary-General, Mette Knudsen, highlighted that the Taliban's decision to ban girls from attending secondary schools has negatively impacted the attitude of the global community towards them.
The Taliban have issued a decree banning female students above grade six from attending their classes in schools. The girls were further told to stay home until the Islamic Emirate announces its next decision.
Source: Times Of India
Please click the following URL to read the full text of the original story:
https://timesofindia.indiatimes.com/world/south-asia/unhcr-expresses-concern-over-taliban-decree-banning-girls-from-schools/articleshow/90812451.cms
--------
Nearly 500 Ex-Afghan Officials Killed, Kidnapped By Taliban: New York Times Report
13 April, 2022
Kabul [Afghanistan], April 13 (ANI): The Taliban, after seizing power in Afghanistan, have murdered or kidnapped about 500 former Afghan officials, military personnel and those believed to have collaborated with the United States.
The Taliban takeover in Afghanistan took place last August amid a complete withdrawal of US troops, yet an investigation conducted by New York Times revealed that about 500 former state officials and military personnel were either murdered or forcibly disappeared within six months of the Taliban resurgence, Sputnik reported.
Citing New York Times investigation, Sputnik further reported that the paper confirmed 86 killings in Baghlan Province alone, with 114 people missing in Kandahar Province. "The paper said the Taliban are exploiting the amnesty as a trap to lure soldiers out of hiding."
"They summoned me to the police headquarters. I figured because of the amnesty they might just ask a few questions…They started beating me and threw me in a well while telling me, 'You've fought against us for many years and killed so many of our best people.' I really believed that they were going to kill me. So many of my fellow soldiers were also thrown into the water well. These brutalities still continue to this day," a former Afghan military commander, who claimed anonymity told the NYT, according to Sputnik.
However, the Taliban officials have denied killings, saying the allegations are baseless and used as a propaganda tool by their opponents "in order to mislead the opinion of the world" about the Taliban.
The paper said that its staff conducted an investigation for seven months, using various methods to verify the data, including forensic video examinations, local media reports, and interviews with survivors, witnesses and family members of the victims, Sputnik reported.
Source: The Print
Please click the following URL to read the full text of the original story:
https://theprint.in/world/nearly-500-ex-afghan-officials-killed-kidnapped-by-taliban-report/914445/
--------
Iran asks Taliban to ensure safety of diplomatic missions in Kabul
12 April, 2022
Tehran [Iran], April 12 (ANI): Iran has asked the Taliban regime in Afghnaistan to ensure the security of its diplomatic assets in Kabul amid rising protests by the people against deportations of Afghan refugees.
In reaction to the protests, the spokesperson of Iran's Foreign Ministry Saeed khatibzada said, this is the responsibility of the Afghan government to ensure the security of Iran's diplomatic agencies in the country.
The Afghan protesters are taking to the streets to protest against the alleged ongoing ill-treatment of Afghan refugees in Iran by the country's people and police forces and several video clips have gone viral on social media showcasing the same, the most recent one being the burning of the door of Iran's consulate in Herat province, according to The Khaama Press.
The acting Foreign Minister of Afghanistan summoned Iran's ambassador to Kabul and raised with him the issue of Afghan refugees in Iran on Sunday. the news agency further reported.
Earlier, Iran's embassy in Kabul in a press release said that the ongoing ill-treatment is a foreign conspiracy that is aimed at disturbing bilateral relations between the two countries.
Source: The Print
Please click the following URL to read the full text of the original story:
https://theprint.in/world/iran-asks-taliban-to-ensure-safety-of-diplomatic-missions-in-kabul/913051/
--------
North America
India, US call on Pakistan to take 'immediate, irreversible' action against terrorism
April 13, 2022 -
The United States of America and India in a joint statement on Tuesday urged Pakistan to take "immediate, sustained, and irreversible action" to ensure that no territory under its control was used for terrorist attacks.
"[India] strongly condemned any use of terrorist proxies and cross-border terrorism in all its forms and called for the perpetrators of the 26/11 Mumbai attack, and Pathankot attack, to be brought to justice," the statement — issued by the US Embassy and Consulates in India — read.
It was issued as a part of the fourth '2+2' dialogue between India and the United States, which ended yesterday in Washington DC. India's external affairs and defence ministers, S Jaishankar and Rajnath Singh, held meetings with their their US counterparts, Secretary of State Anthony Blinken and Secretary of Defense Lloyd Austin.
Ahead of the dialogue on April 11, Indian Prime Minister Narendra Modi and US President Joe Biden met virtually.
According to The Indian Express, the 2+2 dialogue is a format of talks between the foreign and defence ministers of India and its allies on strategic and security issues. India holds dialogues on this format with four of its strategic partners — US, Russia, Australia, and Japan.
"The 2+2 Ministerial is an important opportunity to advance our shared objectives across the breadth of the US-India Strategic Partnership, including enhancing our people-to-people ties and education cooperation, building diverse, resilient supply chains for critical and emerging technology, scaling up our climate action and public health cooperation, and developing a trade and investment partnership to increase prosperity for working families in both countries. It is also a chance to highlight the growing major defence partnership between the United States and India," a statement issued by the US ahead of the meeting had said.
In the joint statement issued yesterday after the meeting, both countries called for concerted action against all terrorist groups, including those proscribed by the UNSC 1267 Sanctions Committee, such as al Qaeda, ISIS/Daesh, Lashkar-e-Tayyiba (LeT), Jaish-e-Mohammad (JeM), and Hizb ul Mujahideen.
"The ministers committed to continued exchange of information about sanctions and designations against terror groups and individuals, countering violent radicalism, use of the Internet for terrorist purposes, and cross-border movement of terrorists," it read.
India further highlighted the importance of upholding international standards on anti-money laundering and combating the financing of terrorism by all countries, consistent with Financial Action Task Force (FATF) recommendations.
"The ministers also reaffirmed their support for the early adoption of a UN Comprehensive Convention on International Terrorism (CCIT) that advances and strengthens the framework for global cooperation and reinforces that no cause or grievance justifies terrorism," the statement added.
Inclusive Afghan government
India also called on the Taliban to abide by the United Nations Security Council (UNSC) Resolution (2021), which demands that Afghan territory must never again be used to threaten or attack any country or to shelter or train terrorists, or to plan or finance terrorist attacks.
It urged the Taliban to adhere to these and all other commitments; respect the human rights of all Afghans, including women, children, and members of minority groups; and uphold freedom of travel.
"They also emphasised the importance of an inclusive Afghan government and unhindered access for the United Nations and its implementing partners to deliver humanitarian assistance. The Ministers recommitted to close consultations on Afghanistan to help facilitate an inclusive and peaceful future for all Afghans."
Humanitarian crisis in Ukraine
The countries further discussed the "worsening humanitarian crisis in Ukraine" and India demanded an "immediate cessation of hostilities". It underscored that the contemporary global order has been built on the UN Charter, respect for international law, and the sovereignty and territorial integrity of all states.
"The ministers reaffirmed their commitment to a free and open Indo-Pacific in which the sovereignty and territorial integrity of all states are respected, and countries are free from military, economic, and political coercion," the joint statement said.
Source: Dawn
Please click the following URL to read the full text of the original story:
https://www.dawn.com/news/1684811/india-us-call-on-pakistan-to-take-immediate-irreversible-action-against-terrorism
--------
India, US urge Taliban to follow UNSC resolution, call for cessation of violence in Myanmar
Apr 12, 2022
WASHINGTON: India and the US have called on the Taliban leadership to abide by the UNSC resolution which demands that Afghanistan's territory must never again be used to threaten or attack any country or to plan or finance terrorist attacks.
In a joint statement issued after the fourth India-US 2+2 Ministerial Dialogue, the two countries' ministers urged the Taliban to respect the human rights of all Afghans, including women, children and members of minority groups; and to uphold freedom of travel.
The fourth 2+2, the first under the Biden administration, was held in Washington on Monday. The Indian side was led by Defence Minister Rajnath Singh and External Affairs Minister S Jaishankar.
US Secretary of State Antony Blinken and US Secretary of Defense Lloyd Austin welcomed Singh and Jaishankar to Washington for the Dialogue. The Dialogue was preceded by a virtual meeting between Prime Minister Narendra Modi and US President Joe Biden.
"The ministers called on the Taliban to abide by UNSC Resolution 2593 (2021), which demands that Afghan territory must never again be used to threaten or attack any country or to shelter or train terrorists, or to plan or finance terrorist attacks," the joint statement issued by the Ministry of External Affairs said on Tuesday.
They also emphasised the importance of an inclusive Afghan government and unhindered access for the United Nations and its implementing partners to deliver humanitarian assistance.
"The Ministers recommitted to close consultations on Afghanistan to help facilitate an inclusive and peaceful future for all Afghans," the statement said.
The Taliban seized power in Afghanistan on August 15, two weeks before the US' complete troop withdrawal on August 31 after a costly two-decade war. This forced Afghan President Ashraf Ghani, who was backed by the US-led West, to flee the country to the UAE.
The Taliban insurgents stormed across Afghanistan and captured all major cities in a matter of days, as Afghan security forces trained and equipped by the US and its allies melted away.
UN Secretary-General Antonio Guterres, in his February report, said the situation in Afghanistan remains precarious and uncertain nearly six months after the Taliban takeover, as the multiple political, socio-economic and humanitarian shocks reverberate across the war-ravaged country.
"The Taliban is showing efforts to present itself as a caretaker government. The movement, however, has yet to form governing structures that reflect the country's ethnic, political and geographic diversity and include women. Efforts are constrained by the lack of resources and capacity, as well as an ideology that clashes in many ways with international norms of governance," it said.
The current Taliban regime in Kabul has not yet been recognised by the international community as they have failed to address global concerns regarding the formation of a truly representative and inclusive government in the war-torn country.
The hardline Islamists have also been urged to preserve the rights of women, children and other national ethnic groups and minorities in Afghanistan.
The ministers also called for the cessation of violence in Myanmar, the release of all those arbitrarily detained, and a swift return to the path of democracy and inclusive governance.
Myanmar's military seized power on February 1 after overthrowing the elected government led by Aung San Suu Kyi and declaring a state of emergency. Suu Kyi is among an estimated 3,400 people still being held by the junta.
"They also called for urgent implementation of the ASEAN Five Point Consensus," the statement said.
Source: Times Of India
Please click the following URL to read the full text of the original story:
https://timesofindia.indiatimes.com/world/south-asia/india-us-urge-taliban-to-follow-unsc-resolution-call-for-cessation-of-violence-in-myanmar/articleshow/90798827.cms
--------
Hundreds of Iranian-Americans urge Biden to keep Iran's IRGC on US terror list
12 April ,2022
A group of over 500 Iranian-Americans sent a letter to President Joe Biden on Tuesday urging him not to remove the Islamic Revolutionary Guards Corps (IRGC) from the US State Department's list of Foreign Terrorist Organizations (FTO).
"Removing IRGC from the FTO list will be a blatant disregard to the hope and legitimate struggle of Iranians in their struggle for freedom and dignity," the Iranian Professionals' Ad Hoc Committee on Iran Policy said in their letter.
As part of its negotiations with Iran over the nuclear deal, the US is considering Tehran's demand for the IRGC to be removed from Washington's terror blacklist.
But public backlash and recent criticism from the Republican Party and Biden's own political party have stalled the move.
Last week, the top US military general, Gen. Mark Milley, said he did not support removing the IRGC's designation and voiced his belief that the Quds Force was a terror group.
Although Gen. Milley was asked about the IRGC, he said the Quds Force was a terrorist organization. It is unclear whether he made the distinction on purpose or whether the US is considering removing the IRGC and leaving the IRGC-Quds Force designated.
A State Department official said that Biden believes the Quds Force is a terrorist organization.
"There is no distinction between the IRGC or the Quds force. They operate as one unit to fund, promote and implement Khamenei's agenda. The current designation is justified and should remain intact," said Kazem Kazerounian, a professor and one of the main organizers of the letter.
The letter to Biden said the IRGC was Tehran's instrument for terrorism abroad and repression of people on the streets of Iran.
"It is not accidental that the Iranian regime has placed the demand of removing IRGC from the terrorist list above any other issue. Such action by the US will unleash this horrible group again - on the Iranian people and on the other countries in the region," said Dr. Shahin Toutounchi, a distinguished engineer from Lattice Semiconductor Corporation.
Toutounchi told Al Arabiya English that many of those who signed Tuesday's letter and their families had first-hand experience of the atrocities by the IRGC.
"It is certainly noteworthy that IRGC has not shown the slightest indication of good faith efforts in halting malign behavior or advancing democratic institutions. To the contrary, the IRGC is playing a bigger role in creating proxy naval terror units, employing UAVs for terror operations, and funding terrorism around the globe," the letter read.
Source: Al Arabiya
Please click the following URL to read the full text of the original story:
https://english.alarabiya.net/News/middle-east/2022/04/12/Hundreds-of-Iranian-Americans-urge-Biden-to-keep-Iran-s-IRGC-on-US-terror-list
--------


Europe
Just what the doctor ordered: Egyptian medics in the UK enjoy first iftar together for two years
SARAH GLUBB
April 13, 2022
LONDON: Members of an organization for the Egyptian medical community in the UK got together for their first iftar meal in two years. They had been forced to put their annual Ramadan tradition on hold because of the COVID-19 pandemic.
Egypt's ambassador to the UK joined about 75 members of the Egyptian Medical Society at the event, as they gathered at a restaurant in central London to break their fast together.
"We are trying to do more activities now because our organization was a bit quiet during COVID and we didn't do much," Dr. Dia Kamel, the president of the society, told Arab News.
"But now we are trying to catch up and we're trying to focus on helping the poor and charitable work and how to (improve medical care) in Egypt and here as well."
Almost 4,000 of about 7,500 Egyptian doctors who work in Britain are members of the EMS. However the total membership of the society currently stands at about 6,000 because it also welcomes doctors from Arab countries, and some who work in other professions.
The society resumed its annual activities in July last year when pandemic restrictions began to be lifted in England, after what Kamel described as a "difficult" two years. Now he and the members are looking to the future.
"Our goal (is) to bring together all Arab doctors working in the UK, as well as Egyptians," he said. "We are in the UK and we're not based in our home country, so we consider any Middle Eastern colleagues our friends; they are welcome."
Kamel, who is a pathology consultant and professor at Anglia Ruskin University in Essex, said the EMS organizes charitable events and contributes in particular to Egypt, in addition to the Arab world.
"We organize several scientific events where Arab doctors meet and exchange the latest information and ideas, especially with regard to licensing and legalization and how they can practice safely in the UK, which is very important," he said.
After serving as secretary of the EMS for five years, Kamel was elected its president seven months ago. Under former leaderships, he said that only the most senior members had a say in how the society was run, but he wants to open it up and make it more democratic and inclusive so that all members, even the most junior, have a say.
"I'm trying to focus on all classes of Egyptian doctors who are working in the UK," he added. "At the same time we'll try to focus on how to help and how to really be influential in setting the standards in medical practice in many countries in the Middle East including, of course, Egypt."
The society was founded in 1985 and its activities are predominantly based in and around London. However Kamel said he plans to organize more events outside of the English capital so that members can meet their colleagues working in the North of England, in places such as Manchester and Hull, as well as in the West Midlands.
The EMS annual calendar of events kicked off this year by marking the Coptic Christmas on Jan. 7, the day Orthodox Christians celebrate the birth of Jesus. Each spring the society holds an afternoon tea gathering, and an iftar during Ramadan. It also organizes a scientific conference and during the summer it arranges a cruise along the River Thames.
In between these big events the society organizes various other activities focusing on food, poetry, music or art. It holds its annual general meeting in November each year, when elections are held.
"We are a registered charitable organization in the UK and we're raising money to help hospitals in the Arab world and poorer countries," Kamel said. "We have been to Sudan, we have been to Egypt several times, to Syria, and we even try to send people on voluntary missions to help the people in the Middle East."
Some of the society's projects are ongoing, he added, such as advising on COVID-19 protocols, while others are funded through auctions or gifts from wealthy Egyptian donors, such as Egyptian-British businessman Assem Allam, former owner of English Football League Championship club Hull City.
"We try to focus on the charity work, how to help each other and how to educate each other, and mainly to focus on the doctors working here and the doctors in Egypt and in the Arab world," said Kamel.
Source: Arab News
Please click the following URL to read the full text of the original story:
https://www.arabnews.com/node/2062131/world
--------
Mali arrests three Europeans for 'terrorism:' Army
13 April ,2022
Three Europeans suspected of "terrorism" have been arrested in central Mali during operations against extremists, the Malian army said Tuesday without giving identifying details.
"The Malian military detachment from Diabaly carried out the arrest on April 10, 2022, of five suspects including three European nationals," the general staff said in a statement.
The statement did not identify the suspects, who were arrested in Diabaly, about 300 kilometers (185 miles) northwest of Bamako.
Ruled by a military junta since August 2020, Mali has been in a political crisis since 2012.
Source: Al Arabiya
Please click the following URL to read the full text of the original story:
https://english.alarabiya.net/News/world/2022/04/13/Mali-arrests-three-Europeans-for-terrorism-Army
--------
India
Tontadarya Mutt fair: Hindu outfits warn of protest if non-Muslim traders allowed inside
13th April 2022
GADAG: While Tontadarya Mutt administration officials are silent on allowing non-Hindu traders from conducting business during the annual fair on April 15, some pro-Hindu outfits have warned them that protests would be intensified if non-Hindu traders are allowed.
The mutt has been a sanctuary of peace and harmony and has given the opportunity to all irrespective of their religion in fairs. Hindu organisations said Siddalinga Swami was denied entry into a mosque two decades ago when he visited all the religious places in Gadag, but he continued to spread the message of communal harmony.
Source: New Indian Express
Please click the following URL to read the full text of the original story:
https://www.newindianexpress.com/states/karnataka/2022/apr/13/tontadarya-mutt-fair-hindu-outfits-warn-of-protest-if-non-muslim-traders-allowed-inside-2441347.html
--------
Raj Thackeray warns Maharashtra govt to act on loudspeakers on mosques by May 3
Apr 12, 2022
THANE: MNS chief Raj Thackeray issued a veiled warning to the state government, Tuesday, asking it to ensure loud speakers installed atop mosques were removed by May 3 and claimed his party would not budge from its stance till the matter was resolved.
Thackeray repeated his stance on the nuisance caused by the loudspeakers, installed on mosques, at the public assembly in Thane barely a fortnight after his Gudi Padwa address to party workers in Mumbai. He chided the state home department for failing to implement the Supreme Court guidelines on the issue.
"I request the state government to talk with the religious leaders and ensure that the louspeakers from the mosques are removed by May 3. We are not opposed to prayers but what is the need to cause inconvenience to others especially students, the elderly and the ailing. If the state fails to act we will intensify our drives and play Hanuman Chalisa on loudspeakers also," he said.
While Thackeray launched a frontal attack on the NCP and its leaders, he surprisingly dodged speaking about the Shiv Sena, with the exception of taking a veiled dig at Sanjay Raut, during his hour long speech held in the core city area. Taking a dig at those criticizing his party wave to be diminishing, Thackeray said that these very people don't lose an opportunity to respond to his party's actions.
He also accused the state government to be deliberately deflecting from resolving the reservation issue so that the polls to local bodies could get delayed.
He raised questions on the frequent meetings between Sharad Pawar and prime minister Narendra Modi and pointed out if there was a connection between these meetings and raids conducted on the properties of Ajit Pawar and his close relatives and other party leaders. Thackeray minced no words as he went on verbally attacking NCP leaders Jayant Patil, Jitendra Awhad and even Chaggan Bhujbal.
Speaking about the reactions given by politicians over Enforcement Directorate raids, Thackeray said even he had received summons in the past and he went to the office and clarified his stance while taking a dig at those alleging victimisation bt the centre.
Source: Times Of India
Please click the following URL to read the full text of the original story:
https://timesofindia.indiatimes.com/city/thane/raj-thackeray-warns-maharashtra-govt-to-act-on-loudspeakers-on-mosques-by-may-3/articleshow/90806232.cms
--------
Lucknow: Loudspeaker ban flouted in Mahanagar, action ordered
Apr 13, 2022
LUCKNOW: The ban on playing loudspeakers after 10pm is being openly flouted in Mahanagar, residents told mayor Sanyukta Bhatia during Lok Mangal Diwas on Tuesday.
Residents said loud music is played in weddings and functions at Kalyan Mandap in Mahanagar even after 10 pm, posing inconvenience to people, especially elderly. The mayor instructed the zonal officer concerned to ensure no one flouts the ban and also penalise the violators. A Gomtinagar resident Ramsetu requested the mayor to get a submersible pump installed at Vishwas Khand public park.
Source: Times Of India
Please click the following URL to read the full text of the original story:
https://timesofindia.indiatimes.com/city/lucknow/loudspeaker-ban-flouted-in-mahanagar-action-ordered/articleshow/90809588.cms
--------
Karnataka: Belur temple fair from today, non-Hindus get nod to set up stalls
Apr 13, 2022
HASSAN: Two weeks after a Muslim trader was asked to vacate his shop from Chennakeshava temple complex in Belur of Hassan district, the taluk administration has given its nod for 15 non-Hindus to set up stalls during the two-day annual temple car festival starting on Wednesday.
Sujay Kumar, chief executive officer of Belur taluk municipal council, said there is no rule or law to stop non-Hindu vendors from carrying out business during temple fairs.
The taluk administration has identified a huge parcel of land about 100 metres from the temple where makeshift stalls have been set up for the temple festival. Vendors will be allowed to operate their stalls on this land till April 18. Some 60 stalls have come up on this parcel, and 15 of them are by non-Hindu vendors.
The officer said they held bidding through the e-procurement route nearly a month ago. "Anyone can set up a stall by paying the prescribed fee," he added.
Belur temple executive officer Vidyulatha told TOI: "The muzrai commissioner's office has directed that no officer, person or organisation is allowed to interfere in any tradition, ritual or custom under Section 58 of Hindu Religious Institutions and Charitable Endowments Act, 2002. Hence, the chanting of Quran verses will be conducted as mentioned in the Belur temple manual before pulling the chariot on the day of Brahma Rathotsava."
The 12th-century Chennakeshava temple, which is administered by the Karnataka muzrai department and is set to be recognised as a world-heritage site by Unesco, courted controversy when it issued eviction notice on March 28 to a lone non-Hindu vendor who has been running a shop on the shrine premises for decades.
The temple complex has 17 commercial shops. The notice has been served on the Muslim vendor selling children's toys for more than 50 years. The shop has been shut since. Regarding the eviction notice, Vidyulatha said she has not yet received any direction from the commissioner yet.
Sources said the Muslim vendor did not participate in the bidding process for setting up a stall in makeshift area.
Source: Times Of India
Please click the following URL to read the full text of the original story:
https://timesofindia.indiatimes.com/city/bengaluru/karnataka-belur-temple-fair-from-today-non-hindus-get-nod-to-set-up-stalls/articleshow/90809627.cms
--------
Khargone: Muslims being harassed, Jamiat chief writes to Amit Shah
April 12, 2022
JAMIAT ULAMA-I-HIND president Maulana Mahmood Madani on Tuesday wrote to Union Home Minister Amit Shah, seeking his intervention to stop "harassment" of Muslims in Madhya Pradesh's Khargone, where he has alleged that properties belonging to Muslims were being "selectively razed".
The Khargone district administration on Monday demolished 45 "illegal structures", a day after the area witnessed communal clashes during Ram Navami procession.
"Please allow me to draw your kind attention to a serious trend unfolding in the country against the minority community, that is Muslims. Anti-Muslim provocation by right-wing extremist groups has become a set pattern that is often followed by mass violence. The latest being Ram Navami processions…, after which violence was recorded from many places," Madani said in his letter. "Among all, Khargone in Madhya Pradesh perhaps is the most affected place where minority community suffered a lot. Several homes and religious places were torched and looted by anti-social elements."
"It is very unfortunate to see that after the outbreak of violence now local administration is harassing the minority community. In a selective manner, properties belonging to Muslims are being razed. People are homeless all of a sudden. Under which laws properties of a suspect of any crime is allowed to be demolished?"
Madani said he has been informed that so far 16 houses and 29 commercial shops, mostly belonging to Muslims, have been demolished. Among those arrested – 84 – he said 75 are Muslims.
Source: Indian Express
Please click the following URL to read the full text of the original story:
https://indianexpress.com/article/india/khargone-muslims-being-harassed-jamiat-chief-writes-to-shah-7866655/
--------
Khargone: Cops beat up 70-yr-old Muslim woman after barging into her house
12th April 2022
Even after Section 144 CrPC (banning assembly of four or more people) was imposed in the riot-hit city of Khargone, Madhya Pradesh, police officials mercilessly broke open the gates of Bilal Masjid on the wee hours of April 11 and barged into the house of a 70-year-old woman whose home is situated right in front of the mosque.
In a video shared on social media, policemen can be seen storming into the mosque and creating an atmosphere of fear. The old woman is heard requesting the men to stop. She even calls them "beta" (son).
Shaken by the events, the injured old woman said, "The policemen broke the fridge, looted cash, and hit me." According to her, the policemen severely thrashed the women present in the house and took all the valuables. There were no male members present at that time.
The women are hospitalized. One is said to be critical.
What happened in Khargone
Provocative songs were played during a Ram Navami procession in Khargone, which reportedly led to incidents of stone-pelting around 5 pm on Sunday. As per reports, 30 houses and shops were set ablaze and more than two dozen people were injured.
Reports say that Khargone's Superintendent of Police Siddharth Choudhary was shot in the leg. The matter calmed down a bit at around 9 pm, but violence flared up again at 12 am.
Police responded by launching a lathi charge and firing tear gas. Section 144 of CrPC was imposed on the entire city.
Muslims being targeted
Soon after the incident, homes of Muslims accused of rioting and stone-pelting were demolished in the city on April 11.
Source: Siasat Daily
Please click the following URL to read the full text of the original story:
https://www.siasat.com/khargone-cops-beat-up-70-yr-old-muslim-woman-after-barging-into-her-house-2307394/
--------
Appeal for help: Muslim vendor's shop vandalised in Karauli
12th April 2022
Following the anti-Muslim violence in Rajasthan's Karauli district last week, a number of small scale Muslim owned businesses were adversely affected.
One of the victims of the Karauli carnage is Najmuddin who owns a small shop in Boora Batasha Gali. On April 2 2022, Hindutva mob vandalised the shop and looted a few of his items and burnt the rest of it. The aged shopkeeper has three daughters and a son.
The shop was the only source of income for the family of six. Now, with the shop destroyed, there is little hope for Najmuddin and his family to get back to normalcy. A little contribution to the fundraiser would bring respite to the family.
Source: Siasat Daily
Please click the following URL to read the full text of the original story:
https://www.siasat.com/appeal-for-help-muslim-vendors-shop-vandalised-in-karauli-2307388/
--------
Pakistan
PTI not done with 'surprises', may reveal bigger one at Lahore rally
Ikram Junaidi
April 13, 2022
ISLAMABAD: Calling for general elections at the earliest, the political committee of the Pakistan Tehreek-i-Insaf (PTI) on Tuesday decided to hold public meetings and conventions to mobilise masses.
It was also decided that after the public gatherings in Peshawar and Karachi, a surprise move will be announced during the one scheduled to be held in Lahore one week later.
The party also decided to boycott any meeting of the Parliamentary Committee on National Security, which may look into the cable that allegedly revealed a conspiracy to topple the PTI government, and demanded the Supreme Court constitute an inquiry commission on the matter.
The meeting was chaired by PTI chairman Imran Khan and attended by all provincial presidents of the party, Secretary General Asad Umer, Vice Chairman Shah Mahmood Qureshi, and other leaders, including Fawad Chaudhry and Pervaiz Khattak.
PTI leader Dr Farrukh Habib, while briefing the media on the meeting, said Mr Khan will address a public gathering to be held at Peshawar's Ring Road on Wednesday (today).
"On April 16, another rally will be held in a ground adjacent to Mazar-i-Quaid in Karachi and yet another on the 23rd at Minar-i-Pakistan in Lahore. In these rallies, we will stress that the imported government is not acceptable, while a surprise move will be announced during the public meeting in Lahore. We are going to make a bigger move than what happened on Sunday (the deputy speaker's ruling). We have already resigned from the assembly and now the nation should get the opportunity to elect its representatives," he maintained.
Mr Habib said conventions of the Insaf Lawyers Forum, women's and youth wings will also be held soon. He also condemned the action against PTI social media activists and supporters, saying social media had always stood against the malicious propaganda against the country and defended the institutions.
Without mentioning Prime Minister Shehbaz Sharif, the former state minister said it is being said that an in-camera meeting of the Parliamentary Committee on National Security will be held to get a briefing on 'Lettergate' – an alleged foreign conspiracy against the recently ousted PTI government.
"However, I want to mention that 'Crime' Minister Shehbaz Sharif and Shahid Khaqan Abbasi earlier demanded the letter be presented and discussed in parliament after which they were invited for a briefing to the parliamentary committee, but they did not turn up. Even former National Assembly speaker Asad Qaiser invited Shehbaz Sharif to read the letter, but he did not bother because he was part of the conspiracy (allegedly mentioned in the letter) and was aware of the contents of the document," he claimed.
Mr Habib announced that the PTI will not attend the parliamentary committee meeting and demanded the Supreme Court establish an inquiry commission comprising members that no one could raise a finger at to put an end to any future foreign conspiracies.
"It is a fact that in Pakistan, governments are toppled with up to Rs20 billion. We have decided to contact the masses as it is necessary to hold general elections for economic stability in the country. The election commission should ensure fulfillment of its constitutional obligations," he said.
He further reiterated his party's stance that it was clearly mentioned in the letter sent by Islamabad's ambassador to the US that Pakistan will face consequences if the opposition's no-confidence motion failed, and that is why the National Security Committee termed it interference in Pakistan's internal matters.
He said Prime Minister Sharif, during his address in the National Assembly, should have explained how a hefty amount was allegedly transferred in the account of his employee. He alleged that before becoming the premier, Mr Sharif replaced the prosecutor and director of the Federal Investigation Agency, but no one bothered to take suo motu notice nor did the courts open late at night.
Replying to a question regarding an increase in the minimum wage and salaries and pensions of government servants, the former minister said former premier Imran Khan had already appealed to the business community to increase salaries and also announced interim allowances for employees.
He claimed that prices of edible items had suddenly increased at Utility Stores, adding the PTI government had recorded a Rs3,800 billion tax collection and left at a record Rs6,000bn in that head.
Source: Dawn
Please click the following URL to read the full text of the original story:
https://www.dawn.com/news/1684771/pti-not-done-with-surprises-may-reveal-bigger-one-at-lahore-rally
--------
Christians Display Same Fasting Spirit As Their Muslim Brethren; This Year They Happen To Observe Their Fasting Months Side By Side
Naeem Sahoutara
April 13, 2022
KARACHI: Assis Fernandes sits in a small shop, selling ready-to-eat items whole day, but he himself doesn't take anything from dawn to dusk.
"When you keep the fast, you abstain from all the good things. It also includes eatables. Say its Qeema Paratha, Chana Puri and every other else you eat in the breakfast", explains Fernandes, a 69-year-old Goan Christian.
Mr Fernandes runs a small shop selling ready-to-eat items specially made in Goan style — a legacy he inherited from his parents, who were born in Southern Indian state of Goa, which remained a Portuguese colony till 1960s.
Like elsewhere in the world, the Christians are observing fasts during the holy month of Lent, which is followed by the Easter Sunday — the day of resurrection of the Jesus Christ.
This year, Muslims and Christians happen to observe their fasting months side by side
"In Lent, we keep fasts for 40 days unlike our Muslim brethren who observe 30 days of fasts during the holy month of Ramazan," he tells Dawn.
"The only difference is that our fasts duration is longer than those observed by the Muslims", he adds drawing a comparison between the fast of two religious communities.
This year, Muslims and Christians happen to observe their respective fasting months side-by-side.
"This happens after a cycle of many years. This is good," said the tall and heavy man clad in round neck T-shirt and pants and wearing thick spectacles.
"Sometime, this used to happen, when me and my family were living in Muscat in 1989 or so", he reminisces.
Christians' fasting day
Mostly, the Christians are known to keep fast lasting for 24-hours. And while many priests and others observe the daylong fast, Mr Fernandes says he keeps the fast for around 12 hours.
"In the morning, I just take a cup of tea and an egg. That's it. Then, I break my fast at around 9 O'clock by having a normal dinner," he explains, adding that their community does not make any special arrangements for keeping the fast and breaking the fast compared to his Muslim neighbours, who he says are seen making specially eating arrangements both for Sehri (predawn meal) and then for Iftar (breaking the fast).
Mr Fernandes says that fast does not only mean abstaining from eating food, but it is equally a spiritual experience to observe as well.
"Let's say if people drink (alcohol) every day in other months. They will not take alcohol during the Lent, and rather take the wine", he says. "So, goes with the meat. You don't eat meat for it also reflects luxury".
Spiritual fast
Similarly, it goes for the spirituality. "When, I am fasting I sing prayers at least once during the day," Mr Fernandes says. "Be it at home or in the church. It's up to you."
Fernandes, his 62-year-old wife Luciana Fernandes and their younger daughter Stephanie Fernandes run a small shop that sells the readymade Goan food items.
The food items includes sorpotel (a meat curry dish), prawn caldine (prawn curry with coconut milk). Other items include Easter bunnies (with a mark of cross on them), Easter bark and Easter eggs. "Sorpotel is a dish exclusively made for the feast on special occasions like Easter, Christmas, birthdays, etc."
The family also sells trinkets for the women as well as faith-based jewellery like rosaries that the mother and daughter make themselves.
Ms Luciana is thin and clad in round-neck T-shirt over a long skirt — a dress commonly adorned by the Goans living and roaming around in the downtown Saddar neighbourhood.
As we continue conversation in their shop sandwiched between two shops selling firearms, a young Muslim man suddenly appears.
Wearing shalwar kameez and donning a white prayer cap over his head, 29-year-old Muhammad Shahid meets the Christian couple. Walking by limping due to some ailment that leaves him disabled for any hard work, the vendor is here to supply packets of ballpoint pens, as he regularly does.
Suddenly, Ms Luciana does something unexpected.
While she has been making rosaries at home for her Christian customers, this Ramazan she has specially made tasbeehs for Shahid so that he can sell them and earn some money ahead of Eidul Fitr.
She hands over a bunch of tasbeehs, made from beads in different colours and different sizes, to the vendor, telling him that he could sell the bigger one for Rs150 each and the smaller one for Rs100 each.
After the vendor leaves, Ms Luciana proudly says that she has asked the vendor that the bigger tasbeeh has cost her Rs40 and smaller one for Rs30.
"I have told him to return me the cost of the items only and keep the remaining money with him, how much it may be. But, I will not even charge him for the actual of the item."
Source: Dawn
Please click the following URL to read the full text of the original story:
https://www.dawn.com/news/1684680/christians-display-same-fasting-spirit-as-their-muslim-brethren
--------
8 social media activists of Imran's party held for campaign against Pak Army chief
M Zulqernain
13.04.22
Eight social media activists of Imran Khan's Pakistan Tehreek-i-Insaf (PTI) have been arrested for allegedly running a vilification campaign against Pakistan Army Chief Gen Qamar Javed Bajwa.
The arrests were made by Pakistan's Federal Investigation Agency (FIA) on Tuesday in different parts of the Punjab province over targeting of the Army chief and Supreme Court judges on social media.
Khan was ousted as the prime minister after the joint opposition's no-confidence motion against him succeeded on March 8. In the days that followed, a campaign against Gen Bajwa appeared a top trend on Twitter.
According to the FIA, it has received a list of 50 suspects involved in social media campaign against the army chief and the apex court judges from the intelligence agencies and eight of them have been taken into custody.
Hundreds and thousands of tweets blames the SC chief justice and the army chief responsible for the ouster of Khan at the behest of the US.
Khan's close aide Asad Umar said in a tweet: "Petition challenging the harassment of PTI social media activists has been finalized and will be filed in high courts on Wednesday."
Meanwhile, a meeting of Pakistan Army officials on Tuesday took note of the campaign against the institution on social media and expressed complete confidence in the leadership's "well-considered stance to uphold the Constitution and the rule of law".
According to a statement issued from the Inter-Services Public Relations (ISPR), the 79th Formation Commanders' Conference was held at the General Headquarters that was attended by the army's corps commanders, principal staff officers and all formation commanders and presided over by Chief of Army Staff (COAS) General Bajwa.
Source: Telegraph India
Please click the following URL to read the full text of the original story:
https://www.telegraphindia.com/world/8-social-media-activists-of-imran-khans-party-held-for-campaign-against-pak-army-chief/cid/1860425
--------
Big question mark hangs over Nawaz Sharif's return to Pakistan after 'medical treatment'
Apr 12, 2022
LAHORE: The jury is still out on whether deposed Pakistan prime minister Nawaz Sharif will return to Pakistan from London after Eid next month or once he gets a clean bill of health from his doctors or a reprieve from the country's courts in corruption cases pending against him, according to PML-N officials.
A debate in the ruling Pakistan Muslim League-Nawaz (PML-N) has begun on the return of the party supremo and the three-time prime minister Sharif's expected return after his younger brother Shehbaz Sharif became the new prime minister of the country.
Although PML-N parliamentarian Javed Latif has claimed that Sharif will return to the country after Eid which will be celebrated in the first week of May, the party spokesperson has asserted that nothing is final on Sharif's comeback till he is declared fit to travel by his doctors.
"Mian Nawaz Sharif will return to the country once his doctors in London declare him fit to travel. Besides, the decision on it will be taken in consultation with the party leadership," PML-N central spokesperson Marriyum Aurangzeb told PTI on Tuesday.
Several corruption cases had been launched by the government of ex-prime minister Imran Khan against the 72-year-old Sharif since his ouster from office by the Supreme Court in July 2017 in the Panama Papers case.
In November 2019, Sharif left for London after the Lahore High Court granted him four-week permission allowing him to go abroad for his treatment. He had given an undertaking to the Lahore High Court to return to Pakistan, citing his record to face the process of law and justice within four weeks or as soon as he is declared healthy and fit to travel by doctors.
Sharif was also given bail in the Al-Azizia Mills corruption case in which he was serving seven-year imprisonment in Lahore's Kot Lakhpat jail. The court has declared him a proclaimed offender (PO) in the Toshakhana case.
"Mr Nawaz's return to Pakistan largely depends on the relief he gets from courts in corruption cases pending against him," a senior PML-N leader told PTI.
He said if the deposed premier decides to return immediately, he will have to go to jail in the Toshakhana case in which he has been declared a proclaimed offender.
"Unless Mr. Nawaz gets clean chit in a couple of cases against him here, he will not return to create difficulties to his party-led coalition government," the party leader said.
The PML-N has virtually ruled out an immediate return of Sharif.
"Immediate return of Nawaz will provide Imran Khan's Pakistan Tehreek-i-Insaf (PTI) an opportunity to establish that he had no serious health problems and he was waiting for the regime change to return," he said.
Khan recently confessed that allowing Sharif to go abroad was a big mistake. The ex-prime minister and his party men often claim Sharif faked his illness to leave the country.
Another PML-N leader said the 'appropriate time' for Sharif's return can be either just before the next polls or after it.
"Nawaz may return before polls to lead his party's campaign," he said.
Nawaz's daughter Maryam, said the long journey of pain ended with the departure of the Khan's PTI government.
"What's your idea of earthly happiness? Mine is to be vindicated in one's own lifetime! A long journey of pain, irreparable losses & arduous struggle ended in this smile," she said in a tweet.
Sharif's return to Pakistan has again made headlines in the country after ex-prime minister Khan became the first premier in the country's history to be voted out of power through a no-confidence motion held early Sunday.
The joint Opposition's no-confidence motion, which required 172 votes in the 342-strong parliament to pass, was supported by 174 lawmakers on Sunday, ending Khan's prime ministerial term and seemingly bringing an end to the protracted political crisis in Pakistan.
Sharif on Thursday hailed the Supreme Court's decision to restore the National Assembly after the deputy speaker dismissed a no-trust motion against Khan.
"People of Pakistan are thanking God that this decision has been announced. The premier made the common people of Pakistan starve," he said.
"I would like to congratulate everyone in the country. People have gotten rid of such a person who ruined the country. He made common people starve. The dollar has reached 200 today and people are frustrated with inflation in the country," he said.
Source: Times Of India
Please click the following URL to read the full text of the original story:
https://timesofindia.indiatimes.com/world/pakistan/big-question-mark-hangs-over-nawaz-sharifs-return-to-pakistan-after-medical-treatment/articleshow/90806638.cms
--------
New Pakistan PM Shehbaz Sharif likely to visit Saudi Arabia, China: Report
Apr 12, 2022
ISLAMABAD: Shehbaz Sharif is expected to travel to Saudi Arabia and China in his first foreign trip after taking charge as Pakistan's new prime minister, according to a media report on Tuesday.
Traditionally, a Pakistani prime minister's first foreign visit has often been to Riyadh and Beijing due to Islamabad's strategic relationship with both countries.
Sharif, 70, was sworn-in as the 23rd prime minister of Pakistan on Monday following Imran Khan's ouster a day earlier. Khan, head of the Pakistan Tehreek-e-Insaf party, became the first Pakistani premier to lose a no-confidence motion in the National Assembly.
The Express Tribune newspaper, quoting a leader of the ruling Pakistan Muslim League Nawaz (PML-N), said that Sharif during his visit to Saudi Arabia will perform Umrah and meet the Saudi leadership.
The Sharif family maintains a close personal relationship with the Saudi royal family as the latter played a central role in ensuring the safe exit of Nawaz Sharif after the October 1999 coup.
Saudi Arabia in the past has extended financial bailout packages to successive Pakistani governments. Riyadh gave former prime minister Imran Khan's government a $6 billion bailout package, the report said.
It is unclear if Sharif will also seek financial assistance, given that Saudi Arabia provided $3 billion dollars to Pakistan not long ago, it said.
After the Saudi visit, Sharif is also expected to travel to China.
Sharif is known to enjoy a good reputation amongst the Chinese leadership because of his administrative qualities. During the previous PML-N tenure, Shehbaz played a central role in accelerating China-Pakistan Economic Corridor (CPEC) projects, the report noted.
China's state media welcomed the election of Shehbaz as prime minister and commented that given the Sharif family's previous engagements with Beijing, the new premier would prove better for bilateral relationship than Khan.
Source: Times Of India
Please click the following URL to read the full text of the original story:
https://timesofindia.indiatimes.com/world/pakistan/new-pakistan-pm-shehbaz-sharif-likely-to-visit-saudi-arabia-china-report/articleshow/90804981.cms
--------
Pakistan has emerged as transit hub for global narcotic smuggling
12 April, 2022
Kabul [Afghanistan], April 12 (ANI): Afghanistan is the prime source of opium supply to the world drug markets and Pakistan is the transport hub with drug networks operating from the country using its drug routes to reach international markets, according to an article in Islam Khabar.
The article said the geographical location of Pakistan makes it one of the prominent drug transit points along the Southern route. It said Pakistan is also depending on the narcotic trade for sponsoring terror in India.
Pakistan shares 2400 kilometres of border with Afghanistan, which is largely porous. And this has served a
transit corridor for drug traffickers. Forty per cent of Afghan drugs transit Pakistan before they reach the international markets.
Tonnes of opiates and meth are trafficked from Afghanistan to the Torkham border crossing, Ghulam Khan in Khyber Pakhtunkhwa province, from where they are sent to Lahore and Faisalabad, reassembled into huge consignments, the article said.
Then they are transported to Karachi and Gwadar, and fishing vessels in Makran coast are used for drugs transport to the South Asian markets. Balochistan has also been an important drug transit route in Pakistan.
Islam Khabar said around 60 alternative drug routes are working through the Balochistan province alone, with major areas being Chaman, Noshki, Chagaghi, Dalbandeen, Panjgor, Turbat, Gawadar and Jeewani.
It said Pakistan's political leaders and the armed forces have been two groups with competing interests.
"The political instability has only prolonged the drug trafficking in the country and Pakistan has been a standard example of how the drug economy thrives when there is a nexus between the drug lords operating in Pakistan and the politicians, and between the drug lords and the army," the article said.
"Most of the time the drug lords enjoy immense political power. Both the politicians and the army rely on the support of the drug lords to pursue their political interests. It is common knowledge that no drug business can survive without the tacit support of a section of the armed forces in Pakistan," it added.
The article said Meth is easily available to college students in Pakistan and there are close to 27 million drug users in Pakistan, according to the country's anti-narcotics force. The spillover effect of the Afghanistan-Pakistan drug trade is felt in the other countries in the region.
Islam Khabar said that due to India's close proximity to Afghanistan and Pakistan, the narcotics that are produced in Afghanistan are smuggled into India via Pakistan.
"Majority of Afghan narcotics transited by road reach Punjab in India. On September 13, 2021, 3000 kg of heroin was seized in Gujarat's Mundra port. On December 19, 2021, heroin worth 400 crores were seized, in the Indian waters off the Gujarat coast. In Punjab's Ferozepur a huge amount of heroin was confiscated on December 26, 2021," it said.
"The drug trafficking between Afghanistan and Pakistan is intrinsically linked with the Islamist terrorist organisations operating in this region. The drug economy has been the major source of funding for terrorism in the region. Pakistan is also depending on the narcotic trade for sponsoring terror in India," it said.
The article said Pakistan has been using the illicit drug economy to sponsor terror groups in India.
"The drug-trafficking is going to be more problematic over the coming years with the re-rise of Taliban and will pose an acute threat over the regional security in South Asia. The Afghanistan narcotic challenge is of international concern," it said.
With the control of Afghanistan, the Taliban has acquired control over the opium cultivation in the country. According to the United Nations Office on Drugs and Crime (UNODC) November 2021 Report, Afghanistan accounted for around 85 per cent of global opium production in the year 2020, and supplied to approximately 80 per cent of the world's opium consumers.
The total value of opiates (opium, morphine, and heroin) was 9 per cent to 14 per cent of Afghanistan's gross domestic product (GDP) in 2020. Methamphetamine and cannabis are two other major drugs which have expanded production in Afghanistan in recent years.
After the Taliban takeover, the international sanctions, loss of foreign aid, and economic contractions due to COVID-19 have led to a relentless increase in opium cultivation.
When the Taliban came to power in August 2021, its spokesman Zabihullah Mujahid announced that they would ban the production and trafficking of illicit drugs.
But a few months into the announcement, it does not seem that the Taliban has any intention to ban poppy cultivation.
With Afghanistan facing its worst humanitarian crisis due to economic collapse and recurring droughts, the Taliban would not want to ban the drug which has funded its insurgency against the US and NATO-sponsored previous Afghan government, Islam Khabar said.
It said the Taliban needs the drug money to keep control over their cadres. Although drug production and consumption are un-Islamic, in their previous regime the Taliban did not ban the production and trading of opium cultivation for the longest time.
Source: The Print
Please click the following URL to read the full text of the original story:
https://theprint.in/world/pakistan-has-emerged-as-transit-hub-for-global-narcotic-smuggling/913964/
--------
Imran Khan's desperate bid to cling to power brought Pakistan closer to civilian coup
13 April, 2022
Islamabad [Pakistan], April 13 (ANI): Former Pakistan Prime Minister Imran Khan's unscrupulous and desperate attempts to cling on to power by inciting his followers to protest and rebellion was equivalent to a civilian coup, said a media report.
Khan, who became the first Pakistani Prime Minister to be ousted through a no-confidence motion, had said that he would fight "till the last ball". However, the statement actually meant using every trick, irrespective of how unethical and undemocratic it was, to cling on to power, reported Islam Khabar.
Moreover, the former premier refused to accept the new reality in the country even after his ouster as he opposed Shahbaz Sharif's candidature for the Prime Minister's post, citing court cases against him, and also threatened to resign en masse from the National Assembly if the demand was not met.
Khan's desperate attempts to stay in power followed by his unceremonious exit suggested how he was following the former US President Donald Trump who too was not ready to accept his defeat to the current US President Joe Biden. Khan, too, in a similar manner, refused to accept his ouster, alleging collusion between his political opponents and the US to topple his government.
Terming the protests by his followers as the rejection of the new government by the people, he claimed that the people of Pakistan have vowed to fight against the "foreign conspiracy" and the "imported government led by crooks".
Imran Khan's statement regarding Pakistan's "sovereignty and democracy" is quite contradictory to the actions he took to retain his power. The cricketer-turned-politician, who his opponents have claimed, was chosen by Pakistan's powerful army made several desperate attempts to retain his power as reportedly he even planned to sack Army Chief General Qamar Javed Bajwa. However, Khan's conspiracy failed since the information about his plan was intercepted by intelligence agencies, reported Islam Khabar.
Further, there had been repeated attempts by the Khan-led government to obstruct the no-trust motion, however, when it could not stop the motion from being tabled in the Assembly, it colluded with the President of Pakistan and the Speaker to dissolve the House. This attempt was also foiled by Supreme Court as it set aside the rejection of the no-trust motion.
When voting on the motion became inevitable, Imran Khan mulled the idea of imposing martial law in the country, which would have led to the suspension of important institutions, including courts, according to the media outlet, which further notes his failure in this attempt as well.
After all his attempts proved ineffective, Khan held his opponents responsible for the political turmoil in the country as he alleged their connivance with the US to topple the government. His praise for India as a "self-respecting nation" further suggests that he doesn't practise what he preaches, else he would have followed the example of Indian Prime Minister Atal Bihari Vajpayee, who peacefully relinquished his power twice when he fell short of a required strength in the country's Parliament. Vajpayee later returned to power with the majority, however, Khan could not show the same statesmanship, reported Islam Khabar.
Instead, he refused to accept the defeat and threatened to gather his supporters out on the streets. "I will not accept this imported government, I will take to the street. Only people can bring me to power and I will come back with the help of the people," the media outlet quoted him as saying before voting on the no-confidence motion.
Source: The Print
Please click the following URL to read the full text of the original story:
https://theprint.in/world/imran-khans-desperate-bid-to-cling-to-power-brought-pakistan-closer-to-civilian-coup/914315/
--------
ECP to hear PTI leaders' appeals against fines issued during local govt polls
Iftikhar A. Khan
April 13, 2022
ISLAMABAD: The Election Commission of Pakistan (ECP) will hear today (Wednesday) appeals by senior Pakistan Tehreek-i-Insaf (PTI) leaders, including former prime minister Imran Khan, and some key public office-holders against the fines imposed on them for violating the code of conduct during the recently-concluded local government elections in Khyber Pakhtunkhwa.
Other appellants include KP Governor Shah Farman, Chief Minister Mahmood Khan, the provincial assembly speaker, Mushtaq Ahmad Ghani, former federal ministers Shah Mehmood Qureshi and Asad Umar as well as provincial minister Ameer Zeb Khan.
On the other hand, the same ECP bench will be taking up the foreign funding case against PTI today.
A three-member bench of the ECP, headed by Chief Election Commissioner Sikandar Sultan Raja, will hear the appeals against imposition of fine by respective district monitoring officers over the code of conduct violations.
Imran Khan, KP chief minister top list of violators; foreign funding case to be taken up today
The PTI leaders claim that the fine imposed on them was against the law as an ordinance allowing public office-holders to take part in the election campaign still holds the field.
According to a document prepared by the ECP, the PTI committed most violations of the code of conduct during the campaign for local government elections in Khyber Pakhtunkhwa compared to other parties and independent candidates put together.
The total number of reported violations of the code was 154, out of which PTI was responsible for 87 (56.49pc), Pakistan Muslim League-Nawaz (PML-N), 10 (6.49pc); Jamiat Ulema-i-Islam-Fazl (JUI-F) and Jamaat-i-Islami, eight each (5.19pc) and Pakistan Peoples Party (PPP) four (2.59pc).
The total number of violations of the code of conduct by other parties was 28 (18.18pc) and those committed by independents was nine (5.84pc).
The then prime minister, Imran Khan, and Khyber Pakhtunkhwa Chief Minister Mahmood Khan topped the list of those who repeatedly violated the code of conduct despite warnings by the district monitoring officers.
Both had addressed rallies in Lower Dir, Swat, Malakand and Mansehra on March 11, 16, 20 and 25, respectively, and were fined Rs50,000 for three of the four violations.
According to a summary released by the ECP, fines to the tune of Rs1.876 million were imposed on violators.
The revised code of conduct was prepared by the ECP for the second phase of local government elections in consultation with political parties, allowing ordinary lawmakers to take part in canvassing but barring public office-holders.
Meanwhile, the same ECP bench will also hear the foreign funding case against PTI today (Wednesday).
This will be the first hearing following the ouster of Imran Khan from the office of prime minister.
Source: Dawn
Please click the following URL to read the full text of the original story:
https://www.dawn.com/news/1684782/ecp-to-hear-pti-leaders-appeals-against-fines-issued-during-local-govt-polls
--------
Shehbaz wants to take his sweet time to form 'consensus' cabinet
Amir Wasim
April 13, 2022
ISLAMABAD: Prime Minister Shehbaz Sharif does not seem to be in a hurry to appoint his cabinet apparently realising the fragile nature of the ruling alliance, and wants to take along all his allies, particularly those who joined the former opposition after quitting the Pakistan Tehreek-i-Insaf (PTI) coalition government.
Sources in the Pakistan Muslim League-Nawaz (PML-N) and the Pakistan Peoples Party (PPP) told Dawn that the leadership of both parties had decided to accommodate all allied parties in the federal cabinet and give them the ministries of their choice.
They said the ruling coalition comprised eight political parties and four independents, and since Mr Sharif had become the prime minister with a mere two-vote margin, he did not want to start his stint in office with any misunderstandings among the allies.
The sources said the PPP, the second largest party in the ruling coalition, had told Mr Sharif that they had no desire to join his cabinet and wanted to support him from the outside. However, Mr Sharif is insisting the party join him.
PML-N, PPP want to take along all allied parties, give them ministries of choice
Talking to reporters at an Iftar- dinner, Mr Sharif said he hoped the PPP would join the cabinet.
"We know the fragile nature of our alliance and we want to see the present government succeeding. We don't want to give an impression that we have come to power only to get some portfolios or to enjoy perks and privileges," said a PPP leader, adding: "We want business."
The PPP leader, who is privy to the consultations on cabinet formation, said Mr Sharif was insisting they join the federal cabinet, as he was of the view that if the PPP remained out of it, it would send a wrong message to the public.
Talking to a private TV channel, PML-N MNA from Faisalabad Rana Sanaullah, who accompanied Mr Sharif during his meetings with the heads of all the allied parties, said the new cabinet would be formed in the next couple of days with a consensus.
Mr Sanaullah claimed that during the meetings with Mr Sharif, the allies had not made any demands, rather they had asked the premier to tell them how they could facilitate him.
The PML-N leader said when they were planning to table the no-confidence resolution against Imran Khan, the first task before the joint opposition was to rid the nation of the "incompetent" PTI government and, therefore, they had not discussed any formula for the distribution of ministries after forming a government. However, he said, it was decided at that time that they would make all the decisions with a consensus.
It may be recalled that the PPP is divided over the issue of joining the federal cabinet under Prime Minister Shehbaz Sharif.
A senior PPP leader said they were more interested in getting constitutional offices instead of cabinet portfolios. He said two constitutional offices had already fallen vacant after the resignations of the National Assembly speaker and deputy speaker, while they were also planning to remove Senate Chairman Sadiq Sanjrani. The PPP was interested in the speaker's office, the Senate chairman and even the Presidency, as they were expecting a resignation from Dr Arif Alvi.
Source: Dawn
Please click the following URL to read the full text of the original story:
https://www.dawn.com/news/1684767/shehbaz-wants-to-take-his-sweet-time-to-form-consensus-cabinet
--------
Southeast Asia
Pancasila Values Emblematic Of Islamic Teachings: Muslim Scholar
April 13, 2022
Jakarta (ANTARA) - Muslim scholar Dr Sukidi affirmed that the values contained in Pancasila also reflect the values in Islamic teachings.
"We can quote the first precept that mentions the One Godhead. It clearly illustrates the value of monotheism of Islam itself. Likewise with the other precepts," Sukidi noted while speaking during the Ramadhan Inspiration series titled "Being a Muslim in the Middle of Disruption" posted on the YouTube account of BKN PDI Perjuangan.
Sukidi remarked that Muslims in Indonesia, which constitute majority of the Indonesian population, should be able to embrace and protect other people, so as to create harmony in the life of the nation and state.
He also reminded the public to uphold the values of Pancasila when differences of opinion arise, so that the Indonesian nation is not divided just because of ideological differences, and Islam and Pancasila have several similarities amid the diversity of society, he remarked.
"Islam tends to be a tolerant religion and has a spirit of tolerance that encourages its people to become good people and good citizens. We must not misinterpret religious teachings, so that we become intolerant people, or those who do not support progress," he affirmed.
Muslims must also be inclusive and open to modernism, so they can keep up with changes, he stressed.
"Indonesian Muslims must be open minded and able to keep up with changes, especially the development of science. We must be good Muslims in the midst of technological progress, especially in the era of disruption due to the pandemic. We must think globally but act local," he explained.
Sukidi affirmed that the progress of a nation can be supported by the religion and traditions of its people. Hence, Indonesian Muslims must develop a sense of tolerance to one and all since this nation has diverse ethnicities, religions, races, and customs.
Source: Antara News
Please click the following URL to read the full text of the original story:
https://en.antaranews.com/news/224669/pancasila-values-emblematic-of-islamic-teachings-muslim-scholar
--------
COVID-19 symptomatic people must avoid tarawih at mosques: Task Force
April 13, 2022
Jakarta (ANTARA) - Head of behavior change at the COVID-19 Handling Task Force Sonny Harry B. Harmadi appealed to people exhibiting symptoms of COVID-19 to not partake in the congregational tarawih prayer at mosques.
"If you are experiencing COVID-19 symptoms, it is better not to perform the tarawih prayer at a mosque," he noted during an online talk show titled "Take care of your heart, immunity and health in the month of Ramadan," on Tuesday.
Harmadi deemed it crucial for Muslims to ensure they are in good health before conducting worship activities at mosques.
Moreover, people are urged to continue wearing masks the right way.
"We must wear masks, as we do not know about the condition of people next to us, whether they had contracted COVID-19 or not," he stated.
In addition, he appealed that the mosque congregation members bring their own worship equipment and perform their wudu (ablution) at home.
The task force also urged vulnerable groups, such as older adults and children, who have not been vaccinated and people with comorbidities to conduct worship activities at home.
Meanwhile, mosque administrators are urged to ensure proper ventilation and air circulation in the mosque.
He noted that social distancing while praying could be adjusted by following the level of public activity restrictions (PPKM) in the respective region.
For the Islamic holy month of Ramadan, the Ministry of Religious Affairs had earlier issued a circular concerning health protocols during worship activities. The circular regulates provisions related to congregational worship activities, such as tarawih prayer, obligatory prayers, and Itikaf, that are implemented by still taking into account the maximum capacity.
The circular allows places of worship in regions with Level 1 PPKM to open at 100-percent capacity.
Source: Antara News
Please click the following URL to read the full text of the original story:
https://en.antaranews.com/news/224781/covid-19-symptomatic-people-must-avoid-tarawih-at-mosques-task-force
--------
Foundation's charity work ceased after I was charged, Zahid tells court
V Anbalagan
April 13, 2022
KUALA LUMPUR: Ahmad Zahid Hamidi's Yayasan Akalbudi could no longer undertake charitable activities locally and abroad as the funds in a trust account were frozen after he was charged, the High Court heard today.
"Assistance amounting to millions of ringgit could not be disbursed after I was charged," the former deputy prime minister told the court after he was questioned by defence counsel Ahmad Zaidi Zainal.
Zahid, who is also Umno president, was charged on Oct 18, 2018, five months after Pakatan Harapan (PH) took over Putrajaya.
It was also revealed earlier during the prosecution's case that Yayasan Akalbudi's funds were held under trust by a legal firm, Lewis & Co.
The Bagan Datuk MP is accused of 47 counts of money laundering and criminal breach of trust involving millions of ringgit from Yayasan Akalbudi and accepting bribes for various projects during his tenure as the home minister between 2013 and 2018.
Twelve of the charges are for CBT, eight for corruption and the remaining 27 for money laundering.
Today is the first day of the defence's case with Zahid opting to give evidence under oath.
Reading a witness statement and occasionally answering Zaidi's questions, Zahid listed out Yayasan Akalbudi's charitable activities in his parliamentary constituency, other parts of the country, and outside Malaysia.
Zahid said the foundation, previously known as Yayasan Budi, was set up in 1997, and initially, funds came from his income from business ventures.
He said Yayasan Akalbudi not only assisted poor and needy Muslims but also non-Muslims.
"I am a true Malaysian though I am a Muslim. I assist people from other faiths too," he added.
For example, Zahid said the foundation provided assistance to the poor in his constituency during the Chinese New Year and Deepavali celebrations every year.
He added that Yayasan Akalbudi was also involved in assisting minority Muslim communities overseas to build or renovate mosques.
"We built such places of worship in Yunan (China), Capetown (South Africa), Perth (Australia), as well as in Narathiwat and Patani (Southern Thailand)" he said.
According to Zahid, because the foundation's charity work was well known, Yayasan Akalbudi also received contributions from many individuals, including business tycoons.
Source: Free Malaysia Today
Please click the following URL to read the full text of the original story:
https://www.freemalaysiatoday.com/category/nation/2022/04/13/foundations-charity-work-ceased-after-i-was-charged-zahid-tells-court/
--------
Teens lured by Myanmar syndicate now safe in Thai hands
Danial Azhar
April 13, 2022
KUALA LUMPUR: Two Malaysian teenagers who were lured by a criminal syndicate to Myanmar are now safe in Thailand.
MCA public services and complaints department head Michael Chong said Thai police were currently watching over them.
He said the pair would face a Thai court on May 10 because they had entered the country illegally.
"The Mae Sot district police chief has taken pity on them and has stood surety for them until the court hearing," Chong said at a press conference today, adding that their parents would attend the proceedings in the town in western Thailand near the border with Myanmar.
Also at the press conference were the parents of the teenagers, who thanked the Thai authorities and pleaded for the safe return of their sons.
They also urged the Malaysian embassy in Bangkok to provide assistance.
Chong also said his department had received four other reports of human trafficking cases in Myanmar, with some involving demands for ransom.
He urged the families affected to lodge police reports, saying the authorities were better suited to deal with the cases.
He also implored the public to be mindful of fraudulent job offers and online advertisements promising lucrative employment opportunities.
Last Sunday, Chong said a Malaysian teenager was released by his captors following pressure from the media.
The family of the 15-year-old had forked out RM10,000 in ransom for his release and with the help of Malaysian businessmen in Thailand, the teenager, along with another teen, were saved.
Source: Free Malaysia Today
Please click the following URL to read the full text of the original story:
https://www.freemalaysiatoday.com/category/nation/2022/04/13/teens-lured-by-myanmar-syndicate-now-safe-in-thai-hands/'
--------
Arab World
Lebanon disburses funds to temporarily avert bread crisis, minister says
12 April ,2022
Lebanon's government has agreed to disburse $15 million to temporarily resolve growing bread shortages in the country, Economy Minister Amin Salam told Reuters, while saying that the funds would only last a few weeks.
Long lines had begun forming outside bakeries across the country since Monday after industry insiders warned that the government had not extended a long-promised credit line for the subsidized good.
"I've been looking around since the morning but I couldn't find any bread - there's none at all," Mohammad Mustapha, one shopper in the southern city of Sidon, told Reuters.
"I have small children to feed, and it's Ramadan," he said, referring to the holy month for Muslims in which day-long fasts are broken with evening meals.
Salam said the government would disburse $15.3 million in credit to importers as a "solution to the issue of subsidized bread."
"This will give us a period of about two to three weeks before we need to open another credit line, which we had requested at $21 million," Salam said.
He said the government was not currently considering lifting bread subsidies and would instead seek a $150 million agreement with the World Bank to improve food security because in the long term "we won't be able to subsidize anything, much less bread."
Lebanon is heavily reliant on food imports and pays for them in dollars, which have become increasingly difficult to obtain since its economy crashed in 2019.
Since then, the Lebanese pound has lost more than 90 percent of its value while food prices have gone up more than 11-fold, according to the World Food Program.
The bread shortage has been exacerbated by the war in Ukraine, which supplies most of Lebanon's wheat, and Beirut's inability to store wheat reserves as its largest silos were destroyed in the 2020 Beirut port blast.
Source: Al Arabiya
Please click the following URL to read the full text of the original story:
https://english.alarabiya.net/News/middle-east/2022/04/12/Lebanon-disburses-funds-to-temporarily-avert-bread-crisis-minister-says
--------
Renters across Lebanon face sky-high prices amid worsening economic crisis
12 April ,2022
Lebanese citizen Rania Farah and her husband, sister-in-law, and three children moved home twice because none of them can afford rent increases.
At the beginning of 2020, Farah lived with her family in a rented apartment in the area of Zouk Mosbeh, north of the capital Beirut, for 750,000 Lira a month – the equivalent of $500 at the official exchange rate.
After the currency crisis that erupted in late 2019 and the hyperinflation that ravaged the country, Farah couldn't attend to a rental increase of 1,000,000 LL ($667) imposed by the landlord and had to move.
She found a smaller flat for 1,200,000 LL ($800) per month in a neighboring area. She lived there until August 2021, when she received a lease renewal letter stating a monthly rent increase.
"It's not easy to change homes thrice in less than two years when you have three little children," Farah told Al Arabiya English. "The third house we moved to was in bad condition, but we couldn't find a more affordable rent."
"Not only that, but we also had to transfer our kids to another school, one that is close to our current flat, to avoid paying high bus fees. It was a major change for them at all levels."
Rental prices across Lebanon have soared over the past year, with some tenants having to move or pay a bigger slice of income to stay in their homes.
The tiny Mediterranean country is dealing with what the World Bank has described as one of the world's sharpest economic depressions.
The national currency has been in free fall since 2019, losing more than 90 percent of its value. The official exchange rate is 1,500 to the dollar, while the currency is changing hands on a parallel market at around 24,000. The minimum monthly wage stands at 675,000 LL, translating to a meager $28.
Farah still visits real estate websites now and then, hoping to find a better property without success.
"Homeowners and real estate agents post prices in US dollars, while most Lebanese people get paid in Lebanese pounds," she said. "My husband earns a salary of 4,000,000 LL; how will we be able to pay a rent of 2,000,000 LL a month and above? This is insane."
According to Walid Moussa, president of the Real Estate Syndicate of Lebanon, there's a mismatch between rent prices and renters' purchasing power.
"There's no right or wrong in this equation, only a difference of perspective," Moussa told Al Arabiya English. "A furnished apartment that used to be rented for $750 in 2019 is now rented for $300. This means that landlords and landowners have lost around 70 percent in rental fees. We can't, however, deny the fact that $300 is considered a high amount for someone who doesn't have a dollar income, and that's the case of the majority of Lebanese."
Growing demand amid shift to rentals
Surging rental demand has been noticed over the past few years, and this il s due to severafactors.
"The appeal of rentals has recently grown as people have been priced out of the housing market. It's quite impossible nowadays in Lebanon to buy a house," Moussa explained. He also linked the soaring demand to the hikes in fuel prices.
"The fuel shortage and the recent sharp increases in gasoline and diesel prices have made commuting challenging. Today, more than ever before, employees want to live near their offices."
However, the high demand does not eliminate the pricing issues and rental challenges.
Thirty-one-year-old Firas Makhoul spent ten months looking for a furnished apartment near his workplace in Hazmieh, a town located in the southern suburbs of Beirut. He lived in the city of Byblos before moving.
"It is very difficult to find an affordable flat in Beirut, especially that almost all rentals are in fresh dollars, while wages are in Lebanese lira," he said. "I ended up renting a small old apartment in an aged building in Furn El Chebbak for $600 a month. Luckily, I'm sharing it with three colleagues, or else I wouldn't have been able to afford the rental as it far outstrips my salary," he added.
The monthly amount that Makhoul pays is still high, and he regards it as a heavy financial burden. Still, he noted that it's better than spending 2,000,000 LL ($1,333) per month on fuel, adding that advantages include not having to worry about gas shortages and daily traffic congestions.
Lebanon, a country that heavily relies on imports, has been grappling with shortages of fuel, medicine, and basic goods as foreign reserves dwindle and the economy contracts. It has led, among others, to hyperinflation, affecting all sectors, including real estate.
Broker and real estate agent Aziz Boutros sees that rental prices will continue to rise due to an overwhelming demand versus squeezed supply.
"We're witnessing an increasing number of tenants, particularly among newlyweds, and at the same time, several landlords quit the market, leaving supply shortages," Boutros noted.
Boutros also mentioned that "we're ahead of a high season, during which expats visit Lebanon and rent houses for one or two months – which will inevitably affect the prices and make rent accessibility harder for low-income tenants."
"We shouldn't forget that, for many lessors, the rentals they get are their main source of living. There are also the expenses that the landlords incur, including very expensive maintenance costs."
Source: Al Arabiya
Please click the following URL to read the full text of the original story:
https://english.alarabiya.net/News/2022/04/12/Renters-across-Lebanon-face-sky-high-prices-amid-worsening-economic-crisis
--------
Lebanon PM welcomes return of Saudi Arabia ambassador, promises commitment to Riyadh
12 April ,2022
As Lebanon welcomed the return of the Ambassador to Saudi Arabia, Lebanese Prime Minister Najib Mikati said that the country would distance itself from becoming a "platform or a source of concern" to any Gulf Cooperation Council (GCC) member, the official Saudi Press Agency (SPA) reported on Monday.
The statement was made by the prime minister at an iftar banquet hosted by the Saudi ambassador Walid bin Abdullah Bukhari in Beirut.
"This is the significance of the month of Ramadan, the month of mercy and solidarity, the occasion to strengthen the bonds of amicability that bind Lebanon to Saudi Arabia, and the solidarity that the Custodian of the Two Holy Mosques, and HRH the Crown Prince have been experiencing, hoping that it will be a new page towards developing relations between the two countries," Mikati was quoted by SPA as saying.
Saudi Arabia and Kuwait announced on April 7 that they would return their respective ambassadors to Lebanon after being withdrawn late 2021.
Critical comments made by former Information Minister George Kordahi on the war in Yemen in October 2021 led the expulsion of Lebanon's envoy to the Kingdom, recalling its ambassador and banning all imports from Lebanon, dealing a new blow to the country's ailing economy.
Other Gulf states that are historical allies of Lebanon, including the United Arab Emirates and Kuwait, took similar punitive diplomatic measures.
However, the latest replacement of the ambassador comes after Saudi Arabia's foreign ministry responded to appeals from Lebanese politicians and after Mikati said his government was committed to taking the needed measures to enhance ties with Riyadh and the Gulf.
The Lebanese prime minister is expecting the reversed diplomatic move to stick through a better relationship guided by "pillars and foundations, in addition to a commitment to everything that protects Lebanon's sovereignty."
Source: Al Arabiya
Please click the following URL to read the full text of the original story:
https://english.alarabiya.net/News/gulf/2022/04/12/Lebanon-PM-welcomes-return-of-Saudi-Arabia-ambassador-promises-commitment-to-Riyadh
--------
Turkish charity distributes 3M bread loaves in Syria
Cem Genco
12.04.2022
HATAY, Turkiye
A Turkish charity has distributed at least three million loaves of bread in Syria during the first 10 days of the Muslim holy month of Ramadan, the organization said on Tuesday.
Cuneyt Kilic, the vice chairman of the Humanitarian Relief Foundation (IHH), said in a written statement that they continued to provide support for Syrian families in need.
The bread was delivered from bakeries in Syria and Turkiye during the fasting month, Kilic said, underlining that the IHH has continued to distribute fresh food since the beginning of Ramadan.
Kilic stressed that bread is among the most important needs of the families living in camps, who he said the IHH provides loaves every day.
"We will continue our support to those oppressed Syrians, who are spending their 12th Ramadan in war," he added.
Source: Anadolu Agency
Please click the following URL to read the full text of the original story:
https://www.aa.com.tr/en/middle-east/turkish-charity-distributes-3m-bread-loaves-in-syria/2561607
--------
8 million liters of Zamzam distributed to visitors at Grand Mosque during first third of Ramadan
April 12, 2022
RIYADH: Eight million liters of Zamzam have been distributed to visitors at the Grand Mosque in Makkah during the first ten days of Ramadan.
The eight million litres were distributed in three million single use bottles, and through 25,000 containers dotted around the mosque, 250 back packs carried by employees, 58 smart carts with a capacity of 80 liters each, and 33 special carts each holding 100 bottles in the mataf areas.
More than 100 employees have been deployed to the various entrances of the mosque, of which 100 are in use at the moment, to welcome visitors, direct them, manage crowd flow, and support security personnel in directing people from one section to another when praying areas reach full capacity.
The mosque has also been cleaned 100 times in the first third of Ramadan by 4,000 employees.
Source: Arab News
Please click the following URL to read the full text of the original story:
https://www.arabnews.com/node/2061866/saudi-arabia
--------
How worsening water crisis threatens lives and development in Iraq
April 12, 2022
DUBAI: Across Iraq, water sources that have been taken for granted and relied upon throughout centuries of hardship, chaos and drought are under threat. So too, as a result, are the livelihoods of many people in the country who find themselves facing unprecedented challenges in accessing one of life's essential resources.
A combination of conflicts, corruption, mismanagement and regional political disputes has left the people of Iraq facing chronic water shortages that are having severe effects on the country's agriculture, economy and the health of its citizens, so much so that the viability of many communities is now in question.
Over the past five years Baghdad residents have grown used to the sight of islands of land protruding along the Tigris River where once only its mighty waters were visible. It is a phenomenon associated with rivers in which water levels have dropped to record low levels as a result of decreasing volumes.
As a result, a number of barren islands now dot the surface of one of the world's most storied waterways as it meanders meekly through the Iraqi capital, a shadow of the swift, green torrent that helped sustain the ancient land through the ages.
Salam, who gave only his first name, is a taxi driver who has lived in Baghdad all of his life. In years gone by he watched the Tigris roar through the city but he said its flow has diminished over the years and now he can see the narrow riverbed.
"I'm doing better than most in the rest of Iraq," he told Arab News. "My water charges are still relatively affordable but I do have to buy a lot of drinking water for cooking as I cannot use tap water, which is way too contaminated."
He has friends and relatives in Diyala, in central-eastern Iraq, and for them he said it is a different story.
"My farmer friends are struggling, so I often lend them money to get by. May God help them," he explained.
In southern Iraq, where the Tigris and Euphrates rivers combine to spill into the fabled Mesopotamian Marshes, buffaloes drink from stagnant pools of polluted water and farmers paddle traditional canoes through what used to be pristine potable water but now more resembles industrial sludge.
The supply of freshwater to the once mighty rivers has been restricted at their sources by dams built in Turkey, which have blocked much of the flow of the Euphrates and Tigris into Syria and Iraq.
The two rivers supply 98 percent of Iraq's surface water. Other water sources have been stemmed in Iran, which means that the once-reliable volumes of water that helped staved off famine and sickness, even during years of dire drought, are now far from guaranteed.
In 2018, the UN classified Iraq as fifth in the world in terms of nations' vulnerability to climate change. The effects have been clear over the past 15 years, with lower rainfalls and longer and hotter heat waves becoming more frequent.
Studies by the Iraqi government reveal that the country is now about 40 percent desert, and the salinity of much of the land is too high for agriculture.
In southern Iraq in recent years, water barely covers 30 percent of what were once marshlands but are now being replaced by dry, cracked earth, a sight locals were unaccustomed to.
The effects of the changing climate are tangible: The 2020-21 winter season was one of the driest on record in Iraq, marked by a reduction in water flow of 29 percent in the Tigris and 73 percent in the Euphrates. Rainfall has been increasingly sporadic over the past 20 years.
For now, however, the regional politics of water is a more pressing problem. Finding ways to compel Ankara and Tehran to allow the Iraqi rivers to flow more freely is a challenge that preoccupies Iraqi officials.
Toward the end of 2021, Mahdi Rashid Al-Hamdani, Iraq's minister of water resources, announced he planned to file a complaint against Iran for cutting the water supply at the border and causing a catastrophe in Diyala province. Iraqi authorities said their country has only been receiving one-tenth of an agreed quota. Meanwhile, the amount of water flowing from Turkey has diminished by almost two-thirds in recent years.
A report published by the Norwegian Refugee Council last year, titled Iraq's Drought Crisis, found that many farmers have fallen into debt in an attempt to keep their livestock alive. It also revealed that one in two families in drought-affected areas need food aid. At least seven million Iraqis are affected by ongoing drought.
Farmers urgently require drought-tolerant seeds and additional feed for their cattle, goats and sheep to prevent further losses of livestock, according to Caroline Zullo, Iraq's advocacy adviser at the Norwegian Refugee Council.
In the longer term, irrigation infrastructure for farmers must be established or rehabilitated, alongside improved water resource-management plans on local and national levels, Zullo told Arab News.
The effects of the drought across governorates have been significant, including crop and livestock losses, greater barriers to access to food, declining incomes, and drought-induced displacement of vulnerable families.
The effect of water scarcity on children, even in built-up, urban areas, has long been a cause for alarm. A 2021 UNICEF report titled Running Dry stated that nearly three out of five children in Iraq have no access to safely managed water. Many households have been forced to dig wells to obtain water that is not potable and, in some cases, unsafe even for necessities such as washing and laundry.
Water quality in the southern city of Basra is among the worst in the country, according to many studies. A report published by Human Rights Watch in 2018, titled Basra is Thirsty, stated that at least 118,000 people had been hospitalized in recent months suffering from symptoms related to issues of sanitation and water quality. At the time, the Basra health directorate urged people to boil water before drinking it.
The effects of water shortages on demographics in Iraq is evidenced by the thousands fleeing urban areas to the outskirts of larger cities, which in turn are struggling to cater for the needs of their new arrivals.
In the Kurdish north of the country, heavy snowfalls in the mountains in January have offered a reprieve so far this year. When winter turns to spring, the thaw will help to replenish reservoirs and prevent water scarcity before the onset of another fierce summer, where temperatures across Anbar province and deep into the country traditionally settle into the high 40s Celsius between May and mid-September.
Iraq's central government remains weak and is therefore no match for powerful neighbors at the negotiating table. Five months after a national election, the country is still nowhere close to choosing a new president and prime minister or forming a government. If and when the political impasse ends, a weak and fractious government will still require international support to deal with a daunting challenge such as water security.
Rahman Khani, the head of the Kurdish Regional Government's water resources and dams department at the agriculture ministry, said outdated methods are hindering the country's water-management systems.
"We also suffer from pollution and traditional irrigation methods," he told Arab News. "The solution is to reform internal water management, construct dams, and use modern irrigation technology, in addition to putting pressure on neighboring countries to release fair amounts of shared water."
Looking to the future, experts say more must be done to help Iraq's most vulnerable people.
"With drought conditions expected to continue and even worsen, farming communities are at risk of further crop failure, which could result in more displacement if action is not taken," Zullo told Arab News.
Source: Arab News
Please click the following URL to read the full text of the original story:
https://www.arabnews.com/node/2062071/middle-east
--------


Mideast
Despite terror wave, Israel determined to keep Al-Aqsa open for Ramadan
Ben Caspit
April 12, 2022
The current wave of terrorism sweeping Israel could easily spur violence along several other fronts.
But for now, Israel is handling the latest spate of attacks (four significant attacks in three weeks) the way it did six years ago with a similar wave of attacks perpetrated by lone attackers unaffiliated with major organizations. The state is avoiding collective punishment, differentiating between the terrorists and the general Palestinian population, allowing Palestinian laborers with valid permits to cross into Israel for work and avoiding actions that might send others into the pool of potential terrorists.
The goal is to avoid escalation, to contain violence, to prevent unrest on other fronts and, most importantly, to keep Jerusalem's holy sites from blowing up during the holy Muslim month of Ramadan and the upcoming Jewish Passover and Christian Easter celebrations.
Aside from ever-present threat of violence in east Jerusalem, and specifically the Temple Mount/Haram al-Sharif compound, the potential for conflagration is always high in the Gaza Strip. Tensions are simmering in the West Bank, particularly the Jenin region. Hezbollah in Lebanon remains a potential keg of dynamite, as do the mixed Jewish-Arab towns within Israel which were engulfed in violence last May.
Israel's formal and less-formal allies in the Middle East have conveyed similar, clear messages in recent weeks — essentially that they accept Israel's right to self-defense against the Islamic State organization, and against terrorists from among Israel's Arab population and Palestinian members of Hamas and Islamic Jihad. However, the allies have urged Israel to maintain freedom of worship at the Al-Aqsa Mosque (on Temple Mount compound), Islam's third holiest site, where any perception of Israeli aggression risks igniting the entire Muslim world.
The previous succession of terror attacks occurred in 2015-2016. Then-Prime Minister Benjamin Netanyahu's cabinet included two young politicians, Naftali Bennett and Ayelet Shaked. Both are now in the hot seat, Bennett as prime minister and Shaked as his loyal lieutenant and minister of interior. Netanyahu's basic instinct was to use maximum force on all fronts, but he accepted the recommendations of security experts in favor of pinpointed, measured responses that did not affect most of the Palestinian population. Bennett and Shaked, ideologically to Netanyahu's right, were unhappy at the time with his decision.
Six years on, the security recommendations remain the same, but Bennett is now at the helm and opposition leader Netanyahu is positioning himself as the hawk on Bennett's right. Bennett's initial instinct was to order an aggressive military operation similar to a massive raid 20 years ago on the Jenin refugee camp, a hotbed of anti-Israel activity. Then, just like Netanyahu, Bennett eventually accepted the experts' opinion.
Troops and Shin Bet security agents have been operating recently in Jenin, from where the terrorists in two of the four recent attacks (in Tel Aviv and Bnei Brak) hailed. But unlike the broader 2002 operation, they are working methodically, carrying out detentions to glean intelligence, and foiling imminent terrorist attacks. For the first time in a long while, the military is no longer hesitant about entering the Jenin area, demonstrating its resolve by mounting raids in broad daylight and not just under cover of darkness.
Bennett's government is also allowing West Bank Palestinians to continue working in Israel, rather than sealing off the crossings in response to terrorism, as was often the case in the past. Tens of thousands of Palestinians with permits (and apparently an equal number of unlicensed ones) work daily in Israel and in the Jewish settlements in the West Bank, constituting one of the main pillars of the Palestinian economy. Israel has also restored work permits for Palestinians from Gaza, allowing some 15,000 to work in the communities surrounding the enclave. The pay difference is immense — NIS800 ($250) monthly, on average, for a Palestinian working in Gaza or the West Bank, compared with NIS8,000 ($2,500) in Israel.
Israeli security officials say remittances from workers in Israel provide a living for as many as 50% of the Palestinians. "The economy is one of the reasons for the relative calm in the past decade, despite occasional disruptions by terrorism," a senior Israeli military official told Al-Monitor on condition of anonymity. "Our interest is for as many Palestinians as possible to work here. Our interest lies in raising their standard of living, in having a water desalination plant in Gaza, in an expanding Palestinian middle class in the West Bank. It is almost more in our interest than in theirs."
Under previous Shin Bet chief Nadav Argaman, the agency objected vehemently to allowing Gaza residents to work in Israel, arguing that some of them were being recruited by Hamas to convey messages and instructions to terrorists in the West Bank, and some were vulnerable to blackmail by Hamas.
But Argaman's successor, Ronen Bar, is leading a different approach, and Israel has significantly increased the number of work permits for Gazans. "This is a policy of calculated risks," a senior Israeli security source told Al-Monitor on condition of anonymity. "The Gazans' work in Israel undoubtedly has a restraining effect on the Strip. We should strive to increase the numbers, while taking appropriate security precautions."
The latest terror wave shows signs of abating. In the night hours of April 11, a Palestinian man was shot and killed after he tried to stab an Israeli policeman in the southern town of Ashkelon. The army operations continue in Jenin, thwarting anti-Israel attacks. All eyes are now on Al-Aqsa, which has been relatively calm since the start of Ramadan on April 2. This could obviously change at any moment.
Source: Al Monitor
Please click the following URL to read the full text of the original story:
https://www.al-monitor.com/originals/2022/04/despite-terror-wave-israel-determined-keep-al-aqsa-open-ramadan
--------
Hamas hails Libyan national team's refusal to play against Israel regime
April 13, 2022
Hamas Sports Department hailed the Libyan national fencing team for refusing to play against the Israeli team and for withdrawing from the World Fencing Championship in Dubai.
The department expressed, in a press statement on Tuesday, its gratitude for the Libyan support for Palestinians by refusing to face the Israeli team, especially that they reached a World Cup final, confirming that Libya and Palestine have always maintained a strong relationship.
"Facing Israeli players is considered a breach of the agreed-upon Palestinian and Arab boycott standards and also a contribution to whitewashing the crimes of the Israeli occupation," the department added.
Source: ABNA24
Please click the following URL to read the full text of the original story:
https://en.abna24.com/news//hamas-hails-libyan-national-team%e2%80%99s-refusal-to-play-against-israel-regime_1247512.html
--------
Palestinian resistance factions warn Israeli occupation against storming Al-Aqsa Mosque
April 13, 2022
The Palestinian resistance factions on Tuesday warned the Israeli occupation and the Zionist rapists against storming Al-Aqsa Mosque, desecrating it, and slaughtering in it on the so-called "Easter holiday."
The resistance factions confirmed in a press statement issued after their weekly meeting in Gaza today, Tuesday, that "the enemy leadership bears full responsibility for the repercussions of this dangerous Judaization step."
During their meeting, the factions discussed the developments on the Palestinian arena, as they saluted the Palestinian people in all areas of their presence, especially in Jenin, the heroism and revolution that is still facing the brutality of the occupation.
In the statement, the factions mourned with pride the heroic martyrs who rose during the past days in the continuous battle against the occupation, and And I blessed the heroic operation carried out by the heroic martyr Raad Hazem in the occupied Tel al-Rabee, which exposed the fragility of the occupation entity and the falsity of its security force.
Source: ABNA24
Please click the following URL to read the full text of the original story:
https://en.abna24.com/news//palestinian-resistance-factions-warn-israeli-occupation-against-storming-al-aqsa-mosque_1247489.html
--------
Erdogan highlights Importance of reading in Quran, Islamic culture
April 13, 2022
A book fair is held in Istanbul and Ankara during the holy month of Ramadan every year that hosts hundreds of publishers and showcases celebrated writers and scholars on a wide range of subjects, including Islamic literature, arts, and culture.
Inaugurated by Turkish President Recep Tayyip Erdogan, the 18-day book fair aims to promote love for books and bring the publisher, the author and the reader together.
Organized for the 39th time by the Türkiye Diyanet Foundation, the Book and Culture Fair opened in three different locations: two in Istanbul and one in Ankara.
Between April 9 and 27, the event will be held in the courtyard of Ahmet Hamdi Akseki Mosque in Ankara and the courtyards of the Buyuk Camlica Mosque and Fatih Mosque in Istanbul.
The fair was suspended in 2020 and 2021 due to the pandemic.
With the participation of over 100 publishers in a closed area of approximately 2,500 square meters, the venue becomes a place for various cultural activities, as well as talks and autograph programs.
This year, the fair has devoted a special area to foreign language publications and publishers for the first time, gaining international recognition.
"I am pleased that our fairs, which have been suspended for two years due to the pandemic, have started again this year," Erdogan said at the opening ceremony at the Buyuk Camlica Mosque Complex in Istanbul.
"Our civilization was built on the order 'Read, 'O Prophet,' in the Name of your Lord Who created. We have a culture that puts the Quran above everything else."
Erdogan said book reading is a natural instinct of every Muslim and history is witness to it.
"There is nothing more natural than the members of such a civilization being book lovers. In our history, there are monumental names such as Avicenna, such as Ghazali, who fit nearly 500 works into their 50-60-year life, and it is worth a lifetime for us to properly read and understand even the ones that have survived to the present day. The phrase 'the pen is mightier than the sword' indicates the importance our ancestors placed on reading and writing, whose greatest qualification was to make conquests and establish states," he said.
The first of these fairs was held in Ankara in 1983. The following year it was held both in Ankara and Istanbul.
The purpose of this fair was to make the mosque courtyards functional as they were in the past and to bring together the publisher, writer, and reader during the month of Ramadan. It was also aimed at encouraging a love for books and instilling the habit of reading books in every part of society.
Source: ABNA24
Please click the following URL to read the full text of the original story:
https://en.abna24.com/news//erdogan-highlights-importance-of-reading-in-quran-islamic-culture_1247482.html
--------
Iran Reiterates Need for End of War, Siege on Yemen
2022-April-12
Amir Abdollahian made the remarks in a meeting with Yemeni Ambassador to Tehran Ibrahim Mohammad Mohammad al-Deilami.
He stressed the need for complete removal of the blockade against Yemen and establishment of a permanent ceasefire in the country.
Amir Abdollahian hailed the resistance of the Yemeni people against the Saudi-led coalition attacks, and expressed concern about the critical situation in Yemen.
He underscored that lifting siege on Yemen and establishinf a permanent ceasefire will pave the way for Yemeni-Yemeni talks to determine their own destiny.
The Iranian top diplomat also stated that the Yemeni people will decide their own destiny with vigilance and resistance spirit.
Al-Deilami, for his part, appreciated the position and the support of the Iranian government and nation for Yemen, and briefed Amir Abdollahian on the temporary ceasefire and the latest developments in Yemen.
The UN announced on April 1 that the military coalition led by Saudi Arabia, which has been bombarding the country since 2015, and Yemen's National Salvation Government had agreed on a two-month ceasefire that would come into effect one day later and could be renewed with the consent of the parties.
UN special envoy for Yemen Hans Grundberg said at the time that the aim of the ceasefire "is to give Yemenis a necessary break from violence, relief from the humanitarian suffering, and most importantly hope that an end to this conflict is possible."
In a statement on Saturday, Iran's Foreign Ministry Spokesman Saeed Khatibzadeh expressed hope that the ceasefire could be a prelude to the complete lifting of the siege and the establishment of a permanent truce in line with efforts aimed at finding a political settlement.
Source: Fars News Agency
Please click the following URL to read the full text of the original story:
https://www.farsnews.ir/en/news/14010123000587/Iran-Reieraes-Need-fr-End-f-War-Siege-n-Yemen
--------
Minister: Iran to Turn into Exporter of Space-Related Services
2022-April-12
Iran will turn into one of the main exporters of space services both in region and Islamic countries, Zare'pour told reporters on the sidelines of his presence in the meeting of the Parliament's Industries and Mines Commission on Monday.
He called implementation of different phases of the national information network as one of the main programs of his ministry, and stated, "With the planning made in this regard, it was decided to implement about 70% of the national information network in the current year in 1401 (started March 21, 2022)."
Zare'pour also pointed to the planning adopted in the ICT ministry in the field of digital economy, and noted, "We are trying to add one percentage point to the share of digital economy in the total gross domestic product (GDP) in the current year."
"We have several satellites at hand for launching into the orbit. Islamic Republic of Iran should soon become one of the exporters of space services to the region and Islamic countries, because we are one of the top 10 countries that can build homegrown satellites. These satellites are also launched with a domestically-produced launcher," he added.
The Islamic Revolution Guards Corps (IRGC) Aerospace Force successfully launched a new reconnaissance satellite named 'Nour-2' into the orbit in March.
'Nour-2' satellite was sent to the space on the back of the home-built launcher Qassed (messenger) and was placed into the orbit at an altitude of 500 km.
The satellite is tasked with reconnaissance, and was placed into the orbit after 480 seconds at the speed of 6.7 km/s.
'Nour-1', the first military satellite of Iran, was successfully launched and put into orbit by the Qassed carrier in April 2020. It was placed into the orbit at an altitude of 425km.
Zare'pour said after the launch that the first signals from Iran's new reconnaissance satellite, Nour-2, have been received.
The first signals from Nour-2 was received, Zare'pour wrote on his instagram page.
He referred to the successful launch of Nour-2 satellite, developed by the Islamic Revolution Guards Corps (IRGC) experts, saying that grounds have been paved for launching satellite into Low Earth Orbit (LEO).
Zare'pour noted that Nour-2 is a reconnaissance satellite which is to revolve around the earth every 90 minutes.
In July, the IRGC Aerospace Force released images taken by Nour-1, showing al-Udeid base in Qatar, which hosts thousands of US forces.
The images taken through mosaicking method by Nour-1 Satellite, which was launched successfully on April 22, were high resolution and showed the US biggest airbase in the Middle-East in Qatar which hosts nearly 13,000 American forces.
The IRGC launched the satellite aboard Qassed (Carrier) satellite carrier during an operation that was staged in Dasht-e Kavir, Iran's sprawling Central desert. The Launcher Qassed is a three-stage launcher using compound solid-liquid fuel.
In relevant remarks in March, Iranian President Seyed Ebrahim Rayeesi lauded the IRGC for launching a new satellite into orbit, and stressed continued efforts to further advance space technology in his country.
Acquiring the advanced technology to put a satellite into space was "very invaluable and a source of pride", Rayeesi said, addressing a cabinet meeting in Tehran.
Source: Fars News Agency
Please click the following URL to read the full text of the original story:
https://www.farsnews.ir/en/news/14010123000455/Miniser-Iran-Trn-in-Exprer-f-Space-Relaed-Services
--------
AEOI Chief: Iran Plans Production of 10kMW of Nuclear-Powered Electricity
2022-April-12
Eslami wrote on his twitter page on Monday that the Document would hopefully be an effective step towards removing obstacles and developing the nuclear industry.
He added that the Document, which sets goals for the country's nuclear industry for the next 20 years, deals with different dimensions of nuclear technology in order to bring Iran a good world status in this regard.
Eslami said that the production of 10,000 megawatts of nuclear-powered electricity as well as the construction of a 360-megawatt power plant in Darkhovin, which will be built by Iranian scientists, are among other goals of the Document.
He also referred to Iran's Nuclear Technology Day that was marked on April 20, saying that on the occasion of the national event, nine nuclear achievements were unveiled, which included radiopharmaceuticals, plasma, lasers and control systems.
He referred to President Rayeesi's comments on the Nuclear Technology Day, who described the nuclear technology as the forerunner of the country's scientific progress, and called for maintaining that status of the nuclear technology through creativity and innovation.
Eslami said, in line with the president's remarks, "we should take important measures to advance nuclear technology and powerfully continue research in peaceful nuclear technology".
He also said that the AEOI will put on its agenda commercializing the country's nuclear achievements, which was raised by President Rayeesi.
In relevant remarks last week, Spokesman of the Atomic Energy Organization of Iran (AEOI) Behrouz Kamalvandi said that the country planned to build several other nuclear power plants in different parts of Iran, including Darkhovin in Khuzestan province.
The Iranian government has put on its agenda building the 360MW-Darkhovin plant, Kamalvandi said.
He added that the European states have also accepted the fact that building nuclear plants is inevitable.
Kamalvandi underlined the importance of building nuclear power plants, saying it is an essential part of the country's needs.
Source: Fars News Agency
Please click the following URL to read the full text of the original story:
https://www.farsnews.ir/en/news/14010123000276/AEOI-Chief-Iran-Plans-Prdcin-f-0kMW-f-Nclear-Pwered-Elecriciy
--------
Iran sends top rights defender, journalist back to prison
12 April ,2022
Iranian authorities on Tuesday sent leading rights defender Narges Mohammmadi and photojournalist Alieh Motalebzadeh back to prison after briefly allowing them out for medical reasons, family and activists said.
Iranian intelligence agents raided Mohammmadi's house in Tehran to arrest both women for their return to jail, Mohammmadi's husband Taghi Rahmani wrote on Twitter.
Motalebzadeh, a photojournalist, is vice-president of the Press Freedom Defense Association.
For the latest headlines, follow our Google News channel online or via the app.
The HRANA news agency said both had been transferred to Qarchak women's prison, southeast of Tehran, where conditions are routinely condemned by activists.
There is particular concern about the health of Mohammadi, who suffers from a heart condition.
Before being arrested, Mohammadi told the Washington Post newspaper that human rights should be a "priority" in the West's negotiations with Iran.
But she also argued that economic sanctions against the country imposed by the West had backfired, saying they had "weakened Iranians economically more than they weakened the Iranian regime."
Mohammadi was sentenced to eight years and over 70 lashes on national security charges in January.
She was released from prison in October 2020 but then arrested in November 2021 in Karaj, outside Tehran, while attending a memorial for a man killed during nationwide protests two years earlier.
Amnesty International at the time condemned Mohammadi's arrest as "arbitrary" and described her as a "prisoner of conscience targeted solely for her peaceful human rights activities."
Mohammadi, who has long campaigned against the use of the death penalty in Iran, had before her latest arrest been working with families seeking justice for loved ones who they say were killed by security forces in the 2019 protests.
Source: Al Arabiya
Please click the following URL to read the full text of the original story:
https://english.alarabiya.net/News/middle-east/2022/04/12/Iran-sends-top-rights-defender-journalist-back-to-prison
--------
'Iran open to public sector investments in nuclear energy'
Syed Zafar Mehdi
12.04.2022
TEHRAN, Iran
Iran is open to public sector investments from regional countries in the field of peaceful nuclear energy, a senior official of Iran's nuclear agency told Anadolu Agency.
Pejman Shirmardi, Deputy Director of the Atomic Energy Organization of Iran (AEOI), said Tehran welcomes public sector companies from countries in the region to enter the field.
"Iran's capacity in the field of nuclear medicine is improving," he said on the sidelines of the National Nuclear Technology Day.
Shirmardi noted that Iran's atomic organization has a medical tourism plan in place.
"We are also launching a therapy project in Alborz province, where patients from other countries in the region can visit," he added.
On Sunday, Iran marked the National Nuclear Technology Day by showcasing the latest achievements in the area of nuclear energy.
On April 9, 2016, the country started enriching uranium at the industrial level for the first time. Ever since then, the day has been observed as National Nuclear Technology Day.
Shirmardi said Iran has the capacity to transfer technology to different countries in the region and use their capacity in return.
Echoing the words of senior Iranian government officials, including President Ebrahim Raisi, the AEOI official said Tehran is not looking at the non-peaceful use of nuclear energy, citing a decree by Iran's Supreme Leader Ayatollah Ali Khamenei in which he has banned the production of a nuclear bomb.
"All our activities have been, are, and will be peaceful," Shirmardi said, adding that Tehran has in recent years been subjected to "the most severe sanctions in history".
He said it was natural for Iran to invest in different areas of nuclear energy to address the country's needs in the fields of health, agriculture, and the environment.
The AEOI unveiled a total of 77 new nuclear achievements during the National Nuclear Technology Day, including uranium silicide fuel pellets for the Tehran Research Reactor, cold plasma technology for pistachio detoxification, and cancer treatment, radionuclide terbium-161 for local tumor treatment, and stable zirconia powder for various industries.
The agency chief, Mohammad Eslami, also announced three strategic plans to generate 10,000 MW of nuclear power, expand the use of radiation technologies and build a fully-indigenous 360,000 MW power plant in Darkhovin.
Different generations of Iranian-made centrifuges were also on display during the ceremony.
Source: Anadolu Agency
Please click the following URL to read the full text of the original story:
https://www.aa.com.tr/en/middle-east/iran-open-to-public-sector-investments-in-nuclear-energy/2561904
--------
Africa
Again, gunmen kill monarch in Taraba mosque, injure others
By Charles Akpeji
13 April 2022
Gunmen have killed a district head in a mosque at Maisamari town of Sardauna Local Council of Taraba State.
The Guardian learnt that many worshippers were injured in the attack, which occurred at about 7:25p.m. on Monday, during the Ishaa prayers.
It was gathered that the gunmen, who came in their numbers, stormed the mosque during the prayers and started shooting sporadically.
A source from the community said, but for timely intervention of the people from the community who thronged out en-mass to confront the gunmen, more casualties would have been recorded.
He said: "The residents of the community came out in their large numbers to confront the gunmen, which forced them to flee into the surrounding mountains of the town. "
"The residents were courageous enough to come out when the shooting started and forced the gunmen to escape, hence nobody was abducted by the gunmen and normalcy has since returned to the town."
Meanwhile, the killed monarch, Alhaji Abdulkadir Maisamari, has been buried yesterday morning according to the Muslim rites.
Contacted, spokesperson for the state command, Deputy Superintendent of Police (DSP) Usman Abdullahi, confirmed the incident, but he did not give the details as he was still expecting additional information from the Divisional Police Officer (DPO) in the area.
Source: Guardian Nigeria
Please click the following URL to read the full text of the original story:
https://guardian.ng/news/again-gunmen-kill-monarch-in-taraba-mosque-injure-others/
--------
MWL launches project for Ramadan baskets in Sudan
April 12, 2022
KHARTOUM — The Muslim World League (MWL) — Sudan Office — inaugurated Tuesday, in Khartoum, the Ramadan Baskets Project in Sudan, in the presence of the Saudi Ambassador to Sudan Ali Bin Hassan Jafar, Commissioner-General of Humanitarian Aid Najm Al-Din Musa, and the families benefiting from the program.
Ambassador Jafar stressed in a speech on this occasion that the program comes in implementation of the directives of the Custodian of the Two Holy Mosques King Salman and the Crown Prince, to boost charitable work in Ramadan.
Source: Saudi Gazette
Please click the following URL to read the full text of the original story:
https://saudigazette.com.sa/article/619306/SAUDI-ARABIA/MWL-launches-project-for-Ramadan-baskets-in-Sudan
--------
Northern elders ask Buhari to resign, give reasons
April 12, 2022
By Seun Opejobi
The Northern Elders Forum, NEF, on Tuesday, asked President Muhammadu Buhari to immediately resign from his position.
NEF said Buhari has failed to address the issues of killings, kidnappings, and general insecurity in the country.
Dr. Hakeem Baba-Ahmed, the Director, Publicity and Advocacy of NEF, made the call in a statement he issued.
Baba-Ahmed said the Nigerian constitution allows the President to step down if he can't solve the challenges confronting the country.
He said: "The administration of President Muhammadu Buhari does not appear to have answers to the challenges of security to which we are exposed. We cannot continue to live and die under the dictates of killers, kidnappers, rapists and sundry criminal groups that have deprived us of our rights to live in peace and security.
"Our constitution has provisions for leaders to voluntarily step down if they are challenged by personal reasons or they prove incapable of leading.
"It is now time for President Buhari to seriously consider that option, since his leadership has proved spectacularly incapable of providing security over Nigerians. Our Forum is aware of the weight of this advice, and it is also aware that we cannot continue to live under these conditions until 2023 when President Buhari's term ends.
"Killers and other criminals appear to have sensed a paralyzing vacuum at the highest levels of leadership, and they grow more confident and acquire more competence in subverting the State and our security.
Source: Daily Post
Please click the following URL to read the full text of the original story:
https://dailypost.ng/2022/04/12/northern-elders-ask-buhari-to-resign-give-reasons/
--------
Erdogan plays to base with criticism of Tunisia
Fehim Tastekin
April 12, 2022
Non-interference in domestic affairs and ending support for the Muslim Brotherhood have been two major conditions that Turkish President Recep Tayyip Erdogan has faced in his fence-mending quest with Egypt and other Arab countries, leading him to tone down his rhetoric on regional issues in the past couple of years. Yet the Tunisian president's decision to dissolve parliament has prompted a fresh outburst by Erdogan, fueling diplomatic tensions between the two countries.
Erdogan's condemnation was meant as support for his close friend Rachid Ghannouchi, speaker of the dissolved assembly and leader of the Brotherhood-affiliated Islamist Ennahda party. "We see the developments in Tunisia as the smearing of democracy. The dissolution of a parliament of elected representatives is … a blow to the will of the Tunisian people," he said April 4.
Erdogan spoke out after several days of silence following President Kais Saied's March 30 decision to dissolve parliament, which he had suspended last year. Tunisia should stick to its election roadmap, Erdogan said, stressing that the political transition in the country could succeed "only through an inclusive and meaningful dialogue in which all segments of society, including parliament, are involved."
Erdogan's criticism generated a harsh response from Tunis. Foreign Minister Othman Jerandi called his Turkish counterpart to reject Erdogan's comments, and his ministry summoned the Turkish ambassador. "Tunisia expresses its astonishment at the Turkish president's statement … these comments are unacceptable," the Foreign Ministry said. "Tunisia affirms its keenness on close relations with friendly countries but adheres to the independence of its decision and rejects interference in its sovereignty or the choices of its people," it said. And Saied, referring to Tunisia's Ottoman past, said his country was no longer an Ottoman province and "not waiting for orders from any authority." The Tunisian people, he added, "will say their word away from any interference."
Saied had suspended the parliament and the immunity of its members and dismissed the government in July 2021 following a wave of anti-government protests. Soon after, he issued a decree expanding his executive powers. In February, Saied dissolved the Supreme Judicial Council and appointed a temporary replacement for the body. He had criticized the council for delaying investigations into political assassinations in the wake of the 2011 popular rising that had led to Ennahda's ascent to power, protecting figures affiliated with Ennahda and impeding efforts to stamp out corruption.
In a countermove March 30, more than a half of the suspended parliament's members held an online session to vote through a bill repealing the president's extraordinary executive decrees. Saied immediately convened a meeting of the National Security Council, at which he announced the dissolution of the legislature for what he called a "coup attempt." The deputies faced a probe on charges of conspiring against state security.
Under a roadmap that Saied announced last year, Tunisia is expected to hold a referendum on a draft new constitution on July 25 and then parliamentary polls in December. Tired of corruption of economic woes, many Tunisians had initially supported Saied's moves, but the president has come under mounting criticism that he is becoming a new autocrat.
Ennahda, which was part of the government that Saied dismissed and had the largest number of seats in parliament, has said it will boycott the referendum and the elections.
Given Ennahda's ideological affinity and close ties with Erdogan's Justice and Development Party, the political crisis in Tunisia holds the potential to hit Turkish-Tunisian relations. The Brotherhood's ouster in Egypt in 2013 had opened deep rifts between Ankara and Cairo, which have yet to be healed. Ankara and Tunis had so far refrained from steps that could cause lasting damage to their ties. But now that Ennahda faces the risk of political isolation as a result of the transformation that Saied seeks, Ankara is growing concerned that it could lose Tunisia as well.
Meanwhile, the U-turns that Ankara has recently made to ease tensions with regional countries have disappointed Erdogan's Islamist supporters. Hence, he might have felt compelled to break his silence on Tunisia in a bid to refresh his leadership credentials, both at home and abroad.
In a string of backpedaling moves, Erdogan has reconciled with the United Arab Emirates (UAE), which he had accused of financing the 2015 coup attempt in Turkey; forced the Brotherhood's Istanbul-based TV channels to tone down their criticism of Cairo; and accorded a warm welcome to Israel's president in Ankara. Eager to reconcile with Saudi Arabia as well, Turkey last week halted the trial of 26 Saudi nationals over the gruesome murder of Saudi dissident Jamal Khashoggi in Istanbul and handed the case over to Riyadh.
Yet Erdogan's criticism of Saied might make things even harder for Ghannouchi, who has been accused of using his role as parliament speaker to collude with Turkey and Qatar and advance the Brotherhood's transnational agenda. Tunisian anti-terror police questioned Ghannouchi April 1 on charges of having plotted against state security. Erdogan's criticism, widely seen as an attempt to save Ennahda, might backfire also by influencing skeptics to back Saied's roadmap.
That Tunis responded sternly to Erdogan while mostly fudging over the reactions of other countries indicates that the row has domestic political implications. Erdogan is seen as a leader who could embolden Ennahda, and his comments rekindled debates targeting the party. Arab media accompanied their coverage of Erdogan's comments with the following remarks of Ghannouchi: "We are not isolated from the world. We have inter-parliamentary relations and friends around the world. We are in contact with all parties with whom we share objectives." While Ennahda's ties with Turkey and Qatar are constantly evoked, some media outlets have gone as far as to report the outlandish claim that the Brotherhood had asked the Turkish military to intervene to overthrow Saied.
Al Arab newspaper opines that Erdogan has bowed down to Egypt, the UAE and Saudi Arabia and is now extending a helping hand to Ghannouchi to reburnish his image as the defender of Islamist causes. According to the paper, he has reverted to his old style of interfering in Arab domestic affairs by replacing Egyptian President Abdel Fattah al-Sisi with Saied as his target.
Zouhair Maghzaoui, secretary-general of Tunisia's People's Movement party, sees Turkey as the "last card" of Tunisia's Islamists in their quest for external support. "Erdogan's statements are part of his Muslim Brotherhood ties in the region and in response to demands by the Ennahda movement, given that Tunisia is the last stronghold of Islamists in the region," he said. For Tunisian analyst Nabil Rabhi, Erdogan "wants the Brotherhood's return to power."
In defiant remarks April 9, Ghannouchi said Tunisia was in the grips of "an unprecedented crisis reinforcing a dictatorial regime that has seized all power."
The row has triggered also calls to boycott Turkish goods in Tunisia. Some observers argue that Tunisia should review or freeze its 2004 free trade agreement with Turkey because it has favored Turkish interests. Turkish goods have flooded the Tunisian market and dealt blows to local producers, they note, stressing that Tunisia's trade deficit with Turkey is the third largest after its trade deficits with China and Italy.
Turkey's diplomatic tensions with Tunisia could cast a pall also on its efforts for normalization with Arab heavyweights.
Source: Al Monitor
Please click the following URL to read the full text of the original story:
https://www.al-monitor.com/originals/2022/04/erdogan-plays-base-criticism-tunisia
--------
Algeria accuses Morocco of killing three on edge of Western Sahara
12 April ,2022
Algeria accused Morocco on Tuesday of "targeted killings" of three people, after press reports of a deadly attack by Morocco on the edge of the disputed Western Sahara.
Media linked to the Polisario independence movement reported a Moroccan air strike early Sunday against trucks close to the border between the desert territory and Mauritania, killing three people of unknown nationalities.
The alleged killings could not be independently verified, and neither Morocco nor Mauritania have commented.
"Algeria vigorously condemns Morocco's targeted killings, with sophisticated weaponry, outside of its internationally recognised borders," Algeria's foreign ministry said in a statement.
For the latest headlines, follow our Google News channel online or via the app.
It said those killed were "innocent civilians from three countries in the region", without adding details.
The ministry accused its neighbour of "repetitive acts of state terrorism" that could have "serious implications" for regional security.
Algeria last November accused arch-rival Morocco of killing three Algerians on a desert highway in the Western Sahara.
Morocco considers the former Spanish colony an integral part of its own territory, but Algeria backs the Polisario, which has long sought an independence referendum there.
Tensions have escalated there since the Polisario declared a 30-year ceasefire null and void in November 2020.
Source: Al Arabiya
Please click the following URL to read the full text of the original story:
https://english.alarabiya.net/News/north-africa/2022/04/12/Algeria-says-Morocco-shelled-commercial-convoys-on-Algeria-Mauritania-border
--------
URL: https://www.newageislam.com/islamic-world-news/afghan-girls-taliban-leaders-medicine-football/d/126787
New Age Islam Islam Online, Islamic Website, African Muslim News, Arab World News, South Asia News, Indian Muslim News, World Muslim News, Women in Islam, Islamic Feminism, Arab Women, Women In Arab, Islamophobia in America, Muslim Women in West, Islam Women and Feminism