New Age Islam News Bureau
29 Apr 2015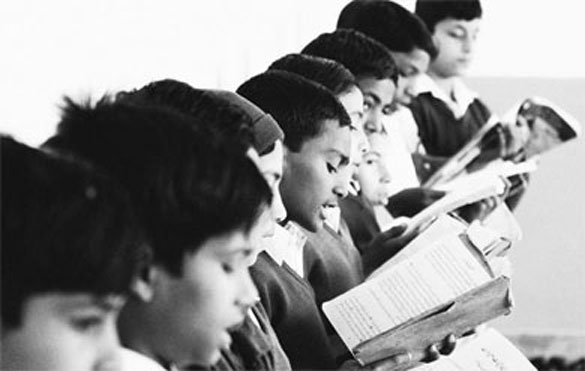 Uniform Curriculum in All Educational Institutions to Be Introduced
----------
Arab World
• Syrian Army Kills Hundreds of Al-Nusra Front's Terrorists in Al-Quneitra Province
• Iraqi Army Kills over 90 ISIL Terrorists across Anbar
• Saudi Arabia's King Announces New Heirs to Throne
• Lebanese People Slam Saudi Aggression on Yemen
• Riyadh Shipping Arms to Al-Qaeda Terrorists, Militias in Ta'izz
• Bodies of 6 displaced Sunnis, shot in heads, dumped in Baghdad
• 93 militants arrested in anti-terror sweep, says MOI
• Arabs strike to protest racism
Southeast Asia
• Do Not Forbid What Is 'Halal' In Islam, Isma Wanita Chief Says Of Marital Rape
• Indonesia: Eight Convicts Executed Despite World Leaders' Appeal
• ASEAN Leaders Pledge to Stamp out Radicalism, Promote Peace
Pakistan
• Uniform Curriculum in All Educational Institutions to Be Introduced
• MQM Wants To Make Reciting Of 'Naat' In NA Mandatory
• Security Forces Claim Major Success in Tirah Valley
• India jilts Pakistan on push for better ties: Nawaz Sharif
• Balochistan governor calls for teaching in local languages
• COAS wants peace in and around country
• PML-Q Requests Judicial Commission to Summon ISI, MI Chiefs as Witnesses
• Capital punishment: 15 convicted murderers hanged in a day
Mideast
• Ansarullah: Yemeni Aggression Causing Storm in Al Saud Dynasty
• Houthis advancing into Yemen's Aden kill 12 civilians, residents say
• Iranian DM Vows Continued Support for Syria's War on Terrorism
• Islamist newspaper 'proud' of not knowing The Beatles
• Saudi Warplanes Bomb Several Areas across Yemen
India
• Zaki-ur-Rehman Lakhvi Will Link With Qaeda: RAW to PMO
• Bombay HC Upholds Maharashtra Govt's Beef Ban
• Govt says states should act against communal incidents
• Modi, Ghani talk trade, terror
South Asia
• Isis Promotes Training Camp in Logar Province of Afghanistan
• Afghan Official Claims Insurgents Flooding In From Pakistan
• Taliban unable to occupy district or province
• Taliban publicly executed a man accused of killing his wife in Helmand
• Blogger Oyasiqur's family living in fear, demand justice
Africa
• Algerian Soldiers Kill 6 Armed Islamists: Ministry
• Morocco Arrests Four over 'Burning Alive' Fatwa
• Africa: Refugees in Libya Face Despair from All Sides
• Tunisian journalist Kawthar Bashrawi kisses Syrian soldier shoe
Europe
• Tajikistan to Local Police: Stop Forcibly Shaving Muslims
• ISIL Smuggles Artefacts through Turkey: British Daily
• EU's Mogherini sees 'major role' for Iran in Syria talks
• Red Cross 'lost moral compass' in war but says drew lessons
• France increases defence budget post-attacks: Hollande
North America
• Military Fears ISIS is Eyeing Drug-Smuggling Routes to Enter U.S.
• Black Police Union Defends Top Muslim Officer for Not Saluting U.S. Flag
• Boston Academics Weigh Motives, Meaning Of Islamic State
• Iran forces Marshall Islands-flagged cargo ship to Iranian port: US officials
• Hezbollah suspects placed on special US terror list
• Muslim Congressmen Want To Block 'Islamophobic' Dutch Lawmaker Geert from Entering US
Compiled by New Age Islam News Bureau
URL: https://newageislam.com/islamic-world-news/syrian-army-kills-hundreds-al/d/102733
----------
Arab World
Syrian Army Kills Hundreds of Al-Nusra Front's Terrorists in Al-Quneitra Province
Apr 29, 2015
The Syrian Armed Forces, in two separate operations, stormed the strongholds of al-Nusra Front's terrorists in the Southwestern province of al-Quneitra, which resulted in the killing and wounding of a large number of them, a military source announced.
The source said that a group of al-Nusra terrorists was targeted by the Syrian army men in al-Hamidiyeh village in the countryside of Quneitra, adding several members of the group were killed and wounded in the army's operations.
Also, al-Qahtaniyeh village was the scenes of heavy clashes between the terrorists of al-Nusra and the army soldiers, who killed, wounded most of the fighters in the battlefield.
Also on Sunday, the army targeted terrorists' hideouts and concentration centers in Rasm al-Khawaled, al-Hamidiyeh villages in the Northeastern countryside of Quneitra, and killed scores of terrorists and destroyed their arms and ammunition.
Meanwhile, terrorist groups acknowledged on their social media pages on Saturday the death of Ali al-Qab'ani, leader of the so-called "Al-Karama Brigade" of "Fajr al-Tawhid" terrorist group.
Syria has been faced massive insurgency since 2011. Damascus has always reiterated that the solution to the crisis is only political based on an inter-Syrian dialogue and led by Syria without foreign interference.
http://english.farsnews.com/newstext.aspx?nn=13940209000799
----------
Iraqi Army Kills over 90 ISIL Terrorists across Anbar
Apr 29, 2015
The Iraqi army, backed by volunteer fighters, intensified their offensive on the ISIL terrorists in Anbar and killed at least 90 militants across the Western province on early Wednesday.
The Iraqi troops along with the popular fighters continued to make more gains in their military campaign against the ISIL Takfiri groups and managed to claim the lives of 61 terrorists in the city of al-Karmah, located 16 kilometers (10 miles) Northeast of Fallujah.
Six pick-up trucks equipped with heavy machine guns belonging to the ISIL were also destroyed during the operation.
Elsewhere in Iraq, the army soldiers tightened their noose over the Takfiri group in the city of Ramadi, located about 110 kilometers (68 miles) West of the capital, Baghdad, leaving more than 30 terrorists dead.
Iraqi forces also defused 104 improvised explosive devices, and cleared 24 booby-trapped houses in the operation.
Earlier, the Iraqi troops intensified their offensive against the ISIL in Anbar province and won back control over the district of Nadhem Sarsar from the terrorists.
The army also launched a major operation against the ISIL terrorists in the Eastern province of Diyala and the holy city of Samarra in Salahuddin province on early Tuesday.
Anbar province has been the scene of insurgency since summer 2014 when the ISIL terrorists started massive attacks on cities, towns and the villages of Nineveh, Anbar and Salahuddin provinces, occupying Mosul and Tikrit.
Late in March, the Iraqi army, backed by Shiite and Sunni volunteer forces, made a final push against the ISIL terrorists in Tikrit, and managed to fully liberate the Northern city from the control of the Takfiri group.
The hometown of former Iraqi dictator Saddam Hussein was expected to be fully liberated within hours after the army troops and popular fighters inflicted major losses on the ISIL terrorists in the Southern and Western parts of the city and broke the terrorist group's fortified line of defense earlier in the day.
At the time, Iraqi Prime Minister Heidar Al-Abadi underlined that the Iraqi troops will try to regain control of Mosul and Al-Anbar in the next stage of their operations after Tikrit.
http://english.farsnews.com/newstext.aspx?nn=13940209000475
----------
Saudi Arabia's King Announces New Heirs to Throne
Apr 29, 2015
Saudi Arabia's new king has announced a major cabinet reshuffle that puts in place a new generation to succeed him.
King Salman has appointed his nephew, the powerful Interior Minister Prince Mohammed bin Nayef, as crown prince.
The king's son, Prince Mohammed bin Salman, has been made deputy crown prince and the foreign minister, Prince Saud al-Faisal, has been replaced.
King Salman, 78, acceded to the throne in January after the death of his half-brother Abdullah bin Abdul Aziz.
Abdullah, who was thought to be aged about 90, had been on the throne since 2005 and Saudi Arabia's de facto leader for 10 years before that.
The BBC's Kim Ghattas, who was recently in Riyadh, says this latest reshuffle shows King Salman is firmly turning the page on the era of his predecessor.
He has pushed aside allies of the late monarch such as his half-brother Muqrin bin Abdul Aziz, who until Wednesday was crown prince.
The rise of Prince Mohammed bin Nayef, 55, and Prince Mohammed bin Salman, the defence minister believed to be in his early 30s, means that for the first time a grandson of the kingdom's founder, King Abdul Aziz, is in line to rule.
Both men will continue in their ministerial roles.
The appointment of Prince Mohammed bin Nayef as crown prince and deputy premier is likely to be welcomed by the United States, with whom he has a close relationship, our correspondent says.
The kingdom's veteran security chief, he is known for his strong stance against jihadist militants and narrowly survived an assassination attempt by al-Qaeda in the Arabian Peninsula suicide bomber in 2009.
The new Deputy Crown Prince and Second Deputy Premier, Mohammed bin Salman, has enjoyed a meteoric rise within the Saudi leadership.
He was appointed defence minister in January, and in the last month has been overseeing a military operation by a Saudi-led coalition against Houthi rebels in Yemen.
King Salman has employed a more assertive, muscular foreign policy to push back against Saudi Arabia's regional rival Iran, our correspondent says. These new appointments reinforce that trend, she notes.
Crown Prince Mohammed bin Nayef
First grandson of the kingdom's founder, King Abdul Aziz, to join line of succession
Aged 55; son of late former Crown Prince, Nayef bin Abdul Aziz, and nephew to new King Salman
Became assistant interior minister in 1999 and led crackdown on jihadist militants after 9/11
Narrowly survived assassination attempt by al-Qaeda suicide bomber in 2009
Succeeded his father as interior minister in 2012 following his death
Named crown prince and deputy premier in 2015; will continue as interior minister
A royal decree announced the reshuffle, and said Prince Saud al-Faisal, who has been in post for almost four decades, had "asked to be relieved from his duties due to his health condition".
The 75 year old will be replaced by the Saudi ambassador to the US, Adel al-Jubeir, whose appointment is a rarity because such a position normally goes to a member of the royal family.
Meanwhile, the most senior woman in the Saudi government, Nora al-Fayez, has been removed as deputy education minister for girls, a post she had held since 2009.
She had sought to introduce sports programmes for girls in state-run schools, something opposed by religious conservatives.
http://www.bbc.com/news/world-middle-east-32509296
----------
Lebanese People Slam Saudi Aggression on Yemen
Apr 29, 2015
Lebanese people staged a protest in front of the Saudi embassy in the capital Beirut in condemnation of the Persian Gulf kingdom's unrelenting air strikes on Yemen.
On Tuesday, the protesters called for an immediate end to the "blatant" Saudi aggression. They also expressed their solidarity with the Yemeni people.
Saudi Arabia launched its bombing campaign against Yemen on March 26 in an attempt to restore power to fugitive President Mansour Hadi, a staunch ally of Riyadh.
Hadi stepped down in January and refused to reconsider the decision despite calls by Ansarullah revolutionaries of the Houthi movement.
Despite Riyadh's claims that it is bombing the positions of the Ansarullah fighters, Saudi warplanes are flattening residential areas and civilian infrastructures.
According to FNA tallies, the Monarchy's attacks have so far claimed the lives of at least 3,024 civilians, mostly women and children.
Meanwhile, according to a report by Yemen's Freedom House Foundation, Saudi airstrikes have killed 3,512 Yemeni people, including 492 children and 209 women, since the beginning of the aggression until April 25.
The report added that 6,189 people were injured, including 978 children and 713 women, during the same period.
About 95,000 families have been displaced due to the Saudi-led airstrikes, according to the report.
The foundation further said 4,898 residential buildings have been either destroyed or damaged and some 857 civil service and public utility facilities have been destroyed.
On April 21, after four weeks of bombings, Riyadh declared end to military operations in Yemen, but Saudi warplanes are still bombing residential areas across the war-ravaged nation one week after.
http://english.farsnews.com/newstext.aspx?nn=13940209000834
----------
Riyadh Shipping Arms to Al-Qaeda Terrorists, Militias in Ta'izz
Apr 29, 2015
Saudi Arabia is supplying arms to Al-Qaeda terrorists and pro-Haid militias operating in Yemen's Ta'izz, a source disclosed on Wednesday.
An informed Yemeni source said today that the Saudi regime has sharply increased the flow of weapons to the al-Qaeda terrorists and the loyalists to Yemen's fugitive President Mansour Hadi in the city of Ta'izz in an attempt to undermine the Ansarullah popular fighters.
The source added that the latest developments came after the Ansarullah popular fighters continued to make huge gains in their fight against the Saudi-backed terrorists and militants across the Southern city.
Meanwhile, the popular fighters have managed to block the smuggling of arms to the Saudi-backed forces, the source further added.
The Ansarullah fighters and army troops have made major advances in their fight against the al-Qaeda terrorists and forces loyal to fugitive President Mansour Hadi across Yemen in recent weeks.
Full report at:
http://english.farsnews.com/newstext.aspx?nn=13940209000805
----------
Bodies of 6 displaced Sunnis, shot in heads, dumped in Baghdad
Apr 29, 2015
BAGHDAD: The bodies of six displaced Sunni men were found dumped in the Iraqi capital Baghdad early on Tuesday with bullet wounds to the head, police sources and the head of the tribe to which they belonged said.
The identity of the assailants was unknown, but the victims were all members of the same family who had fled violence in the western province of Anbar and sought refuge in Baghdad's western Jihad district.
"Yesterday at midnight a group of men dressed in black with their faces hidden by balaclavas and masks knocked on the door and threatened the family to leave immediately," Sheikh Naim Al-Gaud, the head of the Albu Nimr tribe, told Reuters.
"At five in the morning they came and executed them in cold blood, and even took what money and gold jewelry they had."
Full report at:
http://www.arabnews.com/middle-east/news/739226
----------
93 militants arrested in anti-terror sweep, says MOI
Apr 29, 2015
Security agencies arrested 93 people linked to the Islamic State (IS) group over the past few months who had planned to attack public and private buildings, and kill police and other officials, said the Interior Ministry spokesman Maj. Gen. Mansour Al-Turki in a statement on Tuesday.
A militant cell planned a suicide car bombing targeting the US Embassy in Riyadh, but the plot was disrupted in March, he revealed.
Also, security forces arrested Tuesday a citizen sought in connection with the killing of two police officers in Riyadh earlier this month, according to another ministry statement.
The ministry said that Nawaf Al-Anazi, who has the nickname Burgess, was arrested in Romah governorate after the security forces received a tip-off on their 990 number about his whereabouts.
Full report at:
http://www.arabnews.com/featured/news/738981
----------
Arabs strike to protest racism
Apr 29, 2015
JERUSALEM: Israel's Arab minority observed a general strike on Tuesday that climaxed with a rally in Tel Aviv to protest against a wave of demolitions of Arab homes.
In Arab towns in the north, schools, colleges, public institutions, banks and most shops were closed, Arab media outlets reported.
The Higher Arab Monitoring Committee, which represents Arab communities in Israel, said the strike was a protest against growing racism as well as the acceleration of house demolitions.
"This strike is a response to the increased action by the Israeli authorities against Arab homes and the ongoing harsh policy of incitement to hatred against Arabs which was launched by Prime Minister Benjamin Netanyahu during the elections," it said.
It was referring to an incident on March 17 when Netanyahu warned rightwing Jewish voters to turn out because Arab Israelis were going to the polls "in droves."
The decision to hold a rally in Tel Aviv rather than in one of the Arab cities was aimed at bringing the crisis to the attention of Jewish Israelis.
Full report at:
http://www.arabnews.com/middle-east/news/739236
----------
Southeast Asia
Do Not Forbid What Is 'Halal' In Islam, Isma Wanita Chief Says Of Marital Rape
Apr 29, 2015
KUALA LUMPUR, April 29 — The women's chief of an Islamist group today said wives cannot cry rape when their husbands force themselves on them, so long as the act is within the "limits of the Islamic code".
Ikatan Muslimin Malaysia's (ISMA) Dr Norsaleha Mohd Salleh, who is also the head of the Usuluddin studies department at Kolej Universiti Islam Antarabangsa Selangor (KUIS), told news portal Ismaweb.net that rape accusations should not be thrown at husbands.
"Let's not forbid what is allowed by Allah just because we are angry.
"This means a wife cannot claim that being forced by her husband to serve him is rape as long as his demands are within the limits of the Islamic code," she was quoted in Malay by the portal.
She added that a good Muslim will not hurt his wife, and would definitely not force his wife to have intercourse when she is menstruating, fasting, dressed in ihram (worship garment), exhausted, or in pain.
"This is because Islam acknowledges the weaknesses and shortcomings of both sides.
"So if there is any force, it usually involves men who are drunk and mentally ill. Or when the husband is not well-equipped with religious knowledge and the wife is unaware of her rights provided for in Islam," she said.
Norsaleha pointed out, however, that at all other times, the wife is obliged to fulfil their duty and serve their husbands as best as they can.
http://www.themalaymailonline.com/malaysia/article/do-not-forbid-what-is-halal-in-islam-isma-wanita-chief-says-of-marital-rape
----------
Indonesia: Eight Convicts Executed Despite World Leaders' Appeal
Apr 29, 2015
Jakarta. Indonesia carried out the execution of eight drug convicts by firing squad on Nusa Kambangan Prison Island off Central Java early on Wednesday despite multiple efforts from human rights activists and united appeals from world leaders to stop the killings.
Those people executed were "Bali Nine" duo Andrew Chan and Myuran Sukumaran, both Australians; Rodrigo Gularte, a Brazilian diagnosed with a mental illness; Raheem Agbaje Salami, Martin Anderson, Sylvester Obiekwe Nwolise and Okwudili Oyatanze of Nigeria; and Indonesian national Zainal Abidin.
Mary Jane Fiesta Veloso of the Philippines was saved from Wednesday's execution after President Joko Widodo met with several activists and ministers early in the day following a report that a woman who recruited Veloso had surrendered herself to Philippine authorities.
A Frenchman, Serge Atlaoui, was initially part of this group to be executed, but he was granted a temporary reprieve after his lawyer managed to file a final appeal on the verge of the deadline on Thursday.
Full report at:
http://thejakartaglobe.beritasatu.com/news/eight-convicts-executed-despite-world-leaders-appeal/
----------
ASEAN Leaders Pledge to Stamp Out Radicalism, Promote Peace
Apr 29, 2015
Jakarta. Leaders of the 10 members of the Association of Southeast Asian Nations, or ASEAN, have declared the Southeast Asian region as the area of moderation, stressing the central role of the grouping in maintaining and promoting peace, stability and prosperity in this part of the world and beyond.
"We vows to promote moderation as an ASEAN value that promotes peace, security and development," read the Langkawi Declaration on the Global Movement of Moderates.
The leaders further agreed to promote the approach of moderation and uphold the rule of law in the conduct of relations among states, including in the peaceful resolution of disputes in accordance with universally recognized principles of international law.
The rise of Islamic State (IS) has been viewed as real threat to the global world, spreading ideology of violence, extremism and radicalism throughout the world.
Full report at:
http://thejakartaglobe.beritasatu.com/news/ASEAN-leaders-pledge-stamp-radicalism-promote-peace/
----------
Pakistan
Uniform Curriculum in All Educational Institutions to Be Introduced
Apr 29, 2015
QUETTA: Minister of State for Education and Professional Training Mohammad Baligh-ur-Rehman has said that a standardised national curriculum of Islamic studies, Pakistan studies and other important subjects will be introduced in all educational institutions in the country.
Addressing a press conference at the conclusion of a two-day Inter-Provincial Education Ministers Conference (IPEMC) here on Tuesday, he said the curriculum would be prepared in consultation with the four provinces and Azad Kashmir and Gilgit-Baltistan.
"Under the auspices of the IPEMC, we are going to introduce consensus Islamic and Pakistan studies in educational institutions in consultation with and approval of all stakeholders, including scholars of all religious schools of thought and education experts," he said.
Mr Rehman, who was accompanied by Balochistan chief minister's adviser on education Sardar Raza Mohammad Bareech, provincial education ministers and senior officers, said that a topic on protection of minorities' rights would be included in Islamic studies because "our religion Islam orders us to protect the rights of minorities". He said some private schools were involved in purchasing different curricula from the market at cheap rates which led to controversies.
Full report at:
http://www.dawn.com/news/1178826/uniform-curriculum-to-be-introduced
----------
MQM wants to make reciting of 'Naat' in NA mandatory
Apr 29, 2015
ISLAMABAD: The Muttahida Qaumi Movement (MQM) members of the National Assembly on Tuesday sought to make reciting of 'Naat' mandatory in the house.
Proposing amendment to rule numbers 48, 69 and 112 of the Rules and Procedure and Conduct of the National Assembly, MQM MNA Sheikh Salahuddin said reciting of Naat followed by recitation of the Holy Quran on daily basis should be made part of the rules.
"It is our duty to remember God Almighty and the last Prophet Muhammad (peace be upon him) together," he added.
Another MQM lawmaker, Abdul Rashid Godil, said Sindh and Punjab assemblies were already following this practice, and "this august house has the same desire."
Accepting the proposal, Parliamentary Affairs Minister Sheikh Aftab said nobody sitting in the house was averse to the suggestion.
However for proper drafting of the amendment, it should be sent to the committee concerned. "Being Muslims, nobody can think of opposing the proposed amendment," said Mr Aftab.
http://www.dawn.com/news/1178866/mqm-wants-to-make-reciting-of-naat-in-na-mandatory
----------
Security forces claim major success in Tirah valley
Apr 29, 2015
LANDI KOTAL: Security forces took control on Tuesday of the entire Sipah and Akkakhel areas in Tirah valley after flushing out Lashkar-i-Islam activists from these areas.
Official sources said that the control of Sipah and Akkakhel was so far the biggest achievement of security forces during the ongoing Khyber Two military operation against joint forces of the outlawed Lashkar-i-Islam, Tehreek-i-Taliban Pakistan and Jamaatul Ahrar.
The banned outfits had joined hands soon after the launch of Khyber Two operation in February.
Full report at:
http://www.dawn.com/news/1178827/security-forces-claim-major-success-in-tirah-valley
----------
India Jilts Pakistan on Push for Better Ties: Nawaz Sharif
Apr 29, 2015
India has failed to respond to Pakistan's desire for good relations, Pakistani Prime Minister Nawaz Sharif said, in rare rebuke against India with whom he has promised to mend ties. Mr. Sharif made improving relations with India a priority when he swept to power for a third time in a 2013 election, raising hopes that a Pakistani civilian government would finally wrest control of foreign policy from the powerful military.
The nuclear-armed neighbours' top diplomats met in Pakistan last month, after at least a dozen people were killed in a series of exchanges of fire along their disputed border, but there has been little sign of progress in ties. "Our desire for good neighbourly relations with India has not been reciprocated," Mr. Sharif told the Saudi Gazette in an interview during a recent visit that was published in Pakistani newspapers on Wednesday.
Mr. Sharif said his acceptance of an invitation last May to Prime Minister Narendra Modi's inauguration was "an exceptional decision".
Full report at:
http://www.thehindu.com/news/international/india-jilts-pakistan-on-push-for-better-ties-nawaz-sharif/article7154265.ece
----------
Balochistan governor calls for teaching in local languages
Apr 29, 2015
QUETTA: Balochistan Governor Mohammad Khan Achakzai has called for introducing syllabus in local languages for improving the standard of education in the country.
Speaking at the 5th Inter-Provincial Education Ministers Conference here on Monday, the governor said poverty and ignorance were major causes of uncivilised attitude of people.
He said the primary education in Balochistan was based on one teacher and one room school system which must be changed to improve the standard of education in the province.
Mr Achakzai said as compared to other Saarc countries literacy rate in Pakistan was low and the rate of school dropouts was high.
He said England, Japan and China introduced reforms in their education system to use skills and talent of their youth in a better way.
Full report at:
http://www.dawn.com/news/1178837/balochistan-governor-calls-for-teaching-in-local-languages
----------
COAS wants peace in and around country
Apr 29, 2015
RAWALPINDI: Chief of Army Staff General Raheel Sharif on Tuesday said that stability is returning to Pakistan as result of army operations.
"A peaceful environment in and around Pakistan is the army's top priority," he said in a statement posted to Twitter by Director General Inter-Services Public Relations (ISPR) Major General Asim Bajwa. General Raheel addressed army officers in Bahawalpur to pay tributes to them for their resilience, professionalism and sacrifices in the ongoing operation against terrorism, the statement said. DG ISPR quoted the army chief as saying that focus cannot be taken away from targeting terrorism in Federally Administered Tribal Areas (FATA) and breaking militant links in the rest of the country.
http://www.dailytimes.com.pk/islamabad/29-Apr-2015/coas-wants-peace-in-and-around-country
----------
PML-Q requests judicial commission to summon ISI, MI chiefs as witnesses
Apr 29, 2015
ISLAMABAD: Pakistan Muslim League – Quaid (PML-Q) requested the judicial commission on Wednesday to summon DG ISI and DG MI as witnesses to record their statements regarding alleged rigging in the May 2013 general elections.
The judicial commission on Monday presented a questionnaire to all political parties to investigate into allegations of rigging and other possible malpractices in the 2013 general elections.
Responses of the questionnaire were supposed to handed over to the commission by today (Wednesday).
The questionnaire asks three questions, and related sub questions, about the 2013 general elections.
Full report at:
http://tribune.com.pk/story/877824/pml-q-requests-judicial-commission-to-summon-isi-mi-chiefs-as-witnesses/
----------
Capital punishment: 15 convicted murderers hanged in a day
Apr 29, 2015
LAHORE: Fifteen convicted murderers were hanged on Tuesday, the largest number of executions in a day since an unofficial moratorium on the death penalty was lifted in December last year.
Fourteen prisoners convicted of 'heinous crimes' were hanged to death in different jails of Punjab while one convict was executed in Balochistan, officials said.
The government had withdrawn a six-year moratorium on executions on December 17 – a day after the Taliban attacked Peshawar's Army Public School and killed 153 people, most of them children. The massacre put pressure on the government to do more to tackle a deadly insurgency. Initially, only people convicted of terrorism offences were executed, but later it was decided to execute all death-row convicts whose appeals had been rejected.
The Punjab prisons chief, Farooq Nazir, said 14 convicts who had been awarded death penalties were hanged.
Full report at:
http://tribune.com.pk/story/873856/capital-punishment-15-convicted-murderers-hanged-in-a-day-2/
--------
Mideast
Ansarullah: Yemeni Aggression Causing Storm in Al Saud Dynasty
Apr 29, 2015
Senior member of Yemen's Ansarullah Movement Mohammad Ali al-Emad underlined that the Saudi aggression against Yemen has widened the rifts in the Al Saud family, specially after the Saudi king's cabinet reshuffling on Wednesday.
"The decisive storm has turned into the Al Saud storm and backfired at the Saudis themselves," Al-Emad, also editor of the Yemeni newspaper al-Hawiya, said on Wednesday.
Al-Emad's remarks came after Saudi King Salman bin Abdulaziz relieved his younger half-brother of his duties as crown prince and appointed his nephew, Deputy Crown Prince Mohammed bin Nayef, as the new heir apparent.
The reshuffle was announced by royal decree via state television early on Wednesday.
This is the first time that a grandson of the founder of the country (Ibn Saud), rather than a son, is appointed crown prince.
Mohamed bin Nayef, 55, the grandson of the founder of Saudi Arabia, was appointed as crown prince and also minister of interior.
Saudi Foreign Minister Saud al-Faisal was also replaced by Saudi Ambassador to Washington Adel al-Jubair.
Full report at:
http://english.farsnews.com/newstext.aspx?nn=13940209000388
----------
Houthis advancing into Yemen's Aden kill 12 civilians, residents say
Apr 29, 2015
ADEN: Houthi rebels' tanks and sniper fire killed at least 12 civilians overnight in Yemen's Aden as they advanced toward the centre of the city, residents said, and a Saudi-led coalition airdropped arms to anti-Houthi fighters in the city of Taiz.
Local fighters backed by Arab coalition air strikes nationwide have been battling the Iran-allied Shia Houthis for a month but on Wednesday the rebels had taken several more streets in the port city.
The Houthis took the capital Sanaa in September, demanding a more inclusive government, and swept south, rattling top world oil exporter Saudi Arabia and its allies, who fear what they see as expanding Iranian influence in the region.
Fighting was still raging in the Khor Maksar district of Aden, seen as the main bulwark against the Houthis, early on Wednesday.
Full report at:
http://www.dawn.com/news/1178897/houthis-advancing-into-yemens-aden-kill-12-civilians-residents-say
----------
Iranian DM Vows Continued Support for Syria's War on Terrorism
Apr 29, 2015
Iranian Defense Minister Brigadier General Hossein Dehqan promised his visiting Syrian counterpart Lieutenant General Fahd Jassim al-Furayj that Tehran would continue aid and support for Damascus in its war against the Takfiri terrorist groups.
In a meeting with al-Freij in Tehran on Tuesday, Brigadier General Dehqan reiterated Iran's full support for Syria in its battle against terrorism, saying that dialog is the only solution to the crisis in the Arab country.
"The people and government of Syria, with their unparalleled resistance made bullying powers understand that by exporting terrorists, arming and supporting them, and launching military attacks, they cannot force the region's Muslim nations to surrender," he added.
The Syrian defense minister arrived in Iran on Tuesday to confer with the country's senior military officials on the further expansion of bilateral defense ties.
Full report at:
http://english.farsnews.com/newstext.aspx?nn=13940209000284
------
Islamist newspaper 'proud' of not knowing The Beatles
Apr 29, 2015
A columnist of an Islamist newspaper in Turkey, which recently confused The Beatles with Turkish high school students after misunderstanding a protest poster, has said the daily is proud of its ignorance about the British music legends.
"Say we do not know who The Beatles are... For us, this is a matter of pride, not ignorance," daily Vahdet columnist Fatih Akkaya wrote on April 29.
Daily Vahdet had claimed on April 27 that an umbrella group which had helped organize the Gezi Park protests in 2013 was now after "a fresh provocation for May Day."
"Gezi activists, who are calling the youth to the streets on May Day, hung posters in several neighborhoods of Istanbul and wrote slogans on walls," daily Vahdet claimed, adding one of the posters featured "uniformed high school students."
The May Day poster in question, however, featured the Beatles' iconic "jump photo" from the cover of their album "Twist and Shout" and not Turkish high school students.
Vahdet did not correct its story, but one of its columnists slammed other newspapers that mocked its "ignorance" about The Beatles.
Full report at:
http://www.hurriyetdailynews.com/islamist-newspaper-proud-of-not-knowing-the-beatles.aspx?pageID=238&nID=81705&NewsCatID=338
----------
Saudi Warplanes Bomb Several Areas across Yemen
Apr 29, 2015
Saudi-led coalition warplanes conducted air strikes on several areas across Yemen as the civilian death toll surpassed 3020.
Saudi warplanes conducted 3 air strikes on Hodeida International Airport in the Western Yemeni province of al-Hudaydah on Tuesday.
Saudi air strikes also hit a hotel on Abyan road in Eastern Khormaksar district in Aden.
Meanwhile, Saudi fighter jets escaped the sky above the capital Sana'a after Yemeni army's anti-aircraft heavy fire power.
Saudi Arabia launched its bombing campaign against Yemen on March 26 in an attempt to restore power to fugitive President Mansour Hadi, a staunch ally of Riyadh.
Hadi stepped down in January and refused to reconsider the decision despite calls by Ansarullah revolutionaries of the Houthi movement.
Full report at:
http://english.farsnews.com/newstext.aspx?nn=13940209000850
--------
India
Zaki-ur-Rehman Lakhvi will link with Qaeda: RAW to PMO
Aman Sharma,ET Bureau | Apr 29, 2015
NEW DELHI: The release of 26/11 mastermind Zaki-ur-Rehman Lakhvi by Pakistan could be bad news for the Middle East too as the militant could "reactivate" Lashkar-e-Taiba's links in Syria, including with Al-Qaeda networks, the Research and Analysis Wing (R&AW) warned the Prime Minister's Office (PMO) last week.
India has seen Lakhvi as a threat to itself since the November 26, 2008 attacks in Mumbai, but R&AW insists that he is a bigger problem for the entire region.
ET has learnt that R&AW has submitted a report to the PMO saying Lakhvi's release from Adilia jail in Pakistan on April 10 assumes greater significance in view of his past activities in the Middle East and said he had earlier directed LeT operations in Chechnya Republic, Bosnia, Herzegovina, Iraq and South Asia, and sent LeT operatives to Iraq to attack US forces there.
R&AW also pointed out that LeT formed a 'charity wing' Falah-e-Insaniyat Foundation (FIF) in 2009, which the LeT has been using to expand its influence beyond Pakistan and specifically in Syria, officials said.
Full report at:
http://timesofindia.indiatimes.com/india/Zaki-ur-Rehman-Lakhvi-will-link-with-Qaeda-RAW-to-PMO/articleshow/47094373.cms
----------
Bombay HC upholds Maharashtra govt's beef ban
Shibu Thomas,TNN | Apr 29, 2015
MUMBAI: The Bombay high court on Wednesday declined to stay provisions of the beef ban law, but directed Maharashtra government not to take any coercive steps for its possession for the next three months.
A division bench of Justice VM Kanade and Justice MS Sonak cited the maxim of "judicial restraint" to not stay a law at the interim stage as the presumption was of its legal validity.
Section 5D of the Maharashtra Animal Preservation (Amendment) Act that makes possession of beef imported from outside the state, therefore, remains.
The court however faulted the government for imposing an "over night ban" on possession of meat of bulls and bullocks even though it was lawful for over 30 years even after the state introduced a ban on cow slaughter in 1976.
Full report at:
http://timesofindia.indiatimes.com/india/Bombay-HC-upholds-Maharashtra-govts-beef-ban/articleshow/47093193.cms
----------
Govt says states should act against communal incidents
Apr 29, 2015
NEW DELHI: Under attack over 'ghar wapsi' campaign and vandalisation of churches, government on Tuesday said it will not tolerate anything that disturbs communal harmony and sought to put the ball into the court of states, saying they should act against such activities as law and order is their prerogative.
Home minister Rajnath Singh also responded to questions in Lok Sabha over conversion, saying the government wants an anti-conversion law but noted that India is the only country where minorities do not seek such a law.
Replying to a debate on demand for grants of home ministry which was passed later, he responded point by point to issues raised by the opposition, including concern over attacks on churches, religious conversions, approach towards separatists in Jammu and Kashmir, left wing extremism and women safety.
Full report at:
http://timesofindia.indiatimes.com/india/Govt-says-states-should-act-against-communal-incidents/articleshow/47083792.cms
----------
Modi, Ghani talk trade, terror
Apr 29, 2015
India is keen to be included in the Afghanistan-Pakistan Transit Trade Agreement and it will welcome Afghan trucks on the Wagah-Attari border with Pakistan, said Prime Minister Narendra Modi as he addressed a joint press gathering along with visiting Afghanistan President Ashraf Ghani.
Mr. Ghani, who is making his first state visit to India, said he hoped to increase regional cooperation where "the energy of Central Asia will flow to South Asia, where pipelines, fibre optics, railways, and connectivity, air, ground and virtual will connect us." Neither side signed any agreement but announced that they would clear a motor vehicles agreement soon, as well as expedite the development of the trade route from Afghanistan to India via Iran's Chabahar port, which would allow both countries to circumvent objections from Pakistan.
Shift in stand
Full report at:
http://www.thehindu.com/news/national/modi-ghani-talk-trade-terror/article7151853.ece
----------
South Asia
ISIS promotes training camp in Logar province of Afghanistan
Apr 29 2015
The Islamic State of Iraq and Syria – ISIS's Khorasan Province has promoted a training camp in central Logar province of Afghanistan, located 60 km south of capital Kabul.
The training camp has been named after the Taliban commander – Ustad Yasir who was killed in 2012 in an internecine dispute.
A set of photographs which purportedly shows the group conducting training has been published online by a Pakistani reporter Saleem Mehsud.
According to the Long War Journal newspaper quoting Mehsud the images were email to him by the group and were published online on 18th April.
The images shows a group of 14 militants along with pickup truck with a heavy machine gun mounted on the back moving through a creek.
The authenticity of the phonographs has not been ascertained as the Afghan officials have not commented regarding the report and photos yet.
Full report at:
http://www.khaama.com/isis-promotes-training-camp-in-logar-province-of-afghanistan-9403
----------
Afghan official claims insurgents flooding in from Pakistan
Apr 29, 2015
KABUL: An Afghan official says insurgents are arriving in huge numbers from neighboring Pakistan in an effort to destabilise Afghanistan's northern provinces.
Interior Ministry spokesman Sediq Sediqqi said Wednesday that Afghan troops are engaged in fierce fighting outside the provincial capital of Kunduz, where the Taliban launched an attack last week as part of their annual spring offensive.
Sediqqi says the Taliban are being joined by "terrorists" arriving from Pakistan, who include foreign fighters from neighboring countries.
He says around 200 militants have been killed so far, along with 12 Afghan soldiers in fighting in Kunduz province.
Pakistan launched an operation against militants in its region of North Waziristan, bordering Afghanistan, in mid-2014.
The Pakistani operation has driven many anti-government fighters over the border into Afghanistan.
Full report at:
http://www.dawn.com/news/1178899/afghan-official-claims-insurgents-flooding-in-from-pakistan
----------
Taliban unable to occupy district or province
Apr 29 2015,
After wide-spread concerns of MPs that Taliban may occupy large areas, spokesmen for the ministries of interior and defense made it clear on Wednesday that Taliban are not able to occupy any district or province.
Brigadier General Dawlat Waziri, spokesman for the Ministry of Defense in a joint press conference in Kabul said that currently there are 21 military operations ongoing in 13 of the country in which militants are suffering heavy casualties.
He said 48 militants were killed, 42 wounded and 10 others arrested by security forces during past 24 hours.
Waziri added that Afghan national security forces are strong enough to defend the country and they won't let any district or province fall into the hands of militants.
Full report at:
http://www.khaama.com/taliban-not-able-to-occupy-district-or-province-3243
----------
Taliban publicly executed a man accused of killing his wife in Helmand
Apr 29 2015
Taliban have publicly executed an Afghan man who was accused of killing his wife in southern Helmand province.
Fathullah Khan, governor of Nad Ali District says that the incident took place in Nari Manda area yesterday.
He said Taliban called local villagers and allowed father of the deceased girl to shoot him.
Taliban have also accepted the responsibility for the execution.
Qari Yousuf Ahmadi, a spokesman for Taliban says that Abdullah had killed his wife about a month before for which Taliban judiciary announced death sentence to him.
This is second incident of Taliban execution in less than two weeks in Afghanistan.
On 18 April Taliban publicly executed three people Ghazni province who were also accused of murders.
http://www.khaama.com/taliban-publicly-executed-a-man-accused-of-killing-his-wife-in-helmand-3242
----------
Blogger Oyasiqur's family living in fear, demand justice
Apr 29, 2015
Blogger and online activist Oyasiqur Rahman Babu's family have been living in constant fear of attack and humiliation since he was hacked to death by radical Islamists on March 30.
Sources close to the family said the family members, now labelled as "atheists" and "family with anti-Islam sentiments," have been harassed in public on a number of occasions.
Oyasiqur was murdered for writing against Islam, according to two of his killers Zikrullah and Ariful Islam, who were detained while fleeing the scene, said Biplob Kumar Sarkar, deputy commissioner at Tejgaon zone of Dhaka Metropolitan Police.
This correspondent visited Oyasiqur's family at Uttar Hajipur village in Ramganj upazila, Lakshmipur and talked to his sister Afsarin Shimu. "My father is has fallen ill after losing his only son," a crying Shimu told the Dhaka Tribune.
Full report at:
http://www.dhakatribune.com/crime/2015/apr/29/blogger-oyasiqurs-family-living-fear-demand-justice#sthash.QeJWtV6K.dpuf
--------
Africa
Algerian soldiers kill 6 armed Islamists: Ministry
Apr 29, 2015
Algerian soldiers killed six armed Islamists in the Kabylie area some 140 kilometres (85 miles) east of the capital, the defence ministry said.
"A unit of the ANP (Algerian army) killed six terrorists in the afternoon during an operation near Akerrou Azazga," a ministry statement said.
It added that the operation was still under way, and that five Kalashnikov-type assault rifles, an automatic pistol, ammunition, explosives and mobile phones were recovered.
Violence attributed to Islamists has declined considerably in recent years.
But groups affiliated with Al-Qaeda in the Islamic Maghreb continue to attack strategic targets in the eastern Kabylie region, around the capital and in the centre and east of the country.
The army says that more than 100 armed Islamists were killed in 2014.
http://english.ahram.org.eg/NewsContent/2/8/128918/World/Region/Algerian-soldiers-kill--armed-Islamists-Ministry.aspx
--------
Morocco arrests four over 'burning alive' fatwa
Apr 29, 2015
Morocco arrested four people in the Western Sahara after they allegedly issued a fatwa authorising the burning alive of a person they accused of rejecting Islam, the interior ministry said.
It said the four members of a "terrorist cell" detained in the disputed territory's main city of Laayoune had planned to "carry out dangerous terrorist crimes" in Morocco.
The ministry, in a statement carried by the MAP news agency, said they had issued a fatwa, or decree, ordering the kidnap and "burning alive" of someone they accused of apostasy -- the act of rejecting Islam or any of its main tenets.
It said an investigation had revealed the suspects' "total acceptance" of the Islamic State group's agenda.
Morocco took control of most of Western Sahara in November 1975 when Spain withdrew, prompting a guerrilla war for independence that lasted until 1991 when the United Nations brokered a ceasefire and sent in peacekeepers.
The interior ministry statement said the cell leader had "great experience" in making explosives and wanted to use this "in carrying out terrorist plans against sensitive targets" in the kingdom.
There are an estimated 1,500 Moroccans in the ranks of jihadist groups such as IS, and last year the country passed special legislation to better able it to combat the phenomenon.
The authorities have announced that several "terrorist cells" have been broken up over the past month.
http://english.ahram.org.eg/NewsContent/2/8/128887/World/Region/Morocco-arrests-four-over-burning-alive-fatwa.aspx
----------
Africa: Refugees in Libya Face Despair From All Sides
29 April 2015
Thousands of migrants embark on the risky sea journey from Libya to Italy's Lampedusa Island. The Libyan coast guard is poorly equipped, so are Libyan detention centers where for many the journey ends.
Barely a day passes without boats that are hardly seaworthy making their way from the coast of Libya towards Europe. On board are desperate refugees in search of a better future.
Reports about disastrous shipwrecks with hundreds of people drowning are increasing by the day. Instead of dealing with the emergency as one would expect, a strange silence prevails at the Libyan coast guard in the capital Tripoli. It's almost as if no one is at work.
Rather than counting the boats at his disposal, Shubi Bisher who is in charge of operations, counts the boats that need repairs. He complains that there is a lack of spare parts. "I have a private boat, we use that sometimes," Shubi said. "We use our own facilities."
Since January 2015, the Libyan coast guard no longer goes out on patrol. They only operate when they get information that a refugee boat is making its way to the Italian island of Lampedusa. The 1,800 kilometer-long (1,118 mile) Libyan coastline makes it hard to detect all tugs and refugee boats heading towards Italy. Lampedusa lies around 300 kilometers away.
http://allafrica.com/stories/201504290150.html
--------
Tunisian journalist Kawthar Bashrawi kisses Syrian soldier shoe
29 April 2015
A video of a one time famous Tunisian news presenter kissing the shoe of a Syrian soldier during a live interview on a pro-Assad television has caused controversy in the Arab media scene, with questions being raised over impartiality and objectivity after such behaviour.
Kawthar al-Bashrawi , a former Al Jazeera and MBC presenter, was being interviewed recently on Syrian state-owned television when she kissed the boot which she said belonged to a Syrian soldier she met outside Damascus.
"I told one of the soldiers, I swear to God, I am not leaving until I get one of your boots," al-Bashrawi, who is often criticized for her pro-Assad regime stance, recounted.
Holding the boot in her hand, she added: "This is what I craved from the whole of Syria... This military boot is what is going to impose peace… People are wearing this boot and are dying for the sake of the whole Ummah."
Full report at:
http://english.alarabiya.net/en/media/television-and-radio/2015/04/29/Tunisian-journalist-kisses-Syrian-soldier-shoe-creates-Twitter-storm-.html
----------
Europe
Tajikistan to Local Police: Stop Forcibly Shaving Muslims
Apr 29, 2015
A pair of Tajik policemen have reportedly been reprimanded for their role in a spate of recent forced beard shavings in northern Sughd region. The country has been in headlines in recent weeks for what is seen by some as a tightening of state control on the practice of Islam.
The beard shaving rebuke in Sughd came after locals complained to authorities about the incidents, according to Deputy Interior Minister Ikrom Umarzoda in an interview with Radio Free Europe/Radio Liberty.
"We have ordered regional police departments to talk to local residents about extremism, but have never called on them to work with people through force and pressure," Umarzoda told RFE/RL.
Among the anecdotes that have surfaced is one from a man named Rustem Gulov, reported by the AFP to be a well-known blogger. Gulov penned an open letter to Rahmon in which he recounted being nabbed by police in Khujand, the capital of Sughd, and forcibly shaved. "Judging by the hair in the room," he said "I estimate they shaved the beards of approximately 200-250 people before me."
Full report at:
http://thediplomat.com/2015/04/tajikistan-to-local-police-stop-forcibly-shaving-muslims/
--------
ISIL smuggles artifacts through Turkey: British daily
Apr 29, 2015
Historical artifacts have been smuggled from areas controlled by the Islamic State of Iraq and the Levant (ISIL) in Iraq and Syria to Europe through Turkey, the Independent has reported.
In a special report for the British daily, Isabel Hunter met two Syrian traffickers in Turkey's southeastern province of Gaziantep, currently a hub for art dealers. The men showed Hunter a relief, which was allegedly a Sumerian wall plaque from Lagash, a southern Iraqi city-state dating back to the 3rd century B.C., and could be worth hundreds of thousands of U.S. dollars.
The dealers also had an album of goods including manuscripts, documents and perfumes, all of which could be viewed and ordered through their mobile phones.
After being smuggled into Turkey, the artifacts are then sent to Europe through one of the country's major ports, Michael Danti, a co-director of The Syrian Heritage Initiative, told The Independent.
"Once they're in the EU, they try to build a legal import status and create false accreditation that says this stuff has been here for a long time with a European family and from an old collection, to make the stuff easier to export," Danti said.
The traffickers also confirmed the suspicions of U.S. academics by confirming ISIL has implemented a system of taxation for historical artifacts. According to the report, paying ISIL 20 percent of the artifact's value is sufficient to receive official permission.
Click here to read the rest of this story on The Independent.
http://www.hurriyetdailynews.com/isil-smuggles-artifacts-through-turkey.aspx?pageID=238&nID=81704&NewsCatID=385
----------
EU's Mogherini sees 'major role' for Iran in Syria talks
Apr 29, 2015
Iran can play a major role in persuading Syrian President Bashar al-Assad to cooperate in peace talks, EU foreign affairs chief Federica Mogherini said April 28.
Mogherini spoke to reporters ahead of a meeting in New York with Iranian Foreign Minister Mohammad Javad Zarif focused on finalizing the nuclear deal reached this month and regional crises.
A final nuclear deal with Iran "could open the way to a different role for Iran in the region," Mogherini told reporters at UN headquarters.
Arguing that it would be "naive" to ignore the Islamic republic, Mogherini said the best approach would be to "call on Iran to play a major, a major, but positive role in the region."
On Syria in particular, Iran can "encourage the regime to participate in a Syrian-led transition," Mogherini said.
Full report at:
http://www.hurriyetdailynews.com/eus-mogherini-sees-major-role-for-iran-in-syria-talks-.aspx?pageID=238&nID=81697&NewsCatID=359
----------
Red Cross 'lost moral compass' in war but says drew lessons
Apr 29, 2015
The Red Cross "lost its moral compass" during World War Two, turning a blind eye to atrocities committed by the Nazis, but is speaking out more now about conflicts including Syria, its president said on Tuesday.
Peter Maurer said the International Committee of the Red Cross had not recognized Nazi Germany for what it was and failed to protect civilians and especially Jews from persecution and murder.
"It failed as a humanitarian organization because it had lost its moral compass," Maurer said in a speech. "It failed ... by responding to the outrageous with standard procedures, it looked on helplessly and silently..."
The aid agency had access to prisoners of war during World War Two but could not enter Hitler's concentration camps until the final days.
Full report at:
http://english.alarabiya.net/en/News/middle-east/2015/04/29/Red-Cross-lost-moral-compass-in-war-but-says-drew-lessons.html
----------
France increases defense budget post-attacks: Hollande
29 April 2015
French President Francois Hollande said on Wednesday he would increase the country's defense budget by 3.8 billion euros over four years from 2016 to ensure the army had the capacity to deal with threats at home and handle overseas operations.
"France is facing threats at home and overseas," Hollande told reporters. "Security, protection, independence are principles that are not negotiable."
He said the defense budget in 2015 would remain at 31.4 billion euros ($34.51 billion), but that an extra 3.8 billion euros would be given to the army over the period between 2016 and 2019.
He did not say how the extra costs would be financed.
France will also reduce by more than half the number of army job cuts it initially planned over the next five years to ensure it has the resources to counter terrorism threats at home and abroad, a source at the offices of Hollande said.
"The military budget forecasts 34,000 job cuts, (but) 18,500 will now be preserved," the source said.
http://english.alarabiya.net/en/News/world/2015/04/29/France-increases-defense-budget-post-attacks-Hollande.html
----------
North America
Military Fears ISIS is Eyeing Drug-Smuggling Routes to Enter U.S.
Apr 29, 2015
Six men of Somali descent arrested in Minnesota for trying to join up with the Islamic State group became the latest troubling sign of the extremist network's reach into the Western hemisphere. Despite Department of Defense claims that the group is weakening in Syria and Iraq, its ability to capture the allure of those based in the West, like these men who reportedly recruited one another, remains as strong as ever.
Whether or not the Islamic State group could carry out an attack here or just recruit those from the Western hemisphere remains unknown. But similar concerns are brewing on the other side of U.S. borders.
Nasser Mustapha has heard rumors throughout his native Trinidad of men distributing recruiting videos for the Islamic State group, also known as ISIS or ISIL, and propagating its so-called holy war in Syria and Iraq.
"I was really shocked to hear that," says Mustapha, a senior lecturer in sociology at the University of the West Indies and an expert on security in the region. "When I first started hearing about ISIS, I really, honestly felt that people from these parts, people from the West would be smarter or more mature to think of going there. When I actually started to see reports of people from the Caribbean actually going there, I was more surprised."
Full report at:
http://www.usnews.com/news/articles/2015/04/29/military-fears-isis-is-eyeing-drug-smuggling-routes-to-enter-us
---------
Black police union defends top Muslim officer for not saluting U.S. flag
Apr 29, 2015
Miami's top police union representative is facing backlash from the city's oldest black police organization after he called for a reprimand against Assistant Chief of Police Anita Najiy and questioned her Muslim faith when she failed to salute the American flag.
"I had false hopes that the [Miami Police Department] would address the issue at hand. Assistant Chief Najiy practices in the Muslim faith. The MPD apparently is afraid to address this," Fraternal Order of Police President Javier Ortiz told reporters Wednesday. "In the United States, you have the right to practice any religion and say whatever you want off-duty. When you're in your police uniform, you are to be neutral."
Last Monday, Mr. Ortiz fired off a letter to Miami Police Chief Rodolfo Llanes asking that Ms. Najiy be removed as commander of the department's Honor Guard after he captured a video during a ceremony last week that showed the assistant chief standing at attention with her arms at her side during the Pledge of Allegiance at a ceremony last week, the Miami Heraldreported.
Full report at:
http://www.washingtontimes.com/news/2015/apr/27/black-police-union-defends-top-officer-for-not-sal/#ixzz3YgREWfOs
----------
Boston academics weigh motives, meaning of Islamic State
Apr 29, 2015
As part of a new digital scholarship initiative on Islamic studies, the Institute for the Study of Muslim Societies and Civilizations at Boston University hosted an interdisciplinary panel discussion on the Islamic State on Thursday in the Frederick S. Pardee School of Global Studies. The panel featured representatives from various departments at BU as well as professors from Harvard University, Tufts University, Boston College and the University of Massachusetts Lowell.
"A lot of coverage of ISIS has been from a policy, political, strategic angle," said Michael Pregill, a panelist and the head of a new initiative from the SMSC called Mizan. "What often happens is that what gets lost is this deeper question of what ISIS represents in terms of Islamic society and Muslim identity."
The panel discussed a wide range of topics having to do with ISIS, such as its justification of slavery, its use of rhetoric, its legitimacy as an empire and its recruitment methods and trends.
Full report at:
http://dailyfreepress.com/2015/04/29/boston-academics-weigh-motives-meaning-of-islamic-state/
----------
Iran forces Marshall Islands-flagged cargo ship to Iranian port: US officials
Apr 29, 2015
WASHINGTON: Iranian naval ships fired across the bow of a Marshall Islands-flagged cargo vessel in the Strait of Hormuz on Tuesday, and forced it to head to Iranian territory, US defense officials said.
At least five Iranian ships demanded that the Maersk Tigris, which had no Americans on board, head to Larak Island.
The cargo ship's captain "declined" the demand and one of the Iranian vessels "fired shots" across the bow of the Maersk Tigris, Pentagon spokesman Colonel Steven Warren said.
The cargo ship then "complied with the Iranian demand and proceeded into Iranian waters in the vicinity of Larak Island," Warren said.
The US military's Central Command ordered a naval destroyer to the area and military aircraft were monitoring the situation, he said.
The destroyer was directed "to proceed at best speed to the nearest location of the Maersk Tigris," he said.
The incident occurred at about 0900 GMT in the Strait of Hormuz in Iranian territorial waters.
The confrontation came amid heightened tensions in the region as Saudi Arabia and its Gulf allies carry out air strikes in Yemen against Iranian-backed Huthi rebels.
The United States is providing intelligence and aerial refueling for the Saudi-led coalition.
http://tribune.com.pk/story/877407/iran-forces-marshall-islands-flagged-cargo-ship-to-iranian-port-us-officials/
----------
Hezbollah suspects placed on special US terror list
Apr 29, 2015
Three Hezbollah suspects -- two of whom are accused in a deadly 2012 bombing targeting Israeli tourists in Bulgaria -- have been placed on a special US terror watch list, Washington announced on Tuesday.
The State Department named Meliad Farah, Hassan el-Hajj Hassan and Hussein Atris as "specially designated global terrorists."
The terror designation makes it illegal for US citizens to engage in any transactions with the three men, and freezes any property they might possess within the United States.
All three men are Lebanese by birth, but Farah was identified as an Australian national, while Hassan el-Hajj Hassan is Canadian.
Full report at:
http://english.ahram.org.eg/NewsContent/2/8/128909/World/Region/Hezbollah-suspects-placed-on-special-US-terror-lis.aspx
----------
Muslim Congressmen Want To Block 'Islamophobic' Dutch Lawmaker Geert Wilders From Entering US
Apr 29, 2015
The two Muslim members of Congress have called on two U.S. Cabinet members to block Dutch lawmaker Geert Wilders from entering the U.S. because they believe he is "Islamophobic."
Minnesota Democratic Rep. Keith Ellison and Indiana Democratic Rep. Andre Carson penned a joint letter to Secretary of State John Kerry and Secretary of Homeland Security Jeh Johnson last Thursday. Foreign Policy reported it on Tuesday.
"We write to raise our deep concern regarding the visit of Mr. Geert Wilders, a Dutch lawmaker known for perpetuating Islamophobia," the Democratic lawmakers wrote, citing a 1998 law, the International Religious Freedom Act. The law allows the State Department to deny foreign leaders guilty of "severe violations of religious freedom" from entering the U.S.
The law has only been enforced once before, in 2005, to ban Narendra Modi, India's current prime minister. He was accused of failing to protect Muslims during riots in 2002 in which more than 1,000 people died.
Full report at:
http://dailycaller.com/2015/04/28/muslim-congressmen-want-to-block-islamophobic-dutch-lawmaker-geert-wilders-from-entering-us/
----------
URL:
https://newageislam.com/islamic-world-news/syrian-army-kills-hundreds-al/d/102733