New Age Islam News Bureau
26 Jun 2020
• Biden Seeks Restoration of Peoples' Rights in Kashmir; Disappointed With NRC, CAA
• Reports of Hindu-Muslim Strife in Malabar Baseless, Wrote Variamkunnath Kunhamed Haji in The Hindu in 1921
• Bhiwandi Mosque Sets Up Covid Facility, Offers Free Oxygen For Patients
• Syrian Protesters Vow to Fully Liberate Golan Heights From Israeli Occupation
• Why the UK Government Should Not Be Allowed to Define Islamophobia
Pakistan
• In Remembrance of The Grandeur of The Ottoman Empire, Locals Erect Statue of Ertugrul Gazi In Northeastern Pakistan
• In Parliament, PM Imran Khan Calls Osama Bin Laden A 'Martyr'
• CJP takes notice of video clip threatening Justice Qazi Faez Isa
• Gen Bajwa says army will continue making efforts for socio-economic progress
• Pakistan involved in efforts to illegally acquire nuclear tech from Germany: Official report
--------
North America
• Biden Seeks Restoration of Peoples' Rights in Kashmir; Disappointed With NRC, CAA
• US, UAE warn Lebanese government over Hezbollah ties
• US accuses Iran of sheltering Al Qaeda members
• US Cites Rise in Iran-Backed and White Supremacist Attacks
• U.S. Soldier's Alleged Connection To Satanic Nazi Extremist Group Renews Calls To Ban It
• U.S. says ISIS evolved to become a global network that inspires attacks worldwide
--------
India
• Reports of Hindu-Muslim Strife in Malabar Baseless, Wrote Variamkunnath Kunhamed Haji in The Hindu in 1921
• Bhiwandi Mosque Sets Up Covid Facility, Offers Free Oxygen For Patients
• "Strictly Internal": India On Islamic Nations' (OIC) Dialogue On Kashmir
• Babri Mosque Demolition Case: 2 More Accused Examined
• 2 terrorists killed in north Kashmir gunfight
• 1 terrorist killed in Jammu and Kashmir's Tral in an ongoing encounter: Police
• Pak high commission officials were recruiting Kashmiri youth for terror: Official
--------
Arab world
• Syrian Protesters Vow to Fully Liberate Golan Heights From Israeli Occupation
• New Sanctions on Syria: Everything You Need to Know About the Caesar Act
• Amid Tensions in Libya, Turkey's Role in Arab World 'Unwelcome': UAE Foreign Minister
• Iraq says 13 pro-Iran fighters arrested for anti-US rocket attacks: AFP
• US suspected of role after headquarters of Kata'ib Hezbollah raided in Baghdad
• Civilians in northeastern Syrian village stop another US convoy, force it to return to base
• Iraqi security forces raid Iran-backed militia headquarters
--------
Europe
• Why the UK Government Should Not Be Allowed to Define Islamophobia
• Exploring 'Islamist separatism' in France: Experts, community leaders speak
• EU condemns recent Houthi drone and ballistic missile attacks on Saudi Arabia
• 25 Europe-bound asylum seekers held in Turkey
• EU committee approves $545M for refugees in Turkey
• Rise in far-right and Islamic extremism activity in Ireland last year, says Europol
--------
Southeast Asia
• The Philippines' Anti-Terror Bill Is Poised to Cause More Terror
• Indonesian Fishermen Rescue Nearly 100 Rohingya Refugees in Aceh
• Death of Indonesian peacekeeper highlights dangers of field operations
• Spas, massage centres get green light to operate from July 1
• Growing calls for Malaysia PM Muhyiddin to call snap polls
• Indonesia jails Islamic State-linked couple who tried to assassinate minister
• Indonesia: IS-Inspired Militant Sentenced to 12 Years for Stabbing Official
--------
South Asia
• U.S. Finds Bangladesh Improving Anti-Trafficking Efforts in Annual Report
• 'Best of Humanity': Indonesian Fishermen Rescue Stranded Rohingya
• Kuwait sends Bangladesh MP Shahid Islam to prison on charges of human trafficking, money laundering
• 25 Taliban terrorists killed in airstrike in Afghanistan's Balkh province
• KSA informs Bangladesh about traditional Hajj cancellation
• Mullah Baradar holds Pakistani Passport and National Identity Card: Report
• Pakistan allowed Taliban and Haqqani Network to use its territory to target Afghanistan: US
• Taliban kill seven Afghan military personnel in raid on army post
• Afghan Official Open to Discussing Interim Government with Taliban
--------
Mideast
• Envoy: Development of Trade Ties with Iran Pakistan's Priority
• Rouhani: Iran, N. Korea Should Stand against US Excessive Demands
• With history of killings, abductions Turkey is no safe haven for Iranian dissidents
• EU covering up Greek rights violations against refugees: Turkey
• Ambassador: Iran Role Model of Bravery for Nicaraguan People
• Iranian President Hopes for Further Expansion of Relations with Hungary
• Iran Calls for Broadening of Economic Ties with Bulgaria
• Palestinian detainee sentenced to 4 life terms by Israeli court over alleged shooting
• UNICEF: Millions of Yemeni children may starve amid pandemic
• Turkey arrests 12 Daesh terrorists in Samsun
--------
Africa
• Libya Is Battling Against Terrorism, Mercenaries, Turkish Colonization: LNA
• Sudan's transition gets vote of approval as Western, Arab donors pledge $1.8 bln
• Libya's GNA has 28 militia groups, spends $50 mln monthly on each one: Official
• UAE condemns Turkey in Libya, expresses solidarity with France
• Nigerian army destroys two camps of armed gangs
• 240 Persons Killed By Boko Haram, Bandits Within Six Days In Northern Nigeria, Group Says
Compiled by New Age Islam News Bureau
URL: https://www.newageislam.com/islamic-world-news/in-remembrance-grandeur-ottoman-empire/d/122223
--------
In Remembrance of The Grandeur of The Ottoman Empire, Locals Erect Statue of Ertugrul Gazi In Northeastern Pakistan
Kiran Butt
25.06.2020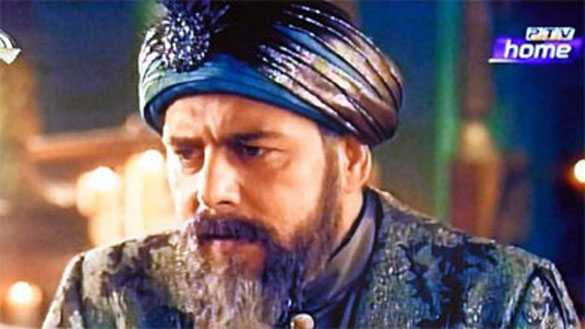 Ertugrul Gazi, the Muslim hero depicted in the Turkish historical drama Dirilis Ertugrul
-----
LAHORE, Pakistan
In remembrance of the grandeur of the Ottoman Empire, residents of northeastern Pakistan have put up a statue of Ertugrul Gazi, the Muslim hero depicted in the Turkish historical drama Dirilis Ertugrul (Resurrection: Ertugrul) set at the cusp of the Ottoman Empire's founding.
Ertugrul Gazi, the father of Osman I who laid the foundations of the Ottoman Empire, surged to fame in Pakistan when Prime Minister Imran Khan endorsed the series and said watching it would promote "Islamic history and ethics" among the country's youth.
State-run broadcaster, Pakistan Television (PTV) began airing the series with Urdu dubbing in April this year.
The president of Maraghzar Colony, a private cooperative housing society in Lahore, Shahzad Cheema said: "I loved the series and I knew about this character beforehand. I got this idea to place a life-size statue of this hero to promote the right ideology of Islam through the teachings of our great warriors in our young generation."
Cheema, who had lived in Saudi Arabia and traveled the Middle East for over two decades, is a huge fan of Ottoman history and has a library in his home full of books about Muslim history.
"I was always fascinated by the glory of Sultanate-Usmania [Ottoman Empire]. The statue of Ertugrul Ghazi who defeated anti-Muslim forces by the force of his courage is generating interest in kids to learn about our great history and ancestors, who fought against tyrants with great valor in the 13th century," Cheema told Anadolu Agency.
The seven-foot-tall statue was installed in an open space at an intersection, with residents having named the neighborhood Ertugrul Ghazi Chowk (intersection).
"All the intersections of our neighborhoods have been named after the warriors of Islam. These little things keep us close to our identity and Islamic cultural values," said Cheema.
The custom-built statue is made of fiber and iron and was prepared in Multan over 300 kilometers (190 miles) southwest. It depicts a sword-wielding Ertugrul Ghazi on horseback.
"I personally went to Multan to place the order. The popularity of the character has no limit since the statue has been unveiled, people are coming from even different cities to take pictures with their favorite hero and learning about his life," he explained.
More than 58 million people watched the first episode on PTV's YouTube channel in two months and the entire show has had more than 250 million views in Pakistan.
A second statue of Ertugrul has been prepared and will soon be put up in the neighborhood's main intersection.
https://www.aa.com.tr/en/asia-pacific/pakistan-locals-erect-statue-of-ertugrul-gazi/1890270
--------
Biden Seeks Restoration Of Peoples' Rights In Kashmir; Disappointed With NRC, CAA
June 26, 2020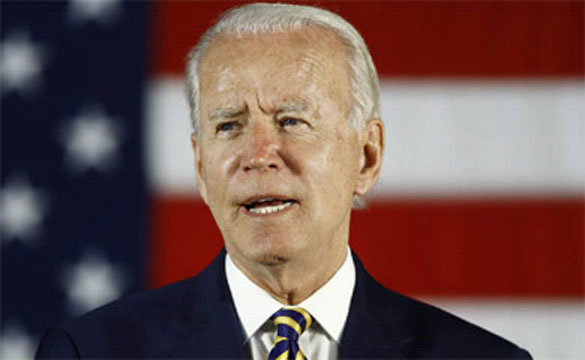 Joe Biden, AFP Photo
--------
Democratic presidential nominee and former vice president Joe Biden wants India to take necessary steps to restore rights of all Kashmiris, and has expressed disappointment over the Citizenship (Amendment) Act and the implementation of the NRC in Assam.
These measures are inconsistent with the country's long tradition of secularism and with sustaining a multi-ethnic and multi-religious democracy, according to the policy paper — Joe Biden's agenda for Muslim American community' posted recently on his campaign website.
A group of Hindu Americans have reached out to the Biden campaign expressing their resentment to the language used against India and have urged them to reconsider their views. The group has also sought a similar policy paper on Hindu Americans.
The Biden campaign did not respond to questions in this regard.
Observing that Biden understands the pain Muslim-Americans feel towards what is happening in Muslim-majority countries and countries with significant Muslim populations, the policy paper clubbed together Kashmir and Assam in India with the forced detention of over a million Uyghur Muslims in western China, and discrimination and atrocities against Burma's Rohingya Muslim minority.
"In Kashmir, the Indian government should take all necessary steps to restore rights of all the people of Kashmir. Restrictions on dissent, such as preventing peaceful protests or shutting or slowing down the Internet, weakens democracy," said the policy paper on Muslim Americans.
"Joe Biden has been disappointed by the measures that the government of India has taken with the implementation and aftermath of the National Register of Citizens in Assam and the passage of the Citizenship Amendment Act into law," it said.
"Biden as United States Senator for decades and as vice president under President Barack Obama for eight years has been known as one of the best friends of India and Indian-Americans," it said.
"He played a key role in the passage of the India-US civilian nuclear deal, and as vice president, he advocated increasing the bilateral trade to USD500 billion per annum. Well connected with the Indian Americans, Biden regularly hosted Diwali at his vice-presidential residence," it said.
Biden understands the issues impacting India, issues of cross border terrorism, influx of terrorism across borders in Kashmir, issue of Hindu minorities sufferings in Kashmir, issues in Indo Pacific region with China, and the rising role of India as stronger US ally in all areas including economic growth, counter-terrorism, fight for human rights, climate change and global security, Biden supporter Ajay Jain Bhutoria told PTI.
There are groups within various elected officials groups in US pushing language and agenda's highlighting misinformation and damaging facts on how India handled its own internal matter on Kashmir, Ladakh or immigration reforms related to NRC, rued Bhutoria, who is also on the National Finance Committee for Biden.
Bhutoria said US recently updated its immigration policy to block the H-1B and other visas for rest of the year to safeguard its own workers, which is completely questionable and will hurt the economy.
"India too has a right to define its own Immigration policy to support its population and economy," he said.
"I grew up in Assam, Guwahati and I have seen the influx of people across the border and taking away important jobs, resources from local people in northeastern states," he said.
"The immigration reforms and NRC are welcome steps. Execution of these reforms and strategies need to be improved and India needs to do better in change management and rolling out of reforms," Bhutoria said.
https://indianexpress.com/article/world/us-elections-joe-biden-kashmir-caa-nrc-6476987/
--------
Reports of Hindu-Muslim Strife In Malabar Baseless, Wrote Variamkunnath Kunhamed Haji In The Hindu In 1921
JUNE 25, 2020
The protagonist of the 1921 Malabar Rebellion chose the 'letter to The Hindu' to air his views on the now contentious issue of reported conversion and killings of Hindus in Malabar during the rebellion.
Variamkunnath Kunhamed Haji, the protagonist of the 1921 Malabar Rebellion, wanted the world to know through The Hindu that the "report that Hindus are forcibly converted" by his men was "entirely untrue."
Haji chose the 'letter to The Hindu' to air his views on the now contentious issue of reported conversion and killings of Hindus in Malabar during the rebellion.
The English translation of the letter "purporting to be written by the rebel Moplah leader," on October 7, 1921, with the dateline Pandalur Hill, was retrieved from the archives of The Hindu.
Referring to press reports that Hindu-Muslim unity had thoroughly ceased to exist, Haji said the report that Hindus were being forcibly converted by his men was entirely untrue.
What the letter said
"Such conversions were done by the Government Party and Reserve Police men in mufti mingling themselves with the rebels (masquerading as rebels.) Moreover, because some Hindu brethren, aiding the military, handed over to the military innocent (Moplahs) who were hiding themselves from the military, a few Hindus have been put to some trouble. Besides, the Nambudiri, who is the cause of this rising, has also similarly suffered," he wrote.
"The Hindus are compulsorily impressed for military service. Therefore, several Hindus seek protection in my Hill. Several Moplahs, too, have sought my protection," wrote Haji.
"Now the chief military commander [of the government] is causing Hindus to evacuate from these Taluks. Innocent women and children of Islam, who have done nothing and possess nothing, are not permitted to leave the place," he wrote. "Let all the people in the world know this. Let Mahatma Gandhi and Moulana know it," Variamkunnath Kunhamed Haji said while concluding the letter. "The letter is written on old-fashioned, Austrian made, ruled letter paper with a black lead pencil in crude, characteristic Moplah Malayalam," noted the newspaper.
Four films
A century later, the Malabar Rebellion has suddenly tuned out to be a debating point in the State with the announcement of four films on the theme.
While three would attempt to feature Haji as the freedom fighter who was killed by the British, the fourth one wanted to bring out the real truths behind the incidents.
Sangh campaign
Sangh Parivar outfits had launched a vitriolic campaign against actor Prithviraj who would play the role of Haji in the movie Variamkunnan, to be directed by Ashique Abu and Muhsin Parari.
https://www.thehindu.com/news/national/kerala/reports-of-hindu-muslim-strife-in-malabar-baseless/article31918716.ece
--------
Bhiwandi mosque sets up Covid facility, offers free oxygen for patients
Ankita G Menon
Jun 25, 2020
A mosque at Shanti Nagar in Bhiwandi (East) has been converted into a Covid care facility, providing oxygen free of cost to coronavirus-positive patients. Makkah Masjid, along with Jamaat-e-Islami Hind – Movement for Peace and Justice, has set up a facility with five beds with oxygen cylinders.
They have also kept spare oxygen cylinders that can be delivered home to patients who find it difficult to travel.
Shaheen Kalokhe, member, Jamaat-e-Islami Hind, Bhiwandi chapter, said, "We started this facility a week ago. With the help of social media, we have managed to reach out and create awareness among locals. Till now, more than 80 people have made use of the facility. We have a local physician who provides the facility to positive patients who have been prescribed oxygen treatment."
The facility has reserved 10 oxygen cylinders that can be used free of charge by patients at home, on a rotational basis.
On June 12, Bhiwandi had a total of 395 positive cases and 21 deaths. Within 13 days, the city recorded a sudden spike in infections, bringing the case count to 1,332, with 88 deaths. This has forced the civic body to impose a lockdown in the city till July 3.
"Makkah Masjid was shut to worshippers and was lying idle due to the pandemic and lockdown. We decided to use some of the premises of the mosque to help those who can't avail treatment facilities elsewhere," said Qaiser Mirza of Shanti Nagar Trust, which runs the mosque.
Meanwhile, Bhiwandi Nizampur City Municipal Corporation has set up a 24X7 control room in the disaster management cell, to guide people for tests and treatment. People can use the toll-free number 18002331102 for guidance and can call 02522 250049 and 02522 232398 in cases of emergency.
https://www.hindustantimes.com/cities/bhiwandi-mosque-offers-free-oxygen-for-covid-patients/story-e3CB7gzAQC7bBLasGAC2fN.html
--------
Syrian protesters vow to fully liberate Golan Heights from Israeli occupation
25 June 2020
A large number of Syrian demonstrators have gathered to protest Tel Aviv's control over the Golan Heights, which the Israeli regime has been occupying for more than half a century.
The angry protesters held a massive rally at Tahrir square in the liberated city of Quneitra, where they stressed the need to continue struggle until the mountainous plateau is fully liberated, the official SANA news agency reported on Thursday.
The Golan Heights will always remain an integral part of Syria and Damascus reserves the right to re-establish control over the area despite attempts by the Tel Aviv to distort the reality, they stressed.
The participants also demanded the international community and United Nations play their role in protecting peoples from the Israeli occupation in all its forms.
The Israeli regime has long been pushing for the US recognition of Tel Aviv's "sovereignty" claims over the territory, which was seized in 1967.
On March 25 last year, US President Donald Trump signed a decree that suited the Israeli interest regarding Golan. The signing took place at the start of a meeting with Israeli prime minister Benjamin Netanyahu in Washington.
Trump's move came over a year after he recognized Jerusalem al-Quds as the "capital" of Israel and moved the US embassy from Tel Aviv to the occupied Palestinian city.
The United Nations has time and again stressed Syria's sovereignty over the Golan Heights.
Back in December 2018, the majority of the United Nations General Assembly adopted a resolution urging the Israeli regime to withdraw from Golan.
The resolution, titled The Syrian Golan, was adopted by a record vote of 99 in favor, 10 against and 66 abstentions. It declared that Israel's controversial move to extend its laws, jurisdiction and administration on the occupied heights is null and void.
The demonstrators also voiced their support for the Arab country to continue its war against foreign-backed terrorism. Syria has been gripped by foreign-backed militancy since March 2011.
Syrians denounce Turkish-backed forces in Hasakah
Meanwhile, local residents in Syria's northeastern province of Hasakah staged a demonstration in protest at the deployment of Ankara-backed militants and cross-border invasions by Turkish forces.
SANA, citing local sources, reported that hundreds in the key border town of Ra's al-Ayn organized the protest rally on Thursday to denounce daily attacks by Turkish occupation forces and its mercenaries against the locals.
The participants held up placards and chanted slogans to demand a complete halt to Turkey's operation in northeastern Syria.
The militants were deployed to northeastern Syria last October after Turkish military forces launched a cross-border invasion in a declared attempt to push fighters of the Kurdish People's Protection Units (YPG) away from border areas.
Ankara views the US-backed YPG as a terrorist organization tied to the homegrown Kurdistan Workers' Party (PKK), which has been seeking an autonomous Kurdish region in Turkey since 1984.
Kurdish sources in northeastern Syria say the Turkish offensive has killed hundreds of civilians, including dozens of children since it started.
In recent months, there has also been a surge in abductions in the areas where the Turkish-backed militants are present, particularly in the key border town of Ra's al-Ayn.
Syrian President Bashar al-Assad and other senior officials have said that Damascus will respond through all legitimate means available to the ongoing ground offensive by Turkey.
https://www.presstv.com/Detail/2020/06/25/628266/Syrian-Golan-Israel-Trump-YPG-Hasakah
--------
Why the UK government should not be allowed to define Islamophobia
Rebecca Ruth Gould
25 June 2020
Having spent three years alerting my colleagues to the dangers of the controversial International Holocaust Remembrance Alliance (IHRA) definition of antisemitism, I was disheartened to see the definitional approach to racism revived again in 2018, when the All-Party Parliamentary Group (APPG) on British Muslims released "Islamophobia Defined", proposing a definition of Islamophobia for governmental adoption.
I saw the same mistakes that I had witnessed in connection with the implementation of the IHRA definition being repeated. So I wrote an academic article, now forthcoming in the Journal of Law and Religion (a draft is here), on the dangers of defining Islamophobia.
Prosecuting dissent
Given that the APPG definition of Islamophobia is gradually being adopted by city councils, such as Manchester, and by political parties, including Labour - and that there have been calls for its adoption by government - I accepted the invitation by MEE to restate my arguments on the definition of Islamophobia for a wider audience. I did so with both conviction and trepidation, having spent my adult life devoted to Islamic culture, while also having spent the past three years campaigning against the IHRA definition.
The IHRA definition was adopted by the UK government on 12 December 2016. Its adoption was followed by a series of crackdowns on Palestinian activism, particularly focused on trying to mitigate the effects of Israeli Apartheid Week. Events critical of Israel were cancelled. Students and university staff were censored for their writings and statements about Israel. Jo Johnson, in his capacity as minister of state for universities, began pressuring universities to adopt the IHRA definition.
While the IHRA definition is clearly flawed on its own terms as a text that conflates criticism of Israel with antisemitism, governmental reliance on such definitions also raises broader questions. One point that has not been adequately reflected on is that all definitions, irrespective of their content, empower governments in potentially dangerous ways to prosecute anyone who dissents.
My experience with the IHRA definition has made me alert to the dangers of group-specific governmental definitions, and have taught me to fear what any state may do to the communities it claims to protect. I therefore set out here some of my reservations about the proposed Islamophobia definition, which arise from many years of observing the persecution of Muslim minorities and witnessing the unforetold negative impact of the IHRA definition in the UK.
Ignoring the state's role
I acknowledge that efforts to define Islamophobia can be useful in drawing attention to persistent anti-Muslim racism. My objection is specifically to a governmental definition of Islamophobia (and antisemitism), particularly one used to criminalise speech and to punish specific points of view.
I do not object in principle to the use of a definition by a political party or institution, although in these cases, the best definition will be one that allows for a more flexible conception of Islam and of Muslim identity than the APPG report envisions.
Although many Muslims and non-Muslims may disagree with the objections voiced here, my concerns are not merely academic. As scholars of freedom of expression have long recognised - and as anti-Zionist Jews know from their experience of fighting the IHRA definition - any group-specific definition of racism can end up harming the very communities it aimed to protect.
Among the biggest problems with the current Islamophobia definition is that it ignores the role of the state in fostering Islamophobia. Many well-intentioned advocacy efforts to protect Muslims from Islamophobia fail to acknowledge the government's role in propagating this prejudice.
Even had the domestic "war on terror" not already compromised the UK's relationship with its Muslim citizens, a governmental definition of Islamophobia could never reach a democratically legitimate consensus among the group targeted for protection.
Not all Muslim groups have welcomed the proposed governmental definition. Among the most outspoken and articulate of the groups who have raised necessary yet - for the government - uncomfortable questions is CAGE, which describes itself as "an independent advocacy organisation working to empower communities impacted by the war on terror".
In responding to the APPG's call for evidence, CAGE argued that that the government's use of counterinsurgency methods and tactics to treat the "wider [Muslim] population as an enabler and supporter of insurgency and terrorism" illustrates how "institutionalised Islamophobia is linked to the erosion of the rule of law". CAGE's detailed response effectively exposes what it calls the "strong stench of Islamophobia" in British government policies relative to Muslims.
'Civilization's antithesis'
CAGE further noted that the war on terror ushered in "a raft of counter-terrorism legislation … and policies such as Prevent, which reinforce securitised narratives about Islam, and compel public sector workers to implement a discriminatory approach to Muslims, which has seen children as young as four criminalised".
From the viewpoint of CAGE, governmental efforts to define Islamophobia are best treated with scepticism as long as the more basic structural phobias introduced by the war on terror remain unaddressed. "If the definition of Islamophobia cannot hold those in power to account for their role in manufacturing Islamophobia, then it is inadequate," said Asim Qureshi, research director of CAGE.
Similarly, critical race theorist Khaled Beydoun recognised the role of government policies in fostering Islamophobia in an article for the Columbia Law Review. Beydoun incorporates governmental complicity into his definition of Islamophobia as an attitude "rooted in understandings of Islam as civilization's antithesis and perpetuated by government structures and private citizens".
Beydoun goes beyond the APPG report in examining the intersection of Islamophobia and the war on terror. But his contribution to the definition of Islamophobia is limited by his conflation of the attitudinal ("Islam as civilization's antithesis") with the infrastructural ("government structures"), and by an inadequate contextualisation of Islamophobia within a more structural account of anti-Muslim racism.
When deployed by government, the definitional framework situates the legal system within a victim-blaming epistemology, whereby any offence against a religious community is turned into an occasion for scrutinising it, often in the name of its protection.
When engaged in by sympathetic politicians, the scrutiny may appear favourable and intended to reinforce Islam's positive qualities. It would be a mistake, however, to take comfort in the simulated benevolence of the neoliberal state. Even former Prime Minister David Cameron had positive words for Islam in his paternalistic 2015 speech on extremism that set the stage for future government policy on British Muslims, including the revised Prevent strategy.
Enhancing coercive powers
Regardless of how such rapprochement might appear to support the integration of Muslims into European societies, it can be harmful to Muslim minorities in the long run, particularly when the same agencies mandated to protect Islam disproportionately surveil Muslims.
Some Muslim organisations that promote the criminalisation of Islamophobic speech often do this as part of a tradeoff that involves ignoring the harms done to Muslim citizens by the war on terror. Such groups tacitly collaborate in government surveillance in exchange for the government's commitment to penalise those who make statements deemed offensive to Islam. Such a tradeoff is undemocratic, as well as a dangerous bargain from a Muslim point of view - and it may well undermine Muslims' security over the long term.
The power of hate speech derives from state-sanctioned discrimination and legally codified racism, which ethnic and sexual minorities have endured throughout history. Far from existing in opposition to it, anti-Muslim hate speech derives its power from governmental surveillance of Muslims.
A government that targets Islam for suspicion (including "non-violent" extremist Islam, as per the 2015 revised version of the Prevent strategy) has no legitimate authority to define Islam for the purposes of its protection. Inasmuch as Islamophobic discourse derives its power from government policies and practices, the fight against Islamophobia should prioritise opposition to those policies, rather than tacitly consenting to them in exchange for "protection" by a discriminatory state.
Government efforts to broaden the meaning of terrorism are related to the drive to broaden the meaning of Islamophobia. In both cases, broadening the definition extends the remit of the state and enhances its coercive powers.
Why should a government that enshrines a double standard of suspicion against Islam in its legislation be trusted to protect this religion through a legal definition of Islamophobia? Would it not be more sensible to critically scrutinise the Islamophobic dimensions of that state's legislation, rather than entrust it to criminalise views that are reinforced and legitimated by its war on terror?
https://www.middleeasteye.net/opinion/why-uk-government-should-not-be-allowed-define-islamophobia
--------
Pakistan
In Parliament, PM Imran Khan calls Osama bin Laden a 'martyr'
Jun 25, 2020
ISLAMABAD: Pakistan Prime Minister Imran Khan called the mastermind of the 9/11 attacks in the US, Osama bin Laden, a "shaheed (martyr)" on Thursday, saying that his killing on Pakistani soil by US Navy Seals in 2011 had caused a lot of embarrassment to the country.
Speaking in the National Assembly about his government's foreign policy, Khan said Pakistan had to face immense "humiliation" in the past, despite supporting Washington in the war on terror, and was then blamed for the US's failures in Afghanistan.
Recalling the killing of Al-Qaeda chief Osama bin Laden, in the Pakistan garrison town of Abbottabad in the northwest, Khan said: "The Americans came to Abbottabad and killed, martyred Osama bin Laden. What happened after that? The entire world cursed at us and spoke ill of us."
"So our ally (US) comes to our own country to kill someone and doesn't inform us? And 70,000 Pakistanis have died in their war. Look at the humiliation that caused to all the Pakistanis who were abroad," the PM said on the floor of the House.
Khan also recalled US drone attacks inside Pakistan, saying the Pakistani government at the time had said it had opposed them. "When the former US military chief, Admiral Mike Mullen, was asked at a US Senate hearing why drone attacks were being carried out despite Pakistan's objection, Mullen replied that they were carried out with the permission of the Pakistani government," Khan said, adding that Pakistan did not know whether it was an ally or a foe of the US in the war on terror. "Such incidents caused huge embarrassment to overseas Pakistanis," he said.
Following his speech, opposition leaders lambasted the PM over his remarks referring to Bin Laden as a "martyr".
"Imran Khan called Osama bin Laden 'shaheed'. Bin Laden brought terrorism to our lands, he was a terrorist, and the PM calls him 'shaheed'," said Khwaja Muhammad Asif, former foreign minister and senior Pakistan Muslim League-Nawaz (PML-N) leader.
Senator Mustafa Nawaz Khokhar of the opposition Pakistan Peoples Party (PPP) called the PM a "national security threat".
"By labelling Osama bin Laden a martyr, Imran Khan has become a national security threat. If he is a martyr, then what is the status of those civilians and members of our armed forces who embraced martyrdom in the attacks by Al Qaeda?" he asked.
Khokhar also questioned the lesson that Khan was trying to teach the younger generation. "Today Imran Khan has proven himself in parliament to be 'Taliban Khan'. The Imran Khan-Taliban nexus was evident from the meetings between the two," the senator said, adding that the PM was the same person who had called for the Taliban to open offices in Pakistan.
https://timesofindia.indiatimes.com/world/pakistan/in-parliament-pm-imran-khan-calls-osama-bin-laden-a-martyr/articleshow/76632518.cms
--------
CJP takes notice of video clip threatening Justice Qazi Faez Isa
Haseeb Bhatti
June 25, 2020
Chief Justice of Pakistan Gulzar Ahmed on Thursday took notice of a video clip containing "derogatory, contemptuous, and scandalous language" against Justice Qazi Faez Isa.
A statement by the apex court said: "The [CJP] has taken notice of [a] video clip viral on social media containing derogatory, contemptuous and scandalous language against the institution of judiciary and honorable judges."
The matter was fixed for hearing for tomorrow (Friday) before Bench-1.
On Wednesday, Justice Isa's wife, Sarina Isa, had informed police that the life of her family was in danger as they were receiving threats and had requested officials to register a case against those who were threatening and harassing her family.
She had filed an application at Islamabad's Secretariat Police Station.
"I am the wife of Mr Justice Qazi Faez Isa, who is a judge of the Supreme Court, and to whom a death threat has been extended," she said in her complaint, adding that a person in a video had said that her husband should be shot publicly.
She also submitted a USB containing the threatening video message.
A search on the internet revealed the name of the person painting a target mark on my husband's picture to be Agha Iftikharuddin Mirza, she said, adding that she had enclosed printouts of two documents which she had obtained from links appearing in the video, but did not know if this was his real name.
"As you must know many powerful people are not happy with my husband and I suspect that this death threat to my husband is in continuation of what we have been facing," she said, adding that her father was seriously ill and today was the first day she had stepped out of the house after a long time.
"I do not want to lose my husband," the complainant said.
Threatening to murder a judge of the Supreme Court of Pakistan was the worst kind of terrorism, the complaint stated, adding that many powerful people wanted to get rid of Justice Isa and it was the duty of the police to find out who they were and to arrest them.
Last week, the SC had thrown out the presidential reference against Justice Isa, terming it "invalid".
"[The reference] is declared to be of no legal effect whatsoever and stands quashed," read the majority (9-1) short verdict on a petition filed by Justice Isa and others seeking the reference's dismissal.
Full report at:
https://www.dawn.com/news/1565164/cjp-takes-notice-of-video-clip-threatening-justice-qazi-faez-isa
--------
Gen Bajwa says army will continue making efforts for socio-economic progress
June 26, 2020
RAWALPINDI: Chief of Army Staff (COAS) General Qamar Javed Bajwa on Thursday reiterated that the Pakistan Army will continue to make all-out efforts "for provision of secure environment for sustained socio-economic progress".
He made these remarks during a visit to the National Defence University (NDU) where he addressed participants of the National Security and War Course, a statement issued by the Inter-Services Public Relations (ISPR) said.
Gen Bajwa shared his thoughts on security environment of the region and his vision of enduring peace in Pakistan, the military's media wing said.
Highlighting internal and external challenges to the national security, the army chief said that full spectrum of these challenges demands comprehensive national response and strengthening of all state institutions.
"Army will keep doing all that is required of us for provision of secure environment for sustained socio-economic progress," the ISPR quoted the COAS as saying.
Full report at:
https://www.pakistantoday.com.pk/2020/06/25/gen-bajwa-says-army-will-continue-making-efforts-for-socio-economic-progress/
--------
Pakistan involved in efforts to illegally acquire nuclear tech from Germany: Official report
Jun 25, 2020
Pakistan and North Korea continue to be involved in attempts to illegally obtain nuclear products and know-how from German hi-tech companies as part of efforts to develop their atomic weapons programmes, a new report by German authorities has said.
The annual report from the Office for the Protection of the Constitution in Baden-Württemberg, a state in southwest Germany, said the country is an "important area of operation" for clandestine efforts by Pakistan, North Korea, Iran and Syria to obtain nuclear technology as it is a leading industrial nation and home to numerous hi-tech firms.
The report for the year 2019 was made public by authorities in Baden-Württemberg on June 16. This is the second time in less than six months that German authorities have expressed concern about Pakistan's efforts to illegally procure technology used in atomic weapons.
The report, which is in German, said: "Iran, Pakistan, North Korea and Syria are still pursuing such efforts. They aim to complete existing arsenals, perfect the range, deployability and effectiveness of their weapons, and develop new weapons systems. They are trying to obtain the necessary products and relevant know-how...through illegal procurement efforts in Germany."
Such countries also "constantly develop and optimise their procurement methods" to circumvent existing export restrictions and embargoes, the report said.
"To conceal the actual end user, they can procure goods in Germany and Europe with the help of specially established cover companies and, in particular, transport dual-use goods to risk states. Typical bypass countries include the United Arab Emirates, Turkey and China," the report added.
Potential sources of nuclear know-how are universities, non-university research institutions and research and training departments of companies, the report said.
"In order to minimise risks, the State Office for the Protection of the Constitution sensitises those responsible to make them aware of the danger and possible consequences of illegal knowledge transfer," it added.
In a specific section on Pakistan, the report said the country has operated an extensive programme for nuclear weapons and delivery systems for many years. "This is primarily directed against the 'arch enemy' India, which also possesses nuclear weapons. For maintenance and further development, Pakistan is dependent, among other things, on the acquisition of Western technology and procedures," the report said.
"In addition to the acquisition of products (dual-use goods), the secondment of scientists to universities, institutes or research establishments is also important. This also applies to institutions in Baden-Württemberg."
In November last year, the German government had responded to a question from several lawmakers of die Linke (Left Party) by saying it believed there has been a "sharp increase" in Pakistan's activities in recent years to illegally procure technology used in nuclear, biological and chemical (NBC) weapons.
Full report at:
https://www.hindustantimes.com/india-news/pakistan-involved-in-efforts-to-illegally-acquire-nuclear-tech-from-germany-official-report/story-IYmWCqpkgBknPXmNfkTrNL.html
--------
North America
US, UAE warn Lebanese government over Hezbollah ties
June 26, 2020
Beirut : The US and UAE have warned Lebanon about maintaining ties with Hezbollah, as the country's president convened a meeting to bring together political parties with the aim of "fortifying civil peace."
Lebanon's domestic turmoil rocketed last year, with street protests, high-profile resignations and financial chaos. A new government, led by Prime Minister Hassan Diab, was formed in January. But there have been concerns about its composition as the majority of its ministers belong to Hezbollah and its allies.
US Secretary of State Mike Pompeo told reporters on Wednesday that the US was prepared to communicate with any Lebanese government that carried out real reform, telling a press conference that the world would act in the interest of Lebanon if this was achieved, and if the government operated in a way that was not "beholden to" Hezbollah.
"Lebanon's financial crisis is rooted in decades of state corruption and waste," he added.
The UAE's minister of state for foreign affairs, Anwar Gargash, went one step further in his assessment of the country's plight. "Lebanon is paying the price of deteriorating ties with wealthy Gulf Arab states as it struggles to cope with a deep economic crisis," he said in an interview.
He regarded Lebanon's economic meltdown as "very worrying" and said that the UAE would only consider offering financial support in concert with other states.
"If we see some of our friends and the major powers interested in Lebanon and working in a plan, we will consider that. But until now, what we are really seeing here is a deterioration of Lebanon's Arab relations and Gulf relations over the past 10 years. Lebanon is partly paying the price for that right now."
The minister added that there had been an "accumulation of problems" in Lebanon and "a dictation" of political discourse by Hezbollah which had an "army within the state."
"The UAE repeatedly warned Beirut about deteriorating relations with the Gulf. If you burn these bridges it will be very difficult for you to use the huge reservoirs of goodwill and financial support that Lebanon needs."
The strong words came ahead of a meeting convened by President Michel Aoun at Baabda Palace, with issues related to Hezbollah's weapons, controlling the borders with Syria, and the US Caesar Act on the agenda.
But, in a clear sign of entrenched positions and deep divisions, opposition parties, former President Amine Gemayel, and all former prime ministers boycotted the meeting.
Former President Michel Suleiman criticized Hezbollah at the meeting for breaking national agreements, thereby preventing the implementation of the state's pledges and resulting in its isolation, its loss of credibility, and a loss of confidence by friendly countries, the Lebanese people, investors, depositors, and tourists. "This has contributed to the decline of the national currency," he said.
He called for a return to the 2012 Baabda Declaration, which was aimed at preventing any Lebanese nationals from fighting in Syria, whether alongside the opposition or President Bashar Assad's regime. He also called for the formation of a national authority to abolish political sectarianism and said that measures to repel Israeli aggression must be restricted to the "legitimate authority."
But Mohammad Raad, head of the Hezbollah bloc in parliament, defended the "resistance and its weapons" while also criticizing the Baabda Declaration.
The parties at the meeting issued a concluding statement. It called for "the cessation of all kinds of incitement campaigns that would stir sedition" and said that violent opposition did not fall under democratic and peaceful opposition.
The parties emphasized that Lebanon was going through "a crisis more dangerous than war" and stressed their commitment to structural reforms in public finances and the adoption of an IMF bail-out as long as it did not contradict Lebanon's interests and sovereignty. They feared the impact of foreign policies, such as the US government's Caesar Act targeting Assad's regimes and its allies, displacement and resettlement, and the execution of the Palestinian cause, on Lebanon's "Arab identity and its inclusive location."
The meeting was held against a backdrop of street protests sparked by the continued deterioration of the dollar exchange rate and the soaring prices of commodities and foodstuffs.
The price of a kilogram of meat has hit LBP85,000 ($56.4), prompting butchers in different parts of the country to close because they have been unable to sell their goods.
https://www.arabnews.com/node/1695486/middle-east
--------
US accuses Iran of sheltering Al Qaeda members
Joyce Karam
June 24, 2020
The US accused the Iranian government of sheltering members of Al Qaeda.
In its annual terrorism report issued on Wednesday, the US State Department said Iran remained unwilling to convict Al Qaeda members living in the country and refused to publicly identify members in its custody.
Without revealing names of the members allegedly hosted by Iran, the report said the government in Tehran "has allowed [Al Qaeda] facilitators to operate a core facilitation pipeline through Iran since at least 2009, enabling [the group] to move funds and fighters to South Asia and Syria".
The report labelled Iran as the worst state sponsor of terrorism for its support of "Hezbollah, Palestinian terrorist groups in Gaza and various terrorist groups in Syria, Iraq and throughout the Middle East" and deploying the Islamic Revolutionary Guard Corps' Quds Force throughout the region.
Speaking from the State Department, US Secretary of State Mike Pompeo praised the Trump administration for taking steps in the past year that, he said, his predecessors avoided. He said this included designating the IRGC as a foreign terrorist organisation and the killing of ISIS leader Abu Bakr Al Baghdadi.
Moving on to another extremist group, the report said that despite the fall of the physical caliphate, ISIS had grown in Africa and Afghanistan. "ISIS formally recognised a number of new branches and networks in 2019 and ISIS-affiliated groups were active across the continent, including in the Sahel, the Lake Chad region and East Africa," it said.
US counterterrorism co-ordinator Nathan Sales said the group was a global network. "It has evolved from an entity that purported to control territory to a global network that reaches almost every continent," he said.
In Afghanistan, the report pointed to continued attacks by ISIS against civilians and especially religious minorities.
The report mentioned challenges that Iraqi security forces faced in fighting ISIS and said terrorist fighters continued to come through from Turkey.
"Turkey is a source and transit country for FTFs [foreign terrorist fighters] seeking to join ISIS and other terrorist groups fighting in Syria and Iraq," the report said. However, it said that since 2011, Turkey had repatriated more than 7,800 FTFs from more than 100 countries.
In Lebanon, the report references Israeli information on Hezbollah's "efforts to produce precision-guided missiles [PGMs] within Lebanon". It said the group "continued its military role in Iraq, Syria and Yemen, in collaboration with the Iranian regime".
The State Department also noted an improved ability for Lebanese armed forces to control the land border. "The LAF improved its ability to control Lebanon's land border with Syria through the Land Border Security Project funded by the United States, the UK and Canada."
Some other strides have been made against global terrorism in the past year.
Despite continued attacks by the Taliban in Afghanistan, Mr Sales said he was hopeful about the US negotiations with its leaders.
He expected the group to make "a clean break" from terrorist groups, as required by the deal.
Similarly, Sudan came in for praise in the report. "Sudan has taken steps to work with the United States on counter-terrorism," it said.
"The Sudanese government continued to pursue counter-terrorism operations alongside regional partners, including operations to counter threats to US interests and personnel in Sudan."
Full report at:
https://www.thenational.ae/world/the-americas/us-accuses-iran-of-sheltering-al-qaeda-members-1.1038733?utm_source=iterable&utm_medium=email&utm_campaign=1314154_
--------
US Cites Rise in Iran-Backed and White Supremacist Attacks
June 24, 2020
WASHINGTON — The Trump administration is claiming significant victories against global terrorism but says Iran continues to increase its support for extremists and that white supremacist attacks are on the rise.
The State Department said Wednesday in its annual report on terrorism that "dangerous terrorist threats persisted" throughout 2019 even as the Islamic State group suffered losses in Iraq and Syria, and the United States imposed sanctions and took other steps against Iran and its proxies in the Middle East.
The report cited a surge in extremist groups affiliating themselves with IS in Africa and Southeast Asia and said Iran continued to foment terrorism. In addition, it noted a rise deadly racially motivated attacks claimed by or attributed to white supremacists as well as the threat from the remnants of Osama bin Laden's al-Qaida network.
Despite losing territory and its leader, IS "adapted to continue the fight from its affiliates across the globe and by inspiring followers to commit attacks," the report said. "The Iranian regime and its proxies continued to plot and commit terrorist attacks on a global scale."
The report said Iran, IS and al-Qaida endured serious setbacks in 2019. Those included the killings of several top leaders and the imposition of tough penalties against Iran's Revolutionary Guard, Lebanon's Hezbollah movement and supporters and financiers of both.
Apart from extremist Islamic groups, the report said attacks committed by white nationalists are of particular concern.
Full report at:
https://www.nytimes.com/aponline/2020/06/24/us/politics/ap-us-united-states-terrorism-report.html?utm_source=iterable&utm_medium=email&utm_campaign=1314154_
--------
U.S. soldier's alleged connection to satanic Nazi extremist group renews calls to ban it
June 25, 2020
By Linda Givetash
LONDON ⁠— Charges laid against a U.S. Army soldier linked to a satanic neo-Nazi group founded in Britain have led to renewed calls among anti-racism campaigners to ban the far-right extremist organization.
A federal grand jury handed up Army Pvt. Ethan Phelan Melzer, 22, of Louisville, Kentucky, federal attempted murder charges Monday for allegedly passing along information about his unit's planned deployment overseas with the intention to get extremist groups to attack it.
The group Melzer reportedly delivered the information to is the Order of Nine Angles (O9A), a fringe far-right extremist group that incites violence by spreading its ideology, particularly online.
The case "should be a wake-up call to the authorities," said a spokesman for Hope Not Hate, a British anti-racism and anti-fascism advocacy group that has been calling to have the Order of Nine Angles proscribed under terrorism laws in the United Kingdom.
"It's incumbent on the authorities to act before a terrorist act happens," Matthew McGregor, campaign director for Hope Not Hate, said. "We can't wait until one of these people slips through the net."
The Home Office, the British government department that handles domestic policy, currently does not name the O9A in its list of banned terrorist organizations. Anyone who joins or invites support for listed organizations can face criminal charges.
The Home Office would not comment on whether specific groups are being considered for a ban, a spokesperson said Tuesday.
A group can be banned under the U.K.'s anti-terror laws if it "commits or participates in acts of terrorism, prepares for terrorism, promotes or encourages terrorism."
The O9A was probably established in the 1960s and centered on an ideology of white supremacy and anti-Semitism that demands society to be overthrown by violence, and encourages its followers to engage in extreme violence such as murder and rape, according to Hope Not Hate.
The scope of its membership and influence is unclear, according to Flashpoint Intelligence, a global security firm and NBC News consultant.
A Flashpoint analyst who asked not to be named for security reasons said that for comparison, even at its peak in popularity, Atomwaffen Division, one of the most infamous far-right networks to emerge in recent years, likely did not exceed 80 full-fledged members.
While the O9A used to share its propaganda through books written by its members, more recently it has used the internet and social media to reach more people, said Patrik Hermansson, a researcher on far-right extremism for Hope Not Hate.
Its members — who are predominantly young men — aim to share the vilest, most extreme messages and images of hate, according to Hermansson. "It's very much about kind of shock factor," he said.
By using platforms including the messaging app Telegram and, to a lesser extent, Instagram, the O9A is reaching younger men, including teens, in countries around the world, he said.
In November, the trial of the youngest person in Britain to be convicted of plotting a terror attack at the age of 14, who cannot be named for legal reasons, was revealed to have been influenced by the O9A and other far-right groups.
The O9A doesn't have a classic organizational structure with a leader and set members, Hermansson explained. Instead, it consists of an array of smaller chapters while the administrators behind larger chat forums and social media accounts appear to switch hands frequently.
"They operate in the shadows, they don't operate overtly. They've not left the kind of footprint that other organizations do," McGregor said.
But there have been several cases in recent years of far-right extremists arrested by police who were discovered to have O9A materials in their homes, McGregor added. "This isn't just words on a screen."
The ideologies of O9A may also be influencing other far-right groups, including the U.S.-based neo-Nazi network Atomwaffen Division, according to the Southern Poverty Law Center, with its literature being shared among its members.
O9A's infiltration of Atomwaffen Division in 2017 led to the splintering of the group with some members going on to establish new organizations, according to Flashpoint analysts.
In March, Hope Not Hate delivered an open letter — signed by members of Parliament across the political spectrum — to the U.K.'s home secretary calling for O9A to be banned.
The calls were also echoed by the Jewish Labour Movement — a group representing the Jewish community within Britain's opposition Labour Party.
Labour MP Yvette Cooper, who leads a parliamentary committee on home affairs, also called on the government to immediately review the O9A for its terrorist list.
"The combination of Nazi-Satanism, extreme violence and sexual abuse makes it particularly troubling and action needs to be taken to prevent them grooming and radicalizing other people," she told the BBC in March.
Full report at:
https://www.nbcnews.com/news/world/u-s-soldier-s-alleged-connection-satanic-nazi-extremist-group-n1231851?utm_source=iterable&utm_medium=email&utm_campaign=1314154_
--------
U.S. says ISIS evolved to become a global network that inspires attacks worldwide
JUNE 24, 2020
WASHINGTON (Reuters) - The United States is seeing the Islamic State evolving into a global network that inspires extremist ideology and attacks elsewhere from being a group holding territory, Nathan Sales, the U.S. Coordinator for Counterterrorism at State Department said on Wednesday.
"And this network not only plans and commits attacks...it also continues to inspire individuals to commit attacks on their own devices," Sales told a news conference announcing the State Department's 2019 country reports on terrorism.
https://uk.reuters.com/article/uk-usa-security-extremists/us-says-isis-evolved-to-become-a-global-network-that-inspires-attacks-worldwide-idUKKBN23V2CK?utm_source=iterable&utm_medium=email&utm_campaign=1314154_
--------
India
"Strictly Internal": India On Islamic Nations' (OIC) Dialogue On Kashmir
June 26, 2020
New Delhi: India on Thursday hit out at the Organisation of Islamic Cooperation over one of its contact groups discussing Kashmir, asserting that the grouping has no locus standi on matters strictly internal to the country.
Pakistan had on Monday urged the Organisation of Islamic Cooperation (OIC) to "step up its efforts" to resolve the Kashmir issue.
Pakistan Foreign Minister Shah Mehmood Qureshi had made the remarks during a virtual meeting of the OIC Contact Group on Jammu and Kashmir held "on the request of Pakistan", according to the Pakistan Foreign Office.
Asked about the discussion by the OIC contact group, Ministry of External Affairs Spokesperson Anurag Srivastava said, "Our position is consistent on this matter and has no ambiguity. OIC has no locus standi in matters strictly internal to India, including that of the Union Territory of Jammu and Kashmir.
"We have in the past also reiterated that OIC should refrain from making unwarranted references on India."
The Jeddah-headquartered bloc, which is the second-largest intergovernmental body after the UN, has usually been supportive of Pakistan and often sided with Islamabad on the Kashmir issue.
Pakistan has been unsuccessfully trying to drum up international support against India for withdrawing Jammu and Kashmir's special status on August 5 last year and bifurcating it into two Union territories.
India has categorically told the international community that the scrapping of Article 370 of the Constitution was its internal matter. It also advised Pakistan to accept the reality and stop all anti-India propaganda.
https://www.ndtv.com/india-news/strictly-internal-says-india-on-organisation-of-islamic-cooperations-oic-discussion-on-kashmir-2252375
--------
Babri Mosque Demolition Case: 2 More Accused Examined
June 25, 2020
Lucknow: A Special CBI court trying the 1992 Babri mosque demolition case on Thursday recorded the statements of two accused in the case and summoned a third one for the deposition by him.
Special Judge S K Yadav recorded the statements of accused Jai Bhagwan Goel and Amar Nath Goel and directed accused Pawan Kumar Pandey to appear before it on Friday for the recording of his statement.
The special judge specifically asked Pandey to appear before it without fail, warning him that his plea for exemption, if any, would not be accepted in any condition.
The court has been conducting a day-to-day proceeding to conclude the trial by August 31, as directed by the Supreme Court.
Both Jai Bhagwan and Amarnath appeared before the court along with their counsel, including advocate Vimal Srivastava, and recorded their statements under section 313 of the Cr P C, under which the accused are allowed to explain away the prosecution evidence against them.
Each of them was asked several questions about the prosecution evidence against them.
"To every question as to what they had to say about the evidence and deposition that came from the witnesses produced by the prosecution agency, CBI, they replied that they were falsely framed in the case due to political reasons," Srivastav told PTI.
The two had earlier chosen to depose through video conference but subsequently decided to appear in person before the court on Thursday.
By now the court has completed deposition by 17 accused under section 313 of the CrPC.
Fifteen accused including former deputy Prime Minister LK Advani, former UP Chief Minister Kalyan Singh and BJP leaders MM Joshi and Uma Bharti are yet to depose.
Many of them have said to depose through video link.
Full report at:
https://www.ndtv.com/india-news/babri-mosque-demolition-case-2-more-accused-examined-2252372
--------
2 terrorists killed in north Kashmir gunfight
Jun 25, 2020
SRINAGAR: Two terrorists were killed in an encounter in Hardshiva area of Sopore in north Kashmir's Baramulla district in the wee hours of Thursday and, hours later, a gunfight broke out between terrorists and security personnel in Chewa Ullar area of Tral in South Kashmir's Awantipora. Besides these two encounters, five Lashkar-e-Taiba over-ground workers (OGWs) were arrested in Budgam district of central Kashmir during the day.
Two days earlier, the Army had claimed that as many as 22 terrorists were eliminated in south Kashmir in the last two months, while police said 119 terrorists were killed in encounters across the Valley this year so far.
Sources identified the two terrorists killed in the Hardshiva encounter as Bilal Ahmad Parray and Waleed Bashir Mir of Sopore. They belonged to Lashkar terror outfit, the sources said.
Official sources said a joint search operation was launched by Army's 32 RR, SOG Sopore and CRPF in Hardshiva area after developing specific inputs about presence of terrorists there.
As the joint search party moved towards the suspected spot, the hiding terrorists fired upon the forces, leading to the encounter in which the two terrorists were killed, they said.
Following the elimination of the terrorists, authorities suspended mobile internet services in the entire police district of Sopore as a precautionary measure.
As regards the Tral encounter, police said that a joint team of police, Army and CRPF launched a cordon-and-search operation in Chewa Ullar area after getting information about the presence of terrorists there. As the team approached the suspected spot, the hiding terrorists fired upon the security personnel, who strongly retaliated, triggering the gunfight, which was intermittently on till the time of filing of this report.
About the arrest of the Lashkar OGWs, a police officer said: "Acting on a specific input, Budgam police and Army's 2 RR arrested five terrorist associates from Narbal area during a search operation."
The police identified the arrested OGWs as Imran Rashid, Ifshan Ahmad Ganie, Owais Ahmad, Mohsin Qadir and Abid Rather.
Police recovered 28 live rounds, one magazine of AK-47 and 20 Lashkar posters from their possession.
"This group was involved in providing logistic support and shelter to active Lashkar terrorists," police said in a statement.
On Tuesday, Brigadier Ajay Kotch, commander of 12 Sector RR, had disclosed that 22 terrorists, including top Pakistani commanders of terror outfits, were killed in various operations in south Kashmir during the last two months.
During this period, Hizbul Mujahideen suffered maximum damage as many of its top terrorists were killed, Brigadier Kotch said, adding that several Pakistani terrorists belonging to Jaish-e-Mohammad, Lashkar and Ansar Ghazwat-ul-Hind were also eliminated.
J&K director general of police (DGP) Dilbagh Singh had on Tuesday commended security personnel for killing 119 terrorists -- including Riyaz Naikoo, Abdul Rehman alias Fauji Bhai, Zubair, Qari Yasir, Junaid Sehrai, Burhan Koka, Haider and Tayyib Waleed – across the Valley so far this year.
Talking to reporters at CRPF's training centre at Humhama on the sidelines of a wreath-laying ceremony of a slain CRPF head constable, who was killed in an encounter with terrorists in Pulwama on Tuesday, the DGP said security forces conduct at least a dozen anti-terror operations in Kashmir every day. "Wherever leads are perfect, among the 12 spots, highest level of synergy is maintained to ensure no collateral damage takes place," he said.
Full report at:
https://timesofindia.indiatimes.com/india/2-terrorists-killed-in-north-kashmir-gunfight/articleshow/76632627.cms
--------
1 terrorist killed in Jammu and Kashmir's Tral in an ongoing encounter: Police
Jun 26, 2020
An unidentified terrorist has been killed by security forces in an ongoing gun battle in Tral area of south Kashmir's Awantipora police district, police said on Friday.
Officials said the encounter had erupted in Chewa Ullar area of Tral on Thursday evening.
"So far 01 #unidentified #terrorist killed. Operation going on. Further details shall follow," the police tweeted.
A joint team of state police, Indian Army's 42 Rashtriya Rifles and Central Police Reserve Force (CRPF) had launched a cordon and search operation on specific information about the presence of terrorists in the area.
Officials had said that as the joint team of forces approached, the hiding terrorists fired upon them which was retaliated and triggered an encounter.
Security forces have stepped up the offensive in the Kashmir Valley and killed more than 100 terrorists in operations since the beginning of this year.
Full report at:
https://www.hindustantimes.com/india-news/1-terrorist-killed-in-jammu-and-kashmir-s-tral-in-an-ongoing-encounter-police/story-JTHaBhiREESfCW3AT5u0dL.html
--------
Pak high commission officials were recruiting Kashmiri youth for terror: Official
Jun 25, 2020
Sustained efforts by officials of the Pakistan high commission in New Delhi to allegedly recruit young men from Kashmir for terrorist training was one of the factors behind India's decision to halve the strength of the mission, people familiar with developments said on Thursday.
Reports from intelligence agencies show that 399 young men from Jammu and Kashmir had been issued visas by the Pakistan high commission since January 2017, and the current whereabouts of 218 of them are unknown, the people said on condition of anonymity.
India asked Pakistan on June 23 to reduce the strength of its mission in New Delhi by 50% in a week, saying the actions of Pakistani officials were part of a "larger policy of supporting cross-border violence and terrorism".
Pakistan rejected and condemned what it said were "baseless Indian allegations" and informed New Delhi of its decision to reduce the Indian high commission's strength within seven days as a reciprocal measure.
The people cited above said intelligence reports had shown that Pakistan has been targeting young men from Kashmir for terrorist training, and equipping and arming them to carry out attacks similar to the one in Pulwama in February 2019.
"The officials of the Pakistan high commission were involved in these efforts to foment trouble in Jammu and Kashmir. Such attacks are used by Pakistan to project internationally as the work of local resistance fighters," said a person.
Citing one specific instance, the people said five heavily armed terrorists of the Pakistan-based Lashkar-e-Taiba (LeT) were tracked and killed by security forces on April 5 after they infiltrated into Keran sector of Jammu and Kashmir from Dudhnial in Pakistan-occupied Kashmir on the night of March 31-April 1.
Three of the five terrorists were identified as Adil Hussain Mir, Umar Nazir Khan and Sajjad Ahmed Hurrah, all residents of Jammu and Kashmir who had travelled to Pakistan in April 2018 on visas issued by the Pakistan high commission in New Delhi, the people said.
Full report at:
https://www.hindustantimes.com/india-news/pak-officials-in-new-delhi-recruiting-kashmiri-youth-for-terror-official/story-acHZIIfBIvBoYRAU6oreYN.html
--------
Arab world
New sanctions on Syria: Everything you need to know about the Caesar Act
25 June 2020
After nine years of war in Syria, a new US law seeks to pressure the Bashar al-Assad regime into a political resolution and take steps toward transitional justice for its victims.
The new law, named the Caesar Syria Civil Protection Act, will target the regime and its allies with a wide-reaching network of sanctions.
"[It is] the beginning of a sustained campaign of economic and political pressure to deny the Assad regime revenue and support it uses to wage war and commit mass atrocities against the Syrian people," said US secretary of state Mike Pompeo as he announced the first sanction designations on June 17.
"Anyone doing business with the Assad regime, no matter where in the world they are, is potentially exposed to travel restrictions and financial sanctions."
The act was named after a defector from the Syrian intelligence services, codenamed Caesar, who, in 2014, smuggled over 53,000 pages of documents pertaining to state-endorsed torture out of Syria. The US strategy of applying extreme economic pressure comes as Syria faces bankruptcy and is struggling to attract the funds required to rebuild its devastated country.
But as the act came into effect, questions were raised about how it will impact the Syrian regime, which shuns any calls for reform, and its allies who have supported indiscriminate military campaigns against civilians. Further, questions were asked about what the economic implications of sanctions will be on ordinary Syrians.
What will the act do?
The original Caesar bill was presented to Congress in 2014 and passed with a unanimous vote as a defense act on December 17, 2019. As a congressional act, it cannot be revoked by a change in presidential administration.
The new act will apply what are known as secondary sanctions. Previous US and EU primary sanctions on Syria targeted individuals from the al-Assad regime's inner circle. With secondary sanctions, any third-party that continues to work with designated individuals or sectors will also be liable to US sanctions.
The sanctions specifically target entities providing assistance to the al-Assad regime's war efforts, within the military, reconstruction and energy sectors.
"Our strategic intent is to deprive the regime, its financiers and its enablers of the resources it needs to perpetuate the conflict," said Anna Morris, deputy assistant secretary for the US Treasury's office of global affairs, who spoke at an online discussion about the sanctions with members of the Syrian public.
The act also targets individuals deemed responsible for human rights abuses in Syria.
"When the US issues sanctions it says to the world that these are bad actors who violate international law and threaten peace and security," said Morris. "Banks internationally will take action to freeze accounts and to deny those sanctioned parties access to their finances."
In accordance with the act, the Department of the Treasury has launched an inquiry into the Central Bank of Syria, to determine whether or not it is "a financial institution of primary money laundering concern."
If deemed so, then sanctions on the central bank would "paralyze economic life in Syria," explained Ayman Abdel Nour, president of Syrian Christians for Peace, a US-based non-profit that was involved in advocating and drafting the bill.
The sanctions will apply only to the regime-controlled areas of Syria and excludes any activities related to providing humanitarian aid.
Why are they doing this?
"The act is designed to protect the Syrian people from Assad," said James Jeffrey, US Special Representative for Syria, at a public event this week.
It aims to pressure al-Assad into implementing the UN Security Council Resolution 2254, which calls for a ceasefire and a political settlement in Syria. The resolution passed in 2015 requires Assad to hold UN-supervised elections, and take steps toward accountability and transitional justice.
For Caesar Act sanctions to be lifted, the regime must meet the act's seven conditions, which according to Jeffrey, are "consistent" with UNSC 2254.
"It does not deviate an iota from that. It is not regime change, it is not a separate deal with anybody. We are supporting the UN process," he said.
Assad has shunned political concessions, believing that any sign of weakness would lead to his downfall. Moscow has pressed Assad for token reforms in line with the resolution. This would allow Syria to get the international funding it desperately needs for reconstruction.
As such, the sanctions will be combined with additional political and diplomatic pressure on Assad's allies. After years of military support, Russia and Iran have sought to control sectors in Syria's post-war economy. The regime's economic isolation threatens these ambitions. "The Russians and Iranians know our agenda, they know what we're willing to do, it's up to them to take a step in the right direction," said Jeffery.
Who has been sanctioned so far?
A group of 39 individuals, businesses and militias were designated on June 17, with more designations to follow in the coming months.
"We are waiting to see how wide the circle is that they will target," said Rime Allaf, a Vienna-based political analyst.
The regime relies on a crony capitalist economy that was established in the early 2000s. Lucrative contracts were awarded to close family and friends of the president, which they used to bankroll al-Assad and help him evade sanctions.
"We have targeted enablers and financiers who were involved in the reconstruction of luxury properties on land that was expropriated from the Syrian people," Morris said. "The US will not allow its financial system to be used for the regime to enrich itself on the backs of the Syrian people."
Among those sanctioned for the first time was Asma al-Assad, the President's wife and first lady.
"With the support of her husband and members of her Akhras family, [she] has become one of Syria's most notorious war profiteers," said US Secretary of State Mike Pompeo.
Asma's network of NGOs allowed the regime to co-opt billions of international aid throughout the conflict.
"[The designation] sends a message that she is also part of Assad's mafia. We expect that the UN will start to withdraw the funding to her charities," said Abdel Nour.
It has also targeted the wider family of regime insiders. Mohammed Hamsho, who has been subject to US and EU sanctions since 2011, was designated alongside his wife and children.
The Fatemiyoun Brigade, an Iranian-backed Afghan militia operating in Syria, was also designated.
How will the sanctions work on al-Assad and his allies?
Decades of sanctions on Assad's inner circle did little to curb their wealth. This month, French courts ruled that Rifaat al-Assad, the president's uncle living in France, had helped al-Assad launder money into Europe, and seized properties worth up to 130 million euros.
Secondary sanctions will help close the circle on this shadow economy.
"The regime will feel the pressure once it can no longer pay its friends," said Allaf, referring to the chain of regime officials, business and militiamen whose loyalty was guaranteed by kickbacks.
In the past year, the regime has sought to extort money from its businessmen to help save its crumbling economy. This led to a public confrontation with Rami Makhlouf, the President's cousin, and the most powerful businessman in Syria.
The sanctions will also deter any business interests or diplomatic rapprochement with Syria, as it seeks billions in foreign investment for its reconstruction.
"The Syrian market is negligible. Nobody will forgo potential opportunities in the US, Europe, Asia or Africa just to have a foot in Syria," said Abdel Nour.
The sanctions will also affect neighboring Lebanon, whose economy is intertwined with Syria's.
The impact for ordinary Syrians
There are concerns that the sanctions will harm ordinary Syrians, who have faced food shortages for months as the Syrian lira continues to plummet.
An estimated 80 percent of Syrians live in poverty, and the Syrian pound fell to 3,500 pound on the dollar on the black market this month. This has led to exorbitant prices on basic goods, with many Syrians subsisting on bread. In the last months, the regime has struggled to purchase wheat that would feed its people, with a tender for purchase in March failing.
Many blame the regime for these existing economic pressures, pointing to the hundreds of millions of dollars spent on its recent military campaign in Idlib.
"There is no indication that the sanctions could make Syrians suffer more than they are suffering already," said Allaf.
Damascus, meanwhile, has sought to blame Syria's economic collapse on Western sanctions and the Caesar Act in particular. One misinformation campaign led to fears among the Syrian diaspora that remittances to their families back home could be negatively affected.
There are risks, however, that such extreme isolation could push the country's shadow economy further underground. One often-cited example is the UN total embargo on Iraq in the 1990s. A deal known as the oil-for-food program allowed Iraq to sell its oil in exchange for food vouchers. In practice, Saddam and his cronies diverted the aid into money which they pocketed, while normal Iraqis starved.
What's more, Saddam used this diverted aid to fund an international campaign against the sanctions. This included bankrolling British politician George Galloway's Mariam Appeal to protect Iraqi children, as reported by the UK's Charities Commission in 2007.
"There is nothing different [about the Caesar Act] that could prevent this from happening in Syria" warned Allaf. "This is why sanctions alone can't achieve much. They need to be combined with additional forms of diplomatic and political pressure."
What next?
It will take months before the impact of the sanctions begin to unravel, experts have warned.
Those seeking justice and accountability were left with questions. "What does the act provide for us today as mothers, and what does it provide to the detainees?" asked a mother from Aleppo, whose son has been detained since 2012, at a public Q&A about the Caesar Act last week.
Meanwhile, illicit avenues of financial revenue, such as Hezbollah's smuggling networks in Lebanon, will support the regime temporarily. In recent weeks, Syrian embassies in Europe launched an appeal for cash donations, in US dollars, allegedly to help fight the coronavirus outbreak.
"Assad will not suffocate immediately," said Allaf, "But it is clear that the regime is running out of money."
https://english.alarabiya.net/en/features/2020/06/25/New-sanctions-on-Syria-Everything-you-need-to-know-about-the-Caesar-Act.html
--------
Amid tensions in Libya, Turkey's role in Arab world 'unwelcome': UAE Foreign Minister
25 June 2020
Turkey's "current role in the Arab region is not welcome," said UAE's Minister of Foreign Affairs Sheikh Abdulla bin Zayed on Thursday.
That Emirati minister's comments came during a call with the European Union's High Representative for Foreign Affairs and Security Policy, Joseph Borell Fontelles. The two officials discussed UAE-EU ties and regional developments, including Turkey's involvement in Libya.
For all the latest headlines follow our Google News channel online or via the app.
"Both sides affirmed that foreign intervention in Libya will not only harm the country but also neighboring countries and the entire region," the UAE's Ministry of Foreign Affairs and International Cooperation said in a statement about the call.
"Sheikh Abdullah pointed out that Turkey's current role in the Arab region is not welcome and will have negative implications while highlighting the importance of the joint efforts of the international community to reach a political settlement to the current crisis."
The UAE minister expressed his support for Egypt's efforts in reaching a political solution to the Libyan crisis.
Turkey in Libya
Tensions have been escalating in Libya and between the countries which back the two warring parties in it, the Libyan National Army (LNA), commanded by Khalifa Haftar and the Government of National Accord (GNA), led by Fayez al-Serraj.
Turkey, which backs the GNA, has also been ramping up its military intervention in Libya recently. Ankara has been providing air support, weapons and allied fighters from Syria to the GNA.
In November, Turkey signed a military cooperation pact with the GNA. The two parties also signed a maritime demarcation deal, which gives Ankara exploration rights in the eastern Mediterranean.
The maritime deal was rejected as "illegal" by many Mediterranean countries such Greece and Cyprus.
In early in June, Turkish President Recep Tayyip Erdogan said that his country's support for the GNA "will increasingly continue."
On Thursday, Turkey said that the GNA demanded Haftar's forces to withdraw from Sirte and Jufra region as pre-requisites for ceasefire talks.
Egypt's 'national security'
Turkey's intervention in Libya would give it a foothold in the natural-resources-rich Middle East, where its international ties to many countries are strained.
This is especially significant for Egypt, since it shares a long border with Libya, backs Haftar's LNA and its relationship with Turkey has been tense for years.
On Saturday, Egyptian President Abdel Fattah al-Sisi said that his country has a legitimate right to intervene in Libya and ordered the army to be prepared to carry out missions if necessary.
He said: "Any direct intervention from the Egyptian state has now acquired international legitimacy," adding that Egypt had received "direct threats" from "terrorist militias and mercenaries" supported by foreign countries.
Earlier in June, Egypt had called for a ceasefire in Libya, however, in his recent speech Sisi said that Egypt has always been reluctant to intervene in Libya but "the situation now is different."
Full report at:
https://english.alarabiya.net/en/News/middle-east/2020/06/25/Amid-tensions-in-Libya-Turkey-s-role-in-Arab-world-unwelcome-UAE-Foreign-Minister.html
--------
Iraq says 13 pro-Iran fighters arrested for anti-US rocket attacks: AFP
25 June 2020
Iraqi security forces arrested more than a dozen pro-Iran fighters overnight, in their first raid against those accused of anti-US rocket attacks, Iraqi officials told AFP early Friday.
Elite fighters from the Counter-Terrorism Service raided a headquarters in southern Baghdad used by Kata'ib Hezbollah, arresting 13 of them and confiscating the rocket launchers, three officials said.
For all the latest headlines follow our Google News channel online or via the app.
"Based on intelligence information, a CTS unit raided a base used by Brigade 45, seizing three rocket launchers and arresting 13 fighters," one of the officials said.
Since October, nearly three dozen attacks have targeted American interests in Iraq, including a range of military bases, the US Embassy in Baghdad and US oil companies.
Full report at:
https://english.alarabiya.net/en/News/middle-east/2020/06/26/Iraq-says-13-pro-Iran-fighters-arrested-for-anti-US-rocket-attacks-AFP.html
--------
US suspected of role after headquarters of Kata'ib Hezbollah raided in Baghdad
26 June 2020
The headquarters of an anti-terror group within the Popular Mobilization Units (PMU), better known as Hashd al-Sha'abi, have come under attack in Baghdad, raising suspicions about the US role in Iraq.
More than a dozen members of Kata'ib Hezbollah were reportedly detained during the raid in southern Baghdad in the early hours of Friday. Initial reports said several commanders of the anti-US group, which is integrated into Iraq's security forces, were among those arrested.
Their fate remains unclear, with some unnamed officials saying they are in the custody of Iraqi security services, but PMU sources say all those detained have been handed over to US forces.
An Iraqi official initially told Reuters news agency that at least three of the group's detained commanders had been transferred over to the US military.
A number of local media outlets also reported that American forces were involved in the raid.
One tweet by an PMU member claimed that Prime Minister Mustafa al-Kadhimi had apologized to the anti-terror group's head Hadi al-Ameri over the incident.
Back on April 6, a member of the Iraqi parliament's security and defense committee warned against the ulterior motives behind the redeployment of US troops to various military sites across the Arab country, saying Washington was drawing up plans to target PMU commanders.
"The withdrawal of US forces from a number of military bases does not come in line with the parliamentary resolution calling on the government to push out foreign troops from the country. It is rather part of redeployment plans for American forces inside Iraq," Karim al-Muhammadawi told Arabic-language al-Masalah news agency in an exclusive interview at the time.
He added, "The real intention behind the redeployment of US soldiers in Iraq remains unknown. But it is assumed to be related to the deployment of the forces to fortified bases, especially after the installation of Patriot missile systems there. The US is purportedly seeking to launch precision strikes against Hashd al-Sha'abi positions and intends to assassinate commanders associated with them."
On March 27, the New York Times newspaper reported that the Pentagon had ordered a secret directive, which called on US military commanders to prepare a campaign against Kata'ib Hezbollah, which is part of Hashd al-Sha'abi.
But the United States' top commander in Iraq had warned that such a campaign could be bloody and counterproductive.
Lieutenant General Robert P. White wrote in a blunt memo that a new military campaign would also require that thousands more American troops be sent to Iraq.
Hashd al-Sha'abi fighters have played a major role in the liberation of areas held by Daesh terrorists ever since the Takfiri group launched an offensive in the country, overrunning vast swathes in lightning attacks.
In November 2016, the Iraqi parliament voted to integrate the PMU, which was formed shortly after the emergence of Daesh in Iraq in 2014, into the military.
The popular group, however, is a thorn in the side of the United States which is widely believed to be managing an array of militant groups, including Daesh, to advance its Israel-centric agenda in the region.
In 2009, the US State Department blacklisted Kata'ib Hezbollah and imposed sanctions on the group which has been the frequent target of American airstrikes in Iraq.
Iraqi lawmakers unanimously approved a bill on January 5, demanding the withdrawal of all foreign troops following the US assassination of Lieutenant General Qassem Soleimani, the commander of the Quds Force of Iran's Islamic Revolution Guards Corps, along with Abu Mahdi al-Muhandis, the deputy head of Iraq's PMU, and their companions.
Later on January 9, former Iraqi prime minister, Adel Abdul-Mahdi, called on the United States to dispatch a delegation to Baghdad tasked with formulating a mechanism for the move.
The 78-year-old politician said Iraq rejected any violation of its sovereignty, particularly the US military's violation of Iraqi airspace in the assassination airstrike.
Full report at:
https://www.presstv.com/Detail/2020/06/26/628291/Iraqi-forces-raid-Hashd-Sha%E2%80%99abi-base-in-southern-Baghdad-detain-several-fighters
--------
Civilians in northeastern Syrian village stop another US convoy, force it to return to base
25 June 2020
Another US military convoy has been forced to turn back from an area in Syria's northeastern province of Hasakah after a group of people blocked a road and prevented it from driving through their community.
Syria's official SANA news agency reported that a US convoy of armored vehicles was forced to turn around and head back to the base it came from on Wednesday evening after residents of Khirbet Bunyan village, which lies in the al-Malikiyah district of the province, did not allow it to move and pelted it with stones. No injuries were reported.
A similar incident took place on Monday, when a US convoy was confronted by residents of Faris Kabir village in the same Syrian province as it tried to make its way through the area.
Groups of locals hurled stones at the foreign soldiers, forcing the convoy to "go back to where it came from," according to a report published by SANA at the time.
The presence of US forces in eastern Syria has particularly irked the civilians, and local residents have on several occasions stopped American military convoys entering the region.
Since late October 2019, the United States has been redeploying troops to the oil fields controlled by Kurdish forces in eastern Syria, in a reversal of President Donald Trump's earlier order to withdraw all troops from the Arab country.
The Pentagon claims the move aims to "protect" the fields and facilities from possible attacks by Daesh. That claim came although Trump had earlier suggested that Washington sought economic interests in controlling the oil fields.
Full report at:
https://www.presstv.com/Detail/2020/06/25/628239/Civilians-in-northeastern-Syrian-village-stop-US-convoy,-force-it-to-return-to-base
--------
Iraqi security forces raid Iran-backed militia headquarters
June 26, 2020
BAGHDAD: Iraqi security forces raided a headquarters belonging to a powerful Iran-backed militia in southern Baghdad late on Thursday and detained more than a dozen members of the group, government officials and paramilitary sources said.
The raid was the most brazen action by Iraqi forces against a major Iran-backed militia group in years and targeted the Kataib Hezbollah faction, which US officials have accused of firing rockets at bases hosting US troops and other facilities in Iraq.
Iraqi government officials and paramilitary sources then gave contradicting versions of what followed.
The paramilitary sources and one government official said those detained were transferred shortly afterwards to the security branch of Iraq's paramilitary umbrella grouping, the Popular Mobilization Forces (PMF).
A second government official denied any such transfer and said the militiamen were still in the custody of other security services. The sources gave different numbers for those detained. A PMF official said it was 19. A government official said it was 23.
The raid was the first sign that the government of Iraq's new prime minister, Mustafa Al-Kadhimi, intends to make good on pledges to take tough action against militia groups that have targeted US installations.
It took place after a number of rocket attacks near the US embassy in Baghdad and other US military sites in the country in recent weeks.
But the incident also highlighted how difficult it could be to take on the militias. A senior PMF official said after some negotiation, those detained were handed over to paramilitary security forces.
The PMF is an Iraqi state institution. It contains factions loyal to Iran and others that are not, but has been dominated by Iran-aligned militias.
One government official told Reuters three commanders of Kataib Hezbollah had been detained during the raid, carried out by Iraq's elite Counter Terrorism Service. One of those commanders was an Iranian, he said.
A second PMF official said no commanders of Kataib Hezbollah were detained.
A spokesman for the US-led coalition in Iraq and Iraqi paramilitary sources denied any of those detained had been handed over to the US military, after a government official said three had been.
Tensions between Washington and Tehran especially on Iraqi soil have been high for at least a year.
It nearly spilled into regional conflict in January after the United States killed Iran's military mastermind Qassem Soleimani and Iraqi paramilitary chief Abu Mahdi Al-Muhandis in a drone strike at Baghdad airport.
Full report at:
https://www.arabnews.com/node/1695456/middle-east
--------
Europe
Exploring 'Islamist separatism' in France: Experts, community leaders speak
25 June 2020
French President Emmanuel Macron announced in February that France would crack down on "Islamist separatism" and end a system in which foreign countries send imams to preach in French mosques.
Al Arabiya's Rola al-Khatib spoke to experts and community leaders to find out more about the so-called separatists in the country that hosts Europe's largest Muslim community.
Responses varied between calling the separatists "religious fanatics" and "dangerous threats," to also calling Macron's announcement as "just a campaign for the president's reelection."
Certain communities in eastern France are "pushing in the direction" of applying Islamic law in small to medium-sized cities "where the city council and the mayor are not very powerful," said criminology and terrorism expert Xavier Raufer.
"In these communities … you have people who are fanatics and want to impose a version of Islam that is close to extremism," Raufer said.
President Macron had said a part of the crackdown campaign was to ensure "that the laws of the Republic are respected by everyone."
Law enforcement
Morocco, Algeria and Turkey send 300 imams to France every year, Macron said, adding that the ones arriving in 2020 would be the last. Macron said that France has agreed to stop the system.
Ghaleb Bencheikh, the former president of one of the largest mosques in France, called on French authorities to enforce the French law on communities trying to implement Islamic law "without even understanding it."
"There are foreign imams active here in France; half of them are Moroccan, Algerian, and even Egyptian, and the other half are Turkish, despite that Muslims of Turkish origin in France are a minority compared to others," Bencheikh told Al Arabiya. "This could mean that there is [a political] interference by the Turkish Justice and Development Party."
"I will not let any country feed separatism", the French president said.
https://english.alarabiya.net/en/features/2020/06/25/Exploring-Islamist-separatism-in-France-Experts-community-leaders-speak.html
--------
EU condemns recent Houthi drone and ballistic missile attacks on Saudi Arabia
25 June 2020
The European Union condemned attacks against Saudi Arabia by the Iran-backed Houthi militia in a statement on Thursday.
"The Kingdom of Saudi Arabia was targeted by several drones and ballistic missiles earlier this week. The European Union condemns this indiscriminate attack on Saudi cities claimed by the Houthis," said the statement.
The Iran-backed Houthi militia has launched sporadic missile and drone attacks against Saudi Arabia in recent years, including an explosive-laden drone attack intercepted by the Arab Coalition on Monday.
The EU added that the recent attacks undermine the ceasefire efforts of the UN Special Envoy, supported by the EU and its Member States.
Full report at:
https://english.alarabiya.net/en/News/gulf/2020/06/25/EU-condemns-recent-Houthi-attacks-on-Saudi-Arabia.html
--------
25 Europe-bound asylum seekers held in Turkey
Ilkan Toprak
26.06.2020
BALIKESIR, Turkey
At least 25 asylum seekers were held in northwestern Turkey after attempting to reach Europe illegally, a security source said late Thursday.
Acting on a tipoff, provincial gendarmerie command teams in Ayvalik district of Balikesir province detained 25 Syrian nationals who were preparing to travel to the Greek island of Lesbos, said the source on condition of anonymity.
A man suspected of organizing the illegal journey was also arrested, the source added.
The asylum seekers were referred to the provincial migration office, while legal proceedings have been initiated against the suspected organizer.
Due to its geographical location and conflicts in neighboring regions, Turkey has been one of the main routes for asylum seekers seeking to start a new life in Europe.
The deadly civil war in Syria has been one of the triggering factors behind the large-scale migration to continental Europe.
Full report at:
https://www.aa.com.tr/en/europe/25-europe-bound-asylum-seekers-held-in-turkey/1890384
--------
EU committee approves $545M for refugees in Turkey
Agnes Szucs
25.06.2020
BRUSSELS
The European Parliament's budgetary committee on Wednesday approved a proposal on supporting Syrian refugees in Turkey with an additional €485 million ($545 million).
On June 3, the European Commission proposed to top up humanitarian aid for refugees and host communities in response to the Syrian crisis by a total of €585 million ($658 million).
According to the plan approved by the budgetary committee, €100 million ($113 million) will be allocated to Jordan and Lebanon, while Turkey receives the rest.
If the European Parliament's plenary and EU member states approve the proposal, unallocated margins of the 2020 EU budget will finance the aid.
The €485 million transfer will extend the functioning of two established programs in Turkey until the end of the next year.
The Emergency Social Safety Net program provides monthly financial assistance to more than 1.7 million refugees, while the other one, Conditional Cash Transfers, helps over 600,000 refugee children to attend school.
These programs have been running as part of the 2016 EU-Turkey deal, meant to stop irregular refugee flows and improve the conditions of Syrian refugees in Turkey.
The EU had pledged €6 billion ($6.5 billion) aid for the refugees.
According to the EU's latest data, all operational funds have been committed, €4.7 billion ($5.3 billion) contracted and €3.4 billion ($3.8 billion) disbursed.
The EU promised to pay €4 billion ($4.5 billion) by 2020, while the full €6 billion amount is expected to be paid by 2025.
Full report at:
https://www.aa.com.tr/en/europe/eu-committee-approves-545m-for-refugees-in-turkey/1889026
--------
Rise in far-right and Islamic extremism activity in Ireland last year, says Europol
Jun 25, 2020
Ireland saw a sharp increase in the activities of far-right and Islamic extremists last year, according to the EU's joint police agency.
In the past Ireland usually only featured in the EU Terrorism Situation and Trend Report in the context of dissident republican terrorism.
However, for the first time Europol, which compiles the report based on data from member states' police forces, has warned of increasing far-right activity in the State including the presence of "known criminal elements" and attacks on direct provision centres.
The report also states that gardaí arrested five people people suspected of "jihadi terrorism" last year. One of these was Lisa Smith, the Dundalk woman who returned from Syria with her daughter in December. She is currently before the courts charged with membership of the Islamist terrorist organisation.
Four others were arrested on suspicion of financing Islamist terrorist activities. The four - three women and one man - who were members of the same family, were arrested by the Special Detective Unit in January of last year. They have not yet faced any charges.
The report states there were no arrests of "ethno-nationalist and separatist terrorists" in Ireland, a category which usually includes dissident republicans.
This data point has led to confusion among security officials who spoke to The Irish Times on Wednesday.
They pointed out several arrests of suspected dissidents were carried out last year which are a matter of public record.
This includes Paul Casey and Robert O'Leary, who were arrested in Dublin by the Special Detective Unit in August in relation to a cross-Border investigation into the discovery of a car bomb under a police officer's car in Belfast.
Proceedings against Mr Casey have since been struck out while Mr O'Leary remains before the courts charged with membership of an illegal organisation.
Europol and the Garda have yet to respond to queries about the apparent discrepancy in the report.
Dissident paramilitary groups remain the biggest threat on the island of Ireland. There were 147 dissident arrests in Northern Ireland last year and 56 "security-related incidents by dissident republican (DR) groups".
Islamic extremism, ethno-nationalism and left-wing groups remain the biggest terrorist threat to EU countries in terms of numbers of attacks. Jihadis were responsible for 10 terrorism-related deaths and 21 attacks in the EU last year with far-right extremists responsible for three deaths and six attacks.
Europol warns there is also growing threat from right-wing extremism in Ireland. Security sources say there has been a marked increase in extremist racist and white-national content being shared among internet users in Ireland.
In November, the database of the neo-Nazi Iron March website, whose members were notorious for advocating violence against minorities, was leaked online, showing about a dozen Irish users.
The issue of direct provision also saw the involvement of far-right activists in protests in various towns last year. One direct provision centre in Rooskey was set on fire twice last year while the car of Sinn Féin TD Martin Kenny was set alight after he publicly supported a proposal to accommodate asylum seekers in Ballinamore. Gardaí have not ascribed a motive for the incidents or arrested any suspects.
Protests
Europol said "known criminal elements have been identified as affiliated with right-wing protests" in Ireland and that "several high-profile right-wing extremist online figures ask for online donations, partially in cryptocurrencies".
It receives most of its data from police agencies, indicating the Garda views far-right extremism as a growing threat here. It has yet to respond to requests for comment.
According to Europol there is "a strong international network involving right-wing extremists from Ireland, other European countries and the USA".
There is also evidence this activity has ramped up in Ireland since the start of the coronavirus pandemic, although it is not clear how much of it comes from Irish based users.
Moonshot CVE, a London-based technology company focusing on violent extremism, studied thousands of tweets posted by users following an alleged assault incident involving a black suspect recently.
Many of the posts expressed racist or anti-immigration views, including advocating violence against black people.
Full report at:
https://www.irishtimes.com/news/crime-and-law/rise-in-far-right-and-islamic-extremism-activity-in-ireland-last-year-says-europol-1.4287646?utm_source=iterable&utm_medium=email&utm_campaign=1314154_
--------
Southeast Asia
The Philippines' anti-terror bill is poised to cause more terror
by Marc Batac
25 Jun 2020
As the world is plagued by COVID-19, an impending anti-terrorism bill is creating more fear in the Philippines.
Recently passed by Congress, the bill is set to be signed into law by President Rodrigo Duterte. If this happens, the bill will not only suppress the fundamental rights and freedoms of Filipinos, it will also terrorise the same conflict-affected communities it seeks to protect, as it undoes decades of peacebuilding work.
Despite protests against the bill and mounting calls to provide more time for deliberations, Congress has quietly fast-tracked its passage while the rest of the country braced for the impact of COVID-19. The bill will allow for a lengthened period of warrantless detention and expanded surveillance of those law enforcement deems suspicious. It will also remove stiff penalties for wrongful detention.
Most importantly, the bill carries a vague definition of "terrorism" that offers little distinction between organisations that commit acts of terror and revolutionary armed movements, which is important for those doing mediation among warring parties. The bill will provide law enforcers with broad powers to determine what constitutes a "terrorist", shifting the burden of proof to suspected individuals and organisations. This is not only a threat to dissent and democracy, but also to peace.
Threat to peace in Mindanao
For more than half a century, the Philippine government has been trying to quell secessionist and communist armed movements in the country.
Bangsamoro, an autonomous region in the south of the Philippines, is currently in transition after decades of fighting between the government and the Moro Islamic Liberation Front. While much remains to be done, significant strides have been taken, with a transitional regional government installed last year and the decommissioning of combatants and arms under way. These gains have been made possible primarily by the peace talks and reconciliation processes.
The ill-advised and shortsighted fear of the ISIL (ISIS) armed group taking root in Mindanao, and the increased framing of the communist armed movements as "terrorist", distract the government from seeing the gains of dialogue and peacebuilding.
The threat of terrorism is real, but it is not the main threat to peace.
In fact, militaristic approaches to counterterrorism have caused the most suffering and displacements, prompted breakdowns in ongoing peace processes, and given birth to more aggressive splinter groups like the Abu Sayyaf, Bangsamoro Islamic Freedom Fighters, and Maute Group.
Insensitivity to the local context and the peace process in prioritising fighting terrorists in Mamasapano in 2015 and Marawi in 2017 delayed the passage of the Bangsamoro Basic Law and undermined reconciliation across communities in the country. These should not be forgotten, and should not be repeated.
Opening old wounds
Due to a long history of discrimination, the Moro and Muslim minorities in the Philippines are often most affected not only by terrorist attacks but by harassment and warrantless arrests packaged as "counterterrorism".
This profiling of Muslims as violent "terrorists" continues to this day. In January, it was discovered that the Manila Police District was collating information about Muslim youth and students in the National Capital Region for its "preventing violent extremism" initiatives.
Two months before, in November 2019, the police barged into the office of a long-established Mindanao-based peacebuilding organisation, without a warrant, checked the living quarters, and inspected the bags of young Moros from Marawi who were attending a psychosocial support training.
Being a woman while being both Moro and Muslim adds another layer of vulnerability, especially with the heightened visibility that comes with wearing a headscarf. Women widowed by war and children orphaned by conflict are also disproportionately affected by counterterrorism that narrowly sees them as vulnerable to being recruited into terrorism, instead of partners who can inform policies for change.
This bill will undermine efforts at reconciliation, as it will make it easier to target Muslims and open old wounds anew.
Ending or escalating the communist insurgency?
The military generals clearly see the impending anti-terrorism bill as a way to "end" the world's oldest existing communist insurgency. But the bill is more likely to reignite war and bring further insecurity.
Following the termination of the peace negotiations between the government, the Communist Party of the Philippines (CPP), the New People's Army (NPA) and the National Democratic Front of the Philippines in 2017, the government has since branded the CPP-NPA as "terrorist" and filed a petition seeking to declare them terrorist organisations under the Human Security Act, the current counterterrorism law. Following delayed progress through the courts, the government has taken a new tack: change the law directly. Thus, the Anti Terror Bill.
The argument about whether the CPP-NPA is a terrorist organisation or a revolutionary movement is fraught with a lot of biases, and a long, violent history between the communist armed movement and the military. What is clear is that the impending declaration of the CPP-NPA as terrorist organisations will impede any future peace talks, and escalate violence and displacement in communities.
As lessons have not been learned, the military should be reminded that the CPP-NPA was at its strongest under the martial law regime of the dictator Ferdinand Marcos. It is not activism that pushes communities towards violence. Rather, it is crackdowns on nonviolent civic action that will push communities to lose trust in government and take alternative routes for affecting change.
'Activism is not terrorism'
The government assures the public that crackdowns on activists will not happen under the guise of counterterrorism, but in the same breath the Speaker of the House tells activists to "not allow terrorists to hide within [their] ranks." This statement itself is telling of the government's narrow and misinformed mindset about activism and terror - that those who are radicalised through activism will participate in armed rebellions and, therefore, to prevent "violent extremism" the state should stop "radicalisation" made possible through activism.
Given this bias, and the weak intelligence capacity of law enforcers, the bill will crush progressive organisations and student activists who the state perceives are communist fronts; mediators who are perceived as communist sympathisers; and Indigenous people who are perceived as the main targets of recruitment by the NPA.
These groups are already being "red-tagged" or wrongly targeted for alleged links with the CPP-NPA. Even without the new law and under the martial law in place until last year, young Indigenous people who work on peacebuilding in Western Mindanao were reportedly wrongly included in the military's "terrorist lists," and asked to show themselves to law enforcers and prove they are not linked with the NPA. As the Senate president admitted, there is no need for martial law once this bill becomes law.
The looming anti-terror law will assume rather than fairly test the guilt of civilians, as law enforcers will have free reign to arrest and detain individuals based on mere suspicion. This is both unconstitutional and dangerous.
No shortcuts to peace
If implemented, the new anti-terrorism bill will not only impede our ability as peacebuilders and human rights defenders to bridge divides or raise the alarm when atrocities occur. It will also put our lives and limbs at risk. It will undo years of peacebuilding and further devastate the communities worst affected by terror.
If it is sincere in its "whole-of-nation approach" to peacebuilding, the government must retract the bill, re-open deliberations and listen to a wide range of voices across society, especially the voices of those who have borne the brunt of both terrorist violence and abusive counterterror laws. It must heed the lessons from community leaders and peacebuilders. We need a policy that addresses the underlying roots of terrorism, and that prevents further distrust, injustice and escalations in violence.
Yet as I write this, trust in the government is also under threat. What is left of our democracy is under threat. Peace is under threat.
It is our collective duty to end violence against civilian communities. For this same reason, we cannot take shortcuts to peace.
This rushed and unrestrained anti-terror bill will cause terror - and it will come from the state.
https://www.aljazeera.com/indepth/opinion/philippines-anti-terror-bill-poised-terror-200623145405529.html?utm_source=iterable&utm_medium=email&utm_campaign=1314154_
--------
Indonesian fishermen rescue nearly 100 Rohingya refugees in Aceh
June 26, 2020
SEUNUDDON, Indonesia: Indonesian fishermen rescued nearly 100 Rohingya refugees, including 79 women and children, in Aceh province after officials said they were planning to push them back out to sea.
Countries around Southeast Asia have grown increasingly reluctant to accept refugee boats as they battle coronavirus, but the Acehnese fishermen told Reuters that rescuing the Rohingya was a moral duty.
"It is nothing more than a sense of humanity and part of our tradition in the north Aceh fishermen community," said local fisherman Hamdani Yacob near the town of Seunuddon in northern Aceh. "We hope that the refugees will be looked after in our village."
Authorities in Aceh confirmed the refugees had been taken ashore on Thursday and provided temporary housing. The fishermen had rescued them earlier in the week and they were anchored just off the coast, but officials had said they planned to push them back out to sea with a new boat, gasoline and food.
Local authorities capitulated following protests from the local fishermen.
Images from a beach in the Seunuddon showed people from the local community towing the Rohingya boat to shore and helping to carry emaciated children onto land.
"If the government is incapable, us the community will help them, because we are human beings and they (the Rohingya refugees) are human too and we have a heart," another local fisherman, Syaiful Amri, told Reuters.
Fleeing persecution in Myanmar and refugee camps in Bangladesh, the Rohingya have for years boarded boats between November and April, when the seas are calm, to get to Southeast Asian countries including Malaysia, Thailand and Indonesia.
The crisis has worsened this year as regional states have shut their doors amid the coronavirus pandemic, leaving some boats drifting for weeks with hundreds of Rohingya aboard.
Scores of them have died as supplies have run out.
Usman Hamid, the executive director of Amnesty International in Indonesia, praised the decision to bring the refugees to land.
Full report at:
https://www.arabnews.com/node/1695606/world
--------
Death of Indonesian peacekeeper highlights dangers of field operations
June 25, 2020
Dian Septiari
The recent death of an Indonesian peacekeeper from a surprise attack in the Democratic Republic of the Congo this week has served to highlight the vulnerability of serving in United Nations peacekeeping operations.
An Indonesian Military (TNI) officer died on Tuesday while another remains in intensive care after their convoy was ambushed by rogue militia allegedly from a neighboring country, which sparked a review process by Indonesia on the UN Organization Stabilization Mission in the DRC (MONUSCO).
According to a TNI situation report, an engineering company comprising 12 personnel and escorted by a battalion from Malawi was ambushed late Monday around 20 kilometers from the city of Beni in North Kivu province, just as they were returning to the central operation base.
The ambush killed Sgt. Maj. Rama Wahyudi, who was shot in the chest. Another Indonesian soldier, First Pvt. M. Syafii Makbul, was also injured during the assault and is currently under intensive medical treatment.
The attack was carried out by "suspected members" of the Allied Democratic Forces (ADF) – an armed group in eastern DRC with links to Uganda – according to a statement from the UN peacekeeping mission.
The incident had led Indonesia to conduct an evaluation on the existing patrol system at MONUSCO, said Brig. Gen. Victor H. Simatupang, the commander of the TNI's Peacekeeping Mission Center.
"We will evaluate the security system that has been in place out so far, because the engineering company relied on the safeguards prepared by the UN," he told The Jakarta Post on Wednesday.
"We see potential vulnerability. We are thinking about recommending the addition of monitoring tools such as drones in every movement."
The company, comprising combat engineers (sappers) under Garuda Contingent XX-Q/MONUSCO, is tasked mainly to build infrastructure for the UN and the local government, and increasing troops was not an option due to a ceiling on the number of personnel set by the UN, Victor said.
"We are still carefully assessing the situation, but it is possible to make recommendations on how to reinforce our unit," he said.
Foreign Minister Retno LP Marsudi took to Twitter on Tuesday to express her condolences over the death of the soldier.
"My deepest condolences on the passing of Sgt. Maj. Rama Wahyudi, an Indonesian peacekeeper with the MONUSCO mission in the DRC," Retno tweeted.
In New York, Indonesia's mission to the United Nations, together with France, delivered a UN Security Council press statement that strongly condemned the attack and called on the Congolese authorities to investigate the attack and bring the perpetrators to justice.
"The members of the Security Council condemned in the strongest terms all attacks and provocations against MONUSCO. They underlined that deliberate attacks targeting peacekeepers may constitute war crimes under international law," the council said in the statement.
Jean-Pierre Lacroix, the UN undersecretary-general for peacekeeping operations, also condemned the attack.
"This crime must not go unpunished. I reiterate my gratitude to Indonesia for its strong support to the UN and UN Peacekeeping," he said on Twitter.
The ADF is a mainly Muslim movement that originated in neighboring Uganda in the 1990s and opposes the rule of Ugandan President Yoweri Museveni.
It moved into the DRC in 1995 and shifted its base of operations there, although it has not carried out attacks inside Uganda for years.
According to UN figures, it has killed more than 500 people since the end of October, when the Congolese army launched an offensive against it.
The ADF killed 15 UN troops at its base near the Ugandan border in December 2017, and seven in an ambush in December 2018.
Since joining UN peacekeeping missions in 1957, Indonesia has seen at least 38 of its soldiers die in the field. Most of them, however, were killed in road accidents rather than from open conflict.
Full report at:
https://www.thejakartapost.com/news/2020/06/25/death-of-indonesian-peacekeeper-highlights-dangers-of-field-operations.html
--------
Spas, massage centres get green light to operate from July 1
Nicholas Chung
June 26, 2020
PUTRAJAYA: Senior Minister for Security Ismal Sabri Yaakob today announced that spas, wellness and reflexology centres will be allowed to resume operations from July 1.
This includes massage services offered by masseurs from associations for the blind.
However, only Malaysian employees will be allowed to go back to work, with foreigners still barred for now, he said.
plse delete More to come
Employers must register their businesses with their local councils before resuming operations, while workers must be screened for Covid-19 before returning to work.
Ismail also said trade and travel fairs, as well as meetings, incentives, conventions and exhibitions (MICE), will also be allowed to be held from July 1.
A maximum of 250 people will be permitted at any one time at these events, with the usual standard operating procedures (SOPs) of registering visitors, temperature checks and social distancing practised.
He said the reopening of these sub-sectors was requested by the tourism, arts and culture ministry, and that this would stimulate the local tourism industry.
He also said Muslim staff members of foreign embassies will be allowed to conduct their Friday prayers at mosques from July 3.
Full report at:
https://www.freemalaysiatoday.com/category/nation/2020/06/26/spas-massage-centres-get-green-light-to-operate-from-july-1/
--------
Growing calls for Malaysia PM Muhyiddin to call snap polls
25 Jun 2020
KUALA LUMPUR: Calls are growing from both sides of the political divide for Malaysian Prime Minister Muhyiddin Yassin to hold snap polls, as questions linger over whether he commands an effective majority in parliament.
Adding to the fray on Thursday (Jun 25) was United Malays National Organisation's (UMNO) deputy president Mohamad Hasan. He said in a Facebook post that Malaysia has not been in such an unstable political position since achieving independence.
Referring to Singapore's upcoming election on Jul 10, Mr Mohamad said the decision by Prime Minister Lee Hsien Loong was made to ensure that the ruling government commands a good and convincing mandate.
"In the context of our country, it is better for the Perikatan Nasional (PN) government led by Prime Minister Tan Sri Muhyiddin Yassin to also do the same without further delay," he said.
Malaysia's development, prosperity and competitiveness are largely depending on political stability, which in turn affects and influences investments, economic activities and social peace, Mr Mohamad added.
The current situation makes it difficult for the government to pass critical Bills, including the budget, he said, adding that only a government with a strong mandate and a comfortable majority in parliament can function well and focus on rebuilding the economy.
"The country cannot be dragged into a flurry of uncertainties and the possibility of a change of government in a few months. This is not healthy for the country," Mr Mohamad said.
Calling for the mandate to be returned to the people, he said the real power belongs to the people and not the political blocs created just to suit the needs of politicians.
Earlier this month, UMNO's president Ahmad Zahid Hamidi said in a Facebook post that his party is ready for a general election. He also reportedly said that Mr Muhyiddin is in need of a new mandate.
Additionally, former prime minister Najib Razak argued in a Facebook broadcast last week that an early election is necessary as the PN government has only a slim majority in parliament. He also noted that the government led by Mr Muhyiddin would have trouble passing legislation and the federal budget.
Observers have said that UMNO, with its well-oiled election machinery, would perform well if snap polls were called.
The Malaysian Chinese Association, which is part of PN, has also appointed party secretary-general Chong Sin Woon as the chief of its steering committee for the next general election, which must be held before Sep 16, 2023. The party is also said to be identifying potential candidates.
Mr Muhyiddin was sworn in as Malaysia's eighth prime minister on Mar 1, following the collapse of the Pakatan Harapan (PH) government.
Dr Mahathir Mohamad had earlier resigned as prime minister after Mr Muhyiddin, the president of Parti Pribumi Bersatu Malaysia (Bersatu), pulled the party out of the coalition.
Mr Muhyiddin currently heads the informal PN coalition comprising Bersatu, Barisan Nasional and Parti Islam Se-Malaysia.
However, his legitimacy has been an issue of debate. Based on the seating arrangement of lawmakers during the May 18 sitting, PN is believed to have 114 seats out of 222, a majority of three seats.
According to news reports citing anonymous sources close to Mr Muhyiddin, he could be planning for snap polls in the first quarter of next year.
Following the failed attempt to bring forth a vote of no confidence against Mr Muhyiddin in the May 18 parliament sitting, the opposition parties are now preparing themselves for snap polls.
Full report at:
https://www.channelnewsasia.com/news/asia/malaysia-general-election-muhyiddin-yassin-snap-polls-12869606
--------
Indonesia jails Islamic State-linked couple who tried to assassinate minister
25 Jun 2020
JAKARTA: An Indonesian couple with links to the Islamic State group who tried to assassinate the country's chief security minister were jailed on Thursday (Jun 25).
A Jakarta court handed a 12-year sentence to Syahrial Alamsyah, 51, and nine years to his wife Fitria Diana, 21, after convicting them on terrorism charges for trying to kill then security minister Wiranto in October last year.
The sentences were below prosecutors' demands for a 16-year and 12-year term, respectively.
But the court rejected the couple's defence that they were solely motivated by anti-government sentiment, ruling that Alamsyah belonged to a local extremist group allied to Islamic State.
"We rule that the defendant is guilty of terrorism together with his wife," presiding judge Masrizal, who like many Indonesians goes by one name, told the West Jakarta District Court.
A third defendant was also sentenced to five years on terror charges linked to a separate attack planned with Alamsyah last year.
The hearing was held by video conference due to coronavirus concerns, with lawyers and judges wearing face masks with the defendants listening via video link.
The trial had heard that Alamsyah stabbed the now 73-year-old Wiranto as he exited a car during a visit to Pandeglang regency on Java island.
Alamsyah and his wife, who injured a member of Wiranto's entourage, were wrestled to the ground by security personnel.
Wiranto sustained knife wounds to his abdomen, but survived the attack, in which several others were also injured.
Days before the assassination attempt, the pair pledged allegiance to late Islamic State leader Abu Bakr al-Baghdadi, the court said in its ruling.
Alamsyah was a member Jamaah Ansharut Daulah (JAD), an Islamic State-linked extremist group responsible for a string of attacks, including suicide bombings at churches in Indonesia's second-biggest city Surabaya in 2018 that killed a dozen people.
JAD is among dozens of radical groups that have pledged loyalty to Islamic State in Indonesia, the world's biggest Muslim majority nation, which has long struggled with Islamist militancy.
The couple were radicalised through hardline rhetoric on social media and watching videos of Muslims fighting in Syria, their trial heard.
Full report at:
https://www.channelnewsasia.com/news/asia/indonesia-jails-islamic-state-linked-couple-assasination-attempt-12869920
--------
Indonesia: IS-Inspired Militant Sentenced to 12 Years for Stabbing Official
2020-06-25
A court in the Indonesian capital on Thursday convicted and sentenced an Islamic State-inspired militant and his wife to 12 years and nine years in prison, respectively, following their convictions for a stabbing rampage last year that injured the country's then-security minister.
Syahrial Alamsyah, 51, and Fitri Diana, 20, were found guilty of criminal conspiracy and using violence to instill terror during the October 2019 attack on then-Minister Wiranto and two other people who accompanied him during a working visit in Pandeglang, a town in Banten province.
"Based on expert testimony, what the defendants did was an act of terrorism," West Jakarta District Court chief judge Masrizal ruled while issuing the court's verdict during the remote session.
Syahrial, also known as Abu Rara, attended the hearing remotely from a detention center in Bogor, just south of Jakarta.
The couple said they accepted the verdicts and would not appeal. The sentences were lighter than the prosecutors' request of 16 and 12 years.
"In the name of God, I accept it wholeheartedly," Syahrial said.
The judges also ordered the state to pay compensation to Wiranto and another stabbing victim, Fuad Syauqi, in the amount of 37 million rupiah (U.S. $2,600) and 28.22 million rupiah ($1,986), respectively.
Also sentenced was Syahrial's accomplice, Samsudin, to five years for taking part in a conspiracy to target foreign workers in Banten. No attacks occurred.
Wiranto, who was then coordinator minister for security, legal and political affairs, was stepping out of a car in Pandeglang on Oct. 10, when the couple armed with knives attacked him and two other people, the indictment said.
Wiranto, 73, suffered two deep wounds in the stomach and required surgery. He has since recovered.
The attack was witnessed by villagers including children who had gathered to welcome Wiranto, a former armed forces chief. Videos of the incident circulated on social media soon after the stabbing.
Islamic State link
The indictment said the couple were linked to Jamaah Ansharut Daulah (JAD), a local militant network linked with Islamic State (IS).
The indictment also accused Syahrial and Fitri of involving a child in terrorism, by allegedly bringing their 12-year-old daughter to the attack.
The court heard that Syahrial had pledged allegiance to IS in October 2018 in East Java province and had diligently followed online lectures by Aman Abdurrahman, the JAD founder and chief ideologue who was sentenced to death in 2018 for orchestrating a series of terrorist attacks.
Indonesia, the world's largest Muslim-majority country, has been hit by a string of terrorist attacks since the early 2000s, with more recent strikes blamed on IS-affiliated militants.
Full report at:
https://www.benarnews.org/english/news/indonesian/couple-sentenced-06252020163825.html
--------
South Asia
U.S. finds Bangladesh improving anti-trafficking efforts in annual report
June 26, 2020
DHAKA (Thomson Reuters Foundation) - Bangladesh has improved its efforts to combat human trafficking but must do more to increase convictions and investigate cases involving Rohingyas, according to the U.S. government's annual report ranking countries on their anti-trafficking standards.
The State Department upgraded the South Asian nation in its 2020 Trafficking in Persons (TIP) report, which sorts countries into four tiers based on their efforts to fight trafficking.
Bangladesh moved from Tier 2 Watch List to Tier 2, meaning it does meet the minimum standards to eliminate trafficking but that it no longer faces special scrutiny and is at less risk of falling to Tier 3, which can trigger United States sanctions.
"We weren't happy about being on the watchlist and so we took it seriously," said Abu Bakar Siddique, additional secretary at the Ministry of Home Affairs in Bangladesh.
"We have improved our capacity and are hopeful of progressing further," he told the Thomson Reuters Foundation after the nation changed rankings for the first time since 2017.
The report credited Bangladesh with setting up tribunals to handle a backlog of trafficking cases, tripling convictions - 25 up from eight last year - and identifying 585 potential victims, which represented a 40% rise on the previous reporting period.
Yet investigations were down by nearly half and the country must "significantly increase" prosecutions and convictions - particularly for labour trafficking - the U.S. government said.
Bangladesh had at least 4,407 trafficking cases that remained pending investigation or prosecution as of the end of 2019, and a conviction rate of 1.7%, according to the report.
CHALLENGES AHEAD
Tariqul Islam, country director for the anti-trafficking charity Justice and Care, said "there was more work to do"."
"We have to renew our commitment to ensuring traffickers are pursued through the courts and to reinforce our work with other countries to handle the criminal networks," he added.
The U.S. government also criticised Bangladesh for failing to investigate "hundreds of credible reports" of trafficking of Rohingyas or eliminate high recruitment fees that Bangladeshis pay to recruiters to get jobs abroad, which can lead to abuses.
More than a million mostly Muslim Rohingya reside in camps in Cox's Bazar in Bangladesh, with the majority having fled a 2017 army-led crackdown in largely Buddhist Myanmar.
Many refugees attempting to reach Malaysia by boat from Bangladesh are being held hostage by traffickers who have demanded ransoms from their relatives with threats of violence, several families and aid groups said this month.
Bangladesh earlier this month arrested more than 50 people accused of extorting money from people on false promises of jobs overseas in a major crackdown on human trafficking after 30 migrant workers were murdered in Libya.
Yet Bangladesh lacks sufficient agreements to receive evidence from foreign governments, the report found, stating that trafficking cases can take several years to progress.
Siddique said that it would be a "big challenge" to tackle global trafficking rings without cross-border cooperation.
Elsewhere in the TIP report - which warned that the coronavirus pandemic had made more people vulnerable to trafficking - Afghanistan and Nicaragua were demoted to Tier 3 while Saudi Arabia was upgraded to the Tier 2 Watch List. [L1N2E229F]
https://www.reuters.com/article/us-bangladesh-trafficking-usa-trfn/us-finds-bangladesh-improving-anti-trafficking-efforts-in-annual-report-idUSKBN23X00L
--------
'Best of humanity': Indonesian fishermen rescue stranded Rohingya
June 26, 2020
Nearly 100 Rohingya people who were stranded off the coast of Indonesia were pulled to shore on Thursday by local people furious at local authorities' refusal to give them shelter because of fears about the coronavirus.
Some 94 people from the persecuted Myanmar minority - including 30 children - were plucked from their boat by fishermen this week before being intercepted by maritime officials from Sumatra island who pulled them closer to shore.
But officials in Lhokseumawe in the Indonesian province of Aceh refused to allow the group to land, citing coronavirus concerns.
Angry locals took matters into their own hands on Thursday by taking to their own boats to pull the group to shore.
Residents who had gathered on a local beach cheered the move, according to an AFP reporter on the scene.
"It's purely for humanitarian reasons," said fisherman Aples Kuari.
"We were sad seeing kids and pregnant women stranded at sea," he added.
Earlier on Thursday, local police chief Eko Hartanto said they wanted to send the mainly Muslim Rohingya back to sea rather than give them temporary shelter.
But authorities appeared to soften that stance in the face of local protests, and the group has now been given temporary shelter in private residences.
The Rohingya would be checked by medical staff to ensure they were virus-free, according to Aceh's rescue agency. Aceh is on the northern tip of Sumatra.
'Best of humanity'
Amnesty International praised the spirit of the rescue.
The "disembarkation of Rohingya refugees is a moment of optimism and solidarity," the organisation's Indonesia Executive Director Usman Hamid said in a statement.
"It's a credit to the community in Aceh who pushed hard and took risks so that these children, women and men could be brought to shore. They have shown the best of humanity."
About one million Rohingya live in refugee camps in Bangladesh, after fleeing their homes in Myanmar in 2017 to escape a brutal military crackdown that is now the subject of an international genocide investigation.
The continuing conflict in Myanmar's western state of Rakhine, where hundreds of thousands of Rohingya still live, was expected to be under discussion at Friday's virtual summit of the 10-member Association of Southeast Asian Nations (ASEAN).
Human Rights Watch said on Friday that ASEAN should urgently adopt concrete plans to address the crisis.
"ASEAN leaders, having done almost nothing for years, should dramatically rethink their approach to the Rohingya crisis," Brad Adams, the group's Asia director said in a statement. "A coordinated regional response is desperately needed to protect Rohingya in Myanmar, in refugee camps abroad and at sea, while pressing Myanmar to take the steps necessary for them to return home safely."
Indonesia and neighbouring Malaysia are the Rohingya's favoured destinations, with thousands paying people smugglers for the dangerous journey across the Indian Ocean every year.
Malaysia has the second largest community of Rohingya refugees after Bangladesh, and Muslim-majority Indonesia has previously allowed them to land and allowed many to stay.
But the Rohingya's plight has been compounded in recent months as officials have turned them away over concern about the coronavirus.
On Wednesday, a coastguard official in Malaysia said Rohingya detained after their boat was found off the resort island of Langkawi earlier this month had told them dozens had died during their four months at sea.
The 269 people who survived are now being held by the authorities. Malaysia is not a signatory to the UN Convention on Refugees and treats asylum seekers and refugees as "illegal" migrants.
"Some of them died at sea. They were thrown overboard," Mohd Zubil Mat Som told reporters, without specifying the exact number.
Zubil said the group had been on a larger ship carrying more than 800 people before they were transferred to the second vessel.
Authorities have not found the original boat, thought to be now carrying around 500 people.
It is not clear whether the group that landed off Indonesia's coast belonged to that larger group.
Full report at:
https://www.aljazeera.com/news/2020/06/humanity-indonesian-fishermen-rescue-stranded-rohingya-200626034603870.html
--------
Kuwait sends Bangladesh MP Shahid Islam to prison on charges of human trafficking, money laundering
25 Jun 2020
The Kuwaiti attorney general decided to detain Bangladesh MP Mohammad Shahid Islam, nicknamed Papul, in the country's central prison for a period of 21 days after interrogations of 17 days, according to an Arab Times report.
Kuwait earlier froze the bank accounts of Shahid and his company following his arrest on charges of human trafficking and money laundering. Shahid holds about five million Kuwaiti dinars, or Tk 1.38 billion, in those accounts.
The move aims to stop Shahid from withdrawing or transferring money from these accounts from which funds will be confiscated if the charges are proved in court, prosecutors said.
The public prosecutor in Kuwait decided to continue the imprisonment of the remaining suspects.
Laxmipur-2 MP Shahid was arrested on Jun 8 in Kuwait's Musharraf area. Having travelled to Kuwait as a migrant worker, Shahid now has permanent resident status and runs his own business there. His wife Salina Islam is also an MP in Bangladesh from a seat reserved for women.
The prosecution brought the charges against Shahid after hearing testimonies of five Bangladeshi workers. They claimed to have paid up to 3,000 dinars in exchange for being brought to Kuwait. They were also paying annual sums to renew their residency visas.
The Bangladeshi witnesses the MP was like a "mafia boss who demanded 'taxes' from poor, low-income workers".
Shahid provided 1.1 million dinars ($3.58 million) by cheque to an official at Kuwait's Ministry of Interior, one million dinars ($3.25 million) in cash to another official, in addition to "bags" of millions of dinars in cash to a third official, Kuwaiti media reported.
The government later suspended a senior official in the Public Manpower Authority for three months, at the request of the Public Prosecution regarding the investigations conducted with him in the case of trafficking in persons.
Kuwaiti media also accused the Bangladeshi MP of trading visas and siphoning off money to the US.
According to Kuwaiti newspaper Al-Qabas, Shahid is part of a three-member racket whose members include his wife.
It added that the trio occupied sensitive positions in three major companies that brought over 20,000 Bangladeshi workers into the country in exchange for large sums of money believed to be in excess of 50 million dinars, or $163 million.
Shahid reportedly channelled the money to the US to start a company in partnership with an American national, according to the report.
Shahid runs the Marafie Kuwaitia Group as managing director and CEO. He told investigators the company has about 9,000 employees and most of them are Bangladeshis. He also said the firm has agreements with 34 government agencies and institutions for recruitment.
Full report at:
https://bdnews24.com/bangladesh/2020/06/25/kuwait-sends-bangladesh-mp-shahid-islam-to-prison-on-charges-of-human-trafficking-money-laundering
--------
25 Taliban terrorists killed in airstrike in Afghanistan's Balkh province
Jun 25, 2020
KABUL: As many as 25 Taliban terrorists have been killed in an airstrike in northern Balkh province of Afghanistan on Wednesday night.
The airstrike occurred in Dawlat Abad village in Balkh district, TOLO news quoted Munir Ahmad Farhad, spokesperson for the provincial governor, as saying.
According to local sources, the airforce had targeted a farmer's house and during the strike four civilians, including a child and a woman, were killed.
This claim, however, has been rejected by Farhad and other officials of the 209th Shaheen Military Corps.
Taliban has not issued any statement on the matter.
https://timesofindia.indiatimes.com/world/south-asia/25-taliban-terrorists-killed-in-airstrike-in-afghanistans-balkh-province/articleshow/76620578.cms
--------
KSA informs Bangladesh about traditional Hajj cancellation
June 23rd, 2020
Less than 1,000 pilgrims from home and abroad to be allowed to perform Hajj, Saudi foreign minister tells his Bangladeshi counterpart in a telephone conversation
The Kingdom of Saudi Arabia has officially informed Bangladesh about the cancellation of traditional Hajj this year.
In a telephone conversation, Saudi Foreign Minister Prince Faisal bin Farhan Al Saud made it known to his Bangladeshi counterpart Dr AK Abdul Momen on Monday evening that there would be no traditional Hajj this year due to the Covid-19 pandemic situation, the Foreign Ministry said on Tuesday.
Only a limited number (less than 1000, both domestic and international) of Hajjis (pilgrims) will be allowed to perform Hajj this year, he said.
2020/06/samsung-june-offer-dt-1170x90-1592483732604.gif
This year's pilgrimage is scheduled to begin in the evening of July 28 and end in the evening of August 2, subject to the sightings of the moon. Over two million Muslims, including 127,000 from Bangladesh, took part in last year's Hajj, the largest annual congregation in the world.
The Saudi foreign minister further conveyed that a small number of pilgrims from each Muslim country would be allowed to join the congregation.
Full report at:
https://www.dhakatribune.com/bangladesh/foreign-affairs/2020/06/23/ksa-informs-bangladesh-about-traditional-hajj-cancellation
--------
Mullah Baradar holds Pakistani Passport and National Identity Card: Report
25 Jun 2020
The Deputy Political Chief of Taliban Mullah Abdul Ghani Baradar also holds Pakistani passport and National Identity Card.
A former official of the National Directorate of Security (NDS) has told RFE/RL that three reliable intelligence sources have confirmed that Mullah Baradar holds Pakistani passport and National Identity Card.
The official further added that Pakistan has issued the documents to Mullah Baradar under the fake name of Muhammad Arif Agha.
The official also added that Pakistan has adopted a policy to issue passports and National Identity Cards to Taliban under fake identities in a bid to pave the way for them to travel abroad.
The documents were reportedly issued to Mullah Baradar in Karachi city of Pakistan on 7th of July 2014.
However, the Taliban group has rejected that Mullah Baradar holds Pakistani passport and National Identity Card, claiming that the pictures of documents circulating on social media are fake.
Full report at:
https://www.khaama.com/mullah-baradar-holds-pakistani-passport-and-national-identity-card-report-08922/
--------
Pakistan allowed Taliban and Haqqani Network to use its territory to target Afghanistan: US
25 Jun 2020
Pakistan allowed the Taliban group and the notorious Haqqani terrorist network to use its terroritory in targeting Afghanistan during the year 2019.
"Pakistan remained a safe harbor for other regionally focused terrorist groups," the State Department said in its latested titled Country Reports on Terrorism 2019 which it published on Wednesday.
The report further added "It allowed groups targeting Afghanistan, including the Afghan Taliban and affiliated HQN, as well as groups targeting India, including LeT and its affiliated front organizations, and Jaish-e-Mohammed (JeM), to operate from its territory."
"It did not take action against other known terrorists such as JeM founder and UN-designated terrorist Masood Azhar and 2008 Mumbai attack "project manager" Sajid Mir, both of whom are believed to remain free in Pakistan," the report said.
However, the report added "Pakistan, however, did make some positive contributions to the Afghanistan peace process, such as encouraging Taliban reductions in violence."
Full report at:
https://www.khaama.com/pakistan-allowed-taliban-and-haqqani-network-to-use-its-territory-to-target-afghanistan-us-08921/
--------
Taliban kill seven Afghan military personnel in raid on army post
24 Jun 2020
Taliban fighters killed as many as seven Afghan commandos in an hours-long attack on an army outpost in northwest Badghis province, a lawmaker and the defence ministry said on Wednesday.
The assault comes as Kabul authorities accuse the armed group of stepping up attacks against security forces in recent weeks, after violence descended on much of the country following a three-day ceasefire announced in May.
Badghis lawmaker Ziauddin Akazi said the fighters attacked the Bala Murghab district outpost late on Tuesday, triggering fierce fighting that lasted for about four hours.
"Most of those killed were members of commando and special forces," Akazi said.
He said the attack came when a group of commandos and special forces travelled to the outpost from their base nearby.
The ministry of defence said seven security personnel were killed and five were wounded in the attack.
It said security forces later repelled the Taliban attack.
The Taliban have not commented.
In a separate incident in the northern Jawzjan province on Tuesday evening, a roadside bomb ripped through a rickshaw and killed six civilians, the interior ministry said.
Interior Ministry Spokesman Tariq Arian said the Taliban had placed the bomb on the road.
The Taliban group carried out 422 attacks in 32 provinces during the past week, killing 291 security personnel and wounding 550 others, Javid Faisal, spokesman for the National Security Council, said on Monday.
"Taliban's commitment to reduce violence is meaningless, and their actions inconsistent with their rhetoric on peace," he said.
The Taliban rejected the latest government figures.
"The enemy aims to hurt the peace process and intra-Afghan talks by releasing such false reports," Zabihullah Mujahid, the Taliban's spokesman in Afghanistan, told the AFP news agency.
The United States-Taliban deal signed in February set out a US withdrawal from Afghanistan in return for security assurances from the Taliban and outlined steps to be taken by the Afghan government before intra-Afghan talks.
The latest bloodshed comes as the armed group and the government inch closer to potential peace negotiations.
Full report at:
https://www.aljazeera.com/news/2020/06/taliban-kill-afghan-military-personnel-raid-army-post-200624115102043.html?utm_source=iterable&utm_medium=email&utm_campaign=1314154_
--------
Afghan Official Open to Discussing Interim Government with Taliban
By Ayaz Gul
June 24, 2020
ISLAMABAD, PAKISTAN - A top Afghan official leading peacemaking efforts with the Taliban said Wednesday that he would be open to discussing formation of an interim government with the Islamist insurgent group when the two sides begin long-awaited peace negotiations.
Abdullah Abdullah, head of Afghanistan's High Council for National Reconciliation, said the proposed dialogue has created a rare opportunity and both sides must be ready to make compromises to help end decades of hostilities.
"Let's get to the negotiating table. Let's talk there," Abdullah told an online discussion arranged by the U.S Institute of Peace when asked whether the Afghan government would accept a Taliban proposal for an interim government made up of officials from both sides.
"We have to be flexible in our thoughts. Nothing should derail us from getting to a durable, lasting and acceptable peace for all Afghans, including [the] Taliban," Abdullah said.
His remarks, however, ran contrary to Afghan President Ashraf Ghani's recent statement in which he rejected the possibility of stepping down from his office in favor of an interim government in the event of a potential peace deal with the Taliban.
Earlier this month, Ghani told a seminar organized by Washington's Atlantic Council that "any discussion of an interim government is premature. I serve at the will of the Afghan people, not at the will of the Taliban."
There was no immediate reaction available from Ghani's office, though Abdullah insisted he was consulting the president in moving the peace process forward.
The Taliban have long maintained they are fighting for establishing an Islamic system of governance in Afghanistan, denouncing the current political setup as an extension of the country's "illegal occupation" by the United States.
Prisoner swap
Afghan and Taliban negotiators have agreed to meet in Doha, Qatar, where the insurgent group maintains its political office, but a date has not been set.
Abdullah explained in his speech that the Taliban were determined not to begin peace negotiations until the government released 5,000 insurgent prisoners. He noted that 75 percent of prisoners had been set free, saying "we are very close" to releasing the rest.
In exchange, the Taliban have agreed to free 1,000 Afghan security personnel from their custody, with about 600 of them already released.
The prisoner swap is stipulated in a landmark agreement the U.S. signed with the Taliban in February, which requires all American and coalition troops to leave Afghanistan by July 2021 as demanded by the insurgents.
In return, the Islamist Taliban have committed to not allow terrorists to use Afghan soil for international attacks. They have also pledged to engage in talks with Afghans representing all segments of the society to negotiate a permanent cease-fire and power-sharing arrangement in postwar Afghanistan.
Intensifying violence
Abdullah also voiced concerns over intensifying Taliban battlefield attacks that have killed hundreds of Afghan security forces in recent weeks. "That puts our seriousness in pursuit of the peace process to the test."
He warned the violence could hurt the peace process and said those concerns have been conveyed to the Taliban.
"Where does it get us? If the current level of violence continues … and then the people leave Kabul [for Doha] in order to start talks [with the Taliban], but with the news of hundreds of people being killed recently, including civilians, that will not be a good environment for the start of negotiations," Abdullah said.
Taliban officials deny government claims about the number of insurgent attacks and casualties being inflicted on Afghan forces as baseless and an attempt to create hurdles in the way to intra-Afghan talks. They assert insurgents take "defensive action" only when they come under attack from Afghan forces.
Abdullah was appointed to lead the peace process with the Taliban last month when he ended his bitter political feud with Ghani, stemming from last September's controversy-marred Afghan presidential election.
Full report at:
https://www.voanews.com/south-central-asia/afghan-official-open-discussing-interim-government-taliban?utm_source=iterable&utm_medium=email&utm_campaign=1314154_
--------
Mideast
Envoy: Development of Trade Ties with Iran Pakistan's Priority
Jun 25, 2020
Qureshi made the remarks in a meeting with Iranian President Hassan Rouhani in Tehran on Wednesday.
The Pakistani envoy described Iran as a very important and influential country in the region, and said, "Relations with Iran are of great importance to Pakistan and all Pakistani officials emphasize the development of these relations."
"Pakistan will continue to support Iran in international forums, and we consider Iran's security as that of our own," he noted.
The new Pakistani ambassador said the development of trade and economic relations with Iran was one of his priorities, adding that the situation of trade borders between the two countries will soon return to pre-coronavirus conditions.
During the meeting, Rouhani emphasized the need to reopen borders and expand trade and goods exchanges between Iran and Pakistan, and stressed the need for the two countries to implement their agreements.
He stressed the need to develop and deepen bilateral relations and relations with Pakistan in all fields, and said, "I hope that the cooperation between the two countries in ensuring the security of the common borders will continue and expand."
Referring to the restrictions imposed on border crossings between Iran and Pakistan due to the outbreak of the coronavirus, the Iranian president expressed hope that the borders will be reopened soon in accordance with health protocols so that border market activities will be further promoted to contribute to trade exchanges between the citizens of the two countries.
In a relevant development earlier this month, Iran's Ambassador to Islamabad Seyed Mahammad Ali Hosseini and Pakistani Premier's commercial advisor Adbul Razak Dawwod called for resumption of trade cooperation at the common border, and underlined the necessity for the development of bilateral economic ties despite the coronavirus outbreak.
Hosseini conferred with Abdul Razak Dawood on reopening of Taftan border crossing by Pakistan.
He emphasized the need for continued contacts between Tehran and Islamabad through various methods to resolve problems in the coronavirus situation.
The Iranian diplomat assured Tehran's readiness to provide consular facilities to Pakistani traders and drivers in accordance with health protocols.
Abdul Razak Dawood, for his part, hailed the provision of consular services by Iran as well as the approval of commercial documents for mango exporters to Iran.
https://en.farsnews.ir/newstext.aspx?nn=13990405000379
--------
Rouhani: Iran, N. Korea Should Stand against US Excessive Demands
Jun 25, 2020
President Rouhani made the remarks as he received the credentials of North Korea's new ambassador to Tehran on Wednesday.
He described the US as a "common enemy" for Tehran and Pyongyang, and said, "The US officials have always oppressed and imposed sanctions against governments and nations such as Iran and the Democratic People's Republic of Korea, and we must stand stronger than ever against their excessive demands and coercion."
Rouhani referred to the friendly relations between the two countries since the victory of the Islamic Revolution, and expressed the hope that bilateral relations would improve to benefit both nations and the region.
The North Korean envoy, for his part, underlined the need for Tehran and Pyongyang to expand relations, and said, "Confronting the US excessive demands and hegemony" is among the commonalities of the two countries.
Separately on Wednesday, the Iranian president also received several other newly-appointed ambassadors to Tehran, including the Bulgarian, Hungarian, Nicaraguan and Pakistani envoys.
https://en.farsnews.ir/newstext.aspx?nn=13990405000333
--------
With history of killings, abductions Turkey is no safe haven for Iranian dissidents
26 June 2020
Iranian dissidents have sought refuge in Turkey since Iran's 1979 Islamic Revolution, but
with a long history of assassinations, abductions and extraditions, Turkey has been far from a safe haven for them.
Not long after the establishment of the Islamic Republic in 1979, it became clear that Turkey was not a safe destination for the Iranian opposition. The assassinations and abductions of Iranian political activists that began in Turkey in the 1980s continue to this day.
Most recently, the daughter of Iranian Kurdish anti-mine activist Eisa Bazyar said on Wednesday that his family have not heard from him since he left his home in the Turkish city of İzmir on Monday.
For all the latest headlines follow our Google News channel online or via the app.
She later tweeted that Bazyar has been found somewhere two hours away from his place of residence, adding that police have said he is "not in a good physical condition."
But why Turkey, given the risks?
Since 1979, Turkey has become a destination of choice for Iranian dissidents as it is one of just 41 countries that Iranians can travel to without a visa.
Prior to the 1979 revolution, the Iranian passport was one of the most powerful in Asia. For instance, Iranians were able to travel to all western and central European countries, bar Switzerland and Austria, without a visa.
Today, the Iranian passport is among the weakest in the world.
The Iranian passport ranks 101st in terms of travel freedom according to the Henley visa restrictions index as of April 2020.
This leaves Iranian dissidents looking to flee their home country out of concern for their safety little choice. Additionally, Turkey shares borders with Iran, giving those who cannot leave Iran to Turkey by air an option to do so by land.
Recent cases
But over the last few years, Iranians and Kurdish Iranians have gone missing, with some showing up dead; the fate of others is yet unknown.
Turkey deported 33 Iranian Kurdish activists to Iran last December, and their fate remains unknown.
Iranian state-affiliated outlets accused the deported activists of collaborating with the opposition group Komala Party of Iranian Kurdistan, which Tehran considers a terrorist and separatist group.
In November 2019, Iranian dissident Masoud Molavi was killed after being shot 11 times in Istanbul.
Molavi was a critic of the Iranian regime and posted a message on social media criticizing the Islamic Revolutionary Guard Corps (IRGC) on social media three months before he was killed.
Reuters reported late March citing two senior Turkish officials that the killing was instigated by two Iranian intelligence officers based at its consulate.
Iranian activists at the time complained that Molavi's case did not receive enough press, comparing it to the murder of Saudi journalist Jamal Khashoggi, who was also gruesomely murdered in Istanbul.
In April 2017, Saeed Karimian, founder and chief executive of the Persian-language network Gem TV, was killed alongside Kuwaiti businessman Mohammad Metab al-Shalahi in Istanbul.
Karimian, who was shot 27 times, was not involved in politics. His company, Gem TV, dubs mainly Turkish dramas and some Western TV programs into Persian for Iranians.
As with most foreign-based TV channels that broadcast into Iran, the Islamic Republic is critical of Gem TV, and accused Karimian of being the cause of the "deviation" of the Iranian youth and family and going against Islamic values.
A year before he was killed, a Tehran court tried Karimian in absentia and sentenced him to six years in jail for spreading "propaganda against the state" and "acting against national security."
Gem TV believes the Iranian regime ordered the assassination of its founder.
The company recently released a statement revealing for the first time that a few years before Karimian was killed, his relatives in Iran were harassed in an attempt to pressure Karimian to shut down Gem TV.
The company said that Iranian fugitive judge Gholamreza Mansouri, who was recently found dead in the Romanian capital Bucharest under suspicious circumstances, took Karimian's family members "hostage" and imprisoned them in the "worst possible conditions" in 2012-2013.
Gem TV added that the relatives of several others of its employees were also put under pressure by Mansouri.
The company concluded that these pressures "eventually led to the assassination of Saeed Karimian in 2017."
Earlier this month, the Turkish intelligence services in Ankara arrested Iranian Baloch activist Abdollah Bozorgzadeh.
Activists are fearful Turkey would extradite Bozorgzadeh to Iran where his life would be in danger.
There is a "high possibility" that Bozorgzadeh has been arrested at Tehran's request, Bozorgzadeh's brother Habibollah Sarbazi told Al Arabiya English on June 13.
Turkey and Iran have cooperated extensively in recent years on security matters.
Bozorgzadeh, a Baloch activist from the city of Iranshahr in the Sunni-populated south-eastern province of Sistan-Baluchestan, was arrested in June 2017 for taking part in protests in support of rape victims in the city.
He was temporarily released on bail in September 2018 and later sentenced to 11 years in prison.
Deporting Bozorgzadeh to Iran could lead to him receiving a longer prison sentence, or even the death penalty, said Sarbazi.
Older cases
Abolhassan Mojtahedzadeh, a member of the opposition group Mojahedin-e Khalq (MEK), is one of few Iranian dissidents to survive a regime kidnapping attempt in Turkey.
In November 1988, Iranian agents kidnapped Mojtahedzadeh in Istanbul and attempted to take him to Iran by land in a convoy of three vehicles with diplomatic licenses.
Mojtahedzadeh was rescued after Turkish police stopped and searched the vehicles. He was found tied up in the trunk of one of the vehicles.
Mojtahedzadeh said that he was interrogated and tortured by members of the Iranian embassy in Turkey including then-ambassador Manouchehr Mottaki who later served as foreign minister from 2005 to 2010.
In August 1992, another MEK member was kidnapped and gruesomely murdered in Istanbul.
Turkish police arrested several people during the investigation.
The arrested individuals, who were members of Islamic Action – an Iran-affiliated Turkish extremist group – confessed to receiving money from the Iranian embassy in Turkey to kidnap Ghorbani.
The kidnappers said in their confessions that they handed Ghorbani over to Iranian agents in Istanbul after kidnapping him and that it was Iranian agents who tortured and eventually killed Ghorbani.
Tehran denied involvement.
The MEK accuses Iran's ministry of intelligence as well as the Quds Force, the overseas arm of the Islamic Revolutionary Guards Corps, of killing Ghorbani.
Ghorbani's widow also blamed the Iranian regime for her husband's death.
"My husband's body was cut into pieces, his nails were pulled out, and he was strangled with an electric cord after suffering indescribable torture," she told reporters at the time.
Later the same year, on December 26, Abbas Gholizadeh, a former officer in Iran's imperial army and a member of a monarchist opposition group, was abducted in Turkey in front of his family.
Gholizadeh's dead body was found nine months later with visible signs of torture.
As with Mojtahedzadeh's case, members of Islamic Action confessed to receiving money from Iran in return for handing over Gholizadeh to Iranian agents for interrogation.
Full report at:
https://english.alarabiya.net/en/features/2020/06/26/With-history-of-killings-abductions-Turkey-is-no-safe-haven-for-Iranian-dissidents.html
--------
EU covering up Greek rights violations against refugees: Turkey
25 June 2020
Turkey has strongly denounced remarks by top Greek and EU officials critical of Ankara's handling of the refugee issue along its borders, calling them an attempt to whitewash Athens' human rights violations.
Turkish Foreign Ministry spokesman Hami Aksoy said in a statement on Thursday that the remarks by Greek Foreign Minister Nikos Dendias and EU foreign policy chief Josep Borrell at the Turkish-Greek border were an example of a desperate attempt "to cover up human rights violations and crimes against refugees".
"The fact that the EU Commission is complicit is unfortunate," he added.
"We invite the EU and Greece to fulfill their responsibilities instead of blaming our country, and to show respect for refugees' rights," Aksoy noted.
On Wednesday, Borrell said Brussels was determined to protect its frontiers as he visited the Evros border. The area was the scene of clashes in March after Turkey said it would no longer prevent migrants from going to Europe.
After accompanying Borrell to the border, Greece's top diplomat accused Turkey of encouraging a fresh surge of migrants into Europe.
Turkey has "once again declared that its land borders to Europe are open," following a brief respite during the pandemic, Dendias said.
"At the same time, its coastguard escorts boats laden with migrants to the Greek islands."
Already tense relations between Ankara and Athens deteriorated further when thousands of refugees flocked to Turkey's land border with Greece after President Recep Tayyip Erdogan said in late February their attempts to leave would not be stopped.
Thousands of migrants mostly from Syria and Afghanistan gathered in March at the Greek land border hoping to get to Western Europe. But there was violence at the frontier as Greek police fired tear gas at migrants trying to break through the fence.
Ankara has repeatedly complained that Europe has failed to keep its promises under the 2016 EU-Turkey refugee deal to help migrants and stem further migrant waves.
Officials at EU headquarters in Brussels have called for emergency meetings of migration and foreign ministers to decide joint measures to be taken by the bloc.
There are also tensions in the eastern Mediterranean after Turkey signed a maritime agreement with Libya late last year which expanded Ankara's claims over the area.
Dendias said Turkey "continues to undermine security and stability, as well as peace, in the eastern Mediterranean".
Full report at:
https://www.presstv.com/Detail/2020/06/25/628248/Turkey-EU-Greek-Hami-Aksoy-Josep-Borrell-Nikos-Dendias-Mediterranean
--------
Ambassador: Iran Role Model of Bravery for Nicaraguan People
Jun 25, 2020
"The Islamic Republic of Iran is a model of bravery and resistance for people of Nicaragua vis-à-vis the US bullying," Lenin Brawoujin said after submitting his credentials to Iranian President Hassan Rouhani in Tehran on Wednesday.
He added that Iran is a friend and brother country for Nicaragua,adding that Managua will do its best to develop bilateral relations.
During the meeting, President Rouhani underlined Tehran and Managua enjoy many commonalities and stances.
"Iran has many common stances with Nicaragua as a pioneer country in Latin America," he added.
The Iranian president said that the two countries have always had friendly and intimate relations and they should do their best in line with the development of all-out cooperation.
In a relevant development in December, Iranian Foreign Minister Mohammad Javad Zarif and his Nicaraguan counterpart Denis Moncada in a meeting in Doha discussed bilateral relations and the situation in Latin America.
During the meeting in the Qatari capital on the sidelines of Doha Forum, Zarif and Moncada underlined the need for broadening of mutual cooperation in different fields.
Full report at:
https://en.farsnews.ir/newstext.aspx?nn=13990405000640
--------
Iranian President Hopes for Further Expansion of Relations with Hungary
Jun 25, 2020
Iran is totally ready to boost mutual cooperation, stressing the need to develop relations with Hungary in diverse political, economic, trade as well as cultural areas, Rouhani said after receiving credentials of new Hungarian Ambassador Zoltan Varga Hasonits in Tehran on Wedneday.
He termed Hungary Iran's friend.
Relations between the two nations have always been good, President Rouhani said, expressing the hope to witness further expansion of relations in the future.
The commercial and economic companies in both states should be encouraged in order to develop economic relations, he noted.
Relations between Iran and Hungary have enjoyed a very long history and the two countries have had good political, economic, cultural and scientific ties after the Islamic Revolution.
New Iranian Ambassador to Hungary Hamid Reza Nafez Arefi and Hungarian President János Áder in a meeting in Budapest in February underlined the need for expanding mutual cooperation in political, scientific, academic and cultural fields.
Submitting a copy of his credentials to the Hungarian president, Arefi expressed the hope for forging relations between the two countries during his mission to the European country.
Full report at:
https://en.farsnews.ir/newstext.aspx?nn=13990405000659
--------
Iran Calls for Broadening of Economic Ties with Bulgaria
Jun 25, 2020
Iran is determined to develop the all-out relations and cooperation with Bulgaria, President Rouhani said after receiving the credentials of Bulgaria's new ambassador to Tehran Nikolina Kuneva on Wednesday.
"We can see a positive change in Tehran-Sofia relations in the future considering your interest in Persian culture and literature," he added.
President Rouhani pointed to the importance of developing economic ties and cooperation between the two countries, particularly in the field of transportation development, saying that Iran and Bulgaria should also pursue economic ties in full compliance with health guidelines, given that the outbreak of coronavirus has created difficulties and limitations.
Kuneva, for her part, urged boosting relations and cooperation between the two states in various areas, including cultural, economic and tourism, adding that in a situation where coronavirus pandemic has created a difficult situation in the world, the expansion of relations between the two countries is of prime importance.
Bulgaria had in April sent an anti-coronavirus cargo to Iran to help the country fight against the disease.
Head of Bazargan Customs Administration Sadegh Namdar announced at the time that Bulgaria's eight-ton consignment, including anti-coronavirus medical requirements arrived in Iran through the border with Turkey at Bazargan crossing.
Full report at:
https://en.farsnews.ir/newstext.aspx?nn=13990405000628
--------
Palestinian detainee sentenced to 4 life terms by Israeli court over alleged shooting
25 June 2020
An Israeli court has sentenced one Palestinian detainee to four life terms in prison over alleged involvement in shooting and murder, a report says.
On Wednesday, Israel's Ofer military court gave Asem al-Barghouti, 34, a resident of Kobar Village north of Ramallah in the occupied West Bank, four life sentences over shooting and murder charges, the Palestinian Information Center reported on Thursday.
Barghouti was arrested in January last year and accused of conducting a shooting attack on a bus stop near the outpost of Givat Assaf on December 13, 2018, and of assisting his brother Saleh in a shooting attack on a bus stop near the Ofra settlement four days earlier.
He was convicted in the murder of two Israeli troopers and a settler in November last year. He also faced charges of the attempted killing of a dozen Israeli soldiers and settlers during the same attacks.
Barghouti had previously spent 11 years behind bars in a number of Israeli prisons on charges of being a member of the Ezzedine al-Qassam Brigades, the military wing of the Palestinian resistance movement of Hamas, before he was released in April 2018.
The detainee's father spent a total of 26 years in Israeli prisons, and his brother, Saleh, was assassinated by Israeli forces in 2018 over a purported shooting attack on Israeli troops and settlers in the vicinity of Ramallah.
Full report at:
https://www.presstv.com/Detail/2020/06/25/628226/Israel-court-Palestinian-4-life-terms
--------
UNICEF: Millions of Yemeni children may starve amid pandemic
June 26, 2020
CAIRO: Millions of children could be pushed to the brink of starvation as the coronavirus pandemic sweeps across war-torn Yemen amid a "huge" drop in humanitarian aid funding, the UN children's agency warned Friday.
The stark prediction comes in a new UNICEF report, "Yemen five years on: Children, conflict and COVID-19." It said the number of malnourished Yemeni children could reach 2.4 million by the end of the year, a 20 percent increase in the current figure.
"As Yemen's devastated health system and infrastructure struggle to cope with coronavirus, the already dire situation for children is likely to deteriorate considerably," warned UNICEF.
Yemen's poor health care infrastructure is unprepared to battle the coronavirus pandemic after five years of war between a Saudi-led military coalition and the Iran-backed Houthi militia. The war, which has mostly stalemated, has also triggered the world's worst humanitarian crisis.
The conflict erupted in 2015, when the Saudi-led coalition stepped in on behalf of the internationally recognized government, which the Houthis had forced into exile when they overran the capital, Sanaa, and much of the north the previous year.
The situation in Yemen is only expected to get worse as donor countries recently cut back on aid. Yemen has officially recorded more than 1,000 cases of COVID-19, the illness caused by the coronavirus, including 275 deaths. However, the actual tally is believed to be much higher as testing capabilities are severely limited.
"If we do not receive urgent funding, children will be pushed to the brink of starvation and many will die," said Sara Beysolow Nyanti, UNICEF's representative to Yemen. "The international community will be sending a message that the lives of children ... simply do not matter."
UNICEF also warned that unless $54.5 million are disbursed for health and nutrition aid by the end of August, more than 23,000 children will be at increased risk of dying because of acute malnutrition. It also said that 5 million others under the age of 5 will not have access to vaccines against deadly diseases.
International relief agencies are alarmed by the significant decline in humanitarian funding promised earlier by donor countries. A virtual pledging conference for Yemen hosted by the UN and Saudi Arabia on June 2 saw 31 donors pledge $1.35 billion for humanitarian aid — a billion dollars short of what aid agencies needed and half of what countries had pledged in 2019.
UNICEF could only secure 10 percent of the $461 million it appealed for to cover its humanitarian response to the crisis in Yemen, and less than 40 percent of the $53 million it needs to handle the impact of COVID-19 on children, said the report.
"UNICEF is working around the clock in incredibly difficult situations to get aid to children in desperate need, but we only have a fraction of the funding required to do this," said Nyanti.
The UNICEF report came on the heels of a warning by UN humanitarian chief Mark Lowcock who told a closed UN Security Council meeting that Yemen could "fall off the cliff" without massive financial support.
Lowcock added that COVID-19 is spreading rapidly across the Arab world's poorest country, killing about 25 percent of confirmed cases — five times the global average.
Full report at:
https://www.arabnews.com/node/1695576/middle-east
--------
Turkey arrests 12 Daesh terrorists in Samsun
JUN 24, 2020
Turkish police arrested at least 12 Iraqi nationals for their links to the Daesh terror group, a security source said Wednesday.
The anti-terror and intelligence squads of police in the northern Samsun province launched an operation — supported by special operations forces — to nab 13 Iraqi national suspects in various addresses of the city, said the source, who asked not to be named due to restrictions on speaking to the media.
The operation in Ilkadım, Atakum and Canik districts led to the arrest of 12, who were active in the terror group when they were in Iraq, the source added.
Digital materials were also seized in their addresses.
An operation is underway to arrest one remaining suspect.
Turkey was one of the first countries to recognize Daesh as a terror group in 2013.
The country has since been attacked by Daesh terrorists numerous times, including in 10 suicide bombings, seven bombings and four armed attacks which killed 315 people and injured hundreds.
https://www.dailysabah.com/politics/war-on-terror/turkey-arrests-12-daesh-terrorists-in-samsun?utm_source=iterable&utm_medium=email&utm_campaign=1314154_
--------
Africa
Libya is battling against terrorism, mercenaries, Turkish colonization: LNA
26 June 2020
The Libyan National Army (LNA) is fighting an ongoing battle against terrorism and "Turkish Colonization" in Libya, said LNA spokesman Ahmed al-Mismari said on Thursday.
The LNA official said that the Libyan people comprehend and reject "Turkey's expansionist ambitions to extend its influence over our country and the entire Arab region, with aggressive colonial motives, and to control and plunder our wealth to address its struggling economic crisis."
For all the latest headlines follow our Google News channel online or via the app.
Al-Mismari said that Turkey was able to do this after "agents and traitors opened the way for them to capture our land and desecrate it, through direct military intervention, and by sending mercenaries and terrorist fighters from various global terrorist organizations, via the deal of shame and disgrace."
Tensions have been escalating in Libya and between the countries which back the two warring parties in it, the LNA, commanded by Khalifa Haftar, and the Government of National Accord (GNA), led by Fayez al-Serraj.
Turkey, which backs the GNA, has also been ramping up its military intervention in Libya recently. Ankara has been providing air support, weapons and allied fighters from Syria to the GNA.
In November, Turkey signed a military cooperation pact with the GNA. The two parties also signed a maritime demarcation deal, which gives Ankara exploration rights in the eastern Mediterranean.
The maritime deal was rejected as "illegal" by many Mediterranean countries such Greece and Cyprus.
In early in June, Turkish President Recep Tayyip Erdogan said that his country's support for the GNA "will increasingly continue."
On Thursday, Turkey said that the GNA demanded Haftar's forces to withdraw from Sirte and Jufra region as a pre-requisite for ceasefire talks.
Egypt's 'national security'
Turkey's intervention in Libya would give it a foothold in the natural-resources-rich Middle East, where its international ties to many countries are strained.
This is especially significant for Egypt, since it shares a long border with Libya, backs Haftar's LNA and its relationship with Turkey has been tense for years.
On Saturday, Egyptian President Abdel Fattah al-Sisi said that his country has a legitimate right to intervene in Libya and ordered the army to be prepared to carry out missions if necessary.
He said: "Any direct intervention from the Egyptian state has now acquired international legitimacy," adding that Egypt had received "direct threats" from "terrorist militias and mercenaries" supported by foreign countries.
Earlier in June, Egypt had called for a ceasefire in Libya, however, in his recent speech Sisi said that Egypt has always been reluctant to intervene in Libya but "the situation now is different."
"If some people think that they can cross the Sirte-Jufra frontline, this is a red line for us," he said.
The LNA spokesman thanked Egypt and Sisi for standing in solidarity with the people of Libya, and saluted all the Arab countries which supported Egypt's stance, which he said "reflected the strength of Arab solidarity in the face of terrorism, and colonization."
https://english.alarabiya.net/en/News/north-africa/2020/06/26/Libya-is-battling-against-terrorism-mercenaries-Turkish-colonization-LNA.html
--------
Sudan's transition gets vote of approval as Western, Arab donors pledge $1.8 bln
25 June 2020
Western and Arab countries pledged $1.8 billion at a conference hosted by Germany to help Sudan ease an economic crisis hampering its transitiontowards democracy after the fall of autocratic leader Omar al-Bashir.
The European Union pledged 312 million euros ($350.13 million), the United States $356.2 million, Germany 150 million
euros, France 100 million euros, and Britain £150 million for humanitarian and development programmes, chief among them
planned cash transfers to poor families with the help of theWorld Bank, officials said at the online event.
Saudi Arabia, which said it had given Sudan $500 million overthe past year, donated $10 million. The United Arab
Emirates donated $50 million.
The two Gulf countries had promised a grant to Sudan of $3billion in the form of cash and commodities after the military
ousted Bashir in April 2019.
China and Spain were among countries offering to assistSudan with relieving its debt, which stands at about $56 billion.
Prime Minister Abdalla Hamdok, running Sudan under a precarious, transitional power-sharing deal with the military since Bashir's overthrow in a popular uprising last year, is desperate for more foreign support.
Hamdok warned that without it, instability could spread through a volatile region in east and northeastern Africa and disaffected young people would keep migrating by sea to Europe.
Read more: Sudan takes step closer to IMF deal to fix decades of mismanagement
"We expect our partners to support us to have a successful transition," he said. "I do not want to paint a rosy picture. Any transition is messy and there are so many challenges."
Inflation topped an annual 100 percent last month and Sudan's currency has plunged to 141 to the dollar on the black market compared to 55 at the official rate.
UN Secretary General Antonio Guterres called for "massive" aid, saying the region needed a stable and democratic Sudan.
He gave no figure but the pledges reported so far were well below the $8 billion in aid Hamdok that said in August 2019 was needed to turn around an economy in crisis since Sudan lostalmost all its oil revenue when South Sudan seceded in 2011.
The family cash scheme is seem as key to softening the blowfrom a removal of fuel and other subsidies demanded by would-be
Western donors and which cost an estimated $3 billion annually.
Full report at:
https://english.alarabiya.net/en/News/middle-east/2020/06/25/Sudan-s-transition-get-vote-of-approval-as-Western-donors-pledge-900-mln.html
--------
Libya's GNA has 28 militia groups, spends $50 mln monthly on each one: Official
25 June 2020
Libya's Government of National Accord (GNA) funds 28 militias and mercenary groups to fight for it in the ongoing war, costing the GNA $50 million per militia monthly, according to an official citing tribal leaders.
For all the latest headlines follow our Google News channel online or via the app.
Imran Ambiou al-Qanash, a member of the Egyptian and Libyan People's Reconciliations Committee, said the GNA spends that amount on salaries, arms and weapons supplies for the militias, as well as on operations and travel.
He said the militia groups loyal to the GNA include an alliance of Tripoli-based militias known as the Libyan Protection Forces, the al-Samoud brigade, the Nawasi brigade, the joint deterrent and intervention force, the Abu Salim Axis, the Bab Tajura militia, and the Liberal Battalion.
Al-Qanash added that these militias have recently looted civilian homes in Tarhuna, to the southwest of Tripoli. They have also allegedly carried out field executions and detentions, and have carried out similar operations in areas to the south of the capital, including Bani Walid, al-Asaba and Qasr bin Ghashir.
The GNA militias include Libyan extremists, ISIS, and Syrian mercenaries, according to al-Qanash, He said that they are headed by members of the Muslim Brotherhood and al-Qaeda, and individuals who were previously detained in Guantanamo.
Full report at:
https://english.alarabiya.net/en/News/north-africa/2020/06/25/Libya-s-GNA-has-28-militia-groups-spends-50-mln-monthly-on-each-one-Source.html
--------
UAE condemns Turkey in Libya, expresses solidarity with France
25 June 2020
The United Arab Emirates affirmed its solidarity with France in its war of words with Turkey over the ongoing crisis in Libya in a post by UAE Minister of State for Foreign Affairs Anwar Gargash on Wednesday.
"The UAE affirms its solidarity with France in the face of Turkey's continuing offensive declarations & actions. We strongly condemn its dangerous behaviour & hostile action against a French navy vessel on a NATO mission to enforce the UN arms embargo earlier this month," wrote Gargash on Twitter.
French President Emmanuel Macron accused Turkey of "playing a dangerous game" in Libya by supporting the Government of National Accord (GNA) in its conflict against the Libyan National Army (LNA) and refusing to engage in the Berlin peace process.
Turkey, which has been widely accused of sending thousands of Syrian mercenaries to Libya to fight against the LNA, hit back and suggested that France was itself playing a dangerous game by supporting the LNA.
For all the latest headlines follow our Google News channel online or via the app
France-Turkey tensions high amid Libya crisis
Tensions between the two NATO allies show no signs of dissipating, as France demanded a frank discussion within the EU on its relationship with Turkey.
"France considers it essential that the European Union very quickly opens a comprehensive discussion, without taboos and naivety, on the prospects for its future relationship with Ankara," Foreign Minister Jean-Yves Le Drian told the French Senate on Wednesday.
France had previously denounced Turkey for an "extremely aggressive" naval intervention against a French ship that was participating in a NATO mission, an accusation Ankara said was "groundless."
Turkey has also been criticized by Egypt and other Arab countries for its interference in Libya.
Full report at:
https://english.alarabiya.net/en/News/north-africa/2020/06/25/UAE-condemns-Turkey-in-Libya-expresses-solidarity-with-France.html
--------
Nigerian army destroys two camps of armed gangs
Adam Abu-bashal
26.06.2020
ABUJA, Nigeria
Two camps of armed gangs in northwestern Nigeria have been destroyed in an air raid, a local official said Thursday.
Defense Ministry spokesman John Enenche told reporters that the army carried out airstrikes on the camps in Zamfara state.
Many armed gang members were killed, he said, adding guns, vehicles and ammunition were also seized during the operation.
The country's northwest sees occasional clashes between the herder Fulani people -- one of the largest ethnic groups widely dispersed across West Africa -- and neighboring sedentary tribes.
The Fulani, who migrated to the south of the country to graze their animals, claim that farmers try to steal their animals and attack their people.
Armed groups sometimes take advantage of these conflicts and organize attacks.
Nearly 2,000 people have lost their lives in the region while thousands of others have been displaced.
Full report at:
https://www.aa.com.tr/en/africa/nigerian-army-destroys-two-camps-of-armed-gangs/1890388
--------
240 Persons Killed By Boko Haram, Bandits Within Six Days In Northern Nigeria, Group Says
JUN 24, 2020
At least 240 people were killed by armed bandits and Boko Haram insurgents in various attacks on some communities in the Northern part of Nigeria between June 8 and 13, 2020, Coalition of Northern Groups has claimed.
Abdul-Azeez Suleiman, CNG spokesperson in a statement on Wednesday, said Nigerians have steadily lost confidence in the ability of authorities to reverse the uncertainties arising from the cyclical violence, which has continued to ravage the country.
The statement reads, "Within just six days – between Monday, June 8, and Saturday, June 13, 2020, the North lost over 240 lives in several attacks representing the highest number of deaths in such a short period in recent times.
"The Nigeria Security Tracker, which compiles violent incidents around the nation, stated that 114 persons lost their lives in Borno State alone within this period with Katsina State following on the list of fatalities as 75 people were killed.
"In the previous week, deaths caused by violent events stood at 183, while between Monday, May 25, and Sunday, May 31, the number of violent deaths reported by the tracker stood at 149. Alarmed by the regularity of these incidences and the audacity with which the killers roam and operate freely, the Coalition of Northern Groups organised a series of region-wide protests against the killing of innocent people starting from Katsina and Niger states on 16th June, 2020.
"The protests, scheduled to take place simultaneously in all the remaining northern states were to call attention to the numerous deficits in the security arrangement that needed to be rectified to tackle the current capabilities of the bandits and other terrorist groups."
The group said it decided to suspend its marches and explore additional avenues to sustain the momentum and urged the government to keep to its renewed commitment.
It added, "In place of the halted protests, the CNG hereby resolves to direct its state coordinators to raise their levels of vigilance and to assist the security forces with credible relevant intelligence needed to tackle the situation.
"All CNG state coordinators and officials of affiliate groups to commence the immediate process of compiling all aspects of security worries in their respective states to deliver to the various state commissioners of police for onward transmission to the chief executives and thereafter, address the press at NUJ centres in groups of not more than 25 each.
"To demand that within the next three months: The federal security forces must carry out proper threat assessments of the situation to review the current poor law enforcement, poor intelligence and the lack of synergy among other vulnerabilities. The federal authorities must tame the exponential rise in the rate of attacks and the number of terror gangs, halt the proliferation of illicit arms and mop up the estimated 350 million small arms and light weapons already believed to be in Nigeria with a large percentage in the North.
"Government must take steps to ensure that all security budget allocations are released in full to the relevant agencies on quarterly basis to ensure efficiency. The federal and state governments must commence the process of resettling the displaced communities. The federal legislators must do their job by quickly moving to amend the clause in the Constitution to allow for multiple security and public safety arrangements in the country – at the federal, state, and local government levels."
Full report at:
http://saharareporters.com/2020/06/24/240-persons-killed-boko-haram-bandits-within-six-days-northern-nigeria-group-says?utm_source=iterable&utm_medium=email&utm_campaign=1314154_
--------
URL: https://www.newageislam.com/islamic-world-news/in-remembrance-grandeur-ottoman-empire/d/122223
New Age Islam, Islam Online, Islamic Website, African Muslim News, Arab World News, South Asia News, Indian Muslim News, World Muslim News, Women in Islam, Islamic Feminism, Arab Women, Women In Arab, Islamophobia in America, Muslim Women in West, Islam Women and Feminism