New Age Islam News Bureau
23 Jul 2012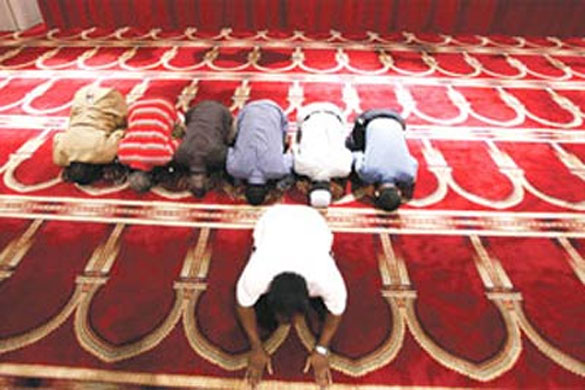 Arab World
• TV Depiction of Revered Islamic Figure Omar Ibn Al-Khattab Causes Stir in Arab World
• 93 Killed in Iraq's Deadliest Day This Year
• Syrian forces execute 20 unarmed men: activists
• Grand Mufti: Repeating Umrah in Ramadan is not a Sunnah
• At least 19,000 killed in Syrian uprising: NGO
• Preparing strike on US soil, says Iraq Qaeda chief
• 6000 Al-Qaida Fighters in Syria to Establish Emirate of Levant
• Saudi Authorities Detained Three Shiite Youngsters
• Arab League calls for transition government in Syria: Qatar
• Chemical weapons only against foreign attack, Syria says
• A patronizing narrative pigeonholes Arabs
• Arab nations urge Assad to quit as fighting rages
• Quran explains rules of physics, says Dr Kayali
• Gunmen attack Iraq base, kill at least 7 soldiers
• Syria's Bashar al-Assad should go, says Arab League
• Grand Mosque can now hold an additional 200,000 worshippers
India
• Bollywood Stars Accused Of Misusing Top Muslim Shrine to Pray For Their "Sinful" Films
• Hundreds of Punjab people demonstrate against Muslim massacres in Myanmar
• Musical gala unites Kashmiri youth 'divided' by militancy
• Supreme Court reduces Haj pilgrim's quota
• Gujarat HC stays its order rejecting Sanjiv Bhatt's plea
• Jundal gets to observe Roza during Ramadan
• Laila's father writes to Patil against Nikam's appointment
• Offer from German resident gives hope to 'stateless' in India, Bangladesh
• '26/11 was hatched across 5 nations'
• Pranab should reject Afzal's plea, create history: Bal Thackeray
Pakistan
• Pakistan Jamaat-e-Islami condemns massacre of Muslims in Myanmar
• Jets kill 14 terrorists in Orakzai
• Pakistan to ratify UN's child soldier treaty
• 250 Baloch students live helplessly in capital
• Beggars crowd twin cities as Ramazan begins
• Gender-based crime: Assault case against 6, including 3 cops
• Cash for kidneys: Pakistan's flourishing trade in illegal transplants
• Two employees of Balochistan Education Department abducted near Quetta
• Musical: 'I thought I was the only one in the world'
• American-based fashion clothing now in Karachi
• Going viral: Karachi, a game changer in Pakistan's fight against polio
• Blast near Chinese Consulate in Karachi injures 3
• KP's private militias: walking on a sword's edge
• Rehman Malik elected to Senate unopposed
• Peshawar High Court orders protection for Afghan couple
• Olympics 'visa scam' involving Pak politicians, officials exposed
• Residents of Pakistan town condole Khanna's death
• Pak SC to hear petitions against new contempt law
South Asia
• Afghan Taliban lash two men in public
• Taliban factions at each other's throats – again
• NATO: 3 Western Advisers Killed in Afghanistan
• Afghan Taliban snubs Ramazan truce appeal
• Top Afghans Tied to '90s Carnage, Researchers Say
• Bangladesh writer Humayun Ahmed: Dhaka crowds pay last respects
• Kabul blames Pakistan for cross-border shelling
• The endgame: Afghan opposition says peace hinges on Pakistan
Southeast Asia
• Schools in Muslim Countries Work on Exchanges
Mideast Asia
• Hugo's piece about Prophet Mohammad released in Persian
• Iranian parliament urges intl. community to stop Myanmar massacres
• Muslim leaders hold summit at Dar al-Fatwa, Lebanon
• Iranian MPs condemn Azerbaijan for killing of pro-hijab activist
• Iranian author Nominated for Christian Anderson Award
• Iranian Leader meets Quran reciters, memorizers
• Iranian NGO Presents Quran Online in 67 Languages
• CIA, Mossad backed perpetrators of Iranian academic's killing: intelligence minister
• Palestinians protest massacre of Muslims in Myanmar
• Iran's Pen Association condemns Myanmar's massacre of Muslims
• Iran Urges to take serious action to stop mass killing of Muslims in Myanmar
• Turkey helicopter crashes in Kurd region; 4 killed
Africa
• Somali militants execute three said to inform CIA, MI6
• Bosnian Arabs denied US entry visa
• Ethiopian police clash with Muslim protesters, several arrested
• Madagascar Army Quells Mutiny, Kills Rebel Leader
• Kidnapped Libya Olympic committee chief released
• Blast kills 10-year-old boy in Nigeria; 10 injured
North America
• Obama says Colorado shooting was an 'evil act'
• Colorado shooting: Pregnant mother of youngest victim was shot thrice
• The 'Joker' wiped their smile forever
• Oklahoma: Muslims celebrate first Ramadan in new Norman mosque
Europe
• Cage fighter's path to anti-terror inspiration
• Bias against Islam is deeply rooted in Western minds: Spanish journalist
• Are religious beliefs a drag on economic growth?
• European Union Tightens Sanctions on Syria
• UK businessmen for removal of Pak students from immigration stats
Compiled by New Age Islam News Bureau
Photo: TV Depiction of Revered Islamic Figure Omar Ibn Al-Khattab Causes Stir in Arab World
URL: https://www.newageislam.com/islamic-world-news/new-age-islam-news-bureau/tv-depiction-of-revered-islamic-figure-omar-ibn-al-khattab-causes-stir-in-arab-world/d/8017
-----------
Arab World
TV Depiction of Revered Islamic Figure Omar Ibn Al-Khattab Causes Stir in Arab World
Jul 23 2012
Cairo: A television series depicting a revered Islamic figure has caused a stir in the Arab world with thousands saying the show must be stopped because they believe such depictions are forbidden by Islam.
The historical drama, "Omar", tells the story of Omar Ibn al-Khattab, a close companion of Prophet Mohammed and influential ruler who oversaw the radical expansion of the Islamic empire in the 7th century.
The show has been at the centre of a controversy pitting Islamic conservatives against reformists.
The series is being aired during the holy month of Ramadan, when television viewing in the region peaks and advertisers pour large chunks of their budget into the small
screen's high season.
Saudi producers, the Middle East Broadcasting Centre (MBC), say it is the largest ever Arabic production, with 30,000 actors and a technical team from 10 different countries who toiled 300 days to make the 31-part series.
Al-Azhar, Sunni Islam's main seat of learning based in Cairo, has issued a fatwa against the series saying that portrayals of Prophet Mohammed and his companions are forbidden.
Saudi Arabia's Dar al-Ifta, the kingdom's Islamic legal research centre that issues religious edicts, has echoed the view.
Although visual depictions are not explicitly banned in the Koran, Sunni scholars have generally agreed that personifications of religious figures are banned because it can lead to idolatry, which is strictly forbidden.
Thousands have taken to social networking sites to denounce the series and call for it to be pulled off the air.
"The symbols of the Ummah (nation) are a red line," said one Facebook user on a page called "No to airing Omar."
The actors "will tarnish the image (of the prophets and companions) through their roles in other films and series and plays," another said.
One page showed the actors' faces with the text "Shame on Muslims!" underneath in a large red font.
But the show's producers say they received support from several leading clerics who also reviewed the historical accuracy of the series, including prominent Egyptian cleric Sheikh Yousef al-Qaradawi.
Omar Ibn al-Khattab was the second Caliph of Islam and one of the 10 close companions of Prophet Mohammed who were promised paradise, and was instrumental in the spread of Islam.
http://www.indianexpress.com/story-print/978224/
-----------
93 Killed in Iraq's Deadliest Day This Year
Jul 23 2012
BAGHDAD (AP) — An onslaught of bombings and shootings killed 93 people across Iraq on Monday, officials said, in the nation's deadliest day so far this year.
The attacks come days after the leader of al-Qaida in Iraq declared a new offensive and warned in a statement that the militant group is reorganizing in areas from which it retreated before U.S. troops left the country last December.
Al-Qaida has been seeking to re-assert its might in the security vacuum left by the departing Americans, seizing on Baghdad's fragmented government and the surge of Sunni rebels in neighboring Syria to sow instability across Iraq.
U.S. and Iraqi officials insist that the terror network's Iraqi wing, known as the Islamic State of Iraq, is nowhere as strong as it was when the nation threatened to fall into civil war between 2006 and 2008, and the Iraqi government is better established.
Still, the huge death toll Monday and an almost-daily drumbeat of killings last month show al-Qaida remains fully capable of creating chaos in the foreseeable future.
Monday's violence in 13 Iraqi cities and towns appeared coordinated: The blasts all took place within a few hours of each other. They struck mostly at security forces and government offices — two of al-Qaida's favorite targets in Iraq.
"It was a thunderous explosion," said Mohammed Munim, 35, who was working at an Interior Ministry office that issues government ID cards to residents in Baghdad's Shiite Sadr City neighborhood when a car exploded outside. Sixteen people were killed in the single attack.
"The only thing I remember was the smoke and fire, which was everywhere, said Munim from his bed in the emergency room at Sadr City hospital. He was hit by shrapnel in his neck and back.
The worst attack happened in the town of Taji, about 20 kilometers (12 miles) north of the capital. Police said bombs planted around five houses in the Sunni town exploded an hour after dawn, followed by a suicide bomber who detonated his explosives belt in the crowd of police who rushed to help. In all, 41 people were killed, police said.
And in a brazen attack on Iraq's military, three carloads of gunmen pulled up at an army base near the northeast town of town of Udaim and started firing at forces. Thirteen soldiers were killed, and the gunmen escaped before they could be caught, two senior police officials said.
The officials spoke on condition of anonymity because they were not authorized to release the information.
The overall toll made Monday the deadliest day in Iraq since U.S. troops left in mid-December. Before Monday, the deadliest day was Jan. 5, when a wave of bombings targeting Shiites killed 78 people in Baghdad and outside the southern city of Nasiriyah.
Last weekend, the leader of al-Qaida's affiliate in Iraq warned that the militant network is returning to strongholds from which it was driven from while the American military was here.
"The majority of the Sunnis in Iraq support al-Qaida and are waiting for its return," Abu Bakr al-Baghdadi, head of the Islamic State of Iraq since 2010, said in the statement that was posted on a militant website.
Previous al-Qaida offensives have failed to push the country into civil war, largely because Shiite militias in recent years have refused to join in with the kind of tit-for-tat killings that marked Iraq's descent six years ago. Additionally, for all its weaknesses, the Iraqi government now holds more authority than it did during those dark years, and, by and large, citizens have no desire to return down that path.
Still, the militant group appears to be banking on Iraq's fragility in its campaign to throw it into permanent chaos. Sectarian tensions have risen due to a political crisis stemming from terror charges the Shiite-led government has filed against one of the country's vice presidents, who is one of Iraq's top Sunni officials. He says they are politically inspired.
Militant websites appeared to be closely monitoring Monday's attacks, which were hailed by several self-proclaimed jihadists who praised the plan of destruction that al-Baghdadi's statement called "Breaking the Walls."
"Explosions rock Iraq ...The Breaking the Walls plan has come," one poster wrote.
___
Associated Press Writer Lara Jakes contributed to this report.
http://www.nytimes.com/aponline/2012/07/23/world/middleeast/ap-ml-iraq.html?ref=global-home&gwh=0017F9E03E1DC95E6A797E1EF6FA3CB0
-----------
Syrian forces execute 20 unarmed men: activists
Jul 23 2012
AMMAN: Syrian troops executed at least 20 unarmed men in the Damascus neighbourhood of Mezzeh on Sunday who they suspected of aiding rebels in the area, opposition activists in the district said.
The bodies of 20 men, aged approximately 20 to 30, were collected from the neighbourhoods of al-Ikhlas, al-Zayat, al Farouk, Hawakir al-Sabbarah and al-Basatin, several activists said by phone from Mezzeh.
"The bodies were taken to al-Mustafa Mosque. Most had bullet holes, one with as many as 18. Three had their hands tied behind their back. Some of the men were in their pajamas. Several had their legs broken or fingers missing. Others were stabbed with knifes," said Bashir al-Kheir, one of the activists.
Video footage and photos posted by activists on YouTube Facebook purportedly showed the bodies on the mosque floor.
One bore what appeared to be torture marks on the stomach. Two men appeared to have had their throats slit.
Syrian authorities have banned most independent media from the country, making verification of events on the ground difficult.
http://dawn.com/2012/07/23/syrian-forces-execute-20-unarmed-men-activists/
-----------
Grand Mufti: Repeating Umrah in Ramadan is not a Sunnah
JEDDAH: ARAB NEWS
Monday 23 July 2012
Grand Mufti Sheikh Abdul Aziz Al-Asheikh, who is also president of the Council of Senior Islamic Scholars, has said that performing Umrah many times during Ramadan is not mentioned in Sunnah.
He said this ritual should be practiced moderately.
"Performing Umrah every day in Ramadan, annoying other Muslims, is haram. It is enough to do Umrah once or twice in Ramadan," he told Okaz daily.
Al-Alsheikh was asked about numerous issues related to practices usually attached to Ramadan.
Al-Alsheikh was asked about what imams should do when praying Taraweeh.
He said Taraweeh should not be very long for the sake of elderly and ill people.
He also asked imams to make sure that they recite Qur'an fully during Taraweeh prayers in Ramadan.
Full report at:
http://www.arabnews.com/grand-mufti-repeating-umrah-ramadan-not-sunnah
-----------
At least 19,000 killed in Syrian uprising: NGO
Jul 22 2012
Beirut : More than 19,000 people have been killed in violence in Syria since the outbreak of an anti-regime revolt last year, the Syrian Observatory for Human Rights said today.
"At least 19,106 people, most of them civilians, have been killed since March last year," said the Observatory's Rami Abdel Rahman.
They included 13,296 civilians, 4,861 regime troops and 949 defectors, he said, noting that the civilian toll included people who had taken up arms against the regime.
"The toll does not include the thousands of people missing in detention," said Abdel Rahman. "Nor does it include thousands of soldiers whose deaths the regime has concealed, in a bid to keep the army's morale high."
It is impossible to independently verify death toll accounts from Syria.
The Observatory's latest count was released as regime troops stormed the Barzeh district of Damascus today, and as fighting engulfed neighbourhoods of Syria's second city Aleppo.
"Barzeh is being stormed by the feared Fourth Brigade" headed by President Bashar al-Assad's brother Maher, Abdel Rahman said, noting that dozens of neighbourhood residents were fleeing the area as helicopters pounded it and snipers were deployed on the district's rooftops.
Full report at:
http://www.indianexpress.com/story-print/977916/
-----------
Preparing strike on US soil, says Iraq Qaeda chief
Jul 23 2012
Cairo : The first online statement from the new leader of al-Qaeda's affiliate in Iraq claims that the militant network is returning to the old strongholds from which it was driven by US forces prior to the American withdrawal at the end of last year, and that it is preparing operations to free prisoners and launch attacks in the US.
The audio identifies the speaker as Abu Bakr al-Baghdadi, who became head of the Islamic State of Iraq in 2010. It was posted late Saturday on a website regularly used by the militant movement to make statements.
Al-Baghdadi also invited Muslims to come to Iraq to join his movement and warned the US that it would soon see militant attacks on its territory, although it is unclear whether he was referring to attacks by his Iraqi network or by other al-Qaeda affiliates.
He said that Iraqis who allied with the government and the Americans could repent; reports that al-Qaeda killed penitents were "lies.'' Al-Baghdadi said to the US: "You will see the mujahideen (holy warriors) at the heart of your country, since our war with you has only started now.''
The statement comes as Sunni insurgents, now believed to be dominated by the Islamic State of Iraq, step up attacks against Shias, government officials and other targets, in what is seen as a bit to undercut the authority of Iraq's state and revive sectarian conflict.
http://www.indianexpress.com/story-print/978033/
-----------
6000 Al-Qaida Fighters in Syria to Establish Emirate of Levant
Jul 23 2012
Based on the Arab proverb " a family member confesses", "al-Sharq" Saudi newspaper published a report Friday revealing that "al-Qaida" is directly present in the Syrian crisis.
The newspaper reported that "for the first time, "al-Qaida" explicitly announces its participation in Syria's fighting."
According to the daily, members of the organization raised "al-Qaida" flag upon the seizure of "Bab al-Hawa" crossing.
Meanwhile, a Jordanian security source unveiled that "more than six thousands of al-Qaida fighters entered Syria in recent months, especially since last November."
"Most of these fighters entered Syria from the Iraqi and Turkish borders," it added and pointed out that "they are mostly from non-Syrian Arab nationalities."
In parallel, the newspaper reported that "there is competition between "al-Qaida" wings in Syria, especially between "Brigades of Abdullah Azzam" led by Saudi Arabia's Majed al-Majed and the extremist "al-Nosra [Aid] to Levant Front" led by a Prince [al-Amir] known as al-Fatih [The Conqueror], Abu Mohammed Joulani."
The paper quoted Saudi sources stating that "a fierce competition is taking place in the corridors of the extremist organization, in particular that the "Victory to Levant Front" didn't follow al-Qaida at the beginning."
Full report at:
http://abna.ir/data.asp?lang=3&id=330747
-----------
Saudi Authorities Detained Three Shiite Youngsters
Jul 23 2012
Saudi Wahhabi authorities arrested 3 Shia youngsters on charges of organizing the detonations and inciting violence against the security forces.
(Ahlul Bayt News Agency) - On Sunday, July 15, 2012, Saudi Wahhabi authorities arrested three Shiite youngsters "Ali Hussan al-Jaroudi, Hussain Taqi al-Jaroudi, Mohammad Ahmad al-Medan" on charges of organizing the detonations and inciting violence against the security forces.
Three Shiite youngsters were halted by a police check-point when they were returning home in Qatif from a vacation in al-Medina al-Munwarra.
The police found a photo of Sheikh Nemer al-Nemer on their mobiles.
The security police transferred them to the General Intelligence, Al-Mabahith Al-'Aamma of al-Medina al-Munwarra
Their families have no information about them .
http://abna.ir/data.asp?lang=3&id=331019
-----------
Arab League calls for transition government in Syria: Qatar
Jul 23, 2012
DOHA: Arab nations have called on the Syrian opposition and the rebel Free Syrian Army to form a transitional government without President Bashar al-Assad, Qatar's emir said Monday.
"We call on the opposition and the ASL (Free Syrian Army) to form a government of national unity," Sheikh Hamad bin Khalifa Al-Thani told reporters in Doha at the end of an Arab League ministerial meeting on the crisis in Syria.
http://timesofindia.indiatimes.com/world/middle-east/Arab-League-calls-for-transition-government-in-Syria-Qatar/articleshow/15100194.cms
-----------
Chemical weapons only against foreign attack, Syria says
Jul 23, 2012
DAMASCUS: Syria will not use chemical or other unconventional weapons except in the case of a foreign attack, foreign ministry spokesman Jihad Makdissi said on Monday.
"Syria will not use any chemical or other unconventional weapons against its civilians, and will only use them in case of external aggression," Makdissi told a media conference in Damascus.
"Any stocks of chemical weapons that may exist, will never, ever be used against the Syrian people," he said, adding that in the event of foreign attack, "the generals will be deciding when and how we use them."
Fears have been rising that President Bashar al-Assad's regime might be prepared to use the country's arsenal of chemical weapons in the repression of a 16-month insurgency after reports his stocks were being moved around the country.
The statement came a day after the US said it would "hold accountable" any Syrian official involved in the release or use of the country's chemical weapons.
Neighbouring Jordan's King Abdullah II also said that in the event of a descent into all-out war, chemical weapons could fall into the hands of extremists, including certain rebel groups.
http://timesofindia.indiatimes.com/world/middle-east/Chemical-weapons-only-against-foreign-attack-Syria-says/articleshow/15105983.cms
-----------
A patronizing narrative pigeonholes Arabs
Hussein Ibish, July 17, 2012
A dominant but highly misleading narrative about the Arab world has taken root not only in the Middle East but also in some parts of the West. This perspective assumes the inexorable rise of Islamist parties and is impervious to contradictory evidence. The recent Libyan parliamentary elections have provided the starkest example of a contrary development.
It is now officially established, and highly significant, that the non-Islamist National Forces Alliance led by Mahmoud Jibril trounced Libyan Islamists, particularly in that portion of the voting process reserved for party lists. The separate results for individual candidates are not yet fully clear, but the Libyan Muslim Brotherhood says it will probably win only between 15 and 20 out of 120 individual seats.
This result was not widely anticipated, to say the least. But what is even more surprising than the outcome has been the reaction to it. The Western commentariat in particular has, with a few notable exceptions, largely reacted to the emerging electoral outcomes in Libya with disinterest, or even in a dismissive way.
The prevailing view remains that Islamists have nearly unassailable appeal at the present moment in Arab elections, and that the Libyan result is an exception that does not challenge that rule. Because Libya cannot be easily reconciled with the conventional wisdom, commentators have been engaging in extraordinary rhetorical contortions to protect their views from highly inconvenient facts.
Full report at:
http://www.nowlebanon.com/NewsArticleDetails.aspx?ID=419758#ixzz21QSfHTOG
-----------
Arab nations urge Assad to quit as fighting rages
July 23, 2012
Arab nations have called on Syrian President Bashar al-Assad to swiftly give up power as his troops launched a fresh assault on rebels in Damascus and the second city Aleppo.
Fighting raged Sunday despite claims by the rebel Free Syrian Army that Assad's regime was "collapsing".
In a joint statement issued early Monday after their meeting in Doha, Arab League foreign ministers called on Assad to "renounce power," promising that he and his family would be offered "a safe exit".
"There is agreement on the need for the rapid resignation of President Bashar al-Assad," Qatar's Prime Minister Sheikh Hamad bin Khalifa Al-Thani told journalists after the Arab League meeting wound up in the small hours Monday.
The Arab League called on the Free Syrian Army rebels and the opposition to form a transitional government of national unity along with the "de facto national authority," without detailing who that authority might be.
Full report at:
http://www.nowlebanon.com/NewsArticleDetails.aspx?ID=421696#ixzz21QSKeShl
-----------
Quran explains rules of physics, says Dr Kayali
Ahmed Shaaban / 23 July 2012
The Holy Quran is packed with scientific facts, some of which have been discovered by science and others not yet, affirming that the book is the word of Allah revealed to His final messenger Prophet Muhammad (Peace be upon him).
This was stated by popular Islamic scholar, architect and physicist Dr Ali Mansoor Kayali in his lecture, Physics in the Quran, on the first day of the 19-lecture programme of the 16th session of the Dubai International Holy Quran Award on Saturday night at the Dubai Chamber of Commerce and Industry.
The first lecture saw the presence of Shaikh Majid bin Mohammed bin Rashid Al Maktoum, Chairman of the Dubai Culture and Arts Authority, and a number of officials and dignitaries.
In his one-hour speech, the Syrian researcher said the 6,236-verse Holy Quran is full of rules of physics. "The night which is considered nothing in science is affirmed by the Holy Quran as a created, vibrating and dark substance just like light, and that even breathes like a human being. The Holy Quran also states that the sun is covered by the night whereas the day gives light to the sun," he said. Warning against staying up late, as advised in the Holy Quran and prophetic sayings, Dr Kayali said it has been scientifically proved that the pineal gland, a hormone that affects the modulation of wake/sleep patterns and photoperiodic (seasonal) functions, secretes the antioxidant melatonin hormone only in darkness. "Experiment on chicken has proved that 30 per cent of chicken exposed to light most of the night suffered from cancer whereas those which slept in darkness were cancer-free."
Allah says in the Holy Quran that He is not and shall never be unfair to anyone even 100 million times less than an atom. "It has been scientifically proved that the tiniest object is 100 million times smaller than an atom," he said.
Featuring some other facts in the Holy Quran, Dr Kayali said the sun is proved to be moving in a straight path. "The Holy Quran also states that the sky is like a perfect piece of cloth with black holes, and everything is swimming in an orbit counter-clockwise."
On Sunday night, renowned Egyptian scholar Dr Omar Abdul Kafi gave a lecture on the glory and dignity of the Holy Quran. On Monday, Sheikh Sulaiman Al Jubailan will give a lecture titled 'Under the Tree'.
ahmedshaaban@khaleejtimes.com
http://www.khaleejtimes.com/kt-article-display-1.asp?xfile=data/ramadannews/2012/July/ramadannews_July54.xml&section=ramadannews
-----------
Gunmen attack Iraq base, kill at least 7 soldiers
July 23, 2012
Gunmen launched an assault on a military base north of Baghdad early Monday, killing at least seven Iraqi soldiers, security and medical officials said.
A medic at the main hospital in the nearby town of Balad said they had received the bodies of seven soldiers and were treating two others for wounds from the attack on the base in Albu Slaib, east of the town of Dhuluiyah, which lies 90 kilometres (55 miles) north of Baghdad.
An Iraqi army first lieutenant put the toll at 15 dead and four wounded.
Both spoke on condition of anonymity.
The attack came a day after a spate of bombings across Iraq killed at least 17 people and wounded nearly 100 others in the worst violence to hit the country in nearly three weeks.
There was no immediate claim of responsibility for the attack, but Al-Qaeda's front group in Iraq has warned in recent days that it seeks to retake territory in the country it once held.
http://www.nowlebanon.com/NewsArticleDetails.aspx?ID=421704#ixzz21QS8kTRm
-----------
Syria's Bashar al-Assad should go, says Arab League
Jul 23 2012
Arab League foreign ministers have called on Syrian President Bashar al-Assad to step down, as rebels tell the BBC they are encouraged by last week's assassinations in Damascus.
The rebels told the BBC's Paul Wood, undercover near the Syrian capital, that the deaths of four top officials were a severe blow to the government.
Our correspondent says Islamist rebels where he is are receiving weapons and money from outside.
Fighting continued overnight.
Government forces recaptured parts of Damascus, the suburbs of Barzeh and Mezzeh, which had fallen into rebel hands.
There and in other quarters, activists said a number of suspected rebels or sympathisers were summarily executed.
Syrian state TV on Monday showed images of Syrian forces going house to house and kicking down doors in Damascus, searching for any remaining rebel fighters.
Fighting was also reported in Syria's second city, Aleppo.
'Transitional government'
After an emergency meeting in Qatar, Arab League foreign ministers called on President Assad to resign rapidly, and offered his family safe passage out of Syria.
They also called on the Syrian opposition to form a transitional government.
However, the BBC's Jim Muir, in neighbouring Lebanon, says the call appears to have fallen on deaf ears.
Full report at:
http://www.bbc.co.uk/news/world-middle-east-18950418
-----------
Grand Mosque can now hold an additional 200,000 worshippers
23 July 2012
Sheikh Abdul Rahman Al-Sudais, head of the Presidency for the Two Holy Mosques, said the capacity of the Grand Mosque has been increased to accommodate an additional 200,000 people.
The ground floor of the King Abdullah Expansion Project for worship was opened, increasing the mosque's capacity.
Custodian of the Two Holy Mosques King Abdullah has issued directives to make partial use of the project from last Friday, the first day of Ramadan.
Al-Sudais said Umrah pilgrims and visitors to the holy mosque would be able to use the expansion project for the first time this Ramadan. "As part of the ongoing largest ever expansion of the holy mosque, 12,500 new toilets will be constructed," he added.
Speaking to Al-Madinah newspaper, Al-Sudais said construction work on the terraces, bridges and other facilities at the project are nearing completion. Highly advanced mechanical and electrical systems are being used for the project. The new courtyards have been prepared to accommodate the huge number of Umrah pilgrims and visitors during the holy month, he said, adding smoking, selling of goods and begging are prohibited in the courtyards.
Air-conditioning for a part of the mosque's basement has also been completed, Al-Sudais said.
The presidency chief said the project for setting up 250 sprinkler fans as well as laying heat resistant marble on the mosque's courtyard has been implemented. A total 8,000 employees and workers were involved in implementing the presidency's Ramadan plan. They include presidency officials, guides, as well as workers for cleaning, maintenance and operations.
Full report at:
http://www.arabnews.com/grand-mosque-can-now-hold-additional-200000-worshippers
--------
India
Bollywood Stars Accused Of Misusing Top Muslim Shrine to Pray For Their "Sinful" Films
Jul 23 2012
The head of one of the most important Muslim shrines in India has complained about Bollywood stars misusing the site to pray for their "sinful" films to be commercially successful.
Zainul Abedin Ali Khan, who leads the organisation in charge of the Ajmer shrine in Rajasthan, said that celebrity pilgrims were appealing for movies that often featured immoral subjects that insulted Islam.
"Many film stars come here with (a) CD or DVD of their work and offer it while praying for the success of the film or serial, whatever it is, which is absolutely against the Islamic law," Khan told reporters in Ajmer on Sunday.
"They are using the holy place, a prime centre of religious belief, for purely commercial purposes and for degrading moral values among people," the Press Trust of India news agency quoted him as saying.
The shrine to Sufi saint Muin-ud-din Chishti, who died in Ajmer in the 13th century, is one of south Asia's most important pilgrimage sites, attracting millions of Muslim and non-Muslim devotees from around the world every year.
Khan did not name any stars, but glamorous actresses Katrina Kaif and Kareena Kapoor, veteran leading man Amitabh Bachchan and heartthrob Shah Rukh Khan are among many Bollywood personalities to have visited in the past.
"Most of the films today are full of obscenity, double meaning words and expressions," Khan explained. "It is hateful and sinful.
"I strongly condemn and object to the visit of film actors, actresses, directors and producers to the dargah (shrine) to seek blessings for such things which are taboo."
Khan also complained that an unnamed male singer-composer visited the shrine wearing a burqa and that a leading actress offered prayers while dressed in a skirt.
"This is to attract attention and it is highly objectionable," he said.
http://news.yahoo.com/indian-stars-accused-misusing-top-muslim-shrine-070043603.html
-----------
Hundreds of Punjab people demonstrate against Muslim massacres in Myanmar
Jul 23 2012
Hundreds of people staged demonstration outside Jama Masjid in Ludhiana in Punjab state against the killings of Muslims in Myanmar.
(Ahlul Bayt News Agency) - Shahi Imam of Punjab, Maulana Habibur Rahman Sani Ludhianvi led the protest demonstration and demanded the Government of India to take up the issue with Myanmar government and ask it to stop the killings.
The demonstration was organized by Majlis Ahrar Islam, an organization headed by the Shahi Imam of Punjab. Protesters raised slogans against the killings and the silence of Indian Government and Muslim leaders, TCN reported. They also burnt the national flag of Myanmar.
The Shahi Imam urged Central Government to apprise Myanmar government of the sentiments of Indian Muslims.
Talking to media persons, national president of Majlis Ahrar Islam and Shahi Imam of Punjab, Maulana Habibur Rahman Sani Ludhianvi said the killings of Muslims by Buddhist extremists cannot be tolerated. He expressed surprise that international media is constantly hiding the news about the killings of thousands of people killed so far and a number of mosques burnt so far.
While supporting the protest letter from the Muslim world to Myanmar over the killings, the Shahi Imam demanded the Muslim world to cut ties with Myanmar. He also demanded Muslims and Muslim leaders in India to hold protest demonstrations against Myanmar.
The Shahi Imam said that it is shameful that Myanmar's democracy leader, Aung San Suu Kyi, has not uttered a word against the killings.
Condemning the government of India, he said that not only it did not utter a word on the killings, but also did not give political asylum to 200 Muslims who had escaped the killings and ran away from Myanmar.
The Shahi Imam also urged the Buddhist leader Dalai Lama to raise voice against the massacres of Muslims in Myanmar.
Eminent persons present at the protest demonstration included Naib Shahi Imam Maulana Usman Rahmani, Maulana Ateequer Rahman, Mufti Jamaluddin, Mohd Shahnawaz Ahrari and special secretary of Shahi Imam, Mohd Mustaqeem Ahrari.
http://abna.ir/data.asp?lang=3&id=330982
-----------
Musical gala unites Kashmiri youth 'divided' by militancy
By Naseer Ganai
Jul 23 2012
THEY are a generation which never saw the bonding that Kashmiri Muslims and Pandits once shared, but when they danced together, it seemed as if the two communities were never separated, never drawn apart by the militancy and violence in the Valley.
Dr Amit Wanchoo of Space Communications recreated the harmonious and beautiful Kashmir on stage by bringing together Kashmiri Muslim and Kashmiri Pandit youths born after 1990, the year militancy raised its ugly head in the Valley.
This was the first time youngsters from the two communities came together to perform in a Sufi musical show, Salaam Mahara , at the Sher- i - Kashmir International Convention Centre in Srinagar.
" The idea of the show was to strengthen the bond of brotherhood between the two communities.
Full report at: Mail Today
-----------
Supreme Court reduces Haj pilgrims quota
Jul 23 2012
The Supreme Court today reduced the government's discretionary quota seats for Haj pilgrims to 300 from the 5,050 seats, proposed by it.
A bench of justices, Aftab Alam and Ranjana Prakash Desai, limited the number of seats to be allocated under the discretionary quota by the President to 100, Vice President to 75, Prime Minister to 75 and the External Affairs Minister to 50.
The bench said 200 seats would be reserved for the Haj Committee of India (HCI).
The court was informed that 11,000 seats have been reserved under government quota to be allocated for Haj 2012.
After limiting the seats under dignitaries quota and the HCI, the bench said remaining seats would go to the Haj committees of various states and Union territories.
It also said no high court will entertain any writ petition for registration of pilgrims for the Haj 2012.
Full report at:
http://www.thehindu.com/news/national/article3673269.ece
-----------
Gujarat HC stays its order rejecting Sanjiv Bhatt's plea
Jul 23 2012
The Gujarat High Court on Monday stayed its own order rejecting suspended IPS officer Sanjiv Bhatt's plea to set aside criminal procedure initiated against him in a 1990 custodial death case.
After the pronouncement of the order rejecting the petition on Friday, Mr Bhatt's advocate I H Syed requested for a stay on it for four weeks to enable him to challenge it in the Supreme Court.
Today, after hearing the arguments from all parties in the case, Justice R H Shukla directed to stay his order for three weeks.
"As the result of the stay, all the proceedings against Bhatt will also be stayed till August 13, which were likely to be initiated in Jamnagar sessions court," Mr Syed said.
Jamnagar sessions court was slated to frame charges against all the accused, including Mr Bhatt, in the case of death of one — Prabhudas Vaishnani who allegedly succumbed to injuries sustained by him in police custody on the night of October 30, 1990.
As an assistant superintendent of police in Jamnagar in October 1990, Mr Bhatt had detained many BJP workers at Jamkhabhalia, who were protesting the arrest of L K Advani after his 'rath yatra' was stopped. Prabhudas Vaishnani was one of those who were detained.
He later died in police custody and Prabhudas's brother Amrutlal Vaishnani had lodged a case against Mr Bhatt and other policemen.
http://www.thehindu.com/news/states/other-states/article3672750.ece
-----------
Jundal gets to observe roza during Ramadan
Jul 23 2012
Alleged Lashkar-e-Toiba operative Zabiuddin Ansari alias Abu Jundal, who was on Saturday remanded in Mumbai Police Crime Branch custody until July 31, will be allowed to observe roza during Ramadan. While arrangements are being made for Jundal to observe roza, Crime Branch sources said they have started grilling him about his alleged role in the 26/11 attack.
The security at the Crime Branch headquarters located at the Mumbai Police Commissioner's Office compound in Crawford Market has been beefed up to avoid any untoward incident. An armoured vehicle and a posse of commandos have been deployed near the lock-up where Ansari is lodged.
The Crime Branch secured Ansari's custody to probe his link in the 26/11 attack. It had learnt about Jundal through the lone surviving gunman, Ajmal Kasab, who had told investigators that a person had trained them in Hindi and had also given them instructions on the night of the attack.
Full report at:
http://www.indianexpress.com/story-print/978103/
-----------
Laila's father writes to Patil against Nikam's appointment
MAYURA JANWALKAR
Jul 23 2012
A week after the Mumbai Police Crime Branch sought the appointment of lawyer Ujjwal Nikam as special public prosecutor in the trial of the two accused of killing Bollywood starlet Laila Khan and five of her family members, Khan's father Nadir Patel on Saturday wrote to Home Minister R R Patil raising objections to his appointment.
In a letter, sent through his lawyer Ejaz Naqvi, Patel stated that Nikam had been unsuccessful in a number of high-profile cases, including the acquittal of accused Faheem Ansari and Sabahuddin Ahmed, tried alongside Pakistani terrorist Mohammed Ajmal Amir Kasab in the 26/11 terror attack, and the recent acquittal of four accused of kidnapping and murdering 16-year-old Adnan Patrawala in 2007.
Patel, who has moved the Bombay High Court seeking a CBI probe into the case, also sought the removal of "negligent officers" of the Mumbai Police who have portrayed his family as terrorists.
Full report at:
http://www.indianexpress.com/story-print/978094/
-----------
Offer from German resident gives hope to 'stateless' in India, Bangladesh
Madhuparna Das
Jul 23 2012
Kolkata : There are nearly 51,000 people living in 162 'enclaves' located in the border districts of India and Bangladesh. With no country to call their own, these people had been deprived of proper education, healthcare facilities and other basic amenities ever since the division of Bengal. In September 2011, Prime Minister Manmohan Singh and his Bangladesh counterpart Sheikh Hasina signed a protocol for exchange of these inhabitants and giving them citizenship. The agreement has made little headway towards implementation, and the fate of these people still hangs in balance.
But things are looking up for at least one of the inhabitants for now, which gives hope to others too for a better future.
A German woman of Polish origin has expressed wish to financially support a girl child of an enclave-dweller. Gabriela Korzeniec, a mother of two, has contacted Diptiman Sengupta, secretary of the India-Bangladesh Enclave Exchange Coordination Committee (BBEECC), asking for help in this regard.
Full report at:
http://www.indianexpress.com/story-print/978044/
-----------
'26/11 was hatched across 5 nations'
Mateen Hafeez
Jul 23, 2012
MUMBAI: The interrogation of Zabihuddin Ansari, alias Abu Jundal, by the Delhi police's special cell and central agencies has shown that the 26/11 suspects operated out of several countries.
The police believe that the conspiracy was meticulously executed in Pakistan, the US, Italy, Spain and Thailand. Still, they are taking Jundal's account with a pinch of salt. A source said his information about the international nature of the operation had loopholes. "He has given us incorrect or partial information about the accused. It seems the LeT has not kept him in the loop about each and everything. It is pertinent to note that the LeT carried out this operation in a planned manner, but not all its members may have known about the entire conspiracy. Nevertheless, whatever information we have got so far from Jundal indicates the involvement of suspects from various countries," said a source in the security establishment.
The ten 26/11 gunmen were trained in Pakistan's Muridke and Muzaffarabad camps, but they were provided with logistical support by Pakistan-born US citizen David Headley, who was initially a CIA agent but later defected to the LeT. The ten terrorists kept in touch with their handlers via VoIP (internet telephony) connections bought by agents in Italy. "Fake identity cards were most likely provided to them by an international fake passport ring operating in Spain and Thailand," said a police officer.
Full report at:
http://timesofindia.indiatimes.com/india/26/11-was-hatched-across-5-
-----------
Pranab should reject Afzal's plea, create history: Bal Thackeray
Jul 23 2012
Mumbai : Shiv Sena chief Bal Thackeray on Monday said Pranab Mukherjee should begin his tenure as the President by rejecting the mercy plea of Parliament attack convict Afzal Guru and create history.
Congratulating Mukherjee on his election as the President, Thackeray said we have great expectations from Pranab Mukherjee.
"First of all, reject Afzal's mercy petition and hang him. The terrorist who attacked the sovereignty of the country should not stay alive," Sena mouthpiece 'Samana' quoted Thackeray as saying.
"You (Pranab) will have to perform this sacred duty," he said.
Recalling the contribution of 'Lal, Bal and Pal' (Lala Lajpat Rai, Balgangadhar Tilak and Bipin Chandra Pal) in the freedom struggle, he said even today the magic of this triumvirate remains.
"Lal's Punjab is occupying the Prime Ministerial post but the country has not got the required strength. This is because of the hollow functioning (of the government) under Sonia Gandhi's blessings. Nobody can occupy the place of Tilak. Now Pal's place is taken by Pranab Mukherjee. It is a matter of pride," Thackeray said.
http://www.indianexpress.com/story-print/978197/
---------
Pakistan
Pakistan Jamaat-e-Islami condemns massacre of Muslims in Myanmar
Jul 23 2012
Jamaat-e-Islami chief Munawwar Hasan has condemned the massacre and inhumane treatment being meted out to the Muslim community in Myanmar.
LAHORE (Ahlul Bayt News Agency) - Jamaat-e-Islami chief Munawwar Hasan has condemned the massacre and inhumane treatment being meted out to the Muslim community in Myanmar.
The JI chief, in a statement on Saturday, urged the Pakistan government to lodge a strong protest with the Myanmar government over the issue and also submit a requisition to summon a session of the United Nations General Assembly to ponder over the situation.
He deplored that more than four million Muslims were facing terrorism and fanaticism in its extreme form but the international community had turned its eyes blind on the issue.
"Hundreds of thousands of Muslims in Myanmar are being forced to turn away from Islam and migrate to other countries," he added. He appealed to the international community to play its due role to safeguard the fundamental human rights in Myanmar as such incidents were a slap on the face of the so-called civilised world society.
He also called the OIC for taking measures to get the massacre of innocent people in Myanmar stopped.
http://abna.ir/data.asp?lang=3&id=330793
-----------
Jets kill 14 terrorists in Orakzai
Jul 23 2012
PESHAWAR: Pakistani military jets struck militant hideouts in Orakzai tribal region on Sunday, killing 14 militants and wounding several others, military officials said. The airstrikes targeted four hideouts in the remote Ghaljo and Dabori areas of the Orakzai tribal region, the officials said. The locations were being used by members of the Pakistan Taliban. The bombardment came a day after a failed vehicle-borne suicide attack on anti-Taliban commander's headquarters in Orakzai, which left nine, including five children, dead. According to the security sources, "the airstrikes targeted four hideouts in the remote Ghaljo and Dabori areas of the northwestern Orakzai tribal region where the Taliban set up centres." "The air strikes follow increased attacks of the militants," the military sources said. "The locations were being used by members of the Pakistan Taliban. Three militant hideouts were destroyed in the attacks."
http://www.dailytimes.com.pk/default.asp?page=2012\07\23\story_23-7-2012_pg7_4
-----------
Pakistan to ratify UN's child soldier treaty
By Qaiser Zulfiqar
July 23, 2012
ISLAMABAD: Pakistan is all set to ratify the United Nations Optional Protocol on the Involvement of Children in Armed Conflict, said Parliamentary Secretary on Human Rights and Member National Assembly (MNA) Rubina Qaimkahni.
The protocol puts checks on enlistment of children below 18 years of age in armed forces.
Pakistan had ratified the United Nations' Convention on the Rights of the Child (UNCRC) in 1990, she said. Optional protocols are parts of main treaties and open to ratification by signatory states, she said.
She said that the Optional Protocol to the Convention on the Rights of the Child on the involvement of children in armed conflicts was adopted by General Assembly through a resolution in May 2000 and it entered into force in February 2002.
The protocol reads, "States Parties shall take all feasible measures to ensure that members of their armed forces who have not attained the age of 18 years do not take a direct part in hostilities."
Full report at:
http://tribune.com.pk/story/411934/pakistan-to-ratify-uns-child-soldier-treaty/
-----------
250 Baloch students live helplessly in capital
By Kiyya Qadir Baloch
Jul 23 2012
ISLAMABAD: At present, more than 250 Baloch students are enrolled in various universities and higher education institutes in Islamabad to get their bachelor's and master's degrees in various fields, including engineering, sciences and social sciences.
Former chairman of the Baloch Students' Council Islamabad, Maktoom Baloch, believes that education plays the foremost role in the development of a nation. He thinks that education is the backbone of a developed and welfare state in today's world. He says that countries with an effective education system were leading the world economically and socially. "Quality education is considered to be a key factor in a country's development," he said, adding that Pakistan was among those few countries where education was suffering critically.
Maqbool Baloch, a senior member of the Baloch Students' Council Islamabad, said, "The constantly deteriorating education system in the rural areas of Balochistan is taking a toll on the students. Students in the far-flung areas of Pakistan, especially the rural areas of Balochistan, consider Islamabad to be a global and serene city." Maqbool Baloch said that people living in the warn-torn areas of Balochistan consider Islamabad a marvellous place for worthy education.
Full report at:
http://www.dailytimes.com.pk/default.asp?page=2012\07\23\story_23-7-2012_pg11_8
-----------
Beggars crowd twin cities as Ramazan begins
Jul 23 2012
ISLAMABAD: Professional beggars in the twin cities have started lining up in local markets and roadsides with the advent of Ramazan to collect alms, which they get with sympathies of people.
As the holy month begins, groups of beggars, mostly women, children and elderly men, have crowded markets, shopping malls, signals and streets for grabbing money in charity.
According to customers in the markets, these beggars have started using new tactics to gain the attention of the people for the purpose of getting money. They said that beggars were now asking for charity in the name of religion.
"The act of beggary has now emerged as a business, as mostly the general public believes that inability of the authorities concerned to control beggars reflected that there is a strong mafia managing these beggars," said a resident of the Commercial Market, Rawalpindi.
Instead of getting donations from the people, their constant and forceful tactics sometimes irk the general public, who feel themselves attacked by their offensive behaviour.
The beggars start annoying people from the 6th Road Chowk, while their group members continue chasing the people to the Commercial Market. Those visiting the market described it as a complex issue that seemed to be out of control now.
"The interruption of beggars becomes unbearable while shopping in the Commercial Market and main markets of the federal capital, as their common tactics create nuisance," said Rehana Khalid, a resident.
Full report at:
http://www.dailytimes.com.pk/default.asp?page=2012\07\23\story_23-7-2012_pg11_1
-----------
Gender-based crime: Assault case against 6, including 3 cops
By Owais Jafri
Published: July 23, 2012
MULTAN: Jahanian police have registered an assault case against 12 men, six of whom including three policemen identified by complainant woman.
The men are accused of attacking the woman during the hearing of her sexual assault complaint against four men on July 14. The policemen are accused of unfairly acquitting these men in their investigation.
The FIR was registered on Chief Minister Shahbaz Sharif's orders during his visit to Khanewal on Saturday.
Jahanian Station House Officer Rehan Zaki said action would be taken against the policemen identified in the FIR once a directive in that regard was received from the office of the district police officer. He said raids would soon be carried out to arrest the three other men, two of whom have been named in the sexual assault complaint. He said the third person is their counsel.
Full report at:
http://tribune.com.pk/story/411871/gender-based-crime-assault-case-against-6-including-3-cops/
-----------
Cash for kidneys: Pakistan's flourishing trade in illegal transplants
By Ali Usman
July 23, 2012
LAHORE: The illegal trade of kidney transplants continues to flourish in Pakistan, which officials believe is a result of the lack of implementation of the Transplantation of Human Organs and Tissue Act (THOTA), 2010.
Under THOTA, those involved in trafficking human organs or illegal kidney transplants can be punished with up to 10 years in jail and a fine of up to Rs1 million – but this rarely happens in reality.
"The act clearly states that both the recipient and donor involved in the commercial/illegal kidney transplant will be punished under the law … Those foreigners who were arrested while getting illegal kidney transplants were allowed to go home because their cases were registered under the Pakistan Penal Code, not under THOTA. Had all those who were arrested been tried under THOTA, no foreigner would have dared to come to Pakistan for an illegal kidney transplant," said an official of the health department, requesting anonymity.
The official provided an example of an Omani woman, Salmi Sulaman Shambha, who died in October 2010, during an illegal transplant in Lahore because of the use of unsterilised equipment. While the agent who managed the operation was arrested, the relatives of the woman were allowed to go back.
Full report at:
http://tribune.com.pk/story/411570/cash-for-kidneys-pakistans-flourishing-trade-in-illegal-transplants/
-----------
Two employees of Balochistan Education Department abducted near Quetta
Jul 23 2012
Quetta: As the top judge of Pakistan's Supreme Court tries to resolve the issue of forced disappearances, two more Baloch men have been abducted from Dasht area near Quetta, the capital of Balochistan.
According to details Master Ghous Baksh Bugti and Ali Nawaz Bugti were on the way from Quetta to their hometown Sui when the personnel of Pakistan's intelligence agencies intercepted their vehicle and abducted them. The driver of the vehicle has been hospitalised because of brutal tortured inflicted on him by the security personnel.
Both abducted men are employees of Education Department in Balochistan. Master Ghous Baksh Bugti is a teacher by profession whereas Ali Nawaz Bugti also works in the educational department. The relatives of the men fear that their lives are in extreme danger as the intelligence agencies often inhumanely tortures abducted Baloch in their secret torture cells and subsequently kill and dump their dead bodies on desolated places.
Meanwhile, Sher Mohammad Bugti, the spokesperson of the central organising committee of the Baloch Republican Party (BRP) said that the military actions by the Punjab Government against Baloch IDPs near Punjab-Balochistan border are continuing. He said they are continuously being threatened to quit the areas and relocate themselves to their hometown where the state is carrying out endless operations and atrocities.
He further said that the promises and apologies of the state actors are mere drama to conceal their crimes against humanity against Baloch in Balochistan and other parts of Pakistan by the state forces and intelligence agencies.
Mr Bugti appealed to the international community, Human Rights Organizations, United Nations, Refugee Organizations, European Union and other champions of Human Rights and freedom to immediately take note of the state atrocities against in Balochistan and play their due role to end state crime against Baloch people.
-----------
Musical: 'I thought I was the only one in the world'
By Saadia Qamar
July 22, 2012
KARACHI: Arshad Iqbal is a 17-year-old boy who recently discovered that he loves to play the drums. He has the knack to play the instrument, but he did not know it till students at the Nixor College helped him and other students at his school by giving summer lessons in drumming and theatre.
Iqbal and his friends study at the Deaf Reach School (DRS), an institution that offers academic and vocational skills training for hearing-impaired individuals. With the help of these college students, 20 DRS students performed "I Am", a musical that tells the story of a deaf boy named Arshad, at the Pakistan American Cultural Centre's (PACC) Auditorium on Thursday afternoon.
In a play directed by Huma Nadeem, a sophomore at Nixor, Iqbal played the role of Arshad, a boy who has a deep-rooted passion to play the drums. As he strikes his drumsticks against the drum skin, Arshad thinks he is performing well. But his brilliance is not acknowledged by anyone; his mother and teachers discourage him and he feels shunned by society, till one day he wins the heart of a teacher who helps him deliver a spectacular performance.
With the help of his teacher and translator Jessica Johnson, the actor (Iqbal) tells The Express Tribune, "I have worked very hard at this play and I am glad everyone enjoyed my performance." But then he adds: "I have a question for you: why are we deaf and why are we ignored by society? Until my mother told me there are others like me, I thought I was the only one in this world."
Full report at:
http://tribune.com.pk/story/411707/musical-i-thought-i-was-the-only-one-in-the-world/
-----------
American-based fashion clothing now in Karachi
July 23, 2012
KARACHI: Giorgenti New York, an American based fashion-clothing brand, recently opened its newest retail flagship store at a graceful ceremony in Clifton locality.
The new store, comprising approximately 3,600 square feet of superlative Italian design formal and casual menswear and women-wear on two floors, has an executive infrastructure engulfed in corporate pizzazz, complete with a coffee bar and tailoring booth so you can enjoy a hot sip of cuppa while you get yourself measured.
The online portal, which is a first for a clothing brand in Pakistan, is incorporated into the outlet via touch-screen panels. Each customer will have a unique profile against their own name capable of being altered on the fly, either in-store or online.
"Our new store is a great representation of the strength of Giorgenti," said Amir Mehboob, Director Operations of the Company. "There is a lot of experience and passion driving us to design perfect fittings for your esteemed personality," Mehboob added. He further plans to extend the reach of the brand to other cities and even across the border to Malaysia, Dubai and Sri Lanka in the future.
Full report at:
http://www.dailytimes.com.pk/default.asp?page=2012\07\23\story_23-7-2012_pg7_17
-----------
Going viral: Karachi, a game changer in Pakistan's fight against polio
By Samia Malik
July 23, 2012
KARACHI: Pakistan's failure to eradicate polio has been largely viewed through a political and security lens. The case of Dr Shakil Afridi, accused of trying to take blood samples from the Bin Laden family under the guise of polio vaccinations, and militant groups' opposition to vaccinations have been the centre of focus. Despite the World Health Organisation's (WHO) categorical denial of Afridi being linked with the polio campaign, the stereotypes persist. But what has also gone unnoticed is how Karachi contributes to the dire state of affairs.
Karachi is a game changer because it has had a unique role in the transmission of the virus. Until last year, it was the only mega city in the world that was a high transmission zone for polio. The Gadap area was among the only three reservoirs of polio in Pakistan from 2007 until mid-2011, along with the Federally Administered Tribal Areas and the Quetta Block (Qilla Abdullah, Pishin and Quetta) in Balochistan. However, WHO's chief coordinator for polio eradication in Pakistan Dr Elias Durry told The Express Tribune that Karachi is on the road to recovery because no cases have been recorded this year.
Full report at:
http://tribune.com.pk/story/411772/going-viral-karachi-a-game-changer-in-pakistans-fight-against-polio/
-----------
Blast near Chinese Consulate in Karachi injures 3
By Web Desk / Salman Siddiqui
July 23, 2012
KARACHI: Three people were injured as a result of a blast near the Chinese Consulate in the Clifton area of Karachi on Monday, Express News reported.
Express News reported that a bomb had been planted on a motorcycle parked near Pakistan Institute of Tourism and Hotel Management. The institute is located right next to the consulate.
Inspector General (IG) Sindh Fayyaz Leghari told The Express Tribune that TV reports stating the consulate was the target are wrong. "The bomb was planted on a motorcycle in the parking lot of the office of Pakistan Institute of Tourism and Hotel Management."
He said that two people, including one Rangers official, were injured in the incident.
One car and up to three motorcycles parked nearby were reported to have been destroyed as a result of the blast.
Various police teams, including the Crime Investigation Department and the Special Investigation Unit were on the spot to investigate the incident.
Express News reported that Legahri also announced a one million rupee award for anyone who provides information regarding the blast.
Earlier, the office of a construction company located in the nearby Khayaban-e-Shamsheer area of DHA had come under attack by extortionists. A cracker blast had left one person injured.
http://tribune.com.pk/story/412013/blast-heard-near-chinese-consulate-in-karachi/
-----------
KP's private militias: walking on a sword's edge
Jul 23 2012
PESHAWAR: The private militias under the patronage of Khyber Pakhtunkhwa government to fight the Taliban are not without consequences.
Meant to defend communities against terrorist attacks, these armed groups of volunteers, dubbed as Aman Lashkars (peace forces), offer more to worry about in the longer run than providing a sense of relief.
If one pays attention to the people, who make part of these forces, social problems the official policy has caused, and what it entails in psychological terms for the people at large, there appears to be much to feel jittery.
Undoubtedly, these private armies have had a fair share in law enforcement agencies' marginal successes against Taliban in Peshawar, protecting the provincial capital from the terrorists' unchecked onslaught.
The government functionaries insist that the peace committees in Badhber and Matani areas, on Peshawar's outskirts, have helped the government to check the terrorists' ability to carry out subversive activities.
After having been armed to the teeth, members of the peace bodies have over the years stood shoulder to shoulder with police to fight against Taliban in Peshawar's suburbs.
They faced repercussions and lost a number of volunteers to Taliban's targeted assaults. Their losses caused deeper social problems. Several women became widowed and children lost fathers. Areas' students rendered without schools after Taliban bombed educational institutions. Poverty deepened as private businesses shattered owing to deteriorating law and order situation.
Full report at:
http://dawn.com/2012/07/23/kps-private-militias-walking-on-a-swords-edge/
-----------
Rehman Malik elected to Senate unopposed
Jul 23 2012
ISLAMABAD: Advisor to the Prime Minister on Interior Rehman Malik was elected to the Senate unopposed, DawnNews reported on Monday.
A notification pertaining to Malik's election to Senate was issued on Monday.
Earlier on Friday, Malik had submitted his nomination papers for a Senate seat from Sindh.
The seat had fallen vacant when Malik had resigned from the upper house of parliament over the issue of dual nationality.
Friday was the last day for filing nominations and by the end of the office hours nobody else filed papers with Sindh's Election Commissioner Sono Khan Baloch.
Malik's name was proposed by MPAs Ghulam Mujaddid Isran, Muzaffar Ali Shajra and Muhammad Sajid, and seconded by Ayaz Soomro, Nargis N.D. Khan and Nadeem Bhutto. Accompanied by Chief Minister Syed Qaim Ali Shah, Islamuddin Shaikh, Raza Haroon, Dr Saghir Ahmad and those who proposed and backed his nomination, Malik had gone to the election commissioner's office and submitted three nomination papers.
http://dawn.com/2012/07/23/rehman-malik-elected-to-senate-unopposed/
-----------
Peshawar High Court orders protection for Afghan couple
Jul 23 2012
PESHAWAR: A court on Monday ordered police to protect an Afghan couple who eloped and fear being murdered by the bride's relatives.
Hewad, 22, and Mariyam Marjman fled Kabul last month to marry for love in the leafy town of Abbottabad in northwest Pakistan.
Marjman, also 22, told AFP her parents had wanted her to wed the ageing husband of her sister, who had recently died, instead. She says that if taken back to Afghanistan she would probably be murdered for marrying a man of her own choice.
The high court in Peshawar took up the case after being moved by reports of the couple's plight.
"The couple should be provided proper accommodation in Peshawar and foolproof security because of threats to their lives," said judge Dost Muhammad Khan.
The pair, whom Pakistani authorities had previously housed separately, were accompanied in court by an armed police escort, an AFP reporter said.
The judges called another hearing next week to check their orders had been implemented.
The young couple escaped their conservative families' clutches with the help of a Pakistani friend — taking the dead sister's two-year-old daughter with them — but say relatives of the bride have since travelled to Pakistan in a bid to force them back.
Hewad, who uses only one name, told AFP: "I have serious threats to my life from Mariyam's relatives, from her parents and her brothers.
"I am sure they can harm me here and if we are sent back to Afghanistan, they will simply shoot us."
Despite progress in recent years and improved legal protection, women suffer chronic rights abuses in both Afghanistan and Pakistan.
http://dawn.com/2012/07/23/peshawar-high-court-orders-protection-for-afghan-couple/
-----------
Olympics 'visa scam' involving Pak politicians, officials exposed
Jul 23 2012
London : A major visa scam has been unearthed by a leading UK based tabloid, involving a ring of corrupt Pakistani officials and politicians, which could give potential terrorists the chance to enter Britain with Pakistan's Olympic team.
The investigation was centred on the Lahore-based Dream Land travel agency prosecuted nine years ago for human trafficking.
"We infiltrated a crime ring offering false passports, visas and access to London 2012 as bogus support staff. We uncovered a ring of corrupt Pakistani officials and travel staff conspiring with a prominent politician to bypass stringent security," The Sun, which exposed this scam, said.
The paper's undercover investigator was first provided with a genuine Pakistani passport in a false name. Then leading Lahore politician Abid Chodhary spelled out how for around 7,000 pounds he could get our man a two-month visa and smuggle him into London 2012 as part of Pakistan's Olympic squad.
The Sun secretly filmed Chodhary as he explained how easy it was to get into the Olympic Village by masquerading as a member of the athletes support team.
"We were told we could even take part in Friday's opening ceremony. At no point did any of the corrupt officials question our reason for wanting to sneak into Britain.
"An investigation was under way yesterday after we alerted MI6, the Home Office, the UK Border Agency and the British High Commission in Pakistan's capital Islamabad," the paper reports.
One intelligence operative said: The paper has unearthed a sophisticated network of corruption.
http://www.indianexpress.com/story-print/978190/
-----------
Residents of Pakistan town condole Khanna's death
Alkesh Sharma
Jul 23, 2012
CHANDIGARH: Residents of Burewala, the birthplace of Rajesh Khanna in Pakistan's southern Punjab province, held a prayer meeting on Sunday for the late film star.
Candles were lit and a five-minute silence was observed as hundreds of his fans and old-timers attended the prayer meeting.
Khanna was born in Burewala in 1942 and his ancestral house is still intact in H-block locality. "Burewala has countless fans of Khanna. At the prayer meet, town elders shared stories about Khanna's family," said Nadeem Mushtaq Ramay, a journalist and resident.
Rana Mohammad Sarwar, current headmaster of the school where Khanna's father Lala Hiranand Khanna served as headmaster from 1931 to 1947 said, "We have checked the school records that showed Jatin Khanna (Kaka's original name) and his brother were born at Burewala. They also studied at our school."
Most residents of H-block locality of Burewala, where Khanna ancestral house is situated, attended the prayer meet. "There is no divide between India and Pakistan. We share the same emotions and same heroes. I plan to visit Kaka's Mumbai house with some friends soon," said Imran Khan, a student.
A Ludhiana resident, who is a frequent visitor to Pakistan, specifically Burewala, had also sent pictures of Rajesh Khanna's house and his old school to the superstar at his Mumbai address in 2004 and in April 2012. "Whenever I went to Burewala, I found people were so enthusiastic about Kaka that I wanted to draw his attention towards his fans at his birthplace. I sent a letter and pictures clicked in Burewala, at Kaka's Mumbai address twice but did not get any response," Manjitinder Singh Johal, 42, a resident of Mandiani village of Ludhiana, told TOI.
http://timesofindia.indiatimes.com/india/Residents-of-Pakistan-town-condole-Khannas-death/articleshow/15101019.cms
-------
Pak SC to hear petitions against new contempt law
Jul 23, 2012
Islamabad: Pakistan's Supreme Court today began hearing a bunch of petitions against a new contempt of court law aimed at protecting top government functionaries, with chief Justice Iftikhar Chaudhry saying a quick decision is expected as the matter involves the independence of the judiciary.
A five-judge bench headed by the Chief Justice is hearing more than 25 petitions challenging the Contempt of Court Act of 2012 that was passed by Parliament, apparently to protect Prime Minister Raja Pervez Ashraf from possible disqualification for refusing to revive graft cases against President Asif Ali Zardari.
Abdul Shakoor Paracha, the federal government counsel, asked the bench to form a full bench to hear the petitions in view of the importance of the matter.
He also sought more time to prepare for the case, saying he was appointed by the government only yesterday. The Chief Justice remarked that only the apex court has
the right to decide the type of bench that will hear a case. He cited examples of similar cases being heard in the past by smaller benches and said the current bench has senior judges who could handle the matter.
Full report at:
http://www.firstpost.com/world/pak-sc-to-hear-petitions-against-new-contempt-law-387478.html
-------
South Asia
Afghan Taliban lash two men in public
July 22, 2012
PULI ALAM: Taliban militants lashed two men in public on Saturday, witnesses and officials said, just weeks after a video surfaced of a woman being executed for adultery before a crowd of cheering men.
The men received 40 lashes each with a leather whip in front of more than a hundred people in Shash Qala village of Charkh district in Logar province, some 70 kilometres south of Kabul.
They were arrested by Taliban insurgents while trying to kidnap the son of a rich man three days earlier, Bashir, a villager, told AFP.
"This morning, the Taliban called people on loudspeakers to gather and watch two men being lashed by them for trying to kidnap a 10-year old boy," Bashir said.
"They were lashed 40 times each by two armed Taliban whose faces were covered."
Charkh district chief Farooq Humayun said the local administration was aware of the incident and an investigation was under way.
A local Taliban commander in the area, who did not want to be named, told AFP that they had carried out the punishment to establish sharia law in the country.
Public punishments and executions were common when the Taliban regime was in power from 1996 until 2001, when they were ousted by a US-led invasion and launched an insurgency against the Western-backed government.
Earlier this month, a horrific video showing the public execution of a 22-year-old woman who was shot in the back in Parwan province north of Kabul, allegedly by the Taliban, drew worldwide condemnation.
Afghan President Hamid Karzai this week admitted his administration was unable to deliver justice to the people, despite decade-long international efforts to rebuild the nation. (With additional input from AFP)
http://tribune.com.pk/story/411593/afghan-taliban-lash-two-men-in-public/
-----------
Taliban factions at each other's throats – again
By Zia Khan
July 23, 2012
ISLAMABAD: Hardly half a year after forming an alliance on the intervention of Taliban head-honcho Mullah Omar, rival groups of the Pakistani Taliban are once again at each other's throats following the killing of a top militant blamed on a pro-government commander.
Tension gripped South Waziristan Agency when Hakimullah Mehsud-led Tehreek-e-Taliban Pakistan (TTP) threatened to attack the Wana-based Maulvi Nazir group to avenge last week's murder of Wali Muhammad Wazir.
Wali was a younger brother of Nek Muhammad Wazir, the militant commander who had unleashed Talibanisation in Pakistan before he died in the first-ever drone attack in the country in 2004.
Wali Muhammad's henchmen took control of the area to hunt down the murderers, but nobody has been identified thus far. Approximately 200 men are associated with his group, and most are non-local.
If fighting breaks out between the TTP and Maulvi Nazir group the new fragile alliance of Pakistani Taliban, Shura Muraqba, which was formed this February after years of infighting, will be at stake.
According to earlier reports, top leaders of the Haqqani network— a deadly Afghan Taliban group based in North Waziristan—had mediated between the Pakistani Taliban for the formation of Shura Muraqba.
Full report at:
http://tribune.com.pk/story/411894/taliban-factions-at-each-others-throats--again/
-----------
NATO: 3 Western Advisers Killed in Afghanistan
Jul 23 2012
KABUL, Afghanistan (AP) — Three civilian police training advisers, two American and one British, were killed over the weekend by an Afghan policeman at a training academy in western Afghanistan, Afghan officials and a NATO official said on Monday.
In a separate incident, the NATO official said two service members with the U.S.-led coalition were wounded on Monday when an Afghan soldier opened fire on them in northern Afghanistan. No other details have been disclosed about that shooting.
The official spoke on condition of anonymity because the two incidents are still under investigation.
Afghan security forces or militants dressed in their uniforms have been killing a rising number of coalition forces, but they have not been specifically targeting civilian contractors working for the coalition. So far this year, 26 foreign troops have been killed in this type of attack.
Sunday's shooting occurred at a police training academy 20 kilometers (12 miles) south of the western city of Herat.
Full report at:
http://www.nytimes.com/aponline/2012/07/23/world/asia/ap-as-
-----------
Afghan Taliban snub Ramazan truce appeal
By Tahir Khan
July 23, 2012
ISLAMABAD: The Afghan Taliban have rejected an appeal for a 'Ramazan truce' from the government-backed peace council, saying Muslims have emerged victorious in wars fought during the holy month.
The Afghan High Peace Council had earlier asked insurgents to stop fighting and show respect for the holy month of Ramazan which started across Afghanistan on July 20.
A senior member of the council, Mohammad Esmail Qasemyar urged the Taliban to avoid bloodshed, saying Ramazan was the best time to kick-start peace talks. Qasemyar added that the Taliban "must take advantage of this opportunity".
The Taliban, however, are in no mood to call a time-out in fighting.
"Those who invaded our homeland and those who have supported the invaders do not deserve any mercy on any day or any specific month," Afghan Taliban's spokesman Zabihullah Mujahid told The Express Tribune.
Full report at:
http://tribune.com.pk/story/411917/afghan-taliban-snub-ramazan-truce-appeal/
-----------
Top Afghans Tied to '90s Carnage, Researchers Say
By ROD NORDLAND
Jul 23 2012
MAZAR-I-SHARIF, Afghanistan — The atrocities of the Afghan civil war in the 1990s are still recounted in whispers here — tales of horror born out of a scorched-earth ethnic and factional conflict in which civilians and captured combatants were frequently slaughtered en masse.
Stark evidence of such killings are held in the mass graves that still litter the Afghan countryside. One such site is outside Mazar-i-Sharif, in the north. It lies only half-excavated, with bones and the remains of clothing partially obscured by water and mud from recent flooding. Experts say at least 16 victims are here, and each skull that lies exposed is uniformly punctured by a single bullet-entry hole at the back.
The powerful men accused of responsibility for these deaths and tens of thousands of others — some said to be directly at their orders, others carried out by men in their chain of command — are named in the pages of a monumental 800-page report on human rights abuses in Afghanistan from the Soviet era in the '80s to the fall of the Taliban in 2001, according to researchers and officials who helped compile the study over the past six years.
The list of names is a sort of who's who of power players in Afghanistan: former and current warlords or officials, some now in very prominent positions in the national government, as well as in insurgent factions fighting it. Many of the named men were principals in the civil war era after the Soviet Union withdrew, and they are also frequently mentioned when talk here turns to fears of violence after the end of the NATO combat mission in 2014. Already, there is growing concern about a scramble for power and resources along ethnic and tribal lines.
Full report at:
http://www.nytimes.com/2012/07/23/world/asia/key-afghans-tied-to-mass-killings-in-90s-
-----------
Bangladesh writer Humayun Ahmed: Dhaka crowds pay last respects
Jul 23 2012
Thousands of people have gathered in the Bangladeshi capital, Dhaka, to pay their last respects to the writer Humayun Ahmed, who died last week.
His body arrived in Dhaka from New York early on Monday and was taken to the city's Central Shaheed Minar monument.
Political leaders, officials and fans thronged to get a last glimpse of the writer before his burial.
The best-selling author was known for his depiction of the tribulations of ordinary middle-class Bangladeshi life.
BBC Bengali editor Sabir Mustafa says he was idolised by an entire generation of young men and women who grew up in the 1980s and 1990s.
In his novels Ahmed created characters - eccentric, comic, loveable - to which young readers readily related.
He introduced a deadpan humour in his writing that was very rare in Bengali literature. He explored the ups and downs of urban life with a sharp eye for the funny side, our correspondent says.
He died of cancer aged 64 at Manhattan's Bellevue Hospital in New York on Thursday night.
http://www.bbc.co.uk/news/world-asia-18950267
-----------
Kabul blames Pakistan for cross-border shelling
July 23, 2012
Afghanistan on Sunday alleged that hundreds of shells and rockets were fired into their country from Pakistan, which hit homes and killed four civilians along border areas, according to an Associated Press (AP) report.
The report said the Afghan government has not yet openly blamed the Pakistani military for the artillery barrage which reportedly hit the eastern provinces of Nuristan and Kunar.
In the latest allegations of cross-border violation, Afghan officials claimed that nearly 400 rockets and shells were fired into Afghanistan on Saturday and killed at least four people in Dangam district along the border, according to Kunar provincial police chief Gen Ewaz Mohammad Naziri.
He said those attacks and others in nearby Nuristan had led to hundreds of families fleeing the area. However, the information could not be independently verified because the area is largely off-limits to reporters, according to AP.
Kabul's Foreign Ministry spokesman Janan Mosazai told AP: "We believe that the continuation of such rocket attacks will have a negative impact on the friendly relations between Afghanistan and Pakistan."
President Hamid Karzai discussed the issue of artillery fire coming from Pakistan at a weekly meeting of his national security council, a statement said. It added that Karzai ordered an in-depth investigation into the attacks.
http://tribune.com.pk/story/411902/kabul-blames-pakistan-for-cross-border-shelling/
-----------
The endgame: Afghan opposition says peace hinges on Pakistan
By Kamran Yousaf
July 23, 2012
KABUL: While the Afghan endgame may be a difficult proposition for the Americans and their western allies to handle but for many Afghan leaders the solution is simple — they believe that the road to peace in Kabul is through Islamabad.
According to two influential Afghan political figures – one heading the main opposition alliance and the other representing the Afghan High Peace Council – Pakistan still controls the Taliban.
"The Americans can't do it, it is only Pakistan which can persuade the Taliban and the Haqqanis to come to the negotiating table," argued Ahmed Zia Massoud, who heads the main opposition alliance called the Afghan National Front (ANF).
He is also the younger brother of the late Ahmed Shah Massoud, the prominent leader of the Northern Alliance, which fought against both the former Soviet Union and the Taliban rule.
Talking exclusively to The Express Tribune at Pakistan's embassy in Kabul, Massoud said efforts to reach out to the Taliban would remain futile unless Pakistan was part of the process.
His remarks indicate the widely-held perception in Kabul that the Taliban will make peace only if Pakistan asks them to do so. This view was also endorsed by a senior member of the Afghan High Peace Council — a forum mandated to hold direct negotiations with the Taliban.
"Pakistan always plays politics, we know Taliban are still in their (Pakistan's) control," said Maulvi Qayamuddin Kashaf, who lived in Peshawar for 20 years during the Soviet invasion of Afghanistan.
Full report at:
http://tribune.com.pk/story/411919/the-endgame-afghan-opposition-says-peace-hinges-on-pakistan/
----------
Southeast Asia
Schools in Muslim Countries Work on Exchanges
By CHRISTOPHER F. SCHUETZE
Jul 23 2012
Schools in Muslim countries work on exchange program
The Organization of Islamic Cooperation is working toward its goal of an Educational Exchange Program, according to a spokesman.
"It all started with the recommendation that we should have a counterpart to Erasmus," Mohammad Kamran Akhtar, director at the O.I.C.'s Department of Science and Technology, said by telephone, referring to the European exchange program.
The network of 57 Muslim-majority states announced 10 new scholarship positions at the University of Kuala Lumpur last month, and 25 fully subsidized training spots in Malaysia this month.
There are also about 50 subsidized post-graduate spots at the Comsats Institute of Information Technology in Pakistan and pledged spots in Saudi Arabia and Azerbaijan that have not been finalized, according Mr. Akhtar.
The O.I.C.'s Educational Exchange Program, first announced in 2005, is to be fully operational by 2015.
"We are not just focused on scholarships but also exchange of researchers and faculty," Mr. Akhtar said.
Full report at:
http://www.nytimes.com/2012/07/23/world/asia/23iht-
--------
Mideast Asia
Hugo's piece about Prophet Mohammad released in Persian
19 Jun 2012
A long poetry piece by Victor Hugo about the final days of Prophet Mohammad has been rendered into Persian and is published by Beghe Abi.
IBNA: The work is translated by Vida Ramin and edited by Javad Mohaghegh.
Born on February 26, 1802, Hugo is mostly known for his literary masterpieces in Iran like Notre-Dame de Paris (1831) and Les Misérables (1862). However, he was also a prominent poet who published several poetry works during his life.
Originally L'An neuf de l'Hégire (the ninth year of Higera), the piece is published as a book in the Iranian market. It begins with a two-page preface about Hugo and his studies on Islamic and Iranian culture.
A part of the preface reads as follows: "The fact is that Hugo was completely acquainted with the Islamic history and culture and was aware of miniscule details about the prophet whereas he could tell that the prophet did not have more than 20 grey stands of hair as it is certified in historical accounts of the prophet's life."
http://www.ibna.ir/vdcawwn6o49ny01.tgk4.html
-----------
Iranian parliament urges intl. community to stop Myanmar massacres
23 July 2012
TEHRAN – In a statement issued on Sunday, 232 Iranian MPs condemned the killing of Muslims in Myanmar and called on the international community to take action to help stop the massacres.
In the statement, the MPs also condemned terrorist attacks being carried out in Syria with the support of the West.
Following is the text of the statement:
Inhumane actions and dreadful crimes in Myanmar, which have led to the killing of innocent and Muslim people, further revealed the imperialist and self-serving nature of the self-proclaimed advocates of human rights.
This is not the first time that the world's free-thinking people are witnessing the shameful silence and discriminatory approach of the global hegemons and their puppet organizations in the face of genocide and terrorist actions that are in violation of human rights.
Unfortunately, today, the governments that are making the claim of defending human rights are making other claims that have no use for them except exploitation, plunder, and the advancement of their economic interests and their hegemonistic purposes.
Therefore, terrorist actions in Syria, supported by the hegemonistic powers and the Zionist regime, are of the same nature.
While condemning these inhuman actions, the representatives in the Majlis expect international organizations, human rights institutions, (and) especially Muslim countries, to announce the stance necessary to help restore the rights of Muslims in Myanmar and fulfill their religious and humanitarian duty and continue their international efforts to help politically resolve the current Syrian crisis.
http://www.tehrantimes.com/politics/99865-iranian-parliament-urges-intl-community-to-stop-myanmar-massacre
-----------
Muslim leaders hold summit at Dar al-Fatwa, Lebanon
July 21, 2012
A Muslim summit called for by Grant Mufti of the Lebanese Republic Mohammad Rashid Qabbani was held on Saturday in Dar al-Fatwa on the occasion of the beginning of the holy month of Ramadan, the National News Agency reported.
The summit was attended by Qabbani, Higher Islamic Shia Council Deputy head Sheikh Abdel Amir Qabalan, Druze spiritual leader Sheikh Naim Hassan, and Alawite Mufti Sheikh Assad Assi.
The participants voiced their concern over the political tension prevailing in the country, and reiterated a call for "unity among Muslims."
http://www.nowlebanon.com/NewsArticleDetails.aspx?ID=421315#ixzz21QRFlqda
-----------
Iranian MPs condemn Azerbaijan for killing of pro-hijab activist
23 July 2012
TEHRAN – In a statement issued on Sunday, 153 Iranian MPs condemned the Azerbaijani government for killing an imprisoned advocate of hijab (the Islamic women's dress code).
In the statement, the lawmakers stated that the Muslim activist had done nothing wrong but espoused religious values like hijab.
In Azerbaijan, Muslim women wearing head coverings are prevented from attending some public places, including schools.
http://www.tehrantimes.com/politics/99841-iranian-mps-condemn-azerbaijan-for-killing-of-pro-hijab-activist
-----------
Iranian author Nominated for Christian Anderson Award
18 Jul 2012
Distinguished Iranian author Houshang Moradi Kermani has been nominated for the 2014 Hans Christian Anderson Award.
IBNA: According to Presstv, Noushafarin Ansari, a member of Iran's Children's Book Council (CBC), said that the CBC decided to shortlist Moradi Kermani as the nominee for the prestigious award also known as the Nobel Prize for children's literature, Press TV quoted IRNA as saying.
Moradi Kermani is known for his masterful presentation of social issues. His many credits include 'Majid Stories', 'Mommy's Guest' and 'The Boot'.
Some of his books have been translated into 20 languages and published worldwide.
The 68-year-old author received the University of San Francisco's 2000 Book of the Year award and the 1992 Hans Christian Andersen Certificate of Honor.
He was earlier nominated for Sweden's 2008 Astrid Lindgren Memorial Award.
Hans Christian Anderson Award is an international award given biennially by the International Board on Books for Young people to authors and illustrators. The prize, given by the Denmark government, was established in honor of Danish author of children's books
Anderson.
Argentinean author Maria Teresa Andruetto received the 2012 Hans Christian Anderson Award.
http://www.ibna.ir/vdcb0fb8frhbasp.4eur.html
-----------
Iranian Leader meets Quran reciters, memorizers
22 Jul 2012
The Leader of Islamic Revolution, Ayatollah Seyyed Ali Khamenei, has said prosperity of the Islamic ummah is dependent upon an Islamic civilization based upon divine revelations, spirituality, morality and ethics.
IBNA: According to IRIB World Service, speaking on Saturday in a meeting with experts, reciters and memorizers of the holy Quran, the Leader said the Islamic Republic of Iran claims to be a civilization based upon Quranic teachings, divine guidance and spirituality.
The Leader referred to Western exploitation of humanity, and stressed that Western civilization is based upon materialism and material wealth, and is devoid of morality, ethics and spirituality. The Leader talked of Western lies and false claims about human rights and morality, with recent events in Myanmar graphically exposing these false claims, with Western countries, so-called champions of human rights, remaining silent about the killing of hundreds of innocent Muslims in Myanmar.
In further remarks, the Leader said for the past several hundred years, wherever Westerners have set their foot in, we see corruption, exploitation, plunder of natural resources, and colonialism. He added: "The only way to achieve dignity, prosperity, material and spiritual gain, ethics and morality, is through adherence to the teachings of the Holy Quran".
Turning to Islamic Awakening, Ayatollah Seyyed Ali Khamenei stressed that if Islamic nations can succeed in laying the foundations of a civilization based upon divine revelations, spirituality, morality and ethics, then the entire humanity will benefit and prosper.
Elsewhere in his remarks, The Leader said when a combination of human mind and human heart becomes attached to the holy Quran, then this is extremely beneficial, and the stage will be set for implementation of the holy Quran's teachings, and this will lead to Islamic society prospering and thriving day-by-day.
http://www.ibna.ir/vdcco1qs42bq048.-ya2.html
-----------
Iranian NGO Presents Quran Online in 67 Languages
Jul 23 2012
Translations of the Holy Quran in 67 languages have been presented by an Iranian nongovernmental organization on its website.
(Ahlul Bayt News Agency) - Everybody around the world can register for free on www.ghorany.com to read translations and interpretations of the Holy Quran in English, French, Spanish, Italian, German, Japanese, Chinese and several other languages.
The Quran was introduced at the pavilion of the Center for Quran Recitation at the 20th International Holy Quran Exhibition in Tehran on Friday.
The center's Public Relations Office Director Akram Noshafaq said he asked Muslims around the world to participate in a collective program organized to round out recitation of the entire Holy Quran during Ramadan.
http://abna.ir/data.asp?lang=3&id=330812
-----------
CIA, Mossad backed perpetrators of Iranian academic's killing: intelligence minister
23 July 2012
TEHRAN – It has been established that those arrested in connection with the assassination of Iranian academic Dariush Rezaiinejad had been involved in the killing and had been supported by the CIA and the Mossad, Iranian Intelligence Minister Heydar Moslehi announced on Sunday.
"Having staged a reconstruction of the assassination, we became sure that the arrestees had been involved in the assassination and that they had carried out their activities with the support of the CIA and the Mossad," Moslehi stated during a speech at a ceremony held to commemorate Rezaiinejad, who was killed in a terrorist attack in Tehran on July 23, 2011.
Moslehi announced on May 6 that a number of terrorists involved in the assassinations of Iranian nuclear scientists had been arrested but provided no further details.
In his speech, Moslehi said, "The enemies and terrorists had chosen to assassinate Martyr Rezaiinejad by a shot from a Kalashnikov, which was different than the way other (Iranian) nuclear scientists had been killed, namely with a magnetic bomb, with the aim of misleading the country's intelligence apparatus."
Thirty people had been arrested in connection with the assassination of Rezaiinejad, Moslehi said, adding, "Two terrorist networks had been carrying out their activities in the country in cooperation with and (based on) plans of (certain) intelligence agencies in the world and the region."
Full report at:
http://www.tehrantimes.com/politics/99845-cia-mossad-backed-perpetrators-of-iranian-
-----------
Palestinians protest massacre of Muslims in Myanmar
Jul 23 2012
Palestinians in the Gaza Strip have taken to the streets to protest against the massacre of the members of the Rohingya Muslim minority in Myanmar.
(Ahlul Bayt News Agency) - The demonstration was organized by the Gaza Ministry of Endowment and the Palestinian Muslim Clerics' Foundation.
Protesters condemned, what they described as, the ethnic cleansing of Rohingya Muslims.
They also called on the international community to break its silence and stop the ethnic cleansing of the Muslims.
"This is not a new thing for the world to remain silent, while Muslims are slaughtered. When there are minor violations somewhere else in the world, Western countries arise in the name of democracy," Salem Salameh from the Palestinian Muslim Clerics' Foundation.
"We call on all Muslims around the world to wake up and to step forward to stop the massacres against the Rohingya Muslims," he added.
According to recent reports, Muslims in Myanmar are in a tragic human plight.
Reports say 650 of the nearly-one-million Rohingya Muslims have been killed since June 28 during clashes in the western region of Rakhine. This is while 1,200 others are missing and 90,000 more have been displaced.
The UN has described the Muslim community as the Palestine of Asia and one of the most-persecuted minorities in the world.
The Myanmarese government refuses to recognize Rohingyas, whom, it claims, are not natives and classifies them as illegal migrants, although, they have lived in the country for generations.
http://abna.ir/data.asp?lang=3&id=331003
-----------
Iran's Pen Association condemns Myanmar's massacre of Muslims
22 Jul 2012
Releasing a statement, Iran's Pen Association has condemned the recent massacre of thousands of Myanmar Muslims by the country's Buddhists.
IBNA: Millions of Muslims who are considered a minority in Myanmar have faced many problems over the past two years as the government of Myanmar refuses to recognize them.
Releasing a statement, Iran's Pen Association has condemned the recent massacre of thousands of Myanmar Muslims by the country's Buddhists.
A part of the statement says: "We, Iranian poets and authors, have heard the cries for justice raising from the bereaved land. Condemning the unforgiveable crimes, we hereby ask for firm action to stop the killing of Muslims in Myanmar."
Moreover Supreme Leader of the Islamic Revolution Ayatollah Seyeed Ali Khamenei strongly condemned the massacre of Muslims in Myanmar, and lashed out at the US and the western states for ignoring ethnic cleansing of the Muslim minority in the Southeast Asian country.
According to unofficial reports, more than 20,000 Muslims have been killed, tortured, and displaced by the extremist Buddhists in Burma's Rakhine province, the worst sectarian killing in this part of the world over the years, the Pakistan Observer has reported on July 13.
Reports say 650 Rohingya Muslims were killed as of June 28 alone during clashes in the western region of Rakhine. This is while 1,200 others are missing and 80,000 more have been displaced.
The UN says decades of discrimination have left the Rohingyas stateless, with Myanmar implementing restrictions on their movement and withholding land rights, education and public services.
The government of Myanmar does not recognize Rohingya Muslims and has denied citizenship to them, claiming that they are illegal migrants.
http://www.ibna.ir/vdcenx8zxjh8eoi.1kbj.html
-----------
Iran Urges to take serious action to stop mass killing of Muslims in Myanmar
Jul 23 2012
Iran on Sunday urged the International Red Crescent Society to take serious action to stop mass killing of Muslims in Myanmar.
(Ahlul Bayt News Agency) - Head of Iran's Red Crescent Society in a letter to the director of the International Red Crescent Society said that the IRCS as a humanitarian and impartial organization is expected to take a serious action vis-à-vis violation of human rights in Myanmar.
Abolhassan Fagih said that thousands of Muslims in Myanmar are reportedly exposed to terrible hostilities and most of them have been killed with many of them wounded.
The sad part is that the international community has been neglecting the human tragedy and has remained silent against the crimes committed in Myanmar.
Iran's Red Crescent Society hopes that Myanmar government will take steps to provide the Muslims in Rohingya with safety and security, Fagih said.
Millions of Muslims who are considered a minority in Myanmar have faced many human rights violations over the past two years as the government of Myanmar refuses to recognize their rights.
http://abna.ir/data.asp?lang=3&Id=330984
--------
Turkey helicopter crashes in Kurd region; 4 killed
Jul 23, 2012
ANKARA, Turkey (AP) — A Turkish paramilitary helicopter crashed Sunday in a southeastern region where troops are fighting Kurdish rebels, killing four security personnel on board, officials said. Eight others were injured.
The S-70 Sikorsky helicopter, belonging to Turkey's paramilitary police force, crashed while landing near an outpost in Hakkari province, close to the border with Iraq, the military said in a statement posted on its website. It was carrying four crew members and 11 security personnel.
The military said the helicopter experienced a loss of power and crashed. But Firat News, an agency that is close to the rebels, claimed the helicopter was downed by rebel fire.
Kurdish rebels have used northern Iraq as a springboard for attacks on Turkish targets in their decades-long fight for autonomy in Turkey's Kurdish-dominated southeast. The conflict has claimed the lives of tens of thousands of people since 1984.
http://news.yahoo.com/turkey-helicopter-crashes-kurd-region-4-killed-180258088.html
--------
Africa
Somali militants execute three said to inform CIA, MI6
Jul 23 2012
MOGADISHU: Somalia's most powerful militant group publicly executed three of its members Sunday, saying the trio had spied on the militants for the US and British intelligence agencies.
Al-Shabab said the three men were CIA and MI6 informants, and were the reason several drone attacks killed leaders from the group.
Mohamed Jama, a resident in the coastal town of Merca, told The Associated Press that dozens of masked fighters tied up the three men and killed them by firing squad.
A self-proclaimed militant judge gave the death penalty order.
Hundreds of residents were forced to watch and many of them vomited after the killings, Jama said.
"The execution and the verdict were quick and dirty. It was gruesome to watch," he said. "The men instantly died after their bodies were riddled by bullets."
A US Embassy spokesman said he was not aware of the executions, but that in general the US does not comment on intelligence matters.
An al-Shabab member, who gave his name as Abu Abdalla, said militants interrogated the men for six months before the executions.
Al-Shabab said on its official Twitter feed the three men "were part of a wide network of spies deployed by the British and American intelligence agencies" to spy on al-Shabab. Al-Shabab said that Western powers can't coordinate airstrikes without relying on human intelligence.
Full report at:
http://dawn.com/2012/07/23/somali-militants-execute-three-said-to-inform-cia-mi6/
-----------
Bosnian Arabs denied US entry visa
RIYADH: SHARIF M. TAHA
23 July 2012
Arabs holding Bosnian passports are being denied entry into the United States for no logical reason, sources told Arab News.
According to the US Immigration and Nationality Act, there are several classes of foreigners ineligible to receive US visas for reasons including: health-related grounds, criminal and related grounds and security and related grounds including espionage and terrorist activities.
It appears Bosnian Arabs fall under the third category as very few of them have been suspected of having links with Al-Qaeda, the sources said.
For purely security reasons, US immigration departments and agencies have the right to introduce regulations to protect its territories or lands from any possible terrorist attacks.
Bosnian passport holders, in general, are reportedly allowed to enter the United States but when it comes to Bosnians of Arab origin, it is a different matter.
Bosnian Arabs are discriminated on security grounds regardless of their academic, technical or intellectual backgrounds.
Full report at:
http://www.arabnews.com/bosnian-arabs-denied-us-entry-visa
--------
Ethiopian police clash with Muslim protesters, several arrested
July 22, 2012
ADDIS ABABA: Ethiopian police clashed on Saturday with scores of Muslims protesters complaining that the state is interfering in their religion, witnesses and officials said.
The protesters, some wearing masks, blocked the entrance of the Anwar Mosque in the west of the capital Addis Ababa and hurled stones at riot police who had surrounded the compound after noon prayers.
"Police broke inside the mosque and arrested many people, including several members of the (protest organising) committee. They also fired teargas at protesters outside," said an activist who declined to be named for fear of reprisals.
Another witness said he had seen empty tear gas canisters strewn on the ground. It was not immediately possible to verify these reports.
Thousands of Muslims have staged sporadic street protests in the capital since late last year, arguing that the government is promoting an alien branch of Islam, the Al Ahbash sect, which is avowedly apolitical and has numerous adherents in the United States.
The government denies promoting Al Ahbash, but is determined to prevent Islamic militancy spilling over from neighbouring Sudan or lawless Somalia.
Around 60 percent of Ethiopians are Christian and 30 percent Muslim, mostly of the moderate, pragmatic Sufi tradition.
Full report at:
http://tribune.com.pk/story/411650/ethiopian-police-clash-with-muslim-protesters-several-arrested/
-----------
Madagascar Army Quells Mutiny, Kills Rebel Leader
Jul 23 2012
ANTANANARIVO (Reuters) - Madagascar's army stormed a military barracks near the island country's main airport in order to quell a mutiny, killing the corporal who led it and arresting a number of mutineers, the army said on Sunday.
The soldiers had seized the barracks located 10km (6.2 miles) from the capital Antananarivo at dawn 16 hours earlier. It was unclear what their grievances or demands were, but the drama escalated dramatically when they shot and fatally wounded an officer who had been sent in to negotiate with them.
"The situation is under control," General Raphael Ramasy, the defense minister's chief-of-staff told the public television station TVN.
"Corporal Koto Mainty, alias 'Black', has been killed. The other mutineers gave themselves up or were arrested," Ramasy added. The army said Mainty, the leader of the mutiny, was the ex-bodyguard of a former defense minister.
Four civilians had been arrested, and two mutineers and two members of the security forces had been wounded, Ramasy said.
The island nation has been plagued by political turmoil in the three years since then-opposition leader Andry Rajoelina ousted president Marc Ravalomanana, who has been in self-imposed exile in South Africa since then.
The rival leaders are due to meet for talks next week in the Seychelles, according to an aide to Ravalomanana, but the meeting has not yet been announced officially.
"The mutiny could have an impact on the meeting," said retired General Desire Philippe Ramakavelo, a political scientist and member of a transition council. "It is taking place amid turmoil."
Full report at:
http://www.nytimes.com/reuters/2012/07/22/world/africa/22reuters-madagascar-
-----------
Kidnapped Libya Olympic committee chief released
Jul 23 2012
The president of the Libyan Olympic Committee has been freed, a week after he was kidnapped by gunmen in Tripoli.
Ahmed Nabil al-Taher al-Alam was in a car with a colleague last Sunday when two vehicles carrying men in uniform blocked the road and took him away.
He returned home unharmed early on Sunday morning, his brother said.
Mr Alam took charge of the Olympic committee after its president, Mohammed Gaddafi, a son of the late Libyan leader, fled to Algeria last year.
The two men are reported to have been friends before the uprising.
'Resting'
Mr Alam's brother, Salah, said it was not yet clear who the gunmen were, why they abducted his brother, and why they released him.
A spokesman for the Olympic committee initially told Libyan television that the kidnappers had informed Mr Alam that they were from the army, although he later said they were not soldiers.
Mr Alam's deputy, Nour al-Din al-Krekshi, said he was now resting and would travel to London for the Olympic Games in two or three days.
"The Olympic staff have worked hard for his release," he added.
Libya's interim government has struggled to bring under control the militias who helped overthrow Muammar Gaddafi. Some former rebel fighters have refused to lay down their arms and often take the law into their own hands, detaining people without government consent.
Earlier this month, two Libyan journalists were kidnapped near the former Gaddafi stronghold of Bani Walid. And a militia in Zintan is still holding Saif al-Islam Gaddafi, who is wanted by the International Criminal Court.
http://www.bbc.co.uk/news/world-africa-18944150
-----------
Blast kills 10-year-old boy in Nigeria; 10 injured
Jul 23 2012
A 10-year-old boy was killed and 10 people were injured in a bomb blast in Nigeria's northern city of Bauchi, police said today.
"There was an IED explosion in Bayan Gari last evening. A boy died and 10 people were injured. The wounded have been taken to Abubakar Tafawa Balewa University Teaching Hospital in Bauchi." State Police Commissioner Mohammed Ladan said.
Another security source who opted for anonymity claimed that the bomb was not targeted at anybody but was a leftover of an earlier bomb that exploded in the area recently.
He said some people who were drinking beer inside a bar and five passers-by were injured. But police said the bomb was planted in a wheelbarrow by a fruit seller.
Bauchi city is the capital of Bauchi state and has come under frequent bomb attacks by the radical Islamic sect Boko Haram which plans to establish a Muslim Emirate in northern part of Nigeria.
http://www.thehindu.com/news/international/article3672636.ece
-----------
North America
Obama says Colorado shooting was an 'evil act'
Jul 23, 2012
WASHINGTON: US President Barack Obama today described the shooting in a Colorado theater last week that claimed 12 lives as an "act of evil", as he visited Aurora - the city of tragic incident - to meet the victims' families.
"I come to them not so much as President as I do as a father and as a husband," Obama told reporters after he met the family members and friends of the victims.
"I tried to assure them that although the perpetrator of this evil act has received a lot of attention over the last couple of days, that attention will fade away and in the end, after he has felt the full force of our justice system, what will be remembered are the good people who were impacted by this tragedy," he said.
Obama offered hugs, tears and sympathy to survivors of the shooting rampage and to families whose loved ones were shot dead during premiere of new Batman movie 'The Dark Knight Rises' at an Aurora theater in Denver, Colorado.
The President paid visit - one by one - to families gathered at a hospital and wounded patients recovering in intensive care. He appeared before the TV cameras and kept his focus on the lives of the victims and the survivors, not the sole shooting suspect or his "evil act".
"I think that the reason stories like this have such an impact on us is because we can all understand what it would be to have somebody that we love taken from us in this fashion -- what it would be like and how it would impact us," he said.
Obama said he confessed to the victims' families and friends that "words are always inadequate in these kinds of situations".
The President said his main task was to serve as a representative of the entire country and let them know that they are thinking about them at this moment and will continue to think about them each and every day, and that the awareness that not only all of America but much of the world is thinking about them might serve as some comfort.
http://timesofindia.indiatimes.com/world/us/Obama-says-Colorado-shooting-was-an-evil-act/articleshow/15103415.cms
-----------
Colorado shooting: Pregnant mother of youngest victim was shot thrice
Jul 23 2012
Aurora (Colorado) : The mother of the youngest victim of 'Dark Knight' massacre suspect James Holmes was pregnant and was shot at thrice, it has emerged.
Veronica Moser-Sullivan's mother Ashley was hit once in the stomach and twice in the throat.
Ashley, 25, is clinging to life as she remains in intensive care, The Sun reports
According to the report, trainee nurse Ashley spent the weekend drifting in and out of consciousness asking after Veronica.
But doctors eventually decided to tell her that her daughter was one of the 12 people that the 'Batman obsessed' Holmes, 24, shot dead at a screening of The Dark Knight Rises at a movie hall in Denver.
Meanwhile, President Barack Obama flew to Aurora to visit the injured and meet the victims' relatives.
Speaking inside the hospital, he said he shared 'hugs and tears' with bereaved families, adding, 'the entire country is thinking of you'.
http://www.indianexpress.com/story-print/978229/
-----------
The 'Joker' wiped their smile forever
Jul 23 2012
Details emerge of the 12 victims who fell to the bullets of the rampaging 'dark knight'
THE names of the 12 people gunned down at a United States screening of the new Batman movie were released on Saturday, with a six- yearold girl, a teenager and two US servicemen among the victims.
James Holmes, a 24- year- old postgraduate student born in San Diego, is accused of killing the moviegoers and wounding 58 others at the shooting in Aurora city near Denver while The Dark Knight Rises was being shown.
Arapahoe County Coroner's office said all 12 victims died of gunshot wounds and named the youngest as Veronica Moser- Sullivan, six.
" She was beautiful and innocent," the girl's great aunt Annie Dalton told The Denver Post , recalling how the child loved to dress up and read, and was doing well at school.
Veronica's mother, who is 25, was shot in the neck and abdomen and is in critical condition at Aurora Medical Center. She is drifting in and out of consciousness and is unaware that her daughter is dead, the newspaper said.
Full report at: Mail Today
-----------
Oklahoma: Muslims celebrate first Ramadan in new Norman mosque
Jul 23 2012
Norman's new mosque is part of a trend of mosque construction projects and expansion efforts going on in response to the growing Muslim community in Oklahoma City and the state.
NORMAN (Ahlul Bayt News Agency) - The opening of a new mosque is a cause for celebration, not only by Muslims who attend the house of worship but others around the metro area and state who often give their time and money to help their brothers and sisters of the faith.
Such is the case with the 7,000-square-foot mosque that opened in the spring at 420 E Lindsey in Norman. The Islamic Society of Norman recently held a community open house at the mosque. Friday, the mosque began hosting prayers and fellowship gatherings for Ramadan, the Islamic holy month of fasting.
Farid Elyazgi, the society's spokesman, said he and other mosque leaders have anticipated the nightly Ramadan gatherings because it will be the first time the holiday has been celebrated in the new facility.
Full report at:
http://abna.ir/data.asp?lang=3&id=330787
---------
Europe
Cage fighter's path to anti-terror inspiration
By Nic Robertson and Paul Cruickshank
July 22, 2012
London (CNN) -- To see Usman Raja before a cage-fight is to see a man in his element. As scantily clad dancing girls parade around and fast paced techno-music blares through the venue, and rows and rows of mostly white working class spectators eagerly await the contest, Raja is in a side room prepping his fighters, sparring with them, and reminding them of the importance of technique.
It is a brutal and intensely physical sport. One of his fighters, a towering muscular Pole reaches the heavyweight title match that day, during which he pulverizes his opponent with a volley of powerful kicks and punches, soon knocking him to the floor. "Knee to head," Raja exclaims as he enters the ring to hug the victorious fighter.
Raja is also behind what UK officials say is the most successful effort they have seen to de-radicalize some of the most hard-line Islamist extremists being released from UK jails, including around a dozen convicted terrorists who recently completed their prison sentences.
He has used cage-fighting as a key tool in this work. Raja says teaching the former terrorists cage-fighting skills has proved a remarkably effective way of breaking them out of their al Qaeda mentality, opening up their minds to his counter-extremist message, and providing them with a sense of discipline and purpose.
Read how Raja's controversial technique works, is changing lives, and getting noticed
Raja knows how to connect with his charges. Like several of them he is from the tough neighborhoods of east London, once subscribed to fundamentalist views himself, and Raja says he came close to fighting Jihad in Bosnia in the 1990s.
Full report at:
http://www.cnn.com/2012/07/22/world/europe/uk-caging-terror-raja/index.html
-----------
Bias against Islam is deeply rooted in Western minds: Spanish journalist
23 July 2012
After many years of a negative portrayal, bias Against Islam and Muslims is deeply rooted in Western minds and it will be very difficult to eliminate it, Spanish journalist Yusuf Fernandez says.
Fernandez, who is the secretary of the Muslim Federation of Spain and an editor of Al Manar Spanish website, made the remarks last week in an interview with the Tehran Times.
He stated that the neo-fascism and far-right bigotry are increasing throughout Europe as much as fascism and Nazism did in the 1930s and this is one of the reasons why Islamophobia is now rapidly spreading in Europe and has become a major concern for the Muslim minorities in the European countries.
Following are excerpts of the interview:
Q: Muslims are subject to prejudice and discrimination in the Western societies, even though they have always contributed to the progress and growth of these societies. As a spokesman of an Islamic organization in a European country, what are your views regarding the rise of Islamophobia in the U.S. and Europe? And how is it possible to confront and eliminate it?
A: The Islamophobia is a real problem in the Western societies, not only for Muslims but for the whole society because it is a hatred phenomenon, which is harmful for all people. Today, many politicians attack Islam and Muslims just to gain votes and in some countries girls are banned to wear headscarves at high schools or work places. Opening a mosque is also becoming more and more difficult in some countries.
Full report at:
http://www.tehrantimes.com/world/99855-bias-against-islam-is-deeply-rooted-in-western-minds-yusuf-fernandez
-----------
Are religious beliefs a drag on economic growth?
By Humayon Dar
July 23, 2012
LONDON: Many critics of the religion as a social organisation argue that Islam, like other old religions, stymied business in general and economic activity in particular. One staunch advocate of such a view is Timur Kuran who has written extensively on the negative impact of Islamic contract laws and the division of business and estate consequent to the Islamic law of inheritance. On the surface, Kuran's view is appealing but a deeper, more objective, look reveals that it is not the institution of religion that is the cause of underdevelopment. Rather, the early stage of development in which many Muslim countries are in has caused the debilitated and enervated commercial sector which Kuran laments.
The argument can be better understood with reference to the slow growth rates in the advanced or developed countries as compared with developing countries and emerging markets, which by and large have much higher growth rates. It would be absurd to conclude from national time series data on growth rates of the countries of the world that the economic development itself is responsible for slower growth in advanced countries. Development of economies and the businesses therein is indeed a complex phenomenon and attributing slower commercial growth to one factor like the institution of religion is at best misleading.
Full report at:
http://tribune.com.pk/story/411909/are-religious-beliefs-a-drag-on-economic-growth/
-----------
European Union Tightens Sanctions on Syria
By STEPHEN CASTLE
Jul 23 2012
LONDON — The European Union strengthened its arms embargo against Syria on Monday and toughened sanctions against supporters of the country's president, Bashar al-Assad, in response to worsening violence there.
At a meeting in Brussels, foreign ministers decided that their 27 nations will be required to search airplanes and ships suspected of carrying weapons or other banned equipment into Syria.
They also decided to impose asset freezes and visa bans against 26 more people, and to prevent European companies from doing business with three more entities in Syria. The 26 people were not immediately identified.
"I am deeply concerned at the escalating violence and its tragic consequences for the Syrian population," Catherine Ashton, the European Union's foreign policy chief, said in a statement. "The E.U. has warned against a further militarization of the conflict. Today we take practical steps toward limiting the supplies that fuel the fighting."
The new obligation to search vessels suspected of carrying arms applies to all weapons destined for the country, including any intended for opposition forces, said one European official who was not authorized to speak publicly. Previously, it was up to member states to decide on how to deal with suspect vessels according to their own domestic laws.
Full report at:
http://www.nytimes.com/2012/07/24/world/europe/european-union-tightens-sanctions-on-
-----------
UK businessmen for removal of Pak students from immigration stats
By Asif Mehmood
Jul 23 2012
LONDON: Top British businessmen have urged British Prime Minister David Cameron to remove Pakistani students from official immigration figures to avoid choking off a valuable source of wealth and skills.
The businessmen warned that visa restrictions designed to bring net immigration below 100,000 a year would deter wealthy foreigners from outside the European Union.
Among those calling on Cameron to reverse the policy are CEO WPP and Formula One Non-executive Director Sir Martin Sorrell, CBI former director general Lord Jones and Lord Bilimoria.
They say Britain needs "to be able to attract the best minds from around the world" and that the country needs "to send a clear message that genuine international students are welcome to study in the UK".
Full report at:
http://www.dailytimes.com.pk/default.asp?page=2012\07\23\story_23-7-2012_pg7_25
-----------
URL: https://www.newageislam.com/islamic-world-news/new-age-islam-news-bureau/tv-depiction-of-revered-islamic-figure-omar-ibn-al-khattab-causes-stir-in-arab-world/d/8017