New Age Islam News Bureau
22 Jul 2012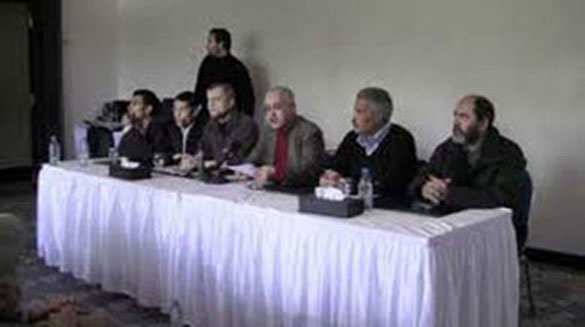 Africa
• Tunisia's Hizb Ut-Tahrir Calls for Creation of Islamic State
• Northern Mali's "city of saints" suffers rebel fury
• Tanzania police arrest 43 suspected members of Islamist separatist group
Arab World
• Egypt Islamist ex-MP gets 18 months in prison for indecent act with a female student
• 23 wounded in Iraq car bombing
• Feared forces launch new assault on Syria capital
• Muslim Brotherhood denounced at funeral for Egypt's spy chief
• Former Egyptian spy chief Suleiman laid to rest in Cairo
• Egyptian Reformists Alarmed By Hillary and Obama
India
• India's President-elect thanks people, says duty to defend Constitution
• Tension defused; Delhi mosque site handed over to ASI
• Lt. Col Purohit: Acts of terror and finding escape route
• Pakistan tour to India in 1952, climate was far more hostile than it is now
Pakistan
• Government in hot water over new contempt law
• Pakistan's plans to repatriate Afghan refugees could displace 3 million
• Airstrikes kill 15 militants in northwest Pakistan
• US has allocated $350,000 for research projects in Pakistan
• Pakistan Coast Guards seizes 10kg heroin
• Is the US Dictating Pipeline Policy to Pakistan?
• Pakistan must introduce police reforms to increase its efficacy: Research
South Asia
• Afghans: Artillery fired from across Pakistan border hits homes, kills 4 civilians
• US human rights concerns correct: BNP
Southeast Asia
• Malaysia's P M: LGBTs, liberalism, and pluralism are enemies of Islam
• Rohingya Muslims in Myanmar victims of global power struggle
Central Asia
• India-Tajikistan discuss Afghanistan, counter-terrorism
North America
• Norway tries to put pain of Breivik behind year on
• Congresswoman claims Muslim Brotherhood infiltrating US Government
• Obama wishes Muslims a blessed Ramazan
Europe
• Five arrested for attack for disputes over faith on Tatarstan cleric
• Putin denounces Muslim murders in Tatarstan
Compiled by New Age Islam News Bureau
Photo: Tunisia's Hizb Ut-Tahrir Calls for Creation of Islamic State
URL: https://newageislam.com/islamic-world-news/by-new-age-islam-news-bureau/tunisia's-hizb-ut-tahrir-calls-for-creation-of-islamic-state/d/8008
---------------
Africa
Tunisia's Hizb-ut-Tahrir calls for creation of Islamic state
Jul 22, 2012
Adnen Chaouachi, Press TV, Tunis
Islamic parties were illegal in Tunisia before the Revolution but now they're emerging. Hizb-Ut-Tahrir is one of the most influential parties due to its Islamic ideology and its opposition to the normalization of relations with Israel.
Hizb ut-Tahrir or Liberation party is the 3rd Islamic party to be accredited by the Tunisian Authorities after the Revolution. For more than 30 years, Hizb ut-Tahrir activists were jailed and hundreds died defending the Islamic thinking which is perceived here as the solution to the problems of the people in Tunisia and the rest of the world.
At the 1st press conference organized after the legalization of the activities of the party, the Member of the Executive Bureau of Hizb ut-Tahrir in Tunisia Mohammad Ben Hussain announced that his ultimate goal is to create a powerful Muslim country that does not depend on the West.
The director of the Political bureau of the party Abderraouf Ameri has said Israel is trying to increase its influence of in the region. He warned against the cooperation of some regimes in the region with Israelis.
At the end of the first public meeting of the Islamic party Hizb ut-Tahrir, its leaders warned against the dependence on the West. In addition, the Islamic party members have promised that Hizb ut-Tahrir will seek to increase the role of Islam after the revolution in Tunisia.
For decades, the members of Hizb ut-Tahrir were persecuted for calling for the creation of an Islamic country in the region. The revolution has given the Islamic party more freedom to exercise its legitimate rights in Tunisia.
http://presstv.com/detail/2012/07/22/252162/hizb-uttahrir-calls-islamic-state/
--------
Northern Mali's "city of saints" suffers rebel fury
22 JULY 2012
History dating as far back as the 5th century is literally being chipped away with pick axes and shovels at the hands of an extremist rebel faction in northern Mali. Holy Muslim shrines in the ancient city of Timbuktu have become targets of the Ansar Dine. For the Islamist faction, the Sufi shrines are a form of idolatry.
But for many others in the overwhelmingly Muslim country, the mausoleums of Islamic saints are religiously significant, and regularly draw crowds of people, including Muslims preparing for the Hajj, or pilgrimage, to Mecca. These ancient buildings and monuments — some listed by the UN Educational, Scientific and Cultural Organization (UNESCO) as World Heritage Sites — are also an integral part of world history and the collective memory of the people of Mali. Timbuktu was an intellectual and spiritual capital that played an essential part of the spread of Islam across Africa's Sahara and Sahel in the 15th and 16th centuries.
A number of Timbuktu's sacred tombs are now gone, reduced to piles of rubble. "Repugnant" is how Irina Bokova, director-general of UNESCO, has described the vandalism. "There is no justification for such wanton destruction. I call on all parties engaged in the conflict to stop these terrible and irreversible acts, to exercise their responsibility and protect this invaluable cultural heritage for future generations."
Still in danger are the pyramidal structures of the Tomb of Askia, as well as other religious and cultural artifacts, including 1,000-year-old Islamic manuscripts. The manuscripts — a testimony to Africa's written history — are specific to West Africa and unique in the Islamic world. The United Nations has now placed Timbuktu and the Tomb of Askia on its List of World Heritage in Danger. Ansar Dine's threats to destroy more have brought Fadima Diallo, Mali's minister of culture, to tears. The African Union called its actions "criminal." The new chief prosecutor of the International Criminal Court, Fatou Bensouda of Gambia, has warned that her office will open an investigation into what she calls "war crimes", under the Hague Convention of 1954 for the Protection of Cultural Property in the Event of Armed Conflict.
The destruction in the fabled city follows a deepening crisis in the region since a military coup in Mali's capital in March. Separatist Tuareg rebels took advantage of the instability to proclaim northern Mali an independent state. The Ansar Dine ("Protector of the Faith") then in turn ousted the Tuareg rebels and took control of Timbuktu. The UN Security Council has condemned the group's destruction and threatened to impose sanctions against it. The Economic Community of West African States (ECOWAS) is seeking the Council's support for an armed intervention to regain control of northern Mali.
For hundreds of years, Timbuktu has endured every major upheaval thrown its way, foreign invasions, armed raids, an earthquake, famine. Africa and the world are hoping that it will survive the current threat.
http://www.afrik-news.com/article19259.html
-------
Tanzania police arrest 43 suspected members of Islamist separatist group
By Associated Press,
ZANZIBAR, Tanzania , July 22, 12, Police say they have arrested 43 suspected members of an Islamist group seeking greater independence for the country's Zanzibar archipelago.
Police official Mussa Ali Mussa said Sunday the suspects of the Association for Islamic Mobilization and Propaganda were arrested since a protest rally on Friday that security forces dispersed with tear gas and water cannons.
The group has been gaining popularity in Muslim-dominated Zanzibar, which is a popular Indian Ocean tourist destination off the East African nation's coast.
Mussa said the UAMSHO group staged Friday's illegal protest at a mosque using the pretext they were praying for the victims of a ferry accident off the island that cost almost 150 lives this week.
UAMSHO leader Farid Hadi says the group was peacefully mourning the victims but was attacked by police.
http://www.washingtonpost.com/world/africa/tanzania-police-arrest-43-suspected-members-of-islamist-separatist-group-in-zanzibar/2012/07/22/gJQAHJNE2W_story.html
-------
Arab World
Egypt Islamist ex-MP gets 18 months in prison for indecent act with a female student
21 July 2012 -
An Egyptian court on Saturday sentenced Ali Wanis, a Muslim cleric and ex-lawmaker, to 18 months in prison after he was found guilty of committing an "indecent act" in a car with a female university student.
Wanis, however, can avoid jail by paying 1,500 Egyptian pounds ($250) in bail as the case goes to an appeal court.
Wanis had won his seat in parliament through an ultraconservative Salafi coalition and was caught performing a sexual act with the woman in a car, the official MENA news agency reported.
He was sentenced for a year on charges of committing an indecent act and six months for assaulting policemen. The woman too was sentenced to six months, and can also avoid prison by posting bail.
Wanis, who had denied the accusations, was referred to trial after the constitutional court dissolved the Islamist-dominated parliament in June.
http://www.rnw.nl/africa/bulletin/egypt-islamist-ex-mp-gets-jail-indecent-act
--------
23 wounded in Iraq car bombing
AFP
NAJAF, IRAQ: Jul 22, 2012, A car bomb in the centre of the Iraqi city of Najaf wounded 23 people on Sunday, security and medical officials said, a relatively rare attack in the Shiite holy city.
The 7:00 am (0400 GMT) attack struck near a restaurant in Najaf's old town, provincial health department spokesman Salim Naama said. Of the 23 wounded, four were seriously hurt, he said.
"The terrorists tried to put the car near the shrine, but security measures prevented them from getting there, so they blew it up in the old city," provincial police chief Major General Abdulkarim al-Amiri told AFP, referring to a shrine to a principal figure of Shiite Islam that is located in Najaf.
He did not give a precise toll from the attack.
Najaf, 150 kilometres (95 miles) south of Baghdad, remains one of Iraq's safer cities, and is frequented by Shiite Muslims pilgrims from around the world seeking to visit the shrine to Imam Ali, son-in-law and cousin of the Prophet Mohammed.
The latest violence comes after the country suffered a spike in unrest in June when at least 282 people were killed, according to an AFP tally, though government figures said 131 Iraqis died.
http://timesofindia.indiatimes.com/world/middle-east/23-wounded-in-Iraq-car-bombing/articleshow/15090759.cms
--------
Feared forces launch new assault on Syria capital
AFP
DAMASCUS: Jul 22, 2012, Feared forces headed by President Bashar al-Assad's brother used helicopter gunships in a new offensive against rebels in Damascus on Sunday, as fighting also raged in Syria's second city Aleppo.
The Fourth Brigade headed by Maher al-Assad was leading the assault in the Damascus district of Barzeh, triggering a mass exodus of residents from the area, said the Syrian Observatory for Human Rights.
The Britain-based rights watchdog put the overall death toll from the 16-month uprising in Syria at more than 19,000 -- the vast majority of them civilians.
In Damascus, the official news agency SANA said government forces had "cleansed" the Qaboon neighbourhood of "terrorists," the regime's term for rebel fighters.
State television ran footage reportedly from Qaboon showing dead bodies as well as weapons, communications equipment and money it said was captured from insurgents.
The Observatory said regime troops had launched an assault on the Barzeh district of Damascus.
"Troops have stormed the northwestern Barzeh district of Damascus with tanks and armed personnel carriers," the group said, noting snipers had been deployed on rooftops.
"Two helicopters are pounding the Barzeh district, and towers of smoke are rising above the neighbourhood," the Observatory's Rami Abdel Rahman told AFP. "The deployment in Barzeh is very heavy."
"Barzeh is being stormed by the feared Fourth Brigade," Abdel Rahman added, noting that dozens of residents were fleeing the neighbourhood.
Regime forces also deployed in the outskirts of the Mazzeh district of the capital, he said, adding one person was killed there today and several were wounded.
Meanwhile, fierce clashes engulfed the districts of Salaheddin and Sakhur in Aleppo, Syria's commercial hub in the north which has seen heavy fighting since Friday, said Abdel Rahman.
The army's assault on Salaheddin began at dawn, in a bid to reclaim it from rebel hands, an anti-regime activist in the city told AFP.
http://timesofindia.indiatimes.com/world/middle-east/Feared-forces-launch-new-assault-on-Syria-capital/articleshow/15093626.cms
-------
Muslim Brotherhood denounced at funeral for Egypt's spy chief
July 21, 2012
By Amina Ismail and Hassan El Naggar McClatchy Newspapers
CAIRO — Angry mourners denounced the Muslim Brotherhood on Saturday at the funeral for Omar Suleiman, Egypt's longtime top spy, in a ceremony that encapsulated the odd political dissonance that governs this country, where a democratically elected president newly in office shares power with a still-dominant military council.
That president, former Brotherhood member Mohammed Morsi, did not attend the rites for Suleiman, whose agents once arrested Morsi for his work on behalf of the Brotherhood.
But Morsi's office was represented by its top administrative official, the grand chamberlain, and several senior military figures attended, including Field Marshal Mohamed Hussein Tantawi, the head of the ruling Supreme Council of the Armed Forces, and Lt. Gen. Sami Anan, the chief of staff of the Egyptian Armed Forces.
The anti-Brotherhood sentiment was obvious, as was hostility toward the news media, which many in the crowd blamed for the rise of the Brotherhood, which Suleiman had fought with unrestrained brutality through his 18 years as deposed President Hosni Mubarak's head of intelligence.
Less obvious but still palapable was an anti-American sentiment among a conspiracy-minded group that believes the United States abandoned Mubarak – and may have had a hand in Suleiman's unexpected death in the United States Thursday.
"He is dead. Do you know what that means?" wailed Hend Ghorab, a 37-year-old tour guide as she stood, dressed in black, in the middle of the Al Rashdan mosque, surrounded by hundreds of other mourners. "That means everything is gone… The hope is gone!"
Suleiman, 76, had long been among Mubarak's most trusted advisers, dating to a 1995 assassination attempt in Ethiopia that Mubarak credited Suleiman with thwarting. U.S. diplomats, in a 2007 State Department cable revealed by WikiLeaks, said he was a likely successor to the presidency.
Full Report at:
http://www.kentucky.com/2012/07/21/2266122/muslim-brotherhood-denounced-at.html
-------
Former Egyptian spy chief Suleiman laid to rest in Cairo
By Mohamed Fadel Fahmy, for CNN
Cairo (CNN) July 22, 2012,The funeral for Omar Suleiman, Egypt's former spy chief, took place amid tight security Saturday, attended by several thousand mourners, politicians, religious scholars and military leaders.
Suleiman succumbed Thursday to complications from amyloidosis, a disease that affects multiple organs, including the heart and kidneys, according to the Cleveland Clinic in the United States, where the 76-year-old died.
Suleiman's body, flown by private jet from the United States, arrived at the VIP terminal in the Cairo Airport at dawn Saturday. Several dozen supporters wearing black T-shirts waited outside the terminal carrying the Egyptian flag. They chanted slogans denouncing Israel and the United States.
The ceremony coincided with the second day of Ramadan. The military funeral began with prayers at the Al Rashadan mosque in Nasr City in eastern Cairo.
Suleiman's coffin, wrapped in the Egyptian flag, was borne on a horse-drawn carriage through the streets, accompanied by a marching band to the Madinet Nasr Cemetery.
Military police wearing red berets carried his coffin past screaming mourners carrying posters of Suleiman and chanting denouncements of the newly elected president, Mohamed Morsy, and the Muslim Brotherhood.
Morsy spent six months behind bars during Suleiman's tenure as head of intelligence.
Morsy delegated his grand chamberlain and Brig. Gen. Abdul-Monem Foda as his representatives.
Grand Mufti Ali Gomaa and a delegation from Al-Azhar, Egypt's highest Islamic institution, also were present, as were Field Marshal Hussein Tantawi, head of the Supreme Council of the Armed Forces (SCAF), and his chief of staff, Sami Anan.
Suleiman was briefly appointed vice president under President Hosni Mubarak during the uprising that toppled the longtime Egyptian leader last year. It was Suleiman who, in February 2011, announced Mubarak's resignation and declared that SCAF would run the country's affairs.
Suleiman's death came as a surprise to Egyptians. He had entered the race for Egypt's first democratically elected president in the eleventh hour, but failed to gather enough signatures to be on the ballot.
He was disqualified by a panel that included members connected with the Mubarak regime, suggesting the move was not politically motivated.
Suleiman had headed Egypt's intelligence since 1993, maintained close ties with the CIA, and was often criticized by human rights groups for his heavy-handed approach with suspected militants.
Born into poverty in the town of Qena, he enrolled in Egypt's prestigious military academy and was decorated for his performance in the wars against Israel in 1967 and 1973.
In June 1995, both Suleiman and Mubarak survived an assassination attempt during an African summit in Addis Ababa, Ethiopia. Suleiman was credited for saving Mubarak's life that day.
A divisive figure in Mubarak's regime, during the revolution Suleiman led negotiations with various pro-change groups, including the Muslim Brotherhood. His stance was mainly to end the "Million Man" protest in Tahrir Square and create a "reform" package or else face a military coup.
When asked by a CNN correspondent what he wanted from the protesters during the 18-day uprising that toppled Mubarak, he replied, "Go home."
In an interview with a Western news channel last year, Suleiman remarked, "Egyptians are not ready for democracy."
http://edition.cnn.com/2012/07/21/world/africa/egypt-suleiman-funeral/index.html
--------
Egyptian Reformists Alarmed By Hillary and Obama
Nonie Darwish, July 21, 2012
Since I am originally from Egypt and monitor daily Arab media I am witnessing an unprecedented alarm from Egyptian reformists who represent the almost half of the Egyptians who reject the Muslim Brotherhood as a moderate political group.
There is a counter Anti-Islamist and an anti-Muslim Brotherhood movement in Egypt that Secretary Hillary Clinton, President Obama and the US media are not fully aware of. The US government by supporting the Muslim Brotherhood has alienated Egyptians who are the natural allies of the US. Non-Islamist Egyptians today believe that the Obama administration and Secretary of State are behind the success of the new Egyptian President Mohammed Mursi in reaching power. Rightly or wrongly, many reformist Egyptians believe that Hillary and the Obama administration have been supporters of the Muslim Brotherhood and have empowered them since taking office 3 years ago, when Obama gave his famous speech in Cairo.
The Arabic internet is full of incredible accusations of Hillary and American conspiracies to support the Muslim Brotherhood, which of course mention her trusted Muslim aide, Huma Abedin. Also there are many rumors on Obama's having Islamists all over the White House, especially his head-covered Islamic affairs aide, Dalia Mugahid. The reason that I mentioned that she is head-covered is because we Egyptians know that when a woman covers herself the Islamic way it means one thing, "I am for Sharia." No ifs ands or buts. Incidentally Mugahid was nominated as the most powerful Arab woman for one reason and one reason only; her being a trusted aide of Obama in the White House.
The rumors are also all over the internet regarding Islamists in every part of the US government and some Muslims and homeland security. Such rumors are not mentioned as a negative by Arabs who talk about it, but as a wonderful accomplishment after 9/11. It is a proof to many Muslims that terror can work like magic on Americans.
Below is a letter addressed to Secretary Hillary by a well known and highly respected Egyptian reformist by the name of Tarek Heggy (presented verbatim):
This message shall be (today) hand-delivered to the USA Secretary of State H. Clinton.
Secretary H. Clinton ..
I know, every scholar in the world knows and you (yourself) know that you know very little about Islam, the history of Muslim people, Islamic Jurisprudence, Political Islam, the literature and march of the Muslim Brotherhood since 1928, Wahhabism and the (impossible to be changed) agenda of Egypt's MBs. I also know that your boss (like yourself) does not know much about all the domains that I just referred to. Obviously, neither you nor your country shall bear the detrimental consequences of the policy that have been drawn by those who know very little about these Islam related subjects.
We (the non-Islamist sons and daughters of Egypt and the 15 million Copts) who will pay a tragic price. The USA failure in Afghanistan and Iraq say a lot about the consequences of policies decided by those who either do not know or they know very little about the characteristics of complexest cultures. I have been more than 40 times to the USA. In these visits I spoke at most of the top think-tanks (The American Enterprise Institute, The Heritage Foundation, The WINEP, the Rand Organization ... etc.) and lectured at many of the USA top universities (Princeton, Columbia, California Berkeley ... etc.). Even in such reputable organizations I never met with people who understand sufficiently the domains mentioned hereinabove. The exceptions (such as Professor Bernard Lewis and others) were rather tangibly rare and do not negate the phenomenon that Islamism is far from being understood in your (very young) country.
In Egypt, you will here a lot of hypocrisy about how moderate the MBs have become! Which is 100% incorrect. Not only that, but a lie that will cost the non-Islamist Egyptians, the Middle East region, the entire world and the USA a gigantic catastrophe. It takes decades of a hard work and profound research to come to the conclusion that while there are many moderate Muslims, there is no single moderate Islamist on the face of earth. I know (having been the CEO of the world top Oil company at the age of 36) that senior positions affect the human mind and make it (in general) inclined to reject strong advice as this one, but I insist to render such an advice.
I also insist on saying that before the world lives with another Osama bin Laden and another Qa'eda nightmare, I strongly recommend that you arrange to get some intensive education on the true agenda of the MBs. Please do not be offended of this piece of advice. You know that you know very little about Islamism. A briefing by the American (usually "shallow") advisers (aide-memoires in a few pages) shall never help in this regard. You need to listen (for hours) to a world-class scholar of the caliber of Bernard Lewis. Did I upset you? probably "YES". But this was not the objective of this message.
The aim was to try to stop the occurrence of another grave mistake such as the one committed in 1979 when the CIA & The Saudi Intelligence (headed at the time by an idiot and radical Islamist named Turky al Faisal) agreed to create the Mujahedene Movements (and troops) to fight the Soviet Union in Afghanistan. While every true scholar was aware that the USSR was about to (naturally) collapse. In 1978, I wrote and published a book that explained how the USSR would collapse in about a decade by the effect of its inner economic decay).
Finally, let me assure you that all the Islamists that you shall meet with today in Cairo are nothing but disguised terrorists ... they are (undoubtedly) anti-modernity, anti-tolerance, anti-women-rights, anti-plurality, anti-otherness, anti-freedom of speech and anti-critical mind .... they are atavistic, destructive and backward criminals more than anything that you could imagine. With my best regards,
http://www.americanthinker.com/blog/2012/07/egyptian_reformists_alarmed_by_hillary_and_obama.html
---------
India
India's President-elect thanks people, says duty to defend Constitution
IANS
NEW DELHI: Jul 22, 2012, President-elect Pranab Mukherjee on Sunday thanked the people for his election to India's highest office and said it would be his responsibility to defend and protect the Constitution.
"I have deep gratitude and appreciation for the people of this great country for conferring this distinction of electing me to the high office," Mukherjee told reporters here.
"It would now be my responsibility to defend and protect the Constitution as President ... I would try to justify in modest way to be trustworthy of my people," he said.
Mukherjee said though he had polled over 7 lakh votes, the final result was still awaited and would be declared by the returning officer.
According to Mukherjee, during the last one month of campaigning for the presidential election he visited all the state capitals but interacted only with the legislators. Still, he said, he could feel the overwhelming support and affection of ordinary people.
"The overwhelming support and affection of ordinary people which I felt during the tour was really remarkable," he said.
He also thanked all sections of society, the political parties and parliamentarians for the support during his more than four decades of public life.
"I received much more than I gave them," he said.
Mukherjee appreciated the congratulations from his rival PA Sangma.
http://timesofindia.indiatimes.com/india/Pranab-thanks-people-says-duty-to-defend-Constitution/articleshow/15094154.cms
--------
Tension defused; Delhi mosque site handed over to ASI
July 21st 2012,
Indian Muslims offer Eid al-Fitr prayers at the Jama Masjid mosque in New Delhi on August 31, 2011.
New Delhi, July 21 — A day after the Delhi High Court ordered suspension of the construction of a mosque at an excavated site near the historic Jama Masjid where thousands of Muslims offered Friday prayers, authorities moved in to defuse a potentially volatile situation by handing over the site Saturday to archaeologists.
A police contingent was seen deployed in the area to maintain law and order. Hundreds of onlookers gathered near the site near Subhash Park around 10 a.m. No prayers were offered, unlike Friday when there arose chances of trouble with the Vishwa Hindu Parishad (VHP) activists lurking close to the area.
The North Delhi Municipal Corporation and police cordoned off the area and handed over the site to Archaeological Survey of India (ASI).
While the religious books and other properties at the site were seized, the authorities left untouched the upcoming mosque structure.
"There were brick walls and minarets that had been built over the last two weeks. We have not demolished any structure and kept religious books in a trunk," said a police officer at the site.
A mosque sprouted at the site after a building's remains were discovered early this month at the site excavated for Delhi Metro work.
The situation near the controversial site appeared to be getting tense as devotees from the neighbouring areas continued to gather at the site for offering Ramadan prayers Saturday.
Hundreds of people looked on, including some protestors, even as the authorities seized the site.
By afternoon, the crowds swelled as local legislator Shoaib Iqbal's son Aaley Mohammed addressed the crowds next to the site. Iqbal had been campaigning for a new mosque at the very spot.
"We are not against the court. But we want them to listen to the community's views also without exaggerating this issue in the month of Ramadan," Mohammed told IANS.
Some people from the area claimed that the ruins were those of the 17th century Mughal-era Akbarabadi mosque and started building a fresh structure at the site but the Delhi High Court put a stop to it Friday.
Some residents said the ASI should be allowed to do its job and people should refrain from giving a religious colour to the issue.
"We respect the sentiments of our brothers who think there could be an Akrabadi mosque here. But now the authorities should take charge of the situation," said Mohsin Ahmad, a resident of Urdu Bazar.
Subhash Park falls within the restricted zone of two protected heritage sites -- Sunehri Masjid and Red Fort. Any construction in the area requires permission from the National Monuments Authority.
Acting Chief Justice A.K. Sikri, Justice Sanjay Kishan Kaul and Justice Rajiv Shakdher said: "It is the ASI which has to take over the site immediately to investigate whether Akbarabadi Masjid existed there or not."
The court said this after some lawyers brought the issue to the judges' notice.
According to the ASI, the Akbarabadi mosque was built by Bibi Akbarabadi, one of the wives of Mughal emperor Shah Jahan. Apparently, the British destroyed it after the First War of Independence in 1857.
http://india.nydailynews.com/newsarticle/500af036c3d4ca2c20000001/tension-defused-delhi-mosque-site-handed-over-to-asi
----------
Lt. Col Purohit: Acts of terror and finding escape route
July 22, 2012
In the wake of the various acts of terror and Sadhvi Pragya Singh Thakur's motor cycle being traced, it became clear that the investigating agencies are acting on the wrong thesis that 'all terrorists are Muslims'. A Pandora's box opened and the link of ex-ABVP activist, Pragya Thakur, Swami Dayanand Pandey, retired Major Upadhayay, Lt Col Prasad Shrikant Purohit and Swami Aseemanand came to surface, Role of two organizations inspired by the ideology of 'Hindu nation', Abhinav Bharat and Santana Sanstha also came to light. The investigations led by Hemant Karkare, by the Rajasthan ATS and National Investigation Agency (NIA) made it clear that there is a deeper nexus of elements like Purohit &Co., those who have been part of terror groups or have been supporting them in various ways. The confessions of Swami Aseemanand, named many more activists belonging to RSS combine, who are currently cooling their heels in jails and are facing investigations for acts of terror.
Lt. Col Prasad Shrikant Purohit came to be identified as one of the major player in the whole episode. He is the core person of extremist Hindutva group Abhinav Bharat. He was arrested on 5th November 2008 by Maharashtra ATS for his role in Malegaon blast. It was the investigation of Malegaon blast, particularly under the leadership of Hemant Karkare, which unearthed the whole terror network, which later on came to be termed as Saffron terror by P.Chidmabaram, the Union Home minister. For Purohit and other army officers, the army instituted a court of inquiry.
During the inquiry what Col Purohit said is very revealing. Purohit claimed that he was part of the network as an infiltrator and was keeping his superiors in the loop, keeping them informed. He claims that he infiltrated the terror network to keep a tab on the same. But his statement leaves a lot of questions unanswered. The major question is if he was doing all this for army, why did army hand him over to Anti Terrorism Squad?
The whole investigation seems to be mired in mystery and lots of facts need a further probe. Tehelka had also published investigative reports naming several ex-military men from the Bhosala Military School and their involvement in the Malegaon and other blasts, which was later confirmed by the ATS. The involvement of other army officers needs to be brought to surface as the whole matter seems to be much serious than just a case of few officers keeping a tab of these terrorist groups.
The blasts taking place in front of mosques and similar places where Muslims congregate for prayers, at the time when they are leaving the congregation was a clear indication of involvement of 'other' groups than the usual suspects, in which many a Muslim youth had been arrested and later released due to lack of any evidence whatsoever.
In the light of many a military officers role in these acts, it did not therefore, come as a surprise that Mohan Bhagwat, RSS Chief used the platinum jubilee celebrations of the Bhosala Military school (BMS) say that "military schools run under the aegis of Hindutva institutions are the need of the hour,".
Looking at the key role played by Bhosala Military School, which is run by a group of people whose sympathies with the RSS is no secret, one fails to understand why the chief bosses of the school were not investigated for their role in the acts of terror? Very few people even know that BMS is one of those rare schools who impart training on service pattern to the students along with regular courses which is aimed at encouraging and preparing them for entry into National Defense Academy (NDA), Indian Military Academy (IMA) etc and other defense services.
Bhosala Military School has a long history. It was set up by Dr. B.S. Munje, the mentor of RSS Sarsanghclak, Dr. K.B. Hedgewar. Dr. Munje was inspired by Benito Mussolini's fascist methods and believed that one who controls army rules the country. His statue in the Nagpur, where RSS was founded, has this phrase written on the plaque. With this perspective in mind this school was set up to act as a feeder for Indian army. The school was set up with the assistance of British and it supplied officers to the British army. Its training is meant to supply officers for Indian army. Now it emerges from different confessions and statements that the groups involved in terror had deeper connection with this school. What ideology it teaches and what it aims is very clear from some of the statements of the accused.
The phenomenon of Hindutva terror allegedly revolves around the likes of Lt. Col Purohit and Swami Aseemanand of RSS to name the two central characters. After Swami Aseemanand's confession the total picture and their agenda becomes clear. Aseemanand had said that 'bomb is the answer to bomb'. He also wanted to pave the way for the goal of Hindu nation through such terror outfits and their goal was larger than just a blast here and a blast there, they aimed at Hindu nation. Purohit in his statements during interrogation has said that their effort was to fight the Indian Constitution for (Hindu) Nation, "We will fight the Constitution to fight for our nation." The RSS propaganda that Hindu religion is in danger and it needs to be defended was also stated by Purohit. He also says "many things are wrong in the country and need to be rectified. Hindu religion is in danger. It is our duty to defend Hinduism." And finally "We have to establish this country in accordance with the Vedic procedures; we want the Sanatan Dharma, the Vedic Dharma."
The la affair Purohit is getting murkier and murkier. The agenda of Hindu nation, the role of Bhosala military school and other army officers in the whole chain of command cannot be accepted at the face value. It needs a deeper probe and investigation of the whole terror network and the role of army officers, as it is clear that Col Purohit's statement that he was keeping other army officers in the loop for an operation which was not the part of the army intelligence work, is a matter of worry. The role played by Bhosla Military School also needs to be probed. The ideology which such people are harboring to fight Indian Constitution to build Hindu nation is a clear danger to our Constitution, the democratic values and the plural character of the country. How does one save the values of India's Constitution, the values of India's freedom movement?
http://www.ummid.com/news/2012/July/22.07.2012/col_prohit_n_escaping.htm
-------
Pakistan tour to India in 1952, climate was far more hostile than it is now
July 22, 2012
Indian and Pakistan cricket fans watch the game during Day 1 of the 1st Test between Pakistan and India at Multan Stadium on March 28, 2004. © Getty
After four years of constant refusal to resume bilateral cricketing relations and giving Pakistan cricket the cold shoulder, the ice has finally started to melt. The Board of Control for Cricket in India (BCCI) finally decided to restart the most intense cricket rivalry in the world, having invited Pakistan to play three One-Day Internationals and two Twenty20s in India later this year.
With bilateral cricket ties with India on hold ever since the 2008 Mumbai attacks, followed by the attack on the Sri Lankan team in Lahore in 2009, not to mention the 2010 spot-fixing saga and Pakistan being stripped off hosting rights of the 2011 World Cup, it was quite evident that the country's cricket had been on a downward spiral for the past few years.
In recent times, however, the national team's creditable performance has given the fans something to cheer about. However, the off-the-field realities are the ones that have continued to ensure that Pakistan cricket remains in the doldrums on many fronts, including the painful realisation that it would be many years before we are able to host international cricket and that the Pakistan Cricket Board (PCB) will continue to face serious financial problems in the foreseeable future.
In such a scenario, a series with India, even if it is not on home soil, will hopefully ensure that the severity of the financial crunch that the PCB currently faces will be alleviated to an extent.
However, beyond the obvious financial benefits that both the boards will derive from this series, we need to look at Pakistan-India cricket ties on a much broader canvas. If anyone doubts the importance of cricket ties between the arch-rivals to the health of world cricket, one only has to recall the high voltage, riveting contest that unfolded when Pakistan met India in the semi-final of the last World Cup, en route to becoming the world champions.
Top-flight cricket is played amongst a handful of nations and if two of those countries — which incidentally also provide one of the most intense rivalries in international sport — refuse to face each other, world cricket will definitely be poorer off.
More often than not, cricket relations between the two countries have been held hostage to the political climate prevalent between the neighbours. It is disappointing that certain quarters in India have not welcomed this thaw in cricket ties. One wonders why those who oppose this resumption have only spoken out against this aspect of improved relations between the two countries. Trade ties between the neighbours are improving, Pakistan's president recently visited India, as did the country's foreign secretary.
Why this vocal outburst only against the resumption of cricket ties?
To all those who believe that cricket should continue to be held hostage to the wider issues between the two countries, it would be a good reminder that just five years after a bloody Partition, which had engendered harrowing violence, bloodshed and extreme intolerance in its wake, 16 men from Pakistan went to play cricket in India.
Pakistan's inaugural 1952 tour of India was held amidst a much more hostile climate that is prevalent right now. But it still ended up giving hope that cordial relations between the people of the two countries were possible and that maintaining sporting ties was one way of generating good will on both sides of the Wagah border.
(Amna Lone works for The Express Tribune's editorial pages. The above article is reproduced with permission from http://tribune.com.pk/)
http://www.cricketcountry.com/cricket-articles/When-Pakistan-toured-India-in-1952-the-climate-was-far-more-hostile-than-it-is-now/16455
--------
Pakistan
Government in hot water over new contempt law
By Hasnaat Malik
ISLAMABAD, July 21 12: The federal government is going through a tough time regarding the Contempt of Court Act 2012 as a five-member bench of the Supreme Court (SC), headed by Chief Justice of Pakistan Iftikhar Chaudhry, will take up 27 various petitions against the new law.
It has been witnessed that a highest number of petitioners have approached the SC regarding any matter for the first time.
The Pakistan Bar Council also moved a petition on Saturday for declaring several clauses of the act null and void.
Talking to Daily Times, Latif Afridi, counsel for the PBC, confirmed that he had filed a petition under Article 184(3) of the constitution against the law.
He also said that in view of Article 8 of the constitution the court could declare void any law, which would be against fundamental rights. Afridi said that there were certain clauses, which were contrary to the constitution.
Meanwhile, it has been learnt that the federal government had also contacted the PBC leadership for getting their stance about the contempt law. It was also learnt that the government would honour the PBC's recommendations in this regard.
Special Assistant to Prime Minister Fawad Chaudhry had confirmed that the government was in contact with the PBC members to get their support about the contempt law.
"If the PBC will give recommendations regarding the amendment in new contempt law then we will follow its advice," he added.
Objecting to the court's proceedings regarding the contempt of court law, Chaudhry said that acceptance of petitions against the law were against the constitution.
PBC Executive Member Ramzan Chaudhry said that the PBC would request the SC to send back the law to parliament for reconsidering the clauses, which were in violation of the constitution.
He said that the PBC had reservations on certain clauses, but it did not want confrontation among institutions, adding that they would request the SC to refer the new law to parliament.
"Whenever a new law is framed it has some shortcomings, which can be corrected without confrontation," he added.
Ramzan said that lawyers believed that there were several good clauses in the new law, including giving right of appeal to the accused, which was the need of the hour. He said that the PBC supported the clause about the permission of positive criticism on the court's judgements. He said that the PBC had serious reservations on the immunity clause, which was contrary to the constitution.
Legal experts believed that it could be a setback for the government as the PBC, for the first time, had approached the court against the government in the last four years.
Earlier, the PBC did not move any petition in the 18th Amendment and NRO cases.
Pakistan People's Party senators Aitzaz Ahsan, Raza Rabbani and Babar Awan had also expressed reservations over few clauses of the law.
On July 14, hearing the contempt law the court had issued notices to Prime Minister Raja Pervez Ashraf, Law Minister Farooq Naek, the Senate chairman, the National Assembly speaker and others.
http://www.dailytimes.com.pk/default.asp?page=2012%5C07%5C22%5Cstory_22-7-2012_pg7_21
-------
Pakistan's plans to repatriate Afghan refugees could displace 3 million
Daily Times Monitor
LAHORE, July 22, 2012: Pakistan plans to cancel refugee status for all Afghans living in the country at the end of this year, leaving some three million displaced people – the world's biggest cluster of refugees – facing possible expulsion to a country that many barely know.
Pushing the refugees into Afghanistan would be likely to create a new crisis for that country, already struggling with an insurgency and an economy almost entirely dependent on the western presence and the illegal drug trade. The west is pressing Pakistan to reconsider its policy, which puts it at odds with the United Nations and other international partners. The international community and the Afghan government have no strategy prepared to deal with any such influx of people.
However, Pakistan's top administrator in-charge of the Afghan refugee issue, Habibullah Khan, the States and Frontier Regions Ministry secretary, told the Guardian that Islamabad would not relent. "The international community desires us to review this policy but we are clear on this point. The refugees have become a threat to law and order, security, demography, economy and local culture. Enough is enough," he said.
"If the international community is so concerned, they should open the doors of their countries to these refugees. Afghans will be more than happy to be absorbed by the developed countries, like Western Europe, USA, Canada, Australia."
There are currently 1.7 million Afghan refugees registered in Pakistan – more than half of them under 18 – of whom 630,000 live in camps. A further one million are estimated to be living in the country unregistered and therefore illegally.
"After December 31, there is no plan to extend the validity of the POR [proof of registration] cards of Afghan refugees. Those currently registered will lose the status of refugees. They will be treated under the law of the land. The provincial governments have already been asked to treat the existing unregistered refugees as illegal immigrants," said Khan.
Khan declined to spell out what would happen to the refugees after the end of the year but, if the policy sticks, they will all be in the country illegally and liable to be thrown out.
Earlier this year, Baroness Amos, the former British cabinet minister who is now the UN humanitarian affairs chief, said she was "appalled" by the conditions for returning refugees, after visiting a camp for them in Kabul. Once they reach Afghanistan, they are entitled to a one-off $150 per person from the UN.
Neill Wright, the Pakistan representative of the UN High Commissioner for Refugees (UNHCR), said that the UN would still recognise registered Afghans in Pakistan as refugees after the end of 2012 under international law, "until a durable solution can be found".
http://www.dailytimes.com.pk/default.asp?page=2012%5C07%5C22%5Cstory_22-7-2012_pg1_5
-------
Airstrikes kill 15 militants in northwest Pakistan
Reuters
KALAYA, PAKISTAN, Jul 22, 2012: Pakistani military jets struck militant hideouts in the northwest of the country on Sunday, killing 15 militants and wounding several others, military officials said.
The airstrikes targeted four hideouts in the remote Ghaljo and Dabori areas of the northwestern Orakzai tribal region, the officials said. The locations were being used by members of the Pakistan Taliban.
The death toll could not be independently verified and militants often dispute official figures.
The Pakistan military has been conducting operations against militants in Orakzai for months.
Several militant groups are active in Pakistan's northwestern semi-autonomous tribal regions, near the border with Afghanistan, including the Pakistan Taliban, responsible for many of the bombings across the country in recent years.
http://timesofindia.indiatimes.com/world/pakistan/Airstrikes-kill-15-militants-in-northwest-Pakistan/articleshow/15090899.cms
------
US has allocated $350,000 for research projects in Pakistan
Staff Report
LAHORE, July 21 12: The United States has allocated $350,000 this year for research projects in Pakistan, US Consulate General Economics Officer Frank P Talluto said on Saturday.
Addressing the concluding session of a three-week biostatical summer research camp on 'Developing Research Plan and Proposal', he said the US administration was focusing on Pakistan's educational capacity building through science and technology programmes.
The research camp was organised under Pakistan-US Science and Technology Project on 'Establishing a Biostatistical Consulting Centre in Pakistan' in collaboration with the University of Veterinary and Animal Sciences (UVAS) and Jackson State University (JSU).
Earlier, inaugurating the Biostatistical Consulting Centre (BCC) at UVAS, Talluto said that academia and institutional linkages should be strengthened between the two countries, adding that 14 US universities were collaborating with Pakistani universities.
The envoy explained that the US Science and Technology Programme was working only in two countries of the world, one of which is Pakistan. He urged the participants to make new research projects with innovative solution so that the future challenges could be overcome.
Congratulating the research camp participants, Talluto remarked, "The United States takes pride in funding efforts like the UVAS's Biostatistical Consulting Laboratory and research camp, as we recognise that analytical research, combined with cutting-edge technology, will bear fruit in today's globalised world. Making these investments in human capital will lead to new and innovative solutions for the future challenges we face."
The new BCC, which is equipped with 20 computers and state-of-the-art data analysis software to develop research plans, analyse data, and draft manuscripts for publication, will provide critical research-infrastructure support to investigators and students in Pakistan conducting high-quality research. More than half of the research camp participants are expected to submit first drafts of their research papers for publication shortly after the programme.
Under the cooperation programme, Dr Hafiz Anwar Ahmed of JSU conducted a US-funded rigorous three-week research camp for faculty and PhD students.
UVAS Vice Chancellor Prof Dr Talat Naseer Pasha said that the young researchers would get educational expertise to overcome their statistical deficiencies, especially in project-making, research paper and interpretation of research results to determine impact on animal population as well as human community.
Later, Talluto and Dr Pasha distributed certificates among the participants.
http://www.dailytimes.com.pk/default.asp?page=2012%5C07%5C22%5Cstory_22-7-2012_pg13_5
-------
Pakistan Coast Guards seizes 10kg heroin
KARACHI, July 22, 2012: Pakistan Coast Guards officials seized a huge quantity of heroin from Phore Check Post, Aghore (Balochistan).A statement issued here on Saturday said that the PCG officials carried out a seizure operation on Coastal Highway at Phore Check Post, based on the reliable information about smuggling of heroin. It said that during search, the PCG officials seized 10 kilogram heroin from civil passenger coach which was moving from Karachi to Gwadar. Heroin capsules were concealed in the sealed tin boxes of oil paints. After necessary investigation two individuals were arrested and all other passengers and bus was released. Further investigation was underway by the PCG special investigation team, the statement added. app
http://www.dailytimes.com.pk/default.asp?page=2012%5C07%5C22%5Cstory_22-7-2012_pg7_12
--------
Is the US Dictating Pipeline Policy to Pakistan?
Monday, 9 Jul 2012
Perhaps nowhere in the world are Washington's diplomatic efforts more schizophrenic than in dealing with Pakistan.
On the one hand, the U.S. regularly lauds Pakistan as a stalwart ally in its global war on terror and yet U.S. drones regularly violate Pakistan's airspace in their hunt for militants, provoking increasing anger in Islamabad.
Even worse, on Nov. 26, 2011, a NATO aerial assault on two Pakistani border posts in Mohmand Agency in Pakistan's turbulent NorthWest Frontier Province killed 24 Pakistani soldiers on Pakistani soil, leading Pakistan to close down its border crossings for NATO logistics until an apology was received. Islamabad only just received that apology.
Washington is now sending equally contradictory signals about two proposed natural gas pipelines that could begin to alleviate the country's chronic energy shortages. That Pakistan is in the grip of an unprecedented energy crisis is evidenced by the fact that the newly elected prime minister of Pakistan, Raja Pervez Ashraf, recently met with National Power Control Center officials for a briefing about the country's energy crisis, after which he stated at a press conference that resolving the nation's energy crisis was his "top" priority. In the short term, Ashraf said that he had instructed the Ministry of Petroleum to ensure an uninterrupted supply of 28'000 tons of oil daily to the power sector and that his administration will add 1,200 megawatts of electricity to the National Grid System.
The "good" pipeline favored by the Obama administration?
The $7.6 billion Turkmenistan-Afghanistan-Pakistan-India (TAPI) pipeline.
The "bad" pipeline, which Washington opposes?
The Iran-Pakistan (IP) pipeline.
Full Report at:
http://www.cnbc.com/id/48123411/Is_the_US_Dictating_Pipeline_Policy_to_Pakistan
--------
Pakistan must introduce police reforms to increase its efficacy: Research
Washington,22 Jul 2012ANI, Pakistan needs to reform its police force, providing it with training, equipment and backing it with political to make it more effective, a new study has said.
A commission set up by the New York-based Asia Society, called for Pakistan to step up police training and carry out structural reforms to boost their skills and reduce corruption, reports The News.
"High crime rates throughout the country, relatively low conviction rates of prisoners on trial and heightened concerns about instability spilling over from Afghanistan indicate that there is an urgent and critical need to invest in and reform Pakistan's law enforcement infrastructure," the report said.
Pakistan's police system "simply is not structured to reward good behavior, as merit-based opportunities for professional advancement are scarce, low pay is the norm and a lack of support and resources compels even many well-intentioned officers to misuse their authority in order to survive," the report said.
Hassan Abbas, the commission's project director and professor at the National Defense University in Washington, said international assistance could help. Britain and the United States have both been assisting police reform.
"However, the overall funding for these projects is no match for the resources provided to Pakistan for anti-terrorism operations throughout the last decade, very little (if any) of which ever reached police institutions because it was so largely geared toward the defense sector," he said.
Pakistan has received more than 18 billion dollars in U.S. aid, mostly for its military, since it agreed to support the U.S.-led war in Afghanistan after the September 11, 2001 attacks.
The report also called for training on protecting the rights of women, children and minorities and efforts to recruit more women police officers.
The report said that police should be put in charge of investigating charges of extrajudicial killings in Balochistan and that Pakistan should restrict the roles there of the paramilitary Frontier Corps and intelligence agencies. (ANI)
http://www.newstrackindia.com/newsdetails/2012/07/22/168-Pakistan-must-introduce-police-reforms-to-increase-its-efficacy-Research.html
------
South Asia
Afghans: Artillery fired from across Pakistan border hits homes, kills 4 civilians
By Associated Press,
KABUL, Afghanistan, July 22— Afghan officials said Sunday that hundreds of shells and rockets have been fired into Afghanistan from neighboring Pakistan, hitting homes and killing four civilians along frontier areas from which insurgents have in the past staged cross-border attacks.
The Afghan government has not yet openly blamed the Pakistani military for the artillery barrage, which reportedly hit districts in the eastern provinces of Nuristan and Kunar. Both are considered insurgent hotbeds, and militants allied with both the Afghan and Pakistani Taliban regularly cross the mountainous border in both directions.
Life and war in Afghanistan: July 2012:?See our continuing photo coverage of life in Afghanistan as coalition forces fight the Taliban.
Pakistan has railed against Afghan and NATO forces for not doing enough to stop the rising number of cross-border attacks, which it says have killed dozens of members of its security forces. However, there has been little sympathy from the U.S. and Afghan governments, which have long complained Pakistan allows sanctuary to militants fighting in Afghanistan crossing the border in the opposite direction.
In the latest reported cross-border violation, nearly 400 rockets and shells were fired into Afghanistan on Saturday and killed at least four people in Dangam district along the border, according to Kunar provincial police chief Gen. Ewaz Mohammad Naziri.
Full Report at:
http://www.washingtonpost.com/world/asia_pacific/nato-says-insurgent-attacks-kill-3-service-members-in-eastern-afghanistan/2012/07/22/gJQAliUY1W_story.html
---------
US human rights concerns correct: BNP
Dhaka, Jul 21st, 2012 (bdnews24.com) – BNP thinks that the US is correct in being concerned over human rights situation in Bangladesh, especially on account of alleged extra judicial killings by the Rapid Action Battalion (RAB).
BNP Acting Secretary-General Mirza Fakhrul Islam Alamgir discussed the party's stance over the matter with journalists on Saturday.
He thanked the US for discussing Bangladesh's human rights situation in its Congress.
"Human rights are being violated to the hilt under this government. A number of BNP leaders and activists, including Organising Secretary M Ilias Ali, have been kidnapped and killed.
"We've spoken against these many times, but the government did not pay any heed. Even the US Congress heard that the human rights in Bangladesh are now in tatters. It's worrisome," he said.
Robert O Blake Jr, Assistant Secretary, Bureau of South and Central Asian Affairs of the US, told the Congress on Thursday that the US has authentic information on extra-judicial killings and abductions by RAB in Bangladesh.
Blake said US Secretary of State Hillary Clinton had conveyed during her trip to Bangladesh in May the concern of her country over the murder of labour rights activist Aminul Islam and the disappearance of opposition leader Ilias Ali.
Aminul had been killed and Ilias disappeared in April.
http://bdnews24.com/details.php?id=228637&cid=2
--------
Southeast Asia
Malaysia's P M: LGBTs, liberalism, and pluralism are enemies of Islam
Malaysia's piously Muslim Prime Minister Najib (in photo) needs to remind the faithful just who the enemies of Islam, and hence the Malaysian government, are. The timing of his pronouncement is no accident, coinciding with the start of Islam's 'holy' month of Ramadan, which started today in Malaysia. Najib has intoned to Muslims, and hence to the rest of us, that those enemies include 'liberalism', 'pluralism' and LGBTs (Lesbians, Gays, Bisexuals and Transgendered persons). These enemies will be henceforth presumably cleansed from Malaysian society.
But haven't Imam Rauf and many other Muslim spokespersons in the West repeatedly assured us that Islam and Sharia are fully compatible with the values enshrined in the US Constitution and Bill of Rights? Obviously Najib must be some sort of raging Islamophobe to assert otherwise. From "Najib: LGBTs, liberalism, pluralism are enemies of Islam", by Hafidz Baharom, The Malaysian Insider, 19 July 2012:
SERDANG, July 19 ? The lesbian, gay, bisexual and transgender (LGBT) community along with liberalism and pluralism were today branded as enemies of Islam by Prime Minister Datuk Seri Najib Razak in front of a crowd of over 11,000 imams and mosque committee members from across the nation.
"LGBTs, pluralism, liberalism ? all these 'isms' are against Islam and it is compulsory for us to fight these," he said.
Najib also said the government supports human rights, but within the boundaries of Islam.
"We do support human rights, but we must do so within the boundaries set by Islam," he said.
Everyone knows how many human rights there are within Islam. Nothing to fear here, yes? Yes, there's nothing to fear...unless you're a woman, Jew, homosexual, former Muslim, or non Muslim, among other things.
The prime minister also told Muslims to avoid discord which could threaten those who safeguard Islamic principles.
"If the nation falls into a state of chaos, who will safeguard these people?" he asked.
A 'state of chaos' in Najib's mind probably means an insufficient amount of devotion to Islamic supremacism on the government agenda. It is an Orwellian turn of phrase that we should expect from this or any other Prime Minister of a Muslim-controlled government.
The event, organised by the Prime Minister's Office, started off with the Minister in Prime Minister's Office Maj-Gen (R) Datuk Seri Jamil Khir Baharom saying that imams must defend the government against these threats.
"There are so many attacks on our religion. LGBTs, pluralism, liberalism, Seksualiti Merdeka. We must stand strong and defend the government," he said.
Attendees were also given a book which was written by Najib himself, entitled "Agenda Islam Dalam Transformasi Negara".
Yesterday, Opposition leader Datuk Seri Anwar Ibrahim also said that he did not support the rights of LGBTs and advocates the sanctity of marriage being that between a man and a woman.
Liberalism is the belief in total liberty and equality of an individual, while many conservative Muslims are opposed to religious pluralism because of fears it could lead to other religions being put on the same standing as Islam.
Wait, I thought it was 'conservatives' who opposed Islamic supremacy, but never mind. You mean that Muslims oppose Islam being put on the same standing as other religions? And that Islam and Muslims oppose liberty and equality of the individual? No no, we certainly cannot have any of that. We must avoid 'discord' and 'safeguard Islamic principles'. At all costs.
http://www.jihadwatch.org/2012/07/malaysias-prime-minister-lgbts-liberalism-and-pluralism-are-enemies-of-islam.html
---------
Rohingya Muslims in Myanmar victims of global power struggle
(Ahlul Bayt News Agency), 2012/07/22, Although continuing violence against the Rohingya Muslims in Myanmar alarmed the international community, bringing their plight to the international agenda, experts agree that Muslims in Myanmar are the victims of a global power struggle and that the international community should end its silence on the situation affecting the Southeast Asian country.
The first glimmer of violence in Myanmar occurred in June after claims that three Rohingya Muslims raped a Buddhist woman. Following the allegations, extremist Buddhists started killing Muslims living in Arakan province, the location of the recently escalating violence in the country, near Bangladesh. "What kind of solution can be found for the conflict is a question mark. The issue should be put on the UN agenda. But it's impossible for the UN Security Council to issue a resolution against the Myanmar government due to Chinese influence. Myanmar's government has had very close relations with China for 20 years. Therefore, Myanmar is an important country for the other powers due to its relationship with China. The competition for leadership between China and the US in the Indian Ocean is serious.
Recent visits by US officials to Myanmar are to break Chinese influence in the region," said Çolakoglu.
Agreeing with Çolakoglu regarding the role of the global powers in Myanmar, Sait Demir from Turkey's Humanitarian Aid Foundation (IHH), told Sunday's Zaman that the major powers had significant interests in Myanmar, adding that due to these policies they remain silent on the situation in Myanmar. "Myanmar also has important natural resources. Therefore, the US and China have conflicting policies in Myanmar," said Demir, adding that both powers supported Myanmar's government.
Full Report at:
http://abna.ir/data.asp?lang=3&id=330799
---------
Central Asia
India-Tajikistan discuss Afghanistan, counter-terrorism
July 03, 2012
Afghanistan was the focus of the high-level talks held between India [ Images ] and Tajikistan, but the host country shied away from the Ayni air base issue, says Sheela Bhatt.
Foreign Minister S M Krishna [ Images ], who is on a two-day visit to Tajikistan, and his counterpart Hamrokhon Zarifi discussed issues of mutual interest such as Afghanistan, with which Tajikistan shares over 1,400 km of border.
In the talks that were extended by a day, both sides finalised the September visit of Tajik President Emomali Rahmon to New Delhi [ Images ].
While talking to the media, an Indian ministry official said that Zarifi told Krishna about what his country is doing to improve bilateral co-operation with Afghanistan. Both sides discussed the mutual perception of the region and the 'ethnic issue'.
Zarifi also talked about India and Tajikistan's old cultural ties. Tajikistan is looking forward to India's help in developing the hydropower sector. The Tajik side told India that hydropower, road building and communications are three sectors where Tajiks are talking with their Afghan counterparts.
India can help in providing logistical and technical support in the region in these three sectors.
Both sides also discussed United Nations reforms and the ways to co-operate in global issues.
Krishna also talked about counter-terrorism mechanism. Both sides are committed to enhance the counterterrorism measures to improve security.
In an interesting business development, both sides discussed about the possibility of mining gold and silver in Tajikistan.
The Ayni air base issue has remained under shadow, and on Monday, the Tajik foreign minister avoided talking about it. India, in an exceptional event, has built the air base near Dushanbe at a cost of $70 million.
More than 150 India Air Force pilots were brought to Dushanbe to execute the project. It was completed two years ago. In fact, few staffers of Indian Air force have stayed back to look after the logistics.
This is a rare case where Indian defence forces are present outside the country without a UN cover. But, both sides are playing it down.
On one hand, Tajikistan is taking care of Pakistan's sensitivities, and on the other hand, the Russians are pressing Tajiks to let them have the air base where they would like to park their Sukhoi fighters. Tajikistan has not taken the final decision on it.
Meanwhile, India's low-key and silent presence remains at Ayni without any fighter jets.
Tajikistan is unable to say 'no' to Russia [ Images ]; the power that dominates the region, and is not saying 'yes' to India to use Ayni air base to kick start its plans in the central Asian region.
http://www.rediff.com/news/report/india-tajikistan-discuss-afghanistan-counter-terrorism/20120703.htm
-------
North America
Congresswoman claims Muslim Brotherhood infiltrating US Government
Nouran El-Behairy
July 21, 2012
United States Congresswoman Michele Bachmann and four other congress members called on security agencies to investigate possible Muslim Brotherhood infiltration into the American government, accusing a number of American officials of conspiring against the United States and promoting the cause of the Brotherhood.
The claims made by Congresswoman Michele Bachmann, a member of the house Intelligence Committee along with Trent Franks, Louie Gohmert, Thomas Rooney and Lynn Westmoreland, were based on a report called "Muslim Brotherhood in America" produced by the conservative Center for Security Policy which is led by Frank Gaffney. Gaffney is known for his strong anti-Brotherhood and Islamic Shari'a stances.
These allegations have raised controversy within American government and media circles. Among those accused are, Huma Abedin, a top aide of United States Secretary of State Hillary Clinton, and Keith Ellison, the first Muslim elected to congress.
Bachmann attacked Ellison on a conservative radio show on Thursday saying Ellison "has a long record of being associated with CAIR (the Council on American–Islamic Relations) and with the Muslim Brotherhood."
Ellison said on CNN that the only thing he could recall about the Brotherhood is that one of its candidates, formerly a professor in an American college, was elected Egypt's President.
In a statement on her website, Bachmann criticised the Obama administration for giving Hani Nour Eldin, a member of Egyptian Islamist Group that was banned until the 25 January revolution, a visa to enter the US and granting him a meeting with National Security Council officials inside the White House.
Full Report at:
http://thedailynewsegypt.com/2012/07/21/congresswoman-claims-muslim-brotherhood-infiltrating-us-government/
---------
Obama wishes Muslims a blessed Ramazan
22 July, 2012
WASHINGTON: US President Barack Obama has greeted Muslims around the world on the advent of the holy month of Ramazan and expressed Washington's support for people of the Middle East and North Africa struggling for their democratic rights.
"This year, Ramazan holds special meaning for those citizens in the Middle East and North Africa who are courageously achieving democracy and self-determination and for those who are still struggling to achieve their universal rights," he said in a statement, released by the White House.
In the US, Obama noted, "Ramazan reminds us that Islam is part of the fabric of our nation, and that 'from public service to business, from healthcare and science to the arts' Muslim Americans help strengthen our country and enrich our lives."
"Even as Ramazan holds profound meaning for the world's 1.5 billion Muslims, it is also a reminder to people of all faiths of our common humanity and the commitment to justice, equality, and compassion shared by all great faiths," the US president said.
"In that spirit, I wish Muslims across America and around the world a blessed month, and I look forward to again hosting an iftar dinner here at the White House."
"On behalf of the American people, Michelle and I extend our warmest wishes to Muslim Americans and Muslims around the world at the start of Ramazan. For Muslims, Ramazan is a time of fasting, prayer, and reflection; a time of joy and celebration. It's a time to cherish family, friends, and neighbours, and to help those in need."
Cameron felicitates Muslims on Ramazan
British Prime Minister David Cameron, in his message to Muslims for Ramazan, highlighted the importance of charity and compassion during the holy month.
In his message on the start of the Ramazan, the British prime minister, while greeting the Muslims, said, "As the holy Islamic month of Ramazan begins, I want to take this opportunity to send my warmest wishes to Muslims in Britain and across the world."
The British prime minister said, "During this hugely important time of prayer and fasting, we are reminded of the importance of charity and compassion. These are values and traditions at the heart of Islam but shared by those of all faiths in Britain."
"At a time of great change and uncertainty across the world, I am proud of the role Britain plays on the international stage to help those less fortunate through our aid budget and work with our allies and friends. Our thoughts must be with those that have suffered the most this past year - particularly the Syrian people," he added. "So let me wish everyone peace, happiness and unity during this special time and say Ramazan Mubarak," said the British prime minister in his message.
http://paktribune.com/news/Obama-wishes-Muslims-a-blessed-Ramazan-251694.html
--------
Europe
Norway tries to put pain of Breivik behind year on
Reuters | Jul 22, 2012
Norwegians by the thousands gathered on Sunday at sombre memorials to the 77 people killed a year ago by far-right gunman Anders Behring Breivik to show his bloody rampage had done nothing to change their dedication to an open society.
"The bomb and the shots were intended to change Norway. People responded by embracing our values. He failed, the people won," Prime Minister Jens Stoltenberg told the crowds, carrying red and white roses at the memorial in central Oslo.
Breivik, who said his mostly teenage victims were traitors because they supported multiculturalism and Muslim immigration, detonated a bomb outside parliament that killed eight, then shot dead 69 at the ruling Labour Party's youth camp on Utoeya.
The anniversary fell two days after a gunman in the US state of Colorado killed 12 and wounded 58 in a crowded movie theatre. No link has been suggested between the two rampages.
"Very few people can go through a day without thinking of the events of July 22," said Vegard Groeslie Wennesland, an Utoeya survivor, who escaped Breivik by barricading himself in a cabin with about 50 others.
"You know, a person you miss, someone you were supposed to hang out with or seek advice from or anything like this. Or something that just reminds you of what happened."
On the island, Stoltenberg and most cabinet members joined around a thousand survivors in songs, speeches and commemoration that included releasing a large, heart-shaped helium balloon to which they had attached personal messages.
"In the past year, young people joined the service of democracy and responded to violence with activism," Stoltenberg said on Utoeya.
"By meeting blind hatred with knowledge and reason, we have shown that democracy is stronger than its biggest threat."
Full Report at:
http://timesofindia.indiatimes.com/world/europe/Norway-tries-to-put-pain-of-Breivik-behind-year-on/articleshow/15094361.cms
--------
Five arrested for attack for disputes over faith on Tatarstan cleric
21 July 2012 09:55
By Agencies
Five suspects have been detained by Russian authorities over attacks that wounded the top Islamic official in the mostly Muslim Tatarstan region, killed his deputy and raised fears of the spread of militancy to Russia's heartland.
The federal Investigative Committee on Friday suggested that the attacks - in an area previously held up as a model of religious tolerance - were provoked by disputes over faith and money.
Tatarstan's mufti, Ildis Faizov, was rushed to hospital after three powerful blasts hit his car in Tatarstan's capital, Kazan, on Thursday.
A little earlier, deputy mufti Valiulla Yakupov was shot dead outside his home.
President Vladimir Putin and top security officials called at the weekly meeting of his Security Council for tough measures against extremism after the attacks.
Participants underscored the need to "step up opposition to all forms of extremism, including religious," state-run news agency RIA quoted Putin's spokesman Dmitry Peskov as saying.
Fayzov's car was blown up as he left a radio station in the city of Kazan, about 735km east of Moscow, the federal Investigative Committee said in a statement.
There were no immediate claims of responsibility for the attacks.
Ideological differences
The attacks evoked the deadly violence that plagues mainly Muslim regions of the North Caucasus, where Russian forces have fought rebels in two devastating wars since the 1991 Soviet collapse and fighters want to carve out an Islamic state.
Oil-producing Tatarstan, which has a higher degree of autonomy from Moscow than most regions and has a majority ethnic Tatar population, is relatively peaceful. It has a large Muslim population.
Its historic capital Kazan, on the Volga River, has been chosen as the host city for the World University Games next year.
"Investigators believe the main motive was the professional activity of the victims, including their ideological differences with opponents," investigators said in a statement.
Faizov had taken "a tough position toward organisations that preach radical forms of Islam", they said.
"In addition, he took control of the movement of financial resources of the organisation Ideal-Hadzh, which sent Muslims to Mecca, and on this basis a conflict occurred between the mufti and the leader of this organisation, which threatened him."
It said the chairman of Ideal-Hadzh, Rustem Gataullin, 57, was among those detained, along with the leader of a Muslim place of worship, Murat Galleyev, an Uzbek citizen and two other residents of Tatarstan.
Putin, who has emphasised the need for religious tolerance and unity in a mainly Orthodox Christian country with a large Muslim minority, promised on Thursday that the culprits would be found and punished.
"It is a serious signal," Putin said of the attacks, carried out hours before the Muslim holy month of Ramadan began at sundown on Thursday.
http://mwcnews.net/news/europe/20336-tatarstan-cleric.html
-------
Putin denounces Muslim murders in Tatarstan
20 July 2012
Vladimir Putin, Russia's president, has said the twin attacks that wounded the Islamic leader of the country's main Muslim region of Tatarstan and killed another top cleric happened because no "pre-emptive" measures had been taken.
"There is a need to understand the situation, analyse it and take timely decisions," Putin said on Thursday.
"Taking into account this tragic event, we can say that no pre-emptive steps had been taken," he said in televised remarks at a meeting with parliament leaders.
Ildus Fayzov, who was the Mufti of Tatarstan and the most senior Islamic official in Russia's largely Muslim Tatarstan region, was fatally wounded in a car bomb attack and his deputy killed in a separate shooting.
Fayzov's car was blown up as he left a radio station in the city of Kazan, about 735km east of Moscow, the federal Investigative Committee said in a statement.
His deputy, Mufti Valiulla Yakupov, was shot dead at about the same time at the entrance to his home in Kazan, the committee added.
There were no immediate claims of responsibility for the attacks. Tatarstan, in central Russia, has a large Muslim population.
"This once again reminds us of the fact that the situation in our country is far from ideal," Putin said, adding that he ordered the head of the FSB security service to hunt down and punish those behind the twin attacks.
Unclear motive
The motive in this case is unclear, but Vladimir Markin, a spokesman for Russia's Investigative Committee, said both leaders were known for fighting extremism and their professional work was being investigated as one of the reasons for the attacks.
Muslim rebels say they are fighting for a separate Islamic state in the strip of provinces along Russia's southern border and sometimes target mainstream Muslim leaders, who have the backing of regional authorities and Moscow.
But their activities have been mostly contained to the Muslim republics of Chechnya, Dagestan and Ingushetia in the North Caucasus.
Tatarstan has been largely peaceful and is held out as a showcase of religious tolerance in Russia, which as a whole is predominantly Orthodox Christian.
http://mwcnews.net/news/europe/20311-putin-denounces.html
--------
URL: https://newageislam.com/islamic-world-news/by-new-age-islam-news-bureau/tunisia's-hizb-ut-tahrir-calls-for-creation-of-islamic-state/d/8008