New Age Islam News Bureau
4 Aug 2012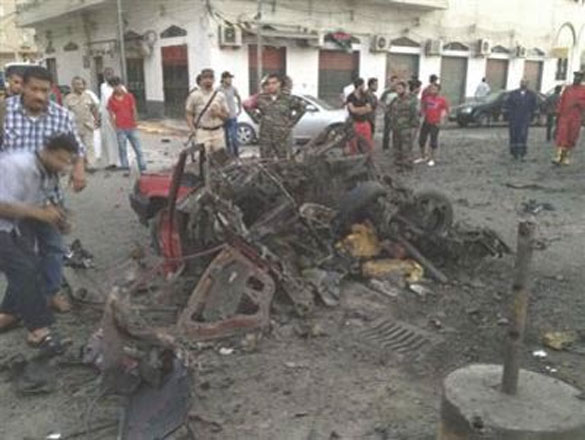 Africa
• Tunisia blasphemy bill threatens free speech: HRW
• Car bomb explodes in Tripoli, 1st since Gaddafi's fall
• Nigerian religious leader escapes suicide attack
• Sudan, South Sudan strike oil deal
• Kenya Ramadan Fights Poverty
• Uganda Ebola outbreak toll rises to 16
India
• Ban on Islamist Freedom Parade upheld by Kerala HC
• Email threatens blast in Delhi on Independence Day
• Indo-Pak peaceniks to celebrate independence days at Wagah
• Two dozen Indian terrorists in Pakistan planning attack on India: Abu Jundal
• New Indian Mujahideen module may have struck in Pune
• Indian move to allow Pak FDI draws strong Reaction from extremists
• CRPF fire warning shots to disperse stone pelters in Srinagar
Pakistan
• I would have killed Osama myself if I had a chance: Pak envoy in UK
• Pak jails 5 army officers for links with banned outfit
• Raksha Bandhan celebrated with fervour in Peshawar
• Axed Pak former deputy attorney won't stop voluntary service at Hindu and Sikh shrines
• America never listens to us, Pakistan says
• Mumbai attack case trial in Pakistan adjourned till Aug 25
• Political loyalties break family bond in Pak
• Both 'friends' and 'foes' involved in Balochistan: Malik
• Pak SC rejects new contempt law
• Law intended to protect Pakistan PM struck down
• Pak central bank allows 2 lenders to open branches in India
• Imran Khan trades counter attacks with Nawaz Sharif
• Police arrest three, force couple to parade naked over "intent of adultery"
• Drop in number of Sindh voters alarms parties
• Death of prisoner: LHC issues notices to federation, SHO
• Radio Pakistan to broadcast Manto's 'Toba Tek Singh'
• Beggars on the rampage with new techniques
South Asia
• Afghanistan mosque bomb wounds 19: official
• Afghan Officials Cite Revenge Killings in Latest Outbreak of Ethnic Hatred
• Strike Shows Force and Restraint of Taliban
• Myanmar death row bombing convict pardoned
• Afghan lawmakers vote to dismiss key ministers over 'Pakistan shelling'
• Abdul Hamid, one of the pioneers of sports journalism passes away
• Sri Lankan Iftar party rescheduled
Southeast Asia
• Fate of Ahmadis Shows Indonesia a Failed State
• Acquisition of houses for Haram expansion approved
• Man jumps off moving plane in Malaysia
• Another Artist Turns Down Bakrie 'Achievement' Award
• Religious Affairs Minister Should Be Held Accountable in Quran Graft: Deputy
• 'Bieber Generation' Can Elevate Indonesia to Global Top Five
Mideast Asia
• Seven killed in Yemen blasts
• Deadly fire at Iran's biggest petrochemical plant
• Iran tests upgraded version of short-range missile
• 'This is war': Iran feels impact of sanctions
• Turkish Army Retires Generals Jailed on Coup Charges
Arab World
• Kidnapped Syrian TV host executed: NGO
• Free Syrian Army Threatens Christians Who Were Protected Under Assad
• Saudi students to establish Islamic centre in the Murray State University
• Kingdom enters elite club of 21 nations that boasts e-readiness
• For Rebel Fight in Syrian City, Baking Bread Is Urgent Task
• Syrian Forces Pound Rebel Frontline in Aleppo
• Syria asks Russia for economic aid
Prtesters demand death for Assad
• Saudi Arabia says two killed, including a soldier, in Shiite area
• Saudia announces new baggage rules
North America
• Iran loses $133 million a day on embargo as stable oil buoys Obama
• Panetta orders review of US military justice in combat zones
• U.S. Begins Packing Its Afghan War Gear for the Movers
Europe
• Britain develops palm-sized drone to take on Taliban
• Russia calls Syria resolution 'blatant' support for rebels
• France calls for UN aid for Syria as clashes continue
• German Taliban charged with assisting terror attacks in Afghanistan
• Paris calls for Dhaka U-turn on Rohingyas
• UN adopts resolution on Syria, India abstains
Compiled by New Age Islam News Bureau
Photo: Car bomb explodes in Tripoli, 1st since Gaddafi's fall
URL: https://www.newageislam.com/islamic-world-news/by-new-age-islam-news-bureau/tunisia-blasphemy-bill-threatens-free-speech-hrw/d/8157
-----------
Africa
Tunisia blasphemy bill threatens free speech: HRW
03 AUGUST 2012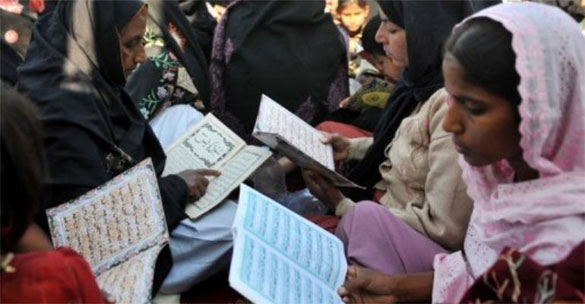 Muslim women read copies of the Koran. By Rizwan Tabassum (AFP/File)
-------
A bill to criminalise offences against "sacred values," filed in parliament this week by Tunisia's ruling Islamist party Ennahda threatens freedom of expression, Human Rights Watch warned on Friday.
"The draft bill would provide prison terms and fines for broadly worded offenses such as insulting or mocking the 'sanctity of religion,'" the rights group said.
International human rights law generally prohibits criminalising the defamation of religion, the New York-based watchdog added.
"If passed, this draft law would introduce a new form of censorship in a country that suffered from so much censorship under the ousted president," Zine El Abidine Ben Ali, HRW deputy regional director Eric Goldstein said.
The bill, filed in the National Constituent Assembly on Wednesday, could hand a prison sentence of up to two years to anyone convicted of violating sacred values and up to four years for repeat offences.
It lists subjects held sacred in the three Abrahamic religions, including God and the Prophet Mohammed, the earlier prophets, the holy books, mosques, churches and synagogues.
It also codifies the levels of offence to religious feeling, including "insults, profanity, derision and representation of Allah and Mohammed," something prohibited in Islam.
Ennahda, at its first congress on home soil in 24 years, indicated last month that it planned to introduce such legislation, after an art exhibition that some deemed offensive to Islam sparked riots in Tunis and elsewhere.
It is not clear when the bill will come up for debate, but it is likely to be a stormy session, with the government having already been strongly criticised over the sensitive issue.
http://www.france24.com/en/20120803-tunisia-blasphemy-bill-threatens-free-speech-hrw
-----------
Car bomb explodes in Tripoli, 1st since Gaddafi's fall
Aug 4, 2012
TRIPOLI: A car bomb exploded near the offices of the military police in Tripoli early on Saturday, a senior security source said, the first such attack in the Libyan capital since the start of a revolt that toppled the regime of Muammar Gaddafi last year.
The source said the blast slightly wounded a Tunisian national, but it could not say who might have been behind it.
A Reuters witness said police had cordoned off the area around the blast's location.
Several violent incidents have rocked Libya in recent days but these have been mostly confined to the eastern city of Benghazi.
Also in Benghazi, seven Iranian relief workers were abducted on Tuesday by an armed group just as they started an official mission as guests of the Libyan Red Crescent Association, which is still seeking to get them released.
http://timesofindia.indiatimes.com/world/middle-east/Car-bomb-explodes-in-Tripoli-1st-since-Gaddafis-fall/articleshow/15349638.cms
-----------
Nigerian religious leader escapes suicide attack
August 04, 2012
KANO: A top Muslim traditional leader in northeastern Nigeria escaped a suicide attack on Friday, when the bomber was thwarted by local people before blowing himself up, residents said.
Several people were wounded in the blast outside the main mosque after Friday prayers ended in the town of Potiskum, one witness said, as a police official said he was awaiting further details of the attack. The target of the attack was Muhammad Abali, the top Muslim traditional leader in Yobe state, where Potiskum is located, and whose official title is the Emir of Fika.
It was the latest such attack targeting Muslim leaders in northern Nigeria, where Boko Haram accuses establishment figures of being too close to the country's corrupt elite. "A man who looked in his 40s ... approached the emir and tried to embrace him, but people around pushed him away, and at that moment, a bomb concealed under his caftan went off," one witness said.
Those wounded included the emir's bodyguard, a mosque aid worker and a nurse, the witness said. The attack was said to have occurred as the emir left the mosque near his palace after weekly prayers. There was no immediate claim of responsibility, though Potiskum has been hard hit by violence blamed on Boko Haram. "I and my brother were leaving the mosque through a different gate when I heard an explosion followed by a commotion as worshippers tried to flee," another resident said.
"I fled the mosque, but some minutes later when the news of what happened spread, I came back to the mosque and I saw a large crowd watching the dismembered body of the attacker." Some three weeks ago, a suicide bomber tried to assassinate another key Islamic leader outside his mosque after Friday prayers but missed his target and killed five others.
The target of that attack was Umar Garbai el-Kanemi, who carries the title of Shehu of northeastern Borno state, where Boko Haram has been based. Yobe state borders Borno. On Wednesday, Boko Haram claimed suicide blasts at two police posts in the country's northwest and a separate attack at a home belonging to Vice President Namadi Sambo.
http://www.dailytimes.com.pk/default.asp?page=2012\08\04\story_4-8-2012_pg4_2
---------
Sudan, South Sudan strike oil deal
August 04, 2012
ADDIS ABABA: Sudan and South Sudan have hammered out a deal on how to share their oil wealth, one of a series of disputes that brought the rivals to the brink of all-out war earlier this year.
"The parties have agreed on all of the financial arrangements regarding oil, so that's done," African Union mediator Thabo Mbeki said early Saturday after talks in the Ethiopian capital.
The two countries had faced an August 2 deadline set by the United Nations to resolve their differences on oil and borders, and Mbeki said they would meet next month to try to find a compromise on the disputed region of Abyei.
Mbeki said a timetable would now be drawn up for the resumption of oil production and exports, which are vital to the economies of both deeply impoverished countries.
"What will remain, given that there is an agreement, is to then discuss the next steps as to when the oil companies should be asked to prepare for resumption of production and export," he said.
Full report at:
http://dawn.com/2012/08/04/sudan-south-sudan-strike-oil-deal/
-----------
Kenya Ramadan Fights Poverty
03 August 2012
MOMBASA – Muslim organizations in Kenya have joined their efforts to feed the poor and needy during the fasting month of Ramadan, seeing the holy month as an opportunity for spiritual training, revitalization and charity.
"It would be needless to say that without the help, support, cooperation and assistance from the well wishers and supporters of the Association, the mammoth success that the Muslim Association Mombasa has achieved would not have been possible," Mosque Chairman Shaahid Sheikh, the Imam of Kwale district mosque told Cross Week on Friday, August 3.
"I would like to take this opportunity to acknowledge the support from friends of the Association from far and near and thank them for their generous contributions.
"May Allah (SWT) reward them for their kindness, bless them all, Insha Allah! Ameen!"
Seeing Ramadan as a month of sacrifice and giving, the Muslim Association Mombasa led the efforts to provide food rations to hundreds of residents of Moyeni in Kwale district.
The efforts were made under the supervision of Village Chairman Hamisi Kadzungo, Mosque Chairman Idd Mwansare and Islamic Scholar Ustad Mohamed Matata.
Ramadan is the holiest month in Islamic calendar.
In Ramadan, adult Muslims abstain from food, drink, smoking and sex between dawn and sunset.
Full report at:
http://www.onislam.net/english/news/africa/458364-kenya-ramadan-fights-poverty.html
-----------
Uganda Ebola outbreak toll rises to 16
4 August 2012
GENEVA: The latest outbreak of the deadly Ebola virus has killed 16 people in Uganda, the World Health Organization (WHO) said yesterday, increasing the previous toll by one.
"Today we have 50 suspected cases and 16 dead," WHO spokesman Tarek Jasarevic told reporters in Geneva.
For the time being the epidemic was restricted to the west of the country, Jasarevic said, adding that a single case reported in Kampala in the south of the country was the result of an infected person being brought to the capital.
Ebola broke out in early July in Uganda's western Kibale district, some 200 kilometers (120 miles) from Kampala, and around 50 kilometers from the border with Democratic Republic of Congo.
The virus causes internal and external bleeding and spreads by direct contact with the blood or other body fluids of infected persons, according to the World Health Organization.
The rare haemorrhagic disease, named after a small river in DR Congo, killed 37 people in western Uganda in 2007 and at least 170 in the north of the country in 2000.
Neighbouring nations — including Kenya, Rwanda, South Sudan and Tanzania — have warned people to report to health centers in case of Ebola-like symptoms.
http://www.arabnews.com/uganda-ebola-outbreak-toll-rises-16
-----------
India
Ban on Islamist Freedom Parade upheld by Kerala HC
03 AUGUST 2012
PNS N KOCHI
The Kerala High Court on Thursday upheld the denial of permission for the Freedom Parade, a procession planned by uniformed activists of the Islamist organisation, Popular Front of India (PFI — formerly NDF), on the Independence Day at important places. The State Government had earlier imposed a ban on the Freedom Parade seeing sectarian colour in it.
On the basis an Intelligence report submitted before it, the court observed that the argument of the Government that Freedom Parades held by the Popular Front could lead to communal disharmony. The PFI had sought permission to hold Freedom Parades in four districts — Kollam, Kottayam, Malappuram and Kozhikode.
The Government told the court that it had refused permission for conducting the parade in Kottayam and Malappuram and that it had not received any application for conducting the programme in the other two districts. The PFI approached the High Court when permission was denied for the progamme in Kollam and Kozhikode.
In an affidavit, the Kerala Government had on July 25 informed the High Court that the Islamist organization had connections with the banned outfit, Students' Islamic Movement of India (SIMI), and that its fundamentalist posture was a threat to the security and integrity of the nation.
Full report at:
http://www.dailypioneer.com/nation/85087-ban-on-islamist-parade-upheld-by-kerala-hc.html
-----------
Indo-Pak peaceniks to celebrate independence days at Wagah
Aug 4, 2012
AMRITSAR: Indian and Pakistani peaceniks would gather at Attari-Wagah border along the India-Pakistan border for the 'Hind Pak Dosti Mela' to celebrate independence days of the two countries on August 14 and 15.
The peaceniks, comprising civil society members, legislators, lawyers and journalists, would again propose a peace park along the border. "The proposal to build the park derailed because of the Mumbai terror attacks," South Asia Free Media Association (SAFMA) secretary general Imtiaz Alam told TOI on Friday.
Alam, who is in India to oversee arrangements for the mela and the opening of SAFMA office in Amritsar on August 16, said the park would be set up on a seven-km stretch, where both Indians and Pakistanis could come without visa and meet each other. "It will be a place where Indians and Pakistanis could taste delicacies of both sides, play matches, share sentiments," he said.
Alam said they do not want money from the two governments, but just the approval for the park. "There are people and organizations on both sides to bear all expenses and the peace park would be an example before the world.''
http://timesofindia.indiatimes.com/india/Aman-Ki-Asha-Indo-Pak-peaceniks-to-celebrate-independence-days-at-Wagah/articleshow/15345520.cms
-----------
Email threatens blast in Delhi on Independence Day
Aug 4, 2012
JAIPUR: State and central intelligence agencies have been put on alert after an email threatening blast in Delhi on Independence Day was sent to various state chief secretaries, including Rajasthan chief secretary C K Mathew.
The email, forwarded on Friday by one Ajay Kashyap to the chief secretaries of Rajasthan, Delhi and few other states, claimed that a man from Bihar was planning to trigger blasts in Delhi on August 15, state intelligence sources said.
The email also contained specific details of the man, it claimed, would carry out the blasts, they said.
Efforts are on to trace the source of the email and the sender's identity.
http://timesofindia.indiatimes.com/india/Email-threatens-blast-in-Delhi-on-Independence-Day/articleshow/15351175.cms
-----------
Two dozen Indian terrorists in Pakistan planning attack on India: Abu Jundal
Aug 4, 2012
MUMBAI: Ziabbudin Ansari alias Abu Jundal the deported terror suspect has disclosed the names of more than two dozen Indian terrorists in Pakistan, planning attacks on India.
Faiyyaz Kagzi, Raheel Shaikh, Taqueer Subhan Qureshi, Riyaz Bhatkal, Iqbal Bhatkal, Yasin Sadibaba and his mentor Aslam Kashmiri are among few who have been named by Jundal. Jundal said that he has met most of them except Bhatkals and Yasin Sadibappa in LeT camps or annual jamaat meetings in Rawalpindi and Muridke in Pakistan.
Jundal, who hails from Gevrai taluka in Beed district was deported from Saudi Arabia and was arrested by the Delhi special cell. Jundal fled India after the Aurangabad arms haul case in 2006 and remote-controlled the November 2008 Mumbai terror attack from Pakistan. Last week he was handed over to the Mumbai police for the 26/11 terror case.
Jundal along with Abu Kahafa, Zaki Ur Rahman Lakhvi, Abu Wassi, Zarar Shah and a major general monitored the Mumbai attack. Like others Jundal too was motivating the two terrorists-Imran Babbar alias Kasha and Abu Umar at Nariman house in Colaba to fight with the police, Army and Navy till last breath.
Full report at:
http://timesofindia.indiatimes.com/city/mumbai/Two-dozen-Indian-terrorists-in-Pakistan-
-----------
New Indian Mujahideen module may have struck in Pune
Aug 4, 2012
PUNE: The agencies probing Wednesday's low-intensity explosions on Jangli Maharaj road here said they believe five to six people were involved in carrying out the blasts. While admitting that they are yet to establish their links to the Indian Mujahideen, which was behind the German Bakery blasts and several other terror attacks across the country, they said they suspect a new module might have planned the explosions. A crime branch source said their suspicion stems from the nature of the material used in the bombs and the modus operandi of the group.
Officers of the Gujarat anti-terrorism squad (ATS), who are in Pune, are examining the sketches of the two men who bought bicycles from a shop at Phadke Haud here around eight hours before the first bomb went off. Three bombs were strapped on three bicycles, two of which were traced to the shop. The sketches of the terror suspects were prepared based on the description given by the shop owner and his two employees, who also said the men were conversing in Gujarati.
Full report at:
http://timesofindia.indiatimes.com/india/New-Indian-Mujahideen-module-may-have-struck-in-Pune/articleshow/15344835.cms
-----------
Indian move to allow Pak FDI draws strong Reaction from extremists
August 03, 2012
Leaders of religious and extremist groups, including JuD chief Hafiz Saeed, have strongly reacted to India's decision to allow investments by Pakistanis, claiming that the move is part of a plan to destabilise Pakistan.
Saeed called on "patriotic citizens and
businessmen not to fall into the Indian trap."
He claimed Pakistanis would reject the Indian offer as they would prefer to invest in their own country, and warned the PPP-led government against giving most favoured nation-status to India.
Full report at:
http://www.hindustantimes.com/world-news/Pakistan/Indian-move-to-allow-Pak-FDI-draws-strong-reax-from-extremists/Article1-907611.aspx
-----------
CRPF fire warning shots to disperse stone pelters in Srinagar
Aug 03 2012
Srinagar: CRPF personnel today fired warning shots after their vehicle was attacked by a group of stone pelters outside the Jamia Masjid in downtown Srinagar, officials said.
Shortly after Friday prayers, a stone pelting mob attacked the CRPF vehicle and took away their bedding in the vicinity of the grand old mosque, the officials said.
A few shots were fired in the air to disperse the mob, they said. The miscreants later set the beddings on fire.
The officials said a large group of people took to the streets after Friday prayers and staged a demonstration against alleged human rights violations.
A section of the crowd turned violent and resorted to stone pelting on the passing security vehicles, prompting police to use batons to disperse them, the officials said.
The situation was brought under control and reinforcements rushed to the area to maintain law and order, they added.
http://www.indianexpress.com/news/crpf-fire-warning-shots-to-disperse-stone-pelters-in-srinagar/983375/
---------
Pakistan
I would have killed Osama myself if I had a chance: Pak envoy in UK
Aug 04 2012
Islamabad : Pakistan's top diplomat in the UK, High Commissioner Wajid Shamsul Hassan has said that he would have himself assassinated former Al Qaeda chief, Osama Bin Laden, if he had the chance to do so.
"We're not opposed to eliminating these al Qaeda chaps. We were not opposed to eliminating Osama bin Laden, because he was declared an international terrorist. If I were there I would have killed him myself," the Daily Times quoted Hassan, as saying.
Hassan said that his country remained committed to combat the Al Qaeda terrorists and extremism, as thousands of Pakistani civilians and soldiers had died in terrorist attacks since 9/11.
He also accused the United States of "talking in miles" when it comes to democracy but "moving in inches".
"We are fully for democracy, we want democracy, we support the Arab Spring, we are opposed to military interference in Egypt. All of these things are very good. They are music to my ears. But when it comes to real politics they are different. [US Secretary of State] Hillary Clinton has really supported democracy. But she is one person," he said.
Hassan said that the American officials have always maintained a habit of dealing with 'one man' rather than institutions and never allow a matter to be debated in their parliament, as they wish to abstain from being accountable.
"There are so many pillars of power in the United States, and they act differently. The United States, if you look at Pakistan's 65-year history, has always preferred to deal with one man rather than with institutions. They would never like a matter to go to parliament, to be debated there, for issues to be accountable to parliament and the people, they don't want that, they want one man," he added.
http://www.indianexpress.com/news/i-would-have-killed-osama-myself-if-i-had-a-chance-pak-envoy-in-uk/983813/
-----------
Pak jails 5 army officers for links with banned outfit
Aug 4, 2012
ISLAMABAD: Pakistan's military court on Friday convicted five senior officers for having links with the banned militant organization Hizbut-Tahrir, the army said in a statement.
The statement said that the most senior officer Brigadier Ali Khan was handed a five-year prison sentence while others received sentences of 18 months to three years. The army said the convicts have the right to appeal against the decision. Khan and four other military officers were detained following the killing of Osama bin Laden in a US raid in Pakistan in May, 2011, for suspected links to Hizb-ut-Tahrir (HuT), a British-based Islamic group banned in Pakistan.
Khan was working at the army's general headquarters in Rawalpindi at the time of his arrest. Media reports said that he had met the chief of HuT for Palestinian territory at a time when he was plotting to overthrow the government in Pakistan and replace it with a Islamic caliphate.
In his statement to the court, Khan said that he was being victimised for speaking the truth against officers who he said had let the al-Qaeda leader live in Pakistan for five years and then allowed US forces to kill him. During the court-martial proceedings witnesses—mostly army officers—told the court that Khan wanted to bring about an "Islamic revolution" . The four others convicted were Maj Sohail Akbar, who got 3-year sentence , Maj Jawad Baseer, who got 2 years, and Maj Inayat Aziz and Maj Iftikhar, who got one-and-a-half year terms.
http://timesofindia.indiatimes.com/world/pakistan/Pak-jails-5-army-officers-for-links-with-banned-outfit/articleshow/15347690.cms
-----------
Raksha Bandhan celebrated with fervour in Peshawar
By Manzoor Ali
August 4, 2012
PESHAWAR: The Hindu community of the provincial capital observed the festival of Rakhsha Bandhan on Thursday. The celebration was arranged at the Hindu Balmiki Temple, Kalibari, and Hindu community members from all over the province participated in the festivities.
According to Haroon Sarab Dayal, leader of the Hindu community, the Hindu goddess Laxmi tied a 'rakhi' to King Bali, adding to the importance of this event. "Basically, rakhi is a thread… after tying it to someone outside of the family, a girl can enjoy the same status and treatment as that person's real sister," he said.
Ratan Kumar, a local who works with a marketing company said that Raksha Bandhan symbolizes the sister's wishes for the brother's long age, so that he could protect his sister well.
Peshawar Hindu Balmiki Mahsaba President Ram Lal said that the festival starts from mid July and for a month they engage in worship every day.
He said that at present there were about 437 Hindu families living in Peshawar and four temples across the city. Kalibari temple, however, was a major temple which is visited by Hindu community members from other parts of the province as well.
While praising the public for cooperating, he said the Hindu community was satisfied with the security arrangements and so far they have not faced any disturbance in performing their religious activities.
http://tribune.com.pk/story/417171/hindu-festival-raksha-bandhan-celebrated-with-fervour-in-peshawar/
--------
Axed Pak former deputy attorney won't stop voluntary service at Hindu and Sikh shrines
Aug 4, 2012
ISLAMABAD: Pakistan's former deputy attorney general Khurshid Khan has vowed to "fully volunteer'' himself to sevadari' (voluntary service) at Hindu and Sikh shrines across the world two days after he was sacked over it.
"I am happy that I have become a free man. I will travel all over the world to do seva. I am thankful to authorities, who have spared me from an 8am to 5pm hectic job," Khan, who had recently hit headlines after he polished shoes at temples in India, told TOI on Friday.
Khan first performed seva at gurdwaras in Peshawar as a mark of solidarity with the Sikh community after Taliban killed one of its members in 2010. He performed similar community service at the Golden Temple and other places of worship during his visit to India along with a delegation of Pakistan Supreme Court Bar Association.
He said extremists could be reformed by involving them in community service. "I was taking too much insulin for 10 years to lower my blood sugar level. Since I started seva, I gradually got rid of it and have not taken insulin for the last three years.''
He said extremist threats do not bother him and that he is not afraid of death and had even selected a place for his grave. Khan said he plans to work for world peace besides promoting inter-faith harmony in the subcontinent.
He said he would visit Vatican City to do 'seva' for Pope Benedict XVI and seek his help in releasing Aafia Siddiqui , a Pakistani national jailed in the US on terror charges. "Her release will soften the image of US among our religious zealots and will pave way for harmony."
The former law officer said he would apologize to the US about the misdeeds of few Muslim fanatics on the eve of 9/11 anniversary this year.
http://timesofindia.indiatimes.com/world/pakistan/Axed-Pak-officer-wont-stop-service/articleshow/15347675.cms
-----------
America never listens to us, Pakistan says
Aug 3, 2012
LONDON: At a time when both countries are trying to mend their ties, Pakistan's top envoy here said some factions in the US still prefer to work with "just one man" rather than a democratic government, and accused Washington of "talking in miles" when it comes to democracy but of "moving in inches".
The remarks were made by Pakistan High Commissioner to the UK Wajid Shamsul Hasan who was "scathing about what he sees as the US's weak commitment towards democracy in Pakistan and Afghanistan".
"They talk in miles in support of democracy, but they move in inches. They say, 'We are fully for democracy, we want democracy, we support the Arab Spring, we are opposed to military interference in Egypt'.
"All of these things are very good. They are music to my ears. But when it comes to real politics they are different. [US Secretary of State] Hillary Clinton has really supported democracy. But she is one person. There are so many pillars of power in the United States, and they act differently," Hasan said in an interview to London-based Bureau of Investigative Journalism.
Full report at:
http://timesofindia.indiatimes.com/world/pakistan/America-never-listens-to-us-Pakistan-says/articleshow/15341774.cms
-----------
Mumbai attack case trial in Pakistan adjourned till Aug 25
Aug 4, 2012
ISLAMABAD: The trial of seven Pakistani men, including Lashkar-e-Taiba commander Zakiur Rehman Lakhvi, for their involvement in the Mumbai attacks was adjourned on Saturday for three weeks after defence lawyers were unable to attend the hearing due to the cancellation of a flight.
Lawyers representing Lakhvi and the other accused were unable to travel from Lahore to Rawalpindi, where the hearing was held behind closed doors at Adiala Jail, because their flight was cancelled following heavy rain in the twin cities of Islamabad and Rawalpindi since last night, officials said.
Judge Chaudhry Habib-ur-Rehman of the Rawalpindi-based anti-terrorism court adjourned the proceedings till August 25.
Sources said the lengthy adjournment was also due to the ongoing Islamic holy month of Ramzan and the upcoming Eid-ul-Fitr festival.
Full report at:
http://timesofindia.indiatimes.com/world/pakistan/Mumbai-attack-case-trial-in-Pakistan-adjourned-till-Aug-25/articleshow/15350829.cms
-----------
Political loyalties break family bond in Pak
By Nafees Soomro
August 4, 2012
THUL: Differences in political allegiances have created rifts between two brothers – so much so that they don't even want to meet each other now. Shafiq Khoso, the younger brother of Pakistan Peoples Party (PPP) MPA Mir Hasan Khan Khoso recently joined the Pakistan Muslim League-Nawaz (PML-N) and the move has not gone down well with his elder brother.
"The community and the supporters are with me. My younger brother can't stand before me," said the frustrated PPP stalwart while addressing a press conference along with other tribal elders on Thursday.
"He will not contest the election against me because I am just like his father," claimed Mir Hasan. "Shafiq has joined the Muslim league alone."
Mir Hasan believed that some elements had created rifts within the family, but the "conspirators will gain nothing". The PPP leader also said that Sindh Chief Minister Qaim Ali Shah had approved a water project for the city which will be completed soon.
Both the brothers have started political campaigns against each other on the PS-15 constituency and even for the NA-209. They have also contacted their community elders and friends for support.
Full report at:
http://tribune.com.pk/story/417245/bhai-bhai-na-raha-political-loyalties-break-family-bond/
-----------
Both 'friends' and 'foes' involved in Balochistan: Malik
August 04, 2012
* Interior minister says Afghan president provided 500 Kalashnikov rifles to Brahamdagh Bugti's deputy
By Ijaz Kakakhel
ISLAMABAD: Interior Minister Rehman Malik on Friday told the Upper House that 14 organisations are operating in Balochistan and both friends and enemies of Pakistan were financing and encouraging them for uprising.
The House decided that the minister would give an in-camera briefing to the senators, Inter-Services Intelligence (ISI) and other security agencies about the facts. Date of the session would be finalised later.
Malik said, "Give me an opportunity and let me tell you what our friends are doing with us. Let our enemies be aside but I have astonishing facts about the friends."
In continuation of his yesterday's speech delivered to wind up discussion on Balochistan situation, Malik unveiled evidence on links among the Baloch dissidents and neighbouring countries such as Afghanistan and India. He, however, avoided naming the friendly countries and once again requested for an in-camera briefing.
Full report at:
http://www.dailytimes.com.pk/default.asp?page=2012\08\04\story_4-8-2012_pg7_1
-----------
Pak SC rejects new contempt law
Aug 4, 2012
ISLAMABAD: Pakistan's supreme court on Friday struck down the government's new contempt law, aimed to prevent the premier being pressured to revive graft cases against President Asif Ali Zardari, setting the stage for the possible disqualification of Prime Minister Raja Pervez Ashraf.
A five-judge bench headed by chief justice Iftikhar Chaudhry ruled that the Contempt of Court Act of 2012 was "unconstitutional" and struck it down. The bench gave its order in response to more than 25 petitions that had challenged the new law.
The order issued by the court said: "Thus, having been left with no constitutional option, Contempt of Court Act 2012 is declared unconstitutional , void and non est, as a consequence whereof ... it is declared that the Contempt of Court Ordinance 2003 shall be deemed to have revived... "
President Zardari had on July 12 signed into law the new Contempt of Court Act after it was passed by the two houses of Parliament.
The law was aimed at saving PM Ashraf from possible disqualification by the apex court for refusing to reopen corruption cases against Zardari in Switzerland.
Full report at:
http://timesofindia.indiatimes.com/world/pakistan/Pak-SC-rejects-new-contempt-law/articleshow/15347624.cms
-----------
Law intended to protect Pakistan PM struck down
ANITA JOSHUA
August 04, 2012
Pakistan Peoples' Party-led dispensation's effort to provide immunity to senior government functionaries for their executive actions by amending the contempt law came to naught on Friday with the Supreme Court declaring the legislation "unconstitutional."
A five-judge bench headed by Chief Justice Iftikhar Muhammad Chaudhry said that some of the provisions of the Contempt of Court Act (COCA), 2012 — enacted last month in the wake of the judicial ouster of the former premier, Syed Yusuf Raza Gilani, and in anticipation of a similar fate for his successor Raja Parvez Ashraf — were meant to "give benefit to contemners who have no respect for the judgements of the Courts." Further, such provisions violated the principle of equality before the law.
Full report at:
http://www.thehindu.com/news/international/article3722975.ece
-----------
Pak central bank allows 2 lenders to open branches in India
August 03, 2012
Following India's move to allow investments from the neighbouring country, Pakistan's central bank has allowed two banks to open branches in India as part of efforts to normalise economic and trade relations between the two countries. State Bank of Pakistan (SBP) Governor Yasin Anwar told
the media that the National Bank of Pakistan and the United Bank Ltd had been given the "green signal" to operate in India.
Anwar's remarks came in the wake of India's decision to allow investments by Pakistanis in all sectors except defence, space and atomic energy.
He said the Reserve Bank of India had been informed of SBP's decision of allowing the Pakistani banks to explore opportunities in India.
In a major decision, India on Wednesday allowed investment from Pakistan paving way for Islamabad to normalise bilateral economic ties by implementing much-delayed
Most Favoured Nation (MFN) status for New Delhi.
India's move to allow Pakistani investments has been welcomed by businessmen on both sides of the border.
Full report at:
http://www.hindustantimes.com/world-news/Pakistan/Pak-central-bank-allows-2-lenders-to-open-branches-in-India/Article1-907648.aspx
-----------
Imran Khan trades counter attacks with Nawaz Sharif
Aug 04 2012
Islamabad : Cricketer-turned-politician Imran Khan Saturday responded to corruption allegations levelled against him by the PML-N, by accusing former premier Nawaz Sharif of failing to pay taxes and investing billions of dollars abroad.
Khan, who heads the Pakistan Tehrik-e-Insaf party, accused PML-N chief Sharif of defaulting on bank loans worth Rs 6 billion.
"Nawaz Sharif borrowed this money and never returned it," he alleged.
The response from the former cricket captain came after several senior PML-N leaders accused him of investing millions of dollars received as donations for his cancer hospital through shell companies abroad.
Khan posed 11 questions for Sharif and challenged him to answer them live on a TV show.
"Nawaz Sharif should come before the public and answer my questions," he told a news conference.
Full report at:
http://www.indianexpress.com/news/imran-khan-trades-counter-attacks-with-nawaz-sharif/983801/
-----------
Police arrest three, force couple to parade naked over "intent of adultery"
August 04, 2012
GAMBAT: Police in the interior Sindh town of Gambat have arrested a man and two women and have charged them with "intentions of adultery," BBC Urdu reported on Saturday.
Curiously, the law-enforcers took it upon themselves to register a police case and also decided to act as witnesses to the said "crime."
Reportedly, a video clip is doing the rounds among locals, where the man and one of the women charged by police are shown being paraded naked and are trying to put their clothes back on but are forced against it by police officials.
When the local SHO was contacted by BBC Urdu, he agreed to give an official statement on the case but was later unavailable to make comments. Meanwhile, Deputy Superintendent Police Sagheer Mughairi said he was unaware of the incident and suggested the media to contact the local police station for further information.
Full report at:
http://dawn.com/2012/08/04/police-arrest-three-force-couple-to-parade-naked-over-intent-of-adultery/
-----------
Drop in number of Sindh voters alarms parties
August 04, 2012
KARACHI, Aug 3: Expressing concern over a massive decline in the number of Sindh voters in the newly released electoral rolls, political parties look up to the election commission to explain factors behind the sudden drop of over 1.1 million registered voters in the province.
The total number of voters in Sindh in 2007 was 19,539,510 and in the new electoral rolls, their number stood at 18,432,877. This means some 1,106,633 voters are no more part of the new electoral rolls.
The ruling coalition — the Pakistan People's Party, Muttahida Qaumi Movement, Awami National Party, Pakistan Muslim League-Functional and PML-Q — as well as the Jamaat-i-Islami, which currently has no representation in the Sindh Assembly, are equally perturbed over the reduction of a large number of voters in the new electoral rolls.
A couple of these parties even see conspiracies in the massive reduction of voters in the province.
Sindh Chief Minister Syed Qaim Ali Shah, who is PPP provincial president, said that his party had serious reservations over the reduction of voters in Sindh in the computerised electoral rolls.
Full report at:
http://dawn.com/2012/08/04/drop-in-number-of-sindh-voters-alarms-parties/
-----------
Death of prisoner: LHC issues notices to federation, SHO
August 04, 2012
RAWALPINDI, Aug 3: Lahore High Court (LHC) Rawalpindi bench on Friday issued notices to the federation and the SHO of Saddar Bairooni police station on a petition seeking registration of criminal case against directors general Inter Services Intelligence (ISI), Military Intelligence (MI) and former DG ISI Ahmed Shuja Pasha over the mysterious death of a prisoner.
LHC Justice Khawaja Imtiaz Ahmed directed them to file detailed reply till August 16 and adjourned the hearing.
The petitioner, Mufti Abdul Shakoor, elder brother of Abdul Saboor, the prisoner who died on January 21, 2012, cited the DG ISI, MI, former DG ISI, superintendent Adiala jail Saeedullah Gondal and deputy superintendent Khalid Bashir as respondents.
His counsel, Lt-Col (retired) Inamur Rahim, told the court that Saboor, 29, was the fourth civilian detained in the GHQ and ISI Hamza Camp attack case to have died under mysterious circumstances since August 2011.
According to him earlier three detained prisoners had died in custody of military authorities and their bodies were recovered from Lady Reading Hospital in Peshawar.
They were Mohammad Aamir who died on August 15, Tahseenullah, December 17; and Said Arab on December 18, 2011.
According to the petition, Abdul Saboor was picked up by intelligence agencies from Lahore on November 25, 2007, along with his younger brothers Abdul Basit and Abdul Majid.
In the petition, Advocate Rahim pointed out that the bodies of three detainees, who had died earlier during investigation, showed clear signs of acute renal failure (ARF) apparently caused by slow poisoning.
Full report at:
http://dawn.com/2012/08/04/death-of-prisoner-lhc-issues-notices-to-federation-sho/
-----------
Radio Pakistan to broadcast Manto's 'Toba Tek Singh'
August 04, 2012
LAHORE: To mark the centennial celebrations of legendary short story writer Saadat Hassan Manto, Radio Pakistan will broadcast a special drama based on his masterpiece short story "Toba Tek Singh" published in 1955, on August 6 at 4:30pm.
The story has been produced by Radio Pakistan Lahore station, dramatised by Dr Tariq Aziz and directed by Rai Muhammad Irfan. Famous artists Shujaat Hashmi, Aurangzaib Lagari, Rehan Azhar, Munir Nadir, Farzana Thaheem and Irfan Khoosat have performed in the radio play.
The story is set three years after the Partition, when the government of both Pakistan and India decided to exchange Muslims, Sikhs and Hindus. It revolves around Bishan Singh, a Sikh patient in an asylum in Lahore.
As part of the exchange, Bishan Singh is sent under police escort to India. He, however, refuses to go there upon being told that his hometown is Toba Tek Singh.
The story ends with Bishan lying down between a barbed wire. Manto writes, "There, behind barbed wire, was Hindustan. Here, behind the same kind of barbed wire, was Pakistan. In between, on that piece of land that had no name, lay Toba Tek Singh."
http://www.dailytimes.com.pk/default.asp?page=2012\08\04\story_4-8-2012_pg7_13
-----------
Beggars on the rampage with new techniques
August 04, 2012
* Most beggars leave roads to hit markets, residential areas, bus terminals for some 'extra attention'
By Ali Hassan
ISLAMABAD: In Ramazan, the beggar mafia has once again become active in the capital, adopting new techniques of begging to protect the 'workers' from any action taken by the authorities concerned.
During visits to different markets, Daily Times learnt that the beggars have accelerated their activities, especially in sectors G7, F6, F8, F10, I8, I9 and I10, as well as suburbs of these sectors, demanding money from the people in the name of God with different new techniques. It was learnt that the professional beggars who pretended to be handicapped and were seen asking for alms while carrying infants on city roads have changed their strategy, as many of them are operating at signals, markets and even residential areas. These beggars usually make people believe that they wanted just food, as they had not eaten for two days, while some beg for the sake of school fee for their children. Most of them are even seen holding prescription of some doctor and asking for money to buy medicine.
The mafia also asks money for wheat or sugar, using different dialogues to convince the people to give them money. Few of them even ask for bus fare to travel to some other city, and make up a tragic story in front of the people.
Full report at:
http://www.dailytimes.com.pk/default.asp?page=2012\08\04\story_4-8-2012_pg11_7
-----------
South Asia
Afghanistan mosque bomb wounds 19: official
August 04, 2012
JALALABAD: A bomb hidden inside a mosque tore through dozens of worshippers during Friday prayers in eastern Afghanistan, wounding at least 19 including the imam, officials said.
The attack in Chaparhar town in Nangarhar province came just days after a provincial judge was killed and four civilians were wounded in a mosque bombing in southern Uruzgan province.
"The bomb went off close to the imam as he was offering the Friday prayer," provincial spokesman Ahmad Zia Abdulzai told AFP.
"Nineteen people have been injured, among them the imam who is in a critical condition," he said, blaming Taliban insurgents for the bombing.
A spokesman for the militants denied responsibility for the attack.
A member of the provincial council, who declined to give his name for security reasons, suggested the imam might have been targeted after agreeing to offer prayers for a man killed by the Taliban for working with US-led Nato forces.
The Taliban, whose hardline regime was overthrown in a US-led invasion in 2001, warned at the start of their annual summer offensive this year that they would target Afghans working for foreign organisations.
Large numbers of local people work for Western civilian and military projects in Afghanistan, where Nato has 130,000 troops helping the Kabul government fight the insurgents.
http://dawn.com/2012/08/04/afghanistan-mosque-bomb-wounds-19-official/
-----------
Afghan Officials Cite Revenge Killings in Latest Outbreak of Ethnic Hatred
By ALISSA J. RUBIN and SANGAR RAHIMI
August 04, 2012
KABUL, Afghanistan — At least nine Afghans and perhaps many more were forced out of their homes in rural Afghanistan and executed in what Afghan officials called an act of revenge by one ethnic group against another, underscoring the long shadow cast by the country's ethnic hatreds.
The killing, which took place Wednesday in eastern Oruzgan Province, appears to have involved a Hazara commander who is said to have avenged the deaths of two fellow Hazaras by leading an armed group to nearby Pashtun villages and killing at least nine people.
"On Tuesday, two Hazara men were killed by the Taliban," said Matiullah Khan, the provincial police chief. "The next day, meaning Wednesday, this brutal man raided Pashtuns' villages and killed some 9 to 11 villagers," he said, referring to the commander alleged to have carried out the killings. Some reports put the death toll as high as 30.
Most of the Taliban are ethnic Pashtuns and Sunni Muslims; the Hazaras are mostly members of the Shiite branch of Islam, and officials feared the killings could fuel a cycle of revenge. Local officials as well as the Interior Ministry opened investigations, and the governor was traveling to the area on Friday. The Afghan government formally took security responsibility for Oruzgan Province two weeks ago.
Full report at:
http://www.nytimes.com/2012/08/04/world/asia/9-afghans-killed-in-latest-ethnic-violence.html?ref=global-home
-----------
Afghan Strike Shows Force and Restraint of Taliban
By ALISSA J. RUBIN
August 04, 2012
KABUL, Afghanistan — The Taliban made a show of force across a province of northeastern Afghanistan on Friday, Afghan officials said, attacking dozens of government installations but causing relatively few deaths or injuries.
The insurgent forces struck at least six districts of Kunar Province, attacking district governors' offices, police and army outposts, and other government buildings.
"Our security forces defended their people with bravery," said Fazlullah Wahidi, the provincial governor. "The enemy wanted to kill a lot of innocent people but they failed to achieve their goal, and the casualties were very low."
Reports of casualties varied slightly, but local officials counted no more than four dead. Among them were an Afghan soldier who was home on leave, a woman and a 7- or 8-year-old girl who was killed when a mortar hit her house in the provincial capital of Asadabad.
The International Security Assistance Force's regional command for eastern Afghanistan said that the bodies of eight Taliban were found after intense firefights with Afghan forces.
The attacks began around 1 a.m. and lasted until 8 a.m., local officials said, suggesting that the Taliban sought to limit civilian casualties in an effort to avoid alienating potential supporters among the local population.
Full report at:
http://www.nytimes.com/2012/08/04/world/asia/taliban-strike-afghan-government-
-----------
Myanmar death row bombing convict pardoned
August 04, 2012
YANGON: A man sentenced to death over a series of deadly bomb blasts in Myanmar's main city in 2010 was freed on Friday after receiving a presidential pardon, a police official and his lawyer told.
Phyo Wai Aung, who was sentenced in May in connection with the bombings in Yangon, which killed ten people and wounded dozens more, was released from a public hospital where he was being treated for liver cancer. "He was released this afternoon under the president's pardon," a senior police official told AFP on condition of anonymity.
The official said his health was not good, and added that UN human rights envoy Tomas Ojea Quintana had visited him in hospital as part of his wider trip to Myanmar. Confirming the release, Phyo Wai Aung's lawyer said his client - who was aged 33 at the time of his sentence - was too ill to leave hospital. "He cannot walk because of his severe liver cancer," Kyaw Hoe said, adding an appeal over his conviction is still set for August 14. "We appealed... as he's not guilty and he didn't commit any crime."
Full report at:
http://www.dailytimes.com.pk/default.asp?page=2012\08\04\story_4-8-2012_pg14_6
-----------
Afghan lawmakers vote to dismiss key ministers over 'Pakistan shelling'
August 04, 2012
KABUL: Afghanistan's parliament voted on Saturday to dismiss both the interior and defence ministers over continued cross-border shelling which the Afghan government has blamed on neighbouring Pakistan's army, as well as other issues.
The fractious parliament voted to remove the pair despite their promises to reinforce the border, although President Hamid Karzai has previously opted to keep ministers in their roles in acting capacity after similar votes.
"Both ministers failed to receive votes of confidence and we ask President (Hamid) Karzai to introduce new ministers," said Abdul Rahoof Ibrahimi, speaker of the house, after a bitter debate that underscores the problems in store for Karzai's administration ahead of 2014 presidential elections.
Afghanistan has rushed additional troops and long-range artillery to the mountainous Pakistan border as tensions continue to rise over cross-border shelling which Afghan officials blame on the Pakistani military.
Full report at:
http://dawn.com/2012/08/04/afghan-lawmakers-vote-to-dismiss-key-ministers-over-pakistan-shelling/
-----------
Abdul Hamid, one of the pioneers of sports journalism passes away
August 04, 2012
Abdul Hamid, noted sports commentator and one of the pioneers of sports journalism in the country, died at a city hospital Saturday morning at the age of 77.
Hamid breathed his last around 6:20am at United Hospital in Gulshan where he was undergoing treatment for bone cancer, his daughter-in-law Israt Quiyum Soma confirmed.
The first namaz-e-janaza of Hamid will be held at his Niketon residence after Zohr prayer, family sources said.
Later, his body will be taken to Gendaria East and Club Field and Bangabandhu National Stadium where his second and third namaz-e-janazas will be held respectively.
The sports editor of Daily Amader Somoy will be buried at Mirpur Martyred Intellectual Graveyard today.
He left behind his wife, a son, a daughter and a host of relatives to mourn his death.
Hamid was admitted to the hospital on July 23 with acute back pain and was put on life-support on Friday after his condition suddenly deteriorated.
The noted commentator had had an operation on his prostate gland on June 12.
Abdul Hamid was born on September 21, 1935 at Nobodeep of Nadia in India and moved to Bangladesh few years after India's partition in 1947.
He passed SSC examination in 1953 from the Gendaria School and took admission at Jagannath College from where he completed his HSC, honours and masters.
Hamid was involved with sports since his childhood and played football, cricket and athletics for his school. He also played for Jagannath College in the then First Division Cricket League.
He continued to play cricket till 1957.
Full report at:
http://www.thedailystar.net/newDesign/latest_news.php?nid=39658
-----------
Sri Lankan iftar party rescheduled
RIYADH: ARAB NEWS
Friday 3 August 2012
The grand iftar party organized by the Sri Lankan Embassy in Riyadh today ( Friday Aug. 3), has been postponed to Aug. 10 due to unavoidable circumstances, embassy sources said yesterday.
Sri Lankan Ambassador Ahmed A. Jawad said this is an annual get-together meant for all Sri Lankans living in the Kingdom.
http://www.arabnews.com/sri-lankan-iftar-party-rescheduled
--------
Southeast Asia
Fate of Ahmadis Shows Indonesia a Failed State
Ahmad Najib Burhani | August 04, 2012
In June, the Fund for Peace issued a failed-states index. Of the 178 countries surveyed in this index, Indonesia was listed in the 63rd position, with a score of 80.6. What does that mean? Although Indonesia cannot technically be considered a failed state, its position in the index was in the "very high warning" category. That means that the country is relatively close to becoming a failed state.
One important factor that is used to determine Indonesia's score in this index was what was called group grievance. Tension and violence in the state, as well as the failure of the country to provide adequate security for its people, played a significant role in ensuring Indonesia ended up where it did in the index.
The index talks more about the majority of populations in certain countries and sometimes hides the fact that a number of minority groups in certain countries experience constant persecution. The case of Indonesia can be used as an example. Although the majority of the population in this country is satisfied with the security they receive and feel, religious minorities like Ahmadi Muslims find themselves living in constant fear. Discrimination and persecution have been experienced at very high levels by this community throughout the last decade.
Full report at:
http://www.thejakartaglobe.com/opinion/indonesia-a-failed-state-fate-of-the-ahmadis-shows-it-could-be/535215
-----------
Acquisition of houses for Haram expansion approved
JEDDAH: ARAB NEWS
3 August 2012
Government approval has been given for the expropriation of 2,000 properties in Makkah for the expansion project of the Grand Mosque's northern courtyards.
The initial value for the expropriation project is estimated at SR 30 billion, which includes compensations, the building of train stations and parking, and developing the new Grand Mosque endowment.
Abbas Qattan, supervisor of the committee for the Grand Mosque's northern courtyards' development, told Al-Eqtisadiya newspaper that the committee is examining the ownerships of the properties, after which a government committee, comprising the Ministry of Finance, the Makkah governorate and mayor's office, Ministry of Justice and two members from the private sector, will start appraisal procedures. The expropriation includes six areas neighboring the mosque.
He said the areas to be expropriated would stop receiving services and power by January 2013.
Full report at:
http://www.arabnews.com/acquisition-houses-haram-expansion-approved
-----------
Man jumps off moving plane in Malaysia
Aug 4, 2012
KUALA LUMPUR: A man jumped out of a moving aircraft while it was about to take off from an airport in Malaysia, causing delay in the flight operations.
Air Asia flight AK 5187 from Miri in Malaysia's northern Sarawak state to Kuala Lumpur was scheduled to take off at 7.40pm on Friday. However, it was delayed for over an hour as a result of the runway drama.
A witness said that as the plane was about to take off, the man suddenly opened the emergency doors and jumped out.
"The raft automatically opened. Other passengers started screaming. The plane was brought to a halt," a passenger Siva Nathiran was quoted as saying.
AirAsia's regional head of flight operations Captain Fareh Ishraf Mazputra said the aircraft had just started taxiing when a passenger ran and opened the door.
"There were no injuries and the passenger was arrested," he said.
The man was then taken to Miri hospital. Sources said the man, believed to be aged 24, did not suffer any injuries as a result of the fall.
http://timesofindia.indiatimes.com/world/mad-mad-world/Man-jumps-off-moving-plane-in-Malaysia/articleshow/15350075.cms
-----------
Another Artist Turns Down Bakrie 'Achievement' Award
Markus Junianto Sihaloho | August 04, 2012
Renowned writer Seno Gumira Ajidarma has turned down the 2012 Achmad Bakrie Award handed out by the Freedom Institute, joining a long list of luminaries who have either rejected or returned the prize.
"I refuse to accept it. Please understand," Seno said on Friday in Jakarta.
He did not give any reason for his rejection of the award, which comes with Rp 250 million ($26,500) in prize money.
On his website, Seno wrote that he was notified by Rizal Mallarangeng, the Freedom Institute executive director, about the award on June 12. On June 18, he wrote back, saying he could not accept it.
"I told them that they should give the award to someone else who deserved it, because I would not take it," he wrote.
The award was established in honor of the late business magnate Achmad Bakrie, and handed out each year just before Independence Day by the Freedom Institute and Bakrie Untuk Negeri (Bakrie for the Nation), the corporate social responsibility arm of the Bakrie business empire.
Full report at:
http://www.thejakartaglobe.com/news/another-artist-turns-down-bakrie-achievement-award/535252
-----------
Religious Affairs Minister Should Be Held Accountable in Quran Graft: Deputy
SP/Novianti Setuningsih | August 04, 2012
Nasaruddin Umar, the deputy minister for religious affairs, says Religious Affairs Minister Suryadharma Ali should be held accountable in the ongoing Koran procurement graft case because he should have known about the project.
"The minister should be held responsible for everything," Nasaruddin said after the Corruption Eradication Commission (KPK) grilled him for eight hours about the case on Friday.
Nasaruddin was questioned in his capacity as the ministry's former director general for Islamic affairs.
"He was questioned in regards to the Koran procurement case that is being investigated by the KPK," said Johan Budi, a spokesman for the antigraft commission.
The KPK is investigating graft allegations in two different procurement cases involving the ministry.
The first case relates to the procurement of laboratory equipment for Islamic high schools in 2010. The other is the Koran procurement case from last year.
The KPK has already named Zulkarnaen Djabar, a member of the House of Representatives' Commission VIII, overseeing religious affairs, a suspect for taking bribes to push through the procurement of the holy books.
Full report at:
http://www.thejakartaglobe.com/news/suryadharma-should-be-held-accountable-in-koran-graft-deputy/535254
-----------
'Bieber Generation' Can Elevate Indonesia to Global Top Five
Faisal Maliki Baskoro | August 04, 2012
Indonesia needs to invest more in education and trust its young generation in order to meet its target of becoming a top five economy by 2020, ministers said.
Trade Minister Gita Wirjawan said that the goal of making Indonesia a top five economy in 2020 was in the hands of the "Justin Bieber generation."
Gita addressed 1,600 new students at Pelita Harapan University (UPH) at UPH Fest, a ceremony for new students.
"The Justin Bieber generation will define the future of Indonesia," he said on Friday, referring to the popular Canadian singer. "You will be a defining factor for you, your family and your nation."
The speech was met with applause as well as laughter from the students.
He said the future looked bright for young Indonesians as the country's economy would continue to improve with the development of infrastructure and better access to information.
"In 2020, Indonesia can be one of the top five economies in the world with an income per capita of $30,000. Right in front of you is a huge cake worth $60 trillion you can tinker with. In 18 years, you will grow from Justin Bieber to Jay-Z," he said, referring to the latter as the hip-hop mogul.
Gita said the government would take the long road to meet that target by investing in education and the added-value sector instead of just counting on raw exports. "We don't want to depend on mining coal and oil. We want to invent and innovate," said Gita, who is also the producer of teen boyband sensation Sm*sh.
The government has allocated Rp 286.56 trillion ($30.4 billion) for education, 20 percent of the state budget. Gita said that amount could be increased if the government boosted the taxpayer base. Only 10 million Indonesians pay taxes out of a population of 240 million, he said.
Full report at:
http://www.thejakartaglobe.com/home/bieber-generation-can-elevate-indonesia-to-global-top-five-gita-says/535264
--------
Mideast Asia
Seven killed in Yemen blasts
4 August 2012
A man lobbed a grenade in a busy market on Friday in Yemen's second city Taez, killing at least six people, officials said, while a blast in the capital Sanaa claimed one more life.
Ten others were injured in the attack in Taez, staged when the market re-opened in the evening , an official in the Taez governor's office said.
"A man on a motorbike threw a grenade, killing six people and injuring 10 others," he said, adding that the motive behind the attack was not yet clear.
Another person was killed and one more was injured in a blast in a southern neighbourhood of Sanaa when an explosive device placed near an Internet cafe went off, locals and a doctor said.
http://www.khaleejtimes.com/kt-article-display-1.asp?xfile=data/middleeast/2012/August/middleeast_August54.xml&section=middleeast
--------
Deadly fire at Iran's biggest petrochemical plant
Aug 4, 2012
TEHRAN: A fire that broke out at Iran's biggest petrochemical plant killed at least one person and injured 15 others before it was put out, Iranian media reported on Saturday.
The blaze at the Bandar Imam petrochemical complex, in the southwestern city of Mahshahr, occurred on Friday and was caused by a gas leak in a feeding line, according to the Shana news agency belonging to Iran's oil ministry.
"Unfortunately in this accident, one person was killed," it quoted Qodratollah Nasiri, the security head of Iran's National Petrochemical Co, as saying.
The fire was now extinguished, Nasiri was quoted as saying.
"The processing units at the plant were not damaged... but some of the units are offline."
The plant reportedly produced more than four million tonnes of products last year, including polymers, benzenes, propane gas, butane and fuel oil.
http://timesofindia.indiatimes.com/world/middle-east/Deadly-fire-at-Irans-biggest-petrochemical-plant/articleshow/15350423.cms
-----------
Iran tests upgraded version of short-range missile
August 04, 2012
Iran claimed today it has successfully test-fired an upgraded version of a short-range ballistic missile with improved accuracy, increasing the Islamic Republic's capability to strike both land and naval targets.
Defence Minister Gen Ahmad Vahidi said the solid-fueled Fateh-110 has a range of 300 kilometers. He claimed the weapon could strike with pin-point precision, making it the most accurate weapon of its kind in Iran's arsenal.
"By reaching this generation of the Fateh-110, a new capability has been added to our armed forces in striking sea and land targets," state TV quoted Vahidi as saying. "Few countries in the world possess the technology to build such missiles."
Iran's military leaders have said they believe future wars will be air-and sea-based and Tehran has sought to upgrade its air defense systems and naval power in anticipation of such a possibility.
Iran has also been pushing to upgrade its missiles, which can already target Israel and US bases in the Middle East. The Pentagon released a report in June noting significant advances in Iranian missile technology, acknowledging that the Islamic Republic has improved the accuracy and firing capabilities of its missiles.
The Fateh-110, or Conqueror, is a single-stage solid-propellant, surface-to-surface missile put into service in 2002.
The earlier version of the domestically produced missile had a range of 200 kilometers (120 miles).
The weapon was developed by Iran's Aerospace Industries Organisation. Iran also has a variety of longer-ranged missiles including a Shahab-3 variant with a range of 2,000 kilometers (1,200 miles) that can reach Israel and southern Europe.
http://www.thehindu.com/news/international/article3727095.ece
-----------
'This is war': Iran feels impact of sanctions
August 04, 2012
TEHRAN: Iran is being hit by a "war" on its economy, according to officials facing tightened US sanctions and renewed Israeli threats of imminent military action over Tehran's nuclear activities.
"This is war," Ayatollah Ahmad Janati, the hardline chief of Iran's influential Guardians Council, said as he led Friday prayers in Tehran.
Iran needs to mobilise "the nation, government, officials and armed forces"to tackle its "special and serious economic problems" which went beyond the global economic malaise, he said.
"We should prepare and break this wave (of economic pressure). We should not surrender," he said.
Janati said officials under the supervision of Iran's supreme leader Ayatollah Ali Khamenei were tackling the crisis, and he urged national media to avoid "pessimistic" stories and instead focus on news that "make people happy, hopeful and boost their morale."
The United States ramped up sanctions this week with a congressional measure to punish companies doing business with Iran's energy and oil shipping sector, and an order by President Barack Obama targeting Iran's oil exports and one Chinese and one Iraqi bank alleged to be fronting Iranian banking transactions.
Full report at:
http://dawn.com/2012/08/04/this-is-war-iran-feels-impact-of-sanctions/
-----------
Turkish Army Retires Generals Jailed on Coup Charges
August 04, 2012
ISTANBUL (Reuters) - The Turkish military retired all 40 generals and admirals currently jailed facing charges of conspiring against the government in a further sign of greater civilian control of the once all-powerful army.
President Abdullah Gul approved a decision at the end of a four-day meeting of the Supreme Military Council (YAS) to retire 55 generals and admirals, the General Staff said on its website on Saturday.
The list included all 40 commanders jailed in connection with the so-called "Ergenekon" and "Sledgehammer" trials involving hundreds of defendants accused of trying to bring down Prime Minister Tayyip Erdogan's Islamist-rooted government, Hurriyet newspaper said.
The decision marked a departure from last year's tumultuous YAS when the top four commanders quit before the meeting even began to protest the jailing of hundreds of officers, including 20 percent of the military's generals.
Journalists, lawyers and politicians are also in jail on charges of seeking to undermine Erdogan for what they allegedly perceived as his efforts to wreck Muslim Turkey's secular constitution.
Full report at:
http://www.nytimes.com/reuters/2012/08/04/world/europe/04reuters-turkey-
---------
Arab World
Kidnapped Syrian TV host executed: NGO
August 04, 2012
Syrian television presenter Mohammed al-Saeed, kidnapped from his Damascus home in mid-July, has been executed, the Syrian Observatory for Human Rights said on Saturday.
"The television presenter, a well-known figure on state TV, has been executed, and the Al-Nusra Front
has claimed responsibility for the killing," the Observatory's Rami Abdel Rahman told AFP.
Al-Nusra, a little-known Islamist militant group, claimed the kidnapping and execution of Saeed in a statement on Friday.
"The heroes of western Ghouta (in Damascus province) imprisoned the shabih (pro-regime militia) presenter on July 19," Al-Nusra's statement read. "He was then killed after he had been interrogated."
Posted on a forum featuring the Al-Qaeda flag, Al-Nusra's statement showed a photograph of Saeed looking frightened, with his back against a wall in an unknown location.
"May this be a lesson to all those who support the regime," it said.
Last month, international media rights watchdog Reporters Without Borders issued a statement on Saeed's kidnapping, and urged his captors to release him.
"News media and journalists -- both professional and citizen journalists -- should not be targeted by any of the parties in a war or civil war," it said at the time.
http://www.hindustantimes.com/world-news/RestOfAsia/Kidnapped-Syrian-TV-host-executed-NGO/Article1-908115.aspx
-----------
Free Syrian Army Threatens Christians Who Were Protected Under Assad
Aug-02-2012
Pray for the persecuted Syrian Churches and Christians.
(FAISALABAD, Pakistan) - The streets are most dangerous that is, unless it's a Friday, when a few Syrian Christians dare to step outside of their homes amidst the persecution of Syria's Christians by the Islamic rebels of the 'Free Syrian Army.
The Christians in Syria (10% of its population) could be facing a bloodbath. The signs are there right now, and only Russian and Chinese resistance to 'the West' is keeping the Syrian church from complete extermination.
In many Syrian towns, lawlessness has become the norm. When government forces aren't present, Muslims have been known to rob churches and kidnap, rape, or even kill Christian women. Innocent bystanders simply making trips to the store have been gunned down. Curfews have done little to make anyone feel safer or less fearful, so the Christian community simply bands together and prays.
Hundreds of these Christian residents have watched their lives and their very freedoms slip away right before their eyes. Homs, a city which has been occupied by both government and rebel forces for weeks, is now alone the site of more than 1,500 violent deaths. As the Arab Spring continues to rage throughout Syria, thousands more people have lost their lives in a movement that seeks to strip President Bashar al-Assad's regime of its power. And as Islamic protesters clash with government forces, Christians have become hopelessly tangled in the crossfire.
Full report at:
http://www.salem-news.com/articles/august022012/syrian-christians-pk.php
-----------
Saudi students to establish Islamic centre in the Murray State University
RIYADH: ARAB NEWS
Saturday 4 August 2012
Saudi students at Murray State University in Kentucky have received a license to establish an Islamic centre where they can organize cultural and social programs along with observing religious rites.
Saudi students had been performing their prayers and Iftar in a rented building in which other Arab and Muslim students participated. The city's mayor and university authorities have supported the move made by the 400 member Saudi Students Organization.
A recent statement from the university commended the Saudi students' excellent performance, and mentioned the various programs the new center will undertake in the city, Al-Hayat daily reported on Friday.
The Saudi Arabia's cultural attaché in the US, Muhammad Al-Eissa, said the conduct of the students at the Murray State University was a befitting reply to those who fear that students taking part in the Kingdom's foreign scholarship programs would be negatively influenced during a stay in the US.
Full report at:
http://www.arabnews.com/saudi-students-establish-islamic-center-murray-state-university
-----------
Kingdom enters elite club of 21 nations that boasts e-readiness
RIYADH: GHAZANFAR ALI KHAN
3 August 2012
Saudi Arabia has entered the elite club of 21 nations possessing all the essential components of e-readiness that enable a nation to offer an effective e-government and empower it further to render all types of e-services for public and private sectors. "The presence of Saudi Arabia, the UAE and Bahrain appearing in the top 21 rank is a feat," read a new UN e-government survey released in Riyadh yesterday.
The UN e-government readiness survey, which makes a comparative assessment of global e-government development in 193 countries and includes indicators, strategies and best practices, said that the Gulf Cooperation Council (GCC) states had emerged as leaders of the world in e-readiness. "This feat is attributed to their surge in digital literacy and online presence," read the survey, which also measures transparency of governments based on their online activity status.
The Kingdom has invested heavily and taken adequate measures to boost the e-government program on the one hand and promote e-literacy among students and general public on the other. The Ministry of Telecommunications and IT established the e-Government Program in 2005 in conjunction with the Ministry of Finance and the Communication and Information Technology Commission (CITC).
Full report at:
http://www.arabnews.com/kingdom-enters-elite-club-21-nations-boasts-e-readiness
---------
For Rebel Fight in Syrian City, Baking Bread Is Urgent Task
By an EMPLOYEE of THE NEW YORK TIMES and DAMIEN CAVE
August 04, 2012
ALEPPO, Syria — Just before sunrise, a select group of Syrian rebel fighters steps away from the front lines here for a task their commanders now consider a vital and urgent part of the war effort: baking bread.
The floppy moons that they produce, pita to Americans, usually go quickly to hungry residents and rebels. Bread is a mainstay of the Syrian diet — it accompanies every meal — and in a city paralyzed by two weeks of war, the bakery lines show that basic commerce has become a battleground of its own.
"The regime has tried to deprive our supporters of water and gas, and now they are using bread," said Basheer al-Hajeh, a member of Al Tawheed Brigade, one of the main rebel militias in Aleppo. But he said the rebels had learned how to fight back against the government's attempts to keep bread and other resources out of opposition-controlled areas.
"We took control of the wheat warehouses in Aleppo's suburbs," he said. "We have many of them, in several areas, and they might keep us supplied for weeks."
The struggle to keep bakeries operating is part of a much larger fight over the Syrian economy, especially in Aleppo, the country's commercial hub and its largest city. As the government of President Bashar al-Assad tries to project an image of normalcy, denying reports of runaway inflation, rebels say they are finding new ways to attract support from the business class and siphon off government resources.
Full report at:
http://www.nytimes.com/2012/08/04/world/middleeast/bread-becomes-a-staple-of-syrian-
-----------
Syrian Forces Pound Rebel Frontline in Aleppo
August 04, 2012
ALEPPO, Syria (Reuters) - A Syrian army helicopter fired machinegun rounds and troops shelled rebel positions in Aleppo on Saturday, a Reuters witness said, as they tried to break through the insurgents' frontline in a battleground district in the country's largest city.
Earlier in the day, Syrian forces clashed with rebels around Aleppo's television and radio station, activists said, and a local rebel commander said his fighters were preparing for a "strong offensive" by government forces on the city.
Syrian troops backed by armor stormed the last opposition bastion in Damascus on Friday in a drive to crush a rebel offensive that coincided with a bomb attack that killed four of President Bashar al-Assad's senior security officials.
The onslaught continued on Saturday as jets bombarded the capital in a bid to snuff out resistance, a resident said.
Syria's civil war has intensified in the last few weeks, with fighting engulfing Damascus and Aleppo for the first time in the 17-month-old uprising against Assad family rule.
The two cities are crucial prizes for both sides in an increasingly brutal struggle that has eluded all attempts at a diplomatic solution and risks igniting a wider conflagration.
U.N. member states on Friday voted overwhelmingly to condemn the Syrian government at a special session of the 193-nation General Assembly that Western diplomats said highlighted the isolation of Assad supporters Russia and China.
Western and Arab powers want Assad to step aside but Russia and China have used their Security Council vetoes to block attempts to force him out. They say outside interference is prolonging the bloodshed.
Full report at:
http://www.nytimes.com/reuters/2012/08/04/world/europe/04reuters-syria-
-----------
Syria asks Russia for economic aid
August 04, 2012
Moscow: Visiting senior Syrian officials have asked Russia for financial loans and supplies of oil products.
Syria's Deputy Prime Minister Qadri Jamil, who led a delegation consisting of Syrian Cabinet ministers in a visit to Russia, on Friday told reporters in Moscow that Russia had promised to provide financial assistance to Syria.
The delegation was in talks with the Russian officials and business leaders on ways to alleviate the consequences of Western sanctions against Syria.
Jamil said Damascus wants to get diesel oil, gas and other refined oil products from Russia in exchange for Syrian crude supplies.
"We have reached mutual understanding on ways to resolve the problems," said Jamil at a press conference, who stopped short of disclosing details as for how the problems would be worked out.
Full report at:
http://zeenews.india.com/news/world/syria-asks-russia-for-economic-aid_791715.html
-----------
Protesters demand death for Assad
Aug 3, 2012
ALEPPO (Syria): Protesters in Aleppo took to the streets Friday to demand death for Syrian President Bashar al-Assad even as violence raged there and 19 people were killed nationwide, an AFP journalist and a watchdog said.
Hundreds of protesters gathered in Al-Shaar neighbourhood of the country's economic capital, chanting: "The people want the execution of Bashar!" and "The people want freedom and peace."
"We go down the street with a single objective: the liberation of the country," said 20-year-old protester Abu Ahmed.
"Today you can take to the streets. Before there were shabiha" pro-regime militiamen, he said. "For 20 years we supported the military, but in fact this army is against us."
The Britain-based Syrian Observatory for Human Rights reported demonstrations in the Saif al-Dawla, Furqan and New Aleppo neighbourhoods in western Aleppo, as well as in Sukari, Bustan al-Qasr and Fardoss in the south.
It also reported protests in the Kurdish region of Hasakeh, Daraa province of southern Syria and Idlib province to the northwest, where one demonstrator was shot dead by regime forces.
Also in Idlib, five rebels were killed in an army ambush, the Observatory said.
Shells rained down on rebel positions in the northern city of Aleppo ahead of a UN vote on Friday to deplore both the regime's use of heavy weaponry and world powers for failing to agree on steps to end the conflict.
Full report at:
http://timesofindia.indiatimes.com/world/middle-east/Protesters-demand-death-for-Assad/articleshow/15343493.cms
-----------
Saudi Arabia says two killed, including a soldier, in Shiite area
August 04, 2012
RIYADH: A Saudi soldier was shot dead patrolling an area populated by minority Shiite Muslims late on Friday, the Interior Ministry said, and one of the gunmen was killed in the ensuing shoot-out.
The deaths bring to 11 the number of people killed in the Qatif area since November in protests by members of Saudi Arabia's Shi'ite minority over what they see as entrenched discrimination.
"A security patrol was exposed to heavy fire from four armed rioters on motorbikes when pausing at a street intersection in Qatif," state news agency SPA reported, quoting Interior Ministry spokesman Mansour Turki.
Turki said the gunmen had been arrested after an exchange of fire in which one of them was killed, and said another man suffering a bullet injury had been arrested at the hospital.
He added that the incident, which happened at 11 pm on Friday evening, had led to the death of one soldier, named as Hussein Bawah Ali Zabani, and the wounding of another, named as Saad Miteb Mohammed al-Shammari, whom he said was taken to hospital.
Saudi Shiites mostly live in the Eastern Province, also home to the kingdom's oil industry, and complain they lack access to government jobs, education and full rights of worship, charges the government denies.
Full report at:
http://www.dailystar.com.lb/News/Middle-East/2012/Aug-04/183395-saudi-arabia-says-one-
-----------
Saudia announces new baggage rules
RIYADH: MD RASOOLDEEN & SIRAJ WAHAB
4 August 2012
The Saudi Arabian Airlines will implement a new baggage allowance policy on international routes effective Sept. 1.
The new scheme is based on the "piece concept" as opposed to the current "weight concept."
The airline had informed all travel agents in the Kingdom. In a memo dated July 31, the airline said that the new piece concept has been loaded in all GDSs (Group Decision Support Systems) and it will be automatically reflected on tickets of the passengers.
The specification of each bag would be length 90cm, breadth 75cm and height 43cm.
Currently, international travelers are allowed to carry 40 kg irrespective of the number of bags.
"For instance, a passenger could carry three pieces, each weighing 10 kg, or two pieces of 20 kg each, without inviting any surcharge," said S. Waheed Lateef of Azmeel Travel.
This will no longer be the case starting Sept. 1. According to the memorandum, Saudia has specified that each economy class passenger will be allowed to carry only one piece of 32 kg or less. For the first and business class, the airline will allow two pieces of 32 kg each.
"For instance, if an economy class passenger has two pieces of 16 kg each, he or she will have to pay extra money for the second piece," said Lateef. "This is what is called the piece concept. The second bag will be calculated as extra baggage."
The airline has specified the extra baggage charges in its note to the travel agents. Other airlines are expected to follow suit because the new concept will drastically reduce the aircraft load and increase efficiency.
Holders of Fursan Gold and Silver Cards will be given an additional baggage allowance free of charge.
Full report at:
http://www.arabnews.com/saudia-announces-new-baggage-rules
-----------
North America
Iran loses $133 million a day on embargo as stable oil buoys Obama
August 04, 2012
By Anthony DiPaola
U.S.-led sanctions against Iran are costing OPEC's third-largest producer $133 million a day in lost sales without raising global crude prices, handing President Barack Obama an election-year foreign-policy victory.
Shipments from Iran have plunged by 1.2 million barrels per day, or 52 percent, since the sanctions banning the purchase, transport, financing and insuring of Iranian crude began on July 1, according to data compiled by Bloomberg News. Annualized, that would cost President Mahmoud Ahmadinejad's country about $48 billion in revenue, equivalent to 10 percent of its economy.
While Iran's threats to disrupt the flow of oil through the Persian Gulf sent crude to a three-year high in March, increased production from Saudi Arabia, a U.S. output boom and the slowing global economy have left prices 1 percent lower in 2012. That's helping Obama avoid steeper domestic fuel costs before the November presidential election. Iran has to contend with a weakening currency and rising unemployment.
"It's been an unqualified success," Mike Wittner, head of oil-market research for the Americas at Societe Generale SA, said in a telephone interview from New York on July 25.
"There were a lot of concerns sanctions could backfire by causing an oil-price spike, but in the end the U.S. and Europeans got their cake and they ate it too, because volumes are down and prices are down."
Full report at:
http://www.dailystar.com.lb/Business/Middle-East/2012/Aug-04/183325-islamic-republic-
-----------
Panetta orders review of US military justice in combat zones
August 04, 2012
WASHINGTON: Defense Secretary Leon Panetta has directed a panel of experts to assess whether reforms are needed in the way the military justice system handles crimes committed by US forces against civilians in combat zones, the Pentagon said on Friday.
While the Pentagon said the decision was not linked to any specific case, it follows a spate of incidents in Afghanistan that have outraged the local population, including one in which a soldier is suspected of killing 16 villagers in a shooting rampage.
"There is no one case that motivates this," said Jeh Johnson, the Pentagon's top lawyer, who explained Panetta's decision to undertake the review.
"We've now been in deployed areas for over 10 years," he said. "We want to ask ourselves every once in a while: Is the system working like it should? Are there reforms that could be brought about to better apply military justice in deployed areas when the offense involves civilians?"
Panetta asked a subcommittee of the newly established Defense Legal Policy Board to review cases over the past decade in which US forces committed crimes against civilians in Iraq and Afghanistan to see whether judicial procedures need to be improved.
"Abuses have been rare among our professional fighting force, but they became huge flash points that threatened to undermine our entire mission and the foundation of our relationship with the host government and its people," Panetta said in a memorandum to the Pentagon leadership.
"For offenses that take place in a country in which we operate alongside the civilian population, it is critical that our system of military justice be efficient, fair, dependable and credible," he added.
Full report at:
http://dawn.com/2012/08/04/panetta-orders-review-of-us-military-justice-in-combat-zones/
-----------
U.S. Begins Packing Its Afghan War Gear for the Movers
By GRAHAM BOWLEY
August 04, 2012
CAMP LEATHERNECK, Afghanistan — It has taken the United States years to amass the mountains of gear piled up at huge bases like Camp Leatherneck in southern Afghanistan. It is the job of logistics experts like First Lt. Rachel Opperman, 23, to bring it all back home.
As the war here draws to a close and the American military begins to reduce its forces, it also has to send back most of its equipment, an immense logistics effort already under way and spanning half the globe.
Lieutenant Opperman, a Marine from Pittsburgh who is known here as the Queen of the Sort Lot, runs one of the big receiving yards, a dusty, 12-acre lot that is taking in superfluous equipment as bases shrink, close or are transferred to the Afghan forces all over the southwest of the country.
One recent morning here, Marines ranged slowly in the 100-degree heat under her direction, packing piles of supplies into 5-foot-by-5-foot boxes. Forklifts shifted the boxes onto pallets electronically tagged so their journeys could be tracked to Marine bases or depots in the United States and Japan, bringing order to the chaos of a staggeringly complex 24-hour reverse supply chain operation.
There were stenciled racks for axles, fax paper, filters, hoses, sheets of ballistic glass and fenders off mine-protected vehicles.
A wooden sign at the gate kept score: "Recovered to date: $160,937,622. Pallets built: 805. Containers built: 613."
"We will take almost anything," Lieutenant Opperman said. "We take it, and we figure out where it has to go."
Full report at:
http://www.nytimes.com/2012/08/04/world/asia/in-afghanistan-us-packs-war-gear-for-the-movers.html?_r=1&ref=global-home
---------
Europe
Britain develops palm-sized drone to take on Taliban
Aug 4, 2012
LONDON: It may seem like one of the futuristic James Bond gizmos, but it is for real . A new 'nanodrone' weighing just 198 grams, one of the smallest unmanned aerial vehicles in world, has been devised in UK and is currently being examined by US military to take on the Taliban.
It fits in the palm of a hand could become a potent new weapon for the forces in the fight against the Taliban.
Military chiefs believe the spy drone called the SQ-4 Recon, worth £20,000 and one of the smallest unmanned aerial vehicles in the world, will save soldiers' lives in Afghanistan. It is a miniature version of Little Nellie, the autogyro flown by James Bond in the film "You Only Live Twice" .
Devised by Cardiff-based BCB International and Middlesex University's Autonomous Systems Laboratory, the SQ-4 Recon is being examined by the US military.
The 'nanodrone' contains two cameras which allow soldiers to look over hills and inside enemy bunkers without the risk of being killed or injured, the Daily Mail reported. It can be operated remotely.
http://timesofindia.indiatimes.com/world/uk/Britain-develops-palm-sized-drone-to-take-on-Taliban/articleshow/15347682.cms
-----------
Russia calls Syria resolution 'blatant' support for rebels
Aug 4, 2012
UNITED NATIONS: Russia on Friday blasted a UN General Assembly resolution on Syria, calling it "blatant" support for rebel groups battling President Bashar al-Assad.
Russia's UN ambassador Vitaly Churkin said the main backers of the resolution, overwhelmingly passed by the UN assembly, were providing "mercenaries and arms" to the Syrian opposition.
Churkin said the resolution, which condemned Assad's government and the UN Security Council's failure to act on the Syria crisis, would not halt the civil war.
"Behind the facade of humanitarian rhetoric, the resolution hides a blatant support for the armed opposition," Churkin told the assembly.
Without naming them, he said the "most active" backers of the resolution "are actively supporting and financing" the opposition, "giving them mercenaries and arms," Churkin said. Saudi Arabia drew up the resolution with strong support from other Arab and western nations.
Russia and China have three times vetoed UN Security Council resolutions which could have led to sanctions against Syria, and Churkin also criticized the attack on the Security Council's failure to act in Friday's resolution.
Full report at:
http://timesofindia.indiatimes.com/world/us/Russia-calls-Syria-resolution-blatant-support-for-rebels/articleshow/15345449.cms
-----------
France calls for UN aid for Syria as clashes continue
August 04, 2012
France wants the UN Security Council to extend humanitarian aid for Syrian civilians, French UN ambassador Gerard Araud said on Saturday even as the Syrian government forces escalated their onslaught on rebel-held areas in the city of Aleppo and retook control of parts of Damascus.
"Progress on the political level will be difficult," Mr Araud told Europe 1 radio. "We will try to get Russia and China to work with us at least on the humanitarian questions," he said, adding that some 3 million Syrians were in need of food and medicine.
"We should convince the Russians and Chinese that they are going down the wrong path and they are dragging us into a final disaster, civil war, chaos and at the end maybe the victory of the radicals," he added.
Full report at:
http://www.thehindu.com/news/international/article3727156.ece
-----------
Paris calls for Dhaka U-turn on Rohingyas
August 04, 2012
France yesterday said it regretted a decision by Bangladesh to stop three non-governmental organisations from helping Rohingya refugees fleeing persecution in neighbouring Myanmar.
"Until a lasting peace is established in (Myanmar's) Rakhine state, we urge the authorities in Dhaka not to send back from the border people whose lives are under threat," a French foreign ministry spokesman said.
Two of the three charities affected by the Bangladesh government's decision are French--Doctors Without Borders (Medecins sans Frontieres, MSF) and Action Against Hunger.
Britain's Muslim Aid UK has also been told to suspend its services in the Cox's Bazaar district bordering Myanmar.
The Bangladesh authorities maintain that the aid provided by the charities has encouraged the Rohingya--a Muslim minority in predominately Buddhist Myanmar --to cross the border.
Aid workers say the Rohingya have little option but to flee in the face of sectarian attacks in Myanmar and fear the latest move could result in a humanitarian disaster.
Bangladesh estimates that there are now some three lakh Rohingyas living on its territory after having fled Myanmar.
http://www.thedailystar.net/newDesign/news-details.php?nid=244783
-----------
German Taliban charged with assisting terror attacks in Afghanistan
August 4, 2012
BERLIN: Prosecutors in Germany said on Friday they had charged a German national suspected of helping launch an attack on a military base in Afghanistan with a member of an Islamist militant group and with preparing a serious act of violent subversion.
The federal prosecutors' office said it suspected that the 26-year-old German national, identified only as Thomas U, was a member of a foreign "terrorist" association called the "German Taliban Mujahideen" (DTM) from December 2009 to July 2010.
It said he had traveled to the Afghan-Pakistan border area in 2009, where he joined the DTM and that he was trained to use firearms and explosives.
In late 2009, he and other DTM members had attacked a military base used by American and Afghan armed forces, prosecutors added.
They also accused him of glorifying the ideology of militant jihadists in at least two Internet messages in a bid to recruit new members for the DTM and of sending emails asking people living in Germany to join the group, provide financial support or promote it.
He was arrested in Turkey in 2010 before being extradited to Germany in May this year.
The DTM's aim is to found a religious, fundamentalist society in Afghanistan. It considers attacks on Afghan and Pakistani government troops, as well as on members of the NATO-led International Security Assistance Force, as a legitimate means of achieving that goal.
http://tribune.com.pk/story/417368/german-taliban-charged-with-assisting-terror-attacks-in-afghanistan/
-----------
UN adopts resolution on Syria, India abstains
Aug 4, 2012
UNITED NATIONS: The UN General Assembly has overwhelmingly adopted a Saudi-drafted resolution on Syria that denounced the escalating violence in the country and demanded a political transition, a voting in which India was among 31 nations that abstained.
The symbolic UN General Assembly resolution, which expressed "grave concern" at the escalating violence in Syria, got 133 votes in favour in the 193-member body on Friday.
India abstained from voting after the Saudi-drafted text referred to calls for President Bashar Al Assad to step down and asked UN states to severe diplomatic relations with the troubled nation.
The resolution, which is not legally binding and is of a moral nature, also demanded that the country lockdown its chemical and biological weapons.
In his explanation of vote on the resolution, India's permanent representative to the UN ambassador Hardeep Singh Puri said the resolution makes specific reference to the July 22 resolution of the League of Arab States which "openly called for President Assad to step down from power and for other UN members to severe diplomatic relations and contacts with Syria."
Full report at:
http://timesofindia.indiatimes.com/world/middle-east/UN-adopts-resolution-on-
-----------
URL: https://www.newageislam.com/islamic-world-news/by-new-age-islam-news-bureau/tunisia-blasphemy-bill-threatens-free-speech-hrw/d/8157