New Age Islam News Bureau
26 Jul 2012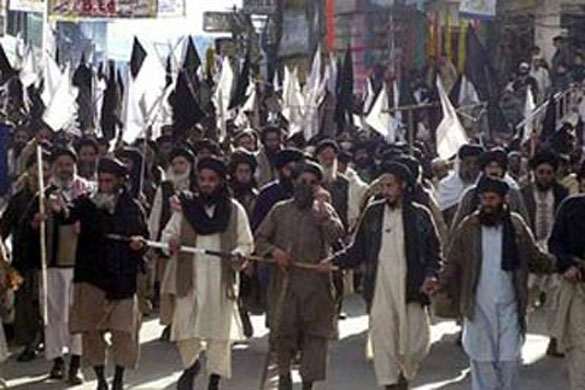 South Asia
• Sri Lankan at Risk of Being Beheaded, In Saudi Arabia for Praying To Buddha
• Kabul, I Love You: Directors create celluloid tribute after the fall of the Taliban
• Taliban ban and Afghan migrants pose polio threat to capital
• NATO condemns cross-border shelling into Afghanistan
Pakistan
• Pak Taliban threaten attack on Myanmar over Rohingya Muslims
• Balochistan is drifting away, SCBA tells SC
• Pakistan's militant war leaves millions mentally scarred
• Bitter Row over Humble Samosa in Pakistan
• 8 people killed in blast in Pakistan
• Rehman Malik pleads to become party to Riaz-Arsalan case
• Pakistan suspends NATO supply route over security
• Former ISI chief names officials involved in rigging
• Breather for Ashraf as Court extends deadline
• Pak Okays draft pact with US on NATO supply routes
• Pakistanis welcome Asians with open arms
• Enough of playing dice with terror
India
• Gujarat riots: Narendra Modi says 'hang me if I am guilty'
• Assam ethnic strife: Fresh violence in Baksa, death toll 41
• Suspected Members of Nigeria's Boko Haram Kill Two Indians
• Tension in Valley after 'terrorist' gunned down
• Talibanis' in Karnataka Assembly, says Bal Thackeray
• 13 years on, Kargil panel report still ignored
• A suspected Huji activist arrested
• Massive tricolour hosted at Kargil war memorial
• Kargil Vijay Diwas: 'It was a hand-to-hand battle on Tiger Hill'
• In Sabarmati jail, 26/7 blasts have a course correction, literally
• Pakistani authorities had helped me escape to Karachi, says Abu Jundal
• Concerted efforts on to push terrorists into J-K: Home secy
Southeast Asia
• Tariq Ramadan says Islamic humanism key to Malaysia not making west's mistakes
• Malaysia calls for "amicable" solution in Syria
• Clash with al Qaeda linked group kills 11 in Philippines
Mideast Asia
• Turkish forces kill 15 Kurdish rebels in southeast
• Gaza Christians Sense Pressure to Convert to Islam
• Yemen on Track for WTO Entry After Ukraine Deal
• Bulgaria govt survives no-confidence vote
• Iran pledges solid support amid escalating Syrian offensive
• Iran, Israel trade blame over Bulgaria attack
• Report nails intel failure in Israeli diplomat attack
• Israel hints at pre-emptive action against Iran
• Iran Offers Syria 'Experience and Capabilities'
Arab World
• Deported Priest Shares Thoughts on Syria at Arlington Church
• The identity of Al-Azhar and its doctrine
• In raging Syria fire, al-Qaeda is fuel
• Aleppo cowers as rumble of Assad's tanks grows louder
• Syrian rebels repulse major attacks in Aleppo
• Arabs to seek UN General Assembly action on Syria
• Battles for key cities of Aleppo, Damascus heat up in Syrian civil war
• Syrians in Iraq tell of shells 'like rain' and nightly hell
• Syrian Opposition Chiefs Seek Unity in Qatar Talks
Africa
• Kenya: Terror Is Not Jihad - Muslims
• Wave of Violent Repression Plagues Capital of Mali
• Libya Sees Return to Pre-War Oil Output in October
• Nigeria: Journalists Hold Ramadan Lecture on Insecurity
North America
• UN extends mandate of mission in Iraq
• Anti-Islam words torn from hate playbook
• Islamic Rights Group Wages Battle Against Elkridge Lecturer
• Fort Hood suspect may be 'forcibly shaved' before trial
• In separate incidents, 3 held over 'Dark Knight' threats
• Dark Knight shooting: Shooter may have mailed advance warning of massacre
• Jordan Worries Turmoil Will Follow as Syria's Refugees Flood In
Europe
• Kazakh Sukuk debut opens to door to Islamic finance
• Anti-Muslim bias in the British media, and the way forward
• Norway massacre man inspired Colorado killer
• UN chief urges world to act now to stop Syria 'slaughter'
Compiled by New Age Islam News Bureau
Photo: Pak Taliban threaten attack on Myanmar over Rohingya Muslims
URL: https://www.newageislam.com/islamic-world-news/by-new-age-islam-news-bureau/sri-lankan-at-risk-of-being-beheaded-in-saudi-arabia-for-praying-to-buddha/d/8061
----------
South Asia
Sri Lankan at Risk of Being Beheaded, In Saudi Arabia for Praying To Buddha
July 26th, 2012
A Sri Lankan youth employed as a domestic aid has been arrested in Saudi Arabia for praying to a statue of Lord Buddha, which is considered an offence according to Islamic Sharia law. According to the Bodu Bala Sena, the youth bearing passport no. 2353715 identified as Premanath Pereralage Thungasiri has been arrested by Umulmahami Police, which is a grave situation. While the youth is a Buddhist, the charge levelled against him is that he paid obeisance to the Buddha at the house where he was employed.
The Bodu Bala Sena organisation further said those employed in Muslim-majority countries are prevented from practicing their religious faiths, and if found to do so are punished severely. Recently a Sri Lankan woman was arrested for gazing at a child at a shopping complex, where she was accused of witchcraft, on the grounds that she had a black cord around her wrist.
On prior occasions too many Sri Lankan female domestic workers were forced to embrace Islam, and wear the traditional attire, while so far four Sri Lankan youth have been beheaded in that country. (Source: Ceylon Today)
Saudi Arabia is an Islamic theocratic monarchy where the religion of Islam is the official religion. Non-Islamic proselytism and conversions are illegal and conversion by Muslims to another religion (apostasy) carries the death penalty. Under Sauda Arabia Sharia Islamic law, children of Saudi parents are considered Muslim, regardless of the country or the religious tradition in which they may have been raised.
http://www.chakranews.com/sri-lankan-at-risk-of-being-beheaded-for-praying-to-buddha/3035
----------
Kabul, I Love You: Directors create celluloid tribute to their war-torn city 10 years after the fall of the Taliban
By KERRY MCQUEENEY
26 July 2012
Film is described as a love letter to the Afghan capital a decade after the fall of the brutal regime
Ten interwoven stories explore issues such as forced marriage, people smuggling and ethnic conflict
The war-torn Afghan capital of Kabul was once a place where cinema was outlawed under the fanatical rule of the Taliban.
However, a decade after the brutal regime fell, film makers from Afghanistan have created a celluloid tribute to their battle-scarred city.
Kabul, I Love You has been described as a love letter to the capital, rooted in the grim reality of everyday life for its citizens.
Issues such as forced marriage, people smuggling, illegal land grabs, land mines and ethnic conflict is explored through 10 interwoven stories in the film.
Afghanistan's film industry was hammered by 17 years of war after the Soviet invasion in 1979 and was snuffed out entirely under the extreme rule of the Taliban.
During their 1996-2001 regime, the extremists closed cinemas and hung televisions from lampposts, regarding all images as un-Islamic. Even sculptures were targeted, with the famous giant Buddhas of Bamiyan paying the price.
Now Afghan cinema is struggling to re-emerge amid a wrecked economy and an ongoing insurgency against the Western-backed government of President Hamid Karzai.
According to documentary-maker Malek Shafi'i, Afghanistan produces about 100 films a year but they are usually shot on small budgets and are often very poor.
Kabul, I Love You has been funded by the UN mission in Afghanistan, UNAMA, as a means of giving the country's cinema a boost.
Ario Soltani, from UNAMA, says the idea was to encourage film-makers to develop their own ideas.
He said: 'We wanted to reach the film-makers, to support them, to communicate with Afghan people.
'Not with our messages but with theirs. We hope they reflect the Afghan society and the Afghan ideas of that time.'
However, funding the project was not without its problems. One of the 11 directors chosen from 200 applicants fled the country as soon as he got his hands on UNAMA's $8,000, while another left for Iran after being threatened.
However, despite these setbacks, shooting for the film was completed and it got a warm reception when it was screened at the French cultural centre in Kabul in May.
While some of the entries betrayed the directors' lack of experience - with exaggerated characters, hammy dialogue and a deathly slow pace - other showed real flair.
Critics particularly liked the modest and restrained dialogue of Farhad Razae's bitter denunciation of forced marriage.
In the short section - titled Virgin Towers - the caretaker of a mosque learns that a pretty young woman in his place of worship has fled her family to escape marrying one of her relatives.
The young woman, denounced by a neighbour, ends up running from the police. Her heavy breath and field of vision restricted by the burqa she wears to hide herself allow the viewer to feel the horror of the condition of women in Afghanistan.
Rezae said he based the film on experiences he had as a young man looking after a mosque.
He said: 'During that time, a girl was coming for prayers. She would rest in the mosque two hours after the prayers. I wanted to know who this girl is, but I was ashamed and because of religion, I never asked her what her problems were.'
Shafi'i hailed Rezae's achievement, saying he had 'managed to get closer to Afghan realities' than other film-makers.
Shafi'i added that, in the last five years, writers and artists have been pushing boundaries in what remains an extremely conservative society.
He said: 'Now, people have started to realise that if they cross borders, nothing will happen to them.'
NATO forces are due to depart Afghanistan by the end of 2014 and the precarious security situation they will leave behind is not likely to be conducive to this dream of artistic growth.
It is hoped Kabul, I Love You will send out a message of hope to budding film-makers and other citizens of Afghanistan.
http://www.dailymail.co.uk/news/article-2179155/Kabul-I-Love-You-Afghan-directors-create-film-war-torn-city.html#ixzz21ifLy500
----------
Taliban ban and Afghan migrants pose polio threat to capital
Jul 26 2012
ISLAMABAD, July 25: With polio vaccination banned by the Taliban in Federally Administered Tribal Areas and pockets of Khyber Pakhtunkhwa province, the fear is that the crippling disease would filter down – maybe even to Islamabad.
The Taliban have issued decrees banning the anti-polio campaigns in the north-western tribal belt to protest against what they describe as "US aggression" and have demanded an end to the drone attacks on militants near the Afghan border where al-Qaeda-linked Taliban have sanctuaries.
Even though the federal government conducted a three-day National Immunisation Drive (NID) from July 16-18 targeting around 34 million children under five-years of age, an official of the Prime Minister's Polio Cell claimed that over 200,000 children could not be vaccinated in the tribal belt and adjoining areas.
Dr Urooj Hasan, the Capital Development Authority's director health, told Dawn that his department was targeting around 800,000 people in the urban areas while over 450,000 people were being targeted in the limits of the Islamabad Capital Territory administration.
He added that the authority had earmarked all areas where Afghan and Pashtun settlers are located in the city.
"Threat of polio has increased two-fold because of the large number of Afghan and Pashtun settlers in sector I-11 whose children did not receive vaccination in their hometowns, and now more so because of the specific ban by the Taliban," he said.
"Another pocket of these migrants also exists in front of NUST in sector H-10 but despite all the constraints we managed a better NID at the federal level in urban areas," claimed Dr Hasan.
A senior official of the federal government maintained: "The Afghan Basti in sector I-11 currently hosts over 1,600 Afghan and Pashtun children who are under the age of five and most were successfully immunised by the Capital Development Authority's polio team."
The official stated that 193 polio cases were recorded in 2011 and this year alone 23 cases have been registered with the Prime Minister's polio cell but most of the polio cases were from the tribal areas.
"Since there is rapid movement of Afghan refugees and internally displaced people from the province to Afghan Basti, and given its proximity to the urban area of the capital, it is a concern for us," he elaborated.
The official of Prime Minister's Polio Cell added that the Khyber Pahtunkhwa provincial government has established around 45 polio immunisation points between the province and Fata to limit the spread of the polio virus through movement of internally displaced people.
"Other than these 45 points, 11 new points for polio immunisation have also been established at district borders within Khyber Pakhtunkhwa," he revealed.
Regarding the capital city, he said that environmental water samples were tested by the National Institute of Health for polio virus but "the test reports had cleared Islamabads water samples from all strains of the virus."
http://dawn.com/2012/07/26/taliban-ban-and-afghan-migrants-pose-polio-threat-to-capital/
--------
Nato condemns cross-border shelling into Afghanistan
Jul 26 2012
KABUL: Nato's military force in Afghanistan has condemned cross-border shelling from Pakistan, after Kabul warned that it could significantly harm relations between the strife-torn neighbours.
Afghanistan's warning came on Sunday after officials said more than 300 heavy artillery shells and rockets were fired from Pakistan into Afghanistan's eastern Kunar province over two days, killing at least four people.
Last month, a barrage of cross-border fire from Pakistan into Kunar forced thousands of villagers to flee their homes after Islamabad accused Kabul of protecting militants who infiltrated to kill 13 Pakistani soldiers.
Full report at:
http://dawn.com/2012/07/26/nato-condemns-cross-border-shelling-into-afghanistan/
----------
Pakistan
Pak Taliban threaten attack on Myanmar over Rohingya Muslims
Jul 26 2012
ISLAMABAD: The Pakistani Taliban Thursday threatened to attack Myanmar to avenge crimes against the Muslim Rohingya, unless Pakistan halts all relations with the government and shuts its embassy in Islamabad.
In a rare statement focused on the plight of Muslims abroad, the umbrella Tehrik-i-Taliban (TTP) group sought to present itself as a defender of Muslim men and women in Myanmar, saying "we will take revenge of your blood".
Spokesman Ehsanullah Ehsan demanded that the Pakistani government halt all relations with Myanmar and close down its embassy in Islamabad.
"Otherwise we will not only attack Burmese interests anywhere but will also attack the Pakistani fellows of Burma one by one," he said in a statement.
The Myanmar embassy in Islamabad was not immediately reachable for comment.
The TTP frequently claims attacks on security forces in Pakistan but its ability to wage violence in countries further afield has been questioned.
But US officials say there is evidence the group was behind a failed 2010 attempt to bomb Times Square in New York, for which Pakistani-American Faisal Shahzad was jailed for life.
TTP leader Hakimullah Mehsud has also been charged in the United States over the killings of seven CIA agents who died when a Jordanian al Qaeda double agent blew himself up at a US base in Afghanistan in December 2009.
Recent clashes in western Myanmar between Buddhist ethnic Rakhine and Muslim Rohingya have left dozens dead and tens of thousands homeless.
Last week, Amnesty International said hundreds of people, mostly men and boys, have been detained in sweeps of areas heavily populated by the Rohingya, with almost all held incommunicado and some ill-treated.
Most arrests appear to have been "arbitrary and discriminatory" and Amnesty said there were "credible reports" of abuses, including rape, destruction of property and unlawful killings, by both Rakhine Buddhists and the security forces.
Decades of discrimination have left the Rohingya stateless, and they are viewed by the United Nations as one of the world's most persecuted minorities.
http://dawn.com/2012/07/26/tehrik-i-taliban-pakistan-threaten-myanmar-over-rohingya/
----------
Balochistan is drifting away, SCBA tells SC
Jul 26 2012
ISLAMABAD: Supreme Court Bar Association (SCBA) president Yasin Azad bemoaned before the Supreme Court on Wednesday that the situation in Balochistan had reached a point of no return similar to that of 1971 situation and, therefore, needed an urgent political solution.
"Believe me Balochistan is slipping away," he told a three-judge bench hearing a petition on the law and order situation and human rights violations in the province.
Chief Justice Iftikhar Mohammad Chaudhry observed that the court had already given a loud and clear message to the related arms of the government to think about Balochistan.
Both the federal and provincial governments are required to submit reports and admit in writing that they had miserably failed to establish the writ of law in Balochistan.
Mr Azad, who recently organised a seminar on Balochistan in Islamabad and visited Quetta to observe the worsening environment, informed the court that the SCBA had decided to convene a special meeting of local politicians after Eid.
He criticised the role of intelligence agencies in the province and said fingers were being pointed at the Frontier Corps. "Even police bosses say they cannot control the situation in Balochistan because of undue interference by intelligence agencies."
Mr Azad said the conference in Islamabad had condemned the kidnapping of people and dumping of mutilated bodies and was unanimous that these should end and there should be political dialogue with angry Baloch leaders.
Full report at:
http://dawn.com/2012/07/26/balochistan-is-drifting-away-scba-tells-sc/
----------
Pakistan's militant war leaves millions mentally scarred
Jul 26 2012
PESHAWAR: Liaqat Ali is a victim of one of Pakistan's worst bombings, but his injuries are not visible to the naked eye.
The 47-year-old government clerk and part-time lab assistant was walking home through the grounds of a hospital in the northwest city of Peshawar in the fall of 2009, when he stumbled upon the carnage left by the blast. Scores of bodies were packed into vehicles. Bleeding survivors with missing limbs and severe burns were scattered everywhere.
He has suffered from severe depression and anxiety ever since and is dependent on antidepressants to make it through the day so he can provide for his wife and four children.
Ali's plight has become increasingly common in Pakistan's northwest, where psychiatrists estimate millions are suffering post-traumatic stress disorder and other psychological illnesses after years of militant attacks, army offensives and US drone strikes.
Many don't receive treatment, largely because of an acute shortage of psychiatrists and psychologists.
Full report at:
http://dawn.com/2012/07/26/pakistans-militant-war-leaves-millions-mentally-scarred/
----------
Bitter Row over Humble Samosa in Pakistan
Jul 26, 2012
ISLAMABAD: Pakistanis will have to shell out more for samosas following a Supreme Court ruling, a move that has left a leading Pakistani daily wondering whether it was the "court's best use of time".
An editorial in the Dawn on Wednesday said that the days of the cheap Samosa are over.
"While the savoury little delight is consumed with great relish by Pakistanis around the year, sales of the Samosa skyrocket during Ramazan as it is a staple of the Iftar spread," it said.
The Supreme Court has set aside a notification of the Punjab government regulating the price of samosas.
The editorial recalled that in 2009 the Lahore government had fixed the price of the crispy delight at Rs.6 a Samosa. The bakers and sweet-makers of Punjab went to court.
"When the Lahore high court turned down their petition, the bakers appealed to the Supreme Court. They felt the Samosa did not fall within the purview of the Punjab Foodstuffs (Control) Act, 1958, hence the government could not fix its prices, a notion the apex court seemed to agree with," said the daily.
Full report at:
http://timesofindia.indiatimes.com/world/pakistan/Bitter-row-over-humble-samosa-in-Pakistan/articleshow/15159060.cms
----------
8 people killed in blast in Pakistan
Jul 26, 2012
ISLAMABAD: At least eight persons were killed and 15 others injured when a bomb went off at a market in the restive Bajaur tribal region of northwest Pakistan on Thursday, officials said.
The blast occurred at Pusht Bazar in Salarzai area of Bajaur Agency.
Several persons died after being taken to a nearby hospital. At least five shops were destroyed by the blast.
The nature of the explosion could not immediately be ascertained. No group claimed responsibility for the incident.
Security forces cordoned off the area and launched a search operation.
http://timesofindia.indiatimes.com/world/pakistan/8-people-killed-in-blast-in-Pakistan/articleshow/15159724.cms
--------
Rehman Malik pleads to become party to Riaz-Arsalan case
Jul 26 2012
KARACHI: Adviser to the Prime Minister on Interior Rehman Malik on Thursday filed a petition be a party to the Arsalan Iftikhar case.
Advocate on record Abdul Shakoor filed the petition on his behalf.
A Joint investigation team of the National Accountability Bureau (NAB) is currently investigating the allegations leveled against the Chief Justice's son Arsalan Iftikhar by the property tycoon and former Bahria town Chief Malik Riaz.
Riaz had accused Arsalan of taking millions of rupees to influence his father's (CJ) court in the property related cases against the former Bahria town chief.
http://dawn.com/2012/07/26/rehman-malik-pleads-to-become-party-to-riaz-arsalan-case/
--------
Pakistan suspends Nato supply route over security
Jul 26 2012
PESHAWAR: Pakistan has temporarily stopped Nato supply trucks crossing its northwestern border into Afghanistan over security concerns due to fears of Islamist attacks, officials said Thursday.
Gunmen on Tuesday attacked a convoy of Nato supply trucks, killing a driver, in the town of Jamrud near the main northwestern city of Peshawar, in the first such attack since Pakistan lifted a seven-month blockade of the border.
"Movement of Nato vehicles has been temporarily suspended since Wednesday evening to beef up security," a paramilitary official told AFP.
"We have launched a search operation in the hills surrounding Jamrud," the official added.
On Wednesday officials at the northwestern Torkham crossing had said traffic was picking up for the first time since the blockade ended, with more than 100 vehicles crossing in recent days.
Full report at:
http://dawn.com/2012/07/26/pakistan-suspends-nato-supply-route-over-security/
----------
Former ISI chief names officials involved in rigging
Jul 26 2012
ISLAMABAD: The former chief of the Inter Services Intelligence (ISI), Lt-Gen (Retd) Asad Durrani has submitted documents to the Supreme Court, including a list of officers alleged to have illegally distributed money to politicians in the 1990 elections.
A three member bench of the SC, comprising Chief Justice Iftikhar Muhammad Chaudhry, Justice Jawwad S. Khwaja and Justice Khilji Arif Hussain, has taken up a 1996 petition of Tehrik-i-Istiqlal chief Air Martial (retd) Asghar Khan who accused the ISI of financing politicians in the 1990 elections by dishing out Rs140 million to create the Islami Jamhoori Ittehad (IJI) and prevent Benazir Bhutto's PPP from winning the polls.
Durrani was asked by the court to submit the list he had promised containing the names of ISI officials involved in the operation to substantiate the doling out of funds among different politicians.
The former spy chief claims that the names of politicians were obtained from the Presidency through Ijlal Haider Zaidi, a member of then president Ghulam Ishaq Khan's election team, while the "donations" were doled out to the politicians at the directions of then Army chief Mirza Aslam Beg.
Durrani claimed that 70 out of the Rs 140 million were distributed through him while the remaining amount was submitted to the ISI's secret funds. Durrani further said that all the officers who had distributed the funds belonged to the Military Intelligence (MI).
The apex court is to take up the case again in its next hearing on July 30.
http://dawn.com/2012/07/26/asghar-khan-case-former-isi-chief-names-officials-involved-in-rigging/
----------
Breather for Ashraf as Court extends deadline
ANITA JOSHUA
Jul 26 2012
Write to the Swiss on Zardari cases before Aug. 8: Judges
Prime Minister Raja Parvez Ashraf on Wednesday got a breather with the Supreme Court giving him another fortnight to comply with its order asking the government to write to the Swiss authorities to reopen graft cases against President Asif Ali Zardari. On July 12, the Court had warned that if the Prime Minister failed to comply with its order to write the letter by July 25, then appropriate action could be initiated against him under the Constitution and the law.
Full report at:
http://www.thehindu.com/news/international/article3683141.ece
----------
Pak okays draft pact with US on NATO supply routes
Jul 26 2012
Islamabad : Pakistan government has approved a draft agreement with the US on transportation of supplies to foreign forces in Afghanistan, weeks after it ended a seven month blockade of the crucial routes.
The draft agreement was approved by the federal Cabinet during a meeting chaired Wednesday by Prime Minister Raja Pervez Ashraf.
However, the government is keeping the draft secret and details about it were not divulged to the media at a briefing held after the Cabinet meeting.
Sources said that once the agreement is inked, legal hurdles in the way of NATO supplies would be removed.
Information Minister Qamar Zaman Kaira told reporters that details of the agreement will be shared with the media after it is signed.
"The Cabinet approved the Memorandum of Understanding between the Islamic Republic of Pakistan and United States of America for the transit of US cargo to and from Afghanistan through the territory of Pakistan," said a statement issued after the Cabinet meeting.
Pakistan had shut the supply lines after a cross-border NATO air strike killed 24 of its soldiers last November.
Full report at:
http://www.indianexpress.com/news/pak-okays-draft-pact-with-us-on-nato-supply-routes/979730/
----------
Pakistanis welcome Asians with open arms
S. Kannan
Jul 26 2012
MILES away from home, looking for Indian food is a must. After two days of burgers, pizzas and salads, the craving for dal and roti increases.
Living in an area in east London dominated by Asians, I spotted a couple of sign boards which said " Roti and curry."
The smell inside the restaurant was good, and I soon realised it was a restaurant run by a Pakistani from Lahore.
He asked me to wait for some time, even though I told him I wanted to have an early dinner. I soon realised, because of late sunset, they were breaking the Ramzan fast late.
" Iftaar ka waqt abhee hua hai ," said the friendly man who took the order. I did see the chefs and waiters sitting on a table offer quick prayers, consume dates, have tasty snacks and then help me out with my dinner order.
In the heat of London, staying without food and water is a challenge for the Asians as well during Ramzan. But they have been doing it pretty well.
" Achaa , you are from India," he said, looking at my media badge.
And soon stories of India vs Pakistan, political rivalries and more began. Being thousands of miles away from home, these men, who have come to London to make a living, are fully aware of the geopolitics. " I guess apart from the Olympics you must also write why India and Pakistan must play cricket in your country," said my waiter Bashir.
Full report at: Mail Today
----------
Enough of playing dice with terror
Jul 26 2012
NEARLY four years after ten terrorists from Pakistan entered India and killed more than 170 people, the Board of Control for Cricket in India ( BCCI) has announced a cricket series between India and Pakistan to be played in India this year. The BCCI move comes after a not- so- subtle nudge from the Centre that wants better ties with Pakistan.
The venues for the proposed matches haven't been decided as yet, but if one of the venues is in Mumbai, then the BCCI should probably give a ticket for one of the matches to Madhuri Sawant.
Who is Madhuri Sawant? Madhuri Sawant trudges along from far- away Bhayander railway station outside Mumbai, travelling in compartments that are packed like sardines with people.
Each day she gets into crowded compartments and gets down at Mahim station in Mumbai. Except for the odd occasion, Madhuri has been doing this every day for the past six years. She has been visiting her son Parag at the Hinduja hospital where he has been admitted since 2006.
Full report at: Mail Today
----------
India
Gujarat riots: Narendra Modi says 'hang me if I am guilty'
Jul 26 2012
New Delhi : In a sensational statement, Gujarat Chief Minister Narendra Modi has thrown a challenge to all saying that if he is guilty of collusion in the Gujarat riots then he should be hanged - in 2002 thousands of minority community members were murdered by mobs that were not stopped by the administration or the police.
As then Chief Minister, Modi is widely blamed for his role during the riots - from collusion, to turning a blind eye. No one has yet been able to prove anything against Modi.
The Godhra train carnage (Sabarmati Express - 27 February, 2002) in which scores of Hindu kar sevaks were burned alive was the ostensible reason that led to the riots. The Hindu sevaks were returning from Ayodhya after a yagya in the wake of the destruction of the Babri masjid.
The rampage had lasted days, leading to the kind of rape, killings and pillage not seen since the days of the 1984 anti-Sikh riots.
Modi said this in an interview with Shahid Siddiqui, editor of the Urdu weekly, Nai Dunyia.
According to Modi, "Agar main gunehgaar hoon toh mujhe phaansi par latka do".
Shahid Siddiqui is an MP of the Akhilesh Yadav-led Samajwadi Party from Lucknow.
Furthermore, Modi has demanded that if he was proved innocent, the media should apologise for tarnishing his image, while clearly stating that he was only concerned about Gujarat and its development, rather than becoming the next Prime Minister.
http://www.indianexpress.com/news/gujarat-riots-narendra-modi-says-hang-me-if-i-am-guilty/979724/
----------
Assam ethnic strife: Fresh violence in Baksa, death toll 41
Jul 26, 2012
KOKRAJHAR (ASSAM): One more person was killed in police firing during clashes between minority immigrants and Bodos in lower Assam's Dhubri district even as fresh violence in Baksa district left four persons seriously injured on Thursday.
Indefinite curfew and shoot-at-sight orders continued in worst-affected Kokrajhar district where 25 persons have lost their lives while night curfew is on in Chirang, which accounted for 15 deaths, and Dhubri where one person was killed.
IGP (law & order) LR Bishnoi said on Thursday that one person was killed in police firing during violence between two warring groups in Dhubri district on Wednesday night to take the death toll in the ethnic strife to 41.
In Baksa district, neighbouring strife-torn Chirang, four persons were seriously injured in the wee hours when some persons opened fired at Musolpur.
Official sources said the incident might be a fall-out of the raging violence which has gripped lower Assam.
More than two lakh people are taking shelter in relief camps while 11 are still missing.
Chief minister Tarun Gogoi is scheduled to visit the affected areas later in the day.
http://timesofindia.indiatimes.com/india/Assam-ethnic-strife-Fresh-violence-in-Baksa-death-toll-41/articleshow/15159558.cms
----------
Suspected Members of Nigeria's Boko Haram Kill Two Indians
Jul 26 2012
MAIDUGURI, Nigeria (Reuters) - Suspected members of Islamist sect Boko Haram shot dead two Indians after storming their factory in the northeast Nigerian city of Maiduguri, a military spokesman said on Thursday.
Boko Haram has killed hundreds this year in its campaign to carve out an Islamic state in Nigeria, whose population is split evenly between Christians and Muslims.
"Information available indicates that suspected Boko Haram terrorists attacked a gum arabic factory operated by Indians located at Bayan Quarters in Maiduguri on Wednesday," said Sagir Musa, spokesman for the military Joint Task Force.
"The incident led to the death of two Indians with one wounded, who is receiving treatment at the hospital."
Full report at:
http://www.nytimes.com/reuters/2012/07/26/world/africa/26reuters-nigeria-
----------
Tension in Valley after 'terrorist' gunned down
M Saleem Pandit
Jul 26, 2012
SRINAGAR: A 21-year-old youth's killing at Aloosa in north Kashmir's Bandipora district triggered angry protests on Wednesday with the Army insisting that the slain was a militant and killed in an encounter with the 27 Rashtriya Rifles soldiers a day earlier.
The residents, however, maintained that Hilal Dar was an innocent civilian who worked at a cement factory in Srinagar and was returning home when he was shot.
The Army said Dar allegedly fired at an ambush party on Tuesday night when he was challenged to surrender. "The fire triggered the encounter and the soldiers next day found a body, which was identified as Dar, and also recovered one AK-47 rifle and some ammunitions," defence spokesman Lt Gen J S Brar said.
On Wednesday, over a dozen protesters were injured when they clashed with the police as they did not allow them to enter Bandipora town, which remained unaffected. An official spokesman said Bandipora's additional deputy commissioner has been asked to probe the killing and submit a report within 15 days.
http://timesofindia.indiatimes.com/india/Tension-in-Valley-after-terrorist-gunned-down/articleshow/15152843.cms
----------
Talibanis' in Karnataka Assembly, says Bal Thackeray
Jul 26 2012
Mumbai : The action by Karnataka Legislative Assembly against Belgaum-based Marathi daily Tarun Bharat for giving voice to atrocities on Marathi populace there is akin to what the Taliban do, Shiv Sena chief Bal Thackeray said today.
Tarun Bharat is the voice of Marathi populace in that state and the Karnataka Assembly has approved a resolution to de-recognise it and forwarded the same to the Press Council, Thackeray said.
This action by the Assembly proves that freedom of expression is merely a puppet in hands of politicians, he said in an editorial in party mouthpiece "Saamana".
Thackeray also criticised chief minister Prithviraj Chavan for "keeping mum" on the struggle of Marathi-speaking people in Karnataka. "There was a rumour that Chavan wielded clout in Delhi but he did not use it to provide justice for the Marathi people there," he said.
The demand by the Karnataka Assembly to cancel registration of the newspaper is a Talibani act and it should be "derecognised" for this barbaric act, he said.
The Assembly had on Tuesday unanimously passed a resolution to reprimand editor of Tarun Bharat for publishing stories with false allegations against Karnataka MLAs Abhay Patil and Shyam B Ghatage.
Full report at:
http://www.indianexpress.com/news/talibanis-in-karnataka-assembly-says-bal-thackeray/979778/
-------
13 years on, Kargil panel report still ignored
Jul 26, 2012
NEW DELHI: Many of the key recommendations of the Kargil Review Committee (KRC), set up immediately after the 1999 conflict, have not yet been implemented, the Naresh Chandra task force on national security has said while suggesting several new initiatives to reform the security establishment.
The comments come 13 years after Indian military sacrificed at least 527 soldiers in the Kargil heights along the Line of Control ( LoC) in Kashmir to evict Pakistani intruders. Thursday is Kargil Vijay Diwas, marking the anniversary of the official declaration of eviction of all intruders from the Indian soil.
The Naresh Chandra task force was appointed a decade after KRC to review its recommendations, their implementations and to suggest new steps to reform the security establishment. Its suggestions are being studied by various security agencies.
Full report at:
http://timesofindia.indiatimes.com/india/13-years-on-Kargil-panel-report-still-ignored/articleshow/15150628.cms
----------
A suspected Huji activist arrested
Jul 25, 2012
MUMBAI: A high drama followed when the Maharashtra Anti-Terrorism Squad (ATS) and the Mumbai Police reached West Bengal on Sunday after learning that a Huji suspect Haroon Rashid wanted in Unlawful activities case was arrested by the west Bengal police.
The two teams had to returned empty handed after learning that this Haroon Rashid was an Huji member and not they had been looking for. During the course of investigations it was transpired that this Rashid was a close associate with Safdar Nagori and Shahid Badar group and was active member of Huji from Darbanga. He was living in Kolkata in a fictitious identity and was selling computer spare parts.
According to the Mumbai police, Rashid is an important SIMI member and a close associate of Riyaz Bhatkal who went underground in 2004 and is still wanted. Rashid and Bhatkal both were resident of Pipe road in Kurla. In 2003, after the SIMI was banned several SIMI members including Bhatkal fled from pipe road in Kurla and went into hiding.
http://timesofindia.indiatimes.com/india/A-suspected-Huji-activist-arrested/articleshow/15144846.cms
----------
Massive tricolour hosted at Kargil war memorial
Jul 25, 2012
DRASS ( JAMMU AND KASHMIR): A massive tricolour, weighing 15 kg, was on Wednesday hoisted at the Kargil war memorial here in Drass sub-sector as part of the celebrations of the 13th anniversary of victory in the 1999 war.
The flag is 37 and a half feet in length, 25 feet in width and weighs 15 kilograms, chief executive officer of National Flag Foundation of India Commander (retired) K V Singh said.
Singh said the flag hoisted at the Kargil war memorial here at Drass, 150 kilometers from Srinagar, is "more than double in dimensions" than the ones which are hoisted over Red Fort and Parliament house in New Delhi.
The flag was hoisted over a specially built pole which is three tons in weight, 101 feet tall and 15 feet below the ground.
Singh, a retired naval commander, who manages the affairs of the foundation which presented the flag to the Army unit here, said the idea is to "promote the national flag by making them monumental".
The flag, made of knitted polyester, was hoisted by the General Officer Commanding-in-Chief of Army's Northern Command Lt Gen K T Parnaik and Member of Parliament Naveen Jindal, who heads the flag foundation.
Full report at:
http://timesofindia.indiatimes.com/india/Massive-tricolour-hosted-at-Kargil-war-
----------
Kargil Vijay Diwas: 'It was a hand-to-hand battle on Tiger Hill'
Pranav Kulkarni
Jul 26 2012
Theirs is a happy story — and an inspiring one at that — for those wanting to join the country's Armed Forces. Jayant and Urmila Mijar, happily sent their only son to join the army. Today they stand proud with Colonel Prasad Mijar, their son, on the occasion of Kargil Vijay Diwas. Colonel Mijar fought the battle of Tiger Hill and returned victorious. "Every child in this country must join the Armed Forces," they say with pride. Thursday marks the 13th anniversary of India's victory in the Kargil conflict.
It was the first week of July 1999 and tension prevailed in the Mijar household in Madiwale Colony. Prayers continued uninterrupted and fingers were crossed each time the phone rang. The family had just returned from a formation in Haryana, where Prasad, then a Major, was posted. The Kargil conflict had already begun and Tololing had started featuring in the reports. "When Major Adhikari of Second Mechanised Infantry, who was attached with 18 Grenadiers, attained martyrdom, our son mentioned in passing that he might have to go on the war front. By the time my wife and I reached home, our daughter-in- law confirmed that Prasad would be attached with 18 Grenadiers. She came to Pune with their son, who was then just two years old," said Jayant Mijar.
Full report at:
http://www.indianexpress.com/news/kargil-vijay-diwas-it-was-a-handtohand-battle-on-tiger-hill/979479/
----------
In Sabarmati jail, 26/7 blasts have a course correction, literally
Ujjwala Nayudu
Jul 26 2012
Ahmedabad : Most of the 71 accused lodged in Sabarmati Central Jail for their alleged role in the serial blasts in Ahmedabad on July 26, 2008, are now competing with each other to collect degrees and diplomas of all sorts through distance learning, mainly through Indira Gandhi National Open University and Annamalai University.
Mubeen Sheikh from Pune, who allegedly wrote and sent out terror emails to media entities on behalf of Indian Mujahideen, is pursuing four courses. His choice is telling. He wants a degree in creative writing in English, besides certificates in Arabic language, disaster management and human rights.
Qayamuddin Kapadia from Vadodara, said to be one of the key conspirators, is studying for a BA degree and a certificate in Arabic language. Qayamuddin was allegedly a member of banned outfit Student Islamic Movement of India (SIMI).
Asadullah, son of alleged IM operative Abu Bakar Sheikh, is pursuing a BA degree as also certificate courses in Arabic language and human rights. Asadullah is from Karnataka.
Hafiz Hussain, also from Karnataka, has enrolled along with others for bachelors preparatory programme, which is meant for those who are educated only till Class XII.
Full report at:
http://www.indianexpress.com/news/in-sabarmati-jail-26-7-blasts-have-a-course-correction-literally/979645/
----------
Pakistani authorities had helped me escape to Karachi, says Abu Jundal
July 25, 2012
Abu Jundal's investigation has revealed that state agencies in Pakistan had helped him get a Pakistani passport in 2006. He was also helped by a local to escape from India after the May 2006 Aurangabad arms haul case came to light, sources in the Mumbai police's crime branch said. Jundal
held two passports, the first in the name of Sayeed, and the second, which he used to travel to Saudi Arabia, in the name of Riyasat, police sources said.
They added that during questioning, Jundal told the crime branch that when he escaped from the police net in Aurangabad in 2006 after the arms and explosives consignment was seized, he took a bus to Malegaon where he spent the night in a mosque.
"A local helped him take a train to Kolkata," sources said, adding that from there he went over to Bangladesh through Benapur-Murshidabad border.
Full report at:
http://www.hindustantimes.com/India-news/Mumbai/Pakistani-authorities-had-helped-me-
----------
Concerted efforts on to push terrorists into J-K: Home secy
July 25, 2012
Pakistan-based militant groups are making "concerted" efforts to push terrorists into Jammu and Kashmir to disturb the prevailing peace there, Union home secretary RK Singh said on Wednesday.
He said there have been increased infiltration attempts from across the border, possibly with
the aim to sending more terrorists into Jammu and Kashmir before the onset of winter.
"The militant groups are making concerted attempts to push the terrorists through the border. Security forces are dealing with them," he told reporters in Delhi.
Sources said inputs indicated that some terrorists belonging to Hizbul Mujahideen, Lashker-e-Taiba and Jaish-e-Mohammed had crossed into the state during May while some more entered it by early July.
The terrorists have started using infiltration routes from Uri and Nowgam sectors in Kupwara in North Kashmir that were being used in the 1990s and early 2000 and which have been since been lying dormant, the sources said.
Moreover, there is a spurt in the frequency of infiltration attempts this year. The week-on-week comparison with last year's data shows that while two attempts were made during this period in 2011, this year the number has been 10, the sources said.
http://www.hindustantimes.com/India-news/NewDelhi/Concerted-efforts-on-to-push-terrorists-into-J-K-Home-secy/Article1-895595.aspx
--------
Southeast Asia
Tariq Ramadan says Islamic humanism key to Malaysia not making West's mistakes
Alisha Hassan | 25 July 2012
KUALA LUMPUR: Leading Islamic scholar Tariq Ramadan has said that Malaysia's multi-cultural heritage and its commitment to Islamic humanism can be key to the country avoiding the same problems that plagued the West during their economic boom, including immigration and integration of culture.
He argued, in a recent article published by the Australian Broadcasting Corporation (ABC) that Malaysia is on the precipice of economic success, but must maintain the tolerance and understanding of its multiple ethnic and religious groups as it pushes forward.
"Malaysians look on intently, hoping for a better future with less corruption, true freedom, democratic transparency and free media. The road ahead is long and fraught with obstacles," he wrote.
Already, in the past few months, Malaysia has seen a number of large protests aimed at pushing the government toward reform. But the government has lashed back, arguing in some cases that liberalization and reform are un-Islamic, as Prime Minister Najib Razak said late last week.
But it belies the reality that some 40 percent of the country are not Muslim and have linked up with Muslims in the country to push for change.
"The country's Hindu, Buddhist, Christian or atheist citizens often feel that they are captives in a debate that marginalizes or exploits them. Like the mirror image of many Muslim citizens in the West, they may be perfectly respectful of the constitution, of the laws and prerogatives of the civil state, but it is as if they are somewhat excluded from the shared narrative upon which the Malaysia nation is founded. It has proven difficult for them to achieve the fully equal status that would establish their sense of belonging to a pluralist society," Ramadan argued.
Full report at:
http://www.bikyamasr.com/73648/tariq-ramadan-says-islamic-humanism-key-to-malaysia-not-making-wests-mistakes/
---------
Malaysia calls for "amicable" solution in Syria
Bikya Masr Staff | 26 July 2012
KUALA LUMPUR: The Malaysian government has called on international parties and countries, the Syrian government and others involved in the ongoing conflict in the country to reach an "amicable" solution for the people of Syria.
Malaysia's Permanent Representative to the United Nations Hussein Haniff said his country is "appalled with the civilian losses in Syria" and urged all parties in the conflict to "cease violent activities" immediately.
"The violence that we have witness over the months has left thousands of civilians maimed and dead despite the six-point plan and presence of UN monitors," he said in a statement at the Security Council open debate on the Middle East situation.
Malaysia believes the "Syrian government and opposition should commit themselves fully to the six-point plan that would contribute to peace in the country."
The violence in Syria has been ongoing since citizens first went to the streets in March 2011 in an attempt to oust President Bashar al-Assad from power.
In the 17 months since the first protests, human rights groups have reported more than 16,000 people, predominantly civilians, have been killed in the violence, largely on the side of the government forces who have bombarded civilian targets in cities and towns across Syria.
http://www.bikyamasr.com/73739/malaysia-calls-for-amicable-solution-in-syria/
----------
Clash with al Qaeda linked group kills 11 in Philippines
Jul 26 2012
MANILA: Philippine forces clashed with Muslim extremists on a southern island Thursday, leaving seven soldiers and four militants dead, the military said.
Elite rangers battled members of the al Qaeda-linked Abu Sayyaf group on the troubled southern island of Basilan, with three soldiers and two insurgents also wounded in the clash.
"Firefight is ongoing as of this report," the military statement said.
It was the latest in a series of deadly clashes in the heavily-forested island of Basilan, a stronghold of the Abu Sayyaf.
The group was founded in the 1990s with seed money from al Qaeda leader Osama bin Laden.
http://dawn.com/2012/07/26/clash-with-al-qaeda-linked-group-leaves-11-dead-in-philippines/
----------
Mideast Asia
Turkish forces kill 15 Kurdish rebels in southeast
Jul 26 2012
DIYARBAKIR: Turkish security forces killed at least 15 Kurdish rebels in a raid near the country's border with Iraq after tracking them with drones and attacking them with helicopters and on the ground, officials said on Wednesday.
The drones spotted a group of Kurdish fighters who blocked roads on Monday in Hakkari province, then pinpointed them for an attack when the Kurdish fighters returned to the same area on Tuesday evening, the security officials said.
Three Turkish soldiers were injured in clashes that ensued, they said.
The region is the theatre of a 28-year-old conflict between Turkish forces and fighters of the Kurdistan Workers Party (PKK), which in various incarnations has waged a campaign for autonomy in the largely Kurdish southeast of Turkey.
Turkey has cemented ties with the Kurdish leadership of Iraq's semi-autonomous north, where the PKK has a military presence, through trade and investment, but remains wary that the example of Kurdish self-rule in Iraq and deepening chaos in neighbouring Syria could inflame its own Kurdish conflict.
Full report at:
http://dawn.com/2012/07/26/turkish-forces-kill-15-kurdish-rebels-in-southeast/
----------
Gaza Christians Sense Pressure to Convert to Islam
Jul 26 2012
GAZA (Reuters) - Two conversions that a Christian family says were forced have strained relations between a tiny Palestinian Christian community in the Hamas-run Gaza Strip and the Muslim majority.
Hundreds of Christians have staged protests in Gaza's main church in the past week, demanding the return of members of their community of 2,500, whom they said were kidnapped by Islamist proselytizers and forced to convert to Islam.
Christians are blaming the Hamas-affiliated Palestine Scholars Association and its chairman Salem Salama, a senior member of the Islamist Hamas movement.
Hamas has run Gaza since its forces seized control of the coastal enclave in 2007, ousting security services loyal to President Mahmoud Abbas of the secular Fatah movement.
Hamas officials reject the church's accusations, saying two Christians, a man and a woman, converted freely to Islam. The woman, who had left her husband, brought along her three daughters aged 12, 9, and 6 who are now being taught the Koran.
The 24-year-old man told reporters he had become Muslim of his own free will and wanted to go back to his family, should they accept him as a Muslim. A day later, he returned home.
It was not possible to speak to the newly converted woman, Hiba Daoud, but in a video clip made by a pro-Hamas news website she tells her family it was her decision to become a Muslim.
Full report at:
http://www.nytimes.com/reuters/2012/07/26/world/middleeast/26reuters-palestinians-
----------
Yemen on Track for WTO Entry After Ukraine Deal
Jul 26 2012
GENEVA (Reuters) - Yemen has resolved a months-long spat with Ukraine that had threatened to derail its bid to join the World Trade Organization, the WTO said on Thursday.
The agreement puts Yemen back on course to join the world trade body as early as the end of 2012. That would make it the 159th member after Russia and Vanuatu, which will both become members in August, and Laos, which is finalizing entry terms.
Every new WTO member has to bring its own laws into line with WTO standards and agree to open trade to satisfy every existing member. That gives every member an effective veto on new joiners.
Full report at:
http://www.nytimes.com/reuters/2012/07/26/world/26reuters-wto-yemen-
----------
Bulgaria govt survives no-confidence vote
Jul 26 2012
SOFIA: Bulgaria's centre-right government survived a parliamentary no-confidence vote on Thursday, called over a failure to reform its inefficient judiciary and combat organised crime and corruption that has awakened concerns in Brussels.
Prime Minister Boiko Borisov's cabinet survived the vote, the fourth since it took office three years ago, with backing of independent lawmakers, as had been widely expected.
Seventy-two lawmakers supported the motion compared to 121 needed to topple the centre-right government. 136 voted against.
The leftist opposition and the ethnic Turkish MRF party, filed the motion after the European Union said it would prolong its monitoring of Bulgaria's justice system and efforts to clamp down on organised crime and deep-seated corruption.
The Socialists say an attack by a suicide bomber that killed five Israeli tourists in the Black Sea city of Burgas last week adds to evidence of the cabinet's weakness on security policy.
The opposition argued that the extended EU monitoring will block Bulgaria's bid to join Europe's passport-free Schengen zone and reinforce the image of the EU's newest and poorest and country as a second-class member.
Full report at:
http://dawn.com/2012/07/26/bulgaria-govt-survives-no-confidence-vote/
----------
Iran pledges solid support amid escalating Syrian offensive
ATUL ANEJA
Jul 26 2012
Syrian forces are rapidly escalating offensive against the armed opposition amid emergence of strong signals of support for the regime from Iran and Russia — which has accused the West of endorsing terrorism in the Levantine state.
After regaining control over most of Damascus, the forces have fanned out to flush out fighters from their remaining strongholds in Aleppo, Syria's largest city. State media is also reporting clashes in the countryside near the cities of Lattakia and Qamishli.
The opposition is claiming that troops have mounted a massive offensive in Aleppo, drawing thousands of soldiers from the border with Turkey. However, the heavy scale of the assault could not be independently confirmed.
Media reports had surfaced earlier that the Syrians had arrived at an understanding with the Democratic Union Party (PYD) — a Kurdish militant group — which allowed Damascus to free a large number of its troops from Kurdish strongholds, for deployments elsewhere.
As the forces advanced, they received some of the most explicit pledges of support in recent months from a broad spectrum of leadership in Iran, which includes the elite Islamic Revolutionary Guards Corps (IRGC). On Tuesday, IRGC commander Massoud Jazayeri said the "enemy is not able to change the political system in Syria; and the people of this country and the friends [of Syria] will not allow [the implementation of] such a plan."
Full report at:
http://www.thehindu.com/news/international/article3683339.ece
----------
Iran, Israel trade blame over Bulgaria attack
Rival states accuse each other of plotting Bulgaria bus attack that killed five Israeli tourists in Bulgaria.
26 Jul 2012
Iran's UN envoy has accused Israel of plotting and carrying out a suicide bomb attack on a bus in Bulgaria a week ago in which five Israeli tourists were killed.
"It's amazing that just a few minutes after the terrorist attack, Israeli officials announced that Iran was behind it," Iran's UN Ambassador Mohammad Khazaee told a UN Security Council debate on the Middle East on Wednesday.
A suicide bomber blew up the bus in a car park at Burgas airport, a popular gateway for tourists visiting Bulgaria's Black Sea coast, killing himself, the Israeli tourists and the Bulgarian bus driver and wounding more than 30 people.
Israel has accused Iran and the Lebanese Islamist group Hezbollah of the bombing. Iran has denied the accusations.
Full report at:
http://www.aljazeera.com/news/europe/2012/07/20127261300217501.html
----------
Report nails intel failure in Israeli diplomat attack
By Abhishek Bhalla
Jul 26 2012
HAD the Indian intelligence agencies been alert, the bomb attack on an Israeli diplomat in the Capital in February could have been averted and the Iranian man suspected to be involved in it would have been caught in 2011.
Iranian citizen Hoshang Afshar Irani, the prime suspect, was in India plotting the attack between April 24 and May 6 last year. Sources said he did all the groundwork then. He came back on January 1 this year and left Delhi immediately after carrying out the blast on February 13.
This, along with the details of his stay, has been mentioned in a report filed by the Delhi Police in court, seeking more time to complete the probe. The police have submitted that they need to seek certain information from Malaysia, Iran, Thailand and Georgia — Iranian hand is suspected in similar attacks on Jewish targets in these countries. M AIL T ODAY is in possession of the report.
Full report at: Mail Today
----------
Israel hints at pre-emptive action against Iran
Jul 26, 2012
JERUSALEM: Israel's defence minister Ehud Barak has hinted that the Jewish state may take pre-emptive action against Iran to foil its nuclear ambitions in case sanctions against the Islamic Republic fail to deter it.
Addressing a gathering at the Israel Defence Forces' (IDF) National Security College, Barak said his country may have to take "tough and crucial decisions" about its security.
"I am well aware of the difficulties involved in thwarting Iran's attempts to acquire a nuclear weapon... however, it is clear to me without a doubt that dealing with the threat itself will be far more complicated, far more dangerous and far more costly in resources and human life," Barak was quoted as saying by the Haaretz online.
Barak also came upon hard on the Arab Spring which swept away many dictatorial regimes in the region, saying that the events of the movement slowly turned into the "Islamic Summer" and teach Israel that at the moment of truth, it can rely only on itself.
Jerusalem officially maintains that "it is keeping all options open on the table" on Iran and so far, ministers here have avoided issuing direct threats preferring the international diplomatic track.
Full report at:
http://timesofindia.indiatimes.com/world/middle-east/Israel-hints-at-pre-emptive-action-against-Iran/articleshow/15161364.cms
---------
Iran Offers Syria 'Experience and Capabilities'
Jul 26 2012
TEHRAN, Iran (AP) — A high-ranking Iranian official said his country is ready to share "experience and capabilities" with the Tehran-backed regime of President Bashar al-Assad in Syria, the official IRNA news agency reported.
The late Wednesday report said Iran's vice president in charge of international affairs, Ali Saeedlou, described the two countries as powerful nations able to influence regional and global stability.
The comments appear to reinforce Iran's support for its main Middle East ally and counter speculation that Iran's leadership was facing internal battles over whether to continue their backing for the embattled Assad.
"Tehran is ready to give its experience and capabilities to its friend and brother nation of Syria," IRNA reported Saeedlou as saying in a meeting with Syria's deputy prime minister, Omar Ibrahim Ghalawanji, who is in Tehran with a Syrian delegation.
Saeedlou did not elaborate about which experience or capabilities he had in mind.
On Tuesday Gen. Masoud Jazayeri, a spokesman of Iran's Joint Chiefs of Staff, said that Assad's regime has friends in the region poised to "strike out" — an apparent reference to forces that include militant groups Hezbollah in Lebanon and Hamas in the Gaza strip.
Hezbollah, whose strongholds lie along the Syrian border, maintains a heavily armed guerrilla force that has held its own against its high-tech Israeli adversary. It has ideological links to Tehran's theocratic regime, and has long benefited from support in Damascus.
Full report at:
http://www.nytimes.com/aponline/2012/07/26/world/middleeast/ap-ml-iran-
----------
Arab World
Deported Priest Shares Thoughts on Syria at Arlington Church
The Rev. Paolo Dall'Oglio, a Roman Catholic priest who spent 30 years in Syria, talked about the war-torn country and his recent deportation to a large group in Arlington on Monday.
By Lauren Sausser
July 24, 2012
More than 200 Christians and Muslims gathered Monday in North Arlington to listen to a man who has tried to bring those two faiths together half a world away — and has been punished for it.
They sat together in the social hall of the Rock Spring Congregational United Church of Christ to hear a Roman Catholic priest recently deported from Syria by President Bashar al-Assad's regime.
The Rev. Paolo Dall'Oglio, an Italian Jesuit, said he was removed from that country for speaking publicly against the government and for his own attempts at pulling people of different faiths and cultures together.
Full report at:
http://clarendon.patch.com/articles/deported-priest-shares-thoughts-on-syria
----------
The identity of Al-Azhar and its doctrine
Ibrahim El-Houdaiby
25 Jul 2012
Recent proposals to amend Article 2 of Egypt's constitution – giving Al-Azhar the final say in defining Islamic Law – has rekindled debate over the venerable Al-Azhar's role vis-à-vis state and society
The proposed amendments to Article 2 of the constitution – giving Al-Azhar the final say in defining Islamic Law (Sharia) – is of critical importance, not only because it limits Islamic knowledge to Al-Azhar, but also because it transfers the debate over the institution of Al-Azhar to the issue of identity.
Assigning an institution with the task of interpreting Sharia is unusual in Islam, where, traditionally, knowledge was not seen to be linked to any specific institution or religious hierarchy, but to scholastic aptitude that the nation has accepted throughout its history.
The institution of Al-Azhar became important because of its countless scholars who met these criteria, and rigorous teaching methods that produced competent students. Al-Azhar, therefore, became distinguished for its doctrine more than the institution, and the mosque not the university, because, since the beginning, its teachings were received and accepted by the nation.
Full report at:
http://english.ahram.org.eg/NewsContentP/4/48668/Opinion/The-identity-of-AlAzhar-and-its-doctrine.aspx
----------
In raging Syria fire, al-Qaeda is fuel
Jul 26 2012
Cairo : It is the sort of image that has become a staple of the Syrian revolution, a video of masked men calling themselves the Free Syrian Army and brandishing AK-47s — with one difference. In the background hang two flags of al-Qaeda, white Arabic writing on a black field.
"We are now forming suicide cells to make jihad in the name of God," said a speaker in the video using the classical Arabic favoured by al-Qaeda.
The video, posted on YouTube, is one more bit of evidence that al-Qaeda is doing its best to hijack the revolution, with a growing although still limited success that has American intelligence officials concerned, and Iraqi officials next door alarmed.
While leaders of the Syrian political and military opposition continue to deny any role for the extremists, al-Qaeda has helped to change the nature of the conflict, injecting the weapon it perfected in Iraq — suicide bombings — into the battle against President Bashar al-Assad with growing frequency.
Full report at:
http://www.indianexpress.com/news/in-raging-syria-fire-alqaeda-is-fuel/979509/
----------
Aleppo cowers as rumble of Assad's tanks grows louder
Jul 26 2012
Beijing : The clamorous heart of Aleppo, the ancient city with its cobbled streets and mazy bazaars, fell silent on Tuesday as residents there and across Syria's sprawling commercial capital fled the streets and cowered indoors, dreading the rat-tat-tat of machine gun fire and the echoing roar of government helicopters.
Except for the helicopters, the government had disappeared, residents said by telephone on Wednesday. There was no army and no traffic police, and all state employees were ordered to stay home, after being warned via official television broadcasts that they would be targeted by the rebel street fighters infiltrating central neighborhoods.
On Wednesday, the government sent thousands of troops toward Aleppo, according to rebel fighters and activists, who said tanks and troops deployed in nearby Idlib Province began to lumber eastward after suhur, the pre-sunrise meal during Ramadan.
One column of 23 armoured vehicles carrying soldiers and ammunition out of Jebel az-Zawiya, a rebel stronghold in southern Idlib, was attacked by local fighters, according to an activist in Turkey. He said seven vehicles were destroyed but the rest continued toward Aleppo.
Full report at:
http://www.indianexpress.com/news/aleppo-cowers-as-rumble-of-assads-tanks-grows-louder/979501/
----------
Syrian rebels repulse major attacks in Aleppo
Jul 26 2012
Syrian rebels on Thursday said they were in control of half of the country's second-largest city, Aleppo, but facing massive firepower from forces loyal to President Bashar al-Assad.
Fighting between government forces and rebels in the northern city since the weekend has forced residents to flee, according to activists.
"Our revolutionary fighters are now controlling 50 per cent of the city. They have repulsed at least two major attacks by the regime troops," Abu Omar al-Halabi, a rebel Free Syrian Army commander told DPA by phone.
"The fighter jets have been carrying out bombardment attacks since the early hours of the day in the area of Salaheddine and Mashaad on the outskirts of Aleppo to prevent arrival of reinforcements for the revolutionaries," al-Halabi said.
Fierce fighting erupted between the government forces and rebels in the city's district of al-Muhafaza, said the opposition Syrian Observatory for Human Rights. It did not give casualty figures.
Both sides are bracing for what observers say will be a decisive battle for Aleppo, Syria's commercial capital.
http://www.thehindu.com/news/international/article3686426.ece
----------
Arabs to seek UN General Assembly action on Syria
Jul 26 2012
UNITED NATIONS: Arab nations announced plans Wednesday to go to the UN General Assembly and seek approval of a resolution calling for a political transition and establishment of a democratic government in Syria following the Security Council's failure to address the escalating crisis.
Saudi Arabia's Ambassador Abdallah al-Mouallimi and Qatari diplomat Abdulrahman Al-Hamadi announced plans to seek action by the 193-member world body, where there are no vetoes, during a Security Council debate on the Middle East.
Last week, Russia and China again vetoed a Western-backed Security Council resolution aimed at pressuring President Bashar Assad's government to stop the violence by threatening sanctions if he didn't withdraw heavy weapons from populated areas within 10 days.
"The Arab states have decided to head to the General Assembly over the situation in Syria," al-Mouallimi told the council.
Al-Hamadi said the Syrian government's threat to use chemical and biological weapons, and other threats to the region, "have made us feel even further regret with the inability of the Security Council to deal with the Syrian crisis in an effective manner."
Therefore, he said, "the Arab group in New York is going to the General Assembly of the United Nations to deal with the serious threat represented by the Syrian crisis."
The push for action in the General Assembly followed an appeal earlier Wednesday by UN Secretary-General Ban Ki-moon for the world to unite in its response to Syria's civil war and do all it can to stop what he called the slaughter taking place there.
Full report at:
http://dawn.com/2012/07/26/arabs-to-seek-un-general-assembly-action-on-syria/
----------
Battles for key cities of Aleppo, Damascus heat up in Syrian civil war
By Ivan Watson and Holly Yan, CNN
July 26, 2012
Northern Syria (CNN) -- Undeterred by a wave of casualties, Syrian rebels say they will not back down in their quest to seize Aleppo, the country's commercial hub and a crucial city in the Syrian civil war.
After six days of fighting, the seesaw battle with government forces raged again Thursday as helicopter gunships flew over the city, said the opposition Syrian Observatory for Human Rights. At least one rebel fighter was killed, the group said.
The seat of President Bashar al-Assad's power also saw renewed violence Thursday as explosions rocked several Damascus neighborhoods, another opposition group said.
Regime and rebel forces battled in several Damascus neighborhoods, and the Palestinian refugee camp of Yarmouk endured "fierce helicopter shelling with machine guns," the Local Coordination Committees of Syria said.
In the past week, the Syrian civil war has pushed into Syria's two largest cities, Aleppo and Damascus.
Full report at:
http://edition.cnn.com/2012/07/26/world/meast/syria-unrest/?hpt=hp_t1
----------
Syrians in Iraq tell of shells 'like rain' and nightly hell
By Azhar Shallal
Jul 26 2012
AL-QAIM, Iraq — Having fled a city where shells fell "like rain" and children died in front of them, Syrian refugees spoke of the hell that would erupt every night as troops sought to retake their border town.
Wearing a dirt-covered dishdasha, or traditional Arab robe, his face pale from exhaustion, Ahmed Saleh Hanoush sat on the floor of a school-turned-dormitory for refugees, fighting back tears.
"My son was hit by a shell when he was in our garden speaking on the phone," the 53-year-old said of the 17-year-old who suffered chest, arm and leg wounds from the Syrian army's bombardment aimed at winning back control of Albu Kamal, a town on the Iraq-Syria border held by rebels.
"I took him to an emergency clinic," Hanoush said, his hands placed on the heads of two of his daughters, "but there was nothing there to clean his wounds."
Pausing for a moment, the father of five said: "He died in front of my eyes. I tried, but I could not do anything for him."
Full report at: Copyright © 2012 AFP. All rights reserved.
----------
Syrian Opposition Chiefs Seek Unity in Qatar Talks
Jul 26 2012
DOHA, Qatar (AP) — Syrian opposition factions are gathering in Qatar to seek agreement on leadership for a transitional administration that could step in as a stopgap government if rebel forces topple Bashar Assad's regime.
Thursday's planned meeting in Doha marks the most comprehensive bid to bring together various Syrian opposition groups and show world leaders a credible alternative to Assad.
The Syrian National Council has acted as the international face of the revolution, but it's been unable to unite all dozens of disparate rebel factions under one banner.
Among the potential guiding forces for a transitional team is Brig. Gen. Manaf Tlass, one of the most senior figures to defect from Assad's regime. He is urging all opposition forces to unite.
Qatar is a leading backer of the Syrian rebels.http://www.nytimes.com/aponline/2012/07/26/world/middleeast/ap-ml-syria-
---------
Africa
Kenya: Terror Is Not Jihad - Muslims
BY KERUBO LORNAH, 24 JULY 2012
Comment
A section of Muslim leaders seem to have changed its stand over terrorism after they asked the government to prosecute any Muslim guilty of committing crime. The Kenya Muslim National Advisory council's Executive Director Juma Ngao said the murder of innocent people, should not be confused to be jihad. Ngao said it is wrong for some Muslims to do illegal things in the name of fighting for the religion. "To kill people is not a religion. To kill is to sin. Bombing churches and clubs or any other place is a criminal action and anyone who is found should face the consequences," he said.
He said that it was sad for some people to think that violent attacks which leads to blood shed is Jihad. Ngao said that Jihad is doing good things like helping the needy. "It is sad for some of us to think that by shedding blood they are performing Jihad. I want to tell them that fighting foolishness in the society, helping the needy, starting development projects and building schools among other good things is Jihad," Ngao advised.
The cleric however, told the government not to harass Muslims who are coming from mosques especially this time of Ramadhan. He said that at this time it was easy for the police to suspect people who are coming from prayers to be criminals. Ngao told them to beef up security so that they can be able to know who is a criminal and who is not. He challenged all Muslims to maintain peace.
http://allafrica.com/stories/201207241079.html
---------
Wave of Violent Repression Plagues Capital of Mali
By ADAM NOSSITER
Jul 26 2012
BAMAKO, Mali — Hooded gunmen have abducted and beaten journalists at night. Soldiers who oppose the military junta have been tortured or forcibly "disappeared." Those who mobbed and beat the country's elderly interim president escaped without charges.
While much alarm has been expressed about the extremist ministate in northern Mali, which has prompted hundreds of thousands of residents to flee the country, the situation here in the Malian capital is dire in its own way, with a worsening climate of repression and intimidation.
Outside hopes for confronting the Islamists in the north have been pinned on the renewal of civil government here, after a military coup d'état in March. Under international pressure, the junta agreed to a civilian government led by an unlikely Malian-American astrophysicist who once worked at NASA, Cheick Modibo Diarra, a political neophyte known for emotional outbursts.
While camouflaged by civilians, soldiers continue to pull the strings, according to human rights advocates, journalists who have been victimized and some opposition politicians.
Rather than taking on the Islamists who have seized northern Mali, the military in the south appears intent on striking back at rivals who carried out a failed countercoup in late April.
Human Rights Watch accused the army of engaging in a campaign of "horrific" abuse against opposing soldiers at the junta's headquarters outside Bamako. One witness reported to the group that Capt. Amadou Sanogo, the junta leader, was seen kicking a detainee who has since disappeared.
Full report at:
http://www.nytimes.com/2012/07/26/world/africa/wave-of-violent-repression-plagues-capital-of-mali.html?ref=world
----------
Libya Sees Return to Pre-War Oil Output in October
Jul 26 2012
TRIPOLI (Reuters) - Libya expects to be back to pre-war oil production in October, later than previously forecast due to interruptions and the slow return of oil services firms to the North African country, Deputy Oil Minister Omar Shakmak told Reuters.
Output has climbed back close to pre-war levels of 1.6 million barrels per day (bpd) since a virtual standstill during last year's uprising that ousted Muammar Gaddafi but protests and interruptions have dealt the sector several setbacks.
"If everything goes as planned and there are no more interruptions, I think within three months time from now ... we hope we will achieve the 1.6 (million bpd)," Shakmak said.
"Our plan was for by the end of July, the second quarter, but there are a lot of reasons - one of them the interruptions ... and also the delay of the support from oil technical service contractors. They are not back 100 percent."
Shakmak said current output was 1.56 million bpd, climbing back up after three major oil exporting terminals in the east, shut down by political protests before Libya's July 7 elections, restarted.
Full report at:
http://www.nytimes.com/reuters/2012/07/26/world/africa/26reuters-libya-oil.html?ref=global-home
----------
Nigeria: Journalists Hold Ramadan Lecture On Insecurity
BY ABBAS JIMOH, 26 JULY 2012
The Muslim Media Practitioners of Nigeria (MMPN) will on Saturday open its seventh annual Ramadan lecture in Abuja with the theme "Internal Security and National Development." MMPN chairman, Alhaji Abdur-Rahman Balogun, said yesterday in a statement that the lecture will hold at the Conference Hall of the Abuja National Mosque and would be delivered by Major-General S.U. Abdulkadir from Nigeria Army Headquarters and Ustaz Nurudeen Abdmalik.
http://allafrica.com/stories/201207260301.html
----------
North America
UN extends mandate of mission in Iraq
Jul 26, 2012
UNITED NATIONS: The Security Council has extended the mandate of the UN mission in Iraq for another year and asked all communities there to participate in the country's political process.
The resolution extended the mandate of the UNAMI, which expires on Saturday, to July 31, 2013.
In a unanimously adopted resolution, the 15-member body encouraged the Iraqi government "to continue strengthening democracy and the rule of law, improving security and public order and combating terrorism and sectarian violence across the country.
The Security Council voiced its support to the people and the government of Iraq in their efforts to build "a secure, stable, federal, united and democratic nation based on the rule of law and respect for human rights."
The United Nations Assistance Mission for Iraq (UNAMI) is a political mission established by the Council in 2003, at the request of the Iraqi government.
It is mandated to advise and assist in areas like advancing political dialogue and national reconciliation, assisting in the electoral process, facilitating regional dialogue between Iraq and its neighbours, and promoting the protection of human rights and judicial and legal reform.
Full report at:
http://timesofindia.indiatimes.com/world/middle-east/UN-extends-mandate-of-mission-in-Iraq/articleshow/15161283.cms
----------
Anti-Islam words torn from hate playbook
Jul 24, 2012
Ross M. Johnson
On May 30, Lou Ann Zelenik, a Republican candidate for Tennessee's Sixth Congressional District, released a statement opining: "Islam does not claim to be a religion, but a social and political system that intends to dominate every facet of our lives and ... dominate it's (sic) host culture by any means including force and violence."
The Williamson County GOP also recently passed a resolution objecting to Gov. Bill Haslam's decision to appoint Samar Ali, a Muslim from Waverly, Tenn., as the new international director for the state Department of Economic and Community Development. According to the Williamson County resolution, Gov. Haslam "has elevated ... preferential political status to Sharia adherents in Tennessee, thereby aiding and abetting the advancement of an ideology and doctrine which is wholly incompatible with the Constitution of the United States and the Tennessee Constitution."
Thanks to politicians like Zelenik and the Williamson County GOP, Tennessee has become a battleground for the anti-Muslim movement and those who argue that American Muslims are disloyal, subversive and simply "different."
According to the argument, American Muslims are determined to overthrow the U.S and impose a radical form of government similar to what was seen under the Taliban in Afghanistan.
Full report at:
http://www.tennessean.com/article/20120725/OPINION03/307250095/Anti-Islam-words-torn-from-hate-playbook?nclick_check=1
----------
Islamic Rights Group Wages Battle Against Elkridge Lecturer
Council on American-Islamic Relations asks Pentagon to remove "Reza Kahlili" from teaching on Deerpath Road in Elkridge.
By Elizabeth Janney
July 24, 2012
A lecturer at a CIA campus in Elkridge is under fire from a Muslim civil liberties group.
The Council on American-Islamic Relations sent an official request this week that a former CIA agent known as "Reza Kahlili" be released by the Department of Defense from his position as an instructor at the Joint Counterintelligence Training Academy in Elkridge for expressing anti-Muslim sentiment.
Kahlili is a native of Iran and former CIA agent, according to his book, A Time to Betray. On his blog of the same name, Kahlili wrote in 2011 about his religious conversion while a member of the CIA working in Iran: "During all those ensuing years as I witnessed unimaginable crimes committed by the clerics, I believed they misrepresented Islam...So I renounced Islam and began the quest to find the real God, the one who had blessed me so often in very dangerous times as a CIA spy."
The Council on American-Islamic Relations called the blog an "Islamophobic hate site" in a press release.
Full report at:
http://elkridge.patch.com/articles/islamic-rights-group-wages-battle-against-elkridge-lecturer
----------
Fort Hood suspect may be 'forcibly shaved' before trial
Jul 26 2012
The military judge who will oversee the trial of the man accused in the 2009 Fort Hood massacre ruled Wednesday that if Maj. Nidal Hasan doesn't shave by the start of jury selection, he will be forcibly shaved.
Col. Gregory Gross has been telling Hasan he must shave, in accordance with Army regulations. Hasan, who is a Muslim, has refused to shave for more than a month, apparently in keeping with Quranic teachings.
During a pretrial hearing Wednesday, Gross ruled Hasan in contempt of court and fined him $1,000. Gross told Hasan that he unless the defendant shaves before the start of his trial, he will be "forcibly shaved," according to Christopher Haug and Tyler Broadway, spokesmen at Fort Hood.
Even though Hasan has been in custody since November 2009 when 13 people were shot and killed at the U.S. Army installation outside Killeen, Texas, he is still in the Army and still draws his pay.
Hasan was left paralyzed from the waist down in the shooting, when police officers exchanged fire with him. He faces a possible death penalty if convicted in the shooting.
http://security.blogs.cnn.com/2012/07/25/fort-hood-suspect-may-be-forcibly-shaved-before-trial/
----------
In separate incidents, 3 held over 'Dark Knight' threats
Jul 25, 2012
WASHINGTON: At least 3 men accused of making threats during or after watching the new Batman movie have been arrested in separate incidents, underscoring moviegoers' anxieties and heightened security in the wake of a Friday's mass shooting at a Colorado theater showing the film,
Maine's Timothy Courtois was arrested when he told authorities he was on his way to shoot a former employer a day after watching 'The Dark Knight Rises', Maine state police said. Courtois had been stopped for speeding, and a police search of his car found an AK-47 assault weapon, four handguns, ammunition and news clippings about the mass shooting by James Holmes that left 12 people dead.
In Southern California, a man at a Sunday afternoon showing of the film was arrested after witnesses said he made threats and alluded to the Aurora shooting when the movie didn't start. Moviegoers said the 52-year-old Clark Tabor shouted, "I should go off like in Colorado." They said he then asked: "Does anybody have a gun?"
Separately, moviegoers in Sierra Visa, Arizona, panicked when a man who appeared intoxicated was confronted during a showing of the movie. The Cochise county sheriff's office said it caused "mass hysteria" and 50 people fled the theater.
http://timesofindia.indiatimes.com/world/us/In-separate-incidents-3-held-over-Dark-Knight-threats/articleshow/15134764.cms
----------
Dark Knight shooting: Shooter may have mailed advance warning of massacre
Jul 26 2012
Washington : Accused Colorado shooter may have mailed advance warnings of his intention to carry out a massacre, but his mailed threats remained unopened in a university mailroom.
James Holmes, the accused gunmen in last Friday's movie carnage in Colorado mailed a notebook "full of details how he was going to kill people to a psychiatrist at the University of Colorado where he had been a student until dropping out last month, Fox News reported.
Holmes walked into a theatre in Aurora dressed in riot gear and brandishing atleast three weapons at the front of "The Dark Knight Rises" movie premiere around midnight on Friday. He allegedly set off two smoke bombs before opening fire on the movie theater patrons with an assault rifle, shotgun and a handgun, killing 12 people.
The TV network reported that the notebook had full details and drawings and illustration of how he was going to carry out the massacre and the mail was found only during the search of university mailroom.
Full report at:
http://www.indianexpress.com/news/dark-knight-shooting-shooter-may-have-mailed-advance-warning-of-massacre/979740/
----------
Jordan Worries Turmoil Will Follow as Syria's Refugees Flood In
By KAREEM FAHIM
Jul 26 2012
AMMAN, Jordan — Fearing the fallout and the spread of the uprising in Syria, Jordanian officials have recently moved more forcefully to restrain opponents of the Syrian government who have fled to Jordan, activists here say.
A Syrian opposition leader from Dara'a said that intelligence agents tried to dissuade him from returning after a recent trip outside the country. Jordanian airline officials demanded he buy a ticket to go on to Damascus before he boarded the plane. In another case, an artist once imprisoned in Syria said that since arriving in Jordan in March, he had been interrogated four times by intelligence agents who warned that he would be sent back to Syria if he engaged in conspicuous activism against the Syrian government.
The episodes reflected Jordan's perennially anxious state, battered by cycles of crises in the region, fearful of stronger neighbors and dependent on others for financial and military support. In recent weeks, Jordanian officials and commentators have made dire predictions that refugees could overwhelm the country as the war worsens, strangling Jordan's fragile economy and straining its resources.
Full report at:
http://www.nytimes.com/2012/07/26/world/middleeast/jordan-is-anxious-as-syrian-
---------
Europe
Kazakh sukuk debut opens to door to Islamic finance
25 July 2012
ALMATY: A $75 million Islamic bond issue by the Development Bank of Kazakhstan, the first sukuk issued in the former Soviet Union, is likely to spur more issues in Central Asia's largest economy, banking officials said on Thursday.
The 240 million five-year Malaysian ringgit ($75.5 million) issue on July 18, which generates an annual payment of 5.5 per cent, has set the benchmark for Islamic bond issuers in the former Soviet republic, the Development Bank of Kazakhstan said.
The issue is part of the bank's 1.5 billion ringgit Islamic note programme under the sharia principle of murabaha, approved this year by the Malaysian central bank and the Sharia Advisory Council of the Securities Commission of Malaysia.
"The next sukuk issue will depend on market conditions and the bank's borrowing requirements," the state-owned Development Bank's press office said in a written response to questions.
Full report at:
http://dawn.com/2012/07/26/kazakh-sukuk-debut-opens-to-door-to-islamic-finance/
---------
Anti-Muslim bias in the British media, and the way forward
By MUDDASSAR AHMED
25 July 2012
Earlier this month, British journalists and editors submitted the report, Race and Reform: Islam and Muslims in the British Media, to the Leveson Inquiry. Led by Lord Justice Leveson, appointed last year by Prime Minister David Cameron, the Leveson Inquiry aims to investigate the ethics and culture of the British press in light of The News International phone-hacking scandal. Race and Reform highlights the predominantly negative, inaccurate and racist depictions of Islam and Muslims in the British media and calls for greater accountability on the part of the concerned authorities.
Coordinated by Unitas Communications, a cross-cultural communications consultancy in London specialising in Islam-West relations, the report draws on interviews with media professionals from The Daily Mail, The Daily Star, The Telegraph, The Independent on Sunday, The Guardian, The Times, Channel 4/ITN and BBC World Television. According to the report's author, Dr. Nafeez Ahmed, the consequences of anti-Muslim media bias have been far reaching. Such media narratives have correlated directly with a rise in anti-Muslim hate crimes, now 'at record levels,' and generated social alienation among minority groups that would endanger the very fabric of British multiculturalism.
Full report at:
http://english.alarabiya.net/views/2012/07/25/228286.html
----------
Norway massacre man inspired Colorado killer
Jul 26, 2012
LONDON: The gunman accused of killing 12 people and injuring 58 at a premiere of the latest Batman movie in the US met a string of prostitutes on seedy escort websites, said reports.
James Holmes, 24, has met the prostitutes on seedy escort websites in the months before the cinema shooting. The Sun reported on Wednesday.
A vice girl has said how she was visited twice by James Holmes — claiming he was "really nice".
One escort called Tiffany told TMZ, "I had no issues with him — he was really nice. He felt bad that I wasn't getting more customers while in Colorado, so he called a few days later and we met up again." Tiffany met with Holmes in August last year. Another hooker said Holmes "looked very familiar" but couldn't say for certain if he was a client.
Holmes followed the "teachings" of Norwegian mass killer Anders Breivik as he planned his murder spree. Holmes even signed up on an adult contact website in a bid to follow Breivik's advice to "keep up morale" by having plenty of sex before his attack.
http://timesofindia.indiatimes.com/world/uk/Norway-massacre-man-inspired-Colorado-killer/articleshow/15154804.cms
----------
UN chief urges world to act now to stop Syria 'slaughter'
Jul 25, 2012
SARAJEVO: UN chief Ban Ki-moon on Wednesday urged the world "to stop the slaughter in Syria" as dozens of international observers pulled out from the country.
"I make a plea to the world: 'Do not delay... Act now to stop the slaughter in Syria'," the UN secretary-general told parliament in Bosnia, the Balkans country that suffered a genocide in Srebrenica in 1995.
The UN chief was due to visit the site of the Srebrenica massacre on Thursday, the first secretary-general of the world body to do so.
Bosnian Serb troops on July 11, 1995 brushed aside lightly-armed Dutch peacekeepers and overran the UN-protected enclave. In the days that followed they killed nearly 8,000 Muslim men and boys and buried them in mass graves.
Full report at:
http://timesofindia.indiatimes.com/world/middle-east/UN-chief-urges-world-to-act-now-to-
----------
URL: https://www.newageislam.com/islamic-world-news/by-new-age-islam-news-bureau/sri-lankan-at-risk-of-being-beheaded-in-saudi-arabia-for-praying-to-buddha/d/8061