New Age Islam News Bureau
2 Aug 2012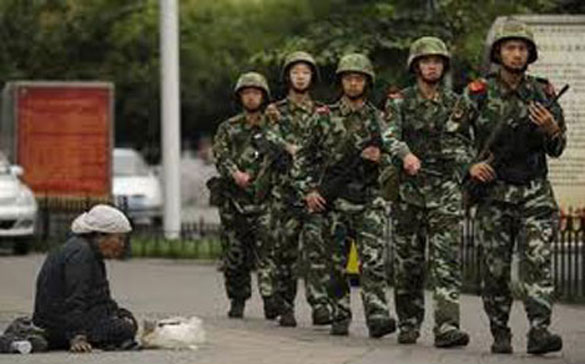 Pakistan
• Pakistan Removes Deputy Attorney General For Performing Voluntary Service At Hindu And Sikh Shrines
• China to help Pakistan in promotion of religious tourism
• Pakistan welcomes India's move to allow investment from there
• UN polio suspension hits 22,000 Pakistan children
• Slow down in US arms sales to Pakistan
• ISI chief held talks with CIA head Petraeus
• Twin blasts rock Lahore, 20 injured
• Pakistan Army chief calls for transparent ties with US
• Haqqani network enjoys financial, logistic support from Pakistan
• Terrorist behind attack on Sri Lankan cricket team killed
• Summit fever grips Pakistan
Southeast Asia
• China Jails 20 On Terrorism, Separatism Charges In Restive Xinjiang
India
• Pune blasts case transferred to crime branch, CCTV cameras at blast sites non-functional
• Tunnel episode against Indo-Pak CBMs: BSF Chief
• Naga student body asks Nagaland govt to help Assam deal with ethnic riots
• BBC Tamil radio to showcase series on Tamil Nadu's Muslim community
South Asia
• Troops watched as Buddhists torched Muslim houses in Myanmar
• World Muslims Rally for Saving Rohingyas
Africa
• Is This the Start of Radical Islam's Takeover of Ethiopia?
• South Africa emerges as Halal industry leader
Arab World
• Syria conflict: Regime 'kills dozens' in Damascus
• Syria's Assad praises troops, keeps out of public eye
North America
• Buddhists outraged at Buddha's images on shoes
• Indian-Americans ask US lawmakers to cut aid to Pak
• U.S.: religious freedom "tenuous" in Egypt, worse in China, Iran, Pakistan
Europe
• Jews, Sikhs, Hindus Root For Fellow Believers In Olympics
• 'Al-Qaeda trio' arrested in southern Spanish towns
Mideast
• Ahmadinejad calls for annihilation of Israel
Compiled by New Age Islam News Bureau
Photo: China Jails 20 On Terrorism, Separatism Charges In Restive Xinjiang
URL: https://newageislam.com/islamic-world-news/by-new-age-islam-news-bureau/pakistan-removes-deputy-attorney-general-for-performing-voluntary-service-at-hindu-and-sikh-shrines/d/8131
-------------
Pakistan
Pakistan Removes Deputy Attorney General For Performing Voluntary Service At Hindu And Sikh Shrines
ISLAMABAD: 2 AUG, 2012, (PTI)The Pakistan government has fired a top law officer who earned the ire of lawyers by washing dishes and polishing shoes while performing voluntary service at Hindu and Sikh shrines in India to promote inter-faith harmony.
Khurshid Khan, a Deputy Attorney General based in the northwestern city of Peshawar, was de-notified and replaced by another lawyer while he was on a private visit to Nepal and Bhutan to perform 'sewa' at places of worship.
Attorney General Irfan Qadir too confirmed that Khan had been replaced by another lawyer.
He did not cite any reason for Khan's removal. "Deputy Attorney General is not a permanent post. It's assigned for three years," Qadir said.
Khan, currently in Kathmandu, cut short his planned tour and decided to return to Pakistan. He told The Express Tribune on phone that he had been removed from his post.
He also gave another reason for his sacking. "I've been punished for my struggle against corruption and for challenging Dewaan-e-Khaas, a restaurant allegedly built on public property by Awami National Party activists," Khan said.
Khan said he had spoken to his son and asked him to return the official vehicle provided by the government.
The law officer has been in the limelight since he began his "sewa campaign" at Jogan Shah Gurdwara in Peshawar after Taliban militants kidnapped and killed some Sikhs in the lawless tribal belt some years ago.
In March, Khan swept floors, washed dishes and polished shoes at Sikh gurdwaras and mosques during a visit to India.
Khan said at the time his actions were aimed at healing the "wounds of minorities in Pakistan by becoming their sevadar". But his actions did not go down well with conservatives.
http://economictimes.indiatimes.com/news/politics/nation/pakistan-government-removes-deputy-attorney-general-khurshid-khan-for-doing-seva/articleshow/15324027.cms
--------
China to help Pakistan in promotion of religious tourism
Saeed Ahmed
Islamabad, August 02, 2012 , China has agreed to extend its full cooperation to Pakistan Tourism Development Corporation in promoting religious tourism in Pakistan. In this connection PTDC Managing Director Mir Shahjahan Khetran would visit China by the end of August, this year on an invitation extended by a Chinese delegation.
Talking to 'The News' here Wednesday, Mir Shahjahan Khetran informed that the plan of cooperation in tourism sector was unveiled by a Chinese delegation headed by Zhang Yingbao, Cultural Counsellor, Embassy of the People Republic of China as well as Cui Mingjie, Country Manager, BGP (Pakistan) International who called on him recently. During the meeting, the Chinese delegates expressed their keen interest to visit the tourist sites in Pakistan including Swat, Naran, Malamjabba, Ayubia, Gwadar, Chitral, Moenjodaro, Taxila etc.
According to the delegates, people of China have little awareness of the scenic and mountainous beauty, peaks, rivers in Pakistan. Similarly, there are many sites of religious importance for Buddhist. Zhang Yingbao assured to arrange a trip of Chinese people to places of religious sites for promoting this activity in Pakistan. On this occasion, the delegates offered Shahjahan Khetran to visit China to attend seminars and meetings on tourism in Pakistan. This would help the people of China about knowing about the country of Pakistan in terms of best tourism sites likes mountainous areas, rivers etc.
Shahjahan Khetran said that PTDC has arranged a number of programmes after Eidul Fitr. Besides arranging a two-day trip of journalists and their families to Ayubia for Eid Milan Party, PTDC would also hold a 3-day, Eid Festival in Swat in collaboration with the Pakistan Army. People from all over the country could participate fully. The Chinese delegates along with their guest would be taken to Swat for providing them chance to participate in the Eid festival and known about the culture and tradition of Pakistan.
Referring to development activities, Khetran said that every effort is being made to revitalise tourism industry in Pakistan specially adventure tourism.
To a question, the PTDC chief floated the idea of organising meetings and seminars in colleges, universities in order to create awareness and motivation amongst the youth about adventure tourism.
http://www.thenews.com.pk/Todays-News-6-124142-China-to-help-Pakistan-in-promotion-of-religious-tourism
-------
Pakistan welcomes India's move to allow investment from there
ISLAMABAD:2 AUG, 2012, PTI , Pakistan today welcomed India's decision to allow Pakistani Foreign Direct Investment, saying the move will create goodwill and give a boost to efforts to normalise bilateral relations.
Foreign Office spokesman Moazzam Khan welcomed the Indian government's decision to allow Pakistani investments in all areas except defence, space and atomic energy.
The move will benefit Pakistani investors and industrialists, he said.
"We hope this decision will be fruitful for the people of both countries," Khan told the media.
Majyd Aziz, a leading Karachi-based businessman with interests in minerals and shipping, described the Indian government's decision as a "progressive step and a good initiative but not a landmark development".
"Pakistani industrialists are already able to invest in the Indian market through companies based in places like Dubai and Singapore. It will take some time for direct investments to happen," Aziz told PTI on phone from Karachi.
"It would be a landmark development if the Reserve Bank of India removes Pakistan-specific clauses and allows Indian businessmen to invest in Pakistan," he said.
However, he acknowledged that steps like India's decision to allow Pakistani investments would eventually lead to the normalisation of relations in all spheres.
A statement issued by India's Commerce Ministry yesterday said the government had reviewed its policy and "decided to permit a citizen of Pakistan or an entity incorporated in Pakistan to make investments in India".
The statement said investments would not be allowed in defence, space and atomic energy, and all propositions would have to be notified to Indian authorities.
http://economictimes.indiatimes.com/news/economy/foreign-trade/pakistan-welcomes-indias-move-to-allow-investment-from-there/articleshow/15326011.cms
--------
UN polio suspension hits 22,000 Pakistan children
(AFP)
KARACHI, Aug 2, 12, Around 22,000 Pakistani children are at risk in Karachi after the World Health Organization suspended polio vaccinations over a spate of shootings, a UN official warned Thursday.
WHO, a partner in government efforts to eradicate the disease, suspended activities in part of Pakistan's largest city last month and has not yet been approved to take part in the next campaign due in September.
On July 17, a UN doctor from Ghana working on polio eradication and his driver were shot in Gadap town and three days later a local community worker who was part of the same campaign was shot dead in the same area.
"We had a successful campaign in Karachi until those attacks," said Elias Durry, senior WHO coordinator for polio vaccination in southern Sindh province.
The campaign targeted 2.2 million children in Karachi, but 22,000 children in Gadap town were not administered polio drops because of security fears, he added.
"We fear the children of Gadap could be in danger of polio if we cannot go to them during our next campaign in September," Durry said.
Maryam Yunus, WHO spokeswoman in Pakistan, said activities would remain suspended in the area until police gave the go-ahead.
Police said they were still investigating the July shootings.
"We are investigating the incidents and trying to ensure fail-safe security for health workers in the future," said Mohammad Sultan, a local police official.
Pakistan, Afghanistan and Nigeria are the only three countries where polio remains endemic.
But Mazhar Nisar, health education advisor at the prime minister's polio monitoring cell, told AFP that the number of cases was in decline.
"Pakistan is no longer the country with the highest number of polio cases. It was for the past two years consecutively. Now Nigeria is the country with the highest number of polio cases," he said.
He said that 27 polio cases had been reported so far this year, compared to 71 for the same period last year and 198 for the whole of 2011.
"But there is no reason for complacency and we have to work harder to achieve the goal of a polio-free Pakistan," he said.
In Pakistan's northwestern tribal areas, health officials said 240,000 children were also at risk after warlord Hafiz Gul Bahadur and the Pakistani Taliban banned vaccinations in protest at US drone strikes.
http://www.google.com/hostednews/afp/article/ALeqM5gSxY_z5z_kQn6i4_fH8D2Q22c2eg?docId=CNG.9a3b132f11893ca20b522fb446b69f9b.81
-------
Slow down in US arms sales to Pakistan
WASHINGTON: 2 AUG, 2012, PTI , Pakistan has received $7.9 billion worth of military equipment from the US since 2001, but the low ebb in bilateral ties in recent months has slowed down the pace of American arms sales to the country, a latest Congressional report has said.
In its latest report, the independent Congressional Research Service (CRS) informed US lawmakers that major arms sales and grants to Pakistan since 2001 have included items useful for counter-terrorism and counter-insurgency operations, along with a number of big ticket platforms more suited to conventional warfare.
"In dollar value terms, the bulk of purchases have been made with Pakistani national funds, but US grants have eclipsed these in recent years," said the CRS, which is an independent research wing of the US Congress.
The Pentagon reports total Foreign Military Sales agreements with Pakistan worth about USD 5.4 billion for FY 2002-FY 2010 (in-process sales of F-16 combat aircraft and related equipment account for about half of this).
In addition, the US has provided Pakistan with nearly USD 2.5 billion in Foreign Military Financing (FMF) since 2001.
These funds are used to purchase US military equipment for longer-term modernisation efforts. Pakistan has also been granted US defense supplies as Excess Defense Articles (EDA).
"Major discord in the US-Pakistan bilateral relationship beginning mid-FY 2011 has slowed the pace of transfers and deliveries considerably," the report said.
http://economictimes.indiatimes.com/news/politics/nation/slow-down-in-us-arms-sales-to-pakistan/articleshow/15324601.cms
--------
ISI chief held talks with CIA head Petraeus
02 Aug 2012
As ISI chief Lt Gen Zaheer-ul-Islam held crucial talks with his CIA counterpart David Petraeus at a time when the American frustration and distrust toward the ISI is at an all time high in view of the report that revealed ISI'sclose relationship with the Haqqani network.
It is certain that US may have pushed the Pakistani spy chief to take act against the Haqqanis as a report reveals that dreaded Haqqani Network receives financial and logistic support from the Pakistani military.
The US and other Western officials said the ISI and Haqqanis "do more than just talk." Pakistani intelligence allows Haqqani operatives to run legitimate businesses in Pakistan, facilitates their travel to Persian Gulf states and has continued to donate money,
The report on financing of Haqqani network by Combating Terrorism Center of the US Military Academy in West Point, New
York, also said the Afghan Taliban-linked group has a massive network of "mafia"-style financing operation that relies on
extortion, kidnapping, smuggling and ties to legitimate businesses.
It, however, noted that the relationship between the Haqqani network and the Pakistani spy agency ISI is not that smooth as being seen from the outside world and very often there is friction between the two.
Full Report at:
http://english.samaylive.com/world-news/676510257/pakistan-haqqani-ties-isi-chief-held-talks-with-cia-head-petraeus.html
--------
Twin blasts rock Lahore, 20 injured
Agencies
LAHORE: Aug 2, 2012, Two separate remote-controlled blasts on Wednesday injured at least 20 people in Badami Bagh fruit mandi of Lahore. Security of the Punjab's capital set on high alert, DawnNews reported. According to initial reports, the first blast took place at the entrance of the market. Eye-witnesses said that bomb was planted in a push-cart.
The second blast, reports said, took place at a nearby truck stand. The injured were being shifted to Mayo and Mian Munshi Hospitals. Emergency has been imposed at all hospitals of the city.
Earlier, Pakistani Taliban chief Hakimullah Mehsud directed his fighters to step up attacks in Punjab province, especially on intelligence organizations and military facilities like the Pakistan air force base in Lahore, according to a media report.
http://timesofindia.indiatimes.com/world/pakistan/Twin-blasts-rock-Lahore-20-injured/articleshow/15322080.cms
-------
Pakistan Army chief calls for transparent ties with US
By Rezaul H Laskar Agency: PTI
ISLAMABAD, Aug 2, 2012, Pakistan Army chief Gen Ashfaq Parvez Kayani on Thursday called for transparent ties with US based on mutual trust as he met American commander in Afghanistan, days after the two sides struck a deal ending a seven-month blockade of NATO supply routes.
"The Pakistan-US relationship should be based on mutual trust, respect and transparency," Kayani said during a meeting in Rawalpindi with Gen John Allen, chief of the International Security Assistance Force in Afghanistan.
Kayani said his meeting with Allen, the first since Pakistan and the US signed a MoU on transporting NATO supplies to Afghanistan, has "helped towards improving strategic and operational understanding between the Pakistan military and ISAF".
Allen said "significant progress" was being made in improving cooperation with Pakistan, according to a joint statement issued after the meeting.
"I look forward to these visits and am pleased with the upward spiral in our relationship they represent. We are making significant progress toward building a partnership that is enduring, strategic, carefully defined and that enhances the security and prosperity of the region," Allen said.
The Pakistani military had earlier said that the meeting between Kayani and Allen would focus on border coordination matters and reviewing progress made in implementing issues discussed during the last tripartite meeting between Pakistan, Afghanistan and ISAF.
The joint statement said today's meeting was "another in a series of opportunities for the commanders to continue building upon the growing operational cooperation between the Afghan National Security Forces, the Pakistan military and ISAF".
The three parties have "many shared interests – including their respective commitments to expanding opportunities for coordinated action against terrorists on both sides of the border who threaten Afghanistan, Pakistan and the region".
Full Report at:
http://www.dnaindia.com/world/report_pakistan-army-chief-calls-for-transparent-ties-with-us_1723214
--------
Haqqani network enjoys financial, logistic support from Pakistan
WASHINGTON: 2 AUG, 2012, As ISI chief Lt Gen Zaheer-ul-Islam held crucial talks with his CIA counterpart David Petraeus, a damning report by a prestigious US military academy has said that the dreaded Haqqani Network receives financial and logistic support from the Pakistani military.
The report on financing of Haqqani network by Combating Terrorism Center of the US Military Academy in West Point, New York, also said the Afghan Taliban-linked group has a massive network of "mafia"-style financing operation that relies on extortion, kidnapping, smuggling and ties to legitimate businesses.
It, however, noted that the relationship between the Haqqani network and the Pakistani spy agency ISI is not that smooth as being seen from the outside world and very often there is friction between the two.
"There is difference between having a relationship and being under control," said a senior Pakistani religious figure with close ties to the network. "They have a relationship with the ISI, but they are not under their control."
While both the Pakistani Embassy here and the CIA did not divulge the details of the meeting between Islam and Petraeus, it is believed that the latter pushed the Pakistani spy chief to take more strong action against the Haqqani network.
The US identifies Haqqani network, allied with al-Qaeda and Taliban, as one of its most potent enemies in Afghanistan.
"In addition to private donors, the network has continued to receive financial and logistical support from the Pakistan military, and continues to maintain close operational ties with the ISI," the report said.
It said that historical communication logs between the Haqqani network and the ISI, which are now publicly available, suggest a link between the two.
http://economictimes.indiatimes.com/news/politics/nation/haqqani-network-enjoys-financial-logistic-support-from-pakistan/articleshow/15325745.cms
--------
Terrorist behind attack on Sri Lankan cricket team killed
Lahore: Aug 02, 2012, A terrorist wanted for alleged involvement in the 2009 attack on the Sri Lankan cricket team was killed in a shootout with police in Pakistan's Punjab province, officials said on Wednesday.
Law enforcement agencies started checking vehicles near Ghazi Ghat bridge in Multan, 400 km from Lahore, after getting a tip-off on Wednesday that some terrorists were bound for the city in public transport.
During the checking of a bus, a passenger tried to escape. This led to an exchange of fire with policemen and the man, identified as Abdul Ghafar Qaisrani alias Saifullah, was killed instantly.
A grenade and two guns were found in his luggage.
Saifullah was an active member of the banned Tehrik-e-Taliban Pakistan and also worked for a militant faction known as the Mateeullah group, officials said. Officials said Saifullah was tasked with raising funds for militants through bank robberies.
He had received training in Afghanistan, they said. SSP (Operations) Gohar Nafees said the police action had prevented a "major terror attack" in Multan as Saifullah had come to the region to target sensitive installations.
He said Saifullah was wanted for the attack on the Sri Lankan cricket team in Lahore.
International cricket in Pakistan has been suspended since a terrorist attack on the Sri Lankan team in Lahore in March 2009.
The attack left eight persons dead and seven Sri Lankan players and their assistant coach injured.
http://ibnlive.in.com/news/pak-terrorist-behind-attack-on-sri-lankan-team-killed/277524-56.html
--------
Summit fever grips Pakistan
Jamal Shahid
ISLAMABAD: Aug 2, 12 Pakistan is in the grip of 'summit fever' as three different expeditions — K2, Broad Peak and Gasherbrum 2 (G2) — all along the Karakoram Range, have taken place this year.
News about the summits — K2, Broad Peak and G2 — started jamming mailboxes and blogs on the morning of July 31, 2012.
According to the Alpine Club Pakistan (ACP), 20 members of the international Seven Summit Treks took the Abruzzi Ridge on K2, standing like a perfect pyramid 8, 611 metres, in the early hours of July 31 to conquer the second highest peak in the world.
Although the ACP has yet to confirm, if it was 20 or 23 members who pushed for the summit. Nonetheless, the mountaineering community was proud to share that this was one of the biggest group to reach the top of K2.
Ten Sherpas from Nepal, three Chinese, Azim Gheychisaz from Iran, Fabrice Imparto from France and Turkish Tunc Findik are said to be among those who reached the summit in a group led by Chhang Dawa Sherpa of the Seven Summit Treks.
ACP said this was an incredible feat on K2 from the Pakistan side, since the last three years. Few more from other teams were also said to have reached the summit but their names were not available putting the total number to 23, ever to have reached K2 in a single day, the ACP elaborated.
According to ACP, the last attempt to conquer K2 was back in 2008, which was marred by a tragedy — 11 people from different nationalities lost their lives in avalanches, exposure to extreme weather and other mysterious circumstances on the deadly mountain. Several Sherpas lost their lives attempting to rescue the trapped climbers around the elusive 'bottleneck' that is famous for ice avalanches high on the Abruzzi Ridge.
Mingma Sherpa was the first Nepalese to have climbed all 14, eight thousand metre peaks in the world. While supporting his elder brother and chasing his own dreams, Chhang Dawa Sherpa also crowned 12 of these peaks. Dawa led this large international team to achieve his last Karakoram peak and reached the top of K2 at around 10:55am, followed by his colleagues.
ACP said that Dawa spoke from the summit and gave the brief details of their success to Nazir Sabir's expedition office, which was handling the team in Pakistan.
"He was ecstatic about this achievement and informed many of the team members returning to Camp IV, while others were descending," said an official in ACP.
While most climbers reached the top with oxygen tanks, Polish Adam Bielecki and Persian Azim Ghaychesaz reportedly topped out without O2.
Meanwhile, ACP said that famous Chinese climber Wang Jing and her counterpart Zhang Liang accompanied by two Sherpas also reached Broad Peak also known as K3, 8,051 metres high and the 12th highest mountain in the world, around the same time as K2.
And climbers from Spain, according to ACP topped out the 13th highest mountain in the world, G2, standing at 8,035 metres.
http://dawn.com/2012/08/02/summit-fever-grips-pakistan/
--------
Southeast Asia
China Jails 20 On Terrorism, Separatism Charges In Restive Xinjiang
BEIJING, Aug 2, 2012(Reuters) - Courts in China's restive far western region of Xinjiang have jailed 20 people for up to 15 years on charges of terrorism and separatism, state media said on Thursday, as the heavily Muslim area marks the fasting month of Ramadan.
The three courts in the cities of Urumqi, Kashgar and Aksu also levelled charges of making explosive devices, promoting religious extremism and plotting "holy war", Communist Party mouthpiece the People's Daily said on its website (www.people.com.cn).
While it did not give the ethnicity of those sentenced, judging from their names they were all Uighurs, a Muslim Turkic-speaking people who call Xinjiang home, many of whom chafe at Beijing's rule and restrictions on their religion and culture.
"A vast amount of evidence shows that the accused criminals carried out a lot of preparatory work in planning violent terror activities and set up a formal terror organisation," the report said.
"They bought, produced and copied mobile transmitters, discs and publications which promoted separatism, religious extremism and violent terror and proactively spread them around," it added.
"Some members of the terror organisation made explosives and carried out test explosions."
China blamed violence in Xinjiang - strategically located on the borders of Afghanistan, Pakistan, India and Central Asia - on Islamic separatists who want to establish an independent state of "East Turkestan".
Some Chinese officials have blamed attacks on Muslim militants trained in Pakistan.
But many rights groups say China overstates the threat to justify its tight grip on the region.
Dilxat Raxit, spokesman for the exiled World Uyghur Congress, said the government had politicised the case and used terrorism as an excuse to punish Uighurs who don't agree with the system.
"The aim is to terrorise Uighurs into abandoning their rights," he said in an emailed statement.
Beijing has shown no sign of relaxing its control in Xinjiang, a vast swathe of territory accounting for one-sixth of China's land mass which holds rich oil, gas and coal deposits.
In July 2009, regional capital Urumqi was rocked by violence between majority Han Chinese and minority Uighurs that killed nearly 200 people.
Since the unrest, China has turned its attention to boosting development in Xinjiang and providing greater job opportunities, especially for Uighurs, to try to address some of the root causes of the violence. (Reporting by Ben Blanchard; Editing by Nick Macfie
http://in.reuters.com/article/2012/08/02/china-xinjiang-idINDEE87105120120802
---------
India
Pune blasts case transferred to crime branch, CCTV cameras at blast sites non-functional
Asseem Shaikh, TNN
PUNE: Aug 2, 2012, The Pune police crime branch on Thursday took over the probe into the serial bomb blasts that rocked the city on Wednesday within hours of Sushilkumar Shinde taking over as the country's home minister.
Four low intensity explosions rattled the city on Wednesday between 7.30 pm to 8.35 pm injuring one person.
One device went off in the Balgandharva Chowk, the second in a dustbin outside a McDonald's outlet, the third outside Dena Bank and the fourth near the Garware flyover. The last two devices were attached to bicycles. The fifth and sixth device was defused by the bomb disposal and detection squad outside the Sai Service car showroom and near Dena Bank.
Deputy commissioner of police (Zone I) Makarand Ranade on Thursday told TOI, "The serial blast case has been transferred to the crime branch. Assistant commissioner of police (crime) Vinod has been appointed as the investigating officer." Satav had earlier investigated the German bakery blast case and had arrested the lone conspirator Mirza Himayat Inayat Baig.
"The crime branch and state anti terrorism squad are conducting joint investigations. The motive behind the blast is not known. We are exploring all possibilities for detecting the case. No suspects have been arrested," Ranade added.
The blasts sparked chaos and panic on the road. The road, which is a major shopping hub and hosts a large number of eating joints, is an arterial link between the Pune-Mumbai highway and the heart of the city.
The German Bakery blast of February 13, 2010 happened in the Koregaon Park area, which is around 5 km from J M Road. The bakery blast had killed 17 and injured 64.
The Wednesday explosive devices were placed at regular intervals on a 700-metre stretch of the J M Road from Balgandharva Chowk to the Garware flyover. All six explosive devices were placed on only one side of the road.
"All the blasts happened in one locality. It does not seem to be a terrorist attack, rather it seems to have been the work of a mischief-maker," Pune police commissioner Gulabrao Pol earlier told TOI.
However, Union home secretary R K Singh said in New Delhi that terror angle could not be ruled out as the blasts occurring minutes apart were a coordinated act.
Investigators trying to string together bits of evidence in the serial low-intensity blasts in the city have hit a hurdle as some CCTV cameras at the explosion sites have been found to be non-functional.
The CCTV cameras installed at Dena Bank, McDonald's and Bal Gandharva traffic square, near where the explosions occurred, have not yielded any clue so far and some of them were non-functional, sources in the investigative agencies said on condition of anonymity.
Sources said the Maharashtra ATS, city Crime Branch and the NIA are looking for clues from the two bicycles as two of the four coordinated blasts last night occurred in their front carriers.
Explosives were strapped on the bicycles which appeared newly purchased. The investigators are trying to locate the shop from where the bicycles were bought.
As per reports, a black sticky substance with ammonium nitrate was used in the explosions, forensic experts are also trying to ascertain the concentration of explosives in the devices to zero in on the likely group behind the blasts.
According to sources, different terror groups use varied concentration of explosives in their "signature bombs". Battery operated detonators with digital timers could have been used to trigger the blasts, the reports said.
Dayanand Patil, the only person injured in the blast at Bal Gandharva Theatre square, is being questioned by the police as to how the explosive found its way into his carry bag.
Sources said Patil, who sustained minor injuries, was not being treated as a suspect in the case.
Patil, who hails from nearby Urali Kanchan village and used to commute daily to Pune for tailoring work, is in hospital where his statement is being recorded. He told the police that he had been to the 'dharna' (sit-in protest) by Anna Hazare's India Against Corruption supporters and somebody might have slipped in the explosive in his carry bag. The explosion occurred when he tried to open a box in which the explosive was kept.
His wife, Satyakala, was also being questioned by police, sources said.
Police have registered an offence against "unknown persons" under sections 307 (attempt to murder), 427 (mischief causing damage), 120 B (criminal conspiracy) and relevant sections of Unlawful Activities Prevention Act and Explosive Substances Act.
Activists of India against corruption (IAC), who have been staging a dharna just opposite the Bal Ghandharva Theatre, said they would call it off temporarily in response to a directive by police for security reasons.
Meanwhile, life in the city and busy Jangli Maharaj ( JM) road, where the four coordinated blasts occurred, is normal. Barring the blasts sites which have been barricaded by police, people could be seen moving as usual on the occasion of Raksha Bandhan.
Maharashtra home minister R R Patil, who visited the blast sites, also held a meeting with top police officials this morning to review the situation and take stock of the probe.
http://timesofindia.indiatimes.com/city/pune/Pune-blasts-case-transferred-to-crime-branch-CCTV-cameras-at-blast-sites-non-functional/articleshow/15325748.cms
--------
Tunnel episode against Indo-Pak CBMs: BSF Chief
Chachwal border (J&K) | Agency: PTI, Aug 2, 2012, Attempts like the cross-border tunnel in Samba sector are likely to vitiate efforts meant to develop trust between India and Pakistan through confidence building measures, BSF chief UK Bansal said on Thursday.
"The discovery of tunnel in Indian territory is something that goes against the confidence building measures which are being initiated to deepen trust between India and Pakistan," Bansal told reporters after inspecting the 400-m long tunnel in Chachwal border belt of Samba sector in Jammu and Kashmir.
Bansal, who reviewed the situation following detection of the tunnel, said, "In the long run any such attempt is likely to affect the situation on the Indo-Pak border, while efforts are being made at various levels to normalise relations between the two countries."
The DG BSF further said that such things are not going to be helpful. "So this is what we have told them (during a flag meeting where BSF lodged a protest with with its Pakistani counterparts)," he said.
Authorities on July 28 had detected the 400-m tunnel into India from Pakistan along Indo-Pak border in Samba district.
The tunnel was detected after an area caved-in in a straight line at two-three places due to rains near border fencing near Chillayari Border Out Post (BoP) of BSF along International Border (IB) in Samba sector.
The tunnel at a depth of 25-ft has been dug out between two sides along IB on India's Chillayari BoP and Pakistan's Lumberiyal BoP. It had air supply through a 2-inch pipe. The tunnel is 300-m upto border fencing and 100-m beyond the fencing into this side of the border.
"We have alerted those areas in particular which are sensitive in nature," Bansal said.
"Apparently when they could not succeed to breach the fence and security on the surface (for infiltration), they resorted to digging of the tunnel," he said. "We will find out the details as we explore the tunnel-- we will be able to draw our assessment and take adequate measures."
The BSF DG said, "We have lodged a protest with Pakistan during our meeting with them.
"And we have expressed concern that this appears to be an initiative that started across the border. This would be followed up subsequently after we have more details."
Replying to the question whether there is an involvement of Pakistan Army or its intelligence agency ISI in the incident, the DG said, "There is no reason for me to draw conclusion. I will not hasten to reach any conclusion".
"We are trying to find out alignment and end of the tunnel -- once we have that, the conclusion will become obvious," he said.
Replying to the question about the preparedness of BSF along the border, Bansal said his force is aware of its responsibilities.
"Tunnelling is one of the standard methods of infiltration used worldwide -- therefore patrolling takes place everyday and the security force keeps looking for signs of any digging of tunnel or breach of the fence and so on," he said.
The BSF DG said tunnelling is not a new method of infiltration along with border line, and his jawans are well aware of the fact.
Constructing a tunnel 20-ft below the ground needs the skills of a technical expert, he said.
"We are digging at various places which are actually the alignment of the tunnel. We have taken a decision now to dig in a particular manner which will be more helpful in finding the extent of the alignment," Bansal said.
http://www.dnaindia.com/india/report_tunnel-episode-against-indo-pak-cbms-bsf-chief_1723218
-------
Naga student body asks Nagaland govt to help Assam deal with ethnic riots
TNN
KOHIMA: Aug 2, 2012, expressing serious concern over the ethnic conflict between the Bodos and Bengali-speaking Muslims in Bodoland Territorial Council (BTC) areas of Assam, the Naga Student Federation (NSF) has appealed to the state government to exercise its moral responsibility and assist the neighbouring government in containing the violence, which might have repercussions for Nagaland.
In a statement, NSF president Kelhouneizo Yhome and general secretary N Ejanthung Ngullie also called upon the state government to intercede in the clashes in such a way that it not only helps contain the violence in Assam but also acts as a preventive step against any unforeseen situation that Nagaland might face due to the problem there.
Pointing out that the nature of conflict demands the attention of the Nagaland government, the NSF stated, "The longer Nagaland remains silent and unmoved by the clashes in Assam, the heavier the consequences will be for our state."
The NSF also expressed solidarity with all the affected people and appealed to both the fighting groups to stop further violence and resolve their issues amicably. The communal clashes, which started on July 19, left 56 dead and rendered four lakh homeless.
Meanwhile, Nagaland home minister Imkong L Imchen expressed hope that peace will prevail in Kokrajhar district of Assam. Addressing the Tribal Festival cum Youth Expo 2012 at Mokokchung on Wednesday, Imchen said the violence outbreak in Assam has saddened the people of Nagaland. He also extended prayers and support on behalf of entire Nagaland to the government of Assam towards rebuilding Kokrajhar.
http://timesofindia.indiatimes.com/india/Naga-student-body-asks-Nagaland-govt-to-help-Assam-deal-with-ethnic-riots/articleshow/15321202.cms
--------
BBC Tamil radio to showcase series on Tamil Nadu's Muslim community
MUMBAI: 01 Aug 12, BBC Tamil radio will showcase nine-part weekly series on the life of the Muslim community living in Tamil Nadu. The series will launch on 5 August on BBC radio and its online website.
Along with the programme's audio and text, the website will feature picture galleries depicting the lives of the muslims of Tamil Nadu.
BBC Tamil editor Thirumalai Manivannan said, "The series is an attempt at investigating how Muslims have fared in Tamil Nadu in socio-economic spheres in the context of the nationwide debate following the Indian government study - the Sachar Committee Report - on the Muslims in India. It also looks at how the community which has been relatively free from radical religious influences has responded to the changing political situation in the wake of the Babri Masjid demolition and the 11 September attacks."
The feature series is an attempt to understand the complex dynamics of the factors that are at play in shaping up the Tamil Nadu Muslim society and politics. The series explores if the particular social context of the state, with its social reform political history, has also contributed to the comparatively better Hindu-Muslim relations in the state. The show has been produced and presented by BBC Tamil correspondent, T N Gopalan who travelled the length and breadth of the state. His research stated that there is a dichotomy in the way the community is dealing with the challenges of the modern times.
Gopalan said, "While almost everyone I spoke to readily acknowledge that they live very amicably with the majority Hindus, they also complain that they are being treated as second-class citizens by the official machinery at all levels. For example, while there is a growth in secular education, a section of the community also seems reluctant to encourage women's education beyond a point."
Muslims account for around six per cent of the total population of about 62 million, according to the census in 2001. Muslim leaders from Tamil Nadu claim that the community fares better than their counterparts in the rest of India in terms of education and employment. However, they believe that Tamil Nadu Muslims still lags behind the majority communities in these areas. There are also fears of social discrimination in matters such as housing amongst the community.
http://www.radioandmusic.com/content/editorial/news/bbc-tamil-radio-showcase-series-tamil-nadus-muslim-community
---------
South Asia
Afghan forces thwart Taliban attack on Kabul, kill 8
Reuters
KABUL: Aug 2, 2012, Afghan security forces killed at least eight insurgents during an early morning raid in Kabul on Thursday, with authorities saying they had thwarted a Taliban mass attack on the capital after a seven-hour gun battle.
Soldiers from Afghanistan's intelligence agency, the National Directorate of Security (NDS), launched the raid in darkness, entering a building about an hour after midnight in Kabul's Pul-e-Charkhi district which the insurgents were using as a base.
"We have already killed eight insurgents and also seized explosives. They aimed to enter a building in Kabul and launch a combined attack on security forces, government offices or offices belonging to foreigners," an NDS spokesman told Reuters.
The Taliban issued a statement denying that Thursday's operation was against their fighters, although the insurgents often play down their defeats and inflate successes.
Taliban militants launched a big attack in central Kabul on April 15, occupying a high-rise construction site and pounding the city's diplomatic and business centre with rocket-propelled grenades and small-arms fire until they were killed.
On June 22, Afghan security forces fought a day-long battle with militants after a Taliban attack on a lakeside hotel on the outskirts of Kabul.
But security forces and NATO-led foreign troops say the sporadic attacks do not point to weaknesses in Afghan forces and intelligence ahead of a withdrawal by most foreign combat troops to be completed by 2014.
http://timesofindia.indiatimes.com/world/south-asia/Afghan-forces-thwart-Taliban-attack-on-Kabul-kill-8/articleshow/15324961.cms
--------
Troops watched as Buddhists torched Muslim houses in Myanmar
Myanmar security forces opened fire on Rohingya Muslims, committed rape and stood by as rival mobs attacked each other during a recent wave of sectarian violence, a rights watchdog said on Wednesday.
(Ahlul Bayt News Agency), 2012/08/02 - Myanmar security forces opened fire on Rohingya Muslims, committed rape and stood by as rival mobs attacked each other during a recent wave of sectarian violence, a rights watchdog said on Wednesday.
The authorities failed to protect both Muslims and Buddhists and then "unleashed a campaign of violence and mass roundups against the Rohingya," New York-based Human Rights Watch said in a report.
The violence which erupted in June in western Rakhine state between ethnic Buddhist Rakhine and Rohingya has left about 80 people dead, based on official figures, and forced tens of thousands to flee as homes were torched.
"What is remarkable is that if the atrocities that we saw in Arakan (Rakhine) had happened before the government reform process had started, the international reaction would have been swift and strong," said HRW Asia deputy director Phil Robertson.
"But the international community appears to be blinded by a romantic narrative of sweeping change in Burma (Myanmar), signing new trade deals and lifting sanctions even while the abuses continue," he told a news conference.
The report, based on dozens of witness interviews, said that the events in Rakhine state "demonstrate that state-sponsored persecution and discrimination persist" despite the government's pledge to end ethnic unrest. Police and paramilitary forces "opened fire on Rohingya with live ammunition," it added.
Full Report at:
http://abna.ir/data.asp?lang=3&id=333733
---------
World Muslims Rally for Saving Rohingyas
OnIslam & News Agencies
01 August 2012
JEDDAH – As state-sponsored persecution of Burmese Muslims continues unabated, a global Muslim body has called for rallying efforts to provide political, humanitarian and financial aid Rohingya Muslims.
"This is a large humanitarian crisis but unfortunately the international and Muslim communities are mostly unaware of the dimensions," Ekmeleddin Ihsanoglu, Secretary-General of the Organization of Islamic Cooperation (OIC), told a news conference cited by Reuters on Tuesday, July 31.
"In this holy month I call upon all the Muslims...to extend aid for this issue."
Ethnic-Bengali Muslims, generally known as Rohingyas, are complaining of persecution and discrimination in Burma.
Thousands of Rohingya Muslims fled their homes in June after ethnic violence rocked the western state of Rakhine after the killing of ten Muslims in an attack by Buddhist vigilantes on their bus.
The attack came following the rape and killing of a Buddhist woman, for which three Rohingyas were sentenced to death.
At least 77 people were killed in the violence and thousands of homes were burnt and hundreds of thousands of people were displaced.
Human rights groups have accused Burmese police and troops of disproportionate use of force and arrests of Rohingyas in the wake of the riots.
Human Rights Watch accused Wednesday Burmese forces of targeting Rohingya Muslims in the wake of the ethnic violence.
Full Report at:
http://www.onislam.net/english/news/asia-pacific/458320-world-muslims-rally-for-saving-rohingyas-.html
---------
Africa
Is This the Start of Radical Islam's Takeover of Ethiopia?
August 2, 2012 | From theTrumpet.com
The growing tension between the Ethiopian government and Muslims could very easily, and quickly, explode.
Brad Macdonald
In April 2011, Trumpet editor in chief Gerald Flurry delivered a bold forecast. Here's what he wrote: "Libya and Ethiopia are … going to be closely allied with Iran! … So you need to watch Libya and Ethiopia. … You need to continue to watch for Libya and Ethiopia to make a severe and rapid turn into the radical Islamic camp."
At the time, many readers rejected this warning as absurd. This is a "most bizarre article," retorted one Trumpet reader from Ethiopia. My country is "one of the oldest and [most] devout Orthodox Christian nations on the planet (since third century) and a staunch ally of the United States. On behalf of U.S., Ethiopia invaded Somalia in late 2006 and kicked out ruling Islamic Courts Union …. [That] doesn't sound like a nation doing Iran's bidding."
He's right too, at least in his facts.
On May 5, 2011, when Mr. Flurry published "An Islamic Takeover of Libya and Ethiopia," he again inspired disbelief. "I don't think this is a sensible prophecy," wrote one reader from Ethiopia, "especially when it comes to the situation of Ethiopia. … Please, try to study what exactly the situation is in Ethiopia. The country is dominated by Christians for centuries, and this is highly unlikely to change." He's right too, factually.
There's a larger lesson here, which we'll get back to later. But for now, let's follow this reader's advice and study the situation in Ethiopia at the start of August 2012, more than 18 months after Mr. Flurry first delivered his "absurd" forecast.
Last week, the Washington Times published an article headlined "Muslim Protests Raise Fears of Radical Islam in Ethiopia." According to the Times, "Clashes between Islamic protesters and riot police over the weekend in Ethiopia have raised fears that Muslims are becoming increasingly radical in a predominantly Christian country that has been a key U.S. ally in combating terrorism in the Horn of Africa."
Two days later, a headline in the Christian Science Monitor asked, "Will Ethiopian Crackdown Stir Islamist Backlash?" The Monitor warned that the "the act of civil disobedience from Muslims, who constitute at least one third of the population, is a rare sign of instability in a country seen by U.S. policymakers as a bulwark against radical Islam in the volatile Horn of Africa region."
In recent months, there has been a measurable increase in tension, instability and violence in Ethiopia between the government and elements of the Muslim population. On July 13, violence broke out between the two in the nation's capital after Muslims at the Awalia Mosque compound refused to heed warnings to refrain from conducting a "charity" event while African heads of state were in town for an African Union summit. When government forces stepped in to forcefully disband the Muslim event, violence broke out, resulting in the arrest of 74 Muslims.
A week later, tensions ignited again when Muslim protesters blocked police from entering the Anwar Mosque in Addis Ababa.
Meanwhile, in April, four Muslims were killed during a melee surrounding the arrest of an Islamic cleric accused of preaching radical Islam in the town of Asasa. In May, the Ethiopian government deported two Arabs of unknown origin after they were picked up for inciting violence outside of Addis Ababa's largest mosque.
Full Repport at:
http://www.thetrumpet.com/9685.8584.0.0/religion/islam/is-this-the-start-of-radical-islams-takeover-of-ethiopia
--------
South Africa emerges as Halal industry leader
In spite of its small percentage of Muslims, South Africa has emerged as a leader in the halal food industry. Thanks to a highly advanced halal certification programme, the country has become one of the five largest producers of halal products worldwide.
(Ahlul Bayt News Agency), 2012/08/01, And because it comprises 25 per cent of the African continent's gross domestic product (GDP), significant opportunities exist for halal trade throughout Africa.
The story of this development is intricately entwined with South Africa's unique and painful history, as the fight against apartheid gained momentum in the second half of the last century.
Halal certification was introduced in the 1960s, under the supervision of the Ulama (religious leader of the Muslim community), but was limited to meat slaughterhouses and abattoirs.
The Muslim Judicial Council (M.J.C.), established in Cape Town in 1945, was the first halal authority in the continent of Africa, and has been certifying halal products for more than 50 years.
In the 1970s, oversight was extended to poultry, and in the 1980s to other consumables. In 1996, the South African National Halal Authority (SANHA) established itself as another pre-eminent halal certification body.
This is despite the fact that South Africa's Muslim community is not large. For instance, Pretoria, one of the country's three capital cities, is home to a population of around 50 million, of which 79 per cent are Christian, two per cent Muslim, 0.1 per cent Jewish, 1.2 per cent Hindu, 3.7 per cent other beliefs, and 14 per cent with no religious affiliation. The Muslim population is estimated to be 1.2 million officially, and over two million unofficially.
For Full Report:
http://www.abna.ir/data.asp?lang=3&Id=333474
--------
Arab World
Syria conflict: Regime 'kills dozens' in Damascus
2 August 2012
Syrian government forces launched two operations in Damascus to root out rebel activists on Wednesday, killing at least 70, the opposition has said.
Troops reportedly went from house to house demanding to see people's papers, and summarily executed many of their victims, according to activists.
Syrian state TV said "dozens of terrorists" surrendered or were killed in the operation.
Meanwhile, rebels said they attacked an airport near the second city of Aleppo.
Opposition commanders said they used a tank captured from the army to bombard the Menagh air base, which lies between Aleppo and the rebel-held town of Azaz near the Turkish border.
They said government forces had used the air base as a staging post for attacks on nearby areas.
Bloody footage
The fighting in Aleppo city appears to have settled into a stalemate.
State TV, which had initially forecast that the city would be cleared of rebel fighters in just a few days, is now reporting only a few clashes with "terrorist mercenaries".
The BBC's Jim Muir in neighbouring Lebanon says the momentum seems to be with the rebels, who have managed to open a direct corridor to the Turkish border.
He says they are clearly bent on making Aleppo the heart of a "liberated zone" in the north, which would hugely increase pressure on the government in Damascus.
But some of the rebels' tactics are proving controversial.
Video posted online shows rebel gunmen killing several prisoners who were said to belong to a pro-government militia in the city of Aleppo.
Amateur video shows rebels preparing to kill alleged Assad loyalists
The prisoners, some of them bruised and bloodied, were put up against a wall half-naked and shot with Kalashnikov rifles.
The opposition Syrian National Council has criticised rebels, and Human Rights Watch has said the incident could be a war crime.
In other developments:
Syrian soldiers fired on Jordanian troops who were waiting to take in refugees at the border, according to Jordanian officials
US media report that President Obama approved an order earlier this year allowing the CIA and other agencies to aid the rebels
Russian President Vladimir Putin is visiting the UK on Thursday and is expected to discuss the Syrian crisis with Prime Minister David Cameron
The UN's Food and Agricultural Organization (FAO) says almost three million Syrians need help with food and farming
'Bodies recovered'
Witnesses and activists described heavy shelling and a ground assault on Wednesday in Damascus's south-western suburb of Jdeidet Artouz.
One resident told Reuters news agency the soldiers had inspected his ID, and then let him go.
He later saw bodies of at least 35 men.
"Almost all of them were executed with bullets to their face, head and neck," said the man, who identified himself as Fares.
On Thursday, the UK-based Syrian Observatory for Human Rights published a more detailed account of the assault, saying said pro-government forces arrested about 100 people and tortured them.
"On Thursday morning after the operation the bodies of 43 people were recovered. Some of them had been summarily executed," the organisation said in a statement.
Other activist groups gave higher figures for the number of deaths.
An army spokesman told state TV that a number of armed men had clashed with government forces who had raided a farm.
Another regime assault on the southern Damascus suburb of Yalda also resulted in the deaths of at least 27 people, activists said, without providing any further details.
Activists estimate some 20,000 people have died since anti-government protests erupted in March last year.
http://www.bbc.co.uk/news/world-middle-east-19090143
--------
Syria's Assad praises troops, keeps out of public eye
Reuters
ALEPPO (Syria): Aug 1, 2012, President Bashar al-Assad told his troops on Wednesday that their battle against rebels would decide Syria's fate, but his written message gave no clues to his whereabouts two weeks after a bomb attack hit his inner circle.
In Aleppo, rebel fighters seized three police stations while fighting the army for control of a strategically important district. Explosions could be heard and helicopter gunships cruised the skies as troops tried to push the rebels out of the northern city and preserve one of Assad's main centres of power.
Assad has not spoken in public since the bombing in Damascus on July 18 killed four of his close security aides, although he has appeared in recorded clips on television. His latest remarks appeared in the military's magazine to mark armed forces day.
"The fate of our people and our nation, past, present and future, depends on this battle," said Assad, whose low public profile suggests acute concern over his personal safety since the bombing in which his brother-in-law was among the dead.
In confronting "terrorist criminal gangs" - the government's usual term for the rebels - the army had proved it had "the steely resolve and conscience and that you are the trustees of the people's values," the 46-year-old president declared.
Earlier, at least 10 volleys of shells lit up the darkened sky over Aleppo, Syria's biggest city, and drowned out the Islamic call to prayer. Carloads of rebels shouting "God is great" sped off towards the fighting.
The World Food Programme said it was sending emergency food supplies to Aleppo to tackle a worsening humanitarian situation.
Syria's civil war has intensified since the July 18 bombing, with fighting engulfing Damascus and Aleppo for the first time in the 17-month-old uprising against Assad family rule.
The two cities are crucial prizes for both sides in an increasingly brutal struggle that has eluded all attempts at a diplomatic solution and risks igniting a wider conflagration.
Internet video footage and witness accounts indicate that rebels have carried out summary executions in and around Aleppo in much the same way as Assad's forces have been accused of acting in Damascus, where the army has largely regained control.
One video shows four men identified as members of the pro-Assad Shabbiha militia being led down a flight of stairs, lined up against a wall and shot in a hail of rifle fire as onlookers shouted "Allahu akbar (God is greatest)".
In another video, a cameraman filmed the bodies of about 15 men at a police station. One rebel fired at the corpse of the station commander, blowing his head off. In both cases, the content of the footage could not immediately be verified.
In the town of Azaz, north of Aleppo, a rebel told how his men had executed a captured sniper, shooting him dead after an impromptu "trial" conducted at an already prepared graveside.
"We took him right to his grave and, after hearing the witnesses' statements, we shot him dead," the fighter said.
STREET FIGHTING MEN
Sporadic fighting sputtered on in the bitterly contested Salaheddine district in the southwest of Aleppo, part of a rebel-held arc stretching to the northeast of the city.
Neither side was in full control, despite an army statement at the weekend that it had driven insurgents from the district, now a ghost town with closed shops and empty streets.
Syrian state television said on Wednesday the army was pursuing remaining "terrorists" in one Aleppo district and had killed several, including foreign Arab fighters.
Some foreign fighters, including militant Islamists, have joined the battle against Assad, who often accuses outside powers of financing and arming the insurgents.
An NBC News report said the rebels have acquired nearly two dozen surface-to-air missiles delivered to them via neighbouring Turkey. The missiles could erode the military's air supremacy if rebels were able to hit its helicopters and warplanes.
FOOD, FUEL SHORT
Aleppo, a commercial hub with a historic Old City, had long stayed aloof from the uprising, but many of its 2.5 million residents are now caught up in battle zones, facing shortages of food, fuel, water and cooking gas. Thousands have fled.
"The humanitarian situation is deteriorating in Aleppo and food needs are growing rapidly," the World Food Programme said.
The U.N. agency said it had sent food aid for 28,000 people to the city, where hospitals and makeshift clinics can barely cope with casualties after more than a week of combat.
Lightly armed insurgents are battling a well-equipped army that has overwhelming superiority on paper, but rebels have nonetheless managed to capture some tanks and heavy weapons, the
United Nations observer mission in Syria has confirmed.
The rebels, however, are united mostly by loathing of Assad, and have failed to come together despite pressure from the West, Turkey and Sunni-ruled Arab states who back their cause.
Another fissure in the opposition opened up on Tuesday when exiled Syrian activists announced a new alliance with plans to form a transitional government, challenging the Syrian National Council, an opposition umbrella group set up last year.
The head of the rebel Free Syrian Army criticised the new political coalition, calling its leaders opportunists seeking to divide the opposition and benefit from the rebels' gains.
Assad, whose Alawite sect is an offshoot of Shi'ite Islam, is strongly supported by Iran and to a degree by Iraq's Shi'ite-led government. China and Russia have protected him in the U.N. Security Council from measures that could lead to sanctions.
The U.N. General Assembly said on Tuesday it would discuss Syria this week and diplomats say it is likely to vote on a Saudi-drafted resolution that condemns the Security Council for failing to take action against Damascus.
U.S. Defense Secretary Leon Panetta, visiting Jerusalem, said he hoped Assad would step down and "we can begin the transition to a democratic process there for the Syrian people".
http://timesofindia.indiatimes.com/world/middle-east/Syrias-Assad-praises-troops-keeps-out-of-public-eye/articleshow/15318503.cms
----------
North America
Buddhists outraged at Buddha's images on shoes
PTI
WASHINGTON: Aug 2, 2012, The Tibetan and the Buddhist community are outraged at a California-based company for promoting a range of shoes with the Lord Buddha's images.
Tibetans and Bhutanese Buddhists have written to the company, Icon Shoes, to express their disgust. They have flooded the company's Facebook page with protest notes.
There was no immediate reaction from Icon Shoes.
"Unfortunately, it is a basic Buddhist tradition to treat images of Buddhist deities with reverence. Having the images on shoes is disrespect to the Buddhists," wrote Bhuchung Tsering form International Campaign for Tibet.
"Could you kindly consider this and withdraw the shoes from your catalogue," the Tibetan leader demanded.
The North American member of the Tibetan Parliament, Tashi Namgyal, wrote a protest letter to Icon Shoe.
"I came across shoes with image of Lord Buddha on it, manufactured by your company. I was totally shocked and dismayed at being so insensitive," wrote Namgyal.
"Lord Buddha is worshiped by millions of people around the world including the writer of this letter... Therefore, I would like to strongly urge your company to recall every merchandise sold with Buddha's image and stop not only selling such merchandises but manufacture of such products. Above all, I want you to tender unqualified apology posted on your website," Tashi demanded.
Based out of Palm Desert, California, ICON was launched in 1999 by a Hollywood filmmaker and art collector.
"Icon is for the art lover and the woman who loves shoes and handbags. We support artists by paying royalty for the use of their art," the company says on its Facebook page.
"I really think you should stop manufacturing the shoes with Buddha's imprint... it is totally against Buddhist sentiment," wrote one Tshewant Gyeltshen on the company's Facebook page.
"I am Buddhist. Your idea of putting Lord Buddha's image on footwear is unethical," said one Yoezer Gempo.
"Why do they have to put Lord Buddha's image on shoes? Among Buddhist we don't even let our shadow fall on His image. It cannot be ignorance since they had the guts to run a company and even call the pattern 'Thangka of the Buddha'," wrote an angry Passang Tshering on his blog.
http://timesofindia.indiatimes.com/world/us/Buddhists-outraged-at-Buddhas-images-on-shoes/articleshow/15326465.cms
-------
Indian-Americans ask US lawmakers to cut aid to Pak
PTI
WASHINGTON: Aug 2, 2012, Ahead of the ISI chief's meeting with the Congressmen, Indian-Americans swooped down at the Capitol Hill on Wednesday asking American lawmakers to cut all US aid to Pakistan.
During his stay in Washington till Thursday, visiting ISI chief Lt Gen Zaheer ul-Islam is scheduled to meet eminent American lawmakers at the Capitol Hill.
Indian-American community leaders under the banner of National Indian American Coalition (NIAC) said they are encouraged by the recent Congressional move to cut aid to Pakistan.
"We want that the Congress pass the legislation to cut its aid to Pakistan," Chicago-based businessman Shalli Kumar of the NIAC said after the meeting.
About 10 US lawmakers including Joe Walsh, ted Poe, Kevun Yoder, Pete Olson and Steven Yates attended the "Coffee with Congress" event organized by NIAC at the Capitol Hill.
Following this NIAC members met other US lawmakers on a busy day at the Hill.
Nirmala Sitharaman, BJP spokesperson, who represented her party at the meeting, said that recent moves in the Congress to cut aid to Pakistan are encouraging sign.
"These (US) aide seem to be misdirected towards encouraging and facilitating terrorists groups in Pakistan, who seem to be moving freely in Afghanistan and also probably targeting India," she said.
"The suspicion that any aide that goes to Pakistan may get misused is increasingly getting affirmed by Senators and Congressmen in the US who are approaching their own government to cut aid to Pakistan. We from India feel that not only as a collateral damage, India faces disastrous consequences, but also we are prime targets for these non-State operators," Sitharaman said.
NIAC has succeeded in sending more than 50,000 petitions to the US Congress in support of Congressman Ted Poe's bill to cut off all foreign aid to Pakistan.
http://timesofindia.indiatimes.com/nri/us-canada-news/Indian-Americans-ask-US-lawmakers-to-cut-aid-to-Pak/articleshow/15324292.cms
--------
U.S.: religious freedom "tenuous" in Egypt, worse in China, Iran, Pakistan
By Arshad Mohammed AUGUST 1, 2012
USA WASHINGTON CLINTON RELIGIOUS FREEDOM REPORT EGYPT CHINA IRAN PAKISTAN
(U.S. Secretary of State Hillary Clinton pours water over a statue of Buddha at the Shwedegon Pagoda in Yangon December 1, 2011. REUTERS/Saul Loeb/Pool )
Religious freedom in Egypt appears to be "quite tenuous" and its government has failed to aggressively prosecute perpetrators of sectarian violence, U.S. Secretary of State Hillary Clinton has said.
Clinton made the comment as the State Department released a report that found a marked deterioration in religious freedom in China, where official interference with Tibetan Buddhist monasteries may have contributed to a dozen self-immolations.
In its annual International Religious Freedom Report for 2011, the State Department also said it discerned a rise in global anti-Semitism as well as the increased use of anti-blasphemy laws to restrict the rights of religious minorities.
The report gave particular attention to countries where last year's "Arab Spring" of popular protests unseated authoritarian rulers such as former Egyptian president and long-time U.S. ally Hosni Mubarak.
"I am concerned that respect for religious freedom is … quite tenuous" in Egypt, Clinton said on Monday in response to a question after she gave a speech at a Washington think tank, saying sectarian violence had increased since Mubarak's downfall but the authorities had been inconsistent in prosecuting it.
"That then sends a message to the minority community in particular, but to the larger community, that there's not going to be any consequences," she said.
http://blogs.reuters.com/faithworld/2012/08/01/u-s-says-religious-freedom-tenuous-in-egypt-worse-in-china-iran-pakistan/
--------
Europe
Jews, Sikhs, Hindus Root For Fellow Believers In Olympics
Religion News Service | By Omar Sacirbey
LONDON, ENGLAND, 08/01/2012: Alexandra Raisman of the United States of America competes on the balance beam in the Artistic Gymnastics Women's Team final on Day 4 of the London 2012 Olympic Games at North Greenwich Arena on July 31, 2012 in London, England. (Photo by Ronald Martinez/Getty Images)
(RNS) Americans cheered when Aly Raisman of Needham, Mass., won a gold medal on Tuesday (July 31) in the women's all-around gymnastics competition, but at least some American Jews likely cheered a little louder.
"For people who are part of a minority, to see one of your own have this international recognition gives you enormous satisfaction and pride," said Rabbi Keith Stern of Temple Beth Avodah in Newton Centre, Mass., where Raisman has worshipped since childhood. "It lets you say, 'Look at what we've managed to do.'"
Members of minority faiths in the U.S. -- Jews, Muslims, Hindus and Sikhs -- are rooting for U.S. Olympians and also saving a few extra cheers for their co-religionists, both Americans and athletes from other teams. Before they go to bed or when they wake up, they scan lists of medal winners and competition results, looking for names that might sound Jewish, Muslim, Hindu or Sikh.
But why?
In a sense, religion isn't supposed to matter in who a fan roots for, said Harold U. Ribalow, author of three books about Jewish athletes, trying to answer that question. But, he added, the evidence was overwhelming that people like to see those from their own groups do well, especially in the root-for-the-underdog world of sports.
"Because the world of sports is a great leveler, because there is a greater degree of equality between contestants in sports than in most battles in life, the sports world is, in a very true sense, one of the best of all possible worlds," Ribalow said.
Tarlochan Singh Nahal, a Sikh from San Jose, Calif., still remembers the pride he felt when Alexi Grewal, whose father was Sikh, won a road cycling gold medal in the 1984 Olympics, just five years after he came to the United States. Grewal was not only the first Sikh American to win an Olympic medal, but the first American to take gold in a road cycling event, and provided Sikhs with a high-profile introduction to Americans who had previously never heard of Sikhism.
"I'm sure every Sikh in America was happy that he won," said Nahal, general secretary of SikhSports.com, which organizes Sikh American sporting events. "It basically brings to light that there are Sikhs in America."
There are no Sikhs on this year's U.S. Olympic team, said Nahal, but he is following Canadian wrestler Arjan Singh Bhullar, as well as the Indian and Malaysian field hockey teams, which both have Sikh players.
Some Hindu Americans became instant sports fans when they heard that co-religionist and gymnast Raj Bhavsar of Houston was competing in the 2008 Olympics in Beijing.
"Many of the people don't even watch the Olympics, but they started watching to see Raju," said Vijay Pallod, president of Hindus of Greater Houston, an advocacy group.
Sometimes rooting for one's religion is motivated by wanting to push back against persecution. Jeff Kornstein, who works for the American Jewish Historical Society in New York, said seeing a Jewish athlete on the winner's podium summons memories of the Holocaust or the murder of Israeli athletes at the 1972 Munich Olympics.
"There's a little retribution, at least from my vantage point," said Kornstein, who follows Jews on the U.S. and Israeli teams, as well as from his father's native Hungary.
Rooting for one's co-religionists also transcends national boundaries. Janaan Hashim, a Chicago lawyer who's currently visiting Muslim-majority Jordan, said people there cheered for Nur Suryani Mohammed Taibi, a Muslim shooter from Malaysia who is also eight months pregnant, as if she were a hometown hero.
"Not because she was pregnant as much as because she was Muslim and pregnant and meeting her aspirations. She sent such a great message to the world about Muslim women and our place in sports and society at large," said Hashim.
Sertac Sehlikoglu, who runs the Muslim Women In Sports blog, noted that Muslim women follow Muslim female athletes because sports can be a vehicle for female empowerment.
"Muslim women -- especially those living in non-Muslim contexts -- are very much interested in female Olympians coming from their home countries as much as they are interested in those coming from other Muslim countries," said Sehlikoglu.
Rooting based on religion can also leave some Olympic fans torn, especially if a fellow believer from a foreign country is competing against an American athlete who isn't of the same faith. Almost always, interviewees said they'd want the American to win -- but not always handily.
"I'd want the American to win," Kornstein said, "but I'd want the Jewish athlete to do well."
http://www.huffingtonpost.com/2012/08/01/jews-sikhs-hindus-olympics_n_1730991.html
--------
'Al-Qaeda trio' arrested in southern Spanish towns
2 August 2012
Explosive material was seized at an address in San Roque where a Turkish man was arrested. Two other men were held near Almuradiel.
They are thought to have been planning an attack in Spain or elsewhere in Europe, according to the Spanish Interior Minister Jorge Fernandez Diaz.
It is reportedly the first time such suspects have been found with explosives.
The material is currently being tested but is thought to be enough to "destroy a bus", Mr Diaz told reporters.
Earlier reports had suggested that poison had been found at the same address.
Police suspect at least one of those arrested has attended training camps in Pakistan, reports say.
Two of the suspects were travelling in a bus towards France when they were arrested in a lay-by near Almuradiel by a police special operations group, Mr Diaz said.
He added that one of the men put up "massive resistance".
Al-Qaeda in the Arabian Peninsula had issued a message at the beginning of July looking for Spanish-speaking "lone wolves" as operatives, according to Spain's El Pais newspaper.
http://www.bbc.co.uk/news/world-europe-19091753
---------
Mideast
Ahmadinejad calls for annihilation of Israel
By JOANNA PARASZCZUK 08/02/2012
In Ramadan speech to ambassadors from Islamic countries, Iranian president says "horrible Zionist current" has been managing world affairs for 400 years, adds that liberating Palestine would solve all world problems. PHOTO: REUTERS/RAHEB HOMAVANDI
In a speech published on his website Thursday, Iranian president Mahmoud Ahmadinejad said the ultimate goal of world forces must be the annihilation of Israel.
Speaking to ambassadors from Islamic countries ahead of 'Qods Day' ('Jerusalem Day'), an annual Iranian anti-Zionist event established in 1979 by Ayatollah Khomeini and which falls this year on August 17, Ahmadinejad said that a "horrible Zionist current" had been managing world affairs for "about 400 years."
Repeating traditional antisemitic slurs, the Iranian president accused "Zionists" of controlling the world's media and financial systems.
It was Zionists, he said, who were "behind the scene of the world's main powers, media, monetary and banking centers."
"They are the decision makers, to the extent that the presidential election hopefuls [of the USA] must go and kiss the feet of the Zionists to ensure their election victory," he added.
Ahmadinejad added that "liberating Palestine" would solve all the world's problems, although he did not elaborate on exactly how that might work.
"Qods Day is not merely a strategic solution for the Palestinian problem, as it is to be viewed as a key for solving the world problems," he said.
He added: "Anyone who loves freedom and justice must strive for the annihilation of the Zionist regime in order to pave the way for world justice and freedom."
The Iranian president said that Israel reinforced "the dominance of arrogant powers in the region and across the globe" and that Arab countries in particular - he cited Bahrain, Yemen, Libya, Syria and Turkey - were affected by Israel's "plots."
Ahmadinejad, who has called the Holocaust a myth, has previously called for Israel's annihilation, in a 2005 speech in which he used a Persian phrase that translates literally as "wiped off the page of time."
http://www.jpost.com/IranianThreat/News/Article.aspx?id=279864
-------
URL: https://newageislam.com/islamic-world-news/by-new-age-islam-news-bureau/pakistan-removes-deputy-attorney-general-for-performing-voluntary-service-at-hindu-and-sikh-shrines/d/8131