New Age Islam News Bureau
23 Aug 2012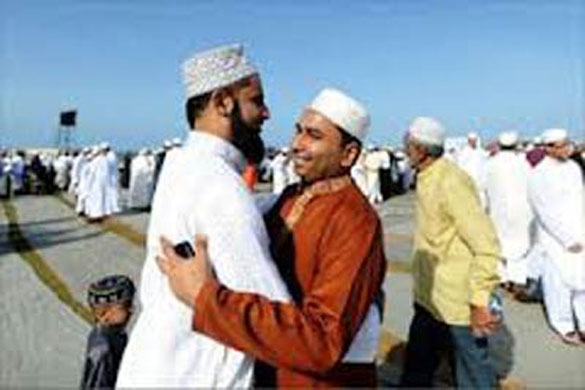 Pakistan
• Pak parliamentarian arrives India to hold discussions on Hindu exodus issue
• Ahmadis in Rawalpindi prevented from Eid-ul-Fitr prayers
• Gilgit heating up following Shia killings
• Pakistan: 22 die from heavy rains, flooding
• Pakistan barber has eyes, lips, tongue cut out over illicit relationship
• Pak Christian boy's body found with torture marks
• Militants kill three policemen in Hangu
India
• Bodoland Peoples Front MLA Pradeep Brahma arrested for role in Assam violence
• Azad Maidan riot: 19 more held, total 43
• Assam riots may see third wave of Muslim radicalisation: Popular Front of India
• Assam violence reaches Bangladesh border village
• 'Not exodus, its effect of Taliban'
• Hindus 'willingly' embracing Islam to avoid discrimination
• Abu Asim Azmi challenges Raj Thackeray to find Bangladeshis, offers Rs 2 crore
• Pak Hindu's are waiting for announcement of Indian government's support
• Army jawan killed in accidental gunfire in Jammu and Kashmir
• Close to 7,000 Bangladeshis arrested while trying to enter India in 5 years
• Over 59,000 Kashmiri Pandits living outside Kashmir: Govt
• Two labourers killed in fresh attacks in riot-hit lower Assam
South Asia
• Karzai's advisors blame insider attacks on penetration by ISI
• Afghanistan, Contradicting NATO, Blames Foreign Spies for Insider Attacks
• Bangladesh: The Jamaat leader sent to jail
• Record murder case against Limon family: Court
• Cease restrictions on aid to Rohingyas: HRW tells Dhaka
• Bangladesh: 3 killed, over 100 hurt in clashes in several dists
Southeast Asia
• Sect evacuated, leader arrested after Sukabumi mayhem
• Research Shows English Proficiency on the Rise in Indonesia
• Terrorism behind shooting in Solo: Police
Mideast Asia
• Far-right group warns Arabs not to flirt with Jews
• Israel: Label Rule Stirs Officials' Ire
• Developments in Iran and Sinai Deepen Israel's Worries About Egypt
• Ambush in Turkey kills five soldiers, 16 Kurdish rebels
• Ban to attend Tehran summit despite US, Israeli objections
• FM: Abbas engaged in political terrorism against Israel
• Turkish leaders appeal for unity after deadly car bomb
• Palestinians fight for lives after vicious attacks
• Israel frees Syrian prisoner after 27 years
Arab World
• Ban on smoking in public places to reduce smokers by about 60 percent
• Egypt Editor Charged With Insulting President
• Military Hits Town Near Damascus, 60 Killed in Syria
• Son of Late Chechen Warlord Reported Killed in Syria
• Twitter case against Bahrain activist overturned
• 1,600 extremists in Egypt's Sinai: State news agency
• Egypt's Morsi to visit US on September 23: State TV
• Eight dead in Lebanon street battles over Syria
• Iraq expects first F-16 fighter jets in 2013
North America
• US Sikhs mull keeping guns after killings in gurdwara
• Indyk: US expected Israel to strike Iran last spring
• Guantanamo 9/11 hearings postponed due to tropical storm Issac
• 'Killer' Maj Nidal Hasan's beard can be 'forcibly' shaved off, US court told
• US, Pakistan must 'divorce' as allies: Husain Haqqani
• Book on Osama bin Laden raid set for release on September 11
• 'Osama lair carved out of Pak army academy; ISI man helped in hunt'
Europe
• Breivik feels need to speak out after verdict
• Tajik Protesters Demand Troop Pullout Near Afghan Border
Africa
• The day the music died: Mali Muslims ban radio songs
• Kenya to hold peace meeting after 52 killed
• Four Foreign Oil Workers Kidnapped Off Nigeria Freed
• Mali hostages seek government support for their release
• A Murder Sentence Underlines South African Inequality
• Former Ethiopia PM Meles Zenawi helped extend India's footprint in Africa
Compiled by New Age Islam News Bureau
Photo: Ahmadis in Rawalpindi prevented from Eid-ul-Fitr prayers
URL: https://newageislam.com/islamic-world-news/pak-parliamentarian-arrives-india-hold/d/8389
-----------
Pakistan
Pak parliamentarian arrives India to hold discussions on Hindu exodus issue
Aug 22, 2012
ATTARI: While downplaying the incidents of migration of Hindu's from Pakistan and their persecution in the hands of, fundamentalists, terrorists and anti social elements, the Pakistan parliamentarian who have arrived India, blamed on media for exaggerating the issue. However a few of them admitted that there were certain 'structural flaw's' and 'issues' which needed to be resolved to restore Hindu's confidence in Pak administration.
"This time a large number of Hindu's are traveling to India but on visa and they didn't have any intentions to leave Pakistan " said leader of delegation Senator Mohammad Jehangir Bader, who is also Leader of the House, Senate of Pakistan while talking to TOI on Wednesday. However he said there were certain incidents of terrorism striking at minority community. "But it is not with Hindu's even Muslims are at their target" he said.
Member National Assembly from Sindh, Dr. Nafisa Shah said "It is incorrect to say that Hindu's of Pakistan are leaving the country to settle in India but there were certain issues and structural flaws which needed to be addressed".
She said Hindu's were as patriotic as any other Muslim. Nafisa , however admitted that there was a feeling of iinsecurity among Hindu's. About forced conversions she said "It is a social situation, there have been cases where Hindu girls willingly embraced Islam but due to social pressure they had to withdraw their statements". She suggested that in case of inter caste marriage (Hindu and Muslimjs), the couple should be given enough space where they could understand each other and their religions without any pressure. She said there was a 'power structure' who discriminate with them . She said the issue had been exaggerated by media .
Senator Hazi Mohammad Adeel said that Pakistan president Asif Ali Zardari had constituted a 3 member committee comprising of two Hindu-senator Hari Ram, Member of national assembly Lal Chand and a Muslim Federal Minister Moula Bakhsh Chandio which was looking into the reports of reported migration of Hindu's and sense of insecurity among them. He said they would also take up this issue with their Indian counterparts to get to know their views.
Deputy Chairman, Senate, Sabar Ali Baloch admitted that Pakistan was infested with evil of terrorism which was a threat to all communities and not only Hindu's He said it was not just Hindus but Muslims were also on their target . He however claimed that there were no incidents of forced conversions.
Adeel said the people to people contact should not be limited between Punjab's of two nations but it should be extended to rest of India to rest of Pakistan. He questioned "why people of two Punjab's should meet and why not rest of India and Paksitan".
He said he would extend invitation to Bihar Chief Minister Nitish Kumar to visit Khyber Pakhtunkhwa, border province of Pakistan. He said the delegation was in India to promote peace between two nations so as to lay foundation of a strong South Asia. "We have no problems or pass through cumbersome formalities in visiting Nepal or Sri Lanka but for India" said he adding that the parliamentarians of both countries would discuss to liberalize the visa regime and promotion of trade, health and education infrastructure etc.
http://timesofindia.indiatimes.com/india/Pak-parliamentarian-arrives-India-to-hold-discussions-on-Hindu-exodus-issue/articleshow/15602213.cms
-----------
Ahmadis in Rawalpindi prevented from Eid-ul-Fitr prayers
Aug 22 2012
Lahore : Pakistani authorities did not permit Ahmadis in Rawalpindi district to offer Eid-ul-Fitr prayers at their mosque after false propaganda and baseless accusations against the place of worship, a spokesperson for the community said today.
Jamaat-e-Ahmadiyya Pakistan spokesperson Saleemuddin said that the government and local administration had violated Article 20 of the Constitution by stopping Ahmadis from congregating for Eid prayers on Monday.
"Article 20 assures every citizen of his or her right to freely perform religious duties," he said.
Saleemuddin said the Ahmadis would never compromise or accept any pressure on their fundamental right to worship.
"This is not only a denial of religious freedom but also depriving the Ahmadis of an annual ritual where worship goes with social activity," he said.
"Eid is a religious event but it also has a huge social impact that brings people closer together and the authorities have deprived them of their right to peacefully gather on this annual event."
From many years, Ahmadis have been gathering at the Ewan-e-Tawheed in Rawalpindi to worship on Fridays and during festivals like Eid but the authorities have now stopped them following complaints from local clerics.
"This year, till the last minute, the local authorities gave us false hope that we could congregate and gather for Eid prayers," Saleemuddin said.
Pakistan's Ahmadis consider themselves Muslim but were declared non-Muslims through a constitutional amendment in 1974.
A decade later, they were barred from proselytising or identifying themselves as Muslims in Pakistan.Some 1.5 million Ahmadis live across the country.
Police in Punjab province have taken action against several Ahmadi mosques this year. They demolished the minarets of an Ahmadi mosque at Kharian city, 200 km from Lahore, last month.
In March, couplets from the Quran written on tiles at an Ahmadi mosque at Sultanpura in Lahore were removed by police.
Last week, police used used black paint to cover Quranic verses inscribed on 64 graves at a Ahmadi cemetery at Hafizabad, 90 km from Lahore.
http://www.indianexpress.com/news/ahmadis-in-rawalpindi-prevented-from-eidulfitr-prayers/991705/
-----------
Gilgit heating up following Shia killings
Aug 23, 2012
GILGIT: Gilgit-Baltistan (GB) on Tuesday witnessed violence when two people, including one FC official, were killed in different firing incidents.
The GB region has been hit by a wave of violence following killing of 25 Shia passengers in Lulusar on August 16. Despite heightened security, various firing incidents killed two people, including an FC man, while another was injured.
The Newspaper Vendors Association president was shot dead on Karakoram Highway, while his aide sustained injuries.
After a few hours, unidentified miscreants opened fire on two FC officials posted outside the deputy commissioner's office, killing one and injuring another.
Following the incidents, tension gripped the area and the streets wore a deserted look.
Meanwhile, high alert was imposed in the city as security personnel started a search operation. Security personnel have arrested two suspected people with rigorous checking in progress at all entrance and exit points of the city.
GB Information Minister Dr Ali Madad Sher told reporters that the city was clamped for the search operation. The operation was being launched in connection with the killing of three people, he added.
Directives were issued to keep all shops and commercial areas closed and disallow the inter-city traffic flow into the city. The administration has blocked the entry and exit routes of Gilgit due to the law and order situation following the target killing and Lulusar incident.
http://www.dailytimes.com.pk/default.asp?page=2012\08\23\story_23-8-2012_pg1_3
-----------
Pakistan: 22 die from heavy rains, flooding
August 23 2012
Pakistani officials say heavy monsoon rains that triggered flooding in the country's north have caused at least 22 deaths.
Sardar Nawaz Khan, a disaster management official, says at least 13 people died on Wednesday in the northeast in Pakistan-held Kashmir. Nine of the dead belonged to three families who were buried alive when the roofs of their houses caved in.
Another official, Adnan Khan, says nine people died Wednesday in northwest Khyber Pakhtunkhwa province. Six of the deaths occurred in Mansehra district, and three in Nowshera district.
Both officials spoke to The Associated Press on Thursday.
Pakistan suffered the worst flooding in its 65-year history in 2010. Floodwaters inundated one-fifth of the country, an area larger than England, and killed over 1,700 people. Over 20 million people were affected.
http://www.thejakartapost.com/news/2012/08/23/pakistan-22-die-heavy-rains-flooding.html
---------
Pakistan barber has eyes, lips, tongue cut out over illicit relationship
Aug 23, 2012
LAHORE, PAKISTAN: A barber in rural Pakistan was left fighting for his life after being horrifically mutilated over a relationship with a married woman from an influential local family, police said Thursday.
Officers said Yousaf Khan, 32, was kidnapped by seven members of a landowning family who gouged his eyes out with a knife before cutting off his ears, nose, lips and tongue.
The bloody incident took place in Mirzapur village in Okara district, around 120 kilometres (75 miles) east of Lahore, the main city of Pakistan's central Punjab province.
"Yousaf Khan was blamed for an illicit relationship with a woman. We have arrested five culprits," Khaliq Riaz, a police officer involved in the investigation, told AFP by telephone.
Riaz said he hoped a man and a woman, also involved in the grisly incident would soon be arrested.
"The family said they had several times warned Yousaf over the illicit relations and they were forced to take this extreme step to punish the barber," Riaz said.
Sanaullah, an officer in the district police chief's office who goes by only one name, confirmed the incident and arrests.
Khan was later taken to a local hospital where doctors were battling to save his life, police said.
http://timesofindia.indiatimes.com/world/pakistan/Pakistan-barber-has-eyes-lips-tongue-cut-out-over-illicit-relationship/articleshow/15615703.cms
-----------
Pak Christian boy's body found with torture marks
Aug 22 2012
Lahore : As the furore over the arrest of a minor Christian girl over blasphemy charge is yet to die down, the body of an 11-year-old boy from the minority community, bearing torture marks, was found in Faisalabad city of Pakistan's Punjab province Wednesday, police said.
Samuel Yaqoob, a resident of the Christian Colony of Faisalabad, 100 km from Lahore, was brutally tortured before being killed.
He had been missing since the evening of August 20, when he had stepped out of his home to go to the market.
Yaqoob's burnt body was found near a drain of the Christian Colony Wednesday. His lips, nose and belly were cut off and he could hardly be recognised as his body was badly burnt, relatives said.
Full report at:
http://www.indianexpress.com/news/pak-christian-boys-body-found-with-torture-marks/991655/
-----------
Militants kill three policemen in Hangu
Aug 23, 2012
PESHAWAR: Militants on Thursday shot dead three police officers in the area of Hangu in Khyber Pakhtunkhwa province, where troops are waging an offensive to battle a homegrown insurgency.
The militants opened fire on a police van when it was patrolling the area of Kotki, which is six kilometers from Hangu.
Two policemen received injuries by the attack who were taken to a nearby hospital.
Nobody has yet claimed responsibility for the killings but police blamed Taliban militants for the attack, saying they fired on a patrol party and fled.
"Taliban militants are active in this area and they are responsible for the attack," Hangu police chief Mian Mohammad Saeed told AFP by telephone, adding that three officers were killed.
Gul Jamal, another senior police official, confirmed the incident and blamed "terrorists" for the attack.
"We have cordoned off the area and have launched a search operation," Jamal said.
http://dawn.com/2012/08/23/militants-kill-three-policemen-in-hangu/
-----------
India
Bodoland Peoples Front MLA Pradeep Brahma arrested for role in Assam violence
Aug 23, 2012
GUWAHATI: An MLA of Bodoland Peoples Front (BPF), which is an ally of the ruling Congress in Assam, was arrested in the wee hours on Thursday for his alleged involvement in the recent violence in the state.
Pradeep Brahma, alias Gara, who represents Kokrajhar (West) constituency, was arrested from his house at Dotoma near Kokrajhar town at about 1am as seven cases had already been registered against him in several police stations.
BPF is the ruling party of the Bodoland Territorial Autonomous District (BTAD) whose chief is Hagrama Mohilary.
Following the arrest and Wednesday's violence in neighbouring Dhubri district in which two persons were killed, indefinite curfew was clamped in Kokrajhar district.
Army staged flag march even as Brahma's supporters started picketing on the railway track and national highway 31.
More than 80 persons have lost their lives and four lakh were rendered homeless in the violence in lower Assam districts of Korajhar, Dhubri and Chirang.
http://timesofindia.indiatimes.com/india/Bodoland-Peoples-Front-MLA-Pradeep-Brahma-arrested-for-role-in-Assam-violence/articleshow/15612825.cms
-----------
Azad Maidan riot: 19 more held, total 43
Aug 23 2012
The Mumbai Police Crime Branch arrested 19 more people this week for the Azad Maidan riot on August 11. While two persons were arrested on Tuesday, 17 were nabbed on Wednesday. One of the accused nabbed on Tuesday allegedly confessed to having torched the ABP Maaza outdoor broadcasting (OB) van.
With these arrests, the total number of accused has risen to 43. Sources said women constables who were allegedly molested during the riot will be asked if any of the arrested were responsible.
"Before we arrested these 19 people, we studied the CCTV footage and other evidence. All evidence was analysed and cross-verified," said Joint Commissioner of Police (Crime) Himanshu Roy. The police used CCTV feed from cameras at the BMC building and the ones at Chhatrapati Shivaji Terminus, and photographs clicked by mediapersons to identify the accused, said officers.
Investigations have revealed that as many as eight of the 19 people have prior criminal records. The police have until now recovered 79 live rounds of the 200 missing since the violence. One of the accused, Wadala resident Niyazuddin Mohammad Shaikh (28), was allegedly responsible for torching an OB van. Officers said they have video and photographic evidence that point to his role.
Full report at:
http://www.indianexpress.com/news/azad-maidan-riot-19-more-held-total-43/991899/
-----------
Assam riots may see third wave of Muslim radicalisation: Popular Front of India
Aug 23, 2012
NEW DELHI: The Popular Front of India (PFI), a Muslim organisation accused of sending bulk SMSes that led to the exodus of northeast migrants from Bangalore, has said, "Kerala isn't as progressive and secular as it is made out to be."
PFI, formed in 2006 as a confederation of Muslim organisations such as the National Development Front (Kerala), Manitha Neethi Pasarai (Tamil Nadu) and the Karnataka Forum for Dignity, has a strong presence in India's most literate state.
"Although there are no direct influences of communalisation in Kerala's society, there are indirect influences. This explains why there are fictitious reports on love jihad (which said some 4,000 Hindu girls were converted to Islam by Muslim boyfriends)," said PFI chairman EM Abdul Rahiman.
He added that the media even blew up the 'natural demand' of Congress' coalition partner, Indian Union Muslim League, for an extra ministerial berth. Many analysts had described as 'shameful surrender,' Congress's decision to yield to IUML's demand for a fifth berth in the state's 21-member ministry.
Full report at:
http://timesofindia.indiatimes.com/india/Assam-riots-may-see-third-wave-of-Muslim-
-----------
Assam violence reaches Bangladesh border village
Rahul Karmakar
August 23, 2012
The month-long clash between Bodos and Muslim settlers in Assam is shifting beyond the Bodoland Territorial Council areas and the violence-hit parts of Dhubri district, as a remote fishing village near the Bangladesh border came under attack on Wednesday. "Unidentified men fired at some
fishermen at Bangaldoba village under Chapar police station around 4pm. One person was injured and two were missing," said Kumud Chandra Kalita, deputy commissioner, Dhubri.
The attack followed the recovery of bodies of two Assamese people, one in West Bengal and another in Assam's Kokrajhar district.
The village, 250km west of Guwahati and close to the Bangladesh border, is Muslim-dominated. "The cause of firing could even be internal economic rivalry. We are investigating all angles," said LR Vishnoi, IGP (law and order), Assam.
Full report at:
http://www.hindustantimes.com/India-news/Guwahati/Assam-violence-reaches-Bangladesh-border-village/Article1-917966.aspx
-----------
'Not exodus, its effect of Taliban'
Aseem Bassi
August 22, 2012
Denying that movement of Pakistani Hindus to India was an exodus, the Pakistani Parliamentarians stressed that it was an effect of Talibanisation (Talibans) and there was need to fight it.
A 17 member Pakistani delegation including 12 parliamentarians crossed into India on Wednesday
for talks with counterparts in India.
Down playing the migration of Pakistani Hindus into India, Sabir Ali, deputy Chairman of the Senate said, "It is not like that. The Hindus are not given any ill treatment by people in majority there. I think this movement has picked up just because of Talibanisation (Taliban) and even Muslims there are fed up of Talibans."
Ruling out allegations of forced conversions and kidnappings, Ali said, "Already issues related to minorities are raised in the Parliament and Pakistan President Asif Ali Zardari has formed a committee to look into the allegations made by Hindus. Pakistan is serious on the issue and I am confident all will return back."
Full report at:
http://www.hindustantimes.com/world-news/Pakistan/Not-exodus-its-effect-of-Taliban/Article1-917649.aspx
----------
Hindus 'willingly' embracing Islam to avoid discrimination
Yudhvir Rana
Aug 22, 2012
AMRITSAR: Many Pakistani Hindu's from Sindh and Punjab have started 'willingly' embracing Islam and many others have renamed themselves taking Muslim names to avoid revelation of their true identity from public in wake of the recent spate of their persecution , informed Rajesh Kalyan, a Hindu priest and preacher with Pakistan Hindu Seva (PHA), a Karachi based Hindu organization while talking to TOI over phone from Karachi on Wednesday.
He said, as a preacher he travels in wider parts of Pakistan and was surprised to know that many Hindu's families had converted to Islam in recent past. "There are families in Rahimyar Khan in Pakistan who have embraced Islam, call it willingly or under pressure,"he said adding that he had personally seen Hindu's dubbed as Kafirs in many areas of Pakistan .
"Hindus are not allowed to sit in hotels and have food and are discriminated in Rahimyar Khan," he said, adding that there were 77000 Hindu's in Rahimyar Khan alone."Reports of their forced conversions, abduction for ransom were not false and this is the reason those who don't want to leave country prefer to embrace Islam" he said.
Full report at:
http://timesofindia.indiatimes.com/india/Hindus-willingly-embracing-Islam-to-avoid-discrimination/articleshow/15603847.cms
-----------
Abu Asim Azmi challenges Raj Thackeray to find Bangladeshis, offers Rs 2 crore
Aug 22, 2012
MUMBAI: Samajwadi Party leader Abu Asim Azmi today offered Rs two crore to MNS chief Raj Thackeray if he substantiates his allegation about Bangladeshi voters in the Assembly constituency from where he won the poll.
"Raj Thackeray says there are lakhs of Bangladeshis in my constituency. I will give Rs 2 crore if he shows even one lakh Bangladeshis and Pakistanis in Bhiwandi," Azmi said at a press conference here.
Azmi even displayed the Rs two crore cheque on the occasion.
"I will quit politics if his charge is proved. If he fails, he will have to quit," Azmi said, accusing the MNS chief of playing politics by fooling Marathi people.
"Raj has abused me. Even I can hurl abuse, but my tehzeeb doesn't allow it," Azmi said. The MNS morcha here yesterday was taken out without permission and police should act against the organisers, he said.
Full report at:
http://timesofindia.indiatimes.com/india/Abu-Asim-Azmi-challenges-Raj-Thackeray-to-find-Bangladeshis-offers-Rs-2-crore/articleshow/15602644.cms
-----------
Pak Hindu's are waiting for announcement of Indian government's support
Aug 23, 2012
ATTARI: "Let India give some assurance to Pakistani Hindus and then see hoards of them will beeline to India" said Pakistani Hindu national Rup Mehra who along with his family members arrived India after renewal of his Pakistani identity card.
Settled in Tuglaqabad area of Delhi for past nearly 4 years , Mehra said that Pakistan government had toughened the formalities for Pakistani Hindu's who are already settled in India waiting for Indian citizenship to renew their identity cards in their home towns. Renewal of identity cards was required for the renewal of Pakistani passports after its expiry, he said.
Strangely on Thursday custom officials at Attari International Railway Station prevented media persons from meeting the passengers arriving from Pakistan and allowed only to talk to passengers selected by customs staff.
Full report at:
http://timesofindia.indiatimes.com/india/Pak-Hindus-are-waiting-for-announcement-of-
-----------
Army jawan killed in accidental gunfire in Jammu and Kashmir
Aug 23, 2012
JAMMU: A jawan was killed in an accidental misfire from his own gun during practice at the Khanpur firing range here, Army said on Thursday.
Signalman Ravi Shanker was hit by "unfired" practice bullet in his chest during the firing exercise at Khanpur firing range in Nagotra belt in the outskirts of Jammu city on Wednesday, a senior army officer said on Thursday.
Ravi later died, he said.
Ravi had to fire 15 bullets during the practice, but could only fire 14 practice bullet and one got stuck up on the gun, he said.
After the firing practice, gun went off and the bullet hit him.
The deceased Army jawan belonged to 16 Corps Operating Signal Unit and his body is being sent to his native place in Bihar, he said, adding that his family is arriving here on Thursday to receive the body.
http://timesofindia.indiatimes.com/india/Army-jawan-killed-in-accidental-gunfire-in-Jammu-and-Kashmir/articleshow/15614175.cms
-----------
Close to 7,000 Bangladeshis arrested while trying to enter India in 5 years
Aug 23, 2012
NEW DELHI: With the issue of illegal immigration from Bangladesh continuing to rock the northeast, the government on Wednesday said security forces had arrested 6,867 people trying to enter India from Bangladesh in the last five years. Pakistan came next, with 499 of its nationals being arrested since 2008.
Defence minister A K Antony, in a written reply in Rajya Sabha, said the government has planned to set up an additional 383 border outposts (BOPs) along the border with Bangladesh to check "illegal cross-border activities''. Similarly, 126 more BOPs are planned for the border with Pakistan, 89 for Nepal and 63 for Bhutan.
Turning to Pakistan, the minister said 103 terrorists had made infiltration bids into J&K this year till June, with 38 of them succeeding in sneaking across. "The government has adopted a multi-pronged approach to contain cross-border infiltration, which includes round-the-clock surveillance and patrolling on the borders; construction of border fencing, floodlighting and observation posts; introduction of modern and hi-tech surveillance equipment; upgradation of the intelligence set-up and coordination with the state governments and intelligence agencies,'' he said.
http://timesofindia.indiatimes.com/india/Close-to-7000-Bangladeshis-arrested-while-trying-to-enter-India-in-5-years/articleshow/15610478.cms
-----------
Over 59,000 Kashmiri Pandits living outside Kashmir: Govt
Aug 23, 2012
NEW DELHI: There are only 808 families of Kashmiri Pandits who still live in the Valley, while close to 60,000 families have moved out, the government informed Rajya Sabha on Wednesday.
"As many as 808 families are residing in Kashmir and 59,442 registered migrant families continue to reside outside the Valley," Minister of State for Home Affairs Jitendra Singh told Rajya Sabha in a written reply.
The minister also released data on temples in the Valley along with those that were damaged during the campaign to drive out the Pandits.
Singh said 170 temples were damaged in Kashmir after migration of Kashmiri Pandits. "Of the total of 430 temples which existed before migration, 260 of them are intact, 170 were damaged and 90 others renovated," Singh said in reply to details sought by an MP on Hindu temples in Kashmir.
Full report at:
http://timesofindia.indiatimes.com/india/Over-59000-Kashmiri-Pandits-living-outside-Kashmir-Govt/articleshow/15610252.cms
-----------
Two labourers killed in fresh attacks in riot-hit lower Assam
Aug 22, 2012
GUWAHATI: Two labourers were killed and another seriously injured in fresh violence in riot-hit lower Assam today taking the overall death toll to 80.
Unidentified assailants fired on a group of minority labourers working in a brick kiln field at Bangaldoba in Dhubri district killing two of them and injuring another, police sources said.
The attack took place during relaxation of day curfew following improvement in the situation.
Dhubri deputy commissioner Kumud Chandra Kalita and senior police officials rushed to the spot.
The injured labourer was admitted to the civil hospital at Dhubri.
Night curfew is continuing in Dhubri, Kokrajhar and Chirang districts.
The violence in lower Assam has led to exodus from other states because of a fear psychosis.
Meanwhile, 8,186 refugees have left camps for home in in Kokrajhar and Chirang districts though those in temporary shelters in Dhubri and Bongaigaon continued to stay, official sources said.
http://timesofindia.indiatimes.com/india/Two-labourers-killed-in-fresh-attacks-in-riot-hit-lower-Assam/articleshow/15604885.cms
-----------
South Asia
Karzai's advisors blame insider attacks on penetration by ISI
Aug 23 2012
Washington : The sudden rise in insider attacks on NATO troops in Afghanistan has been blamed on penetration by the Pakistani and Iranian intelligence by top advisors of President Hamid Karzai.
After months of investigations, officials of the Karzai's National Security Council have concluded that both Pakistan's ISI and Iranian intelligence were recruiting young Afghans to enlist in the Army and the Police, with the intention of targeting US and NATO servicemen, the New York Times reported quoting Afghan officials.
"These neighbouring countries have become concerned about the growing strength of the Afghan Army and police and have stepped up attempts at infiltration, with an eye on the 2014 end game in the country," officials said.
Full report at:
http://www.indianexpress.com/news/karzais-advisors-blame-insider-attacks-on-penetration-by-isi/992104/
-----------
Cease restrictions on aid to Rohingyas: HRW tells Dhaka
August 23, 2012
Human Rights Watch (HRW) urged Bangladesh government to immediately cease its restrictions on international organisations providing aid to more than 200,000 Muslim Rohingyas in the country.
It also called on the government to open its borders to Rohingyas fleeing sectarian violence and abuses by Myanmarese security forces in Arakan State in western Myanmar, said a press release of New York-based Human Rights Watch published on Wednesday.
In late July, the Bangladesh government ordered three prominent international aid organisations – Medecins Sans Frontieres (Doctors Without Borders), Action Contre la Faim (Action Against Hunger), and Muslim Aid – to cease providing assistance to Rohingyas living in Cox's Bazar and surrounding areas, the organisation claimed.
"The Bangladeshi government is trying to make conditions for Rohingya refugees already living in Bangladesh so awful that people fleeing brutal abuses in neighbouring Burma (Myanmar) will stay home," said Bill Frelick, director of the Refugees Programme at Human Rights Watch.
Full report at:
http://www.thedailystar.net/newDesign/latest_news.php?nid=40211
---------
Bangladesh: The Jamaat leader sent to jail
August 23, 2012
International Crimes Tribunal-1 will pass an order on Sunday whether it would grant bail to war crimes suspect Jamaat-e-Islami acting Secretary General ATM Azharul Islam or not.
The three-member tribunal headed by Justice Md Nizamul Huq fixed the date on Thursday afternoon after a hearing on Azhar's bail petition.
The Jamaat leader was sent to Dhaka Central Jail around an hour later.
Earlier around 11:30am, Azhar was taken to the ICT-1 from the DB (Detective Branch) office where he was taken on security ground after his arrest on Wednesday.
The Jamaat leader, who hails from Badarganj of Rangpur, was arrested at his Moghbazar residence over two hours after ICT-1 issued an arrest warrant against him.
In response to a prosecution petition, the tribunal issued the arrest warrant and directed police to produce the Jamaat leader before the tribunal within 24 hours of his arrest.
It is alleged that the Jamaat leader reportedly had direct involvement in the killing of 1,200 unarmed Bangalees in Badarganj of Rangpur on a single day during the Liberation War.
In the petition, Prosecutor Nurjahan Begum Mukta said Azhar was the chief of the Al-Badr force, which collaborated with the Pakistan occupation army, in Rangpur and had committed murder, genocide, rape, looting and other crimes against humanity during the war.
Investigations against Azhar began on April 15 this year.
http://www.thedailystar.net/newDesign/latest_news.php?nid=40204
---------
Afghanistan, Contradicting NATO, Blames Foreign Spies for Insider Attacks
By GRAHAM BOWLEY and RICHARD A. OPPEL Jr.
Aug 23, 2012
KABUL, Afghanistan — Even as the Afghan government said on Wednesday that it would take new measures to counter a wave of deadly insider killings of Western troops by Afghan security forces, President Hamid Karzai's office asserted for the first time that foreign spy agencies were behind most of the attacks, putting it directly at odds with NATO's assessment of the crisis.
After a special meeting of the president's security advisers, Mr. Karzai's spokesman, Aimal Faizi, said Afghan authorities were studying every known insider attack, also known as green-on-blue attacks. He said that based on interrogations of attackers who had been detained, and other evidence like letters and records of phone calls, the government had concluded that the main culprits in the killings had been put in place by intelligence services from neighboring countries. He did not name them, but the government frequently accuses Pakistan and Iran of meddling.
"The investigation done so far shows there is infiltration by foreign spy agencies," Mr. Faizi said. "There is no doubt there is infiltration."
Full report at:
http://www.nytimes.com/2012/08/23/world/asia/afghanistan-blames-spies-for-insider-
---------
Record murder case against Limon family: Court
August 23, 2012
Autopsy report says 'the murdered bore no injury mark'
A Jhalakathi court on Thursday directed police to record a murder case against 10 persons including four family members of Limon Hossain, who was maimed by Rapid Action Battalion on March 23 last year.
The 10 accused include Limon's brother Sumon Akhand, parents Tofazzel Akhand and Henoara Begum and maternal uncle Siddique Hossain.
The other accused are: Morshed Jomaddar, a criminal on Rab list, and five locals -- Hemayet Hossain Nuru, Suman Sikder, Motaleb, Shahin and Firoz Jomaddar, reports our correspondent in Barisal.
Ibrahim Hawlader, known as a local source of Rab, lodged the case with the court after police on Monday refused to accept a similar complaint filed by his wife Lilly Begum for allegedly murdering her brother Md Forkan on the Eid day, August 20.
Senior Judicial Magistrate Nusrat Jahan accepted the case and directed the officer-in-charge of Rajapur Police Station to record it as a murder case.
Full report at:
http://www.thedailystar.net/newDesign/latest_news.php?nid=40210
---------
Bangladesh: 3 killed, over 100 hurt in clashes in several dists
August 23, 2012
Three people were killed and over 100 injured in clashes between rival groups of villagers over capture of khas and disputed land and establishing supremacy in their respective areas in the last four days in Jhenidah, Pabna, Gopalganj, Sirajganj, Magura and Chapainawabganj districts.
The dead were identified as Abdul Kuddus alias Mongla, 40, of Nagirat village in Shailkupa upazila of Jhenidah, Imran Ali, 35, of Uttar Masimpur village in Pabna Sadar upazila, and Akfar Mollah, 65, of Ghosher Char in Gopalganj Sadar upazila.
At least 150 houses were vandalised and 50 of them set afire during the clashes in the districts.
Our Jhenidah correspondent reported that a man was killed and 15 were injured in a clash between two rival groups of villagers at Nagirat village in Shailkupa upazila on Eid Day.
Police and locals said two groups of villagers--one led by Linkon Hossain and the other by Minto Mia--have a rivalry over establishing supremacy at the village.
On Eid Day, Minto's men beat up Anisur Rahman, a supporter of Linkon, while he was returning home after offering Eid prayers at around 9:00am.
As a sequel to the incident, the two rival groups equipped with iron rod, billhooks and spears attacked each other, leaving Abdul Kuddus alias Mongla of Linkon group dead and 15 others from both sides injured.
Full report at:
http://www.thedailystar.net/newDesign/news-details.php?nid=246688
---------
Southeast Asia
Sect evacuated, leader arrested after Sukabumi mayhem
August 23 2012
The police have arrested the leader of the At Tijaniyah sect and evacuated 138 of its members following attacks on the group on Sunday in Cisalopa village in Sukabumi, West Java.
The evacuation was carried out by police officers and Indonesian Military (TNI) troops, West Java Police spokesman Sr. Comr. Martinus Sitompul confirmed on Wednesday.
Police evacuated members of the minority Muslim group after local residents attacked them and burned down their homes in apparent retaliation for the death of Edin, a leader of a local mass organization, who was allegedly killed by the sect's leader, Sumarna.
Religious Affairs Ministry spokesman Zainuddin Daulay said on Wednesday that officials were still on vacation for Idul Fitri and had not had a chance to investigate the violence.
Zainuddin said that the ministry would turn the case over to external experts, such as the Indonesian Council of Ulema (MUI), if the conflict stemmed from a religious cause, as the ministry did not evaluate religious doctrine.
"The [external] leaders will then determine whether the teachings are in accordance with the mainstream or not," Zainuddin said.
The ministry would be ready to "guide" those who were found deviating from mainstream Islam, he added.
Full report at:
http://www.thejakartapost.com/news/2012/08/23/sect-evacuated-leader-arrested-after-sukabumi-mayhem.html
-----------
Research Shows English Proficiency on the Rise in Indonesia
August 23, 2012
New data released by the International English Language Testing System (IELTS) on Thursday shows that English proficiency in Indonesia is increasing.
The scores received by Indonesian IELTS test takers in 2011 demonstrate that competence in three of four areas of English — writing, speaking and listening — has increased since 2010, according to the organization's website.
"Results from 2011 show Indonesian test takers are committed to English studies and improving their proficiency in the language," British Council's Angela Hennelly said.
John Belleville, ELTS Director at IDP Education Pty. Ltd., Melbourne Area, Australia added that the data also proved that more and more Indonesians each year are choosing to take the IELTS exam and increase their global education and employment opportunities.
Based on a scale from 1 to 9, the average IELTS score in Indonesia increased from 6.2 to 6.4 in 2011. Listening, writing and speaking scores all increased, with listening being identified as the strongest skill amongst Indonesians who took the test in 2011.
There are 31 IELTS test centers located across Indonesia, with branches in Bandung, Denpasar, Jakarta, Medan, Semarang and Surabaya.
IELTS test results are requested by more than 7,000 educational institutions, governments and employers around the globe in order to provide an accurate and reliable measurement of English language proficiency.
More than 1.7 million IELTS tests were taken in 2011, a 12% increase compared to 2010.
http://www.thejakartaglobe.com/news/research-shows-english-proficiency-on-the-rise-in-indonesia/539806
-----------
Terrorism behind shooting in Solo: Police
Margareth S. Aritonang and Nethy Dharma Somba
August 23 2012
The National Police and the National Counterterrorism Agency (BNPT) said Wednesday that attacks on police posts in Surakarta (Solo), Central Java, were aimed at promulgating terror, contradicting rumors of a campaign against Jakarta gubernatorial candidate and Solo Mayor Joko "Jokowi" Widodo.
National Police spokesman Sr. Comr. Boy Rafli Amar told The Jakarta Post that police had identified several groups involved in the shooting and the grenade throwing incidents at police posts last week.
"Some group members are being interrogated, while others are on our radar. We have yet to identify details of the groups, such as whether or not they are locals. However, so far we believe that the attacks were meant as terrorism, though we need to further examine the motives," Boy Rafli said without giving details.
An unidentified man was reported to have shot at a police post in Gemblekan, Solo, last week, coinciding with the country's 67th anniversary, leaving seven spent cartridges at the scene and injuring two policemen.
A grenade was thrown at another police post in Gladak the next day, stirring up locals living in the neighborhood.
Full report at:
http://www.thejakartapost.com/news/2012/08/23/terrorism-behind-shooting-solo-police.html
--------
Mideast Asia
Ban to attend Tehran summit despite US, Israeli objections
Aug 23, 2012
Moves by the US and Israel to isolate Iran suffered a set-back when UN chief Ban Ki Moon announced that he would join representatives from 120 nations in Tehran next week at a summit of Non-Aligned countries.
Mr. Ban's decision to attend the meeting, announced by his spokesman Martin Nesirky on Wednesday, came despite strong objections raised by American and Israelis including a phone call to UN chief by Israeli Prime Minister Benjamin Netanyahu.
Israelis have warned that the Iranian leaders will exploit the conference to create an impression of legitimacy for their policies. The US has also given a call to nations to stay away from the event scheduled for later this month.
Full report at:
http://www.thehindu.com/news/international/article3811365.ece
-----------
FM: Abbas engaged in political terrorism against Israel
08/23/2012
Liberman claims the PA president is more dangerous than armed Hamas terrorism, citing as evidence Abbas' praise of terrorists, unilateral efforts to obtain UN statehood recognition.
Foreign Minister Avigdor Liberman accused PA President Mahmoud Abbas of engaging in political terrorism against Israel, in an interview with Israel Radio Thursday. The PA president, he said, poses a greater threat to the Jewish state than the armed terrorism of Hamas.
In the interview, Liberman said we should ask ourselves whether the Palestinians can "deliver the goods," and whether Abbas has any interest in doing so. Liberman also noted that Abbas does not control Gaza and is unable to hold elections in the West Bank, "a reality that puts a question mark over his legitimacy in the eyes of the Palestinians."
Full report at:
http://www.jpost.com/DiplomacyAndPolitics/Article.aspx?id=282296
-----------
Far-right group warns Arabs not to flirt with Jews
By BEN HARTMAN
08/22/2012
A week after attempted lynch, anti-assimilation group hands out fliers in J'lem warning Arab men not to hit on Jewish girls.
A far-right group that works against what it calls "assimilation" and mixing between Jews and Arabs has entered the spotlight in the last few days, as it has come out in support of the brutal beating of two Arab youths by a teenage Jewish mob in Jerusalem last Thursday that left one of the boys on the brink of death.
This week, Lehava (an acronym for the Hebrew words meaning "preventing assimilation in the Holy Land") began circulating flyers in Jerusalem that warn Arab men against flirting with or talking to Jewish girls, saying "We don't want you to get hurt, respect our girls' honor because they are dear to our hearts."
Full report at:
http://www.jpost.com/NationalNews/Article.aspx?id=282200
-----------
Developments in Iran and Sinai Deepen Israel's Worries About Egypt
By JODI RUDOREN
Aug 23, 2012
JERUSALEM — With Egypt's new Islamist president headed to Iran next week and its military deploying tanks in the Sinai Peninsula — possibly outside the parameters of his nation's 33-year-old treaty with Israel — officials here are increasingly worried about what has long been their most critical regional relationship.
Israel's Defense Ministry and military have each sent several messages of concern to Cairo in recent days about Sinai, and received no response, a senior government official said Wednesday. That breakdown in communication, two weeks after a deadly terrorist attack along the border between the nations, comes alongside President Mohamed Morsi's announcement that he will defy the West and break with Egyptian precedent to attend a summit meeting of nonaligned nations in Tehran, complicating Israeli and American efforts to define Iran as a pariah state because of its nuclear program.
Full report at:
http://www.nytimes.com/2012/08/23/world/middleeast/israels-worries-about-egypt-
-----------
Ambush in Turkey kills five soldiers, 16 Kurdish rebels
Aug 23, 2012
ANKARA: Turkish media says Kurdish rebels ambushed a military convoy in southeast Turkey, setting off clashes that killed 16 militants and five soldiers.
The Hurriyet newspaper said Thursday the rebels detonated roadside bombs in Hakkari province as military vehicles were passing, then fired on the soldiers.
Sixteen Kurdish rebels were killed in an ensuing operation.
The Hakkari governor's office said five soldiers and 16 rebels were killed in clashes, but gave no other detail.
The ambush comes amid an escalation in violence in recent weeks between Turkish security forces and rebels fighting for autonomy in southeast Turkey. The conflict has killed tens of thousands of people since 1984.
This week, the government blamed the Kurdish rebels for a bomb attack that killed nine people near the Syrian border.
http://dawn.com/2012/08/23/clashes-in-turkey-kill-five-soldiers-16-rebels/
-----------
Israel: Label Rule Stirs Officials' Ire
Aug 23, 2012
Israel is condemning a new South African regulation requiring that products made in West Bank settlements must be labeled as coming from "occupied Palestinian territory." A Foreign Ministry spokesman, Yigal Palmor, called the requirement "totally unacceptable." He said, "What is totally unacceptable is the use of tools which, by essence, discriminate and single out, fostering a general boycott." Pro-Palestinian groups have been promoting a campaign to boycott Israeli products and withdraw investments from Israeli companies. The European Union does not grant the same customs concessions to products made in settlements as it does to those made in Israel, a policy that has drawn Israeli protests.
http://www.nytimes.com/2012/08/23/world/middleeast/south-african-label-rule-stirs-israeli-officials-ire.html?ref=middleeast
-----------
Turkish leaders appeal for unity after deadly car bomb
DAREN BUTLER
22 August 2012
ISTANBUL: Turkey's leaders called for unity on Wednesday following a car bomb attack which heightened fears that Kurdish militants are exploiting chaos in neighboring Syria and stepping up their decades-old insurgency.
Unidentified assailants detonated the car bomb by a police station in the industrial city of Gaziantep near the Syrian border late on Monday, killing nine people including several children and wounding more than 60.
The president, prime minister and party leaders gathered in the city at a funeral for the victims of the attack, which came as families celebrated the Eid Al-Fitr holiday at the end of the Muslim fasting month of Ramadan.
"The best answer we as a nation can give is to form a (united) front and stand side by side, whatever our differences ... in the face of this act of terrorism," President Abdullah Gul told reporters after arriving in Gaziantep.
Gul and Prime Minister Tayyip Erdogan lined up with other officials and said prayers in front of coffins wrapped in the red-and-white Turkish flag at a mosque in the city as tearful relatives looked on.
Full report at:
http://arabnews.com/turkish-leaders-appeal-unity-after-deadly-car-bomb
-----------
Palestinians fight for lives after vicious attacks
22 August 2012
Israeli authorities are lax in pursuing Israelis suspected of attacking Palestinians, noting few indictments or convictions in dozens of cases of assaults on Palestinians and their property every year, according to activists.
They also accuse some of Israel's leaders of creating a toxic atmosphere by condoning — and even encouraging — violence against Arabs.
Two vicious attacks on Palestinians, reported recent days, have some Israelis worried that their society is increasingly tolerant of hate crimes.
Unknown assailants firebombed a Palestinian taxi in the West Bank a few days ago. Hours later, a mob of Jewish teens beat a 17-year-old Palestinian unconscious in Jerusalem.
President Shimon Peres said he was "mortified" by the "intolerable" attack on the teen.
Seven people, aged 13 to 19, have been arrested in connection with the assault on 17-year-old Jamal Julani.
Full report at:
http://arabnews.com/palestinians-fight-lives-after-vicious-attacks
-----------
Israel frees Syrian prisoner after 27 years
22 August 2012
JERUSALEM: The longest serving Syrian prisoner in Israel has been freed after 27 years behind bars, the Israel Prison Service said on Wednesday.
Sedki Al-Maket "was released today at the end of the prison term he served for militant actions against the state of Israel," the IPS said in a statement.
A spokesman for the IPS told AFP Maket was imprisoned for 27 years, but was unable to elaborate on the nature of the crimes for which he was convicted.
Syrian media reported that Maket, who was arrested in August 1985 for resisting the Israeli occupation of the Golan Heights, had returned to his home town on the strategic plateau.
Maket, 45, comes from Majdal Shams, the largest town on the Golan Heights, which Israel captured from Syria in the 1967 Six-Day War and unilaterally annexed in 1981.
"(Maket) was brought up within a family known for its struggle against the occupation in the Golan," SANA said.
The vast majority of its 18,000 Syrian inhabitants, mostly Druze, who remained from the Golan's original population of 150,000, have refused to take Israeli citizenship.
Damascus demands a total Israeli withdrawal from the Golan as the price for a peace settlement.
http://arabnews.com/israel-frees-syrian-prisoner-after-27-years
--------
Arab World
1,600 extremists in Egypt's Sinai: State news agency
Aug 23, 2012
CAIRO: Egypt is searching for 120 wanted militants and believes around 1,600 extremists are hiding out in the Sinai, where militants have attacked soldiers and police, the official news agency MENA reported on Wednesday.
The military sent in tanks and soldiers into the lawless peninsula which neighbours Israel and Gaza after gunmen killed 16 soldiers in an attack on an army outpost on August 5.
"There are 120 people wanted, including groups that attacked police stations and killed a number of policemen," MENA quoted a security official as saying.
Most of them follow "takfiri" ideology, he said, a disparaging term for extremists who excommunicate other Muslims who do not share their beliefs.
"Their numbers are close to 1,600 people, from different provinces and some from other countries," he said.
Gunmen wounded three policemen last weekend when they fired a rocket-propelled grenade on a police convoy, several days after security forces killed six militants in a raid on a north Sinai village.
The government has long struggled with militancy and smuggling in the region but unrest has worsened since an uprising overthrew president Hosni Mubarak in February 2011, prompting the collapse of his discredited police force.
http://timesofindia.indiatimes.com/world/middle-east/1600-extremists-in-Egypts-Sinai-State-news-agency/articleshow/15607852.cms
-----------
Military Hits Town Near Damascus, 60 Killed in Syria
Aug 23, 2012
AMMAN (Reuters) - Troops and tanks swept into a restive town near Damascus on Thursday in an assault aimed at crushing opposition to President Bashar al-Assad, whose struggle for survival has dragged Syria into an increasingly bloody war.
Artillery and helicopters attacked the Sunni Muslim town of Daraya for 24 hours, killing 15 people and wounding 150, before soldiers moved in and raided houses, opposition sources said.
There was little resistance as Assad's forces pushed toward the centre of Daraya, on the southwest edge of Damascus. Armed rebels had apparently already left, activists in Damascus said.
"They are using mortar bombs to clear each sector. Then they enter it, while moving towards the centre," said Abu Zeid, an activist speaking by phone from an area near Daraya.
Other activists said the army was also bombarding parts of the town from Qasioun, a mountain overlooking Damascus, and from a Republican Guard barracks near a hilltop presidential palace.
"For about an hour we heard explosions and gunfire. It is not as bad as yesterday yet but tensions are really high," opposition activist Samir al-Shami told Reuters from Damascus.
Assad's forces also raided the south-eastern Kafr Souseh area early on Thursday and detained people, another activist said.
Full report at:
http://www.nytimes.com/reuters/2012/08/23/world/middleeast/23reuters-syria-
-----------
Eight dead in Lebanon street battles over Syria
Aug 22, 2012
TRIPOLI (Lebanon:): At least eight people have been killed in clashes between rival pro- and anti-Damascus gunmen in the city of Tripoli, security sources said Wednesday, testing Lebanon's fragile security situation.
Two people died in the latest violence after a bloody day Tuesday which saw six people killed in street battles between gunmen from Sunni and Alawite groups, whose rival districts are symbolically divided by a thoroughfare called Syria Street.
The northern port city of Tripoli was tense on Wednesday, with armed men driving through the city and shooting rounds of live fire into the air.
Top local security, political and religious officials met in the city and agreed on a ceasefire to take effect at 1400 GMT, an AFP correspondent reported.
And the army said it will open up talks with city elders to restore stability.
The latest round of fighting has rattled the already fragile security situation in Lebanon, which lived under three decades of Syrian domination and remains deeply divided between supporters and opponents of the Damascus government.
The dead included a 13-year-old boy, while another 75 people have been wounded, including a boy of six who was paralysed by a gunshot wound and 15 soldiers, security sources said.
The fighting first erupted late Monday in Tripoli, home to a Sunni community hostile to Syrian President Bashar al-Assad, and Alawites, an offshoot of Shiite Islam to which the leader belongs.
Full report at:
http://timesofindia.indiatimes.com/world/middle-east/Eight-dead-in-Lebanon-street-battles-over-Syria/articleshow/15603786.cms
-----------
Ban on smoking in public places to reduce smokers by about 60 percent
23 August 2012
JEDDAH: The decision to ban smoking in ministries, government departments and public places issued by Minister of Interior Prince Ahmed would help cut the number of smokers by about 60 percent, and the number of drug addicts by about 30 percent, said Deputy Director Solaiman Al-Zaidi of the Amal hospital in Jeddah.
The decision also banned smoking in closed places, coffee shops, restaurants, open shopping centers and crowded places.
In statements published yesterday by local daily Al-Madinah, Al-Zaidi said it was every citizen and expatriate's duty to implement this decision and to report violators.
"As Saudi citizens, we are very proud of the care and concern given by our leadership to the public health of our country. Saudi Arabia is among the top countries which have made the fight against smoking among its top priorities," he added.
Al-Zaidi asked government departments to create a unified mechanism for the implementation of this decision. He also suggested that violators should be fined and the money collected be used to establish more centers to fight smoking.
He also asked all shops selling cigarettes to strictly abide by the decision not to sell cigarettes to young men under 19. Asked how the decision would help cut the number of drug addicts by about 30 percent, Al-Zaidi said most narcotics users were originally cigarette smokers.
"Many of them would pretend to be smoking cigarettes while actually they filled them with narcotics," he explained.
http://arabnews.com/ban-smoking-public-places-reduce-smokers-about-60-percent
-----------
Egypt's Morsi to visit US on September 23: State TV
Aug 22, 2012
CAIRO: Egypt's President Mohamed Morsi, the country's first civilian and Islamist head of state, will visit the United States on September 23, his spokesman and state television reported today.
"Morsi will visit the United States on September 23," the state-owned Nile News television said in a news alert.
His spokesman Yassir Ali told AFP that Morsi will visit the United Nations General Assembly in New York, but a meeting with his US counterpart Barack Obama "is not yet confirmed."
http://timesofindia.indiatimes.com/world/middle-east/Egypts-Morsi-to-visit-US-on-September-23-State-TV/articleshow/15604113.cms
-----------
Egypt Editor Charged With Insulting President
Aug 23, 2012
CAIRO (AP) — A Cairo court has ordered the chief editor of an Egyptian daily detained pending trial on charges of insulting the country's president and "spreading lies."
The case against Islam Afifi, chief editor of the privately-owned el-Dustour, is one among several lawsuits leveled mainly by Egypt's Islamists against several journalists and TV presenters, accusing them of inflammatory coverage and inciting the public against the Muslim Brotherhood, the country's largest political group.
The Cairo Criminal Court on Thursday also postponed the trial of Afifi for mid-September.
Pro-democracy activists have shown mixed reactions to the court cases. Many defend the right of freedom of expression and deem the Islamists' practices as repressive. Others say the journalists facing trials are former regime loyalists.
http://www.nytimes.com/aponline/2012/08/23/world/middleeast/ap-ml-egypt-
-----------
Son of Late Chechen Warlord Reported Killed in Syria
Aug 23, 2012
MOSCOW (Reuters) - The son of a late Chechen rebel warlord has been killed in Syria by government forces battling a rebellion against President Bashar al-Assad, Russian media and websites sympathetic to Islamist insurgents in Russia's Caucasus region reported.
Rustam Gelayev was killed in the shelling of a mosque in Aleppo by forces loyal to Assad earlier this month, according to the website chechenews.com.
The report, which cited unidentified sources in Chechnya, said Gelayev, 24, had joined a unit of ethnic Chechen volunteers fighting alongside Syrian insurgents in a 17-month-old uprising against Assad, who has close ties with Moscow.
Another website sympathetic to the insurgents, kavkazcenter.com, said he had been killed when his unit "entered into a battle with superior forces of the Alawite regime ... presumably between August 11 and August 13."
Syria's conflict pits largely Sunni Muslim insurgents against Assad's minority Alawite community that has long dominated the power structure. Chechens are Sunni Muslims.
The Russian newspaper Kommersant, however, cited a relative of Gelayev as saying he had been studying in Syria, had decided to leave because of the violence and was making his way to Turkey when he was killed.
Full report at:
http://www.nytimes.com/reuters/2012/08/23/world/europe/23reuters-syria-crisis-russia-
-----------
Twitter case against Bahrain activist overturned
Aug 23, 2012
MANAMA, BAHRAIN: A defense lawyer says a Bahrain court has overturned a conviction against a prominent human rights activist for posting alleged anti-government comments on social media.
But activist Nabeel Rajab remains jailed while he appeals a three-year sentence for his role in protest rallies. The sentencing last week brought criticism from Washington and sparked clashes in the Gulf kingdom, home to the US Navy's 5th Fleet.
Bahrain has faced more than 18 months of unrest between the Sunni-led monarchy and majority Shiites, which claim they face systematic discrimination.
Attorney Mohammed al-Jishi says the court Thursday threw out the conviction for the Twitter posts. Rajab has already served more than half of his three-month sentence.
The decision came after Rajab was removed from the court after claiming he endured abuses behind bars.
http://timesofindia.indiatimes.com/tech/social-media/Twitter-case-against-Bahrain-activist-overturned/articleshow/15616724.cms
-----------
Iraq expects first F-16 fighter jets in 2013
Aug 23, 2012
BAGHDAD: Iraq expects to receive the first group of F-16 warplanes next year, Prime Minister Nuri al-Maliki's spokesman said on Thursday, after US officials said the aircraft would not arrive until 2014.
"Iraq is waiting to receive the first group of the F-16 warplanes in March 2013," Ali Mussawi told AFP.
"According to the agreement made with the United States of America, the first group, numbering 18 aircraft, arrives in March," Mussawi said.
US officials said during a visit by the country's top officer to Iraq that Washington was carrying out $12 billion worth of arms and training contracts in Iraq, with the first batch of the 36 F-16 fighter jets Iraq has ordered set to be delivered in September 2014.
Washington agreed last year to sell the F-16s to Baghdad in a multi-billion-dollar deal aimed at increasing the capabilities of Iraq's fledgling air force, a weak point in its national defences.
While Iraq's security forces are regarded as able to maintain internal security, Iraqi and US officials acknowledge they cannot protect Iraq's airspace, borders or territorial waters.
Until last year, when US forces withdrew from Iraq, American troops had helped Baghdad carry out those tasks.
http://dawn.com/2012/08/23/iraq-expects-first-f-16-fighter-jets-in-2013/
---------
North America
US Sikhs mull keeping guns after killings in gurdwara
Aug 23, 2012
WASHINGTON: The Sikh community in the United States is mulling over the option of carrying guns for their protection after the Wisconsin gurdwara shooting. The August 5 shooting in Oak Creek, Wisconsin, in which Wade Michael Page opened fire on Sikhs for no apparent reason, has rattled Sikhs.
According to Fox News, although the religion teaches them to be tolerant and perform good deeds, some believe arming themselves could be the best way to protect themselves from hate crimes that have too frequently been perpetrated by attackers who mistake them for Muslims.
"I think that being able to legally obtain and carry a gun is the best thing any Sikh can do, especially after 9/11 where there have been over 800 documented cases of harassment and violence against us," Sim J Singh, a Florida-based law clerk who carries a concealed handgun for protection, said.
The report said the Wisconson tragedy has made Sikhs consider getting a gun permit for self-defence.
http://timesofindia.indiatimes.com/world/us/US-Sikhs-mull-keeping-guns-after-killings-in-gurdwara/articleshow/15610762.cms
-----------
Indyk: US expected Israel to strike Iran last spring
08/23/2012
Former US ambassador says that officials in Washington feel they are being duped by Netanyahu and Barak.
Former US Ambassador to Israel Martin Indyk said that the United States "was convinced that Israel would attack" Iran's nuclear program during the spring months earlier this year, speaking in an interview with Army Radio on Thursday.
After no Israeli strike took place, Indyk said that the US officials felt as though they had been duped by Prime Minister Binyamin Netanyahu and Defense Minister Ehud Barak's ruse.
The former ambassador added that there is a sense within the US government that Washington is once again being misled by Israeli declarations and leaks.
Indyk's comments come amid public discussions of the gaps between Washington and Jerusalem's perspective on the Iranian nuclear program.
Full report at:
http://www.jpost.com/IranianThreat/News/Article.aspx?id=282286
----------
Guantanamo 9/11 hearings postponed due to tropical storm Issac
Aug 23, 2012
US NAVAL BASE GUANTANAMO BAY: The US military said on Wednesday it has postponed preliminary hearings for the trial of alleged September 11 plotters held at Guantanamo Bay because of Tropical Storm Isaac.
Already postponed due to the Muslim holy month of Ramadan and a technical glitch, the hearings were to have begun on Thursday and run through August 28, but Judge James Pohl delayed them "due to weather" without setting a new date.
Tropical Storm Isaac, currently battering the Lesser Antilles, could become a hurricane by Thursday and is expected to hit eastern Cuba by early Saturday, according to the Miami-based National Hurricane Center.
Self-proclaimed 9/11 mastermind Khalid Sheikh Mohammed and several of his alleged deputies have been detained at the US-run Guantanamo prison since 2006 after being held at secret CIA-run prisons where they say they were tortured.
Their trial is not expected to begin for at least a year, after a series of preliminary hearings.
Commanders at Guantanamo have meanwhile ordered hurricane preparations.
Navy Captain Robert Durand, a spokesman at the facility, said the exact measures are classified but "not unlike the preparations familiar to anyone living in a hurricane zone."
Authorities will be distributing handheld radios and generators and making sure there are no loose objects that could become "missile hazards" in high winds, he said.
Full report at:
http://timesofindia.indiatimes.com/world/us/Guantanamo-9/11-hearings-postponed-due-to-tropical-storm-Issac/articleshow/15608024.cms
-----------
'Killer' Maj Nidal Hasan's beard can be 'forcibly' shaved off, US court told
Aug 23 2012
Fort Worth (US) : A judge has the right to order an Army psychiatrist charged in the 2009 Fort Hood shooting rampage to be forcibly shaved of his beard before his murder trial, military attorneys told an appeals court today.
Hasan is accused of opening fire at a deployment center at Fort Hood, Texas, on November 5, 2009 and faces 13 counts of premeditated murder and 32 counts of attempted premeditated murder in the shooting at the sprawling Army base.
He faces the death penalty if convicted of murder. A practicing Muslim, 41-year-old Hasan grew a beard as an expression of his religious beliefs, his attorneys said. But the facial hair is in violation of Army grooming regulations.
Full report at:
http://www.indianexpress.com/news/killer-maj-nidal-hasans-beard-can-be-forcibly-shaved-off-us-court-told/992049/
-----------
Book on Osama bin Laden raid set for release on September 11
Aug 23, 2012
NEW YORK: A first-hand account of the Navy SEAL mission that killed Osama bin Laden is coming out on September 11.
Dutton announced on Wednesday that Mark Owen's "No Easy Day" will "set the record straight" on the raid in Pakistan in May 2011.
" Mark Owen" is a pseudonym for the combat veteran who was one of the first fighters to enter bin Laden's third floor hideout and also witnessed his death, according to Dutton, an imprint of Penguin Group (USA). The co-author, journalist Kevin Maurer, has worked on four previous books.
One senior military official said the manuscript was not shared with special operations officials, to check for possible disclosure of classified information. The official spoke on condition of anonymity because he was not authorized to discuss the vetting of classified information.
http://timesofindia.indiatimes.com/world/us/Book-on-Osama-bin-Laden-raid-set-for-release-on-September-11/articleshow/15608069.cms
-----------
US, Pakistan must 'divorce' as allies: Husain Haqqani
Aug 23, 2012
WASHINGTON: The United States and Pakistan should stop pretending they are allies and amicably "divorce," Pakistan's former ambassador to Washington said on Wednesday, citing unrealistic expectations in both countries that include US hopes Islamabad will sever its links to extremists.
"If in 65 years, you haven't been able to find sufficient common ground to live together, and you had three separations and four reaffirmations of marriage, then maybe the better way is to find friendship outside of the marital bond," Husain Haqqani said, addressing the Center for the National Interest, a Washington think tank.
Haqqani's recommendation that the United States and Pakistan essentially downgrade their status was based on the premise that it may be the only way to break from what has been a dysfunctional relationship.
A post-alliance future would allow both countries to hold more realistic expectations of each other, cooperating where possible but perhaps without the sense of betrayal, w h ich has become acute in Pakistan.
He cited a survey by the Pew Research Center released in June showing roughly three-in-four Pakistanis consider the United States an enemy, even though the United States pours billions of dollars of aid into the country.
Full report at:
http://dawn.com/2012/08/23/us-pakistan-must-divorce-as-allies-husain-haqqani/
-----------
'Osama lair carved out of Pak army academy; ISI man helped in hunt'
Aug 23, 2012
WASHINGTON: In a fresh damning disclosure, a new book has claimed that Abbottabad house where al-Qaida chief lived was "carved out" from Pakistan military academy compound and its powerful army chief may have been briefed beforehand on the 'kill Osama mission'.
'Leading from Behind: The Reluctant President and the Advisors Who Decide for Him', penned by US journalist Richard Miniter claims that land of the Abbottabad compound, where Osama bin Laden lived, was "carved out" from the elite military academy compound.
The book also claims that army chief General Ashfaq Pervez Kayani may have been briefed by the US on its operation to kill bin Laden, some five months in advance.
"Pakistan's army chief of staff may have been briefed in December 2010, five months before the nighttime raid on bin Laden's concrete castle. Far from taking a risk, there are indications that a cover story had been developed with the Pakistani military and that (Barack) Obama had their tacit consent for the mission," claims Miniter , a former reporter with The Wall Street Journal and The Washington Post.
Full report at:
http://timesofindia.indiatimes.com/world/us/Osama-lair-carved-out-of-Pak-army-academy-
-----------
Europe
Breivik feels need to speak out after verdict
22 August 2012
OSLO: Norwegian gunman Anders Behring Breivik wants to address an Oslo court after it hands down its verdict against him, and is writing an autobiography detailing how he prepared for his horrific attacks, his lawyers said yesterday.
The Oslo district court is to announce Friday whether the 33-year-old right-wing extremist will be sent to prison or a closed psychiatric ward for the July 22, 2011 attacks that killed 77 people.
"He thought about what he wanted to say to the judges and so has prepared a few lines for every outcome," Breivik's lawyer Geir Lippestad told the daily newspaper Aftenposten.
It remains however uncertain if Breivik will be allowed to make any remarks on Friday.
During his 10-week trial that concluded in June, the court was wary of giving Breivik a platform to express his Islamophobic and anti-multicultural ideology, but on several occasions allowed him to speak at length.
Full report at:
http://arabnews.com/breivik-feels-need-speak-out-after-verdict
-----------
Tajik Protesters Demand Troop Pullout Near Afghan Border
Aug 23, 2012
DUSHANBE (Reuters) - About 2,000 people occupied the centre of a Tajik border town on Thursday to demand a withdrawal of government troops, a month after a military assault aimed at capturing an ex-warlord killed dozens of people in the former Soviet republic.
The trigger for the latest protest in Khorog was the unsolved killing of another former warlord who fought the government in a 1992-97 civil war and enjoyed support among the population of the Gorno-Badakhshan autonomous region.
Protesters pitched tents on the town square. Several of the participants said by telephone that police, not troops, were watching from a distance. There was no sign of violence.
"We're here to show the authorities that you cannot kill us in our homes during the night," one of the protesters, who gave his first name as Dodikhudo, told Reuters by telephone. "As long as the troops remain in Gorno-Badakhshan, we won't be leaving."
Full report at:
http://www.nytimes.com/reuters/2012/08/23/world/asia/23reuters-tajikistan-
-----------
Africa
The day the music died: Mali Muslims ban radio songs
08/23/2012
Al-Qaida-linked Islamists occupying northern Mali say only Koranic verses allowed to be broadcast on radio stations.
Al-Qaida-linked Islamists occupying northern Mali on Wednesday banned "Satan's music" from the airwaves, leaving radio stations to broadcast only the singing of Koranic verses, AFP reported.
"We have already spoken to people who own the radio stations," said Oussama Ould Abdel Kader, a spokesman for the Movement for Oneness and Jihad in West Africa (MUJAO). "We no longer want Satan's music. Instead there must be verses of the Koran. Western music is Satanic music."
"We, the mujahideen of Gao, Timbuktu and Kidal from now on refuse the broadcasting of all Western music on radios on Islamic land," said Oussama Ould Abdel Kader, a spokesman for the Movement for Oneness and Jihad in West Africa (MUJAO). According to AFP, the radio ban included non-Western music.
Once considered a democratic success story in a long-troubled region, Mali has been split in two since a March 22 coup paved the way for a military advance by northern Islamist separatists. The conflict in Mali has displaced more than 400,000 people and compounded a food crisis affecting millions across the Sahel region, according to the United Nations.
Malian youths have clashed with the ruling Islamists in growing resistance to the imposition of sharia (Islamic law) by Islamist gunmen.
http://www.jpost.com/MiddleEast/Article.aspx?id=282261
-----------
Kenya to hold peace meeting after 52 killed
Aug 23, 2012
NAIROBI — Kenyan police said they were bringing two rival communities together for a peace meeting Thursday, after at least 52 mainly women and children were hacked or burnt to death in the worst ethnic massacre for several years.
"We want to bring together these warring communities," said regional deputy police chief Joseph Kitur, after the attack late Tuesday between the Pokomo and Orma peoples in the rural Tana River district.
The dead included at least 31 women and 11 children, the majority killed with machetes, the others burnt alive as men from the Pokomo community torched their huts.
It was not clear what sparked the attack, but the two communities have clashed before over the use of land and water resources, although the scale and intensity of the killings shocked police.
It was the worst single attack since deadly post-election violence four years ago.
"We are holding a major security meeting on the ground today, because we want to understand what the problem is," Kitur added. "We want to engage them so that we can work together in getting a lasting solution."
The Pokomo are a largely settled farming people, planting crops along the Tana River, while the Orma are mainly cattle-herding pastoralists.
Full report at: Copyright © 2012 AFP. All rights reserved.
-----------
Four Foreign Oil Workers Kidnapped Off Nigeria Freed
Aug 23, 2012
YENAGOA/ABUJA (Reuters) - Four foreigners working for Netherlands-based Sea Trucks Group who were kidnapped by pirates off the Nigerian coast on August 4 have been released, the company and the navy said on Thursday.
The navy had previously said the gunmen abducted a Malaysian, an Iranian, a Thai and an Indonesian worker. The company declined to comment on their nationalities.
"At about 0755am on August 23, the four expatriates that were kidnapped during the attack on MV JASCON 33 belonging to Sea Truck on August 4 off the shores of Bonny were released by the pirates," navy spokesman Kabir Aliyu told Reuters.
Sea Trucks spokeswoman Corrie van Kessel confirmed by email on Thursday that their staff had been released and were "OK". She did not say if the company paid a ransom to the kidnappers.
Full report at:
http://www.nytimes.com/reuters/2012/08/23/world/africa/23reuters-nigeria-
-----------
Mali hostages seek government support for their release
23 August 2012
ABU DHABI: Three Western hostages seized by Al-Qaeda militants in Mali last year have urged their governments to negotiate their release, a television channel reported, showing what it said was footage of the captives. The three men appeared in good condition in the video broadcast by the channel on Tuesday night and posted on its website.
The hostages — Sjaak Rijke from the Netherlands, Stephen Malcolm, who has dual South African and British citizenship, and Sweden's Johan Gustafsson — were seized on Nov. 25 while walking along a street in the northern Malian town of Timbuktu. A fourth person in the group was killed. The kidnapping took place weeks before secular and Islamist rebels, some with links to Al Qaeda, took up arms against Mali's government. The insurgents later took advantage of the chaos surrounding a March coup to take control of the country's desert north.
Full report at:
http://arabnews.com/mali-hostages-seek-government-support-their-release
-----------
A Murder Sentence Underlines South African Inequality
By LYDIA POLGREEN
Aug 23, 2012
JOHANNESBURG — When a leading white supremacist was found bludgeoned to death in his bed on his farm outside Johannesburg in April 2010, the Rainbow Nation shuddered.
The death of Eugène Terre'Blanche, the leader of the militant white separatist group known as the Afrikaner Resistance Movement, seemed an ominous sign that the era of racial harmony that began in 1994 with the end of apartheid and the beginning of nonracial democracy was in peril.
But when a farmhand was sentenced on Wednesday to life in prison for murdering Mr. Terre'Blanche, his death seemed a symbol of a problem that may be more intractable than racial disharmony: the stubborn economic inequality of post-apartheid South Africa and the violent rage that it engenders.
Race, concluded a court in Ventersdorp, 80 miles west of here, had nothing to do with the killing. Chris Mahlangu, a young black man who worked on Mr. Terre'Blanche's farm, killed him in a dispute over wages.
Full report at:
http://www.nytimes.com/2012/08/23/world/africa/conviction-of-chris-mahlangu-in-
-----------
Former Ethiopia PM Meles Zenawi helped extend India's footprint in Africa
Indrani Bagchi
Aug 22, 2012
NEW DELHI: In 2008, India was shopping for votes in support for the nuclear deal in the IAEA. And, the then Ethiopian PM Meles Zenawi gave it without hesitation. As he told Indian diplomats, "India's growth is in Ethiopia's interest."
Zenawi, who died in Brussels on Tuesday, was often described as an on-again-off-again Western ally. But he was a staunch supporter of India, and in the past decade has been in the vanguard of facilitating India's footprint in Africa. Indian companies have invested about $5 billion in Ethiopia. Indian companies are some of the biggest in commercial agriculture in Ethiopia. Indian Army is training and writing the manual for the Ethiopian Army, not to speak of the number of Indian teachers, who have taught generations of Ethiopians. India hosted the India-Africa summit in Ethiopia in 2011, the first time it was hosting an event in a foreign country.
Zenawi, who became PM of Ethiopia at the same time that Manmohan Singh launched economic reforms in India, felt a special bond with India. India is the largest investor in Ethiopia (apart from Saudi Arabia which grows food there). The new PM of Ethiopia, Hailemariam Desalegn, retains the same Indian connection. Both he and his wife have been educated in India.
Full report at:
http://timesofindia.indiatimes.com/india/Former-Ethiopia-PM-Meles-Zenawi-helped-extend-
-----------
URL: https://newageislam.com/islamic-world-news/pak-parliamentarian-arrives-india-hold/d/8389