New Age Islam News Bureau
19 Jul 2012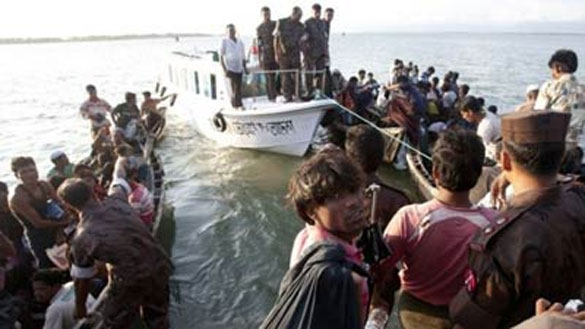 South Asia
• Myanmar, Palestine of Asia's Muslim Cleansing: Crime against Humanity
• West slammed for silence on Myanmar Muslims' plight
• Sri Lanka's Muslim party to go it alone
• Bombs kill eight Afghan civilians, two NATO Soldiers
Southeast Asia
• Indonesia: Muslims threaten violence, vow jihad against Myanmar
• Officials Turn Blind Eye as Religious Tensions Rise in Indonesia
India
• Farman Shinwari: New Al Qaeda leader, Kashmir jihad expert
• Former major insulted for being a Muslim
• Jundal's confession nails Pak
• Team sent to review security in Afghanistan
• 36-yr-old held for 'Pak links', protests at Shaheen Bagh
Pakistan
• Removal of ban on Shia websites ordered
• High-level huddle discusses ISI chief's strategy in US
• Peace in Afghanistan possible through intra-Afghan dialogue: Pak PM
• Violence claims five more lives in Karachi
• Pakistan dragged its feet on NATO routes: Khar
• Zardari writes to Manmohan, hails cricket ties resumption
• Pak Advocate extends helping hand towards Mumbaikar
• Pak Minister for launching "Jihad" against illiteracy, ignorance
• Pakistan holds by polls on Gilani's vacated seat
Mideast Asia
• Iran not indifferent to massacre of Myanmar Muslims
• Suicide Attacker with Fake U.S. ID Killed Sex Israelis
• Religious Israeli lawmaker tears up New Testament
• Military sued over al-Awlaqi Yemen drone death
• Netanyahu Secure Even after Coalition's Demise, Has No Obvious Rival
• Yemeni Security Official Assassinated in Aden
• Iran hails Hezbollah's victory against Israel in 2006 war
• 7 Israelis killed, dozens injured in Bulgaria bus explosion
• Iran defence minister condemns Syria terrorist attack
• Turkey to begin studies on production of its first armed drones
• Yemen arrests prompt president's warning to Iran
Arab World
• The Penetration of Radical Islam in the Syrian Conflict
• Over 200 killed in Syria on Wednesday: NGO
• Blast Strips Assad of a Valuable Family Member and a Pair of Powerful Loyalists
• Egyptian Combats Both Army and Islamists
• Syria appoints chief of staff of armed forces as defence minister
• Militants kill two Egypt soldiers in Sinai: report
• Human rights lawyers among 13 detained in UAE
• Syrian Rebels Hone Bomb Skills to Even the Odds
• Aljazeera, Al Arabiya play as Hollywood soundstage in Syria case'
• Zee Salaam lines-up special programming during Ramazan
• Egypt's ex-spy chief Omar Suleiman dies
Africa
• Tunisia Ex-Dictator Receives New Life Sentence
• Fear Stalks Mali's Refugees Despite Escape to Safety
• Islamist Rebel Group Releases 3 Hostages
• Ferry Capsizes Off Zanzibar, at Least 31 Dead
• Tunisia: Islamist Group Granted License
North America
• NATO death squads involved in Syria bombing: American author
• Federal judge paves way for Tennessee mosque to open for Ramadan
• US cautions citizens against overseas travel, including India
• U.S. suspends 14-year jihad terror sentence of bin Laden's cook, sends him to Sudan
• GOP 'Obamacare' jihad takes on subsidies for working poor
Europe
• Russia denounces killing of Syrian officials as attempt to weaken Damascus
• British PM: Afghan and Pakistan in Joint Fight
• Top Muslim Cleric Shot Dead in Russia
• Britain Charges 5 on Terrorism Counts
• Do not support Assad regime: US tells Russia
Australia
• Australia activists claim small victory in live export battle ahead of Ramadan
Compiled by New Age Islam News Bureau
Photo: West slammed for silence on Myanmar Muslims' plight
URL: https://newageislam.com/islamic-world-news/myanmar,-palestine-asia's-muslim-cleansing/d/7970
----------
South Asia
Myanmar, Palestine of Asia's Muslim Cleansing: Crime against Humanity
Jul 19, 2012
By Ismail Salami
Described as the Palestine of Asia by the UN, the Rohingya Muslim community in Myanmar is currently going through an unutterable ordeal at the hands of the Rakhine extremist Buddhists in Arakan who are targeting the Muslim minority with the worst form of religious cleansing.
Ethnic cleansing is rife in Myanmar and is turning into a human tragedy of colossal proportions. A confidential United Nations report dated May 29, 2011 and marked "Not for Public Citation or Distribution", defines ethnic cleansing as a "purposeful policy designed by one ethnic or religious group to remove by violent and terror-inspiring means the civilian population of another ethnic or religious group from certain geographic areas."
What is happening in Myanmar to the Rohingya Muslims violates international laws and is to be categorized as crime against humanity.
Unfortunately, the Myanmar peace prize laureate Aung San Suu Kyi has turned a blind eye and a deaf ear to the plight of the Rohingya Muslims. Maybe she has forgotten her own words on democracy and human rights that, "The struggle for democracy and human rights in Burma is a struggle for life and dignity."
Reportedly, the settlement of the Rohingya Muslims in this region dates back to the eighth century. However, in the seventies, the junta embarked on a systematic program of religious cleansing of the Rohingya Muslims who are denied their basic rights, i.e. the right to freedom of movement, marriage, faith, identity, ownership, language, heritage and culture, citizenship, education etc. Deplorable as it is, the Muslims in Myanmar are among the most persecuted minorities in the world according to UN.
According to reports, 650 of nearly one million Rohingya Muslims have been murdered as of June 28. On the other hand, 1,200 others are missing and 90,000 more have been displaced.
US photographer Greg Constantine has recently released a book of black and white photography titled "Exiled to Nowhere: Burma's Rohingya." He believes that "One of the things that is lost in the discussions of the issues of statelessness-particularly with the Rohingya-are human stories."
He relates the story of 20-year-old Kashida who had to "flee to Bangladesh with her husband. The Burmese authorities had denied her permission to get married, but when they discovered she had married in secret and was pregnant they took away all her family's money and cows and goats. They forced Kashida to have an abortion, telling her: "This is not your country; you don't have the right to reproduce here."
The dire humanitarian crisis has already begun to assume tragic proportions and Muslims and non-Muslims alike are beginning to respond with perturbation and fear.
Iran's Foreign Ministry has called for end to violence in Myanmar.
"It is expected that the Myanmar government will prepare the ground for solidarity, national unity and asserting the rights of Muslims in the country and that it will avert violence and a human catastrophe in this regard," Foreign Ministry Spokesman Ramin Mehmanparast said on Monday.
Iranian lawmaker Hossein Naqavi-Hosseini has suggested that the Islamic Republic of Iran should call on the Organization of Islamic Cooperation to hold an ad hoc meeting concerning the Muslim massacre in Myanmar.
Also, the president of India's Jamiat Ulma-i-Hind has voiced concern about the massacre, calling for an end to the humanitarian crisis in the country. Maulana Syed Arshad Madani lashed out at the Myanmar government for being indifferent to the massacre of Muslims by extremist Buddhists. He also criticized the silence of the international community and human rights organizations across the world about this humanitarian tragedy.
The International Union for Muslim Scholars (IUMS) has strongly condemned the brutal massacre perpetrated against the Rohingya Muslims and has demanded that the Organization of Islamic Cooperation (OIC) take necessary and urgent steps to prevent religious cleaning and these crimes against humanity in this region.
The statement reads, "The IUMS is reviewing in all concern what has befallen the Muslims in the Muslim region of Arakan, Burma, of fierce killing, displacement and persecution since a long time, not to mention displacement of them, and demolition of their homes, properties and mosques at the hands of the religious extremists in the Buddhist community. Unfortunately, the Buddhist government acts as a bystander in face of the heinous massacres escalating day after day against the Muslim minorities in the country. The numbers of casualties, in the attacks that are considered the most ferocious in the history of targeting the Muslims in Burma, are countless."
In view of the ongoing inhumane violations in Myanmar, the US and its western allies, which keep pontificating about human rights in the world, have feigned ignorance about this humanitarian catastrophe. Why? Because they will not be able to reap any benefits of their future efforts in the country as they do in the Middle East and elsewhere. To crown it all, they have kept an agonizingly meaningful silence over the massacre.
It is certainly incumbent upon every person who cares about human dignity to fly in the face of this inhumanity and give a helping hand to the downtrodden Myanmar Muslims.
As the great Persian poet Sa'di says, "Human beings are members of a whole, In creation of one essence and soul. If one member is afflicted with pain, Other members uneasy will remain. If you've no sympathy for human pain, The name of human you cannot retain!"
http://www.presstv.com/detail/2012/07/18/251532/myanmar-plight-crime-against-humanity/
----------
West slammed for silence on Myanmar Muslims' plight
Jul 19, 2012
ran's Basij Organization has denounced the silence of human rights bodies and international organizations on Myanmar's violence against the Muslim community in the country.
In a statement released on Wednesday, the Basij Organization condemned the violence and said," The disgraceful silence of the human rights and international organizations and those [countries] who claim to be advocates of human rights has aggravated the genocide tragedy in Myanmar."
The statement described Myanmar's massacre of Muslims as a "clear example of genocide and crime against humanity" and deplored the West and international organizations' inaction toward the issue as lamentable.
Western countries, who seek to overthrow legitimate governments in the Middle East and accuse the Syrian government of violating human rights, have taken the mask off their hypocritical faces by remaining silent on Myanmar's crimes, the statement added.
The statement said that the Iranian nation sympathized with Myanmar Muslims, urging the Iranian Foreign Ministry to seriously pursue the Myanmar violence via international channels.
According to recent reports, Muslims in Myanmar are in a tragic human plight. Reports say 650 of nearly one million Rohingya Muslims have been killed as of June 28 during clashes in the western region of Rakhine. This is while 1,200 others are missing and 80,000 more have been displaced.
The UN has described Rohingya Muslims as one of the most persecuted minorities in the world.
They are deprived of basic rights including education and employment and are subject to forced labor, extortion and other coercive measures.
The government of Myanmar refuses to recognize Rohingyas, who it claims are not natives and classifies them as illegal migrants, although they have lived in the country for generations.
http://www.presstv.com/detail/2012/07/19/251639/west-slammed-for-silence-on-myanmar/
----------
Sri Lanka's Muslim party to go it alone
Jul 19 2012
Sri Lanka's main Muslim minority party has announced that it will contest the eastern provincial council polls independent of the ruling coalition, just days after it had decided to go with the government.
"We have failed to get the necessary agreements that we sought with the government, so we have decided to contest on our own", a Sri Lanka Muslim Congress (SLMC) source said on condition of anonymity.
SLMC sources said the party was not receiving any assurances from the United People's Freedom Alliance (UPFA) on the quota of seats allocated to the SLMC .
Pressure was building on the SLMC leader Rauff Hakeem who is the Minister of Justice in the Mahinda Rajapaksa-led government to contest independently of the ruling coalition.
Sabaragamuva province along with north central province and the eastern province councils have been already dissolved mid-term to face polls in September.
Full report at:
http://www.thehindu.com/news/international/article3654002.ece
----------
Bombs kill eight Afghan civilians, two Nato soldiers
Jul 19 2012
KABUL: Eight Afghan civilians were killed in a Taliban bombing in northern Afghanistan on Thursday and two Nato soldiers were killed in similar bombs elsewhere in the troubled country, officials said.
The civilians died in northern Faryab province when their mini-van struck a home-made bomb.
"Eight civilians, including a woman and child, were killed and six others wounded," provincial police chief, Abdul Khaliq Aqsai told AFP, adding that a police convoy had been passing as the bomb exploded.
Jawed Badar, a spokesman for the provincial administration, said the civilians were travelling to the provincial capital for Ramazan, the Muslim fasting month which is set to start within days.
Full report at:
http://dawn.com/2012/07/19/bombs-kill-eight-afghan-civilians-two-nato-soldiers/
----------
Southeast Asia
Indonesia: Muslims threaten violence, vow jihad against Myanmar
Jul 19 2012
AP reported last month that "the unrest seemed to be a reaction to the June 3 lynching of 10 Muslims by a crowd of 300 Buddhists. The lynch mob was apparently provoked by leaflets discussing the rape and murder last month of a Buddhist girl, allegedly by three Muslim men." So apparently the whole thing began with Muslim violence against Infidels.
"Indonesian Islamic hardliners vow jihad for Rohingyas," from AFP, July 13:
Hundreds of Islamic hardliners protested outside the Myanmar embassy in the Indonesian capital Jakarta on Friday to "stop the genocide" of Rohingya Muslims in the wake of deadly communal unrest.
Around 300 hardliners from organisations, including the Islamic Defenders Front (FPI) and Jemaah Anshorut Tauhid (JAT), threatened to storm the Myanmar embassy in Jakarta as some 50 police officers guarded the building.
"If embassy officials refuse to talk with us, I demand all of you break into the building and turn it upside down," a leader on a loudspeaker told protesters, who shouted "Allahu Akbar" (God is Greatest).
"Every drop of blood that is shed from a Muslim must be paid back. Nothing is free in this world," the man shouted, as protesters carried banners that read "FPI is ready to wage jihad".
"Go to Myanmar and carry out jihad for your Muslim brothers," the man said.
The hardliners left without entering the embassy and proceeded to a UN building to protest.
Communal violence between ethnic Buddhist Rakhine and local Muslims, including the Rohingya, swept Myanmar's Rakhine state in June, leaving dozens dead and tens of thousands homeless.
Around 800,000 Rohingyas live in Myanmar and are considered to be some of the world's most persecuted minorities....
http://www.jihadwatch.org/2012/07/indonesia-muslims-threaten-violence-vow-jihad-against-myanmar.html
----------
Officials Turn Blind Eye as Religious Tensions Rise in Indonesia
By SARA SCHONHARDT
Jul 19 2012
SAMPANG, Indonesia — The problems began shortly after Tajul Muluk, a Shiite cleric, opened a boarding school in 2004. The school, in a predominantly Sunni Muslim part of East Java, raised local tensions, and in 2006 it was attacked by thousands of villagers. When a mob set fire to the school and several homes last December, many Shiites saw it as just the latest episode in a simmering sectarian conflict — one that they say has been ignored by the police and exploited by Islamists purporting to preserve the purity of the Muslim faith.
Indonesia, the world's most populous Muslim-majority country, has long been considered a place where different religious and ethnic groups can live in harmony and where Islam can work with democracy.
But that perception has been repeatedly brought into question lately. In East Java, Sunni leaders are pushing the provincial government to adopt a regulation limiting the spread of Shiite Islam. It would prevent the country's two major Shiite organizations from organizing prayer gatherings and sermons.
Mr. Muluk is part of an increasingly threatened minority. Last Thursday, he was sentenced to two years in prison for violating a 1965 presidential decree against blasphemy by promoting a heretical interpretation of Islam. He denies the charges. Analysts say that Mr. Muluk challenged the Sunni-led power structure in his village, making him a target of local leaders.
"Most conflicts are hitched to local politics," said Ken Conboy, a security consultant who has tracked rising religious intolerance in Indonesia. "They're based in communal, ethnic, tribal differences, but it's something that can be wielded by community and religious leaders."
Only one person has been tried in connection with the arson attack, and he received a sentence for time served, leading to his immediate release.
Days after the fire, the local branch of the Indonesian Ulema Council, or M.U.I., an influential group of Muslim clerics, issued a fatwa, or decree, against Mr. Muluk, saying his teachings "tarnished" Islam.
"In Islam you have to be clean, focused and unified," said Bukhori Maksum, the chairman of the council in Sampang.
Throughout his blasphemy trial, Mr. Muluk appeared both stoic and incredulous. His wife, Ummu Kulsum, sat in the back of the courtroom.
"People in the village are trying to force us to join their religion," she said. "We will hold out, because it is our right."
Mr. Maksum said that Shiites in Sampang practiced Islam in a way that disturbed society. "M.U.I. Sampang has the obligation to respond to this situation because if we did not, there would be bigger problems," he said.
Intolerance has also led to attacks on Christians, whose churches have been closed under pressure, and on members of the Ahmadiyah, an Islamic sect many mainstream Muslims consider heretical.
The Wahid Institute, a liberal Islamic research organization working with some national lawmakers to draft a law on the protection of religious minorities, reported a 16 percent rise in cases of religious intolerance between 2010 and 2011, Including threats of violence, arson and discrimination.
Rights advocates accuse the police of turning a blind eye to such actions and accuse the national government of yielding to Islamic hard-liners for political gain. They point to a 2008 presidential decree that prohibits "proselytizing" by the Ahmadiyah.
Officials, however, deny that the 2008 decree or any of the recent anti-Shiite fatwas contravene the Constitution, saying they are necessary to prevent social conflict.
"If individuals practice a different form of religion, which is against the principles of other religions, this creates disunity and animosity," said Teuku Faizasyah, a special adviser to President Susilo Bambang Yudhoyono.
Indonesia has opened up over the last 15 years, but the advent of democracy and the decentralization of power have also allowed a greater assertiveness by local religious leaders.
Analysts say many senior officials, including Mr. Yudhoyono, are reluctant to crack down forcefully on intolerance for fear of appearing un-Islamic.
"Five years ago this trend was only in the big cities," said Ahmad Suaedy, the executive director of the Wahid Institute. "But it's spreading very fast because the government has ignored this situation."
http://www.nytimes.com/2012/07/19/world/asia/indonesia-turns-blind-eye-as-religious-tensions-rise.html?ref=world
--------
India
Farman Shinwari: New Al Qaeda leader, Kashmir jihad expert
July 18, 2012
The recent appointment of Farman Ali Shinwari as the new 'chief operational commander' of the Al Qaeda's Pakistan unit indicates that the deadly terrorist outfit intends to extend its operations to India
Shinwari is a former member of the Harkat-ul Mujahideen and Harkat-ul Jehadul Islami. He was considered close to Maulana Fazalur Rehman Khalil and Ilyas Kashmir i, the commanders of HuM and HuJI respectively. Both these jihadi organisations had been actively waging a jihad in Kashmir for years before joining hands with Qaeda.
Shinwari, 30, hails from Landikotal area of the Khyber Agency, one of the seven tribal agencies located in the Federally Administered Tribal Areas of Pakistan. Shinwari's appointment was announced by the Al Qaeda's Daawat (propagation) and media department, which is led by Ustad Ahmad Farooq.
According to the statement, Shinwari was approved as the leader after consultations among the Al Qaeda's top leadership and ratification by its commanders in Pakistan. The Shinwaris are among the most important militant families in the Khyber Agency. The Al Qaeda is believed to have chosen him because he is a native of Khyber Agency who is familiar with FATA and the North Atlantic Treaty Organisation's supply routes.
He is capable of supporting the Pakistani Taliban [ Images ] to assert control over Khyber Agency and continue disrupting the NATO supply lines that pass through the area into Afghanistan. The Khyber Pass is the transit point for as much as 70 per cent of the supplies that sustain the NATO alliance in its battle against the Taliban insurgency in Afghanistan.
According to well-informed sources in the Pakistani security establishment, Shinwari was appointed the chief operational commander of the Al Qaeda in Pakistan after the death of Commander Badar Mansoor, chief of the terror outfit's Pakistan unit, in a drone strike.
Shinwari was considered close to Mansoor, a key Al Qaeda figure, who had replaced Ilyas Kashmiri following his death in an American drone attack in June 2011. Shinwari is believed to have been trained in the Miranshah area of North Waziristan, where Badr had set up his own training camp.
Full report at:
http://www.rediff.com/news/special/farman-shinwari-new-al-qaeda-leader-kashmir-jihad-expert/20120718.htm
----------
Former major insulted for being a Muslim
Jul 19, 2012
NEW DELHI, A former major-rank officer has alleged that he was discriminated against and harassed by the staff of SpiceJet because of his being a Muslim, a charge denied by the airline which said a "religious colour" was being given to the incident.
Major Mohammad Ali Shah, who served in Indian Army as a Short Service Commissioned officer, has complained to the National Minority Commission (NCM), which is probing the matter.
"I was singled out on account of my religion and subjected to humiliation at the hands of the employees of SpiceJet including being insulted and manhandled," Ali told PTI.
In his complaint to the National Minority Commission (NCM) chief Wajahat Habibullah, he has given a detailed account of the incident stating that his mails to the managing director of SpiceJet Kalanidhi Maran were also not replied.
Full report at:
http://timesofindia.indiatimes.com/india/Former-major-says-SpiceJet-staff-insulted-him-for-
---------
Jundal's confession nails Pak
By Abhishek Bhalla
Jul 19 2012
ABU Jundal's interrogation has once again confirmed India's accusation of Pakistan's involvement in the 26/ 11 Mumbai attack.
Sources say Jundal has revealed that Lashkar- e- Tayyeba ( LeT) founder Hafiz Saeed was constantly attending meetings with top commanders of the Pakistani army during the 26/ 11 attack.
India has always maintained that Saeed was the brain behind the 2008 attack.
Jundal has said Saeed also headed the team that plotted the attack, sources said.
His interrogation has revealed that there was a nine- member team that plotted the attack and coordinated with the 10 men who entered Mumbai.
Jundal himself was number 8 in the hierarchy while Major Samir of the ISI was at number 9, a note prepared on his interrogation by Delhi Police's Special Cell and accessed by MAIL TODAY says.
Full report at: Mail Today
----------
Team sent to review security in Afghanistan
By Saurabh Shukla
Jul 19 2012
ALARMED by recent intelligence inputs warning of a fresh attack by the Taliban and the Haqqani network on Indian missions in Afghanistan, India has sent a security review team to Kabul.
Sources say that the decision to send a team followed a joint review by the ministry of external affairs and ministry of home affairs.
The team is being led by an additional DGP of the ITBP that has commandos deployed in the Indian embassy in Kabul and consulates in Kandahar, Herat Mazar- e- Sharief and Jalalabad.
Sources said that the team will review security arrangements and recommend measures for beefing up the security of the mission and its officials, and would also visit the consulates to assess the situation on the ground.
Indian diplomatic missions in Afghanistan have been on the crosshairs of the Taliban and the Haqqani network, and the mission in Kabul has been attacked several times. In July 2008, a suicide bomber attacked the Indian embassy in Kabul in which two senior Indian diplomats were killed.
Full report at: Mail Today
----------
36-yr-old held for 'Pak links', protests at Shaheen Bagh
Sumegha Gulati
Jul 19 2012
New Delhi: A 36-year-old man was arrested by the Crime Branch of Delhi Police on Tuesday evening from Shaheen Bagh in Southeast Delhi on charges of working for Pakistani intelligence.
Police said Zubair Khan, a resident of C-Block in Shaheen Bagh, and was arrested after several classified documents and photographs, belonging to the Indian Army, were found in his possession.
The arrest sparked protests in the area, with students from Khan's alma mater Jamia Millia Islamia taking to the streets in large number alleging a "frame-up". Protesters blocked roads between 10 am and 5 pm, leading to traffic snarls.
Police said Khan was planning to "supply" the confidential documents to an "agent at the Pakistan High Commission" in the city. Officers claimed Khan, a property dealer in Jamia Nagar, was being tracked for a while now.
Full report at:
http://www.indianexpress.com/story-print/976390/
---------
Pakistan
Removal of ban on Shia websites ordered
Jul 19 2012
ISLAMABAD: Taking notice of the Shia Action Committee's protest against a ban on their websites, Adviser to Prime Minister on Interior Rehman Malik directed the authorities concerned to restore the websites and remove objectionable material from the web pages immediately. In a directive issued on Wednesday, the adviser also directed the authorities concerned to take legal action against those who had pasted objectionable material on the websites. A website that monitors sectarian killings of Shias in Pakistan was reportedly banned by the Pakistan Telecommunication Authority (PTA), which works under the Information Ministry. Attempts to access the website met with an "Access denied" message, a usual occurrence for banned websites. PTA has allegedly banned another Shia website. The Shia Action Committee on Tuesday protested against the alleged ban on their websites.
http://www.dailytimes.com.pk/default.asp?page=2012\07\19\story_19-7-2012_pg1_2
----------
High-level huddle discusses ISI chief's strategy in US
July 19, 2012
ISLAMABAD: A high-powered gathering of the country's civil and military leadership here on Wednesday finalised a strategy for Prime Minister Raja Pervaiz Ashraf's maiden trip to Kabul on today (Thursday), and the Inter-Services Intelligence (ISI) chief's crucial meeting with his American counterpart next week in the US.
The meeting, co-chaired by the president and prime minister, was attended by Foreign Minister Hina Rabbani Khar, Joint Chiefs of Staff Committee Chairman General Khalid Shameem Wynne, Army Chief General Ashfaq Parvez Kayani, Chief of Naval Staff Admiral Muhammad Asif Sandila and Chief of Air Staff Air Chief Marshal Tahir Rafique Butt as well as other key officials.
Full report at:
http://tribune.com.pk/story/410366/high-level-huddle-discusses-isi-chiefs-strategy-in-us/
----------
Peace in Afghanistan possible through intra-Afghan dialogue: PM Raja Pervez Ashraf
Jul 19 2012
KABUL: Prime Minister Raja Pervez Ashraf left here Thursday for Kabul to meet Afghan President Hamid Karzai and participate in the trilateral summit, also to be attended by British Prime Minister David Cameron.
The Prime Minister who is visiting Kabul on a day-long official visit, was accompanied by Foreign Minister Hina Rabbani Khar, Advisor to the PM on Interior Rehman Malik and Minister of State for Commerce Abbas Ahmed Afridi.
PM Ashraf said long term peace in Afghanistan was only possible through an intra-Afghan political settlement that includes all Afghan stakeholders.
Talking to the leaders of leading opposition coalition of Afghanistan National Front (ANF) here at the Pakistan embassy, he said that Pakistan has friendly ties with the leadership of ANF.
The leaders of the ANF comprised Ahmad Zia Masood, Ustad Mohammad Mohaqiq and Faizullah Zaki.
The PM Ashraf said that Pakistan attaches great importance to its friendly relations with all Afghan ethnic groups and leaders. He said Pakistan would like these strong bonds to further strengthen.
Full report at:
http://dawn.com/2012/07/19/british-pm-visits-troops-in-afghanistan/
----------
Violence claims five more lives in Karachi
Jul 19 2012
KARACHI: Five people were killed in incidents of violence and targeted killings in karachi, whereas security forces on Thursday claimed arresting several suspects in various operations, DawnNews reported.
Two people were killed during an exchange of fire that took place at a market in the city's Landhi Town when a robbery attempt was resisted.
Witnesses said that one dacoit was killed during the shootout whereas the other person killed was a customer in the market.
Tension gripped the area after the incident.
Moreover, three persons suffered gunshot wounds during a clash that took place in Karachi's Gulbahar area's Peetal Gali.
In another incident, a 45-year-old man was killed in SITE's Metroville area whereas one perso was killed near Valika hospital in SITE. He was identified as the cleric of a mosque in the locality.
Full report at:
http://dawn.com/2012/07/19/violence-claims-five-more-lives-in-karachi/
----------
Pakistan dragged its feet on NATO routes: Khar
By Sumera Khan
July 19, 2012
ISLAMABAD: A Senate panel on foreign affairs endorsed the government's decision to reopen NATO supply routes on Wednesday amidst concerns over a delay of five months.
During a briefing by Foreign Minister Hina Rabbani Khar, she admitted that Pakistan unnecessarily prolonged parliamentary deliberations beyond January and dragged its feet over resolving the stand-off.
She added that Pakistan had opted for a firm position after the Salala check-post incident by refusing the participation in the Bonn conference despite relentless pressure from all over the world.
Full report at:
http://tribune.com.pk/story/410385/pakistan-dragged-its-feet-on-nato-routes-khar/
----------
Zardari writes to Manmohan, hails cricket ties resumption
Jul 19, 2012
ISLAMABAD: Pakistan President Asif Ali Zardari has written a letter to Prime Minister Manmohan Singh expressing the hope that the resumption of cricketing ties after five years will be a confidence building measure.
Zardari on Wednesday sent the letter to Manmohan Singh welcoming resumption of cricket relations, reported Dawn.
The BCCI on Monday invited Pakistan to play three one-dayers and two Twenty20 Internationals in December-January, a move that would see the arch-rivals clashing in a bilateral series after a five-year gap
The resumption of cricket matches would add to positive atmosphere witnessed by the two countries, said Zardari.
The letter said: "You would recall that in my recent visit to India, we discussed resumption of cricket ties between Pakistan and India. I am glad to learn that the cricket boards of Pakistan and India have agreed to resume cricket matches after a gap of five years."
"I am sanguine that cricket matches between our two countries would prove to be a formidable confidence building measure and a way forward towards encouraging people-to-people contacts," it added.
http://timesofindia.indiatimes.com/world/pakistan/Zardari-writes-to-Manmohan-hails-cricket-ties-resumption/articleshow/15042151.cms
----------
Pak Advocate extends helping hand towards Mumbaikar
Jul 18, 2012
AMRITSAR: Pakistani advocate Awaish Sheikh has extended helping hand for the release of Mumbaikar Bhavesh Parmar Kantilal who is lodged in Kot Lakhpat Jail, Pakistan for past nearly 8 years.
Talking to TOI on Wednesday Sheikh informed TOI that he would meet Kantilal in jail on July 23rd. "I will meet him and get his signature on a write petition besides a mercy plea to President of Pakistan Asif Ali Zardari" said he while adding that this would be the first meeting of any lawyer with Kantilal who was lodged in solitary confinement in Kot Lakhpat Jail.
Full report at:
http://timesofindia.indiatimes.com/india/Advocate-Awaish-Sheikh-extend-helping-hand-
----------
Pak Minister for launching "Jihad" against illiteracy, ignorance
Jul 19 2012
ISLAMABAD: Minister for Information and Broadcasting Qamar Zaman Kaira said on Tuesday that as a nation we have to launch "Jihad" against illiteracy and ignorance as due to handful of terrorists and extremists image of Islam and Pakistan has been damaged in the world.
He was addressing the inaugural ceremony of a gymnasium and a day care centre at women campus of International Islamic University.
The minister said that in today's world unfortunately most of the countries facing terrorism and human rights violations are Islamic countries.
Kaira said that Pakistan used to be a tolerant society but in 1980s, it was intentionally converted into an intolerant society to serve the purpose of a super power and today we are paying the price of that decision.
Full report at:
http://dawn.com/2012/07/17/kaira-for-launching-jihad-against-illiteracy-ignorance/
--------
Pakistan holds by polls on Gilani's vacated seat
Jul 19, 2012
LAHORE: Thousands of people today braved the summer heat to vote in bypolls to the parliamentary seat in Pakistan's Punjab province that fell vacant after former premier Yousuf Raza Gilani was disqualified by the supreme court last month.
The ruling Pakistan People's Party sees the bypolls in Multan as a contest between itself and the judiciary and right wing parties, PPP insiders said.
The PPP has fielded Abdul Qadir Gilani, one of the former premier's sons, and no other mainstream party has put up a candidate.
However, all other parties, including Nawaz Sharif's PML-N, cricketer-turned-politician Imran Khan's Pakistan Tehrik-e-Insaf and Jamaat-e-Islami, are supporting independent candidate Shaukat Bosan. He is the brother of senior Tehrik-e-Insaf leader Sikandar Bosan.
"We are supporting Bosan as we want him and his brother to join the PML-N and contest on our party's platform," PML-N spokesman Pervaiz Rashid told PTI.
Full report at:
http://timesofindia.indiatimes.com/world/pakistan/Pakistan-holds-bypolls-on-Gilanis-vacated-seat/articleshow/15043883.cms
--------
Mideast Asia
Iran not indifferent to massacre of Myanmar Muslims
Jul 17, 2012
A senior Iranian military commander condemns massacre of ethnic Rohingya Muslims in Myanmar, calling on Iran's diplomatic and cultural organizations to explore all means to stop the violence.
"According to media reports, an ethnic cleansing is underway against the oppressed Muslims in Myanmar, and the Islamic Republic of Iran cannot remain indifferent to this horrendous injustice," Deputy Head of Iran's Armed Forces Joint Chiefs of Staff Brigadier General Seyyed Masoud Jazayeri stated on Tuesday.
He urged Iran's Foreign Ministry and the Islamic Culture and Relations Organization to inform other Muslim nations and other committed societies about the recent mass murder of Muslims in Myanmar.
On Monday, Iran's Foreign Ministry Spokesman Ramin Mehmanparast expressed deep concern over the mass slaughter of Muslims in Myanmar.
"It is expected that the Myanmar government will prepare the ground for solidarity, national unity and [asserting the] rights of Muslims in the country and that it will avert violence and a human catastrophe in this regard," Mehmanparast said.
He called for "swift and serious" measures by the Myanmar government, the international community and the Organization of Islamic Cooperation to clarify all aspects of this incident and put an end to the violence.
According to recent reports, Muslims in Myanmar are in a tragic human plight. Since June, hundreds of the nearly-one-million-strong Rohingya Muslim minority have been killed and tens of thousands of others have been displaced in the west of the country due to a wave of communal violence.
According to a group of UK-based NGOs, from June 10 to 28, 650 Rohingya Muslims were killed, 1,200 went missing, and more than 80,000 others were displaced as a result of rioting, arson, rape, and a cycle of revenge attacks in the western Myanmar Rakhine state which borders Bangladesh.
The government of Myanmar refuses to recognize Rohingyas which it claims are not natives and classifies them as illegal migrants, although they have lived in Myanmar for generations.
http://www.presstv.com/detail/2012/07/17/251364/iran-not-apathetic-to-myanmar-massacre/
----------
Suicide Attacker with Fake U.S. ID Killed Sex Israelis
By NICHOLAS KULISH and MATTHEW BRUNWASSER
Jul 19 2012
BURGAS, Bulgaria — The attack on a tour bus carrying Israeli vacationers outside the airport here was carried out by a suicide bomber carrying fake American identification, officials said on Thursday.
There were conflicting reports on the number of dead. The Bulgarian interior minister said the toll was seven, including six Israelis. Officials in Israel said, however, that only five Israelis had been killed. The Bulgarian driver of the bus was also killed along with the bomber when the vehicle exploded in a fireball on Wednesday. Dozens more were injured in what Bulgaria, Israel and the United States called a terrorist attack. Israel quickly blamed Iran and promised a firm response.
There was no immediate claim of responsibility but Israeli officials blamed Hezbollah, the Lebanese militant group, and Iran.
Speaking to reporters at the airport at this Black Sea resort on Thursday morning, Interior Minister Tsvetan Tsvetanov said the bomber was carrying a fake Michigan driver's license at the time of the blast. One of the six Israeli victims died overnight, along with the 36-year-old Bulgarian bus driver.
Full report at:
http://www.nytimes.com/2012/07/20/world/europe/explosion-on-bulgaria-tour-bus-kills-at-least-five-israelis.html?pagewanted=all
----------
Religious Israeli lawmaker tears up New Testament
Wed, Jul 18, 2012
JERUSALEM (AP) — An Israeli lawmaker has torn up a copy of the New Testament in front of cameras in his parliament office.
An aide says Christian missionaries mailed the Christian scripture to Michael Ben-Ari of the ultranationalist National Union Party.
Itamar Ben-Gvir said Ben-Ari, an Orthodox Jew, was enraged to receive the book, in whose name he says millions of Jews were slaughtered. Ben-Ari tore it up, he said, then posed for photographs with the destroyed Bible.
Many Christians over the centuries persecuted Jews, holding them responsible for Jesus' crucifixion.
Government spokesman Mark Regev said, "We totally deplore this behaviour and condemn it outright. This action stands in complete contrast to our values and our traditions. Israel is a tolerant society, but we have zero tolerance for this despicable and hateful act."
http://news.yahoo.com/religious-israeli-lawmaker-tears-testament-101541114.html?_esi=1
---------
Military sued over al-Awlaki Yemen drone death
Jul 19 2012
Relatives of three Americans killed in drone strikes in Yemen are suing top Pentagon and CIA officials, saying the killings were unconstitutional.
Cleric Anwar al-Awlaki and Samir Khan died in September. Awlaki's son Abdulrahman, 16, died in October.
Relatives accuse Defence Secretary Leon Panetta, CIA Director David Petraeus and two military commanders of approving and directing the strikes.
The legality of US use of drones has been in the spotlight in recent weeks.
Awlaki, a radical Islamist cleric born in the state of New Mexico, was a key figure in the Yemen-based group al-Qaeda in the Arabian Peninsula (AQAP). His 16-year-old son was born in Colorado.
Samir Khan was a naturalised US citizen who was involved with Inspire, al-Qaeda's English-language magazine.
The lawsuit was filed by Nasser al-Awlaki, the father of Anwar al-Awlaki, alongside Sarah Khan, mother of Samir Khan.
Full report at:
http://www.bbc.co.uk/news/world-us-canada-18896232
---------
Netanyahu Secure Even after Coalition's Demise, Has No Obvious Rival
By ISABEL KERSHNER
Jul 19 2012
JERUSALEM — Prime Minister Benjamin Netanyahu's image of invincibility has taken a knock, Israeli analysts said on Wednesday, a day after the breakup of the large and broad coalition that had given him almost unprecedented power.
But for now, they said, his political future seemed assured for one simple reason: he has no obvious rival for the premiership.
"For the first time in Israeli political history, there is no prime minister material in the opposition," said Efraim Inbar, a professor of political studies at Bar-Ilan University near Tel Aviv.
Some politicians were smelling blood, however. Shelly Yacimovich, the leader of the much-diminished Labor Party, which sits in opposition, called a news conference and slammed Mr. Netanyahu for preferring his religious coalition partners over Kadima, the centrist party that quit the coalition only 70 days after joining it. The split resulted from irreconcilable differences over how to integrate ultra-Orthodox youths and men into the military and civilian service.
"Prime Minister Netanyahu has a vision," she said. "This vision is called Benjamin Netanyahu." She called for new elections as early as Nov. 27.
Full report at:
http://www.nytimes.com/2012/07/19/world/middleeast/damage-limited-for-netanhayu-in-
----------
Yemeni Security Official Assassinated in Aden
Jul 19 2012
ADEN (Reuters) - A bomb ripped through the car of a senior Yemeni security officer on Thursday in the southern port city of Aden, killing him instantly in an attack that another security official blamed on Islamist militants with ties to al Qaeda.
The explosive was stuck to the side of the vehicle and went off as Colonel Abdallah al-Mawzai turned the key in the ignition, the official told Reuters, speaking on condition of anonymity.
The killing Of Mawzai, the top security officer in the city's sixth district, was the latest in a string of assassinations of security officials in the region, where al Qaeda's Yemeni wing and local affiliates have established a presence.
A group calling itself Ansar al-Sharia (Partisans of Islamic Law), which pledged allegiance to al Qaeda in the Arabian Peninsula, seized parts of southern Abyan province last year as an uprising against Yemen's former president, Ali Abdullah Saleh, gained momentum.
The uprising split Yemen's military and raised fears in the United States and Saudi Arabia - both targets of abortive attacks al Qaeda planned from Yemen - that political chaos would embolden Islamists in Yemen.
Full report at:
http://www.nytimes.com/reuters/2012/07/19/world/middleeast/19reuters-yemen-
----------
Iran hails Hezbollah's victory against Israel in 2006 war
Jul 19 2012
Iranian Foreign Minister Ali Akbar Salehi has praised Hezbollah's victory over Israel in the 33-day war in 2006 as a humiliating defeat for the Tel Aviv regime.
Undoubtedly, this victory is "the resistance's greatest ever, a source of dignity and exaltation for the Islamic world and a turning point in the history of Muslims' fights against the usurping enemy (Israel)," Salehi said in a message to Hezbollah Secretary General Seyyed Hassan Nasrallah on Wednesday.
The resistance along with the Lebanese nation foiled the enemies' plots during the 33-day war and taught them an unforgettable lesson, the message said, expressing hope that the brilliant victory would prepare the groundwork for other victories of the resistance in the future.
Full report at:
http://www.presstv.com/detail/2012/07/19/251672/iran-lauds-hezbollahs-routing-of-israel/
----------
7 Israelis killed, dozens injured in Bulgaria bus explosion
Jul 19 2012
At least seven people have been killed and more than 30 others injured in an explosion on a bus carrying Israeli tourists in the eastern Bulgarian city of Burgas.
The explosion occurred on Wednesday at Burgas International Airport on the Bulgarian Black Sea Coast, about 400 kilometers (250 miles) east of the Bulgarian capital Sofia, the Israeli daily Haaretz reported.
"There are six bodies on the scene -- one critically wounded died at the hospital and two seriously injured are in intensive care. Thirty more people are being treated," the Israeli Foreign Ministry announced in a statement.
The death toll is expected to rise as more than 40 other people were reportedly on the bus when the incident took place, Bulgarian officials said.
The explosion also damaged two nearby buses.
According to Israeli officials, the explosion took place as the Israeli tourists from a Tel Aviv-Burgas flight were boarding the bus to go to their hotels.
No group has claimed responsibility for the blast so far and the cause of the incident is still under investigation.
"We don't know if it was a terror attack. We do know it was an explosion," said Israeli Foreign Ministry spokesman Paul Hirschson.
The southeastern European country is a popular tourist destination for Israelis.
http://www.presstv.com/detail/2012/07/18/251604/7-israelis-killed-in-bulgaria-bus-blast/
----------
Iran defence minister condemns Syria terrorist attack
Jul 19 2012
Iran's defence minister has condemned the terrorist attack that killed three senior officials in Syria and extended condolences with the Syrian government and nation.
"Today's terrorist act against a number of Syrian military and security officials, especially Defence Minister Lieutenant General Dawoud Rajiha saddened and pained me," Brigadier General Ahmad Vahidi said in a letter sent to Syria's new Defence Minister General Fahd al-Jassem al-Freij on Wednesday.
"Terrorists have never managed to overcome the will of nations and this time they will not be able to defeat the will of the resistant and dignified nation of Syria," the letter further read.
Vahidi expressed hope that the Syrian people will resist the expansionist policies of the Israeli regime and will achieve victory in their fight against this regime and the dominant colonialist powers in the world.
Rajiha, his deputy Assef Shawkat and Assistant Vice President Hassan Turkmani were killed while National Security Bureau chief General Hisham Bikhtiyar and Interior Minister Major General Mohammad Ibrahim al-Sha'ar were wounded in a bombing that hit the headquarters of the Syrian National Security earlier in the day.
The so-called Free Syrian Army (FSA) terrorists claimed responsibility for the attack, threatening more violence in the Syrian capital, Damascus, in the coming days.
http://www.presstv.com/detail/2012/07/19/251629/vahidi-condemns-syria-terrorist-attack/
----------
Turkey to begin studies on production of its first armed drones
Jul 19 2012
Turkey is going to begin research on the production of its first armed unmanned aerial vehicles (UAV), a report says.
According to a Thursday report published by the Turkish Hurriyet Daily, the Defense Industry Executive Committee (SSIK) has assigned the Turkish Aerospace Industries Inc. (TAI) with conducting studies for the production of the first armed drones in the country.
The new Anka Plus A drones will be similar to the US Reaper and the Israeli Heron in terms of capabilities, and they will be closer to the high-altitude long-endurance (HALE) class, the report said.
On October 25, 2011 Turkey successfully tested a domestically-made Anka drone, a medium-altitude and long-endurance (MALE) UAV, developed by the TAI.
The report comes a few days after Ankara said Turkey received one of five surveillance planes it had ordered from the United States.
The other four aircraft are not expected to be delivered until September.
Ankara took out a two-year lease on the five surveillance planes for 70 million dollars.
http://www.presstv.com/detail/2012/07/19/251656/turkey-to-produce-its-first-armed-drones/
----------
Yemen arrests prompt president's warning to Iran
Jul 19 2012
Yemen's interior ministry has announced it has arrested members of an alleged Iranian-led spy ring.
The spy ring operated in the Horn of Africa with the operations centre in Sanaa and was headed by a former member of Iran's Revolutionary Guard, it said.
Yemeni President Abdrabuh Mansur Hadi later warned Iran to "leave Yemen to mind its own affairs".
His warning echoes US claims that Iran is meddling in Yemen, which is still wrestling secessionism and rebellion.
Few details were given about the arrests, which appear mainly to have been of Yemeni nationals.
Full report at:
http://www.bbc.co.uk/news/world-middle-east-18896321
----------
Arab World
The Penetration of Radical Islam in the Syrian Conflict
Jonathan Robinson
July 17, 2012
Recent reports of dozens of Kuwaiti jihadists traveling to fight in the Syrian conflict further highlight the stronger foothold radical Islamic groups are gaining in Syria. Since January 2012, Syria has been transformed into a major battleground of the jihad world, with a number of foreign and Syrian jihadist groups surfacing to participate in the conflict. This development not only poses a serious threat to the present Syrian government or any government that may follow, but also threatens the armed opposition in Syria, headed by the Free Syrian Army (FSA).
At present, at least ten different notable foreign and Syrian groups with varying ideologies are waging militant jihad in Syria. In spite of these differences, a useful distinction becomes apparent when comparing each group's mode of operation, which can be categorized as one of three types: The first type are "support" groups that predominantly assist the flow of arms and fighters into Syria. The second type are the "guerilla" groups that carry out small scale but regular attacks on security forces, and the third type are the "terror" groups that carry out high profile bombings outside the usual fighting areas. Through this distinction, it quickly becomes evident that the "terror" groups have had the most significant contribution to the conflict in Syria.
Full report at:
http://www.canadafreepress.com/index.php/article/48120
----------
Over 200 killed in Syria on Wednesday: NGO
Jul 19, 2012
BEIRUT: More than 200 people, mostly civilians, were killed on Wednesday in violence across Syria, including 38 in Damascus where armed rebels are pressing an all-out offensive, a monitoring group said.
At least 214 people -- 124 civilians, 62 soldiers and 28 rebels died in one of the bloodiest days of a 16-month revolt against President Bashar al-Assad's regime, the Syrian Observatory for Human Rights said on Thursday, revising an earlier toll.
The figure did not include the three members of Assad's inner circle who died in Wednesday's bomb attack on security headquarters in the heart of the capital.
Among victims in Damascus were residents killed in shelling by regime forces of the Qaboon, Kfar Sousa and Al-Kaddam neighbourhoods, as well people felled by sniper fire and in clashes between rebels and regular soldiers in the Rokn Eddin and Al-Hajar Al-Aswad neighbourhoods, the Britain-based watchdog said.
Violence has engulfed Damascus since the rebel Free Syrian Army on Monday announced the launch of Operation Damascus Volcano "in response to massacres and barbaric crimes" committed by Assad's regime.
The FSA claimed responsibility for yesterday's security headquarters bombing which killed Defence Minister General Daoud Rajha, Assad's brother-in-law Assef Shawkat and General Hassan Turkmani, head of the regime's crisis cell on the uprising, state media said.
The Observatory's toll reports cannot be independently verified. The watchdog has estimated more than 17,000 people have been killed in violence since the revolt broke out in March 2011.
http://timesofindia.indiatimes.com/world/middle-east/Over-200-killed-in-Syria-on-Wednesday-NGO/articleshow/15041747.cms
----------
Blast Strips Assad of a Valuable Family Member and a Pair of Powerful Loyalists
By DAVID D. KIRKPATRICK and KAREEM FAHIM
Jul 19 2012
Asef Shawkat was a brother-in-law to President Bashar al-Assad of Syria and a top enforcer in his embattled government, a loyalist so committed that he stood by the Assad family even after he was reportedly shot by the president's younger brother.
With Mr. Shawkat in the command center of the government's campaign to crush the Syrian opposition was a who's who of Mr. Assad's inner circle, including his defense minister and a former defense minister.
All three were killed Wednesday by the explosion of a bomb inside what should have been among the most secure rooms in Damascus. The attack dealt a grave blow to the leadership of the government's war machine and struck an even bigger psychological one to its ability to project a sense of power and cohesion. Other top officials, including the interior minister, were wounded, Syrian state news media reported.
"Bashar today can no longer trust almost anyone who is close to him, and that is going to send a shiver through his inner circle and their confidence," said Joshua Landis, a Syria scholar at the University of Oklahoma.
Full report at:
http://www.nytimes.com/2012/07/19/world/middleeast/valued-relative-and-2-strong-
----------
Egyptian Combats Both Army and Islamists
By KRISTEN McTIGHE
CAIRO — The white scars on Mona Eltahawy's arms are fading, but her determination to fight to bring Egypt a bright future through a constitution that broadly embraces human rights is not.
"A revolution isn't finished in 18 months," said Ms. Eltahawy at a cafe in Zamalek, the upscale Cairo neighborhood on an island in the Nile.
"For me, the Constitution is how we are going to dismantle military rule, and we have to fight for it to be written by Egyptians — not by military and not by the Islamists, but by all Egyptians."
A writer and former Reuters journalist, who has written for the International Herald Tribune, Ms. Eltahawy, 44, is a contemporary, feminist version of the Egyptian intellectuals who have long been a thorn in the flesh of their rulers — going back to the days when Britain was the colonial power.
She was a scourge of the regime of Hosni Mubarak as a columnist and op-ed writer, supporting the movement that eventually coalesced and ousted Mr. Mubarak last year. She continues to haunt his successors.
Full report at:
http://www.nytimes.com/2012/07/19/world/middleeast/egyptian-mona-eltahawy-combats-
----------
Syria appoints chief of staff of armed forces as defense minister
Jul 19 2012
Syrian President Bashar al-Assad has appointed General Fahd al-Jassem al-Freij to replace Defense Minister Dawoud Rajiha, who is killed in a bomb attack.
Freij, chief of staff of the armed forces, was appointed to the post on Wednesday hours after Rajiha was killed in a terrorist bomb attack at the headquarters of the National Security Bureau in the capital Damascus.
Syria's Deputy Defense Minister Assef Shawkat, Security Chief General Hisham Ikhtiyar and Assistant Vice President Hassan Turkmani, were also killed in the explosion.
Many others, including Interior Minister Mohammad Ibrahim al-Shaar, were injured in the attack. The minister is reportedly in stable condition now.
The terrorist Free Syrian Army (FSA) has claimed responsibility for the attack. The FSA has also warned of more violence in the capital in the coming days.
While some reports suggest that a bomber working as a bodyguard for the officials inside the building detonated the explosives he was carrying, the FSA claims that its forces had planted a bomb inside the room where the meeting was being held and that the group had been planning this for over a month.
Full report at:
http://www.presstv.com/detail/2012/07/18/251536/syria-appoints-new-defense-minister/
----------
Militants kill two Egypt soldiers in Sinai: report
Bikya Masr Staff | 19 July 2012
CAIRO: Militants reportedly attacked and killed two Egyptian soldiers in the Sinai Peninsula on Thursday near the border with the Gaza Strip, a security official was reported as telling The Associated Press.
The AP report said the official called the attackers "jihadists" and were responsible for the attack and killings, citing the security official as saying "bearded men in the short robes favored by some Islamists" attacked the soldiers, who had been walking in the Sheikh Zweid town in Sinai.
The official said that one of the soldiers had his arm "severed from his body by the intensity of the shooting."
Full report at:
http://www.bikyamasr.com/73221/militants-kill-two-egypt-soldiers-in-sinai-report/
----------
Human rights lawyers among 13 detained as crackdown intensifies
Amnesty International | 19 July 2012
The UAE authorities must immediately an unconditionally release two prominent human rights lawyers arrested in recent days, Amnesty International said.
Dr Mohamed 'Abdullah al-Roken, a long-time Amnesty International member and a well-known human rights defender and lawyer, was arrested at 1:30 am on Tuesday as he drove to a Dubai police station to report the disappearance five hours earlier of his son Rashid Mohamed al-Roken and son-in-law 'Abdullah al-Hajeri.
He was one of the defence lawyers in last year's prominent case of five political activists – known as the 'UAE 5' – who were arrested, tried and imprisoned for defaming top UAE government officials.
He is among 13 men – including fellow human rights defender, the lawyer and former head of the UAE Jurists' Association Dr Mohamed al-Mansoori – who have been arrested since 16 July by state security officers (Amn al-Dawla).
"We believe Mohammad al-Roken and Mohammad al-Mansoori to be prisoners of conscience, held solely on account of their defence work as lawyers and other peaceful human rights activities. This is not the first time they have been persecuted for their legitimate human rights work. They must be released immediately and unconditionally," said Ann Harrison, Deputy Middle East and North Africa Programme Director at Amnesty International.
"The UAE authorities must halt this intensified crackdown on human rights defenders and other activists across the Emirates."
Full report at:
http://www.bikyamasr.com/73211/uae-human-rights-lawyers-among-13-detained-as-crackdown-intensifies/
----------
Syrian Rebels Hone Bomb Skills to Even the Odds
By C. J. CHIVERS
Jul 19 2012
ANTAKYA, Turkey — The lethal attack on Wednesday on President Bashar al-Assad's senior security chiefs aligned neatly with a tactical shift that had changed the direction of Syria's long conflict: the opposition fighters' swift and successful adoption of makeshift bombs.
Bombs have been in rebel use since violence intensified in Syria in late 2011. But since midspring, anti-Assad fighters have become bolder and sharply more effective with their use, and not only in what is apparently their hand in the assassinations in Damascus.
Improvised bombs have steadily become the most punishing weapon in the otherwise underequipped rebels' arsenal, repeatedly destroying Syria's main battle tanks, halting army convoys and inflicting heavy casualties on government ground operations in areas where armed resistance is strong, Western analysts and rebel field commanders and fighters said.
In this way, even as the anti-Assad fighters have appealed for international intervention and other forms of material and military support, local fighters have created their own informal buffer zones, pockets of the Syrian countryside that are now largely free of government ground troops.
Full report at:
http://www.nytimes.com/2012/07/19/world/middleeast/syrian-rebels-hone-bomb-skills-
----------
Aljazeera, Alarabiya play as Hollywood soundstage in Syria case'
Jul 19 2012
Three top Syrian officials have been killed in a terrorist bomb attack on a security building in the capital as armed groups fighting against the government step up violence in Damascus.
Defense Minister Dawoud Rajiha, his deputy Assef Shawkat and Assistant Vice President Hassan Turkmani were killed while National Security Bureau chief General Hisham Bikhtiyar and Interior Minister Major General Mohammad Ibrahim al-Sha'ar were wounded in a bombing that hit the headquarters of the Syrian National Security on Wednesday.
Armed gangs fighting against the government of Syrian President Bashar al-Assad have intensified their attacks around the capital, forcing thousands of civilians to flee their homes.
The heavy fighting in Damascus suburbs broke out on Sunday and the violence spread to several southern neighborhoods, including Midan, Tadamon and Zahera, on Monday.
The Syrian forces have also clashed with terrorists in several other cities, including Idlib and Aleppo, causing heavy losses to anti-government groups.
Press TV has conducted an interview with renowned author and historian Webster Griffin Tarpley to further discuss the issue.
Full report at:
http://www.presstv.com/detail/2012/07/19/251670/arab-media-play-wests-game-on-syria/
----------
Zee Salaam lines-up special programming during Ramzaan
The varied programming mix shall cater to all the age groups including senior citizens, women, children, adults and the youth
July 18, 2012
Zee Salaam is all set to make the Holy Month of Ramzaan as grand and comprehensive as possible through its customized and innovative content on the channel. The channel would showcase special programmes for its viewers from Sehri in the morning till Taraveeh, late in the night. ZEE SALAAM is the first 24 hour Urdu infotainment satellite television channel, dedicated to Urdu language and Islamic Culture. It caters to the Islamic, cultural and lifestyle needs of the Muslim community.
Continuing its tradition of providing the most relevant and topical content, Zee Salaam will be bringing forth the fervor and festivity of Ramzaan this year too. Ramzaan, as the viewers are aware, is the holy Islamic month wherein people fast for the sake of Allah and offer special prayers.
Full report at:
http://www.bestmediainfo.com/2012/07/zee-salaam-lines-up-special-programming-during-ramzaan/
----------
Egypt's ex-spy chief Omar Suleiman dies
Jul 19 2012
Omar Suleiman, ex-head of Egyptian intelligence under ousted President Hosni Mubarak, has died in the United States.
An aide to Gen Suleiman said he died while undergoing a medical examination, reports say.
Gen Suleiman was appointed vice-president by Mubarak in the last days of the former leader's rule.
He made a bid to stand for president in this year's election but was disqualified.
http://www.bbc.co.uk/news/world-middle-east-18899004
----------
Africa
Tunisia Ex-Dictator Receives New Life Sentence
July 19, 2012
TUNIS, Tunisia (AP) — A military court has convicted Tunisia's former dictator for complicity in the deaths of protesters in the north of the country during last year's uprising and sentenced him to life in prison.
Zine El Abidine Ben Ali, who is in exile in Saudi Arabia, was given a life sentence in June for the killings of protesters in the south.
Some 43 officials were tried in the same case Thursday, receiving sentences ranging from five years in prison to life.
Ben Ali has been convicted by civilian courts on charges of drug trafficking, illegal arms trading and abuse of public funds, and sentenced to 66 years in prison.
Tunisia has asked Saudi Arabia to extradite Ben Ali so he can face charges in person.
At least 338 people died in the uprising.
http://www.nytimes.com/aponline/2012/07/19/world/middleeast/ap-ml-tunisia-ben-ali.html?_r=1&ref=global-home&gwh=1333CDA611173C8B64765B848FD4153C
--------
Fear Stalks Mali's Refugees Despite Escape to Safety
By ADAM NOSSITER
Jul 19 2012
FASSALA, Mauritania — A column of 30 pickup trucks crammed with people fleeing Mali snaked through this border town early Wednesday, a replay of a much-repeated scene as the refugees' desert homeland collapsed further into factional chaos.
There were over 1,000 in Wednesday's procession, joining more than 90,000 who have already fled through this mud-brick village, the closest haven to the armed free fall on the other side. They were on their way to the United Nations refugee camp at Mbera, 20 miles away.
Still, it was the newest arrivals' first taste of release from a nightmarish world across the border where Islamist extremists preaching Shariah flog nonbelievers publicly in the ancient town of Timbuktu, armed men circulate to enforce the new order, and other factions threaten to take the vast and rapidly emptying territory back.
The International Criminal Court said Wednesday that it was looking into whether it had jurisdiction over reported atrocities by armed rebels in the north of the country after a delegation of Malian government officials, including Malick Coulibaly, the minister of justice, visited the court's headquarters in The Hague to file a formal request. The document alleged "grave and large-scale violations of human rights and of international humanitarian law, committed notably in the north of the country."
Full report at:
http://www.nytimes.com/2012/07/19/world/africa/fear-stalks-malis-refugees-despite-
----------
Islamist Rebel Group Releases 3 Hostages
Jul 19 2012
BAMAKO, Mali (AP) — A helicopter was dispatched to Mali on Wednesday to retrieve three European hostages held for the past 10 months by a jihadist group, according to the governments of Italy and Spain and a military official in Burkina Faso, which sent the copter.
The hostages, who were not immediately able to leave due to a sandstorm, were freed in a prisoner exchange, a prison official in neighboring Mauritania who requested anonymity told The Associated Press.
Spaniards Enric Gonyalons and Ainhoa Fernandez del Rincon and Italian Rossella Urru are aid workers who were kidnapped from a refugee camp in southern Algeria last October. The Movement for Unity and Jihad in West Africa, known as MUJAO by its French acronym, was responsible for their kidnapping. They were freed near the town of Gao in Mali's distant north, according to Sanda Abdou Mohamed, a spokesman for Ansar Dine, a radical Islamic group allied with MUJAO which now controls northern Mali, including the city where the three were released.
Full report at:
http://www.nytimes.com/aponline/2012/07/18/world/africa/ap-mali-
----------
Ferry Capsizes Off Zanzibar, at Least 31 Dead
Jul 19 2012
STONE TOWN, Zanzibar (Reuters) - A ferry with more than 250 people on board, including some foreigners, capsized and sank between the east African coast and the Zanzibar archipelago on Wednesday, killing at least 31 people, police said.
Police Commissioner Mussa Ali Mussa said 145 people had been rescued and that the rescue mission was suspended until morning.
The ferry, MV Skagit/Kalama, set sail from mainland Tanzania at around midday for Zanzibar, Tanzania's semi-autonomous archipelago and a popular tourist destination.
"The latest count that we have is 31 people dead and 145 were rescued. We have suspended the rescue operation for the night, but we will resume it at first light in the morning," Mussa told Reuters by telephone.
"The passenger boat had between 250 and 300 people on board when it capsized in rough seas."
Full report at:
http://www.nytimes.com/reuters/2012/07/18/world/africa/18reuters-tanzania-
----------
Tunisia: Islamist Group Granted License
Jul 19 2012
Tunisia's government has granted a license to the hard-line Islamist group Hizb al-Tahrir to allow it to become a legal political party, making it the second such group to join the political mainstream after renouncing violence. Hizb al-Tahrir seeks to re-establish the caliphate, a defunct form of Islamic empire. It does not endorse democracy or take part in elections, focusing mostly on preaching. The group is banned in several countries and was repressed in Tunisia before last year's revolution ousted the secular dictator Zine el-Abidine Ben Ali and brought the current moderate Islamist Ennahda party into power. In May, the government granted a political license to another Salafi Islamist party, Islah Front, drawing criticism from secularists.
http://www.nytimes.com/2012/07/19/world/africa/tunisia-islamist-group-granted-license.html?ref=world
--------
North America
NATO death squads involved in Syria bombing: American author
Jul 19 2012
An American author and historian says the "NATO death squads" were involved in the deadly July 18 bombing in the Syrian capital that targeted senior officials, Press TV reports.
"We see the pro-NATO forces, the NATO death squads delivering on that," said Dr. Webster Griffin Tarpley, referring to the Wednesday bomb attack on the headquarters of the National Security Bureau in Damascus that killed Syrian Defense Minister Dawoud Rajiha, Deputy Defense Minister Assef Shawkat, and Assistant Vice President Hassan Turkmani.
"I would stress the role of NATO and indeed of the CIA because we know the press today here, the Wall Street Journal reminds us that the CIA is running communications, coordination… for the Free Syrian Army, for the death squads," Tarpley stated in an interview with Press TV on Wednesday.
Syrian Interior Minister Mohammad Ibrahim al-Sha'ar and National Security Bureau chief Hisham Bikhtiyar were also wounded in the bomb attack.
Syrian President Bashar al-Assad appointed General Fahd al-Jassem al-Freij as the new defense minister immediately after the incident.
The terrorist Free Syrian Army (FSA) claimed responsibility for the Wednesday bombing and said the attack was the "first in a series."
Tarpley also stated that "an operation of this complexity would be very hard for even al-Qaeda fighters to do. They have got to be essentially guided by maybe French or British or US Special Forces officers."
http://www.presstv.com/detail/2012/07/19/251671/nato-death-squads-linked-to-syria-attack/
----------
Federal judge paves way for Tennessee mosque to open for Ramadan
July 19, 2012
A federal judge's ruling Wednesday cleared the way for a controversial mosque in Tennessee to open in time for the start of the Muslim holy month of Ramadan.
County officials must conduct a final building inspection at the mosque in Murfreesboro, near Nashville, U.S. District Judge Todd J. Campbell said in a temporary restraining order.
The order will allow the mosque to complete the inspection process so it can use its building in time for the religious holiday of Ramadan, which starts at sunset Thursday, the Becket Fund for Religious Liberty said in a statement.
"This is a great victory not just for the Muslims of Murfreesboro, but for people of all faiths. No house of worship should be kept from meeting just because the neighbors don't like their religious beliefs," said Luke Goodrich, deputy general counsel at the Washington-based fund, which represented the mosque in a federal lawsuit.
The U.S. Justice Department and the Islamic Center of Murfreesboro filed separate lawsuits this week, arguing that Rutherford County officials violated federal laws when they denied requests for a final inspection and certificate of occupancy for the mosque.
The center argued that it was being unconstitutionally blocked "merely because local anti-Islamic protests have made the mosque controversial."
Full report at:
http://edition.cnn.com/2012/07/18/justice/tennesee-mosque-lawsuit/index.html
----------
US cautions citizens against overseas travel, including India
Jul 19 2012
Washington : The United States has issued a fresh travel advisory on overseas travel to its citizens, including India which "continues to experience terrorist and insurgent activities."
"India continues to experience terrorist and insurgent activities which may affect US citizens directly or indirectly," the State Department said in its new worldwide travel alert for its citizens.
"Anti-Western terrorist groups, some on the US government's list of designated Foreign Terrorist Organizations, are active in India, including Islamist extremist groups such as Harkat-ul-Jihad-i-Islami, Harakat ul-Mujahidin, Indian Mujahideen, Jaish-e-Mohammed, and Lashkar-e Tayyiba," it said.
"Terrorists have targeted public places in India frequented by Westerners, including luxury and other hotels, trains, train stations, markets, cinemas, mosques, and restaurants in large urban areas," the State Department said.
US citizens are reminded to maintain a high level of vigilance and to take appropriate steps to increase their security awareness, the State Department said, adding that it
remains concerned about the continued threat of terrorist attacks, demonstrations, and other violent actions against US citizens and interests overseas.
"Current information suggests that al-Qaida, its affiliated organisations, and other terrorist organisations continue to plan terrorist attacks against US interests in multiple regions, including Europe, Asia, Africa, and the Middle East," the advisory said.
"These attacks may employ a wide variety of tactics including suicide operations, assassinations, kidnappings, hijackings, and bombings," it said.
Full report at:
http://www.indianexpress.com/story-print/976552/
----------
U.S. suspends 14-year jihad terror sentence of bin Laden's cook, sends him to Sudan
Jul 19 2012
Why this was done was apparently not disclosed, but it doesn't look as if American interests were very high on the priority list -- as is so often the case with this Administration. "Bin Laden's ex-cook freed from Guantanamo: Sudan," from AFP, July 11 (thanks to Block Ness):
The former cook of slain Al-Qaeda founder Osama bin Laden returned to his native Sudan early Wednesday, the foreign ministry said, after his release from the US detention centre at Guantanamo Bay, Cuba.
Ibrahim al-Qosi "is already in Khartoum since early this morning" after his arrival on a United States military aircraft, Foreign Ministry spokesman Al-Obeid Meruh told AFP.
"He is a free man," Meruh said.
Full report at:
http://www.jihadwatch.org/2012/07/us-suspends-14-year-jihad-terror-sentence-of-bin-ladens-cook-sends-him-to-sudan.html
----------
GOP 'Obamacare' jihad takes on subsidies for working poor
By Jon Healey
July 17, 2012
Congressional Republicans are so obsessed with the idea of repealing any or all of "Obamacare," they don't seem to care about the potential harm that might inflict on their constituents. The latest example comes from Tennessee Republican Reps. Phil Roe and Scott DesJarlais (both of them physicians), who introduced a resolution aimed at denying lower-income Americans in more than two dozen states, including their own, the subsidies the bill provides for health insurance.
The Patient Protection and Affordable Care Act requires virtually all adult Americans to obtain coverage, starting in 2014. To make the coverage affordable, it offers refundable tax credits on a sliding scale to those with incomes up to four times the federal poverty level. Those subsidies are to be administered by new insurance marketplaces, called exchanges, set up in each state.
So far, only 15 states have set up exchanges, California among them. The rest -- many of them governed by Republicans who oppose the Affordable Care Act -- have not. If they don't do so by January 2014, when the exchanges are supposed to be up and running, the law calls for the federal Department of Health and Human Services to establish a state exchange for them.
Full report at:
http://www.latimes.com/news/opinion/opinion-la/la-ol-obamacare-subsidies-battle-irs-regulations-20120717,0,7777419.story
----------
Europe
Russia denounces killing of Syrian officials as attempt to weaken Damascus
Jul 19 2012
Russia has blasted the recent attempt by the Syrian opposition "to destabilize the situation in Syria", saying that those behind Damascus "act of terror", which led to the killing of several top Syrian officials, must be punished.
"We expect the organizers of the act of terror in Damascus to be identified and for them to face their deserved punishment," the Russian Foreign Ministry said in a statement on Wednesday.
The statement also added that Moscow regards "the events as another attempt to further destabilize the situation" in the crisis-hit country.
The comments were made in response to a terrorist bomb attack at the headquarters of the National Security Bureau in the capital Damascus on Wednesday.
Full report at:
http://www.presstv.com/detail/2012/07/18/251559/russia-denounces-killing-of-syrian-officials/
----------
British PM: Afghan and Pakistan in Joint Fight
Jul 19 2012
KABUL, Afghanistan (AP) — British Prime Minister David Cameron called on Afghanistan and Pakistan on Thursday to make a joint effort against insurgents in the two countries' border zone. He also expressed confidence that Afghan forces will be able to hold their own after the majority of foreign troops leave at the end of 2014.
Cross-border fighting and the stalled Afghan peace process were the main topics of discussion at a three-way meeting in Kabul between Pakistani Prime Minister Raja Pervaiz Ashraf, Afghan President Hamid Karzai and Cameron.
The British, U.S. and Afghan governments have long criticized Pakistan for not doing enough to stop cross-border attacks. Many insurgents groups are based in safe havens in Pakistan's lawless tribal areas along the Afghan border. Islamabad also charges that insurgents cross the border from the Afghan side and attack Pakistani security forces.
"The terrorists that are trying to wreck Afghanistan are by and large the same terrorists that are trying to wreck Pakistan," Cameron said. "We should be together in one single fight."
Britain's involvement could help America's effort to push Pakistan to crack down on the safe havens and also to use its connections with some Taliban leaders to promote peace talks. Relations between Pakistan and the United States have been rocky at best, with their lowest point coming late last year after American airstrikes killed 24 Pakistani soldiers near the border.
Full report at:
http://www.nytimes.com/aponline/2012/07/19/world/asia/ap-as-
----------
Top Muslim Cleric Shot Dead in Russia
Jul 19 2012
MOSCOW (AP) — Investigators say a top Muslim cleric in Russia's Tatarstan province has been shot dead, and another wounded by a car bomb.
Russia's Investigative Committee said that Valiulla Yakupov, the deputy to the Muslim province's chief mufti, was gunned down Thursday on the way out of his house in Tatarstan's regional capital, Kazan.
Tatarstan investigator Eduard Abdullin told The Associated Press that chief mufti Ildus Fayzov was wounded in the leg after an explosive device ripped through his vehicle in central Kazan.
Both clerics were known as critics of radical Islamist groups that advocate a strict version of Islam known as Salafism.
Tatarstan is a Volga River province with a population of almost 4 million, more than half of which are Sunni Muslims.
http://www.nytimes.com/aponline/2012/07/19/world/europe/ap-eu-russia-muslim-
----------
Britain Charges 5 on Terrorism Counts
By ALAN COWELL
Jul 19 2012
LONDON — British police officials said on Thursday that they had charged five people with terrorism offenses but insisted that the accusations were not related to the Olympic Games opening here on July 27 amid a shortage of civilian security personnel that has forced an expanded military deployment.
The counterterrorism command at Scotland Yard said three men from London were charged late Wednesday with offenses that involved travel to Pakistan for what was described as terrorism training between July 2010 and this month. A woman was charged with possessing a computer USB storage device that was said to have contained material used in terrorism, and a fifth man was charged on separate offenses.
The three men from London included Richard Dart, who had appeared in a British television documentary program relating to his conversion to Islam.
The five people were to appear in court later on Thursday.
The development followed a rash of security alarms this month during which police arrested 13 people in a 24-hour period in London and the English Midlands further north.
At the time, the unusually high number of detentions reflected concerns that when the 2012 Olympics open in London, they could become the highest-profile targets since the 2001 attacks in New York and Washington. Three of the people arrested were seized in east London close to the location of the Olympic stadium and village.
Full report at:
http://www.nytimes.com/2012/07/20/world/europe/britain-charges-5-on-terrorism-counts.html?ref=global-home
----------
Do not support Assad regime: US tells Russia
Jul 19, 2012
WASHINGTON: US President Barack Obama today called his Russian counterpart Vladimir Putin and discussed the raging violence in Syria, even as the White House went public urging Moscow not to support Bashar al-Assad as by doing so it would be considered on the wrong side of history.
Responding to a question at a news conference, White House Press Secretary Jay Carney confirmed that Obama spoke to Putin over phone but did not provide much details.
"We are in regular conversation with the Russians, and we've made our positions clear... If you ally with Assad, you're going to end up on the wrong side of history, and that a continued relationship with Syria and the Syrian people I think depends upon making the right decisions now, because Syria's future will not include Assad," he said.
"Syrians need to be able to determine their own future in a democratic way, and it is in everyone's interests in the region and beyond to support a process that allows for that process to take place, that responds to the legitimate democratic aspirations of the Syrian people," he said.
Full report at:
http://timesofindia.indiatimes.com/world/us/Do-not-support-Assad-regime-US-tells-Russia/articleshow/15039623.cms
----------
Australia
Australia activists claim small victory in live export battle ahead of Ramadan
Malaya Abdullah and Joseph Mayton | 19 July 2012
JAKARTA and CAIRO: Australian animal rights activists and concerned citizens are claiming a small victory in the battle against live exports to Southeast Asia and the Middle East.
According to the Indonesian government, less than 100,000 animals are to be imported from Australia over the final half of 2012.
According to a Stock and Land news report, that means the total number of animals forced to make the lengthy journey in cramped cages to Indonesia will drop from 410,000 last year to 283,000.
Still a large number, but Australian animal rights advocate Mary Stenson told Bikyamasr.com from Sydney that it "is a step in the right direction to end this barbaric activity."
Import permits were initially issued at an even 125,000 a quarter last year – but this year only 60,000 permits were issued in the first quarter and 125,000 for the second period, as protests from animal rights groups in Australia continue to gain support and power against the massive cattle industry.
Full report at:
http://www.bikyamasr.com/73215/australia-activists-claim-small-victory-in-live-export-battle-ahead-of-ramadan/
----------
URL: https://newageislam.com/islamic-world-news/myanmar,-palestine-asia's-muslim-cleansing/d/7970