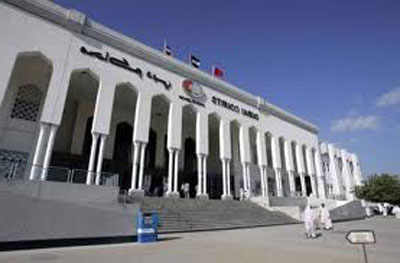 Arab World
'Make deportation optional in sex crimes'
Will Syria's Muslim Brotherhood take power after Assad?
Calls to execute cleric for daughter's murder
Two-month amnesty to illegal residents of UAE
Saudi Arabia to launch two satellites
UAE President issues decree on combating cyber crimes
Kuwaiti Father prays for miracle to save son from death, for killing Saudi man
UAE wins seat on UN Human Rights Council
Syria crisis: Arab League welcomes new opposition bloc
Africa
Dozens of Churches Destroyed In Tanzania; East Africa Violence Spreading
Former Nigerian president seeks advice from Senegalese brotherhood
India
Cooperation on terror can galvanise India-Pakistan ties
Indian funeral centre in Emirates for expatriate Hindus, Sikhs and Buddhists, Muslims and Christians by Jan
After calling Modi a tyrant, Vastanvi eyes Uttar Pradesh
Pak President to host special Diwali dinner for Bihar CM
India favours a stable Pakistan: P M
PPP top leaders attend dinner in Pakistan held in honour of Bihar CM
Indian, Pakistani guards exchange Diwali sweets at Attari-Wagah post
Pakistan
Pakistan plans 'Malala schools' for poor children
Pakistan calls for action against Israel's settlement policy, repression of Palestinians
Taliban still a threat to Pakistani security, particularly in northwest
Pakistan wins UN Rights Council seat
Bilawal felicitates Hindus on Diwali
Pakistan offering high-tech air, ground equipments for sale
Marauding Lawyers Spur Fears in Pakistan
Pakistan cricket spot-fixing trio wrongly punished?
Europe
Cleric Abu Qatada released from prison
North America
US, biggest violator of human rights: Analyst
Turmoil Dims Obama's Goals for Mideast Peace Negotiations
Mideast Asia
Israel launches air raids on Gaza Strip
Arafat's tomb sealed off in preparation for exhumation
Compiled by New Age Islam News Bureau
Photo: Dubai Court
URL: http://www.newageislam.com/islamic-world-news/by-new-age-islam-news-bureau/'make-deportation-from-uae-optional-in-sex-crimes'/d/9289
-----------------
Arab World
'Make deportation optional in sex crimes'
By Bassam Za'za',
November 12, 2012
A drunken couple, who were spotted by a policeman naked and indulging in an alleged sexual activity in a taxi's backseat, entered an innocent plea in court Thursday
Dubai: Judicial bodies have recommended that deportation orders become discretionary in crimes related to sex and honour in the UAE's Penal Code, a chief judge has said.
The country's judicial officials such as judges, prosecutors and lawyers and judicial bodies concerned have recommended a list of amendments to be introduced to the Penal Code, said judge Dr Jamal Al Sumaiti.
"The most important recommendation is to make the deportation order optional and not compulsory anymore in crimes related to sex and honour, such as consensual sex, public indecency, breach of modesty and honour, and others. However, deportation remains compulsory in major crimes such as rape and molestation.
"Members of the judicial industry justified their recommendation to amend the Penal Law and make the deportation order discretionary due to many difficulties and complications that resulted since it became obligatory," Dr Al Sumaiti, the Director General of Dubai Judicial Institute (DJI), told Gulf News.
The Penal Law currently stipulates that a judge is obligated to hand out a deportation order against expatriate defendants who are convicted in crimes of sex, honour, modesty and public indecency or immorality.
Obligation
Dr Al Sumaiti said judges were obligated to issue deportation orders [as a court order] against expatriate convicts even though cases were dropped and/or complainants had waived their rights.
"If the concerned authorities adopt the recommendations, then the amendments are expected to be enacted in the early stages of next year's first quarter if not earlier," said Dr Al Sumaiti on the sidelines of the International Symposium for Justice and Law.
The four-day symposium is being co-organised by the DJI and the US Embassy in the UAE and concludes on Wednesday.
According to the Penal Code previous to 2005, deportation was compulsory in rape and molestation cases that were referred to the Court of First Instance, Dr Al Sumaiti said.
"Meanwhile, it was discretionary in cases of consensual sex, public indecency and crimes of breach of honour or modesty that were referred to the Misdemeanour Courts. Following the amendments that were introduced after 2005, deportation became compulsory against all expatriate defendants who indulge in cases related to sex, honour, public indecency and breach of modesty before the Courts of Misdemeanours and First Instance respectively.
What recommendations entail
"Since then, judges became obliged to hand out a deportation order against suspects involved in sex and/or honour-related crimes. The upcoming recommendations enable a judge to decide on whether to hand out a deportation order depending on the severity...without being obligated to by the power of the Penal Law," Dr Al Sumaiti said.
High-profile judges, law enforcement officers and professional consultants from the United States and UAE are participating in the symposium that discusses the latest policies, developments and issues related to the judicial and legislative infrastructure in the UAE.
Al Anoud Al Hammadi, director of the symposium and head of the training department at DJI, said the event offers an extensive overview of the legal system in the US, with a focus on its best practices in alternative sentencing and social media.
http://gulfnews.com/news/gulf/uae/crime/make-deportation-optional-in-sex-crimes-1.1103947
-----------
Will Syria's Muslim Brotherhood take power after Assad?
Many say the 'solution' to the Syria crisis will be decided with the result of the American presidential election. However, this might not be entirely true due to the absence of an 'acceptable figure' to take power in Syria after Bashar Al-Assad.
Perhaps the Muslim Brotherhood's election victories in Egypt have triggered America's reluctance to accept the Syrian branch of the Islamist group and perhaps this is prolonging the nearly 20-month-old uprising.
"The United States will not allow Israel to be between the two wings of the Brotherhood," Akram Husam, of the Cairo-based National Centre for Middle Eastern Studies, told Al-Ahram Weekly.
Both countries jointly launched the October War of 1973 on Israel, after each lost territory in the 1967 War.
Husam argues that while there was international approval for the Egyptian Brotherhood, this is not the case for the Syrian Brotherhood. Indeed, during her visit to Cairo on 14 July, US Foreign Secretary Hillary Clinton reaffirmed her country's wish to deal with the Egyptian Brotherhood, whose candidate, Mohamed Morsi, won the presidential election.
"We want to be a good partner [of Egypt] and we want to support the democracy that has been achieved by the courage and sacrifice of the Egyptian people," she said.
Meanwhile, America has made no mention of the Syrian Brotherhood.
"It would make more sense for the US to intervene militarily in Syria so as to have more control over who rules the country and to limit the Brotherhood's influence," Yezid Sayigh of the Carnegie Middle East Centre in Beirut, told Al-Ahram Weekly.
Sayigh observes that the international community has varied reasons for not intervening in Syria. Most important is the military and financial costs and the fatigue of the US public with foreign wars.
"Syria is simply not seen as important enough for Western powers to get serious about resolving the crisis. The Brotherhood has nowhere near enough influence to persuade the US to intervene militarily," Sayigh said.
RIDING THE WAVE
The increasing influence of the Syrian Muslim Brotherhood on the ground after the start of the uprising on 15 March 2011 led Syrians to debate the possibility of the group taking power.
After 30 years of political and social exclusion, the Brotherhood is gaining influence inside Syria, especially in the northern provinces, including the cities of Homs and Hama, and Idlib on the border with Turkey, hotbeds of the Syrian uprising.
It currently holds a quarter of the 310 seats on the Syrian National Council (SNC), the main opposition umbrella, according to the Carnegie Middle East Centre. Moreover, it has gained control over the SNC's aid division and military bureau, its only important components.
Working secretly, the Brotherhood has been financing the Free Syrian Army and channelling money and supplies to Syria, reviving its social support among farmers and the middle class, according to media reports.
However, many Syrians say the Brotherhood is trying to "ride the people's revolution."
"The regime has deleted the Brotherhood from the memories of Syrians," said Said, 23, who fled from Homs to Cairo last month.
He added that the Brotherhood was "sleeping" and took advantage of the revolution.
Indeed, contrary to the Egyptian Brotherhood, which has a popular base and has long carried out charity work, the Syrian branch was totally banned in Syria.
"The Egyptian Brotherhood has had activities on the street and helped Egyptians to cover the [financial] gap," Husam said.
HISTORY OF EXCLUSION
The Syrian branch of this pan-Islamic organisation was established by Moustafa Siba'i in 1945, 17 years after it was founded in Egypt. Until the 1963 coup that brought the Ba'ath Party to power, it was a legal opposition party.
Since then it has been banned, with Emergency Law 49 of 1980 mandating the death penalty for membership.
Many members were exiled or killed when the army besieged Hama in 1982, then a Brotherhood stronghold, killing between 10,000 and 40,000 people.
The regime accused the Brotherhood of assassinating prominent officers and public servants in the late seventies and early eighties, including the Aleppo Artillery School massacre in 1979.
"Many Syrians still blame the Brotherhood for the violence of 1976-82," Sayigh said.
Mindful of international fears of Islamists taking power and the fact that Syria is more ethnically and religiously diverse than Egypt, the organisation published a charter in March pledging to establish a modern, democratic state based on a civil constitution. In addition to guaranteeing human rights and to rejecting terrorism.
This might bear fruit for the Brotherhood because political life has been destroyed in Syria for more than 40 years and many see it as the most organised Syrian political group. People have experienced communism, socialism and secularism – some would like to try political Islam.
"The Brotherhood is popular among the common people in Syria," Said said. Nevertheless, he said he would not vote for anybody who had been living abroad.
Amin, 28, a lawyer from Aleppo in northern Syria, is more concerned with the programme of each political party: "Whoever comes to power - Christian, Kurdish - I need to see their political plan."
Some observers say that if the Brotherhood entered politics with a different name, like the Justice and Development Party in Turkey, it would stand a bigger chance of achieving political power in Syria. The Brotherhood is likely to play a role in Syria's political future but not control the government.
"The Syrian Brotherhood has been absent for over 30 years so it probably has a much smaller voting base," Sayigh concluded.
http://english.ahram.org.eg/NewsContent/2/8/57783/World/Region/Will-Syrias-Muslim-Brotherhood-take-power-after-As.aspx
------------
Calls to execute cleric for daughter's murder
By Habib Toumi, Bureau Chief
Manama, November 13, 2012: A five-year-old girl's death due to torture apparently at the hands of her father has seen a member of the National Society for Human Rights in Saudi Arabia calling for capital punishment for the man who is a prominent religious scholar.
"We will ask for the capital punishment to help put an end to the series of child-killings by divorced fathers," Suhaila Zain Al Abideen Hammad said. "The whole society should press for the death penalty because it is the best way to end tragedies involving children," she said, quoted by local Arabic news site Sabq.
The girl named Lamaa died last week after she was reportedly tortured by her father, who makes regular appearances on television channels as a preacher. Police have detained the man, according to Saudi media.
Lamaa died in the intensive care unit of a hospital in Riyadh a few days ago after battling for life for weeks, her mother told Al Arabiya. The child's injuries included broken arms, a skull fracture and severe bruising to her head.
"He used all sorts of torture and abuse against Lamaa," Lamaa's mother said referring to her ex-husband.
Full Report at:
http://gulfnews.com/news/gulf/saudi-arabia/calls-to-execute-cleric-for-daughter-s-murder-1.1104260
--------
Two-month amnesty to illegal residents of UAE
By Samir Salama, Associate Editor
Abu Dhabi, November 13, 2012: A two-month amnesty has been granted to illegal residents, allowing them to leave the country without penalty or regularise their visas, a senior official said on Tuesday.
Major General Nasser Awadi Al Menhali, Assistant Undersecretary for Naturalisation, Residency and Ports Affairs, told a news conference: "Illegal residents who overstayed their visas can visit residency departments across the UAE to obtain outpasses and leave the country without penalties, or regularise their visas, after payment of fines between December 4 and February 3."
Al Menhali stressed the amnesty, approved by the Cabinet of Ministers in April, covers only those who overstayed their visit or resident visas, but not infiltrators, who he said will be treated like criminals.
He encouraged illegal residents to come forward and take advantage of the amnesty as soon as possible and not to wait for the deadline or miss it, "because there will be no extension or exception whatsoever of the amnesty scheme".
Major General Al Menhali added a resident who overstayed his or her visa can come forward with their passports and air tickets to obtain an outpass, get their fines waived, and leave the country.
Passports withheld by residency department in absconding cases, will be handed over to their holders, he said.
Full Report at:
http://gulfnews.com/news/gulf/uae/visa/two-month-amnesty-to-illegal-residents-1.1104133
----------
Saudi Arabia to launch two satellites
IANS/RIA Novosti
Cairo, November 13, 2012: Saudi Arabia is set to launch two indigenous satellites with a precision navigation system within the next few years, Prince Turki Bin Saud Bin Mohammad said.
According to Prince Turki, who is vice president for research institutes at King Abdul Aziz city for Science and Technology, the satellites — Saudisat 4 and Saudi GEO 1 — will be launched in 2013 and 2015 respectively.
These satellites will be equipped with highly sensitive devices and cameras for conducting various scientific experiments.
"This is a part of a long-range 20-year strategic plan the Kingdom adopted in the field of space technology research. It started in 2005 and will last until 2025," Turki said.
Saudi Arabia currently has 12 satellites used for a variety of applications, including communication, land and sea navigation. These were all launched by Russian carrier rockets from the Baikonur space centre in Kazakhstan, he said.
He also revealed Saudi Arabia would spend over $2 billion (Dh7.4 billion) in state funds for these purposes.
http://gulfnews.com/news/gulf/saudi-arabia/saudi-arabia-to-launch-two-satellites-1.1104345
----------
UAE President issues decree on combating cyber crimes
By Samir Salama, Associate Editor
Shaikh Khalifa decree protects financial details, imposes jail term for adultery via internet
Abu Dhabi, November 12, 2012: The UAE Cyber Crime Law has been revised with strong penalties set out for a range of violations.
President His Highness Shaikh Khalifa Bin Zayed Al Nahyan has issued Federal Law by Decree no 5 of 2012 combating cyber crimes, WAM reported.
The law protects materials published on the internet including information or details related to credit cards, bank accounts or any other payment instruments.
Under the law, anyone convicted of using IT or electronic means to forge credit cards or ID cards will be sentenced to a jail term.
Full Report at:
http://gulfnews.com/news/gulf/uae/government/uae-president-issues-decree-on-combating-cyber-crimes-1.1103978
--------
Kuwaiti Father prays for miracle to save son from death, for killing Saudi man
By Habib Toumi Bureau chief
Manama, November 13, 2012: A Kuwaiti father is hoping for a last minute miracle that will save his son from the death penalty.
Faleh Al Dhufairi, 24, was given the capital sentence by a Saudi court this week after he was found guilty of killing a Saudi man last year.
According to his family, Faleh accompanied his mother and sister on a pilgrimage (Haj) in November. It was the trip of a lifetime for the family, especially the mother, the family said.
However, he waded into an intense argument with a Saudi man in Makkah, pulled out a knife, and stabbed him. The victim died later at the hospital and Faleh was arrested. His mother and sister, under the shock, returned home without performing the much-coveted pilgrimage.
"It was his destiny to run into the Saudi man and to have a fight with him," Malab Al Dhufairi, the father, said. "My son tried his best to avoid the argument and pleaded with the man to stop the disagreement as Muslims are not allowed to get into any verbal dispute or quarrel during the pilgrimage. However, the other man insisted on continuing the row until my son stabbed him. When Faleh saw the victim on the floor, he realized the extent of what he did and tried to help. He took him to hospital, but he died there. My son went to Haj to seek God's mercy and forgiveness, but he ended up in a tragedy," the father told Kuwaiti news site Sabr.
Full Report at:
http://gulfnews.com/news/gulf/kuwait/father-prays-for-miracle-to-save-son-from-death-1.1104204
----------
UAE wins seat on UN Human Rights Council
US and Germany also get seats on human rights committee in disputed election
United Nations, November 12, 2012: The UAE won the membership of the UN Human Rights Council for a three-year term starting from early 2013.
The UAE elected in a secret ballot conducted by the UN General Assembly in which 21 candidate countries from 18 geographical groups competed for 18 vacant seats.
The UAE got 184 votes, the highest vote turnout of the total votes garnered by the four winning Asian countries (Kazakhstan, Japan, Korea and Pakistan) and the second highest votes of the total 18 winners.
Dr Anwar Mohammad Gargash, Minister of State for Foreign Affairs, welcomed the the UAE victory, saying :'' The win crowned a series of achievements made by the UAE in its human rights record over the recent years, particularly in areas of legislations to uphold and protect fundamental freedoms and legal rights of individuals, rights of women and children and advanced regulations on rights of foreign workforce.''
He said: 'The UAE win of the seat for the next three years will lay on our shoulder additional onus and commitment to stay our course firmly in consistence with constitutional principles on which the UAE State is built and which place respect for human rights at the top of national priorities.''
He added that the achievements explicitly promote the values and culture of the UAE which based on tolerance, openness, justice, equality and human dignity.
Ahmad Abdul Rahman Al Jarman, UAE Permanent Representative to the United Nations, expressed his extreme delights at this development and at the strong support lent to the UAE by the members of the UN Human Rights Council.
He said the win further consolidates the UAE's prominent stature at the international scene and recognizes its honourable human rights record.
Al Jarman added that the UAE government had always updated its laws and systems to introduce adequate mechanisms to protect human rights and keep abreast of latest regional and international best practices.
Citing a shining example of respect for human rights, he said the UAE had not only made strenuous and successful efforts to combat human trafficking within its borders but also partnered with other countries and regional and international organisations to put an end to the inhuman crime.
The Council shall consist of 47 Member States, which shall be elected directly and individually by secret ballot by the majority of the members of the General Assembly.
http://gulfnews.com/news/gulf/uae/general/uae-wins-seat-on-un-human-rights-council-1.1104047
---------
Syria crisis: Arab League welcomes new opposition bloc
13 November 2012
The Arab League urged other opposition parties to join the national coalitionContinue reading the main story
The Arab League has welcomed the formation of a new coalition of Syrian opposition forces, and has called on other opposition parties to join it.
The National Coalition for Syrian Revolutionary and Opposition Forces was unveiled in Doha on Sunday.
The Arab League stopped short of giving the group full recognition as the sole representative of Syrian people.
The new group is aimed at uniting the various factions seeking to overthrow President Bashar al-Assad.
The Qatari Prime Minister Sheikh Hamad bin Jassim said the league's ministerial council called for "political and material support" for the new grouping.
The league "urges regional and international organisations to recognise it as a legitimate representative for the aspirations of the Syrian people," Sheikh bin Jassim said.
What they have in mind is to force Mr Assad and his top 10 or so associates to leave - a process they describe as "decapitation".
The opposition would then be expected to negotiate a peaceful transition with what was left of the regime, whether or not they were deemed to have "blood on their hands".
The most obvious flaw in that argument is of course that Mr Assad is, at least at this stage, not minded to co-operate and flit the coop.
What chance for new opposition coalition?
Earlier, six Gulf states had also recognised the new coalition as the country's "legitimate representative".
Western nations and Turkey have also welcomed the coalition's creation.
However, some members of the Arab League, such as Iraq and Lebanon, were still "not fully supportive of the Syrian revolt", and are reluctant to delegitimise Mr Assad, an unnamed Arab League official told Reuters.
Observers and activists estimate that more than 36,000 people have been killed in the long-running uprising against President Assad.
Hundreds of thousands have sought refuge in neighbouring countries.
International recognition
Western and regional powers have in recent weeks put pressure on a hitherto fractious Syrian opposition to create a unified, credible body that could become a conduit for all financial and possibly military aid.
The Syrian National Council (SNC), the previously dominant opposition umbrella group which is widely viewed as divided and ineffective, will control 22 of the 60 seats on the National Coalition's leadership council.
The new coalition's president is Moaz al-Khatib, a former imam of the Umayyad Mosque in Damascus who fled Syria this year.
US state department spokesman Mark Toner the US was looking forward "to supporting the National Coalition as it charts a course toward the end of Assad's bloody rule".
UK Foreign Secretary William Hague said the move was a "milestone in forming a broad and representative opposition that reflects the full diversity of the Syrian people".
Western efforts to support the Syrian opposition have been hampered by Russia and China, which have blocked three UN Security Council resolutions seeking to pressure Mr Assad to end the conflict.
Turkish Foreign Minister Ahmed Davutoglu said the international community had "no excuse any more" not to support the opposition.
A Chinese foreign ministry spokesman said only that his country supported a political transition "led by the Syrian people as soon as possible."
Russia said the National Coalition should seek "a peaceful resolution of the conflict by Syrians themselves, without external interference, through dialogue and negotiations".
Mr Khatib, 52, left for Cairo in July after several periods of detention by the Syrian authorities for criticising President Assad. He is seen as a moderate.
"We demand freedom for every Sunni, Alawite, Ismaili (Shia), Christian, Druze, Assyrian ... and rights for all parts of the harmonious Syrian people," he said after being elected president of the National Coalition.
The group, formed after a week of talks in Doha, has two vice-presidents - prominent dissident Riad Seif and the leading female secular activist, Suhair al-Atassi.
Delegates said the leadership council would include representation for ethnic Kurds, Christians, Alawites and women. There will also be a military council that will reportedly include the Free Syrian Army (FSA).
http://www.bbc.co.uk/news/world-middle-east-20307668
----------
Africa
Dozens of Churches Destroyed In Tanzania; East Africa Violence Spreading
By BosNewsLife Africa Service
DAR ES SALAAM, TANZANIA (BosNewsLife) November 12, 2012-- Dozens of Christian worship places have been destroyed by Islamic extremists in Tanzania and church leaders are fleeing its heavily Muslim island of Zanzibar, as the persecution of Christians spreads throughout East Africa, a human rights chief said Monday, November 12.
"As of May [about] 25 churches and convents have been destroyed. This destruction is mostly confined to [semi-autonomous] Zanzibar where the population is 99 percent Muslim and openly hostile to Christians," explained William Stark, regional manager for Africa of advocacy group International Christian Concern (ICC)
In one of the latest just revealed incidents, violence broke out last month after a Muslim boy encouraged a Christian boy to urinate on a Koran, deemed a holy book by Muslims, on the outskirts of Dar es Salaam, the capital.
"As a result of this meeting, the Christian boy was threatened with being beheaded and at least five churches were destroyed," Stark said.
Bishop Fabian Obeid, the Chairman of the Pastor's Fellowship in Zanzibar, stressed in published remarks that when the two boys met, the Muslim boy bragged that if someone was to urinate on the Kuran, that person would be turned into a snake, a dog or a rat.
CHRISTIAN BOY
"The Christian boy [was] interested with this scenario and without giving it a second thought urinated on the Koran," he added in a statement distributed by ICC.
When the Muslim boy informed his parents, they allegedly decided to confront the parents of the Christian boy. After discovering they weren't at home, the Muslim parents reported the incident to a nearby mosque in a move that eventually sparked violence, Christians said.
"Days later, a mob of Muslim youths gathered at the mosque after being stirred up at Friday prayer. Their intent was to punish the Christian boy for desecrating the Koran. Police were alerted of the situation and the boy was detained for protection against the mob," well-informed Stark recalled.
They apparently demanded that police hand over the boy to the crowd and behead him, seen as an appropriate punishment for desecrating the Koran according to ultra conservative interpretations of Islamic law.
"When the police refused to release the boy, the mob began to riot...the mob decided to turn their rage on churches and other Christian property in the area," Stark said,
TORCHED CHURCHES
The mob burned down five churches, including the Seven Day Church, the Anglican Church and the Assemblies of God Church, Christians said Other property belonging to Christians in the area was also destroyed including a car belonging to the Anglican Church pastor, according to ICC investigators.
"As the riots continued, the Evangelical Assemblies of God Church in Tanzania was pulled down. In the following days, unrest in the Muslim community continued, leading to the destruction of more properties across the country and the lives of Christian leaders being threatened," Stark said in a statement obtained by BosNewsLife.
The violence also spread to Zanzibar, where on October 18, a mob of Muslim protestors carrying clubs, swords and machetes invaded two churches shouting "We want the head of Bishop Shayo" as they tried to enter his Roman Catholic church, Christians claimed.
When they failed to break into the church, the mob moved on to the Anglican church of Reverend. Emmanuel Masoud where the crowd broke windows and were seen hacking at the doors while chanting: "We need the head of Masoud!" and We want the heads of all the church pastors in Zanzibar!"
Pastor Lucian Mgaywa of the Church of God in Zanzibar, said in a statement that, "These chants caused a lot of panic and some pastors, fearing for their lives, fled the island of Zanzibar to the mainland of Tanzania," though the government later "intervened and provided security."
NO ARRESTS
However, "To date, no arrests have been made in connection with attacks on churches in Zanzibar, leading many to question whether the local government condones these activities," Stark added.
Most violence has been linked to the Islamic separatist group 'Association for the Islamic Mobilization and Propagation' (UAMSHO) which wants Zanzibar to become independent from mainland Tanzania. "In recent years, UAMSHO has become increasingly fundamental in its religious convictions and has been involved in several attacks on Christians in Zanzibar," Stark noted.
Full Report at:
http://www.bosnewslife.com/24643-dozens-of-churches-destroyed-in-tanzania-east-africa-violence-spreading
----------
Former Nigerian president seeks advice from Senegalese brotherhood
By TAMBA JEAN-MATTHEW in Dakar
November 12 2012
The leader of Senegal's Tidiane Islamic brotherhood has offered to mediate in Nigeria's inter-religious unrest following a meeting with former Nigerian President Olusegun Obasanjo.
The two met at the brotherhood's holy city of Médina Baye in central Senegal at the weekend.
Cheikh Ahmet Tidiane Ibrahima Niasse's brotherhood is said to have a substantial following in Nigeria.
The former president flew into Médina Baye in a chartered plane and held several hours of discussions with Cheikh Niasse and other brotherhood leaders, local media reported Monday.
One of those participating in the discussions was Baye Cheikh Tidiane Alioune Cissé, the Imam of the Grand Mosque of the holy city.
Gen Obasanjo later told reporters that the brotherhood's leaders "could help to end the hostilities and bring together the two religious communities (in Nigeria)," meaning the often antagonistic Muslims and Christians.
Bloody conflicts between the Muslim and Christian communities have plagued Nigeria for decades, but the rise of the radical Islamist sect Boko Haram has worsened the situation.
The Médina Baye spiritual guides are expected to draw from the experience of the Islamic-Christian dialogue in Senegal launched over a decade ago to smooth relations between the majority Muslims and the minority Christians.
Senegal has been a model of peaceful co-existence between members of the two faiths.
http://www.africareview.com/News/Obasanjo-seeks-Senegalese-Muslim-brotherhood-hep/-/979180/1618284/-/8e0qk2/-/index.html
-------------
India
Cooperation on terror can galvanise India-Pakistan ties
November 13, 2012
In a welcome development in the 26/11 terror trial, Pakistani investigating officials have told an anti-terror court in Rawalpindi that the perpetrators of the Mumbai attacks received training at various Lashkar-e-Taiba camps across Pakistan. The move appears to signal a shift on the part of Islamabad, which was earlier reluctant to accept the complicity of Pakistani actors - such as Lashkar operations chief Zakiur Rehman Lakhvi - in the terror strikes. The lack of cooperation between the two sides is best exemplified by Islamabad's refusal to hand over even voice samples of the accused.
But the recent improvement in the bilateral atmosphere holds out hope. Ahead of Pakistani interior minister Rehman Malik's proposed India visit later this month, Pakistani authorities have sought day-to-day trial in the 26/11 case, as well as amendments to the country's evidence laws to enable the collection of voice samples of the accused. Read along with the move to resume cricketing ties between the two countries, there is positive momentum in bilateral relations. This isfurther confirmed by the significant progress made in two-way trade - exemplified by Pakistan's shift to a negative list for trade with India - and movement of people - Malik is expected to ink a liberalised visa regime during his trip here.
Full Report at:
http://timesofindia.indiatimes.com/home/opinion/edit-page/Cooperation-on-terror-can-galvanise-India-Pakistan-ties/articleshow/17197300.cms
-----------
Indian funeral centre in Emirates for expatriate Hindus, Sikhs and Buddhists, Muslims and Christians by Jan
Sajila Saseendran
SHARJAH, 12 November 2012 - A final resting place for Indian expatriates in Sharjah and the Northern Emirates is scheduled to open in January 2013, the Minister for Overseas Indian Affairs, Vayalar Ravi, announced.
The minister was speaking after visiting the construction site of the new multi-faith funeral centre off Sharjah Airport Road on Sunday. He also handed over Dh500,000 allotted to the facility from a community welfare fund for overseas Indians.
The facility is designed to have four gas cremators for Hindus, Sikhs and Buddhists as well as burial grounds for Muslims and Christians, said YA Rahim, president of the Indian Association Sharjah (IAS), which is executing the over Dh5million project.
He said IAS plans to open the facility with at least one cremator by mid January. "The compound wall for the Christian burial yard has already been made by the Public Works Department. The same for the Muslims will be done soon," Rahim told Khaleej Times.
"We are getting the first cremator valued at $29,000 from the US by next month. In future, we are planning to have at least three more cremators for the believers of the three religions," he said.
Full Report at:
http://www.khaleejtimes.com/kt-article-display-1.asp?xfile=data/nationgeneral/2012/November/nationgeneral_November191.xml&section=nationgeneral
-----------
After calling Modi a tyrant, Vastanvi eyes Uttar Pradesh
By Ashish Tripathi, TNN
LUCKNOW, Nov 13, 2012: Muslim cleric, social activist and educationist Ghulam Mohammad Vastanvi, who was unceremoniously removed from the post of vice-chancellor of Darul Uloom Deoband, is said to be planning to set up educational institutes in Uttar Pradesh (UP) for the backward classes among Muslims.
According to reports, Vastanvi's next project would be in UP. He is also expected to meet and take help from UP chief minister Akhilesh Yadav. Muslim constitute 20% of UP's 19.95 crore population. Majority of Muslims are educationally and socially backward. Sources said that Vastanvi also wants to show Muslim leaders in UP that he is working for a cause and has no desire of any post or position.
A resident of Gujrat, Vastani is known as moderate Muslim cleric with progressive ideas. In 2011, he was appointed as vice-chancellor of Darul Uloom Deoband, one of the prominent and most respected Islamic seminary in India and abroad. However, within months, he was removed following alleged remarks praising Narendra Modi rule in Gujrat. Many in the country hold Modi responsible for 2002 riots. Though Vastanvi had disowned remark but he was removed. Vastnavi is known for setting several centres of modern education including engineering and medical colleges in Gujrat and Maharashtra.
Full Report at:
http://timesofindia.indiatimes.com/city/lucknow/After-calling-Modi-a-tyrant-Vastanvi-eyes-Uttar-Pradesh/articleshow/17206760.cms
-----------
Pak President to host special Diwali dinner for Bihar CM
ISLAMABAD, Nov 13, 2012: PTI President Asif Ali Zardari will host a special Diwali dinner for Bihar Chief Minister Nitish Kumar on learning that his meeting with the visiting Indian leader coincided with the Hindu festival of lights, officials said on Tuesday.
Kumar and his delegation were earlier scheduled to call on Zardari at the presidency this evening and the meeting was to be followed by a formal dinner hosted by the Foreign Ministry.
On finding out that he would be meeting Kumar on the occasion of Diwali, Zardari decided to host a special dinner for the Indian delegation at the presidency, officials of the Indian High Commission told PTI.
The President's decision reflected the importance being attached to Kumar's visit by the Pakistan People's Party-led government at the centre.
Zardari has taken a personal interest in pushing for better ties with India, especially in trade and commerce, said Fawad Chaudhry, a special assistant to Prime Minister Raja Pervez Ashraf.
In a special message on the occasion of Diwali, Zardari greeted Hindus and called for strengthening interfaith harmony and protecting the rights of minorities. The festival of lights is a time for celebration and reflection, he said.
Full Report at:
http://www.dnaindia.com/india/report_zardari-to-host-special-diwali-dinner-for-nitish-kumar_1764004
---------
India favours a stable Pakistan: PM
NEW DELHI, 13 Nov 2012- Indian Prime Minister Manmohan Singh on Monday said India favoured a stable and prosperous Pakistan. Addressing a joint news conference with Afghan President Hamid Karzai in New Delhi' he said India supported durable peace in Afghanistan and urged the need for taking concrete steps for restoration of peace in Afghanistan.
President Karzai is in India on a four-day official visit that began Friday.
Singh said the Afghan people should have the right of franchise so to decide their future by themselves.
Describing Afghan President Hamid Karzai as a close friend of India and a "steadfast supporter" of bilateral ties, Prime Minister Singh said the two had reaffirmed their shared vision of a "stable, strong, united, sovereign and prosperous Afghanistan".
Singh said they had reviewed progress in implementation of the Strategic Partnership Agreement and reaffirmed commitment to deepen cooperation "in accordance with the vision outlined in the agreement".
He said the two leaders had discussed "the need to develop a strategic economic partnership, which will build on our economic synergies for mutual benefit".
He also "reiterated to President Karzai our belief that Afghanistan's regional economic integration will contribute to overall prosperity and stability in the region".
Singh said India remained committed to supporting Afghanistan in its development efforts.
India's development assistance commitment to Afghanistan stands at $2 billion.
"We have expanded our programmes for capacity-building, institution-building and human resource development. With the signing of the memorandum of understanding today, we will launch the third phase of Small Development Projects to address the socio-economic needs of people throughout Afghanistan," he said.
The two sides had discussed "the changes in the security and political situation in and around Afghanistan".
Full Report at:
http://www.pakistantoday.com.pk/2012/11/13/news/national/india-favours-a-stable-pakistan-singh/
-----------
PPP top leaders attend dinner in Pakistan held in honour of Bihar CM
By Rezaul H Laskar
ISLAMABAD, Nov 13, 2012: PTI, Several top leaders of the Pakistan Peoples Party-led government, including Religious Affairs Minister Khursheed Shah, attended a dinner held in honour of visiting Bihar Chief Minister Nitish Kumar and his delegation in the federal capital today.
The dinner, hosted by Indian Deputy High Commissioner Gopal Bagley at a hotel in Islamabad, was devoid of speeches and formalities and afforded Kumar and his delegation an opportunity to interact with government leaders and senior lawmakers from various political parties.
Besides Shah, the event was attended by Faisal Karim Kundi, Deputy Speaker of the National Assembly or lower house of parliament, former federal minister Asim Hussain, a close aide of President Asif Ali Zardari, lawmakers of the PPP, PML(N), PML(Q), Awami National Party and Muttahida Qaumi Movement and senior journalists.
Kumar and his delegation arrived in Islamabad after a whirlwind tour of the southern province of Sindh.
Kumar completed his tour of the Sindh province by attending a reception hosted by Governor Ishrat-ul-Ebad.
In his brief address at the reception, Kumar said he had come in close contact with Pakistani people during his tour and learnt a lot about the country.
"I am going to Islamabad with a stronger belief that Pakistan and India must work together for peace and prosperity in South Asia region as we share lot of common values and aims," Kumar said.
Full Report at:
http://www.dnaindia.com/india/report_ppp-top-leaders-attend-dinner-in-pakistan-held-in-honour-of-nitish-kumar_1763899
----------
Pakistan offering high-tech air, ground equipments for sale
Observer Report
Karachi, November 13, 2012—Pakistan is offering some high-tech air and ground equipments for sale and it shows that we have achieved self-sufficiency in many fields, said Sardar Bahadur Khan Sihar Federal Minister for Defence Production.
Addressing the closing ceremony of IDEAS-2012 here at Expo Center, Khan said Pakistan is a peace loving country and desires to live in harmony with all.
Major General Tahir Ashraf Khan HI (M) DG DEPO, Commodore Siddiq Akbar, Director (Media) of Defence Export Promotion Organization (DEPO), Ministry of Defence Production and Brig. Mazhar, Director Coordination, DEPO were also present on the occasion.
He added that the aim of the IDEAS 2012 was to showcase our products, demonstrate our organization skills to plan and conduct a mega event of international stature and provide a great international platform to convey our view points on security issues concerning Pakistan.
Moreover, to provide a unique opportunity for our defence related industry, both in public and private sector, to display their products and interact directly with the defence industry of the developed world and creating a good opportunity to reinforce the diplomatic efforts in the domain of defence diplomacy.
He said we feel that by holding DEAS 2012 successfully under the prevalent environment by an attempt to build the image of Pakistan as a modern, progressive and tolerant state that is willing to co-exist peacefully with the international community, we have achieve our aim.
While giving answer to a question he said we have achieved all targets of holding the IDEAS 2012. Around 82 foreign defence delegations and participation of 56 countries shows the significance and success of the exhibition.
Meanwhile, Major General Tahir Ashraf Khan also briefed the media he added that Pakistan had been in defence production since very long.
Our some of the major indigenously developed products were showcased in IDEAS-2012 including Main Battle Tank Al–Khalid, JF–17 Thunder Fighter Aircraft, Jet Trainer Aircraft and UAVs etc.
We received very good response for IDEAS 2012 from Turkey, China, North America, South America, Europe, Asia, Far East.
http://pakobserver.net/detailnews.asp?id=182110
----------
Indian, Pakistani guards exchange Diwali sweets at Attari-Wagah post
AMRITSAR: Border Security Force (BSF) officials exchanged sweets with Pakistan Rangers at the India-Pakistan land border check post on Tuesday to mark Diwali.
BSF officials went up to the zero line and offered sweets to their counterparts in Pakistan Rangers. The border check post lies around 30 km from Amritsar.
The Pakistani side also offered sweets to the BSF. Officials from both sides shook hands and greeted each other.
"The BSF shared sweets with our Pakistan counterparts on the occasion of Diwali. They also greeted us," a BSF official said at Attari.
The Attari-Wagah post between both countries is the only official land route link between India and Pakistan in the Punjab sector.
It is popular for the daily evening Retreat ceremony by the BSF and Rangers to mark the lowering of Indian and Pakistani flags and closure of gates for the night.
In recent years, the check post has witnessed an increase in movement of people and trade cargo.
http://timesofindia.indiatimes.com/india/Indian-Pakistani-guards-exchange-Diwali-sweets-at-Attari-Wagah-post/articleshow/17204992.cms
-----------
Pakistan
Pakistan plans 'Malala schools' for poor children
ISLAMABAD, 13 November, 2012: Pakistan plans to honour Malala Yousufzai by opening special schools in her name for poor children, officials said on Monday.
The "Malala Schools" are planned for 16 areas around the country affected by conflict or natural disasters, Nafisa Shah, chairwoman of the National Commission for Human Development, told AFP.
The aim is to give children in these areas, who often have little in the way of educational opportunities, a chance to go to school, Shah said, but added that money for the scheme had not yet been found.
We have identified the places and (will) soon launch a fundraising scheme to generate finances for these schools," Shah said.
ach school will have two classrooms, a verandah, a toilet and space to extend the building if needed. It will cost 800,000 rupees ($8,220) and provide basic education to both girls and boys.
The Pakistani government has announced a plan to pay poor families to send their children to school and UN education envoy Gordon Brown held talks in Islamabad at the weekend to begin a plan to bring more than five million out-of-school youngsters into the classroom.
Taliban hitmen shot Malala on her school bus a month ago in Mingora in Swat Valley in a cold-blooded murder attempt for the "crime" of campaigning for girls' rights to go to school.
http://paktribune.com/news/Pakistan-plans-Malala-schools-for-poor-children-254889.html
----------
Pakistan calls for action against Israel's settlement policy, repression of Palestinians
13 November 2012
UNITED NATIONS: Pakistan has called on the international community to take action against Israel for its "illegal practice" of building settlement on occupied territories and demolishing the structures of Palestinians and their displacement and evictions.
"While we continue to watch from the sidelines, increasing incidents of settler and 'price tag' attacks are making the occupied territories truly unlivable," Ambassador Raza Bashir Tarar, Pakistan's deputy permanent representative to the UN, told the General Assembly's Fourth Committee, which deals with special political decolonization matters.
Speaking in a debate on the report of the Special Committee to Investigate Israeli Practices Affecting the Human Rights of the Palestinian People and Other Arabs of the Occupied Territories, he also called for an immediate end to the blockade of Gaza, now in its sixth year.
"Ending the culture of impunity is important for building an environment of trust and confidence," the Pakistani diplomat said. In his remarks, he also reaffirmed Pakistan's "unrelenting support" for the Palestinian people in their just struggle for peace and right to self- determination.
Full Report at:
http://www.brecorder.com/top-news/108-pakistan-top-news/90317-pakistan-calls-for-action-against-israels-settlement-policy-repression-of-palestinians.html
---------
Taliban still a threat to Pakistani security, particularly in northwest
By Muhammad Tahir
ISLAMABAD, 2012-11-13 (Xinhua)-- Despite some setbacks that they suffered from Pakistani security forces, the Pakistani Taliban have continued their target killings in the country's northwest, assassinating at least two leaders of peace committees and dozens of civilians in the latest wave of violent attacks.
An anti-Taliban leader was shot dead in northwestern Lower Dir District in the first week of this month. Abdul Rehman was a prominent member of a pro-government militia in the area. He had survived two previous attempts on his life.
A day later, at least five people were killed in a Taliban suicide bombing in Buner district, which is situated near Swat valley. A local anti-Taliban peace committee, Fateh Khan, was among those killed. There were two more target attacks in the region in recent days.
The Taliban spokesman Sirajuddin claimed responsibility for the four attacks in Pakistan in text messages to the media persons. He said that the slain leaders were 'hurdles in the way of Islamic system and were behind the murder and arrest of Taliban militants'.
In one of the brutal attacks, Taliban gunmen shot and injured a 14-year school girl, Malala Yousafzai, in the Swat District on Oct. 9 for her advocacy in promoting girls'education in Pakistan. She was critically injured and is now recuperating at a London hospital where she was brought for further treatment.
Full Report at:
http://news.xinhuanet.com/english/world/2012-11/13/c_131970261.htm
----------
Pakistan wins UN Rights Council seat
November 13, 2012
The United States and Germany won a closely contested race Monday among western nations for UN Human Rights Council seats, while the likes of Venezuela and Pakistan secured places without a competitive vote. Rights groups condemned the "pre-cooked" arrangements by most continental groups at the 193-member UN General Assembly which gave council seats to countries whose records have been widely questioned.
The United States, Germany and Ireland won the only open election among western nations. All the other regional groups nominated "clean slate" groups of countries with no competitive voting. Ivory Coast, Ethiopia, Gabon, Kenya and Sierra Leone will join for Africa; Japan, Kazakhstan, Pakistan, South Korea and United Arab Emirates for Asia; Argentina, Brazil and Venezuela for Latin America and the Caribbean; and Estonia and Montenegro for Eastern Europe. Venezuela got 154 votes, more than the United States, 131, or Germany, 127.
Full Report at:
http://www.brecorder.com/general-news/172/1257590/
---------
Bilawal felicitates Hindus on Diwali
KARACHI, November 13, 2012: Chairman Pakistan People's Party (PPP) Bilawal Bhutto Zardari extended greetings to Hindu community in Pakistan on the occasion of Diwali and assured them that his party stands for equal rights to them and joins in the festival of lights and victory of good over evil. In a press statement issued here, the chairman said that being the largest political party of Pakistan, the PPP had always played its role for creating and promoting interfaith harmony and equality. "Today, we reiterate our commitment for the cause and mission of the martyr leadership of Shaheed Zulfikar Ali Bhutto and Shaheed Mohtarma Benazir Bhutto to build an egalitarian and inclusive society where everyone enjoys a peaceful and prosperous life without any kind of discrimination," the chairman added. Bilawal said all the minorities, including the Hindus, are equal citizens of Pakistan and are free to celebrate their religious and cultural festivals, and should be able rejoice the festivities without any fear. PPP will continue to play its role for the betterment and progress of the masses including the minorities. staff report
http://www.dailytimes.com.pk/default.asp?page=2012%5C11%5C13%5Cstory_13-11-2012_pg12_2
------------
Japan keen to uplift social sector in Pakistan: envoy
Islamabad, November 13, 2012, Expressing his governments keen interest for the uplift of social sector in Pakistan, especially in education, the Japanese Ambassador to Pakistan Hiroshi OE said on Monday that Japan was ready to explore possibilities for viable projects for the betterment of social sector in less developed area of the country.
According to a press release, he was talking to Muhammad Ali Durrani, head Bahawalpur Province Restoration Movement and former federal minister, who called on him in the Japanese Embassy.
Matters of mutual interests and possibilities of cooperation in the social sector in less developed areas of Pakistan especially in Bahawalpur were discussed during the meeting. Hiroshi highlighted the efforts of Japan Government for the betterment in the socials sector in Pakistan specially the initiatives for the promotion of education, training of teachers, maternal and child health and infrastructure development. He said promotion of education was an important aspect to achieve developmental targets that cannot be ignored.
Muhammad Ali Durrani acknowledged and thanked the people and government of Japan for the keen interest and substantial help during the floods and other situation of calamity. He also appreciated the technical and financial assistance provided by the Japanese government for the uplift of social sector in Pakistan on humanitarian grounds.
Full Report at:
http://www.thenews.com.pk/Todays-News-6-142659-Japan-keen-to-uplift-social-sector-in-Pakistan-envoy
----------
Marauding Lawyers Spur Fears in Pakistan
By Debra Cassens Weiss, Nov 12, 2012
Lawyers in Pakistan received widespread notice when their protests led to reinstatement of the nation's chief justice and called attention to an atmosphere of lawlessness in the country.
Now some of the lawyers are part of the problem, the Washington Post reports. "In a nation where the rule of law is already fragile on many levels," the story says, "police officials, judges, litigants and witnesses say they have become increasingly fearful of marauding lawyers in their trademark black pants, coats and ties."
The story reports on a police investigator who says lawyers pummeled him because he refused to share a confidential hospital report. Reports this year of at least 15 instances of alleged "hooliganism" and "high-handedness" by lawyers have undermined a reformist reputation that began with protests in Lahore.
"Since those heady days, critics say, lawyers' arrogance and aggressiveness have wiped out any goodwill they had generated," the story says. "Judges, in particular, say lawyers have become drunk on power, unafraid to curse judicial officers, drag them from their courtrooms and padlock the doors." The problem is more frequent in Lahore, where three courtroom brawls were reported on just one day in May.
The Post interviewed Zulfiqar Ali, president of the Lahore Bar Association, who said lawyers need to improve their behaviour. He said law schools fail to emphasize ethics and courtroom conduct, and the bar association has responded with weekly lectures aimed at improving decorum and competence. Despite the problems, he says, lawyers are responsible for protecting budding democracy in the country.
http://www.abajournal.com/news/article/marauding_lawyers_spur_fears_in_pakistan/
-----------
Pakistan cricket spot-fixing trio wrongly punished?
By Staff
November 13, 2012
British journalist Ed Hawkins has made yet another claim that the three Pakistani cricketers who were convicted of spot-fixing may have been wrongly punished.
Hawkins, in his soon to be published book 'Bookie Gambler Fixer Spy: Journey to the corrupt heart of cricket's underworld', has claimed that the disgraced trio Salman Butt, Mohammad Amir and Mohammad Asif were scammed in the spot-fixing case.
He wrote in an article on Monday that in India, fixing is not done on no-balls and therefore, Justice Cook's verdict regarding the involvement of three Pakistani cricketers in spot-fixing was unjust, according to The News.
"'Do you think we're fools?' one Indian bookie told me. 'If someone says they want this no-ball bet for big monies and I'm Ladbrokes, I tell them to go away. No bookmaker in the world takes this bet.'
"The reason would be that they suspected you had inside information. And it is no different in India.
Full Report at:
http://www.emirates247.com/sports/cricket/pakistan-cricket-spot-fixing-trio-wrongly-punished-2012-11-13-1.482966
-----------
Europe
Cleric Abu Qatada released from prison
13 November 2012
Muslim cleric Abu Qatada has been freed on bail after a UK court ruled he might not get a fair trial if deported to Jordan to face terrorism charges.
He was released from Long Lartin prison, in Worcestershire. He has spent most of the last 10 years in custody.
A UK court approved his appeal against deportation after deciding witness evidence obtained by torture might be used at trial in Jordan.
The government believes the wrong legal test was applied and is to appeal.
"We had received a number of assurances from the Jordanian government - they had even changed their constitution," a spokesman for Prime Minister David Cameron said.
"We believe that we have got the right assurances from the Jordanian government."
He added: "The Home Office will be ensuring that we take all the steps necessary to ensure that Qatada does not present a risk to national security."
Jordan's acting information minister Nayef al-Fayez told the BBC his government shared UK authorities' disappointment at the Special Immigration Appeals Commission (Siac) ruling on Monday.
Full Report at:
http://www.bbc.co.uk/news/uk-20308585
-----------
North America
US, biggest violator of human rights: Analyst
An American analyst says the United States is "the biggest violator of human rights" in the world, adding that Washington must not be allowed place in the United Nations Human Rights Council (UNHRC), Press TV reports.
"The United States according to all records is the biggest violator of human rights issues in the world," Tighe Barry, a member of the CODEPINK Movement from Los Angeles, told Press TV on Sunday.
Barry added that the inmates held by the US in Guantanamo Bay detention camp in Cuba "have not been given their right to seek counsel or be held in court in front of a judge."
"We have people that are being killed around the world in Pakistan, in Yemen, in Libya by our robotic killers and no, I do not believe the United States should have a place on the Human Rights Council at the UN."
"What the American government is doing is oppressing people worldwide with their military inflations, over one thousand now military bases around the world," the analyst said.
Barry said the US government stands guilty of "killing people worldwide and jailing people without right to habeas corpus which is the ability to seek counsel and to be in front of a judge."
On November 10, Iran's Foreign Ministry Spokesman Ramin Mehmanparast called on the UN members to oppose Washington's membership in the UNHRC in the General Assembly voting on November 12.
Mehmanparast emphasized that due to its negative human rights records and violation of international conventions and treaties, Washington is not qualified to be a member of the council which is the most important international human rights body.
According to the council's statute, only countries with a clean human rights record have the right to join UNHRC, Mehmanparast said, going on to cite Washington's involvement in killing civilians, torturing people in secret prisons and anti-Islam campaign as some examples of the US human rights violations.
http://www.presstv.com/detail/2012/11/12/271764/us-biggest-human-rights-violator/
----------
Turmoil Dims Obama's Goals for Mideast Peace Negotiations
By Nicole Gaouette, November 13, 2012
President Barack Obama now confronts a changing Islamic world that's far more tumultuous than the one he faced when he took office for his first term.
The U.S.-backed revolutions sweeping the Middle East and North Africa are ending decades of authoritarian rule, introducing new leaders in a region crucial to the world economy and turning some countries more toward Islam.
As a result, it will be a challenge for Obama and his second-term team to make headway toward reviving Arab-Israeli peace talks, reducing terrorists' capabilities and ending the Syrian civil war before it destabilizes neighbors Lebanon and Jordan and strengthens Islamic extremists.
"The U.S. isn't marginalized completely, but these powers are exercising more influence and less regard for American interests than at any time in the recent past," Aaron David Miller, a senior fellow at the Wilson Center, a Washington policy group, said in a telephone interview.
The region's new Islamist regimes and the U.S. "are still in an exploratory phase, each trying to figure out how to approach the other," said Khalil al-Anani, a political analyst at Durham University in the U.K.
Whether they succeed matters. While U.S oil and natural gas production is rising, the Mideast and North Africa, with their vast oil and natural gas reserves and strategic location, remain vital to U.S. national security and to the global economy. Tensions with Iran drove U.S. crude oil prices to a high for this year of $110.55 a barrel March 1 on the New York Mercantile Exchange. Yesterday, oil for December delivery dropped 50 cents, or 0.6 percent, to settle at $85.57 a barrel on the New York market.
Egypt's Importance
In Egypt, the Suez Canal is a channel for oil shipments from the Persian Gulf to Europe and gives the U.S. Navy a route from its Mediterranean bases to the Persian Gulf. Perhaps even more important, Egypt, the fifth-largest recipient of U.S. aid in the past year at $1.6 billion, has a peace treaty with Israel that the U.S. considers vital to the security of its closest Mideast ally.
Whether nations such as Egypt, as well as Libya, Syria, Iraq, Tunisia and Yemen are turning away from America -- and posing a greater threat to Israel -- was an issue in this year's U.S. presidential campaign. The debate was electrified by the September 11 attack on the U.S. diplomatic mission in Benghazi, Libya.
U.S. Secretary of State Hillary Clinton registered her dismay in her initial reaction to the Benghazi attack that killed the American ambassador to Libya and three other Americans. "How could this happen in a country we helped liberate in a city we helped save from destruction?" she asked in remarks on Sept. 12 "This question reflects just how complicated and at times how confounding the world can be."
Full Report at:
http://www.businessweek.com/news/2012-11-13/turmoil-dims-obama-s-goals-for-mideast-peace-negotiations
------------
Mideast Asia
Israel launches air raids on Gaza Strip
November 13, 2012
Bombing continues despite resistance organisations calling for a truce
Palestinians stand in front of a graffiti depicting a resistance fighter in Gaza City. The spike in violence raised the spectre of a broader Israeli military campaign to stamp out rocket fire.
Occupied Jerusalem: Israel launched three air strikes on the Gaza Strip early on Tuesday and resistance fighters fired a rocket into southern Israel, hours after Gaza groups said they were ready for a ceasefire.
The air raids hit an uninhabited area to the west of Gaza City, without causing any casualties, Palestinian security sources and witnesses said.
In a statement, the Israeli army said the strikes targeted a weapons facility and two rocket launch sites.
The raids came after renewed rocket fire on Monday, with resistance fighters firing at least 15 missiles into Israel, the army said, adding another four were intercepted by the Iron Dome system.
Full Report at:
http://gulfnews.com/news/region/palestinian-territories/israel-launches-air-raids-on-gaza-strip-1.1104293
-----------
Arafat's tomb sealed off in preparation for exhumation
13 November 2012 L
Workers have sealed off the tomb of the former Palestinian leader, Yasser Arafat, in Ramallah in preparation for the possible exhumation of his body.
Officials plan to dig up his remains in the coming weeks to allow scientists to ascertain whether his death in Paris in 2004 was caused by poisoning.
France began a murder inquiry in August after Swiss experts found radioactive polonium-210 on his personal effects.
Arafat's medical records say he had a stroke resulting from a blood disorder.
His widow, Suha, objected to a post-mortem at the time, but has appealed to the Palestinian Authority to permit the exhumation "to reveal the truth".
Full Report at:
http://www.bbc.co.uk/news/world-middle-east-20311189
---------
URL: http://www.newageislam.com/islamic-world-news/by-new-age-islam-news-bureau/'make-deportation-from-uae-optional-in-sex-crimes'/d/9289