New Age Islam News Bureau
27 Jul 2012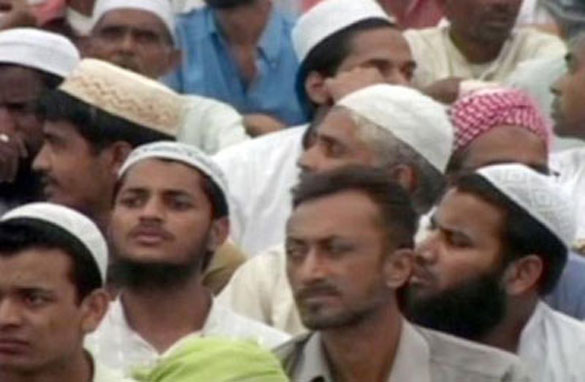 Pakistan
• Hindu Boy Converts to Islam on TV in Pakistan
• Blast at banned outfit's centre kills three in Khyber Agency
• Tajik forces demand rebels surrender former warlord
• Pakistani develops technology to run vehicles on water
• Kidnappers release president of Hindu Panchayat
• Now, Pakistan SC settles dispute over Samosa price
• 'ISI bribed Pak politicians to prevent PPP from coming to power in 1990'
• Judiciary wants democratic system to continue, says CJ
• Two killed in Karachi violence
• Rehman Malik takes oath; PML-N stages walkout from Senate
• 'Pakistan can progress if nepotism eliminated'
Arab World
• Salafists Threaten Walkout over Sharia Law Clause in Egypt's Constitution
• Saudi riot police fire live rounds on Shiite protesters in Qatif
• 12 killed as Iraqi forces clash with militants
• 'Bars for Ramadan' list sparks protest in Dubai
• Saudi Painter Merges Arabic and Islamic Cultures on Al Arabiyaâ
• The 3-Step Method to Analyzing Videos from Syria: The Case of Heat-Seeking Missiles
• Syria conflict: Assad's fall 'matter of time' - ex-UN observer
• ICRC Pulls Some Staff Out of Syria Due to Fighting
• Syrian legislator from Aleppo defects to Turkey
India
• Assam riots: Muslim MPs seek central intervention
• Kashmir Valley gets a passport office
• Modi's "hang me if guilty" statement draws Congress ire
• House arrest for separatist leaders after protest call in J&K
• No parallel between Assam violence and Gujarat riots: Digvijaya
• Gujarat CM reaches out to Muslims on 'own terms'
• "I've lived all my life here, why did they pick on us?"
• Assam: How will they sow their fields?
• Protests continue for second day over Kashmiri youth's killing
• Antony orders probe into killing of Kashmiri youth
• Kargil war anniversary: 13 years on, martyr's father pins hope on President
• SC says no to Centre's plea to relax Haj pilgrims' quota order
• Punjabi boy gone to Lebanon traced in Kot Lakhpat jail
South Asia
• In Afghanistan, a Generation of Hardship and Hope
• Afghan President Issues Reforms Aimed at Corruption
• Bomb kills 2 service members in Afghanistan: NATO
• NATO: Afghan Militant Attacks up 11 Percent
Southeast Asia
• Netherlands cuts Rwanda aid over alleged rebel support
Mideast Asia
• Iran says has billions ready to insure its tankers
• Turkey Won't Allow 'Terrorist' Groups at Syria Border: FM
• Two soldiers killed in blast in southeast Turkey
• Iranian Scientist Claims U.S. Cyber attack Was … Loud
• Hip-hop mogul and Orthodox rabbi push "twinning" project in the Holy Land
• Israel's top court delays evacuation of settlement
Africa
• Nigeria asked to punish killers of two Indian traders
• Ahead of Olympic Games, a Sudanese Athlete Seeks Political Asylum in London
• Mombasa secessionist group unbanned by Kenyan court
North America
• 'Dark Knight' shooting suspect 'claims' amnesia
• Syrian army fires at refugees, shoots dead three-year-old boy: Jordan
• US toughen its stand against Assad, says he must go
• Petition launched over Guantanamo inmate Khadr
• Raid was 'easiest' part of bin Laden operation: McRaven
• Congress pushes for terrorist label for Haqqani
• US warns Syria may carry out massacre in Aleppo, rules out intervention
Europe
• UK envoy dubs Pakistan a 'global leader' in visa, passport forgery
• UK lawmakers urge Obama to end drone strikes in Pakistan
• UK operated US drones over Libya
• Muslim doctor in Britain loses Sharia law fight over divorce settlement
• UN Worries Showdown in Aleppo Could Be Imminent
Compiled by New Age Islam News Bureau
Photo: Hindu Boy Converts to Islam on TV in Pakistan
URL: https://newageislam.com/islamic-world-news/by-new-age-islam-news-bureau/hindu-boy-converts-to-islam-on-tv-in-pakistan/d/8070
-----------
Pakistan
Hindu Boy Converts to Islam on TV in Pakistan
Jul 27, 2012,
ISLAMABAD: A Pakistani television show broadcast live a Hindu boy converting to Islam, prompting a leading daily to say that it sent "a clear signal that other religions don't enjoy the same status in Pakistan as Islam does".
An editorial in the Dawn on Friday said that it's been apparent for a while now that the country's electronic media will go to extreme lengths to spice things up and "religion is now fair game too".
"In yet another example of how the industry's commercial goals trump ethics, open-mindedness and common sense, on Tuesday a television show broadcast an imam leading a Hindu boy through a live conversion to Islam carried out in the studio as part of the show, complete with the audience joining in to suggest Muslim names for the new convert.
"There is no reason to think the boy was not converting of his own free will, but the whole event had the distinct air of being carried out to give viewers something new and different to watch, even if that meant dragging an intensely personal and spiritual experience into public view," the daily said.
The editorial said that "more disturbingly, what the channel obviously didn't stop to consider is the message this broadcast would send to the country's minorities".
"The joy with which the conversion was greeted, and the congratulations that followed, sent a clear signal that other religions don't enjoy the same status in Pakistan as Islam does. In a country where minorities are already treated as second-class citizens in many ways, this served to marginalise them even further," it rued.
The daily observed that the problem with Pakistani media is that "it is missing a responsibility chip, hurtling ahead with what seems like exciting content without stopping to consider the ethical implications or appropriateness of its programming, or the message it will send to all Pakistanis, not just those it considers the mainstream".
http://timesofindia.indiatimes.com/world/pakistan/Hindu-boy-converts-to-Islam-on-TV-in-Pakistan/articleshow/15188761.cms
-----------
Blast at banned outfit's centre kills three in Khyber Agency
July 27, 2012
PESHAWAR: A blast at a centre of the banned outfit, Lashkar-i-Islam, late on Thursday killed at least three and injured four in Khyber Agency, DawnNews reported.
According to official sources, the blast took place in Tehsil Bara of the troubled Khyber Agency alongside the Afghanistan border.
Banned organisations often attack each other in the area rife with religious militancy. However, no such group has yet accepted the responsibility of the attack.
http://dawn.com/2012/07/27/blast-at-banned-outfits-centre-kills-three-in-khyber-agency/
-----------
Tajik forces demand rebels surrender former warlord
July 27, 2012
* Forces offer amnesty to all but four rebel fighters
* Residents say civil casualties reported in Khorog
DUSHANBE: Tajik government forces demanded rebel commanders lay down their arms and hand over a former warlord on Thursday, a security source said, as the two sides began a second day of talks after a battle which killed 42 people.
President Imomali Rakhmon called off a military offensive after the fierce fighting on Tuesday in a remote mountain region next to Afghanistan. Troops continued to patrol the streets on Thursday. The ceasefire in the autonomous Gorno-Badakhshan region followed a campaign to capture former warlord Tolib Ayombekov, a show of strength by a government whose control over parts of the Central Asian state remains fragile 15 years after a civil war.
Twelve soldiers and 30 rebels were killed in the operation to apprehend Ayombekov, who fought against Rakhmon's troops in a 1992-97 civil war before receiving a government job in the peace deal that ended the conflict. The government has offered amnesty to all rebels except the four fighters, including Ayombekov, it accuses of killing the regional head of the State Committee on National Security, whose murder on Saturday was the trigger for the military offensive. "We are trying to persuade the fighters to lay down their arms and hand over the four suspects, including Ayombekov," a senior Tajik security source said on condition of anonymity. "It could take a week or two. That's still better than shooting each other," he said. "Of course, they cannot continue forever. We've suffered heavy losses, but we will suffer more to end this situation if they do not agree to our conditions."
Full report at:
http://www.dailytimes.com.pk/default.asp?page=2012\07\27\story_27-7-2012_pg14_1
-----------
Kidnappers release president of Hindu Panchayat
July 27, 2012
SUKKUR: The president of Thul Hindu Panchayat, Ramesh Lal, and two other men were released by their kidnappers early Thursday near Mian jo Goth in Shikarpur district.
Lal had been kidnapped with the general secretary of rice millers association in Thul, Ashok Kumar, trader Hari Das and driver Babu Lashari, on July 12 near Khairpur when they were returning home after a visit to Karachi.
While talking to The Express Tribune, Lal said that the kidnappers took them to a dense forest. "At nights we walked," he said. "But in the day we hid at different places."
He said that the kidnappers behaved relatively decently with them. "At times when we didn't want to eat they forced us to saying that we had to live here for two months and if we didn't eat we would not be able to walk."
Full report at:
http://tribune.com.pk/story/413442/kidnappers-release-president-of-hindu-panchayat/
--------
Pakistani develops technology to run vehicles on water
Jul 27 2012
Islamabad : A Pakistani engineer has successfully developed a unique technology that uses water as fuel in vehicles instead of petrol or CNG, a feat that was once considered a far-fetched dream.
Waqar Ahmad drove his car using water as fuel yesterday during a demonstration for Pakistani parliamentarians, scientists and students.
Waqar claimed a 1000 CC car can cover a distance of 40 kilometres on just one litre of water.
He said a motorbike can run up to 150 kilometres in one litre of water using this technology.
Ahmad said cars could be driven by a system fueled by water instead of petrol or CNG, 'Dawn News' reported.
The onlookers were taken aback when they saw the dream car and a cabinet sub-committee lauded Ahmad's 'Water Fuel Kit Project'.
Religious Affairs Minister Syed Khurshid Ahmad Shah, who heads the panel, said the engineer would have their full support, calling the technology as "this years's Independence Day gift to the nation".
Full report at:
http://www.indianexpress.com/news/pakistani-develops-technology-to-run-vehicles-on-water/980260/
-----------
Now, Pakistan SC settles dispute over samosa price
Jul 27, 2012
ISLAMABAD: Alas! The days of cheap samosas in Pakistan is over. Ending a legal wrangle over the price of the humble samosa, the supreme court has set aside a notification of the Punjab government whereby the price of one samosa was fixed at Rs 6.
The samosa, till early this week, was caught up in a legal tussle between provincial government and Punjab Bakers and Sweets Federation.
In 2009, the city district government of Lahore had fixed price of one samosa at Rs 6 and magistrates imposed fine on shopkeepers for selling the same at a higher price.
The Punjab Bakers and Sweets Federation, through its president Chaudhry Muhammad Afzal, had challenged this order at the time, but the LHC had dismissed the petition.
The petitioner moved an appeal in the supreme court of Lahore Registry arguing that Samosa is not an item notified under the Punjab Foodstuffs (Control) Act 1958; therefore, its price cannot be fixed by the provincial government . The Punjab government's counsel submitted that the government had the power to fix prices of items that were being sold to the public at large.
Full report at:
http://timesofindia.indiatimes.com/world/pakistan/Now-Pakistan-SC-settles-dispute-over-samosa-price/articleshow/15180050.cms
-----------
'ISI bribed Pak politicians to prevent PPP from coming to power in 1990'
Jul 27 2012
Islamabad : Former ISI chief Asad Durrani has acknowledged that he and Military Intelligence officials had distributed Rs 140 million among politicians to prevent the Pakistan People's Party coming to power in the 1990 general election.
In a statement submitted to the Supreme Court, Durrani said the amount distributed by him was approximately Rs 70 million. The remaining amount was deposited in a special ISI fund and subsequently distributed by MI officials.
Durrani further said he had received the funds from then army chief Gen (retired) Mirza Aslam Beg.
Ijlal Haider Zaidi, a member of then President Ghulam Ishaq Khan's election team, had provided the names of politicians who should be provided funds, he said.
The money was doled out on the directions of Beg, he added.
The former spy chief said he would reveal the names of officers who helped distribute money to influence the 1990 polls in a sealed envelope.
In the statement submitted to the court yesterday, he requested that any sealed documents provided by him should be treated as classified.
Full report at:
http://www.indianexpress.com/news/isi-bribed-pak-politicians-to-prevent-ppp-from-coming-to-power-in-1990/980201/
-----------
Judiciary wants democratic system to continue, says CJ
July 27, 2012
ISLAMABAD: The Supreme Court on Friday heard petitions against the recently passed contempt of court law, Dawn News reported.
A five-judge bench of the apex court, headed by Chief Justice Iftikhar Muhammad Chaudhry and including Justice Shakirullah Jan, Justice Khilji Arif Hussain, Justice Jawad S Khawaja and Justice Tassadduq Hussain Jilani, heard 27 identical petitions challenging the Contempt of Court Act, 2012.
During the hearing, Justice Khawaja remarked that members of parliament were servants of the public and that they drew their salaries from the taxes paid by the people of Pakistan.
He further said that the court had been bestowed with the responsibility of implementing the country's constitution.
Justice Khawaja said the Constitution was formulated under an ideology and with consensus.
He moreover said that dictators in the part attempted to obliterate the essence of the Constitution but that the document was still just as significant and valid.
He said the public would approach the courts upon being deprived of their rights.
In his remarks, Chief Justice Iftikhar said that the judiciary wanted and was trying that the country's democratic system continued.
Full report at:
http://dawn.com/2012/07/27/contempt-of-court-law-sc-resumes-hearing-2/
-----------
Two killed in Karachi violence
July 27, 2012
KARACHI: Two people were killed in separate incidents of violence in Karachi, whereas police claimed killing two dacoits in an encounter and arresting several suspects during targeted operations on various drug dens, DawnNews reported on Friday.
A tortured body of a young man was found in the city's Pak Colony area near Old Golimar.
Separately, a eunuch's body was found in an apartment in Karachi's Qayyumabad area.
The eunuch had been strangled to death over a personal issue, police sources said.
Moreover, police claimed killing two alleged dacoits during an encounter in Karachi's Quaidabad area near Hospital Chowrangi.
According to police, the suspects were busy looting citizens when the police party arrived at the spot.
The suspects opened fire at the police and an encounter ensued during which the suspects were killed by the police's retaliatory firing.
Police also claimed to have recovered looted cash and arms from the men.
Furthermore, police in Karachi's southwest claimed arresting more than a dozen suspected drug peddlers during a targeted operation on drug dens in the Manghopir and Pirabad areas.
Police also conducted operations in the North Nazimabad, Machar Colony and Pak Colony areas, arresting at least 10 suspects.
They claimed recovering drugs and arms from several of the arrested suspects.
http://dawn.com/2012/07/27/two-killed-in-karachi-violence/
-----------
Rehman Malik takes oath; PML-N stages walkout from Senate
July 27, 2012
ISLAMABAD: Lawmakers of the Pakistan Muslim League – Nawaz (PML-N) staged a walk out from the Senate over the summoning of an emergency session which they alleged was expressly called for Rehman Malik's oath-taking, DawnNews reported.
Friday's session of the Senate began under the chairmanship of Nayyar Hussain Bukhari and Malik was administered oath of office soon after.
PML-N lawmakers protested the calling of the session which they said had been summoned in order to administer Malik the oath of office.
Earlier this month, Malik had been elected unopposed at a by-election in the same seat for the Senate which he held prior to his June suspension, paving the way for him to be reconfirmed as a cabinet minister. The swearing-in ceremony was broadcast live on state television.
Full report at:
http://dawn.com/2012/07/27/pml-n-stages-walkout-from-senate-malik-takes-oath/
-----------
'Pakistan can progress if nepotism eliminated'
* Muttahida Qaumi Movement chief says merit system has ceased to exist
July 27, 2012
KARACHI: Muttahida Qaumi Movement (MQM) chief Altaf Hussain has said that Pakistan could progress and become a country having a bright future
if nepotism, dishonesty, corruption, loot, bribery and cheating are eliminated.
Talking to in-charge and joint in-charge of the International Secretariat of MQM in London, Mustafa Azizabadi and Muhammad Ashfaq respectively, he congratulated them on their new responsibilities and advised them to take decisions purely on merit and not on nepotism, friendship, and personal likes and dislikes. He asked them to follow party's discipline and principles.
Full report at:
http://www.dailytimes.com.pk/default.asp?page=2012\07\27\story_27-7-2012_pg12_8
-----------
Arab World
Salafists Threaten Walkout over Sharia Law Clause in Egypt's Constitution
Bradley Hope
Jul 27, 2012
CAIRO, An influential Islamist party has threatened to quit the committee formed to rewrite Egypt's constitution and rally millions to protest over its vision of an Islamist state.
At issue is Article 2 of the country's 1971 constitution, which says "the principles of Islamic law are the chief source of legislation".
But members of the Salafist Al Nour party in the 100-strong constitutional committee are demanding the word principle be removed so all laws are based on Sharia.
It is the latest clash between conservative and moderate Islamists, and goes to the heart of a debate over who will interpret whether new laws are in accordance with Sharia.
Younis Makyoun, a senior member of Al Nour and the constitutional committee, told the newspaper Al Masry Al Youmthe party fears the old wording would let the largely secular Supreme Constitutional Court (SCC) continue as arbiter of Sharia.
The party has proposed Al Azhar, the centre of Sunni Islamic thinking in the Arab world, or a separate group of clerics to take this role.
Al Azhar and the Muslim Brotherhood's political arm, the Freedom and Justice Party, are content to leave the article alone.
But public statements by Al Nour members seem to show the party is more concerned with who will decide whether laws are Sharia-compliant than with basing all laws on it.
The SCC, whose judges were primarily trained in secular law, was the sole body allowed to interpret whether laws were in accordance with Sharia principles.
"Over the past 30 years, the [SCC] has identified the state as the authority that has full power in reinterpreting the text and coming up with new rulings or qualifications that is at the core of Islamic law," said Gianluca Parolin, a professor of law at the American University in Cairo.
"The role was no longer in the hands of the Islamic scholars, but rather the authorities."
The result was that Article 2 had little bearing on making laws.
The Al Nour proposal to have Al Azhar as the new authority for interpreting whether laws are in accordance with Sharia suggests a longer-term goal to gradually remove the government from decisions on religious affairs.
Ahmed Al Tayebb, the Grand Sheikh of Al Azhar who was appointed by Mubarak, has ardently opposed Salafist initiatives in Egypt, especially after the uprising that toppled the old regime.
Grand Sheikh Al Tayebb has positioned the university as a moderating force in the debate about the role of religion and the state.
But there has been a grass-roots movement among some of Egypt's imams and scholars to separate Al Azhar from the government and allow for a new process to elect the Grand Sheikh.
They believe this would make the institution into a more powerful force in deciding religious affairs in the region.
One of the proposals from the independence movement is to make Al Azhar more democratic, a move that could allow the Salafists to have a greater influence.
Prof Parolin believes that even if the Salafists succeeded in having "principles" removed from Article 2, it would "still allow the legislature quite a lot of room or leeway to decide what are the rulings", because of the large body of Islamic law that can support different conclusions.
"One of the most interesting elements of the current debate is what does it mean to implement Islamic law in 2012 Egypt?" he said. "Few of the political parties have articulated what they mean by this."
Historians who have studied the practice of Islamic law say Sharia can be interpreted in many ways.
It is not a set of laws that can be switched on or off, but "a legal tradition, which has multiple historical forms and multiple opinions", said James Baldwin, a history professor at Queen Mary, University of London.
Prof Baldwin found that in the Ottoman era, for example, people in Egypt would go to different judges and courts based on how the four main schools of Sharia interpreted crimes or legal requests.
"You see this come up in the historical court records," he said. "Litigants realise they can get different results depending on the court or the judge.
"A common example has to do with women seeking divorce. Some schools made it very difficult to achieve divorce if their husbands don't agree or if they have run away. Others made it easier."
bhope@thenational.ae
http://www.thenational.ae/news/world/africa/salafists-threaten-walkout-over-sharia-law-clause-in-egypts-constitution
-----------
Saudi riot police fire live rounds on Shiite protesters in Qatif
27 July, 2012,
Several demonstrators have been wounded in Saudi Arabia's eastern district of Qatif after security forces opened fire on protesters.
Officers fired live rounds at demonstrators, who carried posters of detained protesters who were injured and arrested earlier this month.
Spokesmen for the Saudi Interior Ministry said several people were burning tires during the protests, and several arrests were made.
Among those arrested today was Mohammed al-Shakhuri, who is on a list of the country's 23 most-wanted people, Al-Manar News reported.
Witnesses said Shakhuri was taken to a military hospital with bullet wounds in his back and neck.
"There were no casualties," the Interior Ministry said in a statement.
Clashes between police and protesters have increased in recent days, following the deaths of two protesters earlier this month.
Protests began in Saudi Arabia last March, when a Shia uprising in neighbouring Bahrain was crushed by Gulf troops, led by Saudi Arabia.
Demonstrations escalated earlier this month, after a prominent Shia cleric was arrested for being what the interior ministry deemed an "instigator of sedition."
His detainment has been the source of widespread demonstrations demanding an end to sectarian discrimination in the region.
Shia Muslims have long complained of marginalization at the hand of Saudi Arabia's Sunni ruling family.
http://www.rt.com/news/saudi-police-fire-protestors-qatif-wounded-212/
--------
12 killed as Iraqi forces clash with militants
Jul 26, 2012
BAGHDAD (AP) — Militants downed an Iraqi army helicopter on Thursday and killed nearly a dozen security forces in overnight clashes, a regional official said, in what appeared to be an al-Qaeda surge to retake one of its former strongholds in Iraq.
The fighting around the town of Hadid, about 10 kilometers north of the Diyala provincial capital of Baqouba, was in its third and deadliest day.
It comes on the heels of a warning last weekend by al-Qaeda's leader in Iraq to push back into areas it was forced out of by the U.S. military. That threat was followed by a wave of violence that killed 115 people in the country's deadliest day in more than two years — an assault for which al-Qaeda claimed responsibility.
Diyala provincial spokesman Salih Ebressim Khalil said militants targeted the Iraqi army helicopter, killing one soldier, wounding another and forcing it to make an emergency landing. The rest of the crew was unharmed.
Overnight clashes left 11 federal policemen dead, Khalil said.
He said the clashes began Tuesday at a security checkpoint in a rural area near Hadid, located about 45 miles northeast of Baghdad. Federal police quickly locked down the area, but the fighting continued.
Diyala is a predominantly Sunni province that is sandwiched between Baghdad and the Iranian border. It has a large Shiite population, and well as pockets of ethnic Kurds, and long has been a battleground for Sunni insurgents trying to assert control. Its remote rural areas have served as a safe haven for insurgents, and posed a major challenge to Iraqi security forces.
In a statement posted on a militant site last Saturday, local al-Qaeda leader Abu Bakr al-Baghdadi announced a new campaign dubbed "Breaking the Walls." He said it sought to undermine the nation's weakened Shiite-led government by realigning with Sunni tribes, and return to areas it was driven from before the American military withdrew from Iraq last December.
Al-Qaeda's local wing in Iraq is known as the Islamic State of Iraq, and has for years had a hot-and-cold relationship with the global terror network's leadership.
Both shared the goal of targeting the U.S. military in Iraq and, to an extent, undermining the Shiite government that replaced Saddam Hussein. But al-Qaeda leaders Osama bin Laden and Ayman al-Zawahri distanced themselves from the Iraqi militants in 2007 for also killing Iraqi civilians instead of focusing on Western targets.
Generally, al-Qaeda in Iraq does not launch attacks or otherwise operate beyond Iraq's borders. But in early 2012, al-Zawahri urged Iraqi insurgents to support the Sunni-based uprising in neighboring Syria against President Bashar Assad, an Alawite. The sect is a branch of Shiite Islam.
http://www.news-leader.com/usatoday/article/56495732?odyssey=mod%7Cnewswell%7Ctext%7CFRONTPAGE%7C
--------
'Bars for Ramadan' list sparks protest in Dubai
By Tim Hume
July 25, 2012
Editor's note: Each month, Inside the Middle East takes you behind the headlines to see a different side of this diverse region
London (CNN) -- An English-language magazine in Dubai has been accused of disrespecting Islam by recommending places to drink during Ramadan.
Time Out Dubai, a popular city guide in the Emirate, published the offending article in its Ramadan issue, which promised to help readers "make the most of the Holy Month."
The story, headlined "5 to try: bars in Ramadan," listed bars in the city that were remaining open throughout Ramadan, giving their hours of operation.
During Ramadan, a month in the Islamic calendar for fasting and piety, Muslims abstain from eating, drinking, smoking and sex from dawn to dusk, and prohibitions against behaviors considered sinful, such as drinking alcohol, are more keenly observed.
After the magazine tweeted a link to an online version of the article, it was circulated by influential Emirati users of the social media site, prompting an online campaign using the #stoptimeoutdubai hashtag.
The backlash highlighted cultural tensions that exist between the mainly Muslim Emiratis, who make up 17% of Dubai's population, and the foreigners who have become part of the country's make-up as it has modernized into a global hub.
One Twitter user said the article showed "how some people who (live) here have no respect to the culture and the people at all," while another said his culture was being "perverted by alcoholics," and tweeted at the magazine to "keep your filth away." Some Westerners living in the UAE responded that the outrage was an overreaction.
The magazine apologized, saying it respected "local culture and traditions" and claiming the article, which was removed from the site, was an "error of judgment on our part." But the apology was not enough to appease some users, who continued to call for staff at the magazine to be fired.
Mahra Al Shamsi, an Emirati English teacher living in Ras Al Khaimah, described the article as shocking.
"Have they lost their marbles? Do they not remember that, even though this magazine is targeted for expats, they are living in the United Arab Emirates -- an Arab country with very strong Islamic values and beliefs."
Al Shamsi said that Emiratis respected foreign customs when abroad. "Is this the thanks we get? Frankly, this should be mutual."
But Fiona Du Vivier, a Scottish account manager who has lived in Dubai for nearly two years, thought the campaign was a "huge overreaction" to an article that, while perhaps poorly judged, was not disrespectful or insulting.
"We are in one of the few countries in the world where you have to curtail your behavior whether you're participating in Ramadan or not, out of respect," she said. "Which is fair enough, I chose to live in this country and I choose to respectfully follow its customs."
"Having said that," she said, "there's a huge proportion of the country that do not participate in Ramadan. The article was merely pointing to a facility that's available for non-fasting Muslims and non-Muslims. When it was pointed out it could be taken as disrespectful, they took it down and apologized."
She said some of the angry tweets she had seen -- that the journalist should burn in hell, or threatening to assault anyone drinking during the holy month -- were "not in the spirit of Ramadan itself, which is about forgiveness and compassion."
Al Shamsi said while the article may have been pointing out something factual, the linkage of the concept of drinking with Ramadan was offensive. "The disrespectful bit comes in when they rub it in your face. This is like going to a poor country and writing an article about luxury ... It's not appropriate."
Omar Abu Omar, a Dubai-based social media marketer, said while the article was not offensive, as bar and entertainment options were the magazine's standard fare, the timing was inappropriate. More than anything though, he said, it highlighted the potential pitfalls of social media.
"In my opinion, they made a mistake of sharing it on their Twitter feed, as it would have gone unnoticed otherwise," he said. "It's a lesson in using social media, and choosing your content and posts carefully, as a seemingly harmless and simple post can lead to such uproar."
Time Out Dubai did not respond to requests for comment.
Follow the Inside the Middle East team on Twitter: Presenter Rima Maktabi: @rimamaktabi, producer Jon Jensen: @jonjensen, producer Schams Elwazer: @SchamsCNN and writer Tim Hume: @tim_hume and digital producer Mairi Mackay @mairicnn
http://edition.cnn.com/2012/07/25/world/meast/bars-ramadan-time-out-dubai/index.html
-----------
Saudi Painter Faeez al-Harthi Merges Arabic and Islamic Cultures on Al Arabiya's 'Nawafeth'
July 27, 2012
Al Arabiya News Channel launched its sixth episode of 'Nawafeth' (Arabic for 'Windows') series on Wednesday which features fine artists from the Arab World. The series is to release 100 episodes that will showcase profiles of the artists working in different art forms.
Faeez al-Harthi or Abu Haris, as he is commonly known, was born in the village of Misan nestled in the south. He lived there for two weeks before moving to Jabal al-Mudafe in Mecca to live and spend his childhood. Despite only living in the village of Misan for two weeks, a touch of influence from his small place of birth can be seen depicted in his paintings.
Saudi artist Faeez al-Harthi
Harthi has managed to make a name for himself as one of the most prominent artists in Mecca and Saudi Arabia. He managed to employ Arabic calligraphy in classical paintings to produce works that amalgamate abstract art with the Arab and Islamic cultures. The influence of Islamic architecture is very obvious in his paintings.
Full report at:
http://news.sudanvisiondaily.com/details.html?rsnpid=212820
-----------
The 3-Step Method to Analyzing Videos from Syria: The Case of Heat-Seeking Missiles
By C. J. CHIVERS
July 27, 2012
Earlier this week, as fighting in Syria raged, a pair of videos circulated online that appeared to show something new: Syrian opposition fighters in possession of at least one heat-seeking, shoulder-fired antiaircraft missile.
The proliferation of such weapons, known in the popular imagination as weapons of the Stinger class, is one of the enduring worries in counterterrorism and aviation-security circles, and one of this blog's recurring themes. (For background on these weapons and the concerns related to their wide distribution during and after the war in Libya, click here)
There has long been expectation that such weapons would turn up in the conflict in Syria, and when they did, it would be news.
So, full stop. What do the videos show, and what might it all mean?
Let's back up and walk through things methodically. The contest for Syria between forces loyal to President Bashar al-Assad and the armed opposition seeking his ouster presents a daily stream of amateur videos of the violence and the activities related to it, making this a conflict like almost no other to try to cover thoroughly and thoughtfully. (The New York Times' Watching Syria video feature attempts to put such videos into context.)
That said, analyzing elements of a conflict, through video of often unknown provenance, presents researchers and journalists with particular challenges. Many of these videos are authentic and seem to present honestly generated glimpses of the conflict. But a few are not authentic or present misleading or deceitful scenes, like this one of supposed Syrian opposition fighters, who actually are bearing toy guns.
Full report at:
http://atwar.blogs.nytimes.com/2012/07/26/the-3-step-method-to-analyzing-video-of-
-----------
Syria conflict: Assad's fall 'matter of time' - ex-UN observer
Jul 27 2012
The former head of the UN observer mission in Syria says it is "only a matter of time" until President Bashar al-Assad's government falls.
But Norwegian Maj Gen Robert Mood, who left Syria last week, said Mr Assad's fall would not necessarily mean an end to the 16-month-old conflict.
Syrian forces renewed their assault on the northern city of Aleppo on Friday.
The US state department says it fears Syrian government forces are preparing to carry out a massacre there.
The pro-government al-Watan newspaper warned that the "mother of all battles" was about to start.
'Reports of atrocities'
"In my opinion it is only a matter of time before a regime that is using such heavy military power and disproportional violence against the civilian population is going to fall," Maj Gen Mood told the Reuters news agency.
Full report at:
http://www.bbc.co.uk/news/world-middle-east-19013847
-----------
ICRC Pulls Some Staff Out of Syria Due to Fighting
July 27, 2012
GENEVA (AP) — The International Committee of the Red Cross says it is temporarily moving some of its foreign staff from the Syrian capital of Damascus to neighboring Lebanon.
A Red Cross spokesman in Geneva says the move was prompted by security concerns but that a core team of about 50 staff would remain.
Hicham Hassan also told The Associated Press on Friday that the Syrian Arab Red Crescent was suspending some of its operations in the northern city of Aleppo due to heavy fighting.
Hassan says the Red Cross hopes to bring its staff back into the country.
http://www.nytimes.com/aponline/2012/07/27/world/europe/ap-eu-red-cross-syria.html?ref=global-home
-----------
Syrian legislator from Aleppo defects to Turkey
Jul 27 2012
AMMAN : A Syrian parliamentarian representing the northern of province Aleppo said on Friday she has defected to Turkey, becoming the first member of the rubber stamp assembly elected in May and dominated by President Basharal-Assad's Baath Party to defect.
I have crossed to Turkey and defected from this tyrannical regime because of the repression and savage torture against a nation demanding the minimum of rights, Ikhlas al-Badawi told Sky News Arabia.
Opposition sources Syrian troops and armour are amassing around the northern city of Aleppo, Syrian's main commercial and industrial hub, to crush armed resistance to Assad that has been gathering momentum following a military crackdown on street demonstrations against his rule.
http://www.indianexpress.com/news/syrian-legislator-from-aleppo-defects-to-turkey/980191/
-----------
India
Assam riots: Muslim MPs seek central intervention
Jul 27, 2012
NEW DELHI: A group of Muslim MPs, led by Congress leader K Rahman Khan, on Thursday demanded central intervention to end the ongoing ethnic clashes in lower Assam saying they have lost confidence in Tarun Gogoi government's ability to control the spiraling violence.
The demand came in the backdrop of Prime Minister Manmohan Singh's slated visit to the troubled areas on Saturday, even as the home ministry asked the state to hold leaders of both sides responsible in case of any more violence.
"There is failure somewhere. We have lost confidence in the state government's ability to control violence and demanded central intervention," Khan said after meeting home minister P Chidambaram.
His remarks come amid reports that it was the Centre that had first alerted Assam about the first incident, which eventually became a full-blown crisis resulting in deaths of at least 42 people in the past seven days.
"District administration appeared to sit quietly till a strong missive went to the state from the home ministry", said an official, adding it was strange that the 'incidents' which saw killing of two Muslims and four Bodos did not wake up the local police administration.
Officials here felt that the local administration should not have taken the incidents 'lightly', particularly when the areas, comprising Kokrajhar, Chirang and Dhubri, had history of such communal flare-ups.
Government warned that the leaders of both Bodos and Muslims would be held responsible if any side was found to be instigating violence. "The Centre and the state government are both clear that any violence on any side that is instigated and that result in loss of life, the leaders on both sides shall be made responsible," said Union home secretary R K Singh.
He, however, said the situation was better as no incident was reported during the day. So far, 100 rioters were arrested, he added. The home minister, who had been constant touch with the chief minister, too said there was no casualty in the past 24 hours.
The home secretary said the prime objective of the government was also to provide help and assistance to the affected people who were in camps. He said approximately 1.71 lakh people have been displaced due to the ethnic violence in lower Assam.
Referring to the incidents and displacement of people due to ongoing violence, the Muslim MPs, including NCP's Tariq Anwar, Asrarul Haque (Congress) and Sabir Ali (JD-U), said they had "never seen such kind of ethnic violence in India".
"Situation is very tense and something has to be done urgently. The state government has not been able to control the situation", said Khan, the former deputy chairman of Rajya Sabha.
http://timesofindia.indiatimes.com/india/Assam-riots-Muslim-MPs-seek-central-intervention-say-have-no-faith-in-Gogoi/articleshow/15175584.cms
-----------
Kashmir Valley gets a passport office
Jul 27, 2012
SRINAGAR: Capping a mammoth countrywide exercise, foreign minister S M Krishna opened the 77th passport office in the heart of Srinagar on Thursday, and the unveiling is significant in two ways — it's a sign that normal functioning may be possible in the troubled Valley along with a manifestation of improved ties between India and Pakistan.
The opening of a Passport Sewa Kendra (PSK) in Srinagar is significant, particularly because militants had torched a passport office here some years ago. Krishna observed, "These passport offices are also playing an important role in the implementation of the confidence-building measures between India and Pakistan by way of facilitating travel of persons on either side of the Line of Control."
India-Pakistan was part of the larger narrative during the event here on Thursday, which assumes importance since Krishna is slated to travel to Islamabad on September 7 for meeting with his Pakistani counterpart, Hina Rabbani Khar. J&K chief minister Omar Abdullah, encouraging greater engagement between India and Pakistan, put the state's situation as a direct consequence of the peace process between the two neighbours. Pushing for greater cross-LoC trade, he said, "There are two major aspects missing," he said. The lack of financial instruments, banking relations made it little better than a primitive form of barter trade.
Full report at:
http://timesofindia.indiatimes.com/india/Kashmir-Valley-gets-a-passport-office/articleshow/15174989.cms
-----------
Modi's "hang me if guilty" statement draws Congress ire
July 27, 2012
"Remark made with an eye on Gujarat Assembly elections"
Gujarat Chief Minister Narendra Modi's provocative comment that he should be publicly hanged if anyone could prove that his government was complicit in the communal riots that ravaged his state in 2002, has drawn fire from the Congress. Union Ministers on Thursday said Mr. Modi's remark was made with an eye on the Assembly elections due in Gujarat at the end of the year. They pointed out the difficulty in delivering justice, given that no FIR had ever been lodged against the Chief Minister even though a decade had rolled by since the state-sponsored pogrom had taken place.
In an interview to Urdu weekly Nai Duniya, edited by the Samajwadi Party's Shahid Siddiqui, Mr Modi said: " ... why should I apologise? If my government had done this, I should be hanged in public in such a way that it remains a lesson for the next 100 years so that nobody dares to do it [such a crime]."
Responding sharply, Union Human Resource Development Minister Kapil Sibal said: "If an FIR has not been filed against the Chief Minister of the State for the last 10 years, how do you hold him guilty? Who is going to hang him?" Mr. Sibal said Mr. Modi had made this statement keeping the forthcoming Gujarat elections in mind.
Law Minister Salman Khurshid told journalists: "I don't think that we, either in the streets can decide, or Modi can take a decision by himself. I don't know about him, but we all have faith in the courts of the land that they will do what, they believe, is the right thing to do."
http://www.thehindu.com/news/national/article3688245.ece
-----------
House arrest for separatist leaders after protest call in J&K
Jul 27, 2012
SRINAGAR: All prominent separatist leaders, including Syed Ali Shah Geelani, Mirwaiz Umar Farooq and Mohammad Yasin Malik were on Friday placed under house arrest following a call for protests after Friday prayers against the killing of a youth in Bandipora on Tuesday.
Police sources said Geelani, Mirwaiz, Malik, Shabir Ahmad Shah, Nayeem Ahmad Khan and Zaffar Akbar Bhat were placed under house arrest since Thursday evening as a preventive measure to maintain law and order in the valley.
While Geelani had called for "raising voice against killing of innocent people" during the Friday prayers, Malik had asked people to march to the local office of the United Nations Military Observers Group at Sonawar.
The protests were called against the killing of Hilal Ahmad Dar in Army firing at bandipora on Tuesday night.
Full report at:
http://timesofindia.indiatimes.com/india/House-arrest-for-separatist-leaders-after-protest-call-in-JK/articleshow/15190465.cms
-----------
No parallel between Assam violence and Gujarat riots: Digvijaya
Jul 26, 2012
NEW DELHI: Strongly backing Assam chief minister Tarun Gogoi over his handling of ethnic violence in the state, senior Congress leader Digvijaya Singh on Thursday hit out at the BJP accusing it of "adding fuel to the fire".
He also rejected statements drawing a parallel between the ethnic violence in Kokrajhar and neighbouring districts of Assam and the post Godhra riots in Gujarat, alleging that Narendra Modi had given a free hand to administration to allow communal riots.
"Communal riots took place in Gujarat under the nose of the chief minister in cities like Ahmedabad. In Assam it was in rural areas where the administration had difficulty in reaching due to the rains this time," Singh said.
Rejecting BJP's criticism of inaction by Gogoi, Singh, who is the AICC general secretary in-charge for the state, said, "Assam government had taken all the steps that could have been taken under the law."
Full report at:
http://timesofindia.indiatimes.com/india/No-parallel-between-Assam-violence-and-Gujarat-riots-Digvijaya/articleshow/15166718.cms
-----------
Gujarat CM reaches out to Muslims on ' own terms'
By Aditya Menon
July 27, 2012
GUJARAT chief minister Narendra Modi appears to be working overtime to remove the single most significant obstacle in front of his national ambitions — the taint of the 2002 riots.
A far cry from his status as the Hindu Hriday Samrat, Modi has made his most vociferous overture to the Muslim community by giving his first ever interview to an Urdu daily, Nai Duniya.
Equally significant is the fact that the interview was conducted by Samajwadi Party general secretary Shahid Siddiqui, who is the editor of Nai Duniya . Siddiqui's poser to Modi: " Rajiv Gandhi, Sonia Gandhi and Manmohan Singh have apologised for the 1984 riots so why don't you apologise as well?" brought the Gujarat CM to his rhetorical best.
" There is no question of apologising because if I have committed this crime, then I should not be forgiven.
I should be hanged. I should be hanged in such a way that people learn the lesson that nothing like this should happen," he said.
" However, if am proven innocent, all those who have maligned me need to apologise," he added.
Full report at: Mail Today
-----------
"I've lived all my life here, why did they pick on us?"
GAURAV VIVEK BHATNAGAR
July 27, 2012
Rafiqul Islam was born and raised here. This was his home — till the day before, when a marauding group of miscreants burnt down the place he used to call his home.
Ever since rioting began in and around Kokrajhar about a week ago, Mr. Islam had been on guard. A businessman dealing in construction materials, he got a tip-off that his house and that of his mother adjoining it might be attacked. On Tuesday, it happened.
"People came to my house and that of my mother, Rabia Khatun, and set them afire," he says, matter-of-factly.
Without displaying any signs of sorrow or fear, Mr. Islam goes about salvaging some clothes from what remain of the two houses.
Full report at:
http://www.thehindu.com/news/national/article3688244.ece
-----------
Assam: How will they sow their fields?
GAURAV VIVEK BHATNAGAR
July 27, 2012
Many of those displaced in Assam are farmers and have to return before sowing season
For Lakhs of people displaced by the ethnic and communal violence in this part of Assam, the main concern now is as much their safety and security as their livelihood since most of them are dependent on agriculture and want to return to their fields before the season for sowing paddy ends.
Raj Kumar Basumatary fled for his life when Parguna village was attacked by miscreants about a week ago. Today, as he passes time in a relief camp at S.K. Jewari School in Shikunjhara, he is as concerned about his future as he is angry that the peaceful villagers were targeted for no fault of theirs and two elderly persons who were unable to run ended up paying with their lives.
For Basumatary, a farmer, the main issue now is when he will be able to return to the village. "This is the sowing season and if we do not pluck the paddy sticks and plant them in the watered fields, we would not be able to get any crop," he said.
But Basumatary is not willing to return to his village without any security. "Some youth from the camp have visited the village quietly. There is no one there right now. The attackers fled after torching most of the 105 houses. But the question is what if they return to kill us?" he said, fear clearly showing on his face.
Full report at:
http://www.thehindu.com/news/national/article3688243.ece
---------
Protests continue for second day over Kashmiri youth's killing
Jul 27, 2012
SRINAGAR: Hundreds of people on Thursday blocked roads and fought pitched battles with security forces for the second day in north Kashmir's Bandipora district to protest a 21-year-old youth killing in army soldiers' firing two days earlier.
Police said they had to fire teargas shells to quell the protesters, who were demanding action against Hilal Dar's killers. Earlier, police lodged an FIR and started investigations into the killing.
The Army maintained that the slain was a militant while the Jammu & Kashmir government on Wednesday ordered a probe into the killing.
But Dar's family insisted that the slain was innocent and worked for a cement factory in Srinagar. His father, Ghulam Mohi-ud-din Dar, said some unknown caller had asked his son to meet him before he was shot dead.
Separatist Syed Ali Shah Geelani called for a bandh on Saturday to protest Dar's killing while Jammu & Kashmir Liberation Front (JKLF) chief Yasin Malik said he would lead a march to Srinagar's UN office and present a memorandum there to draw attention towards human rights violations in the Valley.
http://timesofindia.indiatimes.com/india/Protests-continue-for-second-day-over-Kashmiri-youths-killing/articleshow/15177922.cms
-----------
Antony orders probe into Bandipora killing of Kashmiri youth
Jul 27, 2012
NEW DELHI: Ahead of his visit to Jammu and Kashmir during the weekend, defence minister A K Antony on Thursday ordered an inquiry into the recent killing of a youth in Bandipora district of the state.
"I have also directed the Army to take strict action if anybody is found guilty,'' said Antony. Protests have erupted in Bandipora with villagers alleging that Hilal Ahmad Dar, an innocent 19-year-old from Aloosa village, was killed in a fake encounter on Tuesday.
The Army contends Dar was killed in a genuine encounter after a group of militants was challenged by a patrol, and a weapon was also seized from the site.
Asked about his agenda during the visit to J&K on July 28-29, Antony said he would review the ``latest security situation'' in J&K with Army chief General Bikram Singh and defence secretary Shashikant Sharma. ``I will also hold talks with chief minister Omar Abdullah, the state governor and others,'' he added.
http://timesofindia.indiatimes.com/india/Antony-orders-probe-into-Bandipora-killing-of-Kashmiri-youth/articleshow/15175135.cms
-----------
Kargil war anniversary: 13 years on, martyr's father pins hope on President
Jul 26, 2012
CHANDIGARH: Pranab Mukhrjee's swearing-in as President has brought cheer to a beleaguered father in remote hill town of Himachal Pradesh. N K Kalia, has been fighting a bitter battle for 13 years to get justice for his son and Kargil hero Captain Saurav Kalia who was subjected to inhuman treatment and brutal torture when he was on patrol duty in the Kaksar area of Kargil along with five other soldiers.
He wants government of India to pressurize Pakistan to apologize, identify and punish those Pak soldiers indulged in this barbaric torture of captain Kalia.
He now hopes that Mukhrjee may help move the UN to declare it a war crime.
"Pranab was a defence minister, foreign minister and now as a head of the country he can well understand my case and would surely be able to pursue it with Pakistan and UN," said Dr Kalia, a disheartened but desperate father who is fighting his lone battle for the past 13 years.
Full report at:
http://timesofindia.indiatimes.com/india/Kargil-war-anniversary-13-years-on-martyrs-father-pins-hope-on-President/articleshow/15167203.cms
-----------
SC says no to Centre's plea to relax Haj pilgrims quota order
Jul 27, 2012
NEW DELHI: The Supreme Court on Friday declined to entertain the Centre's request to defer till next year its July 23 order limiting the government's discretionary quota for Haj pilgrims.
A bench of justices Aftab Alam and Ranjana Prakash Desai refused to accede to the government plea, put forward by attorney general G E Vahanvati and counsel Harris Beran to defer its order till next year.
Vahanvati made the submission at the fag end of the hearing of a bunch of petitions by private tour operators (PTOs), who have challenged certain norms fixed by the government for the operators.
On July 23, the apex court had drastically reduced the government's discretionary and dignitaries quota seats for Haj 2012 pilgrims to 300 from the proposed 5,050 seats and had hoped they would be alloted on "reasonable basis".
Earlier during Friday's hearing, the bench maintained that there could be no monopolisation and asked the Centre to frame a fresh PTOs policy for the annual Haj pilgrimage from next year onwards.
Full report at:
http://timesofindia.indiatimes.com/india/SC-says-no-to-Centres-plea-to-relax-Haj-pilgrims-quota-order/articleshow/15195923.cms
-----------
Punjabi boy gone to Lebanon traced in Kot Lakhpat jail
Jul 27, 2012
AMRITSAR: Whereabouts of Jatinderpal Singh who had gone to Lebanon for job in 2007 have been traced in Kot Lakhpat jail in Pakistan. Pakistani advocate Awais Sheikh told TOI on Friday that Harjinder Singh, father of Jatinderpal Singh informed his son was lodged in jail there and has sought his help to get him released.
He further informed that Jatinderpal had gone to Lebanon through a travel agent who had assured him of a good job but the later abandoned him.
"Since then his whereabouts are not known to his family and it is also not clear as to how he reached Pakistan and landed in jail there," said he.
Recalling his meeting with Harjinder Singh during his visit to Amritsar in 2009, Sheikh said Jatinderpal Singh's father had met him and told about the disappearance of his son while apprehending that he could be in Pakistani jail. "I tried to find out and later told his father that his son was not confined in any jail of Pakistan" said he. He said on Thursday Harjinder Singh again called him to inform that he had come to know that his son was in Kot Lakhpat jail for past 4 years.
Full report at:
http://timesofindia.indiatimes.com/india/Punjabi-boy-gone-to-Lebanon-traced-in-Kot-Lakhpat-jail/articleshow/15194055.cms
-----------
South Asia
In Afghanistan, a Generation of Hardship and Hope
By JAALA A. THIBAULT
July 27, 2012
KABUL, Afghanistan - As I was walking into Kabul Education University one morning, carrying a school bag and a box of books, a student stopped me to offer his help. Startled to see this particular student, I fumbled for words and tried to prevent him from taking the box. I was surprised to see this boy because the last I heard, he was in a Taliban prison outside of Jalalabad. Having a father in a high-ranking position in the military, the student was a target for anyone who wanted sensitive information or a hefty pay off. Knowing this, one Friday afternoon as the student and his friends drove east for a picnic, the Taliban kidnapped them. The boys were held for ransom; eventually the money was paid and the students were released. This was the first time I had seen him since his kidnapping.
By the looks of the boy, I was not sure he could hold my books. He was malnourished and about 20 pounds lighter than the last time I saw him. I told the student that I could carry the load. Refusing to let me do the work, he grabbed the box and said, "Teacher, don't worry about these heavy books. I carried around ammunition and weapons for the Taliban for the last month. I know I have lost some weight during my time in prison, and my skin looks dark, but I have gotten so much stronger. Give me your books!" How could I argue with that? I relinquished the books.
Full report at:
http://atwar.blogs.nytimes.com/2012/07/25/in-afghanistan-a-generation-of-hardship-and-hope/?ref=middleeast&gwh=31B96C24B761E595B2E3450CC0CCCEEC
-----------
Afghan President Issues Reforms Aimed at Corruption
By ALISSA J. RUBIN
July 27, 2012
KABUL, Afghanistan — The Afghan president released a sweeping set of proposed reforms late Thursday, including a number aimed at stemming the government's endemic corruption; the proposals touched every ministry, the attorney general's office and the Supreme Court.
The document, which the president's spokesman Aimal Faizi described in a Twitter message as a "decree on administrative reforms," is similar to an executive order and in theory must be complied with by all organs of government. However, Parliament can review it, and many of the provisions are vague, leaving unclear the timetable for compliance and how some of the measures would be financed.
One backdrop for the decree was the discontent of donor countries over the government's failure to stem widespread corruption, nepotism and contract profiteering. At an international conference in Tokyo this month about funding for Afghanistan in the years to come, many countries said their continued financial support was contingent on progress on corruption.
Full report at:
http://www.nytimes.com/2012/07/27/world/asia/afghan-president-karzai-proposes-
-----------
Bomb kills 2 service members in Afghanistan: Nato
July 27, 2012
KABUL: Nato says a bomb has killed two of its service members in southern Afghanistan.
The statement from the US-led coalition did not provide the nationalities of the two nor any other details of the Thursday attack.
The deaths bring the number of foreign troops killed this month to at least 38, and the total for this year to at least 253.
http://dawn.com/2012/07/27/bomb-kills-2-service-members-in-afghanistan-nato/
-----------
NATO: Afghan Militant Attacks up 11 Percent
July 27, 2012
Insurgent attacks in Afghanistan during the past three months were up 11 percent, compared to the same period last year, according to the latest statistics on monthly violence released by the U.S.-led coalition.
The figures, which NATO released on Thursday, also show that the number of attacks in June was the highest for any month since fighting surged in the summer of 2010.
The disturbing uptick comes at a time when foreign troops are leaving and insurgents are trying to prove they remain a potent force. It also supports the theory that the insurgency remains undefeated after more than a decade of war, though coalition officials caution against using attack numbers as a bellwether of how the war is proceeding.
The number of "enemy-initiated attacks" — such as roadside bombings and gunfire attacks from insurgents — rose in all three months of the second quarter, compared with the same months in 2011. This follows 11 consecutive months where attacks were below the number reported in the same month the year before.
Full report at:
http://abcnews.go.com/International/wireStory/nato-afghan-militant-attacks-11-percent-16867154#.UBJjA2HrqTk
--------
Southeast Asia
Netherlands cuts Rwanda aid over alleged rebel support
July 27, 2012
The Netherlands has suspended an aid budget worth $6.15m (£3.9m) to Rwanda over its alleged backing of rebels in the Democratic Republic of Congo.
This comes days after the US announced it was cutting military aid to the country.
Rwanda has rejected reports made by UN experts that it is supporting the M23 movement rebels in eastern DR Congo.
The rebels mutinied from the army in April and some 200,000 people have fled their homes as a result of fighting.
The move comes as a senior UN official told the BBC that defecting Congolese rebels have confirmed that they were recruited in Rwanda.
On Thursday, the UN reported that its forces helped the Congolese army push the rebels out of two towns north of Goma using helicopter gunships and armoured vehicle.
Eastern DR Congo has been plagued by fighting since 1994, when more than a million ethnic Hutus crossed the border into DR Congo following the Rwandan genocide, in which some 800,000 people - mostly Tutsis - died.
Full report at:
http://www.bbc.co.uk/news/world-africa-19010495
--------
Mideast Asia
Iran says has billions ready to insure its tankers
July 27, 2012
DUBAI: Iran has allocated billions of dollars to insure its oil tankers itself, the semi-official Fars news agency reported on Friday, its latest effort get oil to the remaining buyers through the financing obstacles set by Western sanctions.
The European Union imposed a ban on July 1 on insurance for tankers carrying Iranian oil, preventing EU insurers and reinsurers from covering tankers carrying Iran's crude anywhere in the world.
"After the European Union imposed insurance sanctions on Iranian tankers… the government has allocated billions of dollars for insuring Iranian tankers that export Iranian oil," an unnamed official told Fars, without giving further details.
A senior official from Iran's major tanker operator NITC told Reuters in June that it had secured insurance cover from privately owned Iranian provider Kish P&I, with $1 billion in insurance in the event of a collision or oil spill.
European insurers dominate the marine insurance sector, and Iran's Asian crude buyers have struggled to find a way to replace them. As a result, Iran has seen its oil exports plummet from regular levels seen last year.
Full report at:
http://dawn.com/2012/07/27/iran-says-has-billions-ready-to-insure-its-tankers/
-----------
Turkey Won't Allow 'Terrorist' Groups at Syria Border: FM
July 27, 2012
ISTANBUL (Reuters) - Foreign Minister Ahmet Davutoglu said on Friday Turkey would not allow what he called "terrorist" groups like the Kurdistan Workers Party (PKK) or al Qaeda to establish a presence in Syria near the Turkish border.
In a live interview with Kanal 24 television channel, Davutoglu did not specify what steps Turkey would take to prevent activities by such groups along its southeastern border.
On Thursday, Prime Minister Tayyip Erdogan said that Turkey could act against a "terrorist" organization in northern Syria if it perceived it as a threat - a warning to Kurdish militants believed to be active in the region.
http://www.nytimes.com/reuters/2012/07/27/world/europe/27reuters-syria-crisis-
-----------
Two soldiers killed in blast in southeast Turkey
July 27, 2012
DIYARBAKIR: Two Turkish soldiers were killed in the mainly Kurdish southeast on Friday when the vehicle they were traveling in was hit by a remoted-controlled explosive, security sources said.
A third soldier and one civilian were also wounded in the attack, which occurred around 7 am (local time) near the town of Lice in Diyarbakir province, they said.
Security officials blamed the attack on the outlawed Kurdistan Workers Party (PKK), which has waged a 27-year campaign against the Turkish state in which 40,000 people, mainly Kurds, have died.
Explosives were buried in a road near military barracks and were set off by remote control when the vehicle carrying soldiers passed, the officials said.
Turkey, the European Union and the United States all list the PKK as a "terrorist" organisation.
The PKK, based mainly in northern Iraq, has scaled back its demands for a Kurdish homeland for Turkey's 14 million Kurds to greater cultural rights and political autonomy.
http://dawn.com/2012/07/27/two-soldiers-killed-in-blast-in-southeast-turkey/
-----------
Iranian Scientist Claims U.S. Cyberattack Was … Loud
By WILLIAM J. BROAD
July 27, 2012
The United States has a rather bizarre history of blasting rock music into the ears of presumed enemies, so it seemed plausible when a prominent security expert reported Monday that a new cyberattack on Iran's atomic program included workstations erupting in booms of "Thunderstruck" by AC/DC, an Australian rock band.
In a blog post, Mikko Hypponen, the chief research officer of F-Secure, a computer security company based in Finland, cited "a series of e-mails" he had received from "a scientist working at the Atomic Energy Organization of Iran." He admitted he was unable to confirm any details of the alleged attack but said the sender was using the correct e-mail address, aeoi.org.ir.
Mr. Hypponen quoted the scientist as saying the music hit "in the middle of the night with the volume maxed out."
Full report at:
http://thelede.blogs.nytimes.com/2012/07/26/iranian-scientist-claims-u-s-cyberattack-was-
--------
Hip-hop mogul and Orthodox rabbi push "twinning" project in the Holy Land
Danna Harman | 26 July 2012
Jerusalem – It's a sweltering day in Jerusalem. Hip-hop mogul Russell Simmons, founder of a major record label and clothing company, sits fanning himself with a magazine. Next to him is Orthodox rabbi Marc Schneier, Vice President of the World Jewish Congress.
The two men seem an unlikely pair. Simmons is sporting plaid shorts, yogic beads, sneakers and a Yankees baseball cap. Schneier is wearing a well-pressed dark suit, a black kippah (a skullcap worn by Orthodox Jewish men), and freshly shined shoes – without so much as a bead of sweat in sight. Schneier is the founding rabbi of the Hamptons Synagogue in New York and the scion of a well-known rabbinical family. Simmons is a multimillionaire vegan who hails from Queens, New York, and practices Transcendental Meditation.
Yes, they seem an unlikely pair. But only at first glance.
For the two are clearly in sync, completing each other's sentences, volleying answers back and forth with the ease of a years-long friendship, and frequently poking the interviewer sitting between them in the shoulder to emphasise their points, which are more often than not being made with great passion, at the exact same time and in full volume.
This is Simmons' maiden voyage to Israel, but one that he has been working toward for a long time.
Full report at:
http://www.bikyamasr.com/73761/hip-hop-mogul-and-orthodox-rabbi-push-twinning-project-in-the-holy-land/
-----------
Israel's top court delays evacuation of settlement
July 27, 2012
JERUSALEM: Israel's Supreme Court on Friday delayed by at least three weeks the scheduled evacuation of an unauthorised West Bank settlement outpost that has become a symbol of settler defiance.
The court said it has scheduled another hearing for the state to argue its case against the evacuation on August 21, after previously ordering the Migron outpost be dismantled by August 1.
The Migron outpost, about 15 kilometres north of Jerusalem, was built on privately owned Palestinian land, a practice the court outlawed decades ago.
The state asked to delay the operation until the end of the month of Ramazan, citing security concerns that an evacuation during this period could set off clashes between settlers and Palestinians.
Full report at:
http://dawn.com/2012/07/27/israels-top-court-delays-evacuation-of-settlement/
-----------
Africa
Nigeria asked to punish killers of two Indian traders
Jul 27, 2012
NEW DELHI: India on Thursday asked Nigeria to swiftly bring to book the perpetrators behind the brutal murder of two Indian traders, Shanker Saha (35) and Bokul Chander Mondal (35), in an ``unprovoked armed attack'' on their business premises at Maiduguri in Borno state of the country on July 25.
``The Indian High Commission has also sought a thorough investigation by the Nigerian authorities concerned to establish the precise motive behind this heinous crime (which also left another Indian Biresh Yadav, 43, grievously wounded ), and the perpetrators brought to book,'' said an official.
The three victims were working with M/s Adebar Trades and Industries Ltd, which is engaged in processing and exporting gum Arabic since 2007 and employs around 100 Nigerian nationals. ``Such wanton attacks on innocent Indians do not serve the cause of peace and socio-economic development as well as the friendly ties between the people of India and Nigeria,'' he said.
http://timesofindia.indiatimes.com/india/Nigeria-asked-to-punish-killers-of-two-Indian-traders/articleshow/15179128.cms
-----------
Ahead of Olympic Games, a Sudanese Athlete Seeks Political Asylum in London
By RAVI SOMAIYA
July 27, 2012
LONDON — Before the opening ceremony, before a drop of sweat was shed by any of the nearly 15,000 Olympic and Paralympic athletes from 206 nations, an African runner walked into a police station here and asked for political asylum, according to news reports confirmed Thursday by a government official.
The runner, a man reportedly in his 20s, is from the East African nation of Sudan, according to a government official who declined to be identified publicly because he was not allowed to discuss the case. Sudan, battered by years of brutal internal warfare, has sent only six athletes to the Olympics. The Sudan Olympic Committee did not respond to a message seeking comment.
The Olympic athletes were subjected to stringent background checks that included searches for criminal records and potential immigration issues, the official said. Competitors have visas that expire on a set date, the official said, and will be treated like anyone else if they overstay.
It is a keenly watched issue in the right-wing press here, which has criticized successive British governments for an asylum system it considers too lenient. Despite the most earnest precautions, though, athletes in international competitions have seized the opportunity to defect.
Full report at:
http://www.nytimes.com/2012/07/27/sports/olympics/olympic-runner-from-sudan-seeks-
-----------
Mombasa secessionist group unbanned by Kenyan court
July 27, 2012
A Kenyan court has lifted a ban on a group demanding an independent state around the coastal city of Mombasa - a popular tourist destination.
The government outlawed the Mombasa Republican Council (MRC) in 2010, describing it as a "criminal group".
The government has said it will appeal the High Court's ruling that the ban was unconstitutional.
The ruling raises concern that Kenya's stability could be threatened by louder calls for secession, analysts say.
The MRC accuses the government of marginalising the indigenous ethnic groups living along the coast, which is also the centre of the country's tourism sector.
Dozens of MRC members have been arrested this year as the security forces try to enforce the ban.
Full report at:
http://www.bbc.co.uk/news/world-africa-18996621
-------
North America
'Dark Knight' shooting suspect 'claims' amnesia
Jul 27 2012
Washington : James Holmes, who has been suspected of killing 12 people during the screening of the latest Batman film ''The Dark Knight Rises,'' has reportedly claimed that he has no idea why he ended up in prison.
According to a jail worker, Holmes has said that he 'doesn't know why he is in jail'
"He asked, 'Why am I here?" the New York Daily News quoted the jail worker, as saying.
According to the paper, the worker also claimed that Holmes was also complaining of a stomach ache caused by jail food.
"He's claiming his belly hurts him. He complained once that he didn't like the food . The guy killed 12 people, and he's upset that he's not getting a four-star meal?" the worker said.
Holmes, 24, has been suspected of shooting a dozen people to death and wounding 58 more at a screening of the new Batman movie at a movie hall in Denver.
The jail worker said most folks inside the county lockup consider Holmes' memory loss a ruse.
"He needs to save his act for the jury because no one here is buying it. Everyone is convinced he is faking it," the worker added.
-----------
Syrian army fires at refugees, shoots dead three-year-old boy: Jordan
Jul 27, 2012
AMMAN, JORDAN: Jordan says the Syrian army shot dead a three-year-old Syrian boy while firing at his parents and a dozen other refugees as they tried to cross a Jordanian border fence.
Information Minister Sameeh Maaytah says Bilal El-Labloubi died instantly of a bullet wound in his neck.
A border official says two people managed to sneak in, while about 10 others ran back into Syria under heavy Syrian gunfire. It was not immediately clear if the two were the boy's parents.
Maaytah says there was no cross border fire.
He says the early Friday incident took place in Turra, a northern town near Ramtha on the Syrian border.
Jordan hosts more than 140,000 Syrian refugees.
The border official insisted on anonymity because he was not allowed to make press statements.
http://timesofindia.indiatimes.com/world/middle-east/Syrian-army-fires-at-refugees-shoots-dead-three-year-old-boy-Jordan/articleshow/15179367.cms
-------
US toughen its stand against Assad, says he must go
Jul 27, 2012
WASHINGTON: Claiming that Syrian President Bashar Al-Assad is losing hold of his country's territory, the US has asked the Arab leader to remove himself from power.
"Assad must go. He needs to understand, as he's seen, as he's losing hold of territory and of his country, that the violence is not the way to resolve this. He should remove himself from power," assistant secretary of state for public affairs Mike Hammer told reporters at a news conference organized by the Washington Foreign Press Center.
"Those around him who are not prepared to take on the kinds of actions and egregious crimes against their own people - against the Syrians - should follow course and abandon him. This is a situation that is, of course, of supreme concern in terms of what is happening around Aleppo," he said.
The US, with a number of other countries, is now focused on what happens next, how to prepare Syria for a day without Assad and a day in which all the different ethnic groups can come together and to form the kind of government that is representative of the Syrian people, he said.
Full report at:
http://timesofindia.indiatimes.com/world/middle-east/US-toughen-its-stand-against-Assad-says-he-must-go/articleshow/15198076.cms
-----------
Petition launched over Guantanamo inmate Khadr
July 27, 2012
OTTAWA: More than 28,000 people have signed a petition calling for Canada's government to honor a deal with Washington to bring home a young Canadian held for 10 years at the US military base at Guantanamo Bay, it was announced Thursday.
Omar Khadr, who was born in Toronto and became a child soldier for al Qaeda, was 15 in 2002 when he was wounded and captured by US troops during a four-hour US ground and air attack in Afghanistan.
He has been eligible for a transfer to Canada since October 2011 after pleading guilty in 2010 to five war crimes, including for throwing the grenade that claimed the life of US soldier Christopher Speer.
Khadr's lawyers said the deal, which had been diplomatically agreed on by Washington and Ottawa, would allow him to complete his sentence in Canada, if he spent one additional year in Guantanamo Bay, Cuba.
But the deal has not been implemented, with critics pointing to a small but vocal opposition in Canada that views Khadr as a risk.
Full report at:
http://dawn.com/2012/07/27/petition-launched-over-guantanamo-inmate-khadr/
-----------
Raid was 'easiest' part of bin Laden operation: McRaven
July 27, 2012
WASHINGTON: The US military raid that killed Osama bin Laden was the "easiest" of three steps that led to the al Qaeda chief's death, the special forces commander who supervised the clandestine mission has said.
Admiral William McRaven praised President Barack Obama for ordering the raid and said the CIA deserved credit for finally tracking bin Laden down to a house in Abbottabad, Pakistan.
"Our piece of it, the military piece, of kind of what I look at kind of three components was probably the easiest aspect of the entire raid," he told CNN's Wolf Blitzer at the Aspen Security Forum in Colorado on Wednesday.
"The two other pieces of this were the CIA's role," said McRaven, who heads up US Special Operations Command, without detailing exactly what the intelligence agency did.
"When the history is finally written and outlined and exposed on how the CIA determined that bin Laden was there, it will be one of the great intelligence operations in the history of intelligence organisations."
Full report at:
http://dawn.com/2012/07/27/raid-was-easiest-part-of-bin-laden-operation-mcraven/
-----------
Congress pushes for terrorist label for Haqqani
July 27, 2012
WASHINGTON: Congress ratcheted up the pressure on the Obama administration to slap the terrorist label on the Haqqani network, the militant group responsible for plotting and launching attacks from Pakistan against US-led forces in Afghanistan.
By voice vote, the Senate approved a bill on Thursday that would require the secretary of state to report to Congress on whether the Haqqani network meets the criteria to be designated a foreign terrorist organisation and if not, to explain why.
The report is due within 30 days of the president signing the measure.
The bill now goes to Obama. The administration has sanctioned top individuals of the Haqqani network, but it is still reviewing whether to label the entire organisation. That delay has frustrated members of Congress.
Rep. Mike Rogers, Republican chairman of the Intelligence Committee, had added an amendment to the bill stating that it was the sense of Congress that the Haqqani network meets the definition of a terrorist organization and they should be designated as one.
The State Department has defended its effort, citing its sanctions of the network's top individuals.
Full report at:
http://dawn.com/2012/07/27/congress-pushes-for-terrorist-label-for-haqqani/
-----------
US warns Syria may carry out massacre in Aleppo, rules out intervention
Jul 27, 2012
WASHINGTON: The United States warned that the Syrian regime may be preparing to carry out a massacre in the city of Aleppo, but stuck by its position that there would be no US military intervention.
"This is the concern, that we will see a massacre in Aleppo, and that's what the regime appears to be lining up for," state department spokeswoman Victoria Nuland said.
She pointed to "credible reports of columns of tanks" waiting to attack Syria's second city, where fighting has raged between regime troops and rebels seeking to oust President Bashar al-Assad.
A Syrian security source told AFP the army was preparing for an all-out assault in densely-populated Aleppo as clashes shook parts of Damascus and other areas.
The rebels have also brought in reinforcements, with an estimated 1,500 and 2,000 opposition fighters arriving from outside Syria's most populous city to reinforce some 2,000 already fighting inside Aleppo.
Full report at:
http://timesofindia.indiatimes.com/world/middle-east/US-warns-Syria-may-carry-out-
-----------
Europe
UK envoy dubs Pakistan a 'global leader' in visa, passport forgery
Jul 27 2012
Islamabad : Dubbing Pakistan as a "global leader" in visa and passport forgery, UK envoy here has said that visa fraud is a deep-rooted industry in this country.
About 4,000 people were caught for the fraud last year while trying to acquire British passports using fake documents, the UK's High Commissioner to Pakistan, Adam Thomson, said.
Pakistan was a "global leader" vis-a-vis fake passports and visas, he told reporters at the National Press Club yesterday.
Thomson said it was unfortunate that Pakistan had been rated a world leader in visa fraud.
"Unfortunately, you people are world leaders in visa scam. Forgery is a strong industry here," he was quoted as saying in media reports.
Thomson expressed satisfaction with Pakistan government's visa issuing system but added that no passport or visa system in the world could claim to be absolutely perfect.
"There may be occasional slippages," he said.
Full report at:
http://www.indianexpress.com/news/uk-envoy-dubs-pakistan-a-global-leader-in-visa-passport-forgery/980240/
-----------
UK lawmakers urge Obama to end drone strikes in Pakistan
July 27, 2012
LONDON: A group of 12 UK parliamentarians has written a letter to President Barack Obama urging him to stop the drone attacks in Pakistan, DawnNews reported.
In a letter, addressed to the US and the Nato, it was argued that the Britain and the Western countries are under threat because drone attacks provide justification for future terrorist activities.
The letter also claimed that innocent people were killed in the drone strikes.
The parliamentarians said that the attacks were creating hatred for the US amongst Pakistanis and they were also harming Pakistan's sovereignty.
George Galway, Yasmin Qureshi, John Hemming, Jeraldko Famin, Paul Flain and Simon Disnek include members of House of Commons while Lord Nazir Ahmad, Lord Hussain, Lord Steel Acowood, Lord Jad, , Lord E Escadel and Lord Eubarry are from House of Lords who have signed the letter written to the US President.
http://dawn.com/2012/07/27/uk-lawmakers-urge-obama-to-end-drone-strikes-in-pakistan/
-----------
UK operated US drones over Libya
July 27, 2012
LONDON: British Royal Air Force personnel operated US drones over Libya last year in support of the Nato mission there, the Ministry of Defense said Thursday.
While the American use of drones in Libya was previously known, a US Predator drone took part in the airstrike that hit a convoy carrying ousted Libyan leader Moammar Gadhafi, British officials have insisted that no UK drones were involved there or have been used outside of Afghanistan.
The Ministry of Defense said Thursday that was still the case, but confirmed that Royal Air Force personnel embedded within a US unit had operated "armed Remotely Piloted Air Systems missions" against Gadhafi's forces in Libya in 2011.
It did not provide further details on the number of armed drone missions RAF personnel flew or what US unit they were embedded with, butstressed that the UK armed forces routinely embed within units of allied nations, and vice versa, through exchange programs.
"There were no and are no" UK drones operating outside of Afghanistan, the Ministry of Defense said in a statement.
http://dawn.com/2012/07/27/uk-operated-us-drones-over-libya/
-----------
Muslim doctor in Britain loses Sharia law fight over divorce settlement
26 July 2012
A Muslim hospital consultant has been ordered by a British court to pay his ex-wife's maintenance, despite the man arguing that by Sharia (Islamic) law he should not have to.
Dr. Zaid al-Saffar was told by a judge that he must pay £60,000 ($94,249) to his former wife, academic Hanan al-Saffar and follow the "rule in this country," according to a report by the Daily Mail on Wednesday.
In some Muslim societies there is often no expectation that ex-husbands pay maintenance to ex-wives, while others agree that maintenance has to be paid if the woman does not re-marry and has children.
Saffar, a consultant rheumatologist who is also the head of the Islamic Society in the resort town, was married for eight years, and the couple had two children. According to the report, their marriage was formalized following the Islamic tradition of Mahr, under which the groom pays a gift to his bride.
Full report at:
http://english.alarabiya.net/articles/2012/07/26/228559.html
-----------
UN Worries Showdown in Aleppo Could Be Imminent
July 27, 2012
GENEVA (AP) — The U.N.'s human rights office warned Friday of an "imminent" showdown between government troops and opposition force in Syria's second-largest city, Aleppo.
The rebels are locked in fierce fighting with the government troops in Aleppo for six days and are bracing for an attack amid reports that the regime is massing reinforcements to retake the embattled city of 3 million.
Expressing her "deep alarm" at the situation, U.N. High Commissioner for Human Rights Navi Pillay said the reports coming out of Damascus "along with the reported build-up of forces in and around Aleppo, bodes ill for the people of that city."
Part of the reasons for that, she said in a statement read aloud to reporters Friday in Geneva by her spokesman Rupert Colville, are the "as yet unconfirmed reports of atrocities, including extra-judicial killings and shooting of civilians by snipers" during fighting in the suburbs of Damascus.
Full report at:
http://www.nytimes.com/aponline/2012/07/27/world/europe/ap-syria.html?ref=global-
-----------
URL: https://newageislam.com/islamic-world-news/by-new-age-islam-news-bureau/hindu-boy-converts-to-islam-on-tv-in-pakistan/d/8070