New Age Islam News Bureau
26 Aug 2012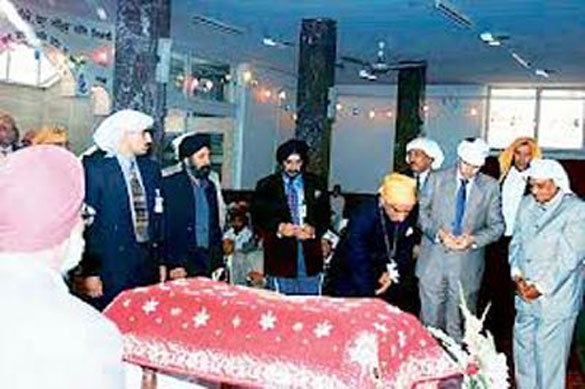 Mideast Asia
• Gurdwara in Tehran that thrives on local support
• Iran opens non-aligned summit with nuclear appeals
• Iran's NAM invite to Hamas irks Palestinian Authority
• NAM Summit: Iran condemns West's policy of intimidation
• Iran says Hamas not invited to Non-Aligned summit
• Four Revolutionary Guards dead in Iran helicopter crash
• Struggling to Cope, Turkey Stops Refugees on Syrian Border
• Cairo Court Sentences Man to Jail Over Israel Embassy Attack
India
• Violence continues to rock lower Assam
• Auto driver held for 'fake' call about bombs at Raj's rally
• Overstaying Pakistanis on security radar
• Ahmedabad: Students Islamic Organization promotes education
• Govt's licence to kill
Pakistan
• Pakistan says, atrocities against Hindus is a 'myth'
• Pakistan probes report US strike killed Haqqani son
• At least 28 militants killed in Bajaur Agency
• PPP prepares for showdown with judiciary
• Flood water inundates 35 villages in Pakistan
• People of Waziristan support PTI's "peace march," says Imran Khan
• Rangers arrest 54 'gang-war' suspects in Lyari operation
• Strike in Balochistan marks Bugti death anniversary
South Asia
• Taliban denies Badruddin Haqqani's death in US drone strike
• Fear of operation in N. Waziristan Tribals advised to take refuge in Afghanistan
• NATO: 202 Afghan Bases Closed, More to Come
• Bangladesh:Charges against Fakhrul, 28 others accepted
• Ragtag Revolts in Parts of Afghanistan Repel Taliban
• Mojaheed led Al Badr in killing intellectuals: Shahriar Kabir
• Bangladesh: ATM Azharul denied bail
Southeast Asia
• Two Shia followers reportedly killed in Sampang melee
• Indonesian Red Cross Sends Team to Myanmar
• Idul Fitri Accident Death Toll Climbs to 820: Police
• Indonesia may sell weapons, supplies to Iraq, Uganda
Arab World
• Activists say 122 more bodies found in Damascus suburb
• Syrian rebels set free kidnapped Lebanese pilgrim
• Syrian VP appears in public, ending defection rumour
• Lebanese leading scholar hails king's call for dialogue among Islamic sects
• Egypt PM says new constitution by late September
• Abu Dhabi has one of the lowest illiteracy rates in the Arab World
• Activists report 'execution style' killings near Damascus
• Egypt reopens Rafah crossing with Gaza: Sources
• Gunmen kill 3 in northern Iraq: officials
• Assad's forces accused of massacre near Syrian capital
North America
• Author of tell-all book on Osama raid gets death threats
Europe
• Radical Islamic Attacks in a Moderate Region Unnerve the Kremlin
• South Sudanese soldiers responsible of killing, torture and rape - UN
Africa
• Part of revered mausoleum razed in Libya
• At Least Four Killed in Ivory Coast Gunbattle
Compiled by New Age Islam News Bureau
Photo: Gurdwara in Tehran that thrives on local support
URL: https://www.newageislam.com/islamic-world-news/by-new-age-islam-news-bureau/gurdwara-in-tehran-that-thrives-on-local-support/d/8430
--------------
Mideast Asia
Gurdwara in Tehran that thrives on local support
By DIPANJAN ROY CHAUDHURY
26 August 2012
At a time when a gurdwara in the US has been targeted by extremists and minority Hindus in Pakistan face harassment, a gurdwara in Tehran, where the Prime Minister is visiting from August 28, stands tall, with the community receiving strong support from local authorities.
Next week, while PM Manmohan Singh is busy with the 16th Non-Aligned Movement (NAM) summit, his wife Gursharan Kaur will visit the Sikh shrine established in 1941 in downtown Tehran.
It is not certain if Singh will pay obeisance there though the Sikh community is hopeful.
External affairs minister S.M. Krishna had visited the gurdwara in 2010 and ex-PM Atal Behari Vajpayee had visited it in 2001.
While the West often targets Iran for religious intolerance, the Sikhs have had a different experience in the country.
The community has never faced any problem from the Iranian government or locals. Currently, 60 Sikh families reside in Tehran and the city of Zahedan.
In Tehran, Singh may meet Iran's supreme leader Ayatollah Ali Khamenei, President Mahmoud Ahmadinejad, Pakistani President Asif Ali Zardari and his Bangladeshi counterpart Sheikh Hasina.
The PM's visit is significant as it comes at a time when the US is pushing India to decrease oil imports from Iran and use its good offices to convince Tehran to suspend its 'nuclear weaponisation programme'.
While oil imports from Iran to India have decreased because of troubles faced by Indian oil firms following US and EU sanctions, India has made it clear it can't follow unilateral US sanctions and reduce oil purchases altogether.
'We had proposed a meeting with Khamenei, in which the PM will raise all issues for India-Iran bilateral ties. Peace is our primary concern, given just how important the West Asian and Gulf region is for India's security and economy,' foreign secretary Ranjan Mathai said at a press meet ahead of the PM's trip.
http://www.dailymail.co.uk/indiahome/indianews/article-2193713/Gurdwara-Tehran-thrives-local-support.html#ixzz24ebbMnmb
--------------
Iran opens non-aligned summit with nuclear appeals
Aug 26, 2012
TEHRAN, Iran: Iran opened a world gathering of self-described nonaligned nations on Sunday with a slap at the UN Security Council and an appeal to rid the world of nuclear weapons even as Tehran faces Western suspicions that it is seeking its own atomic arms.
Iran seeks to use the weeklong gathering _ capped by a two-day summit of various leaders _ as a showcase of its global ties and efforts to challenge the influence of the West and its allies. Among those expected to attend include UN Secretary-General Ban Ki-moon and the Prime Minister of India, Manmohan Singh, whose nation remains an important Iranian oil customer as Tehran battles Western sanctions over its nuclear program.
The 120-nation Non-Aligned Movement, a holdover from the Cold War's pull between East and West, is also seen by Iran and others as an alternative forum for current world discussions. Iran says it plans talks on a peace plan to end Syria's civil war, but no rebel factions will attend because of Tehran's close bonds with Bashar Assad's regime.
Iranian Foreign Minister Ali Akbar Salehi opened the gathering by noting commitment to a previous goal from the nonaligned group, known as NAM, to remove the world's nuclear arsenals within 13 years.
"We believe that the timetable for ultimate removal of nuclear weapons by 2025, which was proposed by NAM, will only be realized if we follow it up decisively," he told delegates.
Iran insists it does not seek nuclear weapons. But the US and allies fear that Tehran's uranium enrichment could eventually lead to warhead-level material, and have imposed tighter sanctions on Iran's banking and oil exports in attempt to wring concessions. Israel has said that it would consider military options if diplomacy and economic pressures fail to curb Iran's nuclear ambitions.
Salehi criticized Israel for remaining outside the UN main treaty governing the spread of nuclear technology. Israel refused to discuss the full range of its military capabilities, but it is widely believed to have a nuclear arsenal.
Iranian ally North Korea has withdrawn from the Nuclear Non-Proliferation Treaty. The North Korean Foreign Minister Paek Nam Sun arrived in Tehran Sunday to attend the meetings.
Salehi also complained about the perception of the "falling" clout of the UN's general membership at the expense of the "rising power of the UN Security Council," which includes the US, Britain, France, Russia and China.
"Creating a more democratic Security Council should be considered an important part of UN reforms," Salehi told the gathering.
Even before the first session got under way, however, a potential dispute brewed over Palestinian envoys.
Iranian officials said a political leader of Tehran's ally Hamas has not been invited to this week's meeting of nonaligned nations in Tehran, but Hamas insisted its Prime Minister Ismail Haniyeh will attend.
The office of Palestinian President Mahmoud Abbas says he would not attend if rival Haniyeh also takes part. Iranian-backed militant group Hamas controls Gaza while Abbas' Western-backed administration governs the West Bank.
Haniyeh's office in the Gaza Strip says he plans to travel to Tehran Monday as guest of Iranian President Mahmoud Ahmadinejad. Abbas' Foreign Minister Riad Malki also plans to travel to Tehran on Monday.
http://timesofindia.indiatimes.com/world/middle-east/Iran-opens-non-aligned-summit-with-nuclear-appeals/articleshow/15759832.cms
--------
Iran's NAM invite to Hamas irks Palestinian Authority
August 26 2012
Abbas to attend only if he is sole representative
The Palestinian Authority on Saturday criticised Iran for inviting a Hamas leader to the Non-Aligned Movement (NAM) summit in Tehran, calling into question whether President Mahmoud Abbas would still attend.
PA Prime Minister Salam Fayyad described the invitation to Ismail Haniyeh as "a stab in the back of the Palestinian national project". "The Palestinian Liberation Organisation is the sole representative of all the Palestinian people," Mr. Fayyad said in a statement.
The invitation from Iranian President Mahmoud Ahmadinejad was conveyed to Mr. Haniyeh's office on Friday, Iran's official IRNA news agency reported.
Palestinian Foreign Minister Riyad Malki warned that if Mr. Abbas was not the sole Palestinian representative at the summit then the President may not participate.
Iran had invited Mr. Abbas to next week's summit two months ago, according to IRNA.
Mr. Haniyeh's deputy, Muhammed Awad, said there should be a Palestinian delegation representing both Gaza and the West Bank.
"The Ramallah [government] should look at this as a move to have all the Palestinians present at the summit," he said.
Yousef Rezqeh, a political advisor to Hamas in Gaza, told DPA that Mr. Haniyeh has not yet decided whether he will attend.
"He is holding consultations with the members of his government, and certainly the decision that will be made will serve the highest interests of the Palestinian people," Mr. Rezqeh said.
In June 2007, Mr. Abbas dismissed Mr. Haniyeh from the premiership after Hamas seized full control of the Gaza Strip.
Mr. Haniyeh refused to accept Mr. Abbas' decree, and since then Hamas has been ruling the Gaza Strip, while an Abbas-appointed government controls the West Bank.
Some analysts regard the late invitation to Mr. Haniyeh as a revision within the Iranian establishment over who should be allowed to represent the Palestinians.
Iran is a supporter of Hamas and considers it to be the legitimate government of the Palestinians.
http://www.thehindu.com/news/international/article3821575.ece
--------------
NAM Summit: Iran condemns West's policy of intimidation
August 26 2012
Iran on Sunday condemned the West's policy of intimidation against other nations and sought the Non-Aligned Movement's support to end tough West-sponsored sanctions against it over its nuclear programme, as officials from 120 countries, including India, gathered in Tehran for the 16th NAM Summit.
"We believe that adopting worn-out policies based on intimidation and humiliation is not only unjust and unjustifiable but also weakens international cooperation for the materialisation of the goals and objectives of the UN charter," Iranian Foreign Minister Ali Akbar Salehi said.
In his opening remarks at the meeting of the officials of NAM member states, Mr. Salehi said: "No doubt, those who plan such policies will soon find out that they are doomed to failure," Fars news agency reported.
Iran is facing a series of tough U.N. and Western economic and financial sanctions crippling its oil and gas industry over its nuclear programme, which it calls peaceful. However, West accuses Iran of attempting to develop nuclear weapons.
He also said that "we take this opportunity to thank the NAM for its support" backing Iran's "legitimate rights" to nuclear activities.
Referring to the crisis in Syria, the Iranian Minister called for a "national dialogue" as a peaceful solution for internal affairs of countries.
The officials from 120 NAM member states met on Sunday to work on the agenda of the heads-of-state summit to be held on Thursday and Friday.
Prime Minister Manmohan Singh will attend the summit, which will be preceded by crucial bilateral talks with Iran's supreme leader Ayatollah Sayyed Ali Khamenei and Iranian President Mahmoud Ahmadinejad.
Also on the sidelines of the meeting, India, Iran and Afghanistan will hold a strategic trilateral meet in which key issues, including regional security and economic situation and best utilisation of Chabahar Port, a significant commercial venture, will be discussed.
http://www.thehindu.com/news/international/article3824376.ece
--------------
Iran says Hamas not invited to Non-Aligned summit
August 26 2012
TEHRAN:The Hamas premier in Gaza has not been invited to this week's summit of the Non-Aligned Movement in Tehran, Iran said on Sunday, heading off a threatened boycott by the Palestinian president.
"Up to now, no official invitation from the Islamic Republic of Iran and the person of (President Mahmoud) Ahmadinejad has been sent to Hamas's popular prime minister (Ismail Haniya)," the Iranian spokesman for the summit said.
"Only (Palestinian president) Mahmud Abbas has been invited to the NAM summit," Mohammad Reza Forqani said in a statement quoted by the ISNA and Mehr news agencies.
Hamas said on Saturday that Haniya would take part in the summit in Tehran on Thursday and Friday, "in accordance with the invitation from Iranian President Mahmoud Ahmadinejad," according to a statement by his spokesman.
Abbas, whose internationally recognised Palestinian Authority is at odds with Gaza's Islamist Hamas rulers, responded with a warning through Palestinian foreign minister Riyad al-Malki that he would stay away from the summit if Haniya went.
Forqani's statement that Haniya had never been invited appeared an effort to spare Iran embarrassment over an Abbas boycott. Iran is a fierce supporter of the Palestinian cause and an arch-foe of Israel.
Full report at:
http://dawn.com/2012/08/26/abbas-to-shun-iran-summit-if-hamas-goes-ministry/
--------
Four Revolutionary Guards dead in Iran helicopter crash
August 26 2012
TEHRAN: An Iranian helicopter of the Revolutionary Guards crashed in western Iran near the Iraqi border killing four Guards on Saturday, the force's website Sepahnews reported.
It did not specify the type of aircraft, saying only that the helicopter suffered "technical failure" while on a mission in Sardasht border area, which is populated by Iran's Kurdish minority.
In mid-2011, Iran's elite Revolutionary Guards carried out major offensives against rebels of the Party of Free Life of Kurdistan (PJAK).
PJAK rebels have clashed repeatedly with Iranian forces, drawing retaliatory bombing of their rear bases in mountainous districts of Iraqi Kurdistan across the border.
http://dawn.com/2012/08/26/four-revolutionary-guards-dead-in-iran-helicopter-crash/
--------------
Cairo Court Sentences Man to Jail Over Israel Embassy Attack
August 26 2012
CAIRO (Reuters) - A Cairo court on Sunday sentenced a man to five years in jail and another 75 people to one-year suspended sentences in connection with attacks on the Israeli and Saudi embassies in Cairo last year, a court official said.
The man sentenced to five years, named Omar Afifi, had fled abroad and was tried in absentia.
Protesters stormed the Israeli embassy in Cairo in September following the killing in August of five Egyptian security guards by Israeli soldiers pursuing militants who had ambushed and killed eight Israelis along the Israeli-Egyptian border.
Some of the protesters also attacked the nearby Saudi embassy with stones.
The defendants had been accused of "attacks on diplomatic missions", according to the public prosecutor.
http://www.nytimes.com/reuters/2012/08/26/world/middleeast/26reuters-egypt-
--------
Struggling to Cope, Turkey Stops Refugees on Syrian Border
August 26 2012
ANKARA (Reuters) - Turkey has begun temporarily holding thousands of Syrians on the Syrian side of the border as it struggles to cope with a growing wave of refugees.
At least 2,000 people fleeing violence in Syria were prevented from entering Turkey overnight at one of several unofficial border crossings in the southern province of Hatay, a Turkish official and witnesses said.
"We have run out of space to house these people. We are working to make shelters and when these are completed we will allow these people across," the official told Reuters on condition of anonymity.
He said the refugees were being handed food and humanitarian aid through the barbed-wire fence that marks much of Turkey's 900-km (560-mile) border with Syria, and through which tens of thousands of Syrians have scrambled over the past 17 months.
The official said he hoped the refugees would be allowed to cross later on Sunday.
The number of Syrian refugees in Turkey has nearly doubled over the past two months to more than 80,000 and Ankara has already said it is struggling to cope.
Foreign Minister Ahmet Davutoglu said this week Turkey could run out of space if the number went above 100,000 and suggested the United Nations may need to create a "safe zone" inside Syria.
Full report at:
http://www.nytimes.com/reuters/2012/08/26/world/middleeast/26reuters-syria-crisis-
--------
India
Violence continues to rock lower Assam
August 26 2012
Violence on Sunday continued to rock lower Assam, where two persons were injured in a fresh attack in Kokrajhar.
Six persons, inmates of a relief camp, died in an attack at Amguri Bazar in Chirang district on Saturday night taking the death toll in the month-long mayhem to 86, police said.
State IGP (law and order) L.R. Bishnoi told PTI that unidentified persons attacked and left injured two persons near Salakati Railway Station in Kokrajhar at around 4 am.
The injured have been admitted to the Bongaigaon Civil Hospital.
Night curfew is continuing in the troubled districts of Kokrajhar, Chirang and Dhubri after violence that started from July 19, in which more than four lakh people have been rendered homeless with most residing in relief camps.
Army presence in the areas is continuing.
http://www.thehindu.com/news/states/other-states/article3824133.ece
----------
Auto driver held for 'fake' call about bombs at Raj Thackeray's rally
Aug 26 2012
Mumbai : An auto rickshaw driver was today arrested for allegedly making a fake call claiming that three explosives had been planted to eliminate MNS chief Raj Thackeray on Tuesday during his rally, sending the security agencies into a tizzy, police said.
Acting on a tip-off, the accused Rajeshkumar Sharma (34), auto rickshaw driver by profession, was apprehended this morning from suburban Vile Parle and a mobile handset and four SIM cards, including the one used to make the fake call, were recovered, a crime branch official said.
According to police, Sharma had introduced himself as taxi driver Santosh Gaikwad and had called the police control room on August 21, the day when Thackeray held a rally demanding ouster of the state Home Minister R R Patil and the then city police chief Arup Patnaik for the August 11 violence at Azad Maidan, saying that there was a threat to Thackeray.
Sharma further claimed that he had overheard three passengers in his cab talking about keeping three bombs at the site to kill the MNS chief, police said.
On the day of the rally, Thackeray had visited Siddhivinayak Temple in Prabhadevi area seeking blessing before starting the procession from Girgaon to Azad Maidan.
Later, he held a rally at Azad Maidan.
Full report at:
http://www.indianexpress.com/news/auto-driver-held-for-fake-call-about-bombs-at-rajs-rally/993156/
--------------
Overstaying Pakistanis on security radar
By Sudhanshu Mishra
August 26 2012
IN a development that has set the alarm bells ringing among security agencies, around 350 Pakistani citizens have melted into Rajasthan's local population over the past five years.
The majority of such Pakistanis comprised Hindus who were " unwilling to return" owing to the " unfavourable state of affairs in that country", Rajasthan's additional director general of police ( intelligence) Dalpat Singh Dinkar told M AIL T ODAY . But security agencies suspect that several of the Pakistanis who have overstayed their welcome — around 247 — are ISI agents. And, worryingly, the trend has only been increasing.
" We are getting their exact number verified from various check- posts, including at Munabao in Rajasthan and Atari in Punjab as also at the 45 foreigners' registration offices ( FROs) across the state," Dinkar disclosed.
Easily melt into local population
He pointed out that crosschecking the number was necessary because at times Pakistani citizens due to return to their country from a particular point could instead choose another location to make the exit.
Full report at: Mail Today
--------------
Ahmedabad: Students Islamic Organization promotes education
Aug 26, 2012
The name of Students Islamic Organization (SIO) was inadvertently mentioned in the article 'Cops fear IM might reemerge as new outfit' published in TOI on July 26. SIO is the student wing of Jamaat-e-Islami Hind and working since 1982. The organization's office-bearers say they are active across the country and promote education and high morals in society and have no link with any terror outfit.
http://timesofindia.indiatimes.com/city/ahmedabad/Students-Islamic-Organization-promotes-education/articleshow/15718045.cms
--------------
Govt's licence to kill
By Harish Sharma and Arun Singh
August 26 2012
Unscrupulous babus issue ID cards to dreaded terror suspects
EVEN as security and intelligence forces are putting in their best efforts to make Abu Jundal cough up some vital leads to crack the 26/ 11 Mumbai terror attack, his new voter's identity card is ready in Ghaziabad.
Another suspected Indian Mujahideen ( IM) member, Muhammad Fasih, may be languishing in Saudi Arabia, but his voter's ID and driving licence are ready in India, A AJ T AK 's exclusive investigation has found.
To add salt to India's 26/ 11wounds, Iqbal Bhatkal, the Karachi- based IM strongman hatching plots to spread terror networks in India has also got his voter ID ready, the investigation has found.
Full report at: Mail Today
--------------
Pakistan
Pakistan says, atrocities against Hindus is a 'myth'
Aug 25 2012
Patna : A visiting Pakistani parliamentary delegation today rubbished reports of atrocities against Hindus living there and said the propaganda in this regard was far from truth.
"The reports about atrocities against the Hindus in Pakistan is a myth... The facts about the status of minorities in Pakistan are far from reality," Leader of the House in Senate Jahangir Badar told reporters.
He claimed most of the minority community members visiting the neighbouring country were loyal Pakistani citizens and wanted to return home.
http://www.indianexpress.com/news/pakistan-says-atrocities-against-hindus-is-a-myth/993139/
--------------
Pakistan probes report US strike killed Haqqani son
August 26 2012
KHAR: Pakistan is investigating whether the son of the founder of the powerful Haqqani militant network, which has been blamed for high-profile attacks and kidnappings in Afghanistan, was killed in a US drone strike this week, officials said Saturday.
If confirmed, the death of Badruddin Haqqani, who has been described as the network's day-to-day operations commander, would mark a major blow to the organization founded by his father, Jalaluddin Haqqani, and viewed by the US as a powerful enemy in neighboring Afghanistan.
Two Pakistani intelligence officials said Saturday they are 90 per cent certain Badruddin was killed Tuesday in North Waziristan in an American missile attack. They said their information was based on reports received from their agents in the field but acknowledged they haven't spoken to anyone who has seen the body.
A senior Taliban commander said a US drone strike killed Badruddin. There was no independent confirmation, and the US does not comment publicly on the controversial drone program, which is widely reviled by the Pakistani public and has been a source of tension with Islamabad.
Full report at:
http://dawn.com/2012/08/26/pakistan-probes-report-us-strike-killed-haqqani-son/
--------------
At least 28 militants killed in Bajaur Agency
August 26 2012
PESHAWAR: At least 28 militants were killed and 15 arrested in Bajaur Agency's Salarzai area in a clash between security forces and militants at Pak-Afghan border on Saturday, DawnNews reported.
According to official sources, the clashes erupted after the militants from across the border attacked Batwar village in Salarzai Tehsil. The security forces and the local peace militia retaliated and killed 28 of them. Around 15 militants were arrested while two volunteers of peace militia were also injured.
The security forces attacked shelled the main lodgings of militants using gunship helicopters.
According to the security forces, several militants' hideouts were destroyed during the attack.
http://dawn.com/2012/08/25/at-least-28-militants-killed-in-bajaur-agency/
--------------
PPP prepares for showdown with judiciary
Aug 26, 2012
ISLAMABAD: With a showdown between the government and the judiciary looming, top leaders of Pakistan's ruling party have held two meetings to prepare a strategy for the standoff and to decide whether the Prime Minister Raja Pervez Ashraf should appear in court on Monday to face a contempt charge.
The order was discussed at a meeting of the PPP's top leadership on Friday chaired by the PM and President Asif Ali Zardari. Both agreed that the government does not want any confrontation with the judiciary and that it would act on any ruling while keeping the interests of the people and country in mind.
http://timesofindia.indiatimes.com/world/pakistan/PPP-prepares-for-showdown-with-judiciary/articleshow/15721744.cms
--------------
Flood water inundates 35 villages in Pakistan
Aug 26, 2012
LAHORE: At least 35 villages of two districts in Pakistan's Punjab province have been inundated by flood waters following heavy rains, officials said on Sunday.
The villages in Pasrur and Sialkot districts, 80 km from the provincial capital of Lahore, are under four feet of water.
The floods damaged standing crops on hundreds of acres, the officials said.
Some residents of the villages moved to safe places with their cattle and belongings.
There were no reports of casualties so far, officials said.
Traffic in Pasrur three main roads - the Sialkot-Pasrur road, Daska-Pasrur road and Pasrur-Zafarwal-Narowal road - was suspended on Saturday after they were covered by three to four feet of flood waters.
There is an acute shortage of food and potable water for people and fodder for cattle in the flood-hit villages.
The state-run Rescue 1122 service has launched relief activities and begun shifting people to safer places.
The local Met Office has forecast more heavy rains in the Sialkot region and officials said this might worsen the situation.
http://timesofindia.indiatimes.com/world/pakistan/Flood-water-inundates-35-villages-in-Pakistan/articleshow/15739750.cms
--------------
People of Waziristan support PTI's "peace march," says Imran Khan
August 26 2012
ISLAMABAD: Chairman of the Pakistan Tehrik-i-Insaf (PTI) Imran Khan has vowed to fulfill his promise of marching to the tribal region of Waziristan as a show of solidarity with the locals.
Khan, who plans to take a convoy to the South Waziristan tribal region along the Pakistan-Afghanistan border, was addressing a press conference along with tribal leaders in the capital on Saturday.
"The people of Waziristan are supportive of our peace march," Khan told reporters, adding that security arrangements for the march would be undertaken by locals of the tribal region. Khan said a convoy of local and international journalists would be a taken along to the tribal regions in PTI's 'peace march.'
The PTI chief insisted that a military operation in North Waziristan could only be successful if locals were taken into confidence. He slammed the resurgence of US-led Nato drone attacks inside Pakistan's tribal regions and claimed that locals have been killed in these missile strikes.
"There have been 12 drone attacks in the last 24 hours. The government should name the terrorists who they claim have been killed in these attacks."
Slamming the Pakistan People's Party led government, Khan said the ruling party came into power to fulfill "American agenda" and termed it an "NRO government."
http://dawn.com/2012/08/25/people-of-waziristan-support-ptis-peace-march-says-imran-khan/
--------------
Rangers arrest 54 'gang-war' suspects in Lyari operation
August 26 2012
KARACHI: At least 54 suspects were arrested and heavy arms and ammunition was recovered Sunday as Sindh Rangers carried out a search operation ere in different parts of Karachi's troubled Lyari area, DawnNews reported.
Rangers conducted a targeted operation against suspected target killers, extortionists and other criminals in different areas of Lyari, arrested 54 alleged criminals and recovering weapons including Kalashnikovs, 12-bore pistols, grenades, five kilograms of explosive material, Improvised Explosive Devices (IED), and a large quantity of bullets. At least 27 kg of hashish and over 3000 bottles of liquor were also confiscated.
The operation started in the wee hours of the day in Afshani Street, Nawa Lane, Tezi Road, Rexer Lane, Kalakot, chakiwara, Baghdadi, Niazi Chowk, Aath Chowk and Cheel Chowk areas of Lyari.
The raids were also conducted at gambling dens in the area, a release said.
Suspects arrested Sunday also included alleged criminals involved in local gang wars, said Rangers officials, also including Iqbal Kamrani and 'Wakeel Chota', among others.
Residents protest against operation
Meanwhile, several residents of the troubled Lyari area, one of the city's oldest inhabited areas, gathered together to protest against the operation. The demonstrators burnt tires and blocked roads, calling the operation "unjust", alleging that the Rangers forces had arrested innocent civilians.
However, Rangers personnel soon managed to disperse the crowd of demonstrators.
http://dawn.com/2012/08/26/rangers-arrest-54-gang-war-suspects-in-lyari-operation/
--------------
Strike in Balochistan marks Bugti death anniversary
August 26 2012
QUETTA: A province-wide strike was observed in Balochistan to mark the sixth death anniversary of the late Nawab Akbar Khan Bugti on Sunday, DawnNews reported.
Markets and shops were shut and vehicular traffic remained sparse on the roads.
According to DawnNews correspondent Syed Ali Shah, a complete shutter-down strike was observed in Quetta, the provincial capital. Heavy contingents of Frontier Constabulary (FC) and police were deployed throughout the city as security measures.
Meanwhile, Khuzdar, Mastung, Jaffarabad, Sibi, Kharan, Gwadar, Turbat and other Baloch majority areas also witnessed complete shutter down strikes.
The Jamhoori Watan Party (Aali group) and the Baloch Republican Party had announced a strike and called for protest demonstrations in several parts of the province. The Balochistan National Party – Mengal (BNP-M) and the National Party had also announced their support for the strike.
The provincial government had imposed a ban on pillion riding throughout the province keeping in view the law and order situation.
The previous night, Quetta witnessed at least four bomb blasts in different areas of the city. Three of the explosions appeared to target houses while one was planted on a railway track. At least seven people were injured as a result of the explosions.
The veteran Baloch nationalist leader and former Chief Minister of Balochistan was killed, along with 37 armed tribals, in a military operation in Chalgri area of Bhamboor hills of Dera Bugti district on August 26th 2006.
http://dawn.com/2012/08/26/strike-in-balochistan-to-mark-bugti-death-anniversary/
---------
South Asia
Taliban denies Badruddin Haqqani's death in US drone strike
Aug 26, 2012
ISLAMABAD: The family of Afghan Taliban commander Jalaluddin Haqqani and a senior commander of the dreaded Haqqani network have rejected reports of the death of warlord Badruddin Haqqani in a US drone strike in Pakistan's restive North Waziristan last week.
Maulvi Ahmed Jan, a top commander of the Haqqani network, claimed Badruddin, believed to be in mid-30s was safe.
"Badruddin Haqqani is safe and sound and engaged in jihad against the occupying forces in Afghanistan along with male members of the Haqqani family," he said.
"The only family member who died in the drone attack last Tuesday was 13-year-old Osama, who was not involved in the operational affairs of the Haqqani network and was a distant relative of Badruddin Haqqani," Jan was quoted as saying by The News today.
Badruddin, the son of Afghan warlord Jalaluddin Haqqani, is ranked as a deputy to his elder brother and the network's chief Sirajuddin was believed to be killed in one of the five volleys of drone strikes in Pakistan's Taliban-controlled tribal agency of North Waziristan since August 18.
Some youths, including relatives of Jalaluddin Haqqani, had arranged a trip to celebrate Eid near the Afghan border when they were targeted by a drone, he claimed.
Five youths were killed and several others injured in the attack, he said.
The funeral of these persons was held in North Waziristan and the media reported that it was the funeral of Badruddin Haqqani, he said.
http://timesofindia.indiatimes.com/world/pakistan/Taliban-denies-Badruddin-Haqqanis-death-in-US-drone-strike/articleshow/15746271.cms
--------------
Fear of operation in N. Waziristan Tribals advised to take refuge in Afghanistan
August 26 2012
MIRAMSHAH: A local Taliban Shura and tribal Maliks have decided that tribal people would avail the option to take refuge in Afghanistan if the government launches a military operation in North Waziristan.
In the wake of widespread speculations about an army action against militants in the area, about 1,500 Maliks, clerics and members of the Taliban Shura held a meeting at Islami Madressah Nezamia in Edek village, near Miramshah, on Saturday.
The chief of a peace committee, Maulvi Gul Ramzan, Mufti Saddiqullah, Taliban commanders and elders of Utmanzai tribe addressed the Jirga and discussed various options in case security forces launched an offensive.
The Jirga declared that Utmanzai tribe was abiding by a peace agreement signed with the government in February 2007 and would continue efforts for maintaining peace in the area, but the government and security forces were violating the deal.
"The peace agreement between the tribes and government is still intact. In case government starts a military operation the people of North Waziristan will migrate to Afghanistan," it decided.
Full report at:
http://dawn.com/2012/08/26/fear-of-operation-in-n-waziristan-tribals-advised-to-take-refuge-in-afghanistan/
--------------
NATO: 202 Afghan Bases Closed, More to Come
26 August 2012
KABUL, Afghanistan (AP) — The international military coalition in Afghanistan says it has closed 202 bases as part of its drawdown in troops, and has transferred more than that number to the Afghan government.
NATO forces spokesman Lt. Col. David Olson says all the shuttered facilities were small — ranging from isolated checkpoints to bases housing a dozen to as many as 300 soldiers. He says most of the closures have been along the country's major highways and that they have been spread across nearly every province.
Olson says another 282 bases of a similar size have been handed over to the Afghan government.
That means international forces now operate about half as many bases in Afghanistan as in October of 2011, when they ran about 800 of them in the country.
http://www.nytimes.com/aponline/2012/08/26/world/asia/ap-as-afghan-bases.html?hp&gwh=B4AFC002FB777727A75E172A765435F6
--------------
Mojaheed led Al Badr in killing intellectuals: Shahriar Kabir
August 26 2012
Al Badr led by Jamaat leader Ali Ahsan Mohammad Mojaheed had killed hundreds of intellectuals, journalists, teachers and other professionals between November 15 and December 15 in 1971.
Writer and journalist Shahriar Kabir told this to the International Crimes Tribunal-2 on Sunday while giving deposition against detained Jamaat Secretary General Ali Ahsan Mohammad Mojaheed.
Meanwhile, Misbahur Rahman Chowdhury, a member of the then Bangladesh Islami Oikya Jote (BIOJ) of Moulvibazar unit, gave his testimony before the tribunal as the first prosecution witness against Jamaat Ameer Motiur Rahman Nizami.
Misbahur identified Nizami as the chief of Al-Badr formed to collaborate with the Pakistani military during the 1971 Liberation War.
A leading researcher on war crimes Shahriar Kabir, also the first prosecution witness against the Mojaheed, gave his deposition from 10:51am to 1:30pm in presence of war crimes suspect Mojaheed.
Al Badr was formed with the leaders of Jamaat's student wing Islami Chhatra Sangha (ICS), he said.
Full report at:
http://www.thedailystar.net/newDesign/latest_news.php?nid=40283
--------------
Bangladesh:Charges against Fakhrul, 28 others accepted
August 26 2012
A Dhaka court on Sunday took into cognisance the charges against BNP acting Secretary General Mirza Fakhrul Islam Alamgir and 28 others in connection with a blast case.
The court fixed September 18 for hearing on charge framing against the accused.
Judge Mohammad Zahurul Haque of the Metropolitan Sessions Judge's Court passed the order after an hour-long hearing from the prosecution and the defence on the issue.
Before passing the order, the court also granted permanent bail to Fakhrul and 13 other accused in the case.
Shahbagh police filed the case against the accused in connection with the bomb explosions inside the Secretariat during hartal hours on April 29.
Detectives on May 31 charged the 29 accused with blasting the bombs.
http://www.thedailystar.net/newDesign/latest_news.php?nid=40276
--------------
Ragtag Revolts in Parts of Afghanistan Repel Taliban
By ALISSA J. RUBIN and MATTHEW ROSENBERG
August 26 2012
KABUL, Afghanistan — In small mountain villages on Taliban turf in eastern Afghanistan, Pashtun tribesmen took up arms to fight the insurgents this summer, fed up with their heavy-handed tactics of closing schools and threatening families whose sons had joined the Afghan Army.
"They wanted to make our children illiterate and miserable," Malik Ghulam Rusal, a district elder, said about the Taliban. "We told them that if you want to wage jihad, go and fight the foreigners, not ordinary people. But they did not listen."
What began as a ragtag uprising by rural woodcutters and shopkeepers in a few villages in Laghman Province expanded into something extraordinary: in just the past two months, the Taliban presence in the entire district, and then in a neighboring one, has been largely silenced. And in another eastern province, Ghazni, villagers ignited a similar movement to drive the Taliban away.
Full report at:
http://www.nytimes.com/2012/08/26/world/asia/ragtag-revolts-in-parts-of-afghanistan-repel-taliban.html?pagewanted=all
--------------
Bangladesh: ATM Azharul denied bail
August 26 2012
International Crimes Tribunal-1 on Sunday rejected the bail petition of war crimes suspect Jamaat-e-Islami acting Secretary General ATM Azharul Islam.
The tribunal also asked the prosecution to submit progress report by October 14 of the investigation into Azharul's war crimes allegation committed during the country's Liberation War in 1971.
The Jamaat leader was sent to Dhaka Central Jail on Thursday, a day after his arrest.
The three-member tribunal headed by Justice Md Nizamul Huq fixed Sunday for taking decision whether it would grant bail to the detained Jamaat leader.
Azharul on Thursday filed the bail petition before the court.
Azhar, who hails from Badarganj of Rangpur, was arrested at his Moghbazar home just over two hours after the tribunal issued an arrest warrant against him on Wednesday.
In response to a prosecution petition, the tribunal issued the arrest warrant and directed police to produce the Jamaat leader before the tribunal within 24 hours of his arrest.
It is alleged that the Jamaat leader had direct involvement in the killing of 1,200 unarmed Bangalees in Badarganj of Rangpur on a single day during the Liberation War.
Investigations against Azhar began on April 15 this year.
http://www.thedailystar.net/newDesign/latest_news.php?nid=40279
---------
Southeast Asia
Two Shia followers reportedly killed in Sampang melee: Indonesia
Sita W. Dewi
August 26 2012
Two Shia followers were reportedly killed in a melee involving Shia community members and an anti-Shia group in Sampang regency, East Java, on Sunday.
Kulsum, the wife of incarcerated Shia leader Tajul Muluk, said that one Shia follower, identified as Hamamah, 39, was stabbed to death, and according to reports from human right activists on the scene, another man, identified as Tohir, was also killed.
"Hamamah died after he was stabbed, while all I know is that Tohir was dying. I haven't heard if he eventually died because I am now separated from the others," Kulsum told The Jakarta Post in a telephone interview.
Kulsum added that seven people were severely injured and at least 10 homes set ablaze by the anti-Shia group.
At the time of interview, Kulsum and some 40 followers were inside an elementary school building east off the Nangkernang village where the Shia community live.
"I don't know the whereabouts of the other members. There were around 500 of us. We were chased so we ran for our lives," Kulsum said.
Full report at:
http://www.thejakartapost.com/news/2012/08/26/two-shia-followers-reportedly-killed-sampang-melee.html
--------------
Indonesian Red Cross Sends Team to Myanmar
August 25, 2012
The Indonesian Red Cross sent a team of aid workers on Saturday to western Myanmar, where deadly sectarian violence in June left dozens dead and thousands of mostly Muslim Rohingya displaced.
The eight-member team took off in a military jet from an airbase in the capital Jakarta in the morning with 500 hygiene kits, 3,000 blankets and 10,000 sarongs for the first phase of their mission.
"This is an agreement between the president of Myanmar and the Indonesian Red Cross," Indonesian Red Cross chief Jusuf Kalla told reporters.
"We expect the team to stay for around a year, but that will depend on coordination with the government and other Red Cross and Red Crescent teams."
Sectarian violence between Buddhists and Rohingya has flared in Rakhine state, where clashes in June left around 80 people dead, according to official estimates deemed low by rights groups.
Full report at:
http://www.thejakartaglobe.com/home/indonesian-red-cross-sends-team-to-myanmar/540266
--------------
Idul Fitri Accident Death Toll Climbs to 820: Police
August 25, 2012
Police on Saturday reported that the number of deaths due to traffic accidents that occurred during Idul Fitri, a time when millions of Indonesians travel to and from their hometowns, climbed to 820.
"There have been 4,701 accidents, 820 deaths and 1,336 injuries recorded thus far," National Police Spokesman Brig. Gen. Boy Rafli Amar said in Jakarta on Saturday, as quoted by Indonesian news portal detik.com.
He said on Friday alone police recorded 367 accidents that killed 60 people and severely injured 114 others.
Boy added that this year's figures showed an increase in the amount of accidents from the same period of last year.
Earlier on Friday, he said most of the accidents occurred on Java and nearly 70 percent involved motorcycles.
An estimated 20 million people took part in the annual Idul Fitri exodus this year to spend the holiday with their families in their hometowns.
http://www.thejakartaglobe.com/home/idul-fitri-accident-death-toll-climbs-to-820-police/540254
--------
Indonesia may sell weapons, supplies to Iraq, Uganda
Novan Iman Santosa
August 25 2012
Indonesia may soon sell weapons and military supplies to Iraq and Uganda, in what a top defense official said would be a first for an ASEAN member nation.
"We are inviting Iraqi defense officials to attend a ceremony commemorating the 67th anniversary of the TNI [Indonesian Military] on Oct. 5," Deputy Defense Minister Sjafrie Sjamsoeddin said Friday.
"We are inviting Iraqi officials so they can also observe our defense industries, which produce both weapons and other supplies such as bulletproof vests, helmets, boots and uniforms."
Sjafrie, who recently returned from a visit to Iraq, the Democratic Republic of the Congo and Uganda, said that he met Iraqi Prime Minister Nouri Al-Maliki, who instructed his deputy defense minister and military chief to follow up on the Indonesian offer.
During the meeting, Sjafrie presented Al-Maliki with an SS-2 assault rifle and a model of an Anoa armored personnel carrier (APC) produced by state arms manufacturer PT Pindad.
Sjafrie said that both Iraq and Uganda had shown interest in procuring Indonesian-made weapons.
Full report at:
http://www.thejakartapost.com/news/2012/08/25/indonesia-may-sell-weapons-supplies-iraq-uganda.html
--------------
Arab World
Activists say 122 more bodies found in Damascus suburb
August 26 2012
AMMAN: More than 200 bodies were found on Saturday in a town outside Damascus a day after it was retaken by the Syrian army, opposition activists said, accusing President Bashar al-Assad's forces of mass summary executions.
Local activists initially reported finding 79 bodies, but 122 more were found later in the day.
Most were found in houses and basement shelters of residential buildings and appear to have been shot dead by troops who had stormed the premises, they said.
Due to restrictions on non-state media, it was not possible to independently verify the accounts.
http://dawn.com/2012/08/26/activists-say-122-more-bodies-found-in-damascus-suburb/
--------------
Syrian rebels set free kidnapped Lebanese pilgrim
August 26 2012
Syrian rebels on Saturday freed one of the 11 Lebanese Shia pilgrims they have been holding for three months, in a move aiming to ease cross-border tensions after a wave of abductions of Syrian citizens in Lebanon.
The release came a week after Lebanese tribesmen kidnapped two Turks and more than 20 Syrians to force the rebels to release Lebanese citizen Hassane al-Mikdad, who the rebels captured near the Syrian capital of Damascus and accused of being a member of Lebanon's militant Hezbollah group. The al-Mikdad clan, which later released most of the Syrians it was holding except for four, is a powerful Shia Muslim family in Lebanon.
The Shia pilgrims were abducted on May 22, 2012 after crossing into Syria from Turkey on their way to Lebanon. A previously unheard of group calling itself "Syrian Rebels in Aleppo" claimed responsibility.
The group demanded that the Hezbollah leader, Sheik Hassan Nasrallah, apologise for his comments in support of Syrian President Bashar Assad. Mr. Nasrallah, an ally of Mr. Assad's regime, has said the abduction would not change his group's stance.
Mohammed Nour, a rebel spokesman in the Syrian northern town of Azaz, said in a statement read on TV that the release was in response to a request by Lebanon's Association of Muslim Scholars and an adviser to Turkish Prime Minister Recep Tayyip Erdogan. Mr. Nour did not say what they will do with the remaining 10 pilgrims but repeated his call for Hezbollah to "specify their stance regarding the Syrian people and revolution."
In Syria, activists reported clashes between rebels and government troops and well as shelling in different areas including the northern province of Aleppo, the district of Idlib, the eastern region of Deir el-Zour and Daraa in the south. The activists also reported violence in some suburbs of the capital, Damascus, including Daraya which government troops entered on Thursday.
http://www.thehindu.com/news/international/article3821207.ece
--------------
Syrian VP appears in public, ending defection rumour
August 26 2012
Syrian Vice-President Farouk al-Sharaa has made his first public appearance in several weeks, ending rumours that he defected.
Mr. al-Sharaa was last seen at the funeral of four top Syrian government officials who were killed in a blast in Damascus on July 18, 2012. Since then, speculation has circulated that he defected to Jordan in what would have been a blow to Bashar Assad's regime. Jordan and Mr. al-Sharaa's office repeatedly denied he defected.
On Sunday, reporters saw Mr. al-Sharaa exit his car and walk to his office for a meeting with Alaeddin Boroujerdi, head of Iran's powerful parliamentary committee on national security and foreign policy.
An Associated Press reporter at the scene said Mr. al-Sharaa looked serious and steered away from reporters covering the meeting. He did not make a statement.
http://www.thehindu.com/news/international/article3824304.ece
--------------
Lebanese leading scholar hails king's call for dialogue among Islamic sects
25 August 2012
BEIRUT: The Lebanese leading scholar Hani Fahs commended here today, the call by the Custodian of the Two Holy Mosques King Abdullah bin Abdulaziz Al Saud for establishing a center for dialogue among Islamic sects in Riyadh.
In a statement to Saudi Press Agency (SPA), he spotlighted the call's significance for Islamic solidarity, stressing absolute support for such a call.
http://www.arabnews.com/lebanese-leading-scholar-hails-kings-call-dialogue-among-islamic-sects
--------------
Egypt PM says new constitution by late September
Aug 26, 2012
CAIRO: Egypt will have a new constitution drafted by the end of September and ready to be submitted to a nationwide referendum, the country's prime minister said Saturday.
Hisham Kandil did not specify a date for the referendum, though, according to Egypt's MENA state news agency.
The drafting of a new constitution has been a highly divisive issue in Egypt since last year's uprising that ousted longtime authoritarian ruler Hosni Mubarak. The new charter is expected to define limits on the president's powers and the role of Islamic law.
Liberals walked out twice from the panel tasked with writing the constitution in the past, complaining that the Muslim Brotherhood, Egypt's most powerful political group, was trying to monopolize its drafting.
The panel was appointed by members of the Brotherhood-led parliament. After the legislature was dissolved, the country's military generals gave themselves the right to oversee the drafting process. However, in a bold political move, President Mohammed Morsi, who is a member of the Brotherhood, forced the top generals into early retirement this month and seized back control of the constitution writing process.
Morsi has said that if the 100-member panel currently drafting the document does not finish its work for whatever reason, he will appoint a new one within 15 days and give it three weeks to finish its work. The draft will then be put to a vote in a national referendum within 30 days.
Full report at:
http://timesofindia.indiatimes.com/world/middle-east/Egypt-PM-says-new-constitution-by-late-September/articleshow/15723340.cms
--------------
Egypt reopens Rafah crossing with Gaza: Sources
Aug 25, 2012
ISMAILIA, EGYPT/GAZA: Egypt reopened the Rafah border crossing with Gaza on Saturday, a lifeline for Gazans which had been closed for much of the month since an Aug. 5 attack on Egyptian guards, Palestinian and Egyptian security sources said.
The move signals an advance in relations between Egypt's new government lead by President Mohammed Mursi and Gaza's Islamist rulers Hamas, which had deteriorated since the attack in which gunmen killed 16 Egyptian soldiers on the Israeli border.
"The Egyptian side has informed us that the Rafah crossing would open all days of the week, without more details," said Ehab Al-Ghsain, spokesman for the interior ministry in Gaza.
The opening of the crossing was confirmed by an Egyptian security source.
Shortly after the attack, Egypt closed the Rafah crossing and moved to seal myriad smuggling tunnels with Gaza on suspicion they might have been used by militants who shot dead the soldiers before storming an Israeli border crossing near Gaza. The attackers were killed by Israeli fire.
Full report at:
http://timesofindia.indiatimes.com/world/middle-east/Egypt-reopens-Rafah-crossing-with-Gaza-Sources/articleshow/15699542.cms
--------------
Activists report 'execution style' killings near Damascus
Aug 26, 2012
AMMAN: The bodies of at least 79 people were found in a town close to Damascus on Saturday, according to activists who said many were young men who appeared to have been killed by Syrian troops "execution style".
The deaths would bring the toll from an offensive by President Bashar al-Assad forces on Daraya, south-west of Damascus, to 149, according to a tally by opposition activists in the capital.
The Daraya Coordination Committee activists' group said among those found with shots to the head were eight members of the al-Qassaa family: three children, their father and mother and three other relatives. Their bodies were found in a residential building near Mussab bin Umeir mosque in Daraya, the group said.
Syrian mediator to UN chief: I'm scared
Algerian diplomat Lakhdar Brahimi, who replaced Kofi Annan as the special representative on Syria told UN secretary-general Ban Ki-moon he was "honoured, flattered, humbled, scared" at the prospect of leading international efforts to broker peace in the conflict. --Reuters
Romney: 'Ready' to send troops to Syria
Republican presidential candidate Mitt Romney said he would send US troops to Syria if needed to stop the spread of chemical weapons. "We have to be ready to take whatever action is necessary to ensure that weapon of mass destruction falling into the hands of terrorists," he said.
http://timesofindia.indiatimes.com/world/middle-east/Activists-report-execution-style-killings-near-Damascus/articleshow/15721890.cms
--------------
Gunmen kill 3 in northern Iraq: officials
August 26 2012
BAGHDAD: Iraqi authorities say gunmen have killed three people, including a local official, in the country's north.
Police officials say that the first attack took place Saturday morning when gunmen shot dead Ibrahim Younis, a municipal council member, near his house in Mosul, 225 miles northwest of Baghdad.
Also in Mosul, gunmen opened fire on a police checkpoint, killing one policeman and a passerby.
Medics in a nearby hospital confirmed the casualties. All officials spoke on condition of anonymity because they are not authorized to speak to the media.
Violence has ebbed in Iraq since the peak of violence in 2005-2008, but insurgents frequently attack government officials and security forces in an attempt to undermine the Shiite-led government.
http://dawn.com/2012/08/26/gunmen-kill-3-in-northern-iraq-officials/
--------------
Assad's forces accused of massacre near Syrian capital
Aug 26, 2012
AMMAN: Syrian opposition activists accused President Bashar al-Assad's forces on Sunday of committing a massacre of scores of people in a town close to the capital that the army had just retaken from rebels.
More than 200 bodies were found in houses and basements around Daraya, a working-class Sunni Muslim town to the southwest of Damascus, according to activists who said most had been killed "execution-style" by troops on house-to-house raids.
Due to restrictions on non-state media in Syria, it was impossible to independently verify the accounts.
"Assad's army has committed a massacre in Daraya," said Abu Kinan, an activist in Daraya, using an alias to protect himself from reprisals.
"In the last hour, 122 bodies were discovered and it appears that two dozen died from sniper fire and the rest were summarily executed by gunshots from close range," Kinan told Reuters by telephone.
Video footage from activists showed numerous bodies of young men side-by-side at the Abu Suleiman al-Darani mosque in Daraya, many with what looked like gunshot wounds to the head and chest.
Full report at:
http://timesofindia.indiatimes.com/world/middle-east/Assads-forces-accused-of-massacre-near-Syrian-capital/articleshow/15726368.cms
--------------
Abu Dhabi has one of the lowest illiteracy rates in the Arab World
Aug 25, 2012
Abu Dhabi: A focus on education by government authorities, residents and educational establishments has reduced the illiteracy rate among Emiratis in the emirate of Abu Dhabi to just six per cent in 2011, the Statistics Centre Abu Dhabi (SCAD) announced yesterday.In addition, only 7.5 per cent of the emirate's population over the age of 10 years, both Emiratis and expatriates, were recorded as illiterate in 2011, the SCAD report added.
These illiteracy rates are among the lowest in the Arab World, where the average rate of illiteracy was 27.3 per cent in 2009. It also represents a significant drop in illiteracy in the emirate since the formation of the UAE in 1971, when 75.12 per cent of the emirate's population was not literate, accordin to the information released by the SCAD.
According to historical records, formal education in Abu Dhabi emirate began in the 1960s, and the establishment of the Ministry of Education and Youth in 1971 helped the rapid development of the education sector.
Full report at:
http://www.zawya.com/story/Abu_Dhabi_has_one_of_the_lowest_illiteracy_rates_in_the_Arab_World-GN_25082012_260831/
--------
North America
Author of tell-all book on Osama raid gets death threats
Aug 26, 2012
A former navy Seal, who has written 'No Easy Day: The Firsthan Account of the Mission That Killed Osama bin Laden', a tell-all insider account of the raid that killed the al-Qaida chief, faces death threats after his identity was disclosed by media reports. Soon after Matt Bissonnette was identified, Qaida- affiliated militant websites posted his name and photo calling for his "destruction". One, Al-Fidaa, warned the "lion's cubs' were waiting for the right time to avenge bin Laden's death.
http://timesofindia.indiatimes.com/world/us/Author-of-tell-all-book-on-Osama-raid-gets-death-threats/articleshow/15722288.cms
---------
Europe
Radical Islamic Attacks in a Moderate Region Unnerve the Kremlin
By DAVID M. HERSZENHORN
August 26 2012
KAZAN, Russia — A string of violent attacks by Islamic militants has shattered this city's reputation as a citadel of religious tolerance and unnerved federal officials in Moscow, who have worked for decades to prevent the spread of radical Islam out of the southern borderlands and into places like this city 500 miles east of Moscow.
Officials have long sought to contain Islamic fervor in the Caucasus to the south while insisting that places like the republic of Tatarstan, where Kazan is the capital, were different, representing a moderate "Russian Islam," said Aleksei Malashenko, the co-chairman of the Carnegie Moscow Center's religion, society and security program.
But that comfortable assumption began to crumble just before the start of Ramadan in late July, when a senior cleric in charge of education was shot outside his apartment building on Zarya Street. Roughly an hour later, the city's chief mufti survived a bomb attack that demolished his Toyota Land Cruiser. A previously unheard-of group, the mujahedeen of Tatarstan, claimed responsibility.
Full report at:
http://www.nytimes.com/2012/08/26/world/europe/radical-islamic-attacks-in-moderate-region-unnerve-kremlin.html?pagewanted=all
--------------
South Sudanese soldiers responsible of killing, torture and rape - UN
August 24, 2012
(LONDON) — Government soldiers committed murder, torture and rape in the largest and troubled South Sudanese state of Jonglei said the United Nations mission in the new country (UNMISS) on Friday.
South Sudan President Salva Kiir Mayardit launched last March a large disarmament operation in Jonglei following violent tribal attacks between the Nuer Lou and Murle tribes.
In a speech delivered at this occasion he warned his soldier against committing crimes and urged them to run a responsible operation, to be disciplined and to avoid tribalism.
UNMISS, nevertheless in a statement released on Friday, spoke about "serious human rights violations" allegedly committed "undisciplined" soldiers who are part of the contingents participating in the disarmament programme in Jonglei.
Between 15 July and 20 August, the mission said that the SPLA soldiers allegedly killed one person. It further said there are "27 allegations of torture or ill-treatment, such as beatings, and simulated drowning in some cases, 12 rapes, six attempted rapes and eight abductions."
The Mission underscored that the victims are generally women and in some cases children.
It also said that "Communities in Pibor County" are worried about the vulnerability of the civilians there.
The international mission highlighted the significant efforts done by South Sudanese army to calm tensions and to protect civilians after the inter-communal violence which claimed lives of hundreds there.
Full report at:
http://www.sudantribune.com/spip.php?article43692
-----------
Africa
Part of revered mausoleum razed in Libya
August 26 2012
TRIPOLI, : Hardliners bulldozed part of a revered mausoleum in Tripoli on Saturday in the second such attack in Libya in two days, an AFP correspondent reported.
Deputy Prime Minister Mustafa Abu Shagur, in remarks on Twitter, condemned the actions as "crimes" for which which the culprits should be held responsible.
He had asked the defense and interior ministries on Friday to intervene "but they have not carried out their duty in protecting these sites."
The radicals used an excavator to demolish part of the mausoleum of Al-Shaab Al-Dahman, close to the centre of the Libyan capital, the correspondent said.
It was the second such assault on a Muslim pilgrimage site in as many days.
On Friday, hardliners blew up the mausoleum of Sheikh Abdessalem al-Asmar in Zliten, 160 kilometres east of Tripoli, a town which was rocked by deadly clashes earlier this week.
A video posted on social networking sites purported to show the building being blown up to cries of "Allahu Akbar (God is greatest)."
Witnesses told AFP on Saturday that another mausoleum, that of Sheikh Ahmed al-Zarruq, had been destroyed in the port of Misrata 200 kilometres east of Tripoli.
Sunni hardliners are implacably opposed to the veneration of tombs of revered Muslim figures, saying that such devotion should be reserved for God alone.
Full report at:
http://dawn.com/2012/08/26/part-of-revered-mausoleum-razed-in-libya/
--------------
At Least Four Killed in Ivory Coast Gunbattle
August 26 2012
ABIDJAN (Reuters) - At least four people were killed in an exchange of fire between soldiers and unidentified gunmen at an army checkpoint in southern Ivory Coast, the West African nation's defense minister said on Sunday.
The world's top cocoa grower is struggling to cope with a spate of armed raids on police and military installations that began earlier this month, raising fears of renewed instability following a conflict last year that killed 3,000 people.
The government has accused a network of supporters of former president Laurent Gbagbo, both within Ivory Coast and abroad, of organizing the raids to terrorize the population and scare off foreign investors.
Defense Minister Paul Koffi Koffi said a gunbattle erupted on Saturday in the village of Irobo, around 80 km (50 miles) west of the commercial capital Abidjan, when soldiers at a roadblock tried to stop a vehicle carrying a group of armed men.
"There was a high-speed chase. When our men tried to stop the attackers at a checkpoint, they opened fire on our soldiers," Koffi Koffi told Reuters.
Though the attack occurred at around 11 a.m. (1100 GMT) on Saturday, the minister said it was still unclear how many people had been killed and wounded in the exchange of fire.
"The initial toll was four dead. Some civilians were hit. The death toll has risen among the assailants, but we do not want to give a figure yet. We are currently gathering and verifying the information," he said.
Full report at:
http://www.nytimes.com/reuters/2012/08/26/world/africa/26reuters-ivorycoast-
-----------
URL: https://www.newageislam.com/islamic-world-news/by-new-age-islam-news-bureau/gurdwara-in-tehran-that-thrives-on-local-support/d/8430