New Age Islam News Bureau
19 Aug 2012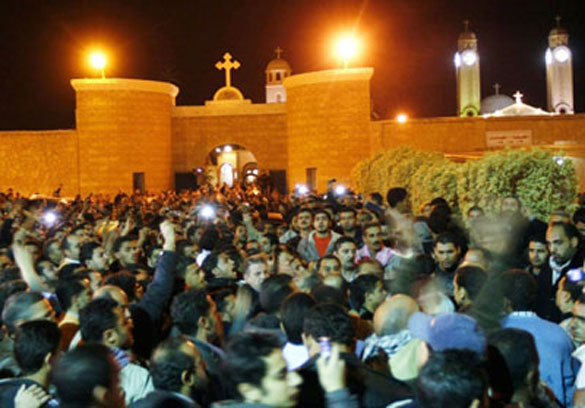 India
• Bulk of hate SMSs against northeast people sourced from Pakistan: Govt
• Exodus of northeastern people: Pakistan rejects India's 'cooked up' charges
• 'Pakistani Hindus to stage dharna outside PM house if citizenship not given'
• Will probe involvement of foreign hand in violence: Gogoi
• Struggle for land, not infiltration triggered Assam riots: NCM chief Habibullah
• SIMI offshoot may be behind Lucknow violence
• Hizb charity for terror
• An artist's bid to bridge the India-Pakistan gap
• Another family arrives from Pak, wants to stay in India
• Videos doctored in Pakistan sparked NE exodus: Government
• Dhumal writes to Union minister for release of hostage in Somalia
• Mulims organisations condemn campaign against northeastern people, demand probe to track sources of provocative SMS
Pakistan
• Fresh violence claims 16 lives in Karachi
• Khyber Pakhtunkhwa celebrates Eid today
• 'Frame law to stop forced conversion of Hindus'
• Drone strike kills five more in Pakistan
• Third drone strike in 24 hours kills two in North Waziristan
• PPP in favour of expatriate Pakistanis as parliamentarians: Ashraf
• JI leader says extortionists, criminals enjoying unlimited liberty
• Massive Eid exodus gives Islamabad a deserted look
South Asia
• Nato strike in Afghanistan kill top Taliban leader
• 3 NATO Service Members Killed in Afghan Attack
• Karzai, Panetta concerned over 'insider attacks'
• Taliban Fighters Killed in Airstrike
• Afghan Attacks on Allied Troops Prompt NATO to Shift Policy
• Bomb hidden in cemetery kills two in Afghanistan
Southeast Asia
• Fauzi touts religious harmony in Jakarta under his leadership
• Indonesia earthquake leaves 4 dead, officials say
• Filipino Muslims organise four-hour Islamic quiz bee
Mideast Asia
• Gaza Salafists slam Hamas for post-Sinai attack crackdown
• Hamas cracks down on radical Islamist groups in the Gaza Strip
• Qaeda suicide bomber kills Yemen militia chief
• Iran leader says 'tumour' of Israel is biggest problem
• Hizbollah adds fuel to Iran-Israel fire
• Iraq helping Iran skirt sanctions: NYT report
• Iran Rejects Allegation of Role in Deadly Afghan Bombings
Arab World
• Assad Makes Rare Appearance in Damascus Mosque
• Syrian vice president Shara has not defected: State TV
• Bahrain activist jailed for 3 years
• Muslim unity driving force for global peace
• Iraqi Sunni Cleric's Convoy Struck by Bomb
• UN observers wind up Syria mission
• Representing a different face of Islam
North America
• Obama Wishes Muslims Happy Idul Fitri
• Attacks on US mosques prompt Muslim security concerns
• U.S. Says Iraqis Are Helping Iran to Skirt Sanctions
• Muslims in Las Vegas recharge spiritually during Ramadan
• Mullah Omar taunts US, UK on Afghanistan war
• Organization of American States to discuss Ecuador-UK diplomatic row over Assange
• Spate of attacks near Ramadan trouble U.S. Muslims
• Reliant event for Muslims will have lots of security
Europe
• As U.N. Monitors Leave Syria, More Bodies Are Found
• Masked gunmen wound eight in Russian mosque: ministry
• Bomb in Russian Caucasus kills six policemen: Reports
• Assange set to face world's media
Africa
• Tunisian alarm at Salafist assault on 'un-Islamic' culture
• Officials among 31 dead in Sudan plane blast: Air authority
• Nigeria Launches a Fresh Bid to Overhaul Oil Industry
• 2 killed in Libya after interior ministry bombs attack
Compiled by New Age Islam News Bureau
Photo: Bulk of hate SMSs against northeast people sourced from Pakistan
URL: https://www.newageislam.com/islamic-world-news/by-new-age-islam-news-bureau/bulk-of-hate-smss-against-northeast-people-sourced-from-pakistan-govt/d/8342
----------
India
Bulk of hate SMSs against northeast people sourced from Pakistan: Govt
Aug 18, 2012
NEW DELHI: Bulk of the rumours that triggered panic among people of northeastern states in Karnataka, Tamil Nadu and Maharashtra were sourced from Pakistan, Union home secretary R K Singh said on Saturday.
"A total of 76 websites were identified where morphed images were uploaded and bulk of these were uploaded in Pakistan," Singh said.
"We believe it is highly reprehensible. I think it needs to be made known to everybody that this is something that is being done from Pakistan. The bulk of it has been done from Pakistan," he said.
He said all these websites have since been blocked. As a step towards rumours being spread, Government has imposed a 15-day ban on bulk SMSs and MMSs.
Singh said bodies of victims of cyclones and earthquakes in different part of the world were shown as victims of violence in Myanmar in the morphed images.
Apart from these websites, 34 more have been identified and government was in the process of blocking them soon, he said.
Driven by rumours, over 30,000 northeast people have left Bangalore fearing attacks on them while many of them have fled Chennai and Pune in the last three days, notwithstanding assurances from the Centre and the state governments.
http://timesofindia.indiatimes.com/india/Bulk-of-hate-SMSs-against-northeast-people-sourced-from-Pakistan-Govt/articleshow/15548607.cms
----------
Exodus of northeastern people: Pakistan rejects India's 'cooked up' charges
Aug 19, 2012
NEW DELHI: Pakistan on Sunday rejected Indian charges that morphed pictures of Assam and Myanmar violence which sparked an exodus of northeastern citizens from other states originalted in Pakistan.
Such remarks only widen the trust deficit between the two countries, sources in the Pakistan high commission here said.
Home secretary RK Singh said on Saturday that the bulk of rumours of imminent attacks on northeastern people for the killings of Muslims in Assam originated in Pakistan.
The rumours forced thousands to flee Karnataka, Maharashtra and Tamil Nadu.
The Pakistani sources said these were "cooked up" charges.
"Instead of indulging in mud-slinging and blame game, it's time for India to address its internal issues," the source told IANS. "Such comments only widen the trust deficit."
Singh had said India will take up the issue with Pakistan. "I am certain they will deny our information but our technical team is very certain of the information it has gathered," he said.
http://timesofindia.indiatimes.com/india/Exodus-of-northeastern-people-Pakistan-rejects-Indias-cooked-up-charges/articleshow/15557764.cms
------------
'Pakistani Hindus to stage dharna outside PM house if citizenship not given'
Aug 19, 2012
JALANDHAR: All India Shiv Sena president Surinder Billa, who has been pursuing the cases of Hindus migrated from Pakistan and leading their demonstration demanding Indian citizenship, has threatened that Pak Hindus would stage a dharna outside the residence of Prime Minister Manmohan Singh if the government failed to give them citizenship.
"The government of India has announced to give Hindus migrating from Pakistan long-term visas but that is not enough and there is nothing new in it. Those who are already living here for the last over a decade are fed up extending visas. The Union government should grant them Indian citizenship as they are migrating from Pakistan under distress and have been left with no option," said Surinder Billa while speaking to TOI on Saturday.
"Visa does not solve their problems as they face lot of issues which can be solved by granting them citizenship. They don't get ration cards while they live in penury, their children face problems in getting admissions in schools and some had to leave studies midway," Billa argued while enumerating the problems being faced by Hindus who had already migrated from Pakistan.
TOI had highlighted the predicament of Hindus who migrated to India over a decade back but their ordeal was not yet over as Indian citizenship has been eluding them. While some more Hindu families have hinted settling down here after reaching the Indian soil on visas on various pretexts, but those who are already settled here were still facing several problems. These Hindus have earlier held demonstrations in Jalanadhar to demand citizenship.
http://timesofindia.indiatimes.com/india/Pakistani-Hindus-to-stage-dharna-outside-PM-house-if-citizenship-not-given/articleshow/15553329.cms
----------
Will probe involvement of foreign hand in violence: Gogoi
Aug 19, 2012
GUWAHATI: Assam chief minister Tarun Gogoi has said that a probe will be instituted to find out facts regarding alleged involvement of foreign hands in the recent Assam violence.
"From the beginning I have stated that some foreign hands are involved. It is not merely a clash between Bodos and minorities. The Union home ministry report that Pakistani elements were involved has vindicated our stand," Gogoi said.
"We will institute a probe to find out details regarding the involvement of foreign elements in the violence," he added.
Meanwhile, in stray incidents of violence one person was injured in Dhubri district and a few houses were torched in Chirang district last night, even as curfew was relaxed for 12 hours in Rangiya subdivision of Kamrup Rural district.
Police said a person belonging to the minority community was injured at Chilkikhata, under Bilasipara police station, late last evening after a group of miscreants attacked him with arrows.
The condition of the injured is stated to be critical and he has been shifted to the Gauhati Medical College Hospital.
In another incident, unidentified miscreants set ablaze three houses at Khunkrajora under Bijni police station in Chirang last night.
Additional forces have been deployed in the area. The Army is also conducting flag marches at various places.
http://timesofindia.indiatimes.com/india/Will-probe-involvement-of-foreign-hand-in-violence-Gogoi/articleshow/15555420.cms
----------
Struggle for land, not infiltration triggered Assam riots: NCM chief Habibullah
Aug 18, 2012
NEW DELHI: The Assam riots was not triggered due to infiltration from Bangladesh, but is a fallout of clashes between "Bodos and resident Muslims" over land in Bodoland Territorial Autonomous Districts (BTAD). This was the observation of the National Commission for Minorities (NCM) which warned Assam government of militancy and radicalization of Muslims if their security was not ensured. Also, the riots could have been averted or checked earlier if the police were active enough.
The NCM sent its report to the prime minister after visiting districts and refugee camps in Kokrajhar, Gossain Gaon and Dhubri affected by month-long violence. The team comprised Planning Commission member Syeda Hameed, Planning Commission advisor GB Panda, and NCM member, Keki N Daruwalla.
Speaking to TOI, Daruwalla said, "There was no sudden influx of immigrants in Assam. Infiltration is certainly there, but it was not a trigger for this riot."
The report said there were repeated outbreaks of riots between Bodos and non-Bodos, including Muslims, Santals and Adivasis (Koch Rajbansis), in 2004, 2006, 2008. "In 1996 also the Bodos tried to drive out the Adivasis -- 'Santals' and 'Tea-Tribes', namely Orang and Munda," the report noted.
Full report at:
http://timesofindia.indiatimes.com/india/Struggle-for-land-not-infiltration-triggered-Assam-riots-NCM-chief-Habibullah/articleshow/15546469.cms
----------
SIMI offshoot may be behind Lucknow violence
Aug 19 2012
Lucknow : The members of an outfit which is believed to be an offshoot of banned organisation Students Islamic Movement of India (SIMI) are under scanner of state intelligence unit and UP Anti-Terror Squad (ATS) for allegedly triggering off violence in Lucknow on Friday.
The outfit allegedly was active, distributing a provocative video and pamphlet among the youths in particular areas of old city for last 10 days. The members of the outfit had also given a call to all the youths to assemble at Tile Wali Masjid for Alvida prayer on Friday and allegedly instigated to register the protest by taking a march to Hazratganj, confirmed intelligence sources.
The sources said that the video contained clippings of alleged atrocities on members of a community in Mumbai, Assam and Myanmar while the pamphlets gave a call to the youths of the community to react on the issue.
The outfit had identified areas like Mashakganj, Golaganj, City station, Akbari Gate, Billauchpura, Haiderganj, Thakurganj, Khadra and Daliganj where they had distributed the provocative video and the pamphlets. The youths from these areas passed on the message to other areas in Lucknow following which a gathering of over 10,000 arrived for the prayer at Tile Wali Masjid.
Full report at:
http://www.indianexpress.com/news/simi-offshoot-may-be-behind-lucknow-violence/990273/
---------
Hizb charity for terror
By Aman Sharma
19 August 2012
Terror outfit chief & 3 others put on wanted listby NIA
THE National Investigation Agency ( NIA) has put Hizbul Mujahideen chief Syed Salahuddin on its wanted list. He is accused of systematically channelling money to the families of terrorists killed in Jammu and Kashmir ( J& K).
The step to declare Salahuddin a " proclaimed offender" has been taken after a nearly year- long investigation by the NIA, which has revealed that the Hizbul Mujahideen chief is backing a charitable organisation in Pakistan, named the Jammu & Kashmir Affectees Relief Trust ( JKART).
This organisation was formed in 1990 for running refugee camps in Pakistan- occupied Kashmir ( PoK) for Kashmiris who crossed over to Pakistan after militancy broke out in J& K in the 1990s.
JKART has its head office in Rawalpindi and branches in Islamabad and Muzaffarabad in PoK. It has been channelling money through hawala and human couriers to the families in J& K whose men have been killed by security forces in India.
The NIA probe shows Salahuddin has also used JKART as a front to fund terror activities in Pulwama, Kupwara, Sopore, Budgam, Doda, Baramula and Srinagar.
The investigation into this particular case — lodged on September 7, 2011 — shows Salahuddin pumped in ` 80 crore into J& K in the last two years for terror activities.
Full report at: Mail Today
----------
An artist's bid to bridge the India-Pakistan gap
Aug 19, 2012
ATTARI: Amid reports of unrest among Pakistani Hindu's, a truck artist from Pakistan, Haider Ali is committed to bridge gap between people of India and Pakistan by exhibiting their shared culture, communal harmonies , human heroes , heritage buildings in a colorful pattern of paintings on trucks both in India and Pakistan.
Having roots in India , Haider Ali is all committed to promote Indo Pak friendship through his creative art of truck painting which, according to him, spreads message of peace and showcase cultures of different regions through the length and breath of Pakistan.
Haider Ali, 32, is in India to paint his first truck at Sarhad, a restaurant near Attari border. While talking to TOI on Sunday, he said many persons who had migrated to Pakistan from different cities and were in transport business would ask him to paint symbolic buildings of their region or common heroes on their trucks. "Person from Agra would want Taj Mahal , another person from Delhi would want to see Jama Maszid on his truck and similarly someone from Peshawar region of Pakistan would like to get Kyber Gate painted on his truck" he said while adding that demand was endless as everyone wanted to decorate theirs trucks.
He said his father Mohammad Sardar hailed from Jalandhar and was a painter by profession. Most common themes of truck painting were the joint culture of Indo Pak villages like women sitting near well, drawing water from well, taking food for her husband to fields. "Both countries share similar culture and depiction of the same gives me immense pleasure as it helps bridging differences among people".
Full report at:
http://timesofindia.indiatimes.com/india/An-artists-bid-to-bridge-the-India-Pakistan-gap/articleshow/15555092.cms
----------
Another family arrives from Pak, wants to stay in India
Aug 19, 2012
ATTARI: The arrival of Pakistani Hindu 'pilgrims' continued on Saturday as another family crossed the border, openly expressing their intention of not going back.
Sunil Kumar from Sakkhar, who arrived here with his wife and children, said he had brought everything he had in his home, including bed covers, utensils and pillows as his future plans were to settle permanently in India. He said he was going to his relative in Lucknow to attend a marriage and would stay there for a month. "My parents are still in Sakkhar. I have almost shifted everything I had and would go back to bring my parent after studying the legalities and other formalities required here," he said, adding that there were 'certain issues' in Pakistan which were difficult to address.
Full report at:
http://timesofindia.indiatimes.com/india/Another-family-arrives-from-Pak-wants-to-stay-in-India/articleshow/15553299.cms
----------
Videos doctored in Pakistan sparked NE exodus: Government
Aug 19, 2012
NEW DE:HI: The government on Saturday said a bulk of the doctored incendiary videos and horrific clippings of atrocities allegedly committed on Muslims in lower Assam and Myanmar were uploaded on various blogs in Pakistan in a bid to incite the minority community in India.
"Technical investigation has established that a bulk of the incendiary images was first uploaded on blogs in Pakistan," disclosed Union home secretary R K Singh.
He told TOI that India would raise the issue with Pakistan. "I am sure they will deny it, but we have fairly accurate technical evidence to show that the images originated and were circulated from their territory," he said.
The home secretary suggested the rumours were spread almost as an offensive. Considering the evidence, he said all images were doctored and meant to inflame passions across India.
"As many as 110 websites were involved in spreading the doctored clips. We have blocked 76 of them, and are in the process of getting others deactivated," he said, adding that Google and other sites, which hosted provocative blogs, have been approached.
In one instance, images of death and destruction caused by a cyclone have been morphed to be passed off as a case of atrocity on Muslims in Assam. In others, bodies of victims of an earthquake which occurred months ago was juxtaposed with photographs of Buddhist monks to project violence on Muslims in Myanmar by Buddhists.
Full report at:
http://timesofindia.indiatimes.com/india/Videos-doctored-in-Pakistan-sparked-NE-exodus-Government/articleshow/15550503.cms
----------
Dhumal writes to Union minister for release of hostage in Somalia
Aug 18, 2012
SHIMLA: Himachal Pradesh chief minister Prem Kumar Dhumal on Saturday sought the intervention of Union government to ensure the release of state resident Aman Kumar who is being made hostage by Somali pirates for last 21 months.
Aman Kumar, a resident of Kardiyal village of Kangra district was serving as crew member with the MV ALBEDO Ship of Majestic Enrich Shipping Company of Malaysia and had been held as hostage by Somalian sea-pirates since November 20,2010. The 45 days deadline given by pirates is nearing its end and they have already killed another Indian hostage from Kolkata.
Dhumal on Saturday wrote a letter to union minister for Shipping, G Kvasan. In his letter Dhumal reminded him of the earlier correspondence made by him in this regard with him and other concerned authorities in the union government. He said that the 21 years old is in the custody of Somali pirates for last over 20 months. "Parents of Aman Kumar have informed me that there had not been much communication with their son except a call they received from him recently stating that he was not getting sufficient food for survival and had expressed fear for his life," Dhumal said.
Full report at:
http://timesofindia.indiatimes.com/india/Dhumal-writes-to-Union-minister-for-release-of-hostage-in-Somalia/articleshow/15549166.cms
----------
Mulims organisations condemn campaign against northeastern people, demand probe to track sources of provocative SMS
Aug 18, 2012
LUCKNOW: The All India Muslim Majlis-e-Mushawarat (AIMMM), an umbrella body of various Indian Muslim organisations, on Saturday condemned the campaign against people of northeast in different parts of country and demanded probe to find out the source of the phone text messages which created crisis.
"We, representatives of leading Muslim organisations in the country, unreservedly condemn the criminal and mischievous campaign against people of northeastern origin in certain parts of the country like Karnataka and Maharashtra for which modern media like bulk email, text and video messaging is being used," stated the statement released by the AIMMM on behalf of all the organisations under it.
The statement further said, "We also appeal to our respected Imams and Khateebs to avail the occasion of the Eid prayers and make an appeal to the Muslim masses in their sermons to maintain calm, peace and brotherhood. We also appeal to the Muslim masses to beware of the communal forces' designs and remain vigilant to maintain peace and amity in their respective localities."
Full report at:
http://timesofindia.indiatimes.com/india/Mulims-organisations-condemn-campaign-against-
----------
Pakistan
Fresh violence claims 16 lives in Karachi
By Danish Rafique
19 August 2012
KARACHI: A fresh wave of sectarian and ethnic killings claimed 16 more lives in the city on Saturday. Twelve men from Deoband school of thought and three MQM activists were among the dead.
In one of the incidents, unidentified men barged into Taqwa Mosque in Gulberg and shot injured two members – Qari Asif and Qari Shakirullah – of the mosque committee. The injured were rushed to Abbasi Shaheed Hospital (ASH) where doctors pronounced them dead.
Separately, three more Deobandis were shot dead in Sector 5C-4, North Karachi.
Police said Maulana Muhammad Yahya, Faizan Ilyas and Mujahid Aleem were sitting outside their house when gunmen, riding motorcycles, opened fire on them. The three were taken to ASH but they succumbed to the injuries.
The deceased were associated with Masjid-o-Madrassa Yasinul Quran.
Similarly, armed motorcyclists opened fire at a teashop in Disco Mor, North Karachi, killing five Deobandis.
Full report at:
http://www.dailytimes.com.pk/default.asp?page=2012\08\19\story_19-8-2012_pg1_1
----------
Khyber Pakhtunkhwa celebrates Eid today
August 19, 2012
PESHAWAR: Eid-ul-Fitr was officially celebrated in major parts of Khyber Pakhtunkhwa including provincial capital Peshawar, all the seven tribal agencies and six frontier regions on Sunday.
The decision to celebrate Eid came as the Zonal Ruet e Hilal Committee Saturday night after receiving 20 evidences of the sighting of Shawal moons, announced observance of Eid-ul-Fitr.
The central Eid congregation was held at Eid Gah where Provincial Khateeb Maulana Roohullah Madni led the prayer. Eid prayer was attended by large number of the people including Federal Minister for Railways and ANP Leader Haji Ghulam Ahmed Bilour. Special prayer was offered for integrity and solidarity of the country on the occasion.
In Peshawar, Eid-ul-fitr prayer was offered in over 200 mosques. Except cantonment areas, Eid was celebrated in every nook and corner of the provincial capital.
Reports emanating from other parts of the province said Eid was celebrated in Mardan, Charsadda, Swabi, Nowshera, Kohat, Hangu, Bannu, Lakki Marwat and Tank districts and in some pockets of Malakand agency, Swat, Dir Upper and Dir Lower, DI Khan.
While Hazara Division comprising Abbotabad, Haripur, Mansehra, Bartagram and Kohistan districts was fasting on Sunday. Chitral also observed the 30th day of fasting, like rest of the country.
Full report at:
Muneebur Rehman had announced observance of Eid ul Fitr on Monday.
http://www.thenews.com.pk/article-63991-KPK-celebrates-Eid-today
----------
'Frame law to stop forced conversion of Hindus'
Aug 19 2012
Islamabad : Against the backdrop of reports regarding mass migration of Pakistani Hindus to India, President Asif Ali Zardari has directed the Sindh government to frame a draft law to amend the Constitution as part of efforts to prevent forced conversion of the minorities in the southern province.
The President made the decision after he was briefed about the concerns of Hindus by his sister Faryal Talpur, a lawmaker of the ruling PPP, and Sindh Chief Minister Qaim Ali Shah.
During a meeting held in Karachi on Thursday, Zardari directed Shah to form a committee under provincial Law Minister Ayaz Soomro to prepare the draft law to amend the Constitution.
Elected representatives and leaders of the Hindu Panchayat will be included in the committee, The Express Tribune reported quoting its sources.
"The reports of mass migration of Hindus to India are merely speculative but people of the Hindu community are insisting that a law be made against forced conversions," Chief Minister Shah was quoted as saying by the sources.
Zardari directed Talpur and Shah to visit Jacobabad and meet representatives of the Hindu community before the draft is framed.
The President recently formed a committee of three Parliamentarians headed by federal Minister Maula Bux Chandio to meet the Hindu community across Sindh following reports of their mass migration to India due to forced conversions, kidnapping for ransom and extortion demands.
Full report at:
http://www.indianexpress.com/news/frame-law-to-stop-forced-conversion-of-hindus/990124/
----------
Drone strike kills five more in Pakistan
IAAug 19, 2012
ISLAMABAD: At least five people were killed in a US drone strike launched early Sunday morning in Pakistan's northwest tribal area of North Waziristan, said media reports.
Xinhua, citing Urdu TV channel Dawn, said two drones fired four missiles at two vehicles suspected of carrying militants in the Shawal area in Miranshah, a town in North Waziristan, early Sunday morning, killing at least five people on the spot.
This is the second strike launched by US drones in the same area since Saturday noon, when drones launched a strike in the same area, in which four missiles were fired at two targets of a house and a vehicle, killing at least six suspected militants and wounding two others.
US drones have launched a total of 25 strikes in Pakistan this year, killing at least 182 people.
http://timesofindia.indiatimes.com/world/pakistan/Drone-strike-kills-five-more-in-Pakistan/articleshow/15553881.cms
----------
Third drone strike in 24 hours kills two in North Waziristan
19 August 2012
MIRAMSHAH:At least two militants were killed on Sunday in the third drone attack in the past 24 hours in North Waziristan.
Missiles for the third time targeted the Shawal area of North Waziristan, killing two militants while officials said that the death toll could increase.
The Shawal district of North Waziristan region is considered a bastion of Taliban and al Qaeda-linked militants.
Earlier today, Pakistani intelligence officials said missiles fired from unmanned American spy planes hit two vehicles near the Afghan border, killing at least seven militants.
Three intelligence officials said the strike on Sunday came in the Mana area of North Waziristan.
The officials spoke on condition of anonymity because they are not authorized to speak to the media.
The officials said the area is dominated by Hafiz Gul Bahadur, a commander whose forces often target US troops in Afghanistan, but they did not know whether his men were targeted.
The first strike which targeted a compound had killed at least six militants in Shuwedar village in Shawal district on Saturday.
Pakistan had strongly protested the US drone attacks in North Waziristan on Saturday morning.
Full report at:
http://dawn.com/2012/08/19/second-drone-strike-kills-four-militants-in-n-waziristan-officials/
----------
PPP in favour of expatriate Pakistanis as parliamentarians: Ashraf
19 August 2012
ISLAMABAD: Prime Minister Raja Pervez Ashraf on Saturday said Pakistan People's Party (PPP) believes that expatriate Pakistanis should not only have right to vote but they should also be made eligible to become parliamentarians.
The prime minister was speaking to a delegation led by Chaudhry Javed Iqbal and comprising expatriate Pakistanis based in London who called on him at the Prime Minister House.
The premier said since granting right of representation to expatriate Pakistanis, who hold dual nationalities, involves an amendment in the constitution, the PPP could not bring about the amendment as it does not have the required numerical strength in the parliament.
He said the party needs to convince its coalition partners, who while fully being supportive and cognizant of the role of Pakistanis abroad for progress and development of the country, have somehow shown reservations to amend the constitution.
The PM said Pakistanis abroad send their hard earned money to the country because of love for their country of origin. Remittances being sent by expatriates are on the rise which are very helpful in stabilising the economy, he added.
The prime minister said the PPP and its coalition partners are committed to a transparent, free and impartial election in the country.
In this regard, he alluded to the consensual election of Chief Election Commissioner. He also expressed the hope that the remaining phases in the run-up to elections shall also be concluded amicably, in the same spirit.
Ashraf said uncertainty is damaging for the country and observed that while taking decisions, "we need to bear in mind its implications for stability in the country."
The members of the delegation thanked the prime minister for sparing time to meet them and assured him of their cooperation.
http://dawn.com/2012/08/19/ppp-in-favour-of-expatriate-pakistanis-as-parliamentarians-ashraf/
----------
JI leader says extortionists, criminals enjoying unlimited liberty
19 August 2012
KARACHI: Birjees Ahmed, the acting amir of Jamaat-e-Islami (JI) Karachi has expressed grave concern over the recent spree of violence that claimed several innocent lives within a few hours.
Commenting on the deteriorating law and order situation in the metropolis on Saturday, he strongly condemned the rising lawlessness, particularly the incident of firing at a mosque and said that those who disgraced the holy month of Ramazan, attacked mosque and killed Muslims couldn't be called Muslims.
He was of the view that protection of lives and possessions of people is the prime responsibility of the government, however, the present regime had no interest in ending miserable situation of the city, nor it was intended to maintain peace. He demanded of the government to abandon the so-called policy of reconciliation and deal the culprits behind the bloodshed in the city with iron hands. He further demanded of the government to nab extortionists, abductors and target killers without discrimination of political affiliation, instead of illogically imposing ban on pillion riding.
Full report at:
http://www.dailytimes.com.pk/default.asp?page=2012\08\19\story_19-8-2012_pg7_11
----------
Massive Eid exodus gives Islamabad a deserted look
19 August 2012
ISLAMABAD: Slowly but steadily the nation's capital is turning into a ghost city as its 'alien' dwellers have started 'abandoning' it to celebrate Eidul Fitr, falling on Monday, with their near and dear ones in their ancestral cities and towns. On Saturday, hundreds of thousands of people crowded the bus terminals of Islamabad and the railway stations of its twin city, Rawalpindi, to get an early chance to board a bus or a train. Those conscientious of avoiding the last-hour rush left the city on Friday.
Eidul Fitr is one of the two occasions each year when major cities of Pakistan, especially the federal capital, witness a mass migration that brings life to an effective halt for a few days. People from all walks of life - from government officials to businessmen to bureaucrats to students – says a goodbye to their 'adoptive' city.
A large number of people gathered at Rawalpindi railway station and different bus terminals of Faizabad and Karachi Company to buy tickets while a large number of people were seen waiting at different bus and railway stations as most of the buses and trains were behind the schedule for many hours.
Full report at:
http://www.dailytimes.com.pk/default.asp?page=2012\08\19\story_19-8-2012_pg11_2
----------
South Asia
Nato strike in Afghanistan kill top Taliban leader
19 August 2012
A top Taliban commander and his deputy have been killed in an air strike carried out by Nato in eastern Afghanistan, the alliance has said.
"Maulawi Nur Mohammad, and his deputy, Atiqullah were among the dozens of heavily armed insurgents killed in a precision air strike," Nato said.
They were the senior commanders in the Chapa Dara district of Kunar province, on the border with Pakistan.
The area is regularly shelled from the Pakistani side.
Pakistanis and Afghans accuse each other of failing to act against militant attacks inside each other's territory.
Senior officials in Kunar told the BBC the militants arrived in "dozens of vehicles" to burn houses of villagers and "possibly execute people".
In its statement, Nato said that Afghan and coalition security forces had seen "a large group of heavily armed insurgents engaging in insurgent activity" before launching "a precision air strike".
It said the troops had confirmed that "the strike had not injured any civilians or damaged any civilian property".
The statement said "Muhammad, also known as Turabi, was the senior Taliban leader for Chapa Dara district". It gave no second name for Atiqullah, who was also known as Khalid.
Local officials said 46 suspected Taliban members had died.
Taliban leaders, however, said 13 had been killed and 10 wounded.
District police chief Najibullah Gujar told AFP news agency the militants had gathered to publicly execute a man accused of killing another man from a rival family.
http://www.bbc.co.uk/news/world-asia-19308099
----------
3 NATO Service Members Killed in Afghan Attack
19 August 2012
KABUL, Afghanistan (AP) — NATO says three international service members have been killed in a bomb attack in eastern Afghanistan.
The military alliance says in a statement that the troops died on Sunday.
The coalition did not provide their nationalities or further details about the bombing. Most of the troops in eastern Afghanistan are American, but there are also service members in the region from other countries.
http://www.nytimes.com/aponline/2012/08/19/world/asia/ap-as-
----------
Karzai, Panetta concerned over 'insider attacks'
19 August 2012
WASHINGTON: Pentagon chief Leon Panetta urged Afghan President Hamid Karzai on Saturday to crack down on a rise in attacks by Afghan security personnel on their Western colleagues, officials said.
US concern is mounting over the unprecedented number of such "green-on-blue" attacks, which have now killed 39 international troops in 29 such incidents so far this year, according to Nato figures.
During a telephone call, Panetta and Karzai "expressed shared concern" over the challenge of insider attacks against coalition and Afghan forces, Pentagon spokesman George Little said in a statement.
The pair "agreed that American and Afghan officials should work even more closely together to minimize the potential for insider attacks in the future,"he added.
Panetta also encouraged Karzai to work closely with General John Allen, who heads the international coalition force Isaf in Afghanistan.
Full report at:
http://dawn.com/2012/08/19/karzai-panetta-concerned-over-insider-attacks/
----------
Taliban Fighters Killed in Airstrike
19 August 2012
KABUL, Afghanistan — A coalition airstrike killed more than 20 Taliban insurgents after they had gathered to oversee a public execution in northeastern Afghanistan on Saturday, Afghan officials said.
Some Afghan officials in Kunar Province, where the attack took place, put the death toll much higher, at 40 to 50. NATO said only that "at least two dozen" insurgents were killed after a joint Afghan-NATO ground operation observed a large gathering of armed men and called in an airstrike.
After the attack, Afghan and NATO officials inspected the site and said no civilians were killed by the bombing, the coalition said.
The bombing took place in the Chapa Dara district of Kunar Province, a remote area close to the border with Pakistan. According to locals and the police chief of the Chapa Dara district, the insurgents had gathered after a quarrel between two families resulted in a death. The victim's relatives surrounded those they said were responsible for the death and called in the Taliban to administer justice.
http://www.nytimes.com/2012/08/19/world/asia/airstrike-kills-taliban-fighters-at-public-
----------
Afghan Attacks on Allied Troops Prompt NATO to Shift Policy
By RICHARD A. OPPEL Jr. and GRAHAM BOWLEY
19 August 2012
KABUL, Afghanistan — After months of military leaders' attempts to tamp down worries over the killings of American and NATO troops by the Afghan forces serving beside them, Gen. John R. Allen, the top commander in Afghanistan, called an urgent meeting of his generals last Wednesday to address the escalating death toll.
In a room crowded with more than 40 commanders, the general underscored the need to quickly stop the bloodletting that is sapping morale, according to NATO officials, part of a new emphasis on protecting American and NATO forces after a spate of attacks that included the killing of six Marine trainers this month.
In one of a series of recent steps, the military decreed that American and NATO service members should always carry a loaded magazine in their weapons, to save precious moments if attacked by Afghan forces. Another initiative, now a priority, is a program named "Guardian Angel" that calls for one or two soldiers to monitor the Afghans during every mission or meeting, officials say.
Full report at:
http://www.nytimes.com/2012/08/19/world/asia/afghan-attacks-on-allied-troops-prompt-
----------
Bomb hidden in cemetery kills two in Afghanistan
19 August 2012
KANDAHAR: Afghan police say a bomb has exploded in a cemetery in the southern Afghan city of Lashkar Gah, killing two men whose brother is a lawmaker for Helmand province.
Provincial Deputy Police Chief Ghulam Rabbani says the bomb was buried near the grave of a relative of parliamentarian Abdulwadood Popal, who was not present.
A number of his family members had gone to the cemetery to pay their respects after morning prayers for the Eid-ul-Fitr holiday that marks the end of the Muslim holy month of Ramazan.
Rabbani says another seven members of the family were wounded in Sunday's blast.
http://dawn.com/2012/08/19/bomb-hidden-in-cemetery-kills-two-in-afghanistan/
-------
Southeast Asia
Fauzi touts religious harmony in Jakarta under his leadership
August 19 2012
Jakarta Governor Fauzi Bowo is saying that he has maintained interfaith harmony in the capital during his term in office.
"I've been in office as Jakarta governor for almost five years. There has been no incident that has prevented people of any religion from performing their religious rituals," Fauzi said on Sunday during an open house at his home in Menteng, Central Jakarta.
The open house coincided with an Idul Fitri celebration that was attended by Indonesian Ulema Council chief H. Muhidin Ishak; the archbishop of Jakarta, Mgr. Ignatius Suharyo; and representatives from the Indonesian Communion of Churches, the Indonesian Buddhist Association and the Konghucu organization, among others.
"Thank you to all the religious leaders present today. I hope this union or partnership will make Jakarta more prosperous and harmonious," Fauzi said as quoted by kompas.com.(iwa)
http://www.thejakartapost.com/news/2012/08/19/fauzi-touts-religious-harmony-jakarta-under-his-leadership.html
----------
Indonesia earthquake leaves 4 dead, officials say
From Kathy Quiano
August 19, 2012
(CNN) -- An earthquake that struck rural Indonesia left at least four people dead, authorities said Sunday.
At least seven others were injured, according to the National Disaster Management Agency.
The 6.6-magnitude hit Saturday near the city of Palu on the island of Sulawesi, the U.S. Geological Survey said.
Three of the hardest-hit districts are still unreachable because landslides triggered by the quake are blocking the roads. Heavy equipment and bulldozers are helping clear the roads.
Disaster, health and social welfare officials, including the Red Cross, are headed to the area to provide emergency assistance, trucks and ambulances.
Indonesia is on the so-called Ring of Fire, an arc of fault lines circling the Pacific Basin that is prone to frequent earthquakes and volcanic eruptions.
http://edition.cnn.com/2012/08/19/world/asia/indonesia-earthquake/index.html
----------
Filipino Muslims organise four-hour Islamic quiz bee
Ramona Ruiz
Aug 19, 2012
DUBAI // Abdullah Puentespina will have new clothes and gifts and is also excited about his prospects in a quiz bee this Eid Al Fitr.
"I know the obligations of fasting for Muslims," said the 10-year-old Filipino pupil of the United International Private School in Dubai. "I've learnt a lot about Islam and the Quran so I'm ready to win a prize."
His siblings, Abdulrahman, 13, and Aisha, 8, will join him in the second UAE-Philippine Muslim Islamic quiz bee on Monday.
All three children, who are fasting for the first time this Ramadan, were born and raised as Muslims in Dubai. Their father Essa, 41, came to Dubai in 1998 and converted to Islam from Christianity a year later.
"I've been reading short stories on the prophets to them," said Mr Puentespina, who works at a Dubai government department.
"They know the basic Islamic beliefs and practices from school."
The quiz bee, he said, was not only about winning but uniting Filipino Muslims. Of the more than 600,000 Filipinos in the UAE, about 15,000 are Muslims.
"It's a celebration of Eid and non-Muslims are welcome to attend the gathering," Mr Puentespina said. "We'd like to spread awareness about Islam among Muslims and non-Muslims."
Full report at:
http://www.thenational.ae/news/uae-news/filipino-muslims-organise-four-hour-islamic-quiz-bee
--------
Mideast Asia
Gaza Salafists slam Hamas for post-Sinai attack crackdown
18 August 2012
A Salafist official accused Gaza's Hamas rulers on Friday of arresting an activist wounded in an Israeli air 14raid as part of a crackdown since the deadly Sinai attack on August 5.
According to a statement by Abu Abdallah al Mohajir, Hamas internal security forces arrested Sheikh Abu Suhaib Rashwan on Wednesday, "immediately after Rashwan was released from hospital."
Rashwan was "seriously injured in the Israeli raid that targeted him along with the martyr Ghaleb Armelat in the city of Rafah," he said.
On June 20, an Israeli missile strike on a motorcycle in the southern border city of Rafah wounded Rashwan and killed 21-year-old Ermilat.
The Israeli military said Ermilat was a "global jihad operative" who was behind a deadly ambush along the Israeli-Egyptian border two days earlier that killed an Israeli civilian.
It also accused the two of membership of Tawhid wal Jihad, a "global jihad terror movement that is responsible for ongoing terror attacks against Israeli civilians and soldiers."
According to Mohajir, the arrest came after a request by Egyptian security officials, who also asked to oversee "all details of investigations and inquiries carried out by Hamas security against members of Salafist groups in Gaza."
Sources in Cairo have suggested that some of the gunmen involved in the attack that killed 16 Egyptian border guards had entered Sinai through a network of smuggling tunnels which run under the Gaza border.
But Hamas rulers strongly insist there was no proof that any Palestinian was involved in the deadly attack.
Hardline Salafists, meanwhile, accuse Hamas of weakness in the face of Israel and criticize it for not imposing Islamic Sharia laws in the territory.
Mohajir noted that many members of Salafist groups have been summoned for questioning by Hamas since the Sinai attack, although "none of the groups in the Strip were responsible for the attack on Egyptian soldiers."
http://english.alarabiya.net/articles/2012/08/18/232893.htmlHizbollah adds fuel to Iran-Israel fire
--------
Hamas cracks down on radical Islamist groups in the Gaza Strip
Authorities arrest leader of Salafist organization in wake of deadly terrorist attack on Egyptian border
By ILAN BEN ZION
August 18, 2012
Hamas launched crackdown on radical Islamist groups in the Gaza Strip by arresting a Salafist leader injured in an Israeli airstrike in June, Palestinian Maan News reported on Friday.
Gaza Strip security forces arrested Sheikh Abu Suhaib Rashwan after he left the hospital where he had been recovering from wounds sustained in an Israeli airstrike on June 20, Salafist group spokesperson Abu Abdullah al-Muhajir was quoted by Maan saying.
Rashwan is allegedly a member of the terrorist organization known as Tawhid wal Jihad, which claimed responsibility for the kidnapping of Italian peace activist Vittorio Arrigoni in 2011.
Several members of Salafist organizations that identify with al-Qaeda have reportedly been summoned for interrogation since the August 5 terrorist attack on the Israel-Gaza-Egypt border in which 16 members of the Egyptian security forces were killed before the terrorists smashed across the border into Israel and were killed by the IDF. Hamas previously raided a Salafist mosque in 2009, killing 28 people, after a Salafist imam declared an Islamic emirate in Gaza.
It was not clear whether the Egyptian government pressured Hamas leaders to begin cracking down on radical jihadist groups operating in the Gaza Strip. Hamas's Prime Minister in Gaza Ismail Haniyeh on Monday promised newly-instated Egyptian Defense Minister Abdul Fatah Khalil al-Sisi that he would coordinate security issues with Cairo and work to protect their mutual border.
Since the attack, Egypt has launched a military campaign to root out radical Islamist terrorists in the Sinai Peninsula. The Egyptian press previously reported officials in Cairo saying that terrorists from the Gaza-based Army of Islam were suspected to have participated in the cross-border attack.
http://www.timesofisrael.com/hamas-cracks-down-on-radical-islamist-groups-in-the-gaza-strip/
------------------
Qaeda suicide bomber kills Yemen militia chief
19 August 2012
ADEN — A suspected Al-Qaeda suicide bomber blew himself up early Sunday in southern Yemen killing the commander of a local pro-army militia and wounding six people, a government official told AFP.
Two children were among the wounded in the town of Mudiya in the restive southern province of Abyan, the official said.
"An Al-Qaeda suicide bomber managed to enter a home used as a base by the Popular Resistance Committees and activated an explosives belt killing the local commander Nasser Ali Mansur and wounding six," he said.
The committees have recently become a target for Al-Qaeda militants who were forced to flee Abyan in June following battles led by the army, with the local militiamen backing them up.
A doctor in Aden told AFP he had helped evacuate three of the wounded from an hospital in the Abyan city of Loden to a bigger facility in Aden "because they are in critical condition."
The attack came hours after suspected Al-Qaeda militants killed 19 soldiers in a rocket attack and suicide bombing on Saturday that targeted intelligence headquarters in Aden, the main southern city in Yemen.
Al-Qaeda militants remain active in southern Yemen, where separatist militants also attack security forces, pressing their demands for renewed independence for the south.
South Yemen was a separate state before unification with the north in 1990.
Copyright © 2012 AFP. All rights reserved.
----------
Iran leader says 'tumour' of Israel is biggest problem
19 August 2012
TEHRAN — The "cancerous tumour" of Israel is the biggest problem confronting Muslim countries today, Iran's supreme leader said on Sunday, repeating an epithet slammed just days earlier by UN chief Ban Ki-moon and US and EU officials.
In a speech marking Eid al-Fitr, the end of the Muslim holy month of Ramadan, Ayatollah Ali Khamenei said "the big powers have dominated the destiny of the Islamic countries for years and... installed the Zionist cancerous tumour in the heart of the Islamic world," according to the official IRNA news agency.
"Many of the Islamic world's problems come from the existence of the sham Zionist regime," he was quoted as saying.
The "tumour" characterisation was a repeat of terms Khamenei and President Mahmoud Ahmadinejad have long used to portray Israel as an illegitimate state in the Middle East that will inevitably disappear.
Full report at: Copyright © 2012 AFP. All rights reserved.
-------
Hizbollah adds fuel to Iran-Israel fire
ATUL ANEJA
19 August 2012
The battle for psychological ascendancy between the Iran-Syria-Hizbollah alliance and Israel escalated sharply on Friday after Hizbollah leader Hassan Nasrallah threatened punishing missile strikes deep inside Israel in case it attacked Iran.
Invoking imagery possibly resulting from counter-strikes against Israel's nuclear facilities, Mr. Nasrallah said that retaliation by his battle hardened organisation would kill thousands and make life "hell" inside the country. "I tell the Israelis that you have a number of targets, not a large number ... that can be hit with precision rockets ... which we have," said Mr. Nasrallah.
Full report at:
http://www.thehindu.com/news/international/article3791985.ece
----------
Iraq helping Iran skirt sanctions: NYT report
19 August 2012
WASHINGTON: Iraq is helping its neighbor Iran skirt international sanctions by smuggling oil and letting Tehran secretly move large amounts of cash through bank auctions, The New York Times reported Sunday.
Last month, US President Barack Obama singled out the Elaf Islamic Bank in Iraq, saying it had arranged transactions worth tens of millions of dollars with Iranian banks already under sanctions because of alleged links to Tehran's nuclear program.
But the Times said the bank was only part of a network of financial institutions and oil-smuggling operations that have helped funnel cash to the Islamic republic as sanctions choke its economy.
Full report at:
http://dawn.com/2012/08/19/iraq-helping-iran-skirt-sanctions-nyt-report/
----------
Iran Rejects Allegation of Role in Deadly Afghan Bombings
19 August 2012
KABUL (Reuters) - Iran has rejected Afghan government claims that Tehran orchestrated a series of suicide bomb attacks earlier this week that killed at least 28 people in Afghanistan, Iran's English-language Press TV reported on Sunday.
Afghanistan's spy agency, the National Directorate of Security (NDS), killed two alleged insurgents and detained three more this week for what they said was their involvement in the bombings this week in Afghanistan's Nimroz province.
The NDS said the five were Iranian citizens, and that they had trained for suicide bomb missions in Iran, which borders Afghanistan to its west.
"Stressing the friendly relations between Iran and Afghanistan, (Foreign Ministry spokesman Ramin) Mehmanparast on Saturday denied any meddling by Iran," state-funded Press TV wrote on its site.
"(He) rejected the allegation that Iran was involved in the recent explosions in the Afghan province of Nimroz," it said.
Afghan officials routinely blame Iran and Pakistan, its neighbour to the east, for interfering in its affairs and providing weapons and training to insurgents, claims that Tehran and Islamabad deny.
Full report at:
http://www.nytimes.com/reuters/2012/08/19/world/middleeast/19reuters-afghanistan-iran-
----------
Arab World
Assad Makes Rare Appearance in Damascus Mosque
19 August 2012
BEIRUT (Reuters) - Syrian President Bashar al-Assad performed Eid prayers in a Damascus mosque on Sunday, state television showed, in his first appearance in public since a July bombing in the Syrian capital that killed four top security officials.
Assad, who is battling a 17-month-old uprising, was accompanied by his prime minister but not his vice president, Farouk al-Shara, whose reported defection was denied by the government the previous day.
In the state TV footage, Assad was sitting cross-legged during a sermon in which Syria was described as the victim of a conspiracy hatched by the United States, Israel, the West and Arab states but which would not "defeat our Islam, our ideology and our determination in Syria".
The July 18 bombing at the state security headquarters in Damascus was a stunning blow to Assad, who lost a brother-in-law in the attack, and fighting subsequently intensified with rebels making inroads into Damascus and the commercial hub Aleppo.
Syrian authorities on Saturday dismissed reports that Shara had defected as Assad's forces pursued an offensive against rebels, bombarding parts of Aleppo in the north and attacking an insurgent-held town in the oil-producing east.
Shara "never thought for a moment about leaving the country", said a statement from his office broadcast on state television in response to reports that the veteran Baath Party loyalist had tried to bolt to Jordan.
Full report at:
http://www.nytimes.com/reuters/2012/08/19/world/19reuters-syria-
---------
Syrian vice president Shara has not defected: State TV
19 August 2012
Syrian regime denies that Vice President Faruq al-Shara has defected and joined the opposition
Syrian Vice President Faruq al-Shara has not defected, state television said on Saturday, citing a statement from his office after media reports that he had fled.
"Mr Shara has never thought about leaving the country or going anywhere," said the television. Shara himself was not seen.
Shara, 73, is the most powerful Sunni Muslim figure in the minority Alawite-led regime of President Bashar al-Assad and has served in top posts for almost 30 years.
The rebel Free Syrian Army said in a statement that Shara, who has been vice president since 2006, had tried to defect to the opposition.
"Initial reports show that there was an attempted defection, but that it failed," the FSA's military council said.
Full report at:
http://english.ahram.org.eg/NewsContent/2/8/50727/World/Region/Syrian-vice-president-Shara-has-not-defected-State.aspx
---------
Representing a different face of Islam
August 18, 2012
By Jim Quilty
BEIRUT: The foyer of NOK Yoga Shala is littered with shoes. You wonder whether this is indeed a footwear-free affair. The young woman lingering nearby smiles in confirmation.
This space, it seems, is ordinarily devoted to the practice of yoga. This evening, however, it is hosting a promotional event for the documentary "Wajd – Music Politics and Ecstasy."
One part autobiographical tale of discovery, one part history lesson-cum-polite interrogation of Islam, "Wajd" is the work of Syrian-Canadian writer-director Amar Chebib. There might seem some incongruity between the event and the space hosting it – in that "Yoga = Hinduism, Islam = well, Islam" sort of way.
Appearances are informative, but they aren't everything.
During the half-hourlong rough cut of "Wajd" screened this evening, the filmmaker informs his audience that he was raised Muslim and drifted away from the faith, unable to reconcile facets of Muslim practice with his own belief system.
A couple of years ago he decided to give Islam another shot, returning to Syria to study Arabic. During this rapprochement he become a student of Ottoman classical music, which underlined his feelings of dissonance.
Conservative readings of Islam have determined that the Prophet disapproved of music – confusing for a student of a tradition with a strong devotional component. Another sore point for Chebib is his religion's attitudes toward women – which to many Western eyes makes women look less equal than men.
Full report at:
http://www.dailystar.com.lb/Culture/Performance/2012/Aug-18/184963-representing-a-different-face-of-islam.ashx#ixzz23zZQsS00
------------------
Bahrain activist jailed for 3 years
Aug. 19, 2012
A prominent Bahraini human rights activist has been found guilty of calling and participating in several illegal gatherings and sentenced to three years in jail.
The unexpectedly stiff sentence Thursday against Nabeel Rajab will raise questions about the Western-backed Sunni monarchy's commitment to reform, and embolden anti-government protesters who have been demonstrating the past 18 months for greater rights in the Gulf island kingdom, home to the U.S. Navy's 5th fleet.
Rajab, who already is serving a three-month sentence for posting anti-government comments on Twitter, was in court for the verdict. He is president of the Bahrain Center for Human Rights.
Rajab's attorney Mohammed al-Jishi said each of three cases yielded a year imprisonment, for a total of three years. Al-Jishi said he plans to appeal the ruling.
http://www.lasvegassun.com/news/2012/aug/19/apfn-ml-bahrain/
----------
Muslim unity driving force for global peace
19 August 2012
MAKKAH: Custodian of the Two Holy Mosques King Abdullah and Crown Prince Salman, deputy premier and minister of defense, yesterday called upon the Muslim nation to stand united to strengthen global peace and stability.
In their joint Eid Al-Fitr message, the king and crown prince also urged Muslims to show mercy toward the poor and weak and engage in righteous activities, taking inspiration from the holy month of Ramadan.
"Allah has made it easy for the leaders of Muslim countries to hold their solidarity summit to protect the Ummah's unity, prevent its division and avoid further bloodbath," the message said about the emergency Islamic summit that was held in Makkah on Aug. 14-15.
"We pray to the Almighty that He may protect the Muslim nation's security and stability, guide its leaders to work for the betterment of their societies and fulfill their trust," said the message that was read out on Saudi Television by Culture and Information Minister Dr. Abdul Aziz Khoja.
Full report at:
http://www.arabnews.com/saudi-arabia/muslim-unity-driving-force-global-peace
----------
Iraqi Sunni Cleric's Convoy Struck by Bomb
19 August 2012
BAGHDAD (AP) — A bomb struck the convoy of a senior Sunni cleric in western Baghdad on Sunday morning, killing at least one person and critically wounding the Muslim leader.
The blast in the capital's Yarmouk neighborhood left Sheik Mahdi al-Sumaidaie badly hurt and one of his bodyguards dead, a Sunni religious official said. The cleric had just finished leading prayers at a nearby mosque to mark the beginning of the Eid al-Fitr holiday, which follows the holy month of Ramadan.
Al-Sumaidaie has sided with the government against Sunni extremists. Earlier this year, he called for a unified religious authority to bridge the gap between Iraq's Sunnis and Shiites. Insurgents often target Sunni clerics seen as working closely with the Shiite-led government.
Police confirmed the attack, although there were conflicting reports about the number of casualties. Two police officers and a hospital official reported that multiple people were killed and wounded.
All officials spoke on condition of anonymity because they were not authorized to release the information.
Full report at:
http://www.nytimes.com/aponline/2012/08/19/world/middleeast/ap-ml-
----------
UN observers wind up Syria mission
Aug 19, 2012
ALEPPO, SYRIA: UN observers wind up their mission in Syria on Sunday, after Damascus denied opposition claims that top regime official Vice President Faruq al-Shara had defected as its armed forces pounded rebels in several key flashpoints across the country.
The United Nations won support from the West as well as Russia and China for its new envoy for Syria, veteran Algerian diplomat Lakhdar Brahimi who was named on Friday to replace Kofi Annan at the end of the month.
In Damascus, state television issued a statement from Shara's office after opposition and media reports that he had fled, saying: "Mr Shara has never thought about leaving the country or going anywhere".
Shara, 73, is the most powerful Sunni Muslim figure in the minority Alawite-led regime of President Bashar al-Assad and has served in top posts for almost 30 years.
Full report at:
http://timesofindia.indiatimes.com/world/middle-east/UN-observers-wind-up-Syria-mission/articleshow/15555106.cms
----------
North America
Obama Wishes Muslims Happy Idul Fitri
August 19, 2012
Washington. President Barack Obama wished Muslims well on Saturday for the feast of Idul Fitri marking the end of the holy month of Ramadan.
In the United States, Saturday was considered the 30th and final day of the dawn-to-dusk month of fasting this year, and Sunday will mark the start of the feast.
"Michelle and I extend our warmest wishes to Muslim communities in the United States and around the world as they celebrate Idul Fitri," Obama said in a statement released by the White House.
"For Muslims, Ramadan has been a time of fasting, prayer and spiritual renewal. These past four weeks have also been a time to serve the less fortunate — a reminder of the obligations that people of all faiths have to each other."
Wishing Muslims across the United States and around the world "Eid mubarak" (happy holiday), Obama said the celebrations in America speak to "the truth that communities of faith — including Muslim Americans — enrich our national life, strengthen our democracy and uphold our freedoms, including the freedom of religion."
"That is why we stand with people of all faiths, in the United States and around the world, in protecting and advancing this universal human right," he added.
http://www.thejakartaglobe.com/home/obama-wishes-muslims-happy-idul-fitri/539151
----------
Attacks on US mosques prompt Muslim security concerns
By Kari Huus
August 18, 2012
On Sunday and Monday, when Muslims will celebrate the end of Ramadan, even many who are less observant the rest of the year will be at mosques to pray. But many worshippers will celebrate amid heightened security after a recent spike in attacks on mosques and other places of worship.
"We recommend a security guard during prayer hours," said Abed Ayoub, legal director of the nonprofit American-Arab Anti-Discrimination Committee, or ADC. "Take measures and use common sense. Keep an eye on people who don't seem to fit in. We ask them to install video cameras at the doors and throughout the mosque. Limit access to areas such as the kitchen, furnace or storage where someone could hide."
This is not the first time that Muslims have been advised to exercise caution. There was a spike in crimes aimed at the religious minority after the Sept. 11, 2001, attacks on the United States by Islamist terrorists, and Ayoub said there has been an increase again since 2010, starting around the time of the bitter dispute over Park 51, the so-called "Ground Zero Mosque" in Manhattan.
Full report at:
http://usnews.nbcnews.com/_news/2012/08/17/13321512-attacks-on-us-mosques-prompt-muslim-security-concerns?lite
----------
U.S. Says Iraqis Are Helping Iran to Skirt Sanctions
By JAMES RISEN and DURAID ADNAN
19 August 2012
WASHINGTON — When President Obama announced last month that he was barring a Baghdad bank from any dealings with the American banking system, it was a rare acknowledgment of a delicate problem facing the administration in a country that American troops just left: for months, Iraq has been helping Iran skirt economic sanctions imposed on Tehran because of its nuclear program.
The little-known bank singled out by the United States, the Elaf Islamic Bank, is only part of a network of financial institutions and oil-smuggling operations that, according to current and former American and Iraqi government officials and experts on the Iraqi banking sector, has provided Iran with a crucial flow of dollars at a time when sanctions are squeezing its economy.
The Obama administration is not eager for a public showdown with the government of Prime Minister Nuri Kamal al-Maliki over Iran just eight months after the last American troops withdrew from Baghdad.
Full report at:
http://www.nytimes.com/2012/08/19/world/middleeast/us-says-iraqis-are-helping-iran-skirt-sanctions.html?_r=1&hp
----------
Muslims in Las Vegas recharge spiritually during Ramadan
By Andrea Domanick (contact)
Aug. 18, 2012
The sun is beginning to set behind the mosque of the Islamic Society of Nevada on East Desert Inn Road, its undulating domes and jutting minaret blending with the hodgepodge geometry of the Strip's skyline in the distance.
Outside, a few boys play on their skateboards while the parking lot fills with Muslim worshippers arriving for Iftar, the daily fast-breaking meal eaten during the holy month of Ramadan, which began July 20 and ends today.
After a snack of dates, melon and water, followed by prayer, congregants line up — women on one side, men on the other — in the dining hall to fill their plates. It is after sunset, and this is their first meal since before daybreak.
The evening's offerings include traditional Pakistani curries, Arab cheese pastries, an Indian dairy drink called sharbat and pizza; it's a meal almost as diverse as the congregants themselves.
Full report at:
http://www.lasvegassun.com/news/2012/aug/18/muslims-las-vegas-recharge-spiritually-during-rama/
----------
Mullah Omar taunts US, UK on Afghanistan war
Aug 19, 2012
LONDON: In a rant against Britain and the US, the Taliban's reclusive leader Mullah Omar has said "the invading enemy will flee Afghanistan" .
Omar, one of the world's most wanted terrorists, has been on the run for more than a decade and has even been reported dead. But he broke his silence on Friday to taunt the UK and the US, the Sun reported.
One-eyed Omar was dead al-Qaida chief Osama bin Laden's staunchest supporter , and has a price of more than £6.5 million on his head. Omar, 53, is second to Ayman al-Zawahiri , bin Laden's successor, as the world's most wanted man. Earlier the Taliban's statement to mark the Islamic holiday of Eid ul-Fitr said the militants had "cleverly infiltrated in the ranks of the enemy according to the plan given to them last year" . "Many conscious Afghans in the rank and files of the enemy have shown willingness to help the Mujahideen," it said.
"As a result, the foreign invaders and their allies in their military centres and bases do come under crushing blows of these heroic soldiers."
http://timesofindia.indiatimes.com/world/uk/Mullah-Omar-taunts-US-UK-on-Afghanistan-war/articleshow/15552652.cms
----------
Organization of American States to discuss Ecuador-UK diplomatic row over Assange
Aug 18, 2012
LONDON: The Organization of American States (OAS) has called a meeting of foreign ministers to discus the diplomatic dispute between Ecuador and Britain over WikiLeaks founder Julian Assange.
In a meeting on Friday the group agreed that the row was not over the granting of asylum to Wikileaks founder Julian Assange, but instead concerned the 'inviolability' of the Ecuador embassy in London.
Foreign ministers from North and South American nations will convene at the OAS Washington headquarters on Friday after a vote by the organisation's council that was overwhelmingly in favour.
According to the Telegraph, the foreign ministers will 'address the situation between Ecuador and the UK in accordance with international law, and agree on appropriate measures to be adopted.'
Secretary general of the OAS Jose Miguel Insulza said the foreign ministers would focus on 'the problem posed by the threat or warning made to Ecuador by the possibility of an intervention into its embassy in London.'
According to the paper, Ecuador's permanent representative to the OAS, Maria Isabel Salvador, stressed that her country had no 'hidden agenda' and that it was of 'overriding importance' to establish the 'inviolability of our diplomatic premises.'
She said Quito had received a written communication from the UK warning it 'should be aware that there is a legal basis in the UK, which would allow us to take action to arrest Assange in the existing facilities of the embassy.'
http://timesofindia.indiatimes.com/world/rest-of-world/Organization-of-American-States-to-
----------
Spate of attacks near Ramadan trouble U.S. Muslims
By Yasmin Amer and Moni Basu, CNN
August 18, 2012
CNN) -- To mark the end of Islam's holiest month, Iftikhar Ali will head not to a mosque but to a convention center guarded by law enforcement officers.
That's because this month, during Ramadan, the mosque in Joplin, Missouri, burned to the ground. Its rubble smoldered for two days as a shocked Muslim community came to terms with what had happened.
"I think there are a few people who don't like anybody," Ali said. "They don't like a different color than their color or different religions."
Ali, who is the president of the Joplin mosque, said the congregation rented a convention center so people would have a place to pray and celebrate Eid al-Fitr, the feast that marks the end of fasting for Ramadan.
Authorities are still investigating the mosque burning but suspect the fire was intentional. In July, a surveillance camera caught a man throwing an incendiary device onto the building that damaged part of the roof.
Ahead of Eid, Ali said he contacted the police and sheriff's department. They are sending extra officers Sunday.
Full report at:
http://edition.cnn.com/2012/08/18/us/ramadan-violence/index.html
----------
Reliant event for Muslims will have lots of security
By Anita Hassan
August 17, 2012
On Sunday at Reliant Arena, there will be undercover police roaming the crowds, officers on horseback, even some in a helicopter circling the premises. Not to mention scores of uniformed officers walking the property. The scene sounds something more like the kind of security measures for a presidential convoy.
But they are actually safety measures being taken at the Islamic Society of Greater Houston's Eid Al-Fitr prayer, a celebration for a holiday that marks the end of Ramadan, the Islamic holy month of fasting.
"When these incidents happen, of course it's wise to take precautions rather than feel sorry later on," said Aziz Siddiqi, ISGH president, whose organization hosts the largest Eid prayer in the city, usually drawing between 30,000 and 50,000 people and held this year at the arena.
Advisory distributed
Siddiqi is referring to at least eight acts of violence or vandalism that have occurred at mosques around the country in recent weeks and have put Muslims throughout the nation on edge.
Full report at:
http://www.chron.com/news/houston-texas/article/Reliant-event-for-Muslims-will-have-lots-of-3797264.php
----------
Europe
As U.N. Monitors Leave Syria, More Bodies Are Found
By DAMIEN CAVE and HWAIDA SAAD
19 August 2012
BEIRUT, Lebanon — The United Nations sent its final group of observers out of Syria on Saturday as the war lumbered on, with activists reporting raids, airstrikes and shelling across the country, in Aleppo, Dara'a, Azaz and around Damascus, where opposition groups counted 40 bodies on the streets of a nearby suburb.
"The families of those martyrs are still discovering new bodies," said an activist in Damascus, who declined to be named.
Initial reports by activists suggested that the dead had been killed by government shells; the suburb, Al Tal, has been heavily bombarded in recent days, as have other areas that the government has been trying to retake from rebels. But the Syrian Observatory for Human Rights, an opposition group based in Britain that has a network of contacts in Syria, later said that all the bodies had bullet wounds, suggesting that they either had died in the fighting or had been executed.
It was not clear whether the victims were civilians. But it was the second time in less than a week that dozens of bodies had been found in or near Damascus, the capital. At least 60 bodies, bound and burned, were found Thursday in a landfill just outside the city, local activists said.
Full report at:
http://www.nytimes.com/2012/08/19/world/middleeast/Syria.html?ref=world&gwh=2F7CE2B5E73A22529FBB39C5A12A5557
----------
Masked gunmen wound eight in Russian mosque: ministry
AAug 19, 2012
MOSCOW: Masked gunmen burst into a mosque in the troubled Russian Caucasus region of Dagestan, wounding eight, the regional interior ministry said in a statement Saturday.
"The number of wounded in the shooting at the mosque in the town of Khasavyurt has risen to eight," the interior ministry said after two unidentified gunmen shot at worshippers in the Shiite mosque on Saturday evening as Muslims celebrate the end of Ramadan.
Three of the wounded suffered gunshot wounds to the chest and stomach, while others were shot in the arms and legs, the ministry said.
Citing local police, RIA Novosti news agency said more people were hurt in an explosion in the same mosque after the gun attack.
"An explosion went off. Altogether there were two explosive devices. One went off, the other is being defused," police told the agency.
http://timesofindia.indiatimes.com/world/europe/Masked-gunmen-wound-eight-in-Russian-mosque-ministry/articleshow/15552410.cms
----------
Bomb in Russian Caucasus kills six policemen: Reports
August 19, 2012
Six policemen died in the volatile Russian Caucasus region of Ingushetia early Sunday after a bomb went off at the funeral of their colleague, Russian news agencies reported.
"As the policemen entered the yard of the house where the funeral was taking place, a powerful blast went off. As a
result of the explosion, six policemen died on the spot and there are many wounded," a spokesman for the regional Investigative Committee told the Interfax news agency.
A law enforcement source told Interfax that "so far six injured have been hospitalised, but it's possible that more than 10 will be hospitalised."
The funeral was for a fellow officer killed in a shooting on Saturday evening in the Malgobek district in the north of the region, Interfax reported.
The explosion came hours after masked gunmen opened fire in a mosque in Dagestan on Saturday evening as worshippers celebrated the end of Ramadan, wounding eight and leaving an explosive device that was later deactivated.
Russia is fighting a simmering Islamist insurgency in the Caucasus, mostly in Dagestan and Ingushetia, which see regular attacks that officials blame on militants seeking to establish an Islamic state across the Russian Caucasus.
http://www.hindustantimes.com/worldsectionpage/World/Bomb-in-Russian-Caucasus-kills-six-policemen-Reports/Article1-916099.aspx
----------
Assange set to face world's media
Aug 19, 2012
LONDON: Embattled WikiLeaks founder Julian Assange is set to face the world's media on Sunday from the safe haven of London's Ecuadoran embassy but risks arrest if he takes even one step out of the building.
With police officers primed to detain him, Assange must find a way of speaking publicly without setting foot outside, raising the possibility of him being forced to speak from a balcony or lean out of a window.
WikiLeaks was tight-lipped about the logistics of Assange's planned appearance at 1300 GMT, with spokesman Kristinn Hrafnsson telling AFP what little he knew could not be discussed for "security reasons".
But Britain's Foreign Office warned that the steps to the embassy were considered British territory while police said officers would take "appropriate" action" if he strayed from the building.
Assange, 41, took refuge in the embassy on June 19 to evade extradition to Sweden where he is wanted for questioning over alleged sexual misconduct.
Supporters of the Australian former hacker, granted asylum by Ecuador on Thursday, believe that once in Sweden he could be extradited to the United States. WikiLeaks' publication of a vast cache of confidential government files has enraged the US government and his backers fear he could be tried on espionage charges there and face the death penalty.
WikiLeaks announced on Twitter late on Saturday that the renowned Spanish lawyer Baltasar Garzon would speak outside the embassy from 1030 GMT on Sunday.
Garzon, known for pursuing Chile's former dictator Augusto Pinochet, is helping Assange's defence.
Full report at:
http://timesofindia.indiatimes.com/world/europe/Assange-set-to-face-worlds-media/articleshow/15554779.cms
--------
Africa
Tunisian alarm at Salafist assault on 'un-Islamic' culture
August 17, 2012
By Antoine Lambroschini
TUNIS: Tunisian Salafists are stoking fears of a rising Islamist tide after the hardliners disrupted a string of cultural events they deemed un-Islamic, culminating in an attack that left five people wounded.
Artists and opposition media accuse the Islamist-led government of failing to do more to rein in the Salafists, who attacked the Bizerte music and theatre festival on Thursday evening armed with swords and sticks.
The interior ministry said that five people were wounded in the attack, and that police dispersed the assailants with tear gas, arresting four of them.
But some complained that police waited an hour before intervening.
It was the third and and most violent such incident in just three days, after Salafists prevented an Iranian group from performing at a Sufi music festival in Kairouan, south of Tunis, saying their Shiite chanting amounted to a violation of Islamic values.
On Tuesday, renowned Tunisian actor Lotfi Abdelli was prevented from performing his comedy act "100% Halal" by hardline Islamists who had occupied the auditorium.
So far the incidents have not triggered wider violence, as happened when suspected Salafists attacked a Tunis art gallery in June, sparking riots that left one person dead and more than 100 injured.
Full report at:
http://www.dailystar.com.lb/News/Middle-East/2012/Aug-17/184973-tunisian-alarm-at-
-------------------
Officials among 31 dead in Sudan plane blast: Air authority
Aug 19, 2012
KHARTOUM: All 31 people aboard an airplane carrying an "official delegation" to Sudan's war-torn South Kordofan state for a function marking the Muslim Eid holiday were killed on Sunday, an aviation official said.
"All people on board were killed," Abdelhafiz Abdelrahim, spokesman for the Sudan Aviation Authority, said.
He said the plane was landing in Talodi town at about 8:00 am (0500 GMT) when "an explosion was heard and the plane was destroyed."
Abdelrahim could not immediately provide further details.
http://timesofindia.indiatimes.com/world/rest-of-world/Officials-among-31-dead-in-Sudan-plane-blast-Air-authority/articleshow/15556176.cms
----------
Nigeria Launches a Fresh Bid to Overhaul Oil Industry
M.J. Smith | August 19, 2012
Lagos. It was the year the world became acquainted with Barack Obama, when "tweet" was labeled a buzzword by Time magazine — and when legislation was introduced to overhaul Africa's biggest oil industry.
That was way back in 2008, and many deadlines set by Nigeria's government to carry out the oil reforms have passed without action, creating uncertainty that has limited new investment, treatening future output.
The country has now launched a renewed reform bid, and there is reason to believe that this time it may be successful -- though various obstacles could again derail the plans.
Nigerian President Goodluck Jonathan last month sent a fresh version of sweeping legislation to parliament that would set out new fiscal terms for the industry and restructure the state oil company, among other measures.
The implications of the 223-page bill are immense in the OPEC member country that relies on the industry for some 80 percent of government revenue and where major firms like Shell, Exxon and Total pump crude for export.
"I think something's going to get passed before the end of the year," said Kayode Akindele of 46 Parallels investment firm.
"That's really out of necessity... because we just can't have the situation we've had the last four or five years."
Full report at:
http://www.thejakartaglobe.com/business/nigeria-launches-a-fresh-bid-to-overhaul-oil-industry/539182
----------
2 killed in Libya after interior ministry bombs attack
19 Aug 2012
Libya witnesses first lethal attack of its kind since Muammar Gaddafi's fall last year
At least two people were killed when three car bombs exploded near interior ministry and security buildings in the Libyan capital on Sunday, the first lethal attack of its kind since Muammar Gaddafi's fall last year, security sources said.
There was no immediate claim of responsibility for the blasts, the latest examples of the violence that has remained a problem in Libya despite the peaceful transfer of power to the new government after elections in July, the first in decades.
Gaddafi's overthrow and death, after 42 years of eccentric personal rule, left a power vacuum that was filled by local militias and other armed groups that security forces have struggled to subdue, and sporadic shootings and explosions.
Ambulances and firefighters rushed to the scenes of Sunday's blasts, in residential areas in central Tripoli, and large numbers of police were deployed to cordon off the sites and remove the charred vehicles and other debris.
The first bomb blew up near the interior ministry's administrative offices in Tripoli but caused no casualties, the sources said. On arriving at the site, police found another car bomb that had not blown up.
Minutes later, two car bombs exploded near the former headquarters of a women's police academy, which the defense ministry has been using for interrogations and detentions, the sources said, killing two civilians and wounding three.
The blasts, which caused minor damage to the two buildings and shattered windows of nearby cars and buildings, took place early in the day as worshippers prepared for mass morning prayers marking Eid al-Fitr, the Muslim celebration that marks the end of the fasting month Ramadan.
Full report at:
http://english.ahram.org.eg/NewsContent/2/8/50769/World/Region/-killed-in-Libya-after-interior-ministry-bombs-att.aspx
----------
URL:https://www.newageislam.com/islamic-world-news/by-new-age-islam-news-bureau/bulk-of-hate-smss-against-northeast-people-sourced-from-pakistan-govt/d/8342