New Age Islam News Bureau
20 Sept 2012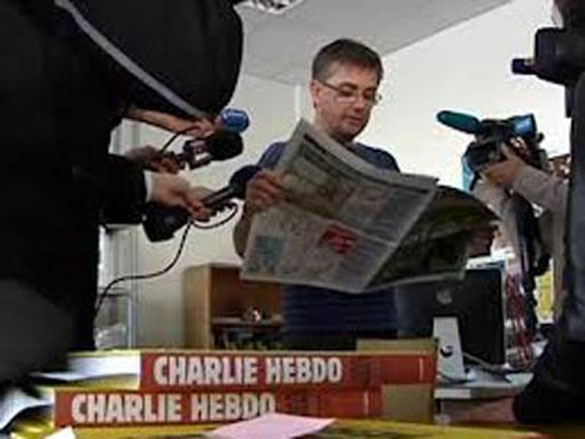 Arab World
• Bikinis and beach resorts to be untouched in Egypt
• A political vacuum for Sunnis in Lebanon
• Two Emiratis and a stateless person get life term for sexual assault
• Kurdistan Seals Oil Products Deal With Baghdad
• Egypt: New Intelligence Chief Helped to Broker Israeli's Release
• Helicopter crashes in Damascus suburb
• Swift Haj visas for Syrians
• Yemeni gets six years for fraud
• Young Saudis treated to mass wedding
Europe
• Charlie Hebdo Row: Cartoons Divide French Press
• France to ban new prophet film protest
• Italy's Top Court Upholds Convictions of 23 CIA Agents for an Egyptian Imam Kidnap
• UN chief says anti-Islam filmmaker abused freedom of expression
• After film, Prophet cartoons in French weekly inflame tension
• Some Religious Leaders See a Threat as Europe Grows More Secular
• Prince Alwaleed of Alwaleed Foundation donated $ 23 m to Louvre
• Salman Rushdie's new book in UK prize long-list
Africa
• Gambia Supreme Islamic Council, Imam Say Suspension of Executions Islamic
• New Picture Emerging of 'Terrorist Attack' in Benghazi
• S Africa police kill 2 more in crackdown on strike
• Civilians at risk in battle for rebel bastion
India
• 'My open letter to PM Rajiv was arrogant', says Salman Rushdie
• Four of six killed in Ghaziabad riot were shot from close range
• CBI arrests five Muslim youth for lower Assam violence
• Batla encounter still haunts residents
• Proposed Saudi mission scheduled for Hyderabad
Pakistan
• Anti-Islam film: Protesters storm diplomatic enclave in Islamabad, army called in
• 'Al-Qaeda in Pak shadow of its former self, but threat exists'
• Pak to observe September 21 as 'Love the Prophet Day'
• Probe against businessman for not joining 'anti-Islam' film protest in Pak, accused of blasphemy
• Eight Marri Baloch from same family abducted in Quetta
• US has unrealistic expectations with Pakistan on Taliban talks: Ex-ISI chief
• Hina Rabbani Khar goes to Washington to salvage Pak-US ties
• No surprise on Pakistani PM seeking spiritual advice: Report
• Malik Riaz contempt case: SC bars AG from acting as prosecutor
• Three killed, five injured in Karachi violence
• Pak Govt urges UN to act against hate-mongers
• Ishq-e-Rasool (pbuh) Day: Govt contemplates suspending cellular services
• Kohat Road blast: Unsuspecting victims of an ongoing war
• Malik seeks UN ban on blasphemous material
South Asia
• Hindu Marriage Act in Bangladesh to provide legal and social protection to women
• Ex-Commander in Afghanistan Eyed for Africa
• Maldivian Minister of Islamic Affairs calls for "restraint" over anti-Islamic film
• Bangladesh: War crimes suspect Jamaat-e-Islami leader held
• Swat residents of Afghan origin being 'harassed'
• SC verdict unacceptable: Khaleda
• Karzai sacks Helmand governor Gulab Mangal
Southeast Asia
• Muslims Must Protect "Sanctity of Islam, Prophet," Says Malaysia Mufti
• Outsider Breathing New Ideas into Jakarta Election
• Singapore asks Google to Block Access to Islam Film
• US to Close Indonesia Missions Friday Over Film
Mideast Asia
• Iran's terror activities pose threat to America: officials
• Gaza: Hamas Says Israel Killed Officials
• Catholic Official Worried About Israel Attacks
• Israeli bid to corner Iran-Syria-Hizbullah alliance
• Israel to Iran: Jewish state can defend itself
• Yemen to probe abuses during anti-Saleh uprising
North America
• CAIR Submits Written Testimony for Senate Hate Crime Hearing
• Haqqani network, LeT the new potent threats to US: official
• Barack Obama talks to Karzai, reiterates support for Afghanistan
• Actress sues California man behind anti-Muslim film
• Libya attack 'terrorist' but likely opportunistic: US
• U.S. Senator Warns Iraq Over Flights Into Syria
Compiled by New Age Islam News Bureau
Photo: Charlie Hebdo Row: Cartoons Divide French Press
URL: https://www.newageislam.com/islamic-world-news/by-new-age-islam-news-bureau/bikinis-and-beach-resorts-to-be-untouched-in-egypt/d/8737
------------
Arab World
Bikinis and beach resorts to be untouched in Egypt
Joseph Mayton | 18 September 2012
CAIRO: Despite ongoing fears that beach resorts will see a decline in the new Islamic government of Egypt, the country's tourism minister attempted to once again allay fears that the country would crackdown on bikinis or beachgoers in the country, saying any Islamic investments in the sector would "complement" and not overtake tourism directives.
Resorts are to remain in the country and women will be forced to cover, Tourism Minister Hisham Zaazou said. He is pushing tourism in an attempt to help the country's economy recover from months of inactivity.
Tourism had accounted for some 10 percent of the country's economy before the January 2011 uprising ousted former President Hosni Mubarak and saw travelers look elsewhere as violence and political turmoil took hold of Egypt.
"It will not be changed. Nothing will affect beach tourism. We are building on, increasing even, the capacities and the services rendered for our clients coming to our beaches," he told Reuters news agency.
The Brotherhood's political arm, the Freedom and Justice Party (FJP) told Bikyamasr.com in a statement in June that they "hope to build a new united Egypt" and have "no plans to affect the current situation" when it comes to tourism.
Still, worries abound, among both Egyptians and foreigners, over what the future for Egypt will bring.
Earlier this year, the FJP, after winning nearly 45 percent of the now possibly dissolved parliament, said that tourists would have the freedom to wear whatever they chose, including bikinis, and that they would have ban alcohol or other foodstuffs.
"The party regrets the decline in tourism and other economic activities as one of the repercussions of the January 25 revolution," said Ahmed Suleiman, Chairman of the Tourism Committee of the party, during a meeting organized by the Business Association and attended by representatives of the FJP and foreign tour operators, in January.
He pointed out that the party would contribute to the redoubling of "the rates of tourism in the coming period," and that the situation of tourism and its present conditions "would remain the same as before the revolution and this sector will not be subjected to any changes as long as the FJP is represented in the parliament."
Suleiman stressed the need to reactivate beach tourism as it is one of the "most popular aspects of tourism in Egypt."
He said the FJP is already speculating tourism numbers, "taking a number of measures including the establishment of a series of museums along the Nile Valley to boost the cultural tourism traffic."
He pointed out that monuments and statues currently in stores will be taken out and displayed in the order of dynasties, in each governorate of origin, respectively.
He explained that the party`s vision is to make good use of nature reserves, medical and therapeutic tourism and conferences.
At the same meeting, Ahmed el-Imam, a member of the "tourism boosting committee" of the FJP said the government, without mentioning the military junta by name, "is one of the main reasons afflicting tourism internally, and while Egypt has about 33 percent of the monuments of the world, the state is incapable of utilizing them in an optimum way," saying that the party aims at bringing 25 million tourists annually in the upcoming years.
http://www.bikyamasr.com/77848/bikinis-and-beach-resorts-to-be-untouched-in-egypt-says-minister/
-------
A political vacuum for Sunnis in Lebanon
By JOSH WOOD
2012/09/20
BEIRUT — As spill over from the civil war in Syria continues to unsettle Lebanon, the prolonged absence of Saad Hariri, the country's former prime minister and leader of its Sunni community, has created a political vacuum of sorts, as his influence has declined and new voices have emerged.
Mr. Hariri, whose father, former Prime Minister Rafik Hariri, was assassinated in February 2005, has been outside of Lebanon for nearly a year and a half. Ousted from his position as prime minister at the start of last year by the March 8 coalition, led by Hezbollah, he now splits his time between Saudi Arabia and France. Security concerns, most say, are responsible for his self-imposed exile, though there have also been rumors in Beirut about financial difficulties.
The absence of Mr. Hariri, the head of the Future Movement, has left the Sunni population of Lebanon without its zaim, its leader. Traditionally from wealthy, powerful families, a zaim presides over large patronage networks, is seen as the protector of his sectarian community and commands high levels of loyalty. It is a position that stretches back centuries, but survives today in a political system still governed by sectarian identity.
Mr. Hariri remains the zaim of the Sunni community to most, but his continuing absence and the political moves that led to what was seen by many as a stumbling exit and the muting of his voice in Lebanese affairs of late have reduced his influence.
"It would be a mistake to suggest that Saad Hariri has lost his position entirely among Lebanon's Sunnis, but it's clear that his leadership has been called into question," said Elias Muhanna, the author of Qifa Nabki, an influential blog on Lebanese politics and a professor at Brown University in Rhode Island.
At the same time, many Sunnis in Lebanon have become more supportive of rebels in Syria, who are mostly Sunni, and more hostile and aggressive toward allies of Damascus in Lebanon, notably the Shiite Islamist party Hezbollah.
"I think there is a regionwide kind of Sunni awakening," said Imad Salamey, an associate professor of political science at the Lebanese American University in Beirut. "It is being reflected in Lebanon, where the Sunnis are taking a more and more militant role, and they are becoming more aware of their sectarian identity and linking their sectarian identity to their political demands."
The Sunnis are one of the three major sectarian communities in Lebanon, along with the Shiites and the Maronites, and dominate in cities that include Sidon and Tripoli. By an unwritten rule going back to 1943, a Sunni serves as prime minister in each electoral cycle.
The perceived lack of leadership among the Sunnis has led some to criticize Mr. Hariri.
"I don't know of a March 14 supporter who is not incredibly disappointed and frustrated — and even borderline insulted — by the political performance, the political strategy, even the political mind-set that Hariri has displayed over the past five years," said Saleh el-Machnouk, a rising young Sunni political activist, referring to supporters of the March 14 alliance, a broad political coalition to which Mr. Hariri's party, the Future Movement, belongs.
"These people feel humiliated, they feel frustrated, they feel like they have been let down, and worst of all they feel like there is no hope for a better future," Mr. Machnouk added.
Mr. Machnouk, the 28-year-old son of a Future Movement member of the Lebanese Parliament, first gained attention for enthusiastically supporting Syria's rebels at a time when most mainstream Sunni politicians hesitated to do so. Along with his confrontational calls for Hezbollah to disarm, this platform has lifted Mr. Machnouk from relative obscurity to popularity.
While perhaps more indicative of affinity with some of Lebanon's disgruntled March 14 youth than political power, Mr. Machnouk's Facebook page has garnered more than twice as many fans as Mr. Hariri's.
Mr. Machnouk says he is trying to set up a political organization that will be secular in outlook and draw support from a religiously diverse base. But he concedes that is no easy task and that it will take time. "The mind-set of people is geared toward assuming that if you are a politician and you are Sunni, then you are a Sunni politician," he said.
While he does not view himself as a Sunni politician, he champions causes that are on the minds of many in the Sunni community, to which most of his supporters belong. To a certain degree, Mr. Machnouk recognizes that by default, his message will be attractive to Sunnis. He said that he was looking to offer them an alternative political option, different from both the Future Movement and the puritanical Sunni radicalism of the Salafi sect.
One Salafi, Sheik Ahmed Assir, has gained notoriety in Lebanon this year by holding a monthlong sit-in in July along a stretch of highway in Sidon, south of Beirut, to protest the arsenal of weapons held by Hezbollah outside of government control. Like Mr. Machnouk, Mr. Assir has found that his political platform, based on supporting Syrian rebels and opposing Hezbollah, has quickly raised his profile.
"If most of the Sunni community is acting like I'm their zaim, in reality they are dealing with me because I'm vocalizing their pain," Mr. Assir said.
"The person who oppressed people in Syria is the same person who oppressed us, so therefore we are directly related to the revolution," he added.
When speaking of Hezbollah, Mr. Assir refuses even to use the name of the organization, which translates as the Party of God, considering it blasphemous.
"In the Koran, there are two parties, the Party of God and the Party of Satan — if you are not with the Party of God, you are with the Party of Satan," he said.
Secular-minded Sunnis dismiss Mr. Assir as an attention-seeking rabble-rouser: Still, his political message, focused on restoring Sunni dignity and ending Syrian and Iranian influence in Lebanon, resonates with the Sunni community.
Despite his bold political actions — and a threat to take to the streets again soon — Mr. Assir denies that he is looking to become a political leader.
Analysts argue that while new voices in the Sunni community may wield new influence, they have little chance of challenging the traditional centers of Sunni political power.
"The outspoken figures we've seen emerge do not present a real alternative to the Future Movement, but they have played a role in fragmenting the Sunni electorate and channeling people's frustrations with the status quo," said Mr. Muhanna, the blogger.
Mr. Salamey, the political science professor at Lebanese American University, said that Mr. Hariri would remain "a very relevant political force in the country, regardless of and in spite of what happened, because the alternative is not out there."
For many in Lebanon, a zaim remains a zaim, even after death. Posters plastered across Beirut attest to undimmed loyalties: to Bashir Gemayel, the Christian warlord assassinated in 1982, to Musa Sadr, the Shiite cleric who disappeared in Libya in 1978 — and to Rafik Hariri.
http://www.nytimes.com/2012/09/20/world/middleeast/20iht-m20-lebanon-sunnis.html?ref=middleeast&gwh=55B5A82BC906819C5678CE46232BEF38
------------
Two Emiratis and a stateless person get life term for sexual assault
Salah Al Deberky / 19 September 2012
The Khorfakkan Criminal Court of First Instance on Monday sentenced two Emiratis and a stateless person to life imprisonment and slapped them with Dh5, 000 fine for sexually assaulting a youth and stealing his purse.
A 23-year-old Emirati man identified as R.A., a 26-year-old stateless person, A.A., and a 27-year-old Emirati, A.K., were charged with sexual assault, detention, attack with a sharp object and theft. Presiding judge Ahmed Saeed Al Naqabi also ordered the first and second defendants to be flogged 80 times each for drinking alcohol, while R.A. was slapped with a fine of Dh3, 000 for assaulting and abusing the victim, a 21-year-old GCC national.
According to court records, the GCC national lodged a complaint with the Eastern Region Police saying that the trio invited him to dine with them in March.
"After we had the meal, they asked me to accompany them to the house of the first suspect," the complainant told the court.
"Once we entered the house, the prime and the second suspects stripped me and sexually assaulted me, while the third was taking pictures. They also beat me up with sharp iron and wooden objects," the court heard. He said the defendants also forced him to drink alcohol, while the prime and second suspects were drinking.
The prime suspect stole the victim's purse and stole from it, before threatening him at knife point and verbally abusing him.
The trio dragged him threw him out after forcing him to wear a shabby dress. During interrogation, the suspects denied the charges.
http://www.khaleejtimes.com/nation/inside.asp?xfile=/data/courtroundup/2012/September/courtroundup_September69.xml&section=courtroundup
---------
Kurdistan Seals Oil Products Deal With Baghdad
2012/09/20
BAGHDAD (Reuters) - Iraq's autonomous Kurdistan said on Thursday it will receive 147,000 barrels of oil products per day, as part of a deal concluded with Baghdad to end a dispute over oil payments.
The deal, which was first outlined last week, will solve only few points of a broader feud between Baghdad and Kurdistan over oil exports, energy policy and territory which have become increasingly contentious topics.
"This deal cannot solve all the problems currently but it is considered a good step," Kurdish Prime Minister Nechirvan Barzani said in a statement posted on the Kurdistan Regional Government (KRG) website on Thursday.
Full report at:
http://www.nytimes.com/reuters/2012/09/20/world/middleeast/20reuters-iraq-energy-
------------
Egypt: New Intelligence Chief Helped to Broker Israeli's Release
2012/09/20
President Mohamed Morsi appointed as the country's new intelligence chief on Wednesday a veteran official who was involved in the brokering of last year's release of an Israeli soldier captured by Palestinian militants, an official news agency said. The new intelligence chief, Mohammed Raafat Abdel-Wahed, was important in the Cairo-mediated deal between Hamas and Israel that led to the freeing of Gilad Shalit in 2011 in exchange for more than 1,000 Palestinian prisoners. Mr. Morsi fired the previous chief over the killings of 16 Egyptian soldiers on Aug. 5 in the Sinai Peninsula. Egypt's State Security prosecutor, meanwhile, said Wednesday that during protests last week outside the American Embassy in Cairo, police officers arrested a main suspect in the Aug. 5 attack. The suspect, Mahmoud Fawzi, was among more than 200 people arrested during demonstrations over a film ridiculing Islam.
http://www.nytimes.com/2012/09/20/world/middleeast/egypt-new-intelligence-chief-
------------
Helicopter crashes in Damascus suburb
2012/09/20
BEIRUT: A helicopter crashed in the town of Douma east of the Syrian capital Damascus on Thursday, Syrian state television said.
It gave no details, but an activist in Damascus said rebels had shot down the helicopter. No rebel group has claimed the attack yet.
Rebel fighters seeking to overthrow President Bashar al-Assad have often fired at planes and helicopters used by the Syrian military to bombard opposition strongholds, bringing down a helicopter on the outskirts of Damascus on Aug 27.
Three days later fighters in the northern province of Idlib said they had shot down a fighter plane in the northwestern province of Idlib near the Turkish border.
Rebels short of anti-aircraft capability have also launched ground attacks on airforce bases in the north and east of Syria to try to counter the military's air power.
http://dawn.com/2012/09/20/helicopter-crashes-in-damascus-suburb/
-------
Swift Haj visas for Syrians
20 September 2012
The Haj Ministry announced yesterday that the Haj visas of Syrian pilgrims would be processed without delay.
A Haj Ministry official said: "We are treating the arrival of Syrian pilgrims with the utmost care and importance, considering the difficult situation many face at home. They will be provided with the necessary facilities to perform Haj."
E. Ahamed, India's minister of state for foreign affairs, met with Haj ministry officials to discuss Indian pilgrim affairs.
Ahamed commended Saudi government efforts in the service of pilgrims by expanding the two holy mosques and carrying out giant projects in the holy sites of Mina, Arafat and Muzdalifah.
Full report at:
http://www.arabnews.com/swift-haj-visas-syrians
-------
Yemeni gets six years for fraud
KHALID AL-SUBIANI
20 September 2012
A Jeddah court on Monday sentenced a Yemeni man in his 50s to six years in prison and 4,000 lashes for fraud. He will be deported after serving his sentence.
The man had claimed having magical abilities and a herb mixture that could cure cancer and AIDS.
He swindled several patients seeking cure of these and other diseases and charged them SR 5,000 per "session."
The man is in the country illegally. He is a father of five children and used to work at a private polyclinic.
He was arrested after reports about his activities surfaced four months ago. At his home the police found books and dried, ground vegetable leaves that he had sold to people as herbal medicine.
http://www.arabnews.com/yemeni-gets-six-years-fraud
-------
Young Saudis treated to mass wedding
SAEED AL-ASMARI
Thursday 20 September 2012
Four hundred young Saudi couples celebrated their wedding at an event arranged and organized by Weaam Marriage & Family Guidance Center at Dammam's Green Hall.
Deputy Gov. Prince Jelawi bin Abdul Aziz bin Musaed attended the mass wedding that was held under the patronage of Eastern Province Gov. Prince Mohammed bin Fahd.
A large number of prominent figures, including officials, preachers, poets and businessmen, as well as relatives and friends of the 400 bridegrooms and brides attended the ceremony. This is the second such event that was organized by Weaam.
Addressing the newly-wed couples, a clearly delighted Prince Jelawi said: "I am very happy to attend this event. These are the best moments in your life. I wish you all a happy and prosperous married life."
Full report at:
http://www.arabnews.com/young-saudis-treated-mass-wedding
--------------
Europe
Charlie Hebdo row: Cartoons divide French press
20 September 2012
Many French newspapers have rushed to the defence of Charlie Hebdo after the weekly satirical paper published cartoons showing the Prophet Muhammad.
Others, however, accuse the paper of acting irresponsibly in the current context and run front-page headlines warning of the consequences.
'Sacred right'
A front-page editorial in the centre-left daily Le Monde says the "fundamental" principle of freedom of expression outweighs any other concerns, including religious ones.
The fact that religions may be subjected not just to criticism but also to ridicule has been "clear since Voltaire", it says.
"Whatever people may think of Charlie Hebdo's editorial choices... the only conceivable limit to its freedom is that which the courts might judge to be justified," the paper concludes.
The left-leaning Liberation takes a similar stand, asking "Blasphemy - a sacred right?" in its front-page headline.
Full report at:
http://www.bbc.co.uk/news/world-europe-19660785
---------
France to ban new prophet film protest
Sep 19 2012
Paris : France's leadership is barring a planned protest by people angry over a film produced in the United States that insults the Prophet Muhammad, but are defending a newspaper's right to publish caricatures of the prophet.
France's foreign minister said security is being stepped up at some French embassies amid tensions in France and elsewhere around the film "The Innocence of Muslims.'' French authorities and Muslim leaders urged calm in the country with western Europe's largest Muslim population.
Riot police took up positions outside the Paris offices of a satirical French weekly that published crude caricatures of the Prophet Muhammad on Wednesday that ridicule the film and the furor surrounding it. The provocative weekly, Charlie Hebdo, was firebombed last year after it released a special edition that was "guest edited'' by the Prophet Muhammad and took aim at radical Islam. The investigation into that attack is still under way.
Full report at:
http://www.indianexpress.com/news/france-to-ban-new-prophet-film-protest/1004896/
------------
Italy's Top Court Upholds Convictions of 23 CIA Agents for an Egyptian Imam Kidnap
Sep 20, 2012
ROME: Italy's top court on Wednesday confirmed guilty verdicts against 23 CIA agents for the 2003 abduction of an Egyptian imam in Milan and ordered a re-trial for five Italian ex-spies accused of taking part.
The CIA agents were all being tried in absentia in one of the world's biggest court cases against the US "extraordinary rendition" programme to interrogate alleged Islamist militants after the September 11, 2001 attacks.
The 23 CIA agents were originally sentenced in November 2009 to five to eight years in prison and in December 2010 had their sentences increased to seven to nine years on appeal and ordered to pay damages to the imam.
Full report at:
http://timesofindia.indiatimes.com/world/europe/Italy-court-upholds-convictions-of-23-CIA-agents-for-imam-kidnap/articleshow/16468344.cms
------------
UN chief says anti-Islam filmmaker abused freedom of expression
2012/09/20
UNITED NATIONS: UN Secretary-General Ban Ki-moon said on Wednesday the maker of an anti-Islam film that triggered violent protests across the Muslim world abused his right to freedom of expression by making the movie, which he called a "disgraceful and shameful act."
The film, posted on the Internet under several titles including "Innocence of Muslims," mocked the Prophet Mohammad (PBUH).
Full report at:
http://dawn.com/2012/09/20/un-chief-says-anti-islam-filmmaker-abused-freedom-of-expression/
---------
After film, Prophet cartoons in French weekly inflame tension
Sep 20 2012
Paris : Security stepped up across embassies; leaders slam publication, urge calm
A French satirical magazine on Wednesday published a series of cartoons mocking the Prophet Mohammed, setting off a new wave of outrage among Muslims and condemnation from French leaders amid widening unrest over an amateur video that has provoked violence throughout the Islamic world.
The illustrations, some of which depicted Mohammed naked and in pornographic poses, hit newsstands across the country on Wednesday and were met with a swift rebuke from the government of François Hollande, which had earlier urged the magazine, Charlie Hebdo, not to publish the cartoons, particularly in the current tense environment.
Full report at:
http://www.indianexpress.com/news/after-film-prophet-cartoons-in-french-weekly-inflame-tension/1005113/
------------
Some Religious Leaders See a Threat as Europe Grows More Secular
By JACK EWING
2012/09/20
HOF, Germany — This sleepy town not far from the Czech border, in a hilly corner of Catholic Bavaria, is an unlikely place to find an active synagogue, and an even unlikelier focal point for a controversy that some see as a threat to religious tolerance in Europe and even the place of Jews in Germany.
Rabbi David Goldberg, a jovial 64-year-old Israeli who serves a community of about 400 Jews in Hof, has become an international cause célèbre after four German citizens filed criminal complaints against him with the local prosecutor. His alleged crime, which made headlines in Israel and elsewhere, was performing ritual circumcisions.
Full report at:
http://www.nytimes.com/2012/09/20/world/europe/circumcision-debate-in-europe-reflects-deeper-tensions.html?pagewanted=all
------------
Prince Alwaleed of Alwaleed Foundation donated $ 23 m to Louvre
20 September 2012
French President François Hollande and Prince Alwaleed bin Talal, chairman of Alwaleed Bin Talal Foundation — Global, accompanied by Princess Ameerah Al-Taweel, vice chairwoman and secretary-general of Alwaleed Foundation, inaugurated the new Department of Islamic Art at the Musée du Louvre in Paris during a ceremony on Tuesday. Henrie Loyrette, director of the Louvre Museum, and Aurélie Filippetti, minister of culture and communications, were also present. Alwaleed Foundation donated $ 23 million to the Louvre Museum in 2005.
The ceremony began with a speech by Hollande after which the president, Prince Alwaleed and Princess Ameerah toured the new Department of Islamic Art at Louvre.
Prince Alwaleed said: "Our support to establishing the New Department of Islamic Art at the Louvre is a reflection of our nation's active role in bridging the gap between various cultures and to foster mutual understanding under the leadership of Custodian of the Two Holy Mosques King Abdullah."
Full report at:
http://www.arabnews.com/alwaleed-foundation-donated-23-m-louvre
------------
Salman Rushdie's new book in UK prize long-list
Sep 20 2012
London : Controversial India-born writer Salman Rushdie's autobiographical account 'Joseph Anton' figures in the long list of 14 titles for the 2012 Samuel Johnson Prize for Non-Fiction, worth 20,000 pounds.
The long list includes Katherine Boo's 'Behind the Beautiful Forevers', which describes life in a Mumbai slum, and books that span subjects such as economics, feathers and nuclear power.
The winner will be announced on November 12, organisers said.
Rushdie's latest book that hit the stands this week is an account of his years in the hiding under the threat of the fatwa.
Full report at:
http://www.indianexpress.com/news/salman-rushdies-new-book-in-uk-prize-longlist/1005306/
---------
Africa
Gambia Supreme Islamic Council, Imam Say Suspension of Executions Islamic
BY SHERIFF JANKO, 18 SEPTEMBER 2012
The president of the Gambia Supreme Islamic Council (GSIC) has hailed the president of the Republic, for putting a moratorium on the execution of death row inmates, following public appeals for clemency.
Imam Muhammed Lamin Touray, who was speaking Monday at State House during an audience with the vice president and minister of Women's Affairs, Aja Dr Isatou Njie-Saidy, described the Gambian leader's move as 'Islamic and in accordance with the doctrines of Islamic Shariah teachings'. Accompanied by Islamic scholars, the SIC officials were at the Presidency to show solidarity with the Gambian leader as well as commend him for suspending further executions of death row prisoners.
Full report at:
http://allafrica.com/stories/201209190800.html
------------
New Picture Emerging of 'Terrorist Attack' in Benghazi
2012/09/20
WASHINGTON (Reuters) - The U.S. Consulate in Benghazi apparently was not troubled at first by a smattering of protesters on the anniversary of the September 11 attacks last week, but that changed abruptly at 9:35 p.m. when it sent a message that the building was under heavy assault, U.S. government sources said.
New information emerging a week after attackers launched rocket-propelled grenades and mortars and killed four Americans, including U.S. Ambassador to Libya Christopher Stevens, suggests that the protests at the outset were so small and unthreatening as to attract little notice.
While many questions remain, the latest accounts differ from the initial information provided by the Obama administration, which had suggested that protests in front of the consulate over an anti-Islamic film had played a major role in precipitating the subsequent violent attack.
Full report at:
http://www.nytimes.com/reuters/2012/09/20/world/africa/20reuters-usa-libya-
------------
S Africa police kill 2 more in crackdown on strike
2012/09/20
South African police have killed two more people in a crackdown on striking miners, the Congress of South African Trade Unions and a strike leader said on Thursday.
COSATU condemned the brutality of police who have been harshly criticized for the Aug. 16 shootings of 112 striking miners that left 34 dead at London-registered Lonmin PLC platinum mine. The deaths have traumatized the nation that had not seen such state violence since the white minority apartheid regime was brought down in 1994.
COSATU said African National Congress councillor Paulina Masuhlo was shopping Saturday near the Never Die Tavern at the Wonderkop shantytown were Lonmin miners live when police firing from a speeding armoured car hit several women. Masuhlo was hit in the abdomen and leg and rushed to the hospital, where she died Wednesday, COSATU said.
Full report at:
http://www.thehindu.com/news/international/article3917552.ece
------------
Civilians at risk in battle for rebel bastion
20 September 2012
NAIROBI, KENYA: The United Nations and United States warned yesterday that civilians must be protected as forces battling Somalia's rebels tightened the noose around the key insurgent bastion of Kismayo.
More than 6,000 civilians have fled ahead of the anticipated assault on the strategic port city, the United Nations refugee agency UNHCR said yesterday, with aid agencies preparing for a potential swift escalation of those needing support.
"We understand that humanitarian agencies have begun contingency planning to respond to the needs of those civilians fleeing from Kismayo," the US embassy in Nairobi said in a statement.
Full report at:
http://www.arabnews.com/civilians-risk-battle-rebel-bastion
------------
India
'My open letter to PM Rajiv was arrogant', says Salman Rushdie
2012/09/20
TWENTY- FOUR years after he shot off an open letter to then Prime Minister Rajiv Gandhi, criticising the ban on The Satanic Verses, India- born controversial author Salman Rushdie now admits that his reaction was " arrogant, angry and cheek". The 65- year- old author, whose 633- page memoir titled Joseph Anton hit the stands on Tuesday, narrates mainly his life in hiding for over nine years after the controversial book resulted in an Iranian fatwa and worldwide protests against him, but also writes feelingly about his engagement with India.
In the book written in third- person, Rushdie recalls that Salman Haider, a family friend and the then deputy high commissioner of India in London, had called him to formally inform him that The Satanic Verses had been banned in India.
Rushdie writes that the ban pained him, more so after his previous book, Midnight's Children , had been so enthusiastically received in India, which was a source of great pride. It made the ban on importing The Satanic Verses in the country a painful blow.
Full report at: Mail Today
------------
Four of six killed in Ghaziabad riot were shot from close range
Dipankar Ghose
Sep 20 2012
Ghaziabad: The post mortem reports of six persons, including three teenagers, killed during the rioting in Masuri, Ghaziabad, last Friday reveal that four were shot dead from distances ranging between four feet and 10 feet.
Sources in the Ghaziabad district administration said that three persons had head injuries from firearms while the fourth took a bullet in the thigh and died of excessive bleeding. Two others, the sources said, had been attacked with blunt objects — one on the head and the other in the abdomen area.
A senior police officer said three bullets were recovered from those who died of head injuries.
Full report at:
http://www.indianexpress.com/news/four-of-six-killed-in-ghaziabad-riot-were-shot-from-close-range-say-post-mortem-reports/1005196/
------
CBI arrests five Muslim youth for lower Assam violence
Sep 20, 2012
NEW DELHI: The CBI on Wednesday made the first arrests in lower Assam violence cases by taking into custody five youth in connection with alleged lynching to death of four Bodos in Kokrajhar in July.
These five persons, who are non-Bodos, were called for questioning on Tuesday and were taken into custody after they allegedly admitted their involvement in the crime, CBI sources said.
The agency has also recovered two cell phones with SIM cards that belonged to the lynched youth, which helped them in identifying the accused.
Full report at:
http://timesofindia.indiatimes.com/india/CBI-arrests-five-youth-for-lower-Assam-violence/articleshow/16468511.cms
------------
Batla encounter still haunts residents
By Kritika Sharma
2012/09/20
FOUR years after the Batla House encounter, the wounds are still fresh in the minds of its residents.
The 30 lakh- odd residents of the locality still live with the ghost of September 19, 2008.
On that fateful day, in L- 18, Batla House, two alleged terrorists, Atif Ameen and Mohammad Sajid, were gunned down by a team of the Delhi Police special cell. Inspector Mohan Chand Sharma, who was leading the team, lost his life in the operation.
The residents of the area believe the encounter has hit them hard.
However, the thing that hurts them the most is social stigma.
Full report at: Mail Today
------------
Proposed Saudi mission scheduled for Hyderabad
SIRAJ WAHAB
20 September 2012
Indian expatriates from the south Indian city of Hyderabad welcomed Saudi Arabia's intent to open a consulate in the historic Muslim metropolis.
Saudi diplomats in India are working with the state government to facilitate the opening of the consulate in 2013, as reported by the Times of India newspaper. The local government has offered to allocate land for the consular building. A consulate in Hyderabad will provide valuable services for the large number of Indians from Andhra Pradesh currently employed in the Kingdom.
Mohammed Abdulsattar, a senior public relations specialist at the Jubail-based Saudi International Petrochemical Company said, "The news about the proposed Saudi consulate in Hyderabad is wonderful."
Full report at:
http://www.arabnews.com/proposed-saudi-mission-scheduled-hyderabad
------
Pakistan
Anti-Islam film: Protesters storm diplomatic enclave in Islamabad, army called in
Sep 20, 2012
NEW DELHI: Hundreds of demonstrators protesting against the Anti-Prophet Muhammad film stormed the diplomatic enclave in Islamabad, Pakistan on Thursday. Authorities were forced to call in the army to control the situation which threatened to escalate into violence.
Hotels frequented by foreigners were also attacked by the demonstrators. This was the most violent show of anger in a day that saw smaller demonstrations in Indonesia, Iran and Afghanistan.
The vulgar depiction of Islam's Prophet Muhammad in an American-made movie has angered Muslims across the world, with many taking to the streets to rally against the film. In recent days, the decision by a French satirical magazine to release cartoons crudely depicting the prophet has added to the tension.
Riot police used tear gas and batons to keep stone-throwing demonstrators away from the enclave, and hundreds of shipping containers were lined up to cordon off the area. Some protesters were students affiliated with the Islamist hardline Jamaat-e-Islami party.
The demonstrations are expected to grow in Pakistan on Friday, the traditional day of prayer in the Muslim world. The Pakistani government has called a national holiday for Friday so that people could come out and demonstrate peacefully against the film.
That decision drew rare words of praise from the Pakistani Taliban, which is usually at war with the government.
A spokesman for the militant group said it welcomed the decision but also thought the government should expel all American diplomats.
Violence over the amateurish movie, which portrays the prophet as a fraud, womanizer and child molester, has left at least 30 people in seven countries dead, including the American ambassador to Libya. Two people have died in protests in Pakistan.
In Indonesia, the US consulate in the country's third-largest city of Medan shut its doors Thursday for a second day because of demonstrations.
About 50 students from an Islamic university gathered in Makassar, the capital of South Sulawesi province in Indonesia. They burned tires and forced a McDonald's restaurant to close. The door was later covered with a sign saying, "This must be closed as a symbol of our protest of the 'Innocence of Muslims' made in the US," referring to the title of the film.
In Iran, hundreds of students and clerics gathered outside the French embassy in Tehran to protest the publication of the caricatures of the Prophet Muhammad in the French weekly.
Protesters chanted "Death to France" and "Down with the US" and burned the flags of the United States and Israel. The demonstration ended after two hours.
In Kabul, a few hundred people demonstrated in the downtown area against the film, chanting ant-American slogans before dispersing peacefully.
(With inputs from Associated Press)
http://timesofindia.indiatimes.com/world/pakistan/Anti-Islam-film-Protesters-storm-diplomatic-enclave-in-Islamabad-army-called-in/articleshow/16477001.cms
------------
'Al-Qaeda in Pak shadow of its former self, but threat exists'
Sep 20 2012
Washington : The US has said that although al-Qaeda core in Pakistan has become a shadow of its former self, but other active terrorist groups continue to pose a direct threat to the interests of Washington and its allies.
"Pakistani and Afghan militant groups -- Tehrik-e Taliban Pakistan (TTP), the Haqqani Network, and Lashkar-e Taiba (LeT)- continue to pose a direct threat to US interests and our allies in the region, where these groups probably will remain focused," said Matthew G Olsen, Director of the National Counterterrorism Centre.
In his written testimony during a Congressional hearing, Olsen said over the past several years, sustained counter-terrorism pressure has systematically degraded Pakistan-based al-Qaeda's leadership and operational capabilities.
Full report at:
http://www.indianexpress.com/news/alqaeda-in-pak-shadow-of-its-former-self-but-threat-exists/1005282/
------------
Pak to observe September 21 as 'Love the Prophet Day'
Sep 19 2012
Islamabad : Pakistan government today decided to observe the coming Friday as 'Love the Prophet Day' and declared it a national holiday, condemning an anti-Islam film that has led to protests across the world and here too.
The federal cabinet set aside its agenda during a meeting chaired by Prime Minister Raja Pervez Ashraf to condemn the film that has triggered protests across the Muslim world.
The cabinet decided to observe September 21 as "Youm-e-Ishq-e-Rasool" (Love the Prophet Day) to convey the government's protest. The day was also declared a national holiday.
"I intend that a message should go to the world that the federal cabinet of Pakistan strongly condemns this sacrilegious film which has created unrest amongst Muslims.
"At this moment, I call upon the people of Pakistan to register their protest peacefully but to observe restraint and not to damage their own property," Ashraf said while addressing the cabinet.
Full report at:
http://www.indianexpress.com/news/pak-to-observe-september-21-as-love-the-prophet-day/1005018/
------------
Probe against businessman for not joining 'anti-Islam' film protest in Pak, accused of blasphemy
September 19, 2012
Demonstrators angry over an anti-Islam film accused a local businessman in southern Pakistan of blasphemy, forcing the police to open a case and driving him and his family into hiding, following an argument that broke out when he refused to join their protest, officials said
The incident demonstrates the potential for abuse of the country's strict blasphemy laws as well as the intense feelings the film has unleashed in Pakistan.
At least two people have died in protests against the film, which has generated widespread animosity across the Muslim world.
The incident in the city of Hyderabad began when hundreds of protesters rallied Saturday. Some protesters demanded that businessman Haji Nasrullah Khan shut his roughly 120 shops in solidarity, said police officer Munir Abbasi.
Full report at:
http://www.hindustantimes.com/world-news/Pakistan/Probe-against-businessman-for-not-joining-anti-Islam-film-protest-in-Pak/Article1-932660.aspx
------------
Eight Marri Baloch from same family abducted in Quetta
Sep 20, 2012
Quetta: Pakistani security forces have abducted at least eight members of a family from Quetta during a pre-dawn raid. The victims are stated to be in the withheld custody of Para-military forces (FC) in the vicinity.
according to details the residents of Gohar Abad, Quetta, have said that on Sunday night their residential houses were besieged and later ransacked by Pakistani security forces. In spite of not finding anything illegal the Pakistani forces abducted eight members of same family.
The victims have been named as Mazar Khan s/o Haji Sher Mohammad Marri, Kala Khan s/o Haji Sher Mohammad Marri, Ameer Khan s/o Ali Mohammad Marri, Raheem Khan s/o Ali Mohammad Marri, Lal Khan s/o Ameer Khan Marri, Mohammad Gul s/o Shadi Khan Marri, Gulzar s/o Zareen Marri and Bashkiya Marri.
Full report at:
---------
US has unrealistic expectations with Pakistan on Taliban talks: Ex-ISI chief
September 20, 2012
The former chief of Inter-Services Intelligence (ISI) Lt Gen Ehsanul Haq said that the US has "unrealistic expectations" with Pakistan to bring Taliban leader Mullah Omar to peace talks, reported Business Week on Wednesday.
During a brief interview in Washington, Haq said that while Pakistan fully supports Afghan peace talks, it "can't deliver anybody" to the negotiating table, the report stated.
Haq also advised the US to advance the "political track" with the Taliban in the time left before the US withdraws forces from Afghanistan, and added that the US should do whatever it can to revive the Qatar process and make good on pledges over a prisoner swap.
Full report at:
http://tribune.com.pk/story/439405/us-has-unrealistic-expectations-with-pakistan-on-taliban-talks-ex-isi-chief/
------------
Hina Rabbani Khar goes to Washington to salvage Pak-US ties
Sep 20, 2012
WASHINGTON: Pakistan's savvy and striking foreign minister Hina Rabbani Khar arrived here on Wednesday to restore her country's battered image and kiss and make up with the United States even as some American lawmakers pressed for punitive measures to reprimand Islamabad for its continued ties to terrorists and betraying the US.
Even though Pakistan remains under the gun following the designation of its Haqqani proxies as a global terrorist group and its patronage of extremists groups, including those making a bonfire of US interests, the two sides have retrieved some ground from days when ties reached a nadir and Islamabad cut off NATO supply lines following the Salala attack that killed 24 Pakistani soldiers. Pakistan reversed the decision several months down the line, and in recent weeks, it has been rewarded with nearly $ 2 billion in Coalition Support Fund back payments, enabling its economy to hold off a meltdown.
Full report at:
http://timesofindia.indiatimes.com/world/us/Hina-Rabbani-Khar-goes-to-Washington-to-salvage-Pak-US-ties/articleshow/16469571.cms
------------
No surprise on Pakistani PM seeking spiritual advice: Report
Sep 20, 2012
ISLAMABAD: It is "no surprise" that Pakistani Prime Minister Raja Pervez Ashraf has sought spiritual advice on political matters, said a leading daily which pointed out that neighbouring India too "evolves into one huge crystal ball" during election time.
An editorial in the Dawn on Thursday said that "spiritual advice sought by our prime minister on matters presumably political should come as no surprise".
"Not only is Raja Pervez Ashraf following in the footsteps of his predecessors and political contemporaries, the example of world leaders like Ronald Reagan, whose wife is known to have regularly consulted an astrologer on her husband's public activities, is also before him," it said.
Full report at:
http://timesofindia.indiatimes.com/world/pakistan/No-surprise-on-Pakistani-PM-seeking-spiritual-advice-Report/articleshow/16472271.cms
------------
Malik seeks UN ban on blasphemous material
September 20, 2012
ISLAMABAD: As demonstrations continue to rage over anti-Islam film 'Innocence of Muslims,' Interior Minister Rehman Malik appealed to the United Nations on Wednesday to frame laws prohibiting the publication and circulation of blasphemous material against Islam.
"The blasphemous movie is a conspiracy against the personality of our Holy Prophet Muhammad (Peace be upon him) and we strongly condemn its content," Malik said while addressing the media.
Endorsing the protesters' point of view, he said, "It is not merely a cause of concern for religious scholars, the government is with you (protesters) over this blasphemous film as it hurt the feelings of every Muslim."
Full report at:
http://tribune.com.pk/story/439665/malik-seeks-un-ban-on-blasphemous-material/
------------
Pakistan bride's family claims the groom is a woman
2012/09/20
THE HEARING of a petition over a love marriage in a Pakistani court took an unusual turn when the bride's family claimed that the groom was a woman and requested a medical examination to substantiate its claim.
The incident occurred on Tuesday during the hearing of the case in the Lahore High Court. The claim made by the bride's family surprised everyone in the courtroom.
Ayesha and Shahzad Butt of Gujrat district, 100 km from Lahore, had filed a petition seeking the cancellation of a case registered by Ayesha's family against Shahzad on charges of kidnapping her.
Full report at: Mail Today
------------
Three killed, five injured in Karachi violence
2012/09/20
KARACHI: At least three people were killed and five injured in various incidents of firing in Karachi on Thursday, DawnNews reported.
Two bulleted-ridden bodies were found from Lasbela area of Karachi whereas, another body was found from Korangi No. 2 ½.
The bodies were later shifted to the Abbasi Shaheed Hospital.
Whilst five people were injured during the fight in Chanesar Goth area, the wounded were immediately shifted to the Jinnah Hospital for the treatment, while one person was stated to be in critical condition.
http://dawn.com/2012/09/20/three-killed-five-injured-in-karachi-violence/
------------
Pak Govt urges UN to act against hate-mongers
2012/09/20
ISLAMABAD, Sept 19: A meeting of the federal cabinet was converted into a special sitting on Wednesday to condemn the anti-Islam film which hurt the sentiments of people across the Muslim world and set off violent demonstrations in the country.
Instead of taking up the scheduled 14-point agenda, the cabinet unanimously adopted a resolution condemning the highly objectionable film and calling upon international organisations, including the United Nations and the Organisation of Islamic Cooperation (OIC), to take measures to stop hate-mongers from touching such sensitive subjects.
The cabinet announced Friday would be a national holiday, designating the day as Yaum-i-Ishq-i-Rasool. It urged President Asif Ali Zardari to raise the issue at the UN General Assembly during his visit next week.
Full report at:
http://dawn.com/2012/09/20/love-for-prophet-day-tomorrow-public-holiday-declared-govt-urges-un-to-act-against-hate-mongers/
------------
Ishq-e-Rasool (pbuh) Day: Govt contemplates suspending cellular services
By Zahid Gishkori
Published: September 20, 2012
ISLAMABAD: The government might order PTA to suspend cellular services in some sensitive areas, in an effort to foil attempted terrorist attacks on Ishq-e-Rasool Day, The Express Tribune has learnt.
Officials associated with the Ministry of Interior and other law enforcement agencies told The Express Tribune that they have recommended suspension of cell phone services.
"It's a strategy to avoid terror [attacks] on Friday," said an official.
Cellular services are likely to be suspended for some time in Karachi, some areas of Balochistan, Peshawar and surrounding areas of the diplomatic enclave in Islamabad, added the officials.
Full report at:
http://tribune.com.pk/story/439708/ishq-e-rasool-pbuh-day-govt-contemplates-suspending-cellular-services/
------------
Kohat Road blast: Unsuspecting victims of an ongoing war
By Noorwali Shah
Published: September 20, 2012
PESHAWAR: Abdul Qadir, 11, was working in his uncle's repair shop when the Kohat Road blast left him severely injured.
He was one of the 25 people injured in the blast which killed at least nine people.
The minor narrowly escaped the explosion when he left his workshop to go to the washroom, but the impact of the blast left him wounded in the head and foot. Qadir almost suffocated as smoke filled inside, compelling him to break the door and escape.
"The powerful blast jolted the washroom," Qadir said, "I was calling my uncle to help me because my head was severely injured and I thought I was dying." But his uncle himself was injured and left unconscious.
Full report at:
http://tribune.com.pk/story/439627/kohat-road-blast-unsuspecting-victims-of-an-ongoing-war/
------------
Malik Riaz contempt case: SC bars AG from acting as prosecutor
2012/09/20
ISLAMABAD: The Supreme Court on Thursday barred Attorney General Irfan Qadir from acting as prosecutor in the contempt of court case against property tycoon Malik Riaz of Bahria Town, DawnNews reported.
A two-judge bench of the apex court headed by Justice Ejaz Afzal Khan which has been hearing the case against Riaz on charges of levelling harsh allegations against Chief Justice Iftikhar Mohammad Chaudhry at a press conference ruled that the attorney general could not act as prosecutor in the case.
Full report at:
http://dawn.com/2012/09/20/malik-riaz-contempt-case-sc-bars-ag-from-acting-as-prosecutor/
------------
South Asia
Hindu Marriage Act in Bangladesh to provide legal and social protection to women
HAROON HABIB
2012/09/20
Aiming to provide legal and social protection to Hindu women from marriage-related cheating, the Bangladesh Parliament has passed the Hindu marriage registration law.
Passed on September 18, the law, first of its kind, has kept the provision of marriage registration optional. The mover of the bill, Qamrul Islam, State Minister for Law, Justice and parliamentary Affairs, said the government framed the act in the absence of any such regulation.
The 'Hindu Marriage Registration Bill-2012' authorises government authorities to appoint a Hindu Marriage Registrar at every ward and upzilla across the country. The registrar will not register marriage of a woman below 18 years of age and a man under 21 years.
http://www.thehindu.com/news/international/article3915752.ece
------------
Ex-Commander in Afghanistan Eyed for Africa
By ERIC SCHMITT and THOM SHANKER
2012/09/20
WASHINGTON — Gen. David M. Rodriguez, a former top Army commander in Afghanistan, has been chosen by the Pentagon to take charge of the military's Africa Command, which in the wake of the Arab Spring has become one of the Defense Department's most challenging theaters of operation.
Under plans that still need formal approval from the White House and confirmation by the Senate, General Rodriguez, who is now head of the Army's Forces Command, which trains and equips troops, would take over early next year from Gen. Carter Ham in what two American officials said was a routine change of command.
Because of the presidential election and the need to get the necessary paperwork ready, General Rodriguez's expected nomination would probably not go to the Senate for confirmation until the postelection session, the officials said. In his current job, General Rodriguez, whose troops call him General Rod, is responsible for training and equipping 265,000 active-duty soldiers, as well as training and overseeing the readiness of 560,000 soldiers in the Army Reserve and Army National Guard.
Full report at:
http://www.nytimes.com/2012/09/20/world/africa/ex-commander-in-afghanistan-in-line-
--------
Maldivian Minister of Islamic Affairs calls for "restraint" over anti-Islamic film
By Mariyath Mohamed | September 19th, 2012
The Ministry of Islamic Affairs has held a public meeting to condemn the tarnishing of the Prophet Mohamed's character in anti-Islamic films.
"This meeting was organised to condemn the making of anti-Islamic movies which attempt to tarnish the Prophet Mohamed's character," explained Head of the Department of Religious Affairs, Moosa Anwar Hassan.
"We had a number of Islamic scholars speak at the meeting. They each covered one aspect of Prophet Mohamed's exemplary character," Hassan said.
Full report at:
http://minivannews.com/society/minister-of-islamic-affairs-calls-for-restraint-over-anti-islamic-film-44099
------------
Bangladesh: War crimes suspect Jamaat-e-Islami leader held
September 20, 2012
20 hurt as Jamaat men clash with cops in Paban after arrest
Members of an intelligence agency detained war crimes suspect Jamaat-e-Islami Nayeb-e-Ameer Maulana Muhammad Abdus Subhan along with his two companions at Bangabandhu Bridge toll plaza in Tangail Thursday morning.
A DGFI member said they detained the Jamaat leader and his two accomplices around 8:30am when they were travelling by a jeep from Dhaka to Pabna.
As soon as the news of the former lawmaker's arrest had spread in Pabna, the activists of Jamaat and its student front Islami Chhatra Shibir clashed with police, leaving 20 people injured.
Full report at:
http://www.thedailystar.net/newDesign/latest_news.php?nid=40989
--------
Swat residents of Afghan origin being 'harassed'
September 20, 2012
SWAT: Residents of Swat of Afghanistan origin have complained that they are being harassed by police and security agencies under the guise of a repatriation drive for Afghan refugees.
"I have been living here since my forefathers migrated here from Afghanistan during the state era in Swat," Lal Muhammad, a cloth merchant, told The Express Tribune. "I was born here, studied here, married here and work here; I don't even call myself an Afghan," he added.
However, he said that for the past month, residents such as him, who are of Afghanistan origin, are being repeatedly harassed by police and security agencies. "They come to our workplaces and our homes and at times take us in for questioning, demanding legal documents and investigating us like we are some sort of criminals," said Muhammad. "We all are legal residents of Pakistan and possess Pakistani identity cards and passports. This sort of discrimiNATOry treatment is unacceptable," he added.
Full report at:
http://tribune.com.pk/story/439761/repatriation-drive-swat-residents-of-afghan-origin-being-harassed/
------------
SC verdict unacceptable: Khaleda
September 20, 2012
BNP Chairperson Khaleda Zia on Thursday said that former chief justice ABM Khairul Haque has committed a reprehensible job by giving separate verdict before and after his retirement.
She also termed the Supreme Court verdict on caretaker government system as unclear, unacceptable and politically motivated.
The opposition chairperson also said protest will continue until their demand for a non-party neutral government to hold the next general elections was met.
Khaleda said this at a press conference to give the views of BNP-led 18-party alliance on the full text of the verdict, which was released on Sunday.
The press conference was held at her Gulshan office in the capital.
http://www.thedailystar.net/newDesign/latest_news.php?nid=40993
--------
Karzai sacks Helmand governor Gulab Mangal
20 September 2012
Afghan President Hamid Karzai has sacked the governor of volatile Helmand province as part of a series of sweeping political changes.
Gulab Mangal, considered a close ally of Britain, is one of 10 governors removed or given new jobs.
He ran Helmand during a critical NATO offensive against Taliban insurgents.
Analysts say his sacking is likely to be a political move. Mr Mangal's successor is thought to enjoy closer relations with the presidential palace.
President Karzai has made several attempts to have Mr Mangal removed from his post before, correspondents add.
Full report at:
http://www.bbc.co.uk/news/world-asia-19660292
--------
Southeast Asia
Muslims Must Protect "Sanctity of Islam, Prophet," Says Malaysia Mufti
Alisha Hassan | 20 September 2012
KUALA LUMPUR: A Malaysia Islamic leader has called on Muslims to remain steadfast in their resolve and "protect the sanctity of Islam and Prophet Mohamed."
The comments from Perak Mufti Harussani Zakaria comes on the heels of global protests against an anti-Islam film that insulted and defamed Islam and its Prophet.
He said that "Muslims must rise against insults against Islam and Prophet Mohamed, and not be in cahoots with those who commit or promote such misdeeds."
On September 11, in Egypt, protesters climbed the US Embassy's wall and took down the American flag, replacing it with an Islamic flag that read: "There is no God but God and Mohamed is His Messenger."
While the Egyptian protesters remained nonviolent, in Libya's Benghazi, violent attacks took place against the American consulate in the city, which left Ambassador Chris Stevens and three other American staffers dead.
Full report at:
http://www.bikyamasr.com/77970/muslims-must-protect-sanctity-of-islam-prophet-says-malaysia-mufti/
------------
Outsider Breathing New Ideas Into Jakarta Election
By SARA SCHONHARDT
2012/09/20
JAKARTA, Indonesia — The campaign for governor of Indonesia's chaotic capital has, at times, resembled a rock concert, punctuated by guitar riffs, fist pumps and checkered shirts. At its heart is Joko Widodo, a candidate whose message of change has propelled him into the upstart contender for leader of one of Asia's most important metropolises.
In July, Mr. Joko, the mayor of Surakarta in Central Java, surprised pollsters by emerging from the first round of elections with 43 percent of the vote, ahead of the man who had been expected to win, Gov. Fauzi Bowo, who took 34 percent. With none of the six candidates winning a majority, Mr. Joko and Mr. Fauzi will compete in a runoff on Thursday.
Full report at:
http://www.nytimes.com/2012/09/20/world/asia/20iht-
----------
Singapore asks Google to Block Access to Islam Film
September 20, 2012
Google on Thursday blocked YouTube users in Singapore from viewing clips of an anti-Islamic film that has incited violent protests across the Muslim world, acting on a request by city authorities.
Attempts to access the low-budget "Innocence of Muslims" film on the Google-owned video-sharing website resulted in a message reading: "This content is not available in your country due to a government removal request."
Google could not be reached to comment, but it has also blocked access to clips of the film in Muslim-majority neighbors Malaysia and Indonesia.
The Ministry of Home Affairs cited "security concerns" as the reason behind the request to Google in a press statement released Wednesday.
Full report at:
http://www.thejakartaglobe.com/home/singapore-asks-google-to-block-access-to-islam-film/545483
----------
US to Close Indonesia Missions Friday Over Film
September 20, 2012
All US diplomatic missions in Indonesia will be closed Friday amid the threat of "significant demonstrations" on the Muslim holy day over an anti-Islam film, the American Embassy said on Thursday.
The low-budget American film, "Innocence of Muslims" has sparked furious demonstrations across the Muslim world, including Indonesia where protesters on Monday hurled Molotov cocktails outside the embassy in the capital Jakarta.
US diplomatic missions in Jakarta and three other cities will be closed on Friday "because of the potential for significant demonstrations that might be held in front of these facilities", the embassy said in a statement.
Full report at:
http://www.thejakartaglobe.com/home/us-to-close-indonesia-missions-friday-over-film/545491
----------
Mideast Asia
Iran's terror activities pose threat to America: officials
Sep 20 2012
Washington : There is a link between Iran and terrorist operations in India, Thailand and Georgia, top American intelligence officials have said, warning that expansion of terror activity sponsored by the Iranian government poses a threat to America.
"Insofar as certainly we've seen Iranian influence in Iraq and in Afghanistan, but we've also seen links between Iran and terrorist operations in India, Thailand, Georgia," Matthew Olsen, Director of the National Counterterrorism Center, Office of the Director of National Intelligence, said at a Congressional hearing.
"So it is a threat that's posed beyond the immediate region of Iran," Olsen said in response to a question from SeNATOr Joe Lieberman on the threat being posed by Iran.
"To what extent now this expansion of terrorist activity sponsored by the Iranian government rises as a threat to our homeland, among the other terrorist threats to our homeland?" Lieberman asked.
Full report at:
http://www.indianexpress.com/news/irans-terror-activities-pose-threat-to-america-officials/1005303/
--------
Gaza: Hamas Says Israel Killed Officials
2012/09/20
Israel killed two Palestinians in the Hamas-led Gaza Strip on Wednesday, accusing both of involvement in attacks on Israel and weapons smuggling from Egypt. Officials with the Islamist group accused Israel of using an airstrike on a vehicle after dark in the town of Rafah on Gaza's border with Egypt to assassinate two officials in control of tunnels leading into Egyptian territory. Israel accuses Hamas of using the tunnels to smuggle in weapons used to attack the Jewish state.
http://www.nytimes.com/2012/09/20/world/middleeast/gaza-hamas-says-israel-killed-
------------
Catholic Official Worried About Israel Attacks
2012/09/20
JERUSALEM (AP) — After a series of attacks by vandals on Christian holy sites in Israel, normally tight-lipped Roman Catholic officials are beginning to speak out, publicly appealing to authorities to take a stronger stand against the violence.
The Rev. Pierbattista Pizzaballa, one of the church's top officials in the Holy Land, said he is worried about relations between Jews and Christians in the Holy Land. He believes the blame can go all around.
"I think the main atmosphere is ignorance," Pizzaballa told The Associated Press in an interview.
Because the local Christian population is tiny, "we do not exist for the majority ... They have other priorities," he said. "On the other side, we as a minority maybe didn't invest enough energy and initiatives" to reach out to Israeli Jews.
Full report at:
http://www.nytimes.com/aponline/2012/09/20/world/middleeast/ap-ml-israel-
------------
Israeli bid to corner Iran-Syria-Hizbollah alliance
ATUL ANEJA
2012/09/20
The Iran-Syria-Hizbollah alliance is facing the heat after Israel amassed forces for a surprise military exercise in the Golan Heights and a 30-nation alliance led by the U.S. is in the midst of giant naval manoeuvres not far from the Iranian coastline.
Israeli forces are accumulating at the junction of Syria and Lebanon. The Israeli government is underplaying these manoeuvres by describing them as planned. However, Tel Aviv's decision not to make a public announcement on the scale of the exercise has been raising eyebrows.
The war-games are taking place at a time when Syrian forces are tied up in an internal conflict, and tensions between Tehran and Tel Aviv are running high — Israeli Prime Minister Benjamin Netanyahu is a leading advocate for using force to curb Iran's nuclear programme.
The Israeli mobilisation has involved airlifting troops from the Northern and Central commands to the Golan Heights. The exercise, whose scale has been intensified with the deployment of reservists, will also involve live artillery firing.
Full report at:
http://www.thehindu.com/news/international/article3915482.ece
------------
Israel to Iran: Jewish state can defend itself
Sep 20, 2012
VIENNA: A senior Israeli official warned Iran on Wednesday to stop its "direct and blunt threats" against his country, telling a 155-nation nuclear conference the Jewish state is ready to defend itself against any nation that menaces its existence.
Israeli nuclear chief Shaul Chorev avoided any suggestion that his country was contemplating a military strike on Iran's nuclear facilities -- a scenario that Israeli Prime Minister Benjamin Netanyahu is increasingly suggesting may be necessary to stop what he says is Tehran's path toward atomic arms.
Still, Chorev's hard-edged comments to the International Atomic Energy Agency's annual general conference were another reminder of the enmity between the archrivals that have led to highly charged tensions the United States and others fear may spiral into armed conflict.
Full report at:
http://timesofindia.indiatimes.com/world/middle-east/Israel-to-Iran-Jewish-state-can-defend-itself/articleshow/16468705.cms
------------
Yemen to probe abuses during anti-Saleh uprising
20 September 2012
SANAA: Yemen will investigate alleged human rights violations that occurred during an uprising last year, officials said yesterday, possibly opening the way to prosecution of ousted President Ali Abdullah Saleh and his relatives.
Saleh and his immediate family obtained immunity from prosecution under Yemeni law under a US-backed deal sponsored by Yemen's Gulf neighbors last year in return for the veteran president's departure from office. He stepped down in February.
Thousands of protesters have demanded that the immunity be scrapped. The cabinet decision to set up a committee of inquiry followed months of wrangling within the government.
"The committee is responsible for probing the allegations of violations of human rights and international humanitarian law that occurred in 2011, impartially and independently," state news agency Saba said.
Full report at:
http://www.arabnews.com/yemen-probe-abuses-during-anti-saleh-uprising
--------
North America
CAIR Submits Written Testimony for Senate Hate Crime Hearing
9/19/2012
(WASHINGTON, D.C., 9/19/2012) -- The Washington-based Council on American-Islamic Relations (CAIR) today submitted written testimony for a Senate hearing on hate crimes and the threat of domestic extremism.
The hearing was prompted by the national string of violent and deadly attacks targeting Sikhs and American Muslims and their institutions and houses of worship.
Today's hearing by the Senate Judiciary Subcommittee on the Constitution, Civil Rights and Human Rights is chaired by SeNATOr Dick Durbin (D-IL).
A coalition of some 150 organizations, led by the Sikh Coalition, requested the hearing after the horrific murders of Sikh worshippers in Oak Creek, Wis.
Full report at:
------------
Haqqani network, LeT the new potent threats to US: official
Sep 20 2012
Washington : Pakistan-based terror groups like the Haqqani network and Lashkar-e-Taiba are posing a direct threat to the interests of the US and its allies in the region even when the al Qaeda core has become a shadow of its former self, a top American counter-terror official has said.
In a testimony during a Congressional hearing, Matthew G Olsen, Director of the National Counterterrorism Centre, said sustained counter-terrorism pressure has systematically degraded Pakistan-based al-Qaeda's leadership and operational capabilities, reducing it to its weakest in 10 years.
However, the Taliban, the Haqqani Network, and LeT remain potent threats to American interests in the region, he said.
"Pakistani and Afghan militant groups -- Tehrik-e Taliban Pakistan (TTP), the Haqqani Network, and Lashkar-e Taiba (LeT) - continue to pose a direct threat to US interests and our allies in the region, where these groups probably will remain focused," said Olsen.
Full report at:
http://www.indianexpress.com/news/haqqani-network-let-the-new-potent-threats-to-us-official/1005293/
------------
Barack Obama talks to Karzai, reiterates support for Afghanistan
Sep 20 2012
Washington : US President Barack Obama held talks with his Afghan counterpart Hamid Karzai to discuss the recent developments in the country and reiterated his strong support for Afghan sovereignty, the White House said.
Obama, who held a video conference with the Afghan President yesterday, agreed to take additional concrete steps to implement the Strategic Partnership Agreement, including launching of the US-Afghan Bilateral Commission in coming weeks and beginning negotiations on a Bilateral Security Agreement, the White House said.
The call was a part of their regular consultations, the White House said adding that the two leaders discussed a range of issues, including efforts to stem insider attacks on US, coalition, and Afghan forces.
Full report at:
http://www.indianexpress.com/news/barack-obama-talks-to-karzai-reiterates-support-for-afghanistan/1005285/
------------
Actress sues California man behind anti-Muslim film
Sep 20, 2012
LOS ANGELES: An actress in an anti-Islam film that triggered violent protests across the Muslim world sued a California man linked to its production on Wednesday for fraud and slander, saying she had received death threats after the video was posted on YouTube.
Actress Cindy Lee Garcia, who also named Google Inc and its YouTube unit as defendants, asked that the film be removed from YouTube and said her right to privacy had been violated and her life endangered, among other allegations.
It was the first known civil lawsuit connected to the making of the video, which depicts the Prophet Mohammad as a womanizer and a fool, and helped generate a torrent of violence across the Muslim world last week.
Full report at:
http://timesofindia.indiatimes.com/world/us/Actress-sues-California-man-behind-anti-Muslim-film/articleshow/16472996.cms
------------
Libya attack 'terrorist' but likely opportunistic: US
Sep 20, 2012
WASHINGTON: Last week's deadly assault on a US diplomatic mission in the Libyan city of Benghazi was a "terrorist attack" but probably not a pre-planned operation, a senior US official said.
The attack, which left four Americans dead, including US Ambassador Chris Stevens, was carried out on the 11th anniversary of the September 11 attacks and amid protests in the Muslim world against an anti-Islamic film.
In Washington, where President Barack Obama's election rival Mitt Romney has criticized the response to the attack, there has been keen interest in whether the attackers were simply an angry mob or an organized gang.
Full report at:
http://timesofindia.indiatimes.com/world/us/Libya-attack-terrorist-but-likely-opportunistic-US/articleshow/16471683.cms
------------
U.S. Senator Warns Iraq Over Flights Into Syria
By JOHN H. CUSHMAN Jr.
2012/09/20
WASHINGTON — The Obama administration's leading foreign policy ally in Congress said Wednesday that aid to Iraq might be made contingent on cutting off flights shuttling military supplies from Iran to the repressive government in Syria.
SeNATOr John Kerry, a Massachusetts Democrat who is chairman of the Foreign Relations Committee, warned at a confirmation hearing for the nominee for ambassador to Iraq that the mood in Congress was not generous toward recipients of foreign aid that "seem to be trying to have it both ways."
The administration has been protesting for at least a month the resumption in July of flights that Iraq's government has allowed to cross uninspected over Iraqi territory to Syria from Iran, in violation of international sanctions.
Full report at:
http://www.nytimes.com/2012/09/20/world/middleeast/kerry-says-iraq-aid-could-be-tied-to-halting-flights-to-syria.html?ref=world
-------
URL: https://www.newageislam.com/islamic-world-news/by-new-age-islam-news-bureau/bikinis-and-beach-resorts-to-be-untouched-in-egypt/d/8737