New Age Islam News Bureau
17 Jul 2012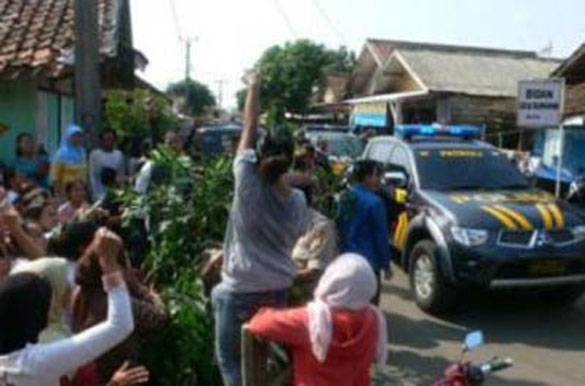 India
• A Panchayat in U P Bans Graveyard Space for Migrant Muslims
• Obama's Statement on Kashmir Akin To Murder of Justice: J&K Separatist Outfits
• Zakia Jafri's plea axed for anti-Narendra Modi complaint report
• Mumbai attacks: India contradicts Pak, says strong evidence presented
• Kashmir: Militant killed in encounter
• 26/ 11 Splits Cricket Elite
• Indian embassy in Oman moves to curb 'additional' visa fee
• 26/11 case: Pak court says findings of panel that visited India are illegal
• Pakistan's deputy attorney general finds support in Sikh community
• When pangs for home for youth influenced by militancy in J&K conquered lure of the gun
• Riots: SIT stint ends for top cop Y C Modi
• India releases 19 Pakistani prisoners
Southeast Asia
• Islamic Shariah governs Malaysian government's main motive
• Indonesian Police Decline to Name Suspects in Latest Ahmadiyah Attack
• 12-Year Compulsory Schooling Program Begins In Jakarta
Pakistan
• Burqa-clad Taliban storm Pak police post, 4 killed
• Speakers lament child labour situation in Balochistan
• Boot polish: Deputy attorney general says he's not defaming Pak
• Pak likely to hold next elections in Nov: Report
• Four killed, one injured in Balochistan
• At least five killed, TTP member arrested in Karachi
• Bangladesh model cannot come to Pakistan: Pak SC
South Asia
• Afghan soldier sentenced to death for French killings
• Anti-NATO Pakistanis march on Afghan border
• Canadian man and his German girlfriend braving the Taliban
• President Waheed will not hold talks with Nasheed "as long as MDP protests continue"
• "Don't withdraw the charges – I will not back down from this case," Nasheed vows, From A
Mideast Asia
• Christians in Gaza protesting 'forced' conversions to Islam
• Hamas executes three Gaza Palestinians for murder
• Iran's 'morality police' target cafe culture
• Israeli's Act of Despair Disheartens a Movement
• Iran criticises US Navy attack that killed Indian fisherman
• US Jewish leaders criticize West Bank report
• Large fire sweeps through Istanbul 42-storey building
Arab World
• Syrian President Assad will use chemical weapons: Top defector
• Inside Iraq: 'We had to deal with people who had blood on their hands'
• Syrian General, Officers Flee to Turkey-Turkish Official
• One-day-old child operated on for spinal deformity in Dubai
• Syria Hands Over Bodies of 2 Iraqi Journalists
• Egypt's top general says 'certain group' won't dominate country
• Egypt's Mubarak ordered back to prison from hospital
• Islamists urge grass root support for Damascus battle
• Helicopter gunships battle rebels in Damascus
• Hamas pins all hopes on new Egyptian government
• Chilcot report into Iraq delayed by Whitehall refusal to release evidence
Africa
• Man lashed 40 times for drinking, extremists tighten grip on Mali
• Mali unites against the Ansar Dine Islamists in Timbuktu
• Tunisian Islamist Leader Re-elected as Party Head
• Nigeria Muslim School in Jos targeted by rocket
North America
• Qur'an Translator Intended To Become Homicide Bomber In The Cause Of Islam
• Blair-Bush Iraq war transcript may be suppressed
• Hillary Clinton warns Iran after talks in Jerusalem
• US, Pak work to clear backlogs on supply routes
• US House to consider designating Haqqani network as FTO
Europe
• Law on Islam completes 100 years in Austria
• London Muslims Share Ramadan Values
• Munich massacre and a call for a minute's silence
• Russia must be persuaded on Syria, says Hillary Clinton
• U.N. Relief Agency Seeks More Syria Aid
• UN: Sudan Refugees Suffering Without Adequate Aid
• UN vehicle fired upon in Pakistan
• U.N. says Syrian refugees almost tripled
• U.N. head visits China seeking action on Syria
• Russia blocks UN Security Council statement on Syria
• UN arms treaty could put U.S. gun owners in foreign sights, say critics
• UN polio vaccine doctor injured in Karachi attack
Compiled by New Age Islam News Bureau
Photo: Indonesian Police Decline to Name Suspects in Latest Ahmadiyah Attack
URL: https://www.newageislam.com/islamic-world-news/by-new-age-islam-news-bureau/a-panchayat-in-u-p-bans-graveyard-space-for-migrant-muslims/d/7950
-----------
India
A Panchayat in U P Bans Graveyard Space for Migrant Muslims
Jul 16 2012
Muzaffarnagar: Adding to the number of bizarre diktats, a community panchayat of a village in the district has issued a order banning migrant Muslim families to bury their deceased relatives at the public graveyard.
The decision was taken yesterday in a meeting of Nirana village panchayat headed by Tyab Ali.
According to the diktat, burial of only those who have lived in the village for more than 30 years will be allowed at the graveyard. The reason for such a directive was cited as "shortage" of land in the graveyard and the growing number of migrants in the area.
Criticising the diktat, UP Imam Organisation president Mufti Zulfikar Ali said the diktat was against the law and every Muslim has the right to bury their deceased at the public graveyard.
"Panchayat has no right to ban, it is illegal to suggest such a ruling," he said.
District Magistrate Surender Singh said the decision would not be allowed to follow and action will be taken against those found guilty.
http://www.indianexpress.com/story-print/975199/
-----------
Obama's Statement on Kashmir Akin To Murder of Justice: J&K Separatist Outfits
Jul 16 2012
Srinagar: Expressing surprise over the statement of US President Barack Obama on Kashmir, the separatist outfits alleged that it smacks of double standards and is akin to murder of justice.
"The international community is adopting double standards with regard to the Kashmir issue. If it can support the right to self determination for south Sudan and East Timor, why can it not do the same for Kashmir," hard line Hurriyat Conference Chairman Syed Ali Shah Geelani said in a statement.
The Hurriyat hawk was reacting to Obama's statement that India and Pakistan will have to bilaterally resolve the Kashmir issue and that the US will not impose a solution on the two countries.
Geelani said it was surprising that the international community was brushing aside its own commitments made on the Kashmir issue through the UN Security Council resolutions.
Geelani said people of Kashmir will not accept any solution that is not in accordance with their wishes and aspirations.
JKLF chairman Mohammad Yasin Malik expressing surprise over Obama's statements asserted, "the statements are like rubbing salt on the wounds of Kashmiris."
"Obama's latest statement on Kashmir is in fact a contradiction of his country's stand on Kashmir. The statement is like rubbing salt on the wounds of oppressed people," Malik said in a statement.
The JKLF leader said contradictory statements on issues like Kashmir have made the whole world unsafe.
He said Kashmiris responded to the call of the US and other world powers to shun the path of violence and started an exemplary peaceful struggle in 2008 in the hope that the global community will honour the positive change.
"Unfortunately, the Kashmiris are today finding themselves sidelined," he said.
Malik said the latest statement of US negatives its own stand which was resolution of Kashmir issue in accordance with the wishes and aspirations of the people of Kashmir.
"We want to clarify to Obama that Kashmir is not a boundary dispute between India and Pakistan...It is an issue linked to everlasting peace, prosperity and development of the world especially the sub-continent," the JKLF leader said.
Claiming that India and Pakistan cannot resolve the issue bilaterally, Malik said, it is essential that the world, including New Delhi and Islamabad, accept Kashmiris as the basic party to the issue and involve them in finding an everlasting solution to the issue.
"In this connection, America being the super power has an important role to play," Malik said.
He said the world, especially America, should encourage India and Pakistan to address this 'dangerous' issue on priority by demonstrating far sightedness and magnanimity.
http://www.indianexpress.com/story-print/975202/
-----------
Zakia Jafri's plea axed for anti-Narendra Modi complaint report
Jul 16 2012
Ahmedabad: A local court today rejected Zakia Jafri's demand for access to preliminary report filed by A K Malhotra of Special Investigation Team in the Supreme Court during the inquiry into her complaint against Gujarat Chief Minister Narendra Modi and others with regard to 2002 riots.
Metropolitan Magistrate B J Ganatra also rejected the plea of social activist Teesta Setalvad, seeking permission to inspect (on Zakia's behalf) the original documents submitted by the SIT with its closure report.
Zakia, whose husband and former Congress MP Ehsan Jafri was killed during the riots, had contended that Malhotra's report and the remarks by R K Raghvan, SIT Chairman, were part of the 'relevant material' which Supreme Court had asked SIT to provide to her.
But making a distinction between 'inquiry' and 'investigation', the court held that Malhotra had submitted the reports following SC's directions for 'inquiry'.
"This court cannot order for the documents which investigating officer has not collected or taken in his custody during the course of investigation," the magistrate said and asked SIT to file an affidavit listing which of the documents (sought by Zakia) it does not have, by July 21.
Zakia had filed a complaint against Modi and others for a "larger conspiracy" in 2002 riots.
After filing its closure report on her complaint, SIT had handed over copies of all related documents to Zakia, but she also wanted preliminary reports filed by A K Malhotra.
Her lawyer, Mihir Desai, had said last time that SIT's stand in Malhotra's report was different from what it said in the final, closure report.
The closure report gave a clean chit to Modi. Now the Magistrate's court has to pass its order on the report.
Advocate Desai had said that change in positions by SIT "is crucial and all reports filed in the Supreme Court should be looked into by this court before taking cognisance of and taking a final decision on the closure report."
But the Magistrate held today that preliminary report was a part of the inquiry, while closure report filed by Himanshu Shukla was a part of investigation of the complaint filed by Zakia in Maghaninagar police station.
The court also rejected Zakia's demand to direct SIT to produce certain documents which were collected during its investigation in Naroda Patia and Gulberg Society massacre cases.
"Complainant's demand seeking documents related to other rioting cases can not be granted," the court said.
Court also directed SIT to provide proper copies of those documents which are not "readable" to the complainant.
On the issue of inspection of the original documents submitted by SIT with the closure report, court directed Zakia to finish the inspection in the presence of her lawyers and officers deputed by SIT in five days.
http://www.indianexpress.com/story-print/975216/
-----------
Mumbai attacks: India contradicts Pak, says strong evidence presented
Jul 17 2012
New Delhi : Upset over the ruling of a Pakistani court on the 26/11 case, India today said evidence collected by a Pakistani judicial commission here had evidential value to punish those involved in the worst ever terrorist attack in the country.
"Our belief is that the evidence collected by the Commission is of evidential value," Home Secretary R K Singh told reporters here.
He was reacting to the ruling of a Rawalpindi court today which said all findings of a judicial commission that visited India were illegal and could not be made part of the evidence against the 26/11 accused.
The court is hearing the terror case against seven 26/11 accused, including Lashkar-e-Toiba commander Zakiur Rehman Lakhvi.
Singh said New Delhi was aware of the ruling of the Pakistani court and would seek a copy of it from the authorities there through Indian High Commission in Islamabad.
"After we go through the judgement we will discuss with the Pakistan government as to what they propose to do about it," he said.
Full report at:
http://www.indianexpress.com/story-print/975665/
-----------
Kashmir: Militant killed in encounter
Jul 17 2012
Srinagar : A militant was on Tuesday killed in an encounter with security forces in Handwara area in north Kashmir's Kupwara district.
The gunbattle broke out between security forces and militants at Budh Shungani in Handwara area, 90 kms from here, official sources said.
Troops of 6 Rashtriya Rifles and police had launched an anti-militancy operation Monday night following information about movement of three to four militants in the area.
They said one militant has been killed so far. The encounter was in progress till last reports came in.
Six militants have been killed in three separate operations in Handwara area this month.
http://www.indianexpress.com/story-print/975597/
-----------
26/ 11 Splits Cricket Elite
By Qaiser Mohammad Ali
17 July 2012
BCCI to host Indo- Pak series after 5yrs but Oppn, section of Cong &cricketers say no closure yet on Pak role in Mumbai attack
BUCKLING under the relentless pressure applied by Pakistan, India has finally decided to dehyphenate cricket from terror and get on with the game. On Monday, the BCCI agreed to host three ODIs and two T20s between the two archrivals.
The short bilateral series — the first in almost five years — will begin towards the end of December and be over in January 2013.
But the decision, taken by the BCCI's powerful working committee, has driven a deep wedge between the heavyweights associated with the gentleman's game including ex-cricketers and politicians. Former India captain Sunil Gavaskar for one did not mince his words.
"Recently, we had an extradition from Saudi Arabia which has confirmed their (Pakistan's) role in 26/ 11. Yet you want to play cricket with them," he said acerbically.
India had snapped cricketing links with Pakistan after the 2008 Mumbai terror attack.
"Being a Mumbaikar, I feel what is the urgency when there is no cooperation from the other side?" the original Little Master of the game remarked, though adding in the same breath: " I respect the BCCI's decision, though I may not agree with it." Former Team India member and MP Kirti Azad also slammed the move. "I'm opposed to the series. Mutual trust is lacking between the countries. They should not play even at neutral venues," Azad pointed out.
Mixed reactions
Full report at: Mail Today
-----------
Indian embassy in Oman moves to curb 'additional' visa fee
Jul 17, 2012
MUSCAT: The Indian Embassy in Oman has urged citizens of the sultanate to approach only authorised outsourcing agency, BLS International, for Indian visa services, in an attempt to curb the overcharging of fees for visas.
"It has been brought to the notice of the Embassy of India, Muscat, that some companies are providing visa or travel-related assistance to the applicants seeking Indian visa services by way of charging additional fee, over and above the fee prescribed by the embassy," the Gulf News quoted the Indian mission, as saying in a statement.
"BLS International is the only authorised outsourcing agency for passports, passport-related miscellaneous services as well as visa services for which Embassy of India has prescribed service provider fee of 70 baizas [Dh6.65] per passport/passport-related service and 3.050 Omani riyals per visa service," it added.
Srinivasa Babu, first secretary at the Indian Embassy, clarified that they charge only 20 Omani riyals for visas to India and in case of emergencies there was a provision for 'Tatkal' (Prompt) visa services.
Full report at:
http://timesofindia.indiatimes.com/world/middle-east/Indian-embassy-in-Oman-moves-to-
-----------
26/11 case: Pak court says findings of panel that visited India are illegal
Jul 17, 2012
ISLAMABAD: In a setback to the prosecution of seven suspects charged with involvement in the 2008 Mumbai attacks, a Pakistani court on Tuesday ruled that all findings of a judicial commission that visited India were illegal and could not be made part of the evidence against the accused.
Chaudhry Habib-ur-Rehman, the judge of the Rawalpindi- based anti-terrorism court no. 1, said in an order that all the proceedings and the report of the Pakistani judicial commission that visited Mumbai in March were "illegal."
"The judge ruled that the commission's report is illegal and could not be made part of the records for the case," said Khwaja Haris Ahmed, the counsel for Lashkar-e-Taiba commander Zakiur Rehman Lakhvi, one of the seven accused.
"The court has the right to examine whether the working and report of a commission was duly executed and in this case it ruled that the report was not duly executed. The report will not be read in evidence," Ahmed said.
The lawyers defending the accused had opposed the report of the Pakistani commission, saying it had "no legal value" as the panel was not allowed to cross-examine witnesses during the visit to Mumbai.
Full report at:
http://timesofindia.indiatimes.com/world/pakistan/26/11-case-Pak-court-says-findings-of-panel-that-visited-India-are-illegal/articleshow/15015697.cms
-----------
Pakistan's deputy attorney general finds support in Sikh community
Jul 17, 2012
JALANDHAR: Pakistan's deputy attorney general Khurshid Khan is getting support from leaders of Sikh community after he has been issued notice by Bar Council of Supreme Court Pakistan for performing Sewa(volunteer service) in Darbar Shaib Amritsar - the Mecca of Sikhs - and at a few other shrines. The common refrain among these leaders is that Khan did the Sewa at personal level with a clear conscience and it did not in any case lowered the image of Pakistan or any community.
Khan had performed Sewa at Darbar Sahib Amritsar, Gurudwara Bangla Sahib, at a Hindu temple in Delhi and at a Mosque also.
"Darbar Sahib epitomizes the values of humanity and has central place for Sikh community. Sain Mian Mir, a Sufi Saint, was involved in the foundation stone laying of Darbar Sahib when fifth Sikh master Guru Arjan Dev started construction of the sanctum sanctorum. It is ones personal matter and individual decision to perform Sewa at a Gurudwara or any other religious shrine and that does not reflect that prestige of the community or country to which he belongs is lowered," said Delhi Sikh Gurudwara Managing Committee (DSGMC) President Paramjit Singh Sarna.
Full report at:
http://timesofindia.indiatimes.com/india/Gurudwara-Sewa-Pakistans-deputy-attorney-general-finds-support-in-Sikh-community/articleshow/15015116.cms
-----------
When pangs for home for youth influenced by militancy in J&K conquered lure of the gun
Mir Ehsan
Jul 17 2012
Srinagar: In the early 1990s, influenced by militancy in Jammu and Kashmir, scores of youths crossed over to Pakistan-occupied Kashmir and joined camps there, but many later opted for a peaceful life instead. They got married and settled down in PoK but were always homesick.
When the Jammu and Kashmir government offered amnesty and rehabilitation to those willing to return, many did. Here are five of them, and their stories.
Fayaz Ahmad
Not the home he left
In the autumn of 1990, 16-year-old Fayaz Ahmad of Noorbagh, Srinagar, decided to cross over to PoK. He joined a group of 55, most of them in their teens, and set out on the journey through dense forests and across the snow-capped mountains of northern Kashmir. After dodging Indian pickets along the Line of Control for three days, they finally reached PoK, where they were placed in an arms training camp for such youths.
It took Fayaz six months to decide he could take it no longer. "I was relieved when commanders noticed that frostbite had affected my feet. They considered me unfit," he says.
He settled in Muzaffarabad, PoK. He set up a small tailoring shop, married a local girl and has had four children, aged 10 to two.
Full report at:
http://www.indianexpress.com/news/when-pangs-for-home-conquered-lure-of-the-gun/975291/
-----------
Riots: SIT stint ends for top cop Y C Modi
Jul 17 2012
Ahmedabad: The police officer who probed three of the nine key cases of post-Godhra riots as part of the Supreme Court-appointed Special Investigation Team (SIT) ended his stint with the probe panel on Sunday.
As part of SIT, Y C Modi, an IPS officer from Meghalaya cadre, investigated the killings at Gulberg Society, Naroda Patiya and Naroda Gam. All three cases are now with trial courts and verdicts are expected soon.
Modi was formerly in the CBI team that investigated the 2003 Haren Pandya murder case. He was on deputation to SIT, which was formed by the SC to investigate nine 2002 riots cases. Verdicts in four of these have already come.
Modi, an inspector general of police, was included in the SIT in August 2010 following the exit of two Gujarat Police officers, Shivanand Jha and Geetha Johri. The SC dropped Jha since he was among those named in Zakia Jafri's complaint. Johri quit after the SC indicted her in the Sohrabuddin encounter case.
Full report at:
http://www.indianexpress.com/story-print/975547/
--------
India releases 19 Pakistani prisoners
July 17, 2012
LAHORE: India released 19 Pakistani prisoners through the Wagah border on Tuesday and handed them over to the Pakistani authorities, Express News has reported.
Among those released are 18 fishermen and an elderly man. A child is also among the fishermen and has been in an Indian jail for six months.
The elderly man, 75-year-old Syed Taqi Shah, was arrested on accusations of using fake currency. Talking to the media at the Wagah border, Shah said that Pakistanis are not being treated well in Indian jails. He said that proper food is not given to the inmates and the sick are not given any medicines either.
http://tribune.com.pk/story/409490/india-releases-19-pakistani-prisoners/
-------
Southeast Asia
Islamic Shariah governs Malaysian government's main motive
14/07/2012
By Farhan Iqbal
Klang: The main motive of the Malaysian Federal Government has been established on the needs of Islamic Shariah under the theory of "Maqasid Al-Shariah."
The Malaysian Prime Minister, Datuk Seri Najib Tun Razak, said this while highlighting the concepts of the Malaysian government under which the country is being administered.
He said that the present cause of the Federal Government is based on the requirements of Islam under the concept of "Maqasid Al-Shariah."
He said that the incumbent government is practicing the policies of the "Maqasid Al-Shariah" and their aim is to preserve and empower Islam. But at the same time, he also clarified, the government also worked for the protection and respect of the human rights regardless of the religion whether they are Muslims or non-Muslims.
He pointed out that the Malaysian government has also abolished the Internal Security Act (ISA) for respecting the human rights of the Malaysian people.
Najib was addressing the gathering to appreciate the deeds of the late Ustaz Nik Mohamed Mohyideen Wan Musa at the Kolej Islam Sultan Alam Shah.
Nik Mohamed Mohyideen was the first head of the Kolej Islam Malaya/Klang which is now known as Kolej Islam Sultan Alam Shah besides being the founder of Sekolah Menengah Kebangsaan Agama.
He stated in his speech, "We certainly are not isolating or ignoring Islam but our cause is the struggle that is required by Islam."
He explained that the national transformation policy, through the Government Transformation Program (GTP) and the Economic Transformation Program, was centered on the Maqasid Al-Shariah.
Najib said, "Maintaining accounts, protecting respect and origins and preserving the assets through a strong economy, these are principles of the Maqasid Al-Shariah."
"We developed the Kolej Islam concept and placed religious teachers in terms of their positions on par with other teachers...all these are based on Maqasid Al-Shariah," he added.
He praised the education system in the country while saying, "The educational approach adopted by the Kolej Islam, which merged worldly knowledge and Islam, was the outcome of the collaboration of his late father Tun Abdul Razak Hussein as the Education Minister and the late Nik Mohamed Mohyideen, as the Head of Kolej Islam in 1967, that represented the implementers of the new policy."
"The concept of merging the intellect with religion in schools had been championed by Nik Mohamed Mohyideen to produce human beings who possessed much greater strength compared with those who were educated through one dimensional knowledge," he added.
He continued, "Here lies the appropriateness of the establishment of the Kolej Islam which is crucial in molding human beings who reflect the Islamic morals."
Najib said that Muslims are also facing a challenge when Islam is not perceived as a goal that should be championed and instead made as a tool to achieve a political objective.
"That's why there is chaos among the Muslims. Starting from an uncertain direction...one minute championing an Islamic nation, the next minute changing to a welfare state, then there is 'hudud' (law) right up to the problem that we read in the newspapers in the past few days, husband and wife separating due to politics," he concluded.
http://www.islamonline.com/news/articles/2/Islamic-Shariah-governs-Malaysian-governments-m.html
-----------
Indonesian Police Decline to Name Suspects in Latest Ahmadiyah Attack
Farouk Arnaz | July 16, 2012
No one will be charged in Friday's mob attack on members of Bogor's Ahmadiyah community, the National Police said on Monday.
"There are no suspects," Sr. Comr. Agus Rianto, spokesman of National Police, said.
An angry mob attacked the homes of six members of the Ahmadiyah community in Cisalada, Bogor, on Friday as a group of foreign journalists attempted to shoot a documentary about the beleaguered religious minority, police said on Friday.
Three members of the Ahmadiyah community were injured as local residents hurled stones at their homes. An Indonesian woman, who was not a member of the Islamic sect, suffered a broken leg in the attack.
But on Monday, the National Police said there was no evidence of abuse in the incident. Both sides, Agus claimed, were stoning each other in self-defense.
He blamed the clash on the presence of foreign journalists.
"[The] Ahmadiyah have apologized [for the incident] because no one told the [villagers] about the visit from the foreign journalists that triggered the conflict," Agus said. "They don't want to be blamed because the journalists — three Dutch journalists and one from Britain — came on their own will. They were not [invited] by the Ahmadiyah people."
The police account of the incident has been called into question by members of the Ahmadiyah community.
Mubarik Ahmad previously told the Jakarta Globe that police pressured him to write the apology, telling the Ahmadi man what it should say.
"I have no experience in writing such things. The district police chief and military commander told me what I had to write, that it was my fault for not reporting the foreign journalists to the subdistrict head," Mubarik said on Sunday.
Officers allegedly told Mubarik that they were "short on time" and that he needed to sign the document.
"Based on their instructions I also wrote that we will never allow reporters to enter the village without permission from the subdistrict head," Mubarik added.
The journalists have also disputed the official line.
Michel Maas, a long-time Indonesia correspondent for Dutch TV Station NOS and De Volkskrant, said that the two other people with him were Dutch tourists, not reporters.
He also denied interviewing anyone outside Cisalada village.
"We have not interviewed anyone outside the village," Maas told the Jakarta Globe on Sunday.
Maas, who has covered the archipelago for 11 years and speaks fluent Indonesian, was too far from the mob to hear what they were shouting.
"We saw people running, and then the police officer who was with us ordered to get into the car and said that we had to go," Maas said.
http://www.thejakartaglobe.com/home/indonesian-police-decline-to-name-suspects-in-latest-ahmadiyah-attack/530821
--------
12-Year Compulsory Schooling Program Begins In Jakarta
July 17 2012
JAKARTA: The Jakarta Administration officially launched the 12-year compulsory education program on Monday, making the capital one of the first provinces to begin the program.
The central government has reportedly endorsed the program to replace the 1994 nine-year compulsory education program in order to boost the nation's educational level.
City Education Agency head Taufik Yudi Mulyanto recently said that the city administration had allocated Rp 10.4 trillion (US$1.1 billion), or a 30.76 percent share of its Rp 36.02 trillion budget, for the education sector.
The funds will be used to carry out the 12-year compulsory education program as the Education Operational Aid (BOP) funds for 102,033 students at 106 state senior high schools and 44,700 students at 49 state senior vocational schools.
http://www.thejakartapost.com/news/2012/07/17/12-year-compulsory-schooling-program-begins.html
-----------
Pakistan
Burqa-clad Taliban storm Pak police post, 4 killed
Jul 17, 2012
ISLAMABAD: Burqa-clad Taliban militants on Monday stormed a police station used by local intelligence personnel at Bannu in northwest Pakistan and took several hostages, before security men stormed the building to end the siege. Four Taliban fighters were killed and another captured following a heavy exchange of fire. Two militants wearing suicide vests blew themselves up while two more were shot dead. The fifth attacker was arrested by police.
Around 10 security personnel were injured. Initial reports had said a policeman was killed but officials later clarified that he was seriously injured. A group of five attackers, all wearing burqas, stormed the police station at around 9.45am after lobbing several grenades. At least eight cops taken hostage by the militants were freed at the end of the three-hour siege. The Tehrik-e-Taliban Pakistan claimed responsibility.
http://timesofindia.indiatimes.com/world/pakistan/Taliban-storm-Pak-police-post-4-killed/articleshow/15012712.cms
--------
Speakers lament child labour situation in Balochistan
July 17, 2012
QUETTA: Speakers at the consultation seminar 'Tackling Child Labour and Child Bonded Labour in Light of 18th Amendment' held on Monday, observed that the current situation of law and order in Balochistan had become an obstacle in taking action against child labour and child bonded labour.
Balochistan Labour Department Officer Muhammad Zahir said, "We can not visit factories out of Quetta to check child labour and child bonded labour due to the deteriorating law and order situation of Balochistan." He emphasised the need to arrange training for labour department officials regarding laws dealing with child labour and child bonded labour. SPARC Islamabad Child Labour National Manager Gulnaz Zahid said, "It is a need of the hour to enact laws to put a halt to child labour and child bonded labour in the light of 18th Amendment in the constitution." Others who spoke include Muhammad Hashim Khan Kakar, Advocate Kalimullah Quesh, Abdul Rahim Mirdakhel, Saleem Chand and Rasheed Shah.
http://www.dailytimes.com.pk/default.asp?page=2012\07\17\story_17-7-2012_pg7_16
--------
Boot polish: Deputy attorney general says he's not defaming Pak
Jul 17, 2012
NEW DELHI: Pakistan deputy attorney general Muhammad Khurshid Khan on Monday rubbished claims that he was defaming his country by polishing shoes of devotees at temples and gurdwaras. Earlier, the Pakistan supreme court bar association had issued him a showcause notice, asking Khan to explain why action should not be taken against him for "defaming" the nation by polishing shoes while performing voluntary service at places of worship in India.
Speaking to TOI, Khan said he has not received the notice yet. "Why are they issuing notice when I have been performing sewa for about three years? It is part of a political conspiracy to malign me," Khan said.
"It is a price I am paying for not cooperating with a Pakistan federal minister who is fighting a case in Peshawar HC after converting a public park into a restaurant?" he asked. A few days ago, the minister's son had threatened him, Khan said.
In March, TOI had reported about Khan performing sewa (polishing shoes) at Gurudwara Rakab Ganj and Gurudwara Sis Ganj in Delhi. He also visited the Birla Temple and Hanuman Mandir in the national Capital. Khan began sewa outside Hindu temples and Sikh gurdwaras in 2010 to "heal the wounds of minorities in Pakistan" .
In February, 2010, the Taliban kidnapped three Sikhs from Peshawar and demanded $235,000 ransom. Pakistan army rescued two Sikhs but one of them, Jaspal Singh was beheaded by the Taliban. "What defames Pakistan — the alleged 26/11 carnage in Mumbai where a Pakistani Ajmal Kasab was caught or a Pakistani performing seva at gurudwaras and temples?" asked Khan.
http://timesofindia.indiatimes.com/world/pakistan/Boot-polish-Deputy-attorney-general-says-hes-not-defaming-Pak/articleshow/15012665.cms
-----------
Pak likely to hold next elections in Nov: Report
Jul 17 2012
Islamabad : Pakistan Prime Minister Raja Pervez Ashraf will announce on August 14 the roadmap for the next general elections likely to be held in the first week of November, months ahead of schedule, according to a media report on Monday.
The ruling Pakistan People's Party and the main opposition party PML-N held a meeting Sunday to discuss the upcoming general elections, Dawn News channel quoted sources as saying.
The premier will formally announce the roadmap for the polls on August 14, which is Pakistan's Independence Day, the report said. The next general election was to be held in March next year, when the PPP-led government would have completed its five-year term. However, the PPP is under pressure from the Opposition to advance the polls in the wake of allegations of widespread corruption and poor governance.
Full report at:
http://www.indianexpress.com/news/pak-likely-to-hold-next-elections-in-nov-report/975404/
-----------
Four killed, one injured in Balochistan
July 17, 2012
QUETTA: Four people were killed and a foreigner injured in separate incidents of firing in Balochistan, on Monday.
In the first incident, two people, identified as Elahi Bakhsh and Khudae Dad, were killed in Amiry area of Kalat, when armed clash erupted between two groups. Police shifted the deceased to a nearby state hospital for post-mortem and termed the incident a result of old enmity.
In the second incident, unidentified armed men opened fire in Sanjavi. As a result, one man sustained serious wounds and was rushed to the hospital for medical aid. Local administration said that the injured was identified as Tufiqur Rehman, who had come from Indonesia, accompanied by a religious congregation.
In another incident, a person identified as Nimatullah was shot dead in Chaman town near Afghan border. Levies Force has registered a case and started investigation.
http://www.dailytimes.com.pk/default.asp?page=2012\07\17\story_17-7-2012_pg7_3
--------
At least five killed, TTP member arrested in Karachi
July 17, 2012
At least five people lost their lives in different areas of Karachi, DawnNews reported.
Police arrested Inam mullah, a member of banned Tehreek-i-Taliban Pakistan (TTP).
A political worker was shot dead in the area of Quiadabad. The tension prevailed in the area after the incident.
A hairdresser lost his life when unknown people opened fire on his shop.
Another man was killed in Qaim Khani colony of Baldia town.
Meanwhile, Special investigation cell Malir raided a hideout in Khokhra par arresting a prominent member of the gang war Shahid.
According to police, Shahid was involved in several murders and he was a close companion of Baba Ladla. Five kilograms of hashish and hand grenades were recovered from his possession.
http://dawn.com/2012/07/17/at-least-five-killed-ttp-member-arrested-in-karachi/
-----------
Bangladesh model cannot come to Pakistan: Pak SC
By Hasnaat Malik
July 17, 2012
ISLAMABAD: Hearing the Asghar Khan case, the Supreme Court declared that no political cell could work in the Inter-Services Intelligence (ISI) in view of its July 31 2009 judgement.
A three-member bench of the apex court headed by Chief Justice Iftikhar Muhammad Chaudhry sought reply from the federal government whether the political cell in the ISI was still working or had been disbanded. He observed that as per the July 31, 2009, verdict, existence of any such cell had been declared void ab initio.
During the proceedings, the CJP said the judiciary wants to see the institutions strong. He also made it clear that the judiciary wants to see the Pakistan Army stable as an institution, however, it wants to emphasise that there will be the supremacy of the constitution only, adding that a Bangladesh-like model cannot work here.
Full report at:
http://www.dailytimes.com.pk/default.asp?page=2012\07\17\story_17-7-2012_pg1_2
--------
South Asia
Afghan soldier sentenced to death for French killings
July 17, 2012
An Afghan soldier has been sentenced to death for killing five French soldiers in a "green-on-blue" attack in Kapisa province in January, the defence ministry said on Tuesday. The incident, in which the soldier turned his gun on his French colleagues, prompted France to
speed up its planned withdrawal of troops from Nato operations in Afghanistan.
The man, Abdul Sabor, was sentenced to death by hanging in a military court in Pul-i-Chakri prison on Monday, a defence ministry source said.
"Yes, I can confirm it. His name is Sabor," said Mohammad Zahir Azimi, a ministry spokesman.
Four unarmed French soldiers were killed outright and 15 others were wounded as they jogged on their military base on Janauary 20. A fifth French soldier died weeks later from his wounds.
The shooting underscored the difficulties facing Nato troops as they work alongside and train Afghan forces ahead of their planned withdrawal from the war-torn country by the end of 20124.
Full report at:
http://www.hindustantimes.com/world-news/Afghanistan/Afghan-soldier-sentenced-to-death-for-French-killings/Article1-890540.aspx
-----------
Anti-NATO Pakistanis march on Afghan border
17 July 2012
PESHAWAR, Pakistan — Thousands of Pakistani activists marched towards the Afghan border on Tuesday, condemning the government's decision to end a seven-month blockade on NATO supplies into Afghanistan.
The march was organised by the Jamaat-e-Islami political party, a leading member of the Defence of Pakistan coalition of right wing and Islamist groups that have demanded mass protests against the July 3 lifting of the blockade.
Party leaders said 50,000 people would join the protest from the northwestern city of Peshawar to the nearby town of Jamrud, close to the Afghan border.
But around 8,000 people gathered in Peshawar late Monday and the crowd thinned to half overnight as they camped out in a park, witnesses said.
Banners in the park read "Yes to Peace, No to NATO" and "No more NATO, no more killings of Muslims".
Full report at: Copyright © 2012 AFP. All rights reserved.
-----------
Canadian man and his German girlfriend braving the Taliban
Jul 17 2012
Kabul: A Canadian man and his German girlfriend are braving the Taliban to take a rickshaw on one of the world's most dangerous road trips to bring the circus to children in Afghanistan, Iran and Pakistan.
Adnan Khan, 41, and his anthropologist sweetheart have embarked on the punishing 8,000-kilometer trip to Istanbul that demands a police escort and hoisting the rickshaw onto trucks to navigate the trickiest stages.
Their purpose is twofold: raise money for a charity that uses circus training to lift the spirits of children in war-torn Afghanistan and to spread those circus skills along the way, to brighten the lives of refugees and orphans.
Adnan left Kabul by road on July 11 as 25-year-old Annika Schmeding flew to Islamabad, after eight months in the Afghan capital, to prepare the way.
Accompanied by Afghan police, Adnan drove to the eastern town of Jalalabad, then onto the border with Pakistan's tribal belt.
Full report at:
http://www.indianexpress.com/story-print/975624/
--------
President Waheed will not hold talks with Nasheed "as long as MDP protests continue"
By Zaheena Rasheed | July 17th, 2012
President Dr Mohamed Waheed Hassan will not participate in the All-Party talks while the Maldivian Democratic Party (MDP) continues to back on going street protests in the capital, the President's Office has said.
The talks were conceived as one of two internationally-backed mechanisms – alongside the Commission of National Inquiry (CNI) – to resolve the political deadlock in the Maldives following the controversial transfer of power on February 7. The Convenor of the All-Party talks, Ahmed Mujuthaba, on July 12 announced that a series of "high-level" discussions will be held between President Waheed and the leaders of the largest political parties after sixteen previous attempts had resulted in "no breakthrough."
However, President Waheed's Spokesperson Abbas Adil Riza condemned MDP's ongoing street protests as an "act of terrorism" today, and said "political leaders do not wish to hold talks with the MDP holding a gun to their heads."
In response, MDP Spokesperson Imthiyaz Fahmy said "Dr Waheed's participation in the All-Party talks is not important to the MDP."
Full report at:
http://minivannews.com/politics/president-waheed-will-not-hold-talks-with-nasheed-as-long-as-mdp-protests-continue-40762
-----------
"Don't withdraw the charges – I will not back down from this case," Nasheed vows, as PG files charges for judge's arrest
By Mohamed Naahee | July 16th, 2012
Ousted President Mohamed Nasheed last night responded to criminal charges pressed against him by the Prosecutor General (PG), for the arrest of Chief Judge of Criminal Court Abdulla Mohamed in the closing days of his presidency.
Speaking to his supporters at the Maldivian Democratic Party (MDP) protest camp Usfasgandu, Nasheed stated that he is "very prepared" to justify the reasons for the arrest of Judge Abdulla, and said he was ready to appear in court and prove his actions were valid.
"Even if [the court] asks me to be present tomorrow, I would be present. The court has to be place where justice should be served. The trial system has to be reformed to ensure that it provides justice," he said.
Nasheed claimed that his political opponents were of the belief that "destroying" him through the court would "kill" the ideology of the MDP, but challenged that this would never happen in the country.
Full report at:
http://minivannews.com/politics/dont-withdraw-the-charges-i-will-not-back-down-from-this-
-----------
Mideast Asia
Christians in Gaza protesting 'forced' conversions to Islam
July 16, 2012
July 16, 2012: A Palestinian Christian holds a poster of Ramez Al-Amash, 25, who was allegedly kidnapped, during a rally for his release, at a Greek Orthodox church in Gaza City. (AP)
GAZA CITY, Gaza Strip – Dozens of Gaza Christians staged a rare public protest Monday, claiming two congregants were forcibly converted to Islam and were being held against their will.
The small but noisy demonstration showed the increasingly desperate situation facing the tiny minority.
Protesters banged on a church bell and chanted, "With our spirit, with our blood we will sacrifice ourselves for you, Jesus."
Gaza police say the two are staying with a Muslim religious official at their request, because they fear retribution from their families converting to Islam. Two mediators said the two -- a 25-year-old man and a woman with three children -- appeared to have embraced Islam of their free will. Forced conversions have been unheard of in Gaza before.
Since the Islamic militant Hamas seized power five years ago, Christians have felt increasingly embattled, but have mostly kept silent.
Full report at:
http://www.foxnews.com/world/2012/07/16/christians-in-gaza-protesting-forced-conversions-to-islam/#ixzz20rLFgopx
-----------
Hamas executes three Gaza Palestinians for murder
17 July 2012
The Hamas government in the Gaza Strip has executed three Palestinian men it says were convicted of murder.
The men were identified only by their initials. No details were given about their convictions.
Palestinian law says President Mahmoud Abbas must authorise executions, but Hamas does not recognise his authority.
The Hamas' Interior Ministry said the men were executed "based on religious law and our religion and what is stipulated in Palestinian law".
Hamas has executed 14 people since it took control of the Gaza Strip in 2007.
President Abbas leads the Palestinian National Authority, but his leadership has been limited to the West Bank for the past five years.
Human rights groups have frequently condemned Hamas' use of the death penalty.
Crimes that Hamas deems punishable by death are murder, collaborating with Israel and drug trafficking.
http://www.bbc.co.uk/news/world-middle-east-18871149
-----------
Iran's 'morality police' target cafe culture
15 Jul 2012
Police raid and shut down 87 cafes and restaurants, arresting women for "un-Islamic" behaviour such as smoking hookah.
Iranian police have shut down dozens of restaurants and coffee shops over the weekend, Iranian media reported, in a renewed crackdown on what the state sees as immoral and un-Islamic behaviour.
Regular officers and members of the "morality police" raided 87 cafes and restaurants in a single district of the capital
Tehran on Saturday and arrested women for flouting the Islamic dress code, according to the Iranian Students' News Agency (ISNA) on Sunday.
"These places were shut for not following Islamic values, providing hookah to women, and lacking proper licenses," said Tehran police official Alireza Mehrabi, according to ISNA. Women are not allowed to smoke hookah, the name for water pipes, in public.
Mehrabi said the raid came as part of a plan to provide "neighbourhood-oriented" security, and would continue in other parts of Tehran.
Full report at:
http://www.aljazeera.com/news/middleeast/2012/07/2012715205725499247.html
-----------
Israeli's Act of Despair Disheartens a Movement
By ISABEL KERSHNER
17 July 2012
TEL AVIV — As doctors struggled on Monday to save the life of Moshe Silman, an Israeli man who set himself on fire at a protest for social justice in this Mediterranean city two days earlier, a grim mood had already replaced the mostly blithe atmosphere that characterized Israel's popular movement for social change last summer.
While activists said Mr. Silman's desperate act reaffirmed the relevancy of a grass-roots struggle that had seemed to be floundering, they appeared traumatized as they searched for an appropriate response.
"We must never encourage such a thing," Stav Shaffir, a prominent leader of the movement, said in a telephone interview. "On the other hand, it cannot be ignored. Moshe Silman cried the cry of a lot of people."
At the peak of last summer's rallies, at least 400,000 Israelis peacefully took to the streets in this city and others, in one of the largest protests in the nation's history. In the past few weeks, though, efforts to revive those heady days have been met with a degree of public apathy.
Full report at:
http://www.nytimes.com/2012/07/17/world/middleeast/israel-protesters-somber-after-self-
-----------
Iran criticises US Navy attack that killed Indian fisherman
Jul 17, 2012
By Marcus George
Iran on Tuesday criticised the actions of a US navy ship that shot at an approaching fishing boat off the United Arab Emirates, saying the incident showed foreign forces threatened regional security.
One Indian national was killed and three others injured on Monday when the US refuelling ship, the USNS Rappahannock, opened fire on a small motor boat which US officials said ignored repeated warnings to halt its approach.
The United States has been building up its presence in the Gulf as Washington seeks to ramp up pressure on Iran over its nuclear programme which it suspects is aimed at producing nuclear bombs. Tehran denies the accusation.
"We have announced time and again that the presence of foreign forces can be a threat to regional security," Iranian foreign ministry spokesperson Ramin Mehmanparast said during a news conference broadcast on state television.
"Certainly regional countries with the help of one another can provide security in the best possible way. If they join hands, with their defensive capabilities, they don't need the presence of foreign forces. Anywhere where you see insecurity we have always seen the hand of foreign forces there."
Full report at:
http://www.dnaindia.com/world/report_iran-criticises-us-navy-attack-that-killed-indian-fisherman_1716118
-----------
US Jewish leaders criticize West Bank report
July 16, 2012
JERUSALEM – Dozens of American Jewish leaders and scholars have made a rare appeal to Prime Minister Benjamin Netanyahu, asking him to make sure his government rejects a controversial report that denies Israel is occupying the West Bank.
In a letter to Netanyahu, more than 40 prominent Jewish figures predicted the report authored by former Supreme Court Justice Edmond Levy would tarnish Israel's image and jeopardize prospects for peace with the Palestinians.
"We recognize and regret that the Palestinian Authority has abdicated leadership by not returning to the negotiating table," they wrote in the letter, obtained Monday by The Associated Press. "Nonetheless, our great fear is that the Levy Report will not strengthen Israel's position in this conflict, but rather, add fuel to those who seek to delegitimize Israel's right to exist."
Signatories included businessmen and philanthropists Charles Bronfman and Stanley Gold, the former head of the Israel lobby in Washington, Tom Dine, and former Jewish Agency board chairman Richard Pearlstone.
Full report at:
http://www.foxnews.com/world/2012/07/16/us-jewish-leaders-criticize-west-bank-report-613406375/#ixzz20rL960e8
--------
Large fire sweeps through Istanbul 42-storey building
17 July 2012
A large fire has swept through a 42-storey building in the centre of the Turkish city of Istanbul.
Television footage showed the Polat Tower building engulfed in thick black plumes of smoke, with pieces of debris falling to the ground.
Firefighters - backed by helicopters - later managed to contain the blaze, the cause of which is being investigated.
Officials said no-one was injured in the building which houses shops, apartments and offices.
The officials said hundreds of people were safely evacuated.
Turkey's Anatolia news agencies earlier reported that many people had been stranded inside.
Istanbul Governor Huseyin Avni Mutlu was quoted as saying that a faulty air conditioner may have caused the fire.
Mustafa Sarigul, the mayor of the district, said the inside of the Polat Tower was not affected, according to the Associated Press news agency.
"The building's fire-extinguishing system automatically activated. Otherwise we could have faced a huge disaster," the mayor added.
Roads around the building remain closed for safety reasons.
http://www.bbc.co.uk/news/world-europe-18867266
-----------
Arab World
Syrian President Assad will use chemical weapons: Top defector
Jul 17, 2012
LONDON: Syrian President Bashar al-Assad will use chemical weapons against opposition forces and may have already deployed them, Nawaf Fares, the first Syrian ambassador to defect, told the BBC on Monday.
Fares, the most prominent politician to defect since the uprising against Assad began, insisted that the president's days were numbered but warned he would be prepared "to eradicate the entire Syrian people" to remain in power.
When asked by the BBC's Frank Gardner whether that would mean the use of chemical weapons, Fares said: "I am convinced that if Bashar al-Assad's regime is further cornered by the people -- he would use such weapons."
"There is information, unconfirmed information, that chemical weapons have been used in Homs," the former ambassador to Iraq added.
Syria has a large stock of chemical weapons and neighbouring countries are increasingly concerned about what will happen to them if the regime topples.
Fares said this outcome was now "inevitable".
Full report at:
http://timesofindia.indiatimes.com/world/middle-east/Syrian-President-Assad-will-use-chemical-weapons-Top-defector/articleshow/15016589.cms
-----------
Inside Iraq: 'We had to deal with people who had blood on their hands'
Nick Hopkins
16 July 2012
Exclusive: Emma Sky - a British civilian who advised US commanders in Iraq - explains how the surge changed military tactics, and why Obama's Baghdad trip almost ended in disaster
Emma Sky was at her home in Wandsworth, south-west London in September 2006, when she received an email from a friend in the US. At first she tried to ignore it. But Sky knew she wouldn't refuse him his unusual request.
The author was General Raymond T Odierno, one of the US army's most senior officers. He was about to return to Iraq to head "Phantom Corps" in a last ditch attempt to stop violence tearing the country apart.
And he wanted Sky to go with him as his political adviser.
"I hadn't been in Iraq for two years and had just done a six-month tour in Afghanistan, so the email came as something of a surprise. When he asked me to return I was flattered. I also felt that if anyone could make a difference in Iraq it was Odierno. The general is a good listener, he doesn't think he knows the whole truth, he is intellectually curious. He is prepared to take in ideas, and then make decisions. That's why I was prepared to return at the worst of times."
The presence of a British woman at his side would prove controversial and unpopular in some quarters, particularly at the US state department, but the stakes were high and Odierno was evidently prepared to take a risk.
Full report at:
http://www.guardian.co.uk/world/2012/jul/16/inside-iraq-emma-sky
--------
Syrian General, Officers Flee to Turkey-Turkish Official
17 July 2012
ANKARA (Reuters) - A Syrian brigadier-general and several other defected military officers were among 1,280 Syrians to have fled from Syria to Turkey overnight, a Turkish official said on Tuesday.
The official said the latest defections brought the number of Syrian generals sheltering in Turkey to 18, including a retired general. An undisclosed number of officers also defected with their families, totaling 68 people including family members.
A total of 1,280 refugees crossed over into Turkey's southern Hatay province overnight, bringing the number of Syrian refugees in Turkey to 42,680, the official said.
http://www.nytimes.com/reuters/2012/07/17/world/middleeast/17reuters-syria-crisis-
-----------
One-day-old child operated on for spinal deformity in Dubai
Asma Ali Zain / 17 July 2012
A one-day-old baby has been operated upon to correct a congenital vertebral (backbone) deformity that could have proved fatal. In a delicate and rare surgery, neurosurgeons at Saudi German Hospital carried out two surgeries on the now five-day-old Indian baby boy who has been discharged from the hospital.
According to the senior neurosurgeon at the hospital, Dr Fadel Fouad Gendy, the child was born with a form of spinabifida (lumbar meningeo-myelocele) in which a 15cm ball of nerves, membranes and fluid protruded out of the backbone through a hole. "If the child was not operated upon immediately, there was a chance that he could contract meningitis or infection through the opening which could be fatal," said Dr Gendy.
He also said that a number of hospitals had refused to operate on the child who had been born in Abu
Full report at:
http://www.khaleejtimes.com/nation/inside.asp?section=todayevent&xfile=/data/todayevent/2012/July/todayevent_July16.xml
-----------
Syria Hands Over Bodies of 2 Iraqi Journalists
17 July 2012
BAGHDAD (AP) — An Iraqi official says Syria has handed over the bodies of two Iraqi journalists killed during that country's conflict.
Brig. Gen. Qassim al-Dulaimi, an army commander in Iraq's western Anbar province that borders Syria, said Tuesday that the journalists' remains were received at the al-Waleed border crossing on Monday night.
Al-Dulaimi says the two died in the Damascus suburb of Jaramana but it's unclear when or how. There has been no fighting there over the past few days.
He says cards from the Iraqi journalists' syndicate were found in their pockets, identifying them as Ali Juburi and Falah Taha.
The Baghdad-based independent Journalists' Freedom Observatory says Juburi was an editor of a weekly newspaper while Taha was a free-lance reporter. JFO is warning Iraqi reporters not to travel to Syria.
http://www.nytimes.com/aponline/2012/07/17/world/middleeast/ap-ml-iraq-
-----------
Egypt's top general says 'certain group' won't dominate country
July 15, 2012
CAIRO – Egypt's top general on Sunday raised the stakes in the military's political standoff with the Muslim Brotherhood, saying the armed forces will not allow a "certain group" to dominate the country.
Field Marshal Hussein Tantawi's tough comments came only hours after he met with U.S. Secretary of State Hillary Rodham Clinton, who urged him to work with President Mohammed Morsi, of the Brotherhood, on a full transition to civilian rule.
The military, which ruled after the fall last year of Hosni Mubarak, and the Brotherhood, the country's strongest political force, are in a competition over power that has intensified with Morsi's winning of the presidency last month. Days before Morsi was sworn in on June 30, the Brotherhood-led parliament was dissolved and the generals gave themselves legislative and budgetary authority and control over the process of drafting a new constitution, put severe limits on the president's authority.
Full report at:
http://www.foxnews.com/world/2012/07/15/egypt-top-general-says-certain-group-wont-
-----------
Egypt's Mubarak ordered back to prison from hospital
Jul 16, 2012
CAIRO: Egypt's public prosecutor ordered former president Hosni Mubarak be moved back to prison on Monday, saying an improvement in his health meant he no longer needed to stay in a military hospital.
Mubarak, sentenced to life in prison over the killing of protesters in the uprising that ended his rule, was moved from the medical wing of Tora prison to a hospital last month following reports of a deterioration in his health.
Mubarak was moved from prison to a military hospital in June after a health crisis. At the time, senior officers and military sources gave various accounts of the 84-year-old's condition, including that he was in a coma and on life support.
Adel al-Saeed, the assistant prosecutor and spokesman for the prosecutor's office, said a medical committee formed to review Mubarak's condition had decided his health was stable enough that he did not need advanced hospital care.
Sentenced on June 2 for his failure to protect demonstrators, Mubarak has been portrayed as being in poor health by officials for the past year. He was wheeled in to court during his trial on a hospital stretcher.
Many Egyptians have been sceptical. Others suspect fellow officers, who pushed him aside to appease the protesters, of conniving to give him a more comfortable confinement.
http://timesofindia.indiatimes.com/world/rest-of-world/Egypts-Mubarak-ordered-back-to-prison-from-hospital/articleshow/15003957.cms
-----------
Islamists urge grassroot support for Damascus battle
Jul 17 2012
BEIRUT — The Muslim Brotherhood urged the Syrian people on Tuesday to rise up and back rebels locked in a "decisive battle" against the troops of President Bashar al-Assad in Damascus.
The influential Islamist group said the people must seize "this historic moment" by providing support for rebels who are fighting troops in several parts of Damascus for the third consecutive day.
"Prepare to become soldiers in the decisive battle. You will secure victory with your own two hands," a statement added.
The battle for Damascus must be "the gate to victory" in the 16-month uprising against Assad's autocratic regime.
Full report at: Copyright © 2012 AFP. All rights reserved.
----------
Helicopter gunships battle rebels in Damascus
17 July 2012
According to activists and Syria's state-run news agency, Syrian government forces have used helicopter gunships to battle rebels in Damascus.
The Britain-based Syrian Observatory for Human Rights and Damascus-based activist Maath al-Shami said the fighting concentrated in Kfar Souseh, Nahr Aisha, Midan and Qadam. The activists added that helicopters fired heavy machine guns during overnight clashes in the neighbourhoods of Qadam and Hajar al-Aswad.
They said Damascus has been relatively quiet on Tuesday after three days of intense clashes between troops and rebels.
The news agency also said troops were still chasing "terrorist elements" who fled from Nahr Aisha to Midan.
The fighting has been the most sustained and widespread in the capital since the start of the uprising against President Bashar Assad 16 months ago.
http://www.thehindu.com/news/international/article3649016.ece
-----------
Hamas pins all hopes on new Egyptian government
IBRAHIM BARZAK
Tuesday 17 July 2012
Egypt's new president holds the key to blockaded Gaza, but he is signaling that he won't rush to help the territory's Hamas rulers by striking a border deal with them, even though they are fellow members of the region's Muslim Brotherhood.
A bilateral border agreement between Egypt and Hamas could hurt chances of setting up a single Palestinian state, made up of the West Bank and Gaza, alongside Israel.
"I don't think they (the Egyptians) are ready for that," said Palestinian economist and business leader Samir Hulileh.
Hamas was jubilant over Mursi's election in neighboring Egypt in June, hoping the Egyptian leader would lift years of travel and trade restrictions that have hit the Gaza economy hard.
But for now Mursi is keeping Hamas at arm's length, focusing on his relationship with Egypt's powerful military and with the US, which gives Egypt $ 1.3 billion in annual military aid.
In Gaza, Hamas officials say that once Mursi settles into his job, they expect him to transform the Gaza-Egypt border crossing, now open only to select passengers, into a vibrant cargo route with free trade zones.
Such a new lifeline could keep Hamas in power for years, reviving an economy battered by a border closure Israel and Mursi's pro-Western predecessor, Hosni Mubarak, imposed after the violent Hamas takeover of Gaza in 2007.
Full report at:
http://www.arabnews.com/hamas-pins-all-hopes-new-egyptian-government
-----------
Chilcot report into Iraq delayed by Whitehall refusal to release evidence
Richard Norton-Taylor
16 July 2012
Sir John Chilcot reveals frustration at inability to see key papers, including records of talks between Tony Blair and George Bush
Fierce opposition in Whitehall to the disclosure of key documents relating to the invasion of Iraq, notably records of discussions between Tony Blair and George Bush, has meant the Chilcot inquiry will not now be able to publish its report for well over a year.
Sir John Chilcot has made it clear in a letter to David Cameron that he and his fellow panel members are deeply frustrated by Whitehall's refusal to release papers, including those that reveal which ministers, legal advisers and officials were excluded from discussions on military action. The papers still kept secret include those relating to MI6 and the government's electronic eavesdropping centre, GCHQ.
The inquiry panel has seen the classified documents in dispute but is being prevented from publishing them.
Full report at:
http://www.guardian.co.uk/uk/2012/jul/16/chilcot-report-iraq-delayed-evidence
-----------
Africa
Man lashed 40 times for drinking alcohol as extremists tighten grip on Mali
By DAILY MAIL
16 July 2012
A Timbuktu man accused of drinking alcohol has been given 40 lashes by members of an Islamist group that has seized the north Malian city and imposed strict Islamic law there.
The Islamist group Ansar Dine (Defenders of Faith) is one of several Al-Qaeda-linked groups that seized northern Mali amid a power vacuum opened by a March 22 military coup in the south.
The groups have been imposing Sharia law throughout the territory, and aim to spread the strict Islamic law to the rest of Mali.
'A young man has just been lashed 40 times for drinking alcohol. The whipping took place in the Timbuktu market,' a resident of the city told reporters.
'He is injured and was taken to hospital,' the resident added, asking not to be identified.
A man and woman accused of having a child out of wedlock were given 100 lashes each in Timbuktu on June 20, and Ansar Dine has destroyed all the city's bars.
The group has also demolished most of the ancient city's shrines to Muslim saints, which the jihadists consider idolatrous.
Another Islamist group, the Movement for Oneness and Jihad in West Africa (MUJAO), has burnt cigarettes, whipped smokers and forbidden people to play football or watch television in territory under its control, provoking violent protests in May in the northern city of Gao.
The Islamists' growing reach is more worrying news for the landlocked West African nation of 15.4 million, which was plunged into chaos after the coup.
http://www.dailymail.co.uk/news/article-2174399/The-Islamic-group-imposing-strict-sharia-
-----------
Mali unites against the Ansar Dine Islamists in Timbuktu
By Thomas Fessy
17 July 2012
Tuareg craftsman Almoutadi Ag Risa closed his boutique in Timbuktu about two months ago as Islamist fighters linked to al-Qaeda took control of the ancient town in northern Mali.
He ensured his wife and their 20-year-old son were safe in a nearby village before he made his way south to the capital, Bamako, with some of his goods.
He then found a room in a local cultural centre, where I met him.
"I pray God the trouble won't last long," he said.
He pulled a few pieces out of a small suitcase: Stone or beaded necklaces, earrings and bracelets worked in silver, copper or bronze.
The rest of his stock - Tuareg knives, leather handbags made of camel skin and other handicrafts - is hidden in a locked garage in Timbuktu.
"My family has been doing this artisanal work for generations," he said, looking anxious when I asked him what he would do if the crisis to have hit Mali this year continues - which looks likely.
"I don't know what else I could do if there are no foreigners to buy these pieces any more."
While the interim government is busy battling with the soldiers who overthrew the previous administration in March, the picture in the north grows darker.
What began as a rebellion in January by ethnic Tuareg has been usurped by Islamist militant groups who have taken advantage of the coup and imposed Sharia in most of the key towns in the north.
Music has been banned from local radios, women face being beaten if they are seen with their heads uncovered and people have been whipped in public for various misdemeanours.
Imams unite
On top of that, northern residents suffer days without power, fuel and food shortages.
Aid workers have also reported cases of cholera.
"The entire local economy is gone. Everything has been torn down," said the mayor of Timbuktu, Halle Ousmane Cisse, when he is Bamako to collect supplies.
He says he realises that talking to a journalist may expose him, but the situation is "so desperate", he wants to speak out.
Full report at:
http://www.bbc.co.uk/news/world-africa-18870130
-----------
Tunisian Islamist Leader Re-elected as Party Head
17 July 2012
TUNIS, Tunisia (AP) — Delegates of Tunisia's most powerful Islamist party have re-elected a moderate as their leader by a landslide, snubbing candidates that believed in imposing Islamic law on the country.
Rachid Ghannouchi, 71, was re-elected by 72.58 percent of the vote in the early hours of the morning Tuesday.
Over the past five days the Islamist Ennahda Party held its first party conference in public after years of a clandestine existence suppressed by Tunisia's since deposed dictatorship.
The party conference has been closely watched because Ennahda holds the most seats in the assembly elected in October charged with running the country and writing its new constitution.
The party announced at the end of the conference it will push for a parliamentary system for Tunisia, rather than the strong presidency it had before.
http://www.nytimes.com/aponline/2012/07/17/world/middleeast/ap-ml-tunisia-
--------
Nigeria Muslim school in Jos targeted by rocket
17 July 2012
A 10-year-old boy has died after a rocket was fired at a school in the Nigerian city of Jos but missed and hit a nearby building, officials say.
The school authorities say the boy was not a pupil at the large co-educational institution owned by the city's Muslim community.
The BBC's Ishaq Khalid in Jos says the students were sitting their exams at the time of the blast.
Jos has witnessed years of inter-ethnic and religious violence.
Our reporter says it is not the first time that the Nurul Islam junior and senior school has experienced trouble.
Several weeks ago some people were arrested and a bomb defused in the area surrounding the school, he says.
Jos is the capital of Plateau state, which lies on the fault line between Nigeria's mainly Muslim north and Christian and animist south.
The militant Islamist group Boko Haram, which is fighting to overthrow the government and create an Islamic state, has also been behind various attacks in the city, mainly on churches.
Last week it said it had killed two politicians who were attending a funeral for people who died during communal violence in Plateau state.
http://www.bbc.co.uk/news/world-africa-18871816
-----------
North America
QUR'AN TRANSLATOR INTENDED TO BECOME HOMICIDE BOMBER IN THE CAUSE OF ISLAM
July 15, 2012
Truth is the recognition of reality. The media is incapable of reporting the truth.
Chicago: Qur'an translator intended to become jihad/martyrdom suicide bomber Jihadwatch
How did this man who had immersed himself in the peaceful teachings of the generous Qur'an misunderstand Islam so spectacularly as to want to kill and be killed for Allah (as per Qur'an 9:111)? Why does the proliferation of stories like this one never shake the mainstream narrative about Islam being a Religion of Peace that has been Hijacked by a Tiny Minority of Extremists?
More on this story. "Plea deal for U.S. man accused of aiding Somalia's al Shabaab," from Reuters, July 12 (thanks to The Religion of Peace):
(Reuters) - A U.S. citizen accused of providing material support to Somalia's al Qaeda-linked al Shabaab militants by intending to become a suicide bomber has reached a tentative plea deal with prosecutors, his lawyer and prosecutors said on Thursday.
A judge scheduled a July 20 change-of-plea hearing in U.S. District Court in Chicago for Shaker Masri, who formerly worked for a company that translated the Islamic holy book, the Koran, into English, a spokesman for the U.S. attorney's office said.
Masri's lawyer, Thomas Durkin, and prosecutors told a judge they had worked out a plea agreement in principle, and that Masri was likely to change his not guilty plea to guilty. He did not say what charges Masri would plead guilty to.
Masri was not in court. He has been in custody since his August 2010 arrest, which occurred a few hours before he was scheduled to fly to California with an ultimate destination of Somalia, according to court documents.
Masri was recorded in telephone calls with a paid FBI informant explaining how he planned to undergo weapons training in Mexico and then become a suicide bomber to participate in a "jihad," or holy war, to kill people he termed infidels, the court documents said....
http://atlasshrugs2000.typepad.com/atlas_shrugs/2012/07/chicago-jihad-quran-translator-
-----------
Blair-Bush Iraq war transcript may be suppressed
17 July 2012
Government may block information tribunal ruling that ordered record of phone conversation to be released, sources confirm
An explosive transcript of one of Tony Blair's final conversations with George Bush before the invasion of Iraq may be suppressed by the coalition government, Whitehall sources have confirmed.
Dominic Grieve, the attorney general, believes there is "a case to answer" in favour of blocking an information tribunal ruling that ordered the former leaders' telephone exchange to be released in the public interest.
The then British prime minister and US president reportedly discussed the opposition of the the then French president, Jacques Chirac, to military action that he had voiced in a television interview two days earlier.
The proposed veto of the transcript's release would be discussed by the cabinet within weeks, sources confirmed. Blair and the current Labour leader, Ed Miliband, were asked their opinion on the proposal last week.
If the government halts publication it would be the third time the coalition has overruled an information tribunal ruling since January. This is despite promises from David Cameron and Nick Clegg that they would lead the most transparent government ever.
Clare Short, international development secretary at the time, said Grieve's proposal was "truly shocking".
Full report at:
http://www.guardian.co.uk/politics/2012/jul/17/blair-bush-iraq-war-transcript
-----------
Hillary Clinton warns Iran after talks in Jerusalem
Jul 17, 2012
JERUSALEM: US secretary of state Hillary Clinton on Monday said Washington would use "all elements of its power" to prevent Iran going nuclear and was working in "close consultation" with Israel over how to do so.
And she said a resumption of talks between Israel and the Palestinians would only come about if the parties "do the hard work for peace."
Speaking to reporters at the end of a whirlwind 24-hour visit to Jerusalem, Clinton said that Iran not yet decided to curb its nuclear ambitions, and warned that Washington would stop at nothing to prevent it from getting a nuclear bomb.
"We will use all elements of American power to prevent Iran obtaining a nuclear weapon," she said in remarks which carried an implied threat of military action -- a course of action never ruled out by Washington.
Thanks to US efforts to rally the international community to tackle the Iranian nuclear threat, Tehran was "under greater pressure than ever before," Clinton said, indicating that the Obama administration was "pressing forward in close consultation with Israel."
"I think it is fair to say we are on the same page at this moment, trying to figure our way forward to have the maximum impact on affecting the decisions that Iran makes," Clinton said.
Full report at:
http://timesofindia.indiatimes.com/world/middle-east/Hillary-Clinton-warns-Iran-after-talks-in-Jerusalem/articleshow/15012395.cms
-----------
US, Pak work to clear backlogs on supply routes
July 17, 2012
The US has said it is working with authorities in Pakistan to clear the backlog on the Afghan supply routes, which were reopened this month. "We're working with our Pakistani counterparts to move ahead and clear that backlog," state department spokesman Patrick Ventrell told
reporters at a news conference.
But there is no time frame as to when these backlogs would be cleared, he noted.
"We've already seen several containers move across the border into Afghanistan. We also understand that the process of activating the supply routes has only just begun and that it will take time for the backlog to be cleared," he said.
"There are some residual technical arrangements we're working on, so we continue discussions with the Government of Pakistan to this end," Ventrell said.
http://www.hindustantimes.com/world-news/Americas/US-Pak-work-to-clear-backlogs-on-supply-routes/Article1-890323.aspx
----------
US House to consider designating Haqqani network as FTO
Jul 17 2012
Washington : A bill dubbing the Pakistan based dreaded Haqqani network the "most dangerous" Afghan insurgent group" and seeking its designation as a foreign terrorist organisation is set to be taken up by the US House of Representatives.
The Haqqani network is believed to be responsible for a number of terrorist attacks against US facilities inside Afghanistan.
House Majority Leader Eric Cantor said the Haqqani Network Terrorist Designation Act of 2011 would be considered by lawmakers on the House floor today.
The proposed legislation says that Secretary of State Hillary Clinton should declare the Haqqani network a Foreign Terrorist Organisation (FTO).
Last year, Clinton had announced the State Department was working on designation of the Haqqani network as a foreign terrorist organisation.
A number of its leaders have already been slapped with sanctions. A State Department official Tuesday said the foreign terrorist organisation designation of the Haqqani network would still take some time.
"I don't have anything specific for you on the pending legislation other than to say you know that we have designated a large range of the top leadership of this network, and they feel the full brunt and force of US sanctions. We continue to review the wider designation issue and we'll apply all applicable laws as we review that," State Department spokesman Patrick Ventrell said.
Full report at:
http://www.indianexpress.com/story-print/975682/
----------
Europe
Law on Islam completes 100 years in Austria
10/07/2012
By Farhan Iqbal
Vienna: Austria has celebrated the completion of 100 years of Law on Islam in the country as the religion is one of the recognized religions of Austria.
Law recognizing the Islam as an official religion of Austria has marked the completion of a century despite the country has experienced many ups and downs as far as relations with the Muslims are concerned during the past centuries.
The occasion of the 100th anniversary of law on Islam is being praised and seen as a symbol of religious tolerance in Austria. The law gives Muslims the same rights as other officially recognized religions in Austria, such as Catholicism, Lutheranism, Judaism and Buddhism.
So Islam has been an officially recognized religion in Austria for 100 years and at the weekend senior members of the Austrian government and the country's Islamic Community attended ceremonies to mark the centenary of law on Islam.
Full report at:
http://www.islamonline.com/news/articles/2/Law-on-Islam-completes-100-years-in-Austria.html
-----------
London Muslims Share Ramadan Values
16/07/2012
LONDON - As Muslims worldwide prepare to welcome the holy month of Ramadan, Muslim organizations in London are joining hands in a new initiative to promote respect across lines of culture, religion, tradition, class and gender during the fasting month.
We are using Ramadan as an opportunity to bring people together from different faiths and share in the atmosphere that is created at such a special time of year for Muslims,? says Ramadan Festival 2012 website.
An important opportunity to highlight our shared values and to organize events and activities at all levels that people can easily engage in, be part of and benefit from.?
The festival, planned to launch on Wednesday, July 18, would run through the fasting month of Ramadan from July 20 to August 18.
It comes as a part of 2012 Hours Against Hate for Unity, a join initiative of London-based community organizations to promote respect across lines of culture, religion, tradition, class and gender.
The initiative has been granted the prestigious London 2012 Inspire mark, the badge of the London 2012 Inspire program which recognizes exceptional and innovative projects inspired by the 2012 Olympic Games.
The project partners include different Muslim organizations such as the Cedar Network, a pan-European professional network, Islamic Society of Britain and the umbrella Muslim Council of Britain.
Ramadan, the holiest month in Islamic calendar, is expected to start on July 20 through August.
Full report at:
http://www.islamonline.com/news/articles/2/London-Muslims-Share-Ramadan-Values.html
-----------
Munich massacre and a call for a minute's silence
16 July 2012
Thank you for Jennifer Lipman's column (London 2012: one minute to remember 11 Munich athletes – too much to ask?, 6 July). She should be commended for eloquently expressing support for Ankie Spitzer's petition for a minute of silence to remember the 11 Israeli athletes and coaches murdered by Palestinian terrorists at the 1972 summer Olympics in Munich (Ms Spitzer's husband, Andre, was among those killed).
The "Munich massacre" was the single greatest tragedy in the history of sports. Eleven human beings were murdered solely because of their Israeli nationality. As Ms Lipman correctly observes, the International Olympic Committee "is worried about rocking the boat, angering Arab nations by honouring men who were killed by Palestinian terrorists". But a desire to appease intolerance is no excuse for inaction. Because the massacre occurred at the Olympic Games, the IOC cannot escape its responsibility to commemorate this unique tragedy. Clearly, prominent official recognition is long overdue.
The international community has always been reluctant to express solidarity with Israel in any context. But it should not require a profile in courage for the IOC to set aside just one minute of respectful silence during the opening ceremonies for 11 people who were murdered in brutal defiance of the ideals and values of sportsmanship and international brotherhood that the Olympics ostensibly represent. If, after 40 years, the IOC persists in its craven refusal to honour the memory of the 11 Israelis killed at the Games, then the Olympic ideal stands for nothing.
Stephen A Silver
San Francisco, California, US
http://www.guardian.co.uk/world/2012/jul/16/olympics-munich-massacre
-----------
Russia must be persuaded on Syria, says Hillary Clinton
17 July 2012
US Secretary of State Hillary Clinton has said that Russia must be persuaded to put pressure on Syria before a political transition can be bought about about.
UN-Arab League envoy Kofi Annan is due to hold talks with Russian President Vladimir Putin on Syria.
BBC correspondent Kim Ghattas asked Mrs Clinton if it was even still possible to talk about a political transition in Syria.
http://www.bbc.co.uk/news/world-middle-east-18867196
-----------
U.N. Relief Agency Seeks More Syria Aid
By NICK CUMMING-BRUCE
17 July 2012
Geneva — The Syria conflict is expanding the emergency needs of its population faster than international aid agencies are able to provide relief despite a big increase in aid deliveries, a top United Nations aid official warned on Monday, calling for more governments to provide greater financial support.
Despite "tremendous political obstruction by the government of Syria" and an increasingly dangerous operating environment, aid agencies expect to provide food aid to 850,000 Syrians in July, up from half a million last month, the official, John Ging, director of operations for the United Nations office coordinating humanitarian aid, told reporters in Geneva. "But the gap between the needs and means is still there," he said.
President Bashar al-Assad's government had "largely respected" an agreement reached with the United Nations six weeks ago, to facilitate increased delivery of humanitarian relief, Mr. Ging said, but officials were still holding back issuing visas to aid agency staff from the United States, Britain, Canada, France and a number of other countries because of their nationalities. "That is something we object to very strongly," Mr. Ging said.
Full report at:
http://www.nytimes.com/2012/07/17/world/middleeast/un-relief-agency-seeks-more-syria-aid.html?ref=middleeast
-----------
UN: Sudan Refugees Suffering Without Adequate Aid
17 July 2012
ASSOSA, Ethiopia (AP) — A top U.N. official says the international community has not provided enough aid to help Sudanese refugees who have fled fighting between rebels and Sudan's military.
U.N. High Commissioner for Refugees Antonio Guterres said donors need to ease "the enormous humanitarian tragedy."
Sudanese troops are fighting rebels who were once aligned with what is now South Sudan in two states near the countries' shared border. Guterres said on a trip to visit refugees on Monday that more than 200,000 refugees have fled Sudan.
Save the Children says that seasonal rains have arrived at refugee camps in South Sudan, hampering aid groups' abilities to deliver supplies. The group's Lane Hartill says conditions "are getting quite bad."
http://www.nytimes.com/aponline/2012/07/17/world/africa/ap-af-sudan-
-----------
UN vehicle fired upon in Pakistan
July 17, 2012
A United Nations vehicle was on Tuesday fired upon by unidentified gunmen in the Southern Pakistani port city of Karachi that left two persons, including a Ghanaian national injured. Two armed men riding a motorcycle fired at the vehicle as it neared an Afghan refugee settlement in Karachi this afternoon.
The Ghanaian national, a doctor, was visiting a camp in Sohrab Goth area where children were being administered polio vaccine.
The Ghanaian national was hit by two bullets while the driver of the vehicle was injured in the arm. Officials told
the media they were out of danger.
No group claimed responsibility for the attack. The gunmen escaped before police reached the spot.
http://www.hindustantimes.com/world-news/Pakistan/UN-vehicle-fired-upon-in-Pakistan/Article1-890561.aspx
-----------
U.N. says Syrian refugees almost tripled
17 July 2012
The United Nations says the number of Syrian refugees who have sought help from it since April has almost tripled to 112,000.
The U.N. refugee agency says women and children make up three-quarters of the Syrians who it has registered or assisted in Iraq, Jordan, Lebanon and Turkey.
Agency spokesman Adrian Edwards said on Tuesday in Geneva that the actual number is probably "significantly higher" and that many Syrian refugees are completely dependent on humanitarian aid.
Mr. Edwards said at least 40,000 Syrians have sought refuge in Turkey. Jordan has seen 33,400 refugees, while 30,900 have arrived in Lebanon. Another 7,900 have sought sanctuary in Iraq.
Turkey to open new refugee camp
Turkey says it will build a new refugee camp for Syrian refugees that could accommodate 10,000 people, as hundreds more people fled the country.
The state-run Anadolu agency said 525 people crossed the border into Turkey late Monday, including a general and four colonels.
Turkey's government-run crisis management center said late Monday that a new camp is being set up near the town of Karkamis, in Gaziantep province which borders Syria. The camp will have a capacity to accommodate 10,000 people.
Nearly 40,000 refugees are currently being sheltered in 10 camps near Turkey's 911 km border with Syria.
http://www.thehindu.com/news/international/article3649185.ece
-----------
U.N. head visits China seeking action on Syria
17 July 2012
U.N. leader Ban Ki-moon was headed to China on Tuesday amid alarm over the spiralling violence in Syria and a diplomatic push to get Russia and China to back a tougher response to attacks by President Bashar Assad's regime.
Mr. Ban's trip comes ahead of a U.N. Security Council vote Wednesday on whether to allow sanctions and authorise actions to enforce them that could ultimately include the use of military force, which U.S. administration and European officials are playing down as a possibility. Russia and China have blocked previous efforts to sanction Syria.
Mr. Ban will talk with Chinese President Hu Jintao on Wednesday, with Syria expected to top the agenda.
There has been heightened urgency to global diplomatic efforts on Syria since it was reported last week that dozens were killed in a regime assault on the Syrian village of Tremseh. U.N. observers said the attack appeared to target army defectors and activists.
Syria has denied U.N. claims that government forces used heavy weapons such as tanks, artillery and helicopters during the attack.
In response to the Tremseh attacks, Mr. Ban on Friday urged U.N. members to "take collective and decisive action" on Syria immediately and warned that inaction would be "license for further massacres."
Full report at:
http://www.thehindu.com/news/international/article3649291.ece
-----------
Russia blocks UN Security Council statement on Syria
Jul 17, 2012
UNITED NATIONS: Russia on Monday blocked a proposed UN Security Council statement on mass killings in the Syrian village of Treimsa, diplomats said, amid worsening deadlock over international action on the conflict.
Russian envoys opposed the statement, saying it was not clear what had happened in Treimsa, council diplomats told AFP on condition of anonymity.
A draft statement had been proposed saying that Thursday's attack on the village was a Syrian government "violation" of its commitments to UN-Arab League envoy Kofi Annan not to use heavy weapons. But Russia put a hold on its release.
Dozens of people were killed in Treimsa by President Bashar al-Assad's troops and pro-government militias, according to Syrian activists. The government has denied involvement.
Russia called for Major General Robert Mood, the head of the UN Supervision Mission in Syria (UNSMIS), to brief the council on the killings.
UN spokesman Martin Nesirky said UNSMIS was still trying to check the facts of what happened in Treimsa, but added that it was "quite apparent that something terrible happened there and that heavy weaponry was used."
Full report at:
http://timesofindia.indiatimes.com/world/middle-east/Russia-blocks-UN-Security-Council-statement-on-Syria/articleshow/15011439.cms
-----------
UN arms treaty could put U.S. gun owners in foreign sights, say critics
July 11, 2012
UNITED NATIONS – A treaty being hammered out this month at the United Nations -- with Iran playing a key role -- could expose the records of America's gun owners to foreign governments -- and, critics warn, eventually put the Second Amendment on global trial.
International talks in New York are going on throughout July on the final wording of the so-called Arms Trade Treaty, which supporters such as Amnesty International USA say would rein in unregulated weapons that kill an estimated 1,500 people daily around the world. But critics, including the National Rifle Association's Wayne LaPierre, warn the treaty would mark a major step toward the eventual erosion of the U.S. Constitution's Second Amendment gun-ownership rights.
Americans "just don't want the UN to be acting as a global nanny with a global permission slip stating whether they can own a gun or not," LaPierre said. "It cheapens our rights as American citizens, and weakens our sovereignty," he warned in an exclusive interview with FoxNews.com from the halls of the UN negotiating chambers.
Full report at:
http://www.foxnews.com/world/2012/07/11/un-arms-treaty-could-put-us-gun-owners-in-
-----------
UN polio vaccine doctor injured in Karachi attack
17 July 2012
Gunmen have attacked a UN vehicle, critically injuring a doctor who was administering polio vaccines in the southern Pakistani city of Karachi.
The foreign doctor was in the run-down Sohrab Goth area of the city, officials say. His driver was also hurt.
No group has said it carried out the shooting, but the Taliban have issued threats against the polio drive and are thought to be active in Sohrab Goth.
On Monday Pakistan launched its latest polio immunisation campaign.
Officials say that the UN official has been rushed to a nearby hospital. It is not clear what his nationality is.
Local police station chief Mohammad Sultan told the AFP news agency said that the doctor had been working in the area for about three months and that he could have been targeted deliberately.
Full report at:
http://www.bbc.co.uk/news/world-asia-18868267
-----------
URL: https://www.newageislam.com/islamic-world-news/by-new-age-islam-news-bureau/a-panchayat-in-u-p-bans-graveyard-space-for-migrant-muslims/d/7950