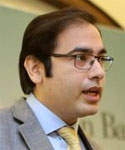 By Syed Ali Imran
November 9, 2018
China Pakistan Economic Corridor (CPEC) is the first and foremost implementation of China's great vision about revival of ancient Silk Route, known as One Belt One Road (OBOR) or Belt and Road Initiative (BRI). This corridor will connect China to Indian Ocean through Pakistan's Gwadar Port situated in its province Baluchistan. Upon completion of BRI first phase, ie CPEC, countries which are going to connect with China will consist of Central Asian Republics, Middle East and African continent, a Muslim dominated region.
As claimed by China, $900 Billion USD Silk Route Project starting from CPEC is not only meant for safeguarding economic interest of China but for the elevation of under developed economies those are going to connect through this route. When there come Economies here it comes Trade and procedures to make it possible. In major Muslim countries from where the first part of the project will pass by, Islamic Banking and Finance has been established to the larger extent for sake of interest free economy. According to constitution of Pakistan, the country which is integral part of CPEC, state is bound to find solutions for conversion of interest based economy into interest free.
For this reason Islamic Banking has been introduced and flourishing by each passing day. CPEC includes high value projects involving financing from the banking sector. So far the Banking Channels, which are being used, for this purpose majorly consist of conventional method. Involving Islamic Banks will be in benefit for China where Pakistan is gradually marching towards Interest Free Economy as advised by the constitution and according to the decisions by the courts.
Islamic Banking System (IB) in Pakistan is performing very well due to its nature and ability to drive economy towards real business activities. Statistically speaking, at present, assets of Islamic Banks witnessed a whooping growth of 12.9 percent by the end of fiscal year 2017. The industry's asset base has reached to Rs 2.5 trillion with a growth of 22 percent YoY June — 2018, which accounts for almost 13 percent of the overall banking system while its deposits surged at Rs2.03 trillion reporting a growth of 18.2 percent for the same period. Five full-fledged Islamic banks and 16 Islamic banking branches of conventional banks are providing Shariah-compliant products and services through their network of 2,685 branches spread across 111 districts of the country.
It is pertinent to mention here that the Islamic Banks cannot invest into interest based Bonds (PIB) and Treasury Bills (T-Bills) issued by Government to raise Public Debt for expenditures on which there may be no control of a lending bank though secured, against guarantee issues by Government of Pakistan.
Government can borrow money from Islamic Banks also by issuing Sukuks, where it has to show some useable asset of same value. This ensures that the public expenditure is not merely for repayments of already borrowed money but for the purposes related to developmental intentions rather. As Bonds and T-Bills window is closed for Islamic Banks, therefore, the banks lend money to public at large for their business requirements, which in return increases business activities.
Government of Pakistan should encourage China to use Islamic Banking channels, which will not only give a boost to IB but will provide opportunity to China to diversify its investment portfolio by using a mix of Banking Channels through introduction of Islamic Banking and Finance. As bilateral relationship with China is long term therefore experience of Shariah Compliant Banking transaction is advisable when this banking system is growing rapidly not only in Pakistan but in other part of the Muslim world connecting through silk route.
Islamic Banks can offer a range of products which can be used as alternative to conventional banking system. Apart from routine banking transaction IB can also offer structured products relevant to specific need of the project. Bilateral trade through Islamic banking should be a starting point for CPEC related projects which are now entering into next phase i.e. developing of Economic Zones.
Accordingly, Islamic banks may be used for financing not only for project based requirement but for working capital exigencies as a result of establishment of Industries into CPEC designated Economic Zones. On Macro Level, Government of Pakistan to encourage Assets Based Sukuks for any further borrowing from China for creating foreign reserves. By this way, the Financier feel comfortable with double security i.e. Asset which is being pledged and Guarantee issues by the government. On the other hand, borrower can negotiate better rate from lender due to these risk mitigants.
Establishment of Islamic Venture Capital and Islamic Private Equity Management Companies can play vital role in bringing foreign investment not only from China but those countries which are interested to invest into Pakistan as soon as fruits of CPEC through economic activities may become available. These Private Equity Management companies based on Islamic Finance Model will not only boost manufacturing process of SMEs in Pakistan but when these enterprises will become Large Corporates and listed on Pakistan Stock Exchange as a matter of rule, these companies can enlist themselves in Karachi Meezan Index regime i.e. Shariah Compliant Listed Companies.
Listing in KMI index will further enable these companies to get tax rebates according to rules recently elaborated by Securities Exchange Commission of Pakistan for such Sharia Compliant Companies. In longer run this process will not only give boost to Islamic Economic System as advised by constitution of Pakistan but Financial Transactions will be based on Trade that will increase real business activities in the economy. Every Financial Transaction will have an asset at its back that will result in Asset Building and development.
China understood the importance of Islamic Banking and capital markets as it is connecting to several Muslim countries through BRI project. Therefore a study on Islamic mode of Finance is now underway to make clear understanding of Shariah compliant transactions.
In collaboration with Islamic Corporation for the Development of the Private Sector (ICD), a department of Islamic Development Bank (IDB) Saudi Arabia, China has hosted two conferences on such topic under banner of China OIC Forum in last couple of years. Also, two more events under banner of China — UAE Conference on Islamic Banking and Finance took place in UAE since 2016. This shows China's positive approach, adaptability and willingness to understand local narratives so that brotherly relations with Muslim countries may flourish.
Syed Ali Imran is an Economist, Columnist and a Chartered Banker UK
Source: dailytimes.com.pk/319885/cpec-and-islamic-finance/
URL: http://www.newageislam.com/islamic-society/syed-ali-imran/islamic-banks-can-offer-a-range-of-products-which-can-be-used-as-alternative-to-conventional-banking-system/d/116838