By Sophia Anjum
June 27, 2014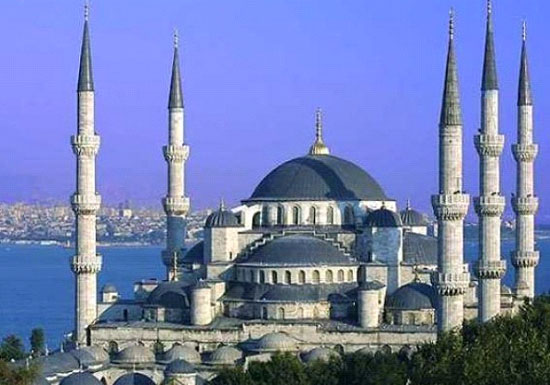 Istanbul is love at first sight; the moment I caught a glimpse of the Bosphorus, from the airplane window, I knew I had fallen in love. PHOTO: IANS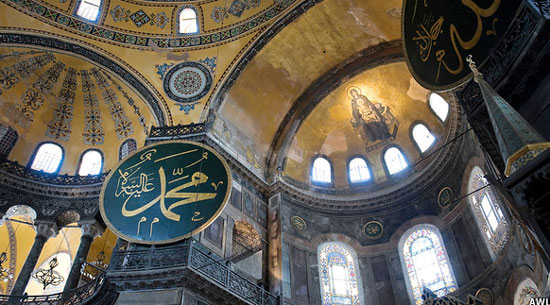 The Hagia Sophia in Istanbul, Turkey. PHOTO: REUTERS
"Whatever is meant for you, […], is bound to come to you. It may have to come all the way from Istanbul to San Francisco, or even by a more roundabout route, but it will come to you." – Sheikh Mozaffar Ozak
And that is how I found myself at the Dubai airport, waiting to board my next flight to Istanbul, wondering how on earth I ended up there. Wasn't travel one of those things that other people did, but never me? Wasn't it for carefree people? Surely not for me, for I have too many responsibilities. I am not a mom who leaves her kids to go off and have fun on her own.
Or, at least, that was what I thought.
Yet, in those surreal moments of an almost out-of-body experience, I stepped outside my life and saw myself as someone doing exactly what I thought I was not capable of. I was actually enjoying time on my own, and it did not feel like a selfish thing to do.
It all started from a random tweet that caught my eye. On an impulse, I clicked on a tiny link for this tour, tucked away in a corner of some blog, and registered for it without thinking twice about the logistics, my job or the many balls I juggle in the name of responsibilities. Driven by an unseen force, nothing stopped me, not even the long lines at the passport office or the multiple day trips to Islamabad for my visa. It was meant to be.
This unique study-travel tour was under Professor Omid Safi, who teaches Islamic Studies at the University of North Carolina. Safi confesses to having a love affair with Turkey for the past 20 years. With him, I had the opportunity of seeing places that an average tourist never gets to visit: little known shrines, madrasas and mosques. Listening to him explaining the historical significance and the little secrets hidden in the architecture of these places was magical. It was something one could never find in a guidebook. Listening to him reciting the Masnavi and discussing Maulana Rumi, his life, the heart and the soul, was a rare treat.
Istanbul and Colours
Istanbul is love at first sight; the moment I caught a glimpse of the Bosphorus, from the airplane window, I knew I had fallen in love. It's a city of many picturesque Oxymorons. Historic places, bohemian views, east-meets-west instances and a memoir of the grandeur of days gone by – Istanbul had it all. A city of colours: the blues of Sultanahmet, the golds of Hagia Sofya and the red sunset at the Bosphorus. And the Spice Bazaar is a different story altogether.
The steep cobblestone streets, old madrasas turned into teahouses, centuries old cemeteries nestled behind shops; Istanbul lived up to the hype. Despite how modern Istanbul is, the ambiance has strains of history. Roman Emperors and Ottoman Sultans once roamed these streets – and now I was walking the same paths.
While I visited famous historical landmarks like Hagia Sofya, Sultanahmet Mosque and the Topkapi Palace, it was the exploring of lesser-known neighbourhoods and small markets that brought me greater joy. In Istanbul, I got to live my fantasy of strolling alone aimlessly in a foreign city, getting lost, boarding the wrong train, getting off at some unknown station and not caring at all as to how I'd get back to my hotel. Aimless wandering is a luxury a responsible life often does not afford us. Those moments, stolen from the mundane, were therapeutic.
On the cosmopolitan side of Istanbul lies Beyoğlu, with the lively and thriving Istiklal Street lined with art galleries and cafes. An old tram taking people from Galata Tower to the famed Taksim Square added just the right touch of the quaint old world's charm.
Istanbul is where I realised the huge difference between Turkish and Pakistani societies. What I admire most about that place is the religious and cultural pluralism… the level of tolerance that has come to be redundant in our society.
It's true that Turkey has had its share of ethno-religious conflicts in the past. The dominance of Muslim culture, despite it being a secular state, has been a source of constant tension. But with all its political and religious complexities Turkey happens to be a very open-minded society when it comes to practicing religion. Turks, Kurds, Christians, Muslims, Jews, Alavis and atheists co-exist peacefully in one incredibly diverse mix over there, and seeing that made me wish that Pakistan was like that.
Bursa and Mysticism
Bursa, also known as Yeşil Bursa (Green Bursa – for its gardens and parks), is a small laid-back town at the slopes of Mount Olympus (Uludağ). It is some four hours from Istanbul by car and famous for its Ottoman architecture, silk markets, Turkish Hammams and the scrumptious Iskendre Kebap.
On our way to Bursa, we made a stop at the Sufi lodge of Rahmi Oruç Güvenç. He is a Sufi musician with a Doctorate degree in Clinical Psychology in the field of Music Therapy. It was a small lodge on the outskirts of a village with halls filled with dervishes from different parts of the world – singing, playing instruments, serving food, eating and whirling.
None of this was orchestrated unlike the many whirling dervish performances. At the time of our visit, a Sama (the whirling ceremony) involving the 99 Names of Allah was in progress. This was a non-stop Sama for 99 days and nights, which dervishes do in shifts. When I reached, it was Day 11.
The fascinating blend of musical instruments, lovely voices praising Allah and the beautiful souls whirling in a state of trance is something that sinks in you forever.
Konya and Love
When it comes to the idea of "love", I am something of a cynic. Hence, the legends about Konya's effect on the human heart brought out the sceptic in me. To me, it all sounded a bit cheesy. Yet, within a few hours in that city, I stood corrected.
A pilgrimage to the home of Maulana Rumi, the Sufi mystic, the original whirling dervish, changed me forever. In Konya, love is almost palpable. Here, I understood these famous words of Rumi.
"Come, come, whoever you are
Wanderer, worshiper, lover of leaving,
It doesn't matter.
Ours is not a caravan of despair.
Come, even if you have broken your vows a thousand times
Come, yet again, come, come."
Here, I have a confession to make. While Maulana Rumi's tomb of turquoise tiles and gold calligraphy is deeply impacting, what touched my heart more was Shams Tabrizi, who was nestled away in a small mosque.
That was when I had my moment… when the scatter in my world just came together like pieces of a puzzle falling into place. When every wound I had in my heart just tore open to let the light in; when I turned myself upside down to empty myself of every feeling – negative or positive. In that moment I found myself and, dare I say, felt a connection with Allah.
Cheesy? Yes!
True? Absolutely.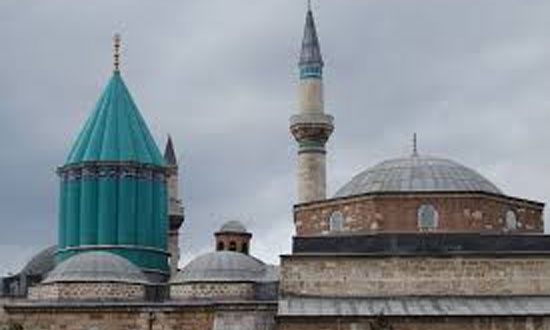 Tomb of Maulana Rumi
At the entrance to Maulana Rumi's shrine, there is a beautiful verse inscribed that aptly describes my experience in Konya.
Ka'aba al ushaaq ba-en shud muqaam ,
Har ke naaqis anja shud tamaam
(This place is the lovers' temple of God.
Each comes broken… all leave whole)
What made this trip especially amazing were the people I shared those two weeks with. It was a very diverse group of people of all ages from different walks of life. Although most of us did not know each other before our rendezvous in Istanbul, the friendships and bonds that were formed within such a short span of time are unbelievable. I could never have had such an amazing experience had it not been for the lovely people with whom I shared those memories.
My friends back home tell me that I have changed. But all I did was to dispose off those layers of my personality that were there to please others. In Turkey, away from everyone who knew me, I tried being myself and was accepted, admired and loved; I met my inner child for the first time and she turned out to be so much fun.
Source: http://blogs.tribune.com.pk/story/22891/i-found-god-in-turkey/
URL: https://newageislam.com/islamic-society/i-found-god-turkey/d/97807