By Shehzad Ghias
December 28, 2014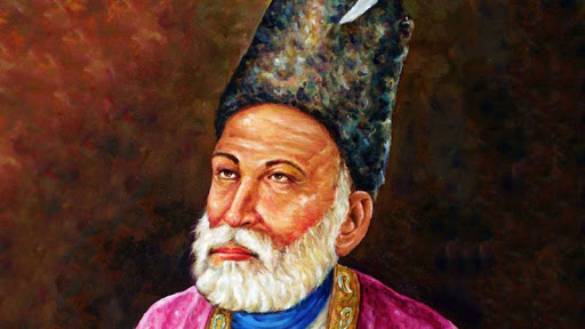 You are truly alive in our hearts and minds but thank God you are not physically alive today. PHOTO: AFP
----------
We curse him while trying to cram verses from Deewan-e-Ghalib into our heads for our Urdu literature exams. We study him because we have been told to but if – by some miraculous, unfortunate realignment of the stars – Mirza Asadullah Baig Khan, or Ghalib, was alive in 2014 rather than the 19th century, I am sure he would have been found hiding under the deck of a boat trying to escape to Australia.
The first charge levied against him would have been of being an Indian agent; he was born in Agra after all. Anchors would appear on television with proof of how RAW infiltrated his young mind as a child to use him as a weapon against Pakistan. Historical evidence would be used against him, if he is in favour of the creation of Pakistan, why did he not fight in the war of independence in 1857, instead choosing to stay at his home in Delhi writing in his diary like a pansy?
Ghalib described the mutineers of 1857 as 'traitors', 'filthy vagabonds', 'pitiless murderers' and 'black-faced thieves' in Dastambu. The recording of him saying these words would definitely be played over and over again, especially on a show claiming to provide the bitter truth. How dare Ghalib say anything against the brave soldiers fighting for the freedom of this country? Surely, he must be arrested and tried under high treason. At the very least the channel that Ghalib works for should be banned for a couple of weeks.
His lavish praise of the British is surely a sign that Ghalib par dollars Lagay Huay Hai (Ghalib has been bribed with dollars). He is nothing more than a liberal fascist trying to corrupt the pure people of Pakistan by importing western ideas.
He even wrote a Qasida (laudatory poem) in praise of Queen Victoria, going against all the cultural values of Pakistan, which forbids men from flirting so openly, that too with a woman as old as Queen Victoria! Social media would be filled with comments like,
"Ghalib is no better than a glorified friend shipper."
He would be criticised for sending all these poetic verses to girls at odd hours. Screenshots of Ghalib's texts saying "Ishq ne 'Ghalib', Nikamma Kar Diya, Warna Hum Bhi Aadmi Thy, Kaam Kay" (love has made you useless, Ghalib, otherwise you too were a worthwhile man) would be posted by girls on their newsfeed, ridiculing poor Ghalib.
If he escapes the public persecution that comes from all this, he would then be characterised as an agent of Iran sent to Pakistan to separate Balochistan. He wrote in Persian also, after all, so there can be no other reason that a man must know Persian other than the fact that he was sent by RAW to Iran to train to fight for the Balochistan Liberation Army.
By some miracle, if Ghalib retains any sanity after these ordeals and manages to write anything, I cannot even imagine the amount of blasphemy cases that would be filed against him for his poetry.
If Ghalib had published, Humko Maaloom Hai Jannat Ki Haqeeqat Lekin, Dil Ke Khush Rakhne Ko, Ghalib Yeh Khayaal Achcha Hai (we know the reality of heaven but, this thought is good to soothe the heart Ghalib) or Aah Ko Chaiye Ek Umar Asar Hotay Tak, Kaun Jitna Hai Tirii Zulf Kay Sar Hotay Tak in Pakistan in 2014, he would be forced to flee to London and knock on Junaid Jamshed's door to live in exile with him.
If Ghalib had the audacity to suggest to the Pakistani population that he wished to consume alcohol in a mosque, the only question would be the amount of effigies of his that would be burnt by protestors all over Pakistan. A popular self-proclaimed defence analyst claiming to provide the brass tacks would surely denounce Ghalib by quoting his favourite poem.
"Iqbal Nay Kya Khoob Jawab Diya Hai Iss RAW Kay Agent Ko, Ke Tu Kafir Hai, Teray Dil Mai Khuda Nahee, Insha'Allah Teen Din Mai Delhi Mai Radio Pakistan Goonjay Ga".
(How well has Iqbal answered this RAW agent that he is an infidel; he doesn't have God in his heart. By the will of Allah (SWT), Radio Pakistan would resonate in Delhi in three days).
All Islamic organisations would publically condemn Ghalib; his condemnation of the Mughals and the Ai'n-e-Akbari (Constitution of Akbar) would be exhibited as evidence of how Ghalib is against the establishment of an Islamic empire.
They might even alleviate some of his worries. Ghalib expressed,
"Imaan Mujhay Rokay Hai, Jo Khinche Hai Mujhay Kufr,
Ka'aba Meray Pheechay Hai Kaleesa Meray Aagay"
(My faith prohibits but infidelity attracts me,
Ka'aba is behind me while a church is ahead)
His confusion would be non-existent in Pakistan; mobs would simply burn the kalissa and place mosques on all sides of Ghalib.
His only solace is that he may find some support in a popular political party. Being originally from India and Urdu-speaking, Ghalib could do well as a leader in Muttahida Qaumi Movement (MQM) under the patronage of a fellow poet, in the shape of Altaf Hussain. Mirza Ghalib could also have been a ghost writer for Altaf Hussain's book Falsafa-e-Mohabbat. If he wants to continue to live in Karachi, he would be forced to admit Altaf Hussain as being the better poet though.
If all else fails, Mirza Ghalib could resort to making a livelihood in Karachi by stealing cell-phones.
Instead Mirza Ghalib has been dead 145 years, lying peacefully in Delhi safe in the knowledge that his own security guard would not shoot him and a mob would not attack his house.
It is a pity that we are forced to memorise Ghalib's verses with teachers insisting on telling students what exactly the author meant without inculcating the method of critical thinking and scepticism in Ghalib's work. If anything, Ghalib's message is more pertinent than ever in 2014, where the nation is finally beginning to question the absolute authority of the religious cleric.
We often talk about how the nation has failed Quaid-e-Azam; I cannot think of many of our national heroes that we have not failed. If Ghalib was alive in Pakistan in 2014, I wonder how long he would have stayed alive for.
Bas-Ki Dushvaar Hai Har Kaam Ka Asaan Hona,
Aadmi Ko Bhi Mayassar Nahee Insaan Hona
(Enough for it is difficult to have anything easy
It's impossible for a man to even act like human)
Happy Birthday Mirza Ghalib!
You are truly alive in our hearts and minds, but thank God you are not physically alive today.
Shehzad Ghias is a graduate from the LUMS Law School and is running his own theatre production company, Cogito Productions.He works as a theatre teacher at various schools.
Source: http://blogs.tribune.com.pk/story/25555/if-ghalib-was-alive-in-2014/
URL: https://www.newageislam.com/islamic-society/shehzad-ghias/if-ghalib-was-alive-in-2014…/d/101096