By Shaju Philip
Sep 04 2011,
* Muhammedali Shihab's father died when he was 11 and his mother was too poor to afford his education. So she sent Shihab and his two sisters to a Muslim-run orphanage in Kerala's Kozhikode district. He dropped out of school, worked as a peon and later as a school teacher. But the man from the state's Malappuram district was made of sterner stuff: he doggedly pursued his civil services dream. After three attempts, in May this year, Shihab, now 31, cleared the UPSC exam with a rank of 226.
* With his rank in the all-India engineering entrance examinations, Thattarathodi Jaffer, son of a shopkeeper, could have got into any of the top colleges in the country. But he was determined to make it to an IIT and worked hard for the next one year. In 2011, he realised his IIT dream, besides securing a second rank in the state engineering entrance exams.
Shihab and Jaffer are part of a change that's sweeping through Malappuram, a Muslim-majority district in Kerala that has traditionally been the laggard among Kerala's districts—backward and with lower levels of literacy when compared to the rest of the state. But that could be changing as a new generation of Muslim youngsters push the limits of education.
From a region that once sent school dropouts as unskilled workers to Gulf countries, Malappuram district is now giving other states a run for their scores. The pass percentages in class X exams over the years chart that success story. In 2001, the pass percentage was a dismal 33.24. In 2002, it touched 41.23 per cent and in 2004, it stood at 58.77 per cent. Then, the big change happened. In 2010, the figure touched 86.91 per cent and in 2011, the district registered a pass percentage of 88.52, within touching distance of the overall state pass percentage of 91.37. Over the last few years, among the 14 districts in Kerala, Malappuram has had the highest number of students appearing for the class X exam. This year's topper in the state medical entrance exam (V Irfan) and the second rank holder in the state engineering entrance (Thattarathodi Jaffer) are both from Malappuram.
This could probably then be the first education success story to have come out of a Muslim district in the country. As per the 2001 census, Malappuram is one of the 25 districts in India that has a Muslim population of over one million. With two-thirds of its population Muslim, the district has the most number of Muslims after West Bengal's Murshidabad.
Stirrings of Change
What makes Malappuram's story of educational resurgence a happy one is the baggage of history it leaves behind—one of a long, bitter past of hatred towards English and modern education. The animosity dates back to the second half of the 18th century, when the British killed Tipu Sultan and occupied Malabar.
Like in other coastal parts of Kerala, Christian missionaries did set up schools in Malappuram, "but that did not make an impact among the Muslims since the leaders were against English and even Malayalam,'' says historian MGS Narayanan.
The establishment of the Farook College in 1948, the first degree college established under a Muslim management in Kerala, was a landmark development in the history of education in the region. In 1965, another Muslim-run college came up at Mambad in the eastern part of the district.
In 1968, under the initiative of the Indian Union Muslim League (IUML), a party that dominates the politics of Malappuram, Calicut University was established in the district, paving the way for the opening of new educational institutions in North Kerala. Yet, quality schooling and higher education remained out of reach for Malappuram until 15 to 20 years ago.
According to Prof Hameed Chendamangalloor, social critic and observer of Muslim politics, "The economic progress that came with Gulf money in the last three decades reflected in the education sector too. The first generation of Gulf migrants wanted quality education for their children and that resulted in the opening of schools and colleges."
What helped the district catch up with the rest of the state was the opening up of the school education sector to private players in the last 15 years. It helped Malappuram that the IUML, a partner in the Congress-led UDF government, handled the education portfolio in successive Congress governments. Muslim-managed newspapers such as Madhyamam campaigned for the educational empowerment of Malappuram, provoking the community leaders and politicians to act.
Taking a cue from their Hindu and Christian counterparts, Muslim religious organisations started several English-medium unaided schools in every part of the district in the late nineties. Several CBSE schools came up too. The new aspiration among Muslims for better education was reflected in the sprawling college campuses promoted by rich NRIs and at madrassas, where local mahallu committees conducted unrecognised English-medium schools. The trend is still on, but the newer educational investments in Malappuram are big and have no religious markers on them.
The Push to Education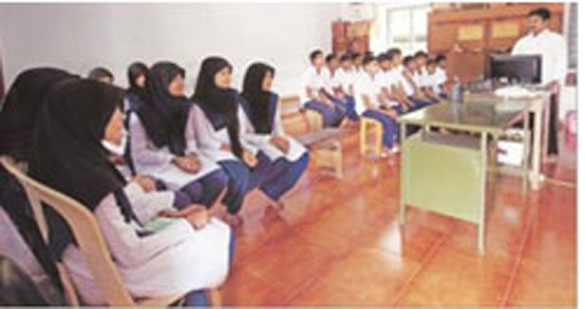 While unaided schools and colleges came up in Malappuram, the existing government and aided private schools underwent a makeover with improvements in infrastructure.
Malappuram is the first district in the country to use modern technology as part of pedagogy with its 'smart classrooms'. In 2001, after the district panchayat launched an e-literacy drive, Malappuram became the first e-literate district in the country.
"By taking internet to villages, we wanted to overcome limitations of libraries and other learning resources. The idea that internet access would enable the families of expatriates to video chat with their men in the Gulf caught on in Malappuram," recalls Abdurahiman Randathani, an IUML legislator who was vice-president of the Malappuram district panchayat that mooted the e-literacy project.
By 2005, classrooms in Malappuram's high schools had multi-media projection labs and schools had Edusat (education satellite) connections for online learning. The smart classrooms of Malappuram inspired the state education department to roll out the scheme in other parts of the state.
In 2001, the district panchayat launched Vijayabheri, a quality improvement project for high school students that is credited for the district's spectacular showing in the class X exams. "It was the combined effort of students, teachers and parents that led to remarkable improvements in the results of the class X exams. Every year, during the class X exams, teachers and parents camp in schools after class hours to give special training to students,'' says Randathani.
Along with Vijayabheri, the district panchayat has tied up with the British Council to improve the English speaking skills of teachers.
Coming Round
The hunger for good education did some collateral good: it helped water down orthodoxy. Until a decade ago, schools under Muslim managements and government-run Muslim schools would remain closed for a month during Ramzan. But now, barring a few, the majority of schools follow the general academic calendar.
"The Ramzan break would upset the academic calendar. However, a section still opposes the general calendar. In schools that shut during Ramzan, special tuition programmes are held for students,'' says K Muhasin, a teacher with a government upper primary school for Muslims at Mithra, a village in Malappuram.
Another area of intervention was in the madrassas. Earlier, madrassas used to hold classes in the morning and evening. To enable students to do their regular school homework and attend to tuition, most madrassas have abandoned their evening classes. Some madrasas even run English-medium schools after the religious classes. In many places, madrasa education has been cut down to a couple of hours over the weekend. Some of the CBSE residential schools set aside a few hours every day for 'moral teaching' in lieu of the formal madrasa education.
The ideas are flowing in fast. Sunni leader Muhammed Faizy suggests that madrasas, which are usually vacant for the whole day from 10 a.m, can be "turned into centres of skill development for self-employment programmes''.
According to Mukthar Udarampoyil, formerly a madrassa teacher, community leaders are discussing the possibility of starting 'English-medium madrassas'. Religious centres of learning, such as Shariat College, Da-wa colleges and Asfal-Ulema Arabic College, are encouraging their students to continue their general education in addition to religious studies. Some of these colleges have innovative programmes, like an integrated course that has religious studies and MBA. Da-wa colleges in Malappuram have a five-year programme in Islamic subjects and a graduation course in English. Some of them even offer coaching for medical and engineering entrance exams.
The success of Malappuram's youths in the civil services exam has led to a spurt in training classes for aspiring civil servants. Farook College has a civil service academy, while MES College at Mambadu runs a foundation course. The Muslim Service Society and the Mohammed Abdurahiman Memorial Orphanage College have announced their civil service coaching programmes.
The signs of change are clear on the streets of Malappuram—on a roadside banner with its mug shots of Muslim girls who have got into engineering or medical colleges, and on a board that says: "migrate to UK, Study in London and Australia". When these signboards jostle for space with advertisements of shawarma and shawai, you know Malappuram has just turned a page.
Source: The Indian Express
------------------------------------------------
Journey from Malappuram to Delhi
By Nandini Thilak
Sep 04 2011, 03:49 hrs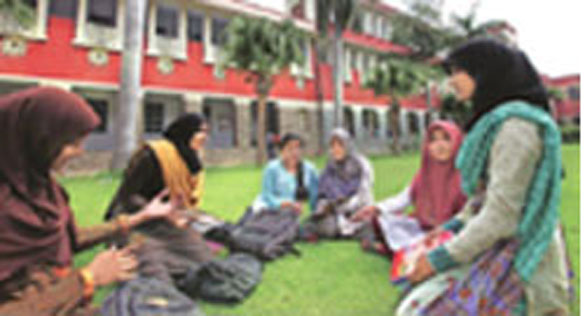 New Delhi: Every year, youngsters from Malappuram and the larger Malabar region come to Delhi University to pursue under-graduate and post-graduate studies. Almost all of them learned about the University from others: seniors from school who found their way to the University before them.
Muhsina Ahsraf, from Areekode in Malappuram, wants to write the civil services exam. Her coming to DU is an extension of her father's dream.
"Uppa (father) had got through to Aligarh but could not come. Even though no one else was sure about sending me here alone, he was with me," she says. Her father is a college professor and her mother teaches in a school. "She went as far as she could in her circumstances," says Muhsina of her mother—"till Trivandrum to do her teachers' training course."
Muhsina lives with other girls from different parts of Malabar at a rented flat in Vijay Nagar in Delhi.
Husna Muhammed, from Pulickal in Malappuram, is a first-year Psychology Honours student at Indraprastha College for Women. She was introduced to DU by her seniors. The eldest of five children, Husna's aim is to do her PhD. "I like teaching, lectureship is one option," she says.
Sandra Vasudevan, from Thirur in Malappuram, got to know of DU from her aunt, a teacher. "She had a student who graduated from Jamia and that's how I got to know of a counselling session at DU. When I first came home and told them, my mother did not want me to go," she says. Her father, who has been working as driver in the Middle-East for the last 26 years, was supportive. Sandra is now a second-year BSc student at Ramjas College.
The course is tough, but Sandra has coped, just the way she did when she suddenly shifted to an English-medium school in class 11 after studying for 10 years in a local Malayalam-medium government school. She wants to do her MSc at DU and write the civil services exam.
"Close social relationships have helped students from the region gain information about applying to universities like DU," says Raheemudheen P K, an M Phil student at the Department of Psychology at the University.
"Students who come to Universities like Delhi go back to their old schools and help guide other students. I go back to my old college and tell others. I have juniors who have come this way. I joined for MA here, with help from my seniors," he says.
Source: The Indian Express, New Delhi
URL: https://newageislam.com/islamic-society/success-school-journey-malappuram-delhi/d/5404