By Shafeeq Hudawi
10 October 2016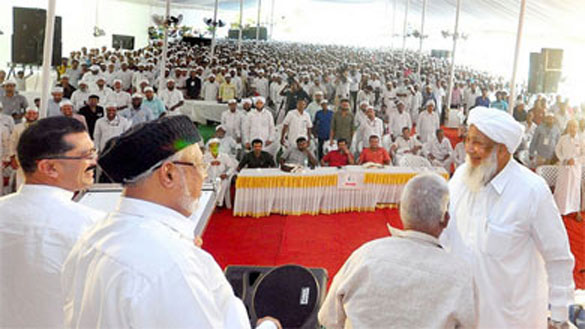 A scene from the Maanava Sanghamam, organised by SSF
----------
At a time when inter-religious conflicts are rearing their ugly heads across the country, Mamburam Makham in Malappuram district of Kerala has emerged as a symbol of communal harmony by carrying forward the legacy of Mamburam Sayyid Alavi Thangal. This year too, week long spiritual intercourse, food distribution and union of leaders from various communities marked the 178th death anniversary of Thangal in Malappuram.
A custodian of Dalits and lower castes, the Sufi leader of 19th century had strong bonds with Konthu Nair and Kappratt Krishna Panicker, who were among the influential Hindu leaders of the time in Malappuram.
Born in Yemen in 1752, Thangal came to Kerala as part of a missionary group at the age of 17 and settled at Mamburam. He was called Qutub Zaman, which denotes the spiritual distinction, by the Sunni Muslims in Kerala. He helped Muslim community grow by drawing them towards education.
"In fact, the Muslims of Kerala owe much to Thangal for the spread of Islam across the state. During his period, people from various castes converted to Islam," says P M Sadiq Faizy Tanur, editor of Malayalam biweekly Sathyadhara.
Quoting Malabar Manual written by British officer William Logan, historian Dr. K K Muhammed Abdul Sathar says, "he was influential not only among the Muslims, but all people in the region, especially among Dalits."
"Dalits were always drawn towards Thangal. Unlike the Hindu landlords here, he was open to all and the Dalit community, which was denied access to the landlords and upper class leaders, used to approach the Sufi saint to express their grievances and seek solutions," Abdul Sathar says.
Thangal was the man who helped Dalits in the region build a temple with Kaliyattakkavilamma as its deity at Kaliyattumukku near Mamburam.
One of the oldest temples of the lower castes in Malabar still pays respect to the great leader. During the festive season, the procession to the temple starts from Mamburam Dargah. Hindu devotees flock to the Dargah and start their procession and seek permission from the clerics here.
Thangal was an advocate of coexistence. "Come to Mamburam and see how the Muslims greet their Hindu brothers. Believe me, if you try to start such a custom from a mosque or a temple, the hardliners of the two communities won't allow you to do," says Sadiq Faizy.
Folk songs about the story still find a place during the festivals at the temple. To add to this, the Dargah authorities donate money to the temple and visit it during the festival after Friday prayers.
Thangal extended stiff resistance against the caste system, which had strong roots in the Hindu community. "Even after their conversion, Dalits here were following the worst customs of casteism. They continued to use honorific terms to address upper class Hindus. And refused to walk and sit with the landlords. Even conversion didn't help them to get rid of the compulsion of caste system," Sathar adds.
Thangal told people from lower strata of life to be Muslims in true spirit and helped them attain self respect, integrity and confidence.
Many uprisings carried against the landlords who were backed by the British, were motivated by Thangal. In the middle of 19th century, Malabar witnessed various rebellions by Mappila peasants at Muttichira, Cheroor and Manjeri.
"Thangal didn't call for violence against the landlords. But, the fighters came to Mamburam and went back to their homes after taking blessings from their leader. They never disposed that they are going to fight against landlords, who used to deny them their rights with the support of British officers," says Sathar.
Interestingly, this year's death anniversary observance of Thangal was adorned with a special academic fete by Sunni Students Federation (SSF). The SSF organize a 'Manava Sangamam' (union of human beings) in an attempt to uphold and spread the secular values of the nation at Thalappara in Malappuram. The congregation named "Mamburam Thangal and Konthu Nair' was aimed at bringing a sense of religious and social harmony through its various seminars and programmes and inaugurated by All India Sunni Jamiyyatul Ulema general secretary Kanthapuram A P Aboobacker Musliyar.
Kerala Legislative Assembly speaker P Sreeramakrishnan, Minister for Local Administration and Minority Welfare Dr. K T Jaleel, Minister for Ports Kadannappally Ramachandran, Samastha Kerala Jamiyyatul Uleam general secretary Ponmala Abdul Qadir Musliyar, V T Balram MLA, historian KKN Kurup, Syed Ibrahim Khaleelul Bukhari and author K P Ramanunny attended various sessions.
Source: twocircles.net/2016oct10/1476093853.html?utm_source=feedburner&utm
URL: https://www.newageislam.com/islamic-society/shafeeq-hudawi/how-the-life-of-a-sufi-leader-paved-way-for-interfaith-harmony-in-kerala/d/108822