Saudi Gazette Report
April 11, 2014
A number of academics and experts have underlined the need for serious efforts to contain atheism in the Kingdom. Claiming that there is a link between the spread of atheism and extreme religious views, the experts said a moderate image of Islam must be promoted and any doubts youths may have about religion must be addressed in a convincing manner, Al-Madinah Arabic daily reported.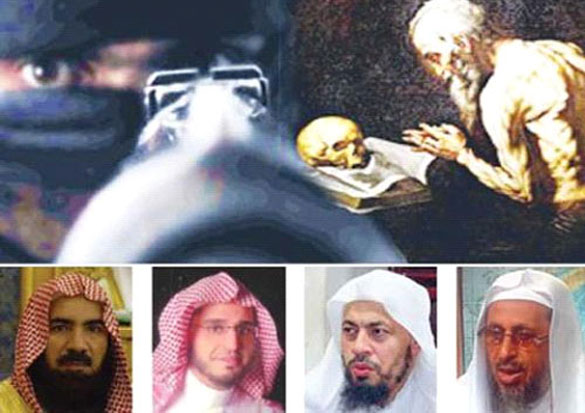 From Left: Azeb Al-Musabbil, Ghazi Al-Maghlouth, Muhammad Al-Sharif and Yousuf Al-Ghamdi
----------
Their comments came in light of a poll that showed the Kingdom is the first country in the Islamic world where the number of atheists had crossed the 5 percent mark. The poll, called "The Global Index of Religiosity and Atheism", was conducted by WIN-Gallup International. According to the poll, 75 percent of people in the Kingdom are religious while 19 percent see themselves as non-religious.
Ghazi Al-Maghlouth, professor of Islamic culture at Al-Ahsa University's Faculty of Shariah, said atheism is not at all linked with religious discourse. It is purely related to the personality of individuals who have some confusion about certain religious doctrines, in addition to having a sceptical mind. They always search for mysteries behind anything and everything and ask questions for which there may not be any clear-cut answers," he said.
According to Al-Maghlouth, even in China, there are three major religions — Confucianism, Taoism and Buddhism, in addition to atheism. He said that atheism is present in every society in varying degrees. Al-Maghlouth specially referred to the controversial book by the Egyptian philosopher Abdul Rahman Badawi, titled "A history of atheism in Islam."
In the book, Badawi explains how several Muslim philosopher-scientists and students of the medieval period questioned and often refuted some basic Islamic tenets and eventually became atheists.
Al-Maghlouth said the media played a great role in promoting atheism in the modern world. "Before the high-tech media revolution, there were atheist tendencies but they did not receive any significant attention. Now, even small atheist elements are receiving wide publicity," he said while adding that people who are engaged in their own reading and writing are more prone to atheism.
"There are several such thinkers and cultural figures in the Arab world who have detached themselves from people and the hard realities of life. Most such people return to normal thinking in the last phase of their lives. One needs to accept Islam as his or her religion only after being convinced that it is the true religion. It is not ideal for them to accept it as a religion simply because of the fact that they were born in a Muslim family," he said.
Al-Maghlouth rejected the idea of addressing the phenomenon of atheism through publicizing its followers or attacking them vigorously. "This could be counterproductive as youths who follow atheism would then react vehemently and be adamant in adhering to their beliefs. Therefore, it is essential to engage them in friendly discourse," he said while quoting the proverb, "Winning hearts is more significant than conquering cities."
Yousuf Al-Ghamdi, professor of faith (Aqeedah) at Umm Al-Qura University, underlined the need for looking at the issue from two angles: Some people resort to atheism to escape from the religious restrictions and this is a personal or internal matter. The second factor is an external one and this means they embrace atheism by following deviant ideologies or dogmas.
Al-Ghamdi said that the problem should be tackled through a wise and effective dialogue in a convincing and satisfactory way. "Atheism is an intellectual phenomenon and not a behavioural one and hence it should be addressed in an intellectual way."
Prominent researcher Muhammad Al-Sharif called on youths to hold fast to the fundamental principles of Islam that are based on moderation and tolerance so that they can rid their minds of unnecessary doubts that lead to atheism. He noted that there is a wide gap between scholars and youths.
"Many scholars and preachers are not serious in their approach to clear doubts of youths with regard to some religious topics and issues of faith. They are also not cautious to give them convincing replies based on logic and wisdom," he said.
Azeb Al-Musabbil, member of the Shoura Council, said that the tendency of scholars and preachers not to address religious topics and clear doubts in a logical and convincing manner leads to scepticism.
"The fundamental principles of our religion are sublime and candid and they can be easily understood by every man and woman regardless of age. The basic thing is that scholars and preachers have to impart them to the younger generation in a convincing way, without creating confusion and scepticism," he said.
Source: http://www.saudigazette.com.sa/index.cfm?method=home.regcon&contentid=20140412201628
URL: https://www.newageislam.com/islamic-society/saudi-gazette-report/containing-atheism--engage-youth-in-convincing-discourse-to-check-the-spread-of-bigotry,-say-scholars/d/66525