By Sanya Dhingra
5 April, 2020
Nearly 80 serving and retired IAS, IPS and IFS officers belonging to the Islamic faith have appealed to the Muslim community to adhere to social distancing norms, and not give anyone the opportunity to accuse it of spreading Covid-19 in India.
The officers' appeal comes in the light of the Tablighi Jamaat event at New Delhi's Nizamuddin area last month, which has resulted in about one-third of the total Covid-19 cases in India as on 5 April.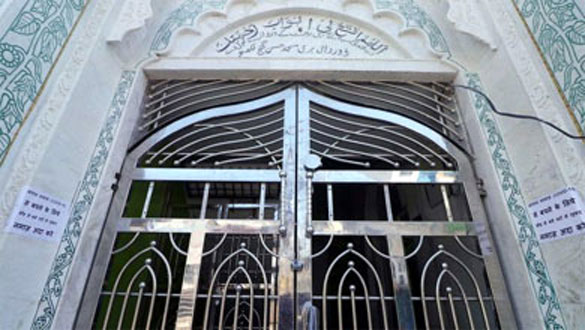 Notices pasted on the gate of a mosque in Lucknow, asking devotees to offer namaaz from home | Photo: ANI
------
"Of late, a message is going in the society at large that Muslims, as a group, in India are not adhering to 'social distancing' and other measures to counter the spread of the pandemic," the officers have written in their open appeal to Muslims.
"Distressing videos are in wide circulation showing stone pelting at health workers, and clash of men from Muslim community with police personnel who were enforcing the law. In some videos, policemen are being forced to baton-charge the people hell-bent to go to a mosque for prayer," the officers state.
In this light, the officers have urged Muslims to "act responsibly and stand out as examples for fellow citizens in the fight against coronavirus".
They add that the community should ensure its actions do not offer anyone an opportunity to accuse Muslims for the spread of the epidemic in India.
"They must adhere to the guidance of the public health experts and the orders of the government, since what is correct must be followed irrespective of whether one finds support for that or not in religious scriptures," they state.
Invoking the Quran
The officers have invoked Islamic teachings to argue that contracting the virus through negligence is a "sinful act", even if you are the only person who gets infected.
"Suicide and courting danger and disease by one's rash and negligent act is haram," the officers state. "The virus does not remain confined to the body of the person who invited it to himself through his foolish act. It travels rapidly in the family and society, and brings indiscriminate deaths to innocents."
They add: "The Quran says if one kills an innocent human being, it is as if he had killed all mankind, and whosoever saves the life of one, it is as if he had saved the life of all mankind."
However, they also say that even in the absence of religious scripture, it is imperative that Muslims respect quarantine norms.
"Even if there were no religious sanctions to avoid a plague or remain in quarantine during a raging epidemic, adopting measures to safeguard oneself from it would still be the sensible thing to do," they say.
"Muslims can pray collectively at the mosques after the pandemic dies out and the normal life is restored."
Original Headline: Muslim IAS-IPS officers' Covid-19 appeal to community: Don't give anyone reason to blame you
Source: The Print
URL: https://www.newageislam.com/islamic-society/muslim-ias-ips-officers-cite/d/121510