By Sagarika Ghose
January 19, 2020
The protests against the Modi government's citizenship laws are throwing up images in which stereotypes are being shattered. Maulanas and clerics are not leaders here; instead, youth and home-makers are. These are not "Muslim" mobilisations as earlier seen against Salman Rushdie, triple Talaq or Taslima Nasrin. Instead, this new inclusive movement is one where Bhim Army's Chandrashekhar Azad — and not the Shahi Imam — has addressed crowds at Jama Masjid. Students and citizens from all communities have joined in raising the non-denominational slogan — Azadi.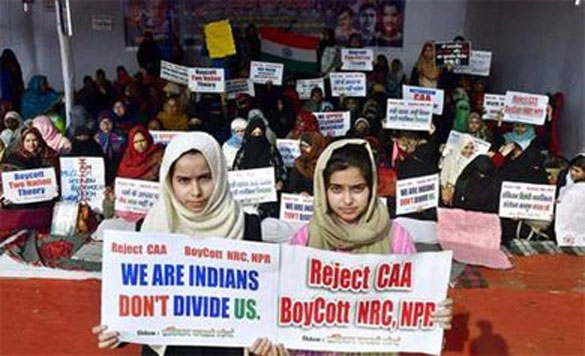 Shaheen Bagh Protest
----
Protesters make a crucial argument: given the foundational constitutional principle of all religions being equal before the law, India's Parliament cannot, in the 21st century, insert religious discrimination into any legislation.
It's a protest armed with nothing but the Preamble. Clothes do not matter; jeans, jackets and hijab co-exist. Importantly, the women of Shaheen Bagh or software professionals in Bangalore or students of Jamia, have little truck with old-style victimhood. Instead, theirs is a forceful declaration of equal citizenship by patriotic Indians.
At protest sites youngsters are lining up to have their faces painted with the Tricolour, something normally seen during cricket matches or Independence Day. At Shaheen Bagh, there's an installation of India Gate and giant India maps. Posters of freedom heroes Gandhi, Bhagat Singh, Ambedkar and Maulana Azad are depicted standing together. Claiming all of them together — something conventional politicians don't — is what makes the protest ideologically unique.
In Hyderabad, AIMIM leader Asaduddin Owaisi is organising Tiranga rallies and plans to light up Charminar in Tricolour on Republic Day. In Mumbai's Dharavi, Muslim slum-dwellers stand with their Marathi Manoos neighbours, chanting patriotic songs. AIMIM's Waris Pathan has yelled that others may migrate to Australia and America but the Indian Muslim will never leave his beloved Bharat.
Is it fear that is pushing Muslims to make these declarations of patriotism? BJP may argue that its precisely these declarations of 'loyalty to India' from Muslims which the party has always pushed for. Yet there's no fear in the Muslims' open defiance of the prejudice that has been consistently directed at them. Instead, there's an unwillingness to succumb to stereotyping and demonising. At the same time there's a deep yearning for cross-community brotherhood, to align with other inclusive patriots. Said a protester: 'Enough is enough. Didn't we remain quiet after the Ayodhya judgment? Didn't we remain quiet even though many of our businesses were ruined after cattle trade laws? Didn't we remain quiet when the only Muslim majority state was split into UTs? Have we not consistently spoken of peace after bloody assaults? Now when our citizenship itself is being questioned, we will not fight shy of voicing a cry of both anger and of intense belonging to our homeland."
This cry is directed not only against saffron majoritarianism, but also against those within the Muslim community — notably, intellectuals like the late Syed Shahabuddin who insisted on a 'Muslim' identity ahead of an 'Indian' one. The slogan, 'Hindustan Ke Chaar Sipahi, Hindu, Muslim, Sikh, Isaai', is regularly raised in Shaheen Bagh, emphasising that inter-community partnership built free India.
Instances of violence and radicalised politics in UP, West Bengal and Mangaluru have taken away some of the movement's moral dignity. Yet the overwhelming majority of the protests have remained non-violent and may even have the potential to renew faith in conscientious non-violent civic action. The onus is now on the majority community: can Hindus embrace this call for the Constitution and shun the regressive stereotypes propagated by politicians who believe "protesters can be recognised by their clothes"?
The ruling BJP has internalised the lexicon of British imperialists. The scholarly book 'Beyond Turk and Hindu' shows how British colonial census takers, in pursuit of 'divide and rule', froze Indians into watertight silos of 'Hindu' and 'Muslim'. Before the British, the subcontinent was a free give and take of broad "Islamicate" and "Indic" people. The protests evoke those age-old ties and stake a claim to Muslims' long-held place in India's history.
It's a mistake to see the protests as a "Muslim" issue. It would also be a mistake for protesters to descend into narrow identity politics. At the moment, there's a striving for modern constitutional values and strong rejection of the two-nation theory. In fact, the protests are an opportunity for the emergence of an active new Muslim citizenship beyond the majority-minority divide because this movement asserts that the patriotism of the Indian Muslim is in no way lesser than the Deshbhakti voiced by Indian Hindus. A powerful sentiment courses through the protests: Garv Se Kaho Hum Indian Muslim Hain.
Original Headline: Muslims make a point: Identity not divorced from nationhood
Source: The Times of India
URL: https://www.newageislam.com/islamic-society/protests-caa-nrc-npr-throwing/d/120836