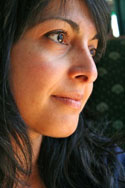 By Saba Salman
30 May 2013
Ifat Nisa feared her teenage son was hanging out with "the wrong crowd", drinking, and smoking or experimenting with drugs – but when she questioned him, they always argued.
Brought up not to challenge her own parents, Nisa was confused about how to parent an apparently disrespectful teenager. She heard about a parenting course at her mosque in Slough, Berkshire, and despite initially dismissing it – "My reaction was 'it's not Islamic'" – when she discovered it was tailored for Muslim parents, decided to try it out.
Nisa recalls: "I was worrying I wasn't a good parent. I was confused why my son was reacting like he did; the course helped me understand his emotions and feelings." Nisa learned about empathy and stopped blaming and constantly questioning her son. She credits the course for their strong, healthy relationship now.
The pilot Nisa attended was held at Stoke Poges mosque in 2007 and was developed by family support worker Arifa Naeem. Naeem used an established course devised by the charity Family Links, which trains parenting support workers, and added extracts from the Qur'an and the Prophet Mohammad's sayings.
Naeem says that when she trained with Family Links, she realised the course concepts were in tune with Islamic religious ideas but Muslim that women were reluctant to attend. To engage them, she matched the course's core principles (self-awareness or empathy, for example) with religious verses.
One concern among parents is how to reconcile western values and life with their religious or cultural upbringing. The course, as Naeem says, supports parents towards adopting positive practices consistent with Islamic religious values, helping them be "good Muslim British citizens".
Now Family Links is rolling out this version of its course, Islamic Values and the Parenting Puzzle, and partnering with the charity UK Islamic Mission (UKIM) to reach families who might not join mainstream programmes. The organisations ran the first training in Birmingham last year, teaching 21 volunteers to deliver the course, and a second course took place in London last month. The courses train parent leaders to deliver the programme to others. Evaluations have yet to be published, but Family Links says it could reach 200 people a year.
The courses involve role-play and discussions about concepts such as praise and positive discipline. Participants use various approaches in different scenarios, from dealing with uncommunicative teenagers to discussing sexual issues.
Naeem's aim is to untangle culture from religion, encouraging participants to realise that some of their parenting has little to do with Islam, but are learned cultural practices. She recalls dealing with misconceptions about discipline; when several participants on one course discussed smacking, suggesting that bearing punishment was a virtue, she told a religious story about oppression to reinforce messages about fair treatment.
"It's a manmade concept to suppress people," Naeem explains, "it's not Islam … from childhood there are feelings we're told to suppress. So if boy's crying we say 'don't cry – you're not a girl, you need to be brave and strong'. A lot of people think they must suppress anger, this is what we teach our children, so in youth today there's a lot of anger." The course encourages people to recognise their frustration and deal with it in a positive way, through negotiation, for example.
Naeem adds that when she first spoke to women about sex and sexual health issues, she expected a challenge, but "it was something they were waiting for". She adds: "It is about how to keep your children safe, so dealing with disclosures, giving knowledge, and some said 'we wish our parents had done this' … [because otherwise] it's all about ignoring the issue."
Naeem adds that the simple inclusion of a kindness chart to acknowledge good behaviour can change the household environment. She says: "One parent said she used to have a lot of arguments, but since introducing the chart they realise how much they do for each other, but before they didn't see it."
As to why some communities are resistant to joining existing parenting programmes, Sarah Darton, Family Links director of programme delivery, explains that practicalities such as language, venues or mixed-sex groups can dissuade people. Peer-to-peer delivery helps, as does the fact that sessions can be delivered in the mother tongue and that the course includes a DVD in Urdu.
Darton stresses that rather than being divisive and offering a completely different course to Muslims, Islamic Values is the same as Family Links' original course, but incorporates faith messages. "For some parents, to be able to incorporate parenting in their religion, with messages supported by your religious values, it makes it that much more real."
The plan is soon to train a group of Muslim fathers so they can deliver the programme to their peers, countering any assumptions that domestic life is solely the remit of the mother. As one father recently told Naeem: "No one ever asks us how we feel as a parent … [there are] so many cultural things – you can't cry, you can't feel sad, and you have to be strong."
Nisa, one of the original participants on Naeem's first course, says another benefit is that many of the skills are transferrable. Referring to her role running women's support groups at her mosque, Nisa says: "So many oppressed women approach us, not only for learning the Qur'an but other issues as well, so [learning about empathy] helps me to understand their position and to guide them more accurately."
Why not join our social care community? Becoming a member of the Guardian Social Care Network means you get sent weekly email updates on policy and best practice in the sector, as well as exclusive offers. You can sign up – for free – online here.
Source: http://www.guardian.co.uk/social-care-network/2013/may/30/parenting-courses-for-muslims
URL: http://newageislam.com/islamic-society/saba-salman/parenting-courses-for-muslims-aim-to-untangle-culture-from-religion/d/11906