By S. Arshad
07 August 2020
Islam asks believers to never shun justice or moral decency even while dealing with enemies. But when we read the Urdu newspapers of Pakistan, we regularly observe this lack of moral decency among the writers, so-called intellectuals and columnists reflected in their writings. Most of the columnists do not find any other issue pertaining to social, political, economic and other issues of national importance.
They often write what India is going to do against Pakistan or what conspiracies it is hatching against Pakistan.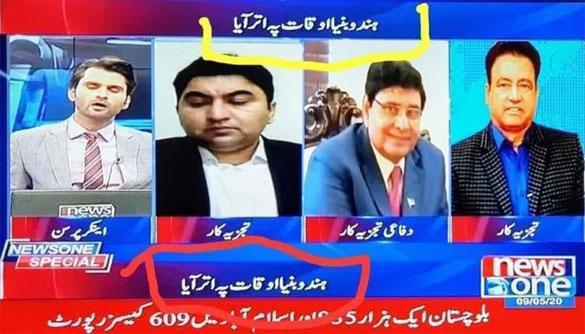 Every journalist seems to love to mention RAW as if they have breakfast with RAW officers every morning whereas the fact is that they are ill-informed people with half-baked knowledge of the social, economic and political realities of their own country. They thrive on anti-India paranoia and regularly spew venom against Hindus of India while claiming to be sympathisers of Hindus of Pakistan. While speaking about Hindus, they add the prefix 'bania'.
So, to them, every Hindu is a bania, a derogatory word meaning a cunning businessman. They have coined this term to express their hate against the Hindus of India. I have observed that even journalists and poetesses of Pakistan who occasionally visit India and while in India, praise the Hindus of India and the country's multicultural traditions, use the word Hindi bania in their writings back home as an old habit.
No Hindi newspaper columnist of India uses any derogatory term for Muslims in his writings. The speech or writing of a person only reflects the collective way of thinking of the society or environment in which he lives.
They do it because it is necessary for them to cash in on the popular sentiments. On the other hand, they do not have the courage to write anything about the Taliban, the Lashkar-e-Taiba, ISIS and other terrorist organisations thriving and causing bloodshed in the country because they know the repercussions.
By going through the Urdu newspapers of Pakistan, one will think that terrorism is not an issue of Pakistan. No Urdu columnist dares to write on terrorism as an issue, because they will have to mention the terrorist organisations active in the country.
For example, when one learned columnist of Pakistan wrote an article on Maulana Sarfaraz Hussain Nayeem who had launched a nationwide campaign against the Taliban and was ultimately killed by Taliban, the columnist did not mention a word about Taliban or Maulana Nayeemi's campaign against terrorism and Taliban. The columnist simply praised his simplicity, his contribution to the field of education and his piety.
This is the degree of fear they have of the terrorist organisations of Pakistan. So, what is left for them to discuss? India and Hindus, of course.
They cannot abuse Chini 'bania' because China has instructed their Prime Minister to stop spread of negative propaganda against its inhuman treatment of Uighur Muslims among Pakistani Muslims. For Imran Khan, even a cricket match with India is a jihad.
This is the reason; the Pakistani columnists have to fall back upon India and Hindus to earn their bread and butter and maintain their image as journalists and intellectuals.
S. Arshad is a regular columnist for NewAgeIslam.com
URL: https://www.newageislam.com/islamic-society/s-arshad/the-term-hindu-bania-used-by-pakistani-columnists-and-writers-speaks-of-their-sick-mentality/d/122570
New Age Islam, Islam Online, Islamic Website, African Muslim News, Arab World News, South Asia News, Indian Muslim News, World Muslim News, Women in Islam, Islamic Feminism, Arab Women, Women In Arab, Islamophobia in America, Muslim Women in West, Islam Women and Feminism