By S. Arshad, New Age Islam
10 July 2021
Qurbani in Pakistan and Bangladesh Has Grown Into A Billion Dollar Industry
Main Points:
1. Bablu, a giant bull in Pakistan is priced at 10 million rupees.
2. Gullu, the giant bull is priced at 9 million rupees.
3. Bahadur of Bangladesh was sold at 28 lakh Taka.
4. Elite class of Bangladesh prefer cows from the US.
5. Qurbani is a boon for poor farmers and cattle owners.
-----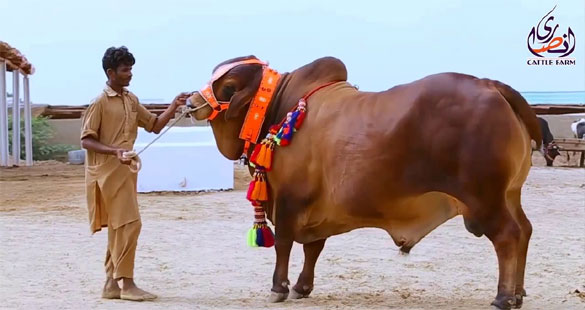 (Photo courtesy: YouTube: Bablu, the giant bull)
-----
Bablu, the giant bull has arrived at Karachi's expansive 900 acre cattle market called Maveshi Mandi on the eve of the festival of Eid-al-Adha. It is awaiting buyers. Its price will overwhelm you -- a cool 10 million Pakistani rupees which is more than one crore rupees. The owner says he feeds Bablu wheat, butter, Desi ghee and nuts.
Ballu's friend Gullu, another giant bull up for sale for Qurbani is priced at 9 million or 90 lakh Pakistani rupees.
In 2019, a similar giant bull called Surmawala King was up for sale for one crore rupees in the same market. Though this may be an indicator of the purchasing power of a well to do Pakistani, the trend shows how excited Pakistanis are about Qurbani.
Whether Bablu and Gullu will be bought or not will be learnt after Eid-al-Adha but this is certainly an indicator that Eid-al-Adha is fast turning into a social event where ritual sacrifice has become an occasion for show of pomp more than of piety.
Though not all sacrificial animals are so costly, but the price falls in lakhs. For example, goats are sold at as high a price as 3.5 lakh and cows and buffaloes and bulls are sold at around 50 lakh rupees.
Though Islam has made Qurbani Wajib (obligatory) for the well-to-do of the society, it does not say that the sacrificial animals should be costly. God says:
"It is neither their flesh nor their blood that reaches Allah, but what does reach Him is taqwa (piety) on your part."(Al Hajj: 37))
During the life of the prophet of Islam pbuh, goats, sheep and camel that were available to the Muslims, were sacrificed.
In Bangladesh, another Muslim majority country, the situation is almost the same. Here too the price of animals meant for Qurbani is higher than in normal days. In 2021 as was in 2020, the prices are comparatively higher because of restrictions due to Covid-19.
In Pakistan and Bangladesh, business of sacrificial animals has become a lucrative one because of this new trend among Muslims. Many rich people invest in sacrificial animals on Eid eve for making fast money. It has turned into a big industry. According to the Pakistan Tanneries Association, a business of PKR 150 billion is done in Eid-al-Adha. Around 7 million animals were bought and sold last year. Animals are especially groomed and lavishly fed so that they can be sold at higher prices.
In Bangladesh also, Qurbani cattle business is a $ 1 billion business with about ten lakh animals being sacrificed. The market is increasing both in size and standard. The demand for costlier animals, particularly cows is increasing by the year thanks to the economic growth of the country.
In Bangladesh, the sacrificial cows are categorised under four grades according to their physique, look and weight: Grade A, Grade B, Grade C and Grade B. Their price depends on their grade. For example, a Grade A cow sells at 1.5 lakh BDT (Bangladeshi Taka) to 9 lakh BDT; Grade B cow sells at 1 lakh to 1.5 BDT; Grade C cow sells at 70, 000 to 90,000 BDT and Grade C cow sells at 60, 000. Grade C and D cows are the local breed sold by poor farmers to earn money in the festival season.
Above them are the elite class of imported cows that are tall, huge and beautiful and are bought by the upper class of the society at high prices. These are imported from the US through cargo planes every year. These cows cost between 10 lakh BDT to 30 lakh BDT. For example, in 2018, seven cows had been imported from Texas ( US) and were sold for more than one crore Taka. Bahadur, the cow weighing 1500 kg was sold at 28 lakh BDT. Another Texan cow was also sold for 24 lakh BDT.
This ever-growing business of sacrificial cattle has not only benefitted the big cattle traders but also poor farmers who make fast money by selling their cattle in the market at higher prices. Thousands of village folk wait for Qurbani season to sell their cows and goats on Eid-al-Adha to earn money which removes their financial woes.
However, the lockdown this year is going to pose small cattle traders big problem. The Bangladesh government has set up online cattle markets called Digital Haat for sale and purchase of cattle for Qurbani. Apart from the Digital Haat, many designated cattle markets have been set up with Covid-19 SOP. Therefore, cattle traders fear a low business this year.
In India, the prospects of cattle business are bleak for cattle traders because of strict lockdown imposed by many states. Buyers and sellers will have to make transactions online and the sacrifices will be symbolic.
In short, the festival of sacrifice in Muslim majority countries is increasingly becoming a big social event during which a religious ritual turns into a big economic activity and animals take centre stage.
However, it would have been better in the interests of the community if the crores of rupees spent on sacrificial animals could be spent on developmental projects for the educational and economic upliftment of the community.
------
Sohail Arshad is a columnist with NewAgeIslam.com.
URL: https://www.newageislam.com/islamic-society/sacrifice-eid-al-adha-ritual/d/125074
New Age Islam, Islam Online, Islamic Website, African Muslim News, Arab World News, South Asia News, Indian Muslim News, World Muslim News, Women in Islam, Islamic Feminism, Arab Women, Women In Arab, Islamophobia in America, Muslim Women in West, Islam Women and Feminism