By Rowan Callick
June 18, 2014
THREE years ago, an Indonesian Islamist extremist, Pepi Fernando, was arrested by the police after he had sent book bombs to institutions that speak on behalf of liberal Islam.
He and collaborators were making pipe bombs intended to ¬attack churches through gas pipelines — and as collateral damage devastating the small city of Serpong, population 80,000, in western Java.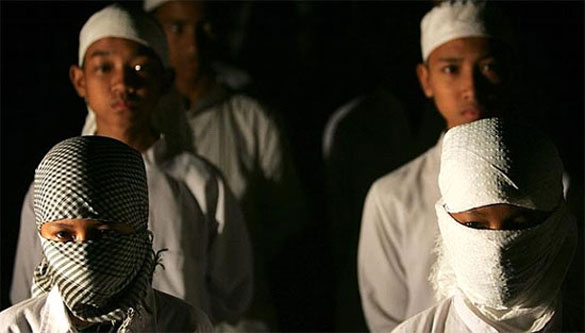 Students of an Islamic school in Solo, Central Java; about 90 per cent of Islamic institutions at all levels in Indonesia are private. Source: AP
--------
Jamhari Makruf, who is deputy rector of State Islamic University, Jakarta, and chairman of the ¬national taskforce on Islamic education reform, told Melbourne University's Centre for Indonesian Law, Islam and Society in a speech last week that "this news shook Indonesia and led many to start questioning Islamic education in general."
For Pepi is a graduate of Dr Jamhari's own university, widely considered moderate.
"Pepi's case," he said, "was only the latest in series where graduates from Islamic educational institutions have become involved in ¬terrorism, including, of course, the notorious Bali bombing, which involved graduates of the Ngruki ¬pesantren (Islamic boarding school) in Solo led by Abu Bakar Bashir."
The university had already begun a survey of Islamic education. It asked: is it true that such institutions in Indonesia teach ¬religious radicalism? Have they become breeding grounds for radical behaviour leading to religious violence in the world's largest Islamic country, where more than 80 per cent are Muslims?"
The survey's three core linked findings were that conservatism among students in high schools was on the rise, that the teaching of Islamic subjects at these schools was still based on outdated, unrevised learning materials, and that religion teachers were widely regarded as the most uninspiring of all teachers.
Almost no support had been provided to these teachers to improve their skills. They had been ignored for decades. A program of change is under way, but it must continue, he said, or the institutions "could indeed find themselves mired in conservatism and radicalism" — which grew as a result of neglect.
Dr Jamhari — his PhD, in anthropology, is from the Australian National University — said Indonesia had two models of education: conventional and Islamic, the latter covering about 30 per cent overall.
Conventional education, from primary to tertiary levels, is under the jurisdiction of the Ministry of Education and Culture, while Islamic education is under the jurisdiction of the Ministry of Religious Affairs. This derives from competing ideals at the time of independence from 1945-49, "with one camp wanting to base the state on Islam, while the other aspired to a secular nation."
Islamic family law has been brought within the Indonesian ¬national legal system, under the authority of the secular Supreme Court, and many believe the same should happen with Islamic education, Dr Jamhari said. "Those who oppose this are numerous, however, claiming that the religious content of Islamic education requires more specialised supervision."
The political impact of this division has become more pronounced in recent years, he said, with Islamic educational institutions receiving disproportionately low budgets. A dozen years ago, spending on all 52 Islamic tertiary education institutions equalled that of the University of Indonesia, which comes under the Education Ministry, and similarly small budgets were provided to Islamic primary and secondary schools.
Thus many educators in the Islamic system began to seek funding beyond the government, from the community.
Islamic schools and colleges were often located in poorer areas, Dr Jamhari said, and were valued because they were in people's own villages, and generally cheap, some even accepting farm produce in place of fees.
"The Muslim community also feels safer enrolling their daughters there, believing their virtue will be better protected," he said.
Thus about 90 per cent of Islamic institutions at all levels are private, with the rest managed and funded by the state.
"Teaching in pesantren, especially private ones, depends heavily on the kind of beliefs held by the people who run them.
"The books used also vary between institutions."
This opens the door in some places to religious radicalism, he said. But while the Ministry of Religious Affairs is responsible for Islamic education, it has limited ability to control what is taught: "There is no single standard ¬applied from one Islamic school to the next."
Minimal government funding has led many Islamic education administrators to seek funds from the Middle East, having an impact on the content of textbooks. Before 9/11, such support came primarily from Saudi Arabia and countries around the Gulf, with a thrust to project salafist ideology.
Since then, regulations on fund transfers have been tightened, Dr Jamhari said. Most Islamic schools, were "basically regular schools that are not much different from state public schools" except for the addition of a few hours on Islamic studies.
The reluctance of aid donors to help Islamic education institutions "only served to strengthen the assumption of cultural hostility," while big money from the Gulf region "reinforced the message that their ideology should be followed".
That has started to shift, with Australia leading the way in helping fund Islamic education institutions, "but much damage has already been done."
The older texts that have for long been the only books available in such institutions, he said, "give the impression that in a black and white world, Muslims are pitted against others, a world of either victory or defeat … a foundation for hatred of the West."
A decade ago, a new education law was passed requiring at least 20 per cent of the state budget to be allocated for education, a provision also in the constitution: this was "a big opportunity for reform of the system".
The law also entitled Islamic education to access government programs, and to a much bigger share of the budget. And now, if the government increases the welfare of teachers and lecturers, Islamic education institutions will also receive those benefits.
Beyond that, Islamic education now has the same budgetary rights as conventional education.
Since then, he said, both the infrastructure and the quality of teaching had improved sharply in Islamic institutions.
Islamic schools have begun to adopt more modern management systems, and were trying to catch up on developments in science and technology.
"Institutions such as Madrasa, pesantren, and Islamic universities are no longer marginal but are starting to move into the mainstream," he said.
"As more and more Indo¬nesians move to the cities, so Islamic education institutions have become an increasingly urban phenomenon, with some schools even becoming favourites for the Muslim middle class."
A tug of war persisted between conservative and progressive groups, he said, but "Islamic education institutions must be able to produce Muslims who com¬prehend modern religious teachings, grasping Indonesian character¬istics along with a global perspective.
"Building links with modern issues such as democracy, civic values, civil society and good governance will be of vital importance, as we work to create a new Islamic education system in Indonesia."
When Dr Jamhari's own university began, it had five faculties — all specifically religious. This year, though, it has 12 faculties, including the economy and business, science and technology, psychology, medicine and health sciences, social and political sciences, and natural resources and the environment — transforming it "from a purely religious institution to a genuinely modern and multidisciplinary one."
Seven other Islamic institutions had followed this course too, becoming part of the Indonesian university network — though only after "hot debates in senate ¬meetings, generally centred on what would become of religious departments."
In fact, he said, "it is precisely through this process of opening the general faculties to attract a greater portion of the community that the universities will have an opportunity of teaching religious studies to more members of the community.
"The supporters of change also argue that since the birth of Islam, there has never been any real division between Islamic studies and general studies. This approach is not so much one of Islamising science, but of integrating the two sources of knowledge, taking as fact that science is based on God's creation."
Sixty per cent of the students at the State Islamic University are women.
The Ministry of Religious Affairs has now formed a team to design the direction that all Islamic universities will take in the future — which Dr Jamhari is heading.
This will involve, he said, institutional, academic, research, human resource and financing reform, and an intensification of international networking.
Source: http://www.theaustralian.com.au/higher-education/finding-the-best-path-for-islamic-schooling/story-e6frgcjx-1226957816222#
URL: https://www.newageislam.com/islamic-society/rowan-callick/finding-the-best-path-for-islamic-schooling/d/87645