By Raziuddin Aquil
6 January, 2018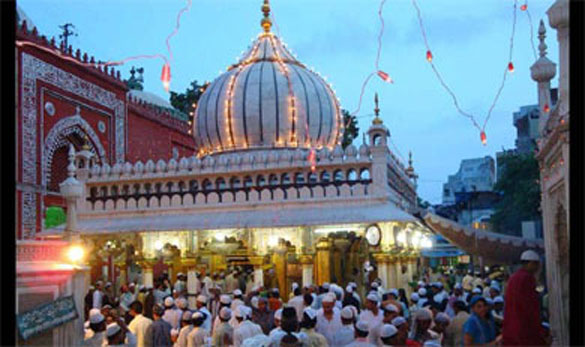 Nizamuddin belonged to a much-venerated chain of Sufi lineage originating in Chisht, now in Afghanistan.
---------
The Dargah of Chishti Sufi saint Hazrat Nizamuddin Auliya in central Delhi is buzzing this week with large crowds of devotees on the occasion of his death anniversary, called Urs. This is celebrated with a whole range of cultural programmes, including popular Mushaira and Qawwali, book launches, readings of the saint's discourses called Fawa'id-ul-Fu'ad (moral teachings benefiting the heart) and arrangements for Langar or feeding devotees.
Large parts of the saint's discourses were compiled in the reign of Alauddin Khilji, the medieval Delhi Sultan who is in the news currently for his portrayal in Sanjay Leela Bhansali's controversial film on the legendary figure of Padmini or Padmavati. Though Nizamuddin had offered spiritual guidance to the Sultan's sons and other members of his harem, he had denied an audience to the Sultan, for he wanted to steer clear of his politics, especially the controversial parts.
Nizamuddin belonged to a much-venerated chain of Sufi lineage originating in Chisht, now in Afghanistan. Five early masters, known as Khwajas, notably commanded respect over the centuries: Muinuddin Chishti of Ajmer; Qutbuddin Bakhtiyar Kaki of Mehrauli in Delhi; Baba Farid of Pak Pattan in Punjab (now in Pakistan); Nizamuddin Auliya and his successor Nasiruddin Chiragh Dilli (known for resisting Sultan Muhammad Tughlaq's shifting of the Sultanate's capital from Delhi to Deogiri or Daulatabad).
These holy-men were revered as friends and lovers of God. They devoted their time in prayers and meditation, cleansing themselves of lust and desire, and offering critical service to humanity through charitable endeavours and healing practices. They took ethical or moral positions on the need for proper conduct with both God and human beings. Nizamuddin also trained a number of intellectuals, writers, poets and Sufis, including a prominent figure like Amir Khusro. Together, they presented an open and compassionate face of Islam, acceptable even in contemporary times as cultural ideals.
Some fascinating anecdotes related to Nizamuddin and recorded in the compilation of his discourses reveal how Sufi traditions remain vibrant and continue to flourish as they spoke in the language of love and peace.
Recognition of Knowledge
Once, a visiting young scholar told Hazrat Nizamuddin that he had recently completed his education and started to frequent the Sultan's court for employment to support himself. Nizamuddin remarked that knowledge is great in itself, but as a source of livelihood for which one has to beg from door to door, it loses its importance. As a young scholar (Alim), Nizamuddin had himself searched for work in Delhi before becoming a full-time Sufi, living in dearth. However, poverty (Faqr) and complete dependence on the will of God (Tawakkul) is a matter of pride in Sufi traditions.
A Female Sufi
Bibi Fatima Sam, whose Mazar is located in a small but conspicuous tomb not far from Nizamuddin's, was a formidable character and commanded much reverence in Sufi circles of the 13th century. Her reputation for charity, as someone who had performed Hajj and ability to compose extempore poetry made her a much admired figure. Enchanted by her personality, Hazrat Nizamuddin, who considered mysticism as an act of Mardangi, masculine power, commented that when a lion comes out of its den, no one dares ask whether it was male or female.
Remaining Single
Nizamuddin Auliya and several people in his circle did not marry: by choice, as they flaunted their love for God on their green turban—the latter being a symbol of manliness and green the colour of love; by circumstances, too poor to marry, sire children and maintain a household; or wanted to lead a life away from the materialistic ways. Since they styled themselves as lovers of God, they were wedded to Him; thus, their death anniversary (Urs, literally marriage) is celebrated as achieving union with God.
On Moderation
The Langar for the poor and dervishes at Nizamuddin's hospice included Qorma and Roti, with occasional Tahiri (veg/chicken/meat Pulao), and sometimes Paratha, Samosa and Halwa. The idea was to feed the people to their satisfaction, which was a meritorious act. Control over physical demands meant that the Sufi master would himself maintain moderation in eating, sleeping and speaking. Less eating or fasting took care of many diseases, careful speaking was also recommended, and satisfaction of sacrificing sleep for meditation was lauded.
Besides, Sufis put much emphasis on mercy and kindness. Terror groups abusing the name of Islam want to attack and destroy Sufi establishments for they continue to speak in the language of love and tolerance. Several incidents of attacks on Sufi shrines in Pakistan have been reported in recent times. These remain relevant and play an important role in sustaining the pluralistic diversity of India's social and political fabric. The widespread celebration of Urs of Sufi saints such as Hazrat Nizamuddin Auliya point to their continued significance.
Source: sundayguardianlive.com/opinion/12276-urs-sufi-saints-points-their-relevance
URL: https://www.newageislam.com/islamic-society/urs-sufi-saints-points-their/d/113880