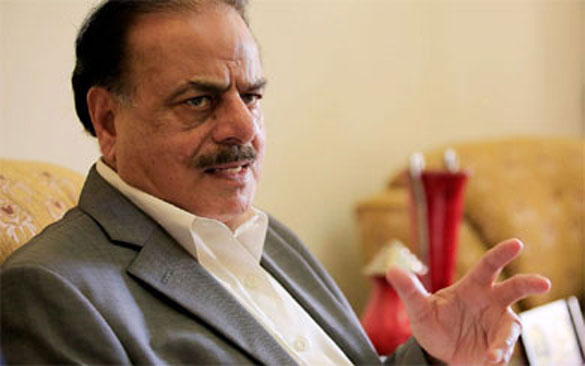 Hamid Gul
rantburg.com
How honest is General Hamid Gul, the saviour of Pakistan, the guardian of jihadis and the Taliban?
Varan Bus Service was established with millions of rupees loaned to the daughter and son-in-law of a former ISI chief, General Hameed Gul, now the most right wing spokesman of Islamic fundamentalists of Pakistan. His politics of course started after he had secured the financial and economic interests and for his family, using his General's uniform as the password.
Here is the story which tells numerous tales of how the Generals would not let any business opportunity slip by. Despite the ideological rhetoric and slogan mongering, facts in this story will shake up readers:
"Situated in and around the federal capital, the Rawalpindi/Islamabad district is politically critical because of its proximity to the heart of all government operations. Last summer the CMKP began to reorganize its wing in the area, placing special emphasis on attracting working class youth to the party ranks.
Among other issues, cadres began efforts to develop political consciousness in workers in the Varan city bus service. These efforts have resulted in increased police surveillance and repression of the party and its supporters. This is how the struggle of CMKP started in the district of Rawalpindi and Islamabad.
Varan city bus service is a private company that provides urban bus transport in the twin cities of Rawalpindi and Islamabad. The company is headed by politically powerful shareholders who enjoy very strong connections with the establishment. Its owner, Uzma Gul, is the daughter of the former Director General of the ISI (Pakistan's Inter Services Intelligence Agency), Hameed Gul, who some people might remember as the man who headed the anti-communist campaign in Afghanistan, and as a major patron of all right-wing groups in Pakistan.
In addition, 10 or 11 Army Generals are also shareholders in the company. Using its connections as leverage, Varan has acquired special concessions from the Pakistan Government. For example, it has exclusive public transport rights within the city. No other transport company is allowed to operate within city limits, giving Varan a monopoly over transport in certain areas. This company is so powerful that even the Traffic Police is afraid of challenging its operators over traffic law violations.
[Reference: The Generals' Monopoly Bus Service Faces a Rough Route in Islamabad By M T Butt]
http://www.satribune.com/archives/200502/P1_varan.htm
Source: Asia Times Online: http://forum.atimes.com/post.asp?
Uzma Gul, daughter of Lt. Gen (R) Hamid Gul, is the CEO of the renowned (or notorious?) urban bus service , Varan Tours, in the twin cities of Rawalpindi-Islamabad.
Born on 16 August 1964 in Quetta, Uzma Gul used to be a very naughty, restless and hyperactive child and the word 'tomboy' would best describe her exuberant childhood. She spent her childhood all over Pakistan due to her father's postings and had to frequently change schools. On this she says "I'm a child from everywhere and yet nowhere". She has fond memories of her childhood especially the time that she spent on her father's postings in Jhelum and Multan. Uzma Gul completed her intermediate from CB College Rawalpindi after which she immediately got married to her cousin. During her married life she completed her graduation from Punjab University.
In 1991, Uzma Gul started an intercity bus company by the name of Varan Tours from Sargodha to Rawalpindi. As time passed on she also ventured into the business of import and export, mainly pharmaceuticals, wool and beverages
Uzma Gul (in her own words) draws inspiration from Mohammad Ali Jinnah, Mahatir Mohammad, Hugo Chavez, Mahmoud Ahmedinejad, and her own father.
She enjoys listening to music. Some of her favorites are K.L. Sehgal, Khurshid Begum, Fareeda Khanum, Kanan Bala and Iqbal Bano. Among the new ones, she admires Atif Aslam, Ahmed Jahanzeb and Jal.
She is a good swimmer and fond of water sports. She enjoys watching tennis. Her favourite tennis players are Rafael Nadal, Justine Henin and Maria Sharapova.
She is a pet lover and very fond of cats. She is a passionate environmentalist and has an avid interest in organic farming.
Uzma Gul is the eldest of four. She has two brothers and a sister (late). Her husband was a fighter pilot in the PAF and is now her business partner as well.
Source: http://www.pakistanileaders.com.pk/profilesdetail.php?id=630
PPPP warns against Varan 'monopoly'
ISLAMABAD Pakistan People's Party Parliamentarians (PPPP) threatened nationwide protests on Tuesday if the government continued to allow Varan Tour buses, a private transport company, to monopolise routes in Rawalpindi and Islamabad.
PPPP parliamentarians Raja Pervez Ashraf, Zamurd Khan, Chaudhry Qamaruzza-man Kaira, Sherry Rehman, Farhatullah Babar and Enver Baig alleged at a press conference that the government was favouring the company because it was run by Uzma Gul, daughter of General (r) Hamid Gul.
They said the Constitution barred awarding monopolies to individuals. They also condemned the government for registering two cases under the anti terrorist act against Mr Khan for leading transporters in rallies against the company. They said Mr Khan was accused of burning two Varan buses, but the incident had helped the company because the buses were insured.
They accused the government of pushing hundreds of poor transporters to starvation.
"General Musharraf has taken absolute control of the country whereas Ms Gul has taken full control of transportation in the twin-cities," said Ms Rehman. "They could not find terrorists in Wana and are now bent upon labelling elected representatives as terrorists," said Senator Enver Baig. Mr Ashraf said the government was actually using the cases against Mr Khan to press him to switch loyalties. He said cases should instead be registered against those who had deprived transporters of their livelihood by giving benefit to the daughter of a general. Mr Khan claimed he had received several threatening telephone calls since joining the protesting transporters but vowed to continue his struggle for their cause.
Daily Times, Thursday, April 29, 2004
http://www.dailytimes.com.pk/default.asp?page=story_29-4-2004_pg7_26
....
Hameed Gul's daughter speaks out!
Writing in daily Pakistan magazine Tanvir Qaiser Shahid revealed that the buses run by ex-ISI chief General Hameed Gul's daughter Uzma Gul had killed 17 people in the past four years. The bus service called Varan was run on loans taken from Askari Bank. This year in January when a Varan bus killed a student, boys got out of hand and torched 10 Varan buses. Uzma Gul said after that that students should be disallowed motorbikes. According to daily Pakistan, Varan buses owned by the daughter of ex-ISI chief General Hameed Gul have caused a lot of unrest in Rawalpindi and Islamabad where they ply in great strength. After the students burnt ten buses in the wake of an accident, owner Uzma Gul got her service to strike, which led to great discomfort among the commuting citizens. SSP Rawalpindi said that he could not allow Varan to kill ten people in a year, especially as a sub-inspector Ismat Niazi that he had fired for drunkenness was now employed by Uzma as her adviser. Varan tours had 12 legal complaints (parcha) against it in Rawalpindi while Varan had 26 complaints against students.
Uzma Gul the transporter
Daily Pakistan wrote that ex-ISI chief General Hameed Gul's daughter was a brave transporter owning a fleet of buses that plied from Rawalpindi to Taxila. But she faced a lot of resistance from the administration and other vested interests in the business. Once she was also arrested and put behind bars by military police but her powerful father got her out. She began by running one bus in Sargodha in 1994. Then she became an exporter of medicines to Central Asia. Now she had a fleet in Rawalpindi but her facilities for passengers were minimal and sections set aside for women were too small. According to daily Pakistan, owner of Varan Tours, Uzma Gul got into trouble with corps commander Rawalpindi over the adda of her buses as the area belonged to the army which had acquired it. Not only was the corps commander against her and once shouted at her but DC Rawalpindi Major Ziaul Haq too began harassing her. According to the paper the area she used to park her buses was worth crores of rupees.
Hameed Gul's acquired land
According to daily Pakistan, although the daughter of the ex-ISI chief Hameed Gul claimed that he had only two squares of land, the paper referred to an investigative report which gave proof that he had acquired 15 squares of land along the Indian border at a time when he was serving as a major. He ousted a number of farmers from their land who then moved the High Court. When the court decided the matter in his favour by the year 1986 he had become corps commander and was well on his way to becoming the ISI chief and many plaintiffs had begun to stand down. The title of the investigative report was: General Hameed Gul nay sainkron aikar arazi kaisay banayi (How did General Hameed Gul acquire hundreds of acres of land). The land was in Shakargarh in three villages called Adha, Auliya and Bhopa.
Source: rantburg.com
URL: https://www.newageislam.com/islamic-society/hamid-gul,-uzma-gul,-varan-bus-service-and-the-transport-jihad/d/2781
New Age Islam, Islam Online, Islamic Website, African Muslim News, Arab World News, South Asia News, Indian Muslim News, World Muslim News, Women in Islam, Islamic Feminism, Arab Women, Women In Arab, Islamophobia in America, Muslim Women in West, Islam Women and Feminism