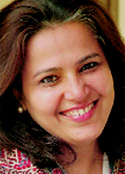 By Rakhshanda Jalil
01 Aug 2020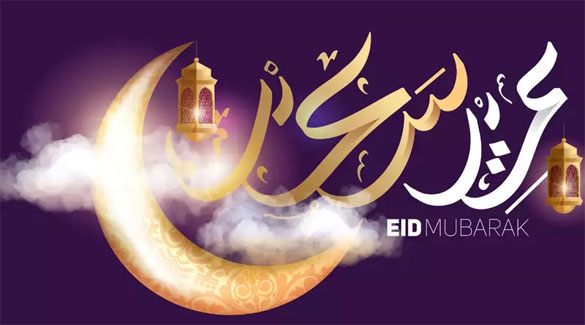 This is that time of the year when people are usually rushing 'home for Eid' and when Eid falls on a weekend, as it does this year, it's considered a rare windfall. Airfares are known to spike on certain routes just before Eid, given the sheer volume of those wanting to make it home, even if it is no more than Dhaiyya Chhuna (reminiscent of a childhood game of touch-n-run).
For those of us who live in cities the year round, the very idea of 'going home' for Eid is an evocative one, mixing memory with desire, religion with culture, and Faraiz (duties) with gastronomic delights. This year, when it is impossible to travel to other cities let alone meet friends from within the city, one can do no more than relive Eids past.
Vignettes from Eids Past
Let me evoke for you a vignette from the past when I found myself celebrating Eid en famile in a small town in eastern Uttar Pradesh. It is the night before Eid; all around me sights, sounds and smells convey the excitement of the big day tomorrow. Sewaiyan have been bought and cooked in vast quantities; this being the heart of the Gangetic plain, the syrupy version made out of an incredibly fine variety of Sewaiyan popular in these parts has been made and stored ahead.
Copious amounts of finely sliced onions have been fried to a nice crispy brown; they will be needed in the many meat preparations tomorrow.
Stacks of crockery and cutlery have been washed in readiness for the stream of visitors tomorrow. New clothes have been stitched for young and old.
The Chooriwali has gone from home to home selling dozens of glittering glass bangles. The Mehndiwali has been instructed to show up late in the evening to apply intricate patterns on the palms of eagerly waiting young girls. And, of course, the goats have been bought and tethered in the compound; I can hear them bleating and see rows of little children solicitously offering them tender green leaves, for it is Sawaab to tend the sacrificial animals.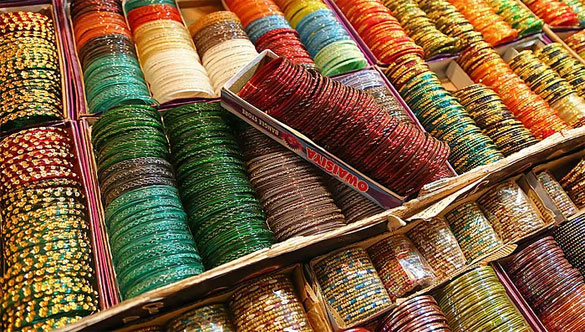 Chooris / Bangles.(Wikimedia Commons)
-----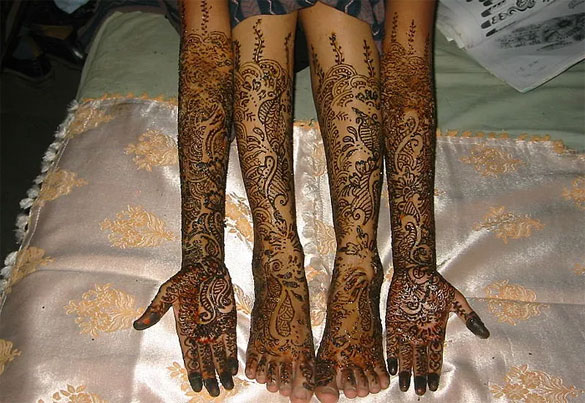 Mehndi. (Wikimedia Commons)
-----
While the word 'Eid' literally means festival and both occasions are festive, this is also a day of remembrance. It reminds Muslims the world over of Abraham's willingness to sacrifice the thing that was dearest to him – his first-born child Ishmael – to a command from Allah. It also marks the culmination of the annual Hajj pilgrimage, which is not merely farz (obligatory) and one of the five pillars of Islam but also a matter of great pride and joy for Muslims the world over. And on any given Bakreid, every Muslim will know of some relative, friend, or neighbour who is away for Hajj. Again, not this year. This year only 10,000 people are performing the Hajj with due social distancing and all live inside Saudi Arabia.
If Eid-ul Fitr gives the occasion to partake of the bounty that Allah has granted after a month of abstinence and introspection, this Eid reminds Muslims of the importance of qurbani as well as patience and constancy – the hallmarks of a true Believer. While peace and salutations are offered to Abraham everyday as part of the daily Namaz, on this day his obedience and willingness is commemorated by a token act of sacrificing an animal such as a goat or sheep.
A Long Day for Women
The day begins with congregational prayers in an Eidgah; across South Asia, women still do not normally go to the mosque to pray, preferring to offer their daily prayers as well as the special Eid ones at home. The Eid Namaz is followed by a special khutbah (sermon) and then, after the customary Eid greeting of embracing three times, the men usually go to graveyards to offer Fateha to dead and departed ancestors. The family graveyard, in my husband's hometown, is a charming spot located next to the Eidgah; it is cathartic to remember the dead in this serene space with towering trees and flowering bushes.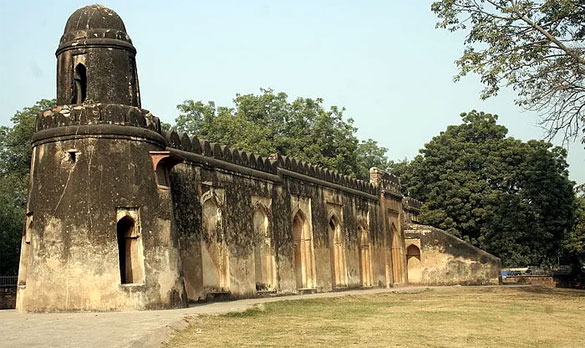 14th-century Eidgah, built during Tughlaq dynasty rule in Delhi(Photo: Wikimedia Commons)
-----
Back home, the sacrifice has to be performed at the earliest possible. Its meat is divided into three equal parts: one for the poor and needy, one for friends and neighbours and a third for one's self. No distinction is to be made who it goes to; for it must be sent to friends and neighbours regardless of religion or rank. And while the men and boys laze around, drink tea, go visiting soon after the qurbani, the women's work begins.
The first of the many Eid dishes to tickle one's palate is always, always kaleji, goat's liver cooked in a pungent sauce and redolent with the robust flavor of methi seeds. What follows is a day of relentless bingeing. Having had one's fill of whatever has been cooked in one's immediate family, one embarks on a gastronomic journey that has many known and unknown delights.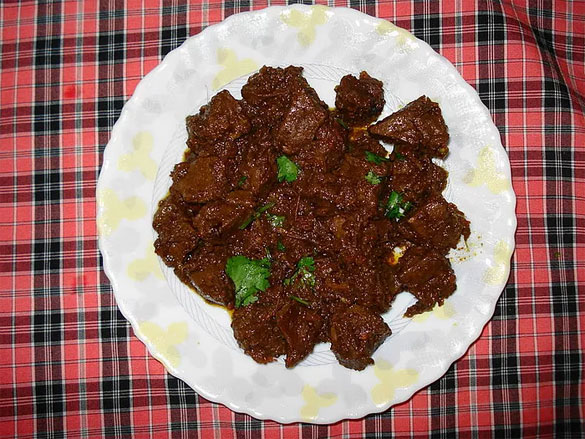 Kaleji / liver curry. (Photo: Wikimedia Commons)
-----
The biryani at X Dadi's house is a cherished memory as are the kebab's at Y chacha's home, not to mention the Akhra (ribs) cooked by his sister. The new daughter-in-law of Z Bhabhi, so one is told in tones of hushed awe, makes the most incredible paye (trotters). And then, of course, the sheer (milky Sewaiyan) made by Z Bhabhi herself is the stuff that sweet dreams are made of. And so, going by past experience and new gossip on the family grapevine, one sets out on a house-hopping adventure.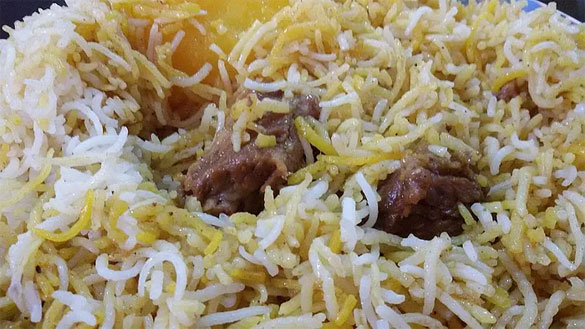 Biryani. (Photo: Wikimedia Commons)
----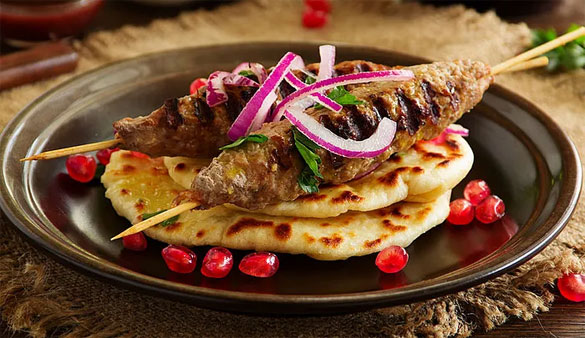 Kebabs. (Photo: Wikimedia Commons)
-----
My daughters, being visitors, get more Eidi money than their resident cousins while the rest of us get to reconnect and replenish family bonds.
But not this year. This year as we live on our islands of self-isolation and wonder at the futility of cooking elaborate meals when there is no one to share them with and, horror of horrors, have to actually buy meat instead of having plenty in the house, we find recourse in poetry, the sharper the better such as this by Meer Kallu Arsh:
Badle Dumbe Ke Karein Rind Ussi Ko Qurban
Eid-E Qurbaan Mein Jo Sun Paayein Bayaaen-E Waiiz
Instead of the sacrificial sheep the drinker sacrifices him
Who listens to the sermon of the preacher on the Eid of Sacrifice
Some poets have been brave enough to highlight the pop-up goat markets that sprout at this time and the exorbitant prices of goats and sheep that rise exponentially as Eid approaches:
Chaurahon Par Khade Hue Bakron Ke Hain Jo Ġhol
Tu Un Ke Munh Ko Khol Ke Danton Ko Mat Tatol
Qimat Mein Varna Aaega Fauran Hi Itna Jhol
Sone Ka Jaise Bakra Ho Aisa Padega Mol
The groups of goats standing at the crossroads
Don't pry open their mouth to examine their teeth
Or else there will such a sudden change in its price
You will think you are buying a goat made of gold
"Yun Saja Rakkha Tha Qurbani Ka Bakra Shoḳh Ne"
The qurbani ka bakra becomes a metaphor for the lover as here by Zafar Iqbal:
Yun Saja Rakkha Tha Qurbani Ka Bakra Shoḳh Ne
Dil Hamara Dekhte Hi Dekhte Bakri Hua
She had displayed her sacrificial lamb so ostentatiously
That my heart immediately turned into a goat!
And on the recent phenomenon of e-qurbani, here is Khalid Irfan
Khuda Ke Ghar Men Visa Card Ka System Nahin Hai
Credit Card Ke Bakre Ki Qurbani Se Bachna
There's no system of credit cards in God's house
Beware of the sacrifice of credit card goats
Since both Eids are a virtual open house affording plenty of opportunities to meet (and there seems a natural rhyme to Eid and Deed, meaning 'to see'), there's a profusion of poetry on the social and cultural aspect of this festival. But this year, there will be no knock on the door, no visitors, no open house:
Eid Aai Tum Na Aae Kya Maza Hai Eid Ka
Eid Hi To Naam Hai Ik Dusre Ki Diid Ka
Eid has come but you have not come
Eid is nothing but a name for seeing each other
Dr Rakhshanda Jalil is a writer, translator and literary historian. She writes on literature, culture and society. She runs Hindustani Awaaz, an organisation devoted to the popularisation of Urdu literature. She tweets at @RakhshandaJalil. This is an opinion piece and the views expressed above are the author's own. The Quint neither endorses nor is responsible for the same.
Original Headline: This Eid, There'll Be No Knock On The Door: Let's Relive Eids Past
Source: The Quint
URL: https://www.newageislam.com/islamic-society/rakhshanda-jalil/relive-eids-past-at-eid-ul-azha-2020-we-live-on-our-islands-of-self-isolation/d/122528