Covid-19 Pandemic Has Brought Many Negative Impact On Social, Cultural And Economic Life Of The Individuals.
Main Points:
1. Psychological illnesses have also seen a rise during the Pandemic.
2. Incidence of divorce has risen in Bangladesh during the lockdown.
3. Rise in divorce was also caused by the awareness of women about their right to seek divorce.
-----
New Age Islam Staff Writer
28 June 2021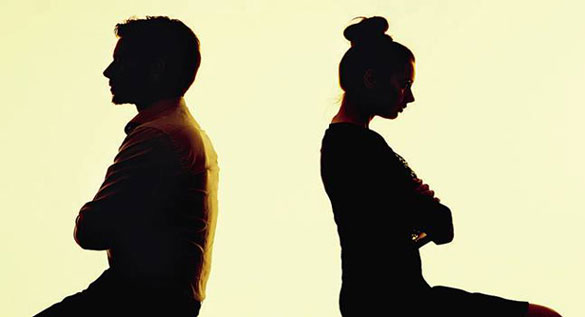 Symbolic Pic courtesy Daily Bangladesh
-----
The Covid-19 pandemic has brought many negative impact on social, cultural and economic life of the individuals. Domestic violence has increased and psychological illnesses have also seen a rise. One of the ill-effects of Covid-19 restrictions is a steep rise in the cases of divorce, particularly in Bangladesh.
According to the government statistics, the incidence of divorce in Bangladesh has risen in Bangladesh during the lockdown. During the period between January and April 2021, a total of 4565 applications for divorce have been submitted. Of them 70% divorce applications were submitted by women. This shows the changing attitude of women towards divorce in Bangladesh. The reason cited for this increase is the economic and financial repercussions of lockdown. Domestic violence is also one of the reasons for increased rate of divorce in Bangladesh. During January and April, 71 women were killed by their husbands. In Dhaka 38 divorces take place every day.
But only lockdowns cannot be held responsible for the increase in divorce in Bangladesh. The government statistics show a rise in trend in divorce for the last 7 years. The number of divorce applications has risen by 34% in the last seven years. The rate of divorce rose by 17% in 2019 in comparison to 2018. This means the rise in divorces was a phenomenon even before the lockdown. During the lockdown, the reason of divorce may be financial hardships but before that many other factors also played their role in divorces.
Social analysts say that in Bangladesh woman empowerment has played a major role in the change in the attitude of women towards marriage. More and more women are becoming financially independent. They work and earn their own livelihood. Earlier women would be solely dependent on their husbands and so suffered all the humiliation and torture silently. But with girls being more educated now, awareness about their conjugal and family rights has grown among them. They now protest against male chauvinism and domineering behaviour of their husbands.
The rise in divorce was also caused by the awareness of women about their right to seek divorce. Earlier women in Bangladesh thought that only their husbands could divorce them but now they are aware that they can seek divorce under the Act of 1939 through the intervention of the court. The result is that in 2020 alone, 1194 divorces took place every month. In 2019, only 920 divorces took place every month.
Earlier, the reason for the rise in divorce was mainly mental and physical torture of the wife and dowry demand by husband. The bride would tolerate all the other family differences like bad temper of the husband, domineering behaviour of the husband, drug or wine addiction of the husband or misbehaviour of the in-laws as long as her life and security was not at risk. She would swallow all the humiliation for the sake of saving her marriage. But with greater literacy and economic empowerment, women now demand an honourable life in her in laws, good treatment from her husband and in-laws, characterial integrity of her husband and above all, financial security of her husband. Since, very few men and in-laws families can fulfil all these criteria, more and more women file for divorce in Bangladesh today.
This is why divorce rate is higher among urban educated families and lower among common people.
The question therefore arises: Is legal empowerment of women a bane for women itself? Has economic empowerment made women more intolerant? Are educated and rich urban couples more irresponsible in terms of their conjugal behaviour? Has personal ego become more important than their responsibilities towards their children and family?
Being the citizens of an Islamic country, the couples should have made a more pragmatic approach to resolving their issues. Islam aims to bring economic prosperity not at the cost of family values. Islam teaches couples to make sacrifices, preaches tolerance and stresses on mutual respect. But in Bangladesh, economic prosperity seems to be bringing negative impact on family and society.
URL: https://www.newageislam.com/islamic-society/bangladesh-lock-down-divorce-covid/d/125028
New Age Islam, Islam Online, Islamic Website, African Muslim News, Arab World News, South Asia News, Indian Muslim News, World Muslim News, Women in Islam, Islamic Feminism, Arab Women, Women In Arab, Islamophobia in America, Muslim Women in West, Islam Women and Feminism