These Preachers Have Scant Knowledge Of Quran And Hadith
Main Points:
1. Their popularity is based on fiery speeches and oratorical skills
2 .They play with the emotions of semi-literate Muslims
3. Loudspeaker is their life support
4. Jalsas are their source of income
5. They incite violence, promote terrorism and hatred
----
New Age Islam Staff Writer
29 May 2021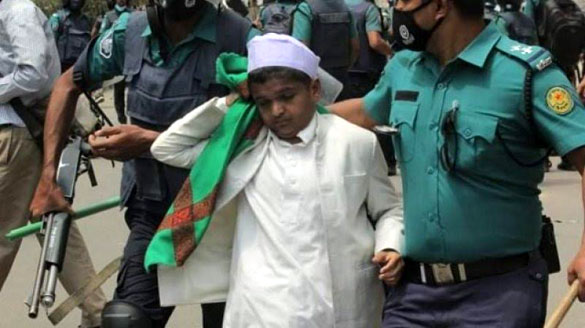 Maulana Rafiqul Islam Madani, Child Preacher
----
Maulana Rafiqul Islam Madani of Bangladesh has been arrested under Digital Security Act 2018 for his role in inciting violence and provoking Muslims for armed jihad against the government with his statements and speeches posted and circulated on social media. He is associated with the militant outfit of Bangladesh called Hefazat-e-Islam. Cases were registered against him in various police stations including in Dhaka. He was arrested from his house in Netrakona. Earlier, the police had seized four mobile phones from his home. Upon forensic investigation of his phones, the police found that he would watch pornographic videos on his phone and would save their links for others.
According to the police, Maulana Rafiqul Islam alias Shishu Bakta ( child preacher) has recorded his statement in the court and confessed to the charges made against him.
Rafiqul Islam Madani is only 28 years old and is of a short stature. So he is called child preacher by his followers.
Maulana Madani was also involved in the Hefazat sponsored protests during the visit of Indian Prime Minister Narendra Modi to Dhaka.
Child preacher Maulana Rafiqul Islam Madani belongs to the class of Muslim preachers who are popular among the common and semi-literate Muslims for their fiery speeches and oratorical skills aimed against the government, against the opposite sect (Maslak) and against the religious minorities if th preacher belongs to a Muslim majority country.
This class of preachers is not known for their knowledge or intellectual insight but they survive on their skills of crowd mobilisation and emotional blackmail of common Muslims. Victimhood of Muslims, protection of the honour of the prophet and "anti-Islam" policies of the Islamic countries are their food for survival. And loudspeakers are their life support. Without the loudspeaker they are dead. Jalsa is their main source of income where they speak less on Islamic values and the Seerat of the holy prophet pbuh and more on the wrong practices of the opposite Maslak, anti-Islam laws and policies of the elected Muslim governments and most of the time the stress is on the need to uproot the elected government through armed revolution because to them the government is based on Kufr and living under such a government of infidels is a curse for Muslims.
Maulana Rafiqul Islam is only 28 years old and claims to know Islam more than others. We have great Islamic scholars of Islam like Maulana Wahiduddin Khan who studied Islam for more than 25 years before starting his career as an Islamic scholar and author. He was not known as a preacher or orator. He worked silently and conveyed his message of moderation, peace, tolerance and compassion through his writings. He stressed on the work of Dawah among those who have not heard of the message and philosophy of Islam.
Apart from him we have had a number of Islamic scholars like Maulana Abul Kalam Azad, Syed Sulaiman Nadvi, Maulana Abul Hasan Ali Nadvi, and others who spread the true message of Islam through their writings and speeches. They did not cause violence or disturbance in society for their personal gains and political ambitions. At present we have among us Islamic scholars like Maulana Arshad Madani, Dr Tahirul Qadri and others who are known for their deep knowledge of Islam. They have studied the Quran, Hadith and Fiqh for decades and have used their knowledge only for the social, religious and spiritual development of Muslims and not for promoting narrow political and sectarian causes.
Extremist and half-baked Preachers like Rafiqul Islam Madani are found in every Muslim society today. They have hijacked Islam and distorted the image of Islam. They play in the hands of terrorists. They talk of sectarianism, glorify terrorism, provoke Muslims against their own elected governments and cause unrest and violence in the Muslim society thus hindering the peace and prosperity in the Muslim society.
The Muslim community should discourage such anti-Islam preachers whose speeches and personal conduct go against the lofty values and principles of Islam.
URL: https://newageislam.com/islamic-society/preachers-muslim-world-violence-sectarianism-terrorism/d/124905
New Age Islam, Islam Online, Islamic Website, African Muslim News, Arab World News, South Asia News, Indian Muslim News, World Muslim News, Women in Islam, Islamic Feminism, Arab Women, Women In Arab, Islamophobia in America, Muslim Women in West, Islam Women and Feminism