By New Age Islam Special Correspondent
18 Jan 2015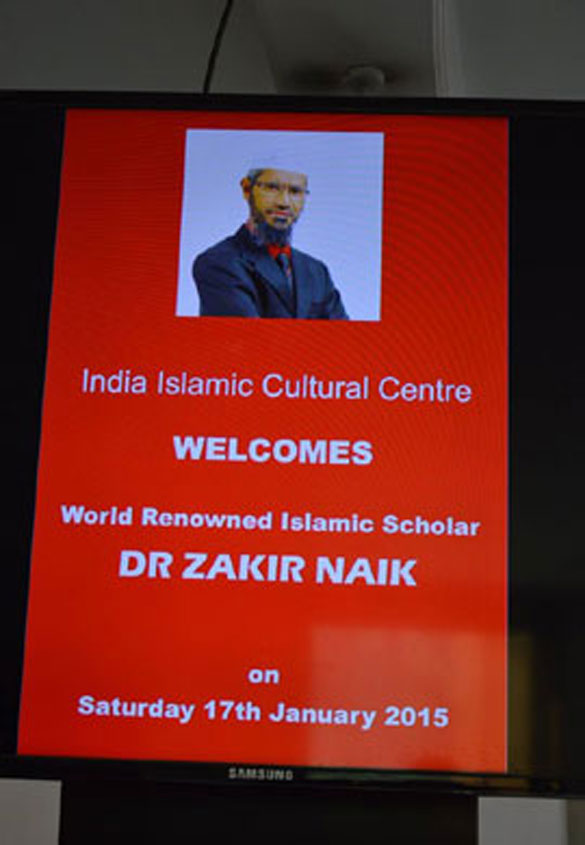 A large number of Muslims outside the premises of Delhi's India Islamic Cultural Centre strongly protested against Dr Zakir Naik address at the venue today. They said Dr. Naik has not only offended the sentiments of both Shia and Sunni Muslim sects, but also tried to sabotage the values of national integration, religious harmony, communal affinity and respect for all faiths. Therefore, they said, they did not want Dr. Naik to deliver his lecture at the Centre, which is supposed to promote communal harmony and social amity amongst the peoples of India. IICC is meant to depict the true face of Islam, which is tolerant, liberal, progressive, rational and forward-looking, as claimed by the patrons of IICC themselves.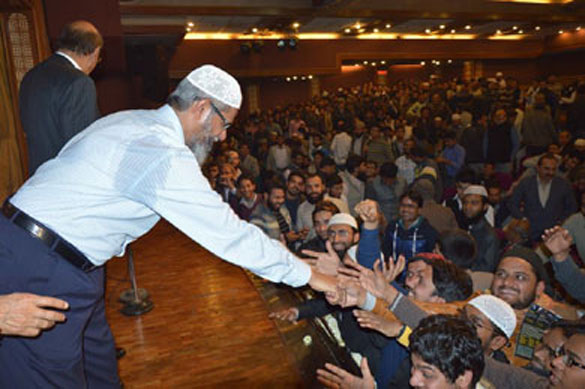 Radical Islamist preacher and president of the Islamic Research Foundation, Dr Zakir Naik, is a controversial figure. Based in India and a frequent state guest of Saudi Arabia, he has been opposed by many Muslims except those belonging to the Wahhabi-Salafi-Ahle Hadisi alliance. Initially, he was praised by most of the Muslim community when he began his career as televangelist speaking about Islam as a religion of peace and finding similarities in different religions. But he has now earned notoriety for having made incendiary and objectionable utterances on controversial theological issues in Islam as well as other religions. Since then, majority of classical Islamic scholars and erudite Muftis (theologians) and eminent ulema have urged Muslims to shun his speeches and prevent his arrival in their localities. As a result, he was barred, in previous years, from addressing meetings and public gatherings in Allahabad, Kanpur and Lucknow at the urging of local influential ulema as well as the Uttar Pradesh government.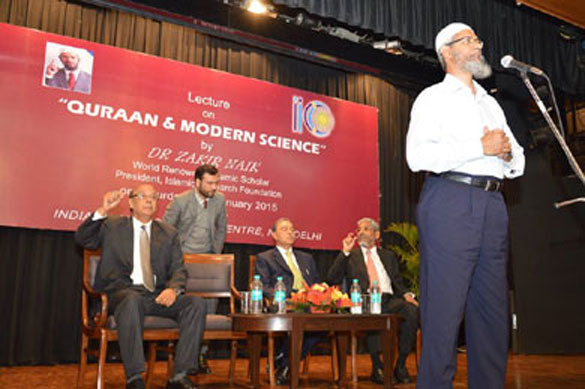 But New Delhi, which is a hub of Dr. Naik's huge fan club and Ahl-e-Hadeesi followers proved to be a safe haven for him in the last weekend. It was indeed a unique occasion, as the organizing committee of IICC claimed in their advertisements about Zakir Naik's lecture on social networking sites. They helped him organize his lecture on "Qur'an and Modern Science" on January 17 in the auditorium of IICC.
It was not the first time IICC invited Dr. Naik. He has also been honored by Riyadh Chapter of India Islamic Cultural Centre (IICC) as a guest speaker addressing a group of expatriates during an Iftar Party in the month of Ramadan. The convener of IICC Overseas Chapter Murshid Kamal welcomed Dr. Zakir Naik and presented to him a set of books Idrak-e-Zawal-e-Ummat by a modern salafist author Rashid Shaz. He also conveyed IICC President Sirajuddin Qureshi's good wishes to Dr. Naik on his behalf and invited him to visit India Islamic Cultural Centre in New Delhi.
Apropos the aforementioned invitation offered to him in July 2013 in Riyadh, Dr. Naik arrived in Delhi and addressed the jam-packed auditorium of IICC, New Delhi.
In his address, Dr. Naik primarily advised the attendees to read Quran with its meaning in the languages whatever are best known and understood to them. After a brief talk on the topic given to him, The Qur'an and Science", he insisted that he has neither offended the sentiments of any Muslim sect nor uttered a blasphemous word against any doctrine or belief of Islam.
The president of IICC and entrepreneur, Mr. Sirajuddin Quraishi, in his presidential remarks, praised Dr. Naik and his works as an Islamic preacher and evangelist. The IICC's vice chairman Safdar Husain Khan and Secretary and Supreme Court Advocate Mr. Wasi Ahmad Nomani also spoke in this event, indicating the IICC's purpose of spreading message of Islam and contribution to the society by promoting mutual understanding and other services to the society.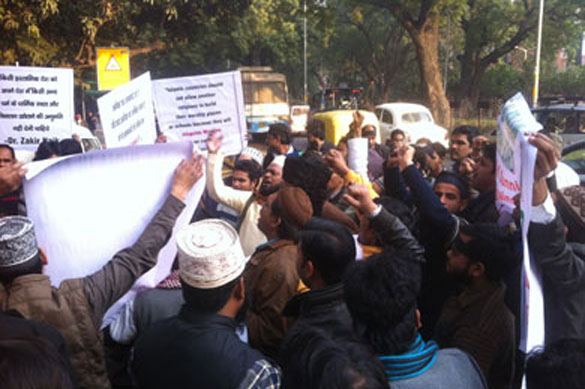 Challenging the IICC's tall claims of serving the nation and holding aloft the cause of communal harmony, Muslims protesting against Dr. Naik outside IICC demanded an explanation from the IICC organizing committee to explain the intent behind the invitation to Dr. Naik, who according to them is a divisive figure. The protestors came from different and divergent Muslim groups and organizations. Even many members of the IICC themselves were among the angry protestors. Noted social activist and IICC member Mr. Anjum Zaidi, who was one of the organizers of the protest said, "The Government of India did not give land for the centre to give a platform to such hate mongers".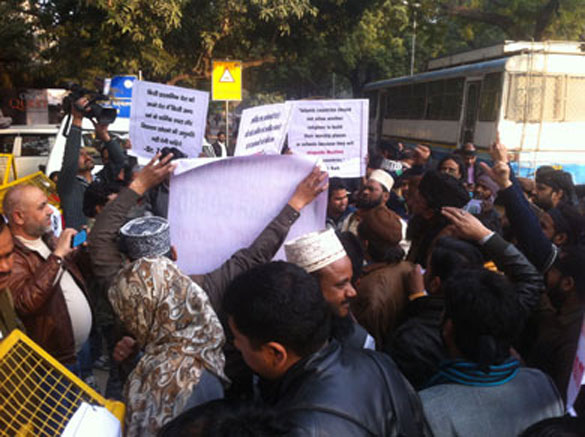 Regrettably, Mr. Zahir Zaidi, who is also an active member of the IICC screening committee, was denied entry, mistreated and even manhandled by the supporters of Zakir Naik when he tried to enter the auditorium. According to the report published in Urdu daily Sahafat, although Mr. Zaidi told the violent mob of Naik's fans that he was a prominent member of the IICC and a part of the committee who approves of the events in its auditorium, he was not only abused and manhandled but also threatened to be beaten up badly. Those threatening Mr. Zaidi were loudly clamming to be strong supporters of Zakir Naik and hence they forced Mr. Zaidi and all others protesters to keep away from the auditorium. Expressing his remorse over the mistreatment meted out to him by the supporters of Zakir Naik, Syed Zaheer Zaidi told the media that "Dr. Naik, who indoctrinates the Indian youths into fanaticism, was welcomed to the IICC despite our categorical opposition expressed to Sirajuddin Quraishi, the President of IICC. However, he said: "this violence and hooliganism cannot be tolerated by us at any cost".
A surging crowd of the protestors were merging ahead under the banners of numerous Sunni-Sufi organisations, most notably the All India Ulema Mashaikh Board and Sada-e-Sufiya-e-Hind (Voice of Indian Mystics). Along with the adherents of Sufism, followers of Shia Muslims were also in this massive protest against the radical Salafi-Wahhabi preacher's extreme views.
These Sunni and Shia organisations jointly protested under the umbrella of Sada-e-Sufia-e-Hind (Sufi Voice Of India). Distressed and angered, their volunteers and many common Muslims outside IICC were shouting against Zakir Naik, the IICC President Sirajuddin Qureshi and Vice President Safdar Khan.
President of Sada-e-Sufia-e-Hind, Syed Babar Ashraf stated: "that Zakir Naik hurt the religious sentiments of all Muslim sects along with other faiths is not unknown to Indian people.
SUVOI President further said that "Zakir Naik is on record about Osama Bin Laden, whom he refuses to acknowledge as a terrorist. Naik believes that it is wrong to accuse bin Laden of terrorism based on the news reports of BBC." "Dr. Naik can be seen on YouTube justifying suicide attacks" said Syed Babar Ashraf.
Complaints are also reported to have been filed against Dr. Naik and the IICC organizers of his event in the Tughlak Road police station. In his complaint, Syed Babar briefed that several police complaints and FIRs have been filed against Zakir Naik for making derogatory comments about different faiths causing communal disharmony and hurting religious sentiments. "The Bombay High Court has asked Zakir Naik to appear before the Vengurla police in Sindhudurg district and get his statement recorded in connection with a case registered there for allegedly hurting religious sentiments", he said.
In one of his lectures when Naik was asked whether Osama Bin Laden was doing Jihad, he replied: "If he (OBL) is terrorizing the biggest terrorist (America) then, I endorse him." Indeed, it's a matter of great regret that a person who was responsible for the murder of thousands of people including Muslims was lionized by Dr. Naik.
SUVOI President exposed that Zakir Naik's Peace TV is one of the illegally broadcasted foreign channels in India. He added saying: "Answering an unstarred question (No. 1819 on 4/12/2102) in the Lok Sabha, Minister of State in the Ministry of Information and Broadcasting stated that "The content of this channel (Peace TV) is not conducive to the security environment in the country and poses a potential security hazard".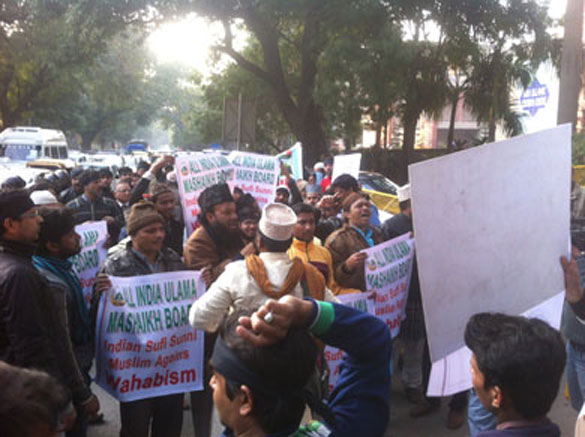 It is also noteworthy that Zakir Naik's Islamic Research Foundation (IRF) was extensively featured on the website of Jamaat-ud-Dawa, the parent religious and political organisation of the notorious Lashkar-e-Taiba (LeT), an outfit declared terrorist under the Unlawful Activities (Prevention) Act, 1967.
For Muslims the most controversial of Dr Naik's statements, however, came relating to Yazid, the quintessential villain in Muslim history, who was responsible for the killing of the revered grandson of the Prophet Muhammad (pbuh) and son of Hazrat Imam Ali (r.a), Hazrat Imam Husain (r.a) in the battle of Karbala in 680 AD. In a grand public conference in December 2007 in Mumbai, Dr. Naik used the words of high reverence "Radiallah Tala Anho" (May Allah be pleased with him) referring to Yazid, which outraged the audience. This expression went completely against the belief of Sufi-Sunni Muslims and Shia Muslims alike. Also, it was a cognizable offence under 295 (A), 296 and 298 of Indian Penal Code for hurting religious sentiments of Sufi-Sunni and Shia Muslims of India.
Talking to New Age Islam, some of the protestors including madrasa students, university graduates, Sufi shrine patrons and mainstream Muslims said they got alarmed learning that Dr. Zakir Naik, propagandist of the exclusivist and exclusionary Wahhabi ideology had been invited by India Islamic Cultural Centre (IICC) to address a religious gathering. They held that Dr. Naik's address to the Muslims of Delhi should be a matter of great worry for anybody who has even a superficial understanding of the Wahhabi ideology and activities of his ahl-e-Hadeesi organisation. "That Zakir Naik is a strident exponent of the radical Wahhabi ideology is common knowledge. Therefore, his arrival and address in Delhi will further exacerbate the delicate social situation in the capital. This is precisely why several state governments and other some foreign countries have disallowed his entry. Obliviously, they are afraid of promotion of communal feelings posing threat to India's multiculturalism", they said.
URL: https://www.newageislam.com/islamic-society/new-age-islam-special-correspondent/wahhabi,-ahl-e-hadeesi-televangelist-zakir-naik-faces-mainstream-muslim-ire-at-delhi-s-india-islamic-centre/d/101108