By Naseer Ganai
July 27, 2013
FOR the Grand Mufti of Kashmir, music is "un- Islamic" and a "vice" that should be forbidden for everyone. Everyone except him, of course! Mufti Bashir- ud- din, who issued a fatwa against an all- girls rock band in Kashmir, has no qualms enjoying music himself.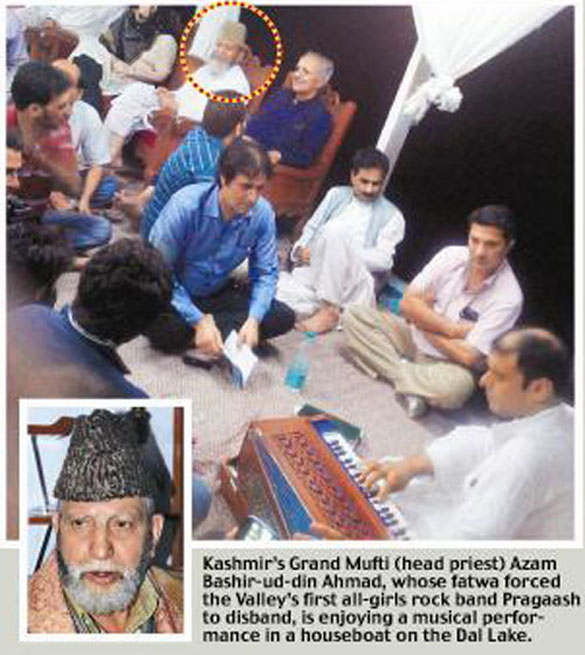 The cleric was seen enjoying a musical programme recently in a houseboat on the scenic Dal Lake.
The state government- backed grand mufti presided over the musical function organised by Radio Kashmir in memory of Urdu poet Akbar Jaipuri. Leading Kashmiri singer Qaiser Nizami enthralled the audience with Urdu Ghazals after the guests were served Quahwa ( traditional green tea).
"The evening commenced with a popular Ghazal sung by Mehdi Hassan, Ranjish hi Sahi, dil hi dukhaane ke liye aa , followed by Chaap Tilak ( Punjabi Ghazal ).
Everybody was visibly transported to another world," socialite Kalpana Tickoo, who attended the July 8 function, wrote in a local newspaper.
"People were letting their hair down, unmindful of their surroundings.
Once the cruise reached Char Chinari (a small island in the Dal Lake), it came to a halt… This time, the youngsters took charge of the music and what followed was absolute bonhomie.
" And before I forget to mention, it was a pleasure to watch the grand mufti of J& K, Mufti Azam Bashirud- din Ahmad, listening appreciatively, with rapt attention to the musical treat with a smile on his face," she wrote.
The mufti was sitting with former director of Doordarshan, Shahzadi Simon. The function, where some women from Pakistan were also present, ended at midnight.
In February, the grand mufti had decreed against the Valley's only all girls band, Pragaash, saying music was banned in Islam and girls should imbibe "better values" instead of vices. " All bad things happening in Indian society are because of music," he had said. The fatwa had forced the girls to disband Pragaash.
Bashir- ud- din is not new to controversies.
In January last year, the Sharia court headed by him ordered expulsion of three Christian missionaries from the Valley on charges of proselytism. He issued a fatwa directing the three priests — M. C. Khanna, Jim Borst and Gayoor Messah — to leave the Valley immediately.
Mufti's Sharia court also decreed that the state government must involve it in the management of missionary schools. The matter died down after separatist leader Syed Ali Shah Geelani supported the missionaries and their schools.
In September 2012, a controversial anti- Islam film surfaced in America and Europe and Mufti got a chance to hit out at the US. He asked Americans to leave Kashmir and urged people to register their protest against the blasphemous film and "attack US citizens if they are seen anywhere in the Valley". This led an alarmed US Embassy in New Delhi to ask its citizens to stay away from Kashmir. Geelani again stepped in and rejected Mufti's call.
Miffed over the cleric's shenanigans, human rights lawyer Pervez Imroz is planning to file a petition in the High Court challenging the legality of the court of Islamic Sharia headed by Bashir- ud- din.
Seen enjoying a performance by Qaiser Nizami
Mail Today
URL: https://www.newageislam.com/islamic-society/naseer-ganai/music-'un-islamic'-but-j-k's-grand-mufti-can-enjoy-it/d/12774