By Nadeem F. Paracha
10 May 2020
Last week, Tariq Jamil, a prominent evangelist, was roundly criticised for insinuating that the deadly Covid-19 pandemic was because of the misdeeds of 'immodest women'.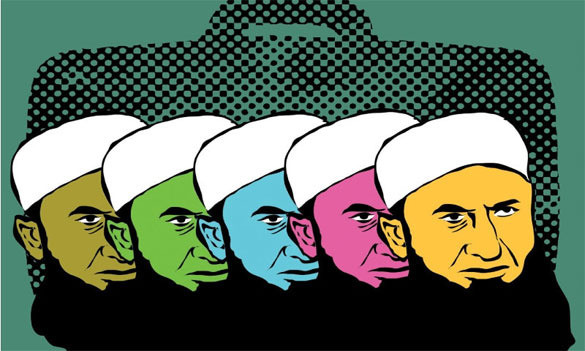 Illustration by Abro
-----
Over the years, Jamil has gathered a significant following among segments of the country's urban middle classes and also from Pakistan's sporting and show-biz circles. He had been invited by Prime Minister Imran Khan to speak during a telethon raising money to address the economic challenges posed by the pandemic in Pakistan. The event was broadcast live by a private TV channel.
Many of Jamil's middle-class fans find his soft-spoken demeanour endearing, even though, of and on, some of his statements do raise a few eyebrows. Nevertheless, as a commentator on Twitter said, "It was only a matter of time when this likeable preacher would end up sounding like any other self-appointed scion of morality."
What I understand from this is that the nearer one gets to certain points of power, the more likely it is for him or her to lose their bearings in a bid to please their patrons. Especially if these points of power include a government that seemingly measures loyalty with varied degrees of sycophancy exhibited by its patrons or a fickle media that is as quick to kick one off the pedestal as it is to put them there.
Jamil himself understands well where his traction lies. It is in the way he has positioned himself: as someone who does not unsettle middle-class sensibilities and ideas of morality, unlike preachers such as Khadim Hussain Rizvi. That's why, within days of making his controversial statement, Jamil offered an apology. Many of his fans belonging to the entertainment industry and some TV anchors almost immediately launched an attack on those who were critical of his stated views.
Even Shireen Mazari, the current Federal Minister of Human Rights wasn't spared; she had denounced Jamil for blaming female immodesty for the outbreak of the coronavirus. The irony is that Mazari belongs to the same government whose PM not only invited Jamil to his telethon, but remained silent during his tirade.
Another interesting bit to come out of the debate was a sudden realisation of a somewhat not-so-sudden phenomenon: there is an increasing number of show-business personalities from India and Pakistan who are often quick to defend decisions or statements which — in another little ironic twist — do not bode well for their professions.
In this is a terrific opportunity for anthropologists or even psychologists to study a phenomenon which some believe is pregnant with concepts such as the 'cult mindset' and the so-called Stockholm Syndrome.
Nevertheless, Jamil is wise enough to realise that many of his less excitable, or less knee-jerk, middle-class admirers were taken aback by what he said; they thought he was "different". Therefore, an apology became necessary and, no matter what the motive behind it, it should be commended.
So, what is a preacher to say in times of natural calamities and pandemics? The best they can do is lead a collective prayer and ask the Almighty to give relief to those who are suffering. It is a comforting exercise that is entirely spiritual in nature.
But as often happens, a majority of preachers make it their job to explain the reasons behind natural calamities. Be it an earthquake, a flood or a pandemic, the reasons provided are always centred around obscenity, immodesty, etc. And women remain a constant.
According to a report in a July 1967 edition of Dawn, a group of preachers were quoted as saying that the damaging monsoon rains in Karachi that year were due to the Ayub Khan regime's "secular policies" and "rampant sale of alcoholic beverages in the city". From then on, until 1977, when newspapers again carried similar quotes during that year's devastating monsoon rains in the city, the fact is, such 'explanations' got very little column space.
The practice of inviting clerics on TV and asking them to explain the cause of a natural calamity was first introduced in the 1980s during the Gen Zia dictatorship. This practice then continued unabated. After the 2005 earthquake in the country's northern regions, private TV channels were flooded with preachers blaming the earthquake on the "the culture of obscenity that Gen Pervez Musharraf's government had been promoting".
Preachers who are asked why a natural calamity took place often feel pressured to say something that is populist in tone. Just praying for safety and relief, they believe, will not get them any traction. However, there is a lesser-known concept in Islamic theology through which they can still stand out, without sounding misogynistic, reactionary or ill-informed.
Islamic scholar Javed Ahmad Ghamidi used this concept recently when he was asked to comment on Jamil's statement. Ghamidi, a respected theologian who, interestingly, has a following within the same socio-economic class that Jamil derives his admirers from, said that it was silly to attribute social causes to natural calamities. He then added that floods, earthquakes and pandemics were all-natural occurrences of a system that God has engineered. Scientists too understand these calamities as natural events due to the manner in which the universe operates.
By saying this, Ghamidi was reinvigorating an idea that was first conceptualised by the great 19th-century Muslim scholar Sir Syed Ahmad Khan. Khan is often appreciated as being the pioneer of 'Muslim Modernism' in South Asia. Like his contemporaries in Egypt, Turkey and Iran, Khan produced scholarship which attempted to find a place for Islam in the context of modernity and science that was sweeping the world at the time. He was of the view that, since Islam was inherently progressive and rational, it was highly compatible with science.
One way he tried to demonstrate this was through a concept he called 'Naicari'. He coined this Urdu term from the English word 'nature'. In an essay for the 2019 Cambridge anthology on Sir Syed Ahmed Khan, Professor of History David Lelyveld writes that, to Khan, the universe and our world were run by an ingenious system constructed by God and that natural phenomenon, both benign or otherwise, is part of God's creation.
To Khan, natural sciences such as biology, physics, chemistry, etc., were the best ways to understand how nature works and, thus, fully appreciate the genius of God's creation.
In one of his essays on Naicari which was republished in the 1962 anthology Maqalat-i-Sir Syed, Khan writes that anything which contradicts the laws of nature cannot be part of Islam's sacred texts, because these laws were designed by God. Therefore, according to him, the cause and explanation of a natural phenomenon need to be compatible with the laws of nature set in motion by God.
So what Ghamidi did was indirectly suggest that pandemics and other calamities were part and parcel of how nature works, and nature is what God created. Therefore, an explanation that is outside this context should be taken with a pinch of salt.
Original Headline: GOD'S WRATH OR NATURAL SCIENCE?
Source: The Dawn, Pakistan
URL: https://www.newageislam.com/islamic-society/nadeem-f-paracha/gods-wrath--culture-of-obscenity-or-natural-science/d/122849
New Age Islam, Islam Online, Islamic Website, African Muslim News, Arab World News, South Asia News, Indian Muslim News, World Muslim News, Women in Islam, Islamic Feminism, Arab Women, Women In Arab, Islamophobia in America, Muslim Women in West, Islam Women and Feminism