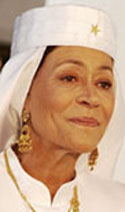 By Mother Tynnetta Muhammad
Jan 29, 2013
"And remember Our servants Abraham and Isaac and Jacob, men of power and insight. We indeed purified them by a pure quality, the keeping in mind of the (final) abode. And surely they were with Us, of the elect, the best." –Holy Qur'an, Surah 38, verses 45-47
After completing a full and dynamic week of activities in the state of Georgia, the birth place of the Most Honourable Elijah Muhammad, and the first day of December of last year, I came face-to-face once again with the powerful and enigmatic leader and founder of the Mongol Nation, Genghis Khan, and yet another exhibit that portrays how yesterday's become today's heroes. The exhibit of Genghis Khan opened at the Fernbank Museum of Natural History on October 5, 2012 and will end on this day, January 21, 2013 at the time when this article is going to press in our Final Call newspaper.
The following words were published in their advertisement for this exhibit—"In 1215, he conquered the world. In 2012, he invades Atlanta. Experience the amazing true story of Genghis Khan as you explore a world of conquests, diplomacy, innovation, destruction and controversy. Genghis Khan features 13th century artefacts from the Mongol empire, many of which have never been on public display. Go on an unforgettable journey into Khan's legendary empire and explore his legacy in the modern world." As a small group of believers numbering about 25 gathered that afternoon on December 3rd on the step and entrance of the museum, I suddenly realized that I was appointed as a complimentary tour guide at this exhibit which happened on my last day in Atlanta.
I had flashbacks to the beginning of 2012 at the opening of our Nation of Islam Saviours' Day convention held at the Stephen's Convention Centre in Chicago on February 24 and learned that the debut of the Genghis Khan Exhibit was opening exactly and precisely on the same date as our Saviours' Day convention. With a special press kit, a few of our Nation of Islam members attended the opening that was held at Chicago's Field Museum, which was to continue through September 3, 2012.
Later, I learned from our sister Audrey Muhammad, editor of Virtue Magazine, that the same exhibit also premiered in Raleigh, North Carolina, near the time of last year's Holy Day of Atonement event which took place in Charlotte, North Carolina at the Bojangles Convention Centre, where the Honourable Minister Louis Farrakhan commemorated the 17th Anniversary of the Million Man March. As we entered the Fernbank Museum in Atlanta, Georgia, I knew that all of these corresponding events and timelines were not nearly happening as a coincidence. The Genghis Khan Exhibit in Georgia marks the termination of the present tour before all artefacts and historical relics will be returned to the National Museum of History in Ulanbaatar, the capitol of Mongolia.
When I realized that the course of my recent studies and research on Mongolia and its leaders that I was appointed as a complimentary guide within the exhibit myself. My mind was full of memories of how all this history about the Khan's golden family has become a part of my own life's journey and extension into my present summary investigation of aspects of the life and destiny of the spiritual descent of the Honourable Minister Louis Farrakhan becoming manifest in our contemporary time. My first visit to Mongolia began in November 2003 following a breakfast meeting and discourse with the late Reverend Sun Myung Moon and his wife, Dr. Hak Ja Han Moon, a few members of their immediate family and a host of Unification Church leaders on the 4th of July in that same year in Washington, D.C.
I was there in Washington attending a folklore festival on the Washington Mall, sponsored by the Smithsonian Institution, which featured the Silk Road Project Exhibit under the artistic director and world renowned virtuoso cellist, Yo Yo Ma, whom I had met upon previous occasions, one of which included a private meeting he had with the minister at his private suite while performing at the Ravinia Festival not too far distant from Chicago. I recall Yo Yo Ma's heightened concern over the health condition of the Honourable Minister Louis Farrakhan to the extent that in every previous meeting, he always asked about his welfare and stated that he had listened to many of the minister's tapes while in Boston, Massachusetts.
With all the controversy attended to the late Reverend Moon's statements which were published in the Washington Times newspaper and in other media during that time of our meeting, I always felt a genuine respect for his global outreach and program of unification and the honour he displayed to our Minster Farrakhan, his wife, Mother Khadijah Farrakhan, and other members of his family and our believing community in general. It was at that morning breakfast in July in the setting of the Washington Mall that I shared my first vision of Mongolia that I received in 1984 while visiting Addis Ababa, the capitol of Ethiopia. I was accompanying metaphysicians from the United States under the direction of the late attorney Marva Moohr from San Diego, California, when I fell into a deep meditative state and was carried away outside of my physical body to the geographical location of the Tepoztlan Teco Mountains in the village of Tepoztlan, in the Sacred Valley of Mexico, the same location where one year later, the Honourable Minister Louis Farrakhan had his more than a vision-like experience in 1985 on the night of September 17th.
I have come to see that part of his life journey with the Most Honourable Elijah Muhammad touches upon aspects of my own life's journey and attunement to the Most Honourable Elijah Muhammad. This has made me a bearer of witness of both his Divine Work and that of his Greatest Helper, the Honourable Minister Louis Farrakhan. Last year, in 2012, aided by my youngest son, Ahmad Muhammad, we produced a stimulating documentary entitled, "From Genghis Khan to Kublai Khan to Farrakhan," which was viewed at one of our workshops last Saviours' Day and which I hope will be viewed for a second time during this year's Saviours' Day event in Chicago. There is an added message that has come focusing on our youth around the country and the world as an incentive for us to study the guiding moral principles that made Genghis Khan and his Golden Family, outstanding leaders which beared a relationship to the spiritual leadership of the Nation of Islam under the Honourable Elijah Muhammad and his Great Helper, the Honourable Minister Farrakhan.
At the last exhibit in Atlanta, Georgia, other literature was printed under the title: An Enduring Legacy Remains. "Genghis Khan follows his successors through the legend of Kublai Khan, Genghis Khan's grandson who laid the foundation of modern China. Visitors wander through a recreation of his summer palace, Xanadu, and learned about the journeys of the court currier, Marco Polo, along the Silk Road. The exhibition reveals that Genghis Khan had many descendents beyond Kublai Khan. Modern chromosome testing estimates more than five percent of the modern worldwide male population or 16 million living descendents can be genetically linked to him."
"And remember Ishmael and Elisha and Dhu-I-Kifl; and they were all of the best. This is a reminder. And surely there is an excellent resort for the dutiful: Gardens of perpetuity—the doors are opened for them." –Holy Qur'an, Surah 38, verses 48-50
Source: http://www.finalcall.com/artman/publish/Columns_4/article_9568.shtml
URL: http://newageislam.com/islamic-society/mother-tynnetta-muhammad/could-the-return-of-the-moral-principles-of-genghis-khan-be-found-in-the-spiritual-leadership-of-the-nation-of-islam-in-modern-america-today?/d/10302