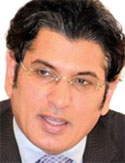 By Mohammed Fahad Al-Harthi
8 October 2014
The images of millions of pilgrims draping the Mount of Mercy on Arafat in their white ihrams, seeking only one goal, is the true representation of Islam.
Judging by the reaction to these and other similar photographs, it has also left an indelible mark on people around the world. Only the most hardened hearts can remain unmoved by Islam's message of peace and love at the Haj.
As soon as Arab News posted images from Makkah on its pages this week, news agencies and individuals eagerly shared them on social media and other websites.
The most fervent response came to a photograph on the newspaper's front page showing Saudi security officials holding up a woman with a disability in her wheelchair so that she could perform the ritual stoning of the devil. This image of concern and care is in sharp contrast to those depicting soldiers and combatants elsewhere, involved in bombings, killings and destruction.
The Haj rituals have a deep and undeniable meaning: Stripped of our everyday clothing, and dressed only in two pieces of white cloth, we are in essence all equal. It does not really matter what colour, ethnicity or nationality we are, or ideology we hold dear, the pilgrimage helps people unite in their quest for mercy and forgiveness.
It is a real tragedy to see how this great message of Islam has been subverted and distorted by groups such as the so-called Islamic State. These terrorists have gone on a wanton killing spree, beheading and displacing people while shouting Allahu Akbar. This is being repeated by other groups in Syria, Iraq, Yemen and Libya. Islam is innocent of these crimes.
The behaviour of pilgrims during the Haj has been the best response to this barbarity. Muslims showing such compassion for each other undermines the messages of these criminals. Worshippers, simply through their random acts of kindness and singular purpose at the holy sites, are saying that they will not allow others to hijack their religion and portray it as one that promotes extremism and violence.
The Saudi government must be commended for their commitment to the Haj and Umrah rituals that seek to instill such a sense of cohesion among human beings from all corners of the globe. It has invested hundreds of millions of dollars to expand the two holy mosques and develop infrastructure to host millions of visitors. This is one of the biggest construction projects in the world.
Saudis at all levels, including ports of entry, airports, and in administrative and other posts on the ground during the Haj, also deserve praise for helping to prevent outbreaks of the dreaded Ebola and Middle East Respiratory Syndrome Corona virus diseases.
What the Haj should also remind us about is that current conflicts in the region are based on political and not religious differences. Those seeking to take over parts of certain countries are power-hungry and motivated by self-interest.
The media must play its part in portraying what Islam is really about, to clear up the confusion in the minds of many who associate the religion with conflict and violence. This confusion is fuelling Islamophobia around the world, dividing nations, and providing ample fodder for those motivated by hatred.
Grand Mufti Sheikh Abdul Aziz Al-Asheikh has been at the forefront of those wanting to make clear what Islam propagates when he labelled members of these groups as criminals.
Another scholar, Sheikh Mohammed bin Rashed, recently summed up the situation cogently, and outlined what needs to be done: "The world has failed to confront this evil ideology. The challenge is much bigger than we think because it has become more extreme, brutal and widespread than earlier versions."
This is true because many vulnerable and gullible young men have been seduced by the emotionally charged slogans of these groups. One can only imagine what's going through the minds of non-Muslims seeing this happening, including the images of slaughter, killing and torture being carried out in the name of religion.
All of us have a responsibility to be witnesses to the truth — not only those in government and serving on religious bodies. The challenges are huge, but they must be confronted. The alternative is too awful to contemplate.
Source: http://www.arabnews.com/columns/news/641126
URL: https://newageislam.com/islamic-society/haj-portrays-true-image-islam/d/99438